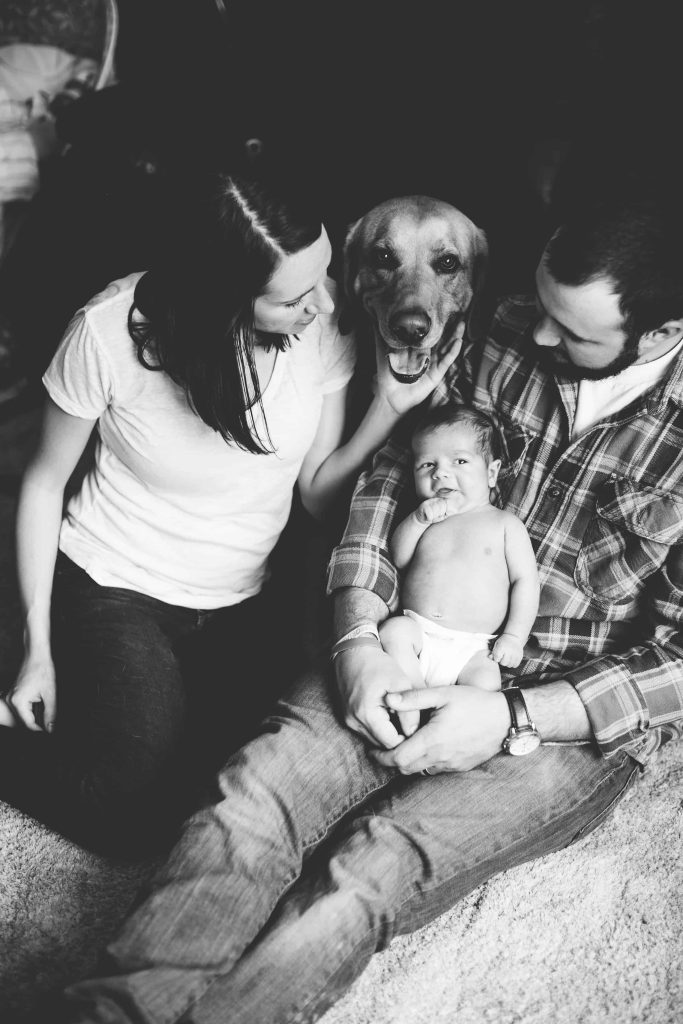 This is us.
The Johnsons + Dog.
I'm Chelsea and he's Logan and the little one there is Cal. We are 20-something new parents living in Central Oregon.
The dog, well that's Gannon, Our 80 pound puppy who still cuddles like he's 10 pounds. We think Gannon has been one of the best parts about our first years of marriage. He's been the reason to wake up and "do life" (aka… "Mom I'm not going to stop whining and body slamming you in the face til you get out of bed, Come on, it's 5:40am! I wanna play!"). He's the been the reason I must vacuum the house every couple days. Regardless, he keeps us…going. After a long day at work, he is there to just about knock me over as he jumps up for a kiss.
We met in college in San Diego and stayed there after we got graduated and got married. As much as we loved San Diego, we were searching for a smaller town with a quieter life and were in need of an adventure. (Read about our decision to to move here) So in August of 2014, we packed up everything we owned and drove all the way up California to Bend, Oregon. We love our life in Bend.
In April 2015, we embarked our next adventure of home ownership. We decided to buy a home and went looking for fixer upper! We found just the perfect one to get us started (see the pre-renovation photo tour here). We'll be sharing all about the home reno process including everything we learned about the home buying process – boy did we learn a lot.
Our lives changed forever in May 2016 when we welcomed our little man, Cal, into the world. We both agree on a daily basis that parenting is both the hardest thing and the best thing in the world. We're still figuring it all out and we promise to be real with you as we do. Read about the roller coaster of our parenting journey here. 
And this is the blog where we will teach, share, vent, ask questions, walk you through the wedding planning process from beginning to end, tell you all about our wedding day, document our first home renovation, give you awesome lists and tips about all things regarding our homemade DIY life and share with you the struggles and realities of parenting. This will be an outlet for me to write and document our life and hopefully a place you can come to relax, kick back and do a craft or two with me. We promise to keep you entertained with a fair share of pictures of Gannon because he's just plain funny.
We'd love to hear from you! Drop us a note at thejohnsonsplusdog [at] gmail [dot] com.