So… "they" say that every room in your home should be in the same style to provide some cohesion. "They" say that all of the colors in your home should match and you should have a color story. Well, I SAY you should do what you want! My home office and craft room is my happy place. Not only do I spend a ton of time here working on my blog, Etsy store, crafts and more….but I also work from home for my day job. The moral of this story is that I spend A LOT of time at home and A LOT of time in my home office. Logan has always said that I have full reign to do whatever design I want in my office space, whereas the rest of the house we typically collaborate and compromise on design choices. Since this is only a space that only I use, I decided to "glam" it up a little with a marble and gold office decor theme! I've also decided to work in a little color with mint green. Y'all remember how I told you I love that mint green and gold color combo when I put together my modern Christmas tablescape? Since I'm working hard to get this room all set up and decorated as I prepare for the full room reveal in a few weeks I decided to share with you my mood board and inspiration behind my marble and gold office decor.
UPDATE: Click here to see the full room reveal of my marble and gold office!
This post contains affiliate links, but nothing that I wouldn't wholeheartedly recommend anyway! Read my full disclosure here.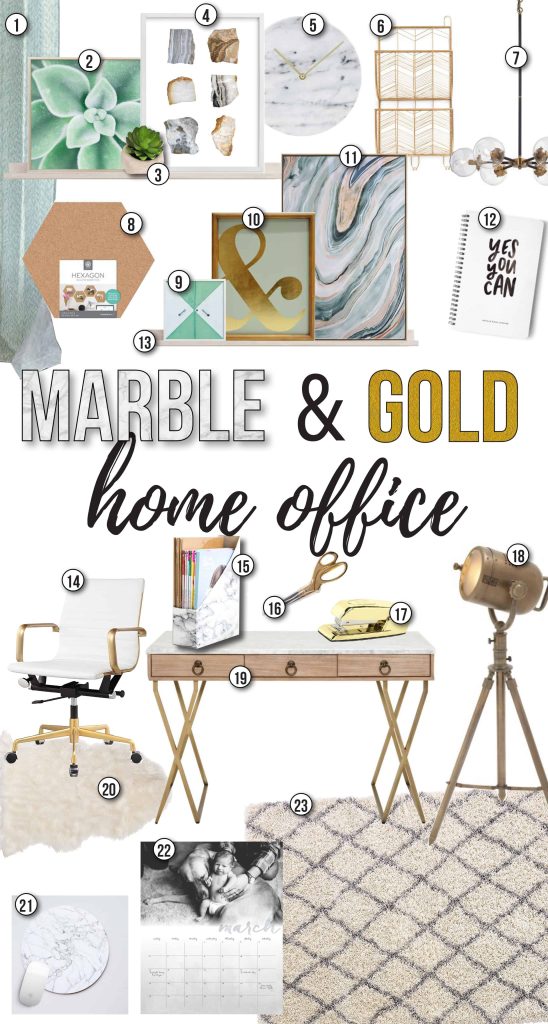 Marble and Gold Office Decor Inspiration
This marble & gold office mood board was so fun to put together. I already have started collecting my decor items and I'm getting ready throw it all together, the most fun part! I was fortunate that I already had some of the basic furniture items, like the desk and office chair so we're able to keep this budget friendly. But when I was putting this marble and gold office decor inspiration board, I chose some fun furniture and items that would create a cohesive design style. I'm already so in love with the look and feel of the room. Stay tuned for my marble and gold office room reveal in just a few weeks along with some fun DIY projects, of course.
UPDATE: Click the picture to see the full room reveal of my modern glam office!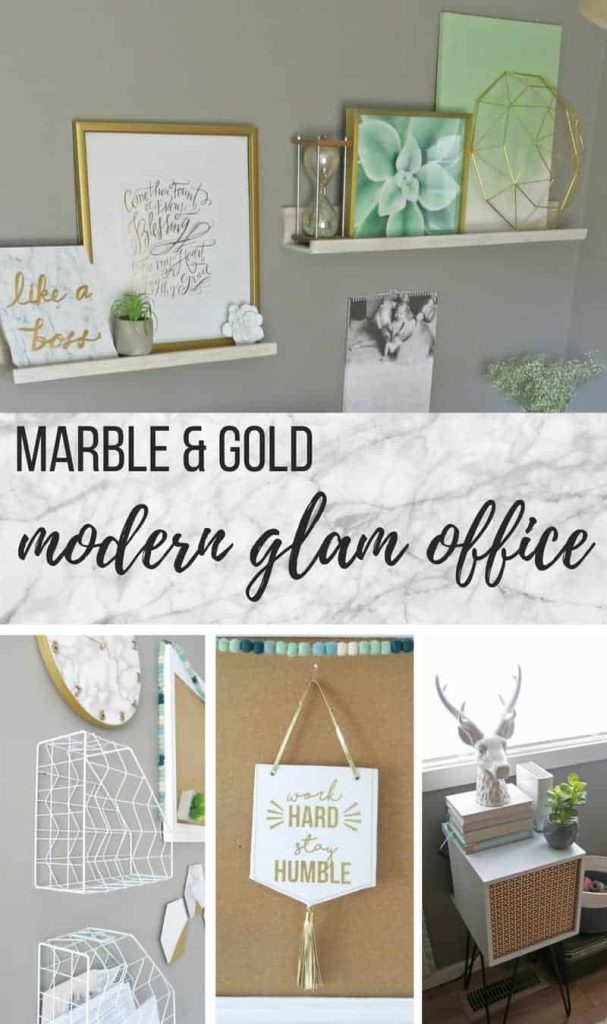 If you are lovin' this look too, be sure to follow along on my marble & gold office Pinterest board for lots more inspiration!
Subscribe and don't miss a thing!
Here's where I party each week!