This post contains affiliate links, but nothing that I wouldn't wholeheartedly recommend anyway! Read my full disclosure here.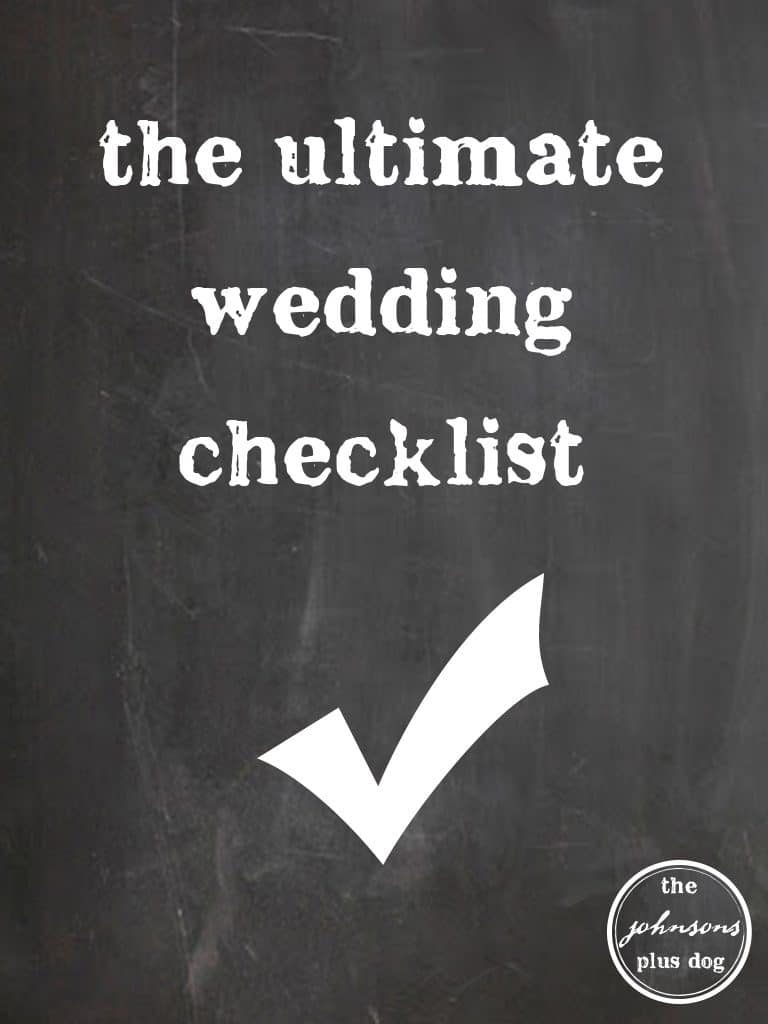 So, you're engaged, you just read my advice for the planning process and now you are ready to get down to business! Below is a wedding checklist that I created by taking mine (luckily I had it saved on my Google docs, like all my important wedding stuff), taking out the stuff that was specific to our DIY wedding, and adding in some traditional items back in that I didn't have.
Why doesn't your checklist have timing on it? Great question! Most wedding checklists or timelines that are out there have 9-12 months, 6-9 months, etc. Mine does not, on purpose. Our engagement was exactly 8 months & 24 days long. To be honest, the checklists with timing on them frankly stressed me out. Most of them were 12+ months long, so I always felt like i was behind. I found it much more enjoyable to move through the list from top to bottom and cross items off as I completed them. Once you have your timing figure out, you can always group them up to accommodate your goals and set some deadlines for yourself. The wedding checklist below is (mostly) in order from when you say "yes" to "I do".
The list below is meant to be your base. Take this, copy and paste it into a word doc or Google doc, delete the items don't apply to you, add those special projects that you know you want to DIY, make it your own. Again, I am so excited to get through the process with you. I will be posting my wedding tips and tricks in (mostly) chronological order, so we can do this together. Go check out the wedding page to follow along and read more.
Shop Amazon – Create an Amazon Wedding Registry

Create a Target Wedding Registry

Decide if you want to do pre-marital counseling (read 9 reasons why you need premarital counseling and what to expect)
Create a wedding website (learn how to create a wedding website that will wow your guests here)
Send save the dates (I shared 10 creative save the date ideas here)
Choose grooms' attire or book tux
Choose groomsmen attire
Book DJ and/or musicians
Book florist
Book transportation
Book hair and makeup stylist
Book rehearsal at ceremony venue (don't forget to check with your officiant for their availability)
Decide on rehearsal dinner location
Decide and book bakery for cake or make other dessert arrangements
Select and purchase (or make) invitations
Reserve any rentals you will need (linens, lighting, tables, chairs, tents, dance floor) – check back with your venue to see what they provide
Complete room blocks at hotels (in varying price ranges) for out-of-town guests
Order wedding bands
Purchase shoes and any undergarments or accessories needed
Dress fitting (bring along your shoes and undergarments)
Attend your bridal shower
Send thank you cards for shower gifts or any early wedding gifts you've received
Purchase or create a guest book (great guest book alternatives here)
Address & send invites (at least 8-12 weeks prior)
Book honeymoon (if going international make sure passports are up to date and get any shots you need)
Decide on your wedding night accommodations
Hair & makeup trial run
Give rehearsal dinner guest list to whoever is planning that
Finalize menu items
Order (or make) favors, if desired
Determine any other needed wedding day items (champagne glasses, cake cutting knife, ring bearer pillow, etc.)
Apply for marriage license
Start making day-of timeline
Start wedding slideshow if you're making one (if you are, figure out if you need a projector/screen)
Meet with officiant to finalize ceremony and vows
Check in with all hotel blocks to see how many rooms are remaining
Delegate someone to be in charge of transporting your gifts to your home
Determine where you will get ready on the day-of (both girls and guys)
Ask Best Man, Maid of Honor (or any other people) to give toasts
Schedule delivery times for all vendors (and be sure they have address & directions to venue)
Ask someone to give welcome speech
Ask someone to pray for dinner, if desired
Delegate someone to be in charge of transporting your decorations
Purchase bridal party gifts (& gifts for anyone going out of their way to help you out)
Put together a list of family photos and must-have shots you would like for photographer
Book nail appointments for day before
Follow up with people who haven't RSVPd
Send rough draft of timeline to vendors for review
Begin seating assignments
Choose music for ceremony and reception
Final dress fitting
Delegate someone to help out with family photos
Layout mock table set up and take photos to help out the people that are setting up to get your "vision"
Finish wedding slideshow and export to the format you need for whoever will run it
Make any reservations needed for honeymoon
Take care of as many final vendor payments as possible
Make escort cards
Cut/color your hair, if desired
Attend your bachelorette party
Finalize all rental orders
Buy or reserve any items for reception you will providing yourself (booze, soda, appetizers, dessert, etc).
Design and print programs, escort cards, menu cards etc.
Organize decorations and label boxes by area
Write special cards to all of bridesmaids
Start writing vows, if needed
Finalize seating chart and floor plan
Pack for honeymoon
Assemble any remaining wedding day details
Finalize wedding day timeline
Final dress fitting
Give the venue, caterer, any other vendor your final headcount and floor plan drawings
Print out honeymoon travel documents (if going out of the country, call bank and credit card companies to notify)
Break in your shoes
Finalize wedding vows, if needed
Confirm all vendors arrival times and send out the final day-of timelines
Fill out marriage certificate and have notarized
Prepare final payment and gratuity envelopes for vendors, give to your coordinator or trusted person to handle for you
Print timeline for bridal party
Get some sleep before the day
Wake up, grab a cup of coffee (preferably surrounded by your bridesmaids) and go marry the love of your life
Here's where I party each week!