Here's an update on my 2016 goals. How are you doing on your goals for the year??
Hello August…now PLEASE tell me what you've done with the first half of the year and why is time moving so quickly now? I can't believe that we're in the 8th month of 2016 already! I was at my sister's house recently and she had the following quote up on chalkboard in her living room.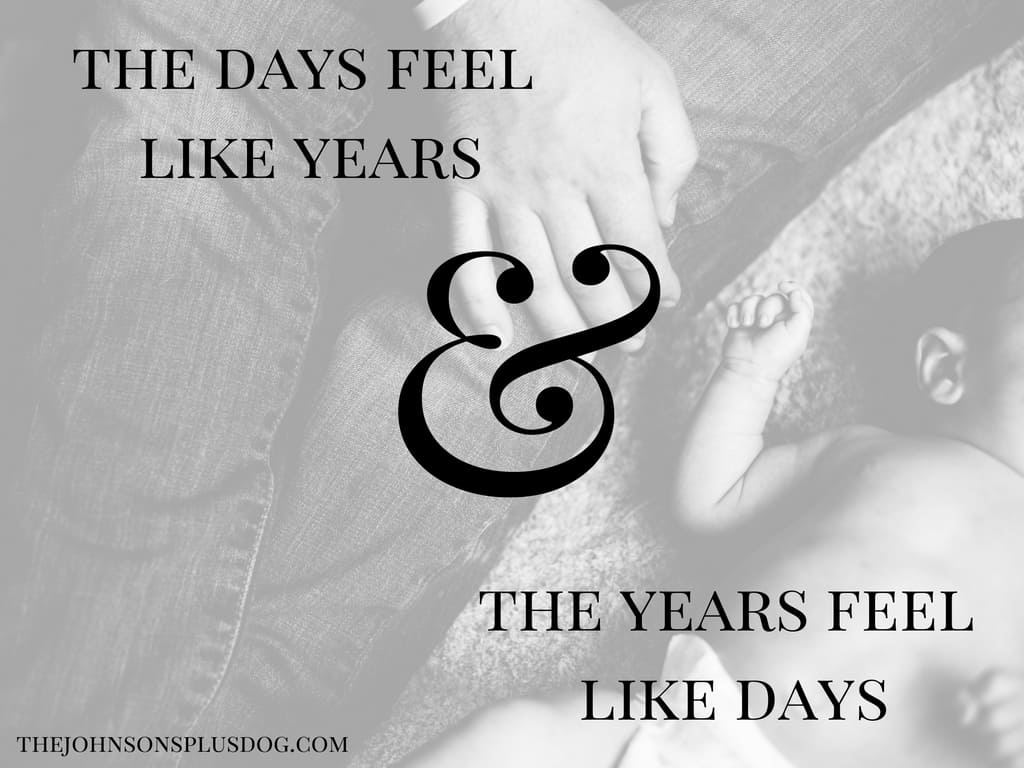 As four new parents, we all chuckled and agreed that the quote is SO relevant to our lives right now. These days are filled with crying babies, sleepless nights and you are most likely wearing clothes that have spit up or pee (and on the very worst days somehow…poop). The minutes on the clock tick by ever so slowly as your patting your little one on the back trying to get him to just take a nap already. 
But then in the blink of the eye, the days turn into months and eventually the months into years.
Now that we're more than halfway through the year, I decided to look back at my goals for 2016 and do a little goals update.
Become more involved in our church. – We had such a great time volunteering in the children's ministry and working with the 2 year old's once a month. We kept at it until me and my big belly couldn't keep up with them. On our last Sunday one of the little girls asked me why the baby in my belly didn't have a name tag on. Hehe.
Make a habit of doing a quick devotional/bible reading everyday. – I haven't been doing a great job at this, guilty as charged. In the midst of all the madness, it's so easy for me to forget about this. I have the She Reads Truth app on my phone, so I am going to try to remember do this in the mornings while I'm sitting in bed and feeding my little guy.
Grow my blog audience and promote more reader engagement. – As you can tell, updating the blog has been a little tough lately. I took a much needed break earlier this year and it's been hard to be consistent since the little one arrived and will become even harder now that I've gone back to work. But it is so important to me and thankfully my husband agrees that I need to find the time. I'm going to try to set aside a least two times a week to work on posts and everything else that goes along with blogging. 🙂
Put more effort into making new friends and cultivating longtime friendships. – Moving to a different city as late 20 something is HARD, am I right? Meeting friends at this age is not easy. My sister recently moved to the area so that has been AWESOME to have some family around. Additionally, some other friends from college recently moved to Bend, so it's been great cultivating those relationships. I am going to continue to try to meet new people through various avenues, like church, mommy groups, etc.
Become more patient and slow to anger in my home. – …*crickets*…. the struggle is real. I pray for this daily.
Sell my crafts in at least one store in Bend and continuing growing my Etsy store. – I totally forgot that this was a goal… I still haven't found a good store to sell my crafts in Bend, but I will continue searching. Otherwise, I haven't added anything new to my Etsy store for a while. I'm hoping now that I FINALLY have my craft supplies organized and mostly unpacked and I can some fresh products up. However, I have been regularly selling some of the other items I have listed so it has been steady.
Give myself grace as I enter this journey of becoming a Mom. – This is another daily struggle. I am so thankful for my amazing hubby that has provided constant encouragement as I've struggled to settle into the grace of motherhood.
Go outdoors more! – We have started doing daily walks in the mornings before Logan goes to work and it is soooo refreshing to get out at least once a day and to get some time to chat together as a couple! I love it. We will continue doing this until the weather gets too cold for walks.
How are you doing on your 2016 goals? Any new goals you have for the rest of the year?
I'd love to hear from you!