Earth Day is right around the corner! It's on Sunday, April 22nd this year. With Earth day on the horizon and spring weather just waiting to begin, you may feel the creativity bug starting to creep in on ways to make the best out of waste for your home and garden.  So many items are wasted each and every day by people who just don't want to take the time to try to upcycle them into something else!
If an item has potential to be made into something beautiful, why wouldn't you try?  Take a look around your home currently and see if you have any items that compliment your decor that you have upcycled.  Then make the best out of waste! It could be something as simple as a painted mason jar (which by the way is super easy, here's a tutorial for how you can paint a mason jar), or something a bit more elaborate, like a decorative lamp base made from something headed for the garbage.  Any time that an item has life left in it, find a way to give it purpose!  There are so many options for ways to upcycle items for your home and garden, but here are a few suggestions to help get you started making the best out of waste.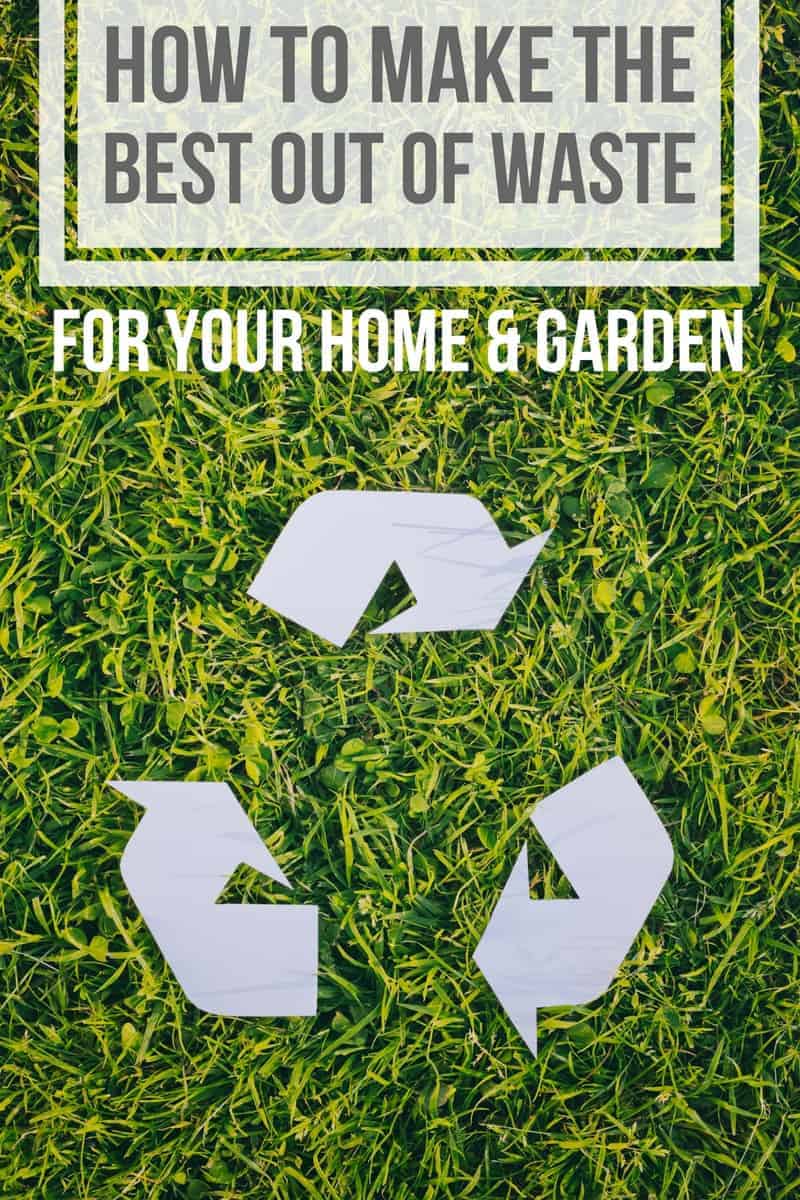 How To Make The Best Out Of Waste For Your Home
Use those shutters!  Have some old shutters just lying around, taking up space?  Why not spruce them up a bit and use them as a fun focal point in your home!  They can be added to the wall for a fun and funky way to pin-up pictures, pieced together to form a room divider or even used as a headboard to add a bit of uniqueness to your room.  Just because the shutters aren't needed on the outside of your home, doesn't mean that there isn't a use for them inside!
Give your artwork a facelift.  And when I say artwork, be creative here. You can really make the best out of waste by turning into artwork. Have some fabric scraps that you just can't seem to get rid of?  Turn it into a cute USA map like this. Or simply cover a canvas with the fabric and hang it on the wall.  You've just created a one of kind masterpiece that you love instantly.
Bring on the wallpaper.  While you may not be a fan of wallpapering your walls, what about giving some of your furniture items a new look?  Find a pattern of wallpaper that you like, and give it a go on an old item that needs to be transformed. We added some peel and stick wallpaper to the sides of this dresser's drawers for an awesome pop of color. More creative places to try adding some wallpaper would be a your staircase, fridge, desktop or even the back of a bookcase.  It can be a super easy and fun way to add a fun, colorful flair to those old items.
When finding items to upcycle for your home, there can be a ton of items.  It's easy to repurpose items and find a way to have them fit effortlessly into your home decor.  Try that same tactic with upcycling items for your garden as well.
How To Make The Best Out Of Waste For Your Garden and Backyard
Create your own garden spots with empty wine crates.  Does your garden not have enough room for everything that you are wanting to plant?  Why not create your own little mini garden by upcycling and reusing empty wine crates?  It's super simple and makes a great space to grow herbs or other food items that don't need a ton of room to grow.
Get creative with your tile.  Have some extra tiles lying around from a recent home renovation project?  Rather than let them go to waste, use them as plant markers for your garden.  Paint or write on them so you know what they are and what they are marking, and then place them in your garden.  The great part is that they'll last for a long time, and will endure all types of weather!
Make a pathway. Add a path between the rows of your garden using older broken stones or cement that you may not have a use for anywhere else.  Not only does it show you and others where it is safe to walk in your garden, it also helps to keep you clean when you are out working in the garden as well.
Upcycle some furniture! We found some old chairs that someone was going to take to the dump and turned them into this colorful outdoor bench that we love!
Before disposing of items that you may feel that you no longer have a use for, try to imagine ways that you could possibly make the best out of waste and upcycle them first.  Think of the options indoors, as well as outdoors, and see if you have a fun and eclectic way to make something new and fun go with the decor of the rest of your home.  Have fun with reusing items as it definitely helps to add character to your home that others are sure to notice!
What is your favorite way to make the best out of waste?
Let me know in the comments below!!