I snagged this laminate cabinet at a thrift store for $3! Just wait til you see the crazy transformation. I absolutely LOVE how this dark green boho style cabinet turned out.
So, here's what happened.
We had just finished our kids' combined birthday party for 1 and 3 years old (their birthdays are only a week apart). We had been outside all day. We were all tired (no naps all day). Our house was a straight up disaster.
So, like anyone would do. We avoided it.
We took a nice air conditioned drive out to one of our favorite little towns about 30 minutes away for an early dinner….crossing our fingers that the kids would fall asleep in the car.
Well, they didn't. There was screaming, chaos, phones flying when YouTube played the "wrong" video…the whoooollllle way there.
But right when we pulled into town, they both zonked out. So naturally we wanted to keep the asleep just a little while longer. We snuck over to my favorite ReStore thrift shop and and I, oh so quietly, opened the door and left Logan inside with the sleeping kids.
5 minutes later…. I text him this picture.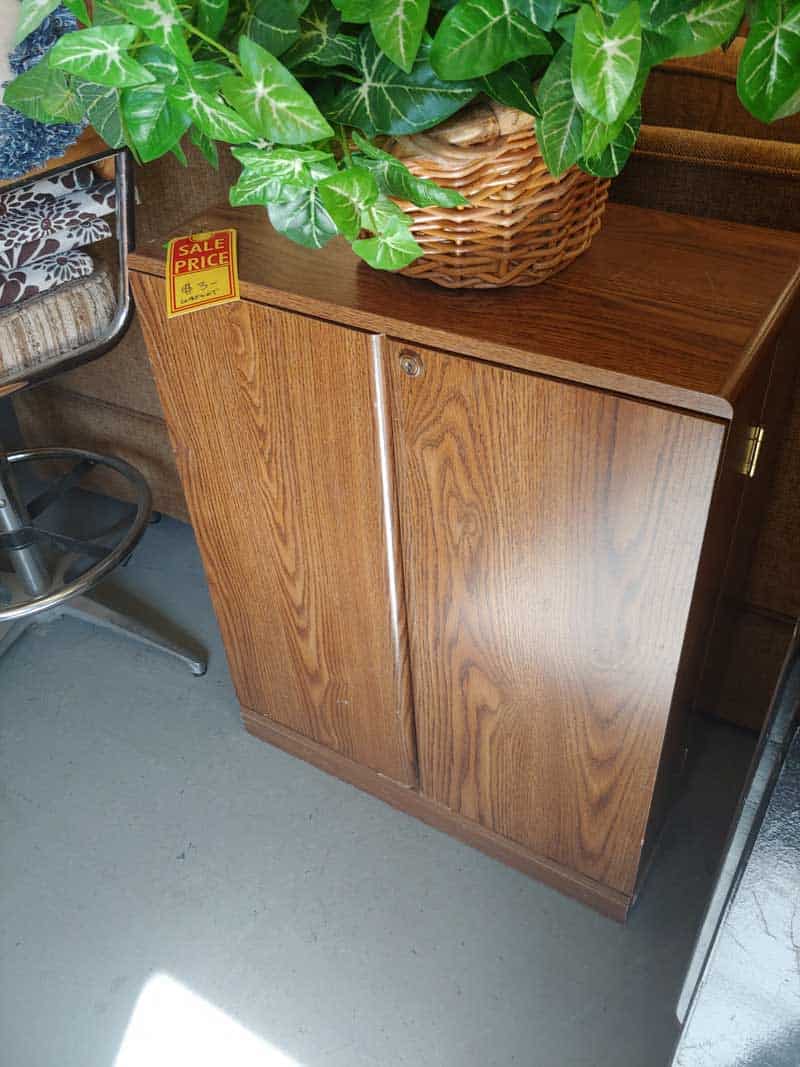 And said "do you you think we can fit this in the car?" ….
No response.
I follow up with this picture.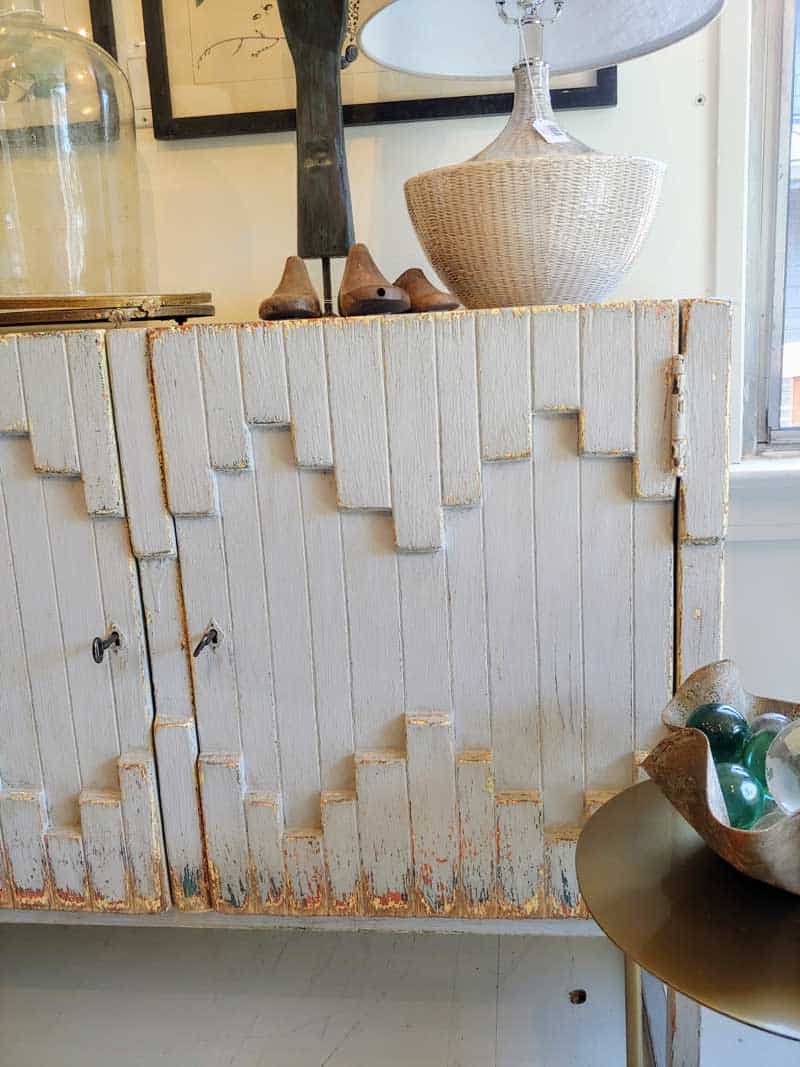 "This is what I would do with it" – I said.
((I took this picture last year and one of my favorite decor stores that is super expensive.
You know, the kind of store you go into for inspiration but know you can't really afford anything so you never really bother looking at the price tags…..well, I do remember glancing at this price tag. It was somewhere in the range of $3,000.
But I snagged a picture of it because I thought to myself….ya know, I could probably do something like that. What can I say, I'm a true DIYer at heart.))
So that's what happened.
That's where it all started.
I guess we should thank the kids for falling asleep the Saturday afternoon.
So I had a $3 cabinet. A $3,000 inspiration piece. And a husband that was thankfully willing to repack the back of the car that day so we could fit this bad boy (thank you Honey).
I knew this fun thrift store challenge was coming up, so it was really meant to be…right?
---
Can you paint cheap laminate furniture?
You may be wondering if you can paint cheap laminate furniture like this…. the answer is YES! But it's all about getting the prep right (which we're totally going to get into in this tutorial, hold your horses). Specifically, sanding the finish, cleaning really well and using a good primer. The hardest part about painting cheap laminate furniture is getting the paint the adhere, so that's why sanding first will help give them paint something to grab on to.
---
Alright before we jump into the how-to here, let's take a look at what we were starting with.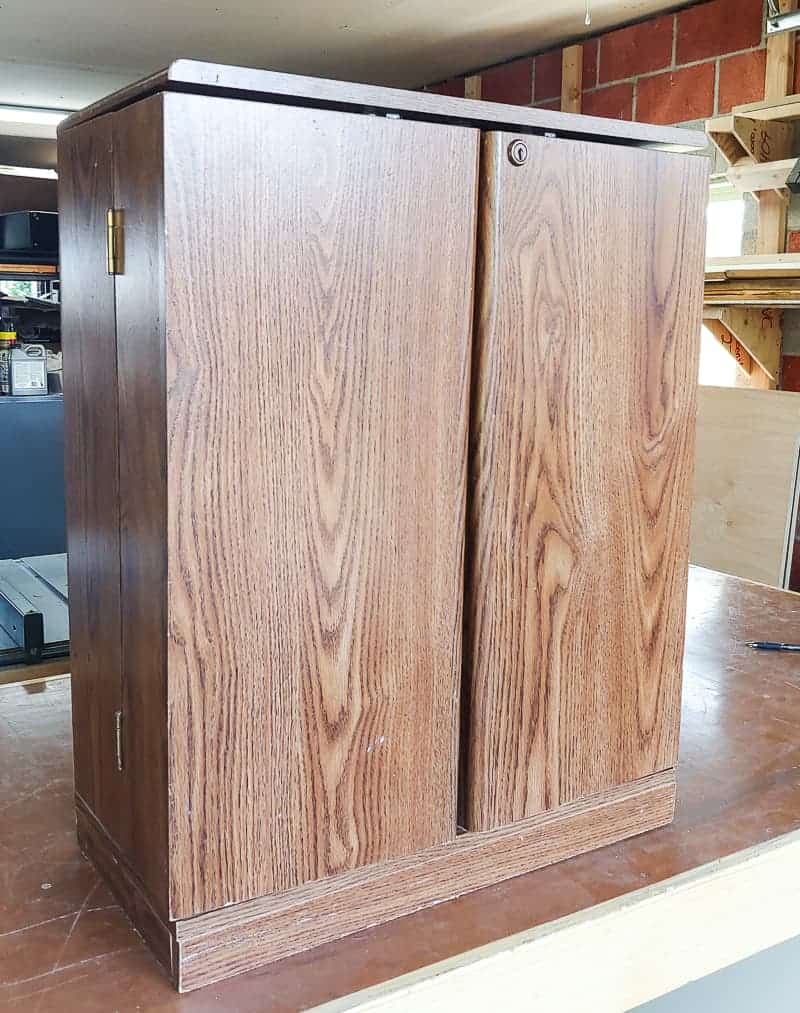 I'm not entirely sure what this is….maybe a bookcase or "media cabinet" for DVDs or videos. The shelves are not very deep. Especially the ones on the inside of the doors.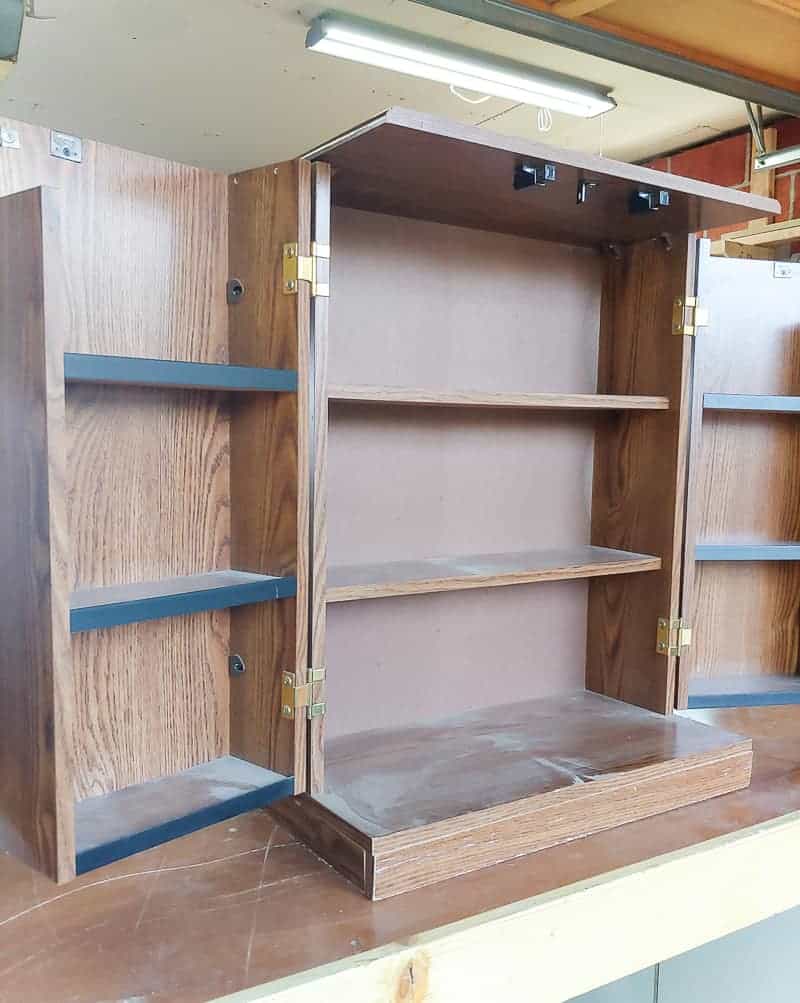 This boho style cabinet tutorial post contains affiliate links, but nothing that I wouldn't wholeheartedly recommend anyway! Read my full disclosure here.
Supplies for boho style cabinet makeover: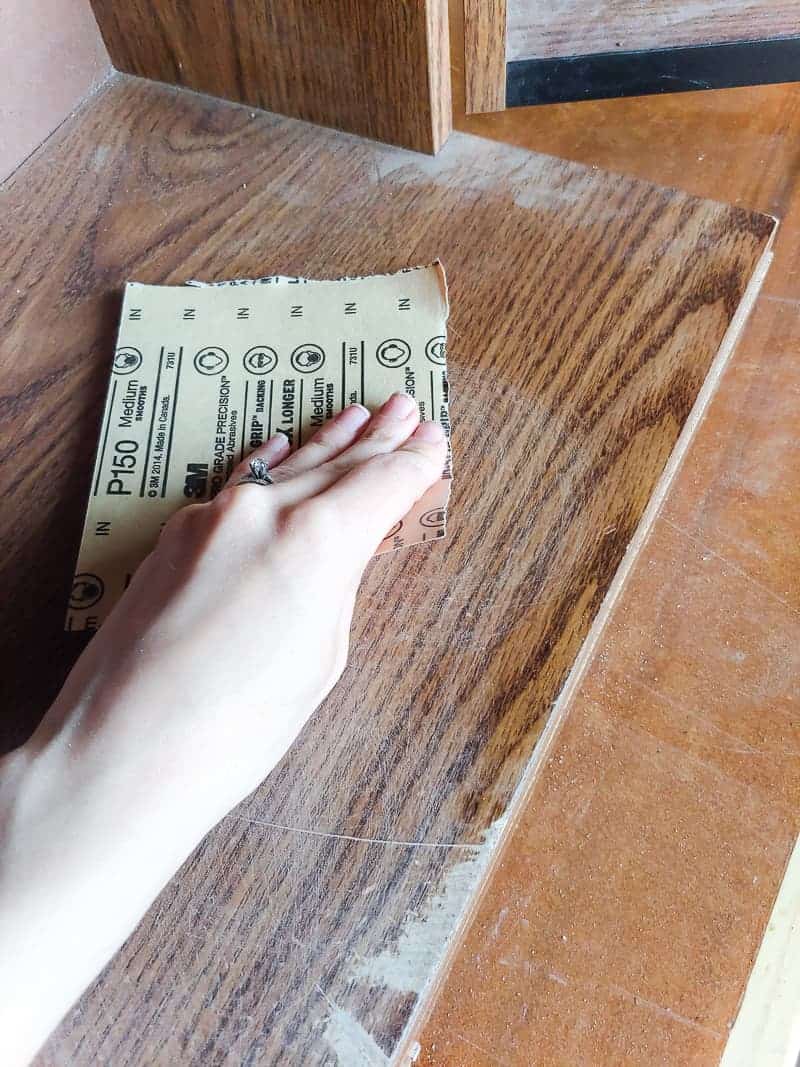 Sand cabinet.
It's a lot easier to remove the doors and hinges / hardware before you start sanding. When working with laminate furniture, you'll definitely want to do all of your sanding by hand, so you don't take too much off. Start with a medium (150 grit) sandpaper. You want to just lightly rub it over all surfaces of the cabinet in a circular motion. The goal here is to rough up the slick surface of the finish on the laminate furniture. You aren't necessarily sanding to remove anything.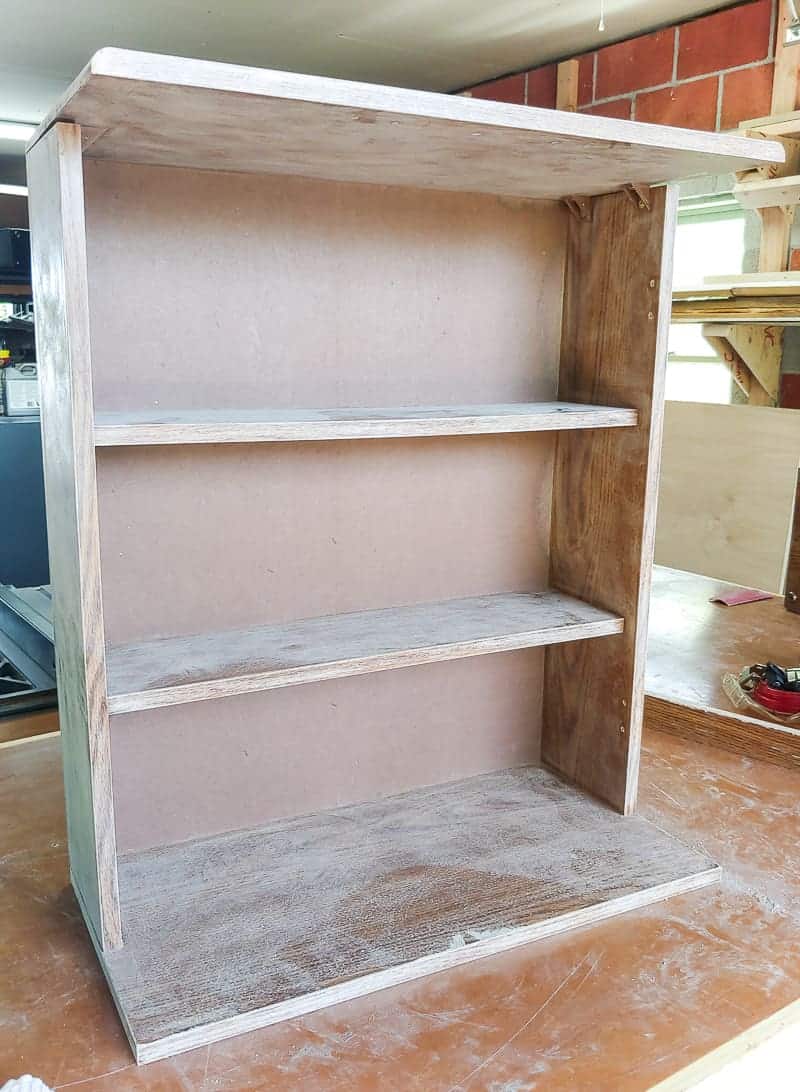 After you do the 150 grit, do another pass over everything with fine (220 grit) sandpaper. This will help smooth everything out.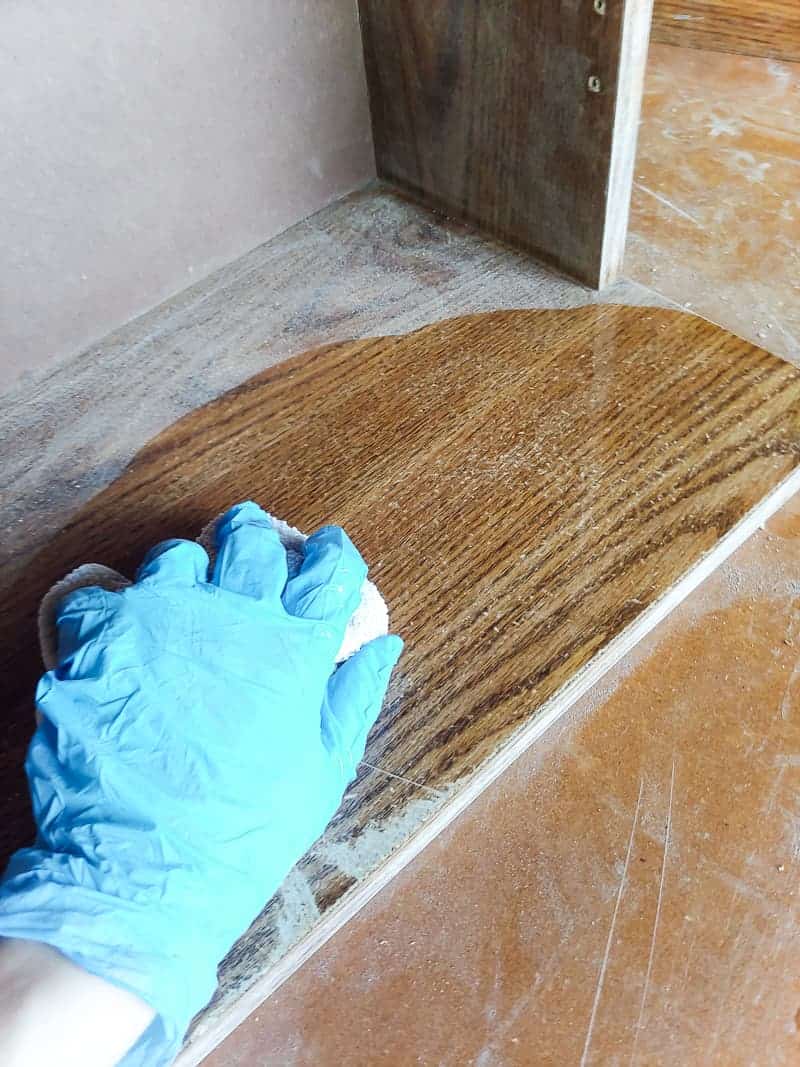 Clean cabinet.
We used TSP to clean before starting to paint because that's what we had on hand. It helps remove dirt, grease, grim and all that sanding dust. For TSP, you just dissolve a small amount in warm water and apply with a cleaning rag. Be sure to wear gloves because the TSP will irritate your skin. Also be sure to rinse with water as well.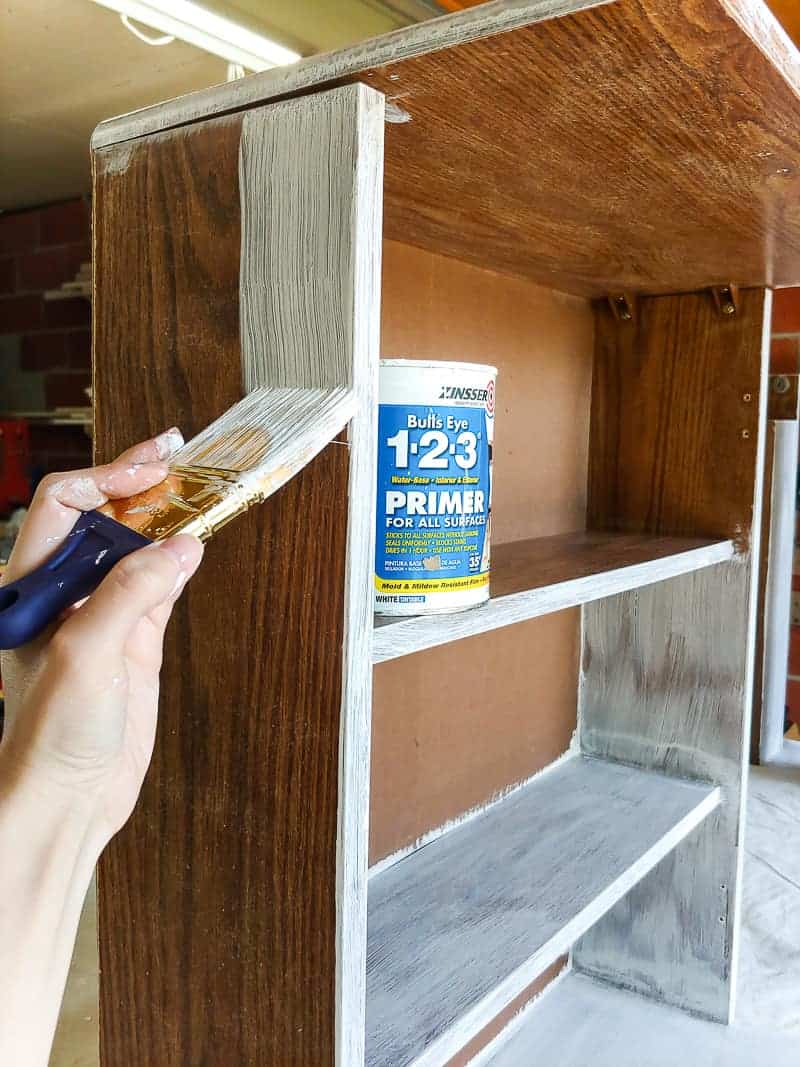 Apply primer to cabinet.
Now it's time to grab that paint brush finally! I applied 2 thin coats of this primer to all surfaces of the cabinet. Let the primer dry for 1 hour in between coats.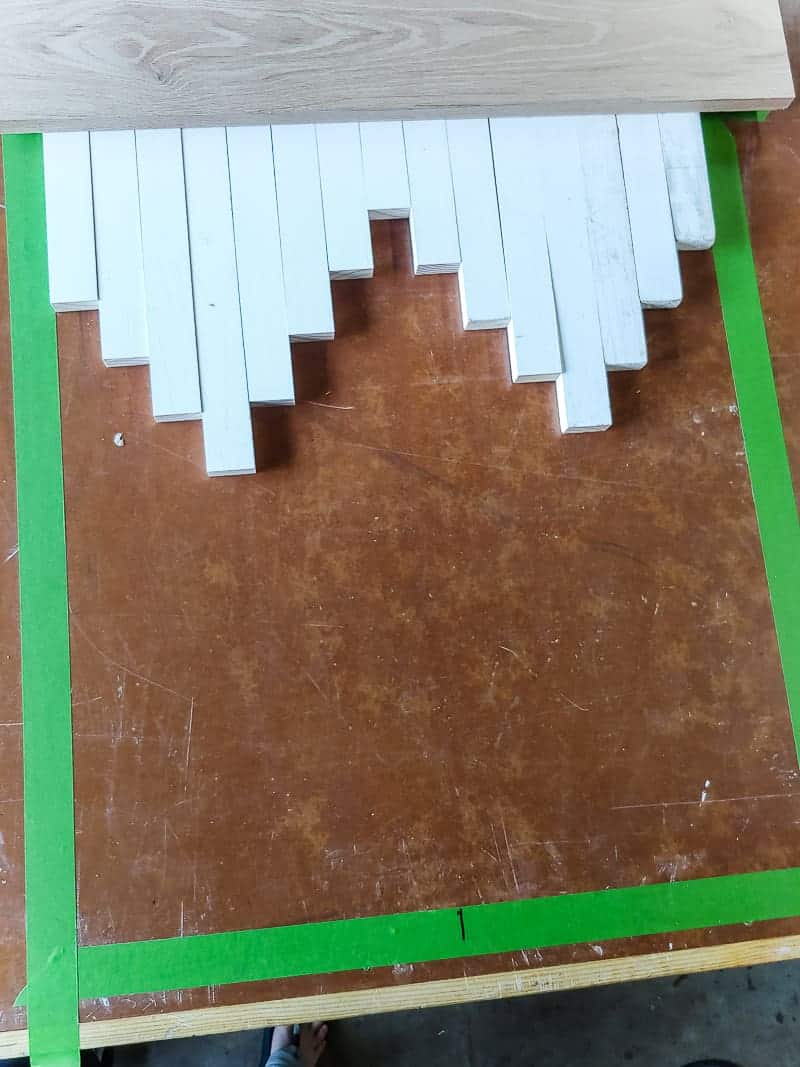 Cut trim pieces for front of boho style cabinet.
While the 2nd coat of primer is drying, you can start working on the fun part….that boho style front! I measured the front of the doors and marked out the area on our workbench with painter's tape to have a flat surface to plan the design on.
I looked back and forth to my inspiration picture a few times and just started laying pieces of trim out until I got the look I was going for.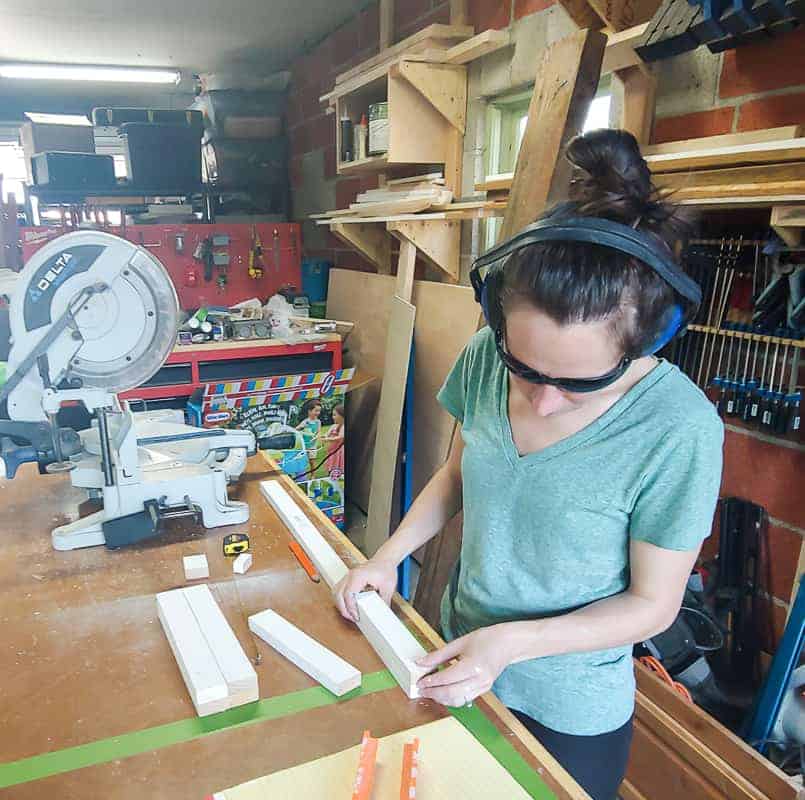 I decided to space the trim pieces out 2 inches, which made the measuring easy! Here's my cut list for the miter saw:
4 pieces @ 10 inches
8 pieces @ 8 inches & 6 inches
4 pieces @ 4 inches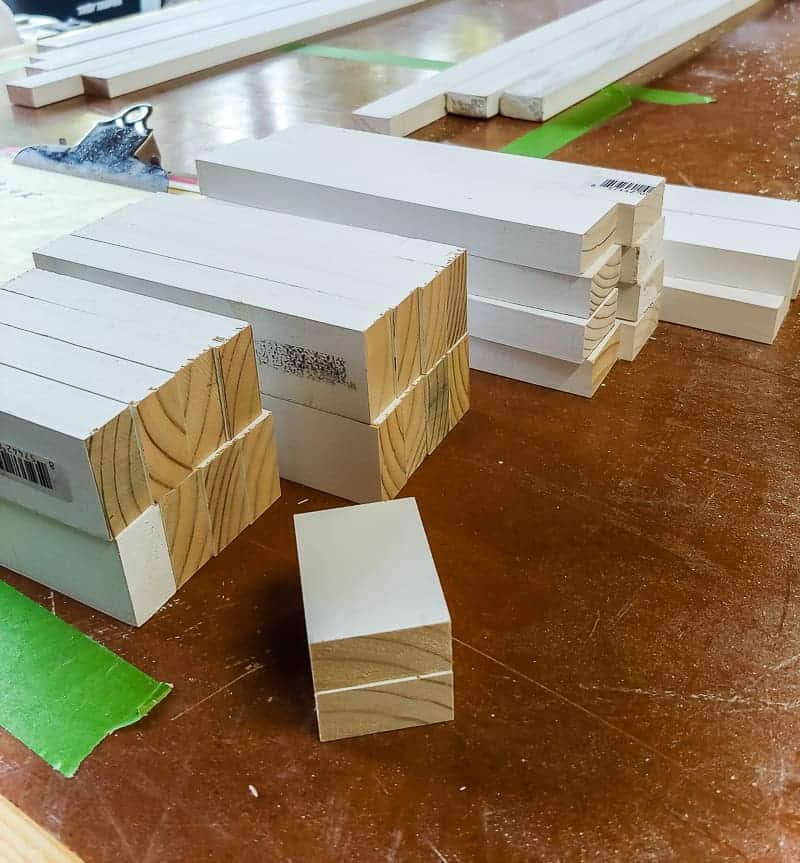 I originally also cut 2 pieces at 2 inches, thinking that I was going to add it to the middle in between the two doors. After everything was laid out on the door fronts, I decided not to you use that small middle piece. It was going to have to be cut in half and was going to pretty hard to attach because the edges of the doors are rounded. I also liked having the trim pieces a little more spread out.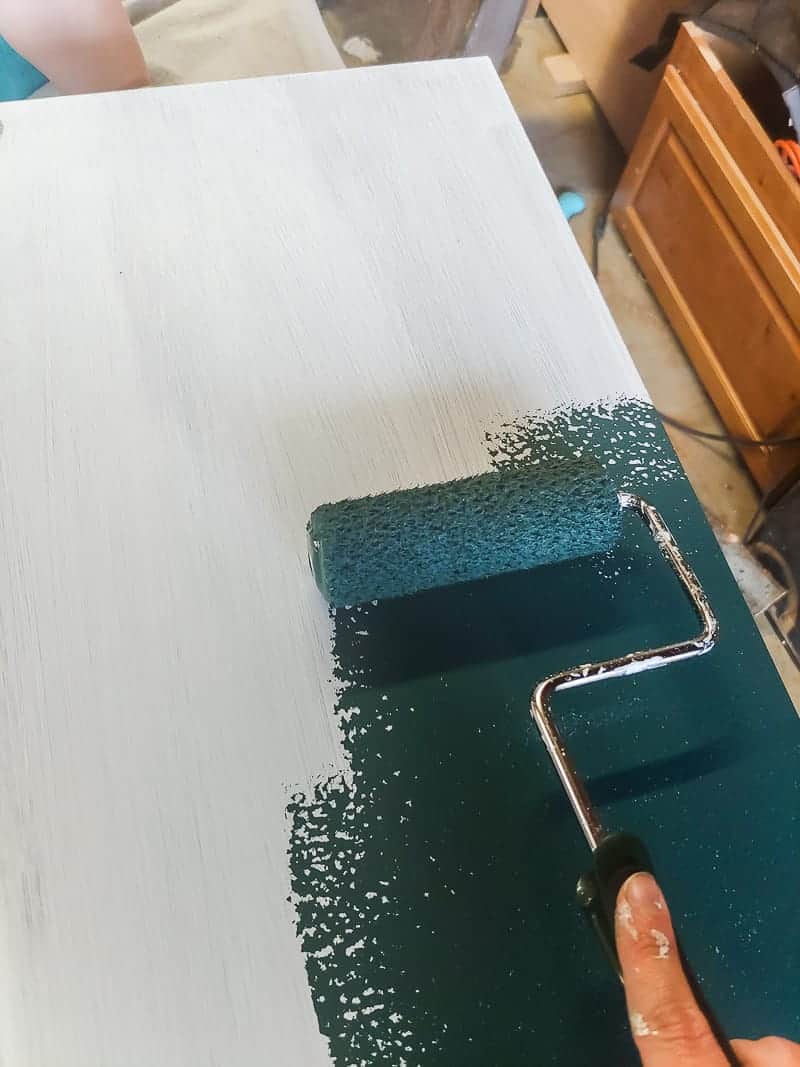 Paint one coat of paint on cabinet & trim pieces.
Before you attach the trim, it's important to get a coat of paint on the both edges of the trim, the front and the entire cabinet. It would be really hard to get the paint brush down in between the trim pieces if you didn't do before installing.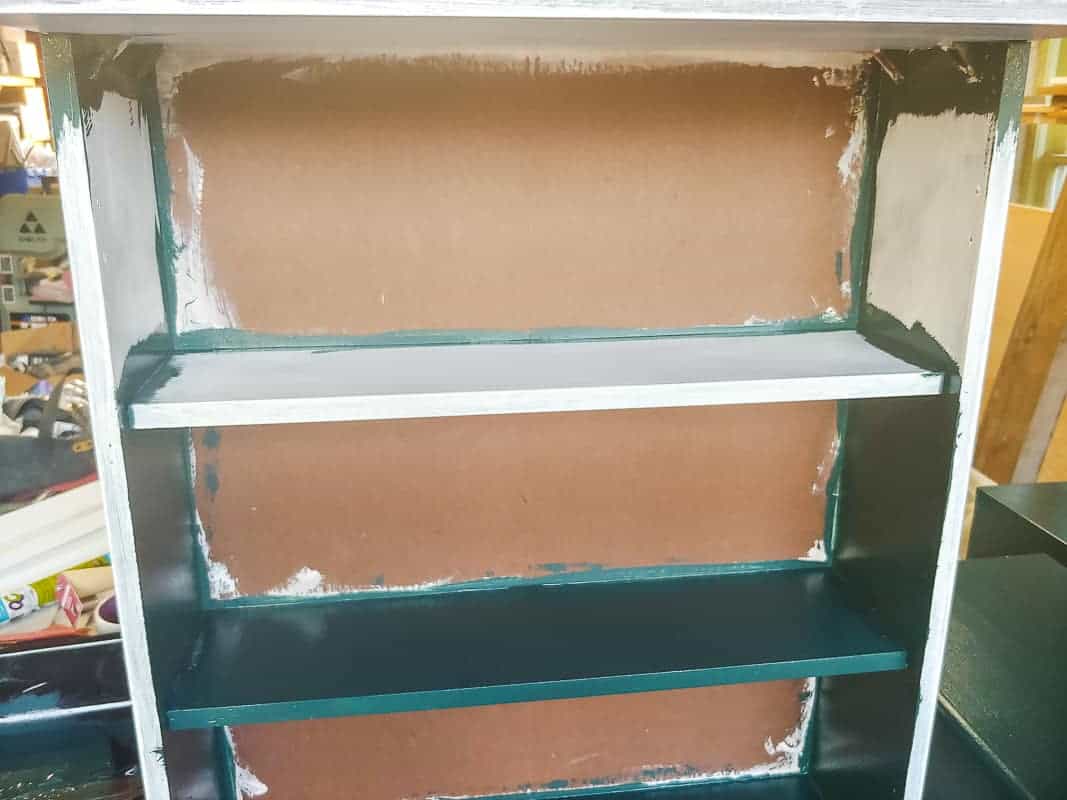 To paint the laminate cabinet, I used this paint brush to get into hard to reach places, like corners of the shelves and then finished everything off with a small paint roller, which has a nice clean finish.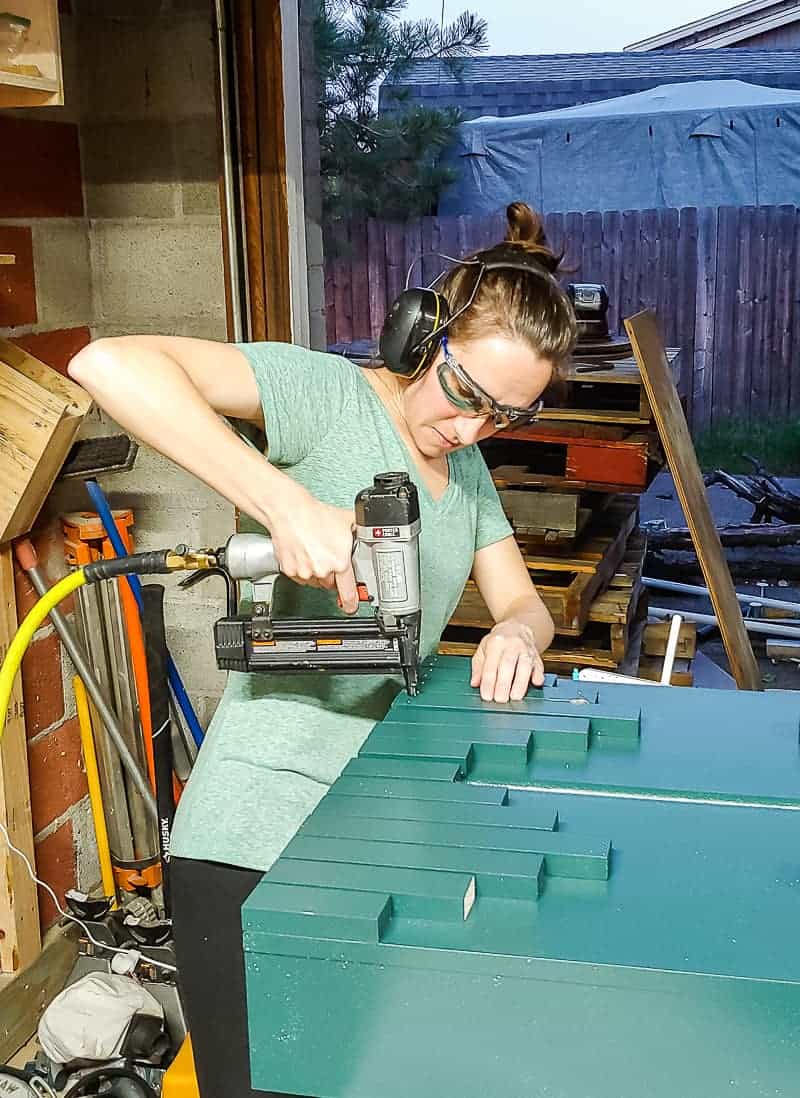 Attach trim pieces to the front of doors.
After everything has been painted once and is nice and dry, you can the fun trim added to the front. This is where it really started something together and looking like the boho style cabinet that I had imagined.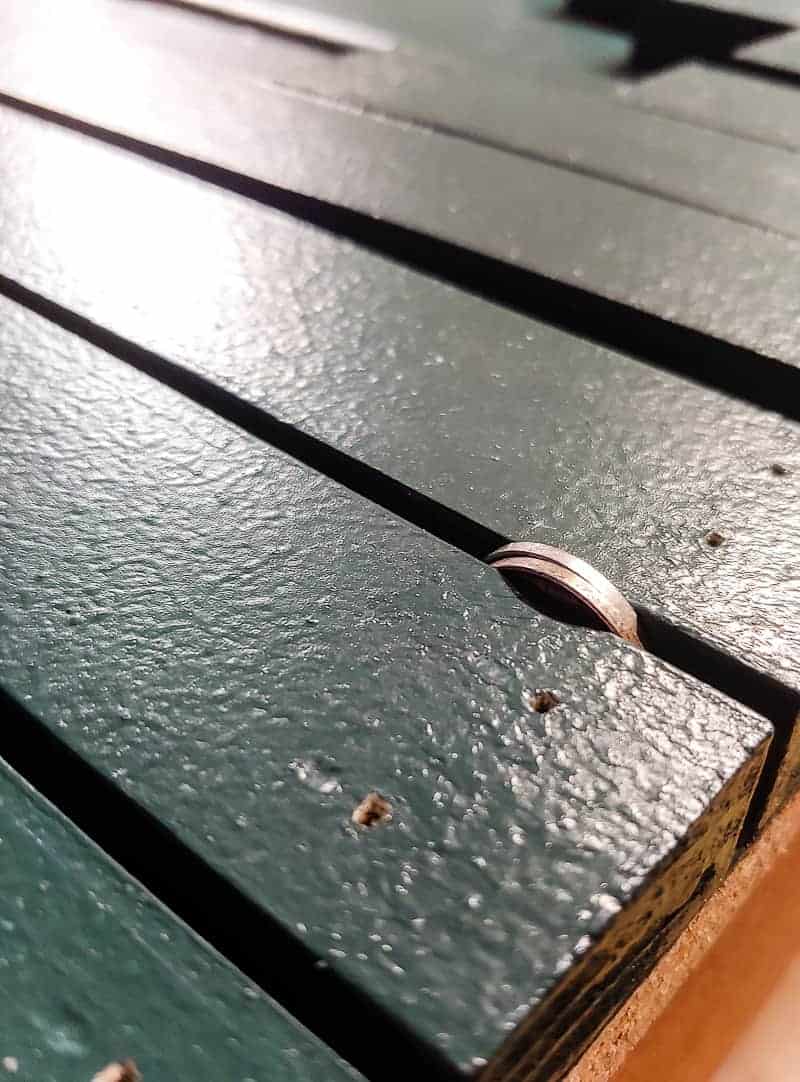 To space the trim pieces out, I used two nickles held at the top and the bottom to make sure the pieces go on straight and everything is spaced evenly.
The nails we had on hand worked, but it would been nice to have them be just a hair longer. So just to be safe, we used some Rapid Fuse glue on the back of the trim pieces before nailing them in place.
We can't use wood glue because it had already been painted. This glue is seriously DA BEST. I talk all about why it's the best super glue for fixing things around your house in the this post.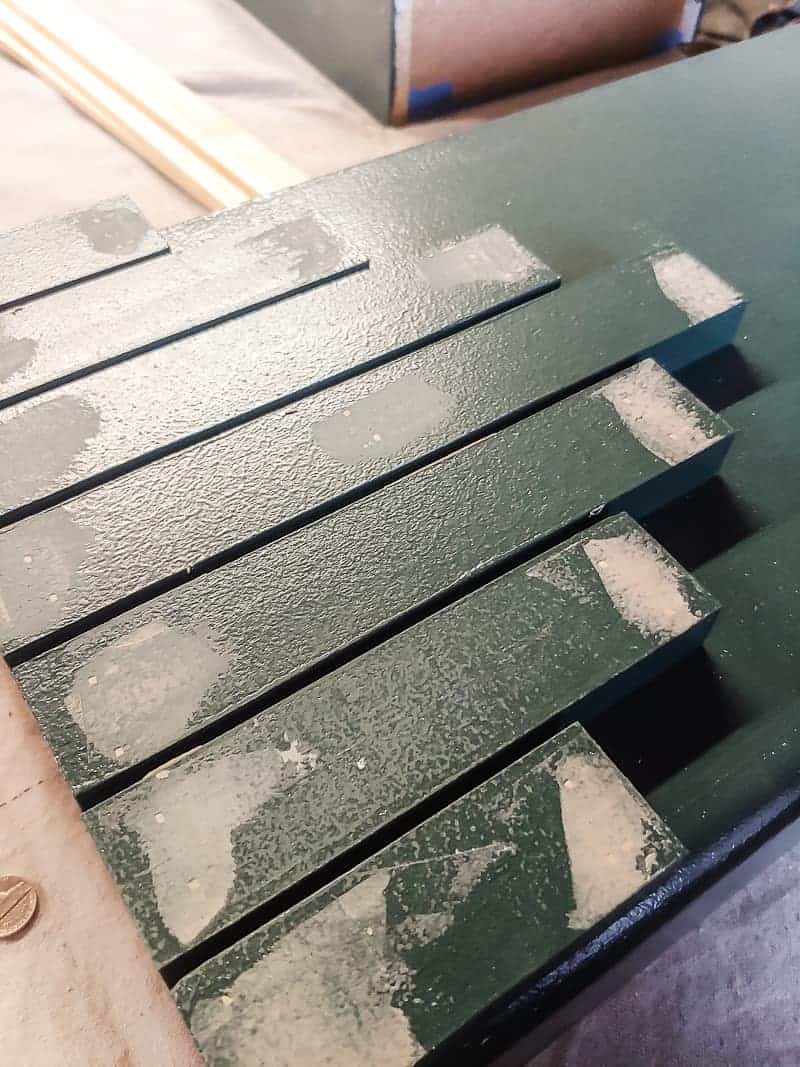 Fill nail holes.
Next, use wood filler to patch all nail holes and then, once dry sand them with fine grit sandpaper so they are nice and smooth.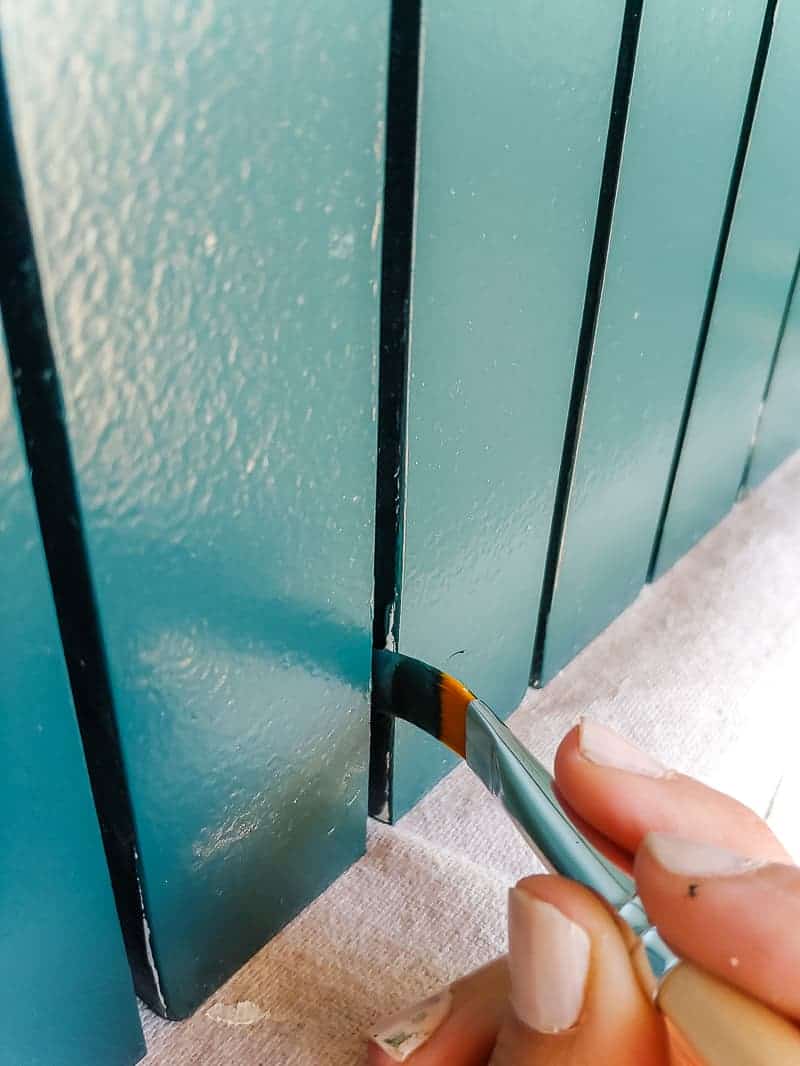 Paint entire cabinet.
Then you can just keep painting the cabinet with the paint roller! I needed 2 more coats at this point, so 3 coats total.
I used this small craft paint brush for touch up and to get any pieces of trim that got messed up from sanding/wood filler.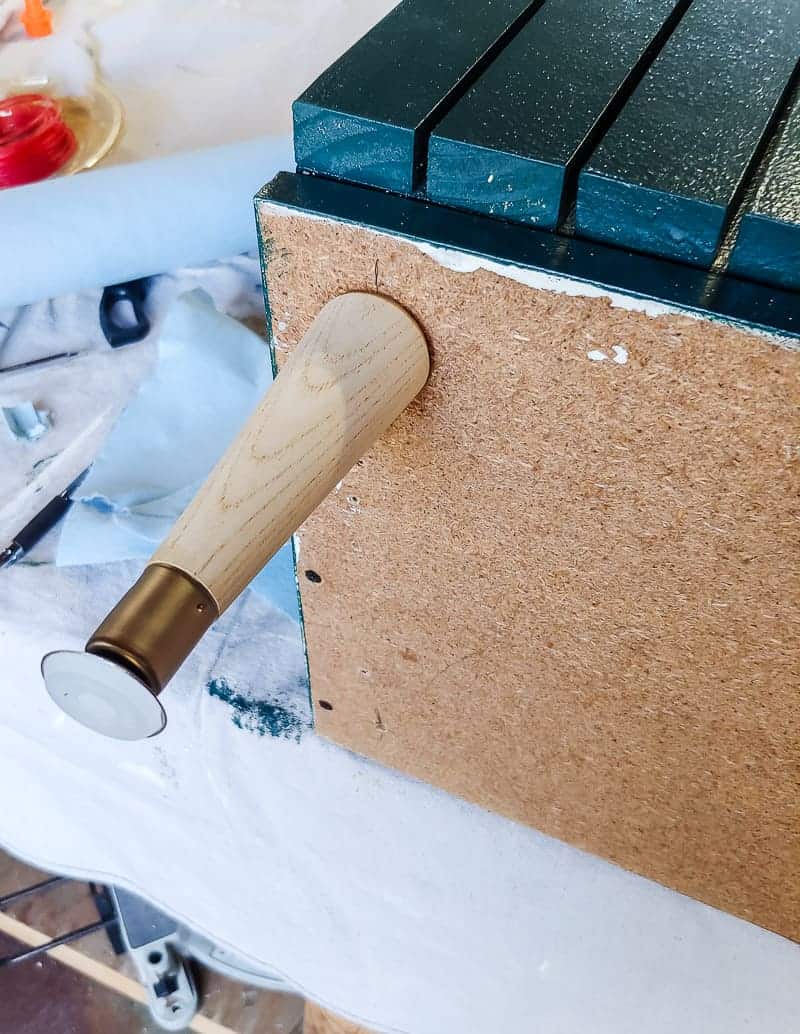 Add furniture legs.
Last step is to add the furniture legs to the bottom. I love these ones, which are super inexpensive!
We measured 2 1/2 inches in from the corners and drilled holes for the legs. Since we are working with particle board on the bottom surface, we were really careful to slowly work our way up to a larger pilot hole for the legs and then we added wood glue to the end of the screen before installing (for some extra support).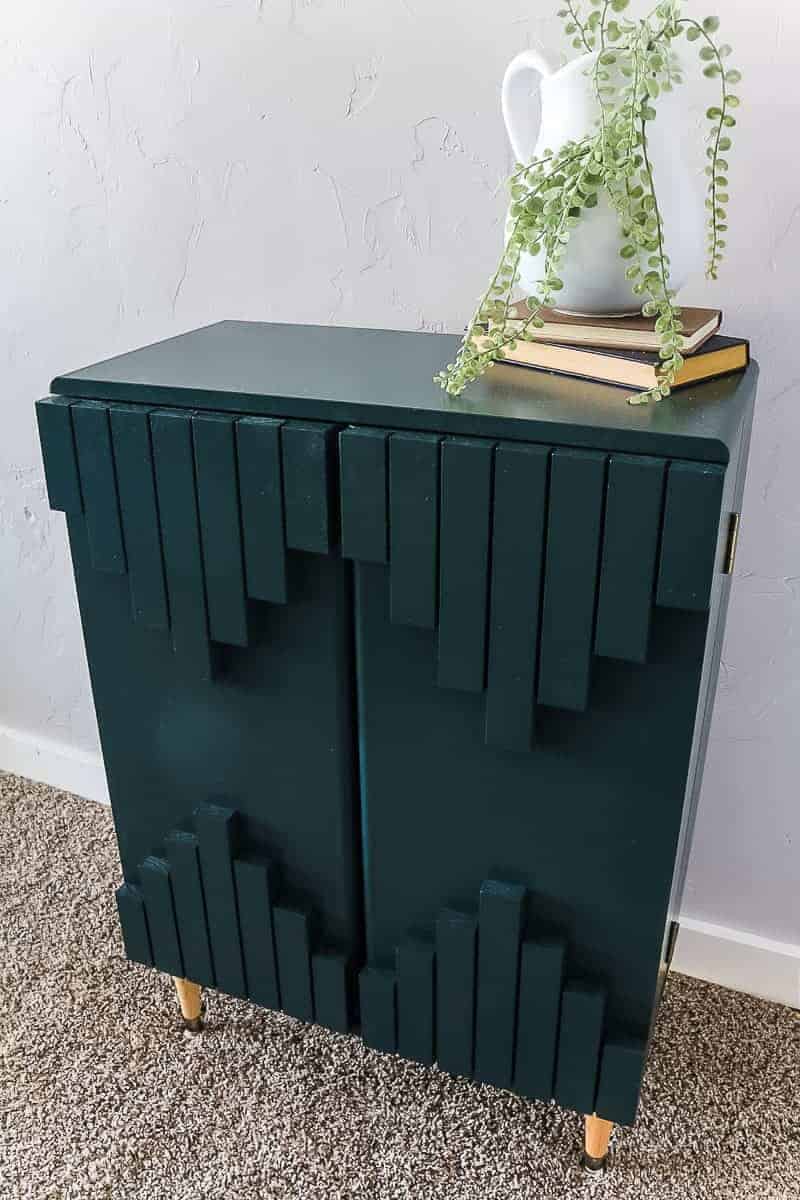 Here she is in all of her glory.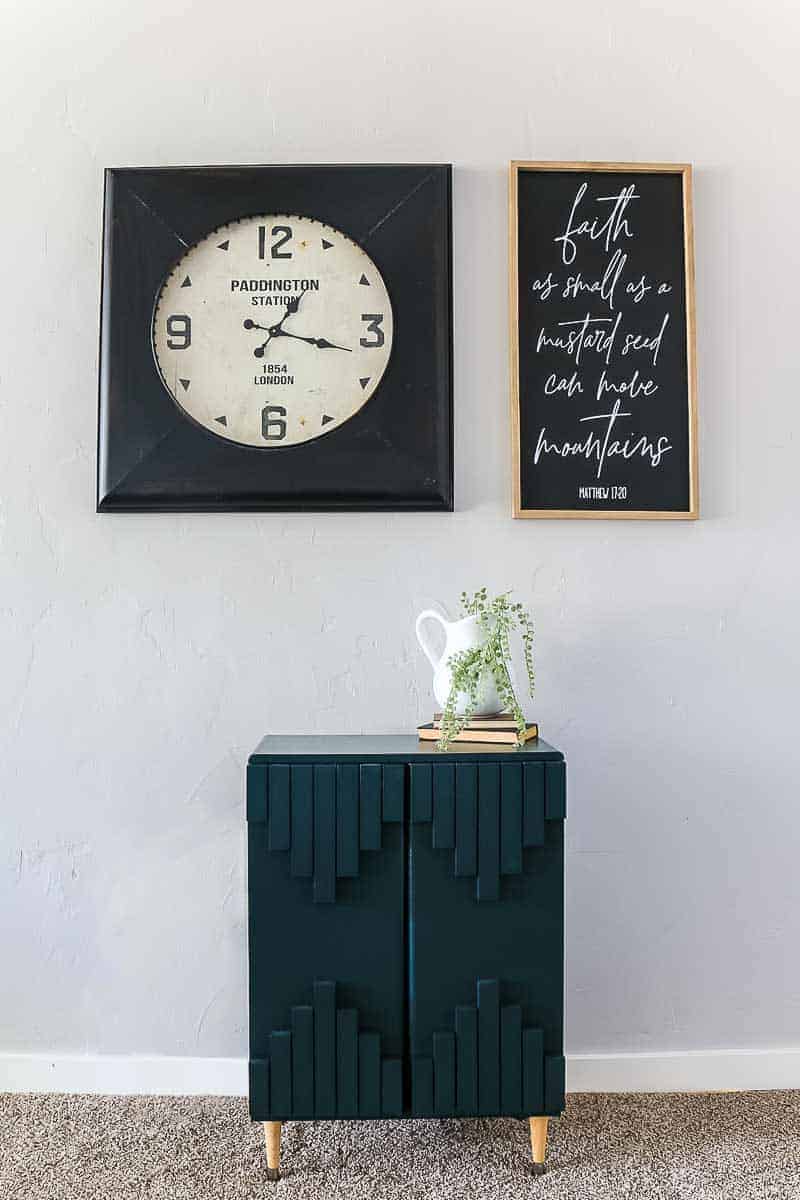 I'm sorta kind of obsessed with it.
Let's a take a look inside, shall we?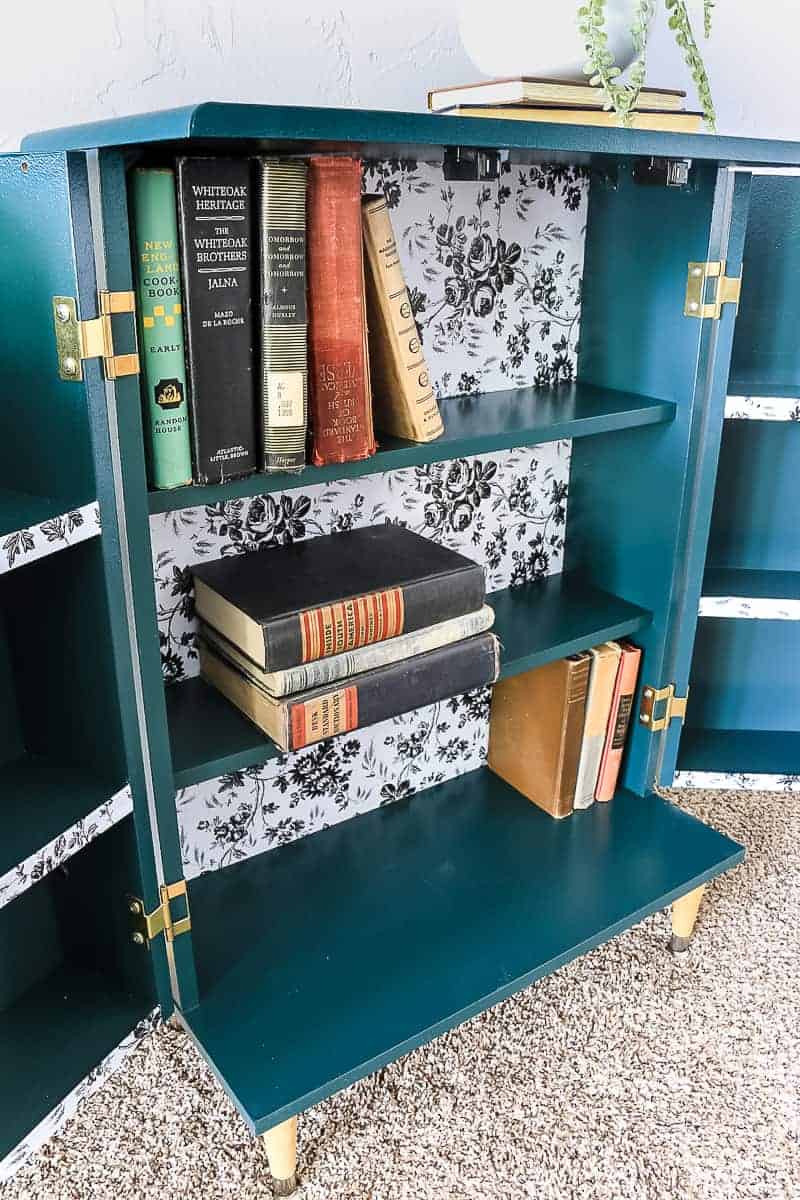 I'm SO glad that I decided to add in the contact paper, rather than paint the back. I think it adds so much extra character.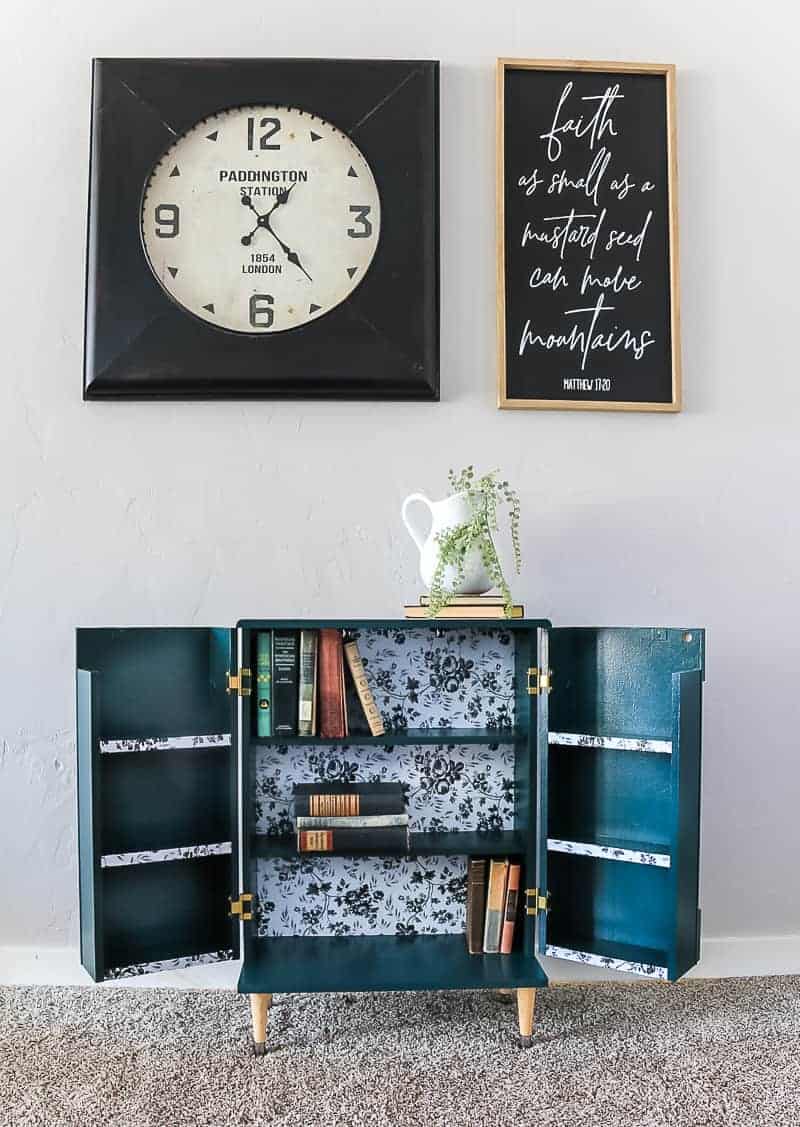 Next time you see a cheap piece of laminate at the thrift store…. don't pass it by. Here's proof that with a little bit of love, you can totally turn that cheap laminate furniture into something with character and charm that fits right in with your home decor style.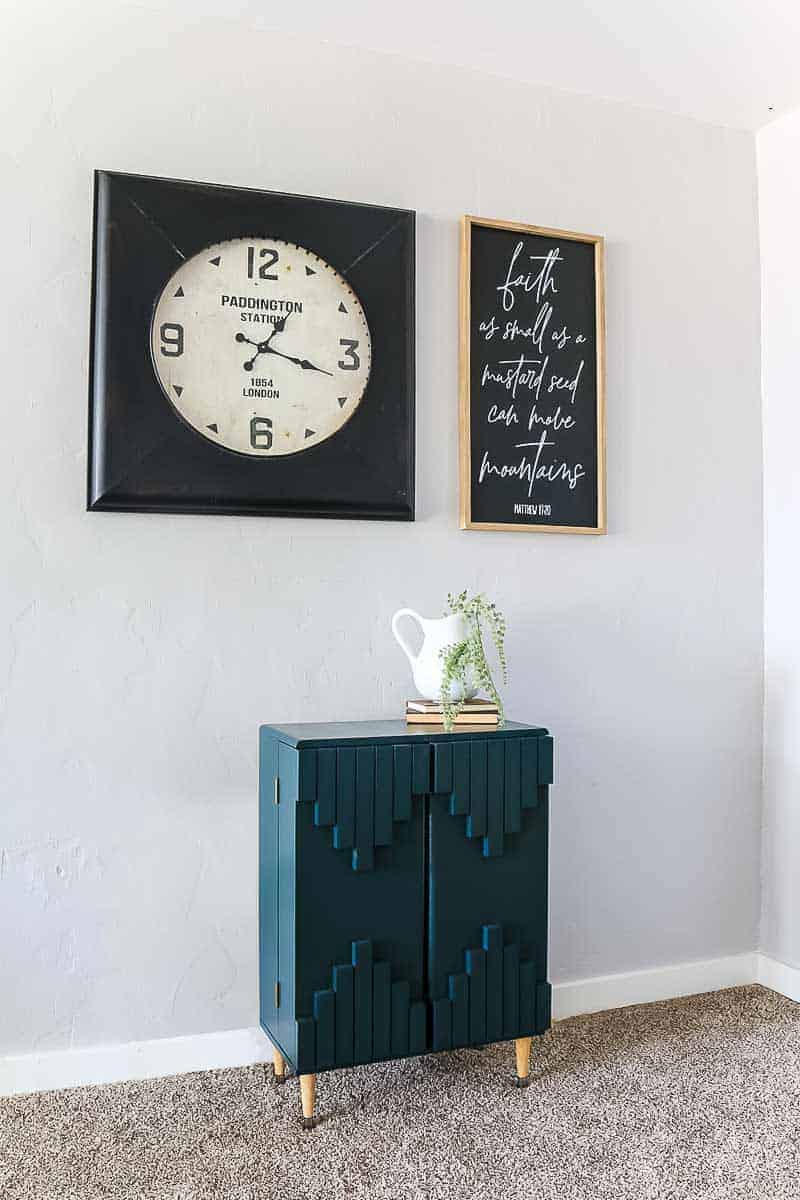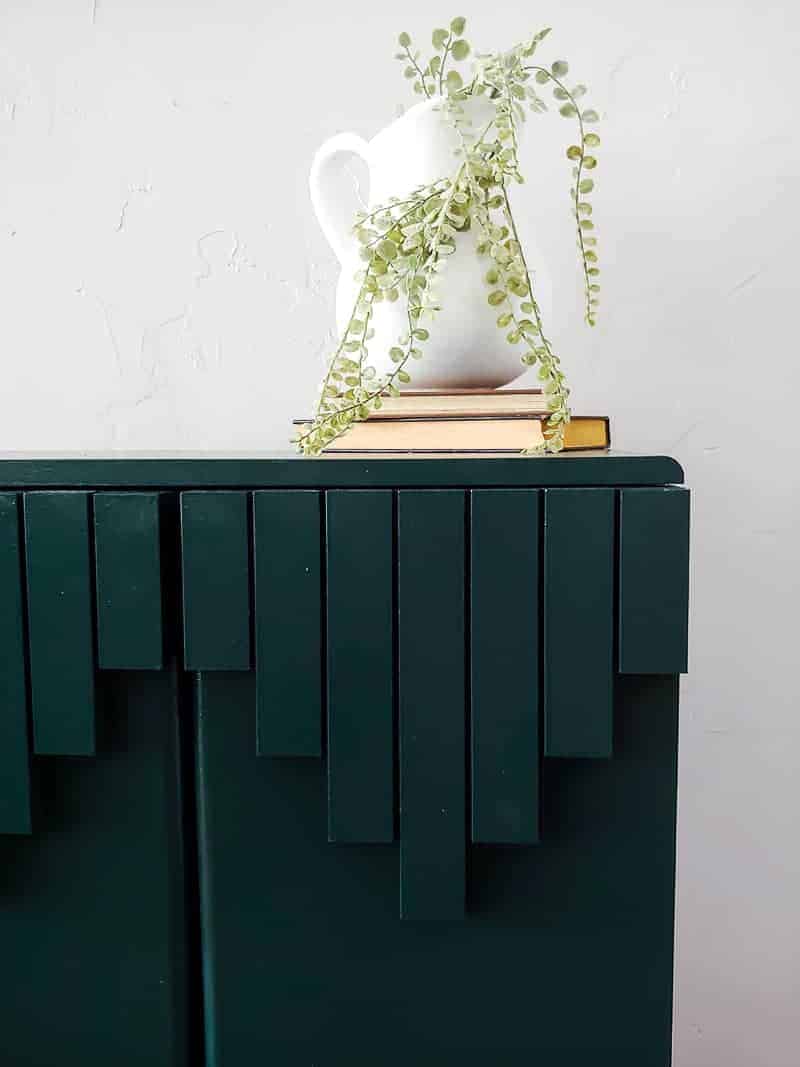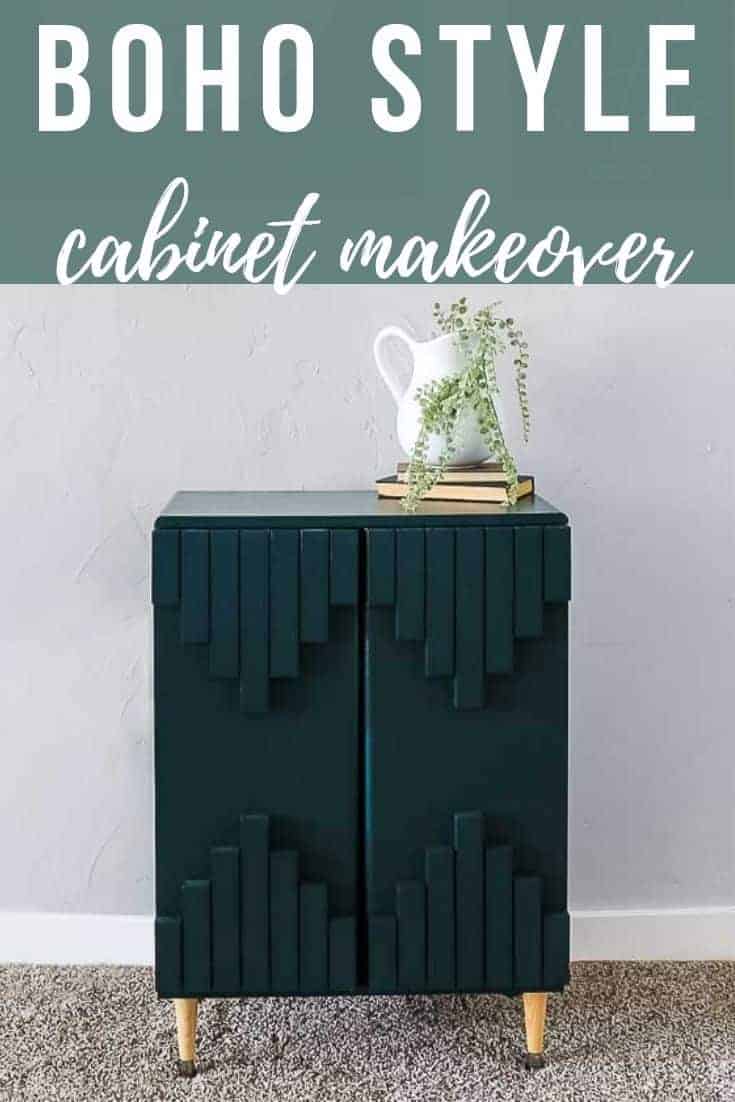 P.S. I'll thank my kids for napping that Saturday afternoon for ya. 😉
Have you ever painted laminate furniture? How did it go?
Let me know in the comments below!
---
Before you go, be sure to check out the other blogger's thrift store challenge projects: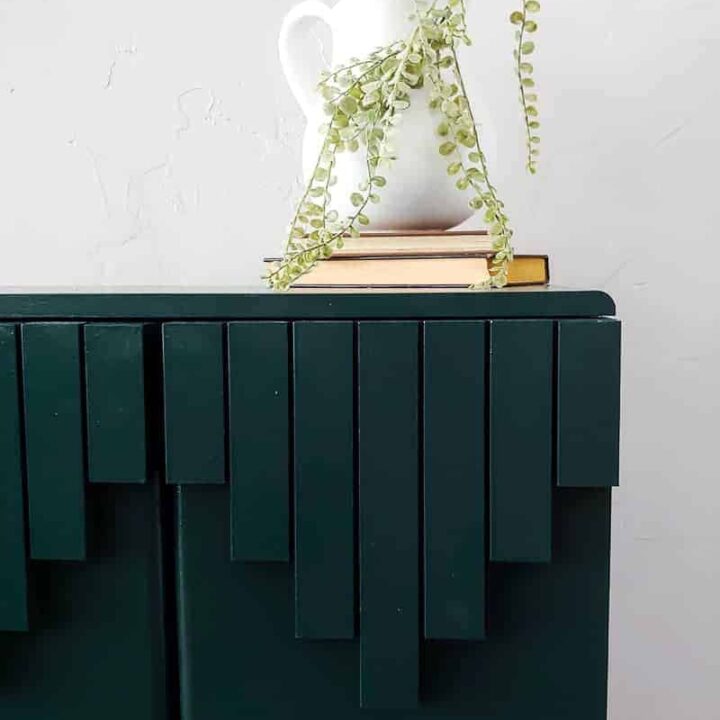 How to Make A Green Boho Style Cabinet
I snagged this laminate cabinet at a thrift store for $3! Just wait til you see the crazy transformation. I absolutely LOVE how this dark green boho style cabinet turned out.
Materials
Wood filler (for nail holes)
Nails
Wood filler (for nail holes)
Tools
Sandpaper
Cleaning rag
Paint tray
Miter saw
Nail Gun
Xacto knife
Instructions
Sand cabinet.
Clean cabinet.
Apply primer to cabinet.
Cut trim pieces for front of boho style cabinet.
Paint one coat of paint on cabinet & trim pieces.
Install trim.
Fill nail holes.
Paint entire cabinet.
Add furniture legs.