Tired of the boring store bought sticker Christmas labels? Follow this easy step by step tutorial to make your own custom stamps for Christmas gift tags with the Silhouette Mint!
Thank you to Silhouette for sponsoring this post! All opinions are entirely my own. This post also contains affiliate links, but nothing that I wouldn't recommend wholeheartedly. Read my full disclosure here.
It's been one heck of a year for us. We moved into our 2nd fixer upper, started renovating immediately, had a 2nd baby, and just finished a marathon of a bathroom renovation for One Room Challenge. To say we've been busy is an understatement. To be honest, I haven't had much time for crafting this year!
In fact, LAST YEAR for Christmas my sweet husband got me the latest and greatest Silhouette machines – the Cameo 3, the Curio, and the Silhouette Mint! He did good, right?
When I was unwrapping my Christmas presents, I was most curious about that little Silhouette Mint, which I had never even heard of before. After doing a little searching on Pinterest and YouTube, I was so excited about this little custom stamp maker!
Now that things have kind of calmed down around here, I finally unboxed it and discovered that 1) the Silhouette Mint is SO easy to use and 2) it is SO fun to use! Pretty much right away I thought of 1 million projects, but narrowed it down to a couple for the holidays that I know will come in handy! Christmas gifts tags….and DIY wrapping paper.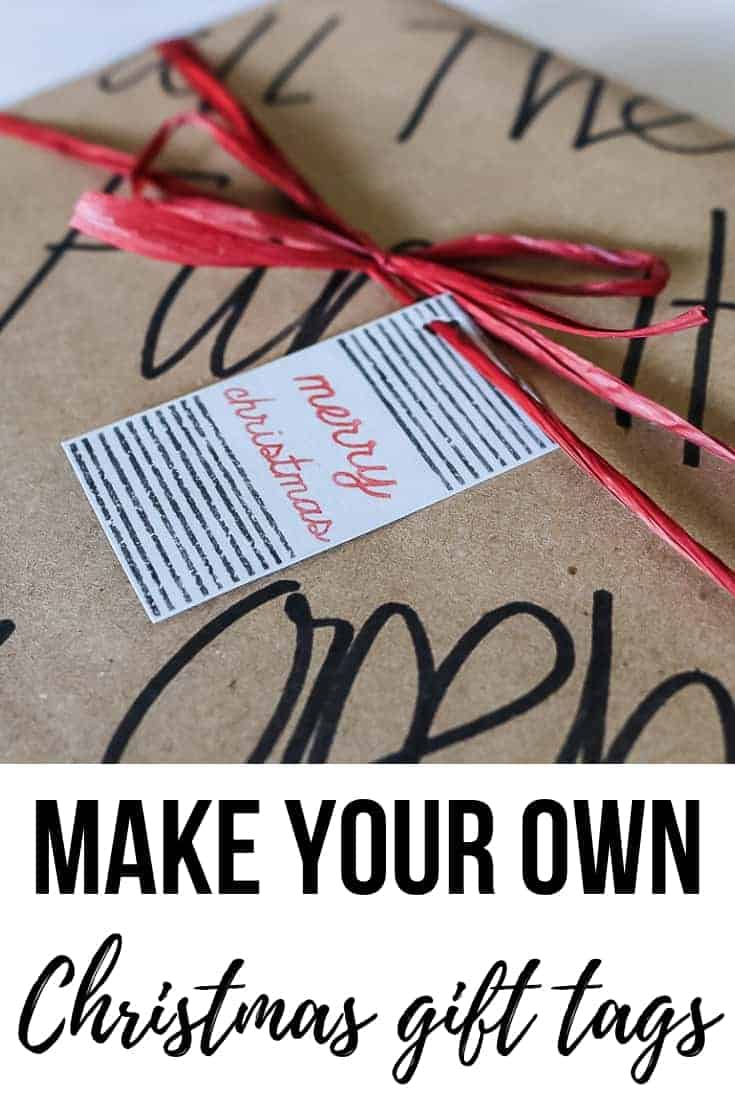 How to Make Your Own Custom Stamped Christmas Gift Tags
Supplies for Christmas gift tags: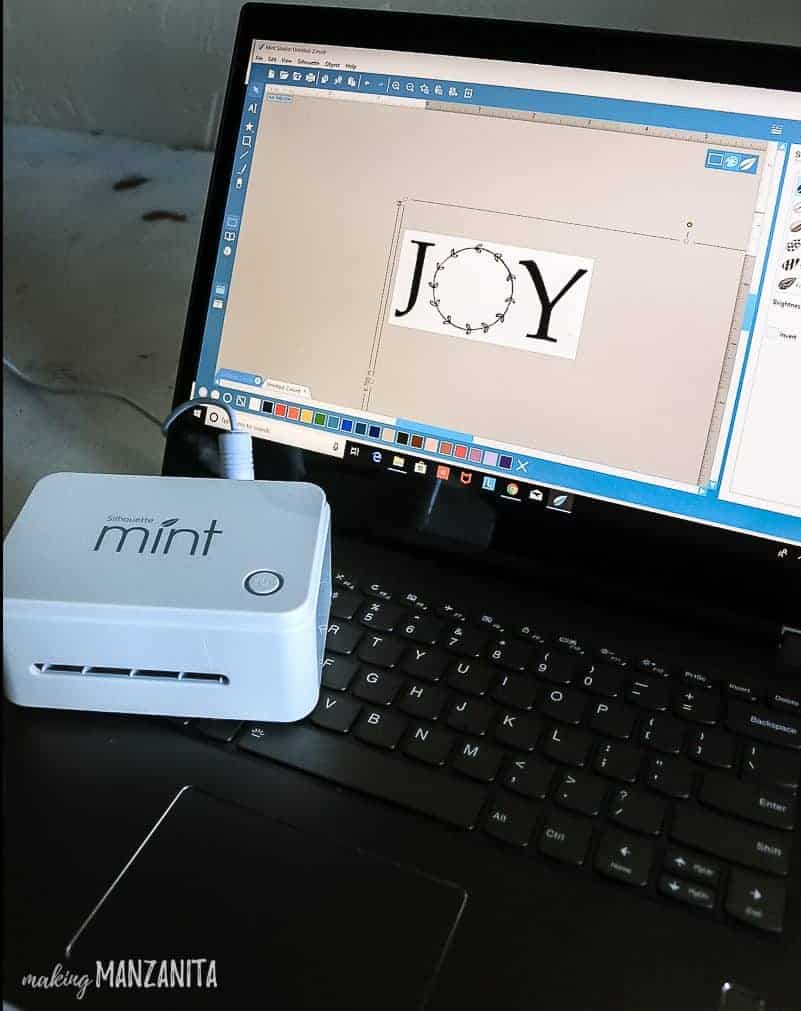 Step 1. Design your stamps.
The Mint Studio is very similar to the Silhouette Studio that you probably have used before if you have a Cameo or Curio, but it is even more simple. There are fewer capabilities and buttons, in general.
I designed a handle of different designs and sizes for our Christmas gift tags. Some of the graphics I used came with the free 50 designs that come with the Mint (like the North Pole postage stamp graphic and the snowflake).
I used a wreath vector graphic to make the JOY stamp with a wreath for the "O".
I used the cursive font used in several of the stamps.
Once you get your design set, you can decide on a number of "screens" before printing. Most of my Christmas gift tags were stamped with the standard filter, but I did do a couple with a fancier screen, which kind of makes it look distressed. I used this filter for the lines on the Merry Christmas tag & the border on the postcard stamp.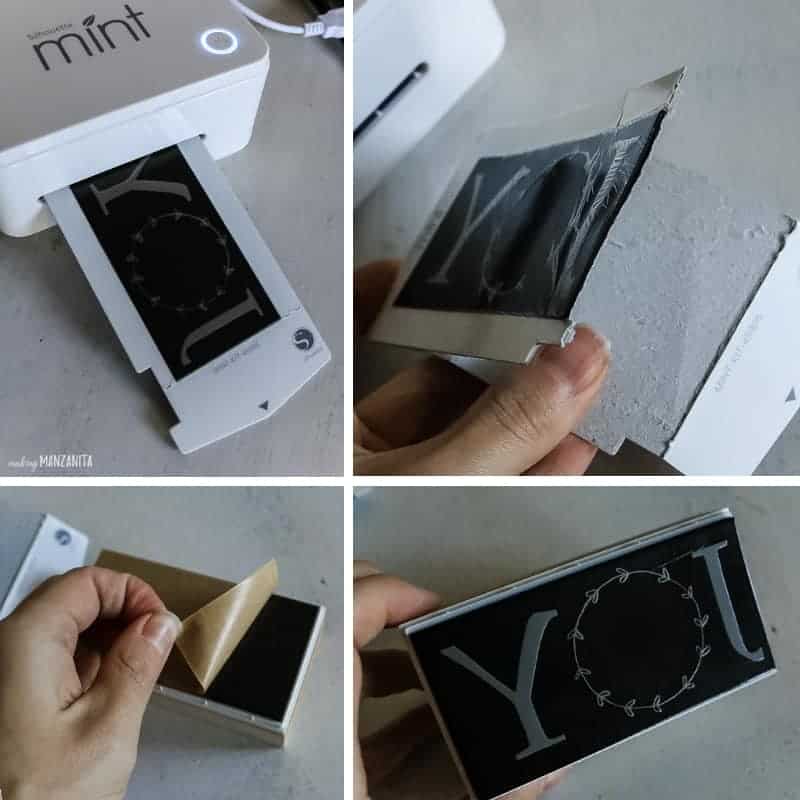 Step 2. Print your stamps on the Silhouette Mint.
The Silhouette Mint instructions come with pretty detailed instructions you can follow, but the general idea is to:
Turn on your Silhouette Mint and plug into computer.
Start Mint printing in the Mint Studio.
Insert corrected size stamp sheet into the back of the Silhouette Mint.

Leave both the cardboard and the plastic liner on the top of the stamp sheet, you'll remove these after printing.
You may need to give it a very slight push so the machine grabs it and pulls it into the printer.

Bend the cardboard at the dotted line and peel the stamp away from both the cardboard and the plastic liner on the front.
Apply to the stamp block (after removing the brown liner protecting the adhesive).
Press stamp on gently to the block.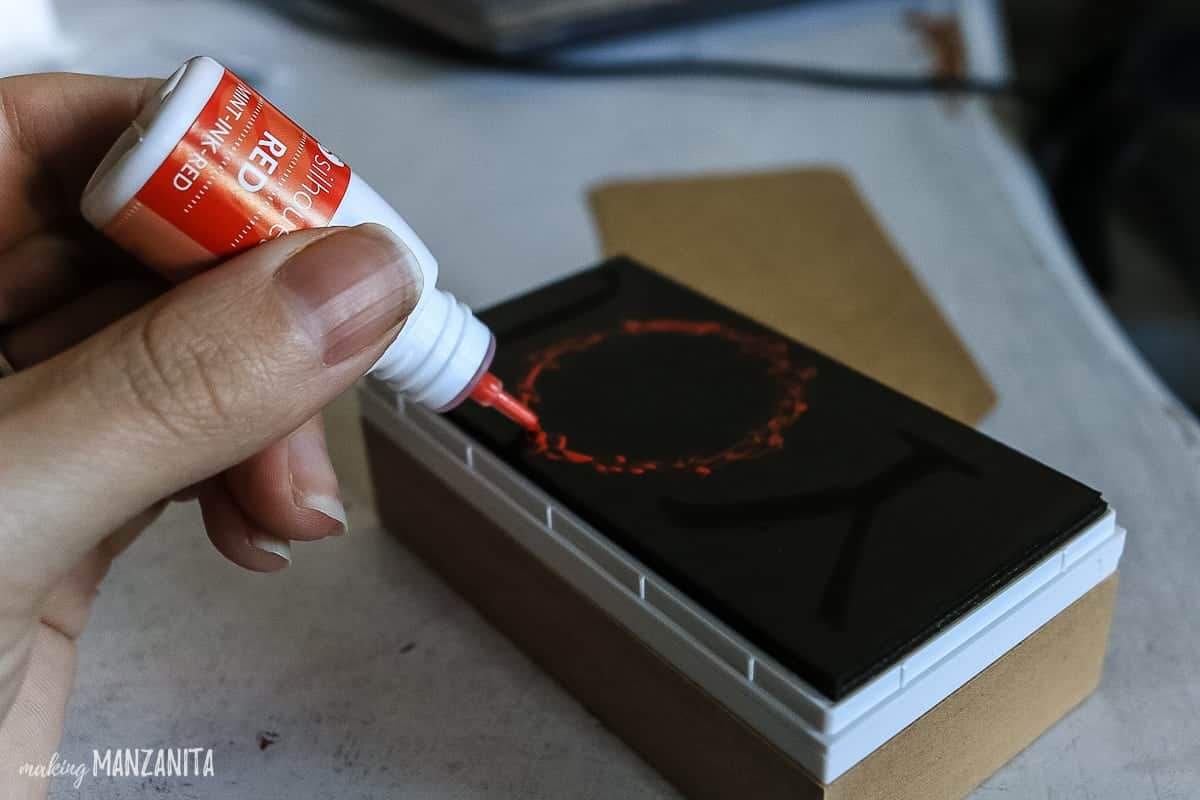 Step 3. Add ink to the custom stamps.
You just simply drop the ink over the stamped design by dropping it in place. Try to get the ink just on the area of the stamp and apply it as evenly as you can.
After adding the ink, let it sit for at least 7 minutes to soak into the design.
Stamp out extra ink of scrap paper.
There will be excess ink on the custom stamp, so you've gotta that off. Just stamp it over and over on a scrap piece of paper. It took me anywhere from 4-8 times stamping on scrap paper depending on the stamp. Eventually, you'll start to get a clear stamp and you can move it over to where you'll actually be stamping.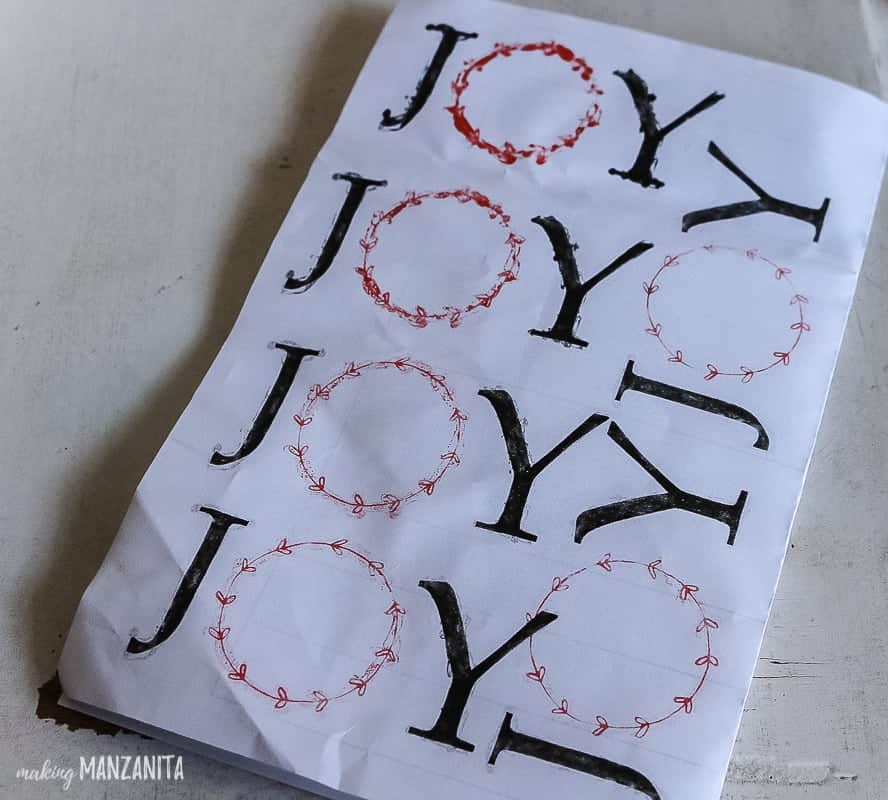 Step 4. Stamp your Christmas gift tags.
I used a mixture of white, gray, and kraft paper stamps. The stamps showed up the best on the white paper but still looked good on the gray and kraft paper.
I found it easiest to stamp the whole sheet of paper and then cut around the Christmas gift tags.
You can simply use a hole punch in the gift tag to attach it to your gift.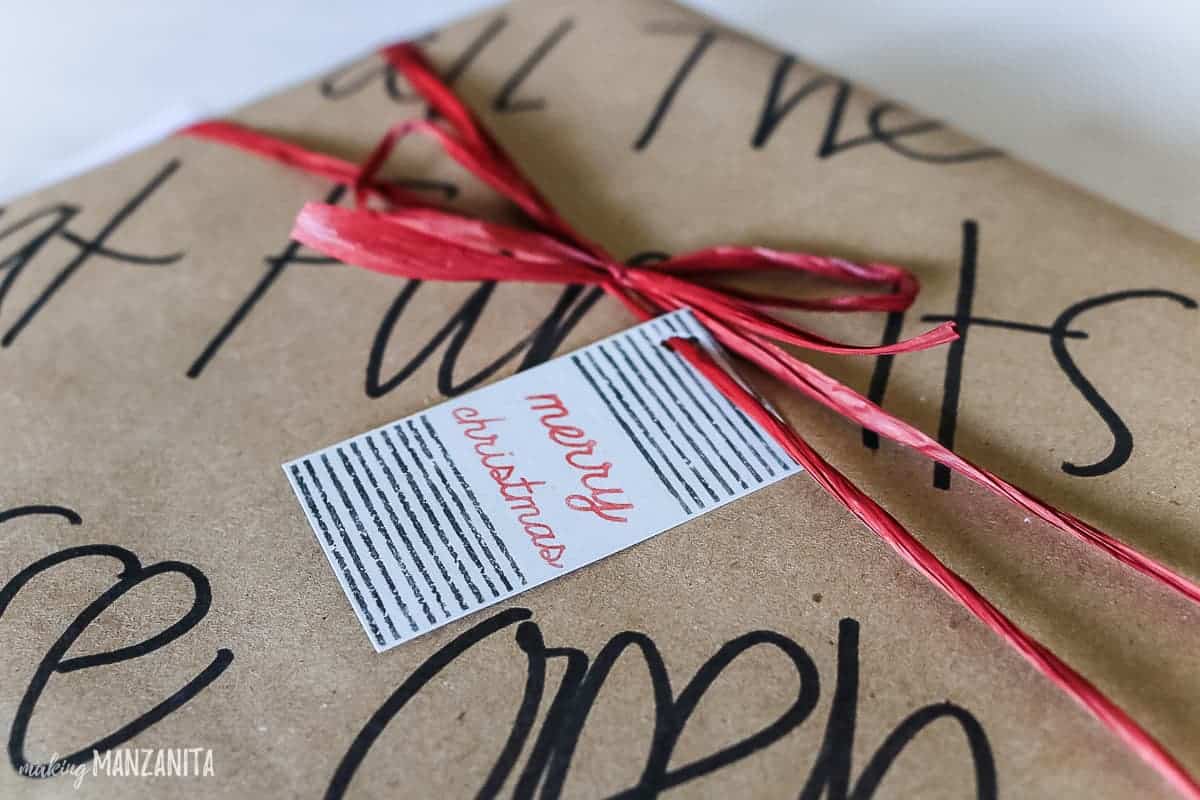 You can also use a little washi tape to attach it directly to the gift or the bag.
These personalized Christmas gift tags were so easy and FUN to create on the Silhouette Mint! They add so much character to my gift wrapping and I love them way more than the store-bought sticker labels.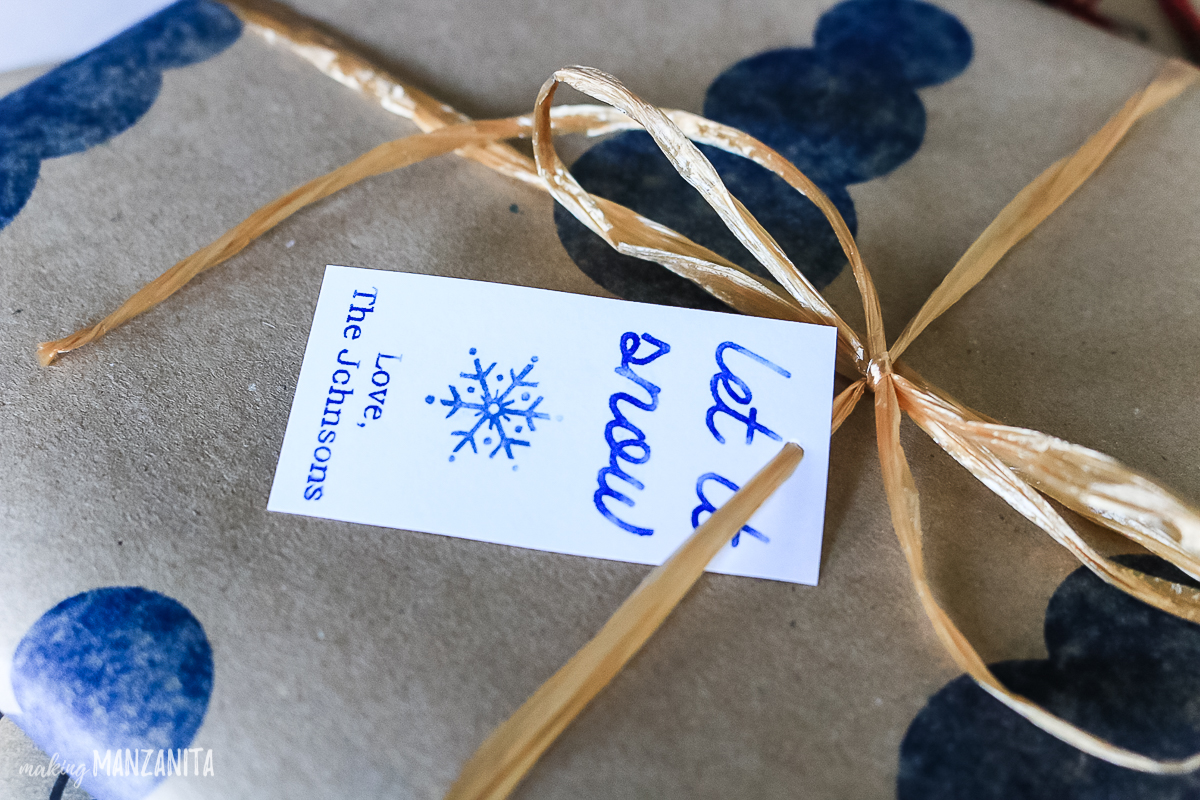 I was really surprised how easy it was to figure out the Silhouette Mint, there really isn't much of a learning curve! But if you do have any questions about the machine, just let me know and I will do my best to answer them.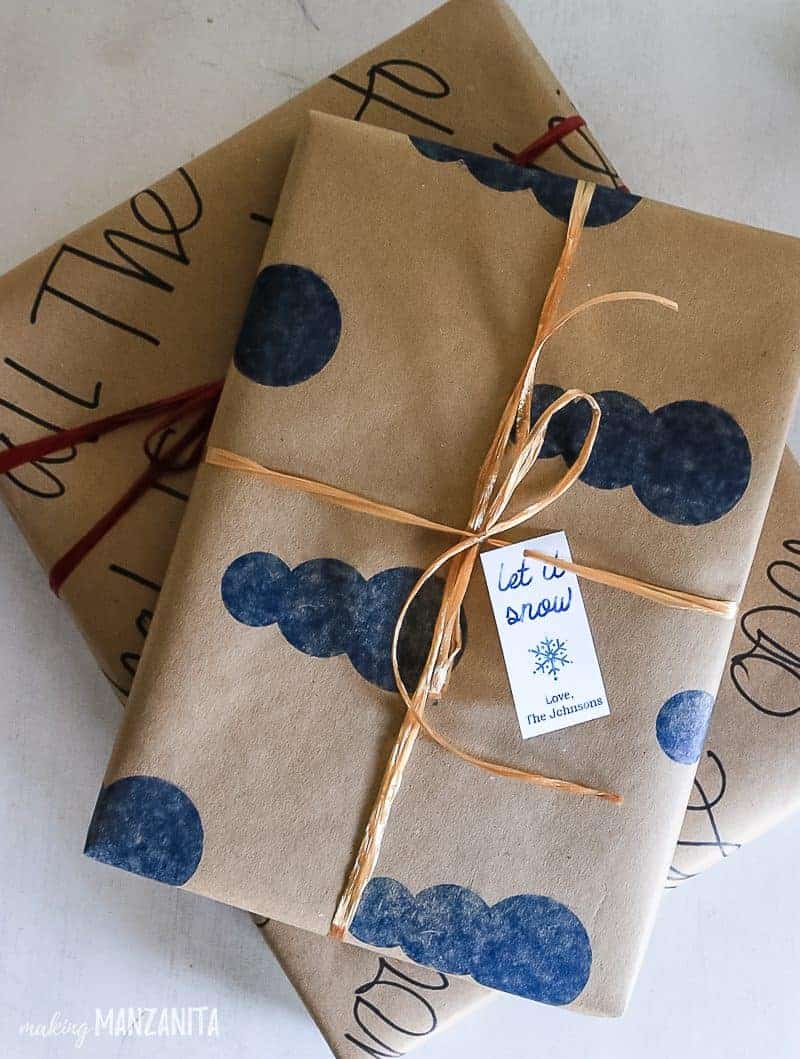 And do you love the cute stamped wrapping paper?? Check out the full tutorial on how to make your own DIY wrapping paper here.
Which of these Christmas gift tags is your favorite?
Let me know in the comments below.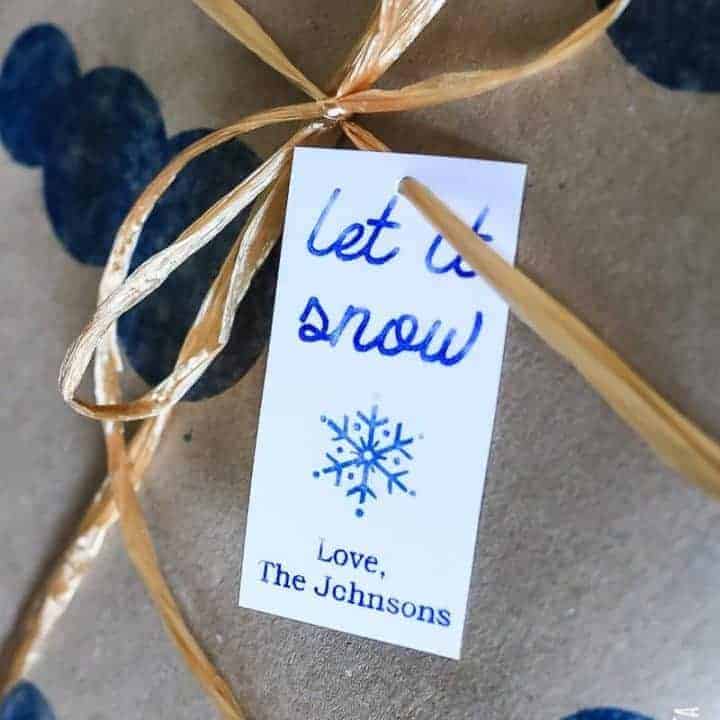 How To Make Christmas Gift Tags With The Silhouette Mint
Tired of the boring store bought sticker Christmas labels? Follow this easy step by step tutorial to make your own custom stamps for Christmas gift tags with the Silhouette Mint!
Instructions
Design your stamps with Mint Studio.
Print your stamps with Silhouette Mint.
Add ink to the custom stamps.
Stamp off excess ink on scrap paper (4-8 times depending on stamp)
Stamp your Christmas gift tags.