Here's simple DIY craft idea for how to make burlap painted signs for your home!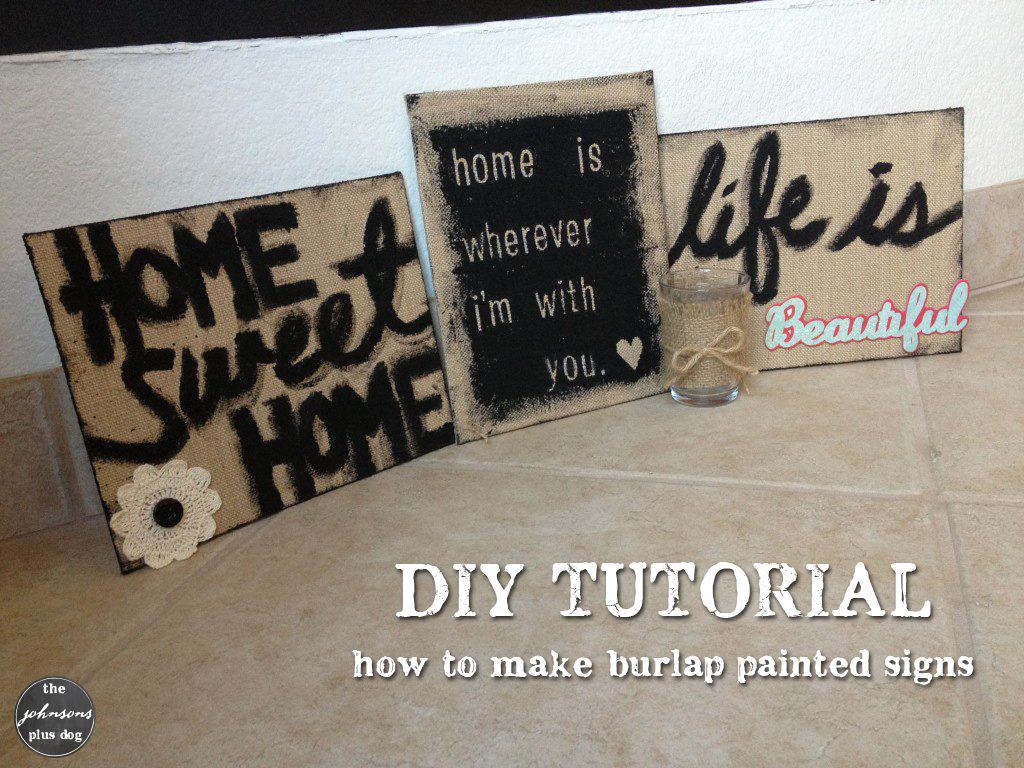 DIY Burlap Painted Sign
This post contains affiliate links, but nothing that I wouldn't wholeheartedly recommend anyway! Read my full disclosure here.
If you're like me, you're just not ready to give up the burlap trend. Even after using it in all aspects of our DIY wedding decor, I love it. I saw these awesome burlap covered boards (or you can use the burlap covered canvas) that they've started to carry at Michaels. They were selling these burlap boards for $5.99 for a three pack, which makes this a bargain craft project! I had the rest of the supplies laying around at home.
Supplies For the Burlap Painted Sign
Step One // Figure out what you want to say
I took a quick look through my cardboard words I had on hand in my craft supplies and instantly the word beautiful stuck out to me, hence Life is Beautiful. It really is, isn't it? Maybe you already have something in mind, but if you're stumped get some Pinterest inspiration.
Step Two // Sketch it out in pencil
There's nothing worse than working a project, just wingin' in… and your words don't fit because you didn't plan it out. Be sure not to skip this step. If you don't want to free hand it, you could always use a stencil or paint over stickers and remove. This would give you more of a negative space look, which is awesome too! I used this method on the "home is wherever i'm with you" sign seen in the photo at the bottom of this post. Click here to view the tutorial for this method.
Step Three // Start painting
Slowly paint over your pencil marks with your paintbrush. I had to fill up the paint brush pretty frequently because the burlap really soaks up the paint.
Step Four // Paint Edges (optional)
This part is totally optional. I decided to add the black paint to the edges because I felt like it need a more definitive border (especially if its going to be hanging on one of my white walls). Also I added a little extra around the corners to make it a little more rustic and aged.
Step Five // Touch up and add embellishments
The good part about using black paint was that I was able to touch it up with a black sharpie. After letting it dry completely (I waited a day), I used the sharpie to fill in a couple spots where the paint didn't get it and cleaned up some of the edges. This wasn't necessarily needed, so if you're happy once its dries don't feel like you need to do anything else.
Last but not least, add any embellishments you enjoy.
Step Six // Smile
Step back and say "I made that". One of my favorite parts of DIY & crafts is finishing up and being able to say to myself (or to my husband when I go bragging)… I made that.
Trying to figure out how to hang the burlap painted sign?
I would recommend command strips.
I made three different designs with my three pack of the burlap boards, which burlap painted sign is your favorite?