These dreamy outdoor spaces will leave you daydreaming about all the things you can do to decorate your backyard for Summer.
This Dreamy Outdoor Spaces post contains affiliate links, but nothing that I wouldn't wholeheartedly recommend anyway! Read my full disclosure here.
This glorious summer weather has me doing all sorts of dreaming about dreamy outdoor spaces, how about you? Today's round up for dreamy outdoor spaces is going to leave you all googly-eyed as you daydream of summer afternoons laying in a hammock with a cozy book. But since I warned you, don't get mad at me when you don't get anything done the rest of the day today. Don't worry…I'm right there with ya daydreaming about relaxing in a beautiful backyard oasis.
I can't wait to start giving you some updates about the transformation of our HUGE backyard. Check out our backyard plans here. We've slowly gotten mostly rid of the field of weeds we had when we started and we've made our through some big projects last fall and so far this spring. More to come soon!
Related Posts About Outdoors –
One thing I have learned about landscaping our huge backyard literally from the ground up is that it is hard work and expensive work…even if you plan on DIYing it like we are! We are definitely "outside" people, so the large outdoor space is one of the reasons we purchased our fixer upper. It is going to be so amazing once it is finally done! Until then, I'll continue getting inspiration through my bloggy friends! Check out these amazing dreamy outdoor spaces that will leave you swooning for days and dreaming of summer nights.

Let's see those dreamy outdoor spaces!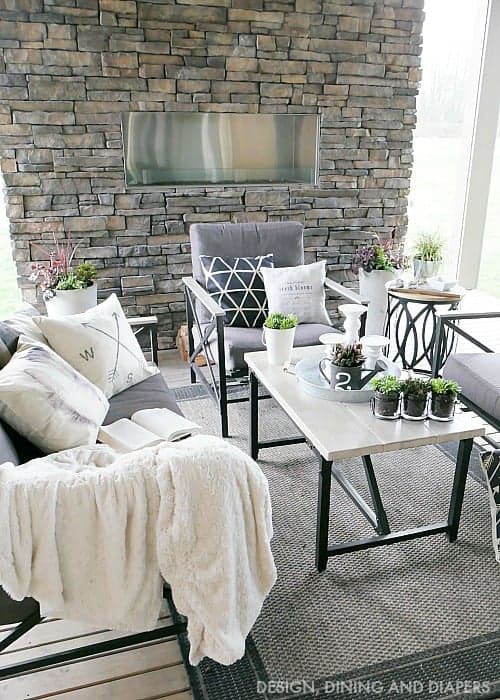 This spring outdoor living space from Taryn over at Design Dining Diapers looks so relaxing, doesn't it? I love the fresh farmhouse feel it has to it with the cute decor and the plants.  She links to multiple DIY projects throughout the post so you can see how this all comes together!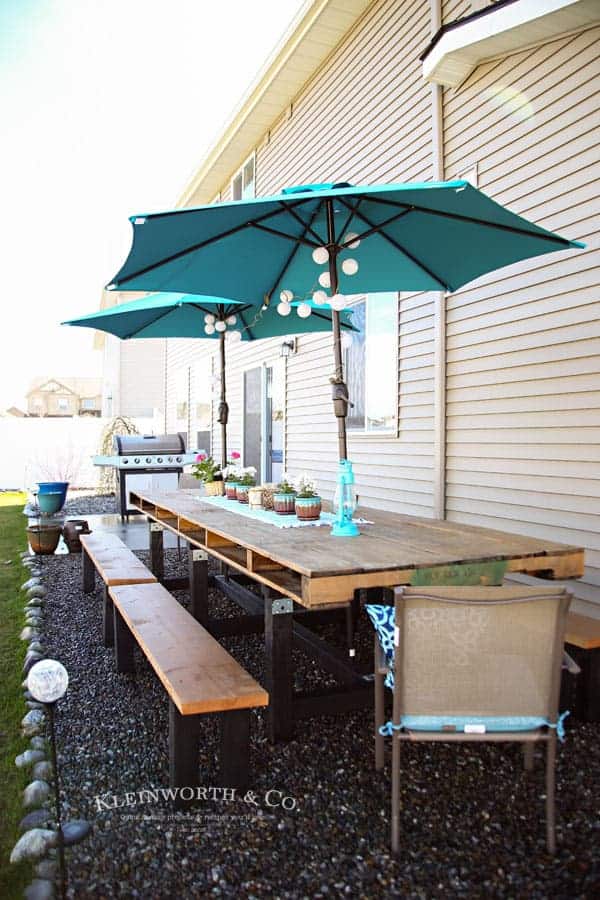 You guys know that I love me a good pallet project. This DIY Pallet Outdoor Table from Gina at Kleinworth & Co is heaven. I love the sturdy base that they built and the awesome benches that go along with the table.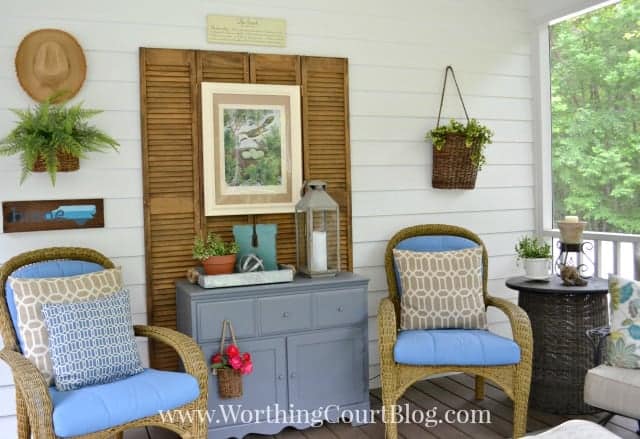 Ok, guys…are you ready for a secret? I have NEVER stepped foot on a screen porch! Probably because I've never been to the South. I know, I know…it's on my bucket list. Regardless, there is something about Southern Screen Porches that is so dreamy to me and this adorable Southern Screen Porch one from Suzy at Worthing Court is no exception! She has this outdoor space decorated SO cute! I wouldn't probably live out here all of the time if I were Suzy!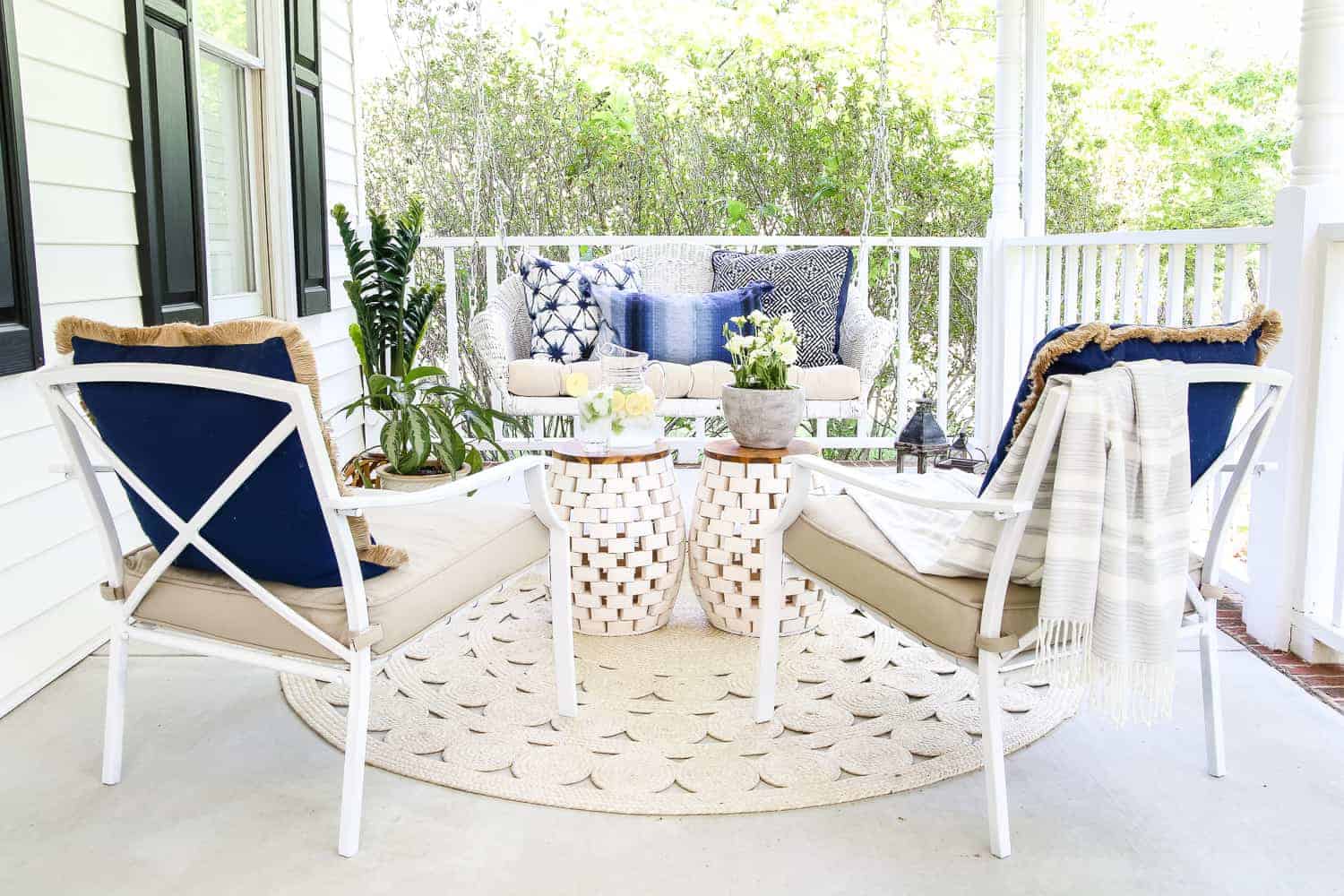 Lauren from Bless'er House pulls out all the stops on this amazing front porch! The hanging swing combined with the indigo outdoor pillows, adorable rug and of, course stools! Her post provides helpful tips on arranging a versatile outdoor space and lets us in on a big secret that makes the styling a breeze! Can you guess what her secret is by this photo?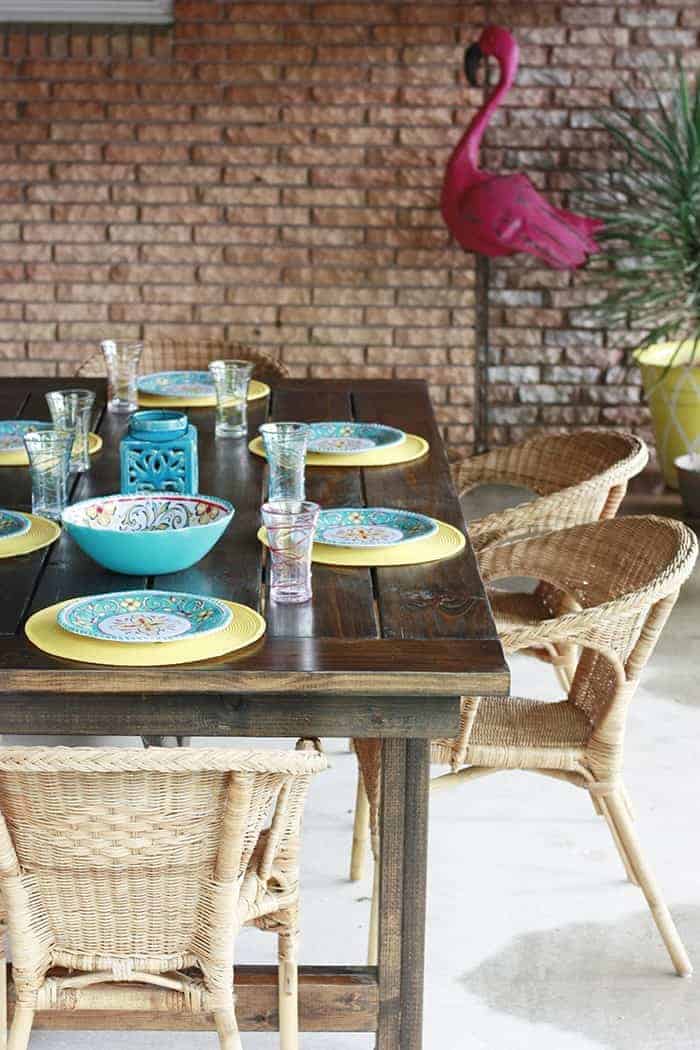 I love this DIY farmhouse table that Amber Oliver made! If you're thinking about making your table for your backyard, you've gotta check out her outdoor farm table plans.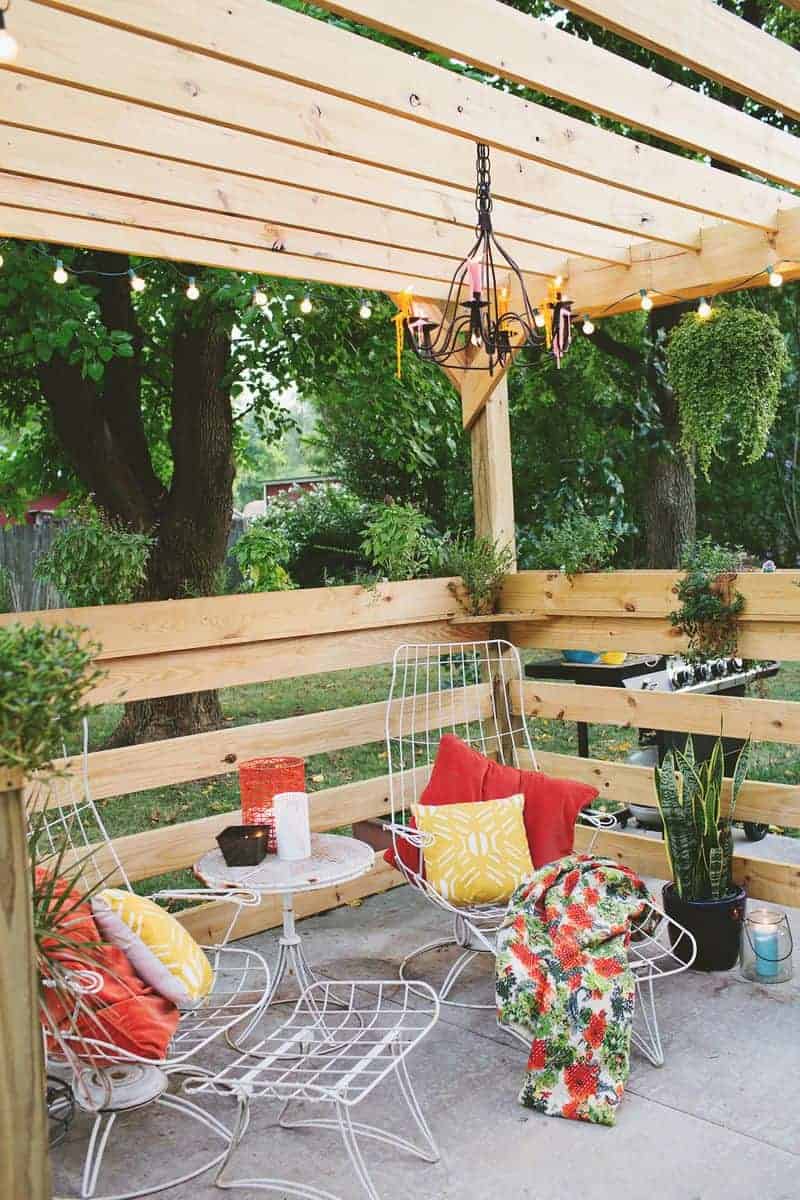 Plants and pergolas should always go together, right? This DIY pergola project from A Beautiful Mess has planter boxes built RIGHT in, so the planting is easy. Can you image eating dinner under these pretty lights and being surrounded by your garden? Sounds pretty dreamy for me! The post is a part of a three part series – the first one was about planning your pergola and the 2nd was about building the pergola.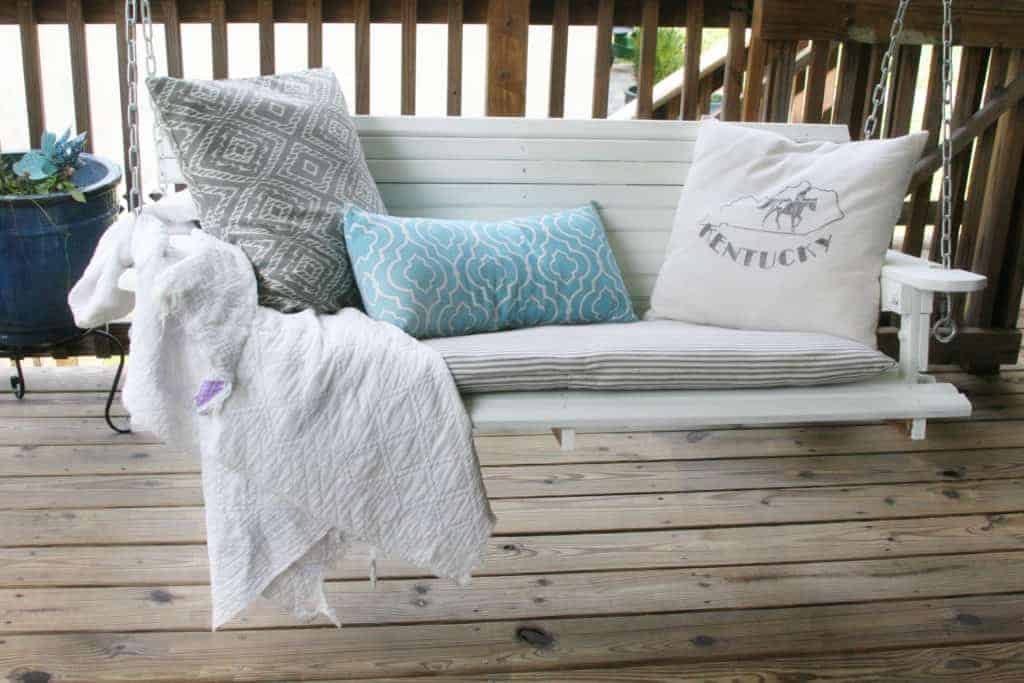 Lora from Craftivity Designs gives us a great tips on how to style a cozy outdoor space. I love the porch swing with this outdoor texture of pillows, blankets and rugs. I love she has made this little outdoor space feel like an extension from her home.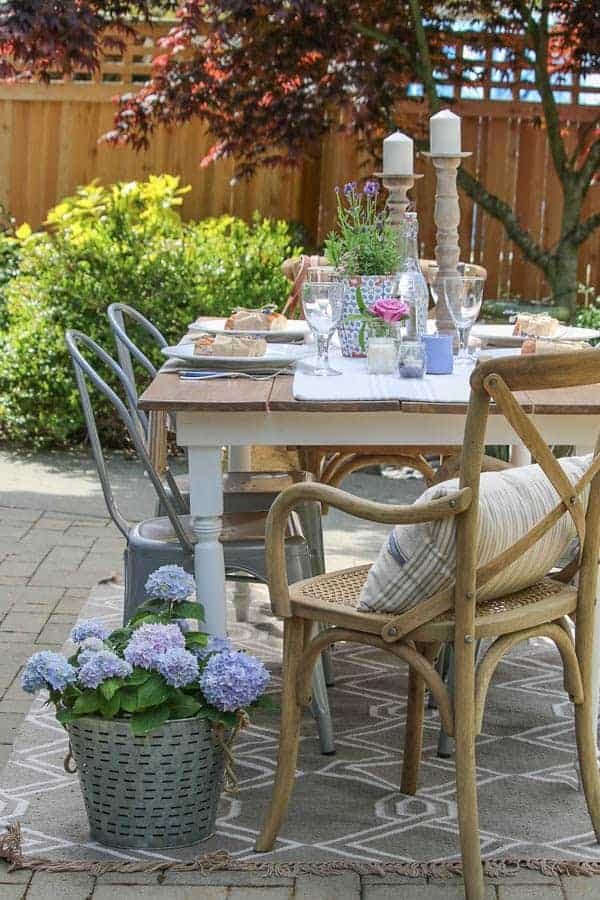 This french farmhouse garden table from Susan at Saw Nail & Paint is a outdoor dining dream! I love how she has the table decorated complete with the adorable rug, table runner and vintage looking candle sticks. I don't think I'd ever eat inside again!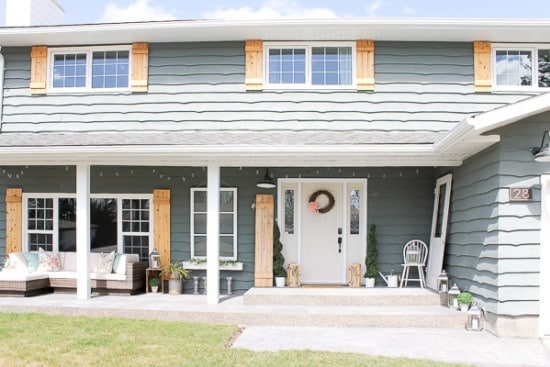 I love my friend Kristi's from Making It In The Mountains Farmhouse Style Porch. Definitely a great spot for a morning cup of joe. Her farmhouse porch is full of fun DIY projects too, like those shutters she built or this planter she made from a bird cage.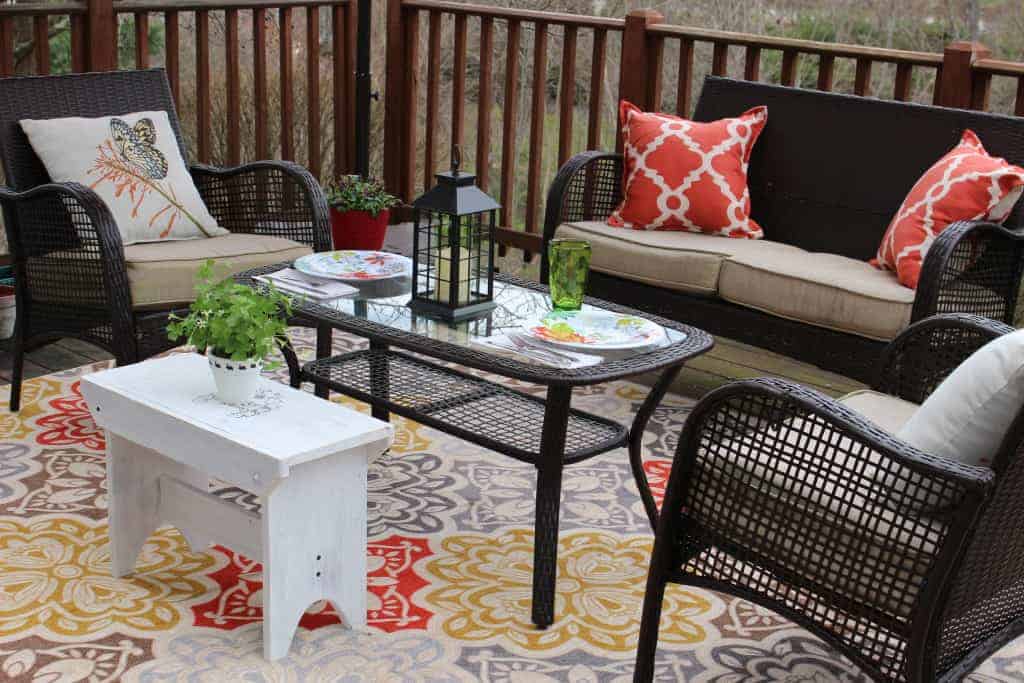 The bright and cheerful patio by Michelle from Our Crafty Mom is ALL THINGS Summer! I love how the large outdoor rug really ties everything together!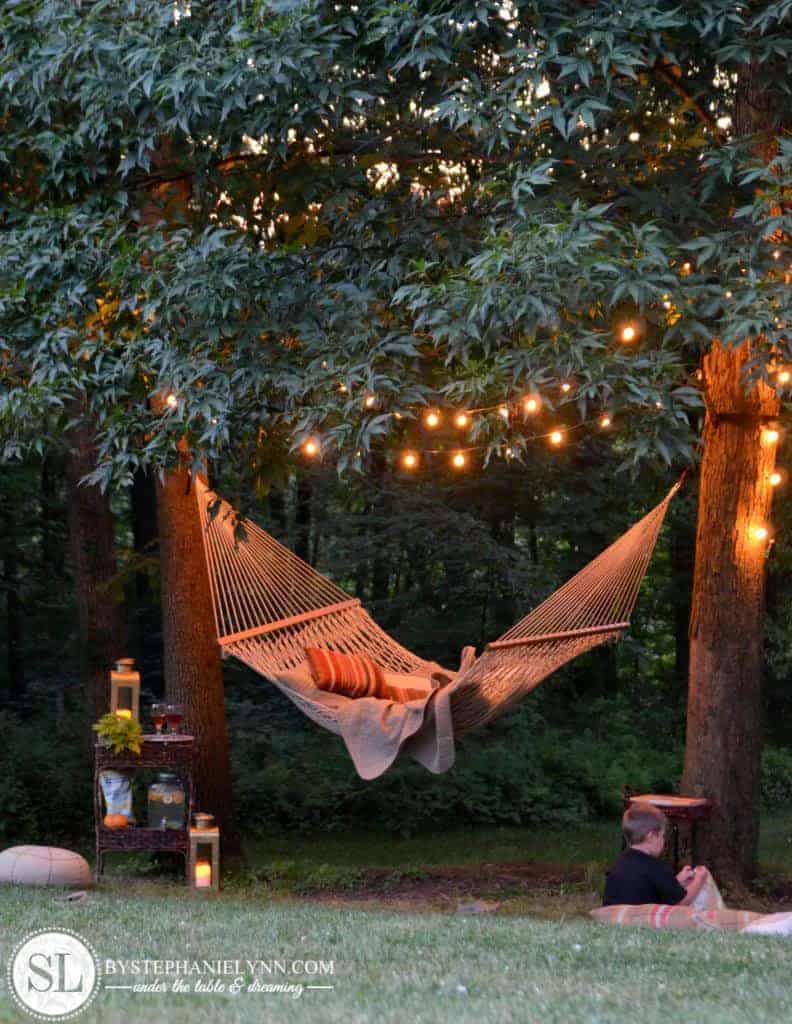 If I had this Backyard Hammock area in my yard like Stephanie from By Stephanie Lynn, I wouldn't be getting much done! I think I'd be sitting out there under the lights and just hanging out. I love the cute little drink cart she's added, so you literally have everything you need at an arms reach.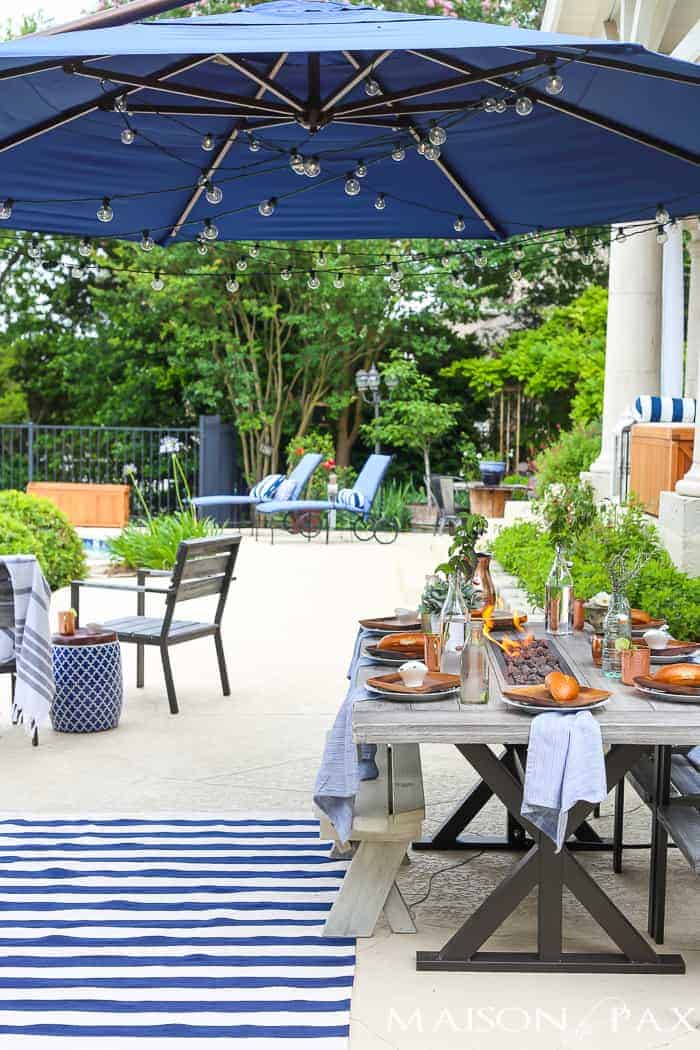 Yes, you're seeing that right….that table has a mini FIRE PIT! I fell in love with this Summer Outdoor Dining Space from Rachel over at Maison de Pax. I love the addition of the string lights on the underside of the umbrella too! You've gotta go check out her whole post. Trust me, it's so dreamy!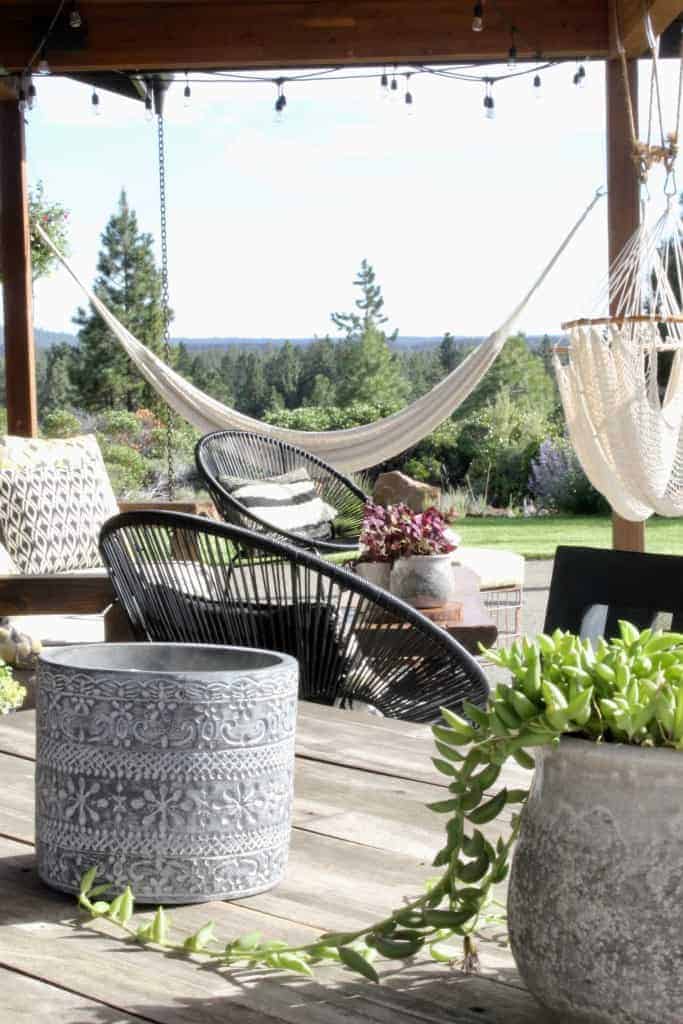 This entire back porch area with a killer view is amazing. The hammock chairs and outdoor furniture really make this a place worth of some relaxing. Even better, Karrie from Maker of Home is a fellow Bendite (that's what the cool people that live in Bend, OR call themselves), so someday real soon I bet I could convince her to come let me hang out on this porch and look at the awesome view. I wouldn't want to leave… Ok, just kidding. Karrie, I really would leave…eventually.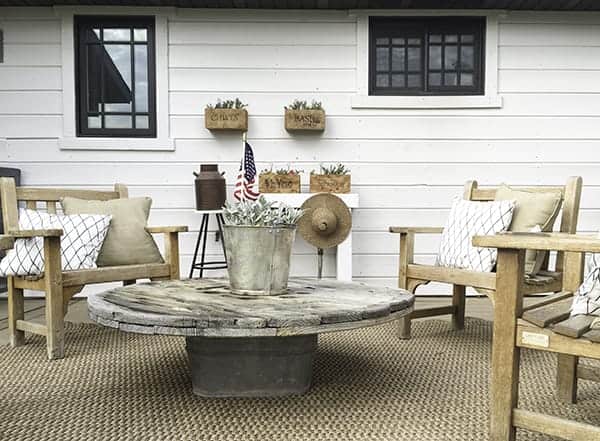 To close things out, we needed a big grand finale…so friends, if you really want to dream you've GOT TO take a hop over to Sara from Twelve on Main's Outdoor Garden tour. Seriously, there is just too much goodness to share! I'm uber jealous after looking at her dreamy outdoor spaces. She's got it all – dramatic front porch (styled to perfection), fire pit with pallet wood chairs, windmill, large garden, beautiful views and gorgeous back patio outdoor dining area. What's your favorite part of her yard?
---
Which of these dreamy outdoor spaces is your favorite?
Let me know in the comments below!!
Well guys, are you dreaming yet? I loved each and everyone of these amazing backyard spaces. They definitely provided just the inspiration I needed as a trek through more landscaping madness of our own. Hopefully this fun round up of dreamy outdoor spaces was able to take you away for a bit today to daydream. Whatever you do the rest of your day, be sure to spend some of it outside. Breath in that fresh Summer air. Even if you don't have a dreamy backyard oasis, you can just shut your eyes and daydream about one of these beauties.