If you love the farmhouse style, you definitely need to read this. Get ready for Thanksgiving and grab these 12 things you need for your farmhouse style Thanksgiving table.
This post is brought to you by Cost Plus World Market and contains affiliate links, but nothing that I wouldn't wholeheartedly recommend anyway! Read my full disclosure here.
Each year as a child, in the days leaving up to Thanksgiving, I would go over to my Grandma's house and spend the day with her getting the house ready and…more importantly….getting the table ready for the big day. I would get out the family place cards, decide on a seating plan and polish the silver. Decorating the table with Grandma was almost more fun than eating the food on Thanksgiving Day. At my Grandma's house, she has a buffet table in her dining room to put the food on, so we always had plenty of room on the table to make it very festive. I wouldn't trade those memories decorating the table with Grandma for anything. Do you have any fond memories decorating the table for Thanksgiving?
I know it almost seems crazy to be talking about Thanksgiving, but the truth is that it is already October next week, which means that it's probably time to start planning for Thanksgiving. Today I'm sharing 12 things you need for your farmhouse style Thanksgiving table from Cost Plus World Market.  For this farmhouse style Thanksgiving table inspiration, I chose items that are mostly neutral, but have pops of color in the vintage colored glasses and leaves table scatter. I love the look of the table with the rust colored scarf used as a table runner and live garland that really makes the table feel extra special for Thanksgiving.
Are you ready to see those 12 things you need for your farmhouse style Thanksgiving table?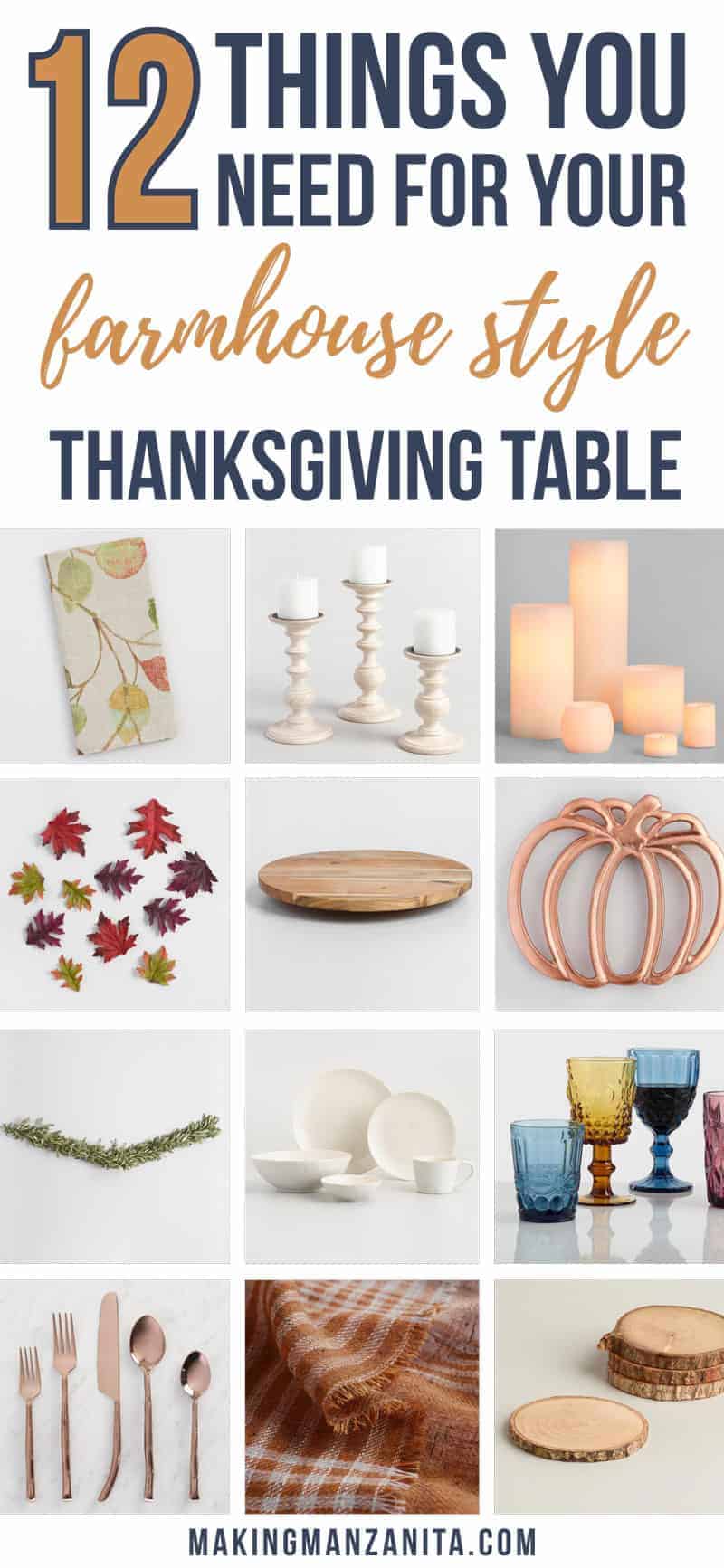 Autumn Leaves Napkins  –  Candleholders  –  LED Flameless Candles
Leaves Table Scatter  –  Wood Lazy Susan  –  Copper Pumpkin Trivett
Live Olive & Eucalyptus  –  Stoneware Plates  –  Pressed Glassware
Rose Gold Flatware – Rust & Beige Scarf  –  Wood Coasters
Here's how this farmhouse style Thanksgiving table comes together:
Cost Plus World Market is celebrating the season by giving away $4,500 worth of Cost Plus World Market gift cards at some point between now and October 9th.  Say whattt!?
Sign up now and share the campaign with friends and family. If they opt in, we'll send you an early notification letting you know when the 67 gift cards and special offers will go up for grabs, so you can be ready to act lightening fast. After you get the notification on your phone, be sure to act as fast as humanly possible to grab your prize….which are pretty epic for the first people that click the link. This could be the perfect opportunity for a seasonal shopping spree! If I were you, I'd be looking at the Farmhouse Decor and Dining Room Furniture with my gift cards!
But not to worry – everyone will walk away with something! Sign up now before it's too late.
Shop This Farmhouse Style Thanksgiving Table Inspiration:
Doesn't that just make you ready to decorate the table for Thanksgiving and eat some turkey!? In fact, these table decorations could work through the entire Fall season, so you can start decorating your table today. As we enter the fall season, let's all commit to doing something a little extra special for our Thanksgiving tables. If you have little ones or grandkids, be sure to let them help you decorate your table. You never know what kind of irreplaceable memories you may be making together.
Before you go, definitely don't forget to sign up to receive the text alert when Cost Plus World Market is going to release their prizes! Then when you do get the text notification, act lightening fast to claim your prize!