Searching for gift ideas for him?? This gift guide for him is perfect for dads, husbands, brothers and uncles. There's also a special gift guide for her to help give you gifts ideas for all the ladies in your life.

Well, today is the last day of my 12 Day of Christmas Gift Guide series. I've had so much fun sharing over 140 gift ideas with you to prepare you for your holiday shopping. I think we've covered just about everyone on your list and today we're finishing it off with not one, but TWO gift guides – gifts ideas for him & her.
This post contains affiliate links, but nothing that I wouldn't wholeheartedly recommend anyway! Read my full disclosure here.
Gift Ideas for Him & Her
On to those gift ideas for him & her!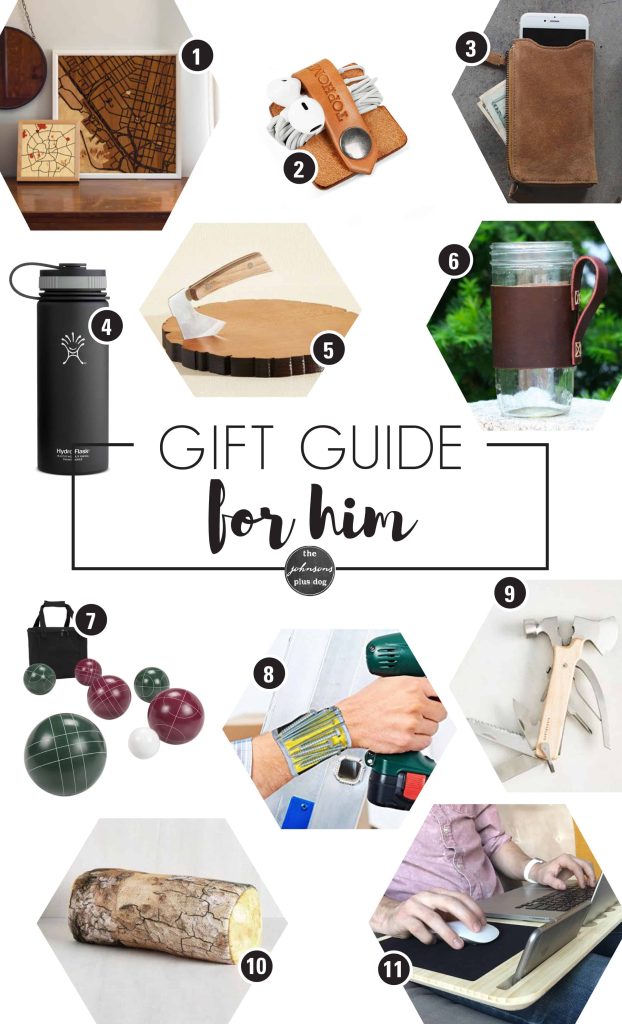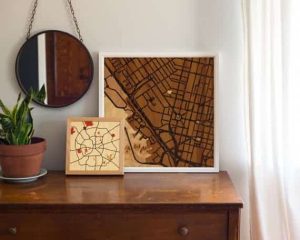 1. Wood Map – How cool are these handmade wood cut maps. You can get a map made for literally anywhere in the world!  You could have this made for a first home, where you met, wedding location, college…the list goes on.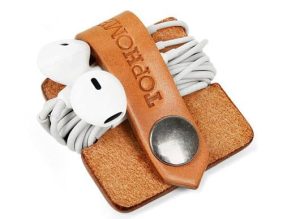 2. Leather Earphone Organizer – This leather earphone organizer is awesome. My husband is literally ALWAYS losing his earphones. Maybe with this leather cord winder, he'd remember to wind them up and put them away after he's done using them. Who am I kidding… I'm dreaming, right? Haha.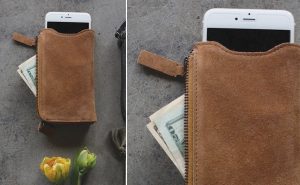 3. Iphone Case – I love this suede and leather iPhone case with zipper. It fits the iPhone 6, 5, and 4. The tobacco color is shown here and they also have a grey one that's just as awesome.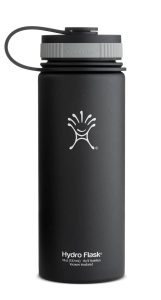 4. Hydroflask Waterbottle – I am drinking out of this water bottle as I type this…and basically every other day of my life as well. Don't forget to grab the straw lid. There are a billion reasons why I love HydroFlask, but my #1 reason is that they are headquartered here in Bend… so I'm keeping it local! 🙂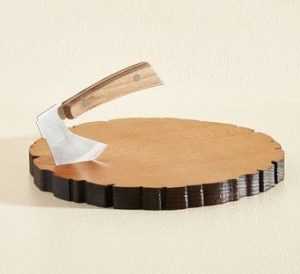 5. Cheese Plate Set – It's not everyday that you see a cheese plate set on a gift guide for him, right? Haha… this one really is perfect for him. The plate resembles a wood slice and the slicer is an ax.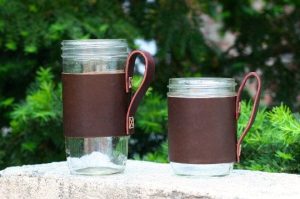 6. Leather Mason Jar Sleeves – The minute I saw these cool leather mason jar sleeves on Etsy, I knew they need to go on this gift guide for him. We love drinking out mason jars in our home. These sleeves fit wide mouth, straight sided Ball jars.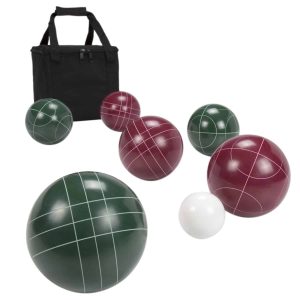 7. Bocce Ball Game – Gifting a game or something you can do together is always a great option for a gift for him. We love playing bocce ball, but if you already have one try another fun outdoor game like ladder toss, or corn hole.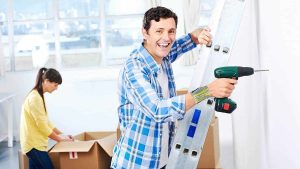 8. Magnetic Wrist Band – Ok, ok… so this probably belonged more on my gift guide for DIYers, but I found it too late and I just couldn't NOT share it! It's a magnetic wrist band that will hold nails, screws, etc while you are working. How genius is that?! I'm usually trying to put them in a pocket or hold them in my mouth and then mumble things to Logan. It's just not pretty. This is such a great idea!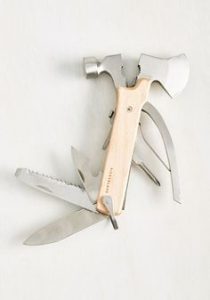 9. Multi-tool – Every man needs a good multi-tool. I love this little one that's got everything you need. It's a great stocking stuffer idea!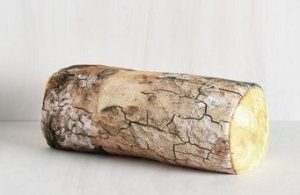 10. Wood Pillow  – Because throw pillows are for girls!! 🙂 If your hubby gives you a hard time about throw pillows, like mine does, he'll probably love this realistic looking log pillow. Perfect lumbar support or to prop his feet up while he enjoys a movie!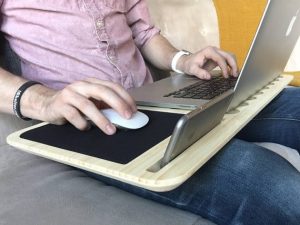 11. Laptop Desk –  These laptop desk is awesome. It has a display dock for phones and tables, a mouse pad (flush with the surface) and ventilation to keep laptop cool. It's made with bamboo that is very lightweight and durable.
Did you get some good ideas for him?
---
I'm loving these gift ideas for Him & Her. What about the ladies?!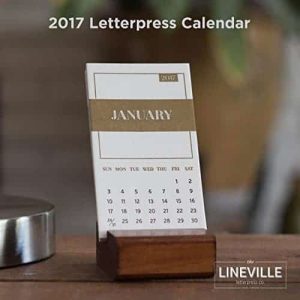 1. Desktop Calendar – Calendars are always a great gift for the holidays. I love these little desktop calendars. This one I found on Amazon's Handmade site is very high quality, made with letterpress, and comes with a wood base.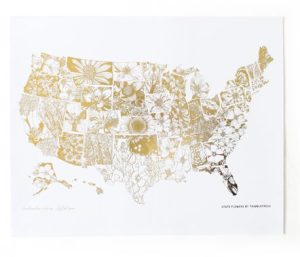 2. Gold Foil State Flower Print – I pretty much fell right in the love with this print when I saw it. Each state features beautiful pictures of the state flower. The also sell individual state prints and the prints in card formats as well!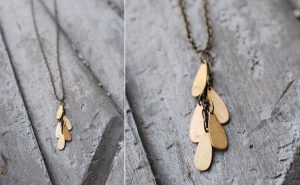 3. Teardrop Necklace – You can't have a gift guide for her without some jewelry! I love this vintage-looking, long teardrop necklace.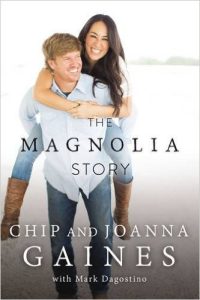 4. The Magnolia Story – Oh.ma.gosh… I can't wait to get my hands on this book. Chip and Joanna have become inspirations to people everywhere and I can't wait to read how it all began and get a little glimpse into their simple lives.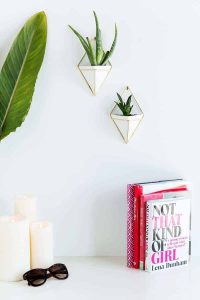 5. Small Triangle Wall Planters – I'm working on decorating my office right now (more to come in the coming months – eeeek). This is just a little sneak peek into the style that I'm going for. Aren't these the cutest?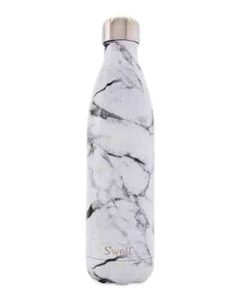 6. Marble Waterbottle – I'm kind of obsessed with white marble. Have always (and probably always will) dream about a kitchen with sleek white marble countertops….ahhh someday. I love this marble water bottle, so cute!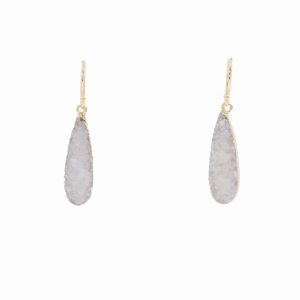 7. Ice Drop Druzy Earrings – Druzy things are all the rage and I love them. These white druzy ice drop earrings are simple and will go match a variety of outfits.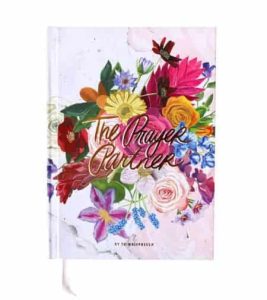 8. The Prayer Partner Journal – This journal looks awesome. The Prayer Partner is a place for you to record your thoughts, feelings, desires and prayers each day. There are prompts offering space for quotes, bible verses, confessions, answered prayers, praise and thanksgiving, prayers for myself, prayers for others and more. It's beautifully designed with 20 pages of hand-illustrated prints and verses. Pretty awesome, huh?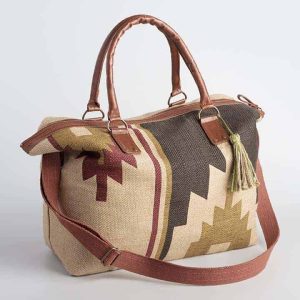 9. Tribal Weekender Bag – Can this bag just seriously get in my closet and never leave? I'm sooooooo in love with it. Aren't you?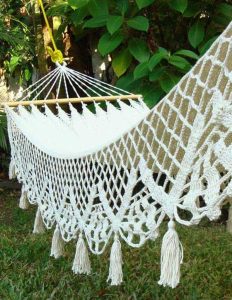 10. Hammock – I'm obsessed with this boho looking wedding hammock! Someday…. oh someday when we get a shed/shop built outside, Logan said he'll have a little porch on it and I totally envision laying in a little hammock like this while he works away in the shed. I love this look.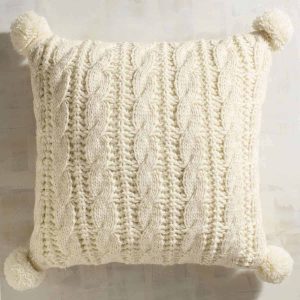 11. Cable Knit Pillow – This wouldn't be a gift guide for without a throw pillow, am I right? I love this cable knit pillow with pom poms in the corner. Perfect for winter.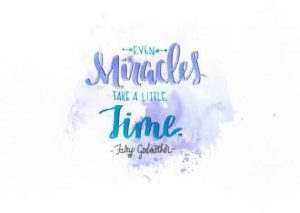 12. Watercolor Print – One of my oldest and dearest friends opened an Etsy store this year and is making this B-E-A-UTIFUL watercolor hand lettered prints. I had her make something for our master bathoom and I just love it! She's got tons of different Disney quotes, Friend quotes and she can really make anything you want! Go show her some love at her Etsy Store, Handmade Marissa Ronae.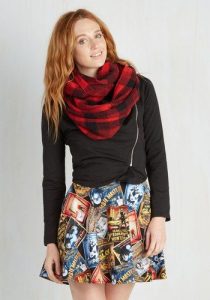 13. Buffalo Print Scarf – Buffalo print is seriously the epitome of this season and I couldn't love it more. This red buffalo print infinity scarf is too cute!
Did you enjoy these gift ideas for him & her. Well, I think I know what's going on MY list this year… still need to finish shopping for everyone else! Hehe. I've made the lofty goal of trying to finish ALL of Holiday shopping by the end of the November, can I do it? We shall see.
Click here to read 10 tips for simplifying your holiday shopping. 
I sure hope my 12 Days of Christmas gift guide series (including these gift ideas for him & her) helped you get ready for your holiday shopping.
Need more gift ideas for him & her!? Take a look at Amazon!
Wondering what to buy for your friends and family this year for Christmas? Here's our other gift guides for 2016!