Oh my goodness…. it's #shiplap time. Today we're going to walk you through the simple steps on how to install a faux shiplap wall on the cheap. You'll be amazed by the crazy transformation the faux shiplap wall made in our farmhouse bathroom.
If you're looking for a DIY update for your bathroom that you can start in and finish in one weekend (and I mean one weekend where you have normal life going on…not one weekend where the whole crew comes in and finishes a house in one weekend…seriously, how do they even do that!?) – this is it!
I promise to keep this guide on how to install a faux shiplap wall super simple.
UPDATE: Here's how the farmhouse master bathroom turned out. Check out the full room reveal.
This tutorial on how to install a faux shiplap wall contains affiliate links, but nothing that I wouldn't wholeheartedly recommend anyway! Read my full disclosure here.
Before Our Shiplap Walls: A Look at Our Boring Bathroom
Let's just take a peek back at what this area looked like when we moved in.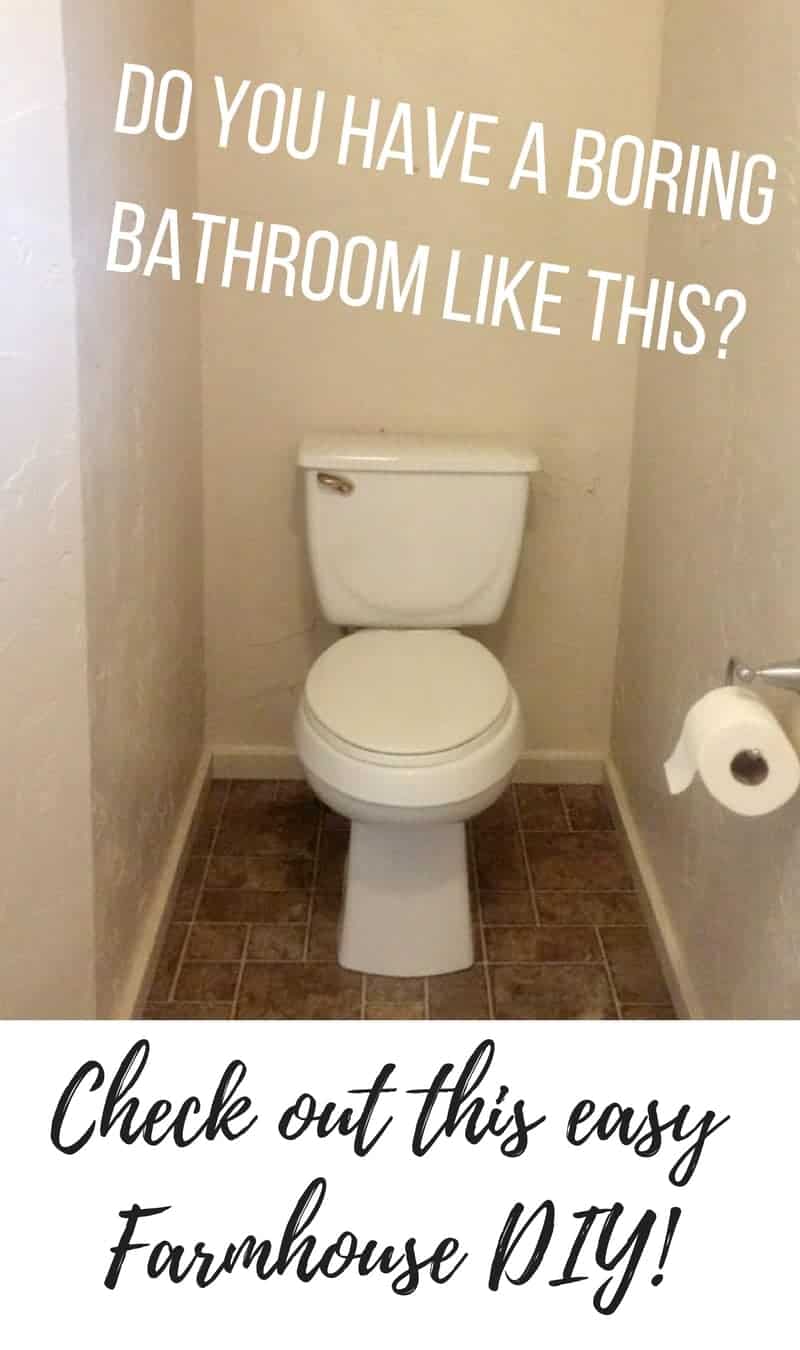 Scary…I know! Since then, we (by that I mean Logan…most of the hard work was done while I was pregnant so I had a good excuse for not being able to help a lot…if you see the size of this bathroom, there definitely wouldn't have been room for him and me/my big 'ol pregnant belly) have skim coated the walls…which is just a fancy word for making the texture smooth. The texture throughout the entire house was hideous. It looked like someone took drywall mud and had a splatter paint party.
After skim coating, we painted (Burnished Clay by Behr if you're wondering), replaced the toilet, and put our clunky storage shelves in place.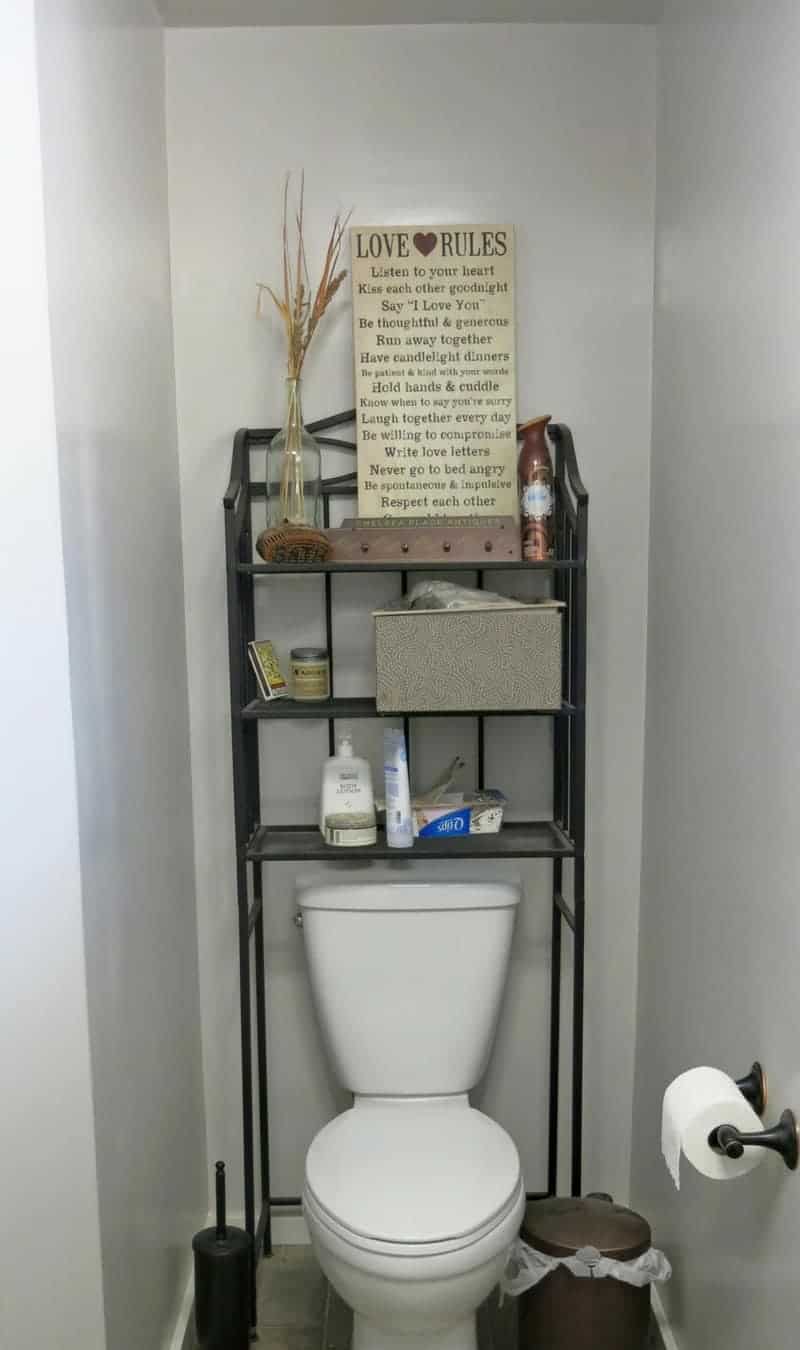 A few weeks ago we got a little DIY bug. Logan and I have both been going kind of stir crazy with the bad weather all winter (Spring, please hurry up already).
We decided to tackle some super easy and budget-friendly transformations to our boring master bathroom and it all started with shiplap.
I've been wanting to do something…really ANYTHING… to the wall behind our toilet that housed those ugly shelves.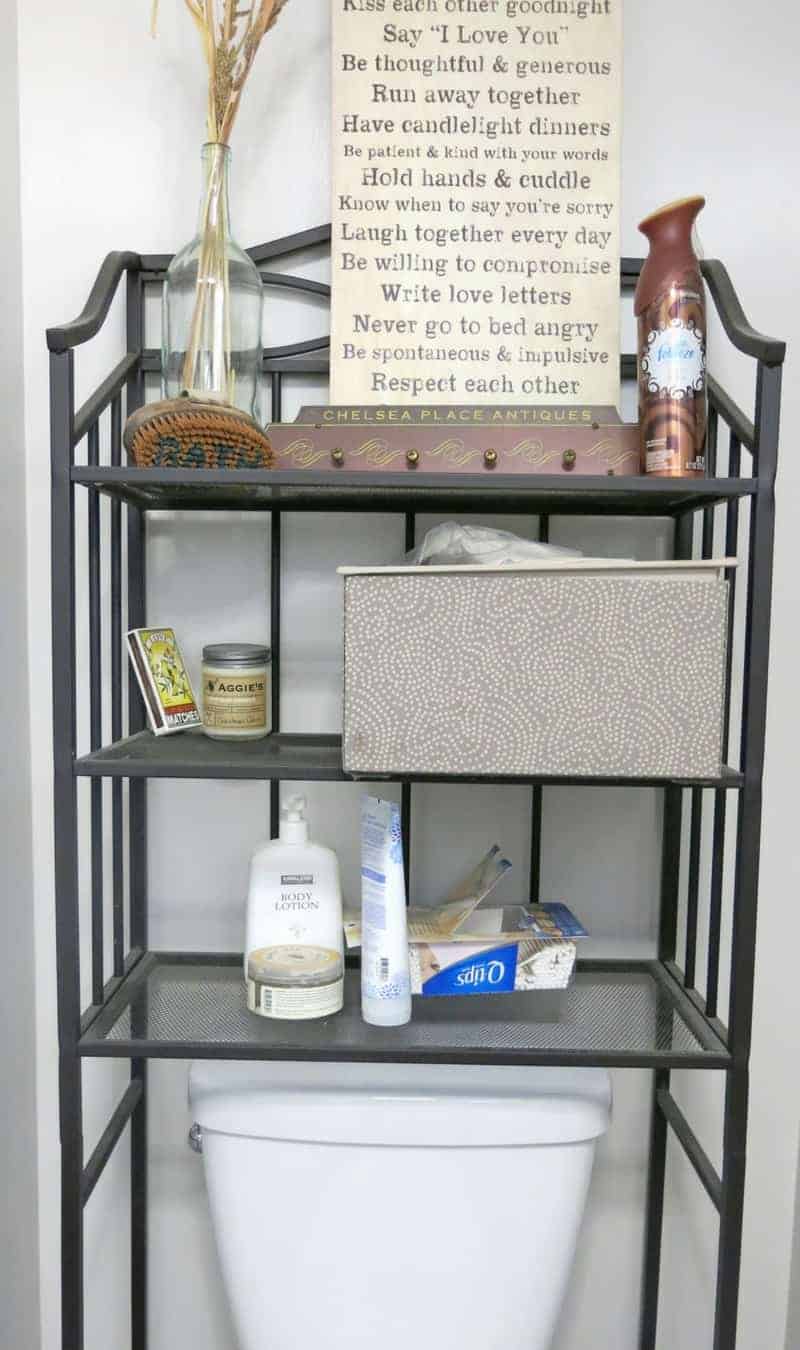 We've had the shelves for years and…let's just be honest, I've always kind of hated them, but we needed the extra storage in all three houses we've lived in since getting married.
So there they stayed behind the toilet collecting dust and clutter. After getting Logan to sit down and watch some Fixer Upper with me and then I showed him my friend's faux shiplap wall from Making Joy and Pretty Things (you gotta check it out!), I finally convinced him that shiplap is a necessity.
The problem was real shiplap is EXPENSIVE!!! We're talkin' at least $60 for the wood to cover this small wall! We only spent $12 bucks on the wood for our faux shiplap.
Faux shiplap wall: video tutorial
If you love DIY videos, be sure to subscribe to our YouTube channel here.
Ready to see how to install a faux shiplap wall?
Here's the supplies for the faux shiplap wall.  
Ok, let's get started on this guide on how to install a faux shiplap wall.
How to Install a Faux Shiplap Wall Step-by-Step
Step 1. Remove the tank from the toilet. 
By removing the tank from your toilet, you'll be able to work on the wall MUCH easier. It's worth the "extra" step, trust me.
If you're wondering how to remove the tank of the toilet, here are simple directions.
You only need to follow steps 1 and 2 in those directions though, unless you wanted to remove the whole toilet…which I don't think is necessary.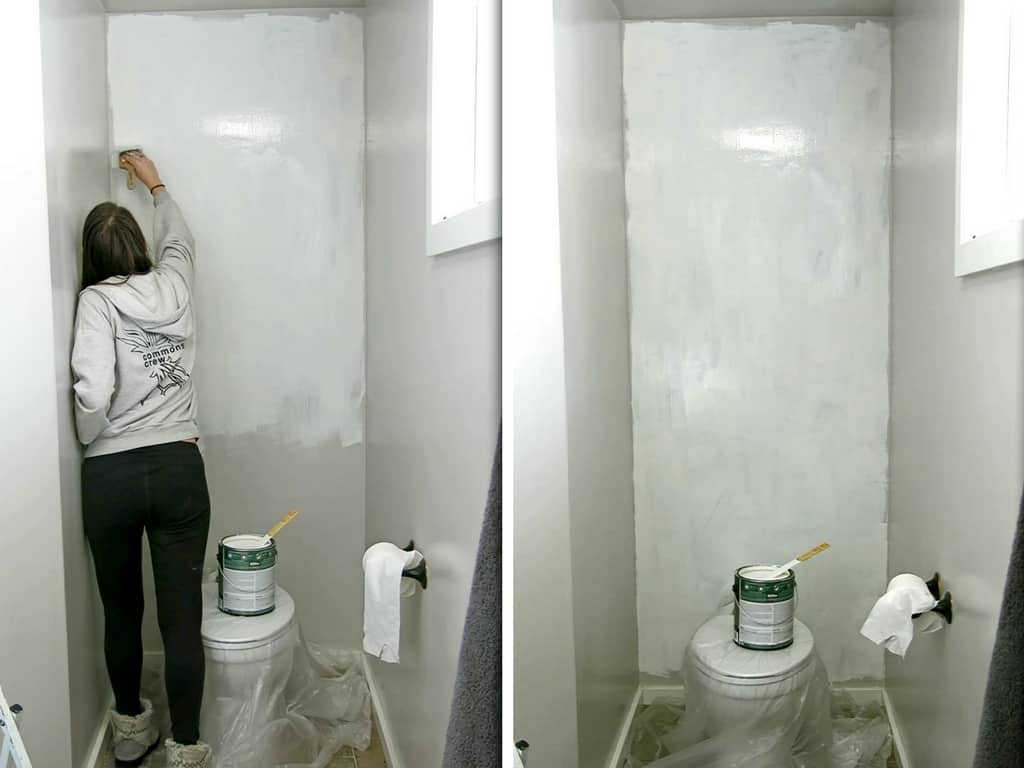 Step 2. Paint your wall.
You definitely want to paint your wall with one light coat of whatever color is going to go on top of the faux shiplap (this white, in our case).
Don't worry about the edges or getting it perfect. The only reason you're painting this is for the gaps between the planks that will peek through.
If your wall is a really dark color and you're planning on doing a light shade on the faux shiplap, you'll want to be more careful to get all the edges and you'll probably want to do more than one coat.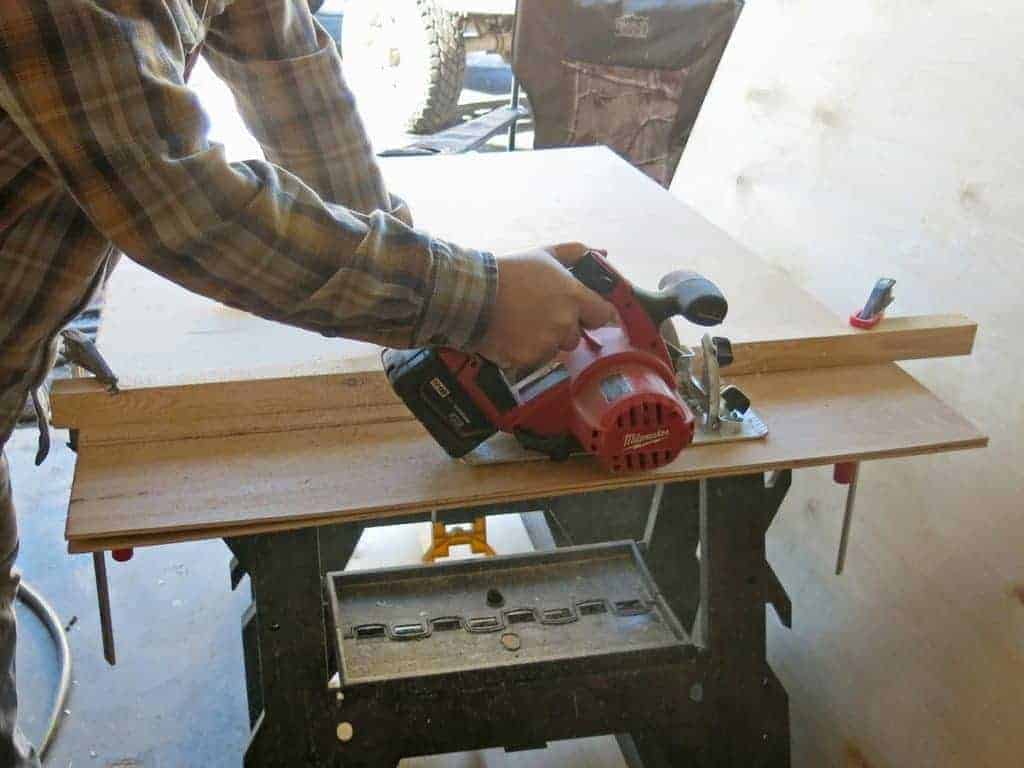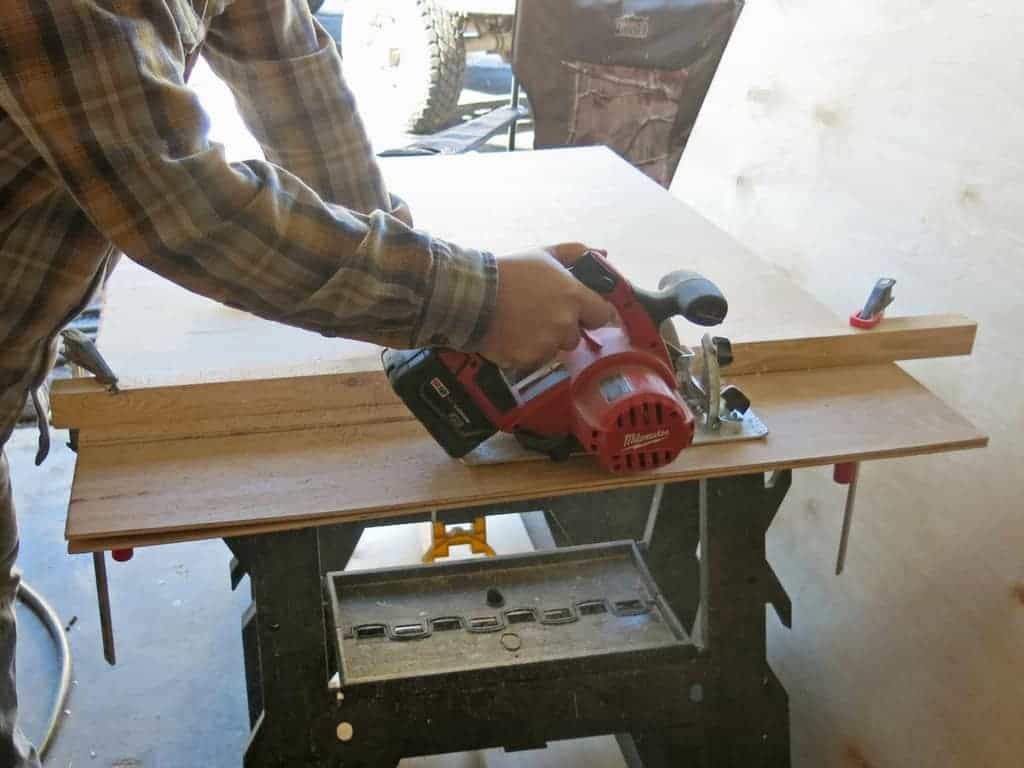 Step 3. Cut wood to size.
Next, you want to get all of your wood cut down to size. Measure your wall's width and start making the cuts. We cut our boards 6 inches tall.
You don't have a table saw either?! No problem… take a look at how we make it work with the tools we do have.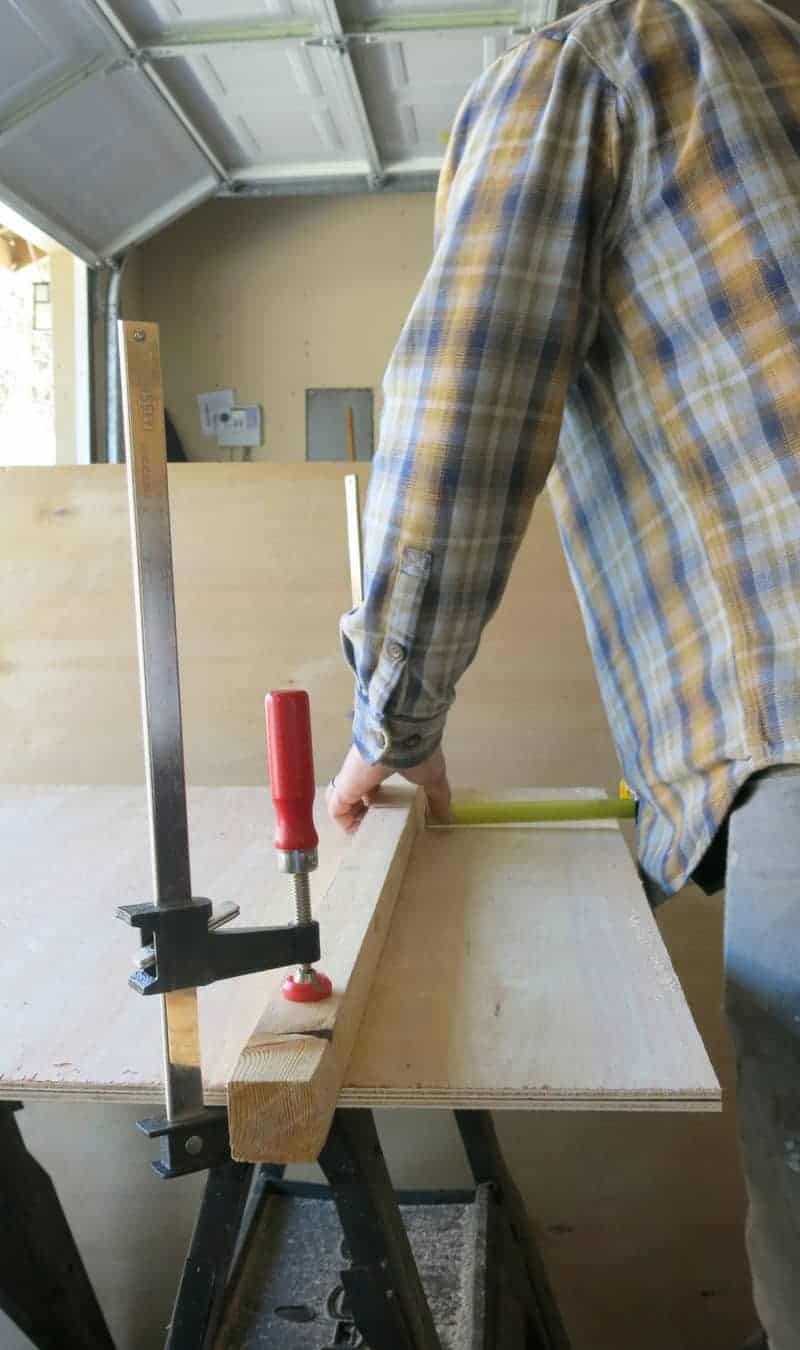 Logan sets up a guide board (1×1 that we had laying around the garage) and secures it to the boards he's cutting with clamps.
He measures the distance that the blade is from the left side of the circular saw and adjusts the guide accordingly.
After making sure it's straight, you just cut the wood using the guide on your left. Tada!
Step 4. Nail wood to the wall. 
Be sure to start at the top of the wall and work your way down. If you have a skinny piece, you want it to be at the bottom of the wall so it is less noticeable.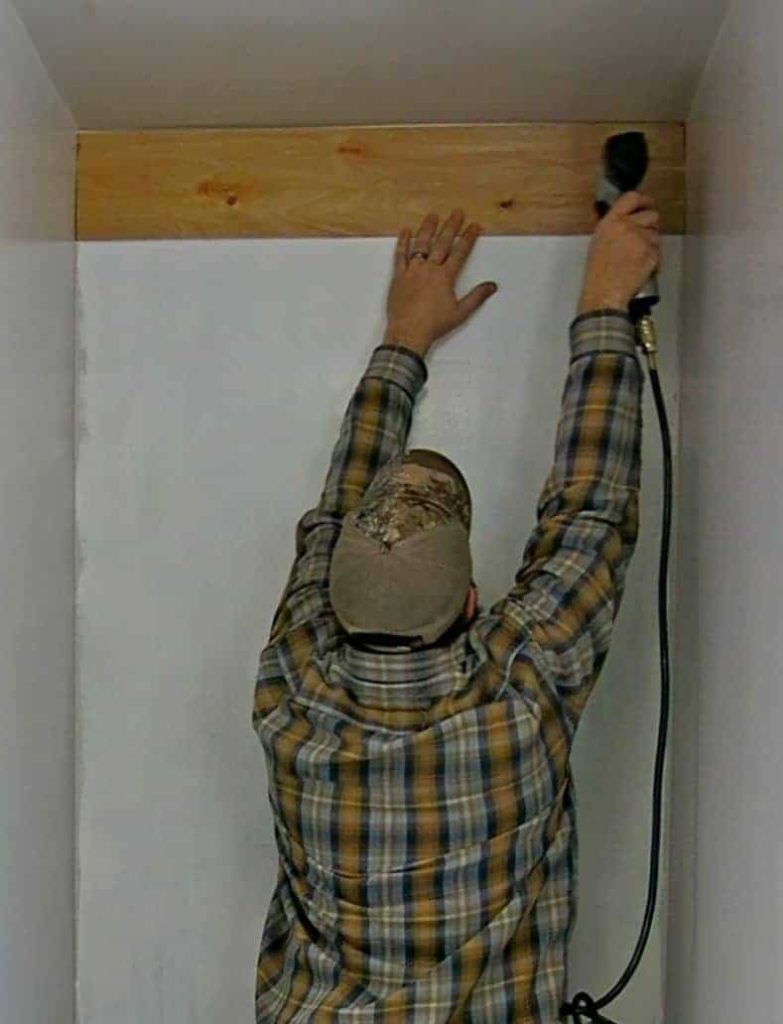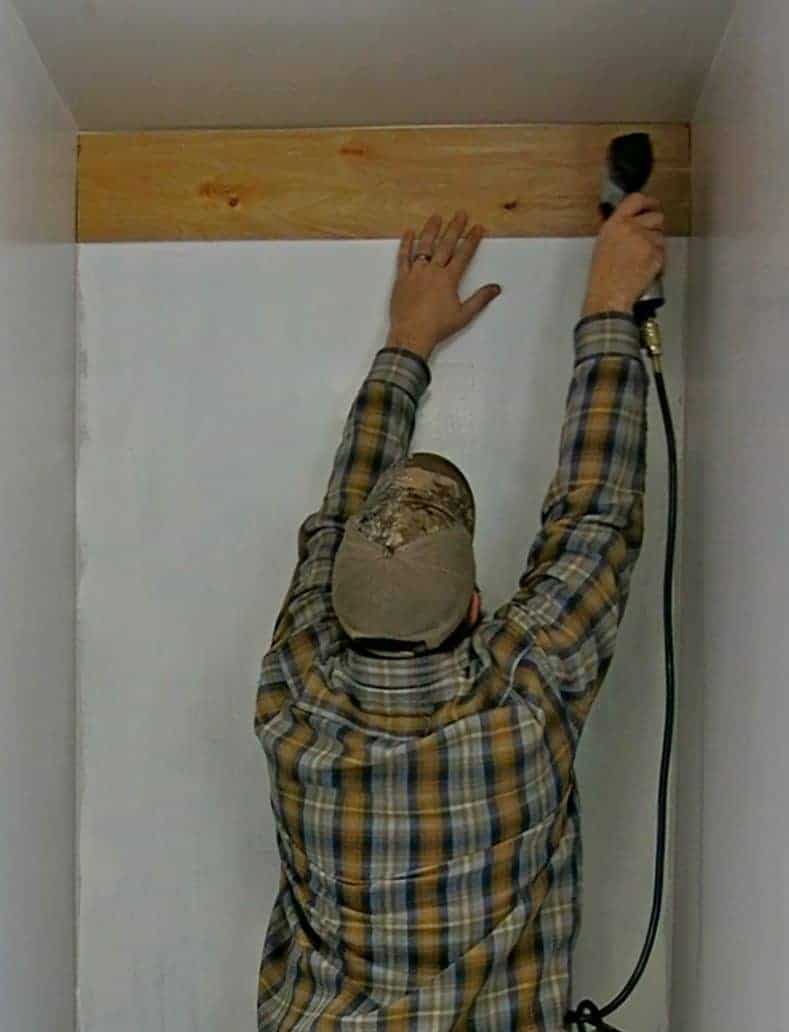 Be sure to keep the planks level as you move your way down the wall by holding the level on the bottom of the planks as you attach them.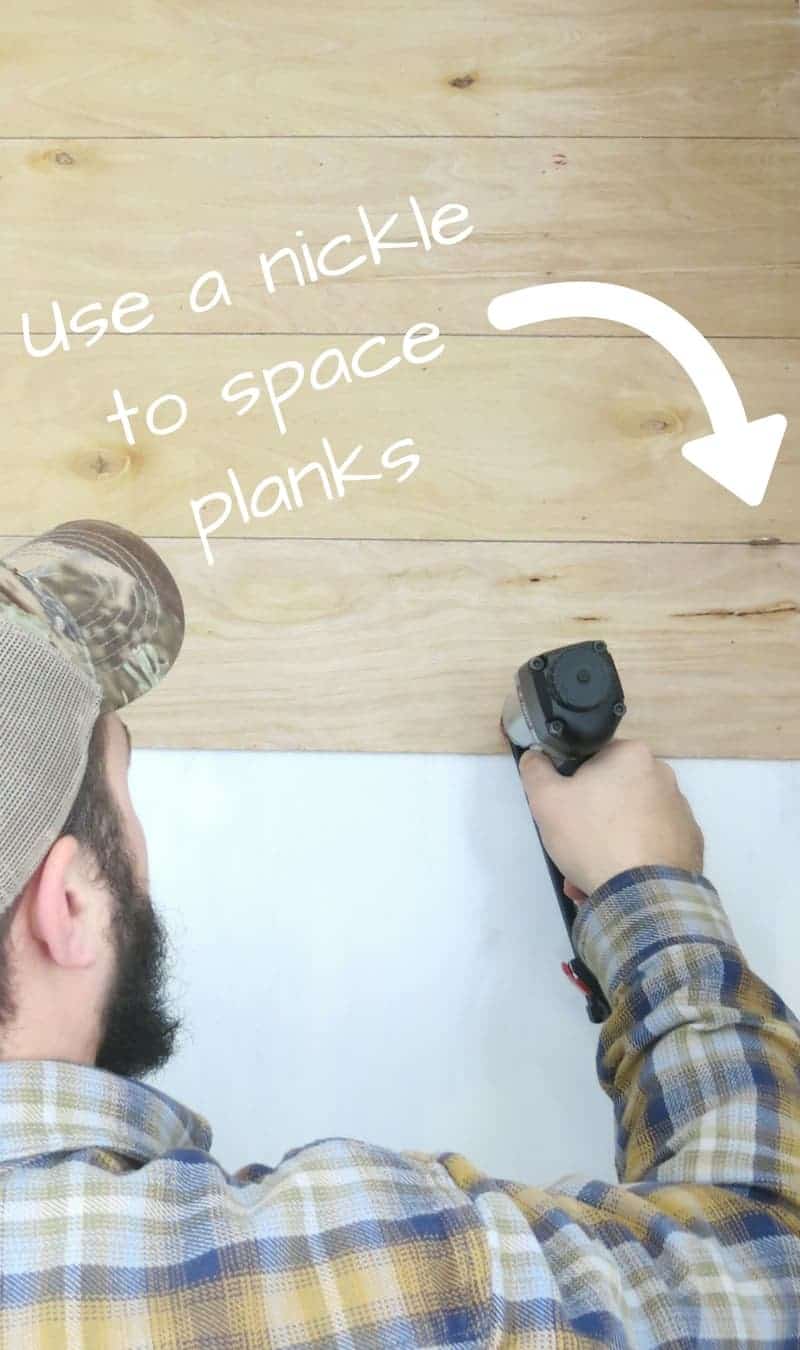 Ready for a handy tip? Use a nickel to space your planks out on your faux shiplap wall! Put one on both the left and the right of the wall (and in the middle if your wall is larger).
Step 5. Caulk edges.
Run a thin bead of caulk on the corner and then use your finger to smooth it out. The purpose of this is so that there is a nice clean line for your paint (the same reason you always want to caulk the edges of trim before you paint).
Related reading – Check out all of our caulking tips and tricks here!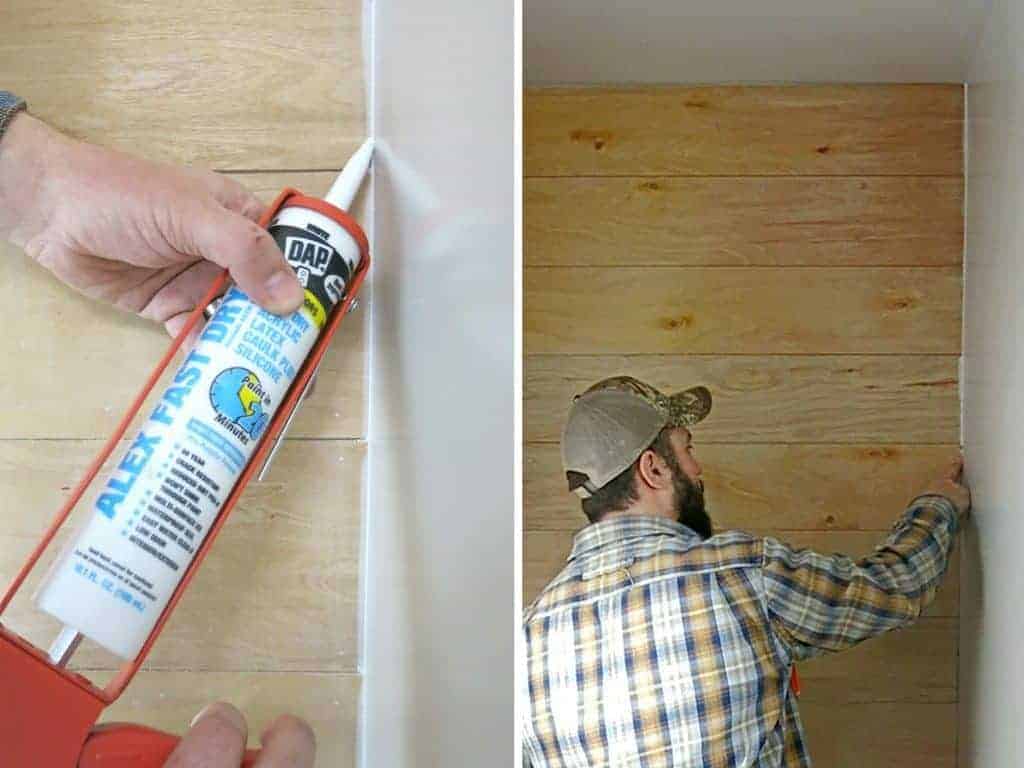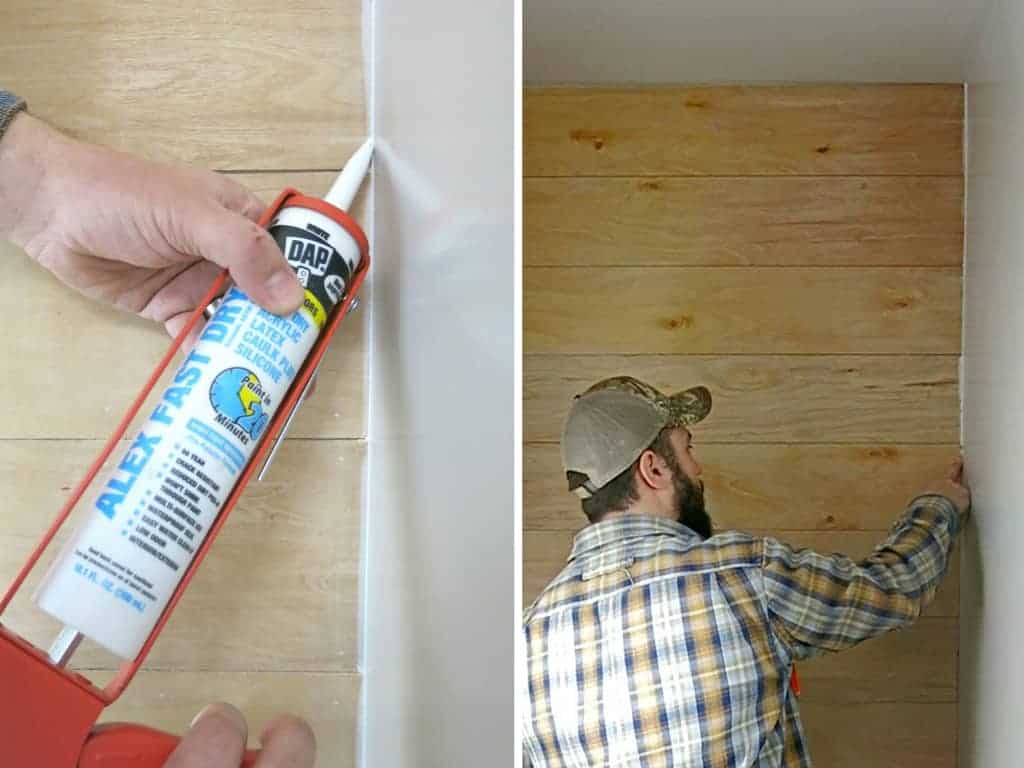 Step 6. Patch nail holes and sand.
This is pretty simple. All you do is apply a dab of spackle on your nail holes and then rub off the excess.
To finish up, be sure you sand the areas you patched with some 220-grit sandpaper to make the finish smooth. You don't want to skip sanding because you'll see the marks on the surface where the spackle was.
Further reading – Check out our full tutorial for how to patch nail holes here.
(Update: we recently did a shiplap wall in our living room with a slightly different shiplap method and we decided NOT to fill any of the nail holes for a more rustic look, check the shiplap accent wall here)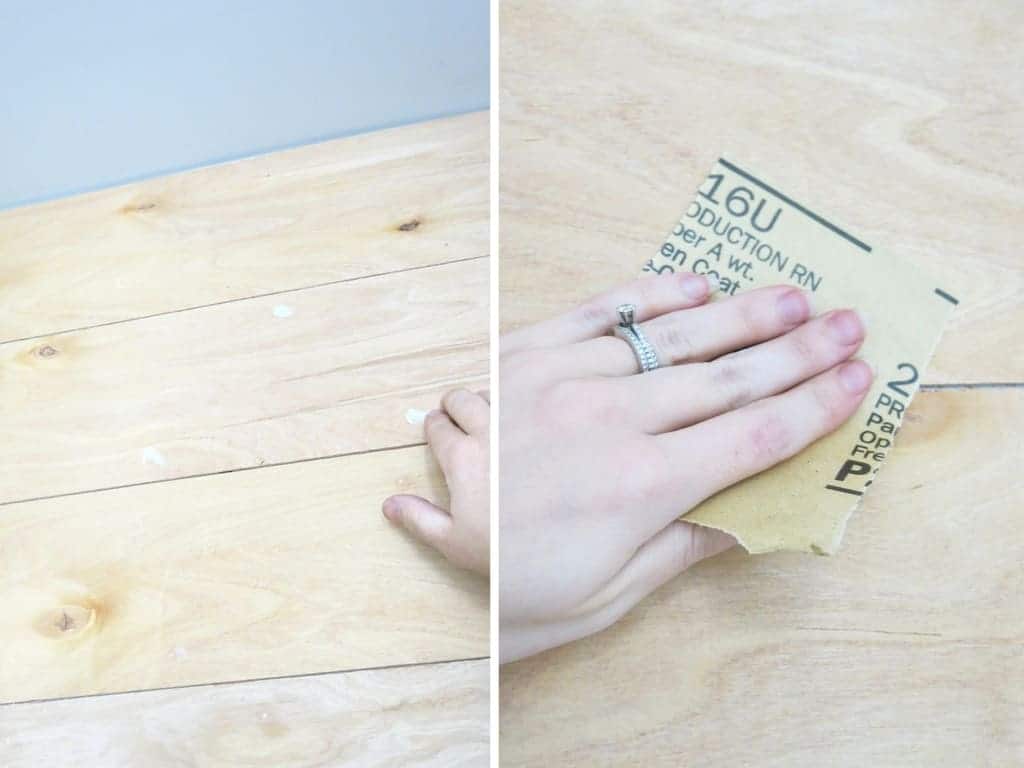 Step 7. Paint your faux shiplap wall.
We used Behr's Snowy Pine and did 3 coats. Be sure to cover your floors and toilet and be careful on the edges when you are cutting in (or use some painter's tape).
If I was doing this again, I would have started with a coat of primer before painting since we were painting on raw wood.
A lot of people asked why I used a paintbrush instead of a roller for the shiplap wall, let me explain! I was worried a roller would get the paint on too thick in the cracks between the wood and I would end up with tons of the paint drips. With the brush, I was able to control how thick the paint went out and avoided laying it on heavily on the cracks. It didn't take me much time at all to paint the small wall by hand!
Step 8. Scrape the gaps between the faux shiplap planks.
After you finish painting, you'll probably run into some drips of paint between the planks, even if you use a paintbrush and not a roller. This is super easy to solve.
Just run something straight through the edge of the gaps. I used a putty knife, but you could use a credit card or something like that too.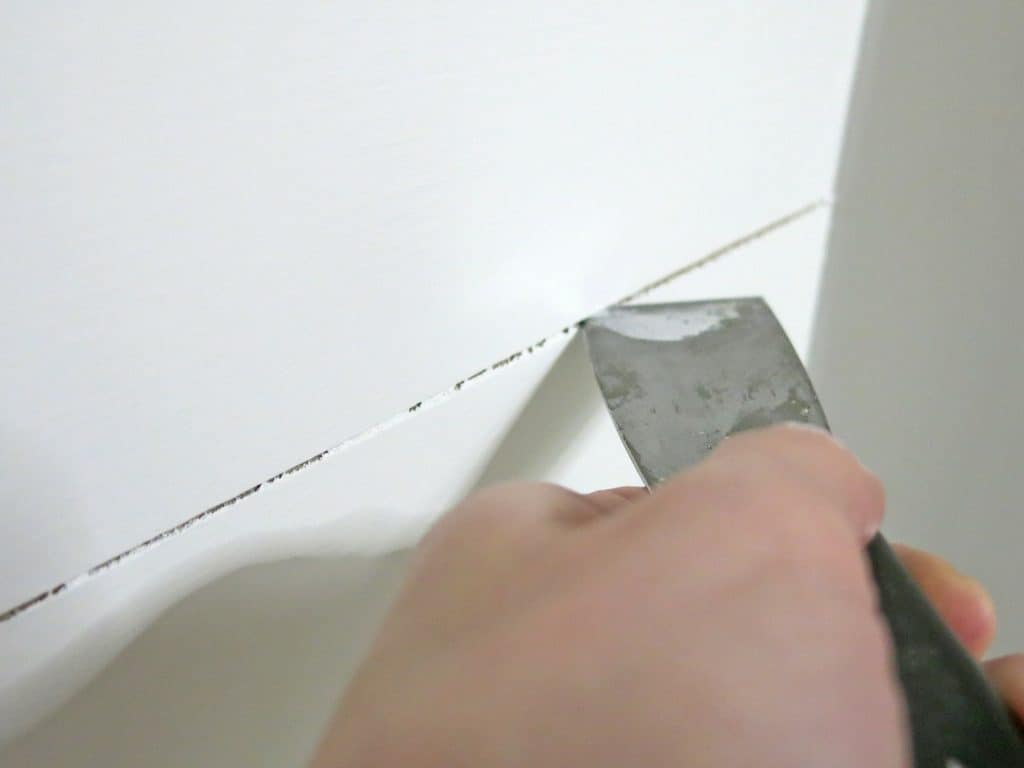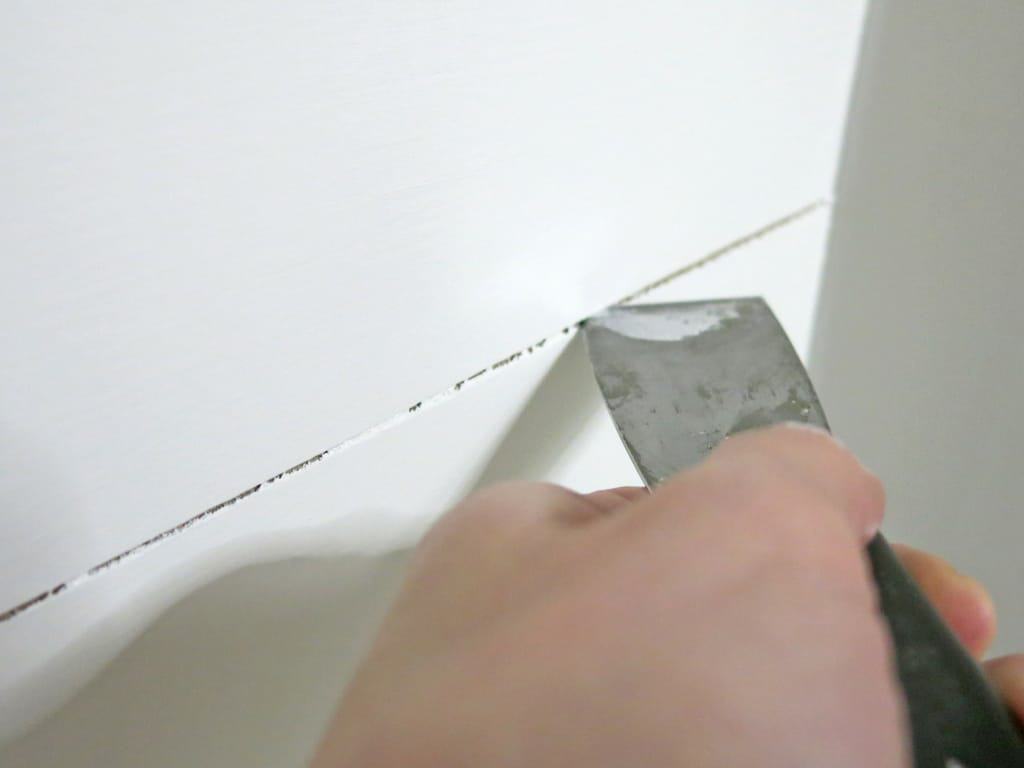 Step 9. All done!
Step back, pat yourself on the back and go binge-watch some more Fixer Upper.
That was easy, right?! After we finished, we were both shocked at the crazy transformation. It was so stinkin' easy!
The best part about this faux shiplap wall is that it was SUPER inexpensive. Assuming you already have the paint, brushes, nails, and all the tools on hand – this will cost you less than $15!!
What do you think? Did you love this guide on how to install a faux shiplap wall? Do you have convinced your hubby on adding some farmhouse shiplap in your house yet? Did you use real shiplap or faux shiplap?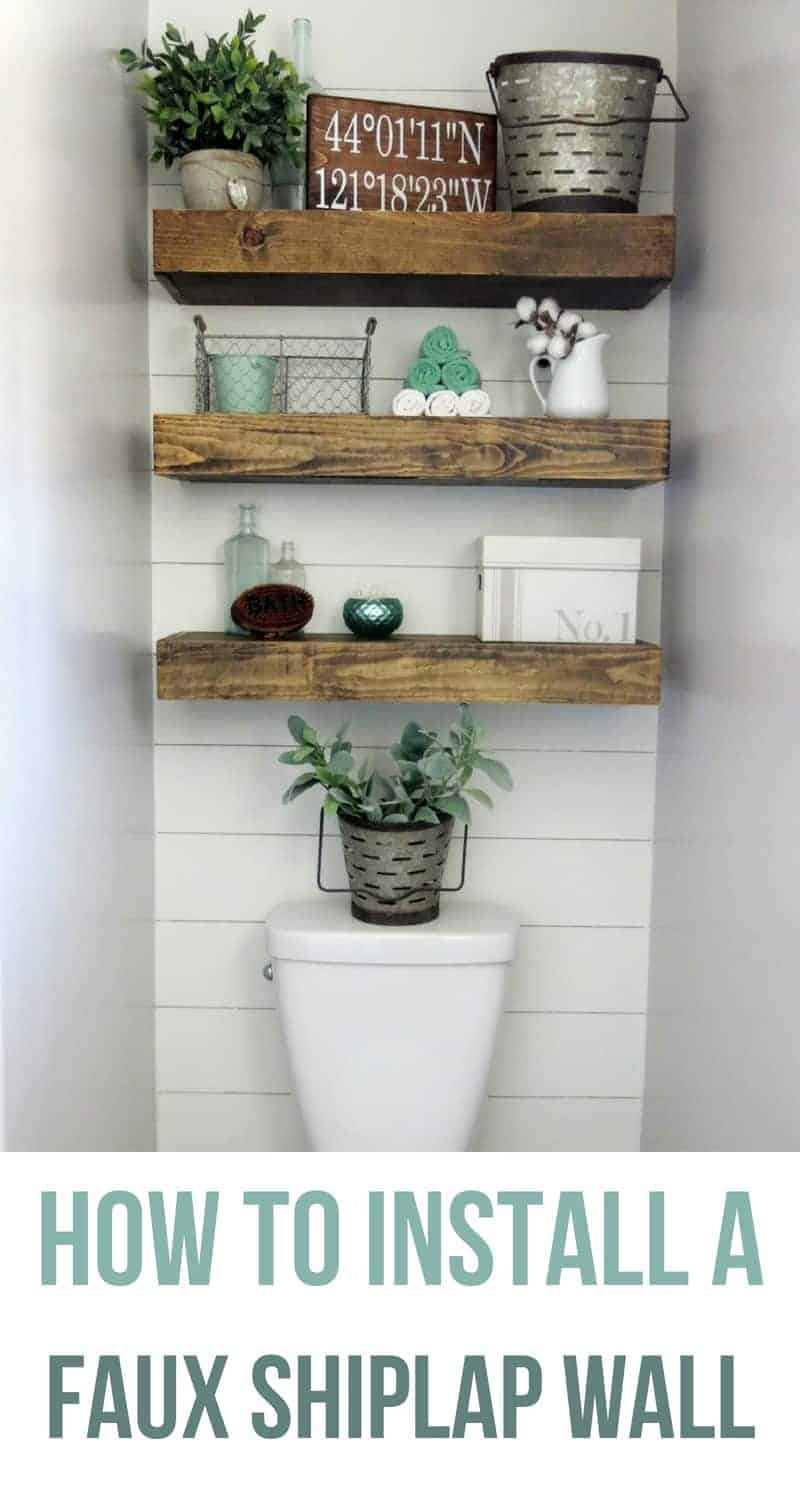 I can't wait to show you the next simple DIY we did in our farmhouse master bathroom…. floating shelves to go on our shiplap wall. Check out the full tutorial for our floating shelves here!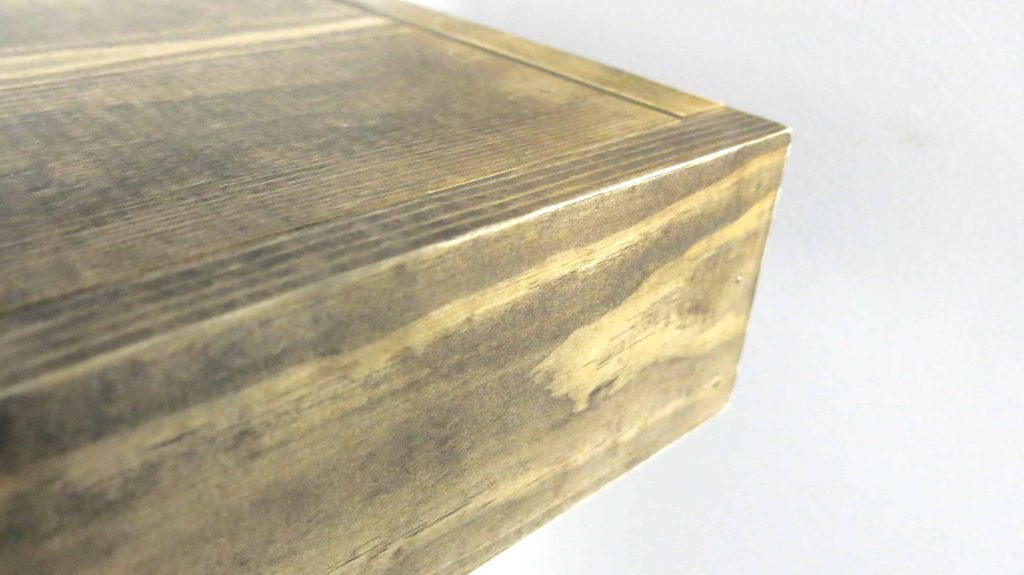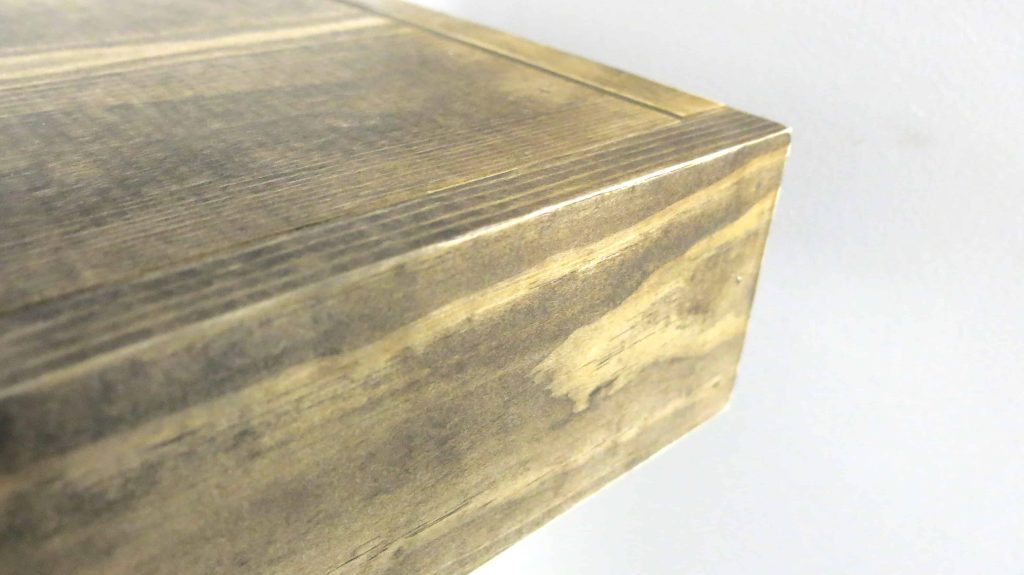 Need more #shiplap?
---
The video of our faux shiplap wall and floating shelves in our farmhouse master bathroom literally went VIRAL. It was so cool to see something that we did get noticed by SO many people. If you are not one of the 20,000,000 people that saw this on Hometalk's Facebook page, here's a little time lapse version of our transformation (and a sneak peek at the super cute farmhouse decor)!
---
Looking for more of our farmhouse master bathroom renovation?
---
If you love this faux shiplap wall in our farmhouse bathroom, check out the shiplap accent wall we added to our living room!
You'll also probably this cute little farmhouse reading nook we added!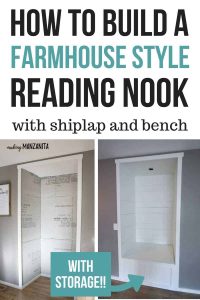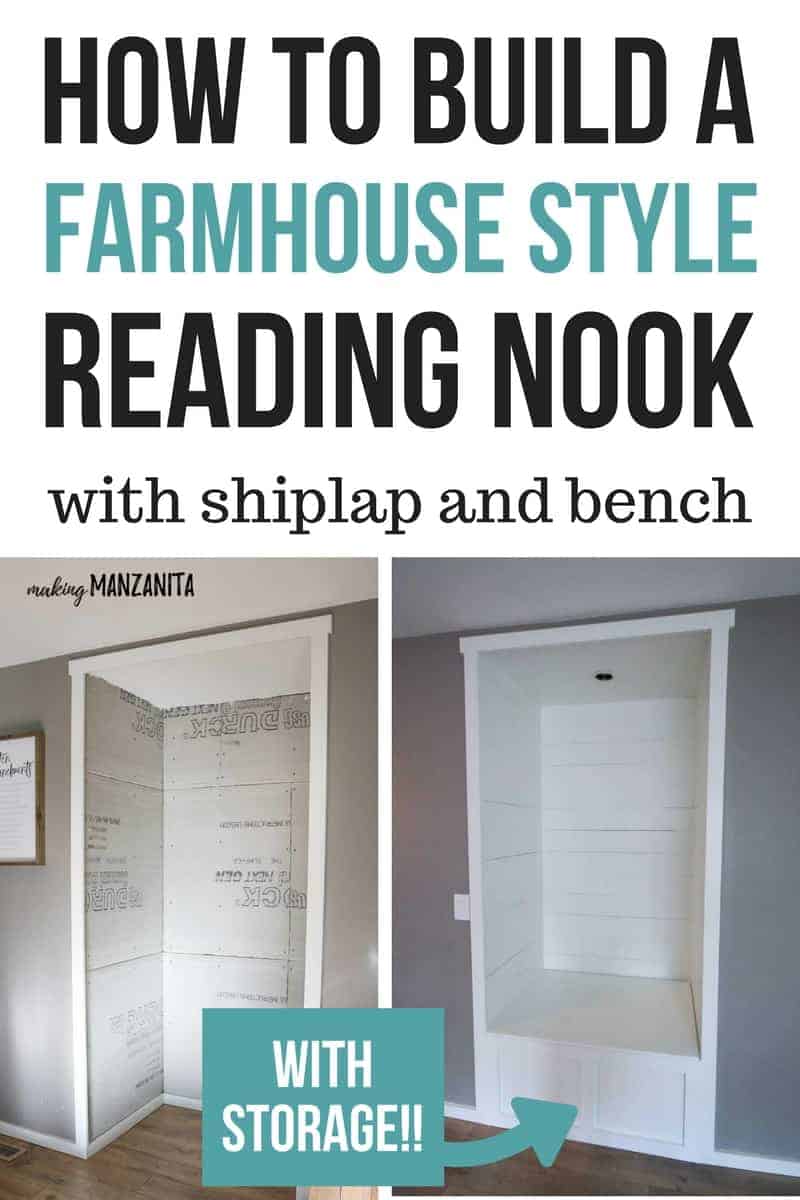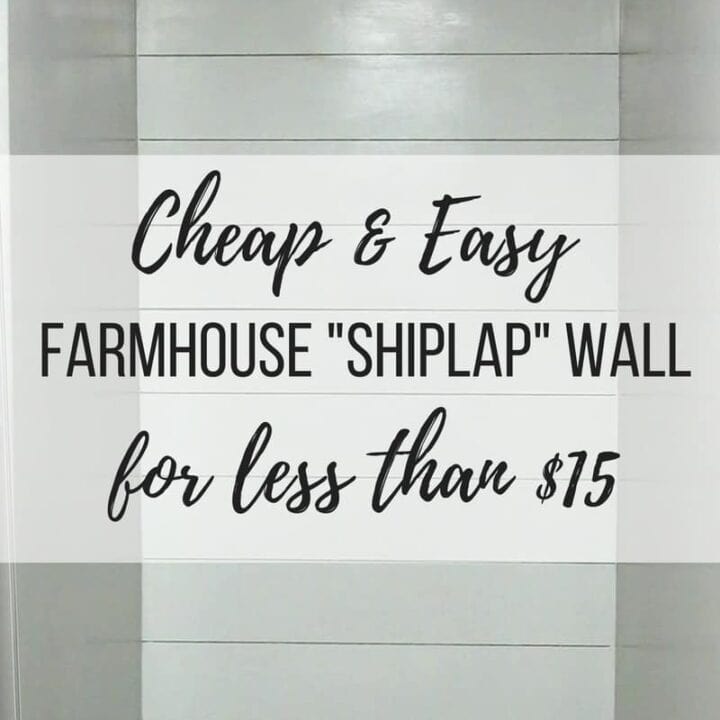 How to Install a Faux Shiplap Bathroom Wall
Love the look of shiplap walls? Here's how we upgraded a boring bathroom wall with a cheap and easy faux shiplap wall.
Materials
A nickel (yep, the coin, from your wallet!)
Instructions
Remove tank from toilet.
Paint your wall.
Cut wood to size.
Nail wood to wall.
Caulk edges.
Patch nail holes and sand.
Paint your faux shiplap wall.
Scrape the gaps between the faux shiplap planks.