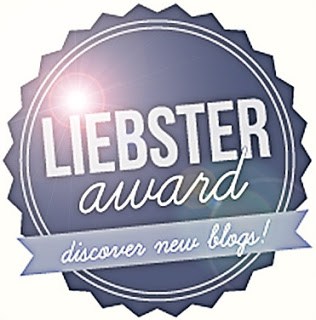 I was so shocked when I got a fun comment from my friends Jane & Sonja at Sustain My Craft Habit nominating me for the coveted Liebster Award! Jane and Sonja are fellow co-hosts with me for the Home Matters Party. I've had so much fun getting to see all of their fun projects. They are craft masterminds and such an inspiration to me and so many others.
The Liebster Award is online award given to bloggers by bloggers. One of the main goals of the Liebster award is to encourage bloggers, particularly ones who are new to blogging, to network, support and virtually meet each other.
Thank you Jane and Sonja for the nomination! I appreciate it and am so flattered.
THE LIEBSTER AWARD RULES
Post your award to the blog.
Thank the blogger who nominated you and link their blog.
Answer the questions you were given by the person who nominated you.
Nominate a small group of other bloggers you've recently discovered.
Create 10 new questions for the nominees to answer.
Jane and Sonja gave me some great questions to answer, so here goes!
1. What is your favourite part of blogging?
My favorite part of blogging so far has been meeting other bloggers through link parties, comments and other fun things like the Liebester Award! There is so much inspiration out there and I'm constantly blown away the creativity of fellow bloggers. It really keeps me "going".
2. What was your first blog post about?
Haha, what a great question! My first blog post was "car buying experience" from when Logan and I bought his truck. It was the first time for the both of us that we were purchasing a car without our parents around. We certainly learned what "out the door" price means. One of the reasons I started the blog was to document little tidbits of our life (like buying a car) as it flies by.
3. If there's one blogging task you could delegate to someone else, what would it be?
This is a tough one. I'd probably choose social media. It's such a necessary part of blogging and requires almost constant updates. I work from home (more than) full time and my job can be pretty demanding… on top of renovating our house, keeping up with all the social media on top of blogging can be a bit overwhelming from time to time. The scheduling programs do help, I use Buffer for Twitter, Google + and Facebook and Viral Woot for Pinterest.
4. What is your favourite post that you've published so far and why?
I think my favorite post so far was one where I told our story about our decision to move out of San Diego and to Central Oregon. It was a heartfelt post written mostly for our friends and family. It was fun to write and get all my thoughts down before we forget the reasons why we decided to embark on this adventure.
5. Boxers or briefs?
Haha, what a funny question! Boxer briefs… best of both worlds.
6. To where is your next vacation going to be?
Early next year my hubby and I are planning get away to some of the islands in Northern Washington. I hear they are so quiet and peaceful, which sounds just awesome.
7. Is there anything you wish you had known before you started blogging? 
It's a lot harder than it looks. 🙂 To be honest, when I first started working on the blog I wanted to get about 20 posts ready before making it live.  For the first few weeks while I got everything ready, the design aspect and all the technical stuff really stressed me out. Every time I worked on it, I ended up in tears. After a few months, I almost gave up… I decided to take a little break. After we moved and purchased our first home, Logan actually asked me about the blog and if I was ever going to try again. He really encouraged me not to give up because it was something that I did want to do, it just scared me a little. I thought it would be fun to document the home renovation projects, so with a little more persistence I tried again. This time I tried to let go of my perfectionist attitude and just "learn as I go" instead of thinking I have to have everything figured out before I start. That was the best decision I made. I've learned some much the last couple months since actively working on it. But, again…. it still seems to be a little harder than it looks.
8. If you were going on the show Survivor, what 3 items would you take with you onto the island?
A really cool and colorful sports bra (that's all you ever see the girl wearing right?!), the Bible and photos of my family.
9. What is #1 on your wish-list to Santa this year?
I would love to learn how to calligraphy so I'm asking for a beginner's calligraphy set and tutorial book. Something to do in all my spare time, haha.
10. In a zombie apocalypse, what food item would you want to make sure you had?
Funny you should ask! My husband and I were just watching some old episodes from The Walking Dead and in one episode Carl comes across a massive can of Chocolate Pudding. He sat on top of the roof of a house and ate the whole thing and looked like he really enjoyed it. I think I'd have to go with Chocolate Pudding!
Now it's my turn to nominate. My nomination is a friend that I met a couple months ago and I have loved reading her blog since! Sarena from Teal Inspiration recently purchased their first house and is working through a big home remodel. It's been so fun to compare notes. Although, I'm jealous because her remodel is moving much faster than ours! I also love all of her product reviews!
Sarena, my questions for you to answer are:
What's your favorite part about blogging?
What has surprised you most about blogging?
Where do you hope your blog is in three years?
What's your favorite blog post you've ever written and why?
Describe a typical day in the life of you!
Which of your cats is your favorite and why? (Sarena has 3 cats)
What have you enjoyed most in your home renovation so far?
What was the most important thing you learned during the home buying process?
What's #1 on your wish-list to Santa this year?
What's your favorite TV show?
Can't wait to see what Sarena has to say!