Everywhere I look everyone seems to organizing something or cleaning something else. I guess it that's time of year! I thought it was a good time to share with you all about the closet systems we installed as part of our home renovation. Installing closet systems make a world of difference in our closet. They are so much more efficient now.
When we moved in, the closets were the older and dated one-shelf, one-bar look that you find in many homes (see photos below or click here for a full pre-reno home tour). They didn't seem very efficient and they certainly didn't look pretty. Since we were downsizing, we knew we needed to take full advantage of the closet space and be able to use it wisely. These are the closets in the 2 bedrooms, the master was the same thing but a little wider.
This post contains affiliate links, but nothing that I wouldn't wholeheartedly recommend anyway! Read my full disclosure here.
Installing Closet Systems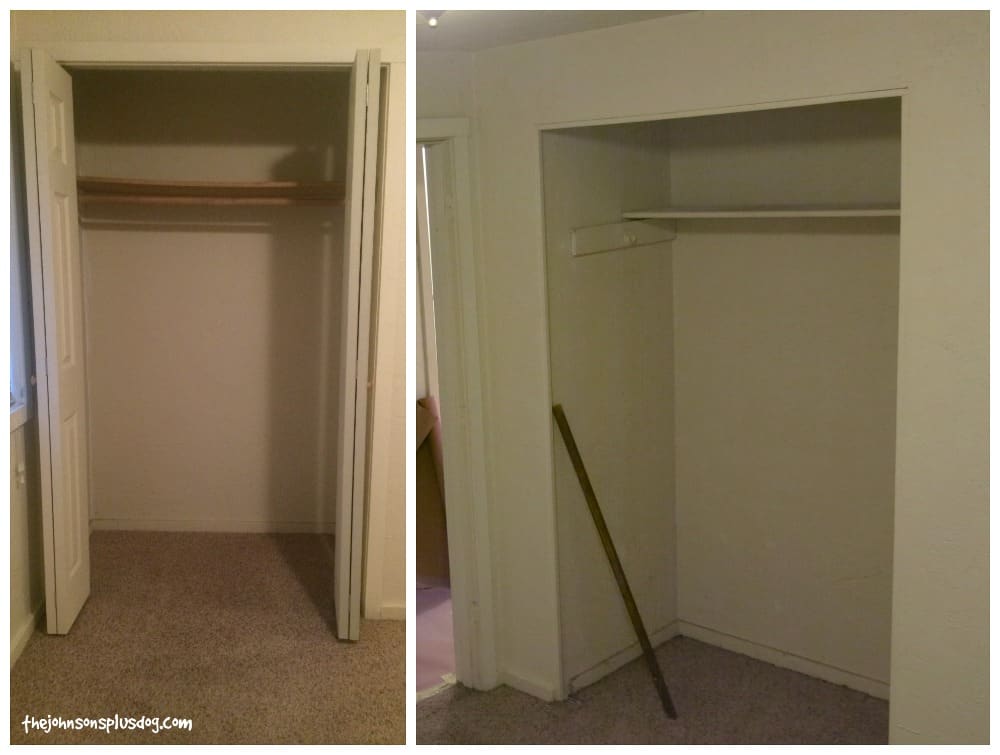 We instantly knew they had to go, so we knocked them out early. Here's a view of the master closet empty when we were working on the skim coating in that room.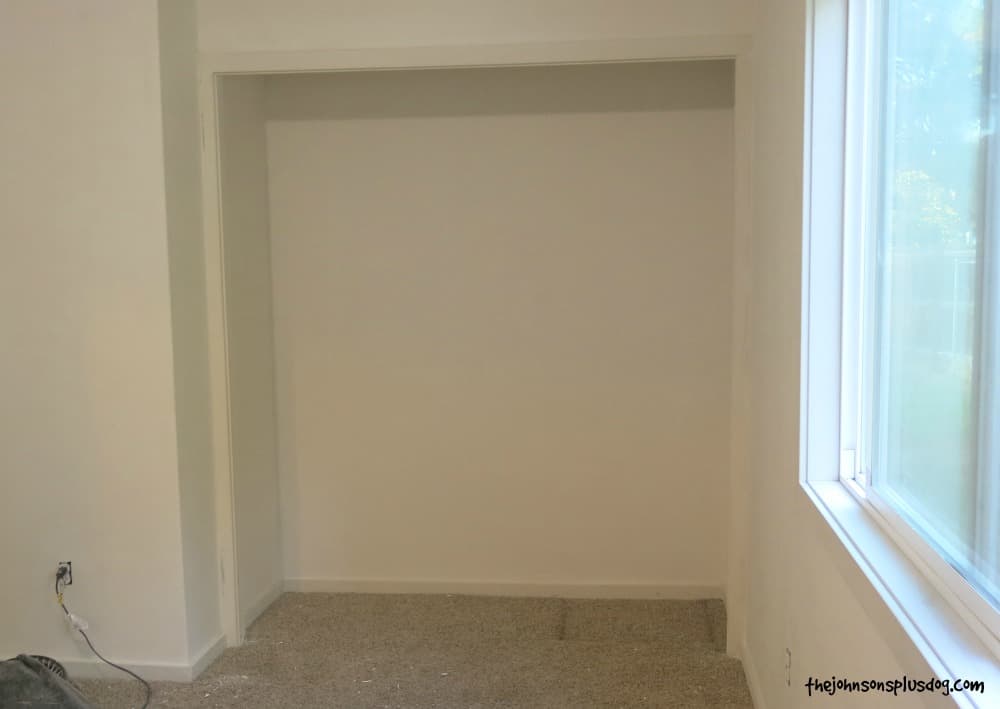 We chose to go with the Closetmaid Selectives System sold at Home Depot (our second home).  We were doing three closets (2 measuring 51 inches wide and 1 measuring 74 inches wide). We used the 25 inch Starter Kit for all three closets. The starter kit is great because it provides pretty much everything and it's versatile (fits closets 7 to 10 feet wide). The starter kits come with three closet rods and you can purchase more if you'd like. We were silly and didn't realize that it came with rods at all so we purchase all of those. We were probably pretty tired on that Home Depot trip!
We also purchased a top shelf for all three closets and didn't install them right away because they were a little too wide for our closets and we needed to cut them down with the saw (which isn't set up right now). Honestly, it's been a couple months and I'm not sure we're going to install the top shelves at all. I'm not sure they would provide a lot of extra storage or not. We have the top shelf of the column… we're still deciding on that though.
The Selectives systems come with tons of other options as well (corner units, drawer, baskets, etc. etc.). You could really go storage crazy!
We were pleased with how easy installing closet systems was, especially since we purchase three of the same unit. Once you do one, you have the process down.
The closet system installation process starts with preparing your shelves and then building the column of shelves.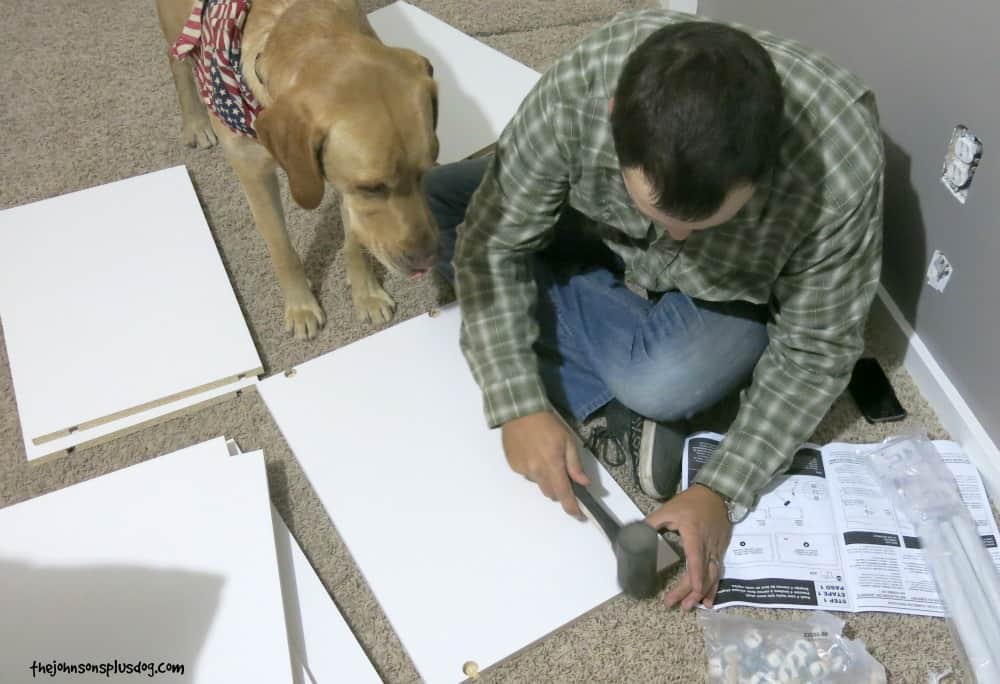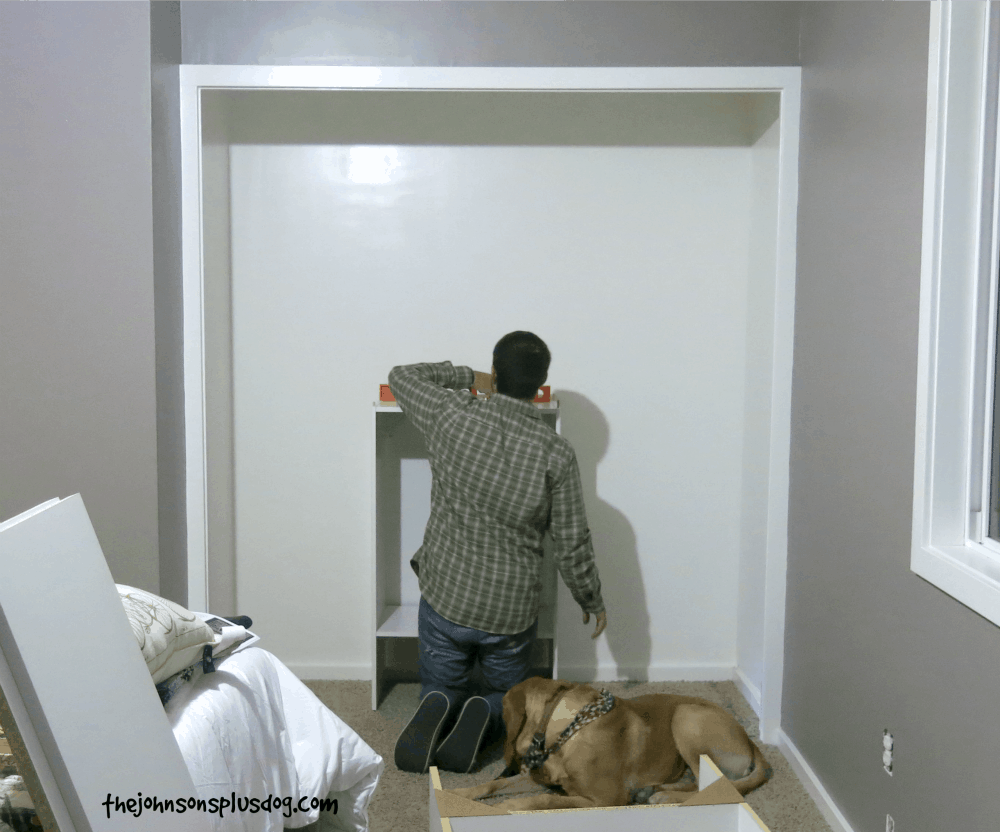 Gannon lost interest pretty quickly, as you can see.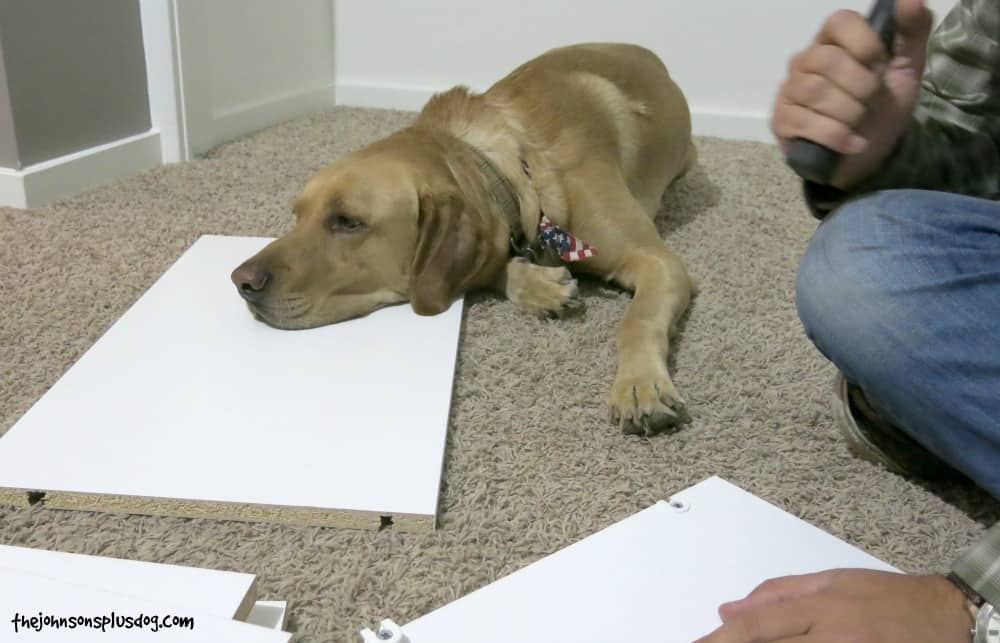 Once the column of shelves is built and secured to the wall, you can install the closet rods. For the master we chose to install four (2 on each side). We don't have many long hanging dresses that need to go in this closet, so we opted for that.
Our closets were actually a little too narrow for the rods provided in the kit so we had to cut the closet rods down so they would fit! To do this, we use a hacksaw. Here's the one we used. Worked perfect.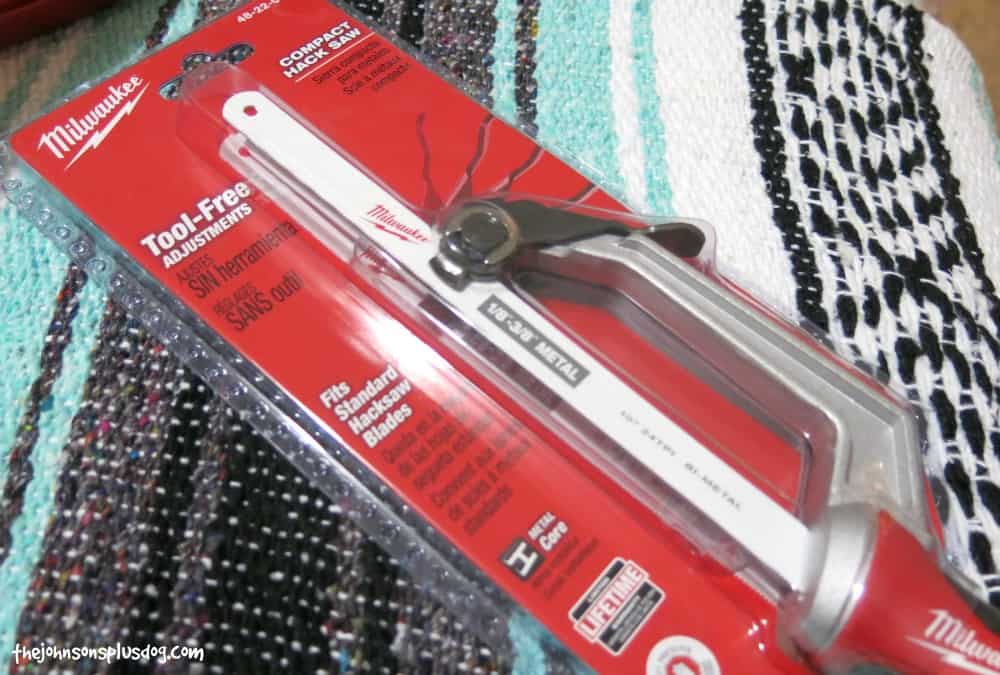 Once the tower is installed, you secure it to the wall and install the closet rods. This is the final step for installing closet systems ! Woohoo!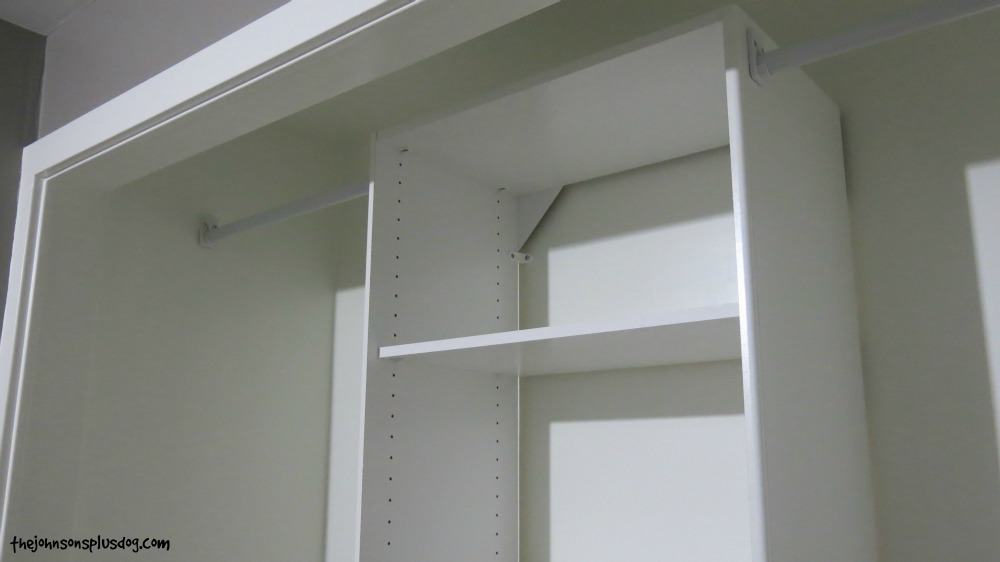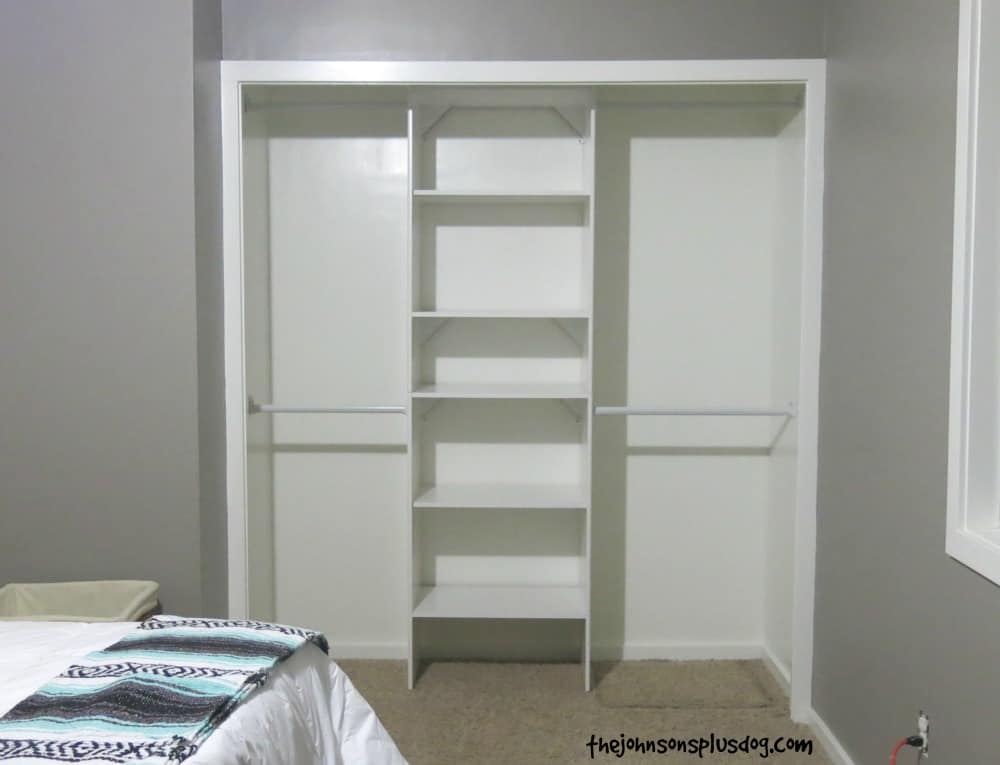 Look at at that pretty closet just waiting to be organized! Installing closet systems was pretty simple and didn't take much time! The new closet systems make the closet much more efficient.
Here are a few of my favorite closet organization ideas:
---