See how to transform $5 bar stools from the thrift store into tall nightstands. Upcycling a bar stool into a narrow bedside table is so easy to create with a little chalk paint and wood for shelving.
We didn't have a nightstand next to our bed for WAYYY too long…like years long. Our master bedroom was small and I could never find a nightstand that was narrow enough to fit.
When I saw these bar stools at the thrift store for $5, I thought they would be perfect for a little thrift store upcycle project!
Turns out that these bar stools were the perfect height for tall nightstands and they don't take up much room at all in our small bedroom.
I love the extra storage space we were able to add to the bottom of the bar stool to create shelving on the narrow bedside table… the perfect place for some books and to hold your cell phone.
Related – More projects using items upcycled from thrift stores:
Upcycled Barstool Before!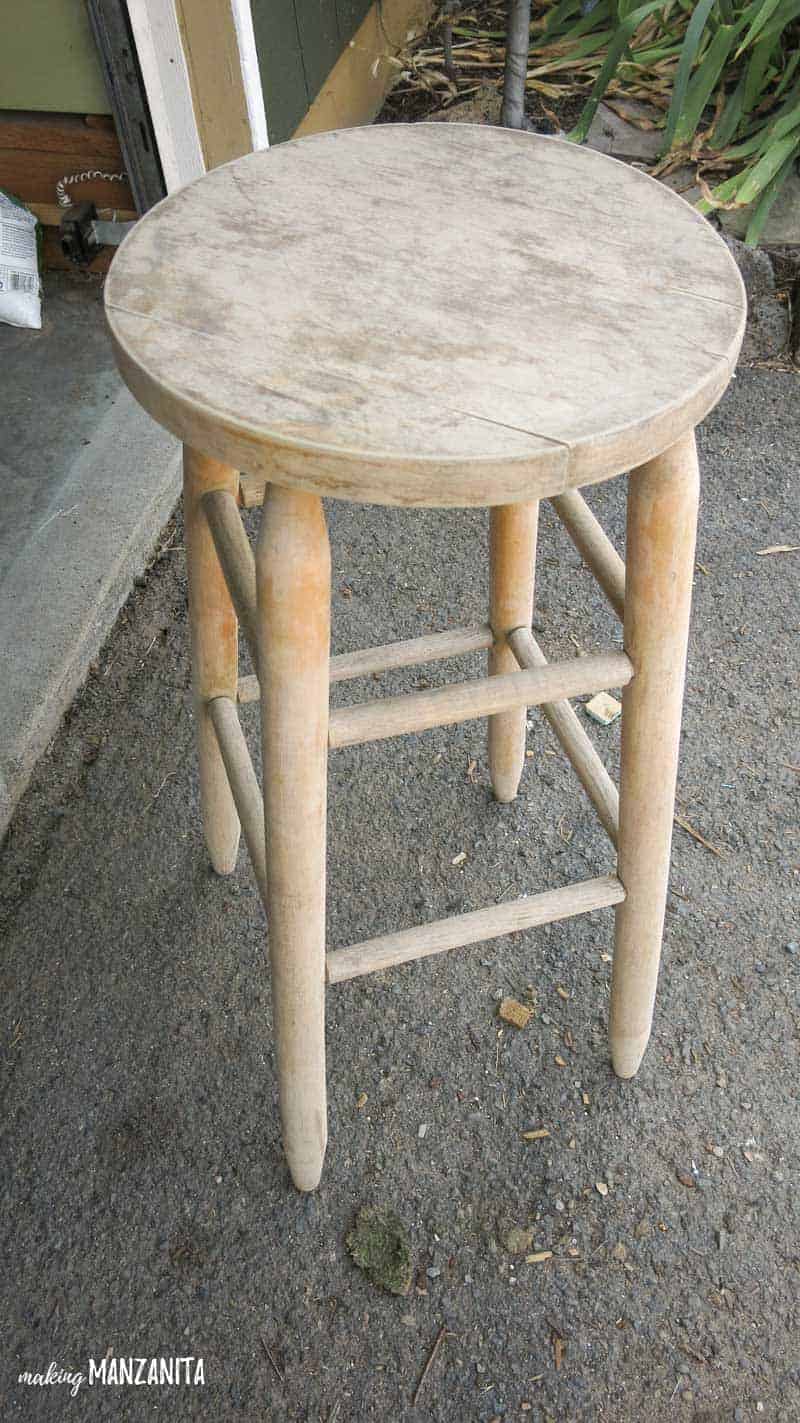 Are you ready to see how to upcycle a barstool into a narrow bedside table?!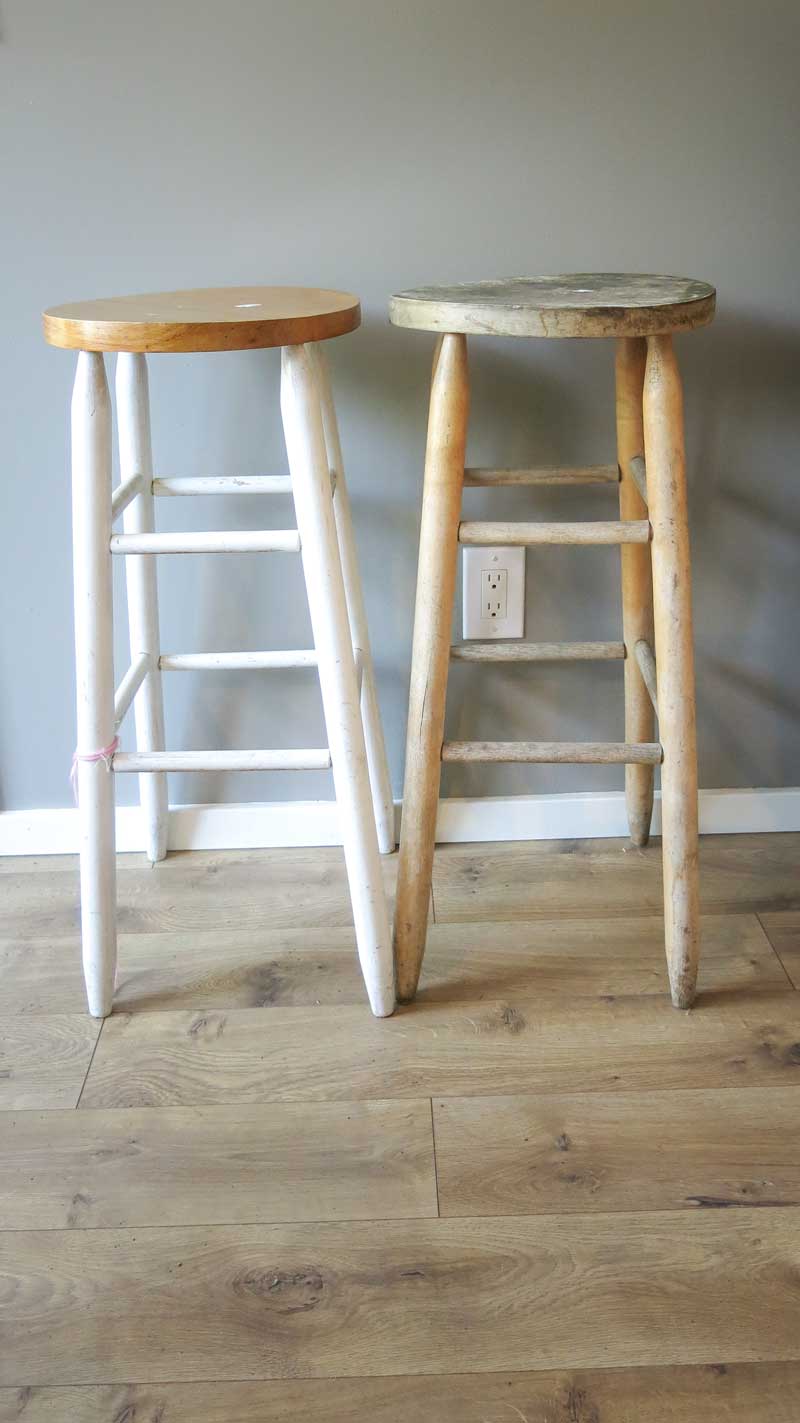 This narrow bedside table post contains affiliate links, but nothing that I wouldn't wholeheartedly recommend anyway! Read my full disclosure here.
Supplies for this upcycled barstool to bedside table project:
Old bar stool (I snagged mine for $5 each at the thrift store!)
General Finishes chalk style paint (I used Bone White) ** GS has discontinued their chalk-style paint line, but I love Rust-Oleum's Chalked paint in Linen White as an alternative **
Foam paint brush
Painter's tape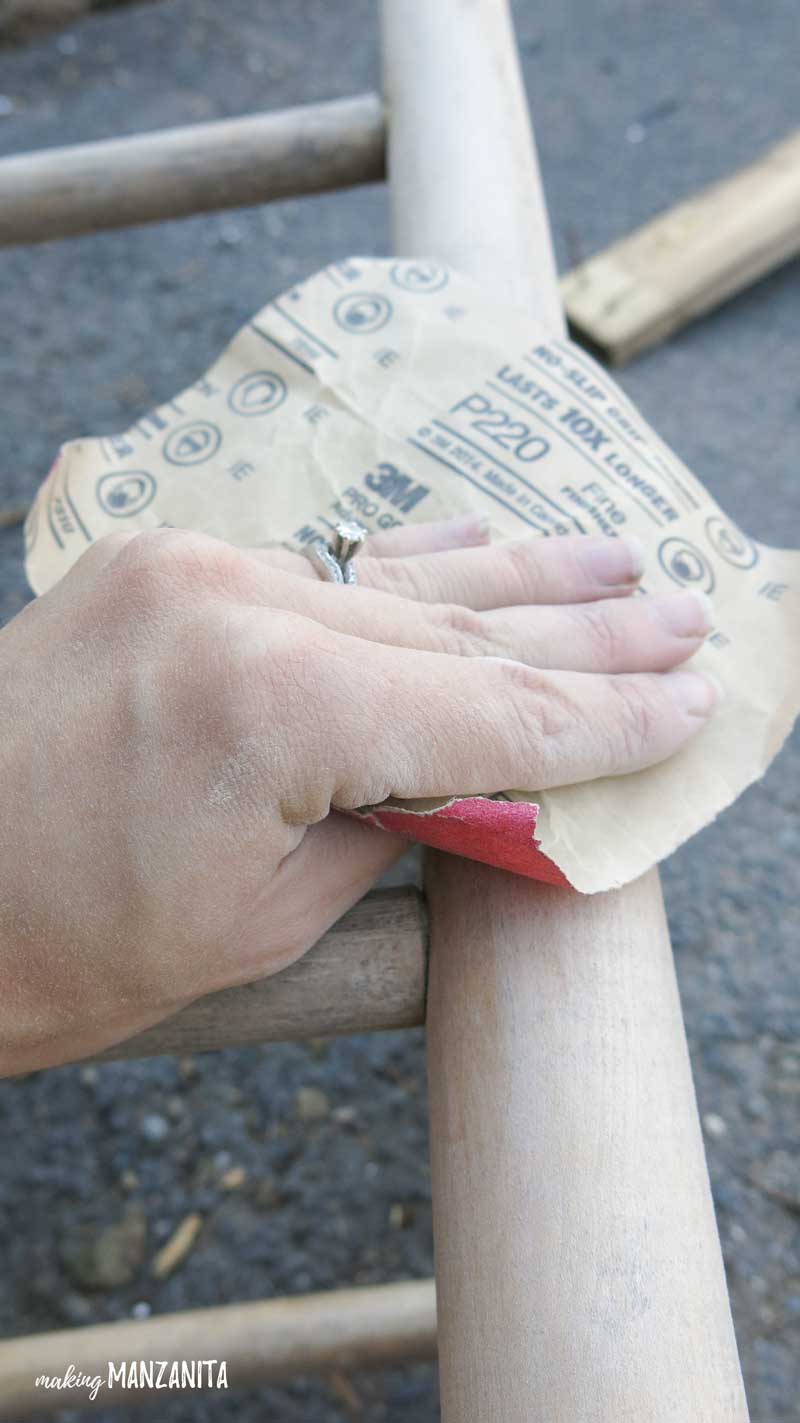 Step 1. Sand bar stools.
Using 220 grit sandpaper, lightly sand the bar stools. You want to remove the finish and give the paint a rough surface to adhere to.
After you're done sanding, be sure to wipe down the bar stools with tack cloth or a slightly damp rag to get all the sanding dust off.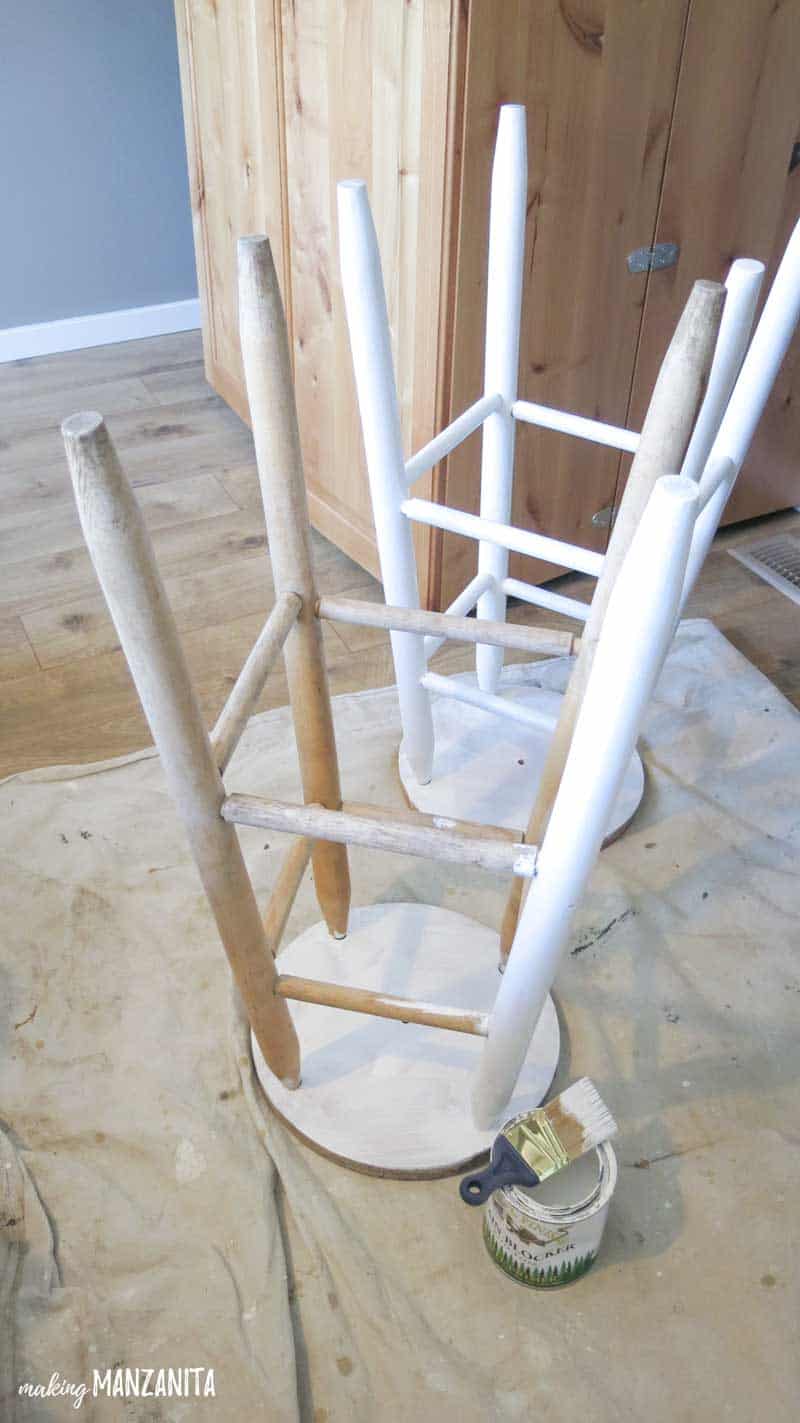 Step 2. Prime bar stools (optional).
I used 2 coats of the General Finishes stain blocker white primer. This helps prepare the bar stools to be painted and provides great coverage so you end up using less chalk paint because you've already blocked the color of the wood.
However, I DID find it a bit harder to distress the bar stools since I used the primer. Since this wasn't a furniture piece that's going to get a ton of use (it's just going to sit next to our bed), I probably could have done without the primer to make the distressing in the end a little easier.
Step 3. Chalk paint bar stools.
Apply chalk paint to the bar stools. I did 2 coats with this paintbrush to get the look I was going for.
Step 4. Distress painted bar stools.
Using some more 220 grit sandpaper, sand the bar stools down to your desired distressed look.
I had a harder time distressing these since I used the primer. It just took more elbow grease than I'm normally used to.
To make things a little easier if you're having trouble distressing quickly, you could use coarser grit sandpaper to start with.
You could even try this trick with applying some Vaseline before painting to certain spots so the paint doesn't adhere.
Be sure to use a tack clock after you're done distressing to get all the sanding dust. You could also use a slightly damp rag for this.
Step 5. Seal bar stools.
Using the top coat sealer, brush on one coat with a foam brush in smooth even coats. Don't brush back and forth a lot. Just one coat brushed on and leave it so it doesn't start to gum up.
If you need more than 1 coat, you can come back afterward and add more. General Finishes recommends sanding with fine-grit sandpaper between coats too. I just did one coat of the sealer.
Step 6. Cut wood down to size.
Each bar stool will be different, so measure your bar stool between the rungs (foot rests) to see how big you need the ghost wood.
Alternatively, you could use pallet wood or another kind of wood too! I just love the way this ghost wood shiplap looks.
Step 7. Paint edges of wood with chalk paint.
I wanted the edges of the ghost wood shelves to match the rest of the bar stool nightstand, so I opted to paint them white using the same chalk paint.
Block off the top of the ghost wood with painter's tape to protect it before painting and then apply 2 coats of chalk paint.
Step 8. Sand edges of wood.
Using 220 grit sandpaper, give the edges a little bit of sanding to make it batch the distressed look of the rest of the narrow bedside table.
Step 9. Set wood into upcycled bar stools as shelves.
Just set the ghost wood onto the rungs of the upcycled barstools and VOILA…they are all of a sudden now narrow bedside tables!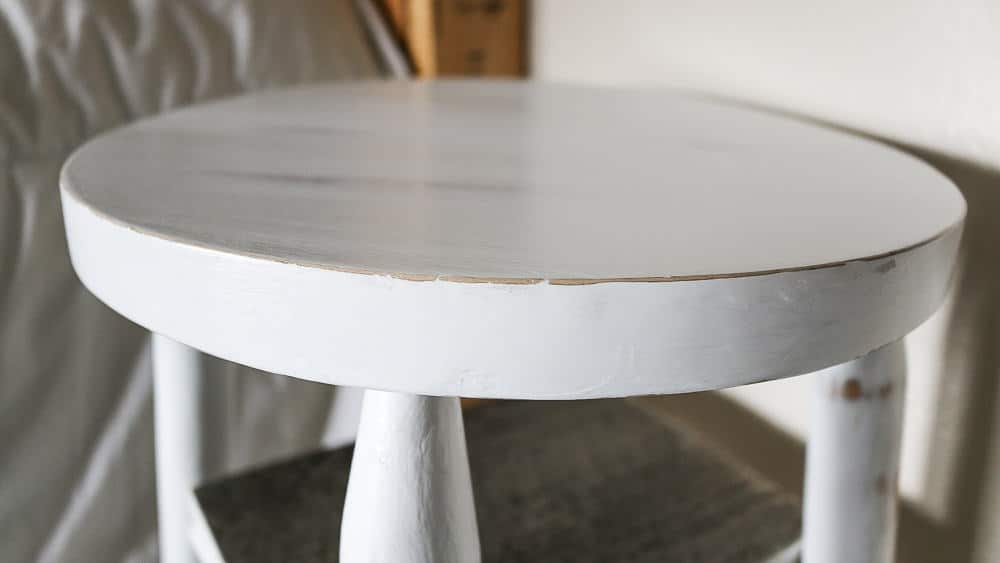 This is where this bar stool upcycle project really starts coming together! I'm happy to report that the narrow bedside tables are the PERFECT height to function as tall nightstands next to our bed.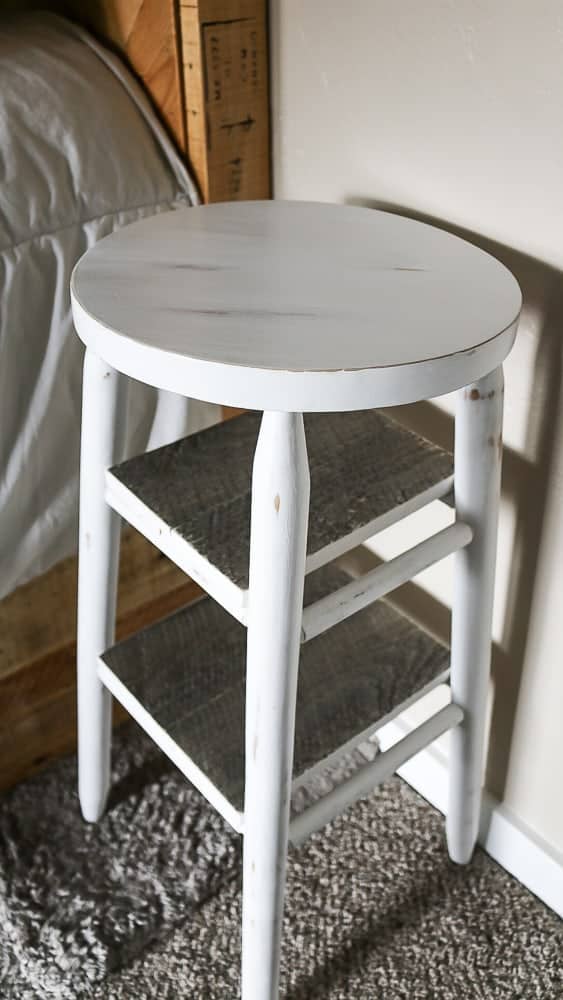 I love the shelves to stacking books that I'm reading. It's got a perfect little spot for my cell phone to rest all night long too!
I love the way the nightstand comes together in our master bedroom once it was styled with some books and a faux plant (similar here).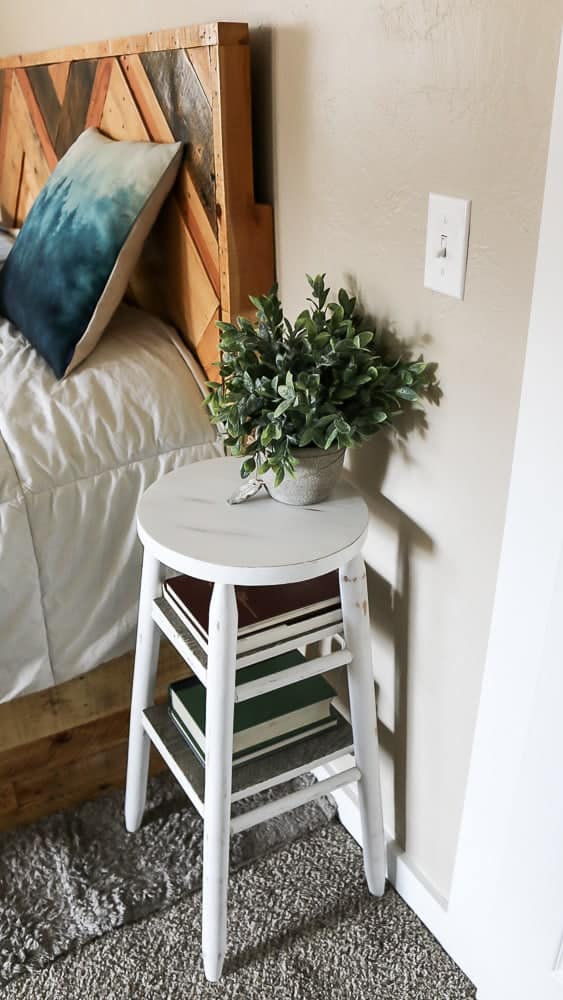 Even if you don't need a narrow bedside table, you could also use these as a narrow side table in your living room next to your couch.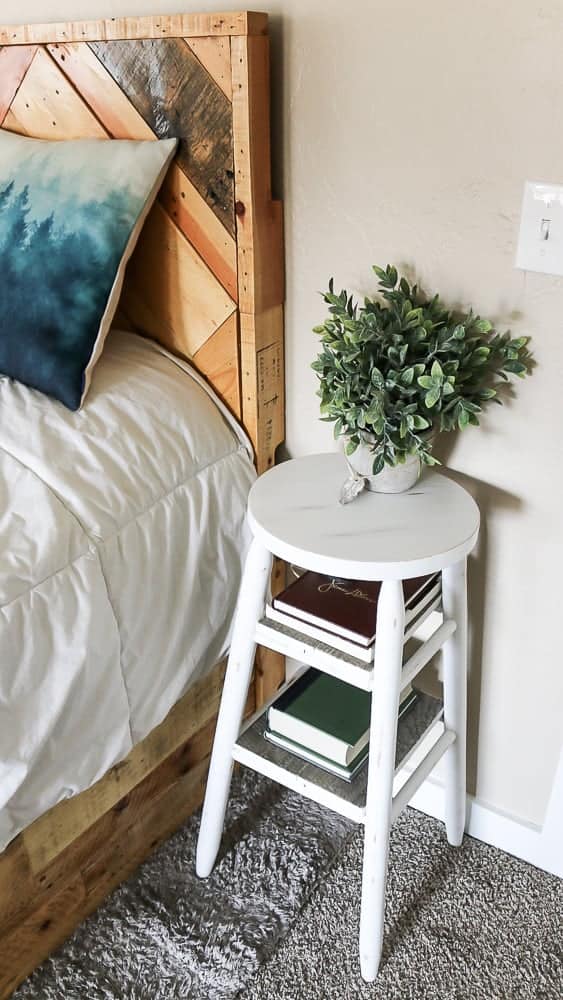 Transforming these thrift store bar stools into tall nightstands was really simple. All it took was a little bit of painting and some wood shelves cut down to size!
If you're new to the furniture painting world, this is a great little project to get your feet wet. I only paid $5 per bar stool at the thrift store, so it's not a big investment at all.
---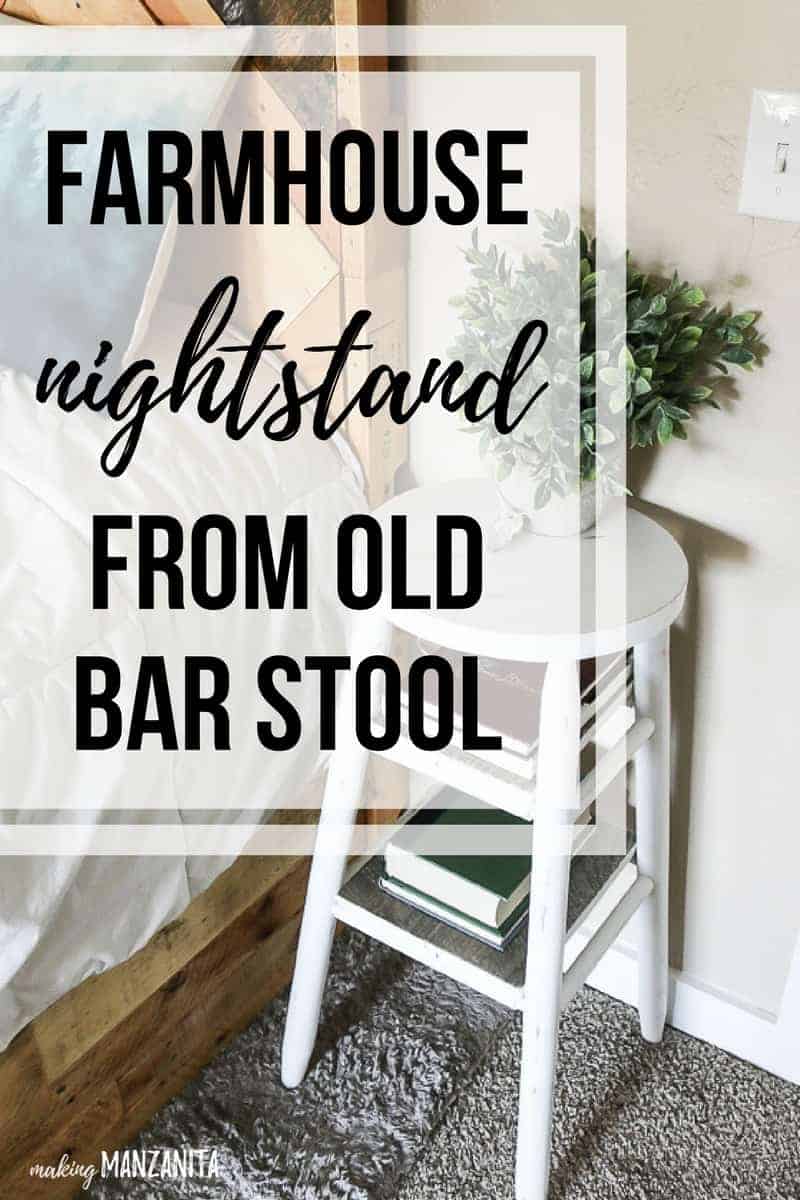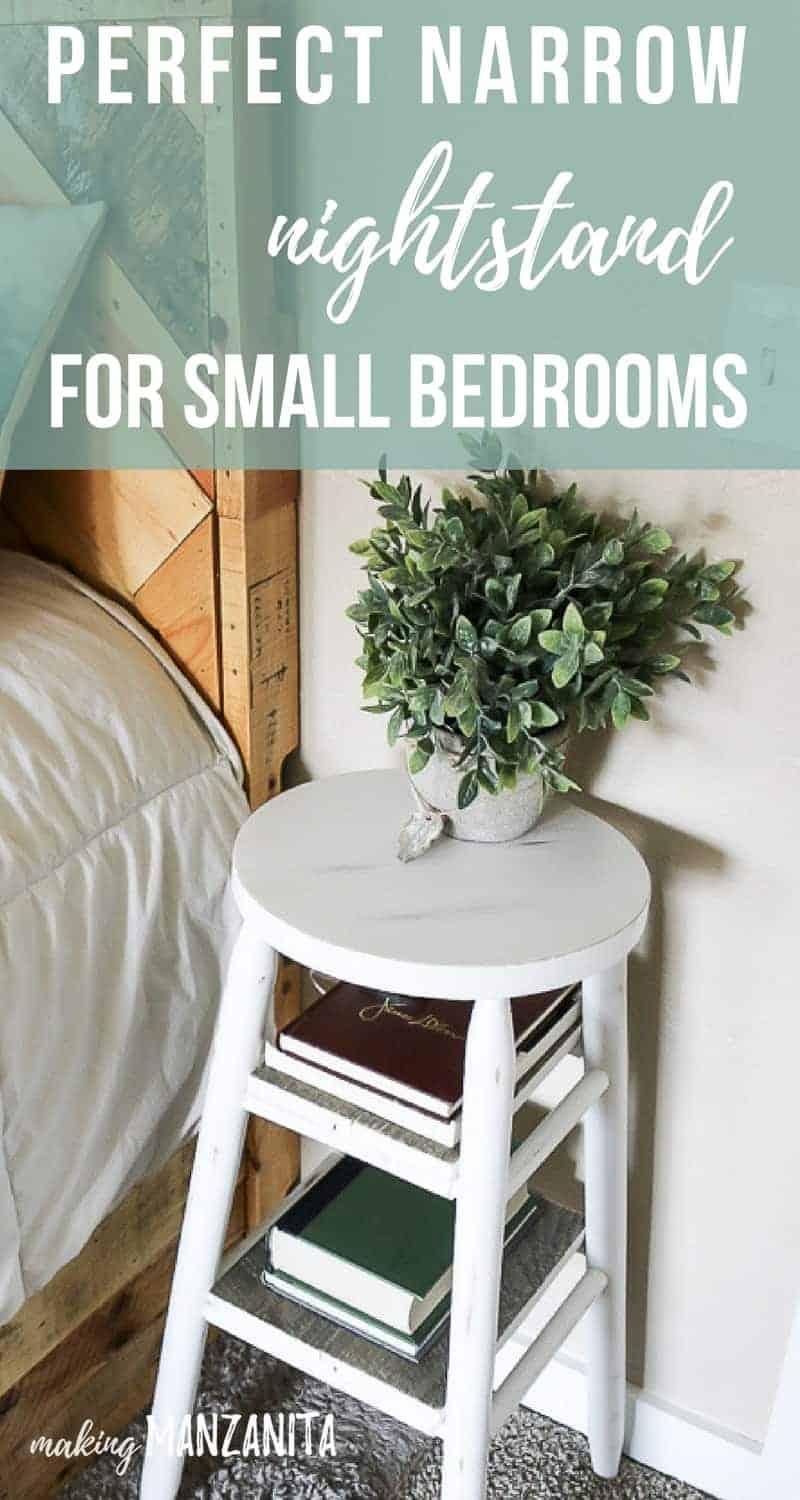 ---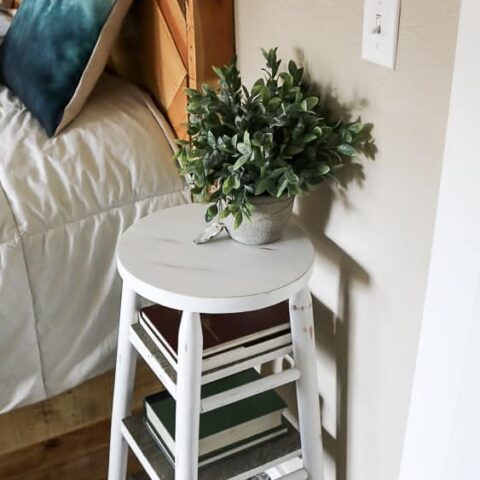 How to Upcycle a Barstool into a Narrow Bedside Nightstand
If you're looking for a narrow nightstand for a small bedroom, I've got just the DIY project for you! Here's how we upcycled two old barstools into convenient bedside tables perfect for our small bedroom.
Materials
Old bar stool
Foam paint brush
Painter's tape
Tools
Circular saw or miter saw
Instructions
Sand bar stools.
Prime bar stools (optional).
Chalk paint bar stools.
Distress painted bar stools.
Seal bar stools.
Cut ghost wood down to size.
Paint edges of ghost wood with chalk paint.
Sand edges of ghost wood.
Set ghost wood into upcycled bar stools.