Looking to add more character to your backyard or curb appeal to your front yard? Build an outdoor wall planter for vertical garden pots! This easy woodworking project turns out SO good!
Thank you to Kreg for sponsoring this DIY outdoor wall planter! All opinions are entirely my own. This post also contains affiliate links, but nothing that I wouldn't recommend wholeheartedly. Read my full disclosure here.
We've got BIG plans for this backyard and we're hoping to be able to completely redo the whole outdoor space this Summer & Fall. (UPDATE: See how the backyard makeover turned out here!)
To really get our minds right and ready for a backyard makeover, we're starting with a super simple woodworking project to add more character to the backyard. We built an outdoor plant wall with vertical garden pots! And it turned out SOOOOOO good, guys!
Once the whole backyard is done, this will fit in perfectly with what we have planned…but for now, with a yard full of dirt and weeds…which is a great way to keep up the motivation to keep working!
Related – Looking for more easy woodworking projects?
If you're wondering, Kreg Tools' website is full of easy-to-follow woodworking plans that are all available for free! I promise that you are going to find so much inspiration while you are there!
Vertical wall planter – video tutorial
If you love DIY videos, don't forget to subscribe to our YouTube channel!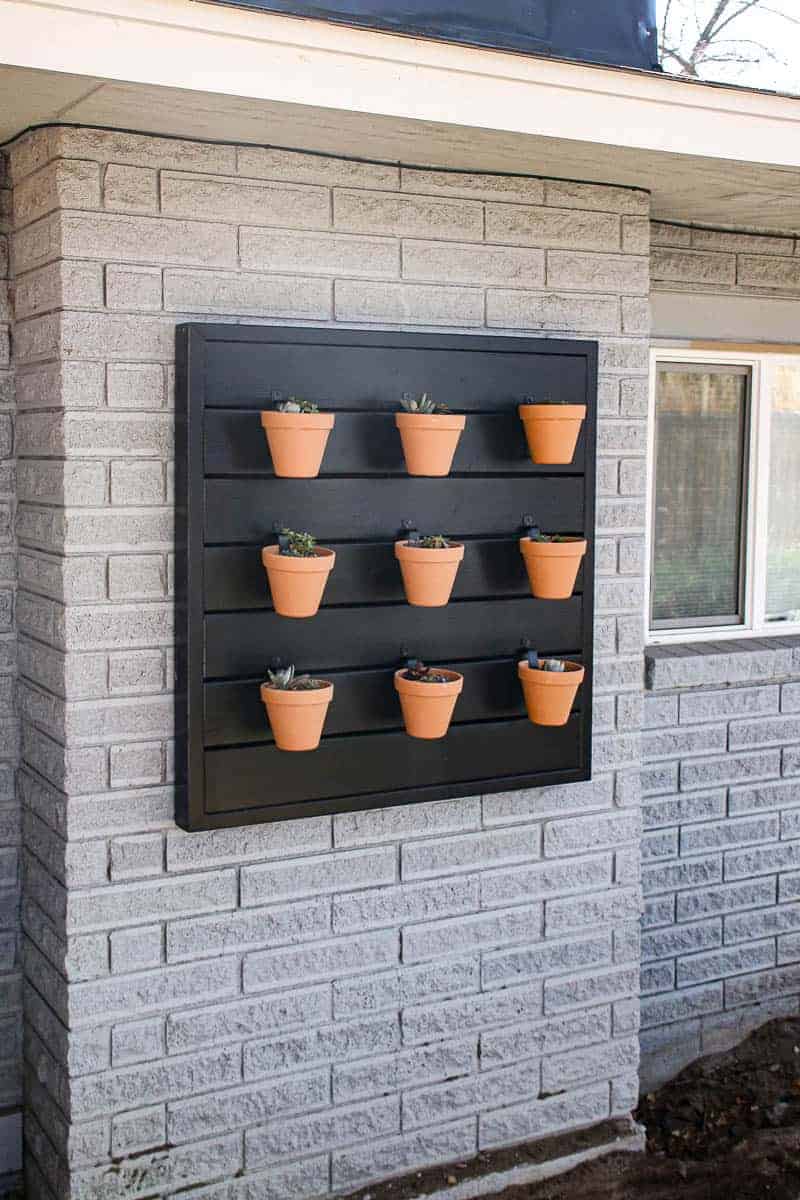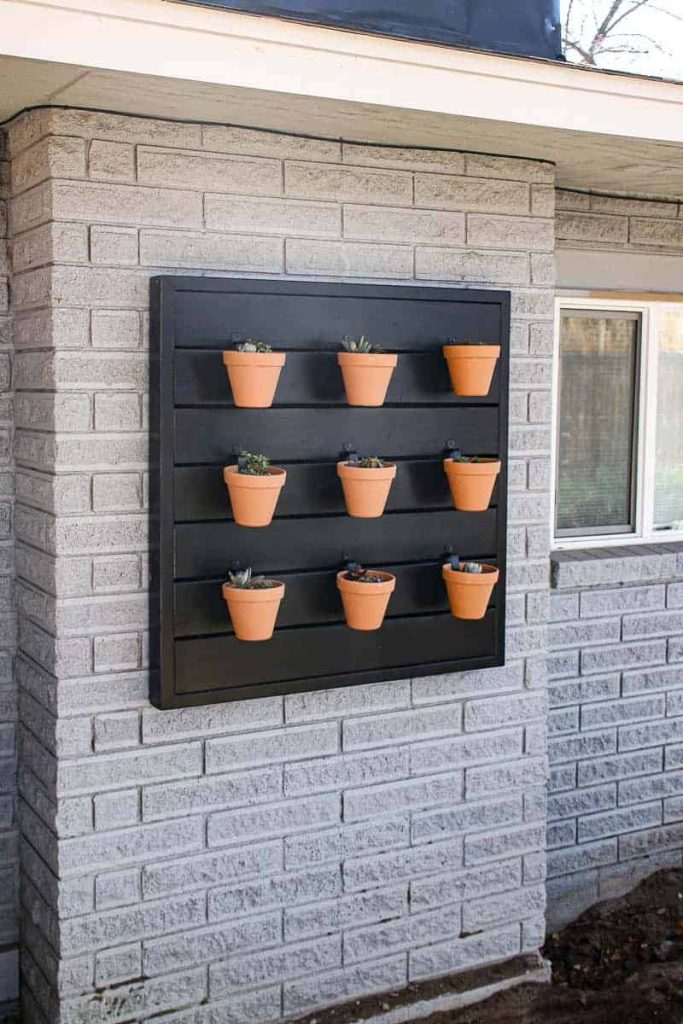 For this outdoor plant wall, we used mostly pressure-treated cedar wood, which is perfect for outdoor DIYs. Cedar has a natural resistance to decay and insects, which makes it able to withstand harsh outdoor elements and stay strong over time. By using pressure-treated lumber, we're adding even more protection to the wood against decay and bugs. Learn more about types of wood for woodworking in this article. 
If you don't want to mess around with building something new wood, you could also probably do something similar using a wooden pallet! Just hang the old pallet on the outdoor wall and attach pots to the wooden planks.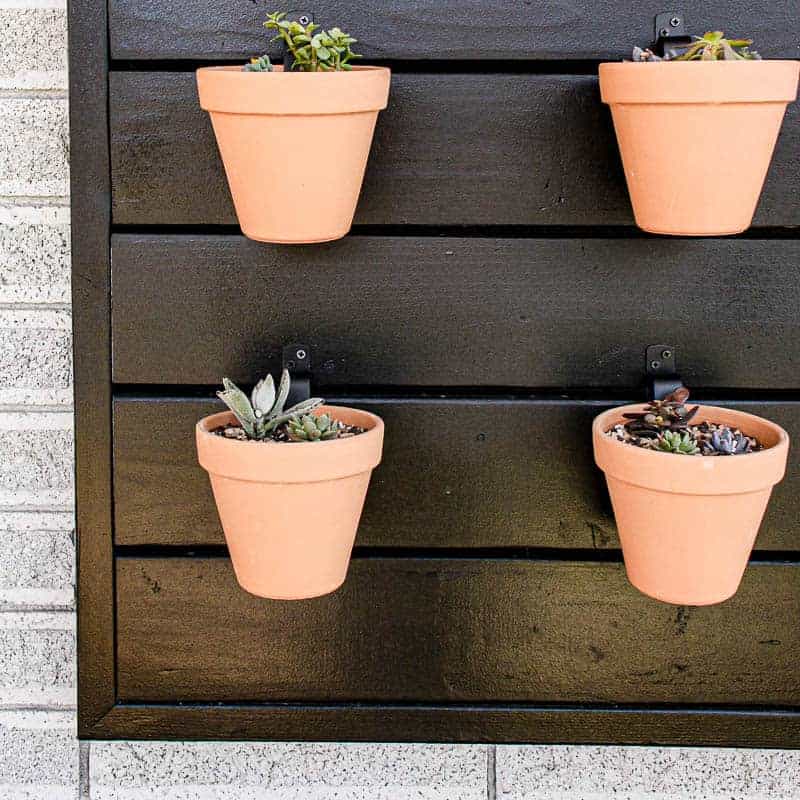 SOOOO good, right? I told you!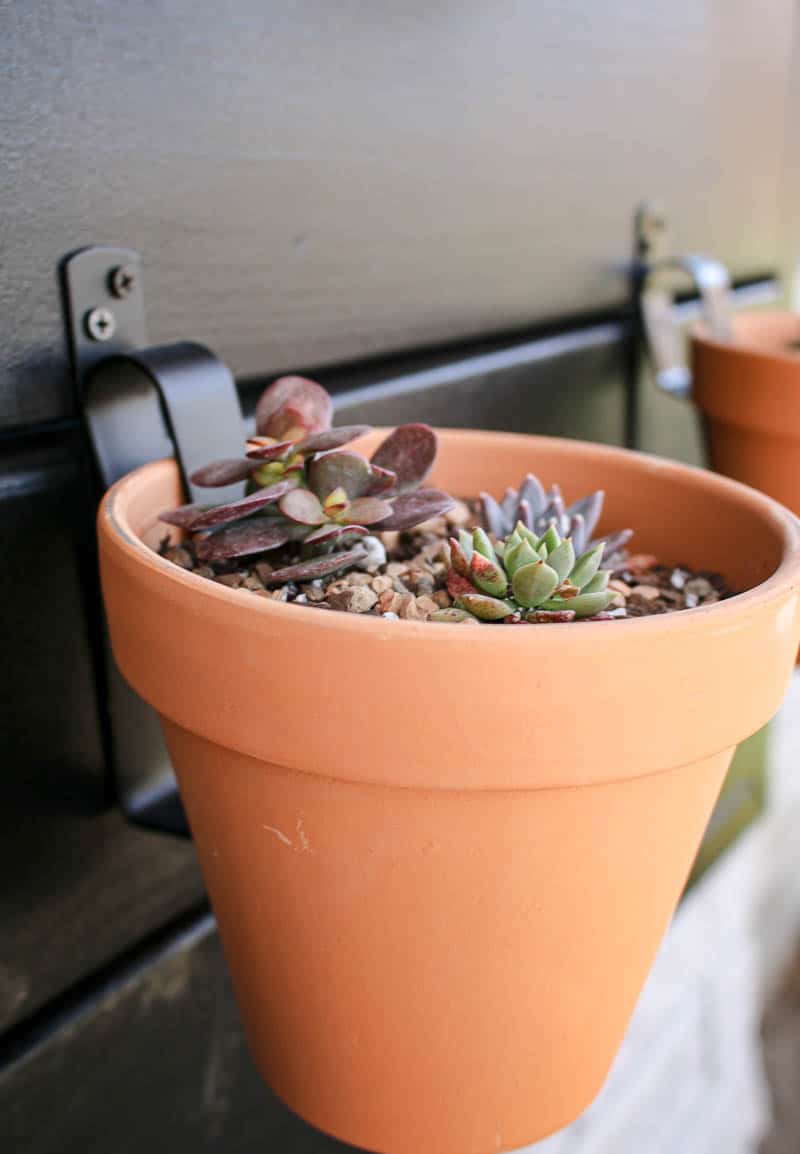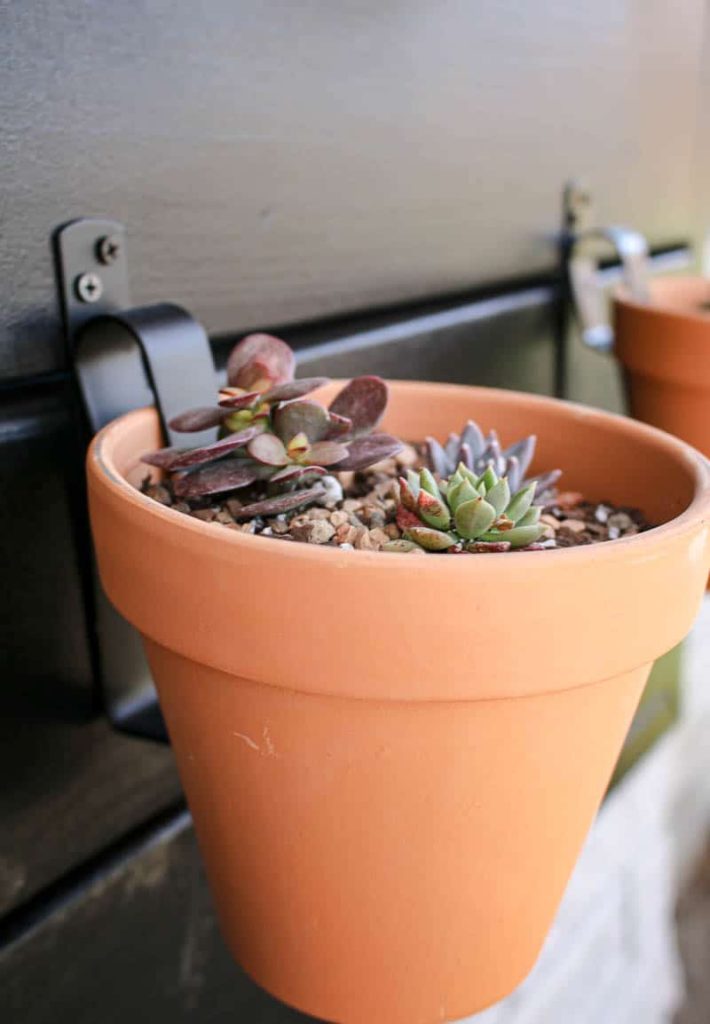 To finish the plant wall, we used black exterior paint. I love the contrast the terracotta plant pots have against that black paint.
But if you were craving a pop of color, feel free to use something more colorful! To put the paint on the wood wall planter, we turned to our paint sprayer. 
The best thing about using the paint sprayer is that you'll be able to get the paint in between the slats easily and in all of the nooks and crannies. It is really the easiest way to get the best look when painting something like this. Check out the full tutorial and learn all of our outdoor painting tips.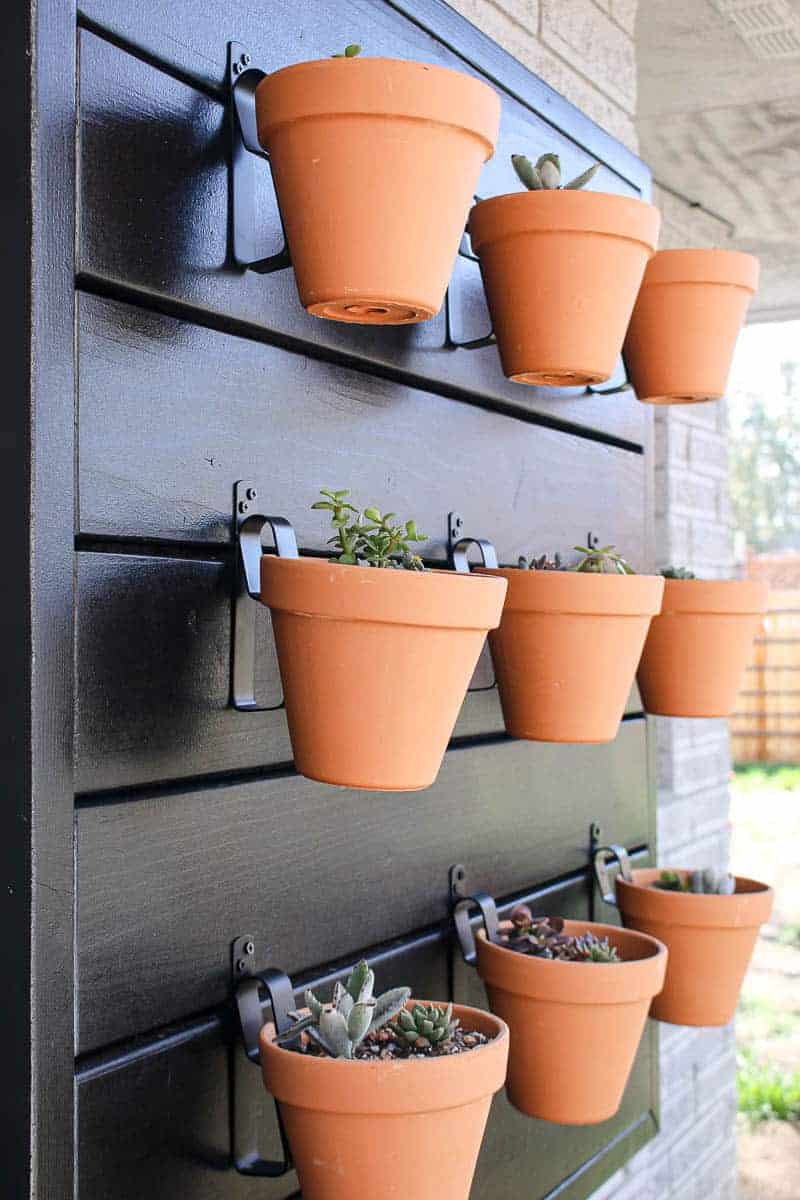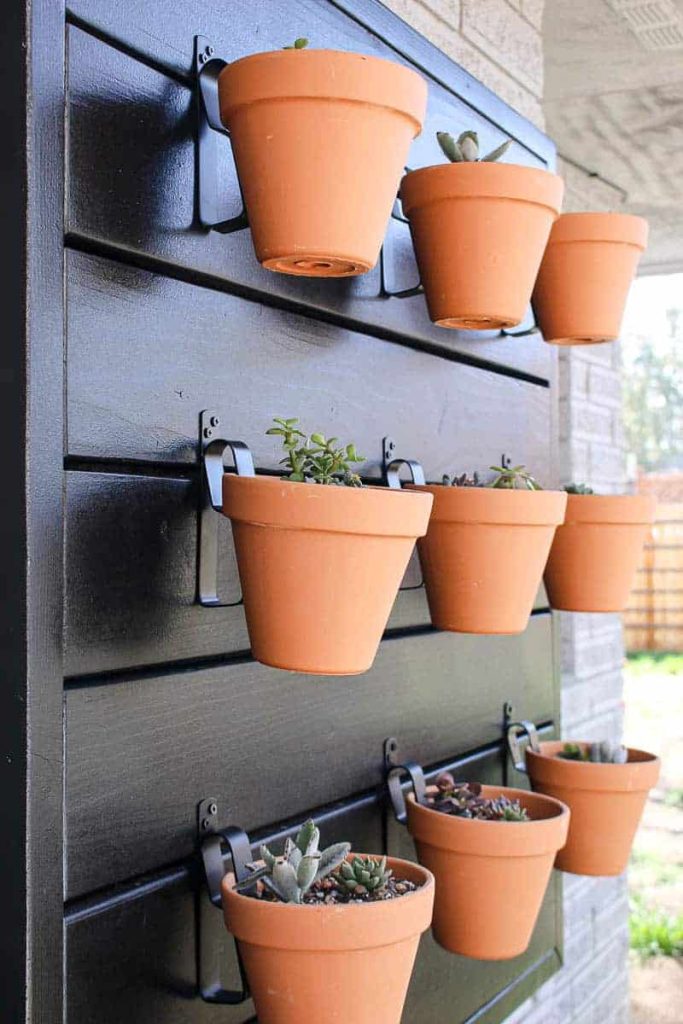 I'm in LOVE with our little DIY outdoor wall planter!
For now, we decided to fill it with mini succulents, which are the perfect easy-maintenance plants that don't need much attention.
Succulents are perfect even if you don't have a green thumb! To care for them, I give them a little water about 1x per week (maybe a little more often when it is really hot outside). 
If you didn't want to use succulents in your pots and you're craving fresh herbs all Summer long, you could also use this as a vertical herb garden!
Just be sure you get some herbs that do well in pots and keep in mind that you'll need to manually water the herbs often (probably 1x day during the summer months) if you don't want to install an irrigation system. Each terra cotta pot has drainage holes in the bottom so the water just runs out the bottom. 
If you use different plants (like herbs or really any of your other favorite plants), you'll also want to make sure that your DIY outdoor wall planter also is installed in a place where the terracotta pots will get plenty of sunshine!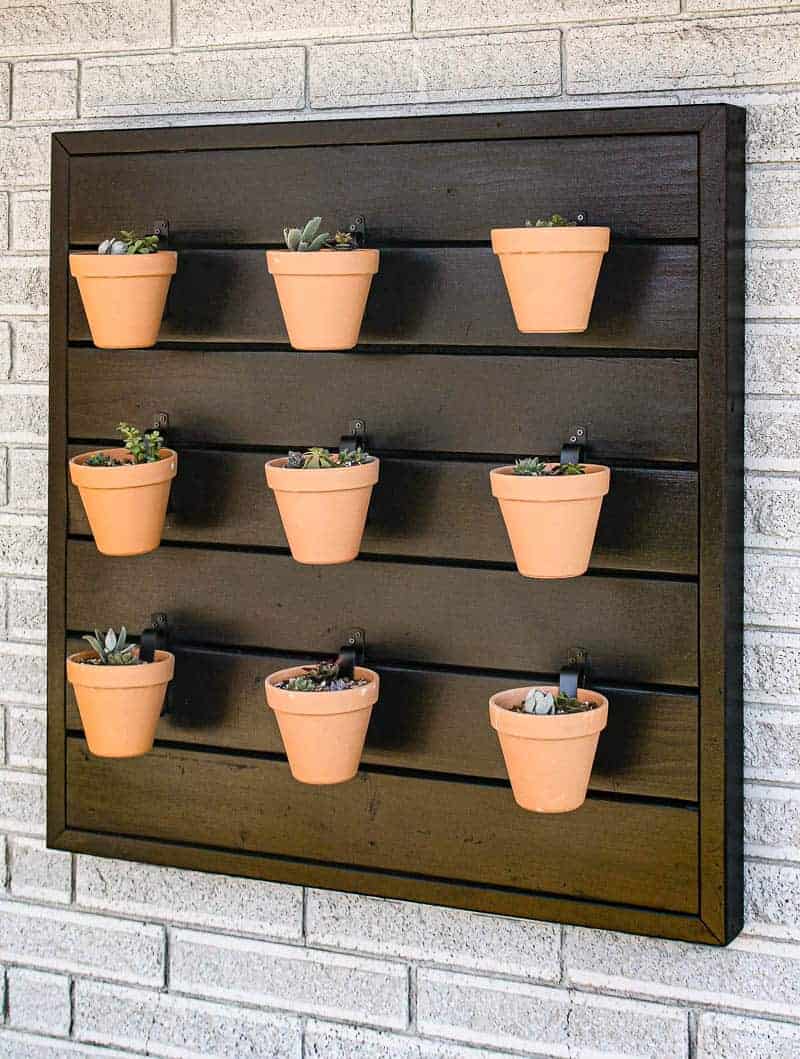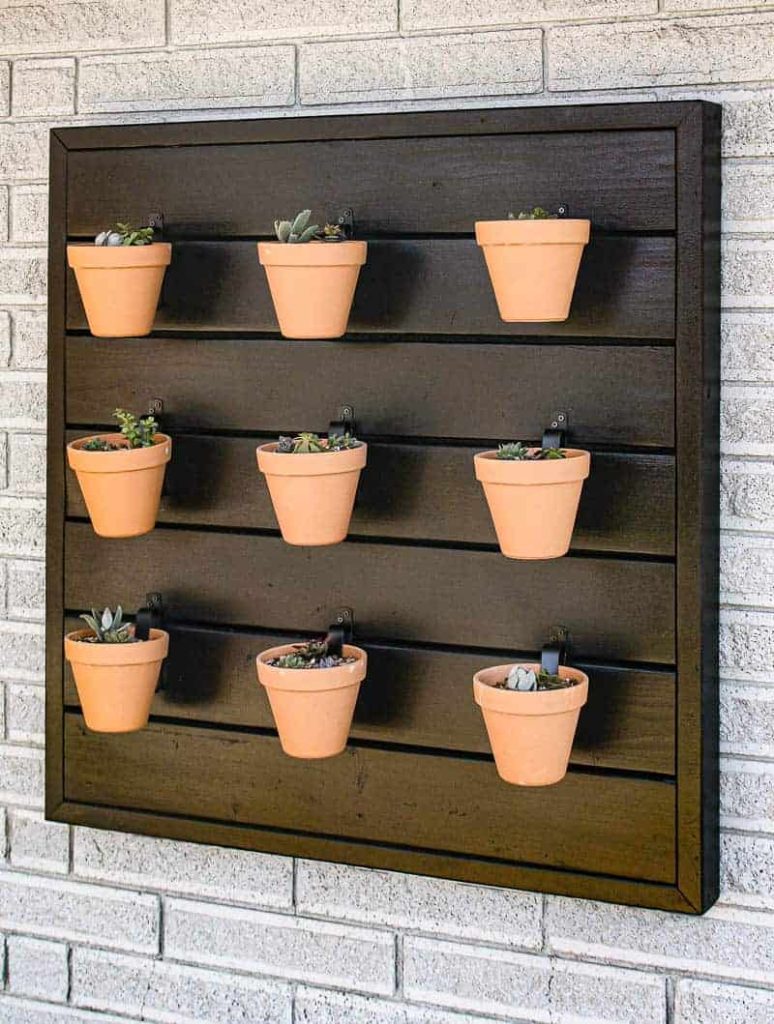 Are you working with limited space? No worries! If you've always wanted to have a garden, but you're stuck with small spaces – this easy DIY project is a pretty simple way to get into vertical gardening! This would be perfect if you lived in a small apartment with a balcony that didn't have much floor space!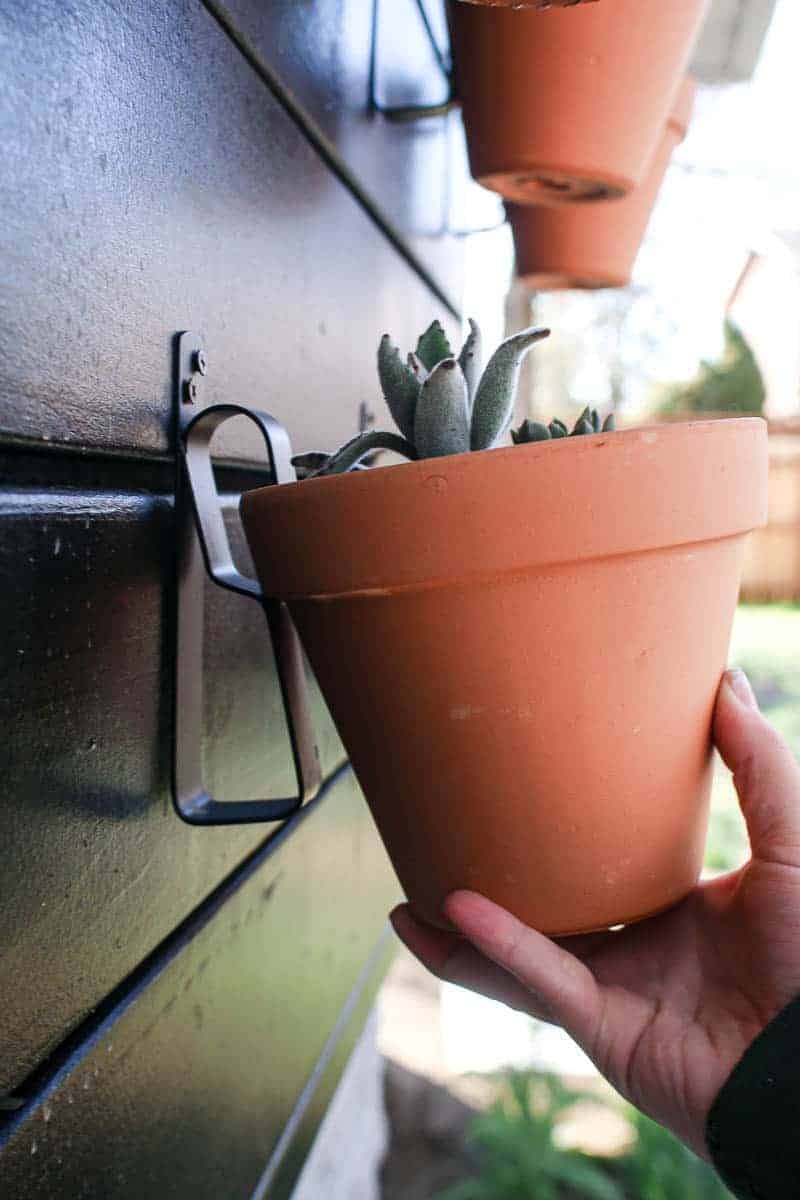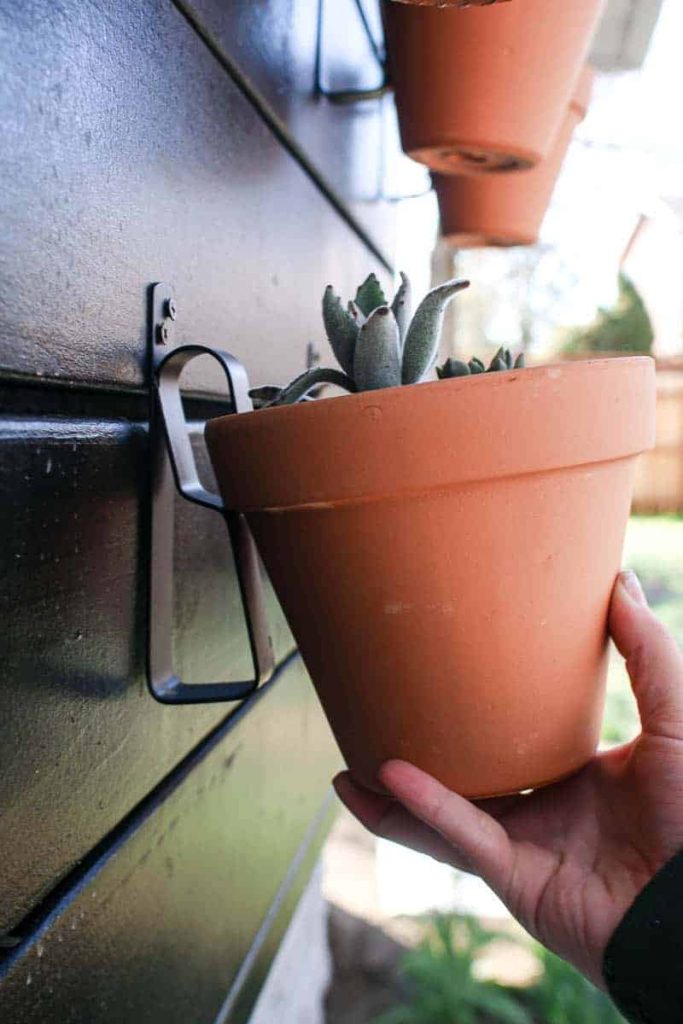 One of the coolest things that I found to use in this little wall garden is the clips to hold each clay pot. The pot holders simply screw into place on the wood and the pots simply slide in and rest on the clip.
They are super strong and can hold up to 50 lbs! The clay pot clips come in a pack of 4, so for our DIY outdoor wall planter with 9 spots, I had to buy 3 packs, which meant you would have extra plant hooks if you built yours the same way!
You can use the extra clips elsewhere in your backyard to hang more pots up on cedar fence pickets or cedar posts, trees, porch posts, and more!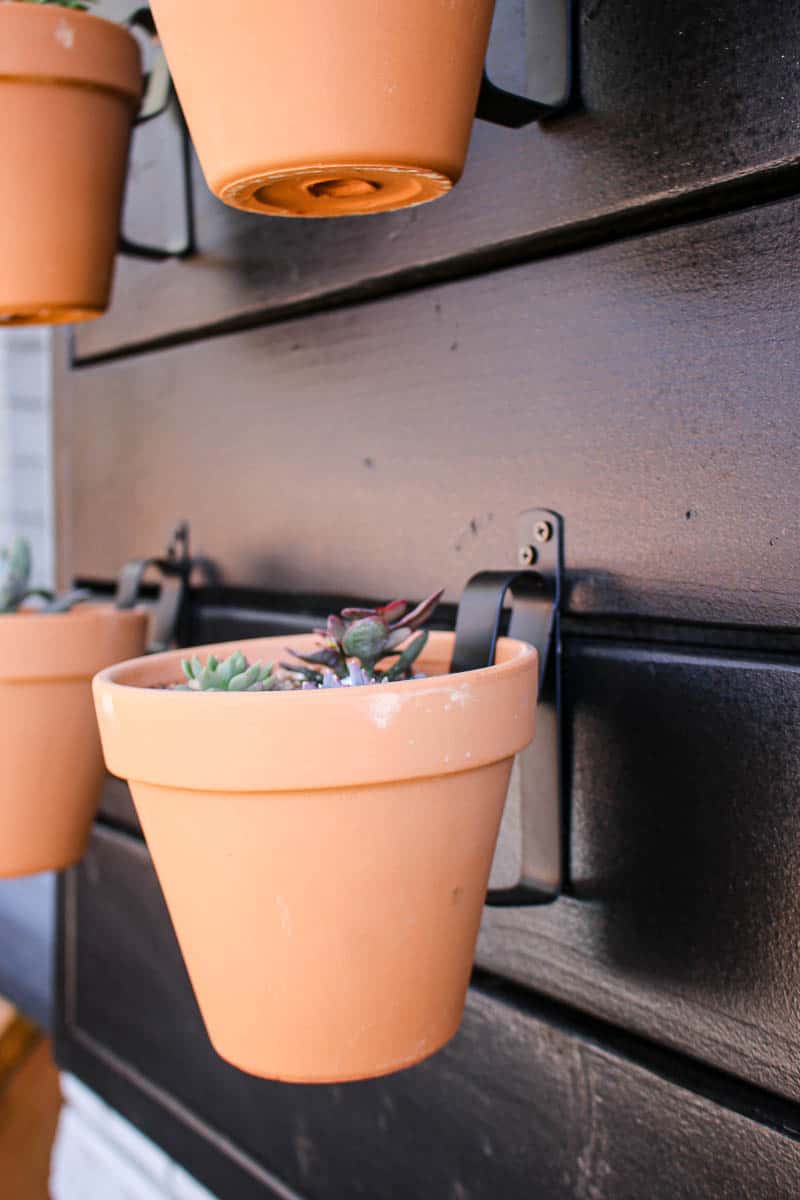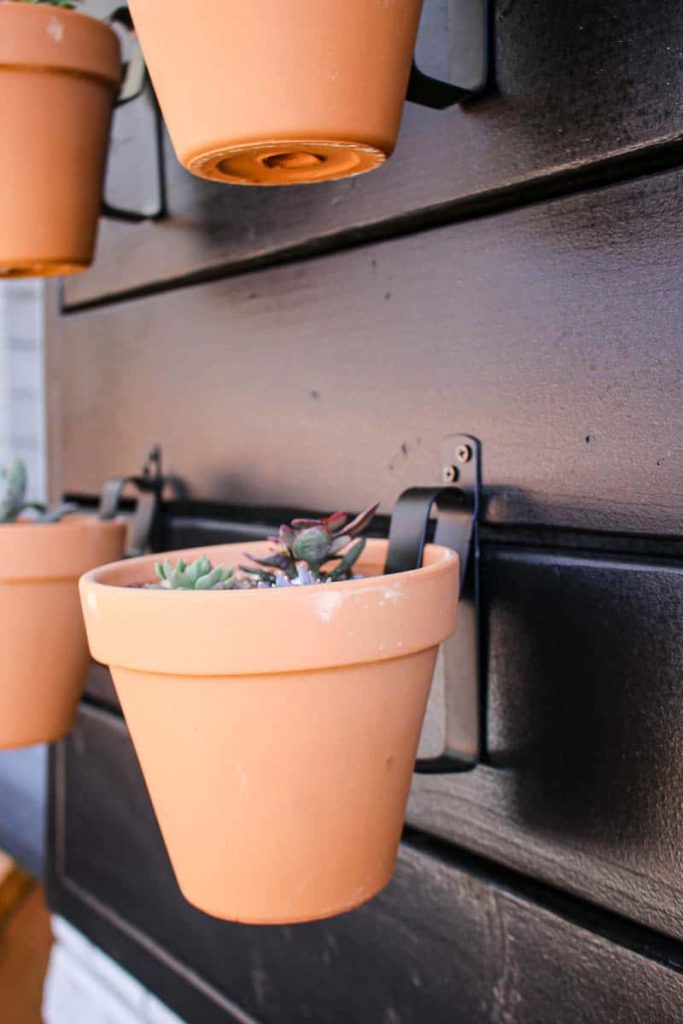 HOW MUCH DID IT COST TO BUILD THIS PLANTER WALL?
Note: these costs are, of course, subject to change and may be different in your region.
Here's a full cost breakdown for you:
And for just the plant wall & wall planter pots, but not filling the pots (if you have something else in mind to plant, like edible plants) it's only $117.84
This DIY outdoor wall planter has a simple design and it was seriously SO so easy to build! The best part is that we've made it even easier for you because we're giving away the free plan that you can follow along with the step-by-step instructions.
I was able to build this DIY outdoor wall planter entirely by myself without Logan's help, so I'm feeling pretty proud. But that also means that you can do this too! Even if you're a beginner when it comes to woodworking with not much experience with power tools – you can do this!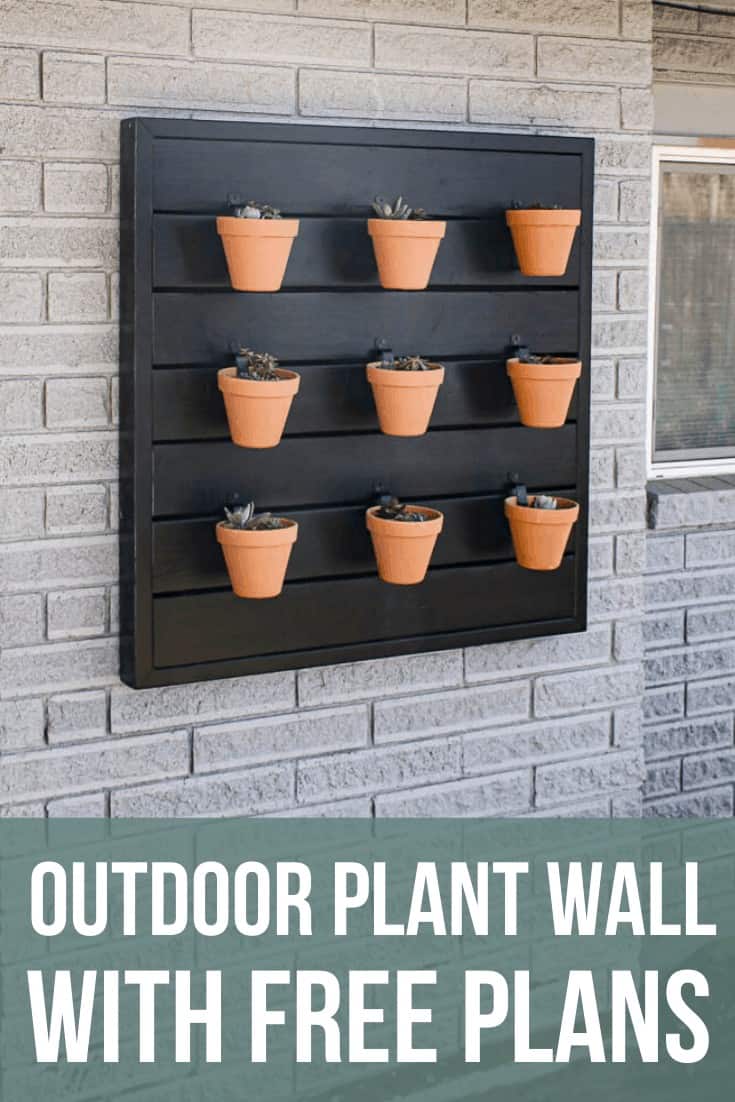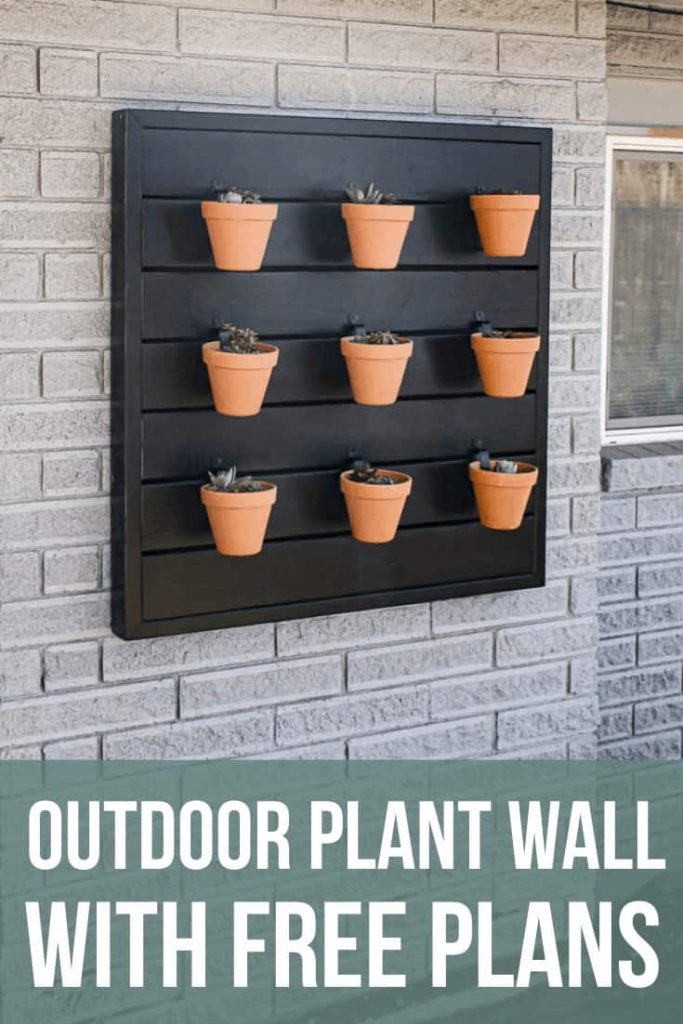 Other Outdoor Garden Ideas
This outdoor plant wall is not the only way you can incorporate a garden or plants in your backyard! Check out these other DIY projects for your outdoor garden and planters!