Need to blow out your sprinkler system to get ready for winter? Do it yourself! Follow along with this easy step-by-step tutorial for beginners to learn how to winterize sprinklers with an air compressor.
As winter approaches, we get our yards ready by trimming back branches, clearing out flower beds, and preparing our lawn for colder weather. Winterizing your sprinkler system is another important step in preparing for winter and must be done correctly to be effective.
If you are installing your own sprinkler system, here are plenty of tips for installing a sprinkler valve manifold and other tips that are good to know before you begin preparing your landscaping for fall.
If your area dips into freezing or almost freezing temperatures, a sprinkler blowout is absolutely necessary.
A sprinkler blowout is the process of pushing pressurized air through the sprinkler system lines expelling all remaining water from the pipes. This prevents water from freezing inside of the pipes, causing corrosion, rot, and bursting pipes.
If you've ever had a pipe burst or know someone who has, you know it's not a fun experience. Bursting pipes can flood an entire yard or home basement. It can also cost thousands of dollars to repair.
But, you can do this simple landscape chore within a few hours to prevent bursting pipes. While this chore is critical for a healthy sprinkler system, it's also easy enough for any DIYer. All you need is a simple adapter, 4-6-gallon air compressor, and a hose long enough to reach from the sprinkler control valve to the compressor.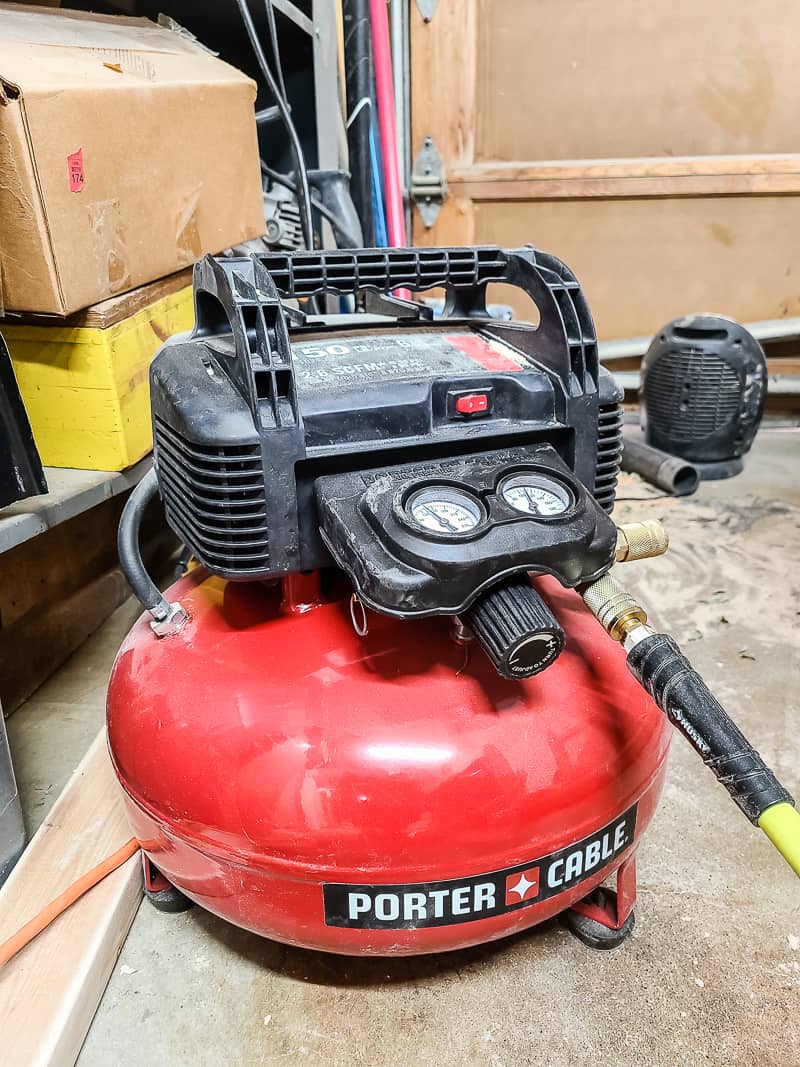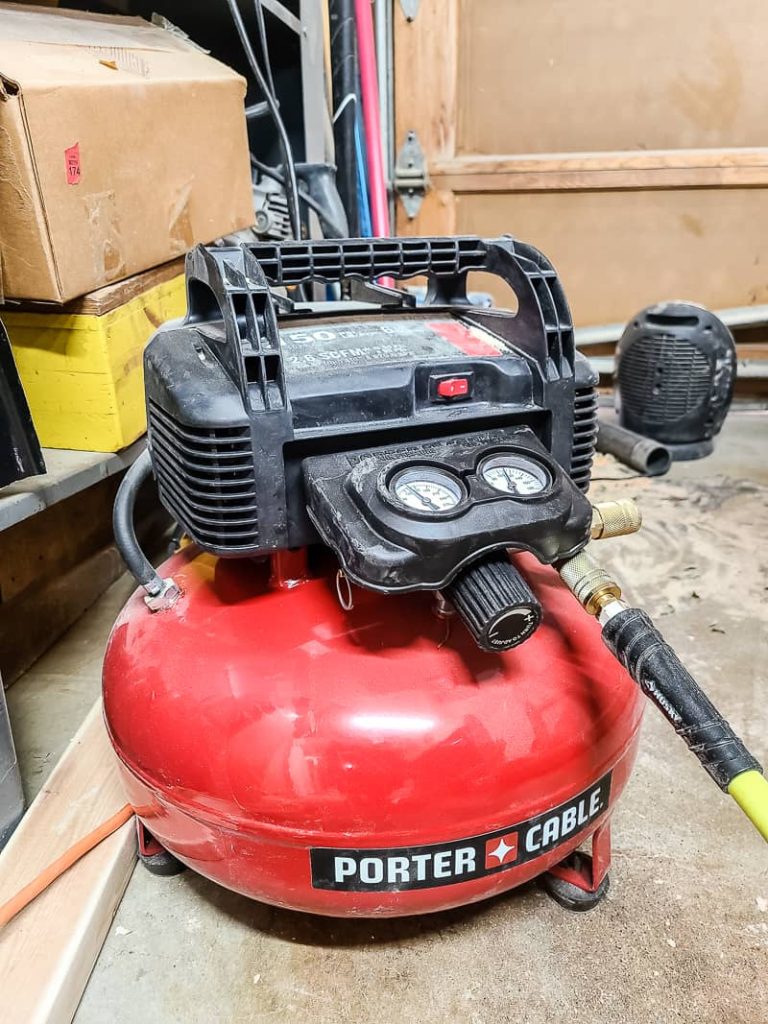 Sprinkler Blowout: Video Tutorial
We summed up the entire process of winterizing your sprinkler system in a YouTube video, which you can watch below!
If you love DIY videos, be sure to subscribe to our YouTube channel here, so you don't miss the next one!
This tutorial to winterize your sprinkler system contains affiliate links, but nothing that I wouldn't recommend wholeheartedly. Read my full disclosure here.
Steps to Winterize Your Sprinkler System
Supplies needed to do a sprinkler blowout:
Adapter (may also be called "sprinkler system winterization kit" or "quick connect blowout adapter")
Air Compressor (4-6 gallon will work just fine)
Wrench
Step 1: Drain sprinkler valve and connect air compressor
Before doing anything, let's shut off the water to the sprinkler system. To do this, you will need to locate your sprinkler system control valve.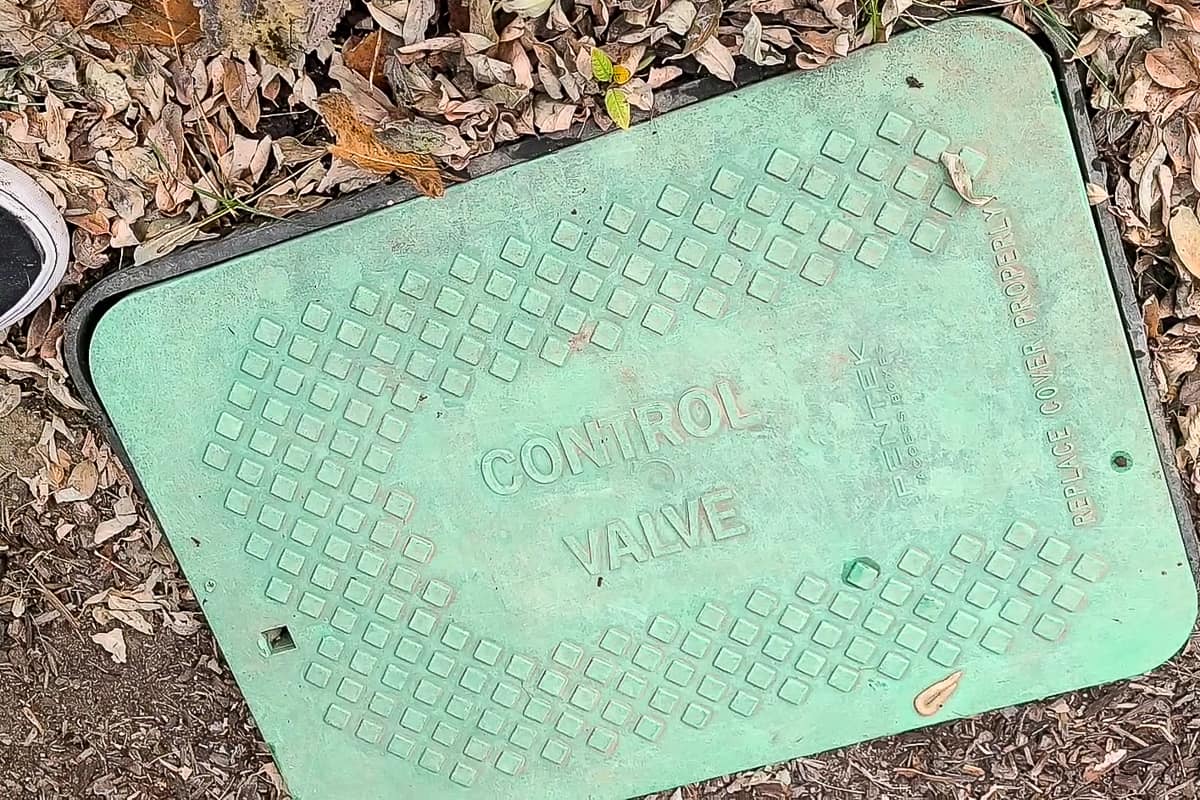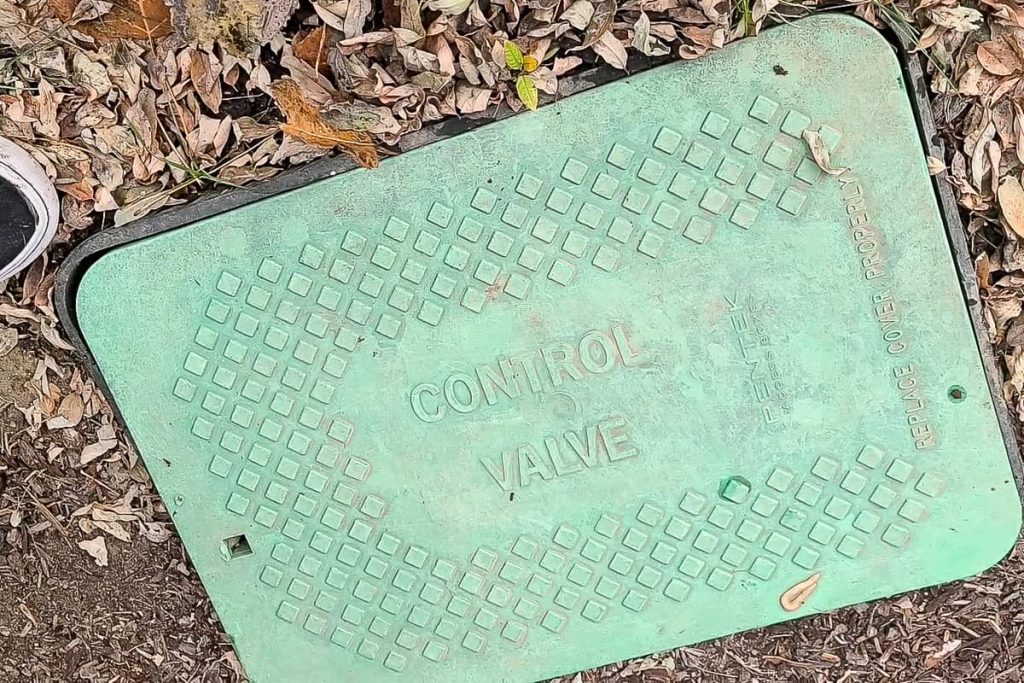 Typically, this is located in your yard underground. In our area, it's covered with a green lid that says "control valve". The water shut-off is also located inside this box and is usually a handle. When you've located this, turn the handle to shut off the water supply.
Now that the water is off, manually drain the excess water from the sprinkler's water supply line. Do this by removing the top to the line with a crescent wrench. This relieves pressure from the inside of the sprinkler lines before we blow out the water.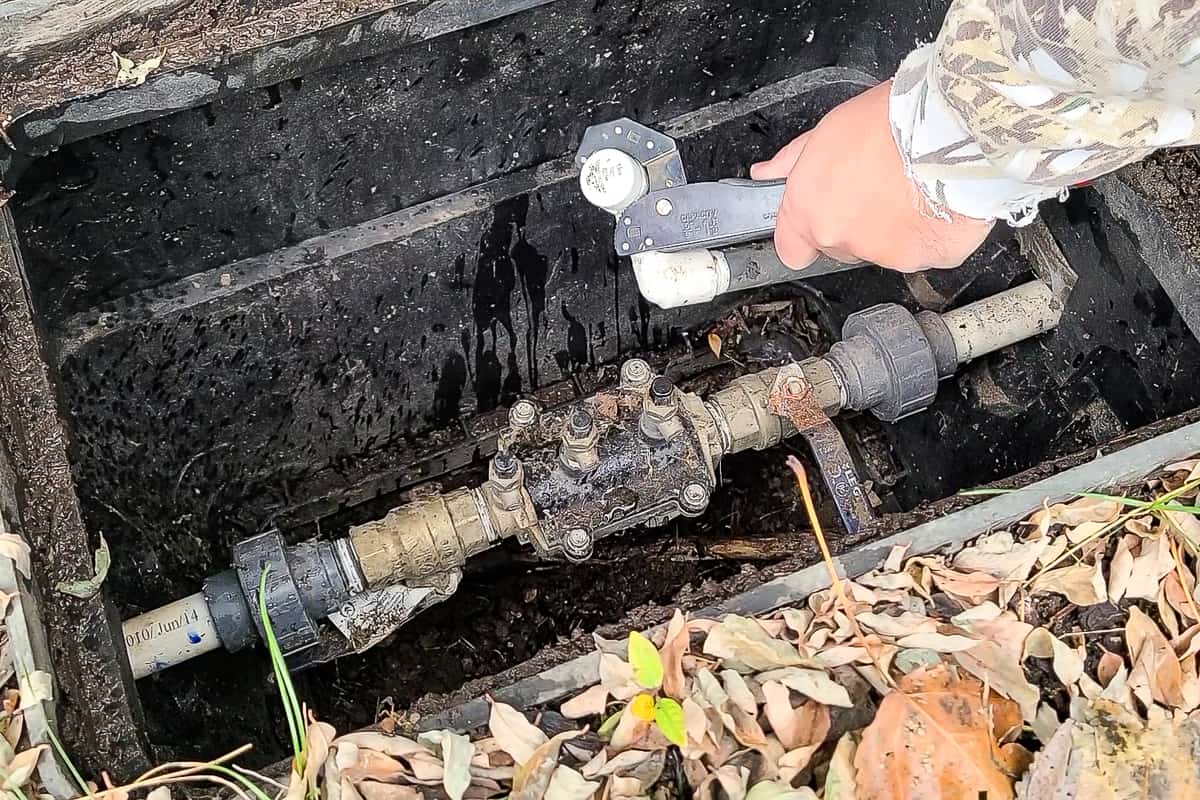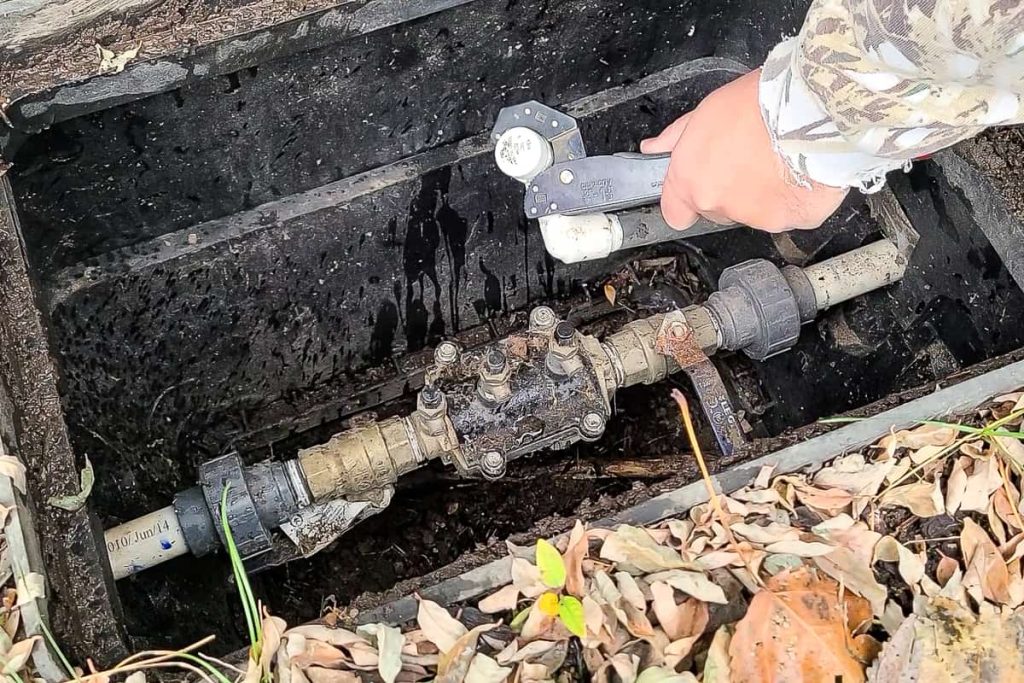 After a few minutes of draining, connect the adapter to the water line opening. Then, attach the adapter to the water supply line.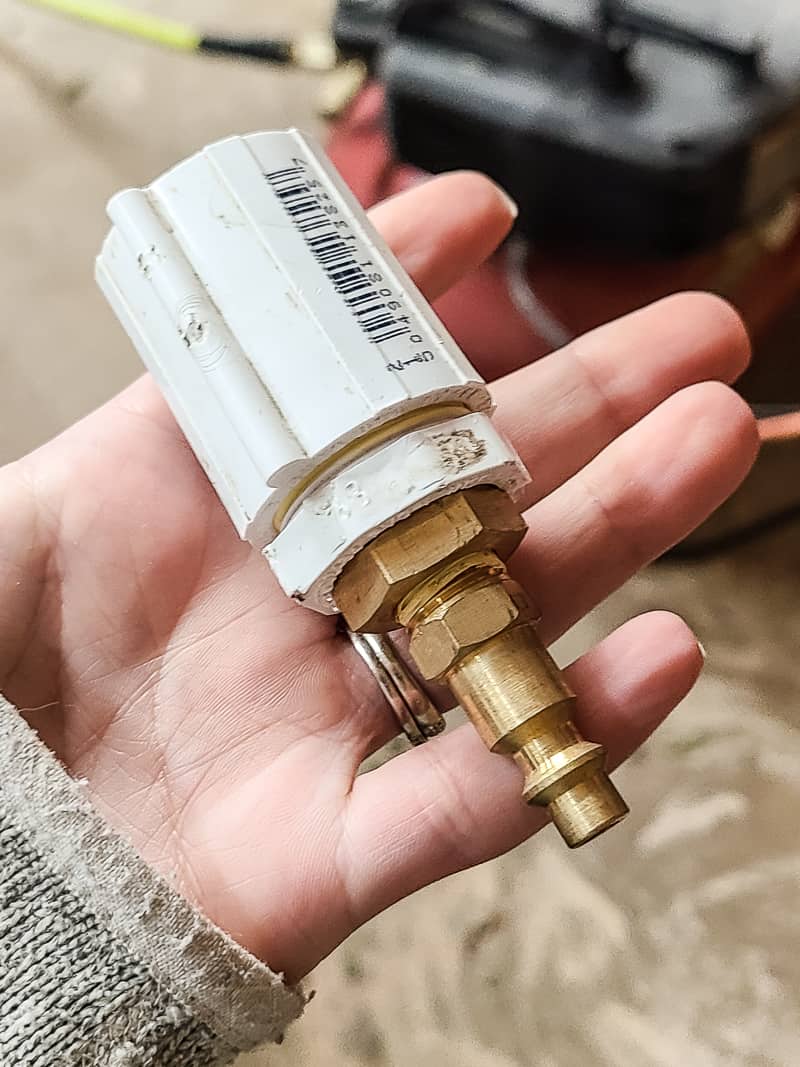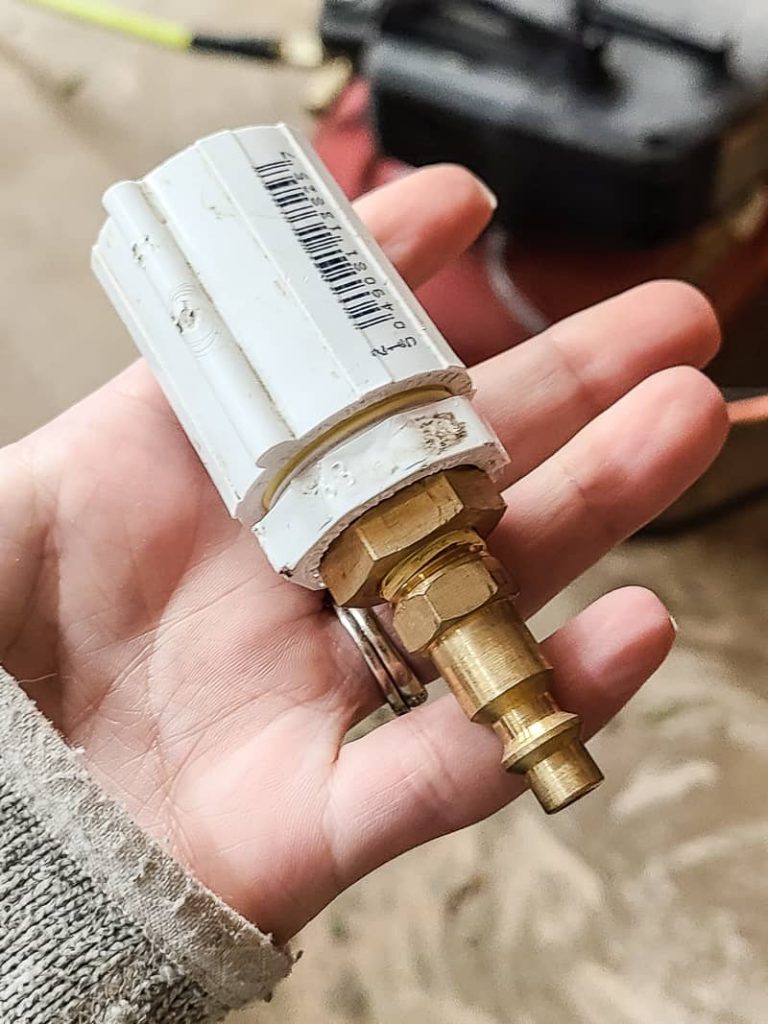 Lastly, connect the air hose from the air compressor to the other end of the adapter.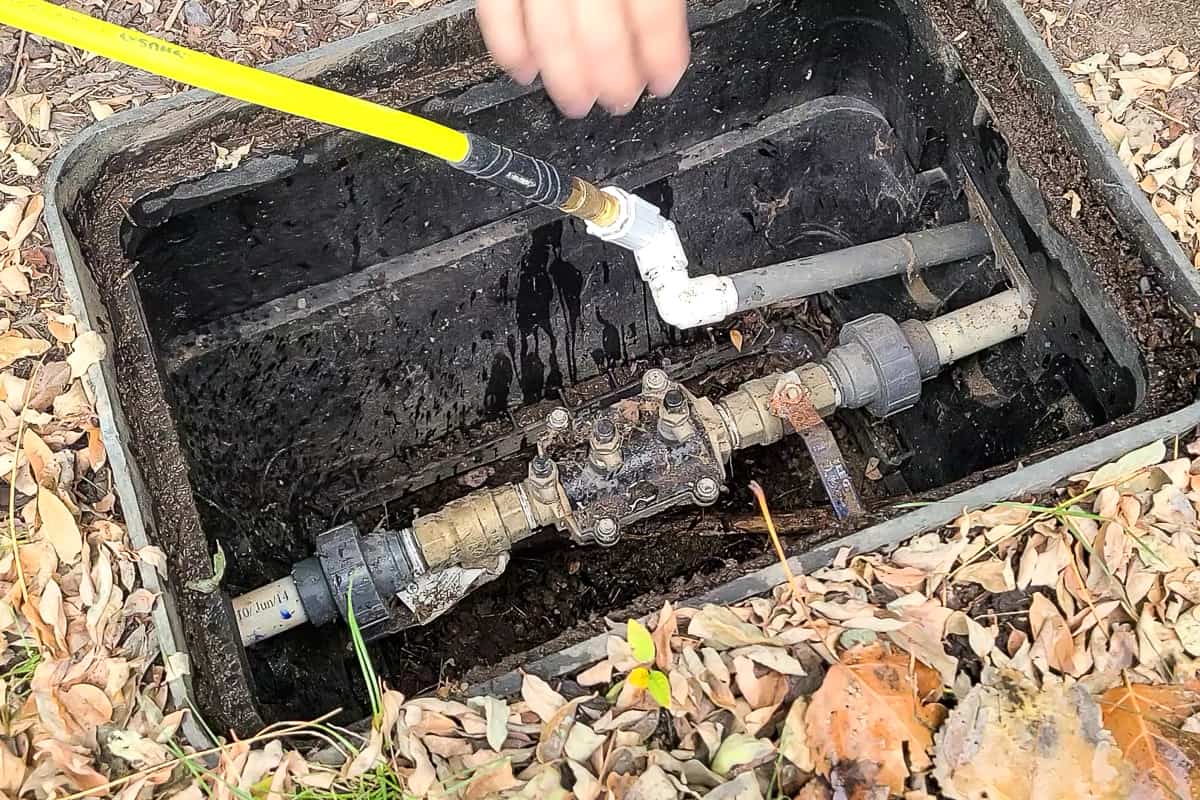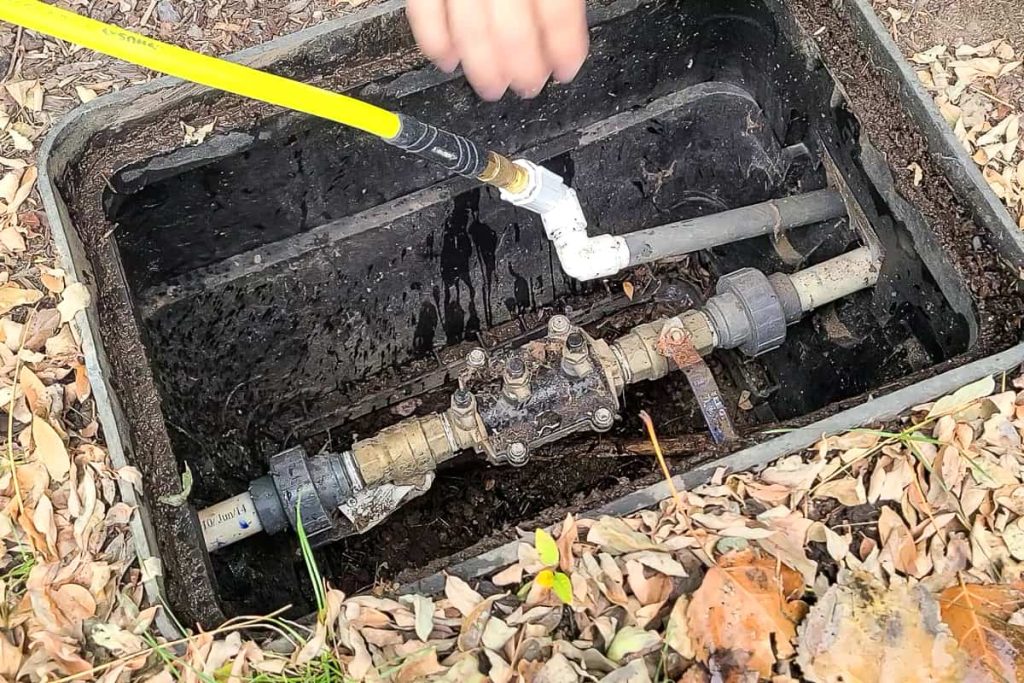 Turn the compressor on and adjust pressure settings:
If you have a rigid PVC pipe system, set the air pressure regulator to a maximum of 80 PSI.
If you have a flexible black pipe, set the pressure to around 50 PSI.
Allow a few minutes for the compressor to come to full pressure before continuing to the next step. You'll hear the air compressor running while it comes to pressure and once the noise stops, it has come to full pressure.
Step 2: Blow out sprinkler system
Once the air compressor comes to full pressure, turn on the sprinkler system from the control box. This is the box on the side of your house with the buttons to schedule your automatic sprinklers or manually turn on your sprinkler.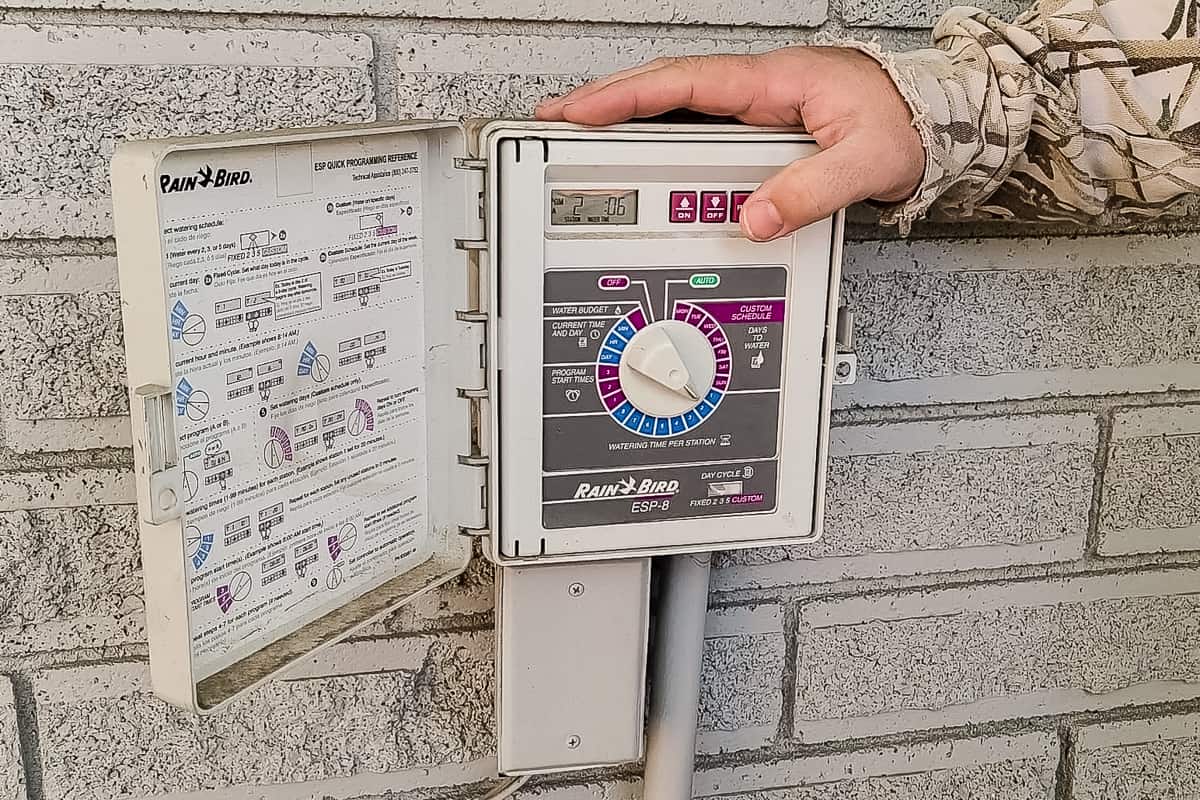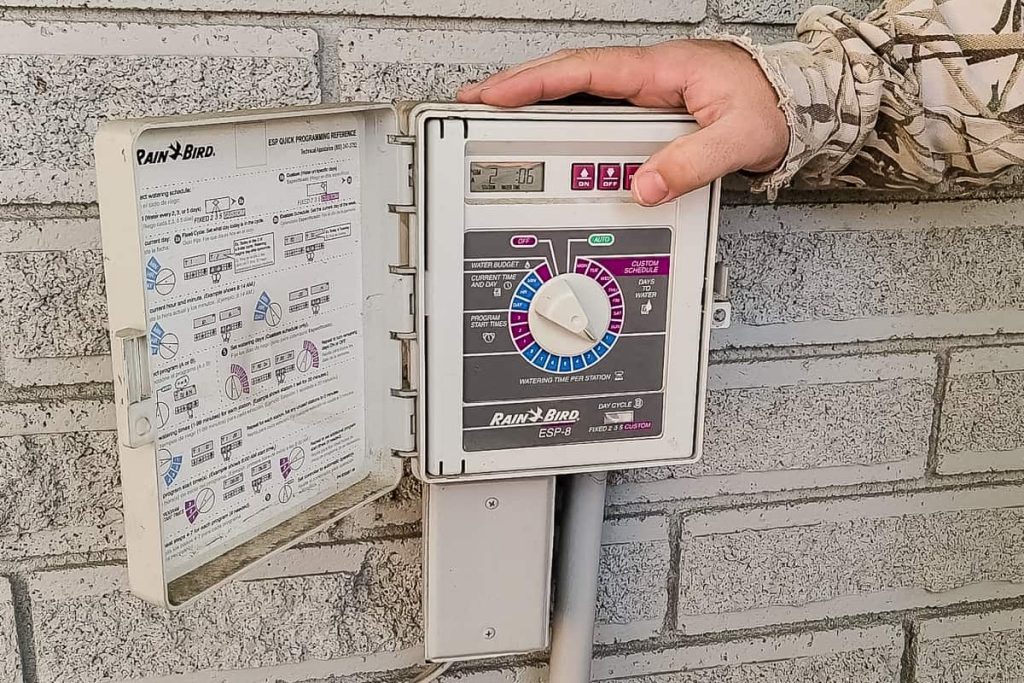 Manually run each zone of your sprinkler system individually.
Why each zone? A 4-6 gallon air compressor doesn't have enough power to blow the entire sprinkler system at one time.
Go zone by zone, running each zone for about 1-2 minutes each or until there is no more water coming through the sprinkler heads. Between each zone, allow a few minutes for the sprinkler lines to cool to avoid melting.
When the water has stopped coming through, turn off the system immediately. Do not continue to blow out the system with air as you will melt the sprinkler heads and interior pieces.
As a side note, the system will sound much different during the blowout as there is air being pushed through the lines instead of water. You'll also visually be able to see the water stop. If you can't see the sprinkler zone while standing at your control box, have another person help you out.
Step 3: Button up sprinkler system
After each zone has been emptied of water completely, head back to the sprinkler control valve box where the air compressor is plugged in.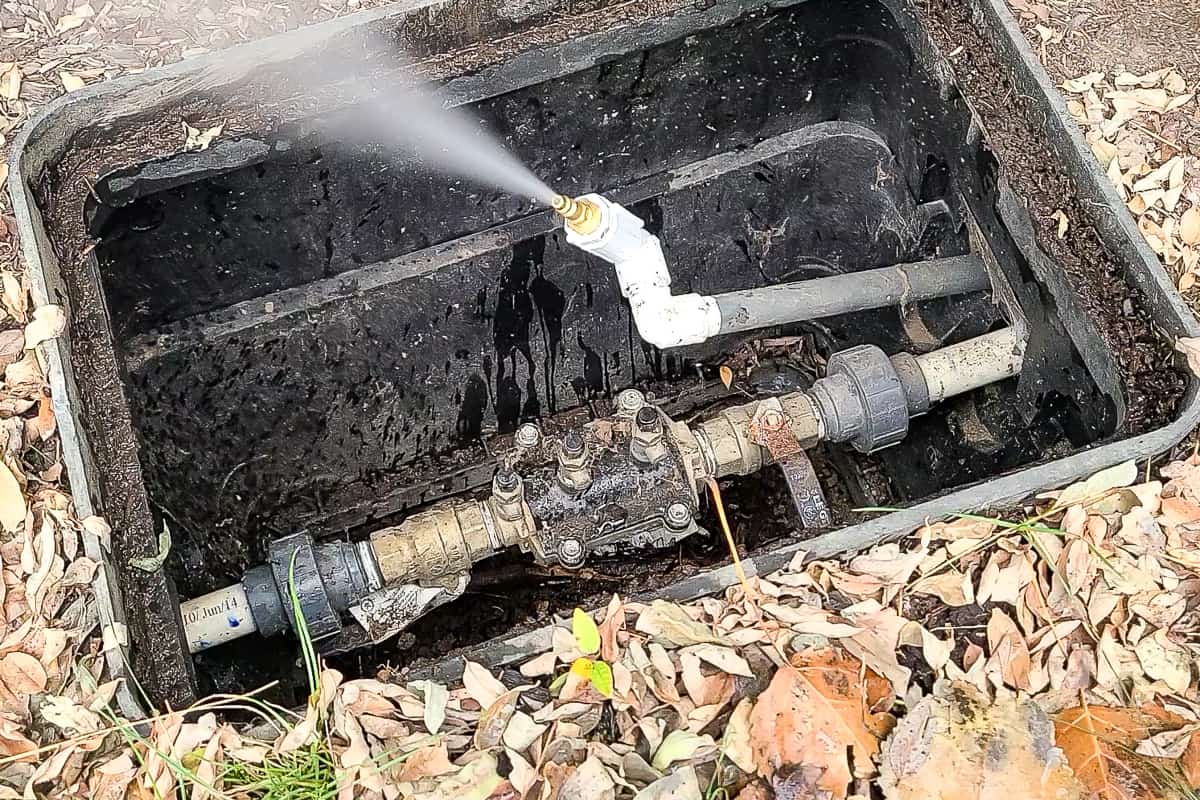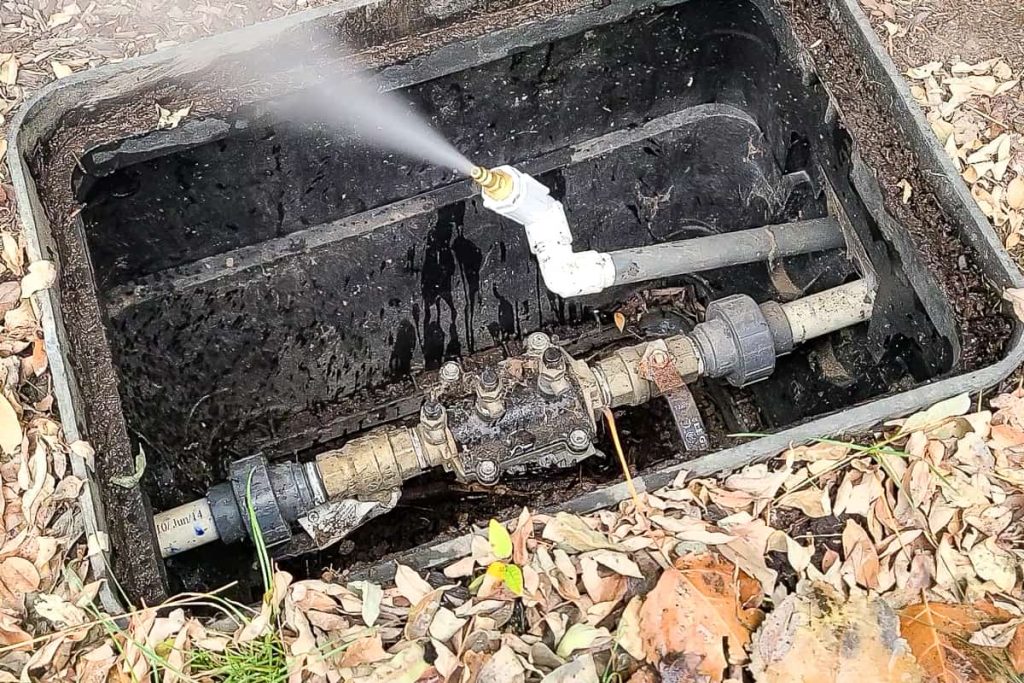 Remove the compressor line from the adapter and allow excess air to flow from the pipe. This will make a loud hissing noise as the air comes out.
Then, remove the adapter and place the cap back on the water pipe.
Since we've blown out all of the water from the sprinkler lines, be sure to leave the water off for the remainder of the winter.
FAQ: Sprinkler Blowouts
What is a sprinkler blowout?
A sprinkler blowout pushes out water from the lines using pressurized air.
Are sprinkler blowouts necessary? 
If you live in a place where temperatures dip to freezing or close to it, a blowout is necessary to prevent bursting pipes. If the sprinklers are going to be turned off for an extended amount of time, a blowout is necessary.
How much PSI do you use to blow out sprinklers?
If you have a rigid PVC pipe system, set the air pressure regulator to a maximum of 80 PSI. If you have a flexible black pipe, set the pressure to around 50 PSI.
How much does it cost to winterize sprinklers?
Depending on where you live, this service can run up to a few hundred dollars. Alternatively, renting an air compressor is considerably cheaper.
When should you blow out your sprinklers?
Perform a sprinkler blowout before the first freeze of the season.
At what temperature do sprinkler pipes freeze?
At 32 degrees Fahrenheit, your sprinkler system is at risk of freezing. Pipes with smaller amounts of water may freeze at temperatures slightly above freezing.
Why do sprinkler pipes burst?
Sprinkler pipes burst when there is trapped water inside the pipe that freezes, then expands. When the pipe can no longer expand, it bursts, which will cause a lot of costly damage.
Learning how to winterize your sprinkler system is easy and something every homeowner should learn. You definitely want to have this skill up your sleeve (even if it's something you usually hire out). What happens if you get an early freeze and need to take care of the sprinkler blowout yourself before your landscaping crew can make it to your house?
With a simple adapter and pancake-style air compressor that is found in most garages or workshops, you can do the sprinkler blowout yourself in less than 1 hour!
What time of year do you usually have to winterize sprinklers where you live?
Let us know in the comments below!