If you are looking for a fun and simple St. Patrick's Day dessert recipe, you're going to love these St. Patrick's Day Lucky Charm Bars.
Happy Friday! We have just 14 days until St. Patrick's Day so I thought it was about time for a little seasonal treat to get you in the leprechaun spirit! I asked my girl Clarissa back to share something for St. Patrick's Day and I love the St. Patrick's Day Lucky Charm Bars that she came up with. I know you typically don't see any cooking or recipes on the blog and that's mostly because I'm a train wreck when I'm in the kitchen – not to say that I can't whip up a yummy dinner…but I can't keep the counters clean enough to take any pretty pictures (or much less think of anything else when I'm cooking). Haha! Maybe someday I'll be able to get it together enough to bring you some good recipes ideas. Until then I'll let my friends, like Clarissa, do the honors… Take it away girl!
This post contains affiliate links, but nothing that I wouldn't wholeheartedly recommend anyway! Read my full disclosure here.
---
Hey everyone! Clarissa here from The View From Here, excited to be back guest posting at Making Manzanita! Today we're going to make some awesome St. Patrick's Day treats, with none other than the most perfect St. Patrick's Day cereal: Lucky Charms.
Hearts, stars and horse-shoes, clovers and blue moons! Pots o' Gold and Rainbows, and the red balloons! You sang it, admit it.
In our younger, college years, St. Patrick's Day was almost exclusively reserved for wearing green, claiming to be Irish, and downing as many Baileys-filled Guinness beers (not-so-affectionately named an Irish Car Bomb) as you could, before stumbling back to your dorm room.
Now in my ripe old age of 27, the fiancé and I will be celebrating with a classic corned beef and cabbage dinner, followed by these not-so-diet-friendly St. Patrick's Day Lucky Charms Bars for dessert (that's right…cheating on my newly found Paleo diet…that's how I get wild for St. Patty's Day! #noshame).
These bars are crazy easy to make! You only need a few ingredients and they honestly only take about an hour from start to finish.
For the St. Patrick's Day Lucky Charm Bars, you'll need:
1 box of Lucky Charms (I bought two – the standard version, and the Special Edition with clovers, because I wanted the clover marshmallows to top the bars – this is completely optional and you could totally use one of the marshmallows from the standard box)
5 tablespoons of butter (plus extra for greasing your dish)
1 bag Wilton's Green Candy Melts (Yes, there are 3 bags in the photo below. And yes, I was a bit overzealous in purchasing these)
1 baking dish (9×9 or larger)
Wax paper (not shown)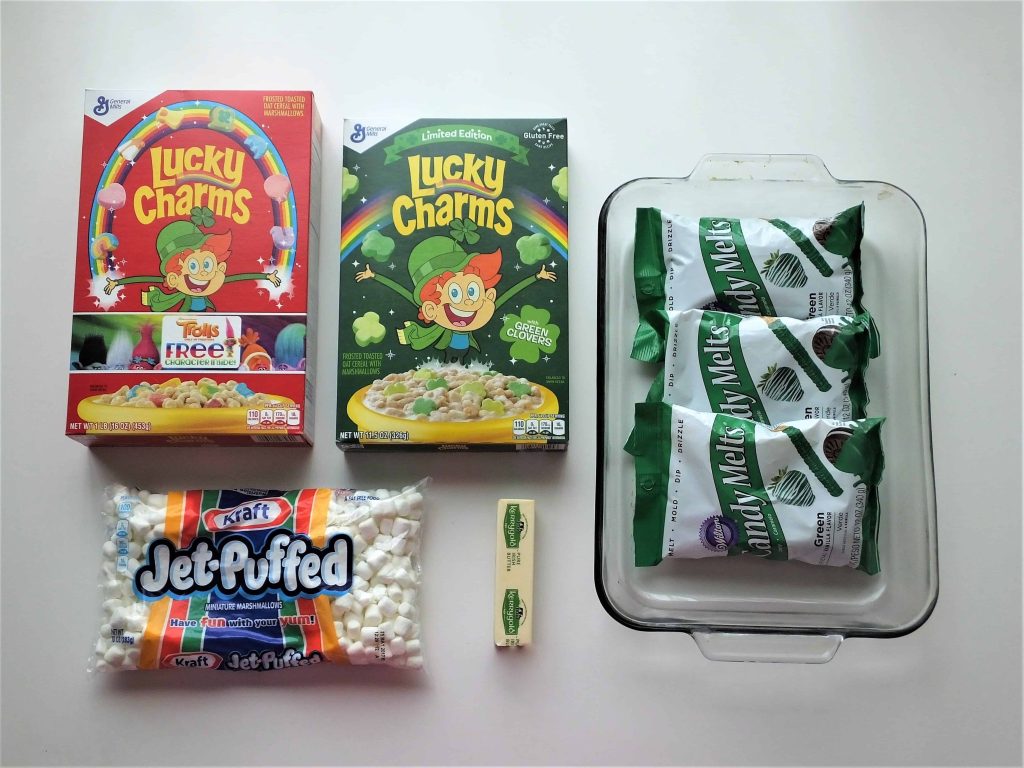 First, grease your baking dish with your butter. I used a glass baking dish that was WAY too big (I couldn't find my square dish!) so keep in mind that this recipe will make about enough St. Patrick's Day Lucky Charm Bars to fill a 9×9 pan, not this giant rectangular monster of a baking dish.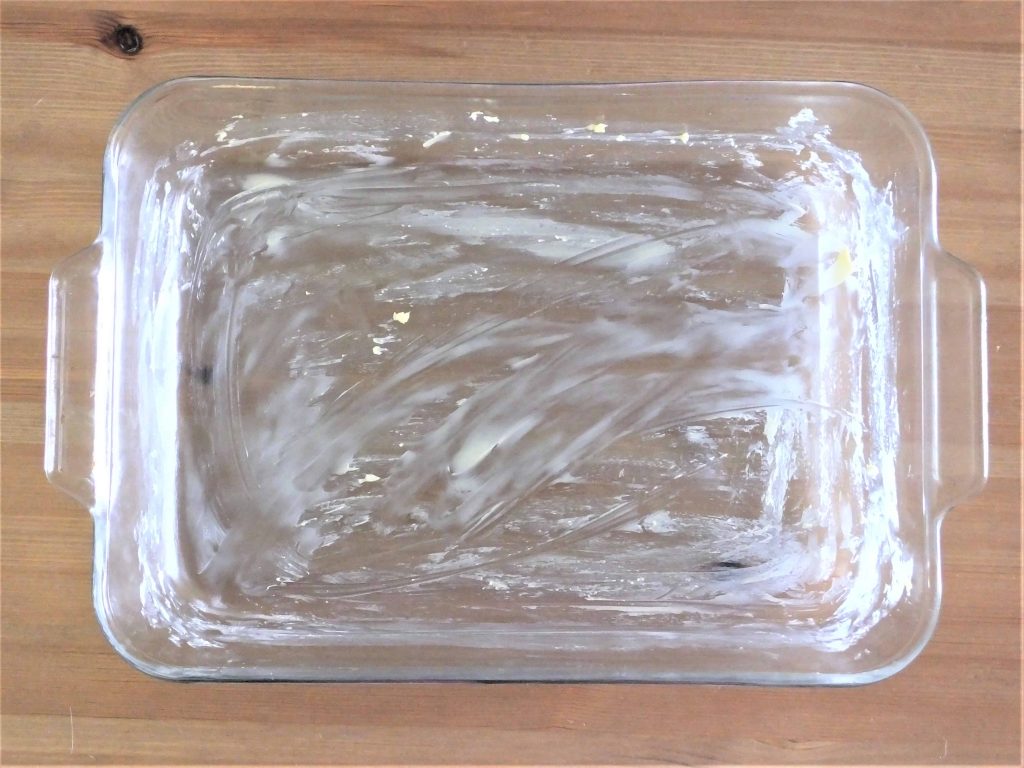 Next, pull out whatever marshmallow design(s) you want to end up topping your bars with – I chose the clovers from the Special Edition box.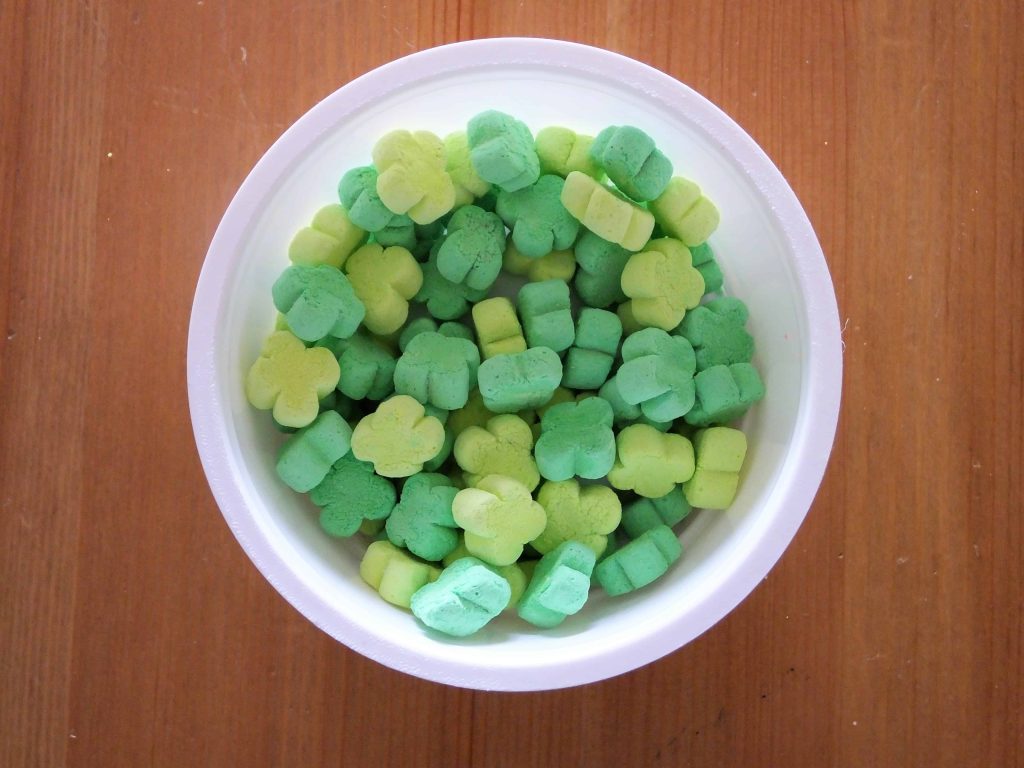 Heat a pot over medium-heat, add your 5 tablespoons of butter AND about 3 cups of mini-marshmallows and stir consistently until the mixture is smooth. This only takes a few minutes but be patient and keep stirring – do not raise the heat! It'll burn your mixture and be totally gross.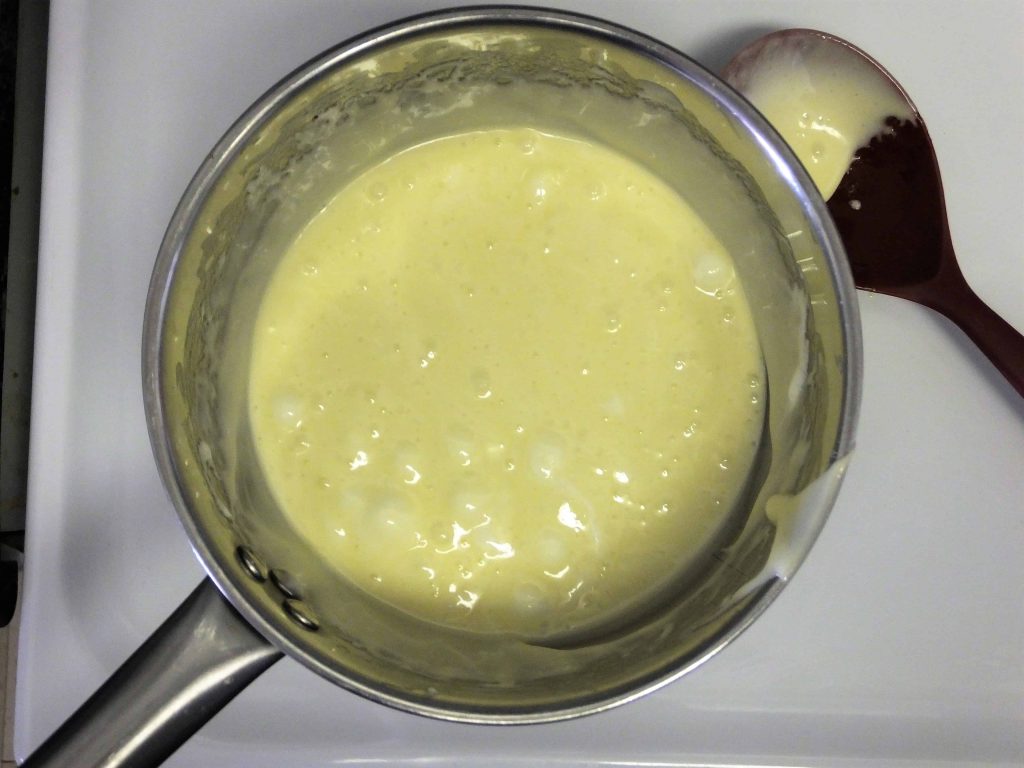 Add in 5 cups of your Lucky Charms cereal and stir frantically to coat all the cereal in your butter-marshmallow mixture.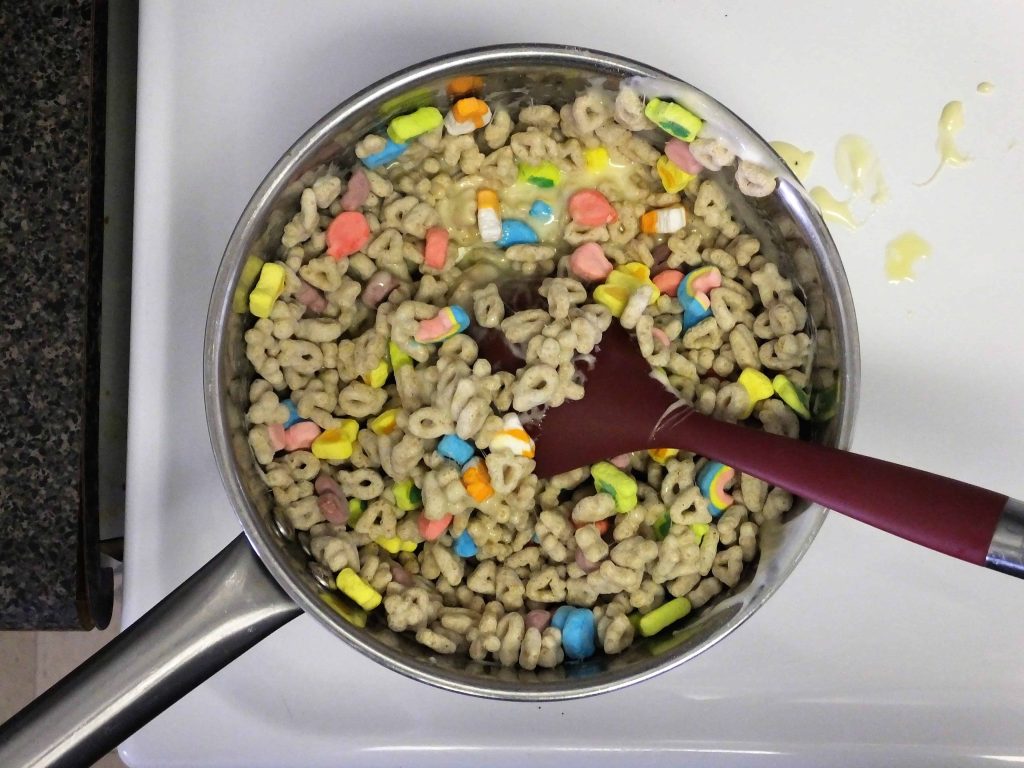 Once everything is mixed, spoon all your cereal bar mixture into your greased dish. Use a rubber spatula to push the mixture into the dish. It actually helps to give it a few minutes to cool once you've spooned it in, before pushing it down; the mixture is super sticky and will stick to your fingers/spatula when it's hot.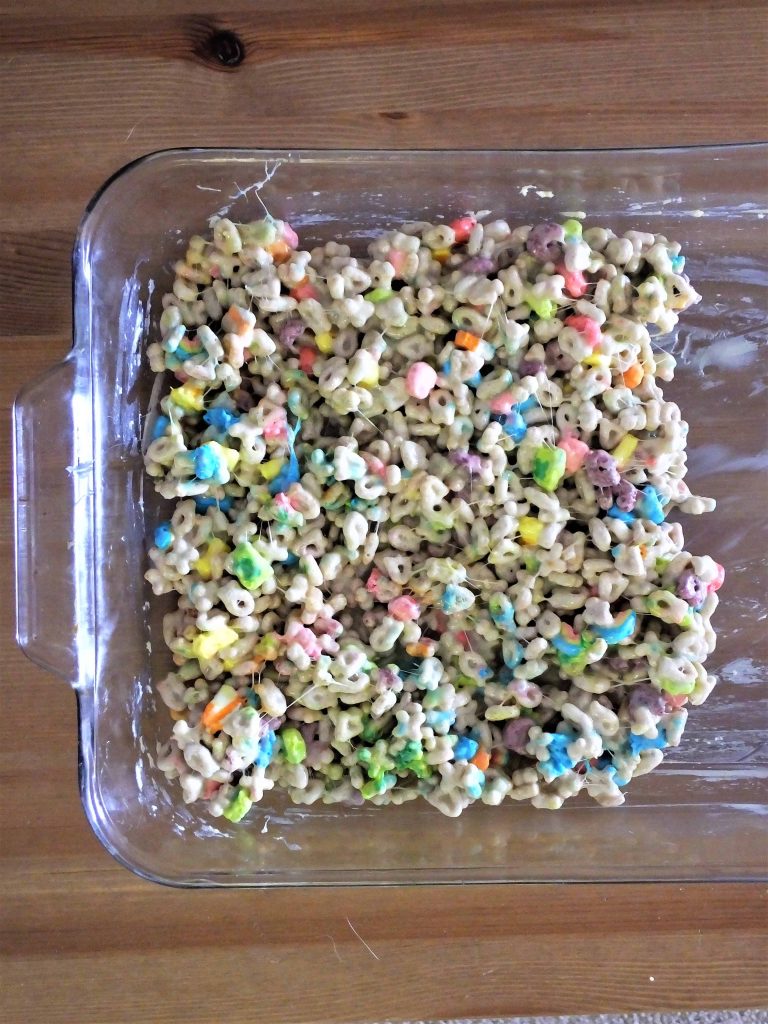 Let your bars set for about 30 minutes on the counter (no need to refrigerate). Once cooled, cut your bars into squares and lay on wax paper. Some of my bars had globs of my marshmallow mixture at the bottom (I didn't stir quite well enough!), so if that happens to your batch, no worries! Just let those squares dry upside down like in the picture below, to expose the marshmallow mixture globs to the air and help them dry further.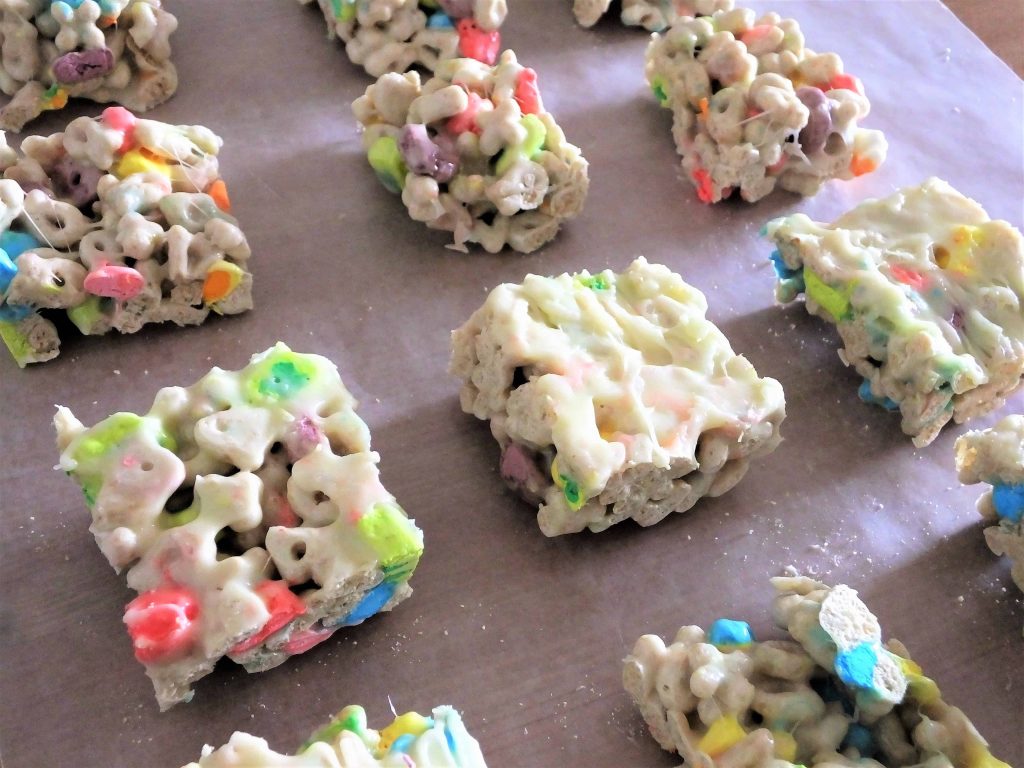 While your cut squares are drying further, pour your candy melts into a bowl (if you're using a square pan and have about as much cereal mixture as seen above, you'll need about half a bag of melts. If you made a large rectangular dish of bars and doubled the recipe, you can melt the entire bag of candy melts.)
Melt your chips in the microwave, in 30 second intervals, stirring in between until completely smooth (read more here about melting Wilton's Candy Melts, and adding flavor extracts if you want!) Then, take your cut squares and dip one side in your candy melts.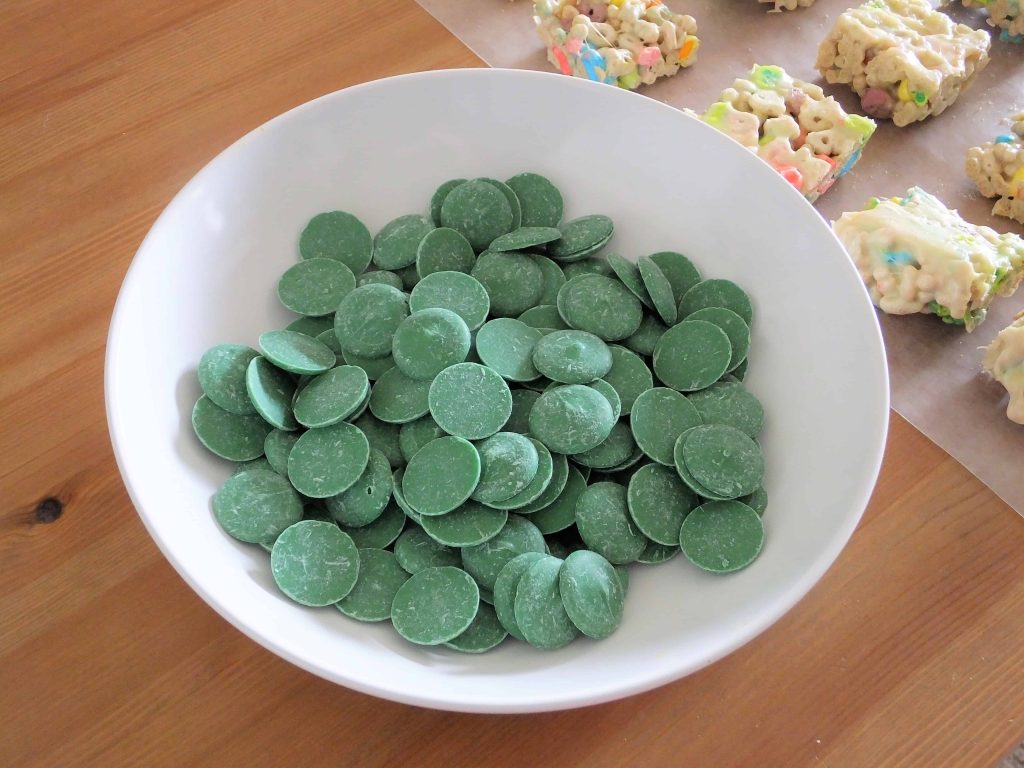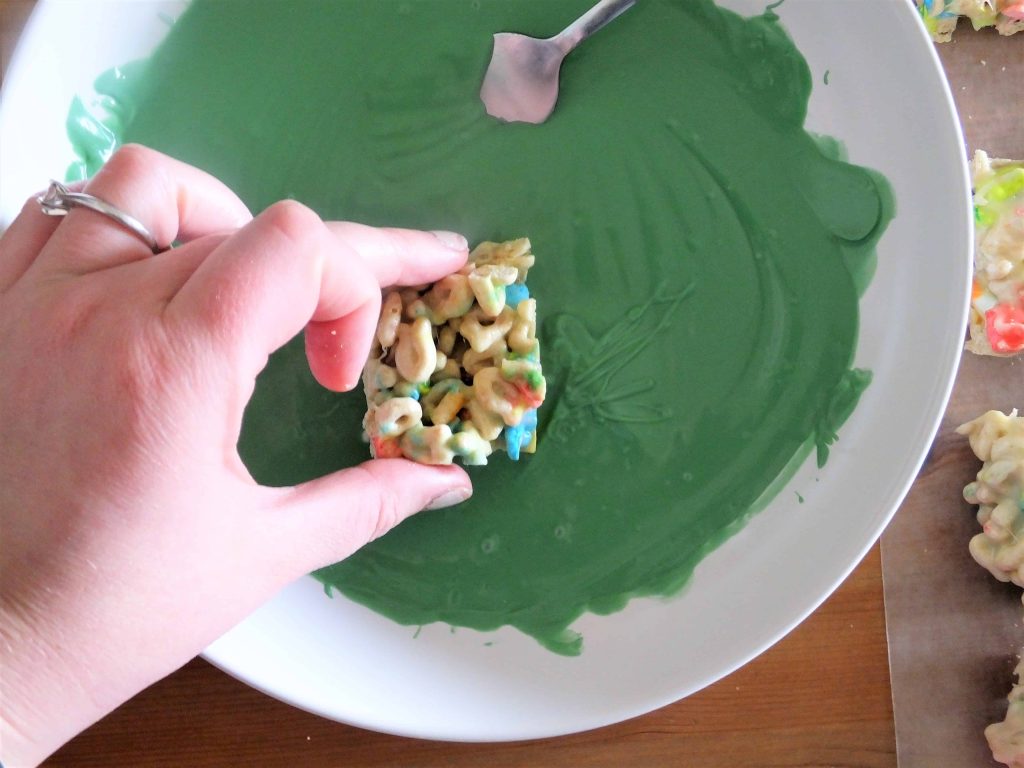 Set the bars upside-down on your wax paper, letting the candy melt dry and set, facing upward. Before it sets, add in your marshmallow décor that you pulled at the beginning.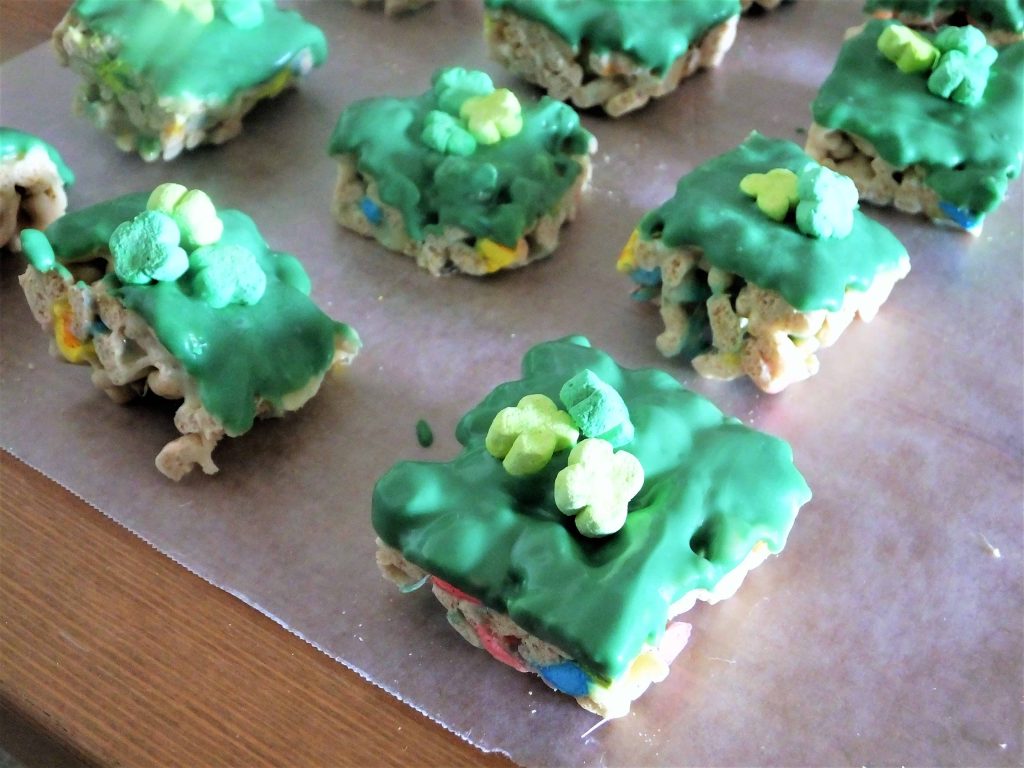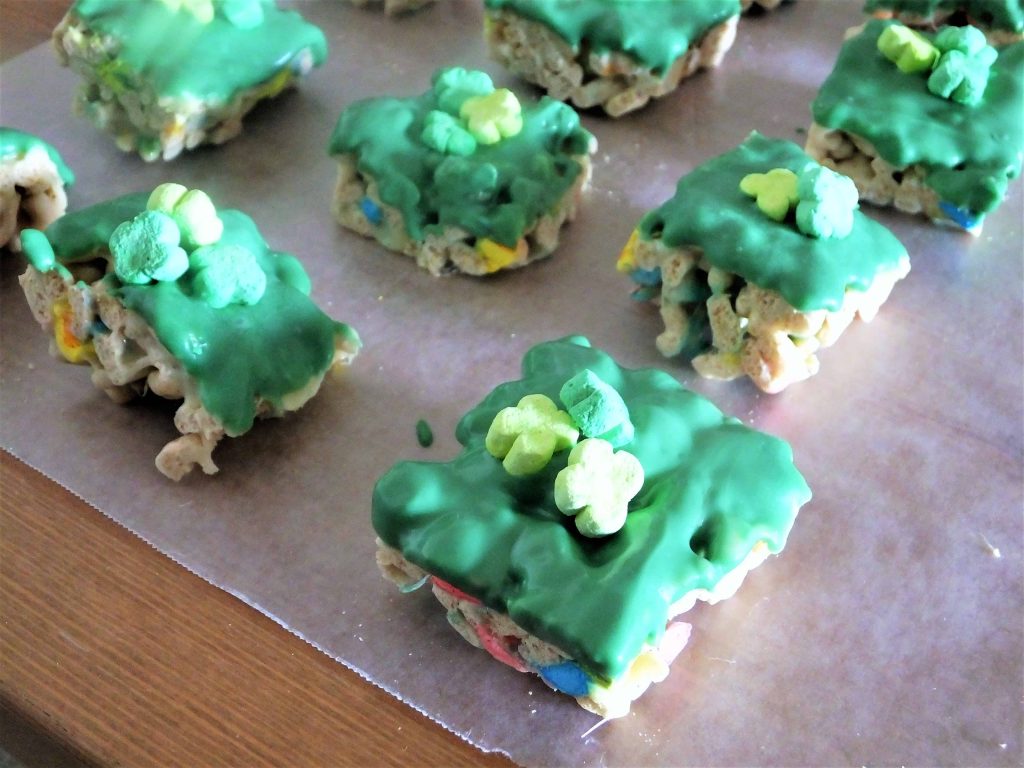 And that's it! Once your candy melt topping has set, your St. Patrick's Day Lucky Charm Bars are ready to eat.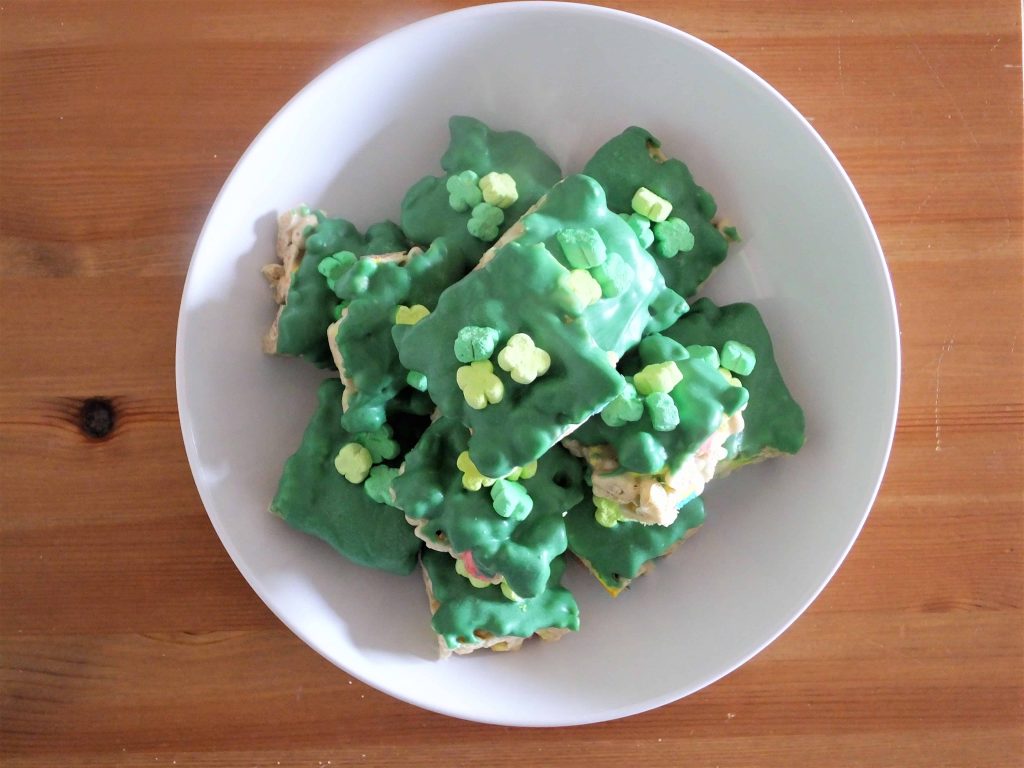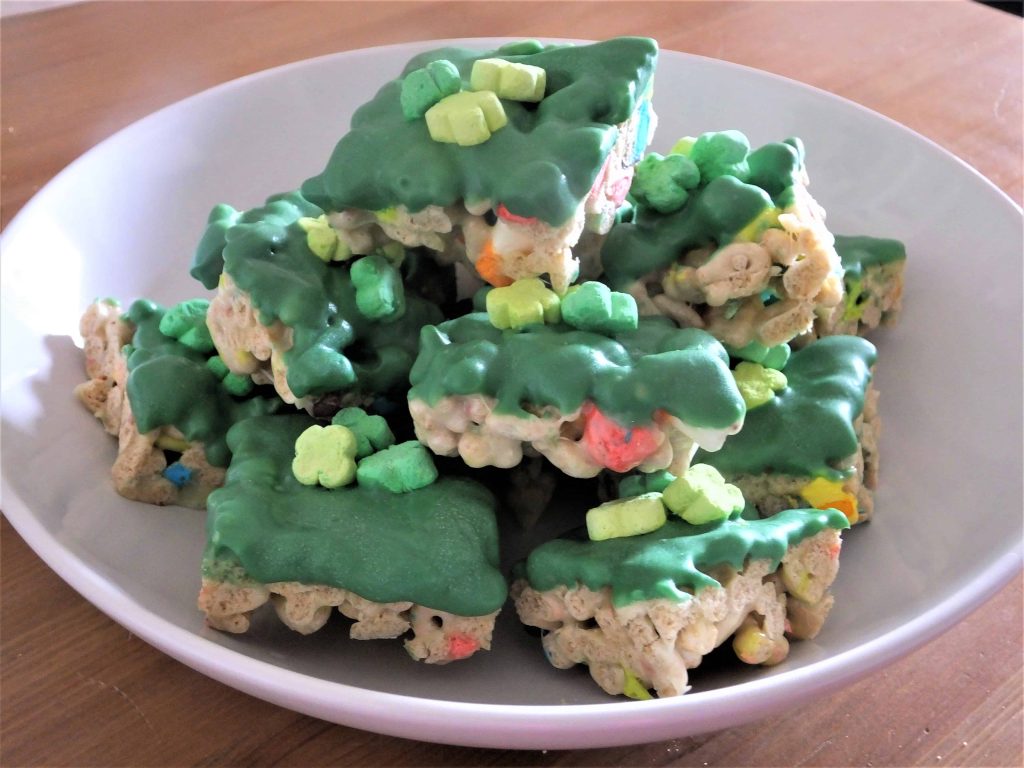 So there you have it – St. Patrick's Day Lucky Charm Bars – a super easy treat you can whip up, with honestly any cereal and any color candy melt – this is an incredibly versatile recipe guys! It can be your go-to holiday party pot-luck treat 😉
Thanks for having me, and Happy (almost) St. Patrick's Day!
I'm Clarissa! The author & creative genius (ha) behind The View From Here – a blog devoted to DIY, food, and adventure. Check out the blog for weekly projects, recipes, travel guides and more as I document the facets of my creative journey!
Follow Clarissa on Social Media
Facebook – https://www.facebook.com/theviewfromhereis/
Pinterest – https://www.pinterest.com/viewfromhereis/
Instagram – https://www.instagram.com/clarissa_theviewfromhereis/

---
I can't WAIT to give those Lucky Charms Bars a try! They look super yummy, right?! Be sure to hop on over to Clarissa's blog, The View from Here. Here are some of her other awesome DIYs !