Whoever said breastfeeding was easy or natural, well, they were totally lying. Breastfeeding was the probably the hardest part of the whole mommy thing in the first few weeks. There are so many issues that many women encounter. Everything from low milk supply or oversupply to baby's latch or efficiency issues. If you're lucky, breastfeeding will get started without a hitch. However, I haven't met one mama yet that didn't have one or more issues. These top 12 breastfeeding products will be a lifesaver during the breast feeding time frame.
For us, it was efficiency. Cal had a hard time getting everything he needed from me and working back up to his birth weight. In fact, it took a good three weeks for him to gain back the weight he lost initially. Luckily, I was quick to seek help. I've been going to a weekly lactation support group since he was nine days old. I still love attending and getting him weighed and talking with the other mamas. He's been a rock star the past couple months, gaining anywhere from 6 to 10 ounces every week!
Although we had our problems, we are blessed that we figured it out and now everything is going well now. We are about to embark on new part of our feeding journey as I return back to work this week for three days a week. Cal has always been great about taking a bottle, so hopefully we will make this transition without any major issues – I'll keep you posted.
In addition to all of the help and advice we received, there are a few breastfeeding products that have gotten us through the first few months of breastfeeding. These are the items we couldn't live without!!
This post contains affiliate links, but nothing that I wouldn't wholeheartedly recommend anyway! Read my full disclosure here.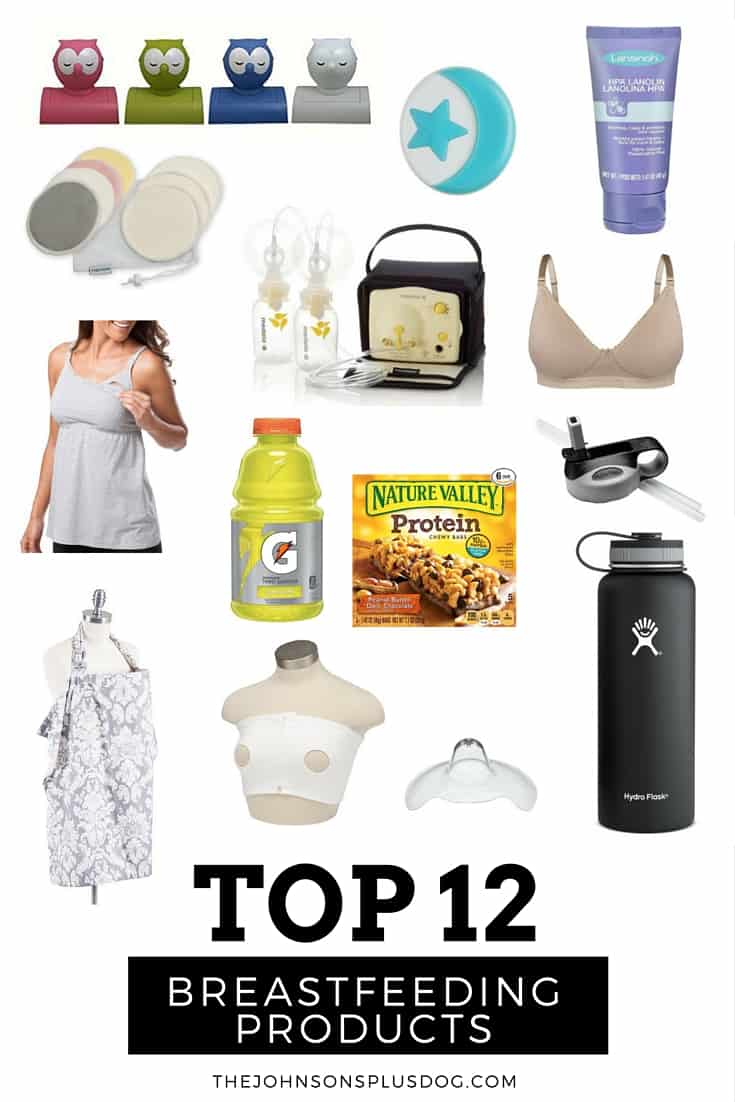 Top 12 Breastfeeding Products
Tap On Night Light – This night light is a life saver. I love how it taps on and off, which is great in the middle of the night. The light is dim so it doesn't wake the little one when you need to hold it down by his face… you know, to check if he is breathing for the millionth time.
Clip On Nursing Light – I love this little clip on light. You can also set up a timer for 5, 10 or 15 minutes and it will vibrate and it just may wake you up if you've dozed off. However, the vibration is pretty loud and can startle you, baby and your hubby. We ended up not using the vibration timer, but just the setting where the light goes off after the certain amount of time.
Lanolin – In the first couple months of breastfeeding, I used this after almost every feed and it saved me! It does go a long way though, I'm still on my first tube and I rarely need to use it anymore.
Nursing Pads – I know it's crazy to think that you will actually need something like this, but you do! I love these reusable bamboo pads. They are super soft and definitely leak proof.
Breast Pump – You will likely be able to get a breast pump through your health insurance, so before you go out a buy one, call them and check! This is the one I have and I love it. Be sure to get the extra accessories, like a car charger (for pumping on the go) and cooler set (to store the milk on the go).
Hands Free Pumping Bra – I remember when I first starting pumping not having this and it was horrible! This will seriously change your life if you're pumping.
Nursing Bras – You will definitely need a few good nursing bras. I love the yootoo maternity and nursing bra, read my review of the bra here!
Nursing Tanks – These tanks will come in handy, especially in the beginning weeks where all it seems like you are doing is nursing.
Snacks – You need to be sure you are eating enough throughout the day. Here are some great lactation recipes. Also, these energy bites are seriously almost always in my fridge.
Water Bottle with Straw – One thing that is crucial to your milk supply is getting lots of water in ya everyday! I love my Hydroflask water bottle (shout out for an awesome Bend, OR company!) You will definitely want to have a water bottle with a straw. You will quickly learn just how many things you need to learn how to do with one hand – drinking water is first. We will work on how to make a pot of coffee with one hand later… trust me, you'll need it. Here's the straw attachment for the Hydroflask bottle.
Nursing Cover – You never know when you'll need to feed (or pump) while you're out or while have company over. It's great to get a nursing cover that has the open at the top so that you can see your little one and gives you some air flow so they don't get too stuffy.
Nipple Shield – For the first week or so, we had to use this every time we fed. It helped with both the pain and his latch. Eventually we were able to drop it, but it was essential at the beginning. I got mine from the hospital, so be sure to keep the receipt if you buy one of these before you have your little one.
Like I mentioned before, breastfeeding is not easy… but don't give up! Whatever you are going through – get help! If your hospital doesn't have a lactation department, try to find some local support groups. Also look into La Leche League and see if they have anything near you. Hopefully you will find comfort in some of these breastfeeding products and you can endure the rough first few months. Remember that if you just keep swimming, it does get better! Until then… more coffee.
Whether you are breastfeeding or not, you WILL need a lot of diapers. Get 20% of a diaper subscription by clicking below, because let's face it. Who has time to go to the store with a baby?