Let's take a walk down memory lane and take a look at your favorite Making Manzanita projects of the year. Here's the top blog posts of 2017.
2017….what a year! Our little blog has come a long way since January!! You may remember that we started 2017 as The Johnsons Plus Dog and in April we rebranded to Making Manzanita. I am so glad that I decided to go with my gut and change the name. I haven't looked back since. You can read more about our name change and rebrand here.
We've continued sharing fun renovation and craft projects with you and clearly that is what you love most when you take a look at this list of top blog posts of 2017. Today let's take a look back at YOUR favorite posts of 2017 based on traffic.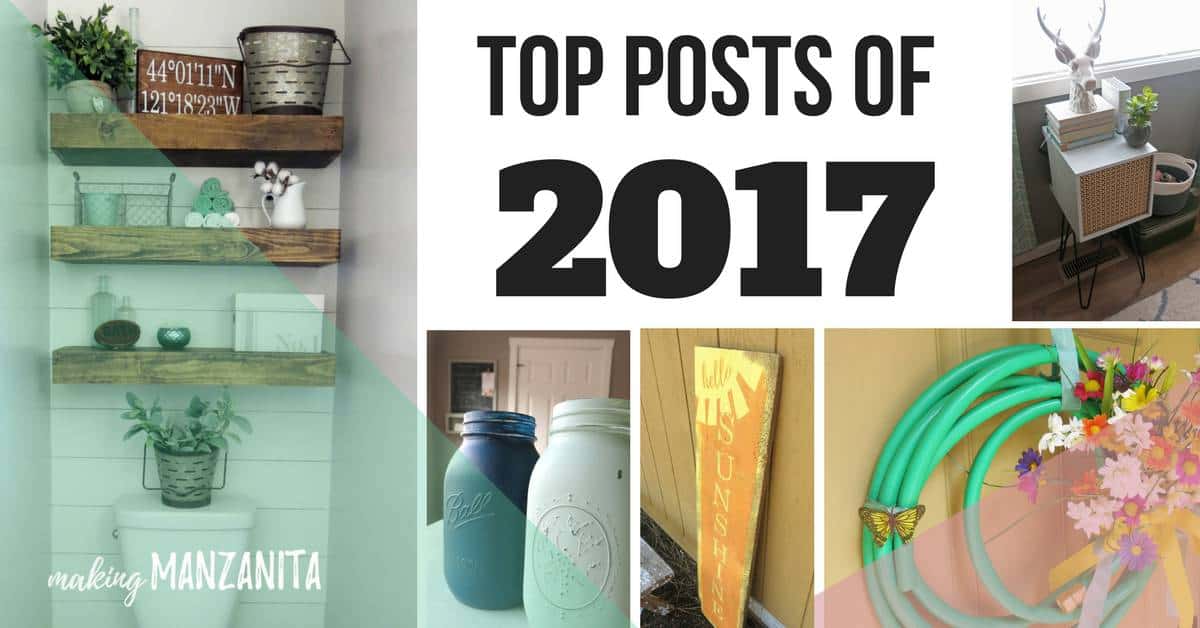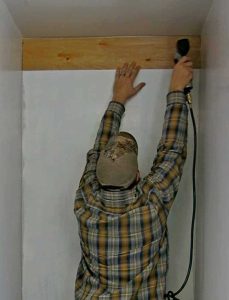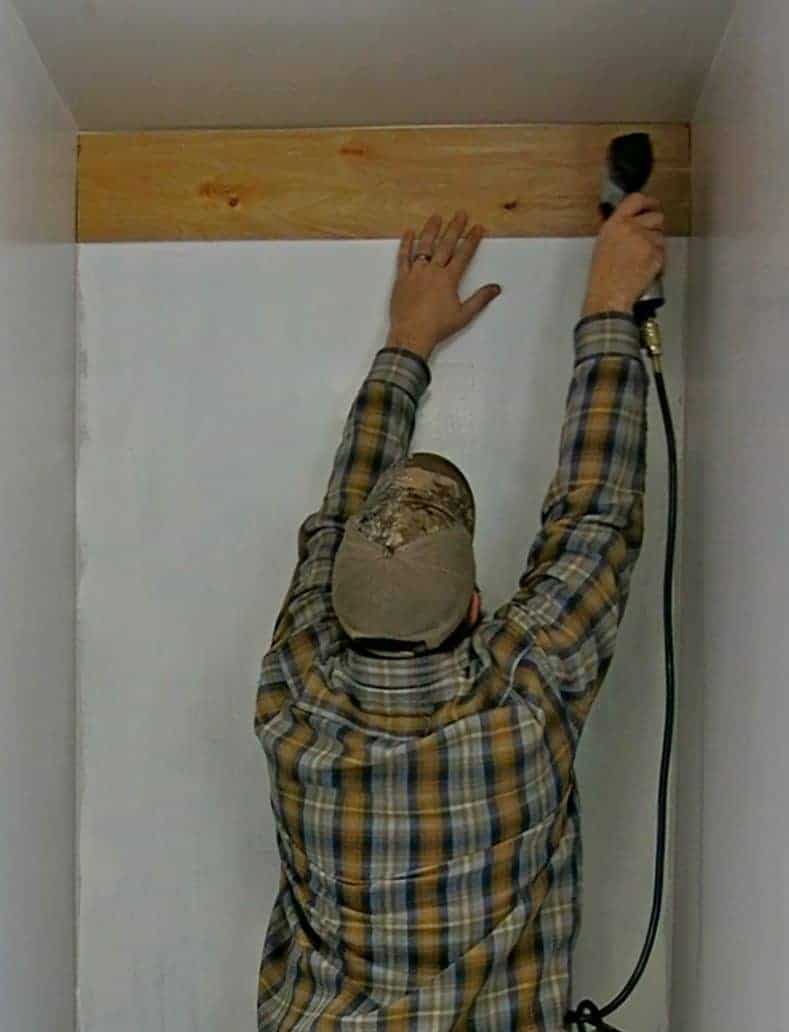 In this post, we show you how to install a faux shiplap wall ON THE CHEAP. We only spent $15 or so on the materials for the shiplap, can you believe it? This shiplap wall was part of our farmhouse master bathroom renovation.
---

I love when you can make show stopping craft projects for something like $2, which is what I spent on these DIY farmhouse cotton stems. I was shocked how easy it was to create my own cotton stems, which are so spendy at the stores!
---

This was a such a random project of adding pops of color with peel and stick wallpaper to the side of drawers. I decided to do on whim to give our coffee station at home a little love.
---

You wanna know what? I almost DIDN'T write this blog post because I thought it was just too simple. I mean…everyone knows how to hang a picture up, right? Then I remembered back to the beginning of our marriage and how I taught Logan this way of how to hang a picture the easy way. I was blown away how many folks have thanked me for this simple post! You'll never put a bunch of holes in the wall again…promise.
---

Ahhh…this little reveal was my crowned jewel of the year. There are about 7 different posts that all lead up to this awesome farmhouse master bathroom reveal. You guys really loved this project, so I can't wait to share lots more renovations like it!
---

I really made a goal to use my Silhouette Cameo more this year and BOY did I! I feel like I've been using it so much to make stencils for fun project. I loved this simple DIY Hello Sunshine Sign for Spring and Summer. Nothing like a little orange and yellow to get you in the mood for that warm weather!
---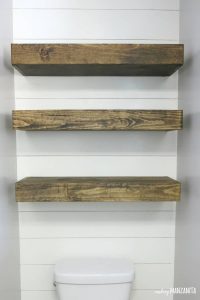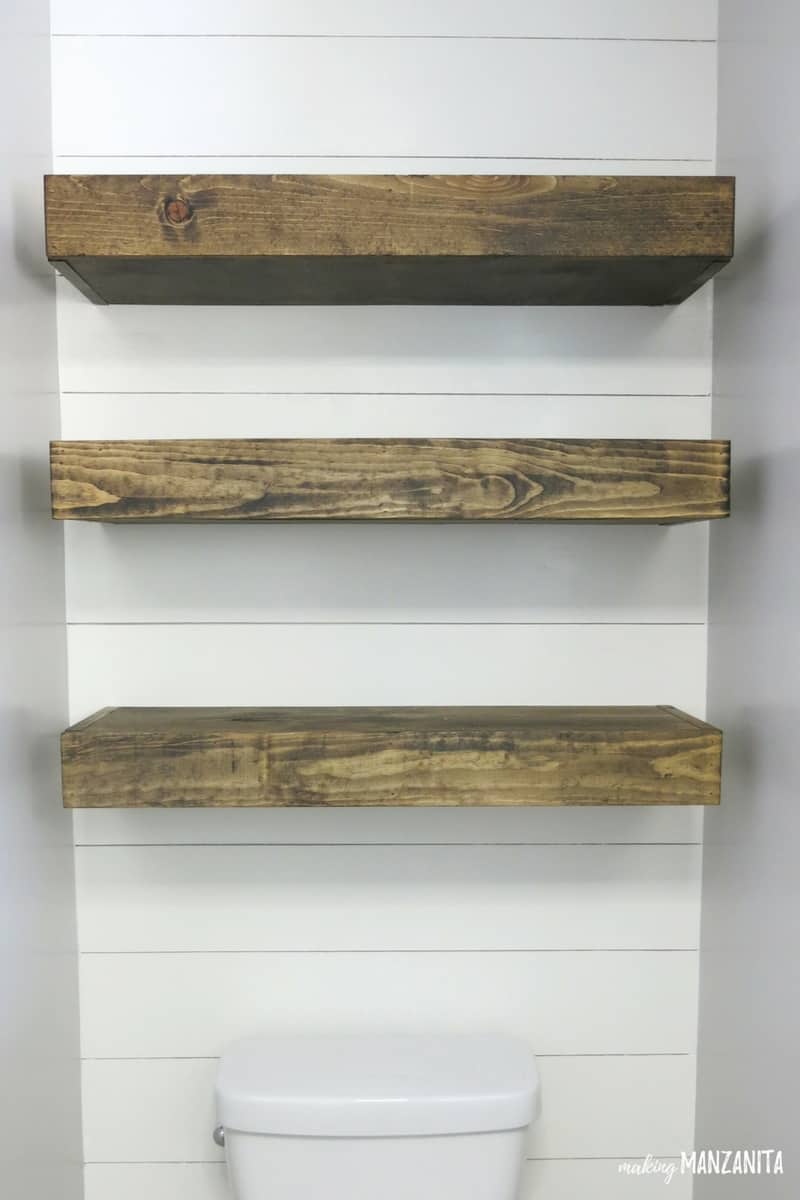 After we added the faux shiplap wall, we installed these floating shelves for extra bathroom storage and I LOVE how they turned out. They were the perfect extra touch for our farmhouse bathroom. They were pretty simple to make too!
---

Glad you guys love this cute and unique garden hose wreath for summer as much as I do. I'm usually intimated by the floral design projects, but this was so easy! I love the bright colors it added to our door during the summer. So welcoming!!
---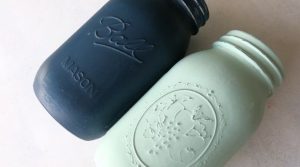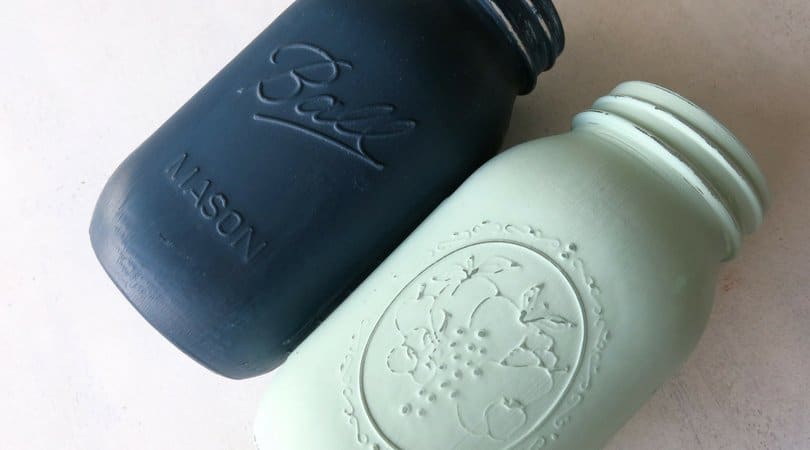 I LOVE mason jars and now I know that you do too! This is a simple tutorial on how to paint mason jars. After you read this, you're going to go around your house and grab all those mason jars and start painting. It's so simple and fits right in with the farmhouse style!
---

I couldn't stand to look at my pile of ugly internet cords any longer, so I made this little box/side table and it works perfectly! Here's how to hide router cords with a mid-century side table. I love it looks in my modern gold office.
---
I love these little walks down memory lane. Looking back at your favorite posts of 2017 helps me plan ahead so I can keep bringing you projects that I know that you'll love. Feel free to pop me a note at any time and let me know what you want to see more of! I welcome your feedback 🙂
You may be wondering what is next for Making Manzanita…and let me tell you guys…. it's about to get EPIC. I've got not one…not two…but THREE big announcements coming over the next couple weeks. So stick around. Things are about to get fun around here. Here's to an amazing 2018! Thanks for coming along for the ride, friends.