Wondering how to paint straight lines? This tutorial for our beautiful two tone walls will teach you just that! I just love how the paint in our bedroom turned out.
Thank you to FrogTape for sponsoring this two tone walls tutorial! All opinions are entirely my own. This post also contains affiliate links, but nothing that I wouldn't recommend wholeheartedly. Read my full disclosure here.
I mentioned in our hardwood floor tutorial that we had been staring at paint swatches for a year and a half in our master bedroom.
It's true.
The room was a disaster filled with gross brown carpet, tan walls with paint swatches, and patched walls that were never re-textured. 
Before Pictures
Here's what we started with: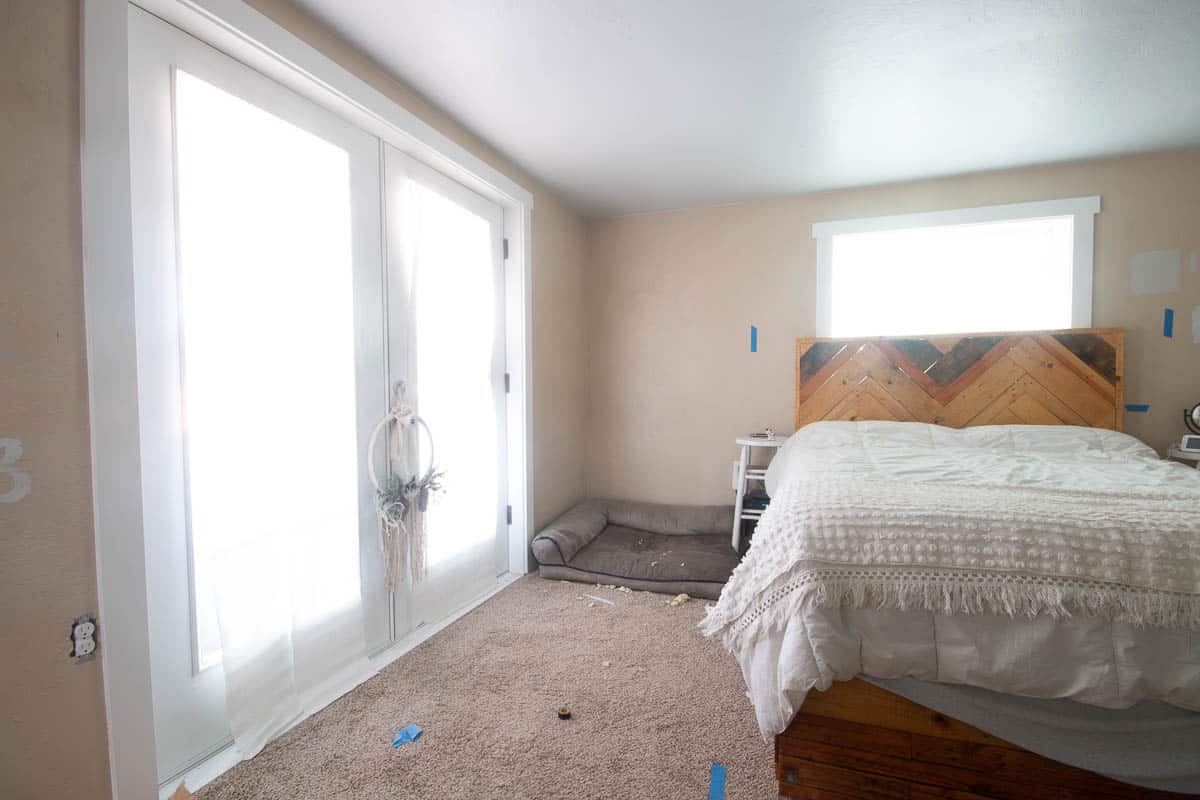 Yikes, right?
Well, I can't WAIT to show you how it looks now and teach you how to create two tone walls in your house too.
P.S. we also got rid of the U-G-L-Y carpet recently! Check out our new hardwood floors here!
UPDATE: Check out the finished master bedroom reveal here!
How to Paint Two Tone Walls: Video Tutorial
So we're going to make this really easy for you…we made a video tutorial too! So you can either watch the video below…or read the full tutorial.. or both if you're really jazzed about it all.
If you love DIY videos, be sure to subscribe to our YouTube channel!
Are you ready to see how to paint straight lines for two tone walls??
Supplies for two tone walls:
Tape measure
9 inch paint roller
Paint tray
Canvas drop cloth
2 colors of paint
Step By Step: How to Paint Straight Lines on Two Toned Walls
Step 1: Decide the height of two tone walls.
First, take your tape measure and decide just how far up you want the two tone walls to start.
I decided that I wanted my darker color to stop at my eye level. There really wasn't any rhyme or reason than that and I just love having the two tone walls right where I can see them.
I also wanted it to intersect with all of the wall decor, which will be hung at eye level.
Step 2: Paint ceilings & trim (optional).
If you're going to be repainting your ceiling and trim, do that first. I would recommend it. If you're going to all of the trouble to paint the walls, new paint on the trim and baseboards and ceiling makes everything feel nice and fresh.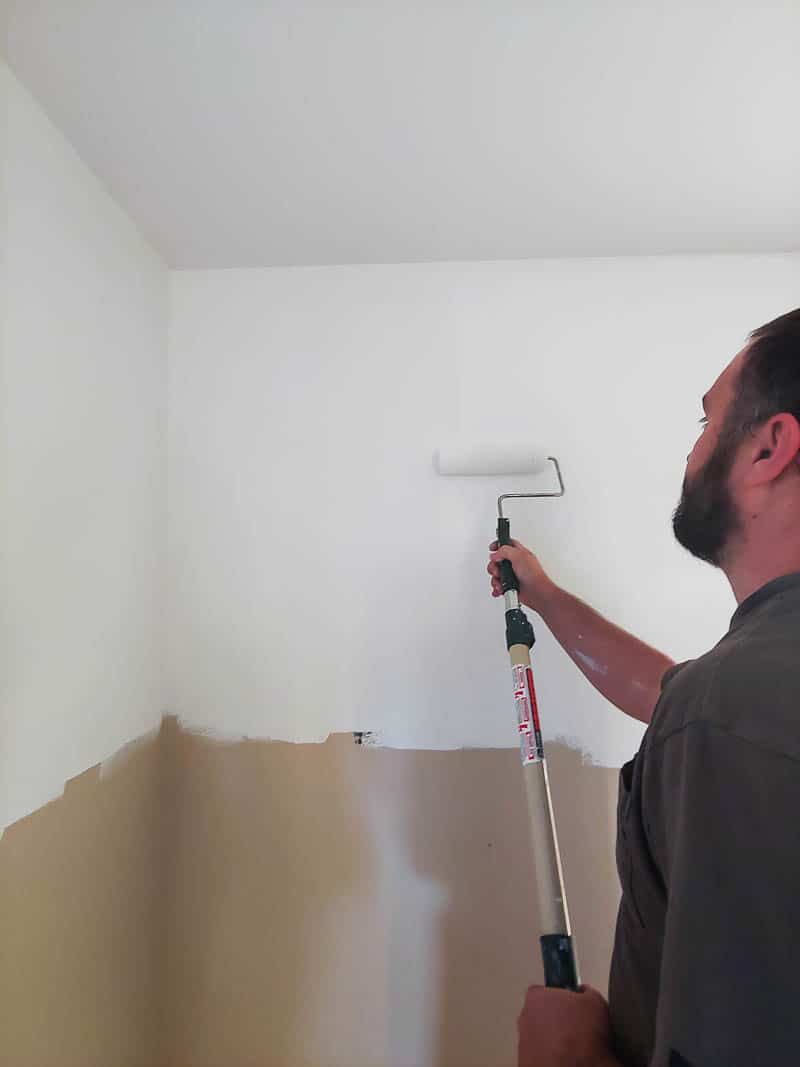 Step 3: Paint the top color.
When we are painting a room, we already start at the top and work our way down. So we painted the top color (this perfect white color).
We were very sure to paint beyond where we knew our line would be to transition our two tone walls.
Step 4: Wait for the paint to dry.
Now you should really wait as long as possible for that top layer of paint to dry. This helps the paint cure, which is helpful when you are placing the tape on top of it.
We were on a time crunch and wanted to paint the 2nd color the very next day (just about 24 hours later), so we opted to use FrogTape's delicate surface painter tape. It is designed for fresh paint (that has dried for at least 24 hours). And spoiler alert, it worked like a CHARM.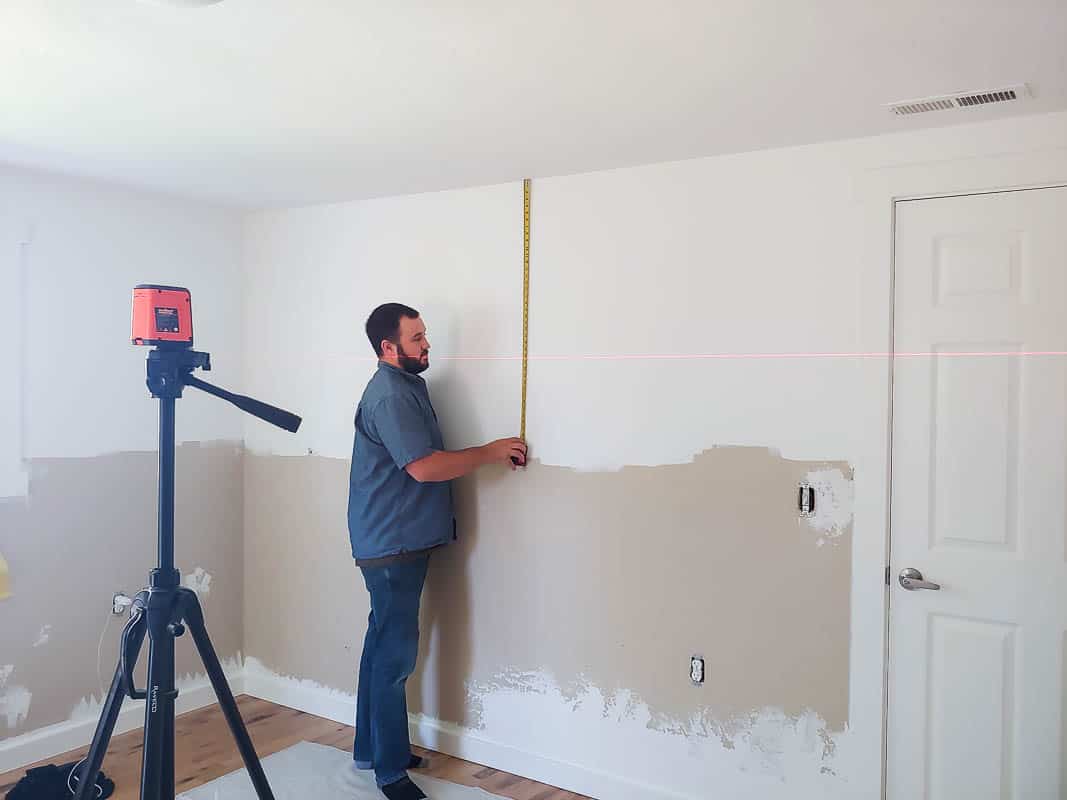 Step 5: Draw a level line around the room.
Actually, maybe I should preface this step with another one – take a deep breath.
To be completely honest, remaining calm while you try to put a PERFECTLY straight and level line around your entire room is harder than it seems.
If you followed along on our IG Stories, you know that when Logan and I were getting our line on the wall we tried 3 times (YES, 3 times!) before getting it right.
Granted we had purchased a laser level (just for this project, might I add)….and it was always off by an inch…three times in a row.
So we settled on this method when putting up a level straight line. It's old school, but it works perfectly!
Measure and make a mark on the wall where the line will be where the two tone walls change color. Once you have the mark drawn, grab your 4 ft level.
Start your first line by getting the "bubble" perfectly in the center, and I mean perfectly! If you don't try to get the bubble perfectly center the line will move over the course of an entire room by a noticeable amount. This is the key for how to paint straight lines.
Continue making your way around the room making a level line.
Step 6: Apply FrogTape.
After your line is drawn, grab your FrogTape and start putting it directly on the line for your two tone walls.
Again you have to be as exact as possible just like when you were drawing the line. Any slight differences will result in a line that changes noticeably over an entire room.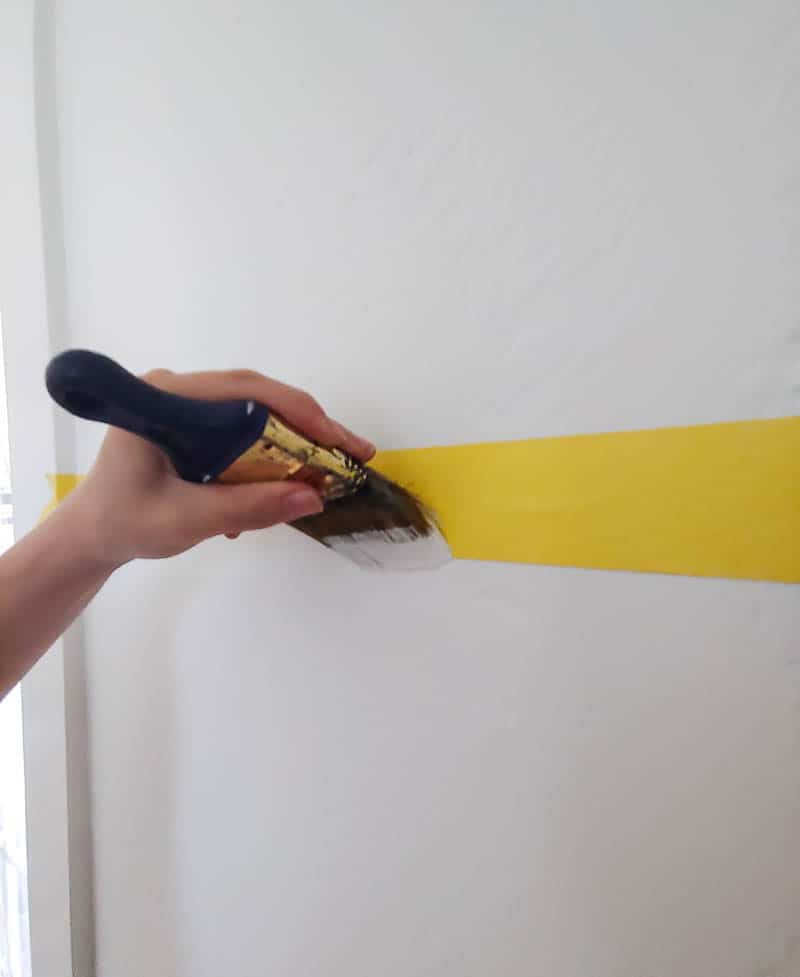 Step 7: Activate the paint block technology.
Once your tape is up you'll need to activate the paint block technology of the FrogTape. It's activated by the latex in the paint, so all you need to do is simply take the first layer of paint you did and paint over the bottom side of the tape.
This method is the key for how to paint straight lines and preventing any bleeds that may occur due to texture and other imperfections on your walls.
Let the paint on the tape dry thoroughly before moving on.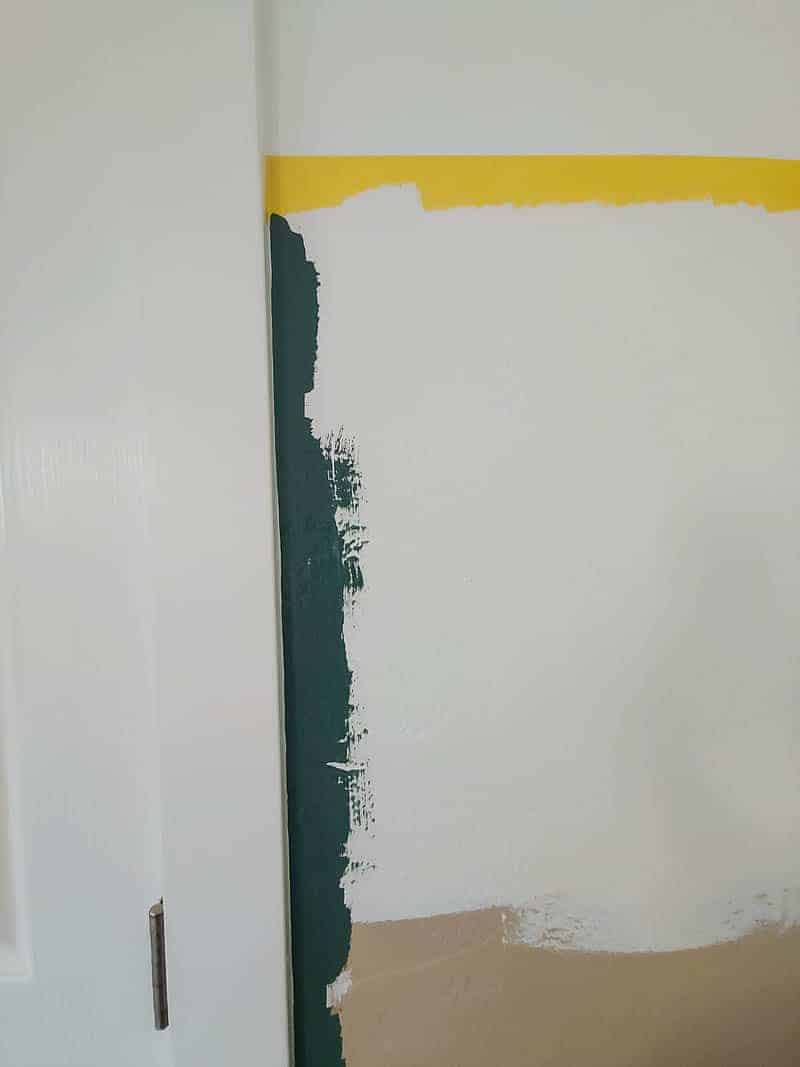 Step 8: Paint the bottom color.
Now it's time to finally paint the bottom color of the two tone walls. Start by carefully cutting in around trim, doors, and baseboards. If you're not very experienced with cutting in, definitely tape things off first.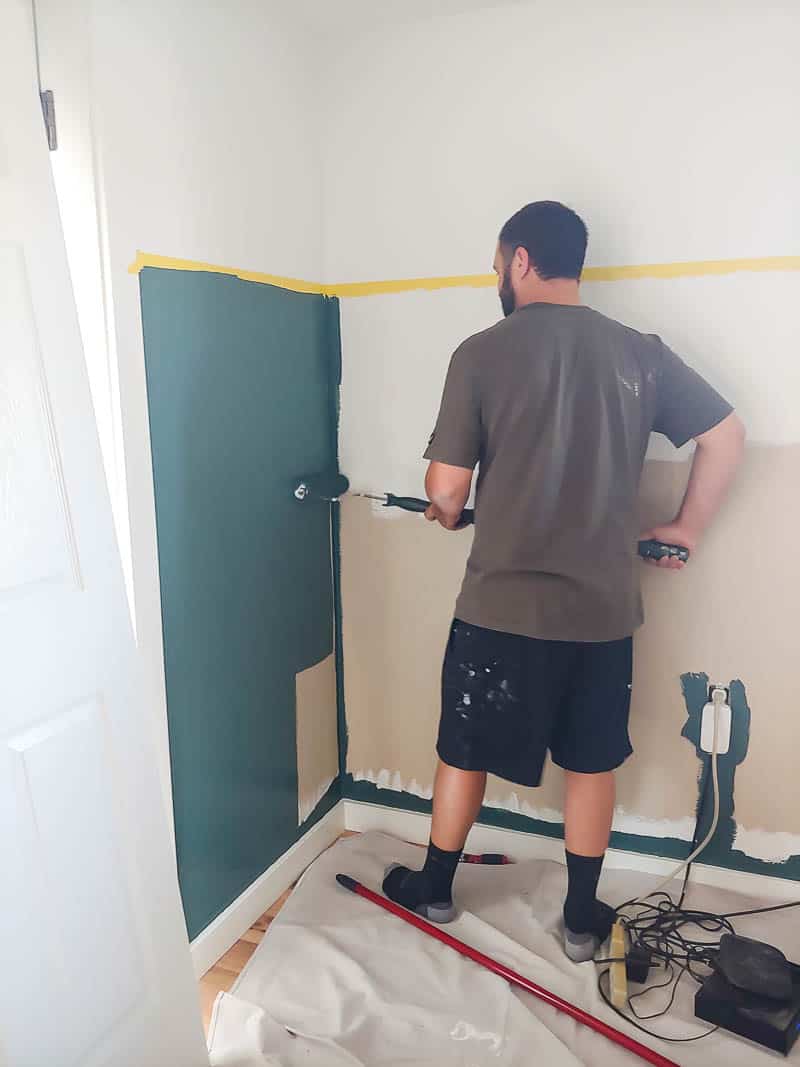 Then just grab your paint roller and tray and slap on the second color you chose for your two tone walls. Just be careful when you get up to the tape not to roll up too far and pass the tape.
Step 9: Remove the tape right away.
This next step is super important. If you asked how to paint straight lines then you don't want to skip this.
Once you get your bottom color paint on, you need to take off the tape as soon as possible. This prevents the tape from taking off any other paint on the wall.
Peel slowly and at a 45-degree angle if possible.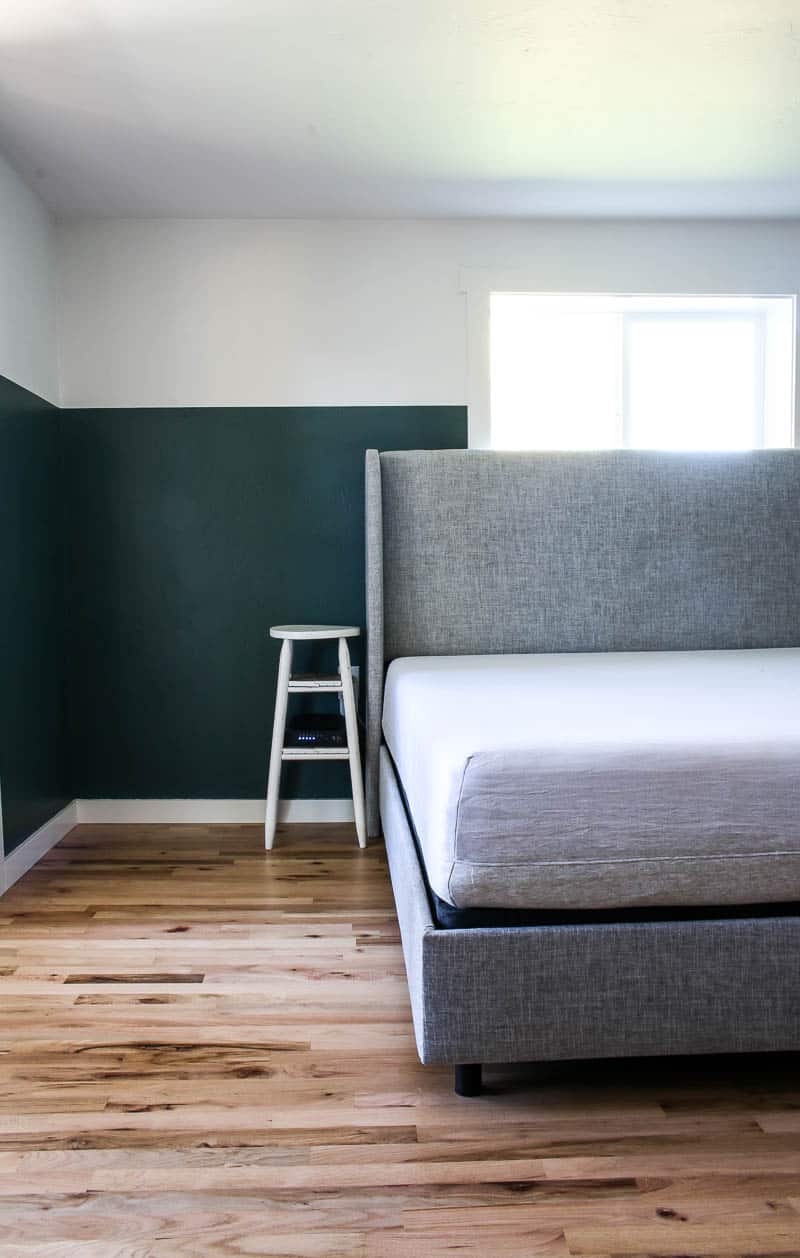 Look at those super crisp and straight paint lines!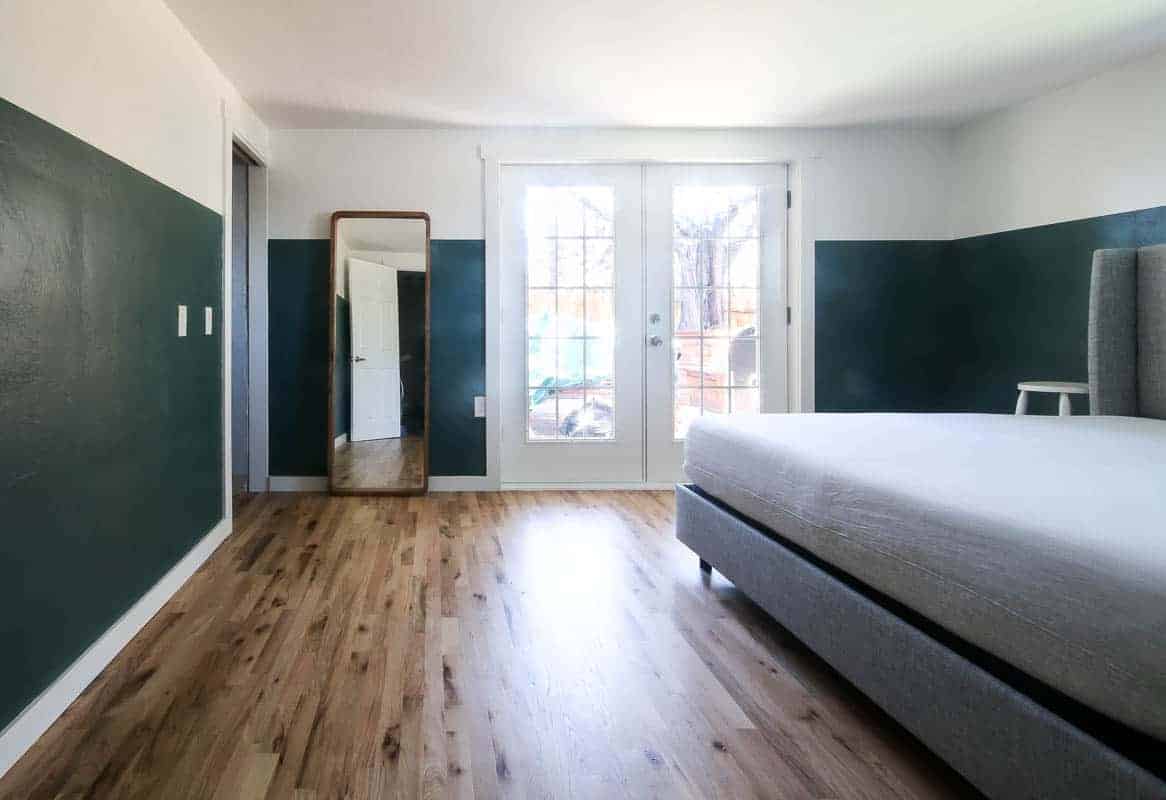 I'm SO obsessed with how our master bedroom is turning out. With the new hardwood floors and these gorgeous two tone walls, it's making for a crazy great transformation – am I right?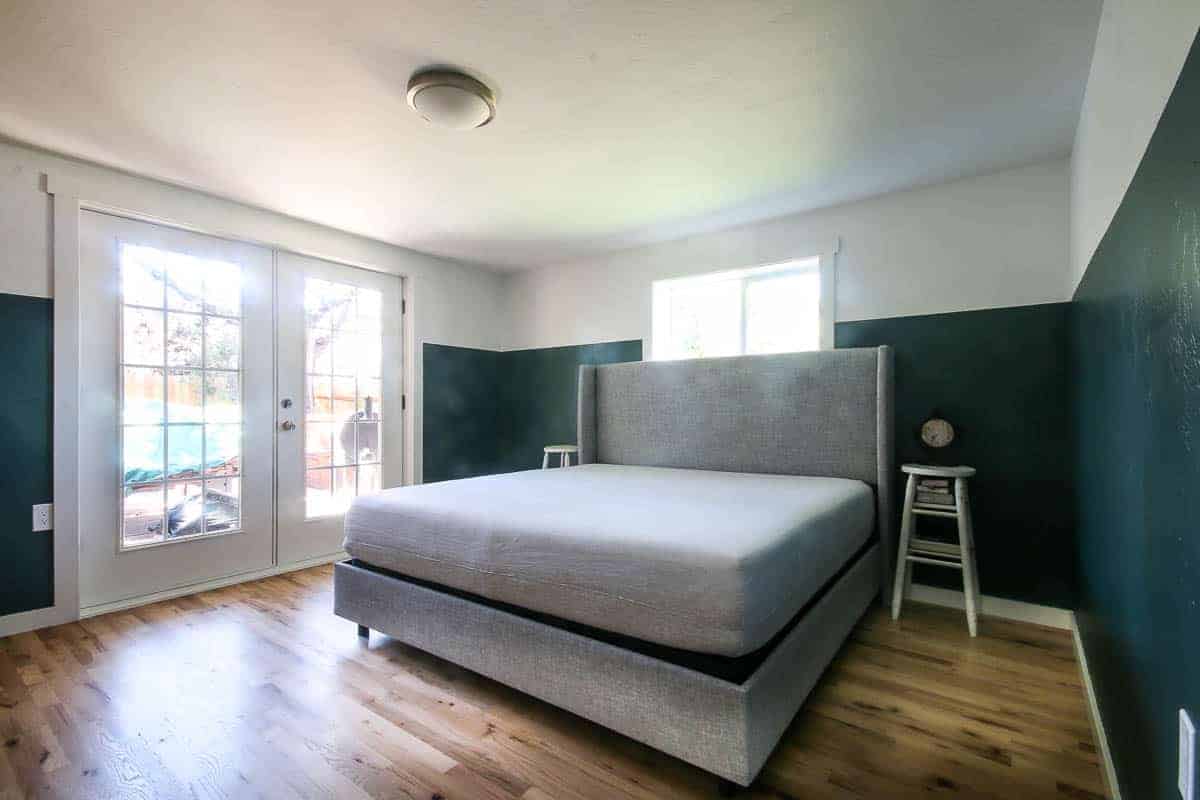 These two tone walls make such a big difference and create a unique and unexpected look in the bedroom, which I love.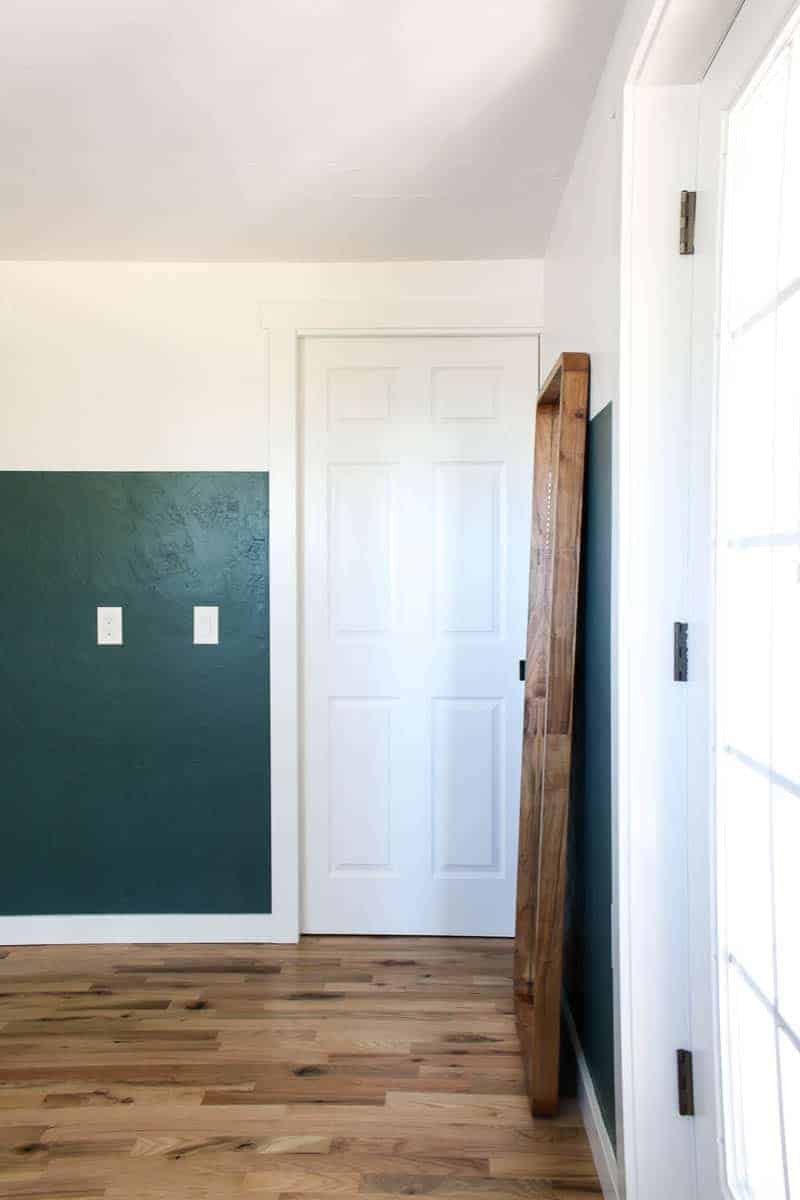 I'm so glad that we decided to incorporate a dark and moody color – which I haven't really done in any of our homes yet. It is bold and some say risky…but I'm in love.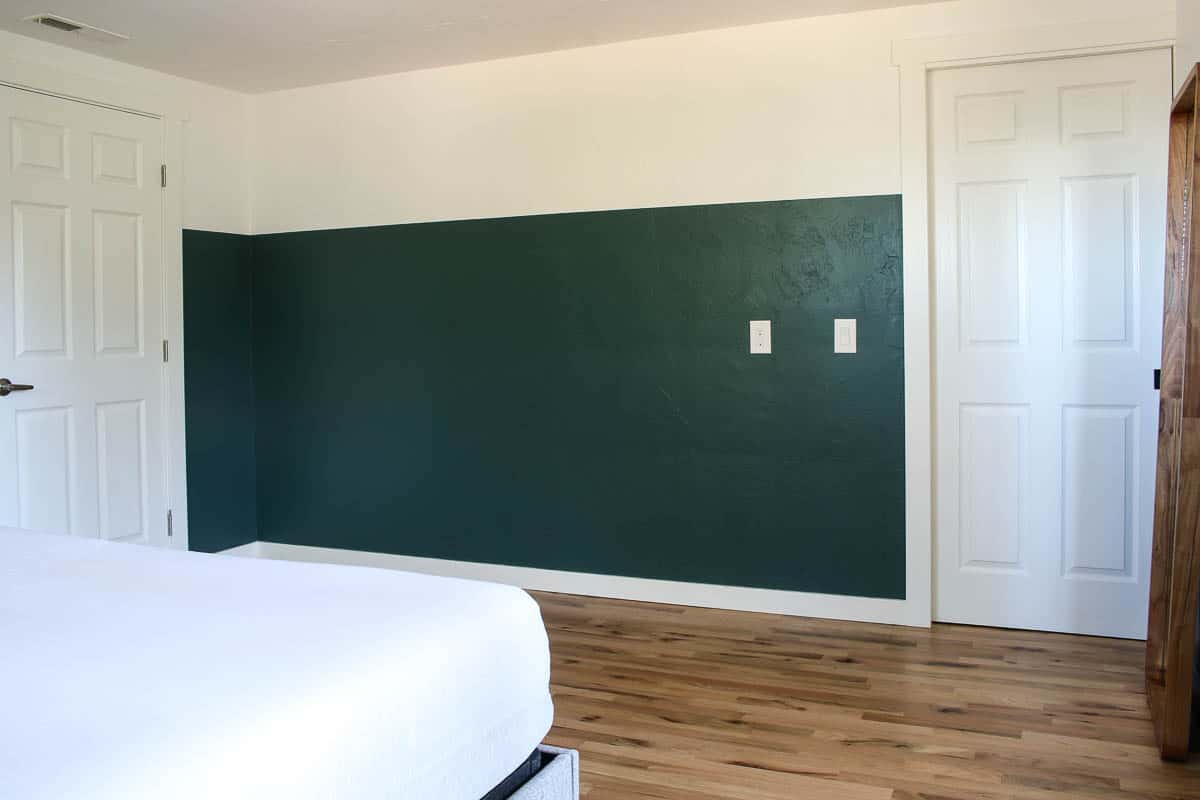 I can't wait to get it finished off with decor, furniture, and bedding! (Update: Check out the finished master boho bedroom here!)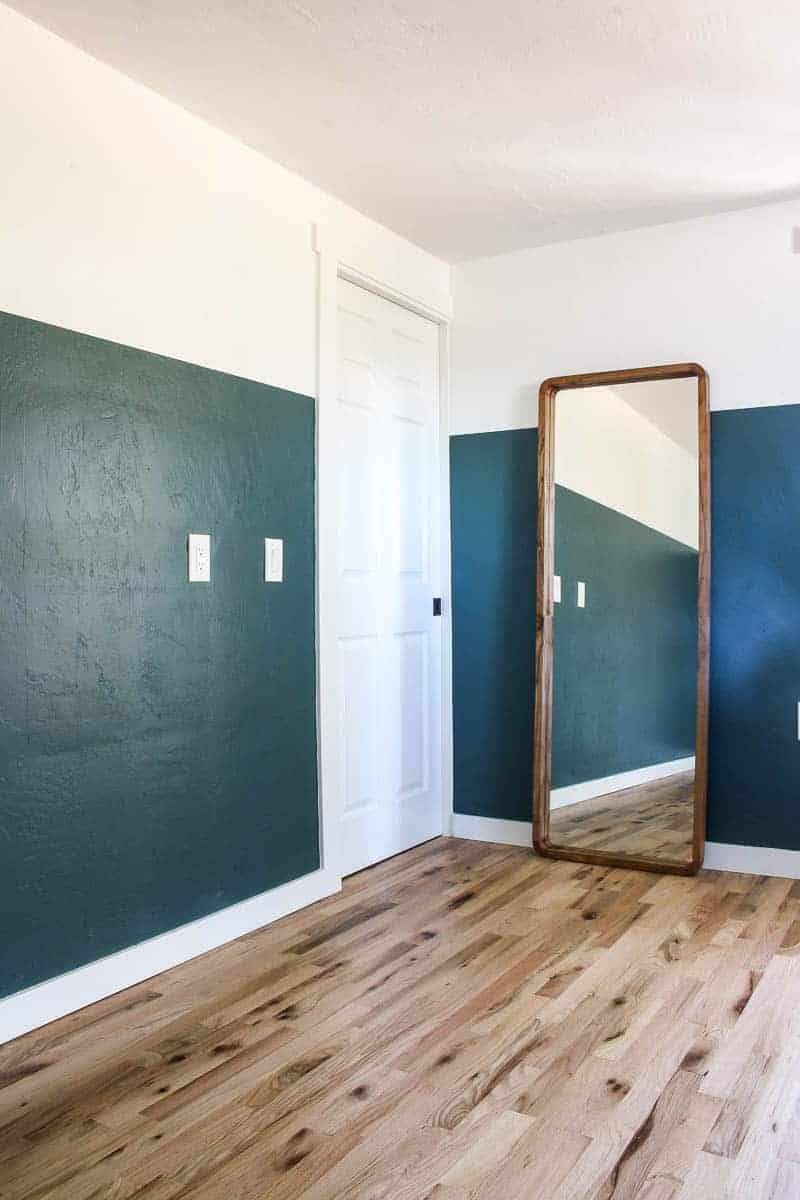 Let's take one more look at the crazy before and afters!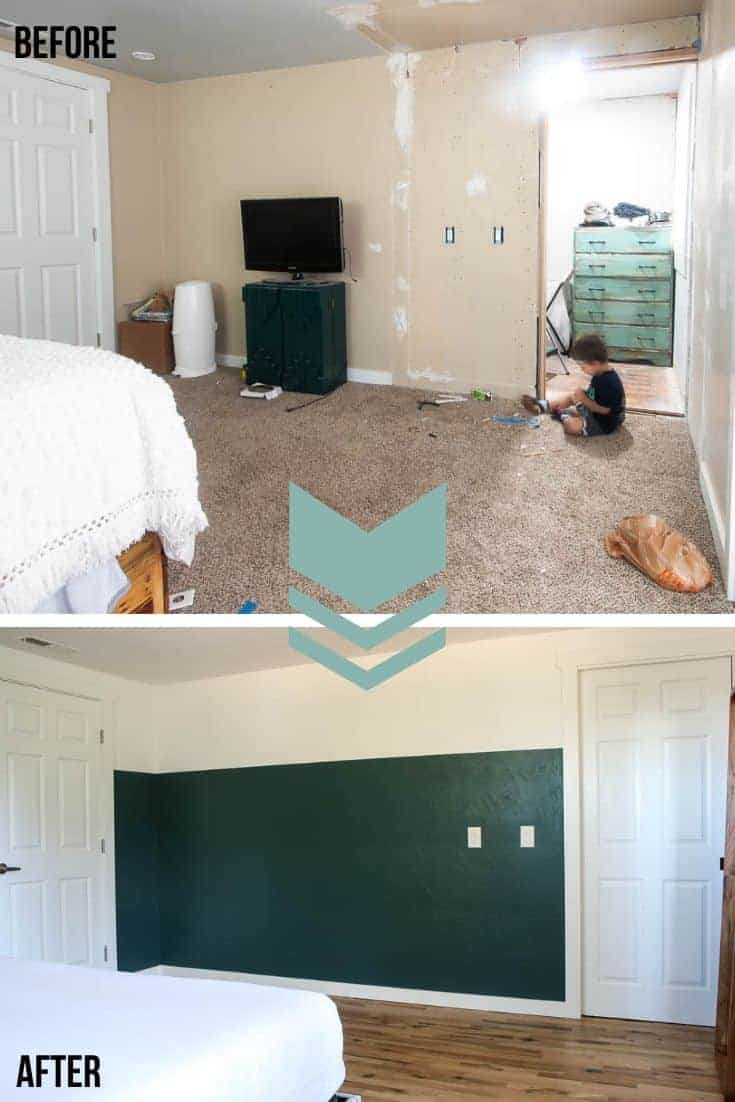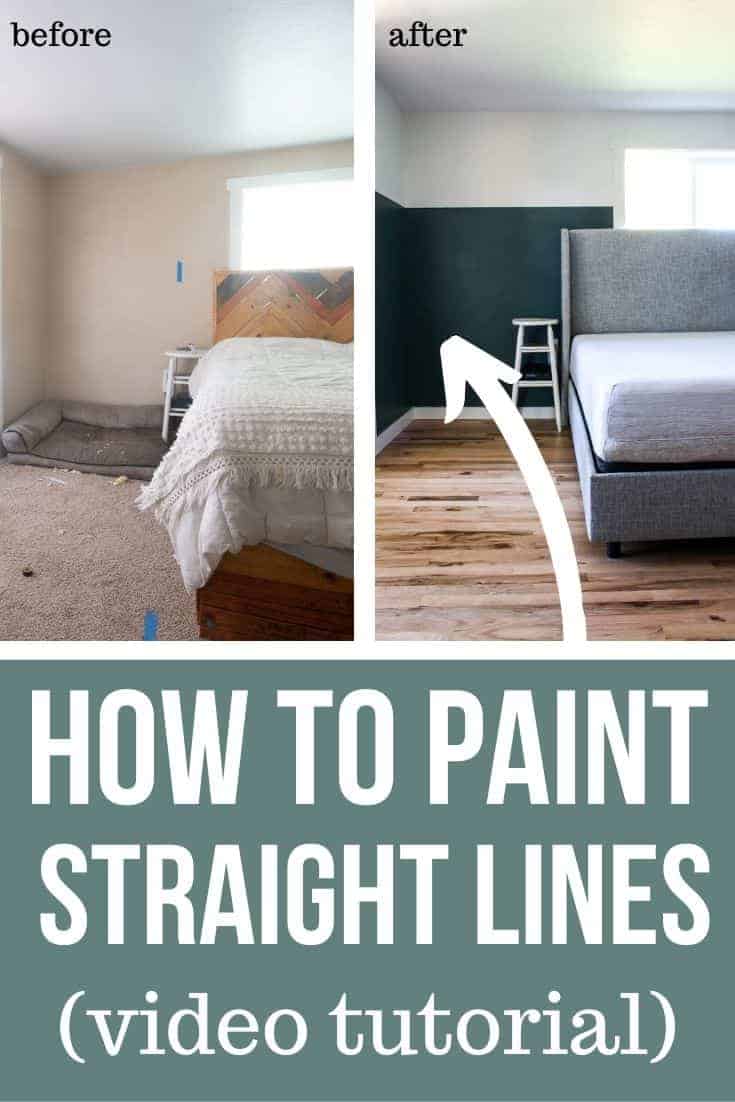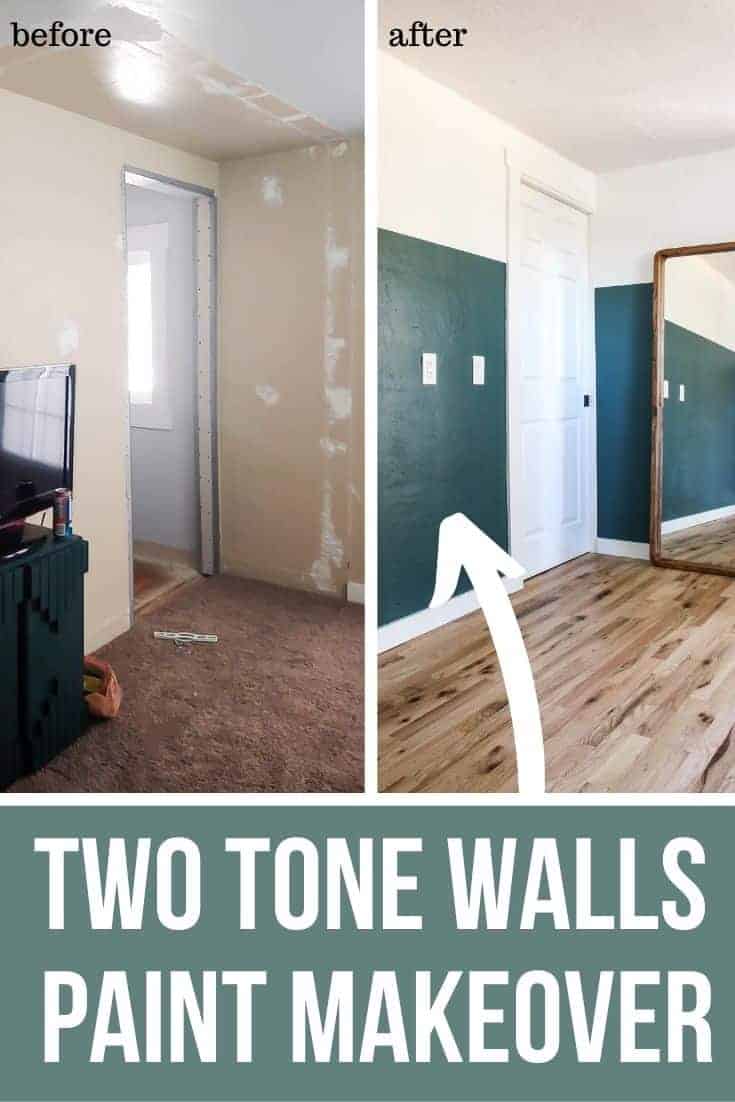 Where would you paint two tone walls in your home??
Let me know in the comment below.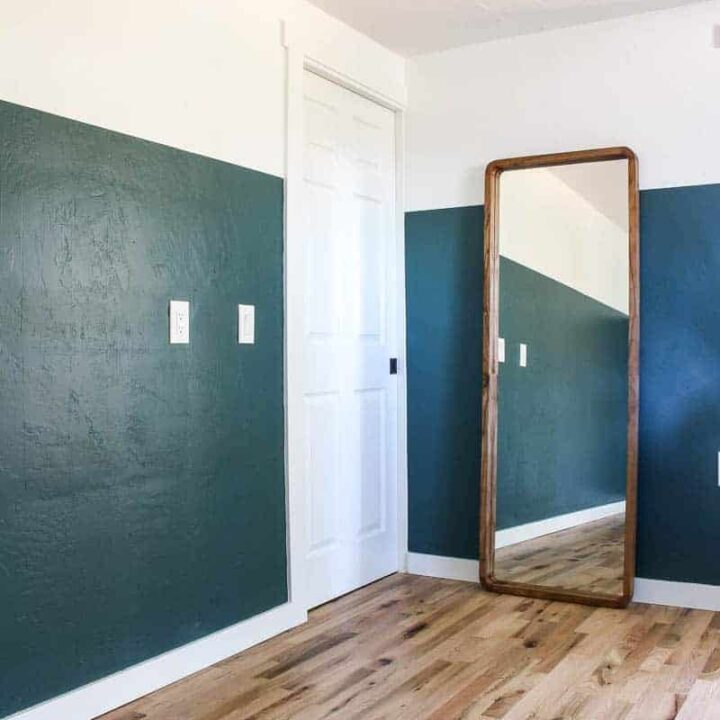 How To Paint Two Tone Walls in Bedroom
Want to learn how to paint straight lines, the expert way? Here's how we achieved two tone walls in our bedroom, and our expert trick for painting straight lines around the whole room.
Tools
Tape measure
9 inch paint roller
Paint tray
Instructions
Decide height of two tone walls
Paint ceiling and trim (optional)
Paint top color
Wait for paint to dry
Draw level line around room with pencil
Apply Frogtape along line
Activate the paint block technology by painting the first (top) color over the edge of the painter's tape
Paint bottom color
Remove tape right away