Confused with all the different types of wood for woodworking? In this article, we're breaking it all down! Learn about the most common types of wood used for woodworking projects so you know what type of wood to chose for your next project.
There are many different types of wood for woodworking. Each with a different set of rules for how it can be used, manipulated, and designed. Whether you are a beginner or an expert woodworker, understanding the different types of wood will help make sure your next project is a success.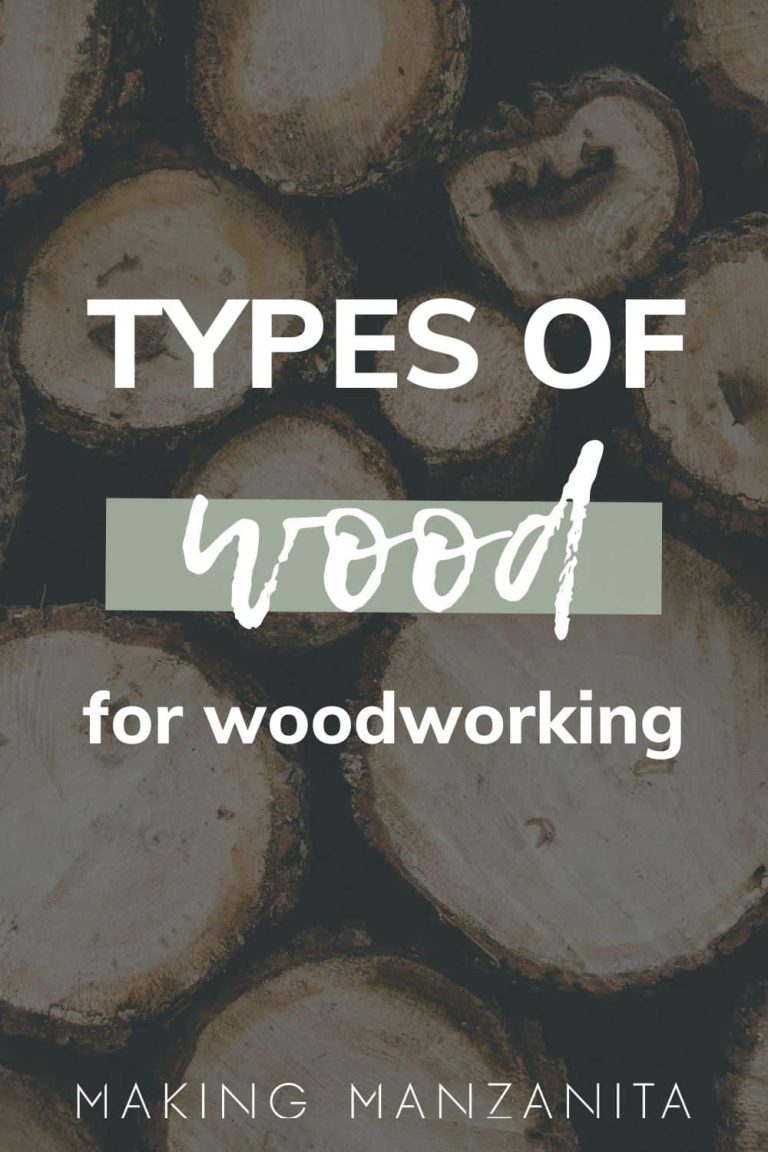 We've done our fair share of woodworking projects, and especially during the beginner stages, some went better than others. When a wood project doesn't go according to plan, a lot of times it is because of the material you are working with.
Related Reading – Check out these easy woodworking projects for beginners for some great ideas!
When you are selecting project plans and materials, there are a few very important things to consider: hardness, natural color of the wood, grain, and stability. Of course, make sure you have all the proper tools to get started.
Additionally, consider what the project will be used for and the environment you live in. Depending on your location and climate, different types of wood may be easier or more difficult to access. Plus, if the material isn't suited for its climate, the quality will be hard to maintain.
Different types of wood
Most pieces of lumber can be purchased from big box home improvement stores, but in some cases, lumber yards or special orders are necessary.
The following is a guide for the different types of softwood, hardwood, and plywood.
Types of Softwood
Cedar
On the scale of hardness, Cedar is relatively soft. With a straight grain and light scent, this softwood does well for outdoor projects like furniture and decks.
Cedar is a sturdy wood that can handle moist environments without rotting which makes it great for almost any climate. It's also easy to find at home improvement stores and is moderately priced.
Projects with Cedar Wood:
Fir
More than likely, you've heard Fir referred to as Douglas Fir. Fir is a strong piece of lumber with a straight pronounced grain pattern and a reddish-brown tint. It's one of the hardest softwoods.
Even though it's often used for building, Fir is also used for furniture making, too. When working with Fir, it's best to avoid staining and paint the final product for the most attractive result.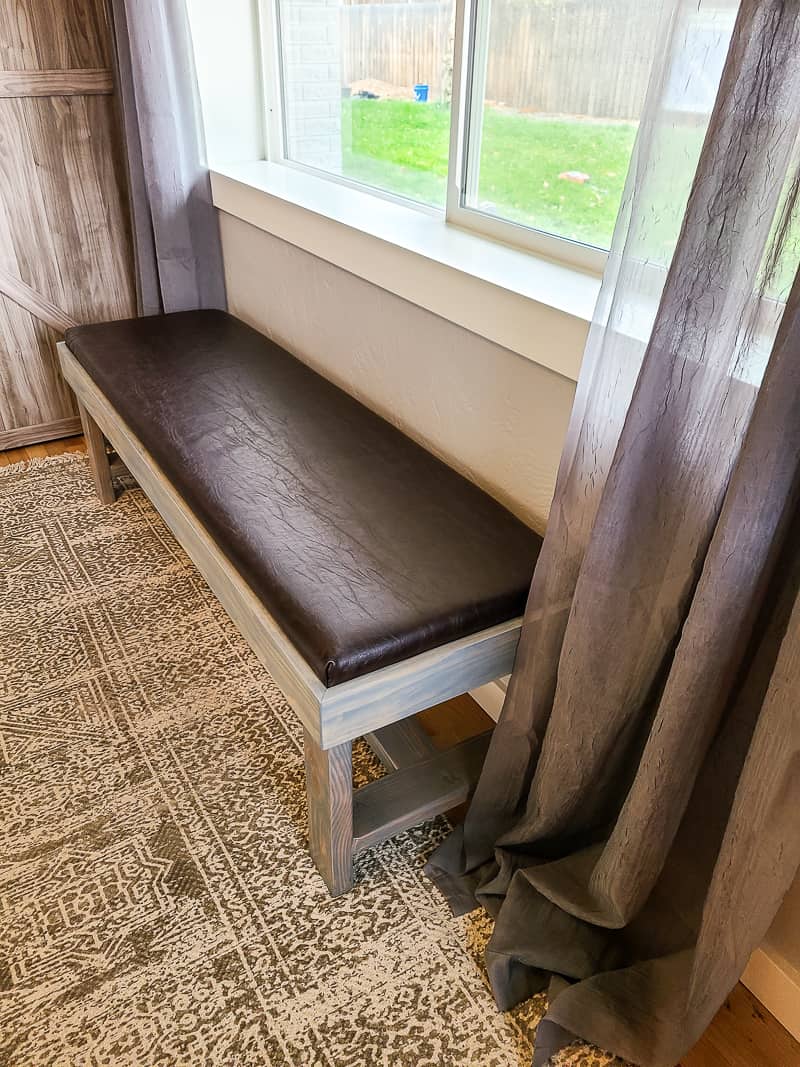 Projects with Fir:
Redwood
Just like Cedar, Redwood lumber is a great solution for outdoor woodworking projects. It's moisture-resistant, fairly soft, and easy to work with.
As you'd expect, Redwood has a reddish tint and a straight grain. You can easily find this at a home improvement store and is moderately priced.
Pine
Pine is a very common piece of wood. It comes in several varieties including Ponderosa, Sugar, White, and Yellow.
Primarily, pine is used for furniture making and carving as it is relatively soft and easy to work with.
Projects with Pine Wood:
Types of Hardwood
Oak
Oak is one of the most popular hardwoods for furniture, available in red oak and white oak. It's a strong piece of wood with a hardness of 4 out of 5 on the scale.
Typically, white oak is preferred for furniture-making over red oak because of its appearance and ease of work. White is also moisture-resistant and can be used on outdoor furniture. However, white oak is more difficult to find than red oak.
Projects with Oak Wood:
Poplar
As one of the softest of the hardwoods, poplar is also one of the most inexpensive woods. It is not the most beautiful piece of lumber, but it is often used in drawer making because it is stable and durable.
Poplar can be found at larger home improvement stores, but a better selection may be at a lumberyard.
Projects with Poplar Wood:
Maple
Maple is commonly used in high-end furniture, flooring, cabinets, and kitchen accessories. Maple is a popular choice among woodworkers as it is known for its durability and strength. It is also more stable and less expensive than other hardwoods.
Ash
Ash is a white to pale brown wood with a straight grain. Woodworkers say it's easy to work with and stains well; however, ash is more difficult to find than the more common woods.
Ash is a suitable substitute for white oak and is used for furniture, flooring, doors, cabinetry, tool handles, baseball bats, hockey sticks, and oars. Ash is also sliced for veneer on composite wood.
Teak
Teak is a staple for fine outdoor furniture as it's highly weather-resistant. Additionally, teak has a high oil content which increases its decay resistance.
You can find teak wood in applications such as boat building, yachts, exterior construction, veneer, cravings, frames, and more. Because of its natural resistance and rarity, it's also one of the pricier pieces of lumber. Typically, teak is only available at lumberyards and specialty suppliers.
Birch
Birch is one of the most popular hardwoods for plywood, boxes, crates, and veneer. The lumber comes in two varieties: yellow and white.
Like the name, white is whiter than yellow and more closely resembles maple. Both are easy to work with, affordable, and readily available at most home improvement stores.
Easy to work with, birchwood is a favorite among woodworkers because it plans and sands to a smooth finish. When stained or finished, birch produces a beautiful end product with much less trouble than Maple. It also cuts, glues, and drills nicely.
Projects with Birch:
Cherry
Cherry wood is very popular among woodworkers because of its rich color and flexibility. It's very easy to work with and stains and finishes well with just a coat of oil. Cherry wood is commonly used in toys, caskets, paneling, furniture, and flooring.
Cherry is harder to find and more expensive than other hardwoods like oak and maple. More than likely, you will not find this lumber in any big box home improvement store but from a lumberyard instead.
Mahogany
An excellent choice for furniture making! Mahogany wood comes in a variety of shades from reddish-brown to deep-red tint with a straight-grain medium texture. There's no need to purchase extra stain or paint, as it leaves behind a beautiful color with just a coat of oil.
When purchasing Mahogany, be prepared to spend a little more on special orders. This lumber is not found in big box home improvement stores.
Walnut
Walnut, like the seed, is a beautiful, rich brown cut of lumber. Woodworkers say this is easy to work with, but it's also somewhat expensive.
Even though it's a great cut to work with, finding larger boards for big projects may be challenging.
Walnut is commonly used for flooring, solid wood or veneer for musical instruments and furniture, and home accents like furniture and paneling.
Engineered Wood
Engineered wood is also called plywood or composite wood. Essentially, it's a man-made, manufactured derivative of wood products.
For example, laminate wood flooring is a composite material manufactured to appear like real wood. The process binds particles, strands, and fibers of multiple wood products with an adhesive to form the composite board.
Then, a slice of veneer in a particular grain and color is bonded to the composite under heat and pressure with moisture-resistant adhesives. This process is popular for click flooring and wood laminate that has been treated as waterproof or "life-proof".
Engineered wood comes in a variety of grades, thicknesses, and sizes, and is used in applications for home construction, flooring, commercial buildings, and more.
Plywood
Plywood is one of the most common and durable of all engineered woods. There are several different types of plywood, all of which include parts of the softwoods and hardwoods mentioned above.
Most plywoods are composed of layers of thin plies, making them flexible and able to bend into curved shapes easily. You also get the added bonus of having large sheets of wood available, which is necessary for many furniture building projects.
One thing to keep in mind when you are working with plywood is that from the side edge of the plywood sheet, you'll be able to see the layers of veneers. You can leave these exposed or cover them with edge banding. Learn how to finish plywood edges in this tutorial.
Standard sheets of plywood are 4′ x 8′. Available in multiple thicknesses, plywood is used for everything from furniture to manufacturing, boats, tables, cabinetry, and more.
Common Types of Plywood
Softwood: Softwood composite consists of a core made from a softwood, then faced with a veneer on the front and back of the composite.
Hardwood: Hardwood plywood is made from hardwood, softwood, or a combination of both. Like softwood, it is also faced with a veneer to reflect the traditional wood. Hardwood plywood panels are usually heavier than softwood panels.
Tropical: Tropical plywood is a mixed species of tropical lumber. It's superior to softwood due to its density, strength, consistent layers, and high quality. It is most commonly used for construction purposes.
Aircraft: Used in World War II fighter planes, aircraft plywood is made from mahogany, spruce, and/or birch using adhesives with increased resistance to heat and humidity.
Decorative Plywood: Also known as a veneer, this is simply the decorative coating (usually expensive grained wood) that is adhered to less expensive plywood to provide an aesthetically pleasing finish.
Marine: This douglas-fir and pine combination uses exterior adhesive which isn't affected by long-term exposure to moisture; however, marine plywood is only decay-resistant if it is pressure treated.
Projects with Plywood:
MDF
Medium-Density Fiberboard (MDF): MDF is made up of compressed wood fiber and resin. MDF is used for building materials, drawer sets, and storage units.
A benefit of MDF is that it's really cheap and strong, but it makes a lot of sawdust when it's cut down and it is very heavy.
Learn more about MDF wood in this detailed guide.
Projects with MDF:
OSB
Oriented Strand Board (OSB) is manufactured from rectangular-shaped strands of wood bonded together with moisture-resistant adhesives. It's not "pretty", but it's very cheap and can be great for projects that you want to build on a budget.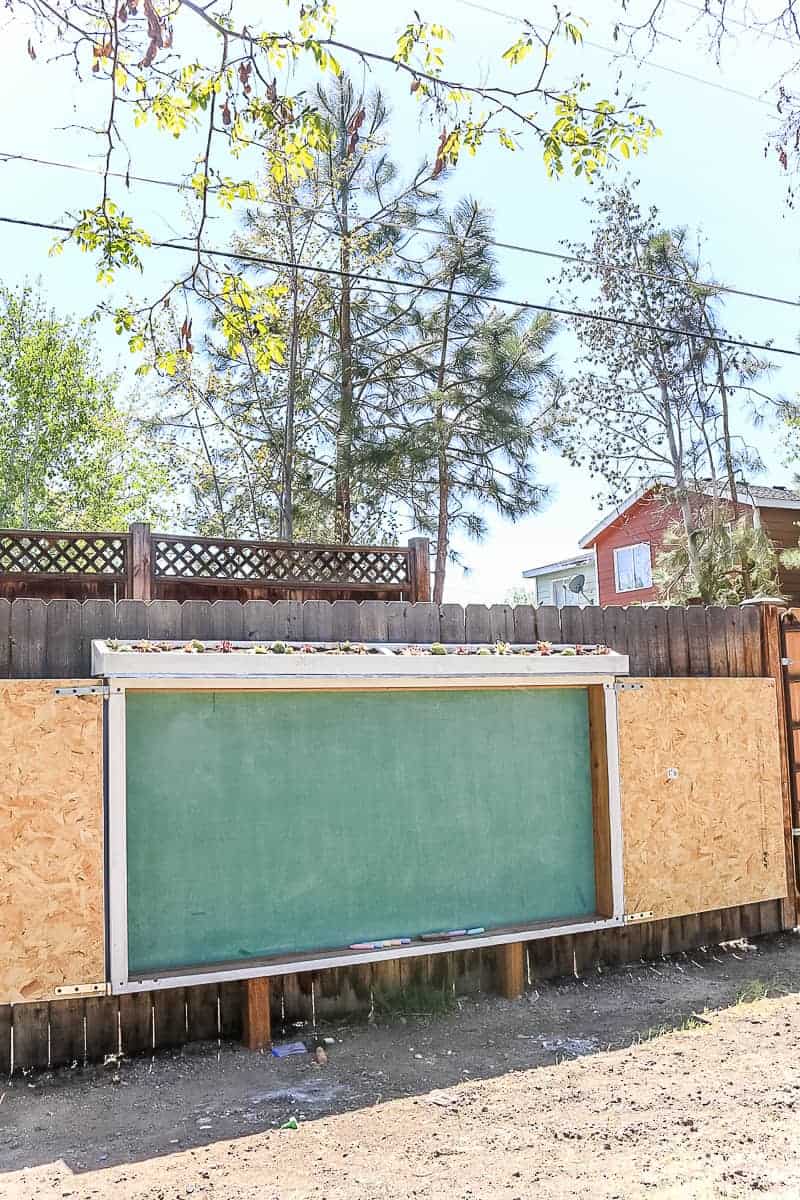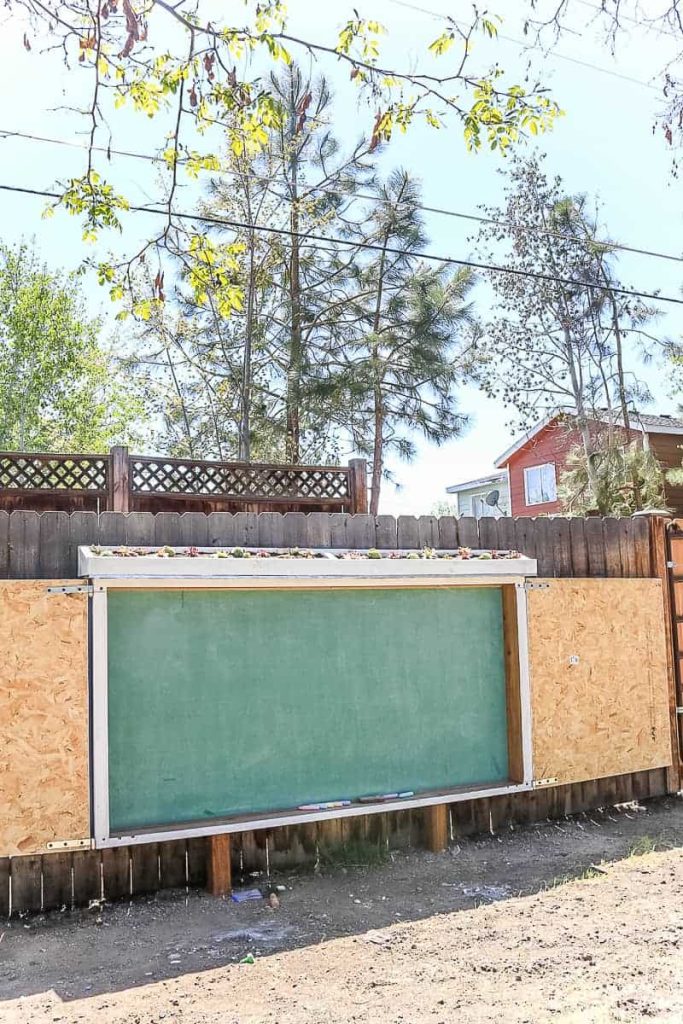 Projects with OSB:
Types of Wood FAQ
What is SPF Lumber?
SPF Lumber is an acronym for Spruce Pine Fir. It's the most common wood in the building industry as it is lower in price. This type of lumber paints easily, holds nails well, and meets building code requirements for safety and strength.

When you're buying wood at big box home improvement stores, you'll usually find that the framing lumber (2x4s, 2x3s) are all SPF lumber.
What are the three types of wood?
Softwood, hardwood, engineered wood are the three most common types of wood for woodworking.
Which wood is best for building furniture?
Maple, oak, cherry, pine, cedar are all excellent wood choices for furniture making.
Which wood is best to use outdoors?
Teak, African mahogany, fir, and red cedar are great for outdoor projects.
What type of wood is the cheapest?
Pine is the usually cheapest wood for woodworking.
What is the best wood for beginner woodworking?
Beginner woodworkers should stick with pine, cedar, or redwood as they are easy to work with and less expensive.
What's the difference between hardwood and softwood?
Hardwood comes from flowering plants that lose leaves annually. Typically, these are slow-growing trees with longer drying times that produce dense wood and are very versatile. Common applications include furniture, musical instruments, flooring, construction, boatbuilding, and more.

Softwood comes from trees that produce needles and cones. Primarily these are considered evergreen trees. Softwoods are known for their versatility and strength. Applications include a broad range of indoor and outdoor projects, including furniture, flooring, decking, landscaping.

Softwoods grow faster and are less expensive than hardwoods. Additionally, they are more flexible, lighter in weight, and less dense.
What is a hardwood scale?
The hardness of wood is rated on an industry scale known as the Janka test. It measures the force required to embed a .444 inch steel ball into the wood by half its diameter. This test measures the ability of wood to withstand wear and tear.
Hopefully, this article about types of wood for woodworking cleared up some of the confusion for you as you select the wood for your next project. For your next woodworking project, refer to this guide for the best wood for your plans!
What of these types of wood for woodworking is your favorite?
Let us know in the comments below!