If you want to create a wicker basket wall in your home, you've got to read this. We teach you how to hang wicker baskets on your walls and chat about the best places to buy flat wicker baskets and give you tips for shopping!
Wicker basket walls have been around a while. Let's not act like this is a new thing.
And I, for one, have always loved them! I love the boho look of the wicker, the unique and unexpected decor and – of course – the texture it adds!
Because baskets are so easy to find and cheap to buy, hanging wicker baskets on the wall is the perfect way to spice up your walls on a budget!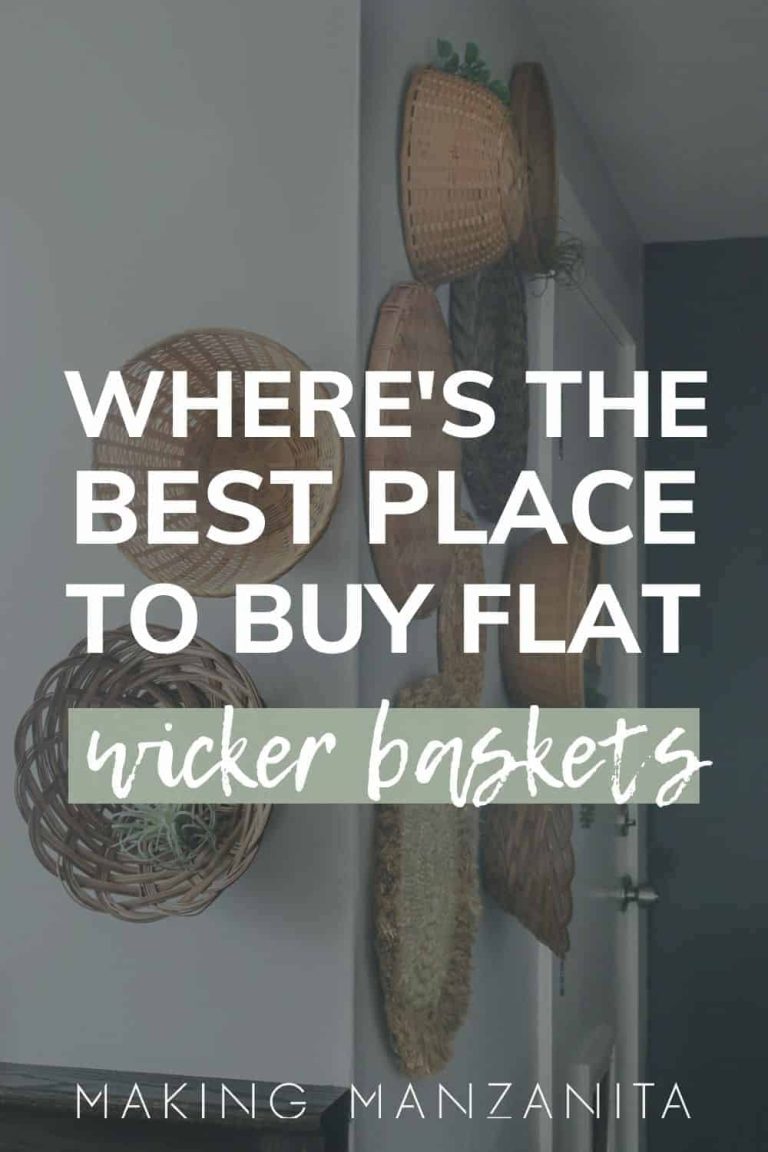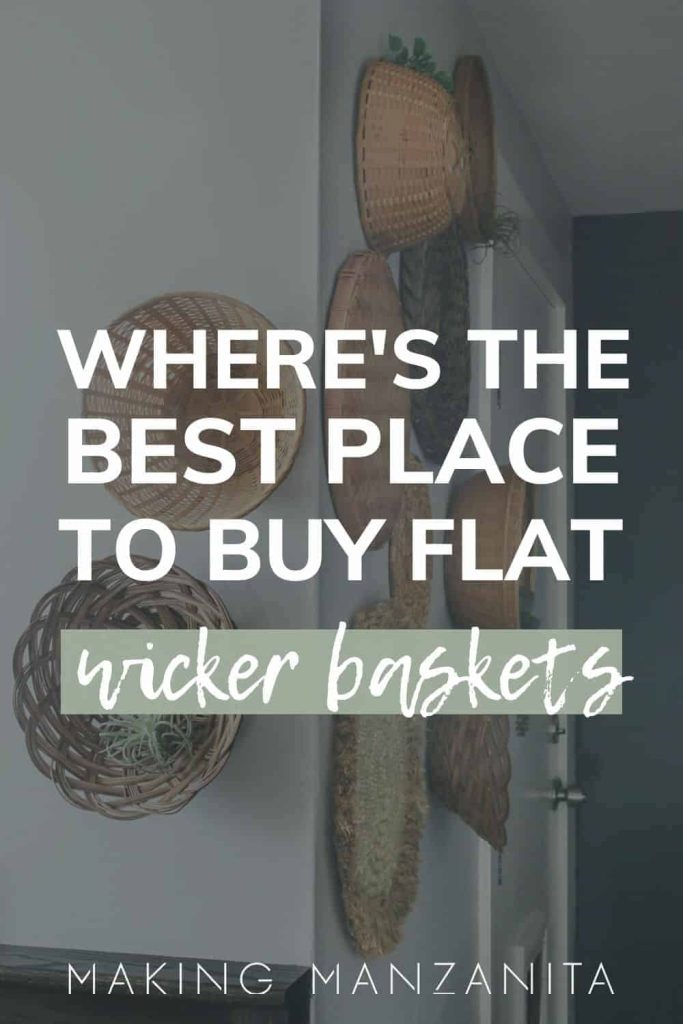 This article contains affiliate links, but nothing that I wouldn't wholeheartedly recommend anyway! Read my full disclosure here.
Where's the best place to buy flat wicker baskets to hang on the wall?
Thrift stores – duh! That's where I got most of my mine and they were all less than $3. Woohoo!
Flea markets
Yard sales
Hobby Lobby – the two larger baskets on my wall (the darker one and the one with fridge on the edge, which doesn't look like it is sold online) came from Hobby Lobby in their spring section by the Kitchen/Picnic stuff. They are actually placemats! Note to self: wicker placemats and paper plate holders work GREAT for wicker baskets on wall!
World Market – the price point of these baskets will definitely be higher than thrifting or Hobby Lobby, but man alive….they are PRETTY! I love this set of 3 with the contrast of the black mixed in. World Market also has some wicker placemats that are a much better deal and pretty affordable – love these ones with the fringe on the edge.
Etsy – If you've been around for a while, you know that I'm almost always pointing you in the direction of Etsy! I love supporting makers and their small businesses because I, myself, have an Etsy shop so I know what it means for our family. Below I've gathered up some of my favorite wicker baskets on Etsy.
While I was looking online after I got all of my mine, I found some great ones for buying online, so I've rounded up some great wicker wall baskets below in case you want to shop online instead of hitting the thrift stores: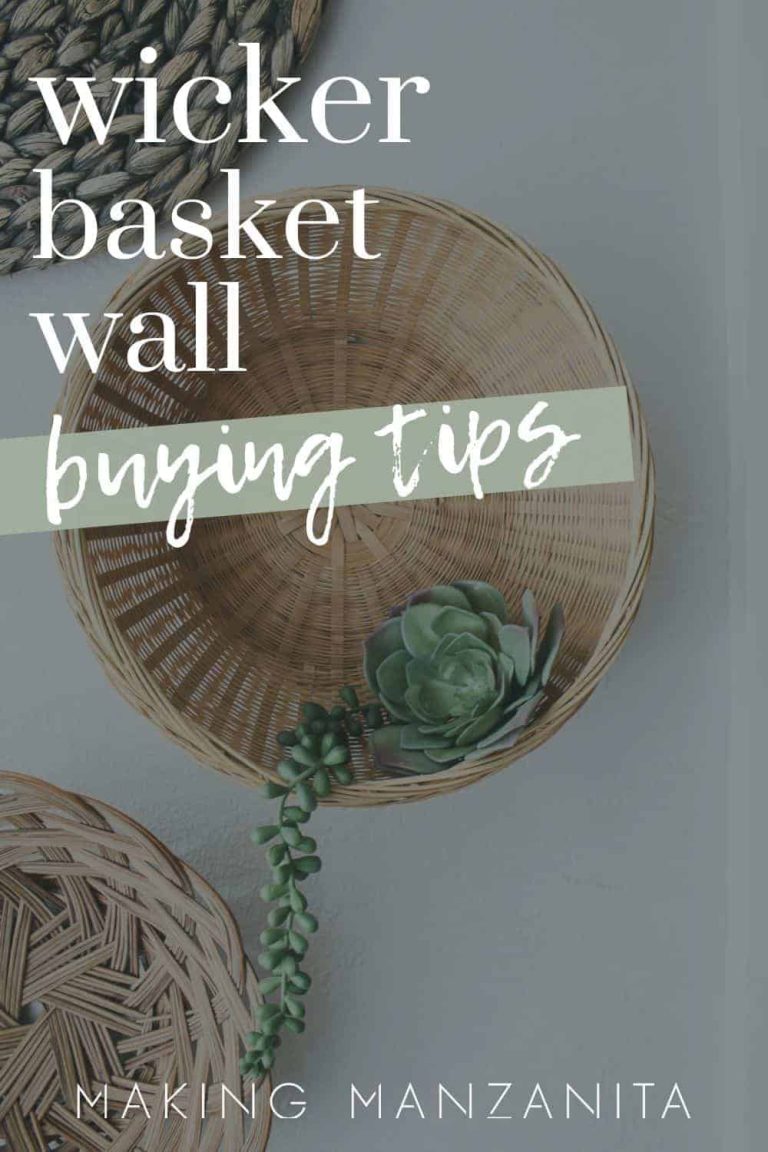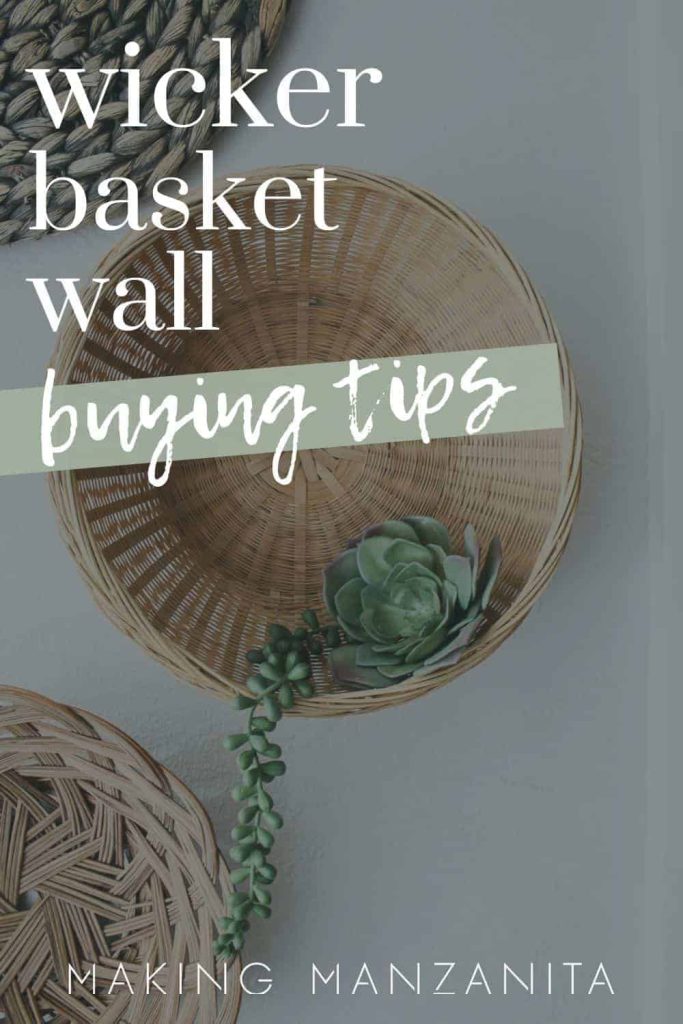 Tips for buying wicker baskets for your wall decor:
Variation – Creating the perfect wicker basket wall arrangement is all about variation. When you're shopping, look for baskets with different textures, sizes and shades.
Look around – If you're shopping thrift stores, the baskets are usually all in the same spot, but don't forget to take a quick wall around the whole store because there may be a basket or two hiding our somewhere else.
Overbuy instead of under-buy – Ok, maybe don't go CRAZY buying baskets at the thrift store, but I think I'd rather overbuy too many baskets than under-buy and have to keep running back and forth to the thrift store searching for more! Like I said, I wasn't ever paying more than a couple buckets for the baskets at thrift stores so it wasn't a huge loss if I didn't end up using it. And at stores like Hobby Lobby, just keep your receipt and return if you don't use.
Look for both baskets and placemats – Usually placemats are cheaper when buying new, like in the case of World Market mentioned above.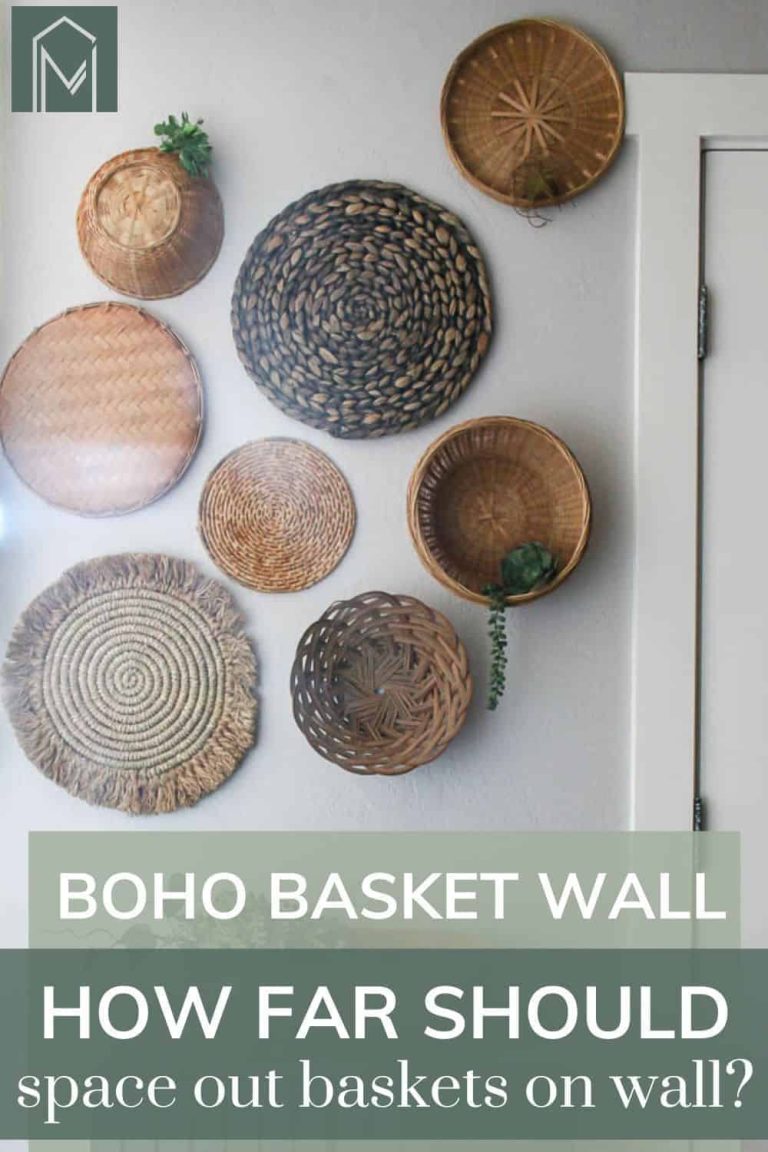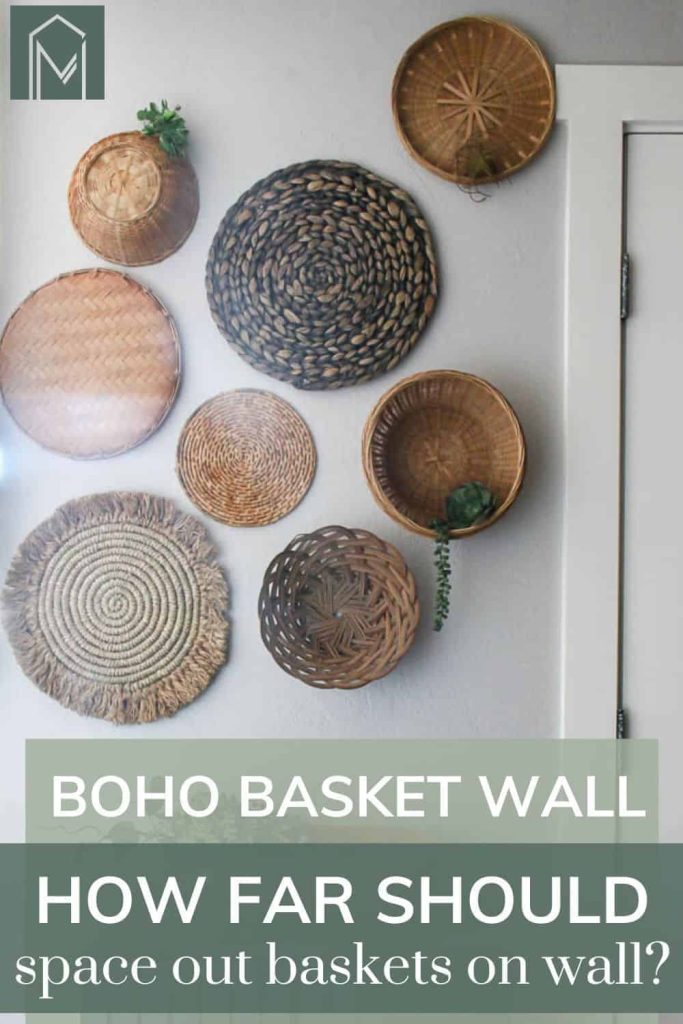 How far should you space out the baskets on your wicker basket wall?
There is NO real right answer here because there are so many ways to design your basket wall.
I kept the spacing between my baskets pretty consistent, but you could also choose to have them:
They all look so good, don't you think? The spacing between the wickers baskets on wall is totally up to you!
How To Hang Wicker Baskets On the Wall (step by step tutorial)
Supplies:
Various round wicker baskets of different shades, size and textures
Finish nails
Hammer
Lay out the wicker baskets & plan:
You could totally willy nilly just start hammering nails into the wall if you really want to wing it, but that's totally not my personality (and….there's a pretty good chance you'll end up with holes all over your wall!)!
I laid the wicker basket arrangement out on the floor in front of the wall I wanted to hang them on and played around with them for a while.
Actually, truth be told, after the first time I laid all of the wicker baskets out, I decided that the colors were all too similar except for one so it stuck out like a sore thumb! So I went back to the thrift stores the next day to find some different shades.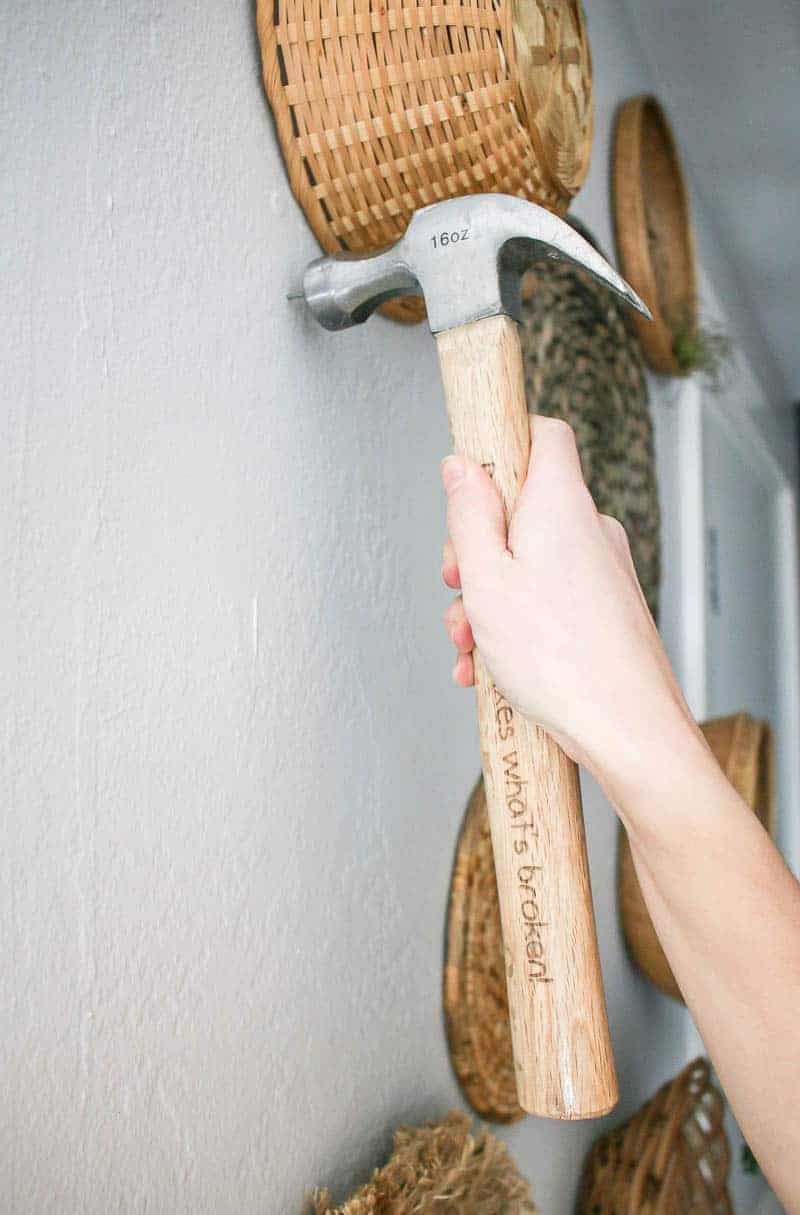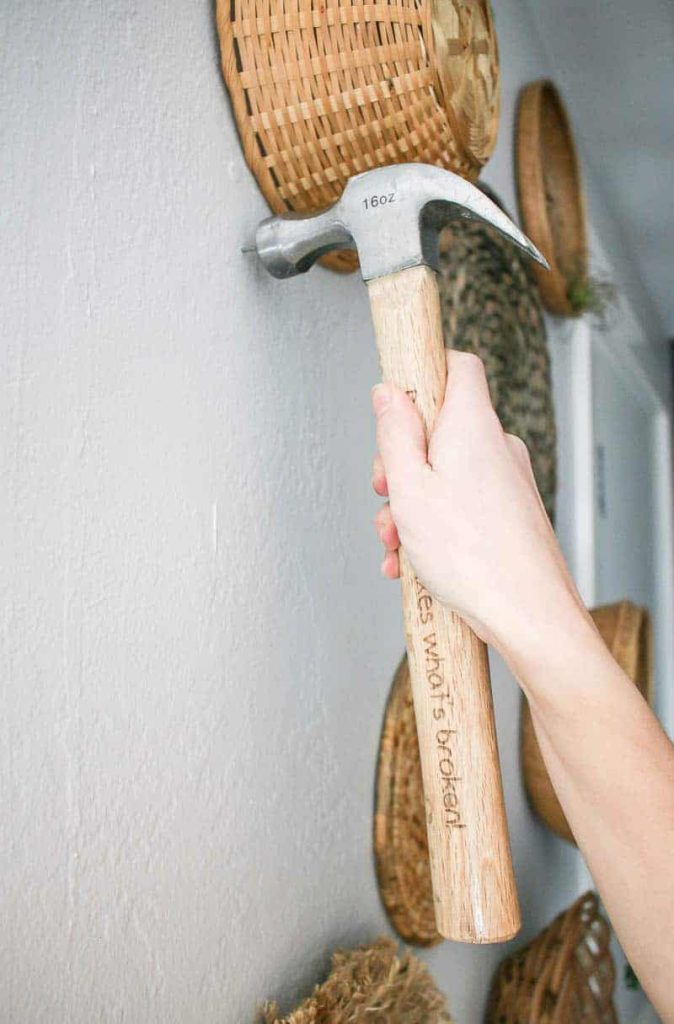 Hang wicker baskets on the wall.
It's really THAT simple, friends! I used a hammer and very small finish nails. Most baskets just required one small nail through the top of the basket.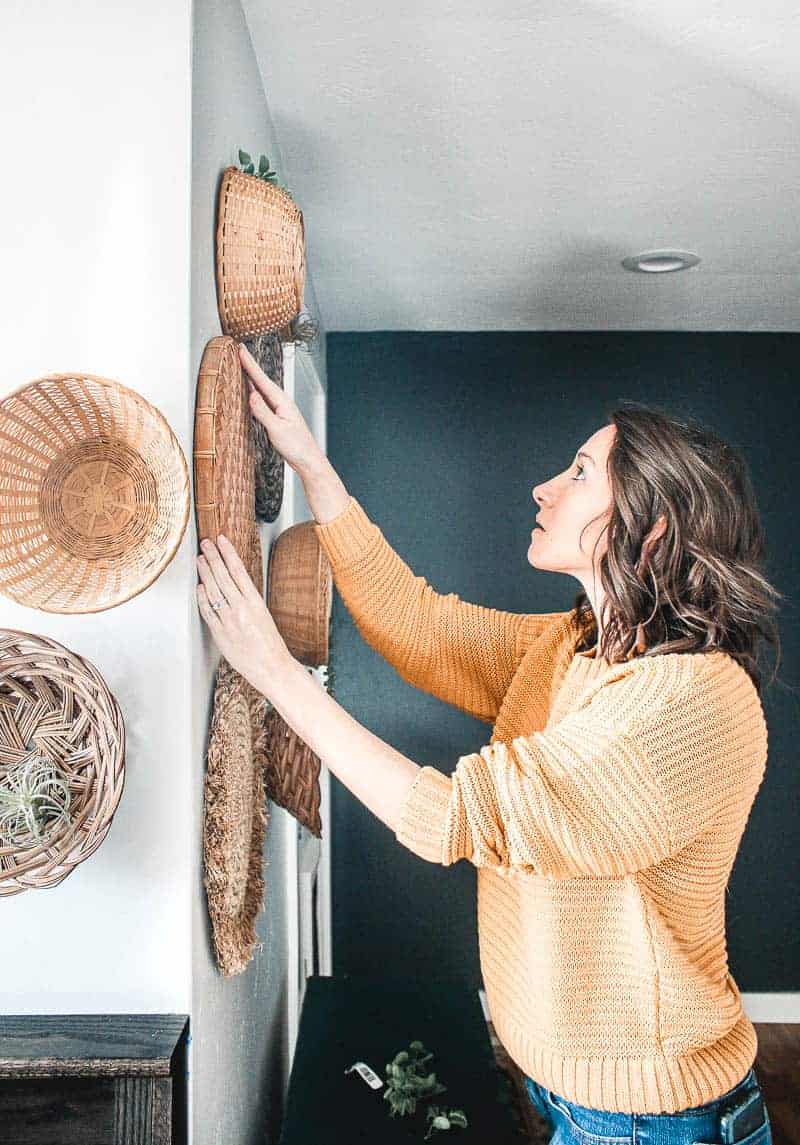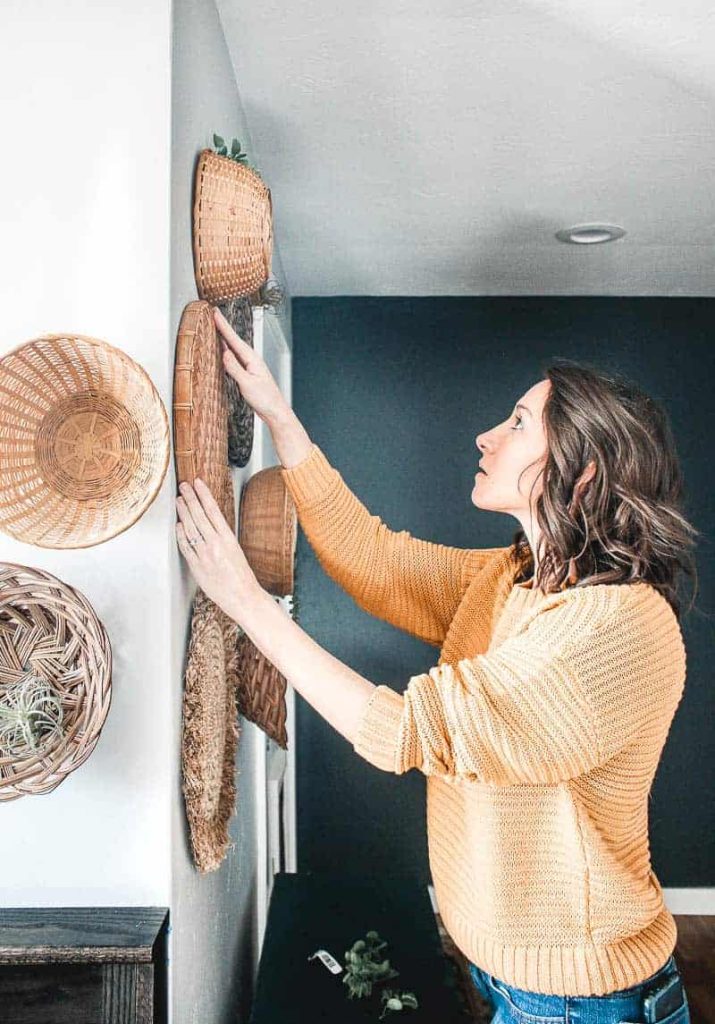 Ta DA! It's so cute, don't you think?
Here's a look at the finished boho-inspired wicker basket wall!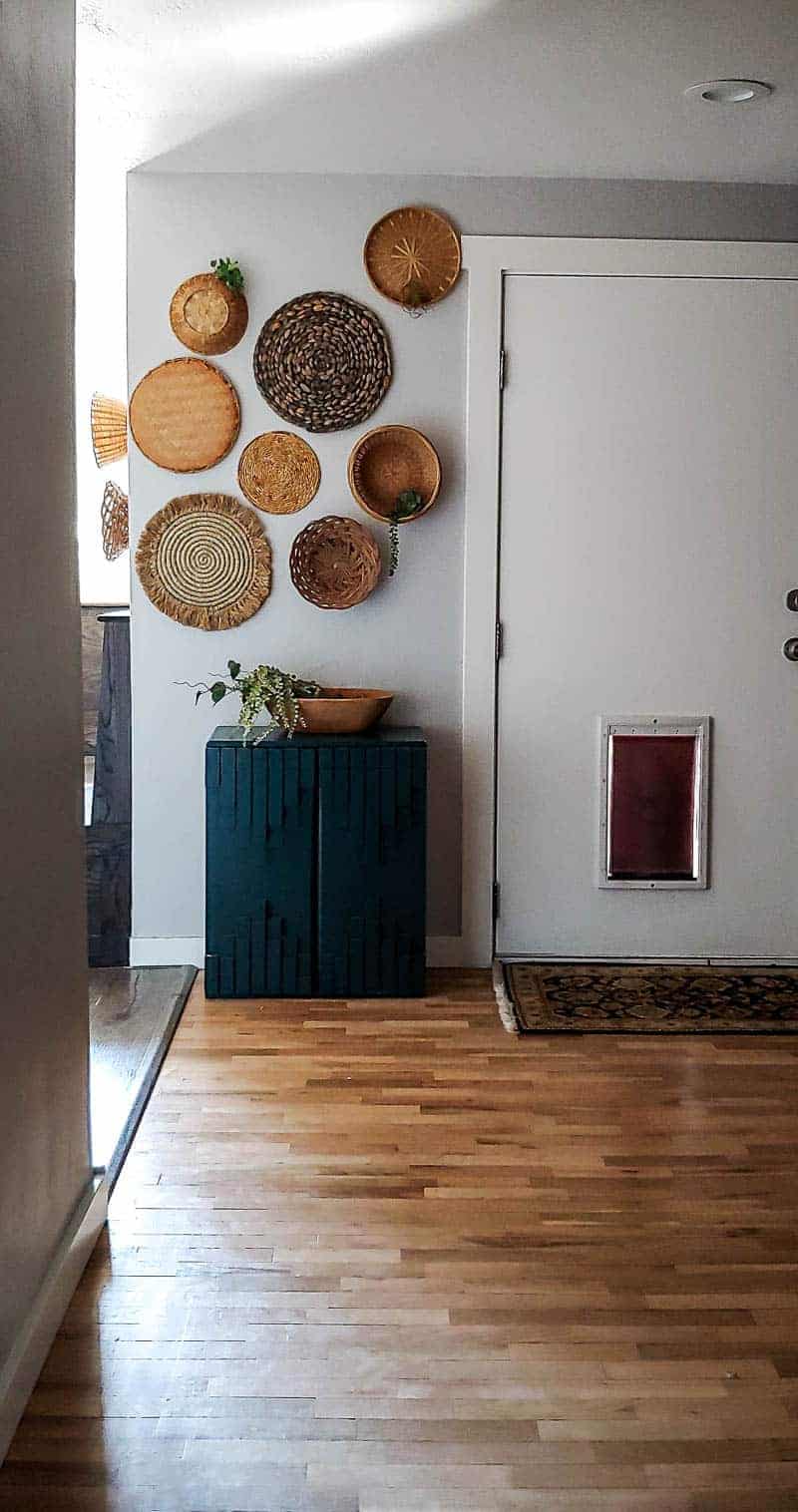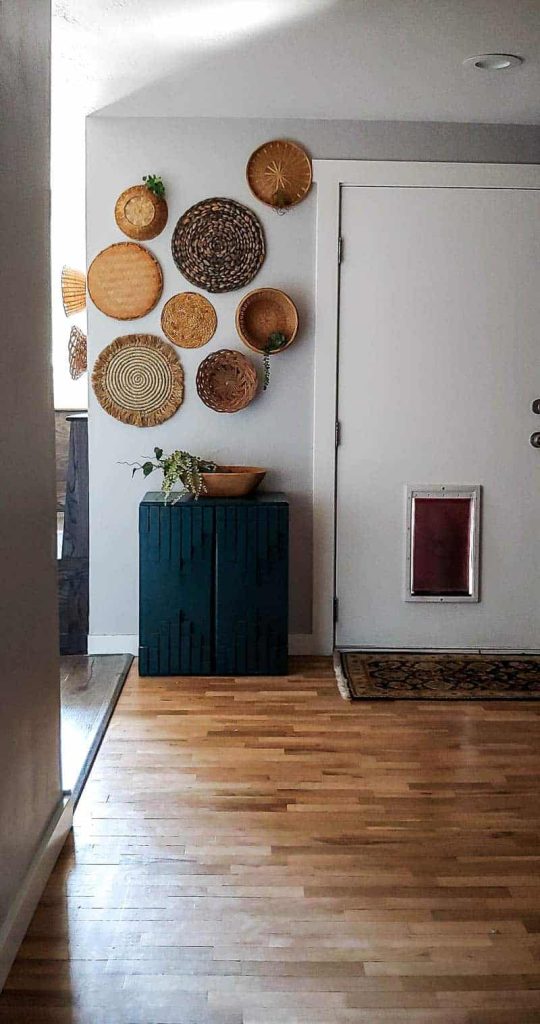 I love that I decided to wrap the basket wall design around the corner of the wall, which is unique and unexpected.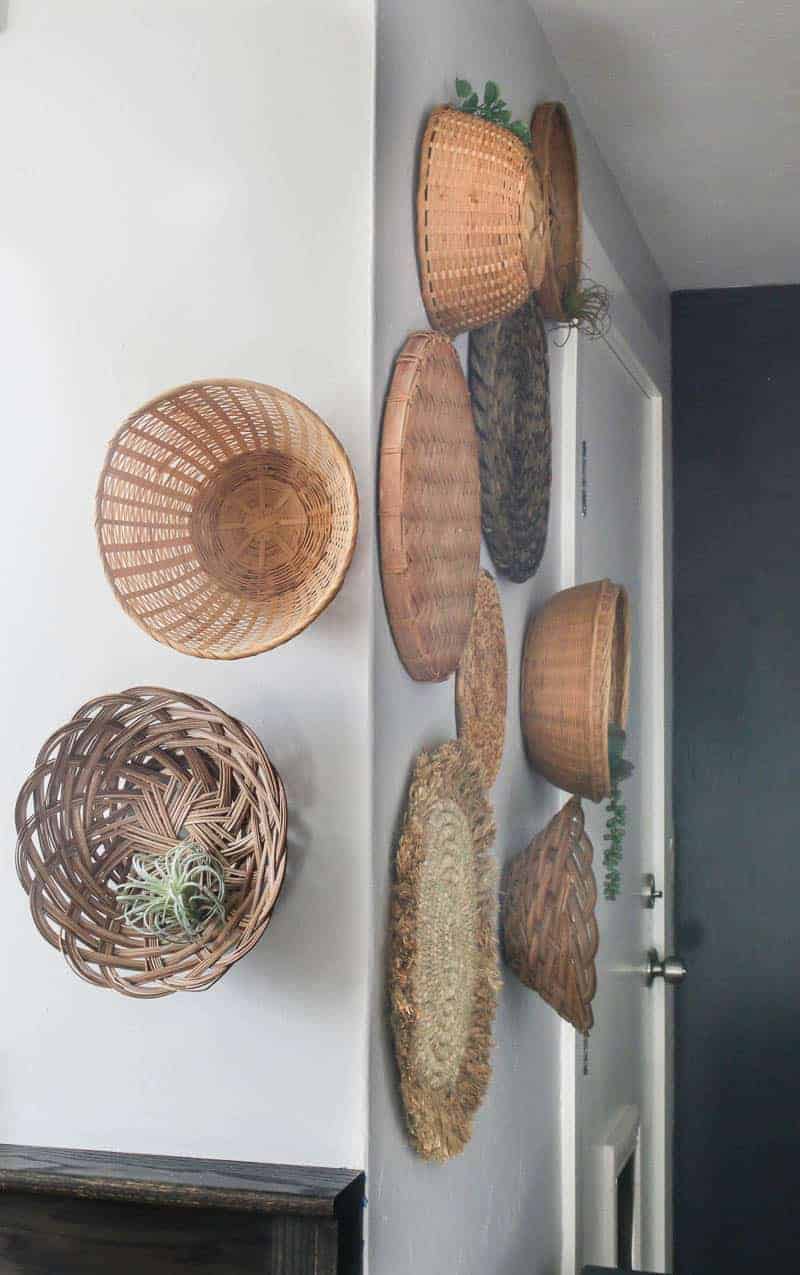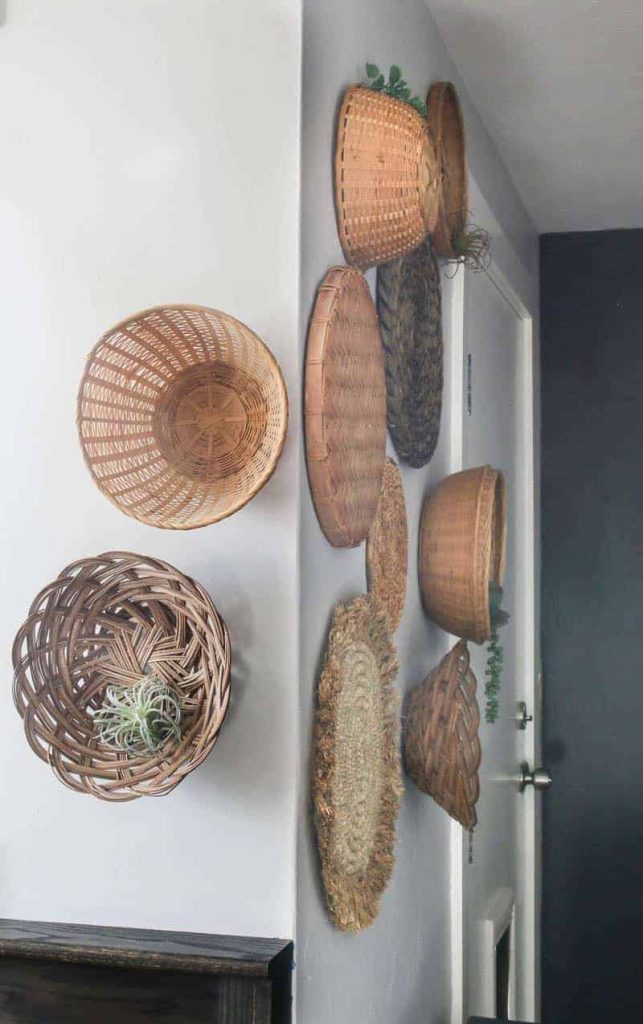 Besides the two baskets/placemats that I purchased new from Hobby Lobby – all of the baskets were collected from various thrift stores for less than $3 each – some were only 50 cents!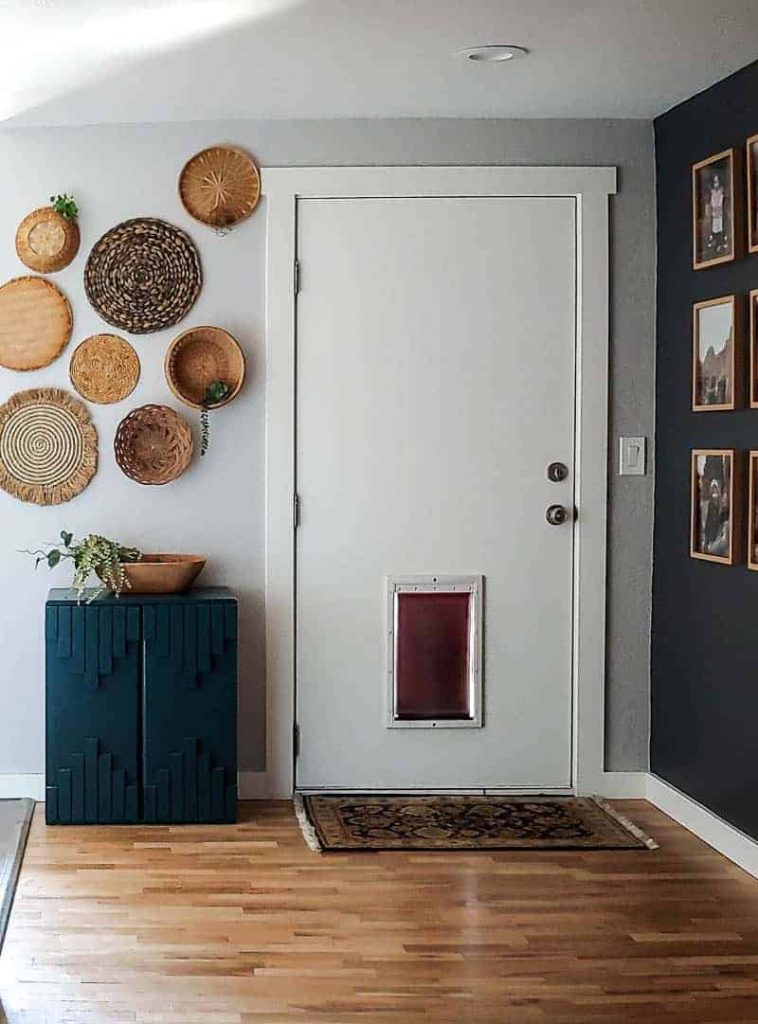 All together I think I spent about about $20 on these wicker baskets on wall! Pretty good, right?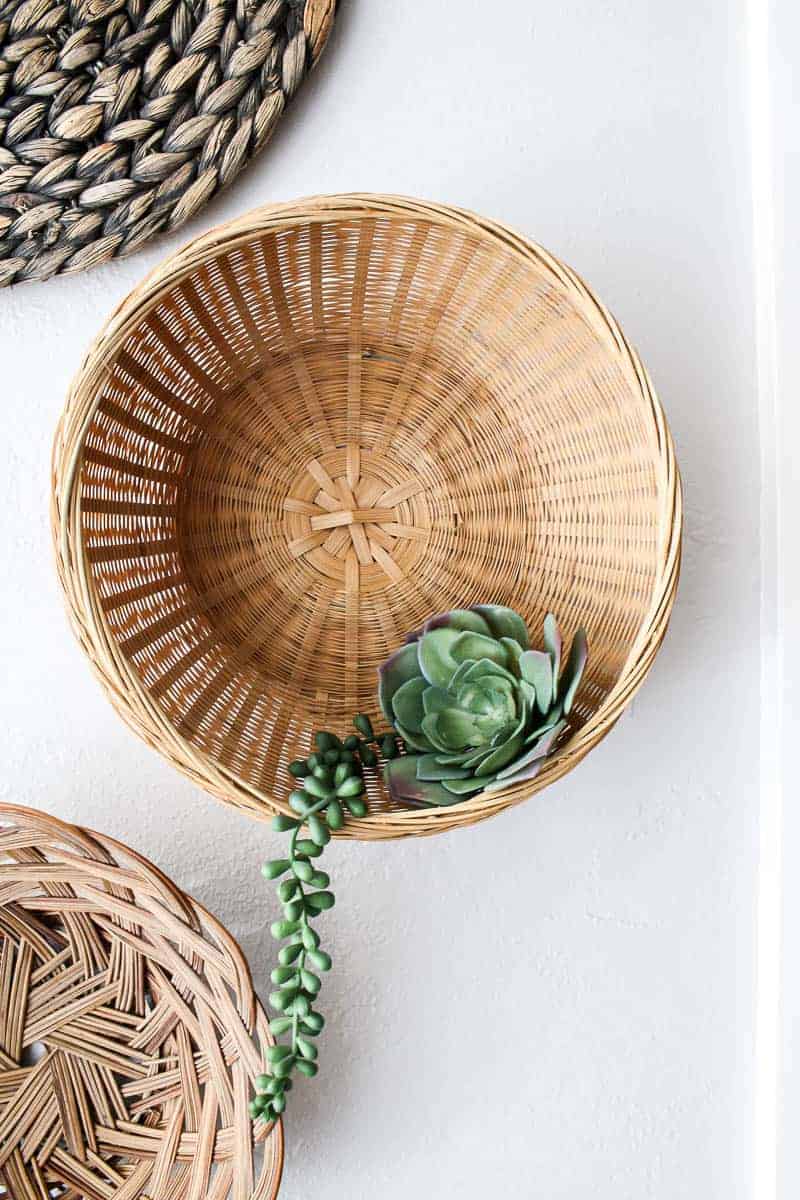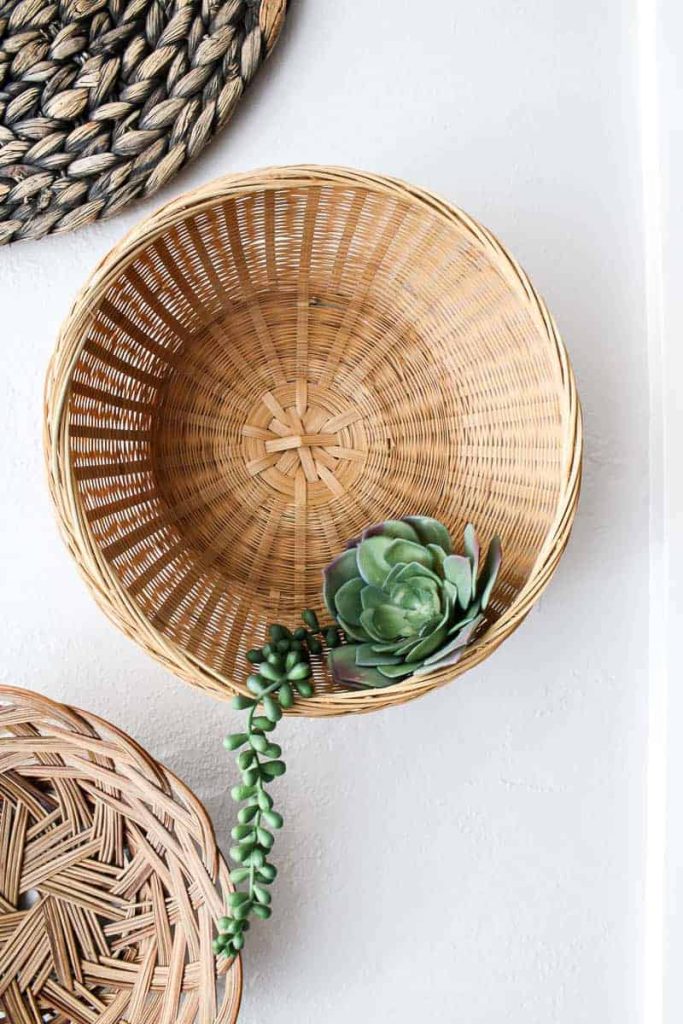 I think it goes so well with my little boho green cabinet that FINALLY has a home now. It has floated around our house since I made it last year searching for perfect place. Learn how I took a $3 cabinet and gave a makeover with the boho front here.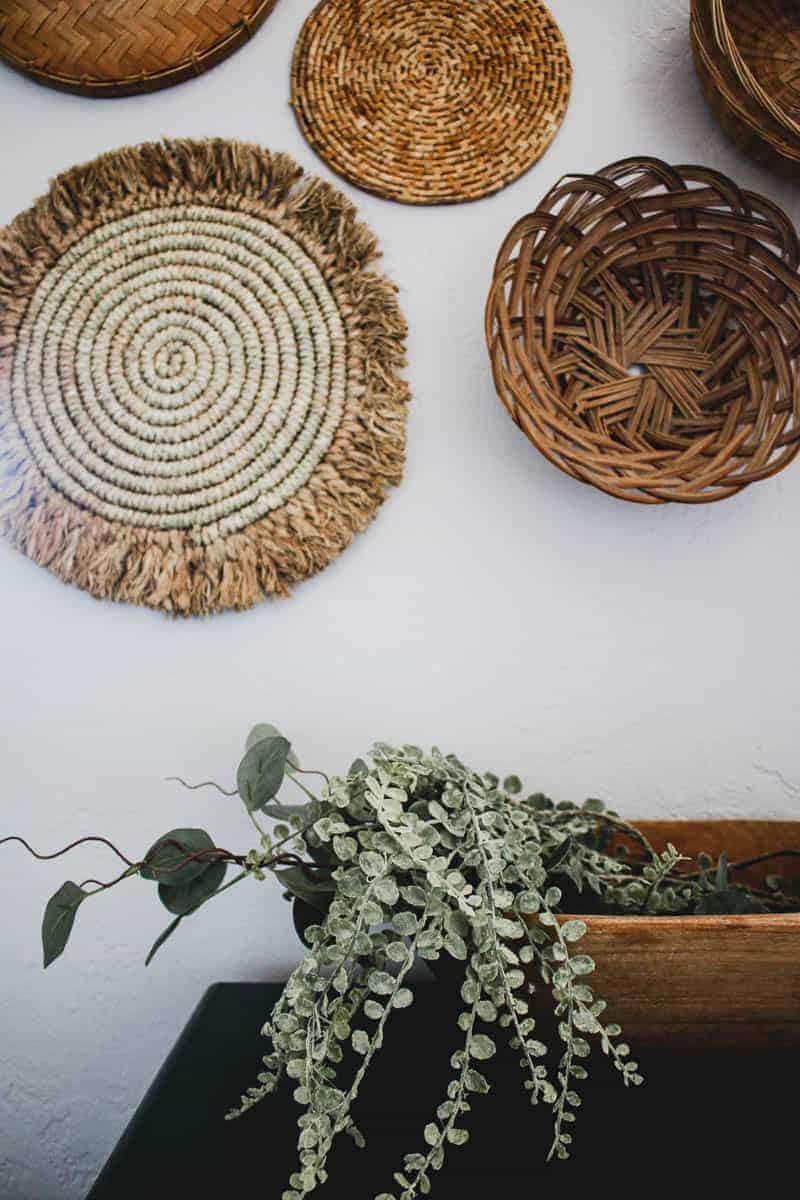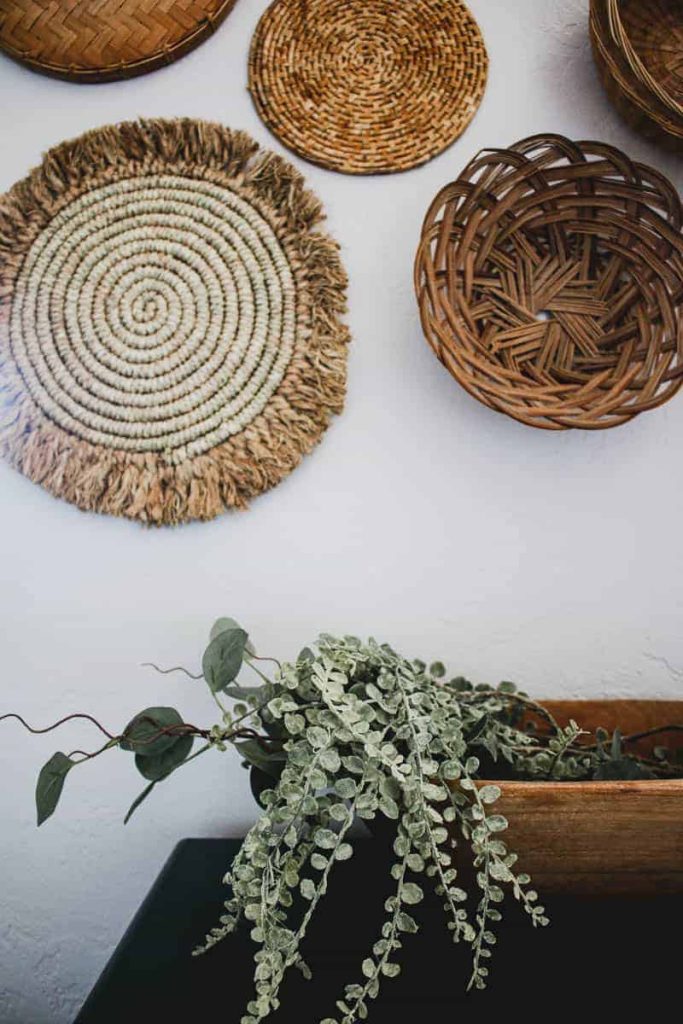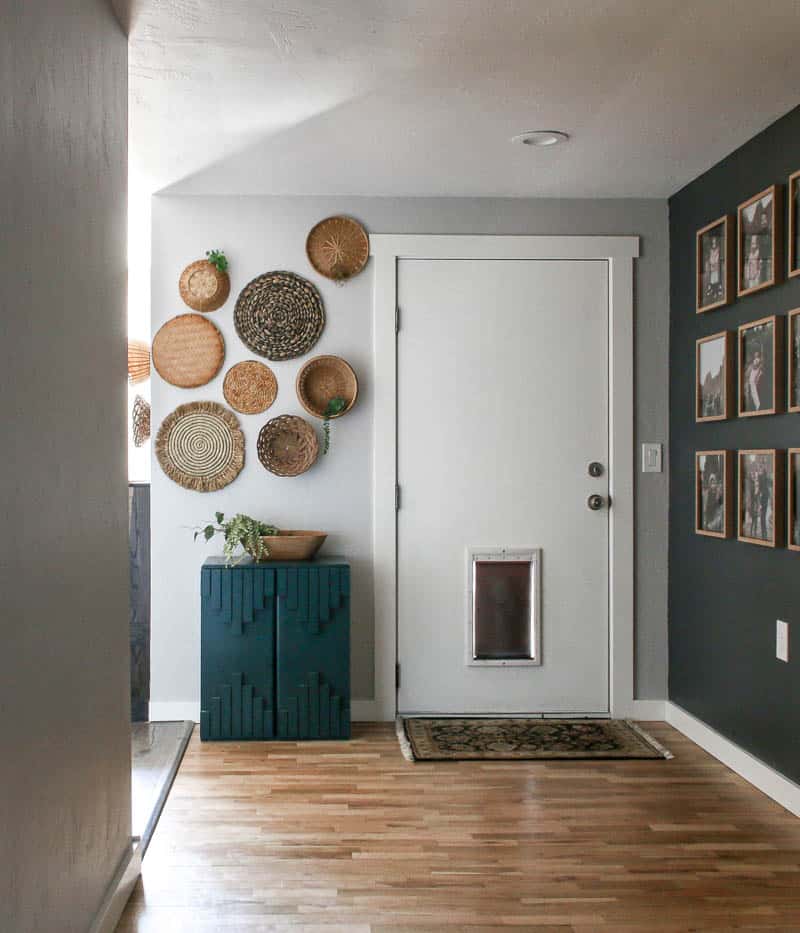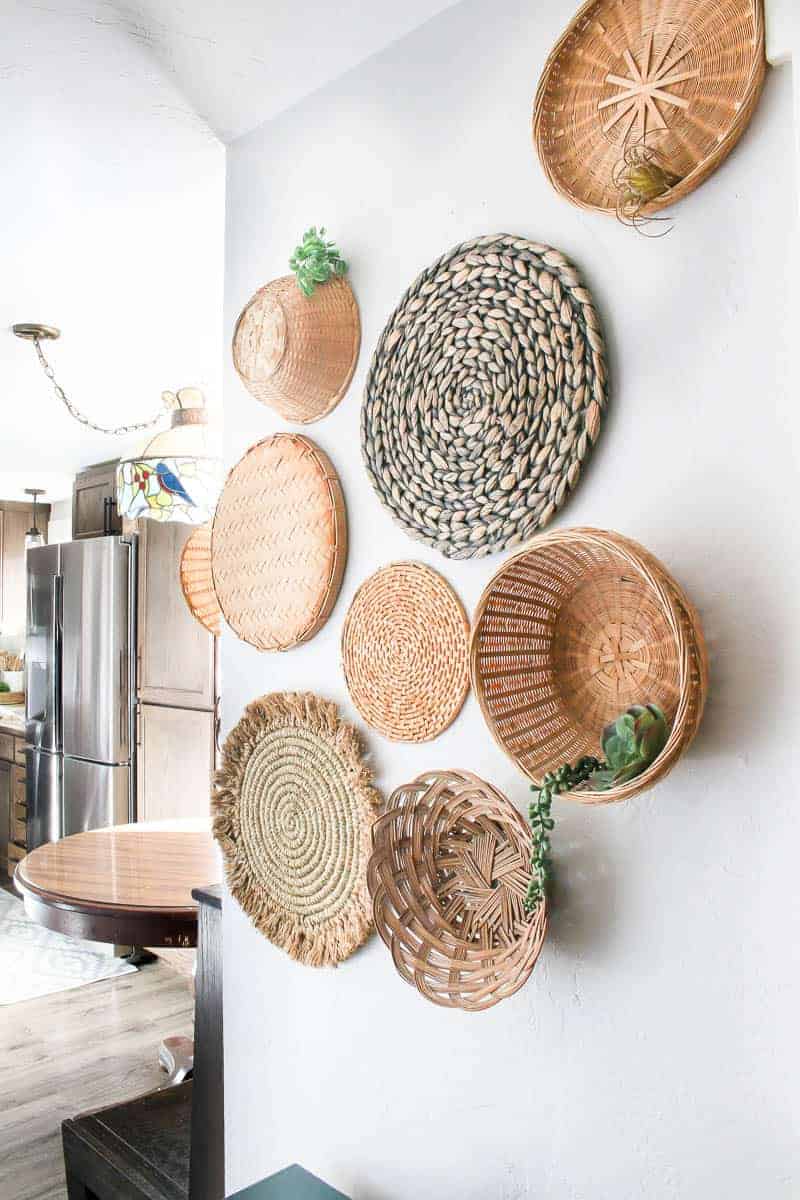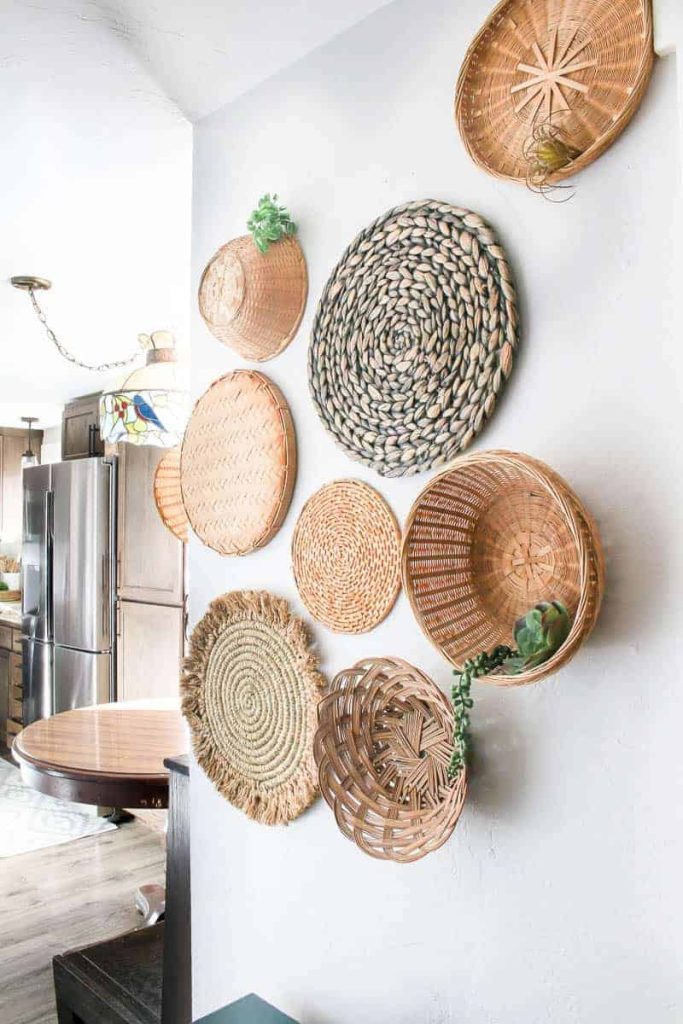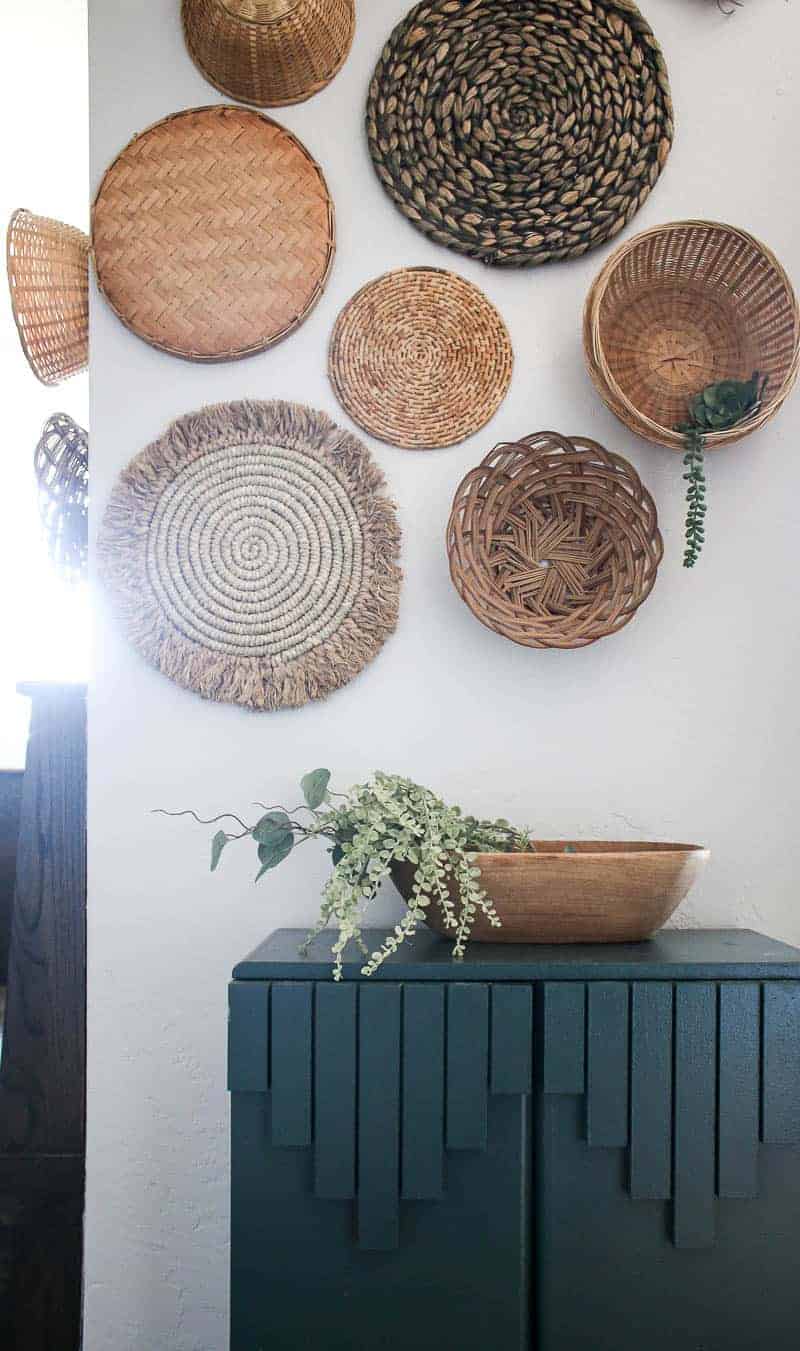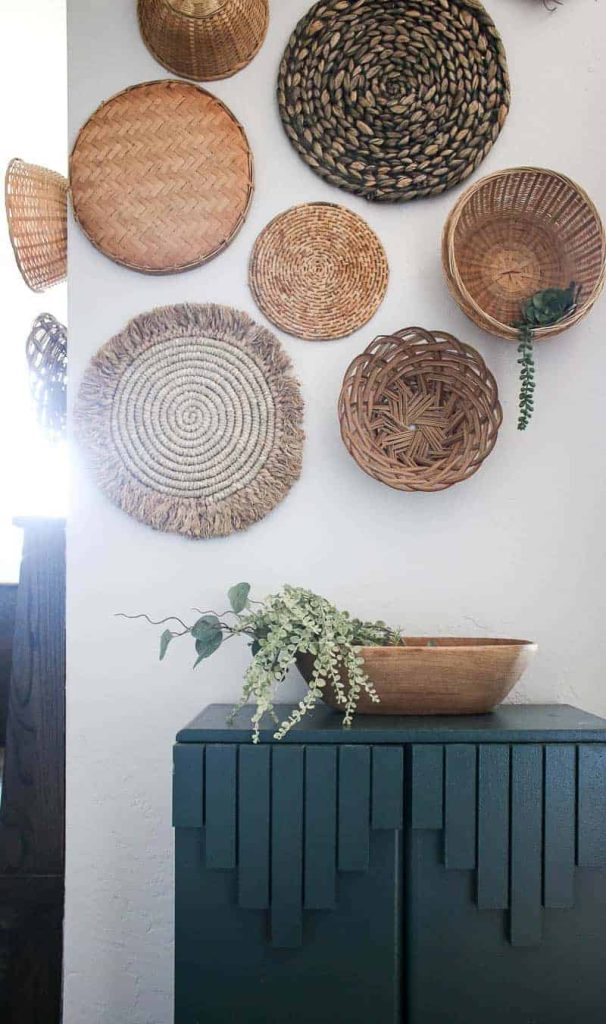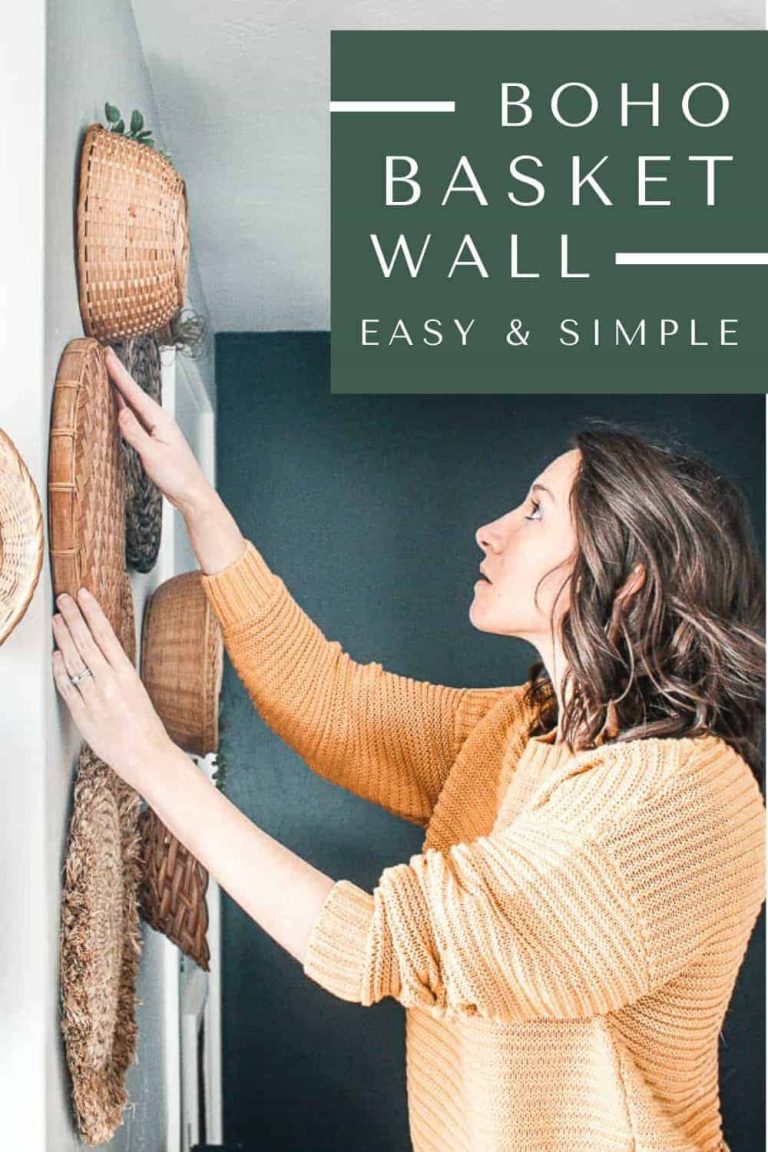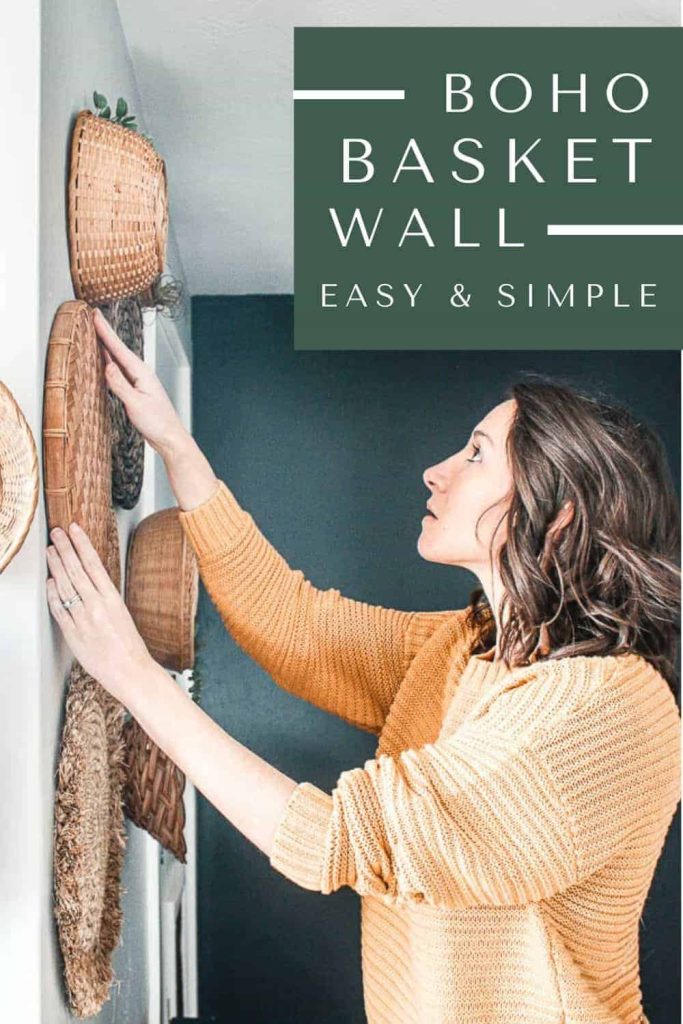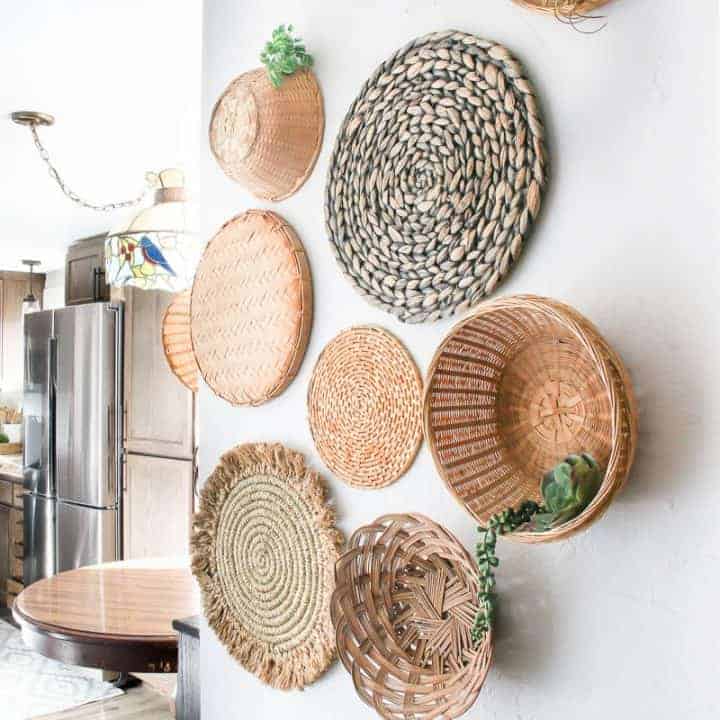 How To Hang Wicker Baskets On the Wall
If you want to create a wicker basket wall in your home, you've got to read this. We teach you how to hang wicker baskets on walls with this step by step tutorial!
Materials
Various round wicker baskets of different shades, size and textures
Finish nails
Instructions
Lay it out on floor & plan
Hang wicker baskets on wall with finish nails