Ready for some major inspiration? Learn how this couple used their years of renovating experience to build a DIY house last year from the ground up for less than $70k!
Last month, we introduced a brand new series on the blog called Real Life Renovations. You may remember we interviewed Amanda and Corey of Love & Renovations about their DIY home renovation and how they downsized to become debt free.
It was a truly inspiring story! My big "takeaway" from their interview was: sometimes sacrificing for a little while in the short term can pay off BIG time and completely change your life.
This month's interview takes that one step further with this story of patience, learning, and experience – which pays off again!
I know you're going to love this story of how years of renovating leads to a DIY house build…Yep, you read that right. This couple built their own DIY HOUSE!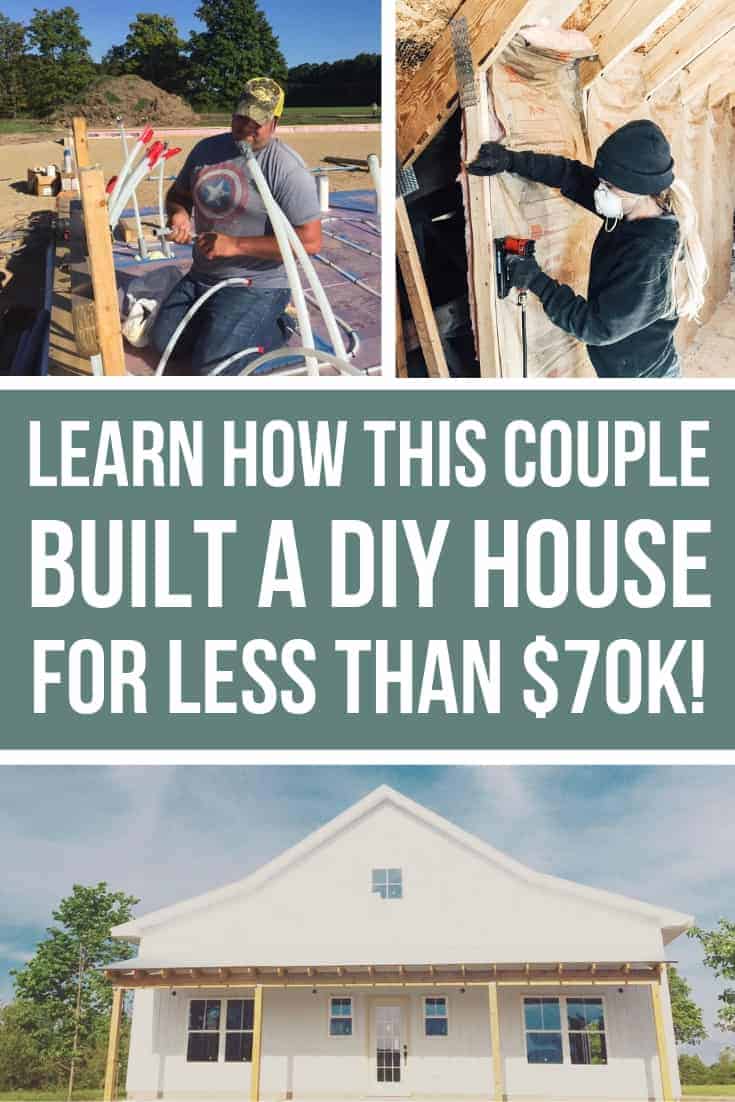 Friends….meet Dena!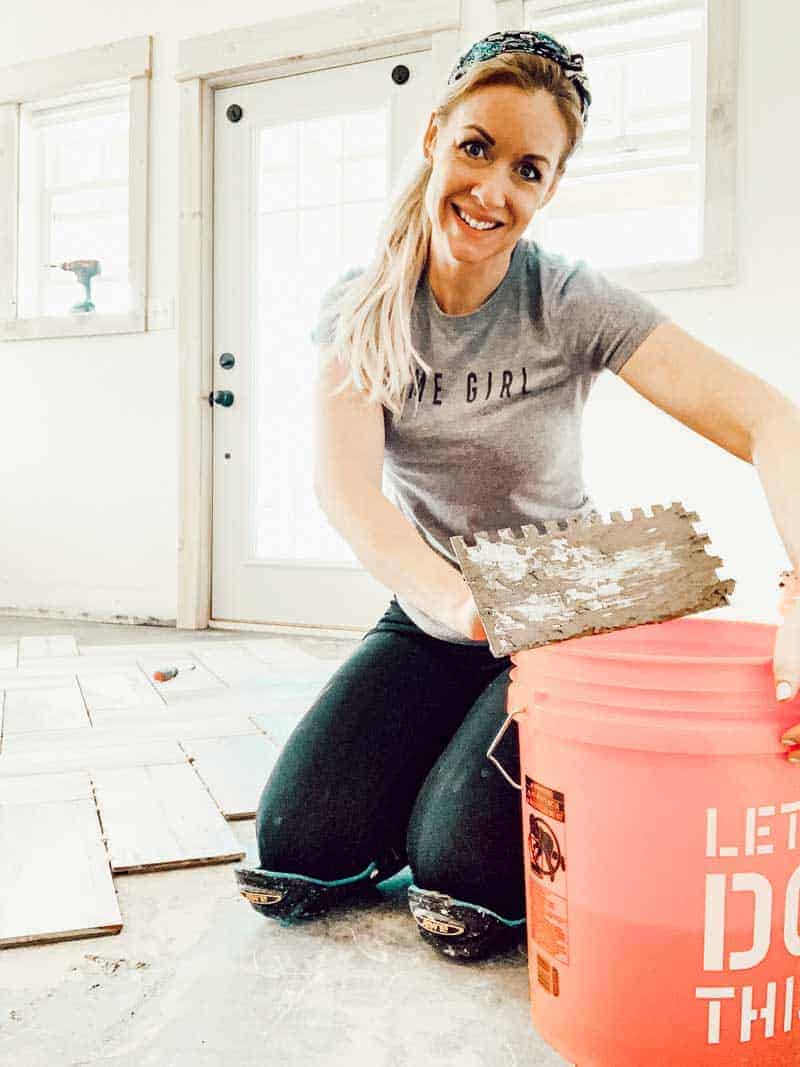 Dena is a DIY rockstar. I'm so glad I stumbled upon her GORGEOUS Instagram feed, which led to a major stalking session looking at her feed and her blog, Fletcher Creek Cottage, and reading a little bit of her DIY house story.
I instantly knew she would be a great person to interview for this Real Life Renovation series. I've had so much for getting to know her a bit. Just in the short time that I've been following along, I can tell you that she has a huge heart and she is truly inspiring!
Are you ready to get this interview started and hear about that DIY house?!
Hi Dena, first of all…give us a little background on you and your husband and what you do.
My husband and I met right out of high school and were married at 20 and 21 (nearly 18 years ago) while we were still in college.
My husband grew up on a farm and graduated from college with a Mechanical Engineering degree. He has been employed as an Engineer/Manager ever since.
My husband (Aaron) has no construction background at all. I grew up in a family of entrepreneurs many of whom are contractors, architects, plumbers, electricians, and so on.
I went to school to become a licensed Cosmetologist after high school. We became parents one year after we married and I stayed at home with our children.
I have always done hair on the side as well (either in a salon or from home). I am drawn to anything creative such as being a hairstylist as well as home decor and of course home design and renovations!
We literally always have a list of projects we want to tackle. We really do love DIY!

How did you and your husband get started renovating homes?
My parents had built their home (almost) all DIY when I was 10 and then had built an addition when I was 15. I helped as much as I could and I loved it!
When we got married we both dreamed of building our own home one day but knew we should start out in a little fixer-upper. Because we were right out of college we couldn't afford much.
We bought our first home in our second year of marriage.  I was very comfortable with construction and loved the idea of buying a "project" house.
My husband had built barns with his parents smaller things here and there and was totally open to buying a fixer-upper and then someday building our dream home! So that's what we did.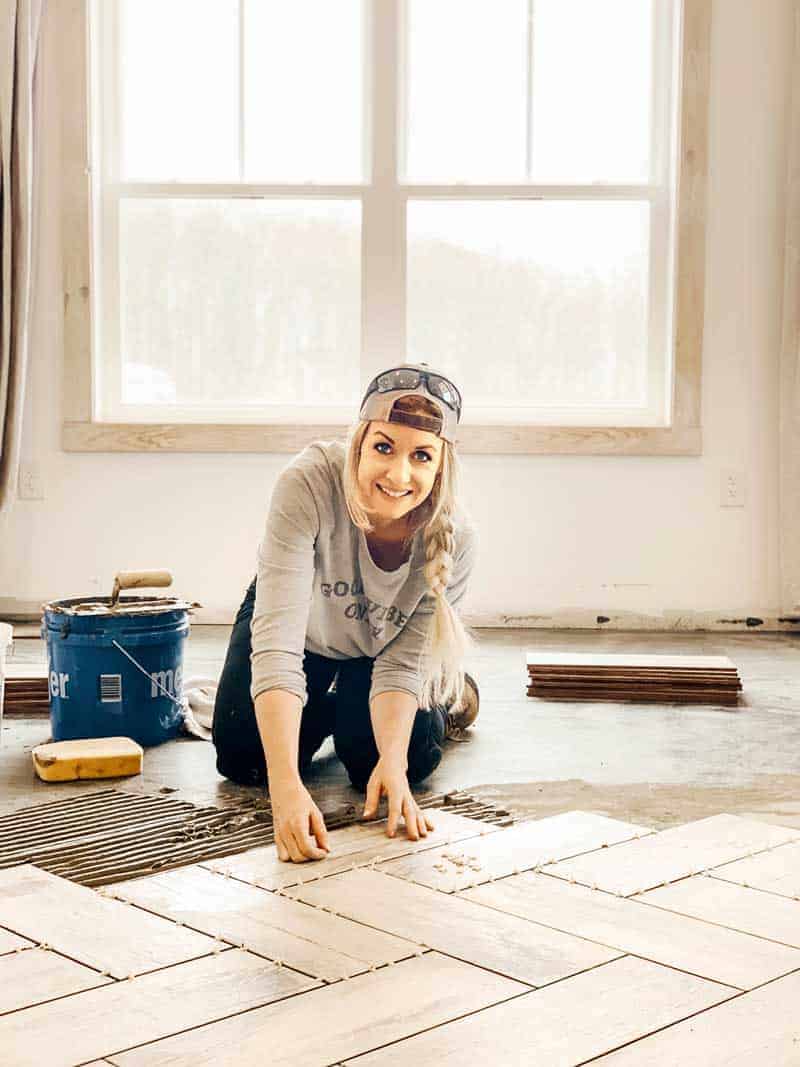 Tell us a little about your first home renovation…what kind of projects did you do and what lessons did you learn?
I could go on and on but I'll try and keep it short. Our first home renovation was that small fixer-upper. We did a full renovation to that home in a 4-year span.
We started by ripping out the carpet and refinishing the hardwood floors. Next, we painted the entire interior and did a total overhaul on the bathroom and kitchen.
We learned everything from tiling, plumbing, drywall …you name it.
We even added a whole garage, re-roofed the home, and replaced the siding. We added a porch and poured the concrete for the sidewalks.
This was before YouTube, so we were asking family members (that were contractors or professionals in their field) for advice.
My husband and I have always been very careful to check and double-check building codes. We learned so much from all the projects we did on that first home.
One very important lesson we learned is that projects always take longer than expected and usually cost more than anticipated.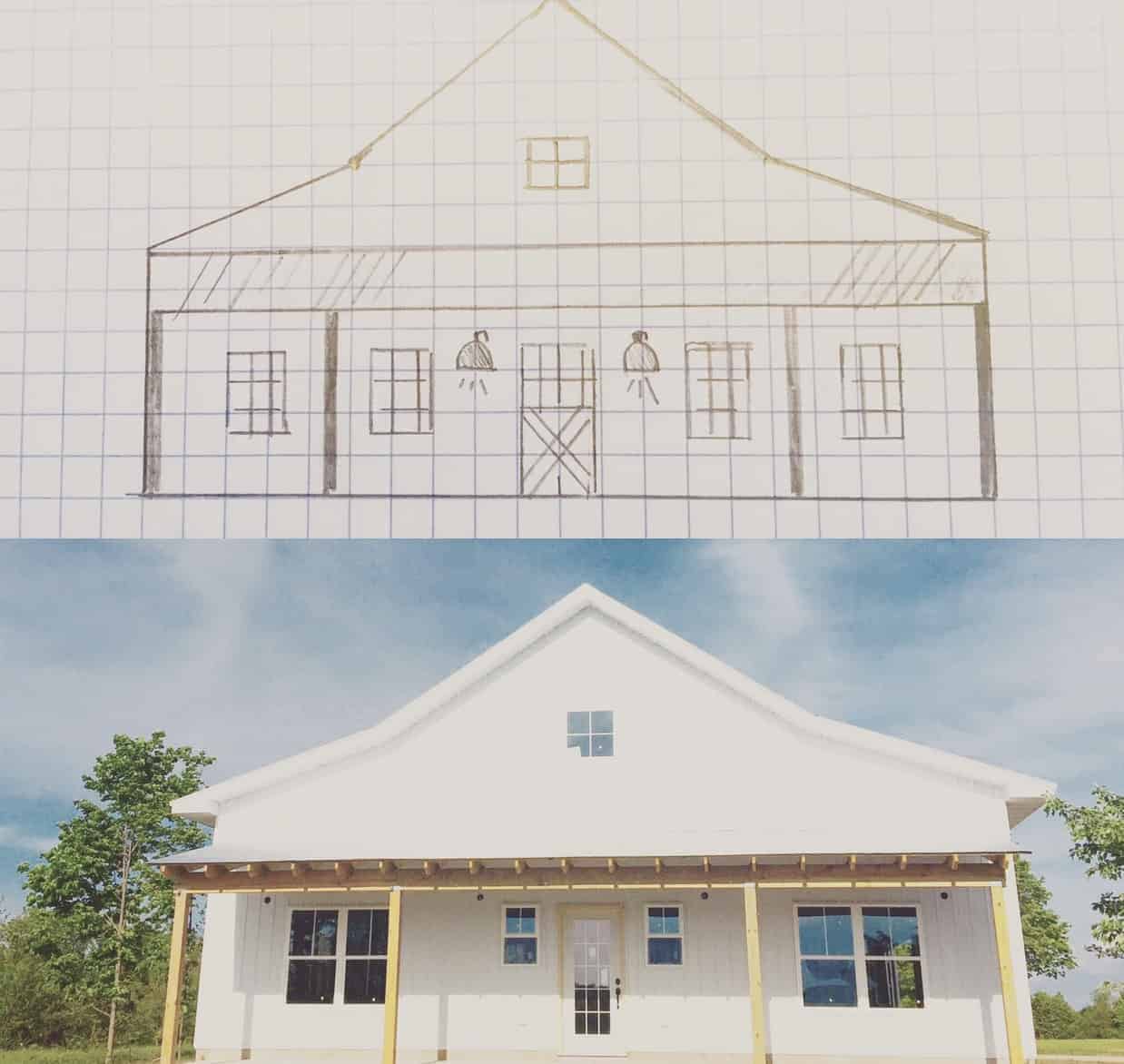 Did you always know you wanted to build your own DIY house or how did you come to that decision?
Oh my goodness, YES! We always wanted to build our own home! We both love designing and we are both very hands-on.
It is also very important to us that we live debt free and have financial freedom. A DIY house really was a fantastic way to use our abilities and save money at the same time!
We are actually finalizing the blueprints for our "forever" dream home right now! We will be building our dream home DIY style as well.
The Cottage (shown above) we built on our land last year will be an office/home school space and used for a guest home after we build the final home!!!
I am beyond excited to begin that process! I am so excited to see where we can save money without sacrificing any quality or style!
Over the years, when it was time to do a home project, we would always get 3-4 quotes to have the work done by a professional. Then we would add up the cost of materials.
The difference in cost was so dramatically different that we always chose to do it ourselves. For us and anyone on a fixed income (which is most everyone), DIY was a total game-changer!
We have saved hundreds of thousands of dollars over the years on home renovation projects because we did it ourselves!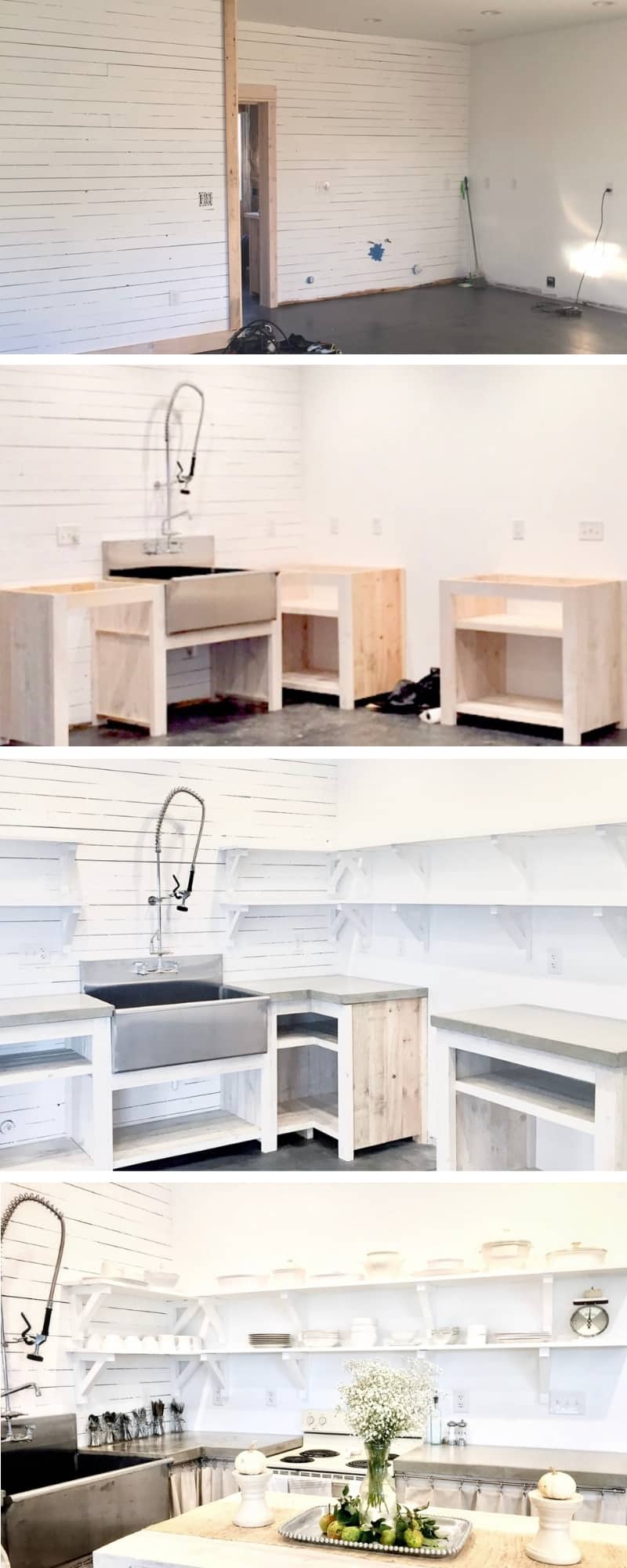 How in the world did you build a DIY house for less than $70k?! So impressive!
Thank you and I'm so glad that you asked this question! This may be one of the most frequently asked questions I receive and I LOVE answering it!
First of we did almost all of the work ourselves so that eliminated 2/3rds of the cost right off the bat.
The home is a 40×60 stick-built home (not a pole building).
The living space is 20×40 with a finished attic for a bonus room above that is 18×20.
The garage is 40×40 with attic space for cold storage above it.
We also have a 10×40 covered porch.
We used all new materials, so I am sure we could have saved more money by using salvaged materials, we just didn't want to do that.
A great example of how we kept the cost so low is the roof. We wanted a high-quality standing seam steel roof.
The quote for materials and labor was over 30k, the materials alone were only 7k (including the tools we needed to cut the steel and all the supplies).
Another way we saved money is by building the kitchen cabinets, bathroom vanity, kitchen island, and all our interior doors ourselves.
So we saved money by building all we could. We only paid for materials for nearly the entire home. I'm talking about excavating, driveway, construction, insulation, flooring, heating, plumbing, electrical, siding, roofing, windows, all the drywall, paint, trim work…everything!
My husband and I both have extremely generous families that came over to lend a hand every time we needed help! Many family members brought us meals, helped us set the trusses, or just came on a Saturday and asked what they could do to help.
In short, we were able to build a home DIY for under $70k because of #1 the help of family members working alongside us, and #2 because we DIYed just about EVERY INCH of the cottage.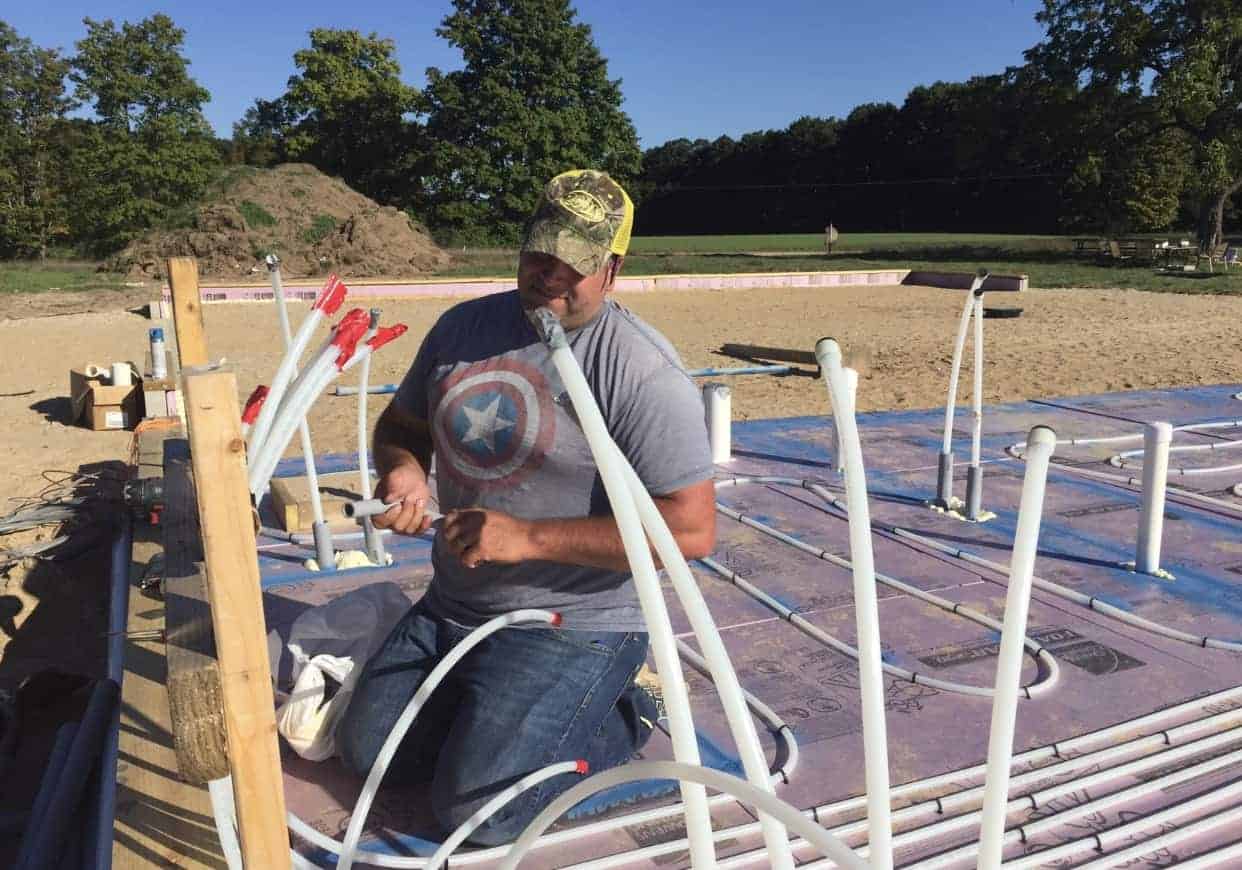 It looks like you were able to do a lot of DIY house building yourself…what things did you hire out and why?
Yes, we did nearly everything ourselves. We did, however, hire out a few things that were way out of our abilities! It's so important to not get in over your head and know your own limits.
Well -We hired professionals to put in our well (we live in the country so we are not hooked up to city water).
Foundation Block -It was very important for us to have our foundation perfect so we did hire out the foundation block work and concrete slab as well. We poured all our footings and insulated them (per code) and left the rest of the foundation work to the pros.
Septic/Drainfield – The plan was for us to put in our own septic tanks and drain field as well, but we had so much to do that my husband's uncle (who is a professional) came and took care of that for us as a gift! We really intended to do the work ourselves, but he offered to do the work and we were so grateful to have him professionally install all of that for us!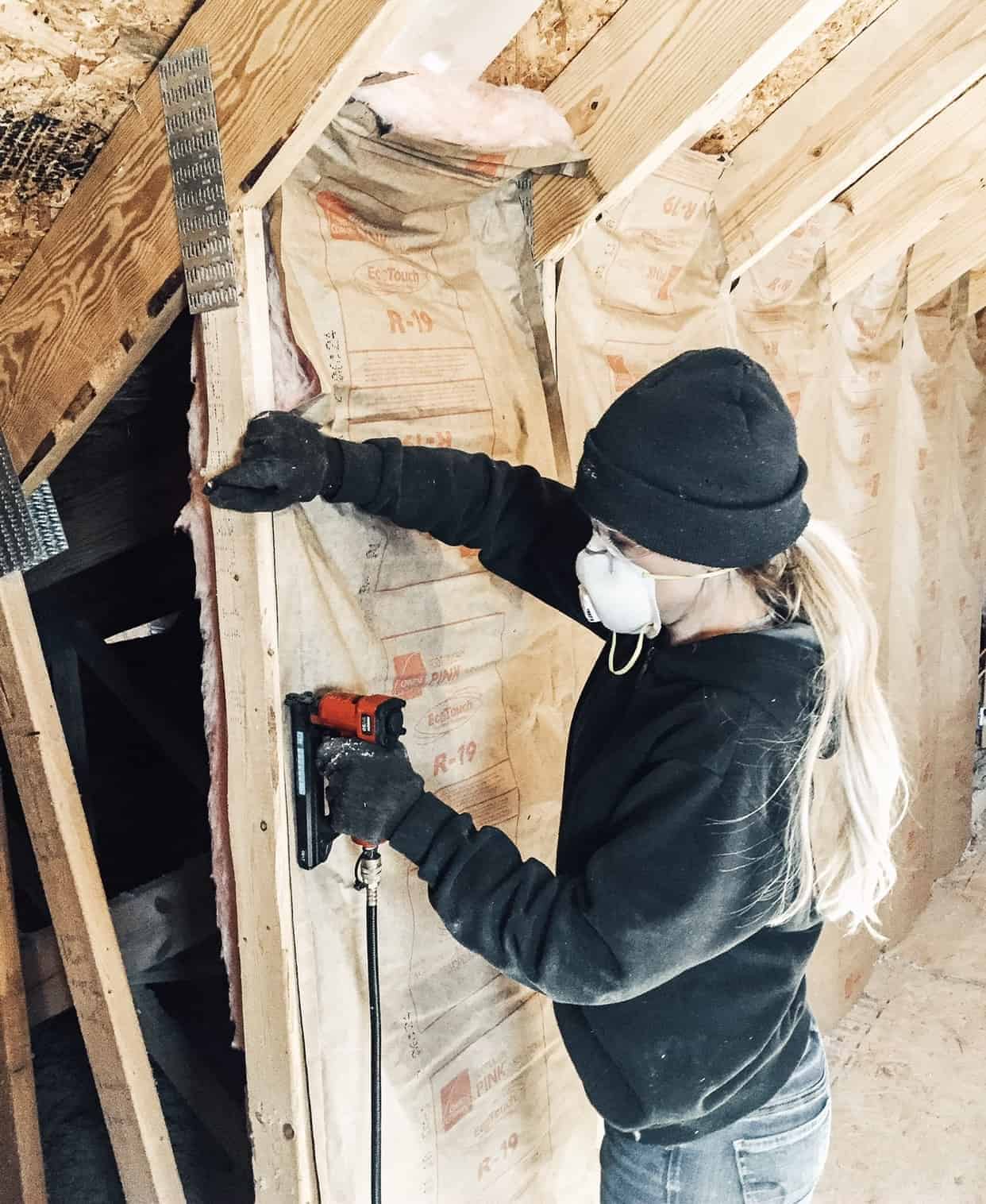 Did you have any construction experience before the DIY house? If not, how did you learn?
Yes, we definitely had experience before building our DIY house. We have moved 17 times (due to work) and have renovated each home that we bought over the years. We have done nearly every type of DIY that there is.
The first fixer-upper that we bought really needed an entire overhaul and that is where we learned the most.
I think the only thing we didn't learn in that home was electrical…oh wait, I guess we did run electrical for the addition of the garage we put on! Haha!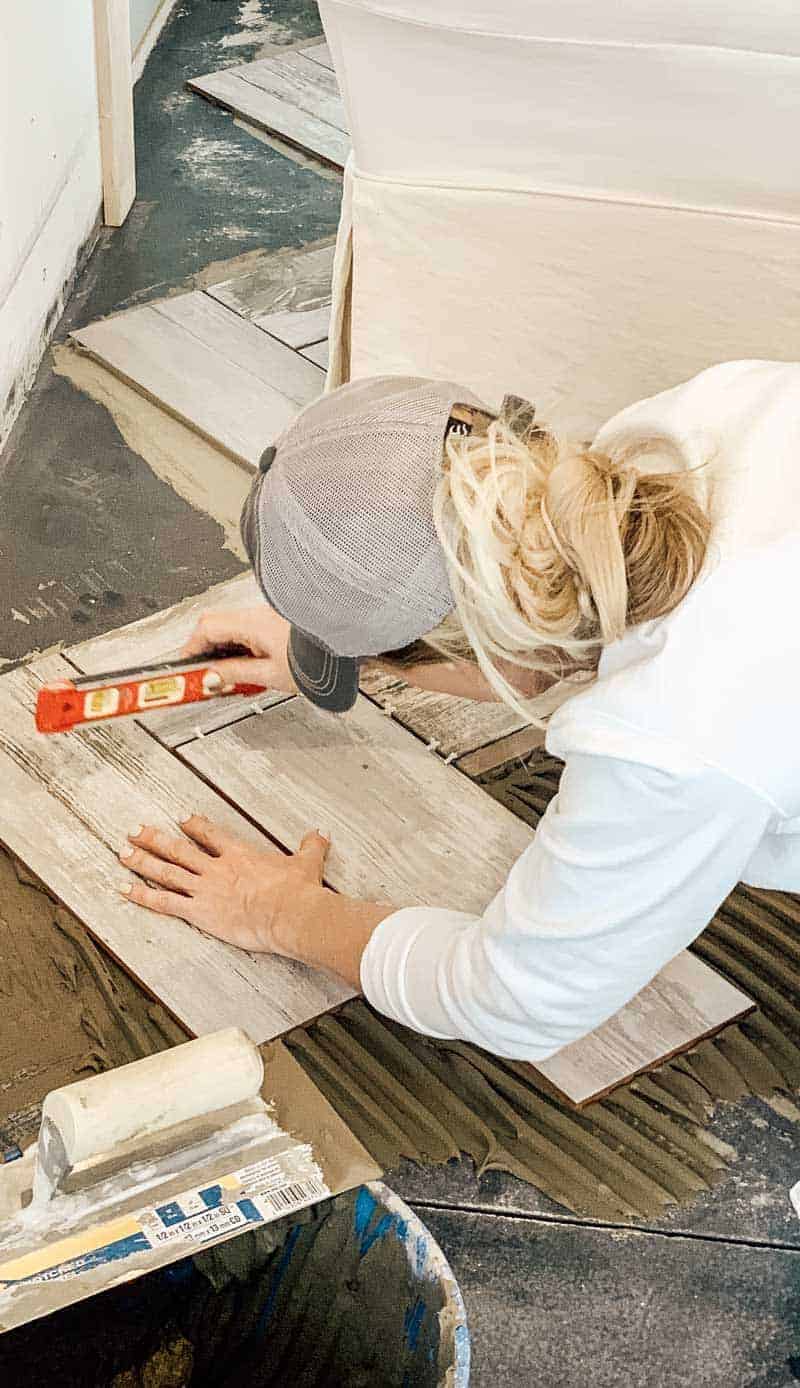 How was your DIY house build different than your other renovation projects? Now that you've done both – which do you like more?
Great questions! The biggest difference is timing. The homes we renovated were not on a short timeline.
We lived in the homes and we did one project at a time. We took our time and paid for the projects as we could afford to.
When we built this DIY house, from the ground up, we had just moved back to our hometown and needed to move in as quickly as we could.
I definitely enjoy a good renovation project! I love taking a sad old home and really bringing it back to life!
I will say that renovating older homes is WAY more of a challenge than building a new home. Because we lived in our homes while we renovated, we were always living in a construction zone! That can get old.
Building a new home was half the work. When we renovated we had to remove all the old materials and then build it all back up.
When we built a new home all we had to do was build it….no demo involved!
I don't think I could pick which I like more, renovating or new build. I will say that building a new home was WAY easier and we had WAY fewer challenges along the way.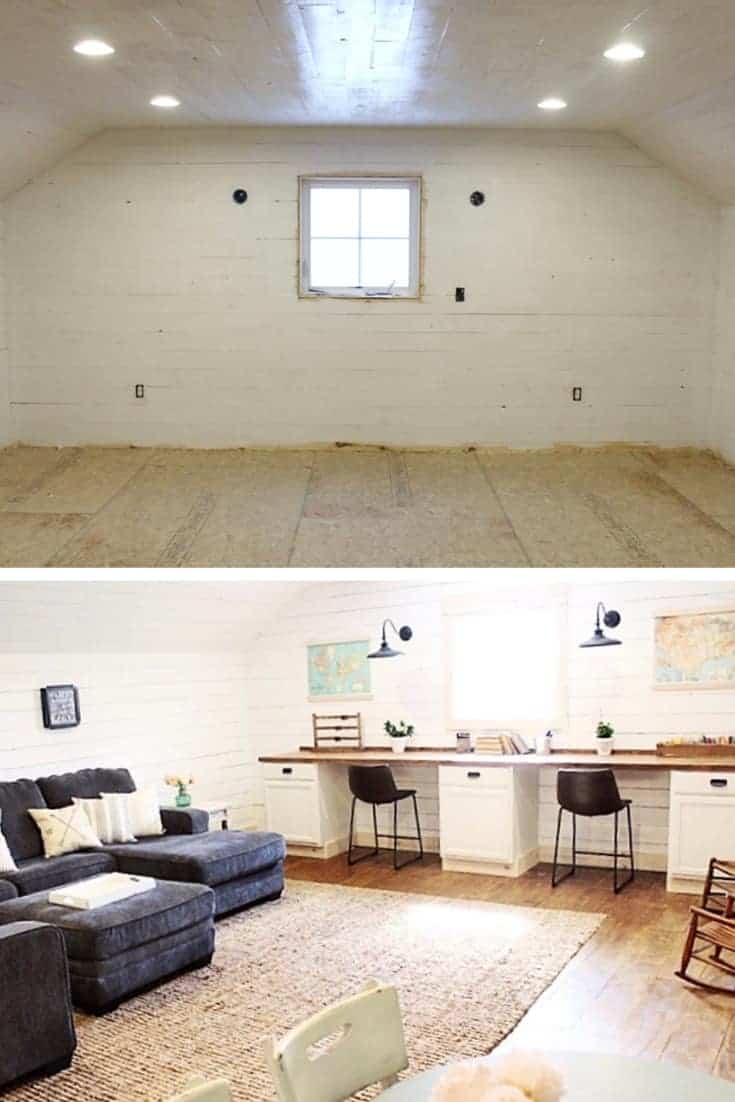 Where did you live while building your DIY house?
Oh goodness! I hate to say it, but we moved 5 times during the 1 year it took to build our cottage. We had just moved from WI to MI when we started building.
We moved in with my parents for a short time while looking for a short-term rental. We hoped this build would only take a few months, so we rented a seasonal cottage (we didn't want to take advantage of my parents' generosity).
When it was taking longer than anticipated we had to move into a condo because the seasonal cottage was booked.
When the spring came we moved out of the condo and back in with my parents for a month until we had electricity on our land.
We then moved into a camper that we parked on our land. It was pretty challenging to live in a camper while building for 4 months, but it was such a time saver to be on-site and not have to drive there and back each day.
Let's just say that moving 5 times in one year all while building a home made me very grateful the day we moved in!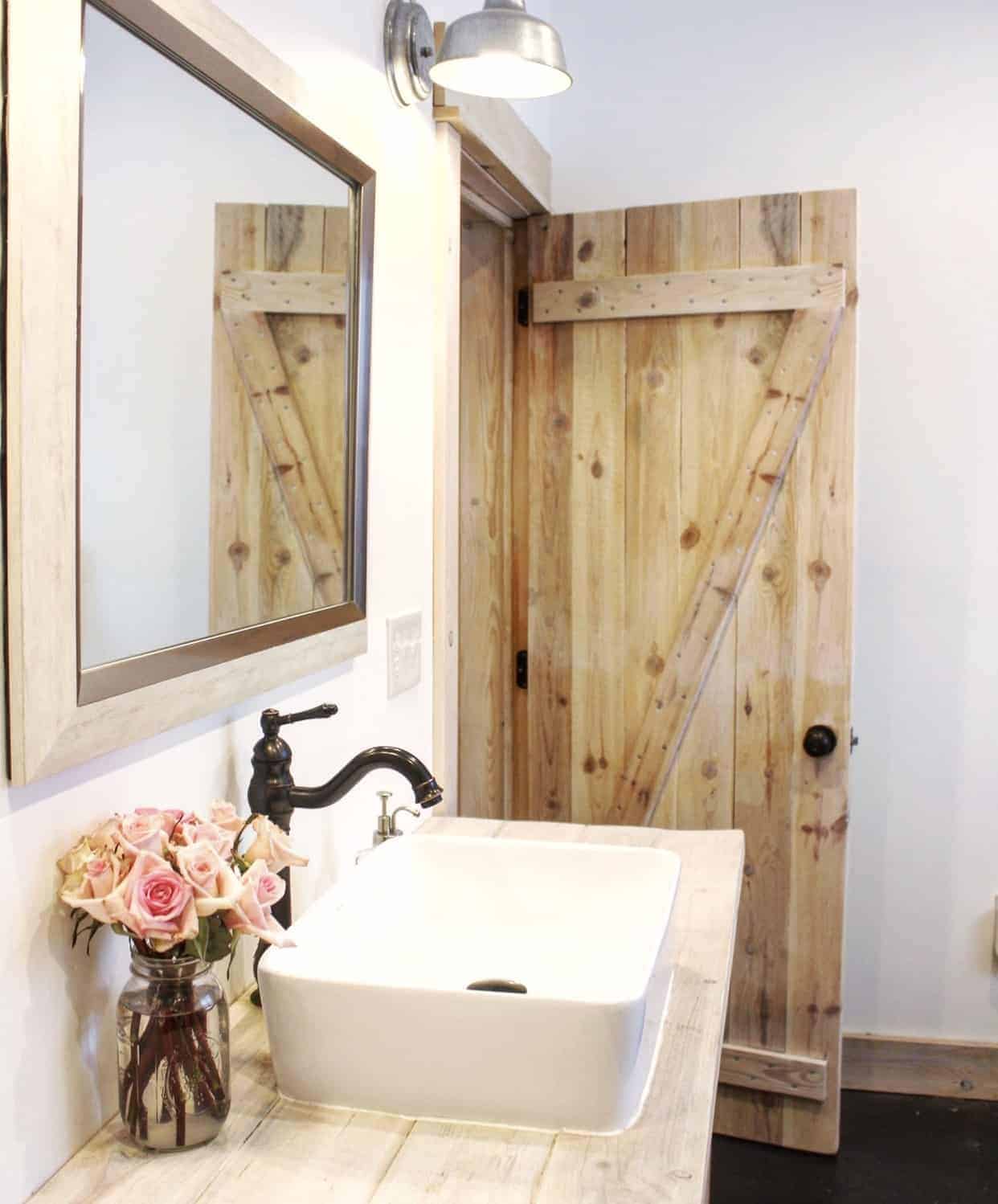 Sounds like you definitely have made some sacrifices over the years…is it all worth it?
Oh boy, yes! We've definitely sacrificed but I can't imagine our lives any other way! Renovating reminds me so much of running a marathon.
It takes vision, dedication, and sacrifice (and a lot of the time people are going to think you are crazy for even attempting it) but the result makes it all worth it!
We have grown extremely close as a family and our kids have learned what it means to work hard for a goal and to see it pay off in the end.
I am also grateful for the skills we've attained not only because we were able to build a home but also because now we are able to help our friends and family on their home projects!
Even after we finish building our dream home this next year, I don't think we will ever give up doing DIY projects! We just love it!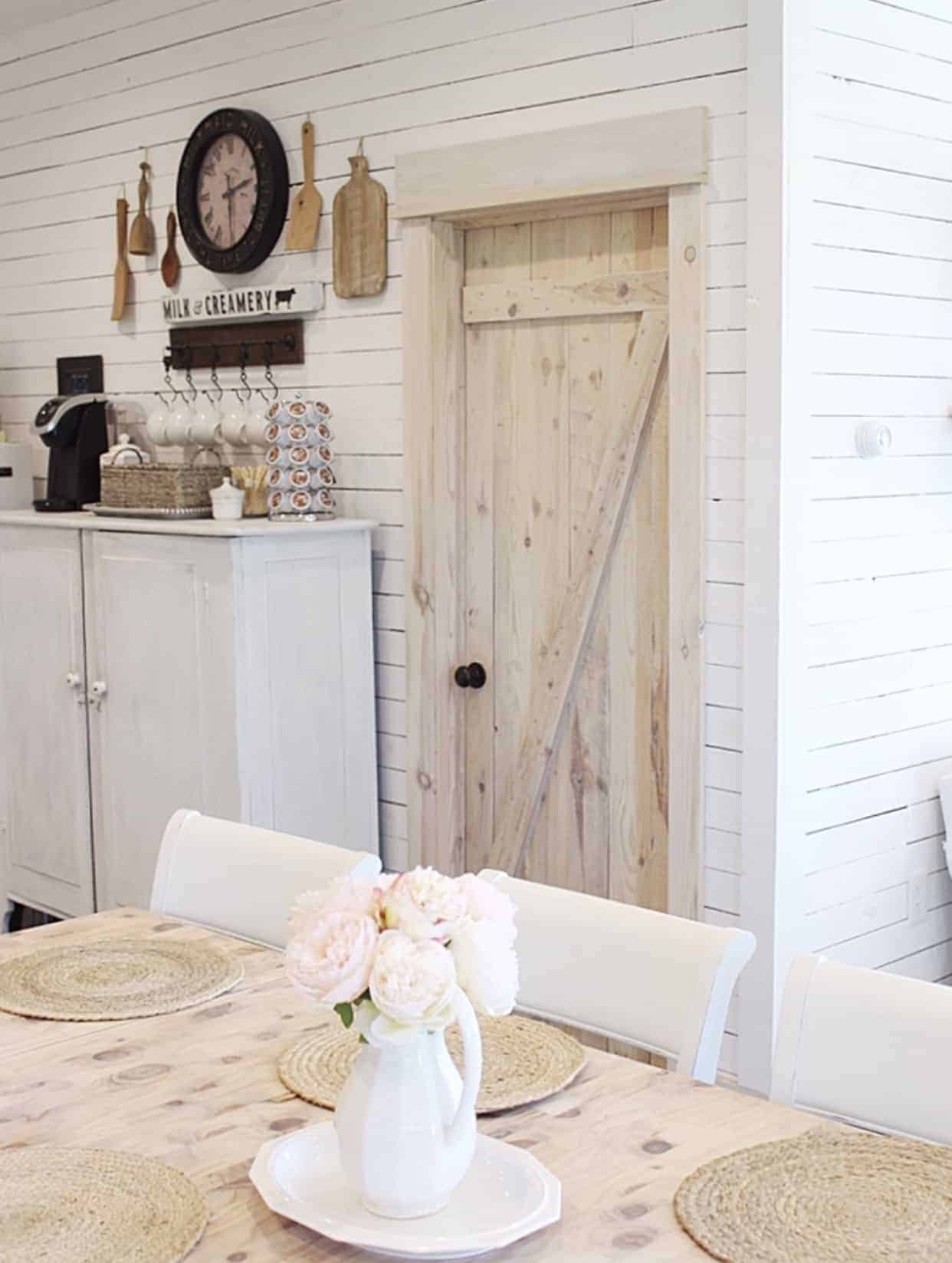 What advice would you give someone that is getting ready to start their first renovation?
I would definitely encourage anyone who is getting ready to start their first renovation to do as much research as possible before starting and be sure to check and double-check the code books!
These days there is so much free information online on how to do DIY things and that's a fantastic way to learn.
I would also recommend practicing on scrap before on your home. I'll give you an example. The first time I ever repaired drywall was in our first home.
We had a large window that had to be removed because we added the garage onto that side of the home and the fire code required that we frame it.
Well, I did a pretty rotten job filling in that hole where the window once was. If I had practiced my taping and mudding skills on a scrap piece of drywall before trying on the wall it would have saved me a lot of headaches.
I would also advise setting aside more time and more money than you think. Just about every single renovation project we did had some surprise element to it!
I would also say that even with the "surprise" added costs to a project, it is still way more affordable to DIY than to hire it out! The cost of labor right now is triple the cost of materials where we live.
Also, I'd say to have fun and enjoy the process! Renovating and DIY projects are such a fantastic way to add style and character to your home and they can greatly improve the value of your home!
Every single project we tackled, we got better and better at it!
Renovating can be such a rewarding process if you don't let the challenge of it get you! And remember …don't be afraid to ask for help if you get in over your head!
---
Ahhh!!! Such great advice, right?! I love how Dena was able to really sum up all of the years of renovating and their DIY house with her answers full of so many nuggets of wisdom!
I think the biggest takeaway I have from her story is how there's not much you CAN'T do if you are willing to take the time to learn and try! Everything you learn while renovating and doing DIY projects really begins to build upon itself doesn't it?!
The more you try, the more you learn, and the more you are able to accomplish! What a great lesson.
If you want to continue to follow along with Dena's story (I, for one, can't wait to see them build their dream house in the years to come!), here's where you can find her:
Fletcher Creek Cottage Blog  |  Instagram  |  Facebook |  Pinterest
What is something that you have taken the time to learn and try??
Let us know in the comments below!