Grandmas love anything personalized from their grandkids. So if you're looking for a good Grandma gift idea this year for Mother's Day, you'll love these 9 personalized gifts for Grandma!
Thank you to Personalization Mall for sponsoring this post! All opinions are entirely my own. This post also contains affiliate links, but nothing that I wouldn't recommend wholeheartedly. Read my full disclosure here.
Mother's Day is just around the corner! I don't know about you, but I am SO busy right now so the thought of figuring out a cute handmade gift for the Grandmas this year for Mother's Day is just not happenin'.
If you're a busy mama doing the shopping on behalf of your little ones for their Grandma, you're probably looking for a one stop shop where you can quickly shop for gifts that you know the Grandmas are just going to love. Personalization Mall is just the place! It seriously took me no time at all to pick out these super cute gifts for the moms and grandmas in our life.
If there is one thing that I've learned about Grandmas it is that they LOVE anything personalized with their grandkids names or pictures, right? So it's pretty much a no brainer to get something customized for Grandma. The thing that I loved about ordering gifts for Personalization Mall is the quick turnaround. Most ship within 1-2 business days…which is great for me, a major procrastinator when it comes to gifts.
Are you ready to see these great ideas for personalized gifts for Grandma for Mother's Day?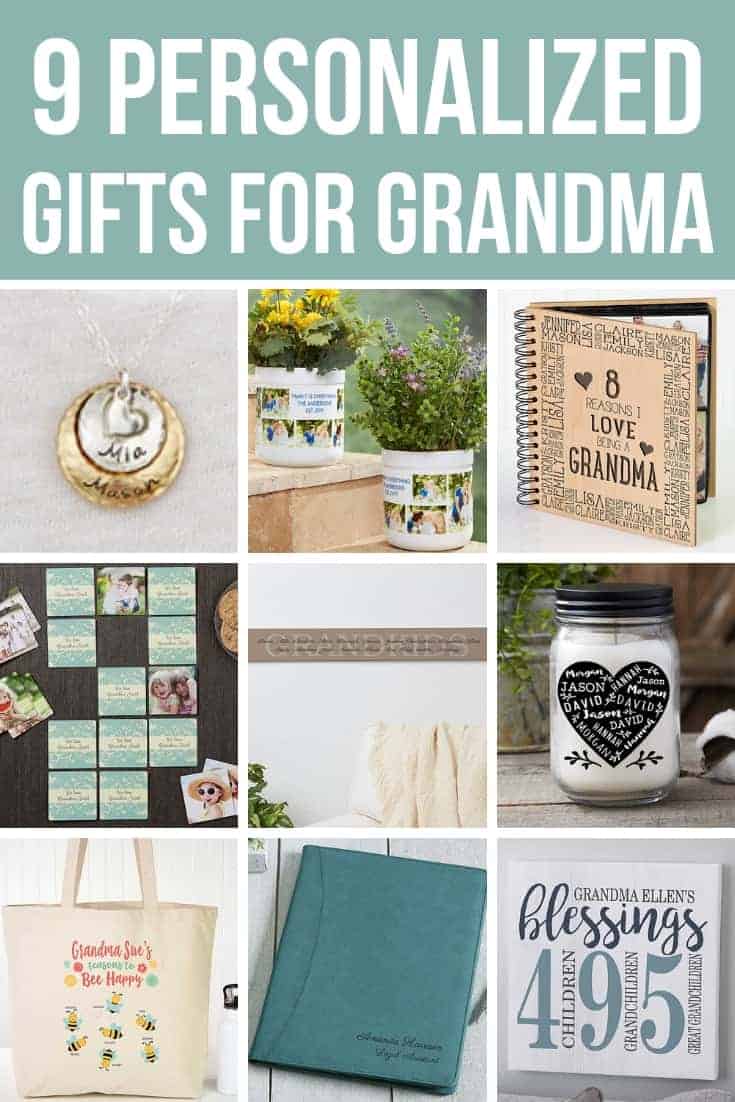 Love the look of this trendy necklace with hammered metal circles stacked with grandkids' names. This is a great conversation starter for a Grandma that loves to brag (don't they all?!). Perfect for a Grandma with up to 4 grandkids (max 4 circles on the necklace).
I can't have a gift guide with personalized gifts for Grandma without include a cute photo gift idea, right? Every Grandma would love to get this cute flower pot with photos of her grandkids on it. You can also personalize with a custom note!
If there is one thing I've learned about Grandmas, it is that they LOVE photos. She will love flipping through this photo album looking at her beautiful grandkids. Bonus points if you can print out pictures to fill the album with so it's one less thing for her to have to do. This is another one of those gifts for Grandma that is great if she has a long list of grandkids because you can fit up to 30 names on this one.
This photo memory game is one of my favorite personalized gifts for Grandma because it's a game that she can make memories playing her grandkids. And the grandkids are sure to LOVE playing when they see that it is their faces on the game cards. It comes with a handy little tin to hold the cards when you're not playing too!
This cute personalized wood sign is great for grandparents with a long list of grandkids! We ordered one of these for my grandma (our kid's great grandma) that now has 12 grandkids and great grandkids and we were able to fit them all easily. I know she's going to LOVE it!
You know I had to sneak in a farmhouse style gift in here, right?! I love the look of this cute mason jar style candle that you can personalize with up 12 names. My go-to gift for someone who has everything is usually a candle, so if you're stuck on what to get Grandma this Mother's Day, this is a great idea!
Everyone needs another tote bag, right? This personalized tote bag one is great for a Grandma that has a "special name" because it can be displayed on the bag alongside the names of her grandkids. That's why we chose this one for my mom – who is affectionately called "Grandma Ya" by her grandkids. I know she'll just love this bag!
If you've got a Grandma that is still in the workforce or a Grandma that always seems to be writing notes, she'll love this personalized leather engraved notepad. This falls a little more on the "practical" scale when it comes to personalized gifts for Grandma and I love that! We chose this one for Logan's mom who is a Realtor, so I know she'll get a lot of use out of this and love showing it off to her clients too!
Grandmas LOVE to count their blessings. This cute canvas print will remind her daily of her many blessings. Can be customized with or without great grandkids and has three different color options to choose from!
There are so many good ideas on this gift guide full of personalized gifts for Grandma, right? If you're shopping on behalf of your kids and picking something out for Grandma, you're sure to find something that your Grandma (or Mom) would love!
Hop over to my Instagram post here to see which ones I chose!
Which of these personalized gifts for Grandma is your fave?
Let me know in the comments below!