We've got an exciting announcement! You're going to love this pregnancy announcement with dog.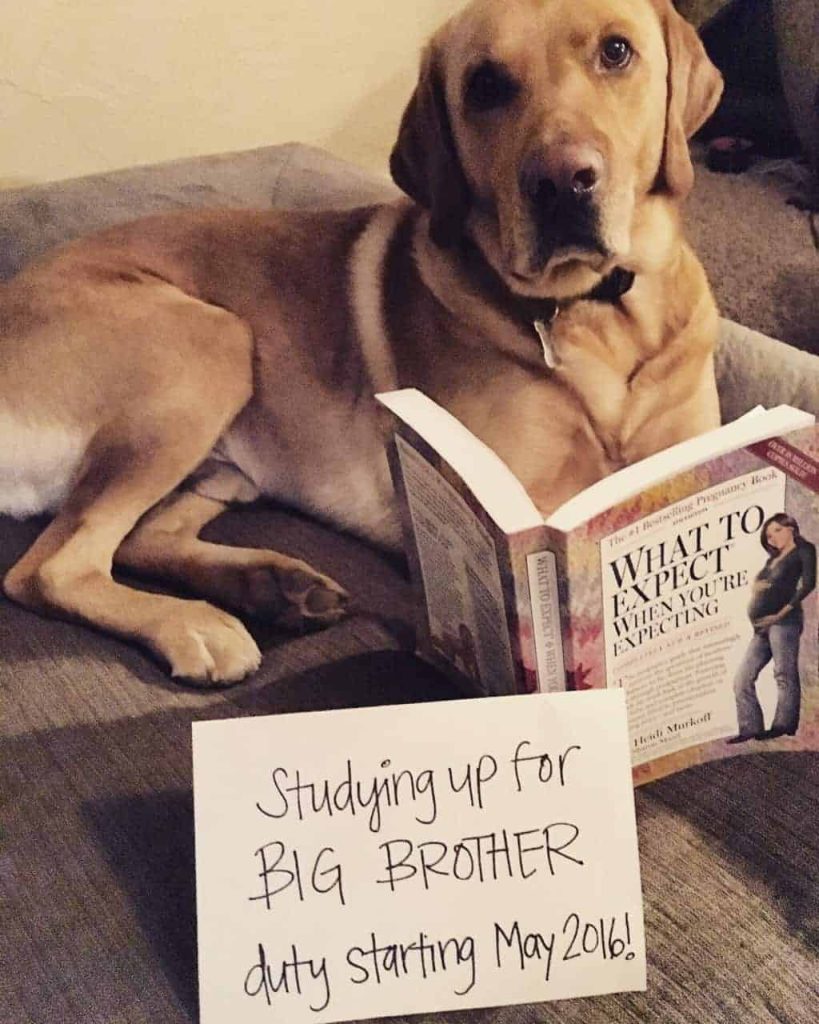 Gannon has some news he wants to share with the blog world. We're having a baby! We are so thrilled and blessed to be adding a little one to our family. Tomorrow I'll be 20 weeks along… halfway. Many of you that know me in "real" life already know this exciting news. This week was an important week because we found out….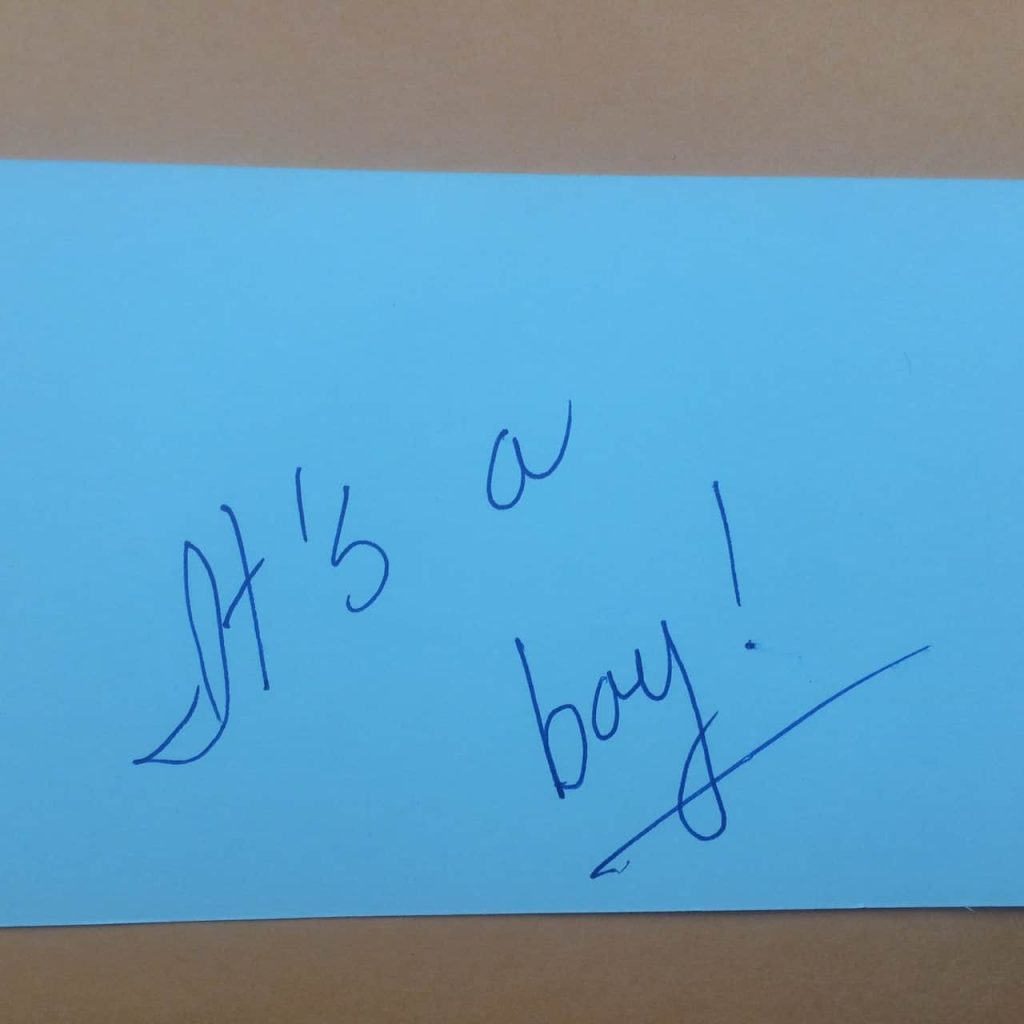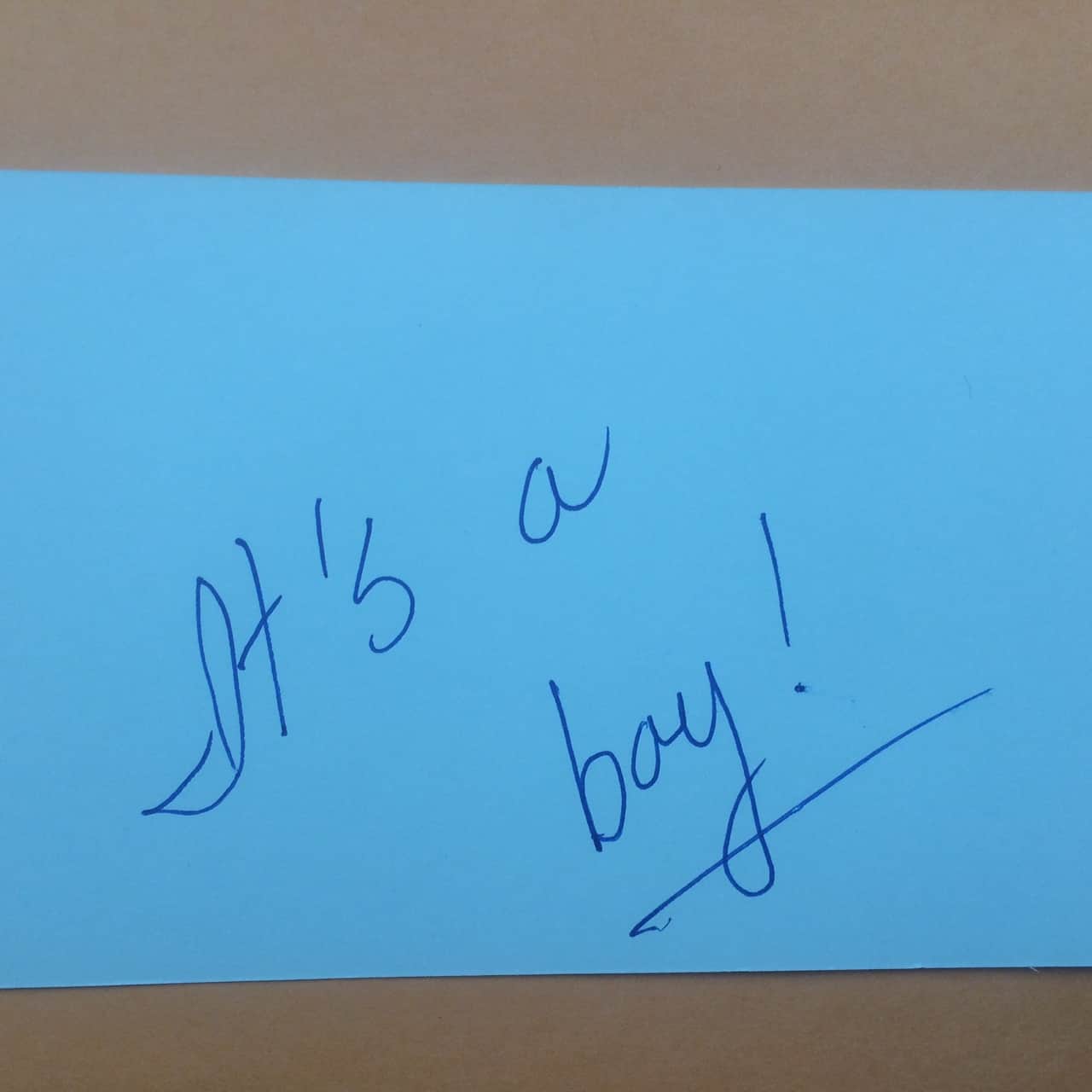 We had our ultrasound Tuesday morning and had the technician write down the gender on this notecard and put in an envelope. We were going to take it out to breakfast and open together after the appointment (I knew I was going to be way too giddy to go to work right after the appointment)…..well, I made it out to the car in the parking lot before I couldn't stand it anymore and had to open! I was so excited I danced in the parking lot the whole way into the restaurant before breakfast. I don't think I've stopped smiling since.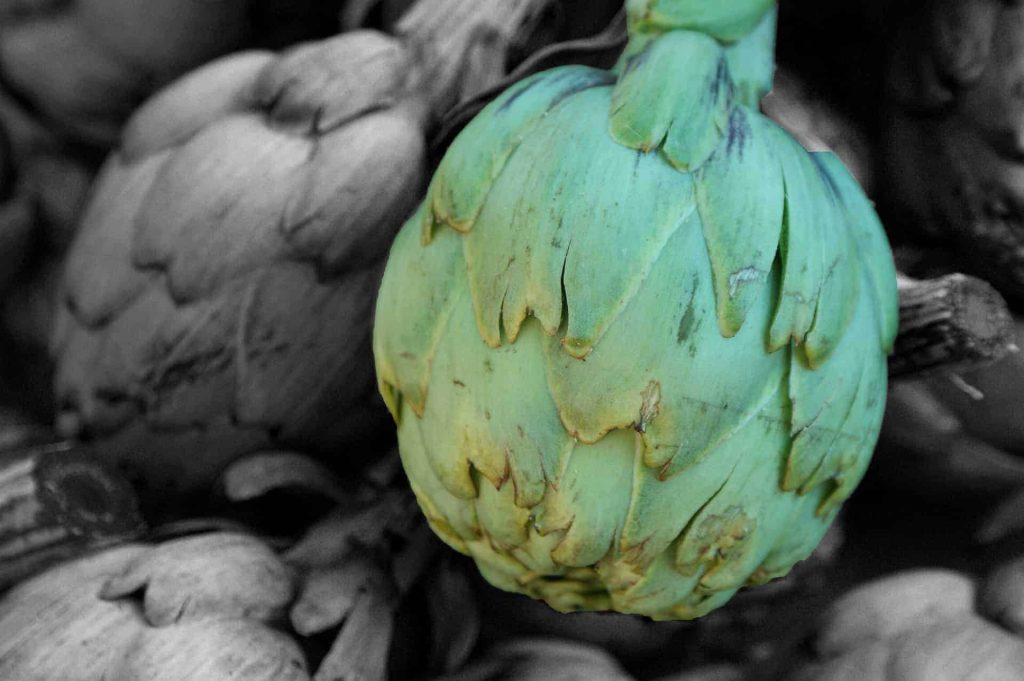 An artichoke. A rather large vegetable, right? Guys… I've got a human growing inside of me that is the size of an artichoke this week. I still can't wrap my head around it.
The emotions that have come with pregnancy and all these fun hormones have ranged from pure exhilaration, joy, thankfulness, anxiety, nervousness, panic… and everything in between. There are days where I still wonder how and why God is trusting us with this gift. Some nights (I literally mean nights because I had this dream last week – don't let me get started on the weird pregger dreams) where I panic that our house, which is in the middle of a massive renovation, won't be in an "acceptable" state by the time our little baby comes.
My little baby bump is growing everyday and now to the point where I actually look and feel pregnant, which I've secretly been waiting for since we found out. Honestly, I always pictured the whole cute little baby bump feeling so magical (because I mean it is a pure miracle). No… not at all. It feels like I'm fat. It feels like I ate far too much in one sitting. I know, I know this is just the beginning! But that has been one of the things that surprised me the most and something no one could have prepared you for.
So with the news comes my "excuse" for why I've been so quiet on the blog the last few months. Right when the dreadful symptoms of the first trimester hit me, we entered an extremely busy season at work. After working 12+ hour days, I barely had the energy to stand up and walk from my home office to the bed…much less blog. When the second trimester rolled in, we were still surprisingly still very busy at work and I used my renewed energy elsewhere, like vacuuming the house for the first time in way too long (true story, once in the first trimester when the exhaustion was REAL, I had to take a 2 hour nap just after vacuuming part of the house, haha!). I blinked my eyes and November came and went and now we're a third done with December. So nuts.
I do have some exciting things in the works for the blog and plan to keep you more updated on all things going on in the Johnson house. Until then, I'm off to look at fun things like baby boy nurseries and baby boy clothes – did someone say suspenders?!?