If you've got a pregnancy to announce on social media, why not involve your dog? Here are some of our favorite pregnancy announcements with dogs!
I don't know about you, but our dog is a big part of our family. For the first few years of marriage, our dog was like our first child! It only seemed natural that we involved Gannon, our dog, in our pregnancy announcement on social media for our first child.
If you're looking for ways to involve your dog in your pregnancy announcement on social media or with your friends/family, you're going to love this round up!
This dog pregnancy announcement round up contains affiliate links, but nothing that I wouldn't wholeheartedly recommend anyway! Read my full disclosure here.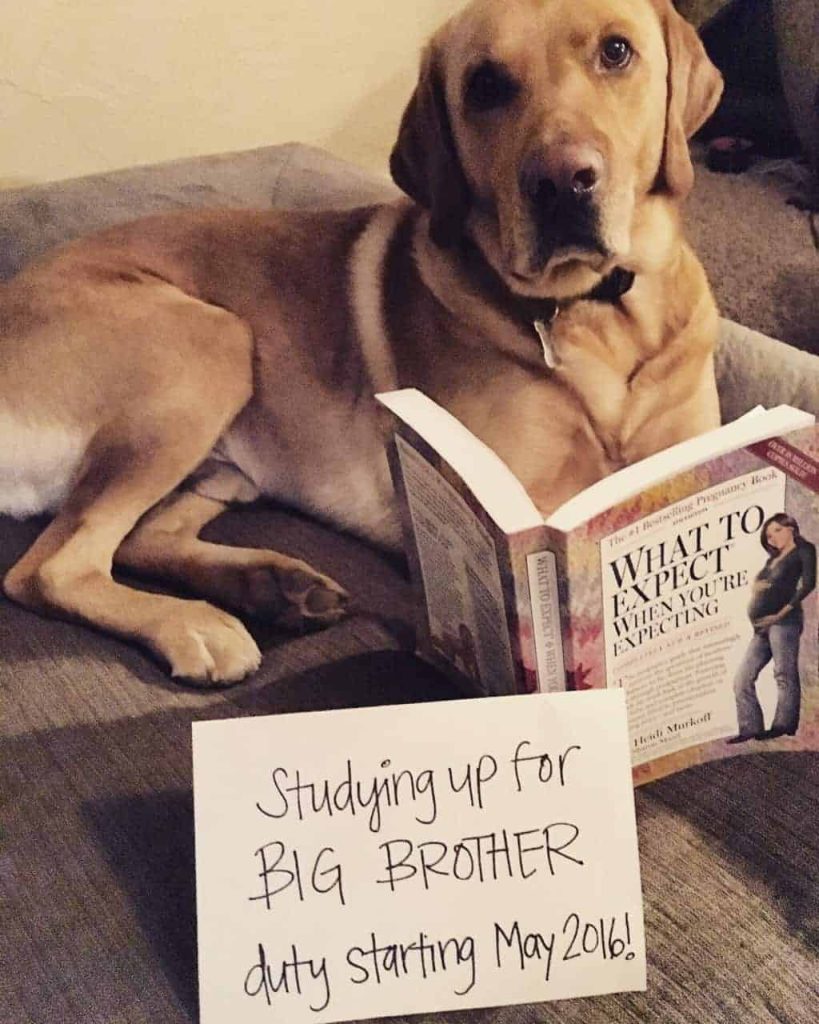 #1: Dog With What To Expect When You're Expecting Book To Announce Pregnancy
This is the photo we posted & released on our blog for our dog pregnancy announcement. Everyone thought it was so funny and cute! It was pretty easy to take the pregnancy announcement picture.
We just grabbed a copy of our What To Expect When You're Expecting book and propped it up in front of our dog with the sign announcing a simple handwritten sign that says "studying up for Big Brother duty starting May 2016!".
If you love this pregnancy announcement idea, you could also incorporate a fun printable around a book as a joke. I love this one that is called "But I'm The Baby" and you just print it out! So easy and cute.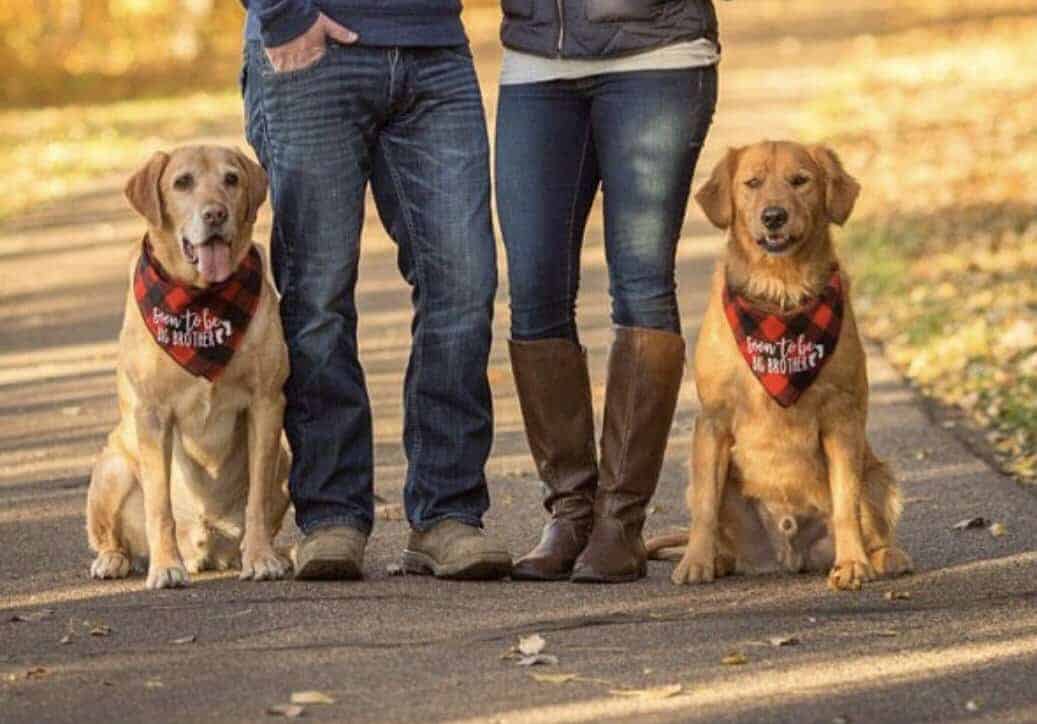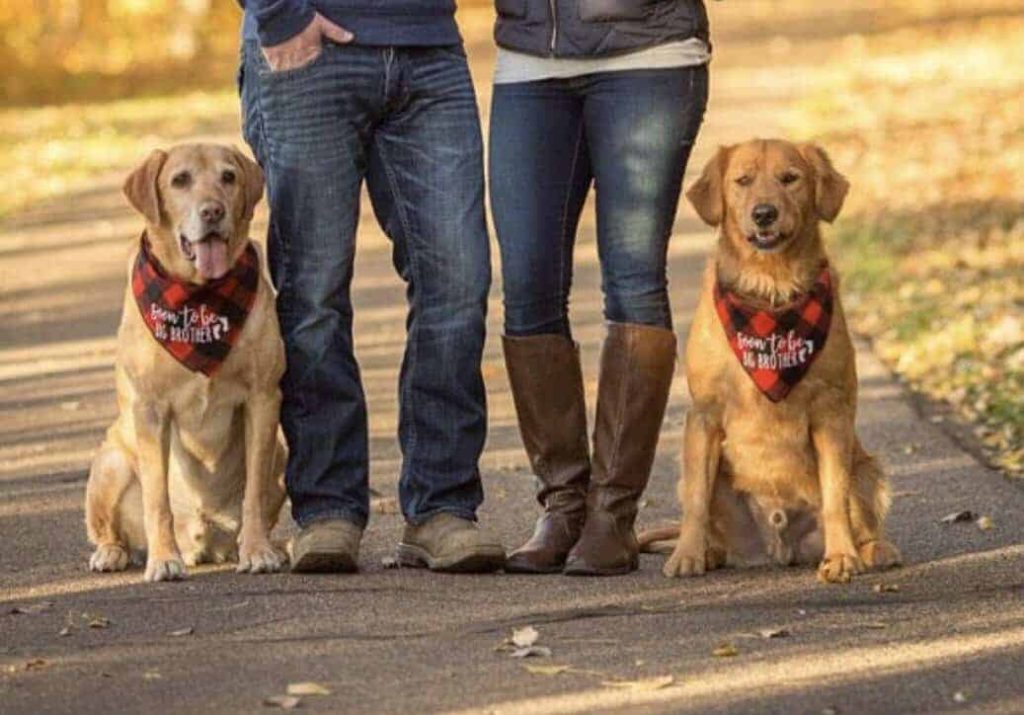 #2: Soon To Be Big Brother Bandana On Dog
How cute are these dog bandanas that say soon-to-be big brother or sister with buffalo plaid? You can see a few different picture ideas for the dog pregnancy announcement here too!
You can also add your due date to the bandana as a custom option too!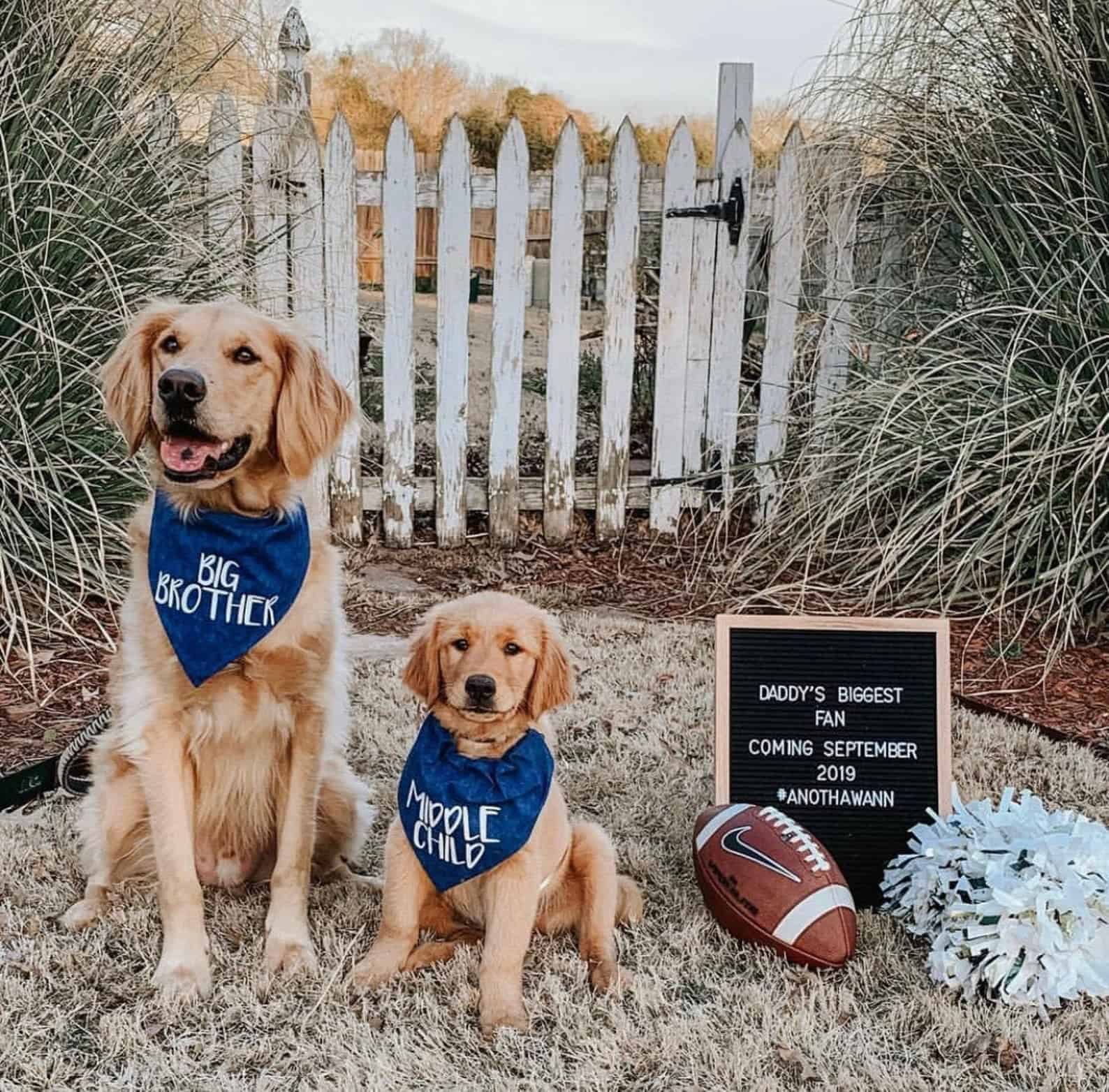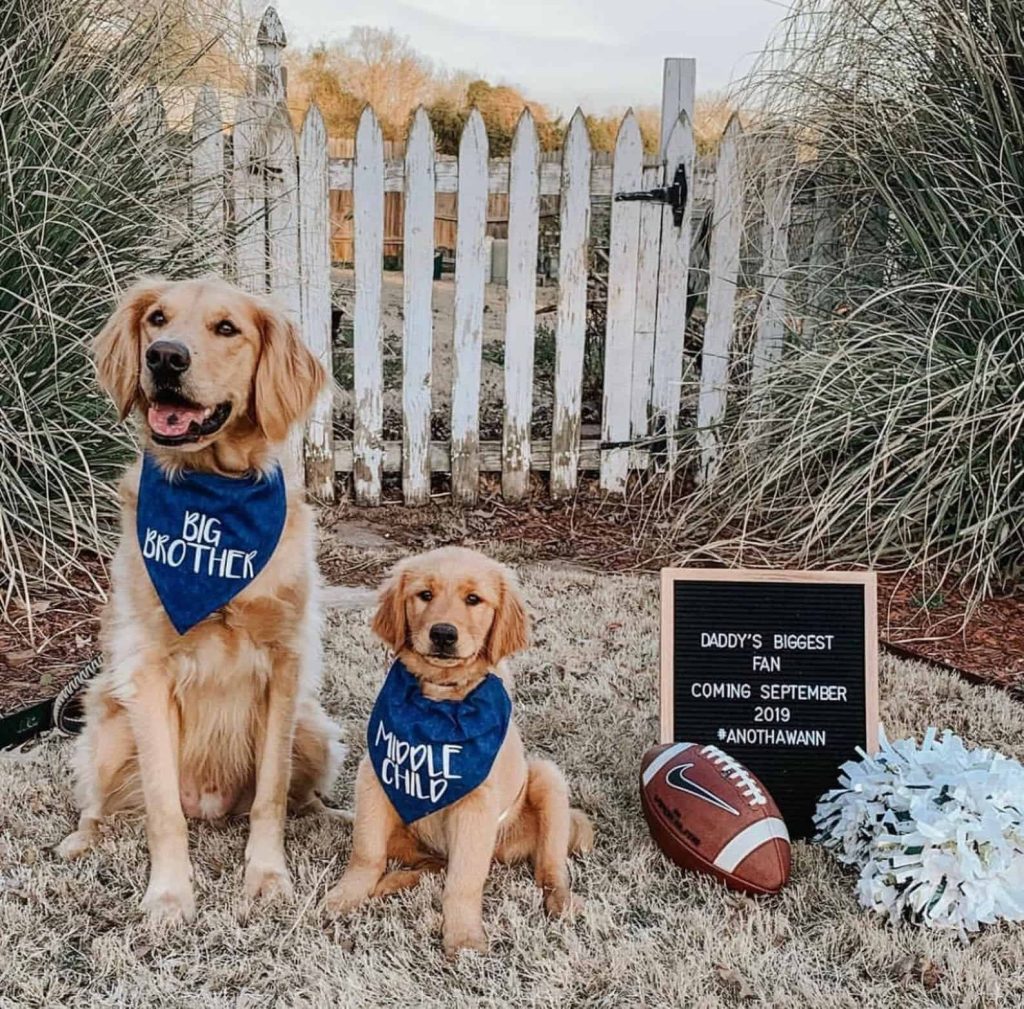 #3: Big Brother and Middle Child Dog Bandanas
Speaking of bandanas for dogs, this is a cute way to involve multiple dogs in your pregnancy announcement. These cute bandanas say big brother and middle child.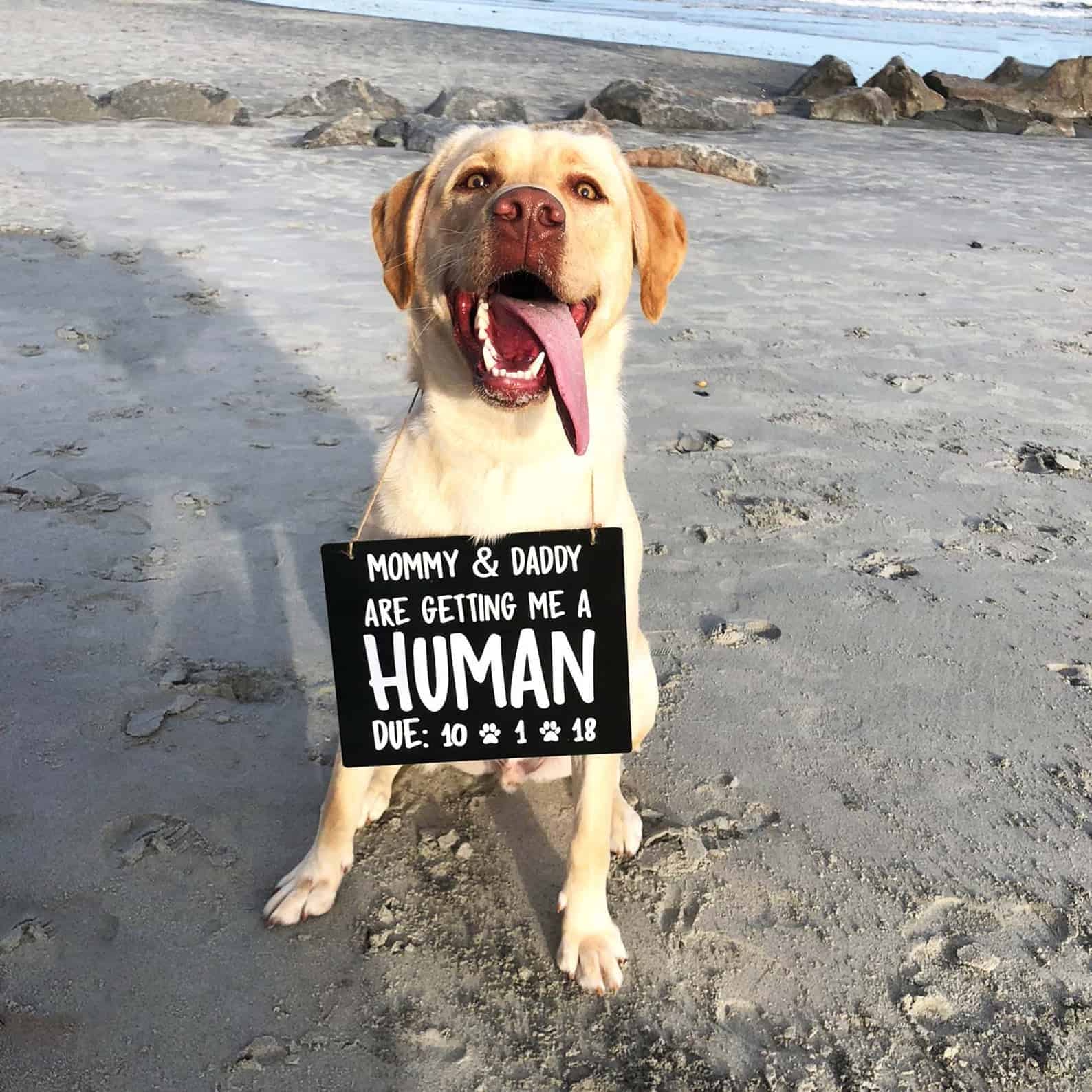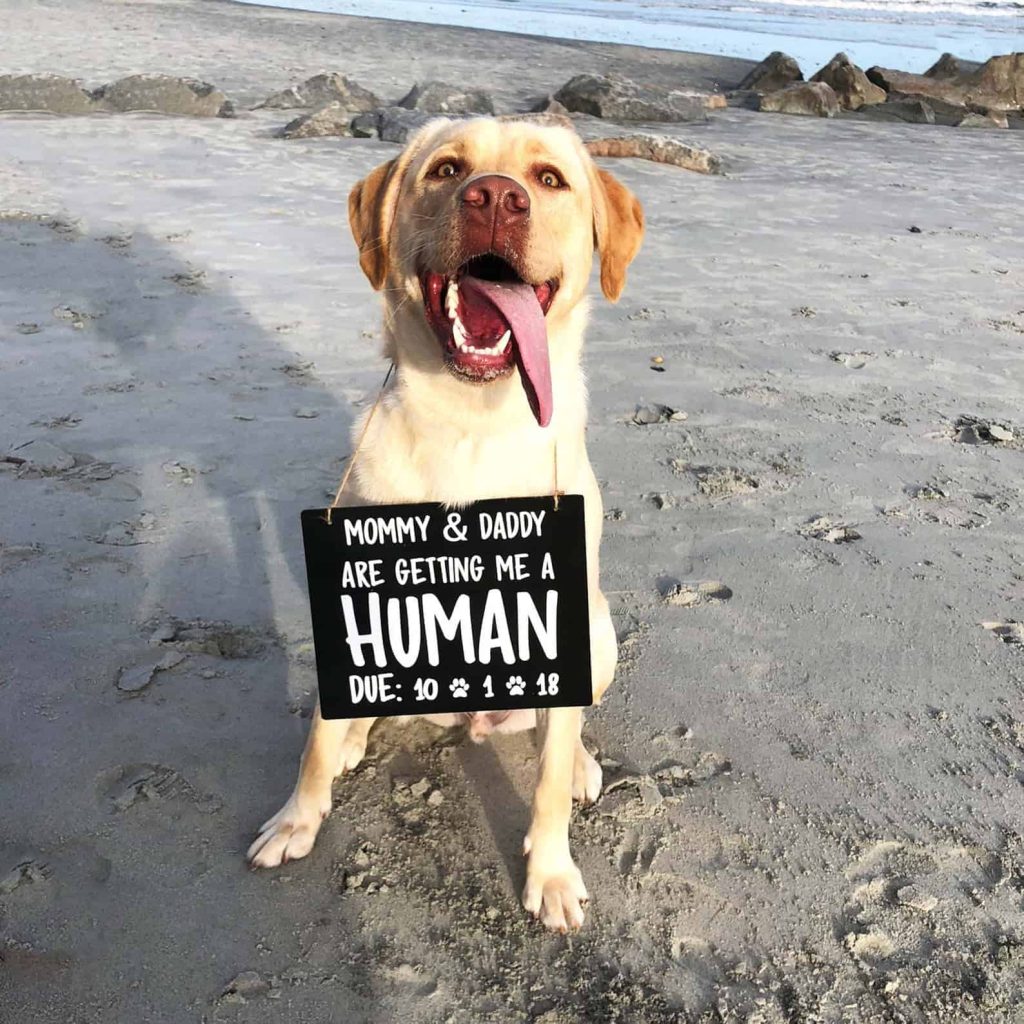 #4: Black and White Pregnancy Dog Sign
The look on this adorable dog's face is priceless for this, right?! I love this cute black and white sign for a dog that says "Mommy and Daddy are getting me a human" with the due date.
Such a fun way to get your dog involved in the pregnancy announcement.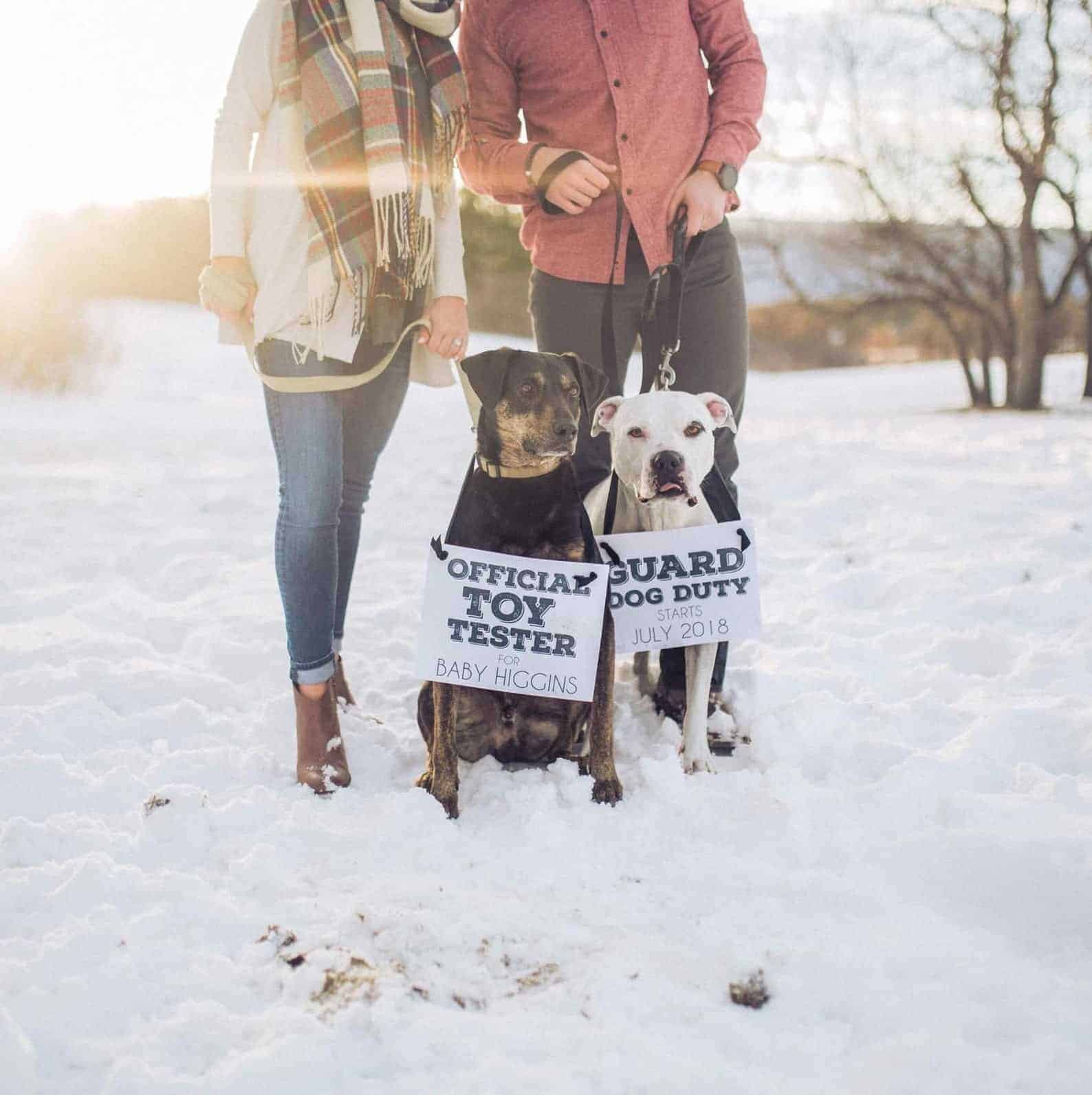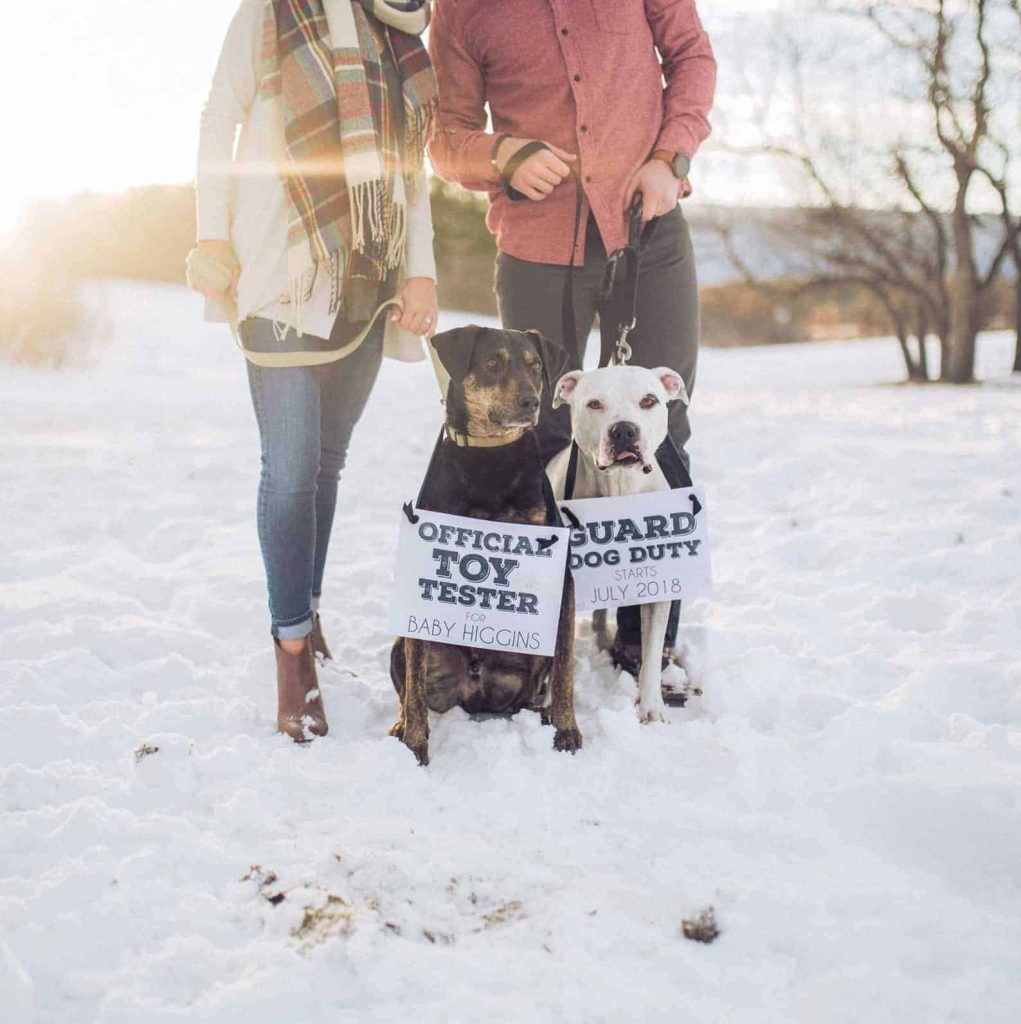 #5: Official Toy Tester & Guard Dog Duty Dog Signs
These customized dog pregnancy announcement signs are so cute and perfect if you have two dogs! One says official toy tester for ____ (baby's name) and one says guard dog duty starting _______ (due date).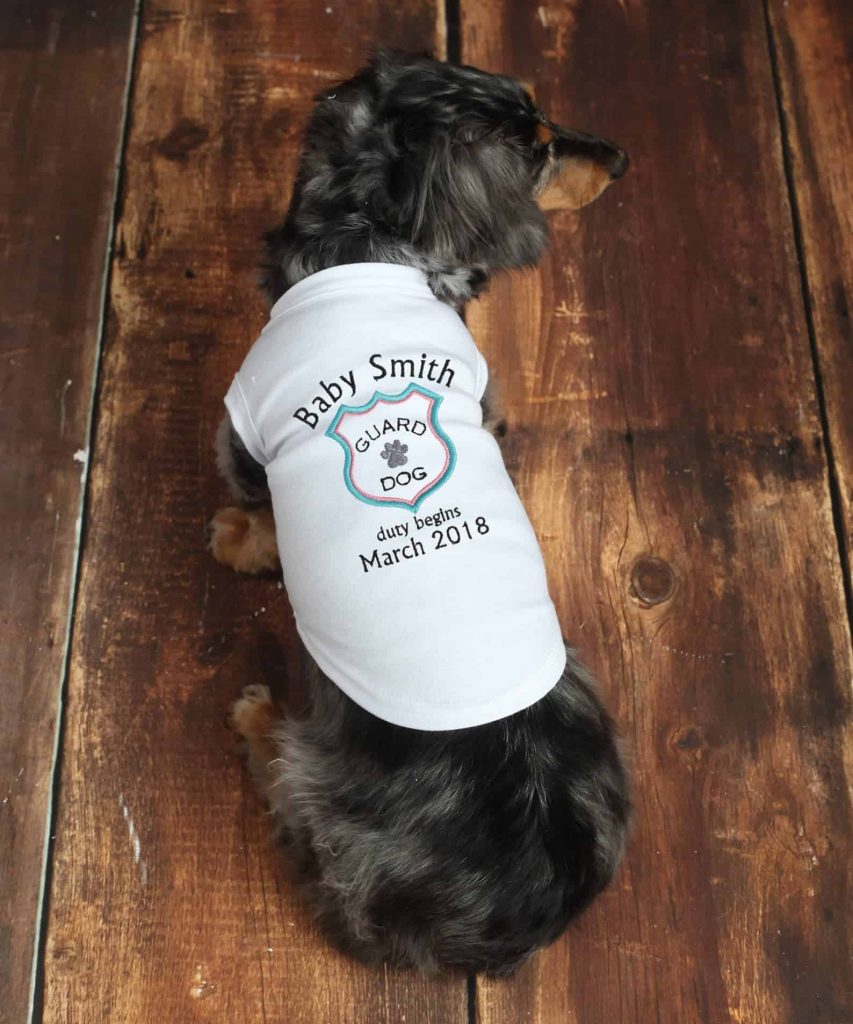 #6: Guard Dog T Shirt
If you're looking for another option for the "guard dog", how about this stretchy dog shirt that is customized with your pregnancy announcement information?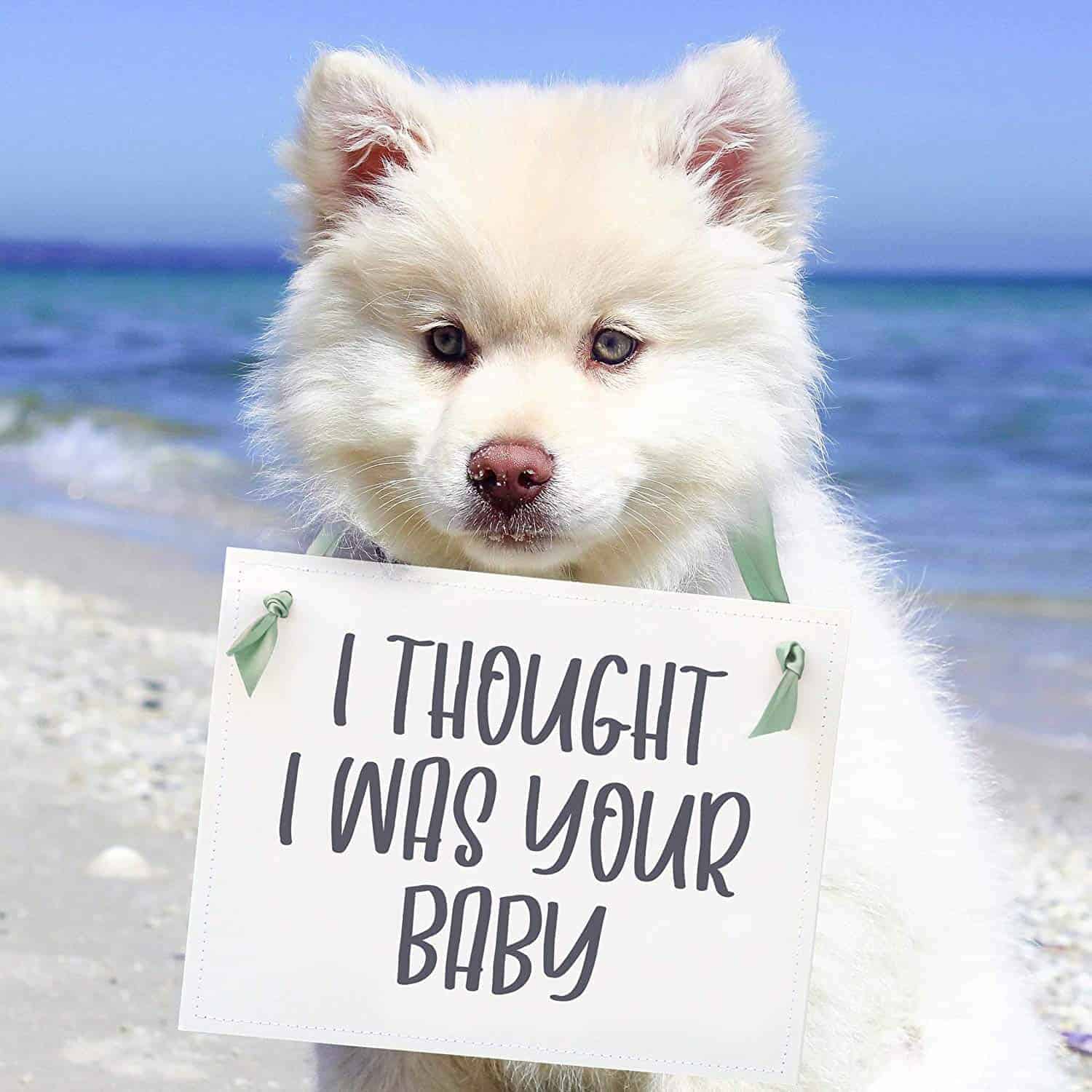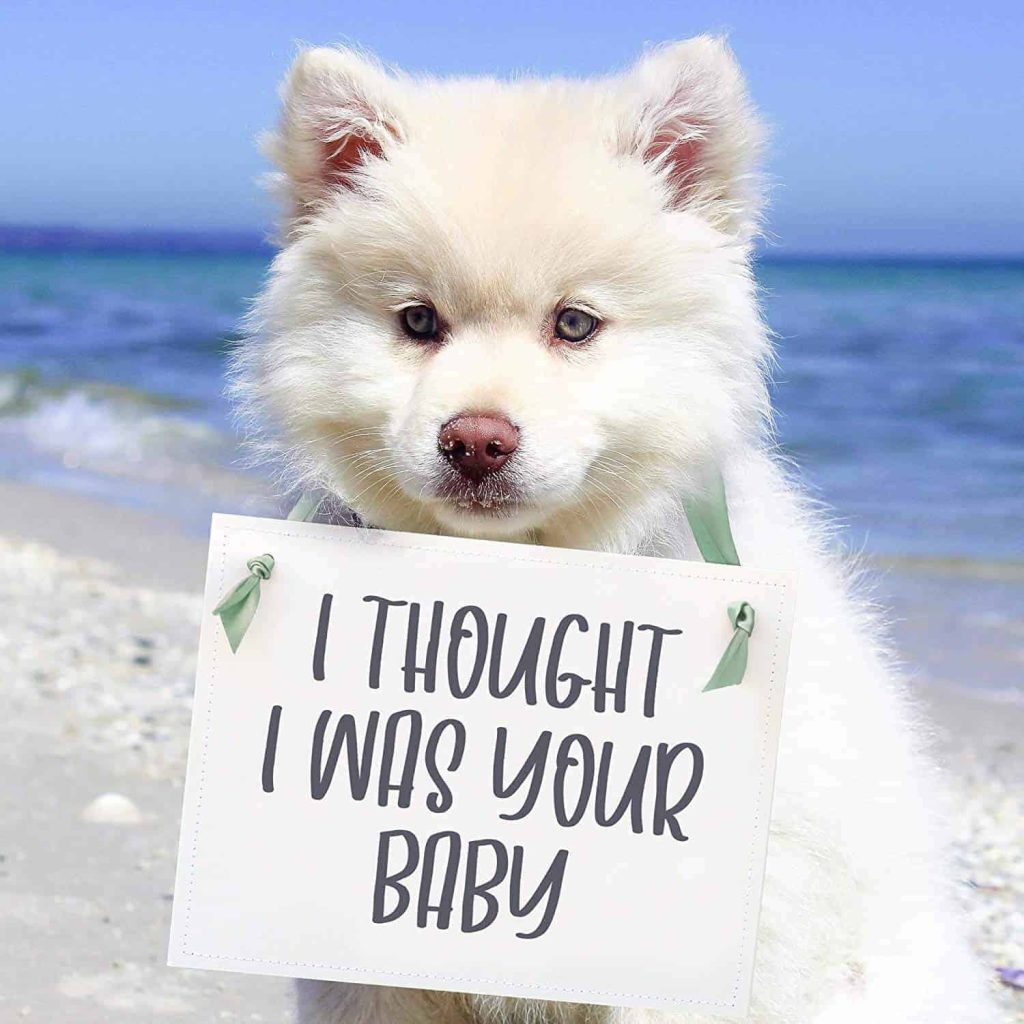 #7: I Thought I Was Your Baby Dog Sign
Anyone that has a dog before a baby knows that your dog is pretty much your baby, right? So this thought from the dog is a valid and relatable one! I just love this "I Thought I Was Your Baby" dog sign!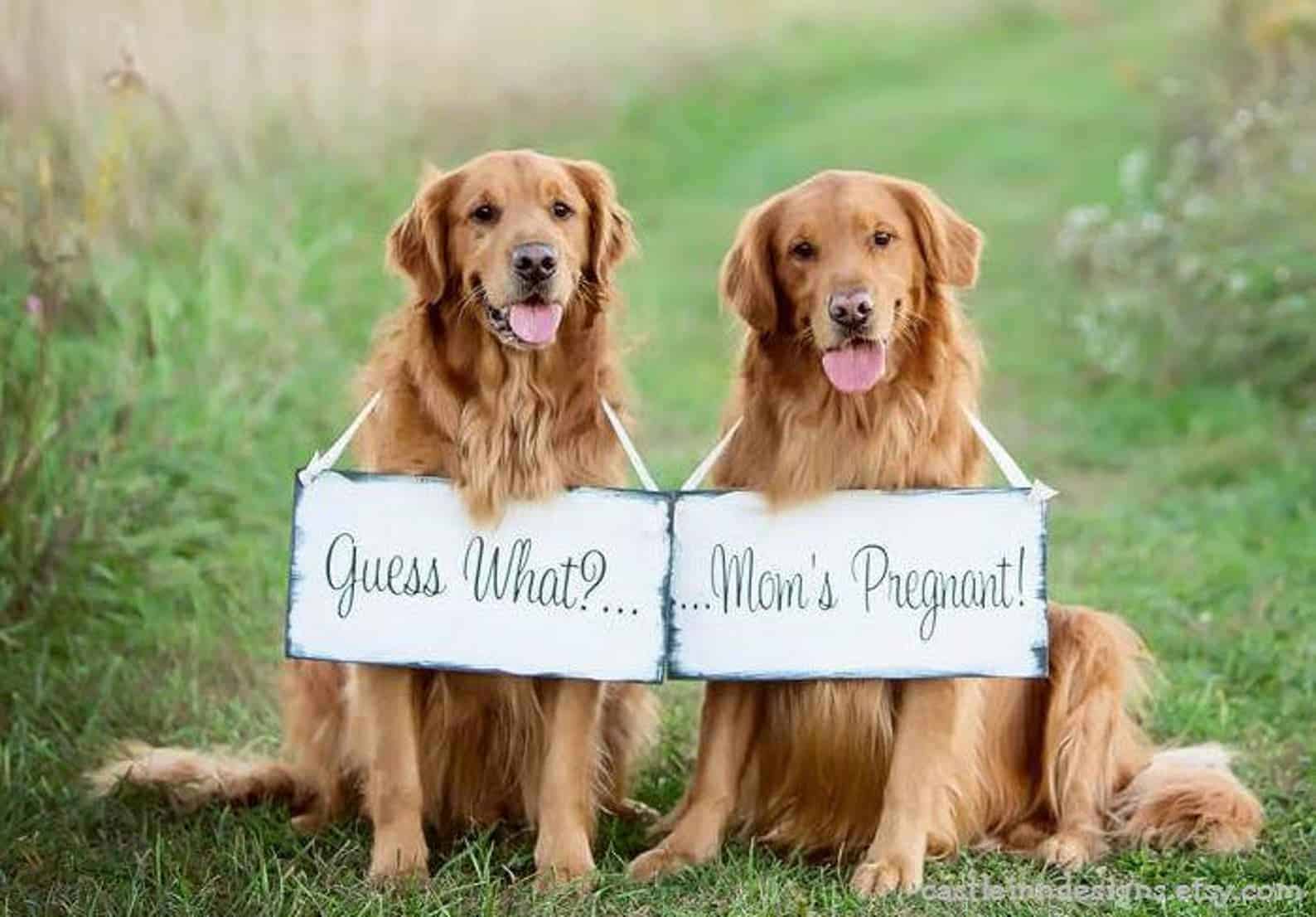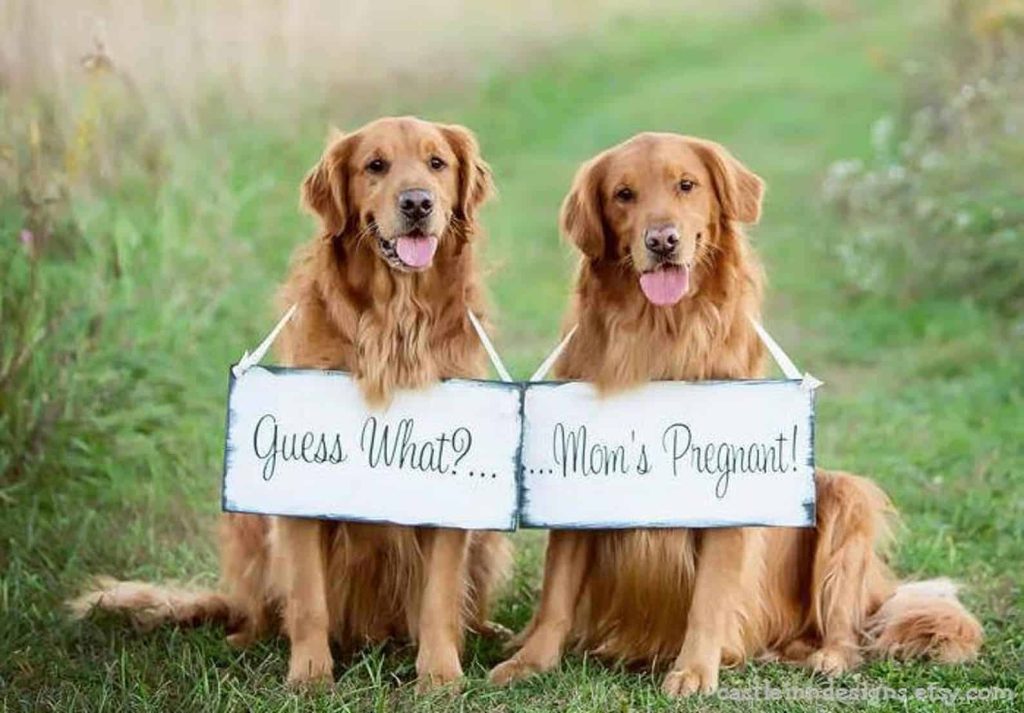 #8: Guess What? Mom's Pregnant Sign
Here's another fun option for dog signs for two dogs, this combo of wooden signs are so cute! They say "Guess What?" and "…Mom's pregnant!".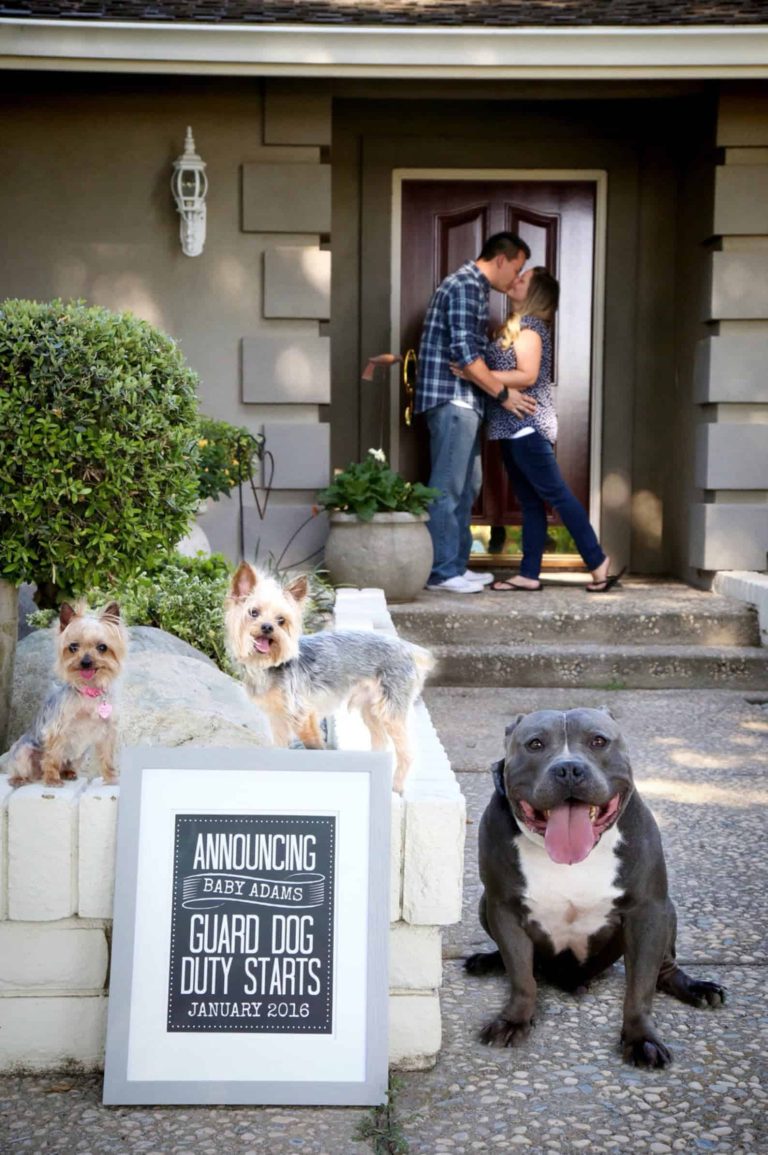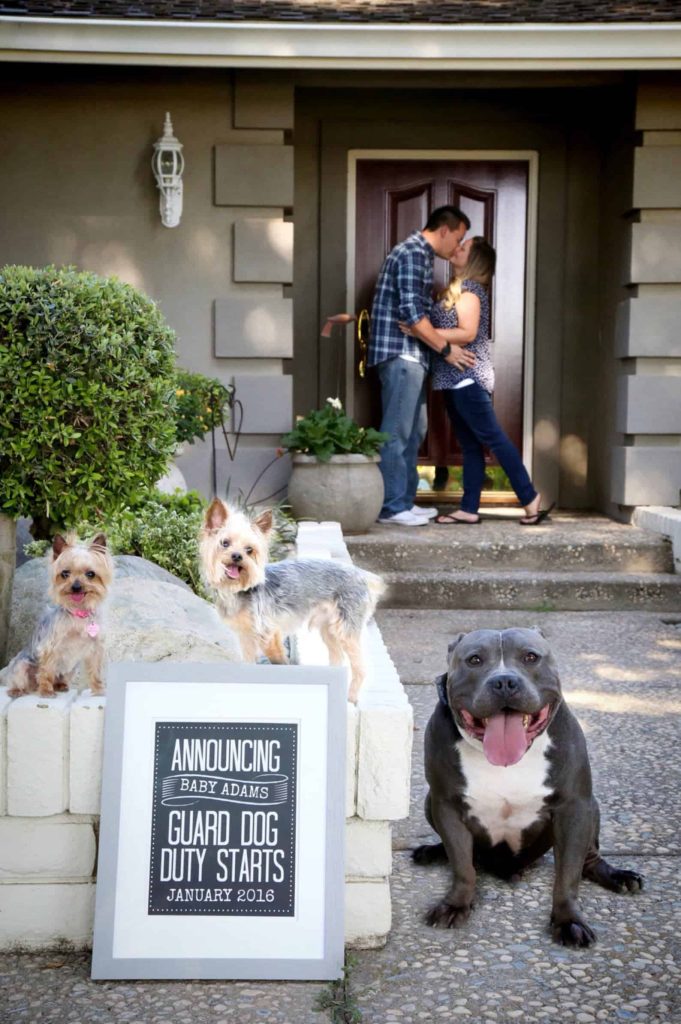 #9: Guard Dog Duty Sign Printable
This is a budget-friendly idea and could incorporate just one or multiple dogs! This simple printable sign can be customized for your baby's name and due date and put framed next to your dog in your announcement photo.
If you're looking for a super cute way to involve your fur babies in your pregnancy announcement on social media, I hope you found some great inspiration in these ideas! From dog signs to shirts – there's a little bit of everything!
I can't wait to see what you come up with for your baby announcements with dogs! Be sure to come back and share your announcement in the comments below!
---
Originally Published Photos From Blog Post