Short on space? Transform an old cabinet into a spacious kitchen pantry! In this DIY project, we more than doubled our kitchen storage with a repurposed entertainment center, complete with new knobs and shelving.

In our previous homes, we were lucky enough to have massive, amazing kitchens with tons of cabinet space. That simply wasn't the case with our current fixer-upper.
For this project, you could easily use any piece of furniture to upcycle. An armoire, bookshelf, china cabinet, or a dresser would work well, too. The thing I love about this project is that there's no "wrong" way to do this. Using your own style will breathe new life into an older piece of furniture!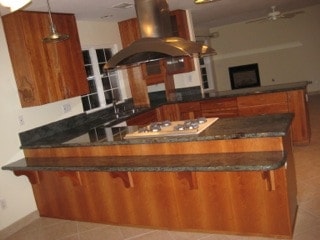 Here's our small kitchen at the new house.
We down-sized quite a bit from our previous homes and I knew the pantry space was going to be a challenge.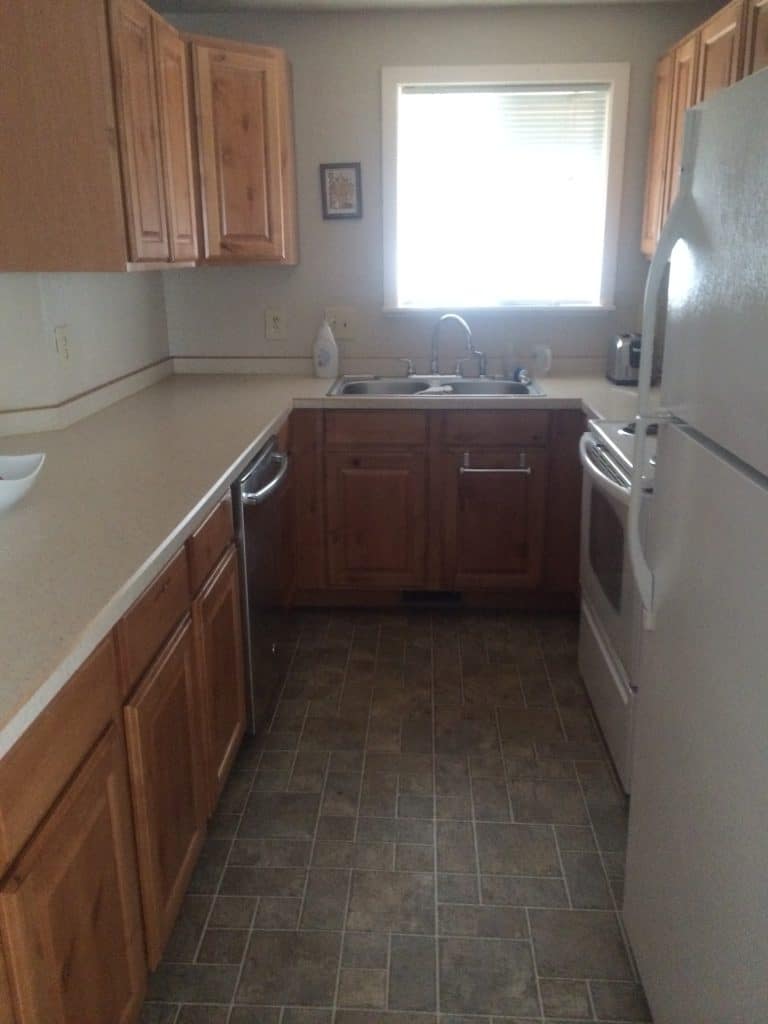 The most frustrating part of all was the pantry space… or lack thereof. I was expected to fit ALL of our food in this narrow cabinet. It was just not happening.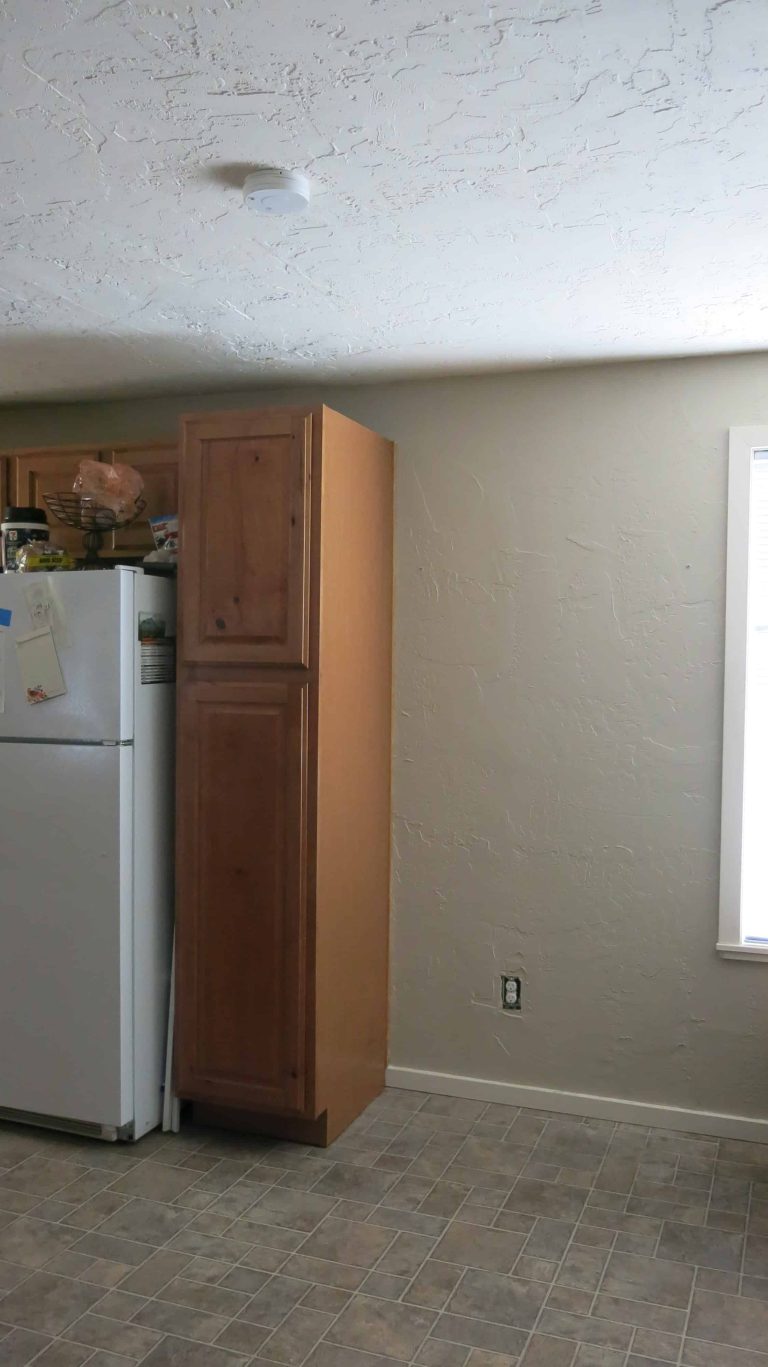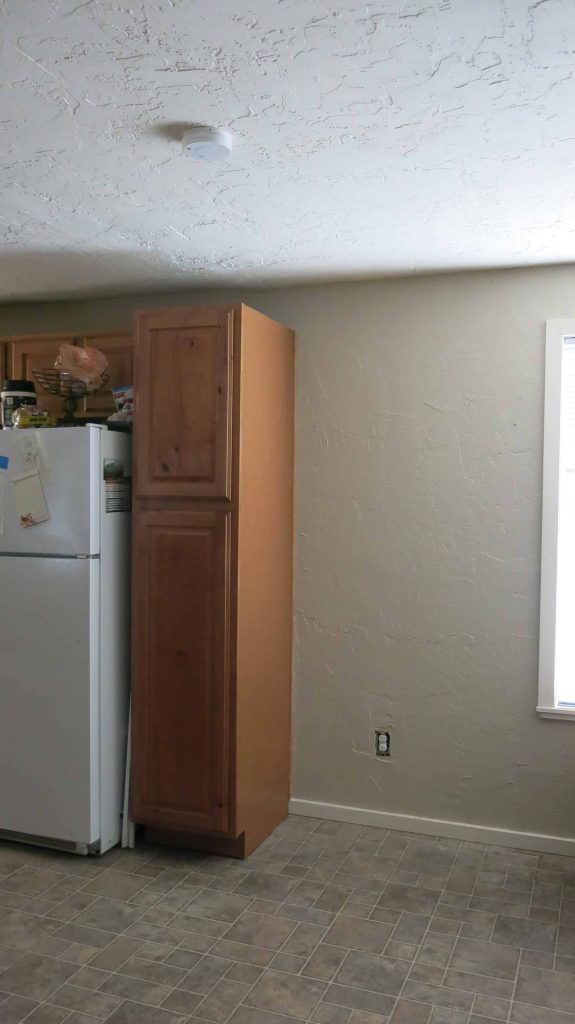 We considered converting a closet into a pantry, but we needed that space, too. The blank space next to this "pantry cabinet" caught my eye and I knew I could make it work with the right piece!
A few weeks later, I came across this entertainment center at the thrift store.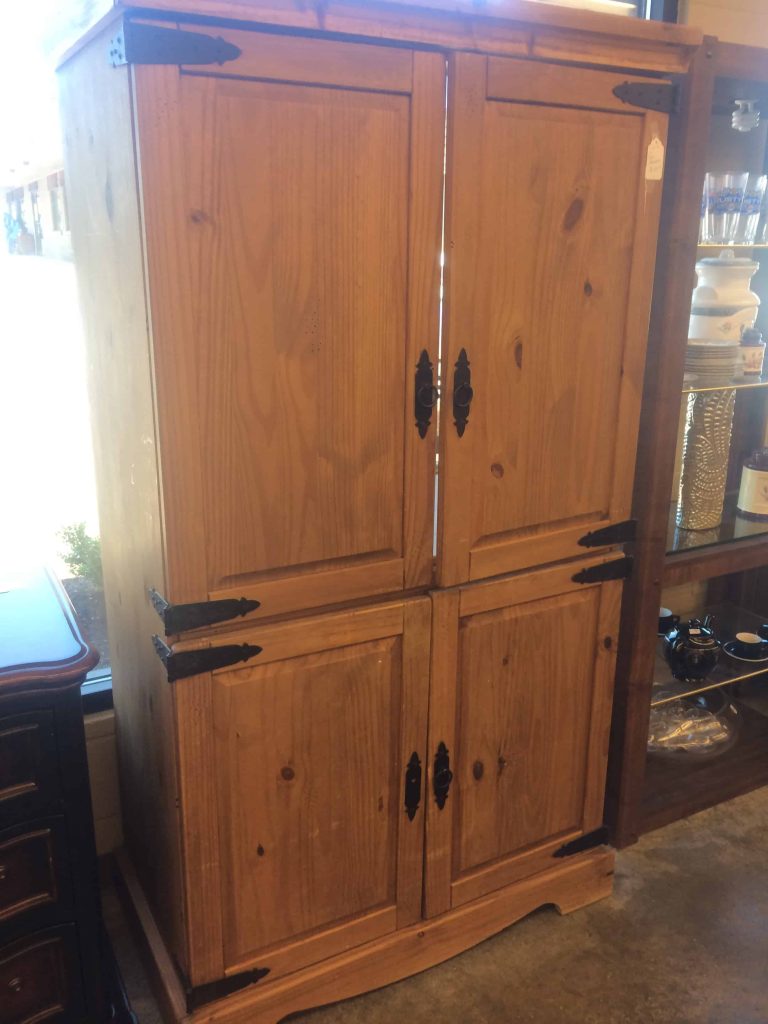 I was immediately drawn to it because of the rustic style. Yes, it was a little beat up here and there and needed some TLC. But… when I measured it, it was the PERFECT size for a DIY pantry, so I knew it was meant to be.
We took it home and got to work.
Converting an Entertainment Center into a Kitchen Pantry
This DIY pantry post contains affiliate links, but nothing that I wouldn't wholeheartedly recommend anyway! Read my full disclosure here.
Supplies & tools needed for a DIY kitchen pantry
Old armoire or entertainment center
Sandpaper
Paint color
Here are some ideas to make this pantry project your own:
replace glass panes with chicken wire
paint it a bright color
For dressers, you could remove the drawers and add shelving without cabinet doors
Step 1. Clean and remove hardware and shelves.
Since we purchased this piece of furniture as used, I knew it needed a good cleaning after collecting dust in the store.
It was definitely well-loved in it's time. The top was warped, it was missing a shelf, the finish was beat up…basically, it was a dream for a DIY job!
We gave the cabinet a good wipe down, then removed all of the shelving and hardware, including the hinges. If you feel the need to really deep clean the piece, make sure you are using a material-friendly cleaner, like Murphy's Wood Oil, furniture polish, or something similar that won't damage the structure.
Step 2. Sand & Repair, if necessary.
Since the finish had seen better days, I did some light sanding on everything, focusing more on the problem areas, and added a fresh layer of finishing coat.
I wasn't super wild about the way the sanding turned out. There are a few places where you can see the sanding marks, so be gentle unless you are willing to sand down the entire finish. The finishing wax did help even everything out and freshen things up a bit.
Next, the top of the cabinet was slightly warped and wasn't entirely attached to the cabinet anymore.
Here, we removed the top, glued it down in place, and added some nails for extra security.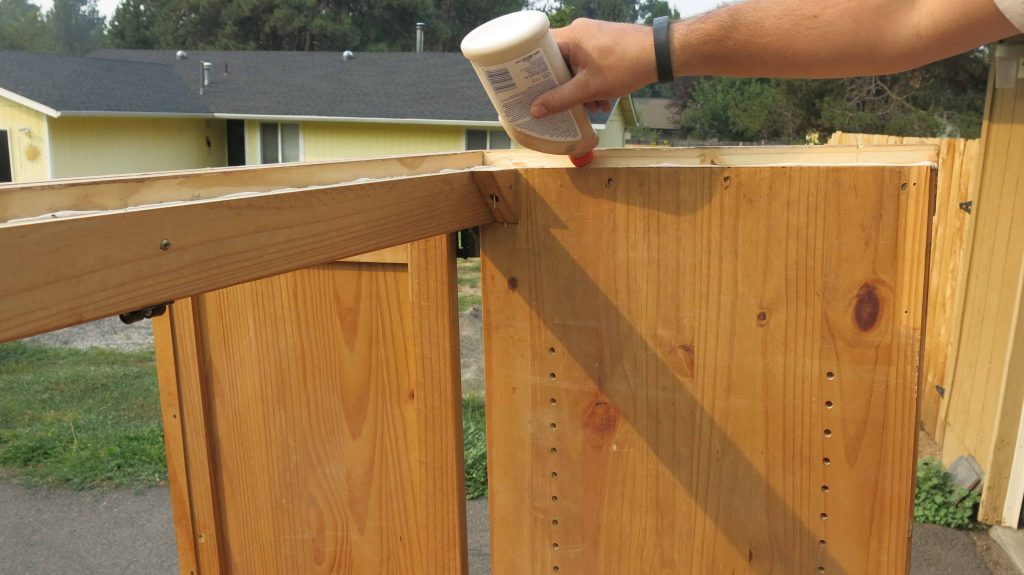 Lastly, the cabinet back had been removed from the top portion, so we added new backing using 1/4" underlayment plywood. We glued it in place then secured with nails.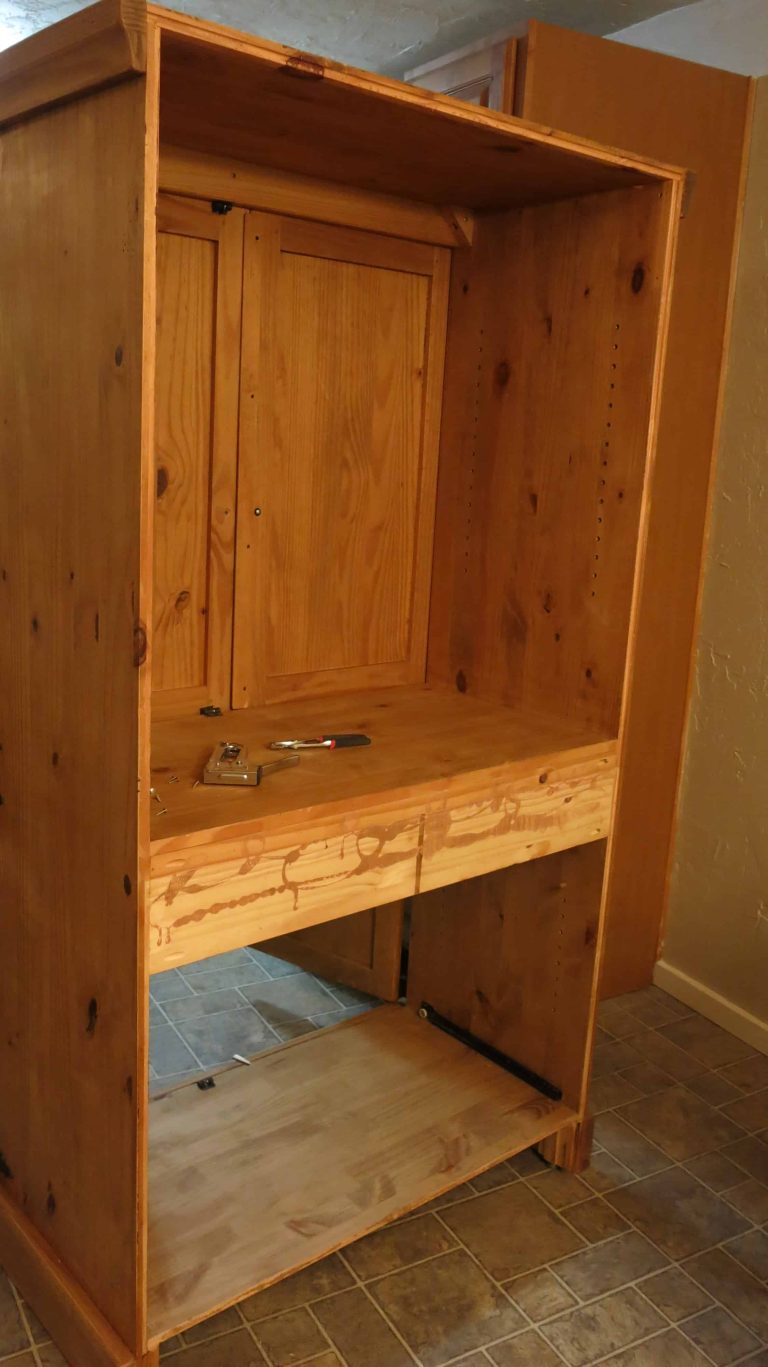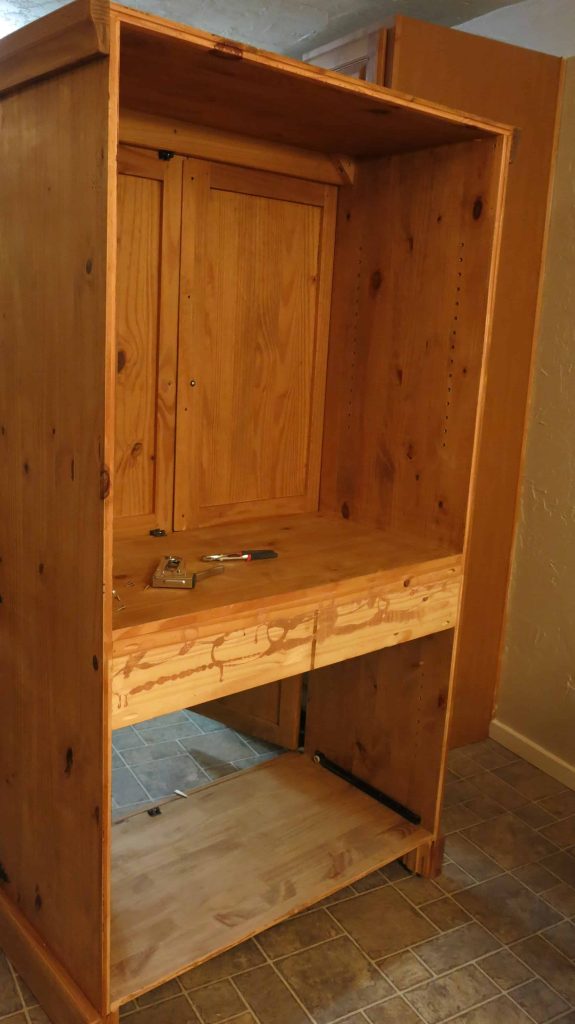 Step 3. Paint, Wax, Finish, or Stain.
Now, this next step is optional. You can choose to paint, wax, finish or stain your furniture. It's completely up to you.
If your piece of furniture doesn't have any major imperfections and you are happy with the appearance, then feel free to continue on to the next steps. If you just want to encourage a little shine to the wood, lemon oil polish does wonders to replenish the natural oils to the wood.
For our piece, there weren't any major issues and I didn't want paint or stain, so I just added to the rustic look with some finishing wax.
Finishing wax gives furniture that distressed, antiqued appearance. It's easy to go overboard, so do a little at a time, take a breather, then add more if necessary. It's way easier to add more wax than remove it – trust me!
If you are waxing your furniture, make sure you follow these steps before getting started:
Clean the surface, making sure it's free of any dust or particles
Apply wax in thin layers with a clean cloth or wax brush
Allow to dry, then buff to smooth with another clean cloth.
Step 4. Add hardware and shelving.
After your application has dried, add your hardware and shelving. Since one of the original pulls was missing, I replaced all four with something different.
Personally, I think picking out hardware is more fun than choosing a paint color! There are so many different options and designs out there, so choose something that fits your personality and style. Because this isn't as permanent as paint colors or stains, going with something out of the ordinary is totally ok here. Just switch them out when you are ready for something new!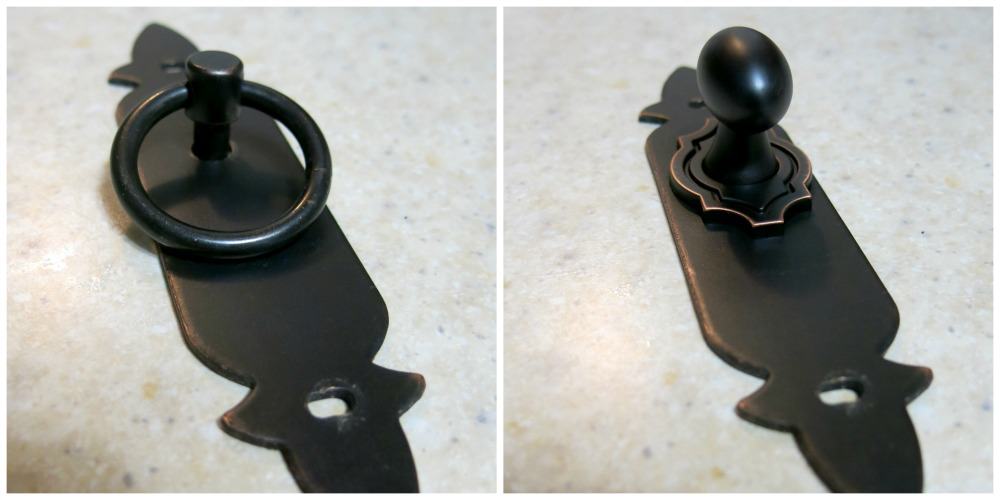 Hobby Lobby, Home Depot, and Amazon are my favorite places to shop for these kinds of items, because they are relatively inexpensive and replacements can easily be found.
Step 5. Organize the pantry.
After we were all done fixin' er up, it was time to get to organizing. Obviously, your pantry should be organized to be the most functional to your needs, but hopefully these ideas will give you some inspiration…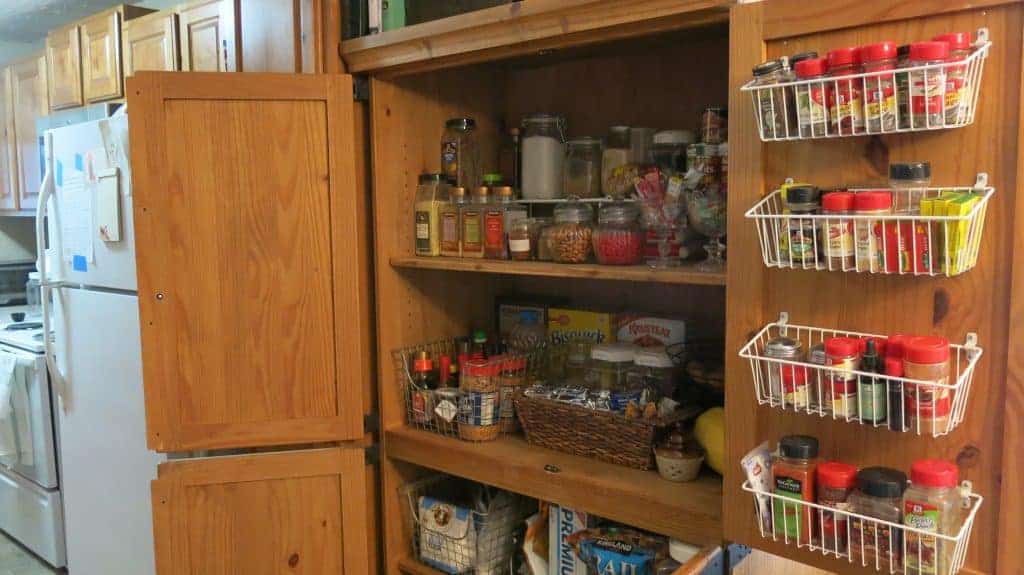 I loved how everything ended up working out and how open and easy it is to see everything in the pantry. You can use a variety of different boxes and baskets to hold chips, spices, and other pantry items.
To organize our spices, I found these awesome baskets on Amazon, and they ended up working out just perfectly. These are great for storing packets of spice mixes and oddly shaped spice containers.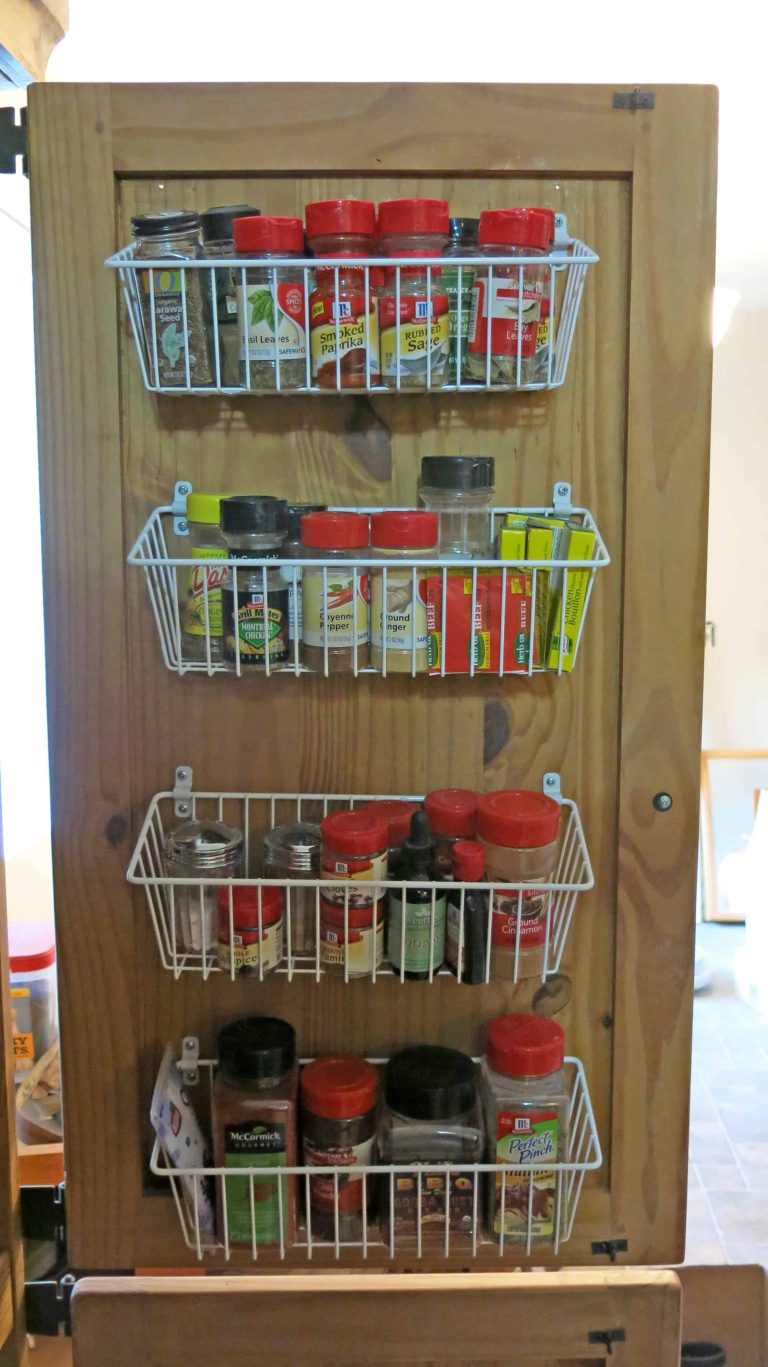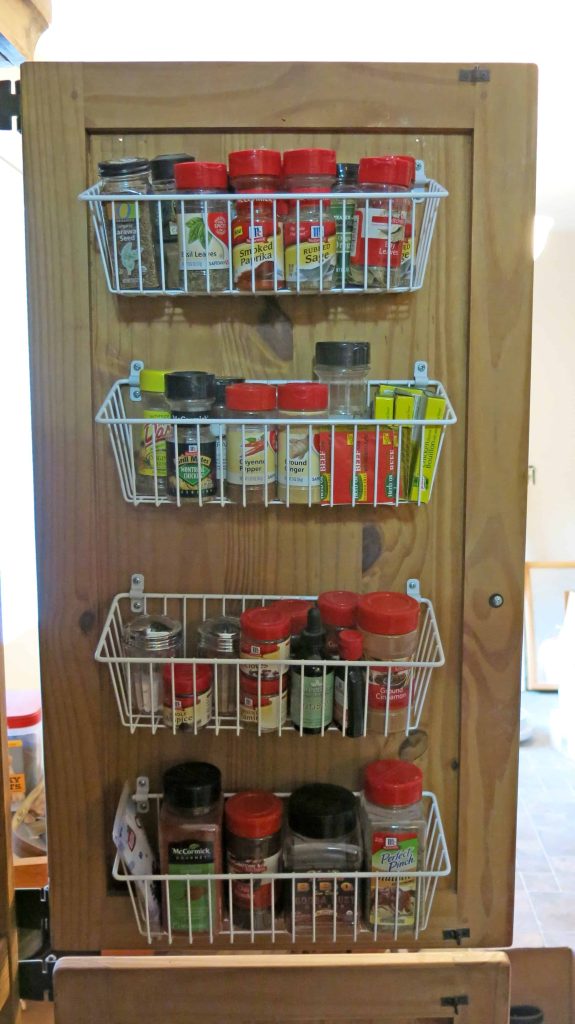 If you prefer more visual appeal, a spice rack and printable labels are a great option for getting your spice cabinet in order.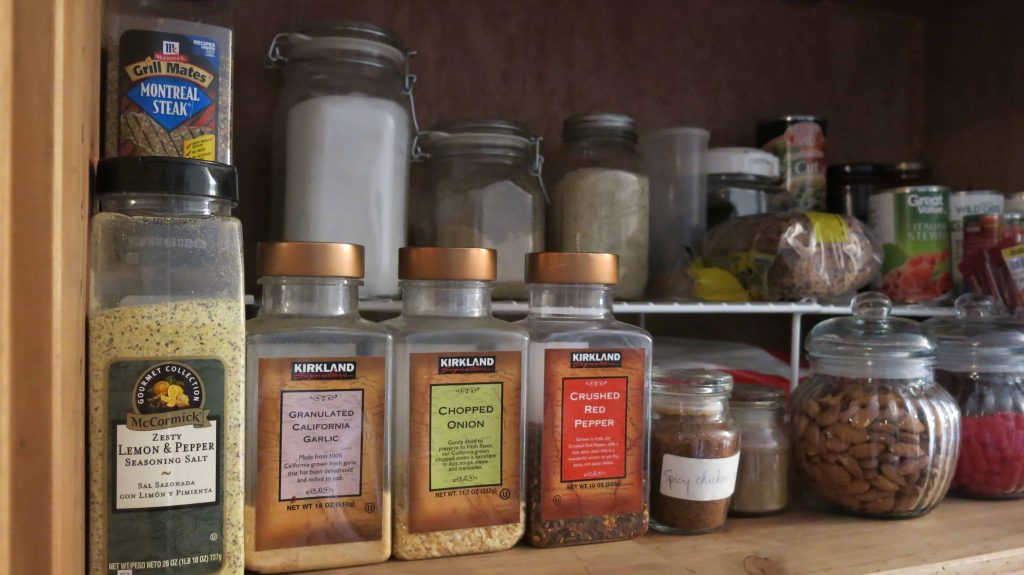 In the back of the pantry, we added extra shelving so we can store more items and utilize the vertical space for stacking!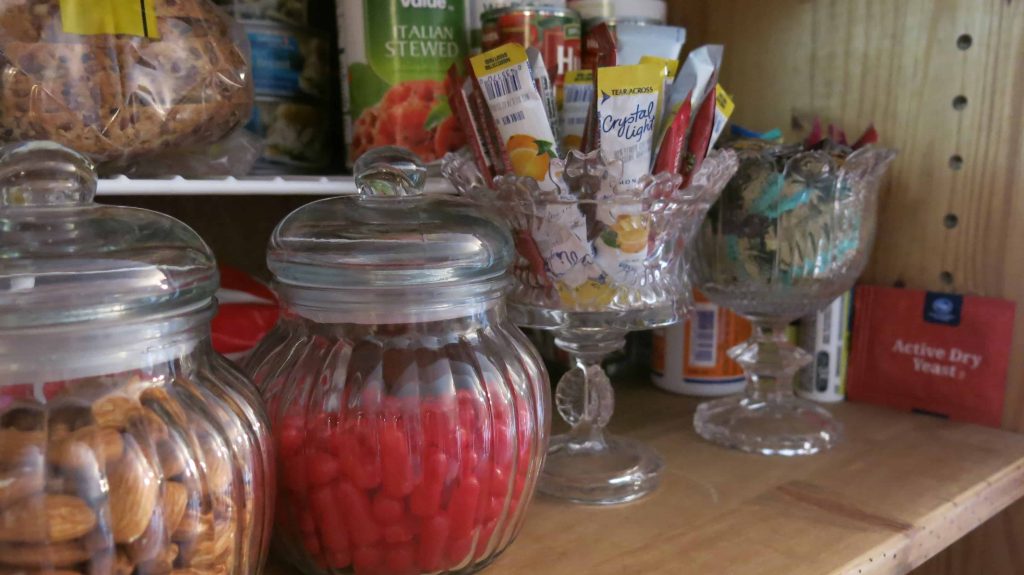 I found the wire baskets at TJ Maxx, but here's something similar from Amazon.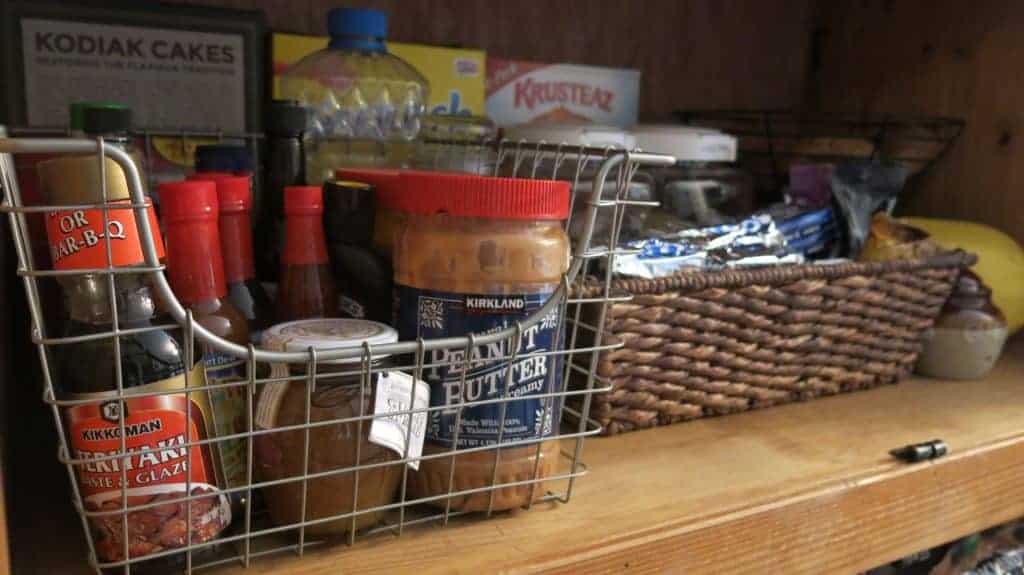 I was getting tired of grocery bags taking up valuable drawer space, so I found this bag holder.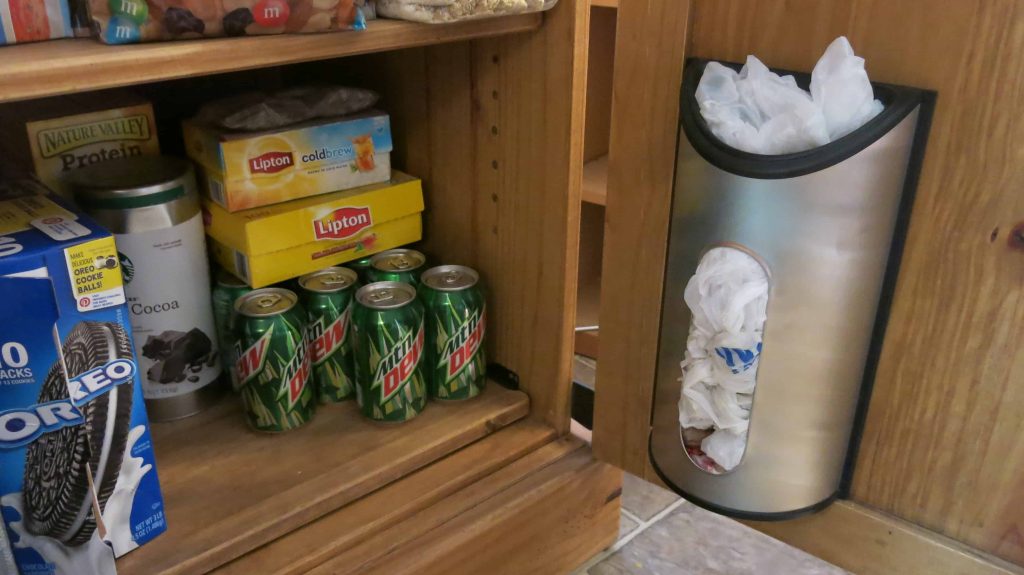 I absolutely fell in love with this vintage basket I found at one of my favorite thrift stores. It's holding tablecloths and linen napkins.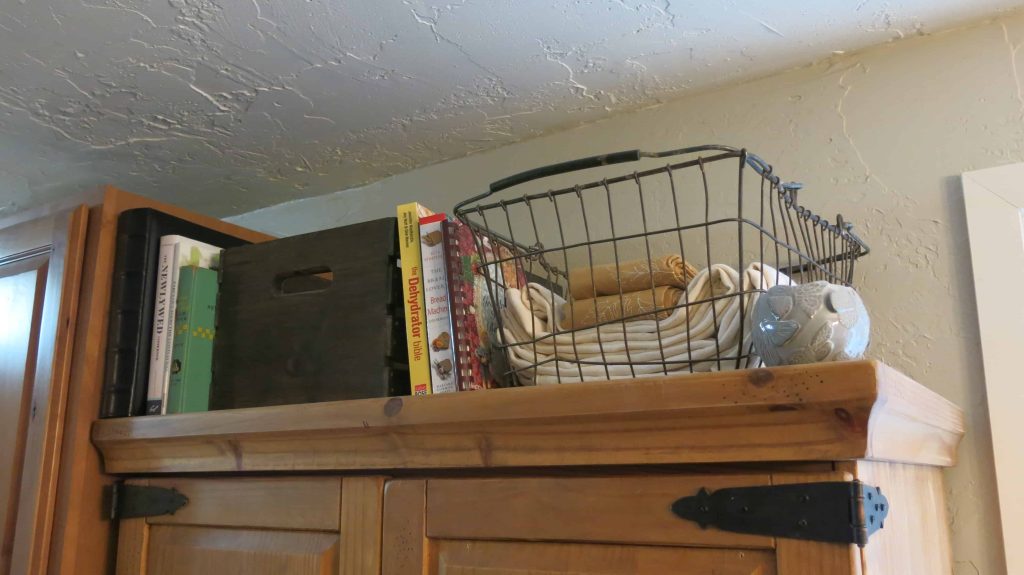 Now, I can easily put together a pretty table for a nice meal without rummaging through a towering linen closet.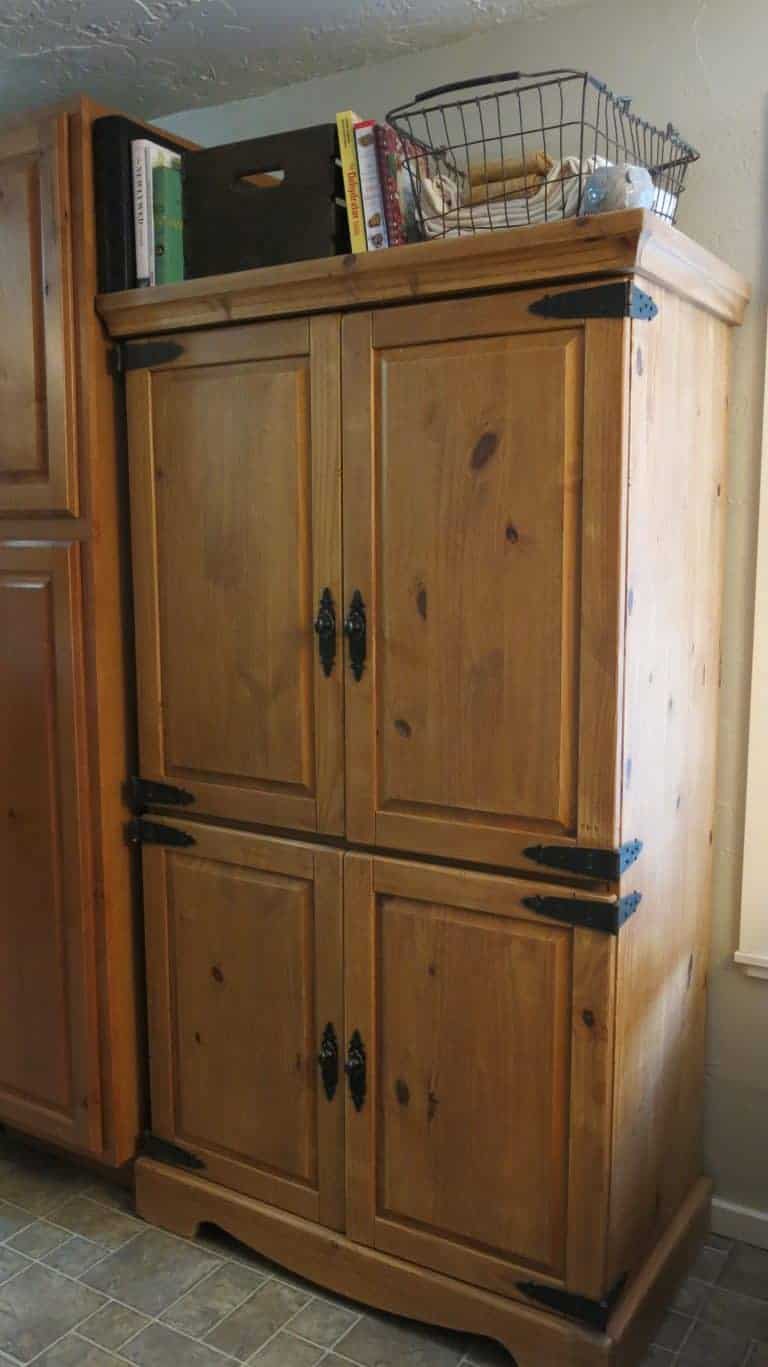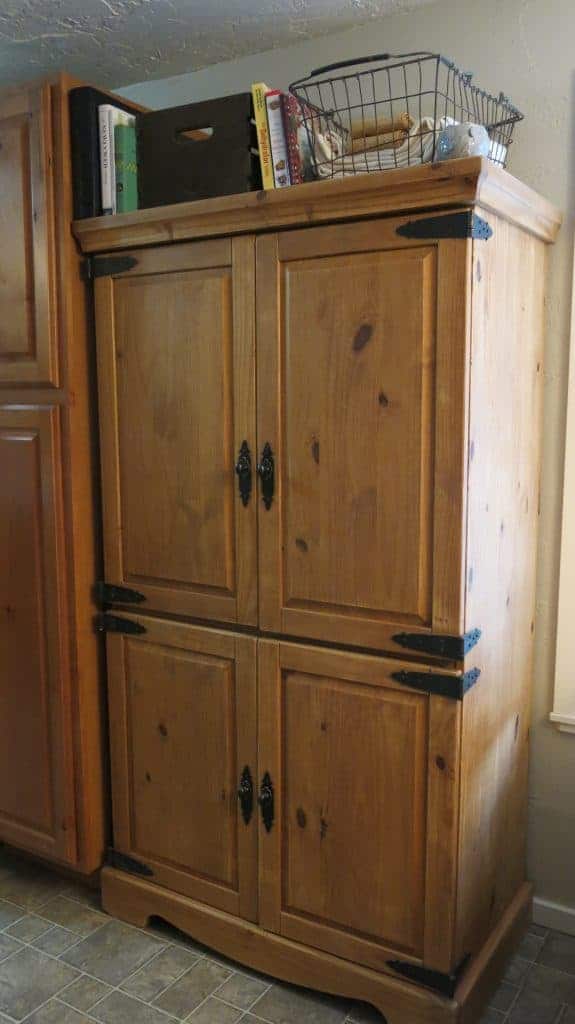 Have you ever tried making a DIY pantry? Have you done any fun upcycled projects lately?
I'd love to hear all about them in the comments below!