We didn't have any pantry in our small kitchen, so check out how we upcycled this old entertainment center from the thrift store into a DIY pantry with tons of extra storage in the kitchen.
This DIY pantry post contains affiliate links, but nothing that I wouldn't wholeheartedly recommend anyway! Read my full disclosure here.

Are you ready to see how this DIY pantry came together?
I know it's been a while since I've posted about our little home renovation. Things have been a little hectic around here lately, I promise to give you some good updates on projects we're working on this month. I completed this fun upcycled entertainment center converted to a DIY pantry a couple months ago and I've been loving it since.
So you guys have all seen the fixer-upper home we purchased earlier this year (click here to see a pre-renovation home tour if you haven't checked that out!). Now I have a little confession to make… the last two places we've lived since getting married (and getting all that awesome stuff for your kitchen off your registry), I've had huge… massive…amazing…kitchens. I don't know how I was so lucky to score with the two rentals, but I did. I mean… look at the first one in San Diego (sorry for the horrible picture).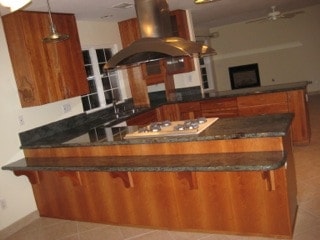 In both houses and I had tons of cabinets. To be honest, I didn't even fill them all. I had a separate pantry that fit all of our food and more.
Here's our small kitchen at the new house.
When we moved into our first fixer upper, I knew we were downsizing a bit. I knew it was smaller and I knew the kitchen was going to be a tough cookie. For the first month or two a lot of kitchen stuff wasn't entirely unpacked, but the more boxes I found labeled "Kitchen", the more worried I became.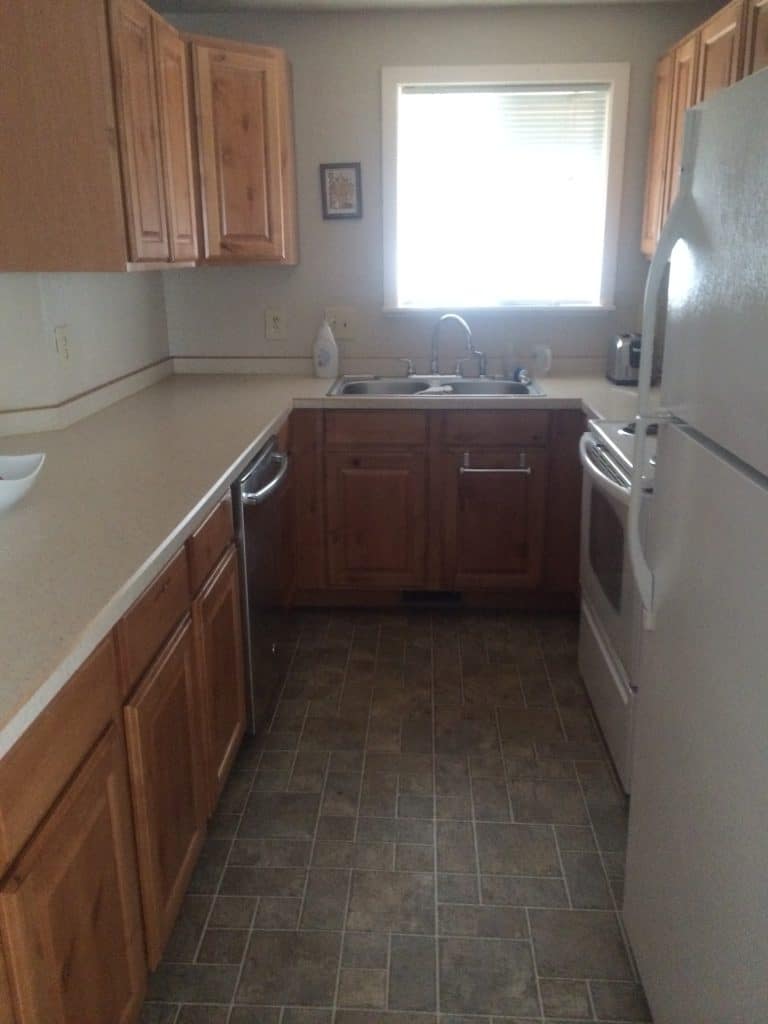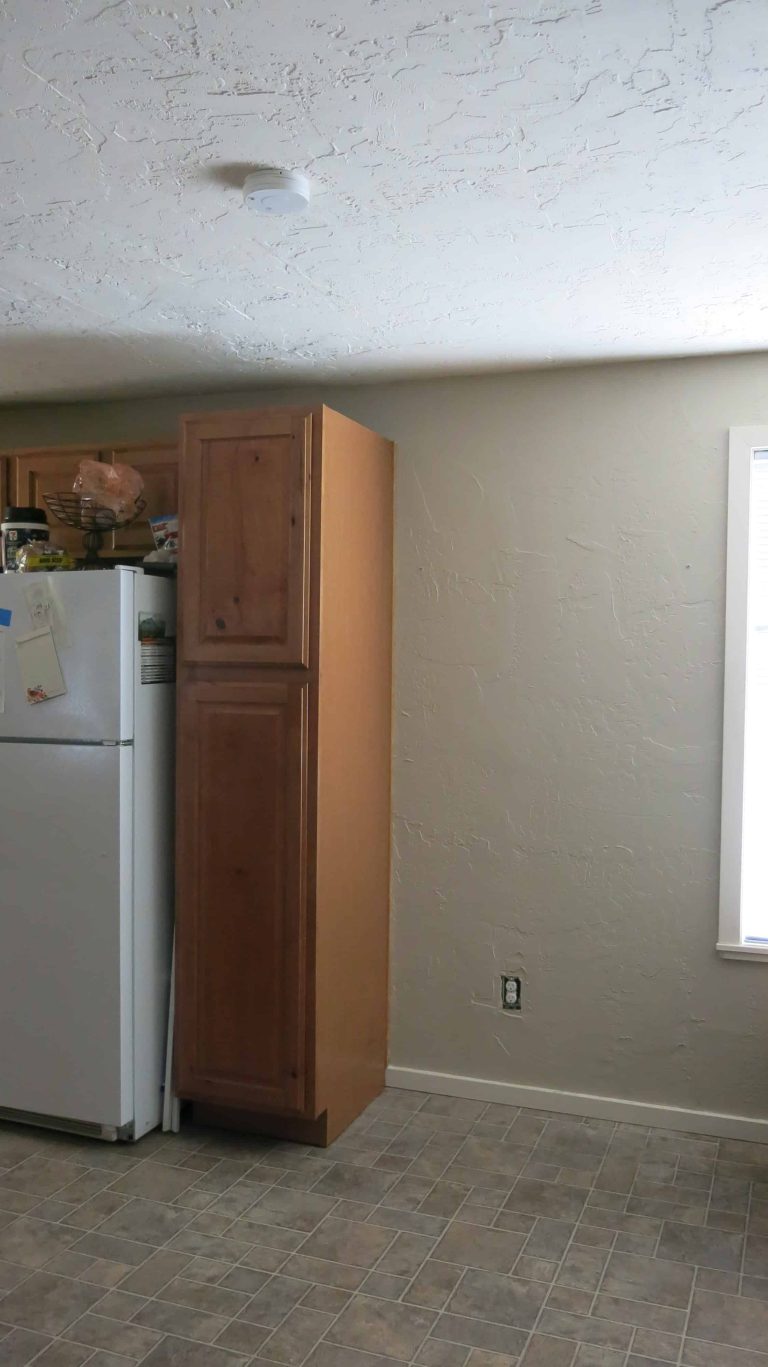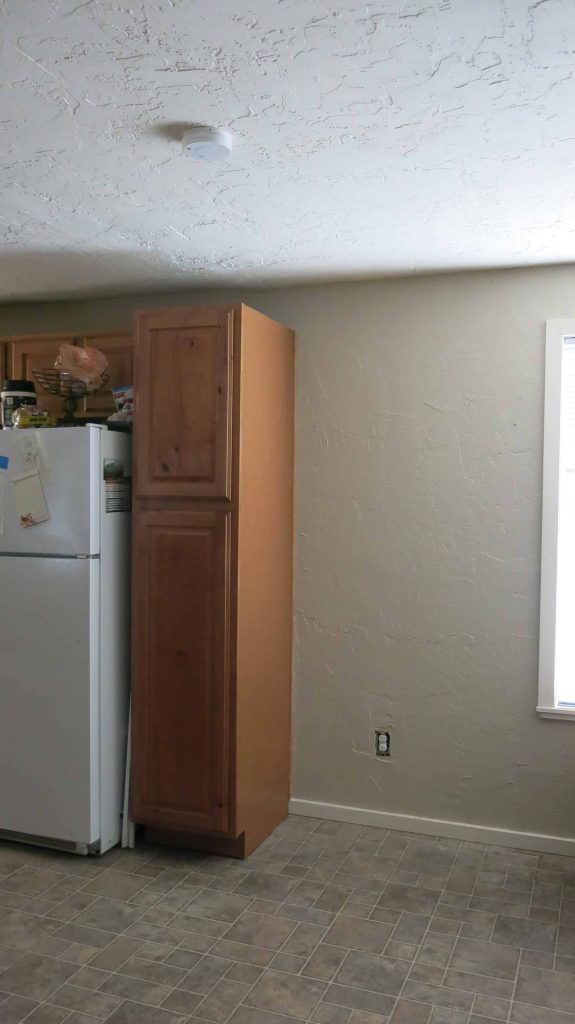 The most frustrating part of all was the pantry space… or lack thereof. See this picture above… Now look at that cabinet to the right the fridge. I was expected to fit ALL of our food in there. It was just not happening.
It was way too skinny and deep. I couldn't see anything in the back. I was going crazy. Until it dawned on me…. none of the cabinets in our kitchen were going to work for a pantry. It just wasn't happening. I needed to think outside of the box.
I needed to find a pantry solution!
We thought about converting the closet into a DIY pantry and quickly decided that was a horrible idea because we desperately needed that storage space too.
Then I realized that I had blank wall space next to the existing "pantry cabinet". We had our coffee bar there, but weren't planning on keeping it there for long. I measured the space and started to keep my eye out for something that would work and a few weeks later I came across this bad boy at the thrift store.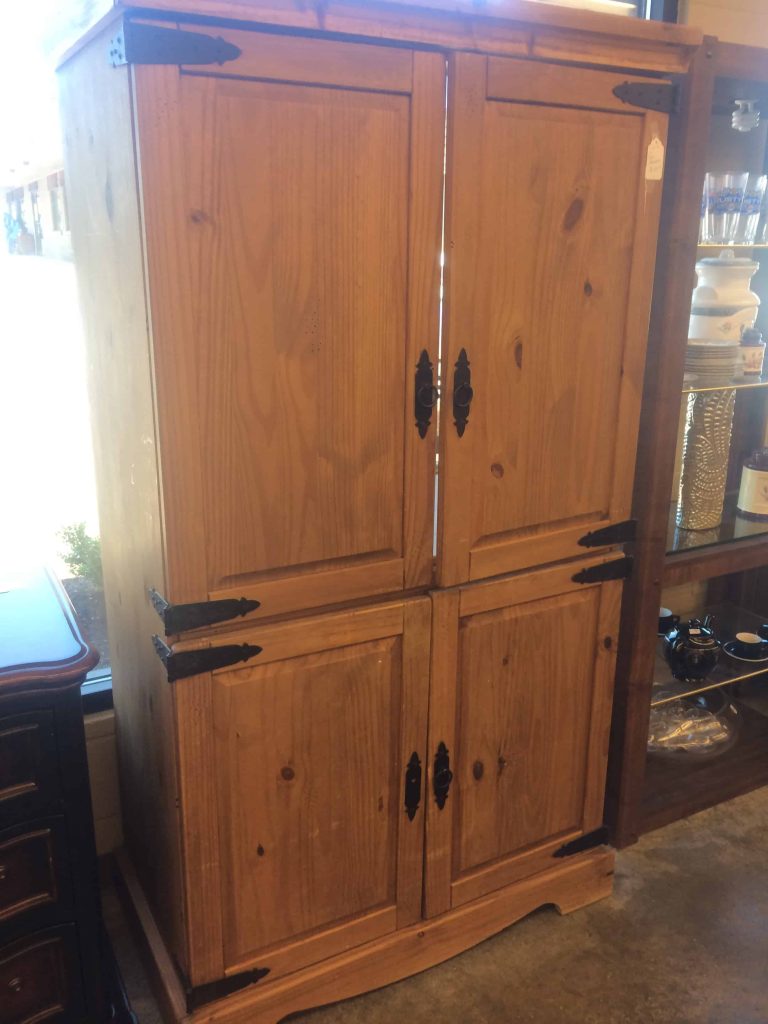 I was immediately drawn to it because of the rustic style. Yes, it was a little beat up here and there, not perfect and needed some tending to. But… when I measured it, it was the PERFECT size for a DIY pantry, so I knew it was meant to be.
We took it home and got to work.
Here's what we needed to do for the DIY pantry.
One of the major problems with that cabinet was that it was missing a ring on the bottom left door for the handle. I looked high and low trying to find a similar replacement part before realizing that I was going to need to go in a different direction.
We ended replacing all of the 4 handles with knobs, instead of those rings. We got these ones shown below on the right side of the picture at Home Depot. Here's something similar as I couldn't find the exact match for these anymore! I think it was a great solution.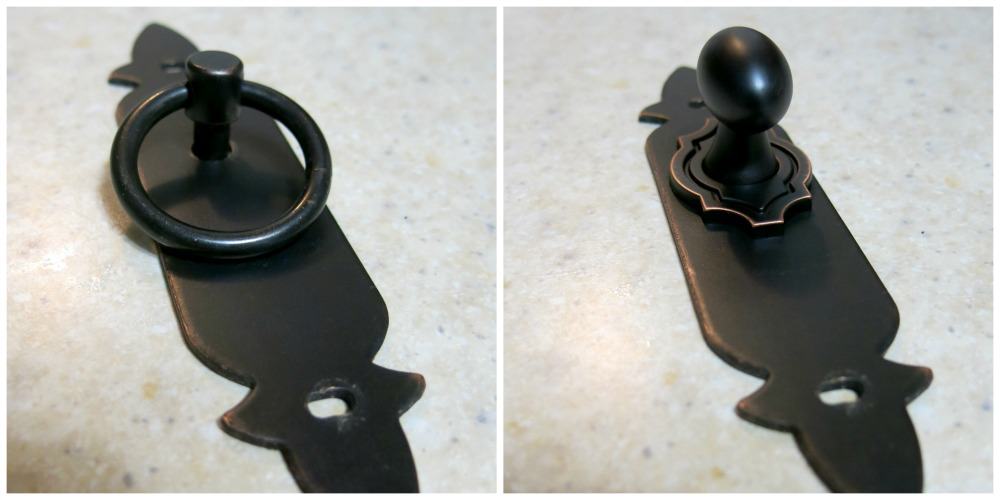 The next issue was the finish was a little beat up here and there.
I did a little light sanding on everything (focusing more on the problem areas) and added a fresh coat of finishing coat.
I wasn't super wild about the way the sanding turned out, so not sure I would do that again, but it is what it is.
We didn't ruin the cabinet or anything, but there is some places that you can see the sanding marks. I didn't want to commit to sanding it down all the way, so maybe it's just due to my laziness. 🙂 The finishing wax did help even everything out and freshen things up a bit.
Next, the top of the cabinet was a slightly warped and wasn't entirely attached to the cabinet anymore. We removed it, glued it down in place and added some nails to hold down.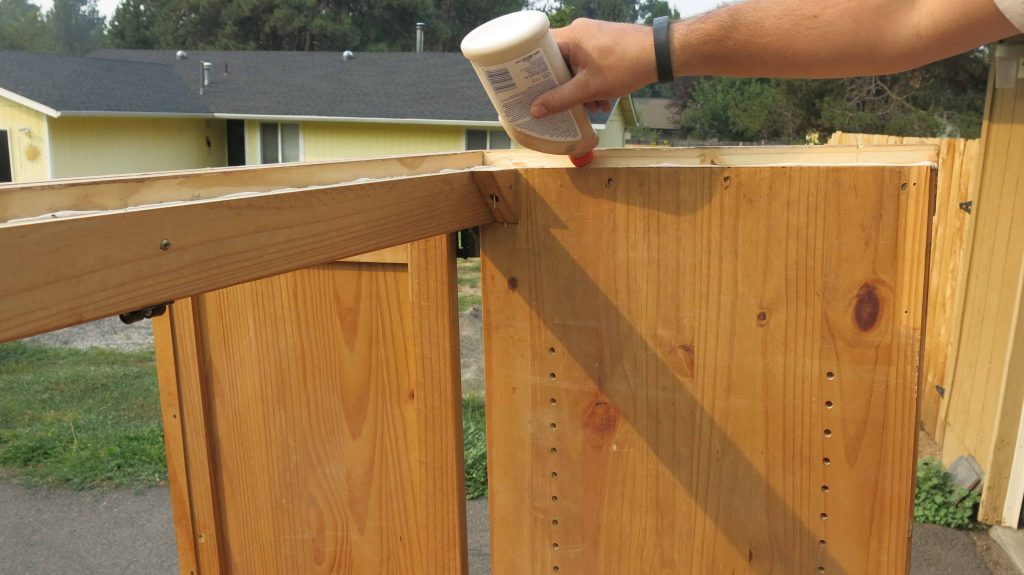 Lastly, the cabinet back had been removed from the top portion so, we added a new one using 1/4" underlayment plywood.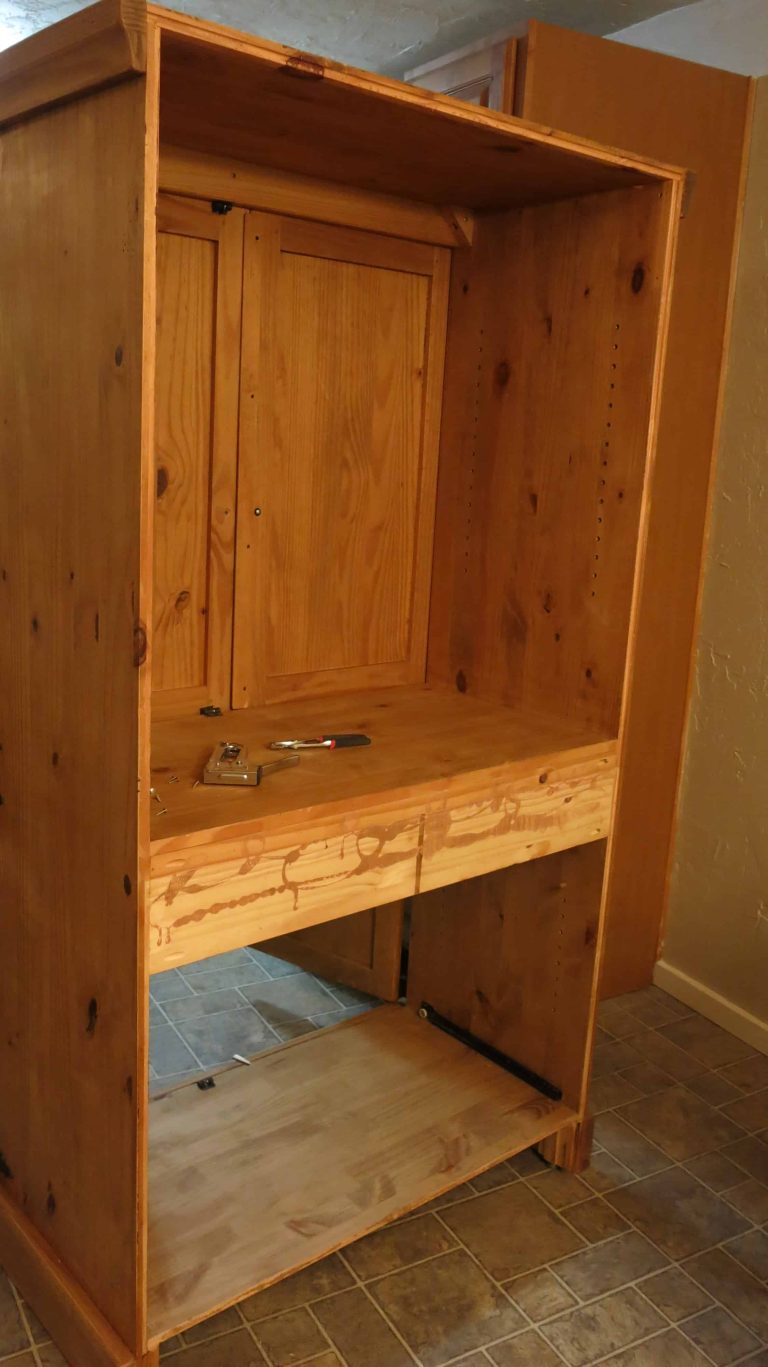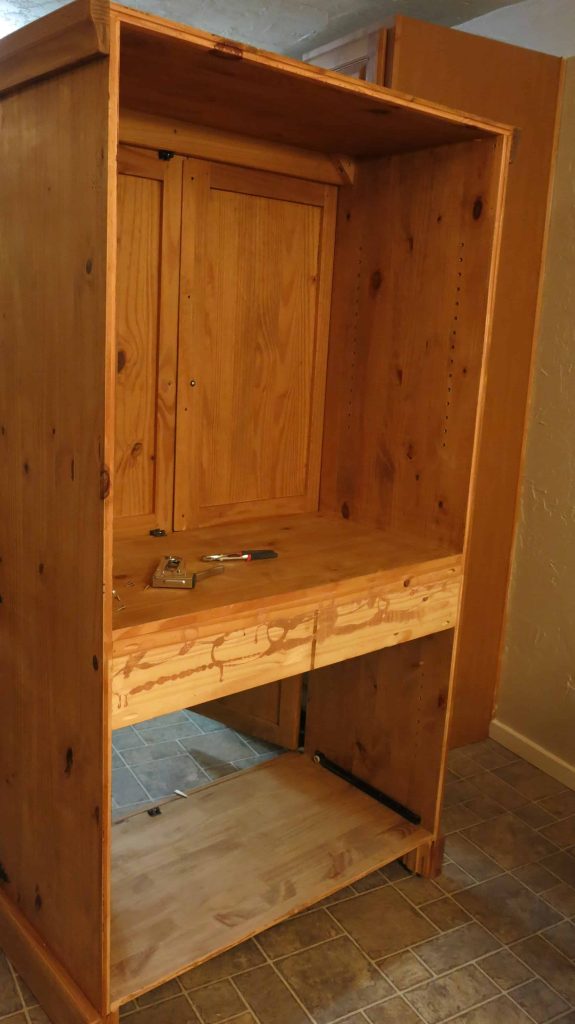 Gannon had fun getting in the way like he normally does.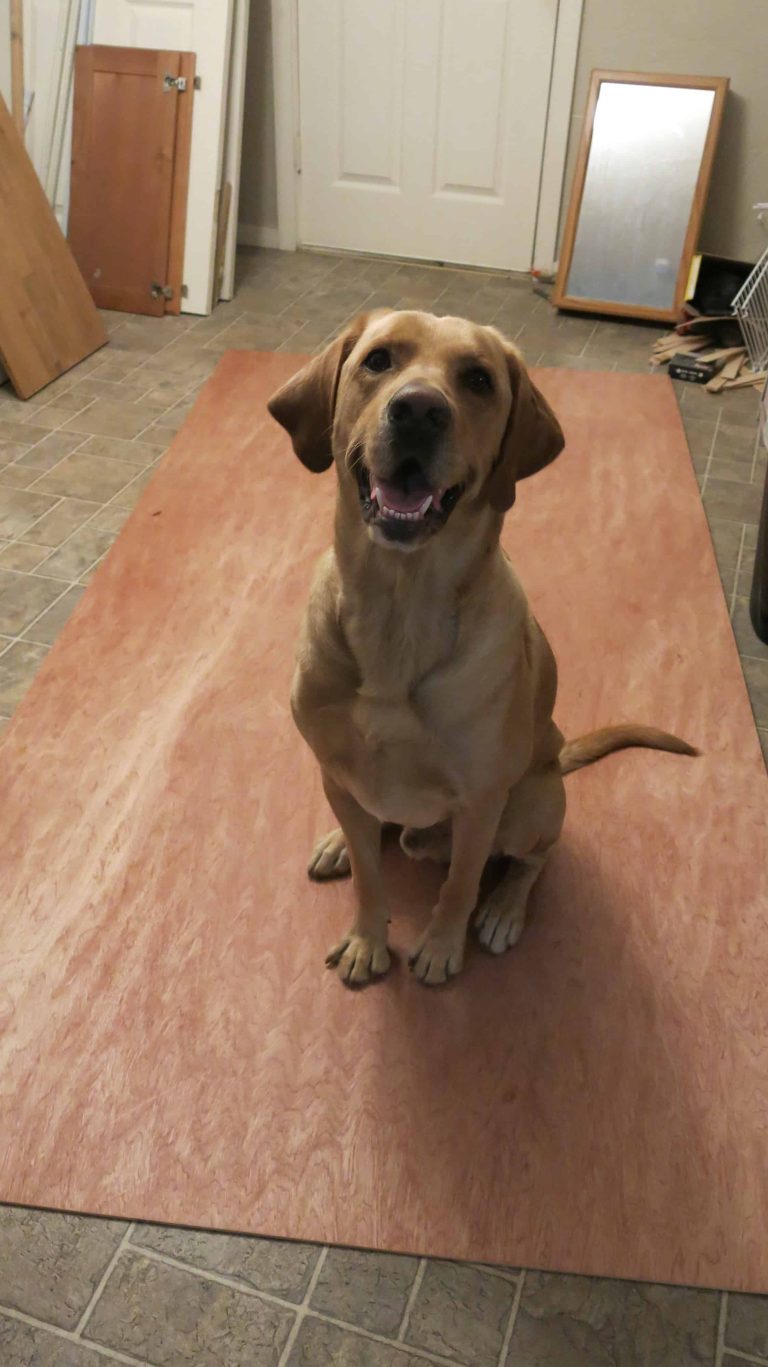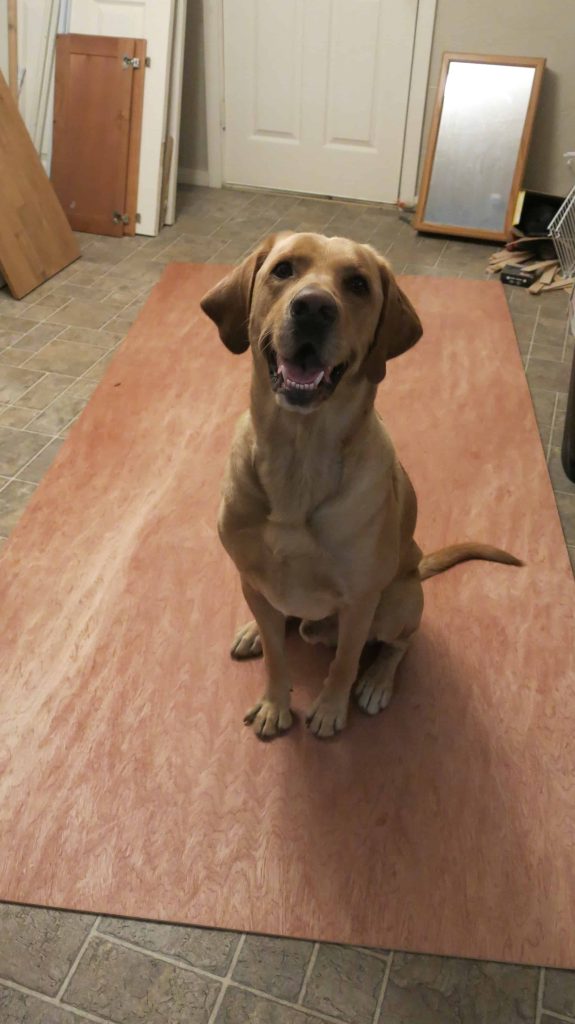 Ready to see how this DIY pantry all came together after we fixed it up?
After we were all done fixin' er up, it was time to get to organizing. One issue that we were having in our kitchen was organizing our spices. I found these awesome baskets on Amazon. They ended up working out just perfectly. (UPDATE: We couldn't fit this pantry in our new house, so see how we made a spice cabinet at our new house to organize all of our spices!)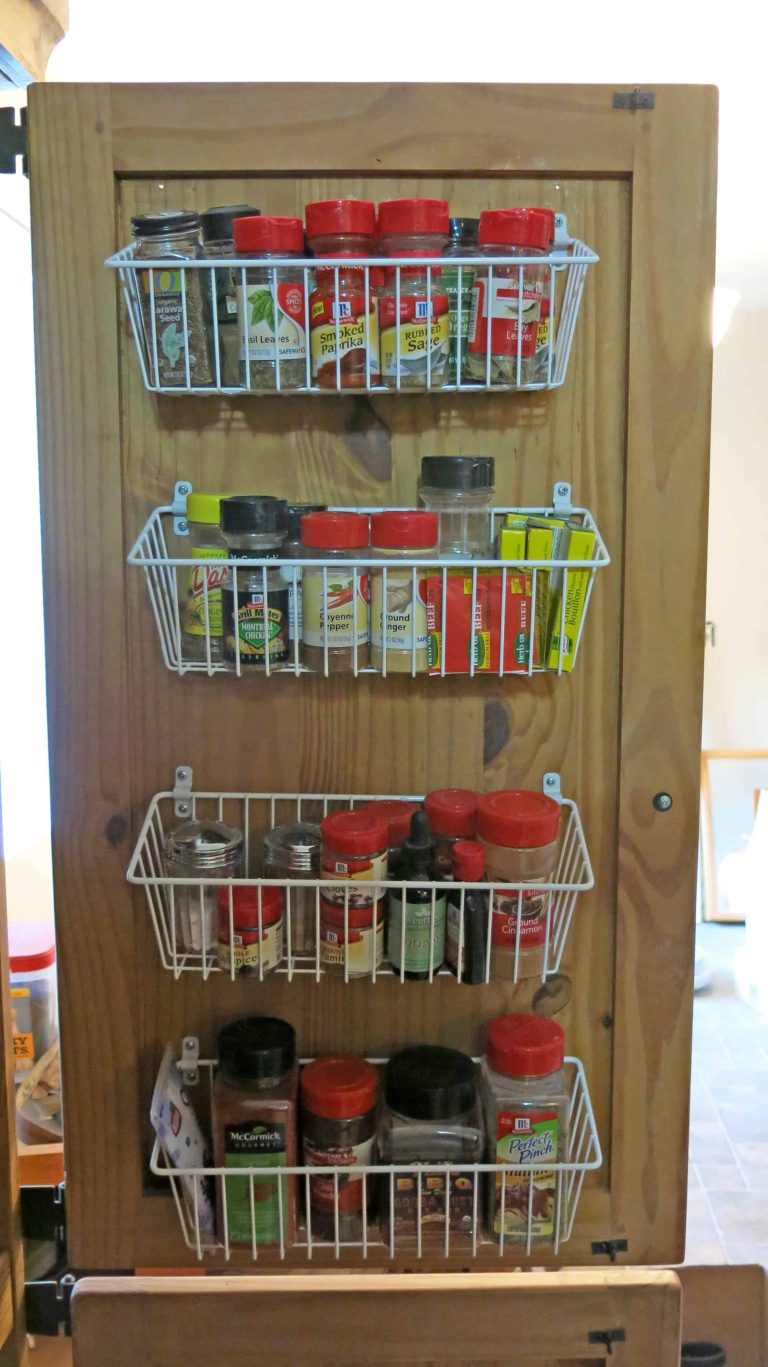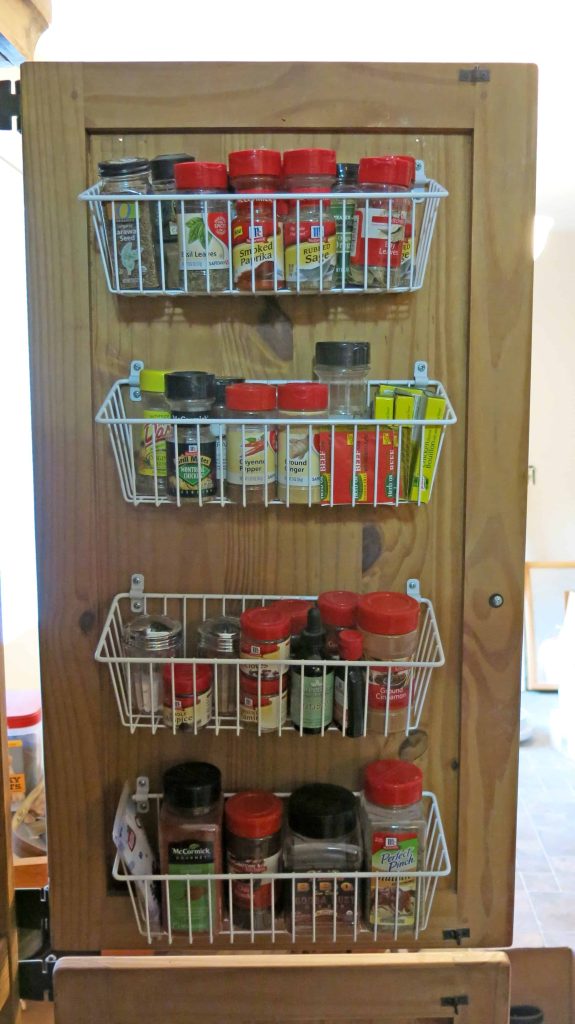 I loved how everything ended up working out and how open and easy it is to see everything in the pantry.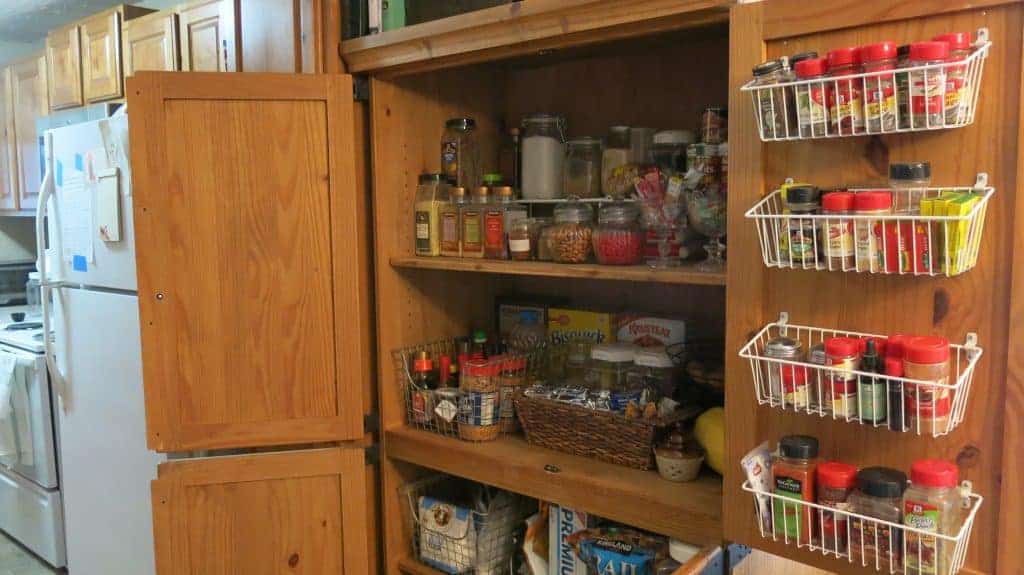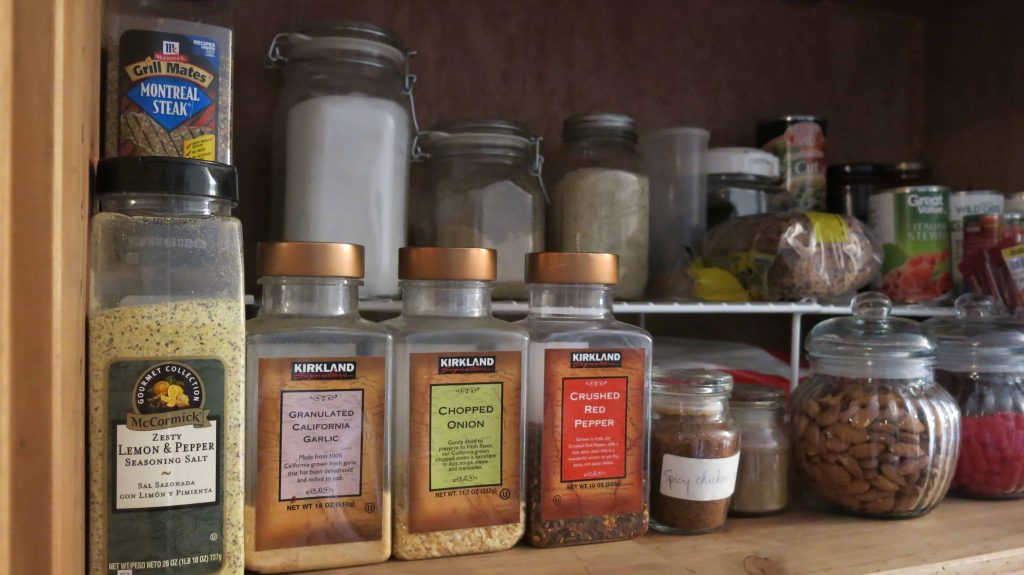 In the back of the pantry, we've added extra shelving so we can store more!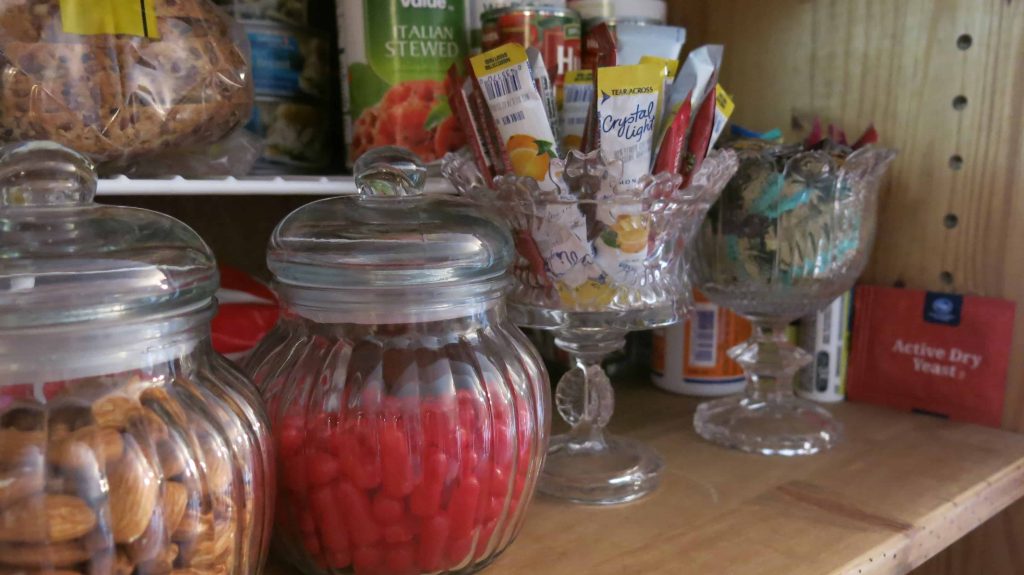 I found those awesome wire baskets at TJ Maxx,, but I can't find them online so here's something similar from Amazon.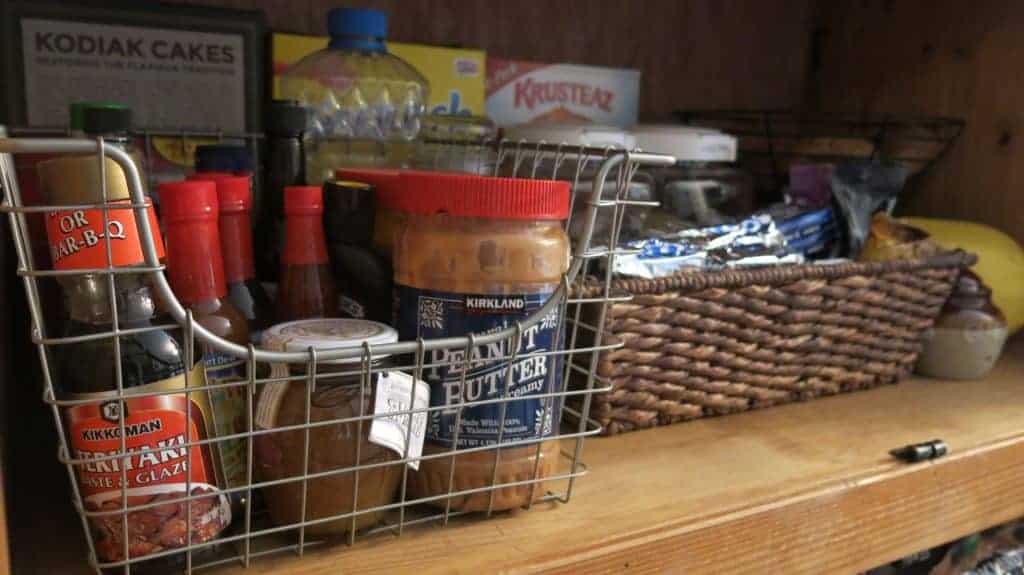 I was getting tired of grocery bags taking up valuable drawer space, so I found this bag holder. As you can see, my hubby is a bit of a Mountain Dew addict.
If you want to take your pantry organization up a step further, you could even make our own labels. Here's some awesome free printable organizing labels that print you can print out easily at home with address labels!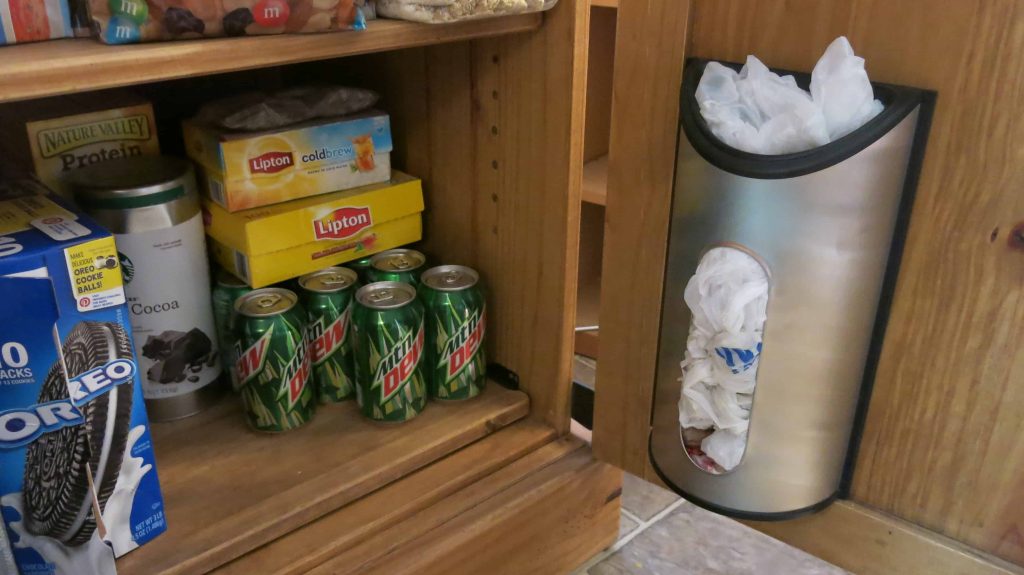 I absolutely fell in love with this vintage basket I found at one of my favorite thrift stores. It's holding some table cloths and linen napkins.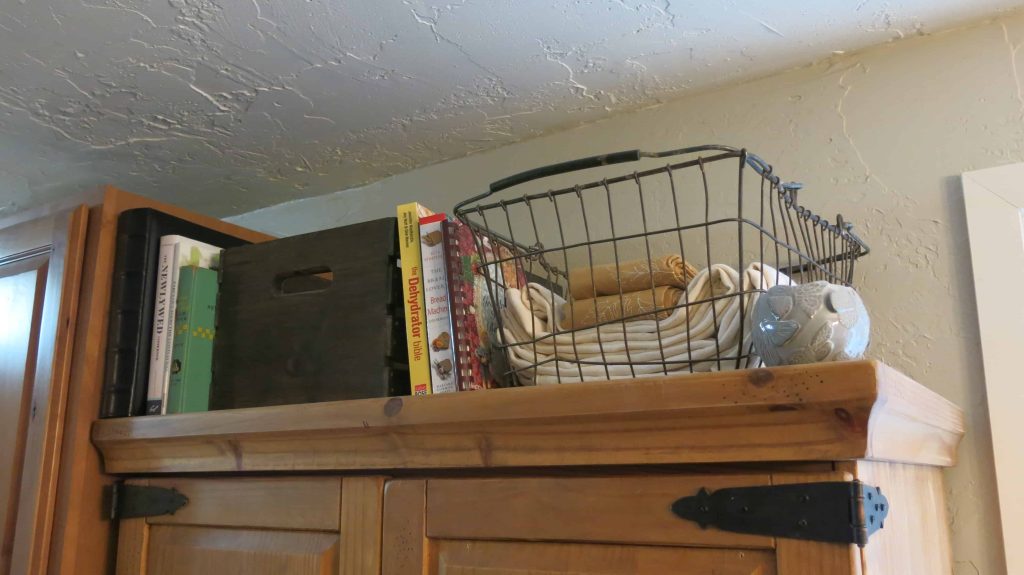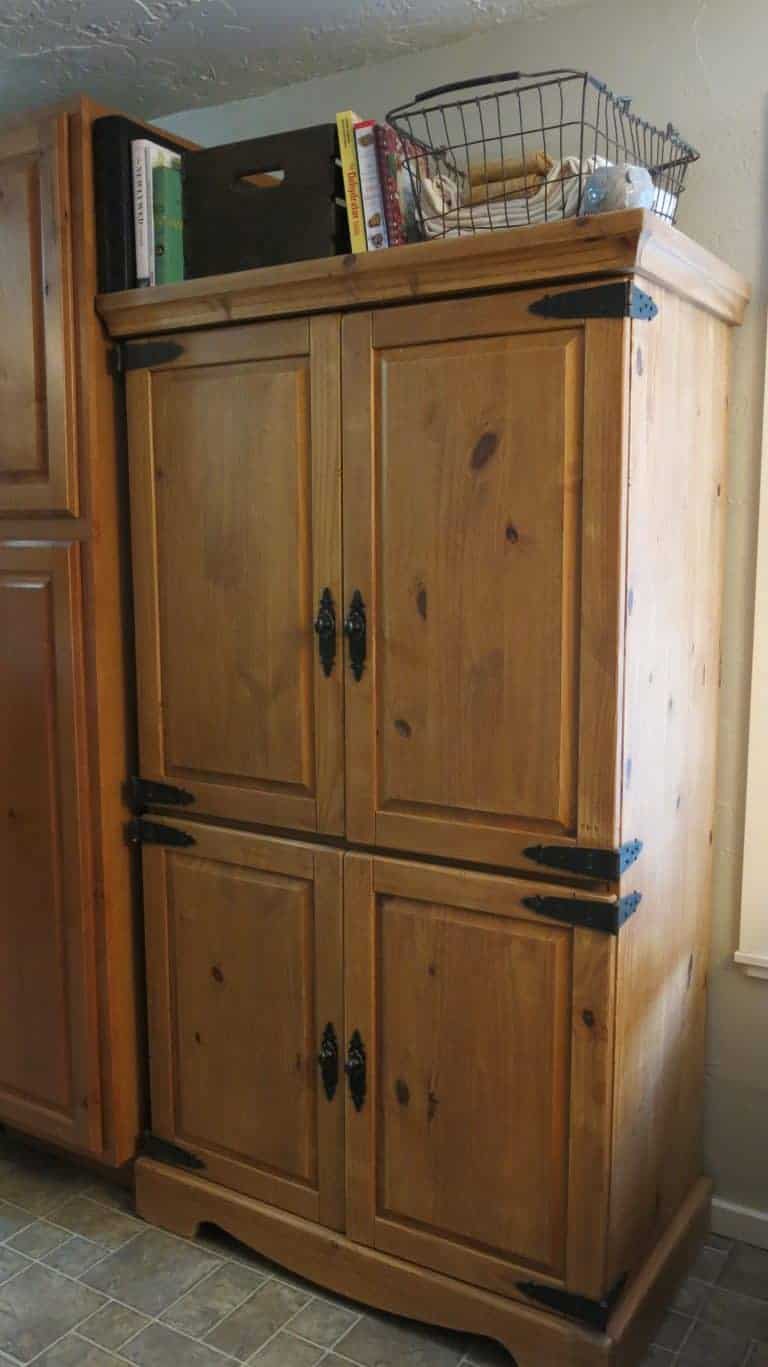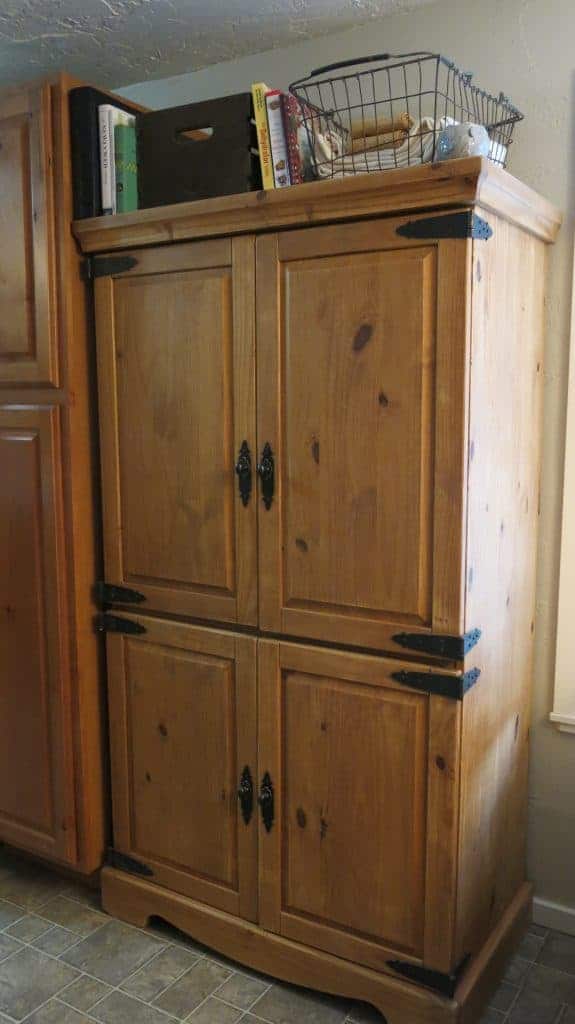 Have you ever tried making a DIY pantry? Have you done any fun upcycled projects lately?
I'd love to hear all about them in the comments below!