Anyone who uses their kitchen regularly knows how difficult cleaning wood cabinets can be. There's always grime, grit, or something sticky and greasy caked on the cabinet doors and panels. Instead of harsh chemicals and sprays, there's one tried and true method to removing stuck-on grease from just about any surface in your kitchen.
Everything accumulates on these frequently handled surfaces! If you have kids, you fully understand the need for a cleaning schedule. It seems like we're always asking ourselves, "why is this sticky?"
The truth is that kitchen cabinets pick up the oil and grease from cooking, which then attracts the dust. After that dust settles in, the dynamic duo makes that sticky, grimy texture that is nearly impossible to remove. However, if you have wood kitchen cabinets you may be wondering what types of cleaning solutions you can use because wood can be pretty sensitive!
So, what's the best and safest way to get these wooden cabinets spick and span? A combination of regular cleaning and deep cleaning.
However, you can minimize the elbow grease required to scrub away the grime with maintenance cleaning a few times per week.
This how to clean wood cabinets tutorial contains affiliate links, but nothing that I wouldn't recommend wholeheartedly. Read my full disclosure here.
How often should you clean wooden kitchen cabinets?
Kitchen cabinets are a hub for built-up grime and grit and should be cleaned on a regular basis. How often you clean them really depends on how much abuse they take (and how much you use your kitchen).
Giving your kitchen cabinets and other wood surfaces is your kitchen a solid once-over about every month or so will keep your kitchen cabinets in tip-top shape.
Additionally, a quick wipe-down after every few days is a great way to maintain your deep cleaning efforts. For quick cleans, you can use a slightly damp cloth and water or a multi-surface gentle cleaner spray.
I usually use an all-purpose cleaner and clean cloth (just a kitchen towel) at the same while I'm wiping down the rest of my kitchen surfaces.
What should I keep in mind when cleaning wood cabinets?
Never use abrasive cleaners, like steel wool, on your cabinet surfaces. They will scrape up the finish and damage your cabinet hardware.
The best option for wood is a mild cleaner that is made for use on wood (I've used this in the past and liked it) or something natural, like my cleaning mixture of water and vinegar.
How to Clean Wood Cabinets
If your cabinets are made from real wood, you'll want to be extra careful about how you clean and care for your cabinets, so you don't dry them out and ruin the material.
However, as long as the finish is in good condition, this cleaning solution should not damage your cabinets. Our cleaning solution also won't leave behind water spots, so that is a major plus.
Vinegar and water have been a steady couple in the cleaning world. It's the most affordable, easiest, and safest cleaning solution that will remedy all sorts of problems. It can be used in laundry applications and disinfecting, too.
Related Reading – Learn how to clean your washer with vinegar here!
Materials needed to clean kitchen cabinets
White vinegar
Warm water
Liquid dish detergent or castile soap (optional)
Essential oils (optional)
Microfiber cloths or dish towel
Disclaimer: Before you begin, make sure to do a test run in a less noticeable hidden area in the event the vinegar and water don't damage any real wood or wooden finish. I've never heard of it damaging wood and I use it all the time, but I always like to preface it with that!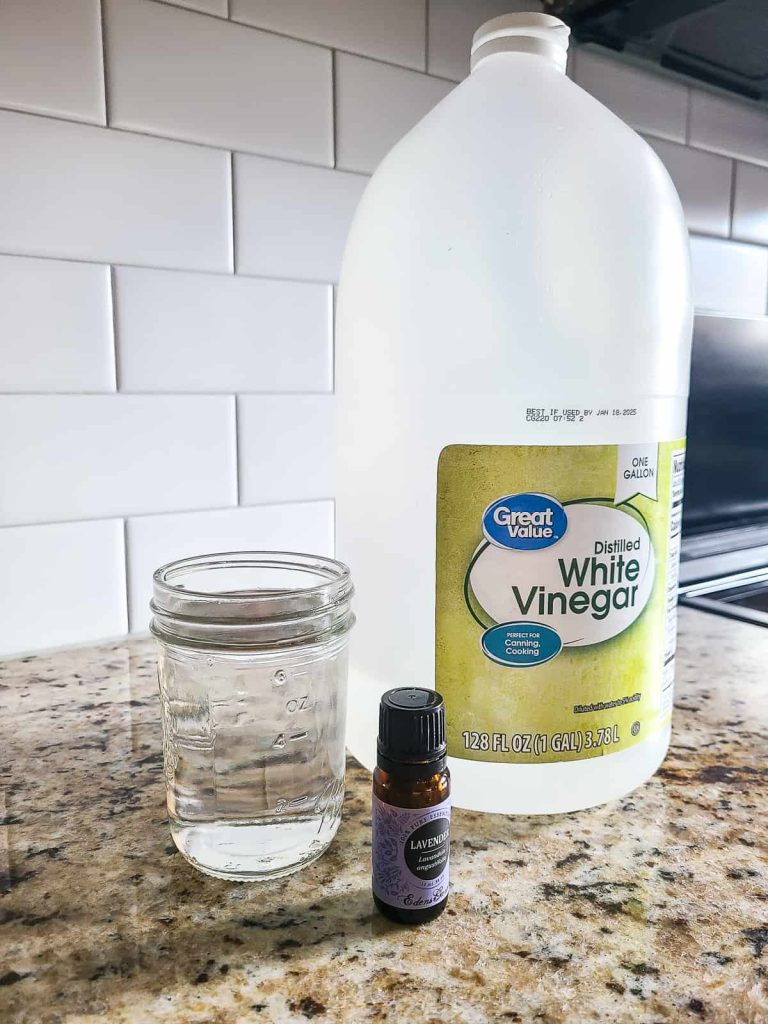 Making vinegar and water cleaning solution
This handy dandy solution is 50/50 vinegar and warm water. Honestly, it is probably the best cleaner for MOST things in your house. All you need to do is fill a spray bottle with the solution and start cleaning. This simple mixture and a little elbow grease will whisk away dirt, grime, germs, and sticky residue from your cabinets in no time.
Using warm water instead of cold helps cut through the grime faster! But it also works with cold water too. Just may require a little more scrubbing!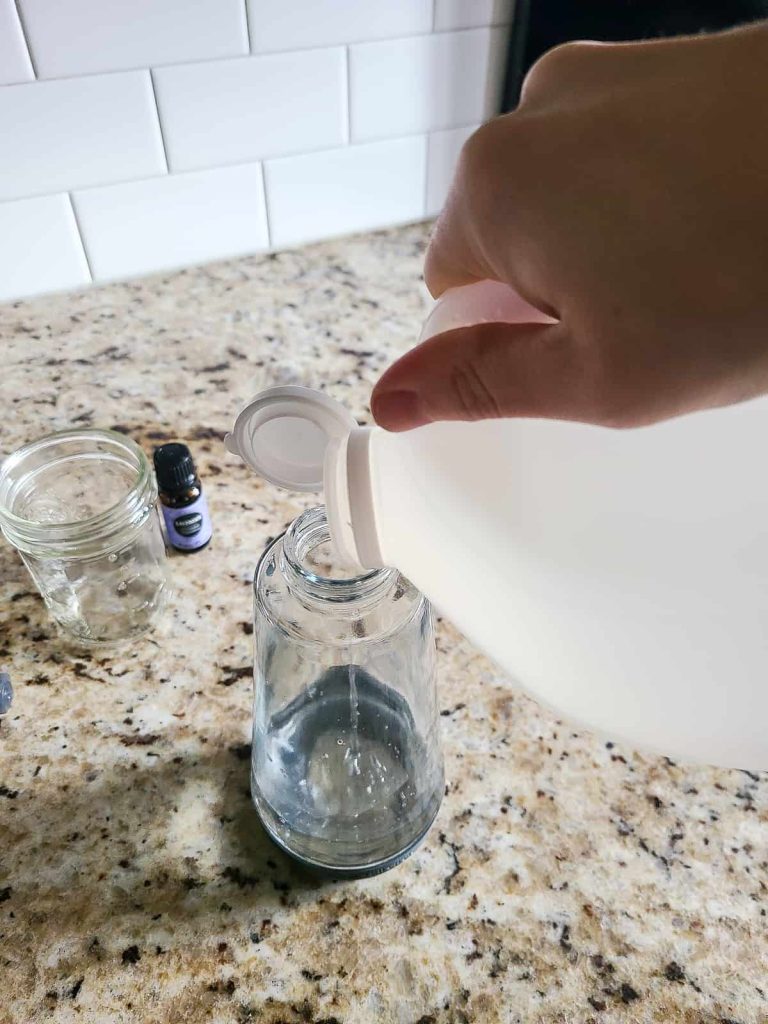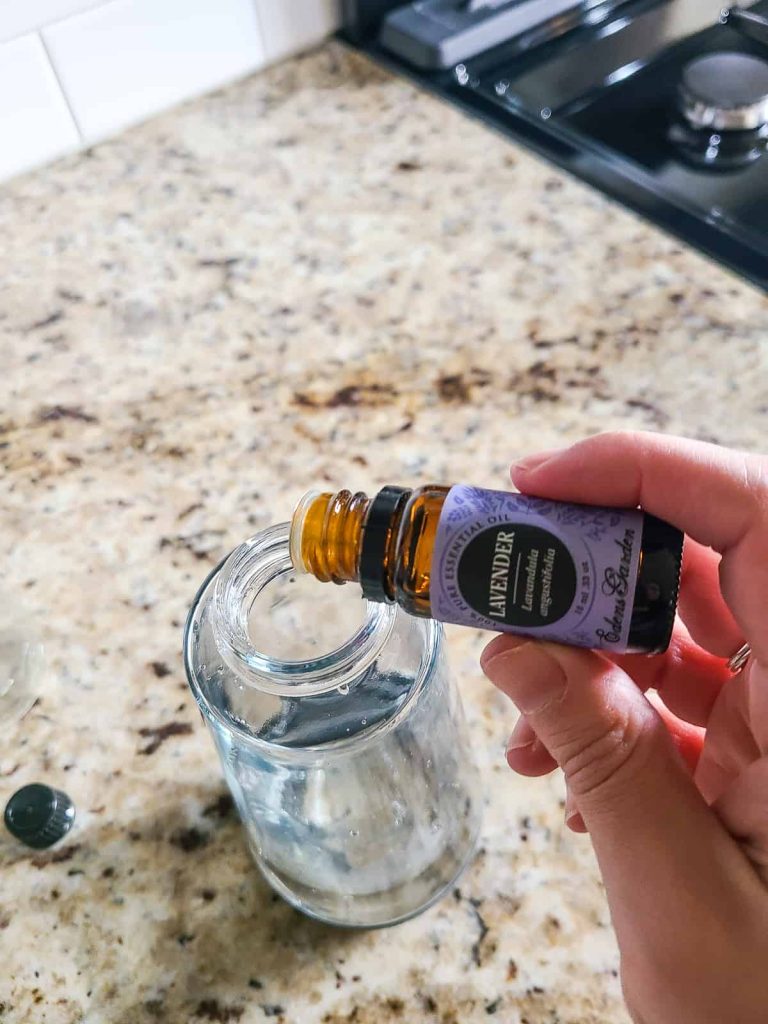 The scent of vinegar is pretty strong and you may or may not like it. It does, however, go away pretty quickly. If you can't stand the smell of the vinegar, you can add a few drops of essential oils to help counteract it. I like to add lavender to mine.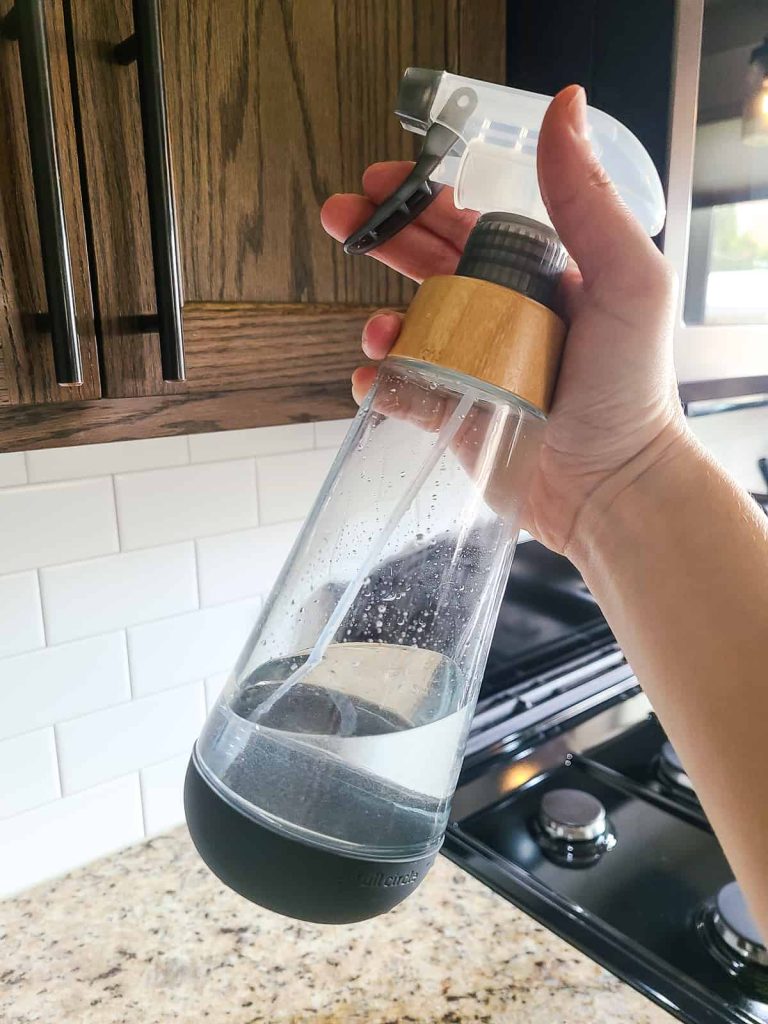 If you have a lot of build-up on your wood kitchen cabinets (or stubborn stains) you can add a couple of drops of liquid dish detergent or castile soap, but isn't needed for monthly cleanings. Only add a drop of two and if you notice any film left behind, wipe it with warm water.
If you want to do a complete deep cleaning of your greasy kitchen cabinets (inside and out), follow the cleaning methods below.
Step 1. Clean the insides of the cabinets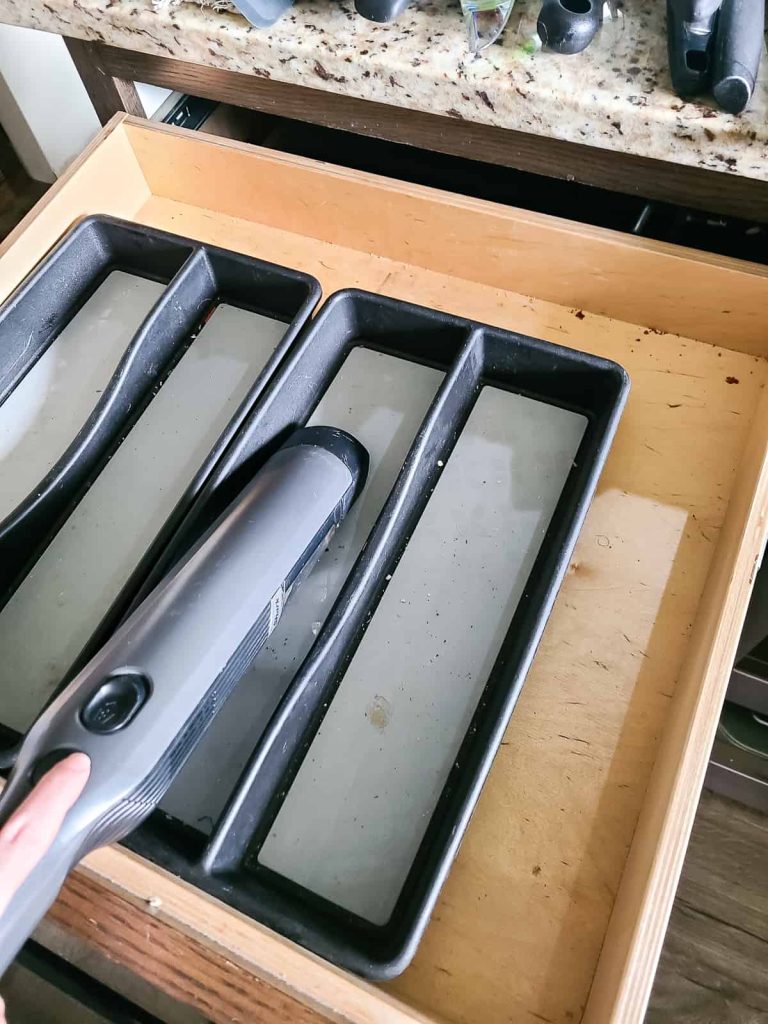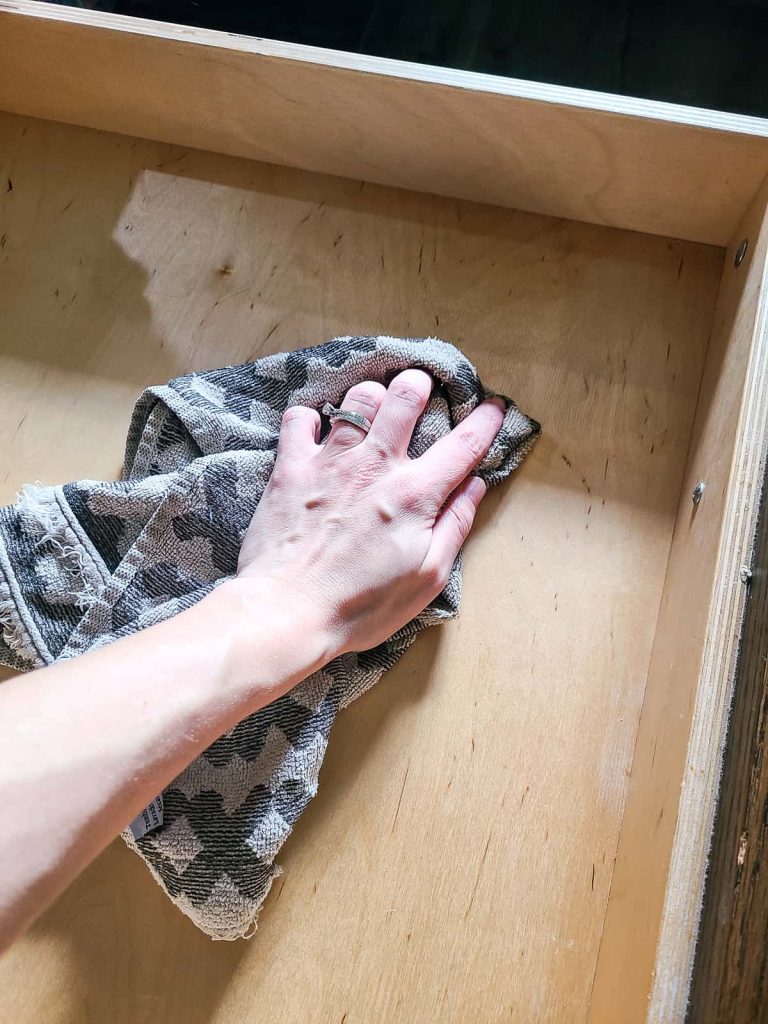 First, empty out the cabinets and take this time to quickly declutter any random plastic cups or mystery lids that continue to reappear. Toss those items or donate them to a thrift store.
Then, vacuum out the cabinets to remove any gross crumbs, food particles, or debris that may accumulate in the corners.
I love this little handheld vacuum for cleaning the drawers and the inside of cabinets. (Bonus: my kids love using the little handheld vacuum too, so I usually give them this job).
Next, give the cabinets a thorough wipe-down with that handy vinegar/water solution. Spray the inside of the cabinets down and wipe clean with a microfiber cloth.
Focus your attention on any areas with stuck-on gunk or sticky residue. If needed, you can use an old toothbrush in the corners. Repeat as needed.
Step 2. Clean the Outsides of the Cabinets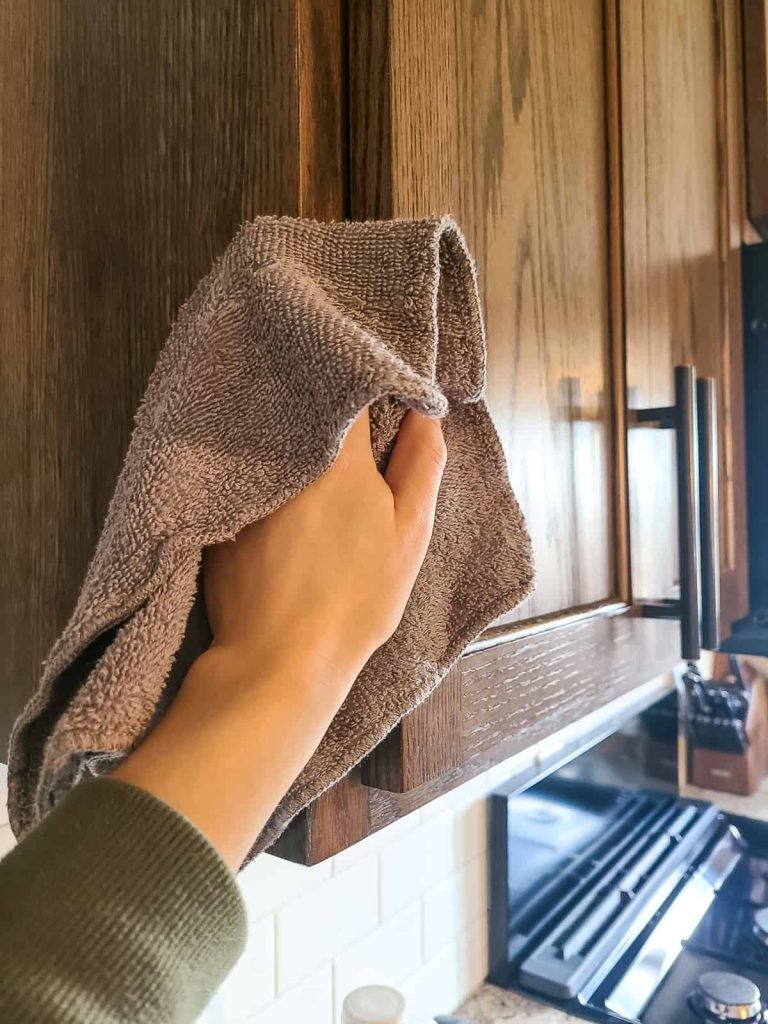 Next, spray down the outside of the cabinets really well with the water and vinegar solution. As mentioned earlier, before saturating the entire face of the cabinet, do a test run in an inconspicuous area to ensure that the solution won't damage the finish.
Just like with the insides of the cabinets, wipe away the solution with a clean microfiber cloth or dishtowel. Really any type of clean rag will do the trick!
If stubborn residue remains, you may need to repeat the process more than once or allow the solution to "soak" onto the cabinets for a minute or two before wiping it away.
Another trick that I've found for tougher cabinets is to microwave the damp towel I'm using for a few sections so it comes out steaming. This really helps cut through any grim and grease stains quickly.
Need to take it a step further?
If you're really still struggling with splattered grease on your cabinets after using these steps, you can follow up with a bowl of warm water and some dish soap. Wipe it on the cabinets and rinse it away with clean water to get all of the residues off.
I don't ever feel the need to go this far and the vinegar solution usually gives me a thorough cleaning, but I also try to keep my cabinets cleaned regularly so if you're dealing with some really dirty cabinets – you may need to go with soap/water as well.
Finally, return all the items to your nice, clean beautiful wood cabinets.
In Conclusion
To maintain grease-free kitchen cabinets, do a "maintenance clean" at least once per week. Simply wipe the outsides of the cabinets, handles, and hardware to remove any gunk that may have accumulated during cooking.
Tackle deep cleaning kitchen cabinets once a month or every other month.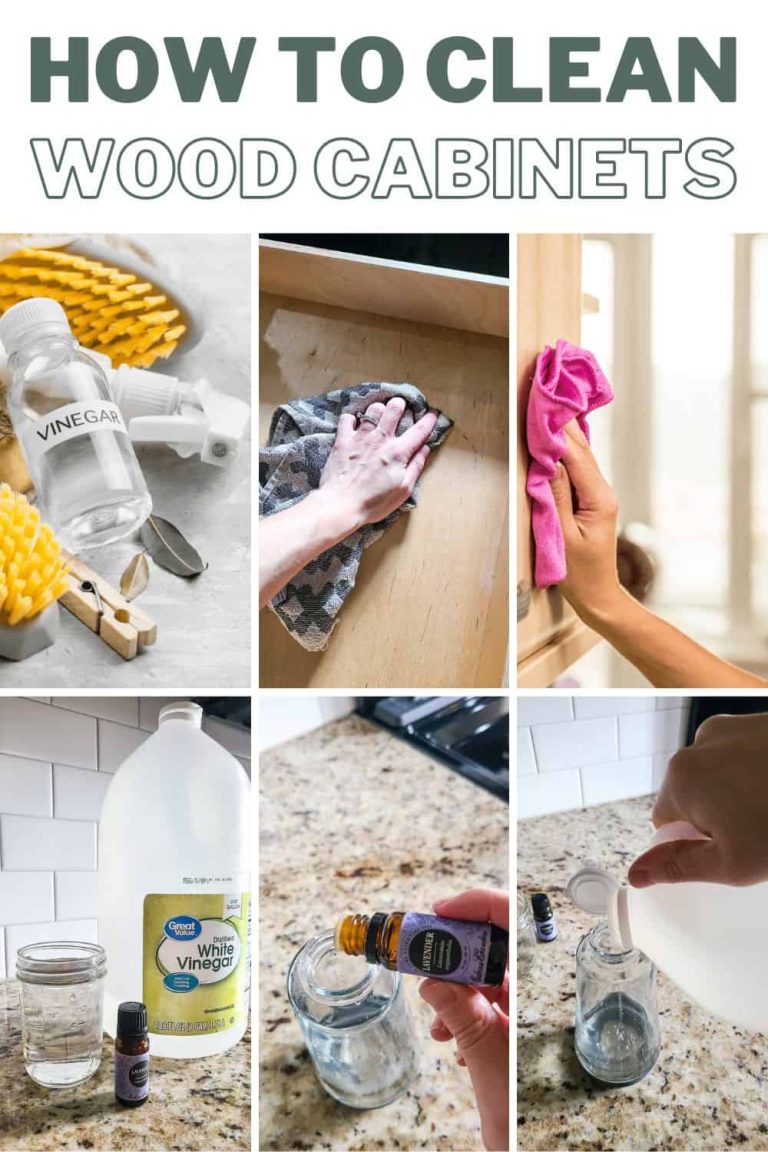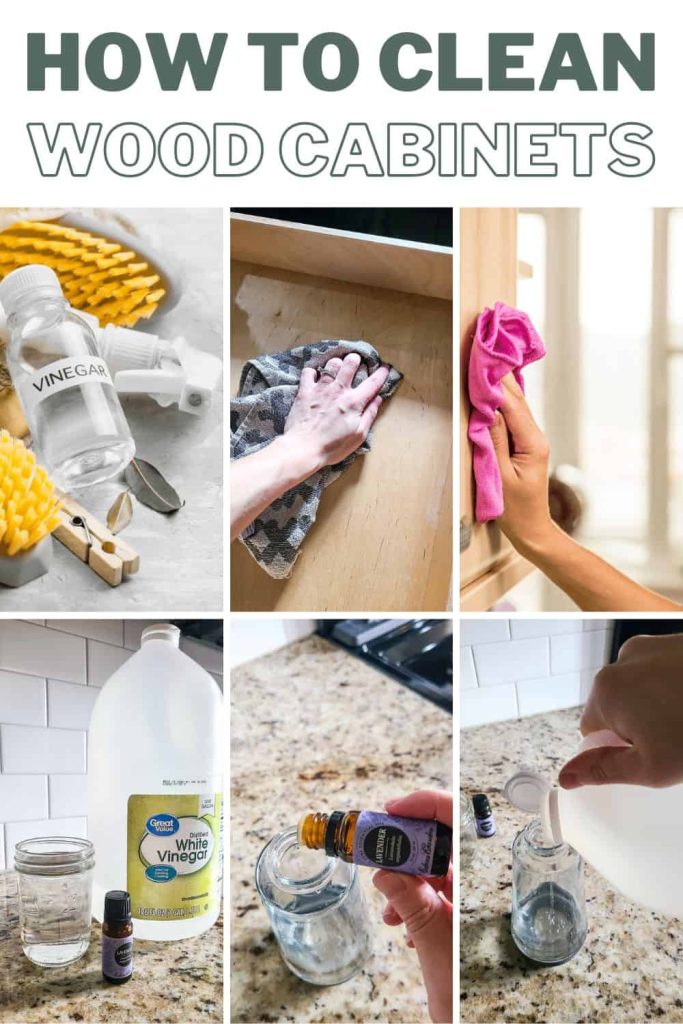 What's your favorite way to keep your kitchen clean?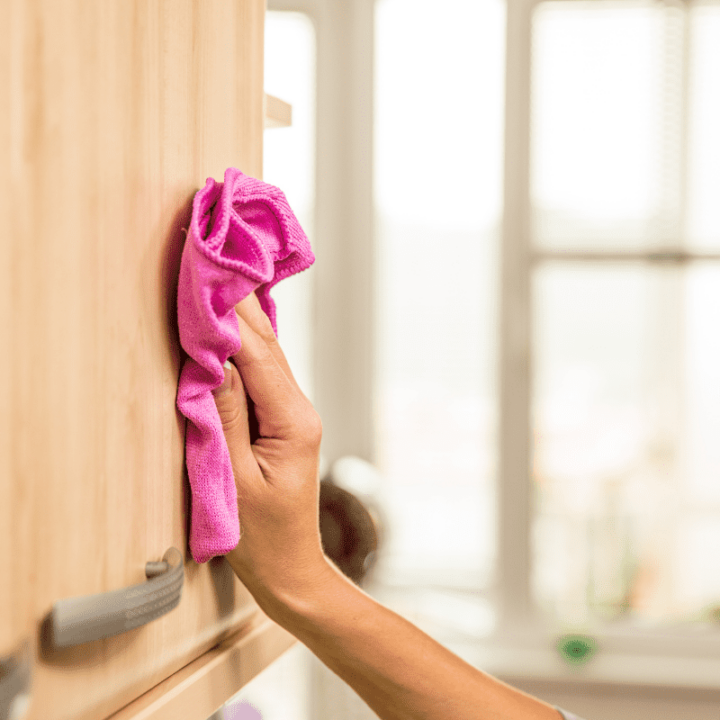 How To Clean Wood Cabinets In Your Kitchen
Anyone who uses their kitchen regularly knows how difficult cleaning wood cabinets can be. There's always grime, grit, or something sticky and greasy caked on the cabinet doors and panels. Instead of harsh chemicals and sprays, there's one tried and true method to removing stuck-on grease from just about any surface in your kitchen.
Materials
White vinegar
Warm water
Liquid dish detergent or castile soap (optional)
Essential oils (optional)
Tools
Microfiber cloths or dish towel
Instructions
Make vinegar and water cleaning solution
Clean the insides of the cabinets
Clean the outsides of the cabinets