Chalk paint is a versatile, easy-to-use paint that has taken the DIY world by storm in recent years. But with so many different brands and types of chalk paint on the market, it can be overwhelming to know where to begin. In this blog post, we'll take a comprehensive look at the best chalk paint brands available, including their pros and cons, so you can choose the perfect one for your next project.
We've used chalk paint for a variety of projects, including bar stools, desks, vintage bread boxes, and vintage-style decor items. If you're ready to give your thrift store finds a makeover, we've got all the details on the best chalk paint for your project.
What is chalk paint and why use it?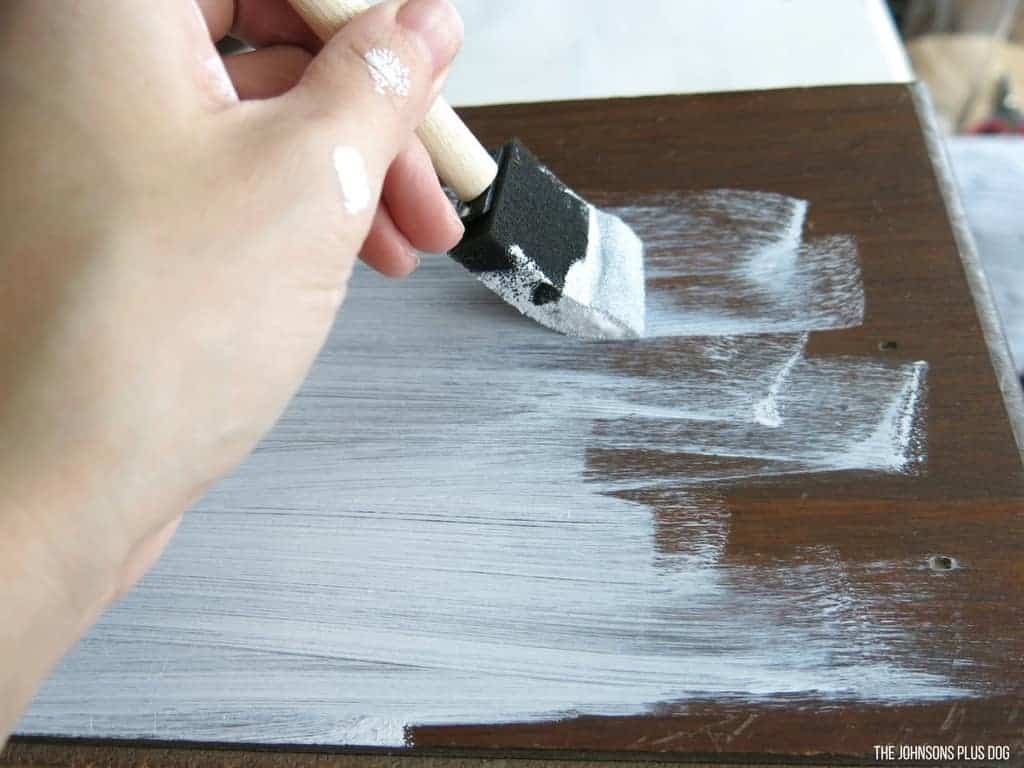 Chalk paint is a water-based paint that has a matte, velvety finish. It's perfect for DIY projects and furniture because it doesn't require any prep work like sanding or priming. Plus, it dries quickly and is easy to apply with a brush or roller.
Chalk paint is great for giving your furniture a shabby chic or vintage look, and it's also perfect for creating a modern, minimalist aesthetic. You can use it on just about any surface, including wood, metal, and even glass.
Not to be confused with chalkboard paint, which can be drawn on with chalk and erased, chalk paint gets its name from the chalky look of the ultra-matte finish.
The main advantage of chalk paint over regular paint is that it's incredibly easy to use, even if you have no prior painting experience. Unlike traditional paints, it dries quickly, so you can finish your project in a single day.
Plus, it's very forgiving – if you make a mistake or don't like the way something looks, you can easily paint over it. You can even find instructions online to make your own chalk paint from regular paint.
Chalk paint is pretty similar to milk paint and you may think they are the same thing because they are both popular for painting furniture with minimal prep. However, there are some significant differences between chalk paint and milk paint, like the texture and coverage, that I've detailed in this article.
When did chalk paint become popular?
Chalk paint is a type of water-based paint that was developed by Annie Sloan in the early 1990s. Sloan, a British artist and decorative painter, wanted to create a paint that was easy to use and would allow people to easily transform their furniture and home decor.
The first version of chalk paint was developed using materials that Sloan sourced herself, including various pigments, calcium carbonate, and water. The resulting paint had a matte finish and a chalky texture and could be applied to a variety of surfaces without the need for sanding or priming.
Over time, Sloan continued to refine the formula for chalk paint, adding new colors and experimenting with different additives to improve its performance. Today, there are many brands of chalk paint available, each with its own unique formula and range of colors.
Chalk paint has become popular with DIY enthusiasts and professional painters alike, thanks to its ease of use and versatility. It can be used to create a variety of decorative finishes, including distressed, shabby chic, and rustic styles, and can be applied to furniture, walls, and even floors.
Because of the popularity of the style of paint, there are a lot of different chalk paint brands. Today I'm going to you walk you through some of the most popular chalk paint brands so you can decide which brand of chalk paint is best for you.
This list of chalk paint brands contains affiliate links, but nothing that I wouldn't recommend wholeheartedly. Read my full disclosure here.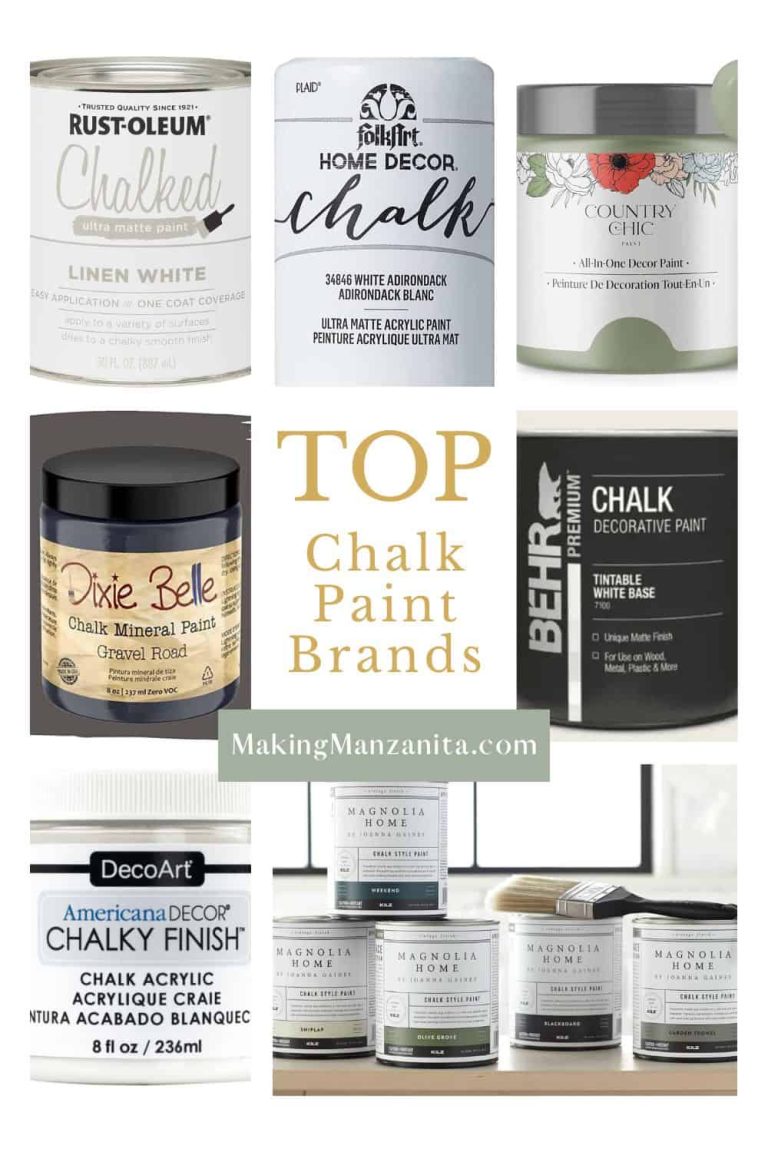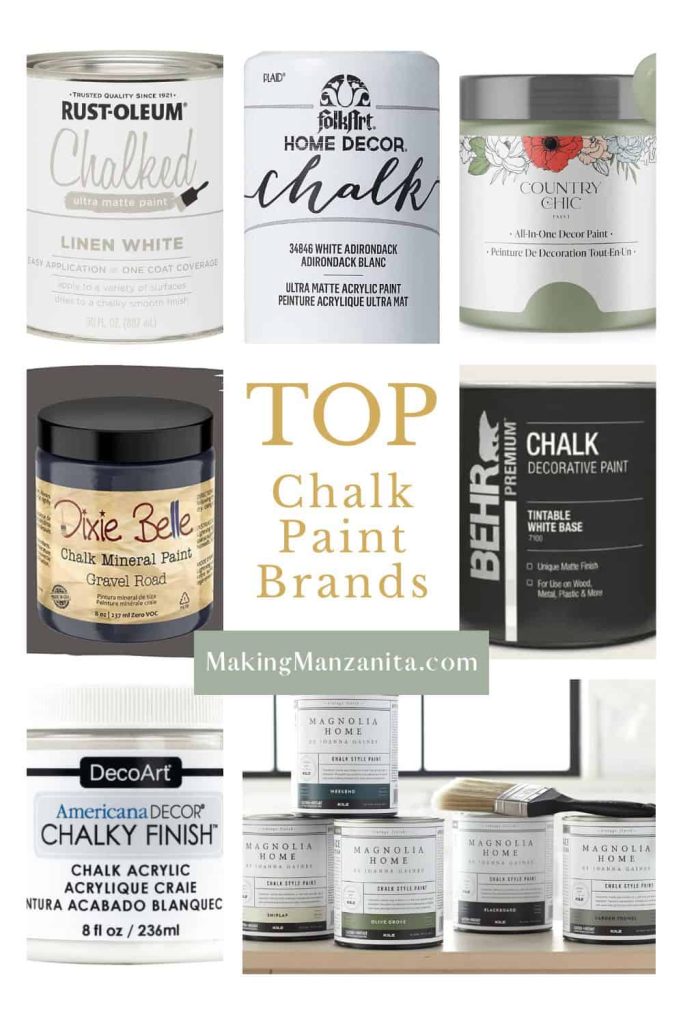 Top Chalk Paint Brands
There are several brands of chalk paint available on the market, each with its own unique formula, range of colors, and characteristics.
1. Annie Sloan Chalk Paint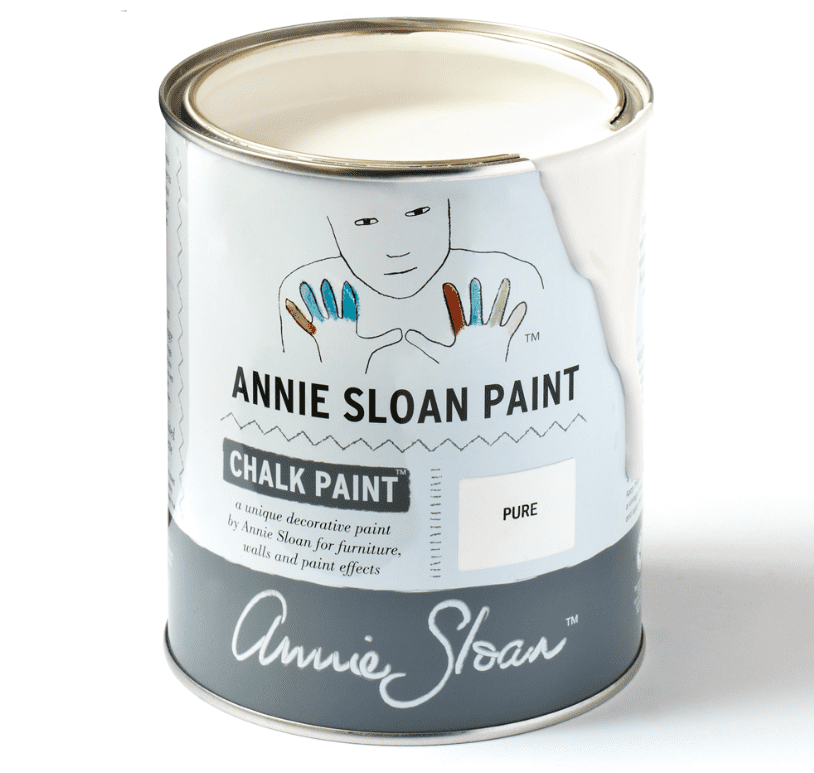 Annie Sloan is widely considered the pioneer of chalk paint, so it's no surprise that her brand is one of the most popular on the market. Her paint is known for its high quality and color range, with more than 40 paint color shades to choose from. It's also incredibly easy to use, and a little goes a long way.
One downside of Annie Sloan chalk paint is its price point. It's one of the more expensive brands of chalk paint, which may not be feasible for budget-conscious DIYers. It is the top of the line when it comes to furniture paints.
Additionally, some users find that the paint dries too quickly, which can make it difficult to blend colors. However, this could be considered a good thing because drying quickly means it will be ready for a second coat sooner.
Where to Buy Annie Sloan Chalk Paint
Annie Sloan's website: You can purchase Annie Sloan Chalk Paint directly from her website.
Local Annie Sloan stockists: You can find a list of local stockists on the Annie Sloan website by entering your location. It is great to buy from a Stockist because they are specifically trained in the Annie Sloan Method and can provide advice and answer your questions! Some Stockists also have a website where you buy it online.
2. Rust-Oleum Chalked Paint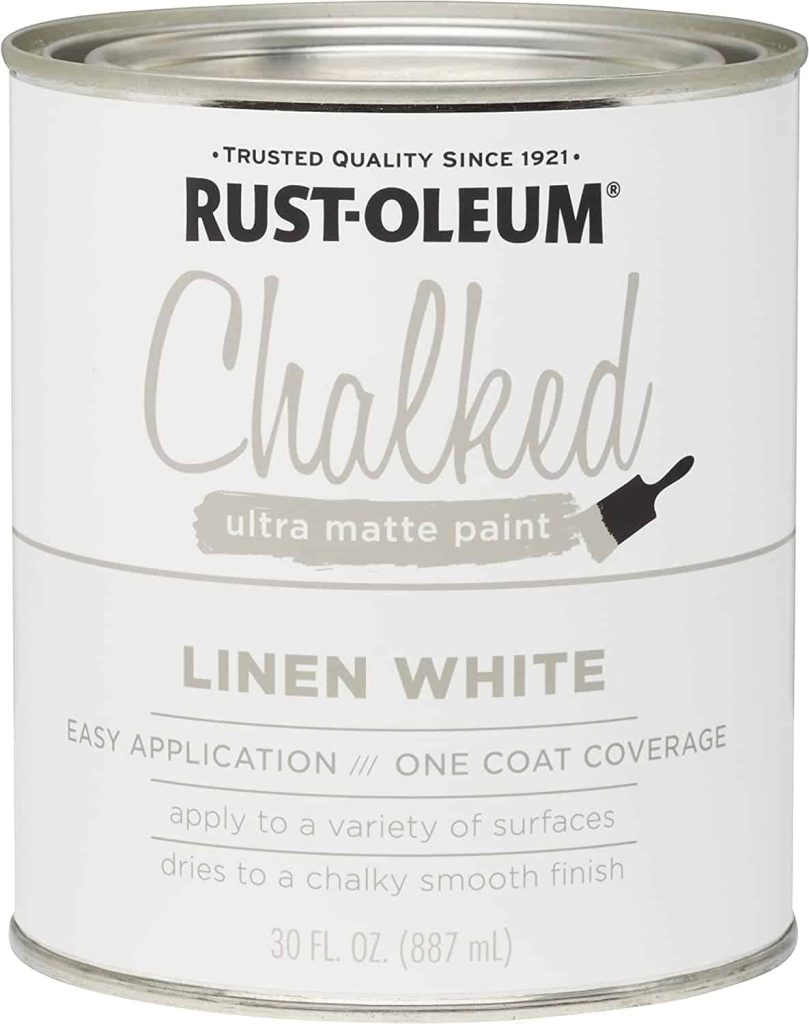 Rust-Oleum is a well-known brand that produces a variety of paints and coatings, including its chalked paint line. The brand is most popular for making great spray paint.
Their chalk paint line is formulated to provide a smooth, matte finish and is ideal for furniture, décor items, and accessories. It's also very budget-friendly, so it's a great option for DIYers on a budget.
One potential disadvantage of Rust-Oleum chalked paint is that the color range is limited, with only about 10 colors to choose from. Additionally, some users find that it can be difficult to adhere to certain surfaces, so it may require a bit of prep work.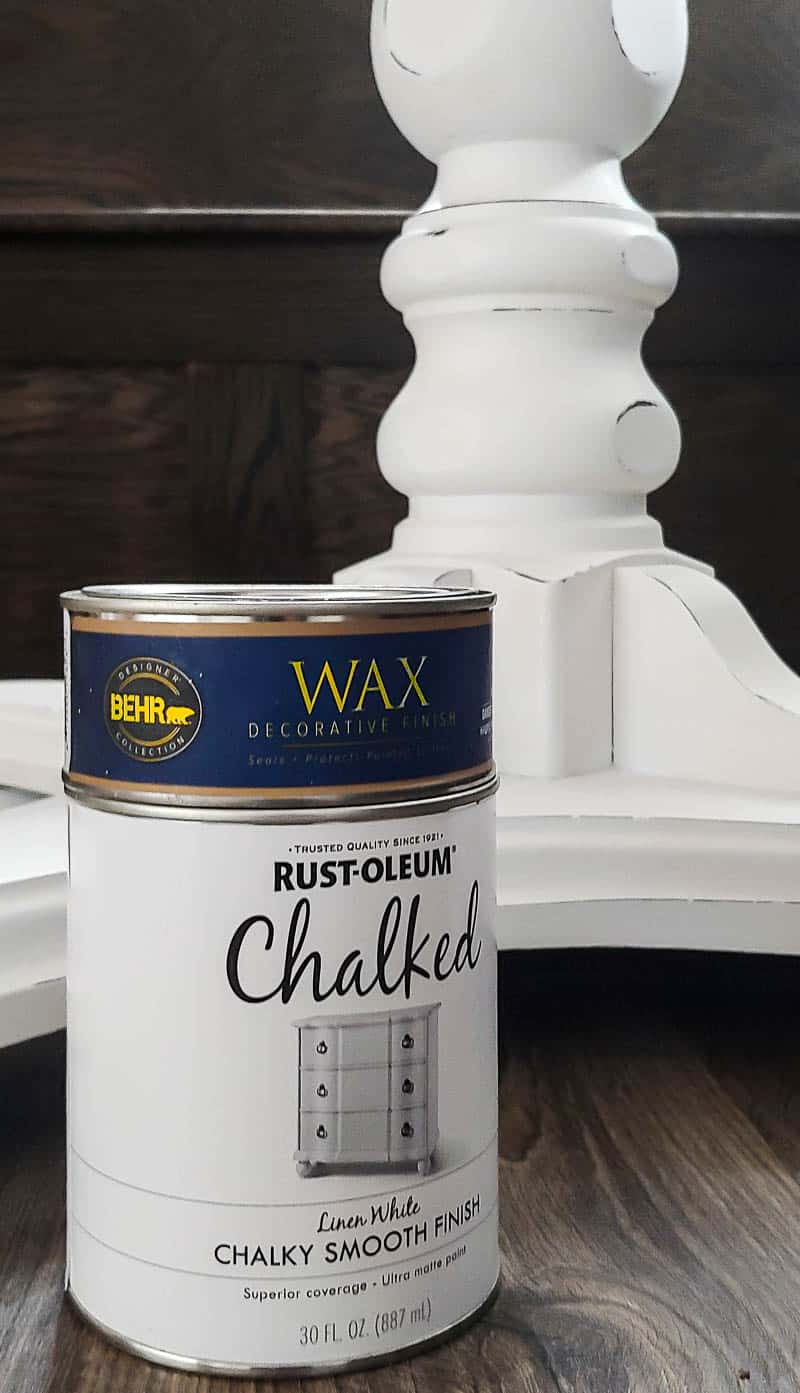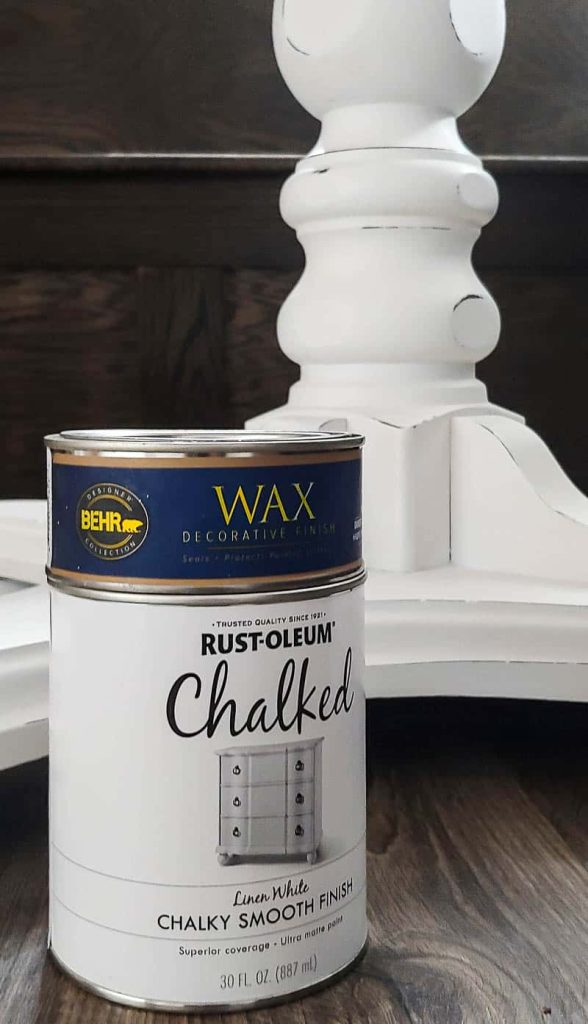 We used it on the base of this kitchen table and it worked great. I applied it after lightly sanding the surface with my Wagner Paint Sprayer with no primer. The chalk-style paint also distressed very easily with some sandpaper. I sealed it with clear wax from Behr Paint.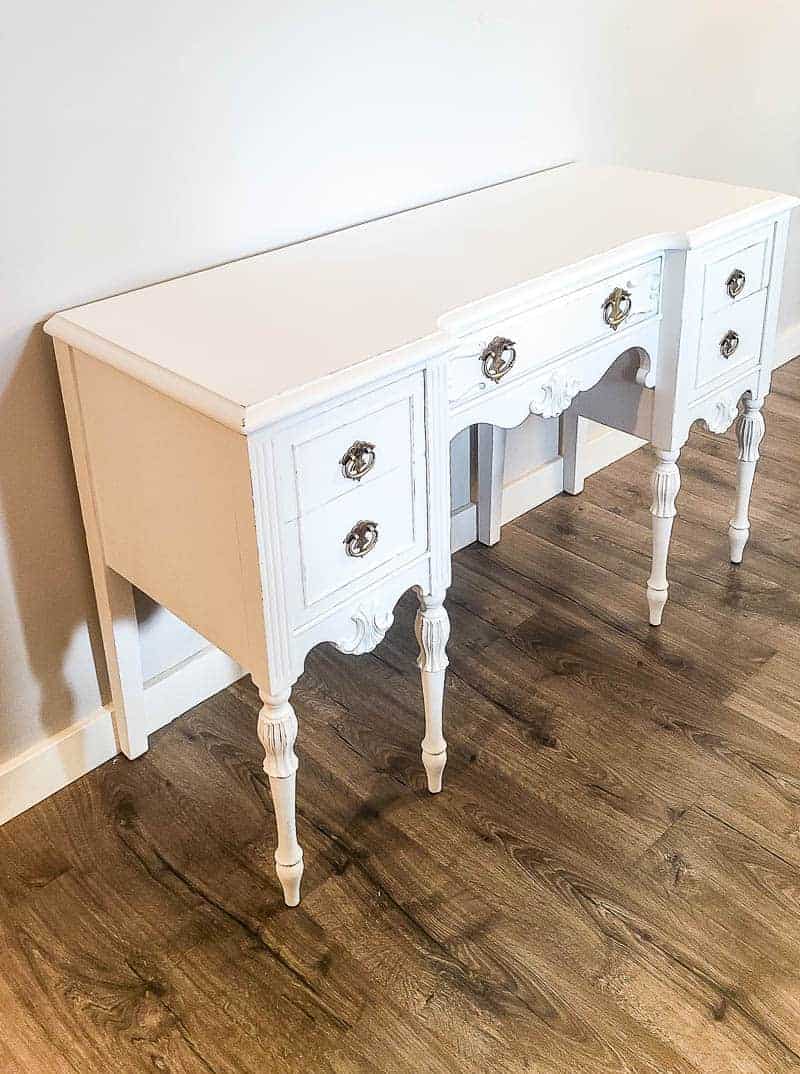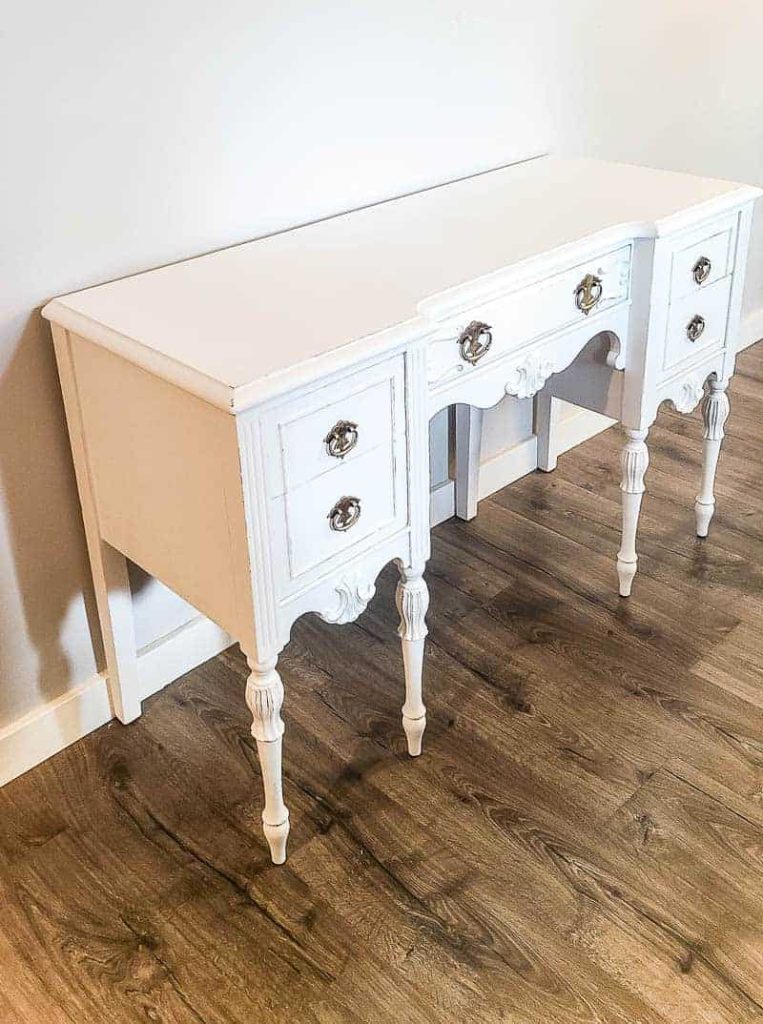 Since I had leftover paint left from the table, I used the rest of the can to paint this vintage desk. This time I had some trouble with the old stain bleeding through, which sometimes happens when you paint old furniture.
So I added a couple of coats of primer before fully applying the first coat of chalk paint. I applied the paint with a paintbrush in three light coats and I added FloTrol paint additive to help reduce brush marks. Overall, the Rust-Oleum Chalk Paint has excellent coverage and is a great choice for small projects.
Where to Buy Rust-Oleum Chalked Paint
Several Local Paint Stores and Hardware Store
3. DecoArt Americana Chalky Finish Paint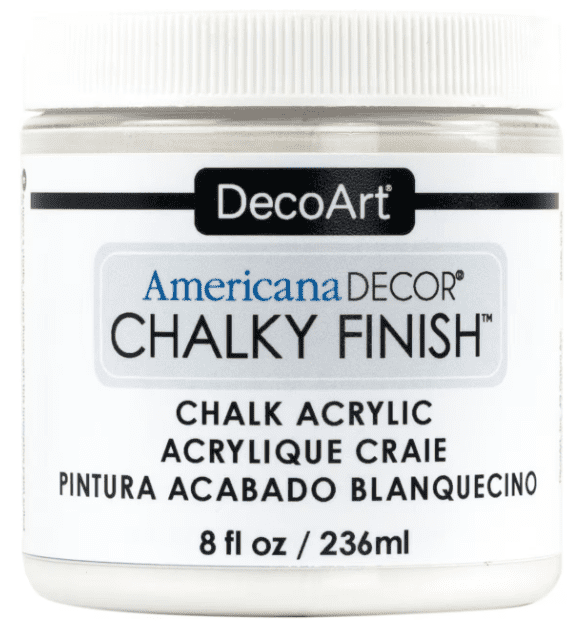 DecoArt is a well-known brand in the crafting community, and its chalky finish paint line is no exception. This chalk paint is perfect for creating a vintage, distressed look, and it comes in over 50 colors. It's also budget-friendly, making it a great option for those on a budget.
One potential drawback of DecoArt's chalky finish paint is that it's very thin, so it may require more coats than other brands. Additionally, some users find that the finish can be slightly rough, making it less suitable for some projects.
I like that the containers of the chalk paint are sold in smaller sizes (8 oz) because you generally don't need a whole quart of chalk paint for just one project!
Where to Buy DecoArt Americana Chalky Finish Paint
4. Country Chic Chalk Style Paint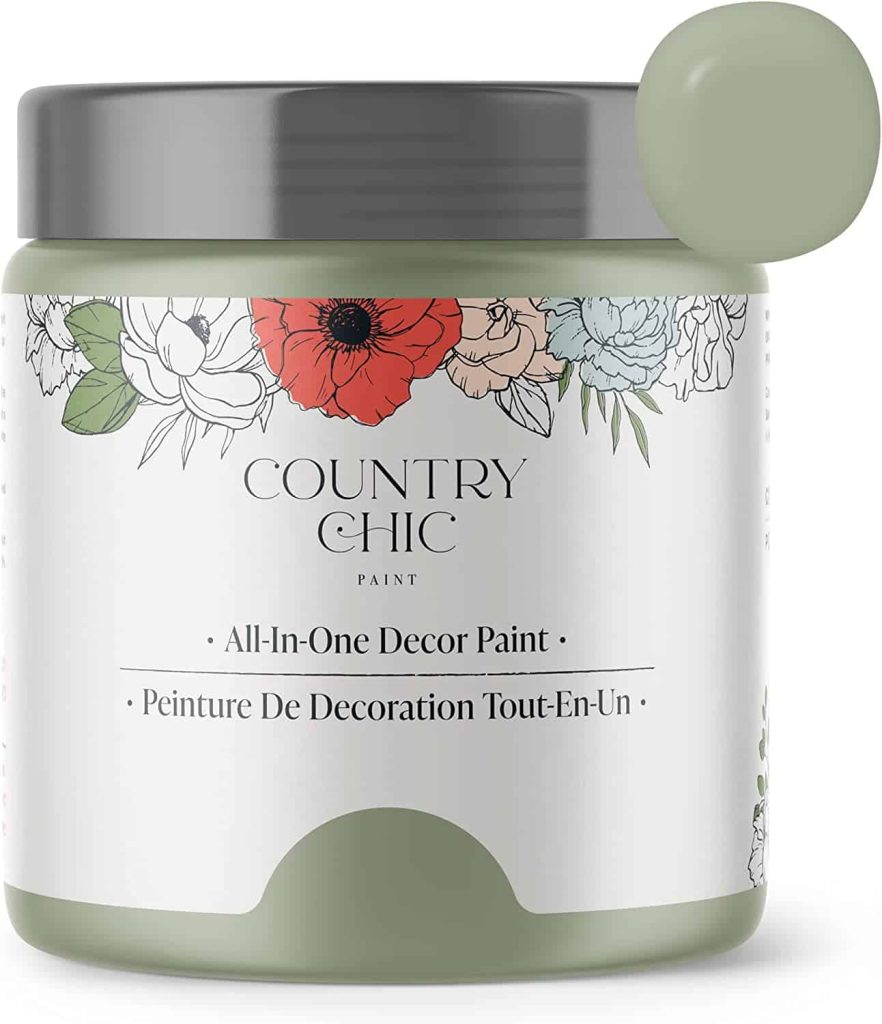 Country Chic Paint aspires to inspire your creativity with high-quality paints that are safe for you and your family. With more than 50 paint colors, you can create any style from modern to shabby chic!
This brand has every paint shade imaginable, from soft, delicate neutrals to bold, rich colors. Country Chic even offers color mixing a layering so you can create your very own shade for the precise look you are searching for.
Additionally, Country Chic offers their own line of brushes, glazes, top coats, and sealants to complete your project.
Much like with the other brands, there is little to no prep work required. This brand offers great coverage and long-lasting durability. It's another great chalk paint solution for indoor and outdoor projects.
Where to Buy Country Chic Paint
Country Chic's website or small local retailers: They also have a store locator on their website so you can search for local shops that carry Country Chic paint near you. However, there aren't many locations near me in Oregon so I would have to buy this online.
5. Dixie Belle Chalk Paint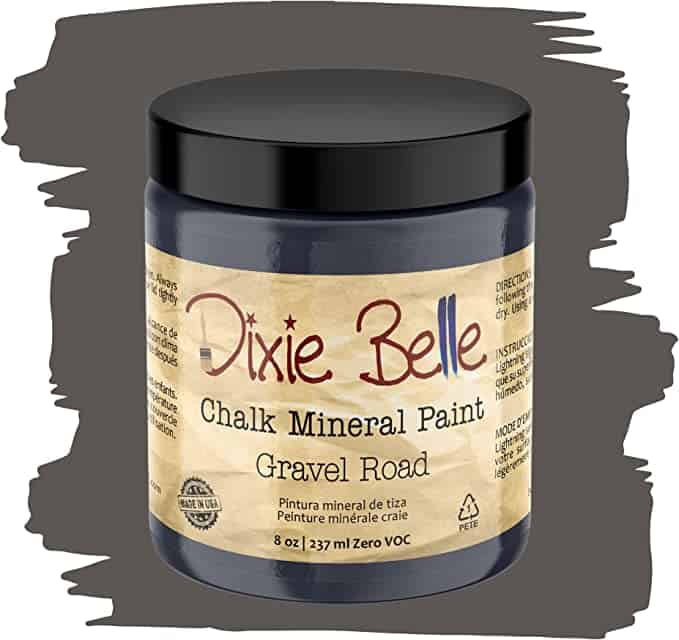 A well-known brand and beloved by DIYers everywhere! This is an extra-thick style of chalk paint that allows you to achieve maximum coverage with just one coat! As this paint is exposed to air, the consistency thickens for fuller color and coverage.
With a special leveling agent, Dixie Belle paint dries so smoothly, without any visible brush strokes.
This is a water-based mineral paint and does not require any sanding, priming, or prep work for most projects.
A top coat is not required, but you can enhance your look with different waxes, glazes, and clear coats for your own unique style.
Where to Buy Dixie Belle Chalk Paint
6. FolkArt Home Decor Chalk Paint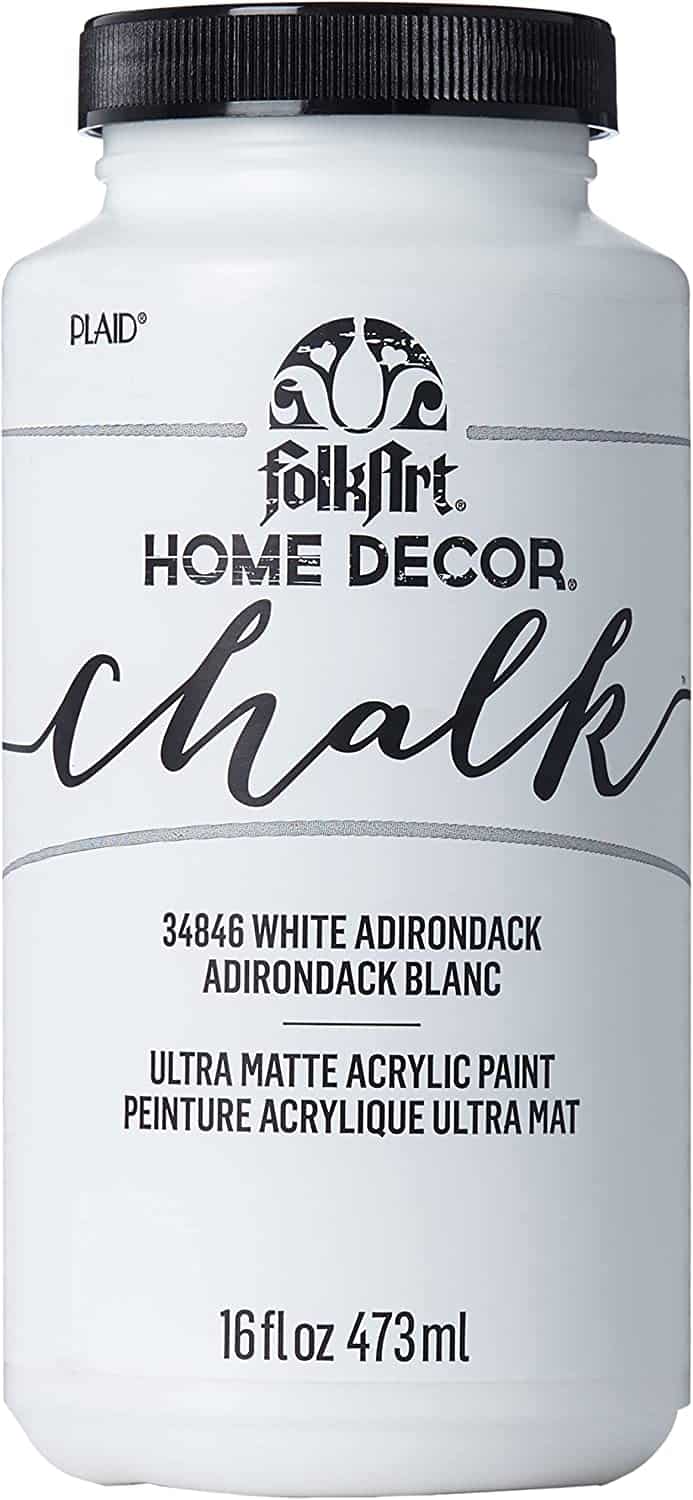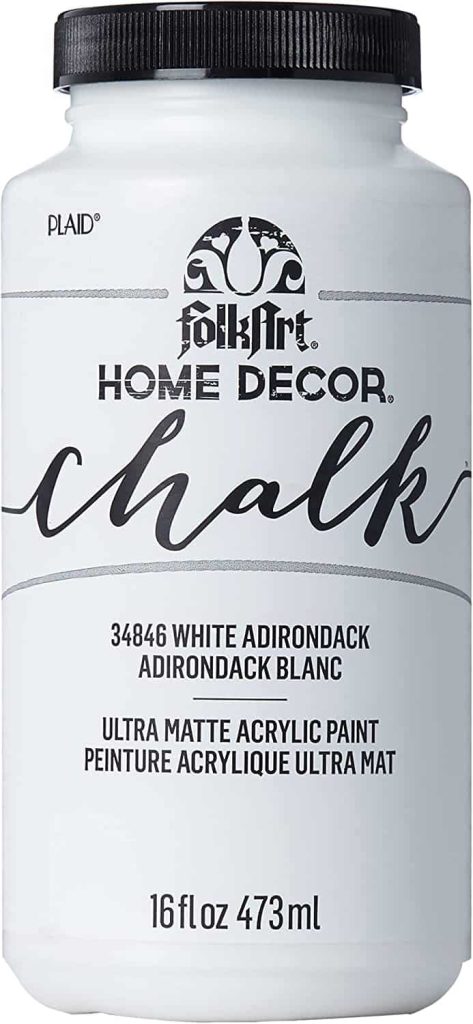 FolkArt Home Decor Chalk Paint is a water-based, matte paint that adheres well to most surfaces without the need for priming or sanding. It's available in a wide range of colors (25 to be exact) and is easy to distress.
It's also non-toxic, low-odor, and easy to clean up with soap and water, making it a safe and convenient choice for DIY home decor projects. You can use it use on wood, metal, ceramic, plaster, terracotta, canvas, and other surfaces
FolkArt Chalk Paint is made by Plaid Crafts, the same company that makes iconic Mod Podge.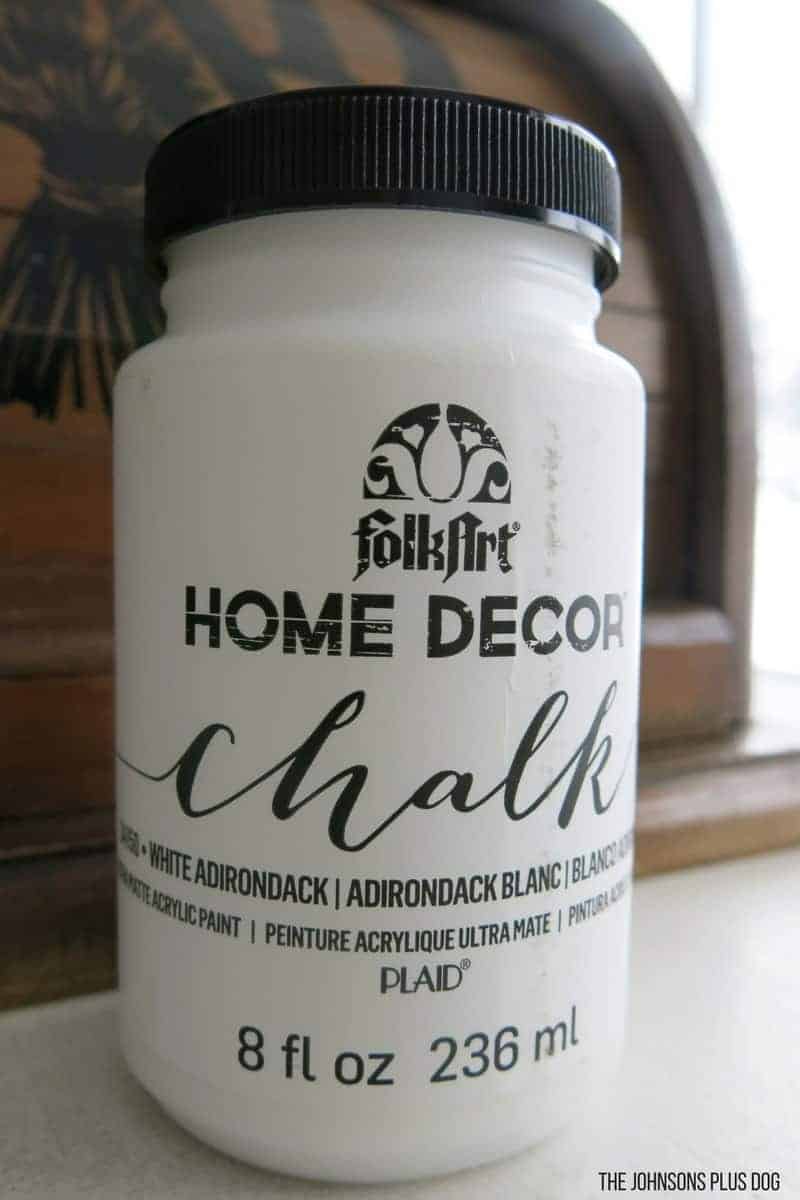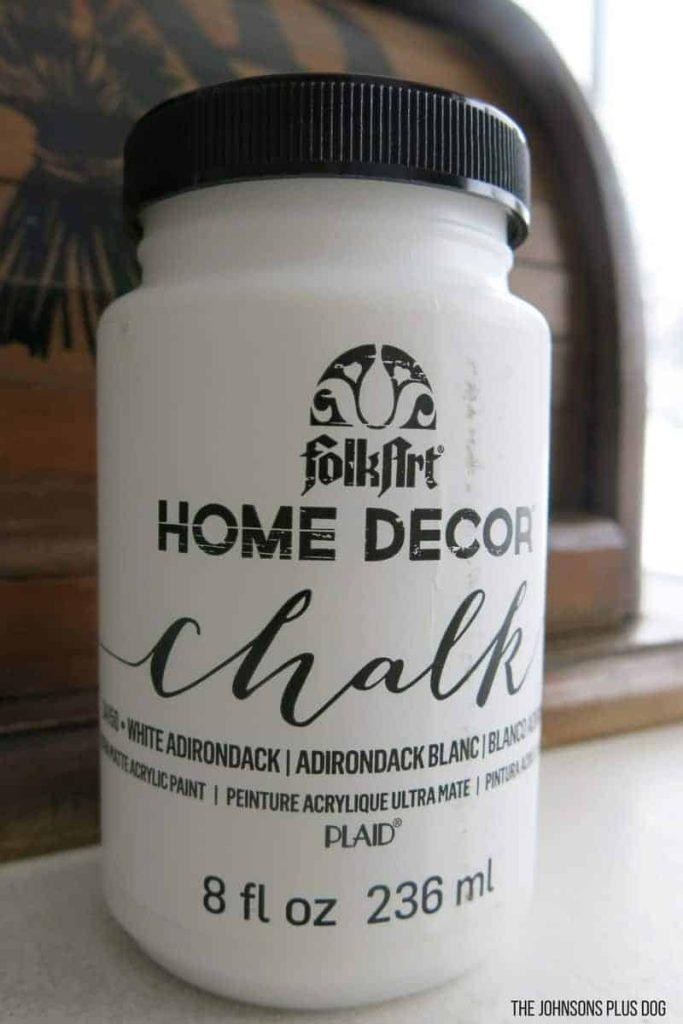 FolkArt was one of the very first paint colors that I ever used several years ago when I painted this vintage bread box. You can read more about my experience in this tutorial and chalk paint review.
Where to Buy FolkArt Home Decor Chalk Paint
7. Behr Paint Chalk Decorative Paint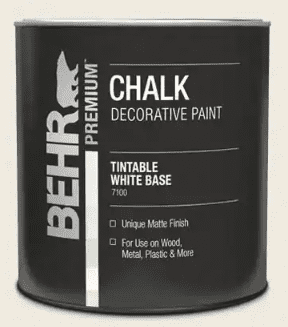 Behr Paint Chalk Decorative Paint is a water-based paint that can be used on a variety of surfaces, including walls, wood, metal, ceramic, and even glass. The paint has a matte finish and dries quickly, allowing for easy application and fast results. It comes in both paint can application and spray paint.
Behr Paint Chalk Decorative Paint is available in a range of over 45 great colors, including neutral shades and bold, bright hues, giving users a variety of options to choose from. This paint is also designed to be easy to distress, allowing users to create a shabby chic or vintage look.
Additionally, the paint is low-odor and easy to clean up with soap and water, making it a convenient choice for DIY enthusiasts looking to add a touch of color and style to their home decor.
Where to Buy Behr Paints Chalk Decorative Paint
8. Magnolia Home Chalk Style Paint
Magnolia Home Chalk Style Paint, from Joanna Gaines, is available in 1-quart cans, and is formulated to be rich and concentrated to provide excellent hide, cover minor surface imperfections, and minimize the need for surface preparation. There are several different shades available and all of them look lovely.
Many DIYers mention that they love the coverage and consistency of the Magnolia chalked paint. Reviews also mention that it has a smoother finish than the Annie Sloan brand of paint.
Where to Buy Magnolia Home Chalk Style Paint
Choosing a brand of chalk paint
When choosing a chalk paint brand, there are several factors to consider:
Quality: Look for a brand that offers high-quality, durable paint that will hold up over time. Check reviews and ratings to see what others have experienced with the brand.
Color selection: Choose a brand that offers a range of colors that match your design style and preferences.
Ease of use: Consider how easy the paint is to apply and whether it requires any additional steps such as priming or sanding.
Finish: Look for a brand that offers the finish you desire, whether it's a smooth, matte look or a distressed, vintage-style finish.
Price: Consider your budget and compare prices between brands to find the best value for your money.
Availability: Check if the brand is readily available in your area, or if it can be easily ordered online.
Compatibility: Consider whether the brand can be used on the surface you intend to paint, such as wood, metal, or fabric.
The best chalk paint brands on the market offer a variety of options, giving both professional artists and at-home DIY enthusiasts the chance to create stunning projects. These paints are durable, easy to work with, and offer a range of colors and finishes to choose from.
Whether you're looking to transform an old piece of furniture or transform a thrift store find, choosing a high-quality chalk paint brand is essential for achieving the desired result.