I took these wooden bar stools out of the 90's and into a fresh farmhouse style with chalk paint! These painted bar stools turned out so good! You'll love this step by step tutorial for how to chalk paint bar stools.
This painted bar stools tutorial is brought to you by General Finishes. I received product samples for review purposes. The opinions are completely my own based on my experience. Also, this post contains affiliate links, but nothing that I wouldn't wholeheartedly recommend anyway! Read my full disclosure here.
If you love DIY videos, be sure to subscribe to our YouTube channel for more!
How many times have you seen wood furniture on sale (or even for free) at yard sales, Facebook groups and Craigslist and KNEW that it would look amazing with just some paint?!
That's exactly what I thought when my mother-in-law sent me a picture of these bar stools. She knew I had been on the hunt for bar stools and they were in a home that she was selling. I couldn't wait to give the bar stools a chalk paint makeover.
Related: See how chalk paint transformed this vintage bread box and the table base on this kitchen table.
But, life got busy and so they sat in our kitchen…. for about 4 months. It seemed so daunting.
Even though they were going to be painted with chalk paint (which is known for being a "no prep" kind of paint), I knew I wanted to prep the bar stools well and prime them. Since the bar stools will get a lot of use, I wanted to make sure they would stand the test of time…even if it was a few extra steps. But, since I knew it would take some extra time….so I kept procrastinating this painting project.
You know what? I even started the painting project….got them all sanded, brushed on 2 coats of primer to prep the bar stools for chalk paint….and then got too busy to continue working on them. So they sat for even longer out in the garage.
Sometimes this good 'ol blog is great for a good kick in the pants to get projects like this done! I knew I needed to share these bar stools with you, so I got busy and finished them up. In this post I'm going to show you all of the steps that I took to give these wooden bar stools a farmhouse style makeover with chalk paint.
Supplies needed for chalk painted bar stools:
Fine Grit Sandpaper
Tack Cloth (to collect sanding dust)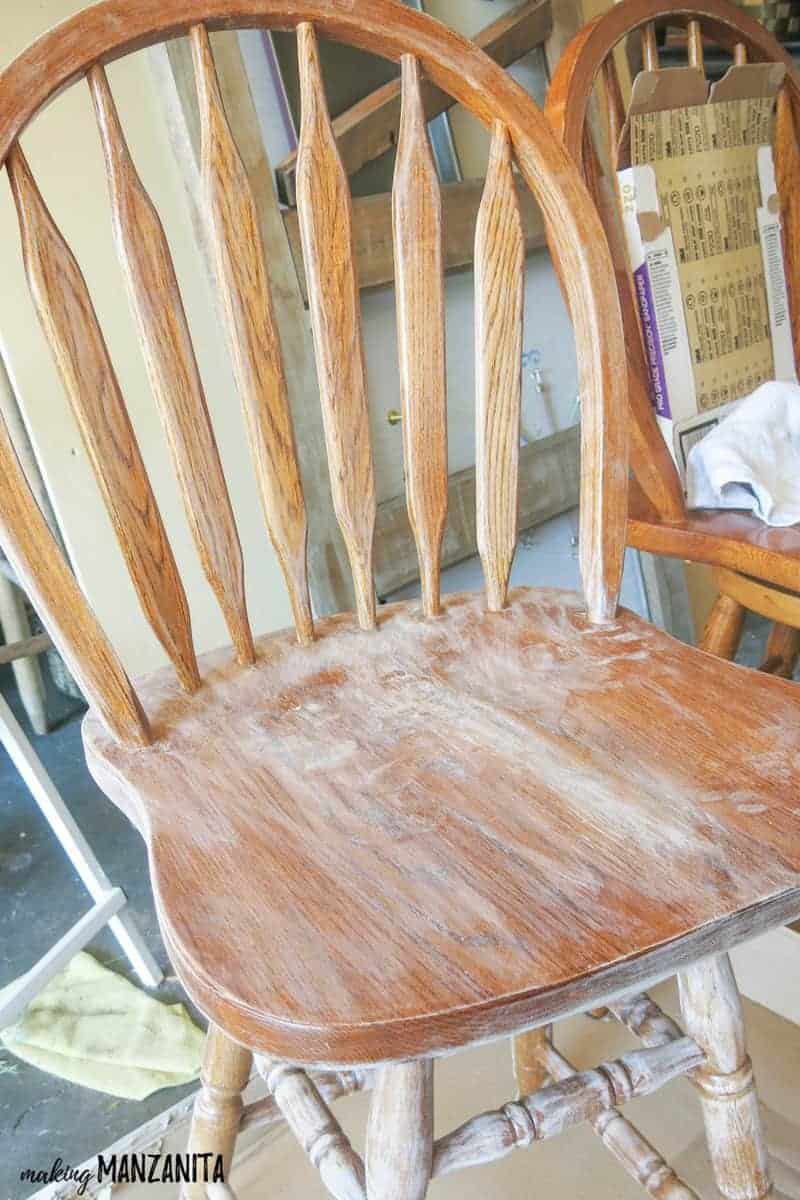 Lightly sand bar stools with 220 grit sandpaper.
Typically chalk paint is known for "no sanding prep", but General Finishes recommended a light sanding…. so I followed directions. It wasn't that big of a pain though.
Prime bar stools.
Prime bar stools with General Finishes Stain Blocking Primer.
Since the bar stools will get used a lot, I wanted to be sure to prime them well. I applied two coats of the stain blocking primer.
Paint bar stools with chalk paint.
Paint bar stools with chalk paint. I did 2 coats.
Distress painted bar stools (optional).
Distress chalk painted bar stools….Ok so, yes…this is not done yet. I still can't really decide if I want them distressed or not, so I'm going to wait a couple weeks before I decide. What do you think?
Seal painted bar stools.
Seal with Top Coat. After you're done painting, you definitely want to seal the bar stools so they can withstand heavy use.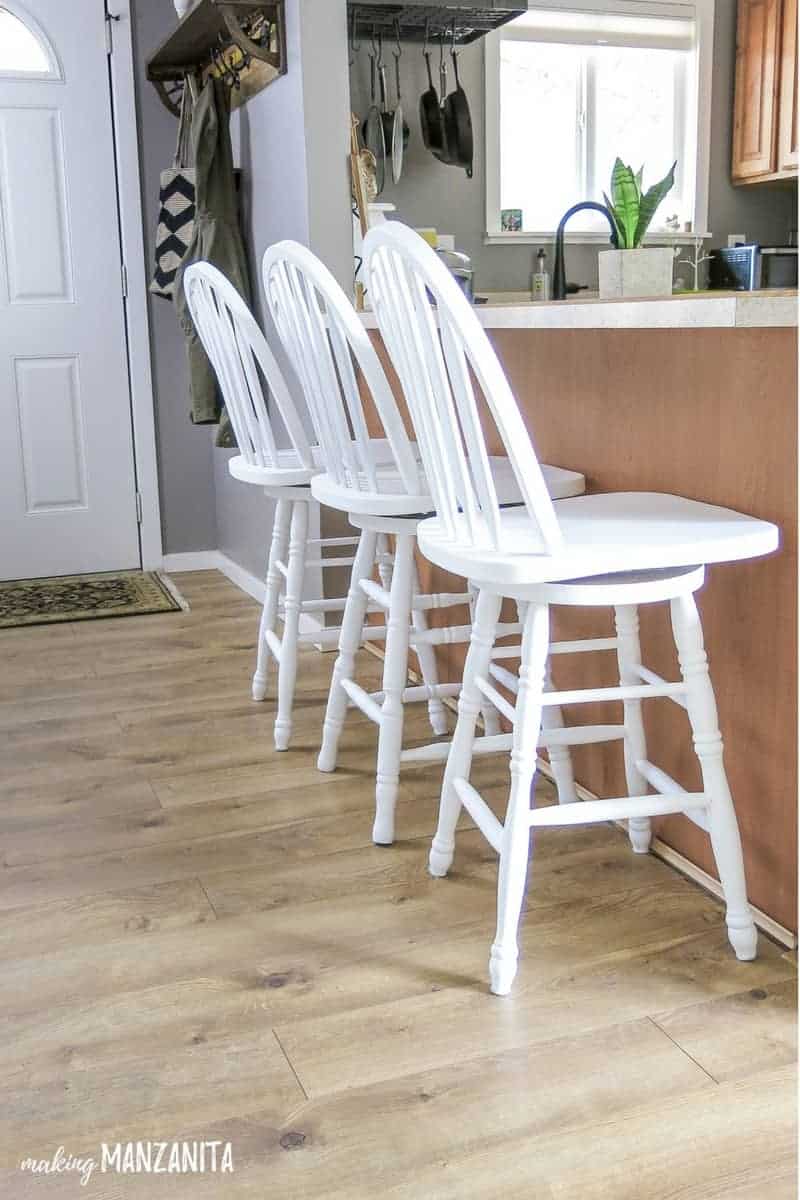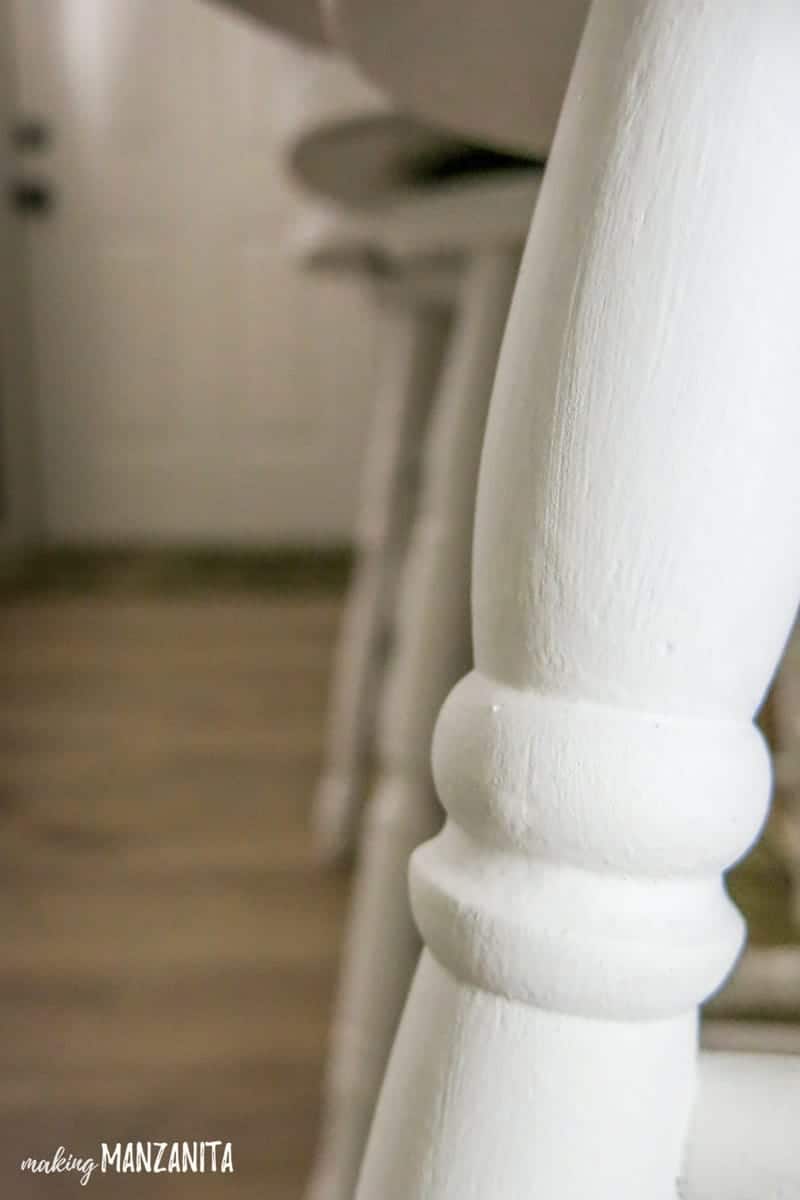 Are you as shocked as I am? These wooden bar stools were straight out the 90's when we got them with the orange color finish.
After a chalk paint makeover, they have that farmhouse style that I was really aiming for.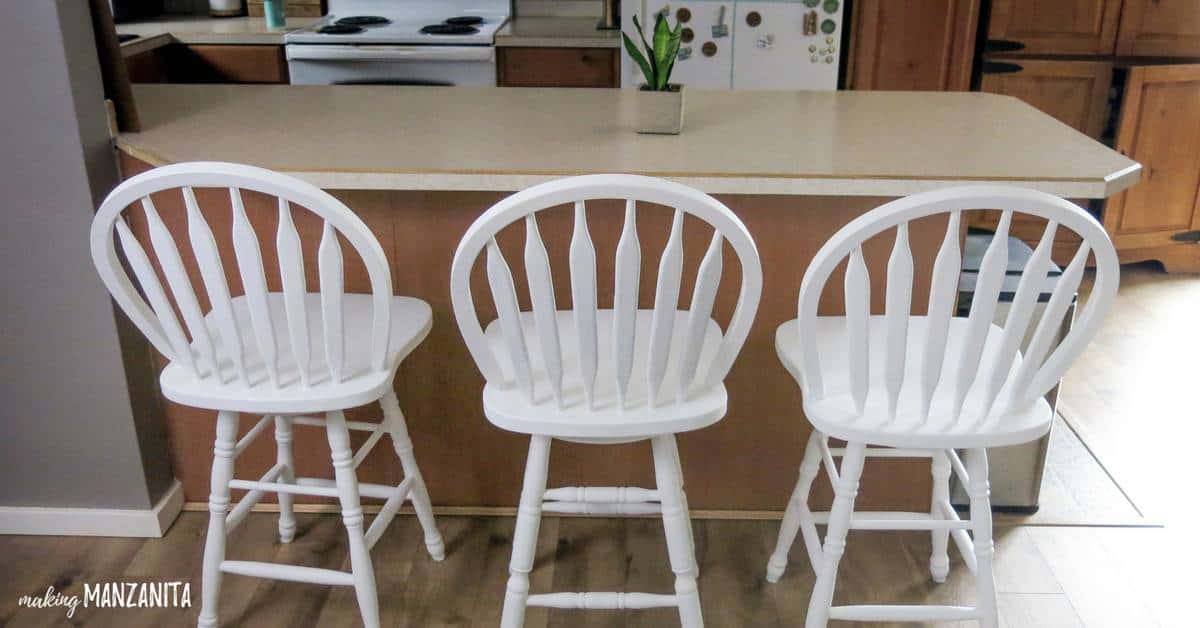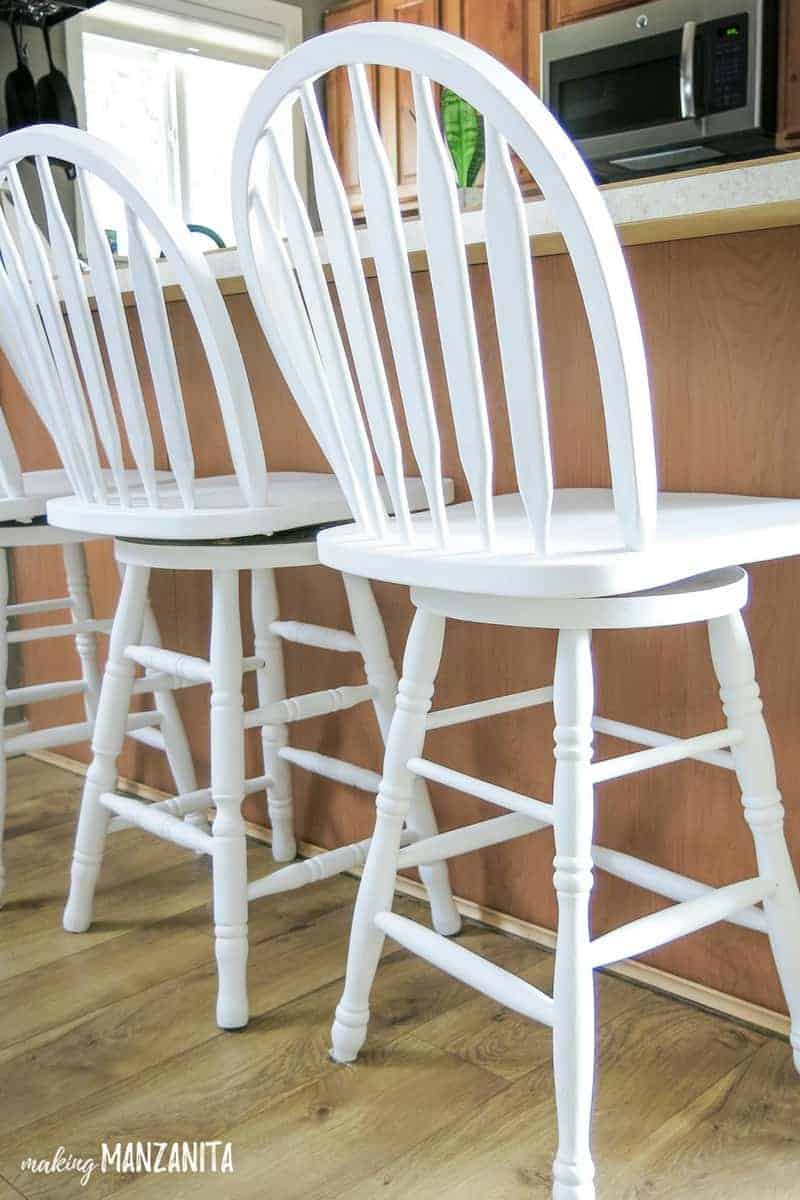 After I stopped procrastinating on this painting project, it was really a breeze!! I love how these chalk paint bar stools came out. They really lighten up our kitchen space.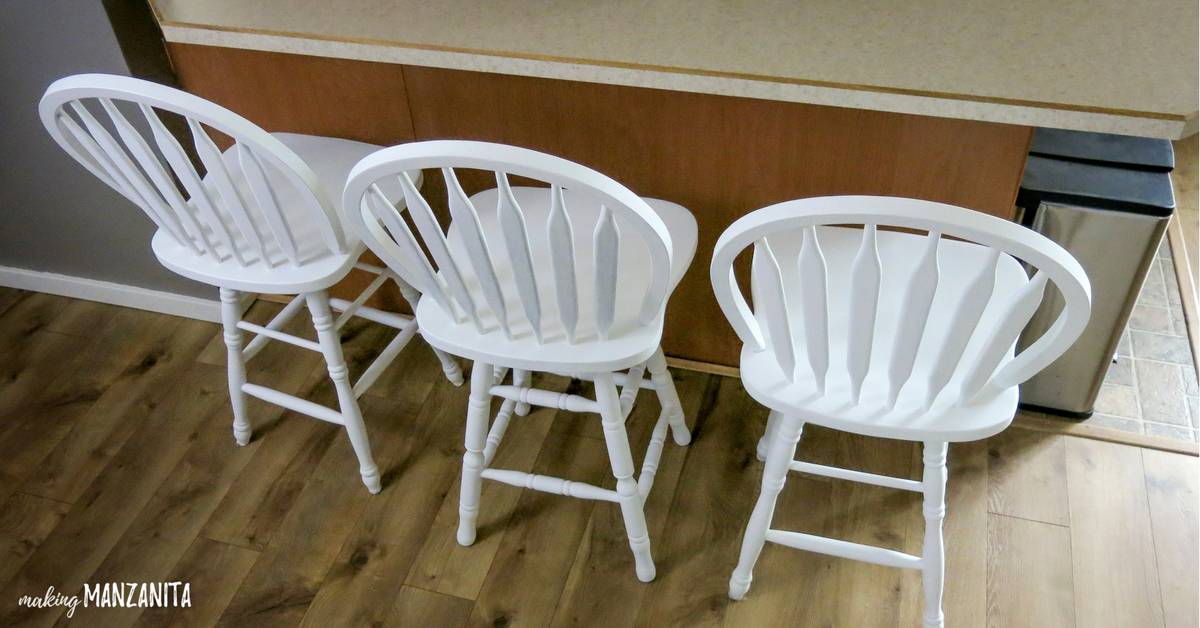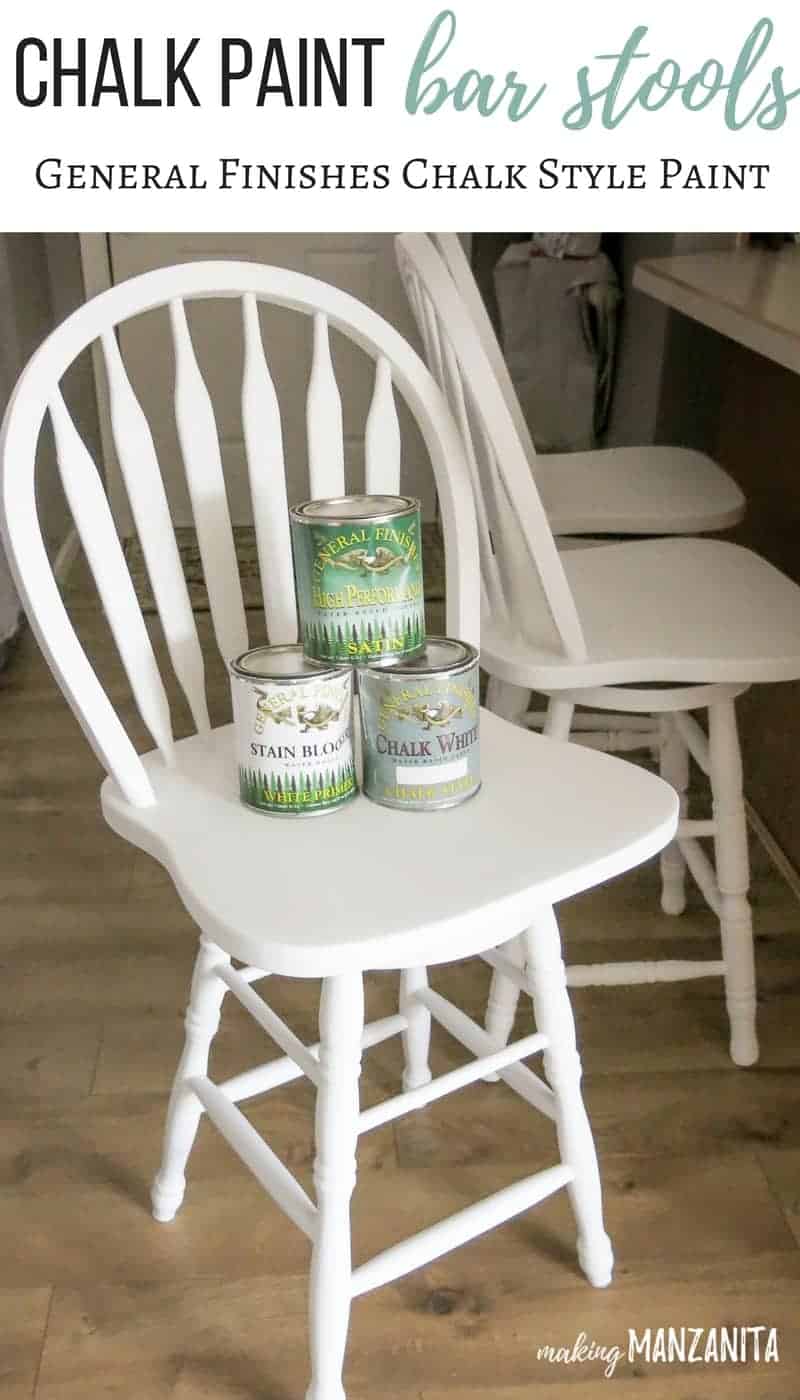 Have you used chalk paint to makeover thrift store furniture??
Let me know in the comments below!!
---
This tutorial was posted as a part of a Monthly Thrift Store Challenge
The Rules:
Upcycle an item(s) from a thrift store, resale store, or garage sale into a new piece of decor.
There's no monthly theme.
There's no budget to stick to.
Meet the Hosts
Amanda | Domestically Creative Kim | Made in a Day
Victoria | Dazzle While Frazzled Pili | Sweet Things
Sue | A Purdy Little House Chelc | Inside the Fox Den
Ann | Duct Tape and Denim Sara | Twelve on Main
Kim | Farmhouse Made Toni | Small Home Soul Angela | Simply Beautiful by Angela
Michelle | Our Crafty Mom Marie | DIY Adulation Chelsea | Making Manzanita
Leanna | Of Faerie and Fauna Denise | My Thrifty House Lindsay | Crazy Organized
Florence | Vintage Southern Picks Shirley | Intelligent Domestications Michelle | Michelle J Designs
Make sure you follow our board on Pinterest for more upcycled decor inspiration!
And now for more thrifty goodness!
Check out what my fellow upcyclers created below!