Why use chalk paint vs. regular paint? Decide which is the best paint for your needs in this chalk paint overview. Learn what chalk paint is, the difference between chalk paint and regular paint, the pros and cons of both, and how to chalk paint furniture.
If you're a fan of the modern farmhouse style like we are, then you've probably heard of the term chalk paint. But how do you know when a DIY project calls for chalk paint and when you should use regular paint instead?
Chalk paint is a super convenient solution for decorative paint projects. It doesn't require a whole lot of prep work, unlike regular paint. Plus, it's known for the rustic, vintage, shabby-chic style it gives to furniture, cabinets, and even metal!
We love to see the evolution of different pieces when we add a coat of chalk paint. We've used it on many projects for our home, including bar stools, desks, vintage bread boxes, and vintage-style decor items.
If you're ready to give your thrift store finds a makeover, we've got all the details on the best paint for your project.
This chalk paint overview post contains affiliate links, but nothing that I wouldn't wholeheartedly recommend anyway! Read my full disclosure here.
Table of Contents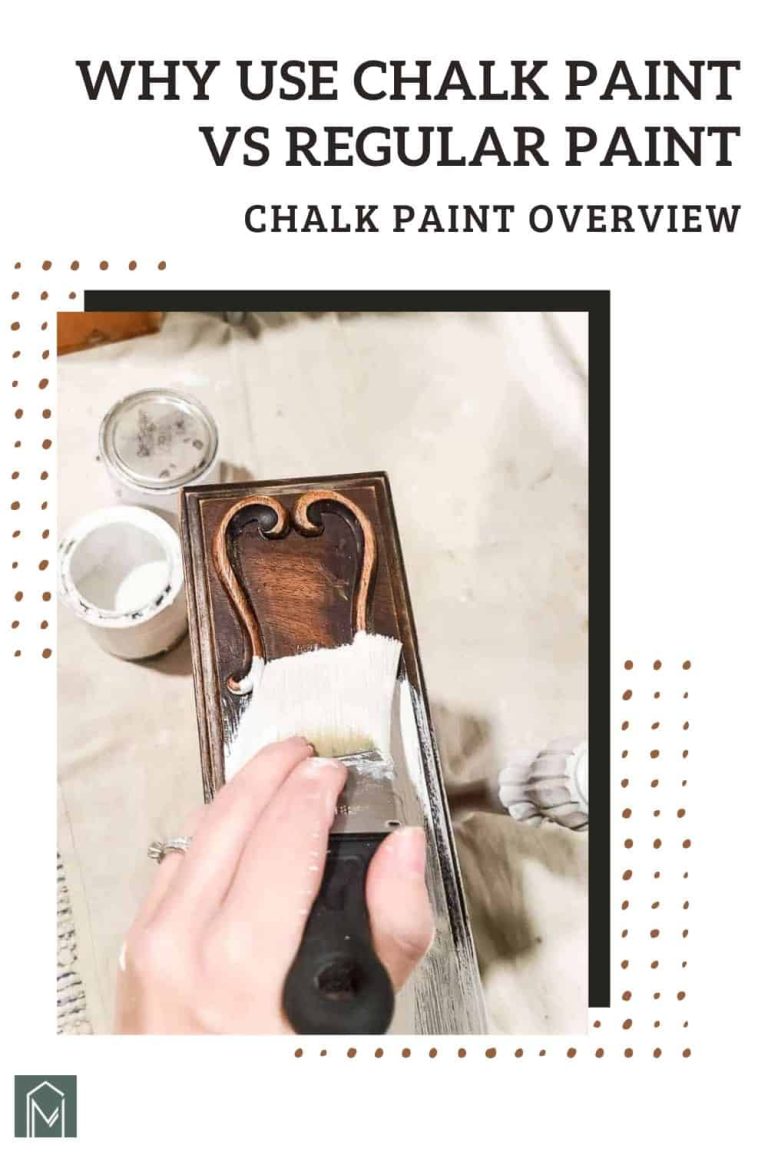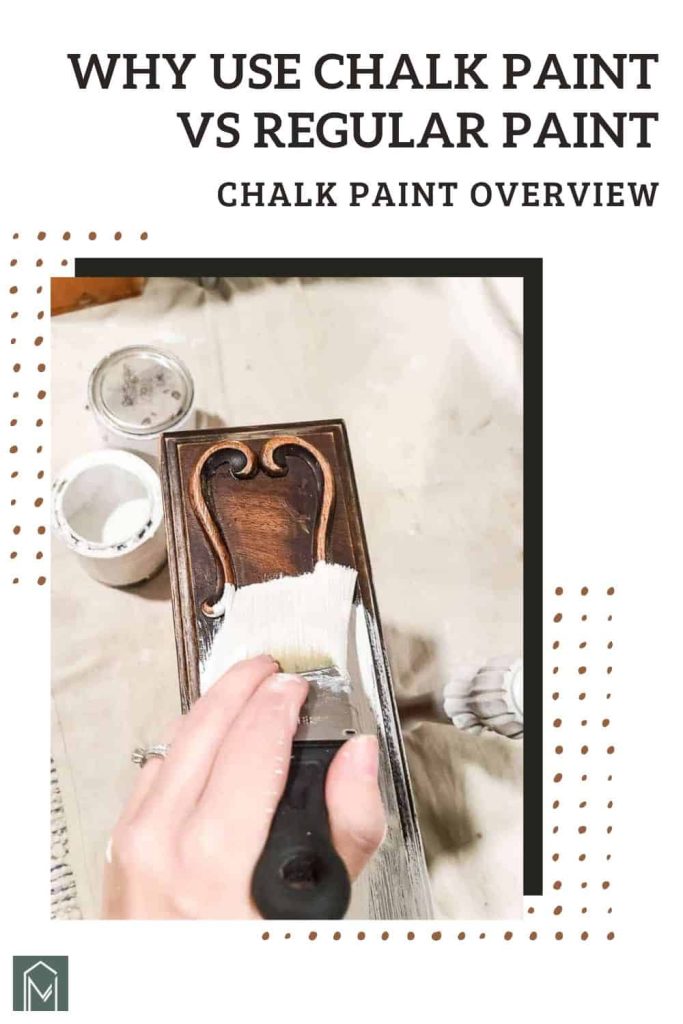 What Is Chalk Paint?
The term chalk paint was originally created and trademarked by the popular paint brand Annie Sloan. As it gained popularity, more and more companies began creating their own versions of the popular paint type. You can even find instructions online to make your own chalk paint from regular paint.
Chalk paint can be used on top of many surfaces, including metal, wood, finished wood… just about anything! It's especially popular for DIY furniture projects. The great thing about this kind of paint is that it can be used to update or change the look of any piece of furniture – old or new.
As it is, chalk paint dries as a matte, chalky result; however, many DIYers finish their projects by applying different waxes or finishes for an antiqued or distressed look. This is a great option for those of us who enjoy trips to the thrift store and reinventing different pieces of furniture with a simple coat of paint!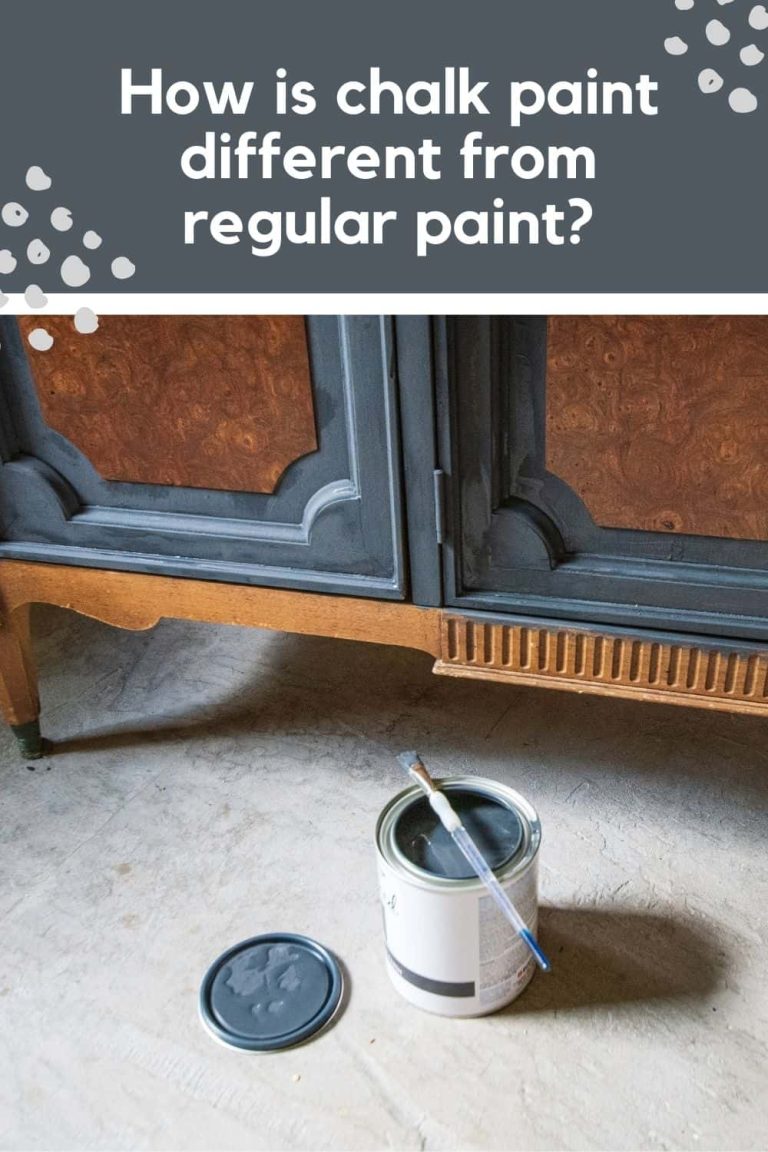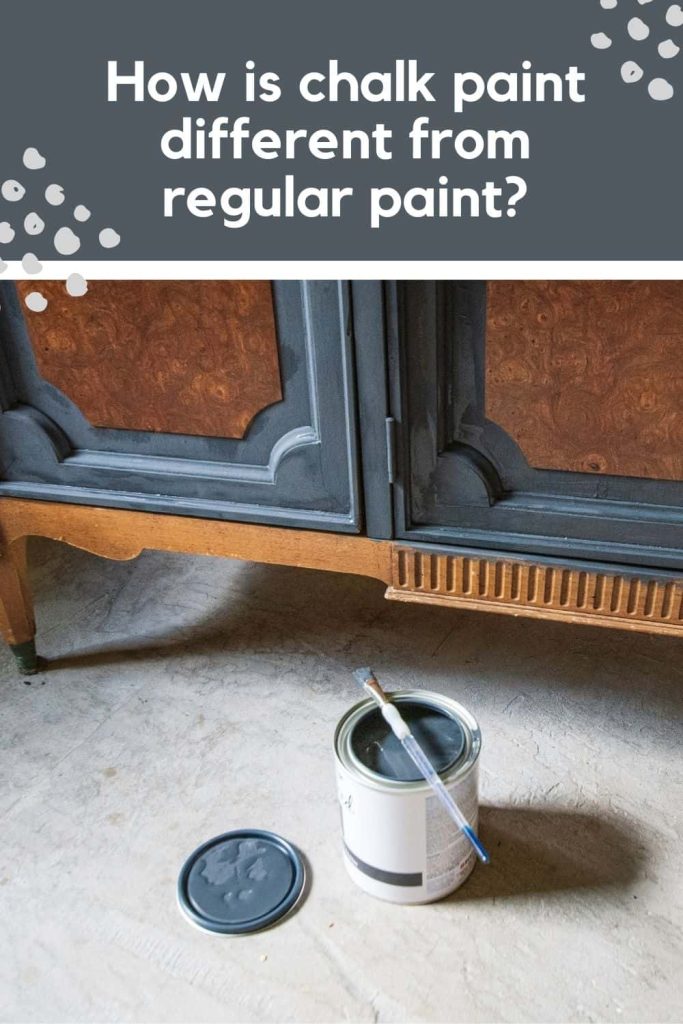 How is Chalk Paint Different from Regular Paint?
Chalk paint is different from traditional paint in many ways: the consistency, application, clean up, and appearance when dried.
Chalk paint has a thick consistency which means it goes on much in thicker layers than regular paint and is less likely to drip or run. Depending on the project, chalk paint oftentimes requires a single coat of paint, whereas regular paint might require more.
Because chalk paint is a water-based product, the clean-up is really easy. It comes off of skin, clothing, and paintbrushes with soap and warm water, which is a huge plus for me!
Additionally, chalk paint only comes in one finish as opposed to many finishes (also known as paint sheens) as with traditional paint. As it dries, the result is a chalky, matte finish. Then, the DIYer can easily distress or antique the project further with waxes or finishes, if desired.
Related – Chalk paint is very similar to milk paint, which can be confusing! Learn more about milk paint vs. chalk paint here.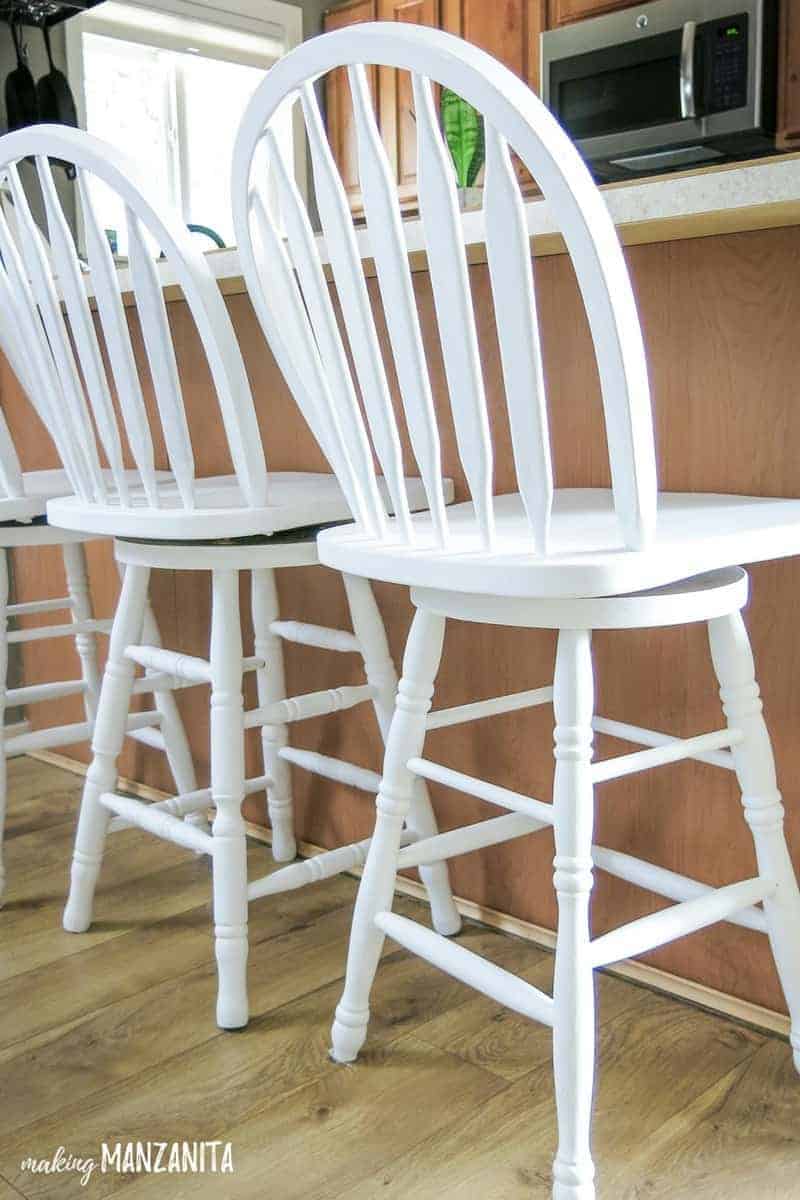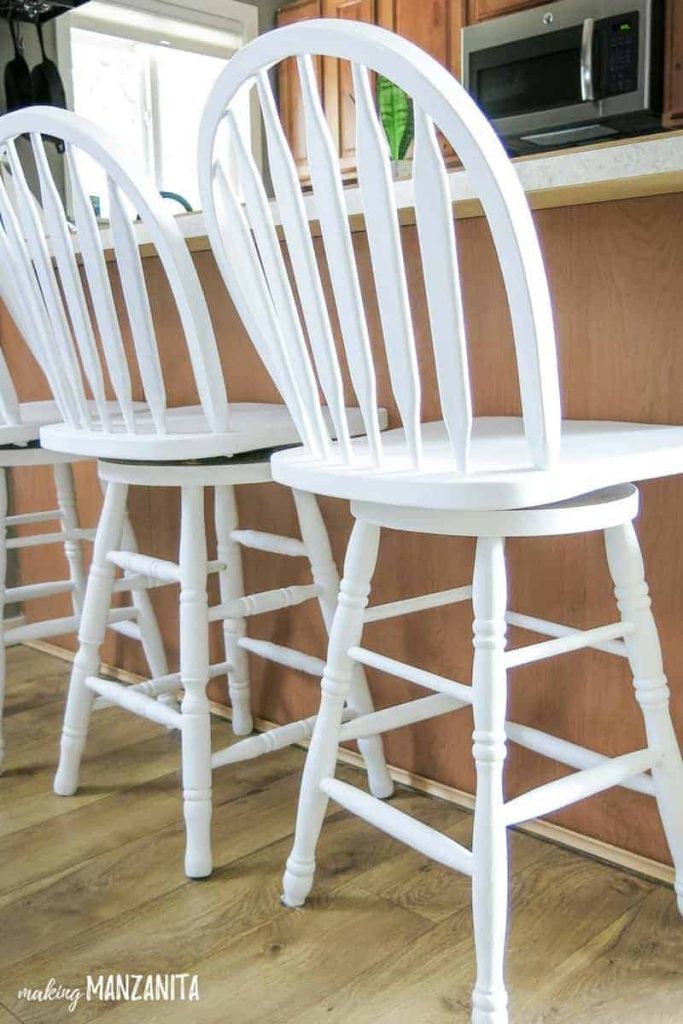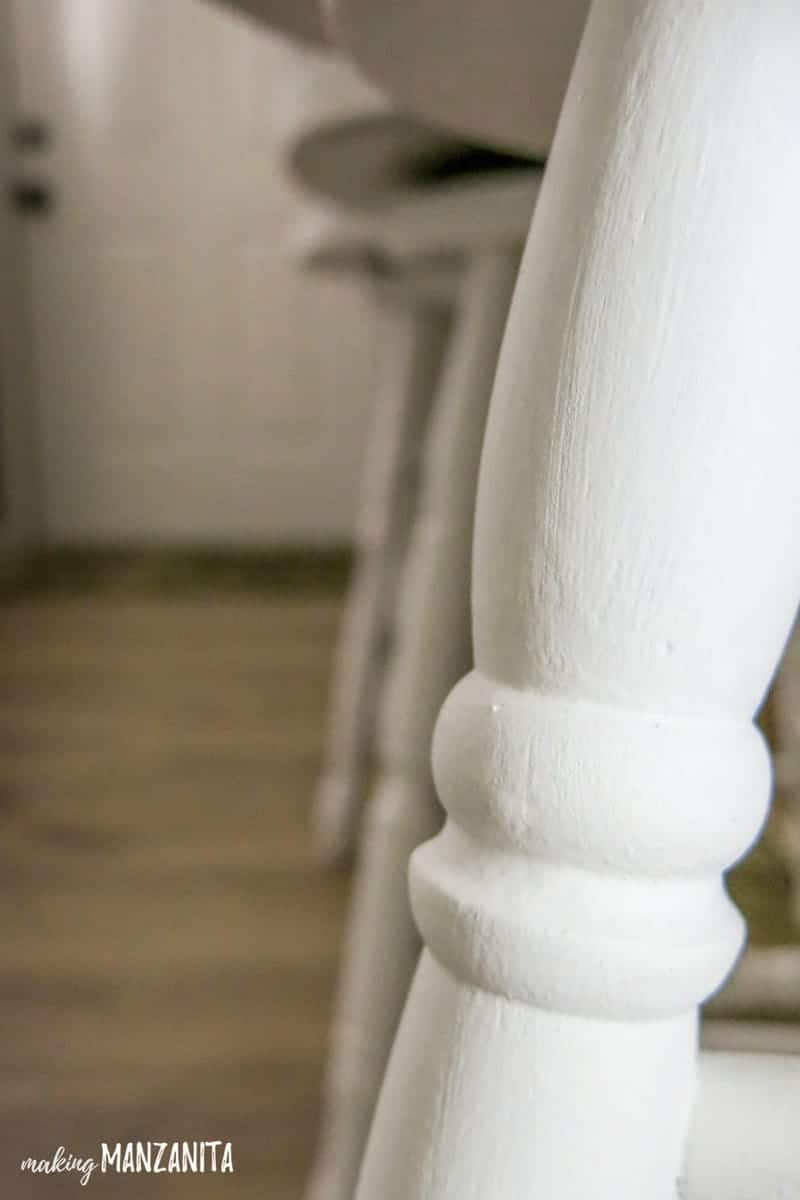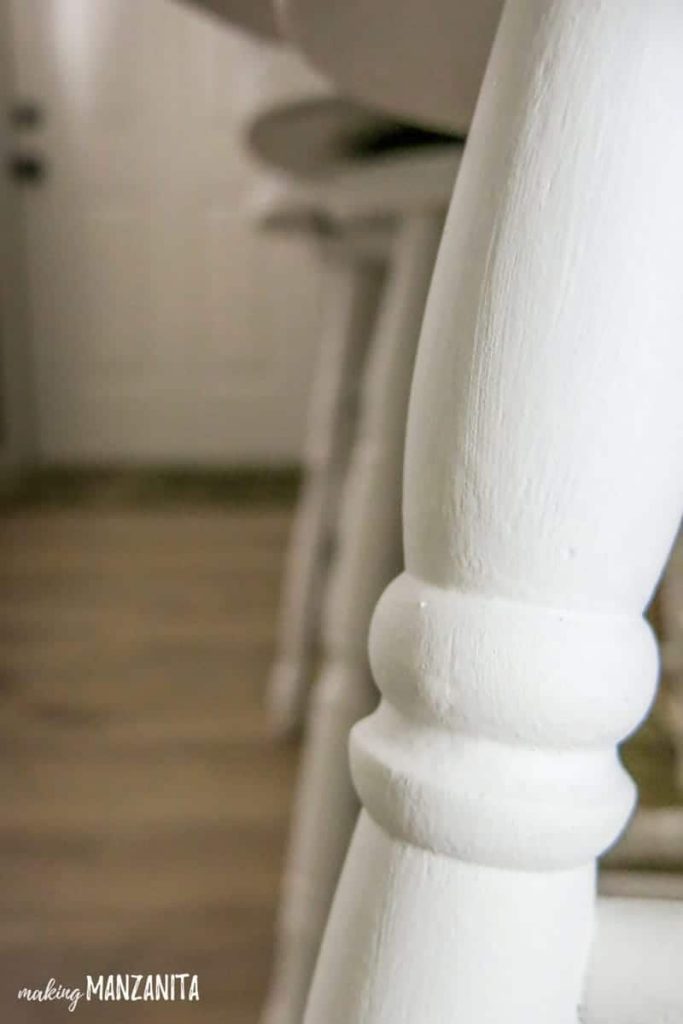 Why Use Chalk Paint vs. Regular Paint?
So, why and when should you use chalk paint vs. regular paint? It really depends on the project, how the piece will be used, and how much work you want to put into the project.
Pros and Cons of Chalk Paint vs. Regular Paint
Since there are so many nuances between chalk paint and traditional paint, we've outlined the differences in the chart below.
| | | |
| --- | --- | --- |
| | Chalk Paint | Regular Paint |
| Prep Work | Little prep work is required. Light sanding is recommended. Priming optional. | Sanding and priming required |
| Coverage | Generally requires a single coat. Will usually hide heavily grained wood patterns, other stains, or blemishes. | Requires multiple coats. Will not cover sealed wood without lots of prep work. Will not hide heavily grained or patterned wood with primer. |
| Durability | Very durable and water-resistant with a protective topcoat. | Always requires a topcoat (like polyurethane or polycrylic).  |
| Dry Time | Typically dries within hours. | Requires a full 24 hours before applying a topcoat or additional paint coat. |
| Surfaces | Can be applied to just about any surface including walls, furniture, metal, plastic, etc. Most commonly used on furniture. | Best for walls or furniture. Not a great option for non-wood surfaces. |
| Distress | Chalky, matte finish as is but versatile. Appearance is easily manipulated with additional wax or finish. | Difficult to distress. |
| Finish | Textured finish. Brushstrokes may be visible. | Smooth finish. The appearance depends on finish type (eggshell, glossy, satin, etc.). |
| Colors | Many color options are available. | Infinite color options are available. |
| Cost | $$$ | $$ |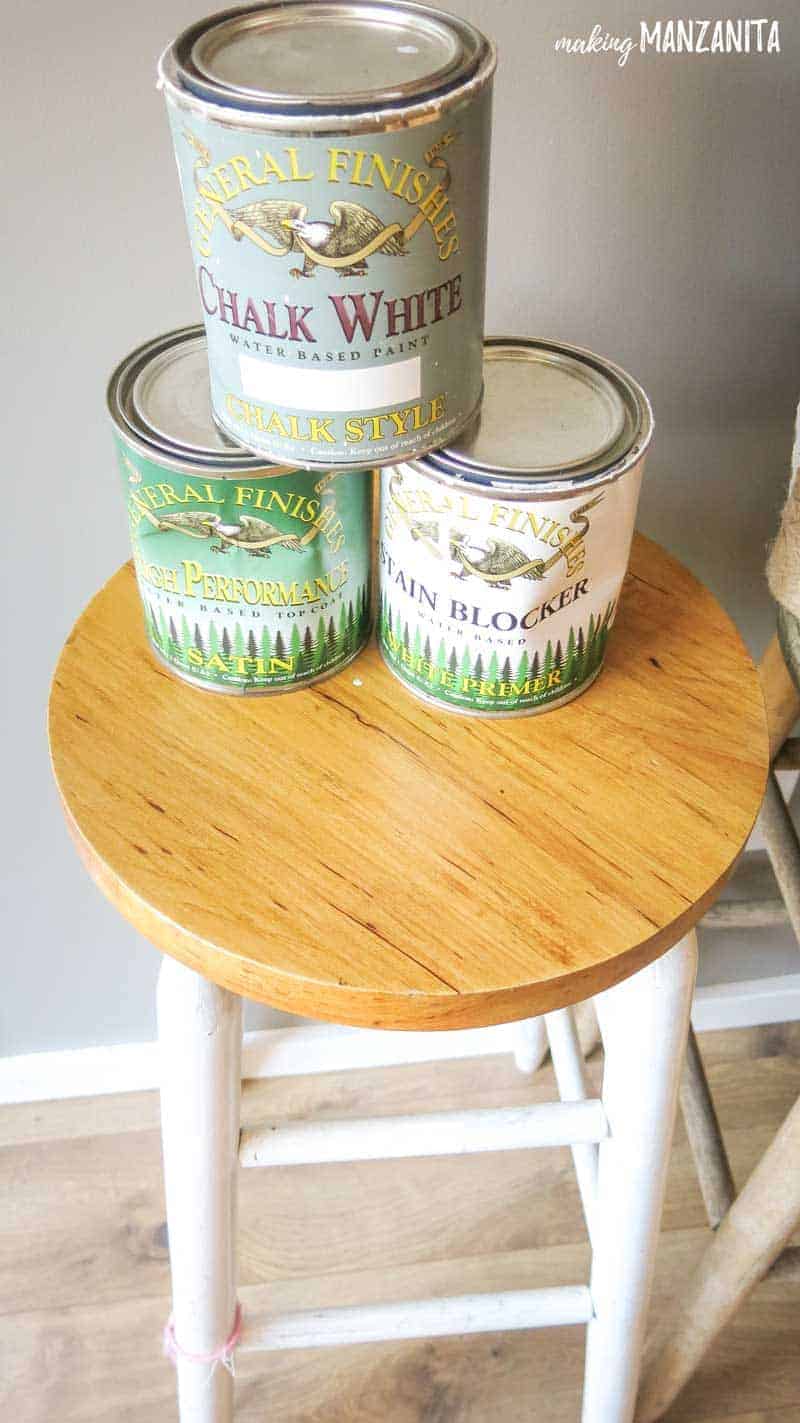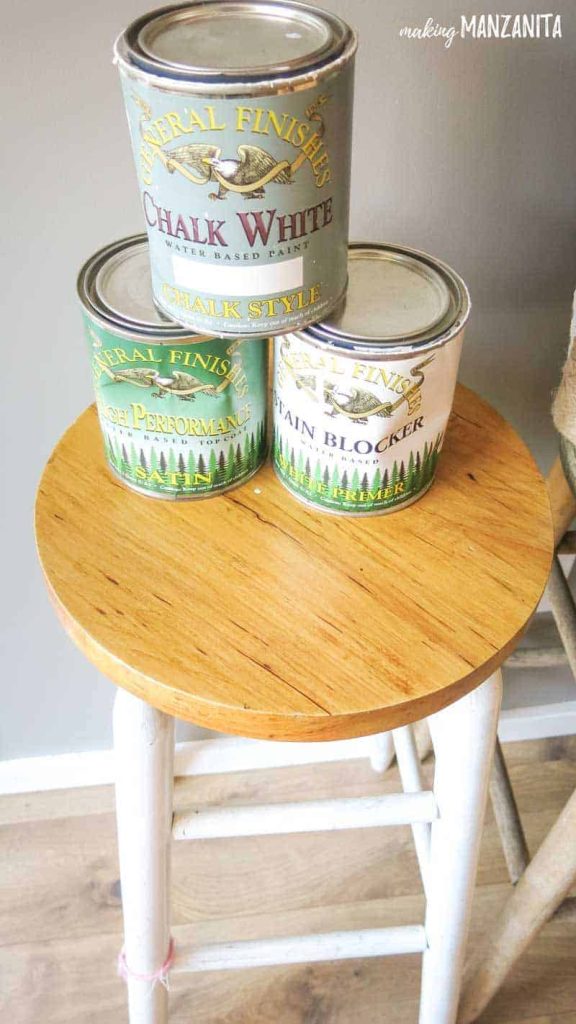 How to Paint Furniture with Chalk Paint
Chalk painting furniture is always a really fun project! Typically, the prep work is always the hassle with painting, but using chalk paint just about eliminates that part entirely.
Here's the abbreviated process of chalk painting furniture. To learn more about how to chalk paint furniture in detail, visit this post.
Use an epoxy stick to make any furniture repairs necessary.
Sand the furniture. This step isn't required, but I find the chalk paint goes on much better after sanding.
Prime the furniture. If you are painting wood furniture, I recommend using a stain-blocking primer; otherwise, you may see stains bleed through.
Paint the furniture piece with chalk paint, just like you would with regular paint.
After the paint has dried, seal it with a wax finish to protect your project!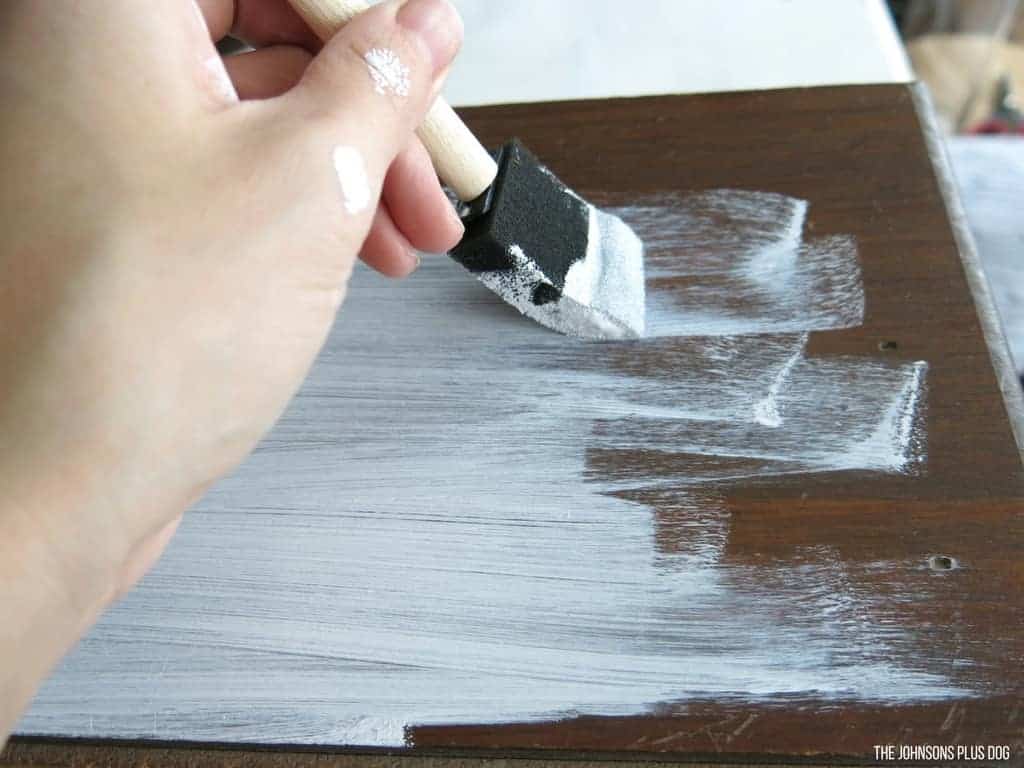 Pro-Tips for Painting Furniture with Chalk Paint
FAQ About Chalk Paint
Can anything be painted with chalk paint?
Chalk paint can be used on just about any surface, including walls, cabinets, metal, wood, and even fabric. The most common use is giving new life to old furniture pieces or even distressing new pieces.
Do you have to sand before you use chalk paint?
Sanding isn't required but is strongly recommended. Regardless of the paint's instructions, I find that a little sanding always helps give the paint something to adhere to.
Why is chalk paint so popular?
Chalk paint is a super convenient solution for decorative paint projects. It doesn't require a whole lot of prep work, unlike regular paint. Plus, it's known for the rustic, vintage, shabby-chic style it gives to furniture, cabinets, and even metal!
Whether you're looking for a new hobby or trying to give life to old furniture, chalk paint is definitely something you need to try at least once. There are several reasons why you'd want to use chalk paint vs regular paint, specifically when you're painting furniture and want an easy-to-prep process with a silky smooth chalk-like finish.
Have you ever tried chalk paint before? Do you like it more than regular paint?
Let us know in the comments below!
Want More DIY and Painting Tips? Read These Posts Next!