This DIY Mother's Day gift idea is so simple even the kids can make it. I've provided a free Moms Are Like buttons printable gift tag and card to go along with these fun DIY button flowers for Mother's Day.
Moms are like buttons, they hold everything together. Isn't this the truth!? With Mother's Day right around the corner, it was definitely time for a DIY Mother's Day gift idea. It's kind of a universal law that moms love flowers, right? Since I love this mom are like buttons quote, we're going to make button flowers to add in to a cute potted plant for your mom. This button flowers tutorial is so simple and perfect project for the kiddos! I made a really cute (and FREE) moms are like buttons printable for Mother's Day to go along with this Mother's Day gift idea.
Another reason I'm really excited about today's craft is because it is a part of the monthly craft room destash challenge! I love participating in this challenge every month. It encourages me to get creative and use the supplies I already have on hand. Not to mention, it helps clean up my craft room & office as I get rid of some of the craft stash! 🙂 Yes, today's craft was made with 100% of materials that I had on hand. Ok…maybe I lied. I had to go buy the potted plant!
This post contains affiliate links, but nothing that I wouldn't wholeheartedly recommend anyway! Read my full disclosure here.
It's time for a Monthly Craft De-Stash, hosted by C'mon Get Crafty!

Supplies for button flowers:
Wire cutter
Moms are like buttons printable (link is at the bottom of this post)
Potted plant

Step 1. Cut floral wire.
Cut your floral wire in pieces between 8 and 12 inches long. You'll need one piece of wire for each button flower.

Step 2. Add your button to wire.
First you will string your button onto the wire and wrap about 2-3 inches through the button.
Step 3. Twist wire behind button to secure.
Next you can twist the wire behind the button a couple times to keep the button in place at the top of the wire.

Step 4. Add paper flower.
You will add the paper flower on to the wire behind the button. To secure the paper flower, you can wrap the wire around in a "C" shape on the bottom of the flower.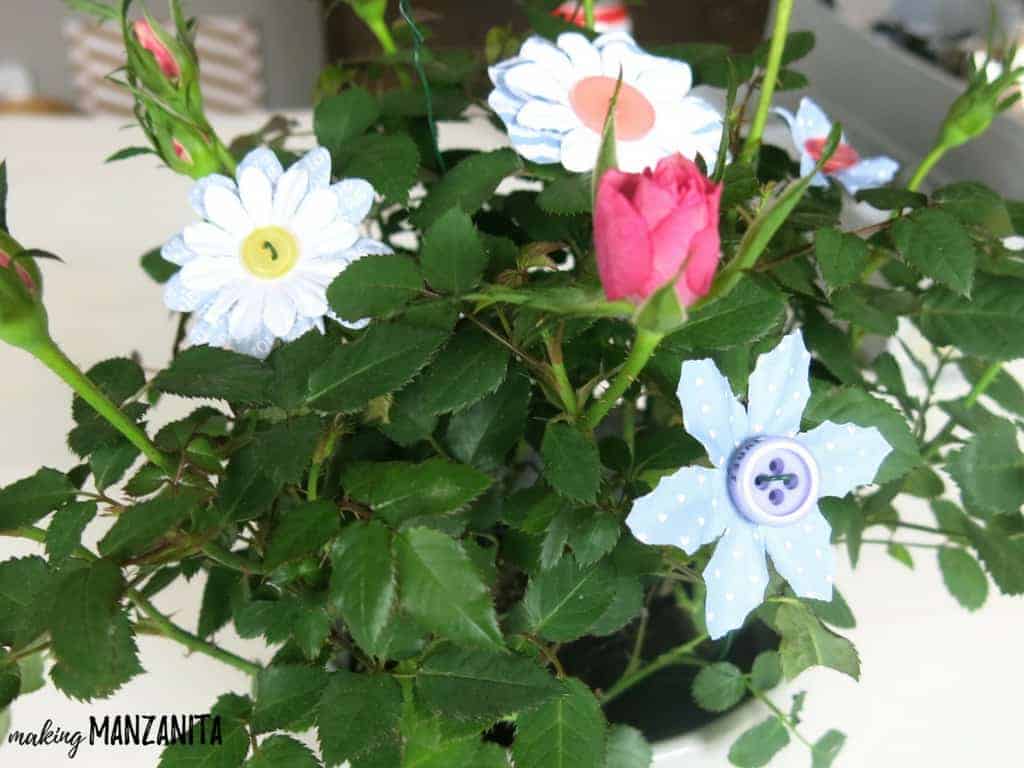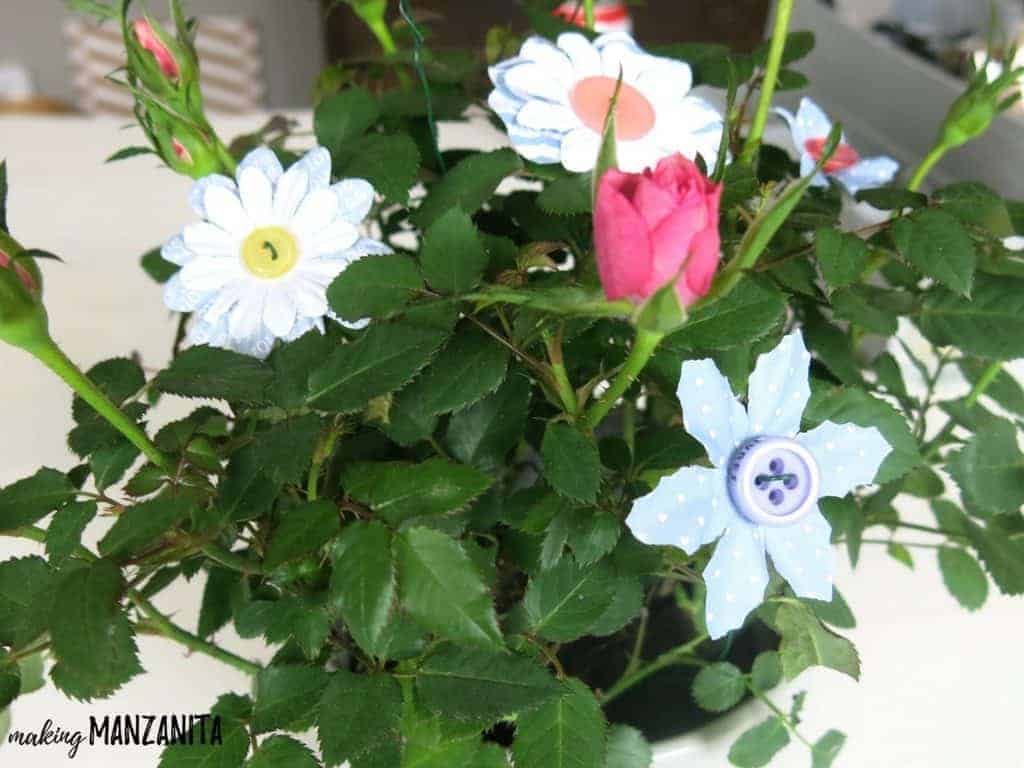 Step 5. Add button flowers to potted plant.
Place the button flowers at varying heights around the potted plant.


Step 6. Tie on "mothers are like buttons" tag.
Cut out the mothers are like buttons printable tag and tie it onto the potted plant using baker's twine.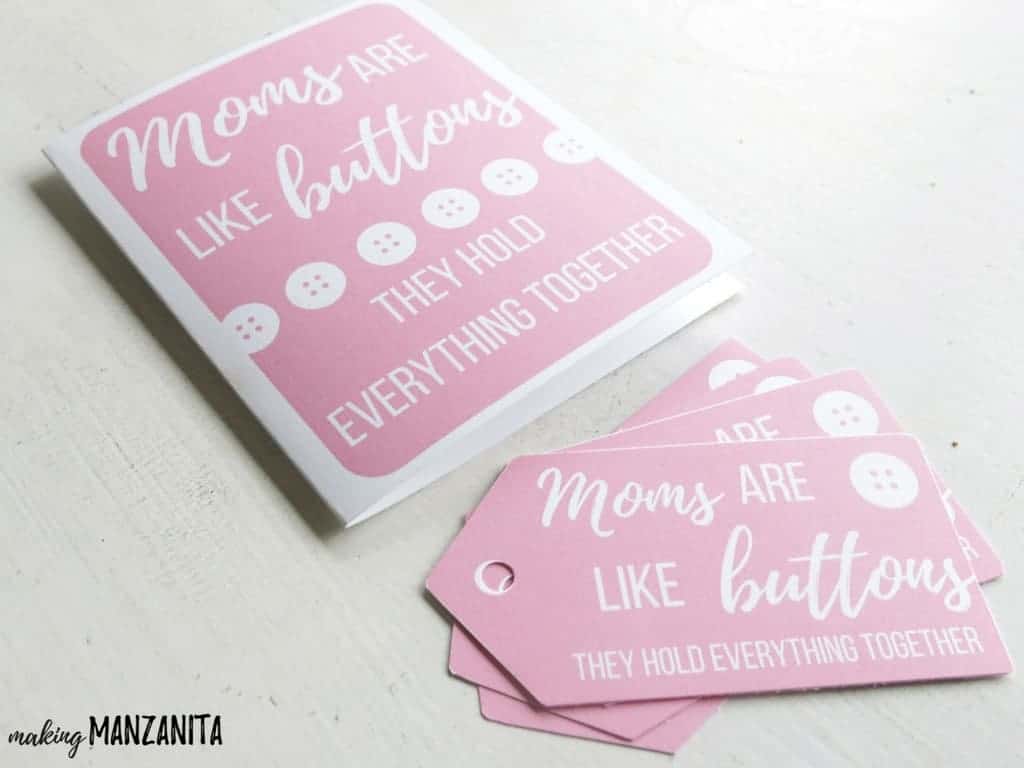 With this free mom are like buttons printable, you'll be able to print 4 tags and 1 card. Since the printable is free, you can print as many as you need! Printable is for personal use only. 🙂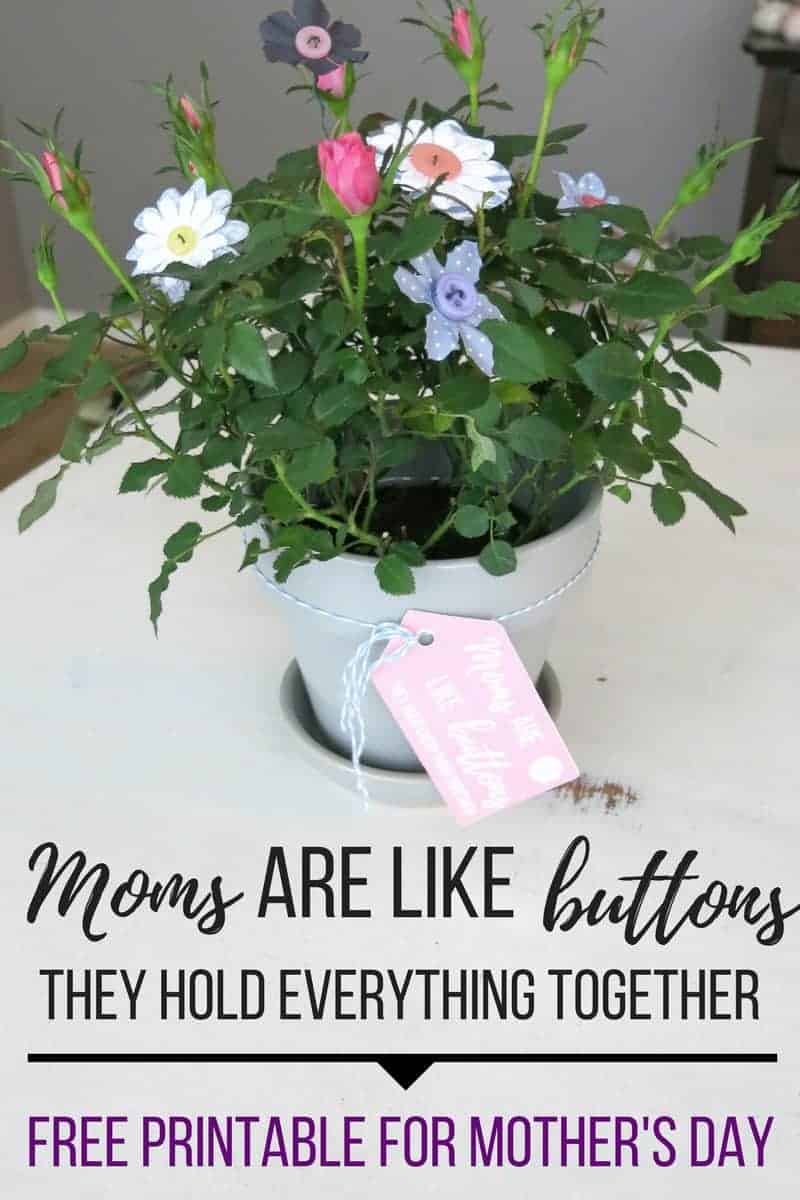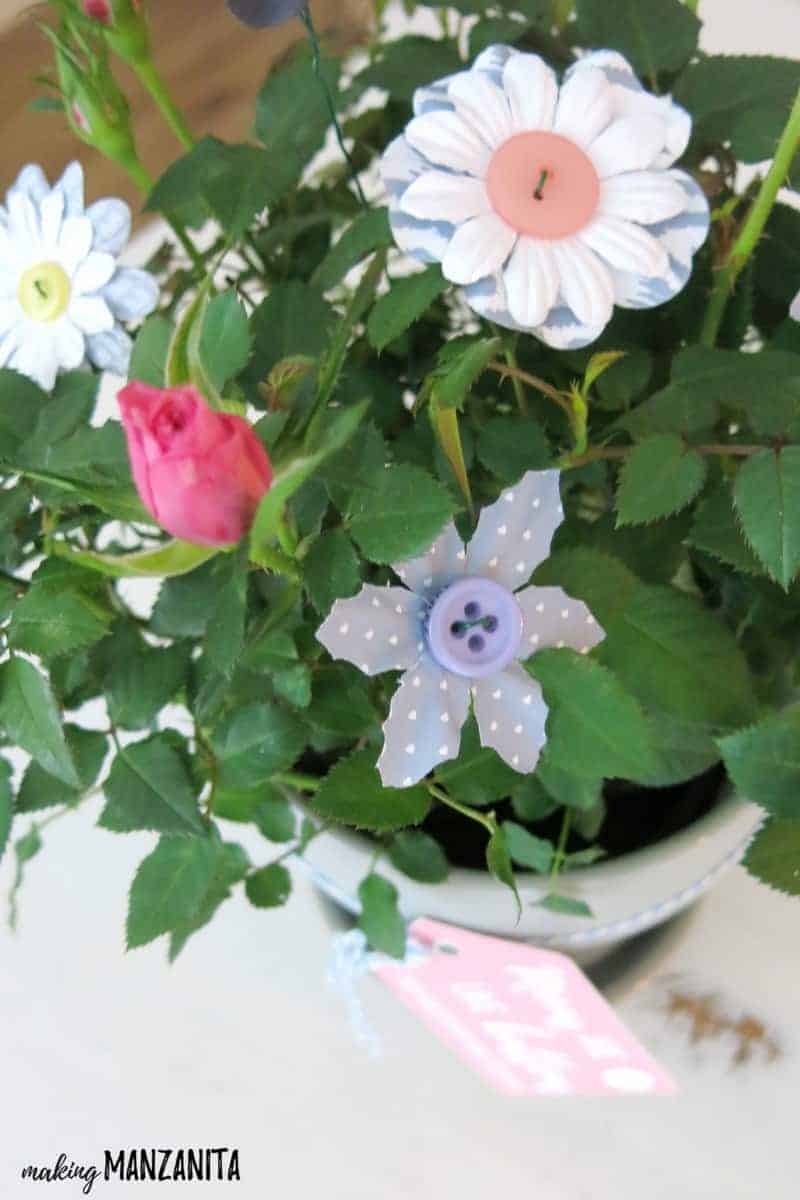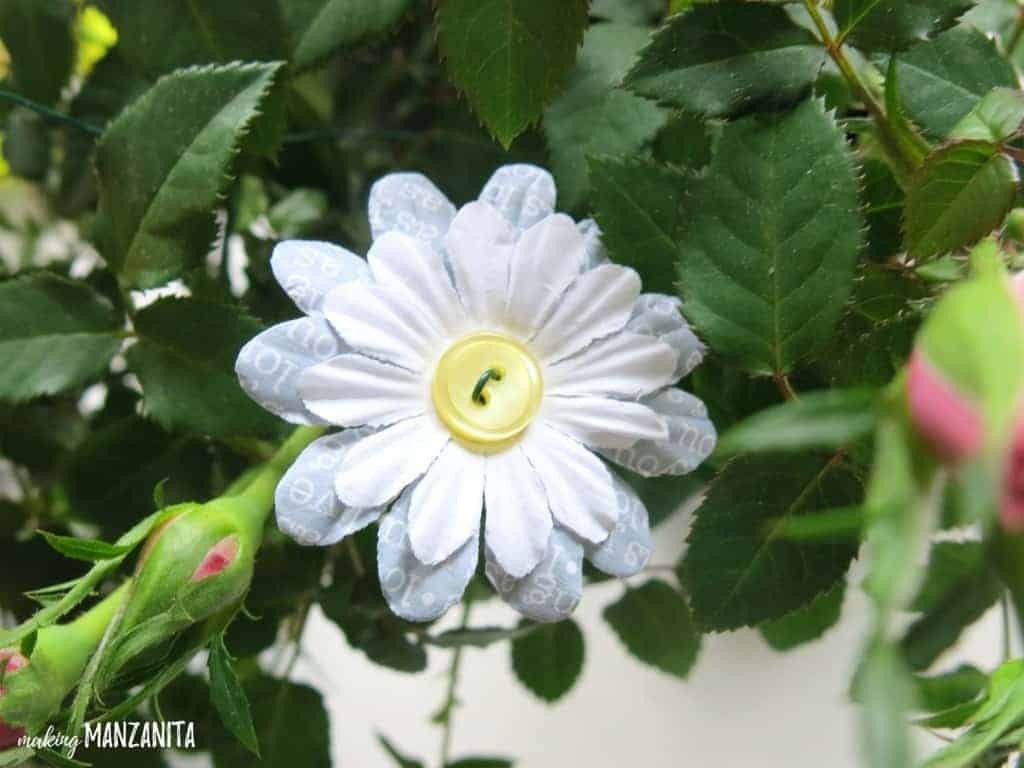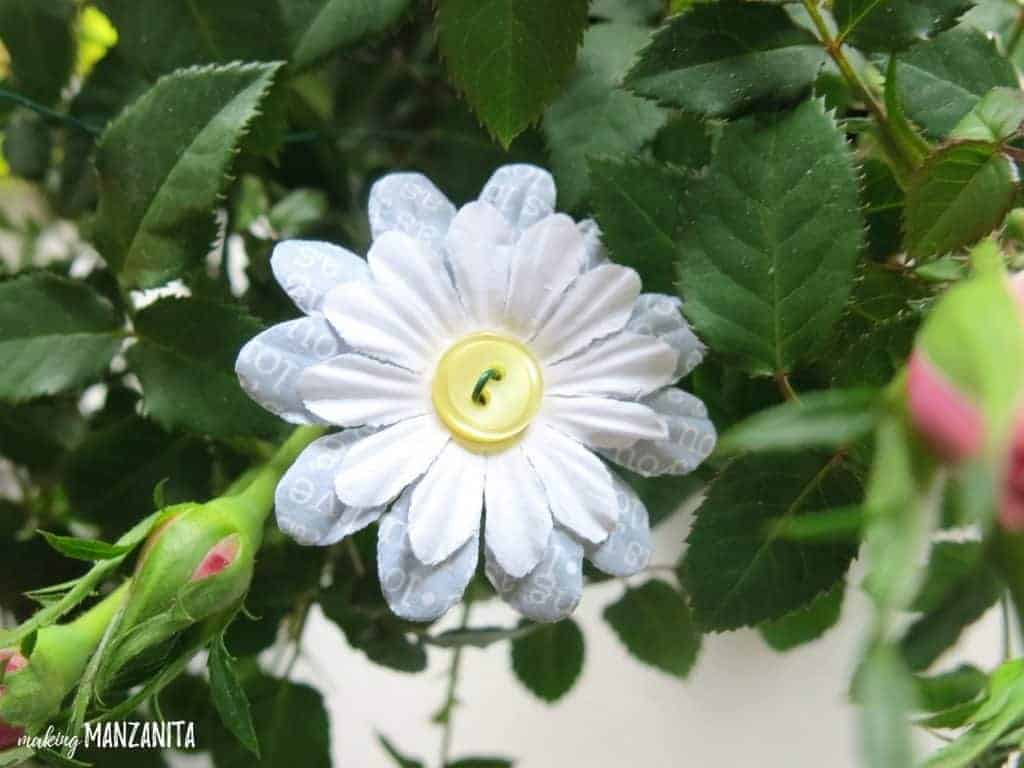 Moms really are like buttons, aren't they? They are keeping us all together at the seams. They go unnoticed and unappreciated most days. So remember to spoil your mom this Mother's Day! She deserves it.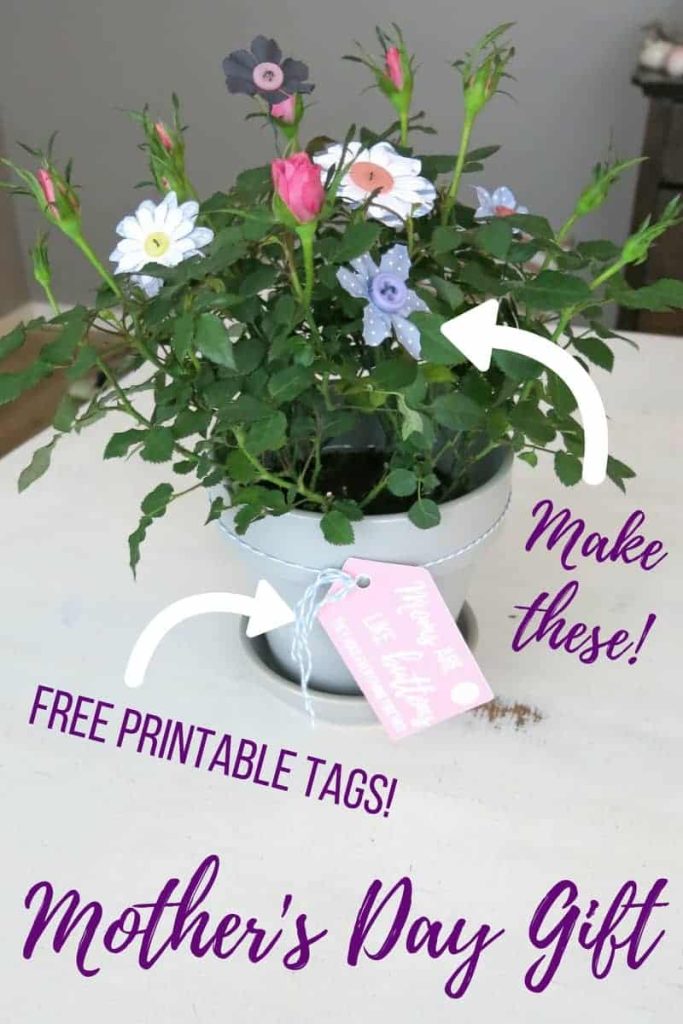 [clickToTweet tweet="What crafty creations could you make today from YOUR craft stash?! #CraftRoomDestashChallenge"]
---
What about your others handmade Mother's Day gift ideas?
DIYs are, of course, my favorite gifts to give…especially for Mother's Day. If you're ready to jump right in for a DIY Mother's Day gift, you can check out my Mother's Day DIY gifts on a Hometalk Facebook video tutorial here:
On this video, I show you how to make: