Looking for a gift for Mom? If you don't have time to DIY a Mother's Day gift, you can still give her something handmade from the heart. Here are 15 creative Mother's Day gifts from Etsy that she'll love.
Mother's Day is on May 8th this year (2022), which is right around the corner!
You know that I love a good DIY, but sometimes you need a quick gift when you're way too busy to stop for a few minutes a make a fun craft.
I get it guys, but here's what I ask of you. Will you consider shopping small when you need those quick gifts?
I know it's really easy to just grab something while you are at the store that sells everything. But take the extra 5-minute drive downtown to that cute little boutique and grab a cute gift that you know Mom will love.
If you want to grab a gift while in your cozies on the couch, you can still shop small!
Etsy is a great place to connect with artists handmaking items with love for their customers. Here are some amazing creative Mother's Day gifts from Etsy that she'll love!
This Etsy Mother's Day gifts post contains affiliate links, but nothing that I wouldn't wholeheartedly recommend anyway! Read my full disclosure here.
Are you ready to see these Etsy Creative Mother's Day Gifts?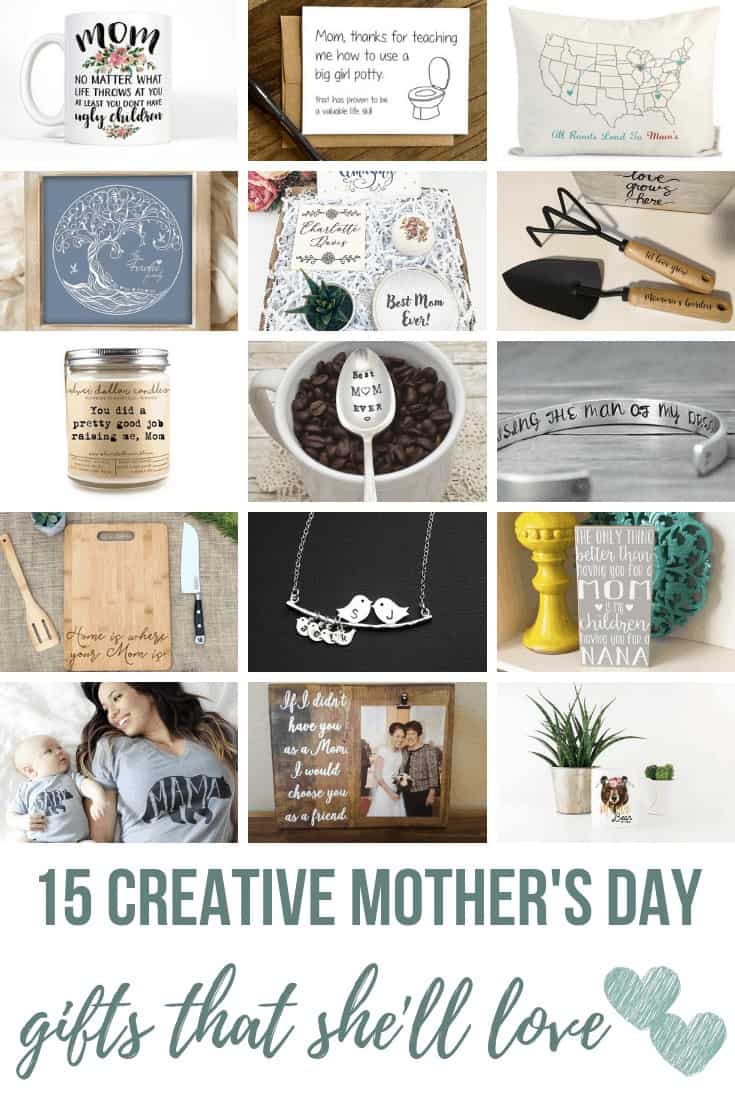 Handmade Etsy Mother's Day Gifts That She'll Love
Well, what do you guys think? Are you going to consider shopping small this Mother's Day? There are 15 creative Mother's Day gift ideas from Etsy here!
If you're looking for more good gift ideas for Mom, you can search for more here! I know all of these gift ideas from Etsy are ones that she will definitely love!
What about DIY Mother's Day gift ideas?
DIYs are, of course, my favorite gifts to give…especially for Mother's Day. If you're ready to jump right in for a DIY Mother's Day gift, you can check out my Mother's Day DIY gifts:
Whatever gift type of gift you choose to give your mama for Mother's Day, just don't forget to tell her "thank you!" 🙂