Looking for a gift for Mom? If you don't have time to DIY a Mother's Day gift, you can still give her something handmade from the heart. Here's 15 creative Mother's Day gifts from Etsy that she'll love.
Mother's Day is on May 12th this year, which is right around the corner!
You know that I love a good DIY, but sometimes you need a quick gift when you're way too busy to stop for a few minutes a make a fun craft. I get it guys, but here's what I ask of you. Will you consider shopping small when you need those quick gifts?
I know it's really easy to just grab something while you are at the store that sells everything. But take the extra 5 minute drive downtown to that cute little boutique and grab a cute gift that you know Mom will love. If you want to grab a gift while in your cozies on the couch, you can still shop small!
Etsy is a great place to connect with artists handmaking items with love for their customers. Here are some amazing creative Mother's Day gifts from Etsy that she'll love!
This creative Mother's Day gifts post contains affiliate links, but nothing that I wouldn't wholeheartedly recommend anyway! Read my full disclosure here.
Are you ready to see these Creative Mother's Day Gifts From Etsy?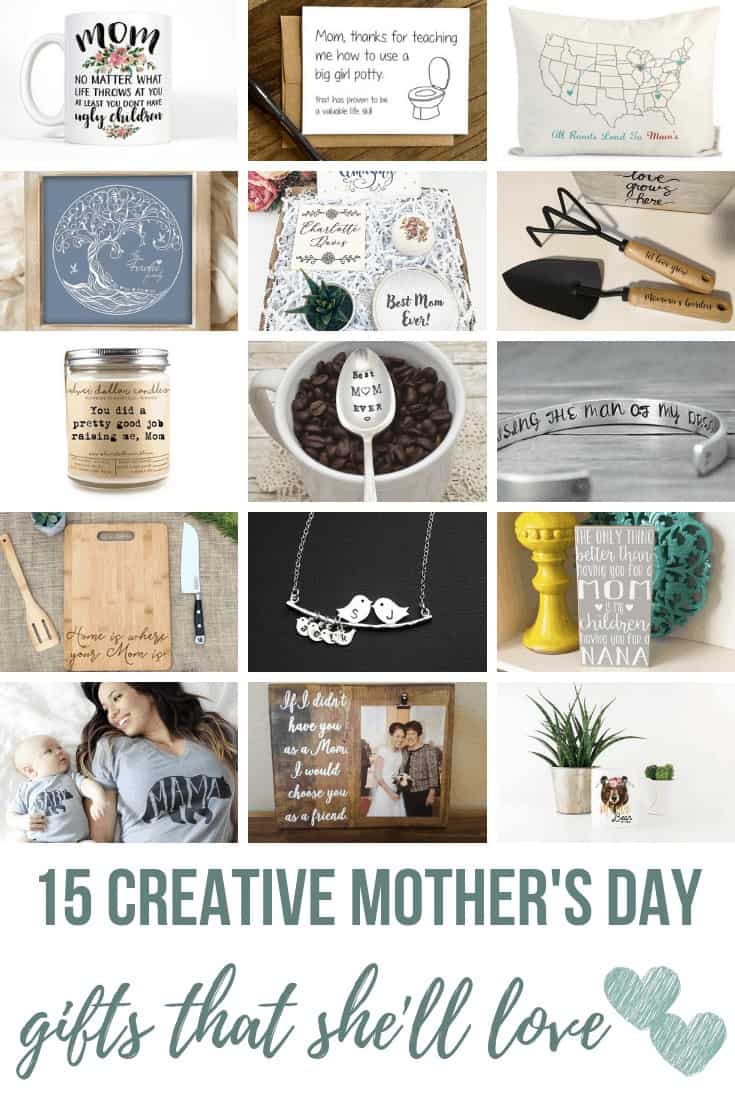 This mug is seriously HILARIOUS! I think mom will probably chuckle every time that she takes a sip of coffee from this coffee cup.
Speaking of hilarious, this card….I just can't. Hahaha. This is the perfect funny card for Mother's Day.
I adore this cute pillow. It's a perfect gift for those that live far away from their mamas. You can even personalize it with multiple locations so siblings that are spread out all over the country.
If I know anything about Grandmas, it's that they love their family so much. Any Grandma will love this adorable family tree photo to show off her friends how proud she is of her family!
This Mother Gift Box includes personalized stone coaster, " Best Mom Ever" candle, artificial succulent, lavender bath bomb and greeting card. So cute & thoughtful, right?
This one is an amazing gift for any mamas that love gardening. These high quality garden tools are super cute, don't ya think?
Adorable little candle with a funny quote, what more could mom want?!
I love the vintage look of stamped spoons. This would look so cute in a planter, wouldn't it?
I love that this one is just for mother-in-laws because they don't get enough credit. I mean, they raised our hubbies – which I'm sure was quite a task! Haha.
Everyone needs a cutting board, so this gift idea is perfect for any mom! This one fits right in with these super cute creative Mother's Day gifts!
This adorable little necklace is sure to melt any mamas heart. I love that you can personalize it with all the baby birds to represent kids or grandkids.
I love this quote for Grandmas. Once you have kiddos, you totally realize how true it is.
This Mother's Day gift idea is great for a new mama. You can even get a matching "baby bear" for your little one (or even one for Papa Bear, Brother Bear or Sister Bear)!
I love this handmade wood sign with an adorable quote. It's great because it has a place for a picture, which all mamas love.
Obviously, I love the "mama bear" saying, haha. I love this feminine looking cute mug.
Well, what do you guys think? Are you going to consider shopping small this Mother's Day? There are 15 creative Mother's Day gift ideas from Etsy here! If you're looking for more good gift ideas for Mom, you can search for more here! I know all of these gift ideas from Etsy are ones that she will definitely love!
What about DIY Mother's Day gift ideas?
DIYs are, of course, my favorite gifts to give…especially for Mother's Day. If you're ready to jump right in for a DIY Mother's Day gift, you can check out my Mother's Day DIY gifts on a Hometalk Facebook video tutorial here:
On this video, I show you how to make:
Whatever gift type of gift you choose to give your mama for Mother's Day, just don't forget to tell her thank you! 🙂