Keep your cookbook where you can see it and out of the way while you're cooking using this easy wood DIY cookbook stand. It's a great gift idea that is an easy beginner woodworking project! Make your own DIY cookbook holder with the downloadable cookbook stand plans.
Thank you to Kreg for this DIY cookbook stand project! All opinions are entirely my own. This post also contains affiliate links, but nothing that I wouldn't recommend wholeheartedly. Read my full disclosure here.
I've got a news flash for you… Mother's Day is less than one month away!! So now is the time to get started on your DIY gifts for mama.
Today we're sharing an idea that is absolutely perfect for Mother's Day (or really anytime you need a good gift for someone that loves to cook or cooks a lot)…..a DIY wooden cookbook stand!
The modern design incorporates a cute house shape that is unique. The build is very easy and perfect for beginners.
You will need to use a scroll saw to cut out the house shape – but alternatively, you could use a jigsaw instead (Learn more about the different types of saws here). Otherwise, it incorporates only a handful of beginning woodworking tools.
Kreg 720PRO Pocket Hole Jig
If you've been following Making Manzanita for a bit, you know that we are big fans of the Kreg pocket hole system. We built tons of projects using our original K5 Pocket Hole Jig, we even have a super detailed guide and video about how to use it that you can check out here.
In 2021, Kreg released brand new pocket hole systems that replaced the K4 and K5, and the upgrades are pretty freakin' awesome.
The new 720PRO (which we were using for this DIY cookbook stand) and the 520PRO (which replaced the smaller K4 system) were improved a ton, the most noticeable change being that they are easier to set up and use – score.
My favorite new feature of 720PRO and 520PRO is the clamp that you don't have to adjust anymore. You should clamp it down and it automatically adjusts to match the thickness of your wood, so cool, right?
Pocket hole joinery is definitely one of the easiest ways to join wood in woodworking projects. It's our favorite hidden weapon for beginning woodworkers!
Want to learn more? I wrote a super detailed guide & created a video all about how to set up your Kreg 720PRO Pocket Hole and use it, so be sure to check that out too!
We teamed up with our friends Kreg again for these cookbook stand woodworking plans and we are sharing them online for free, which are now available on KregTool.com!
Kreg's website is chocked full of so many easy-to-follow FREE woodworking plans! I promise that you are going to find so much inspiration while you're there! It is a goldmine!
Related – Projects that use a pocket hole jig
Cookbook stand: video tutorial
If you love DIY videos, be sure to subscribe to our YouTube channel!
Ready to see how the DIY cookbook stand came together?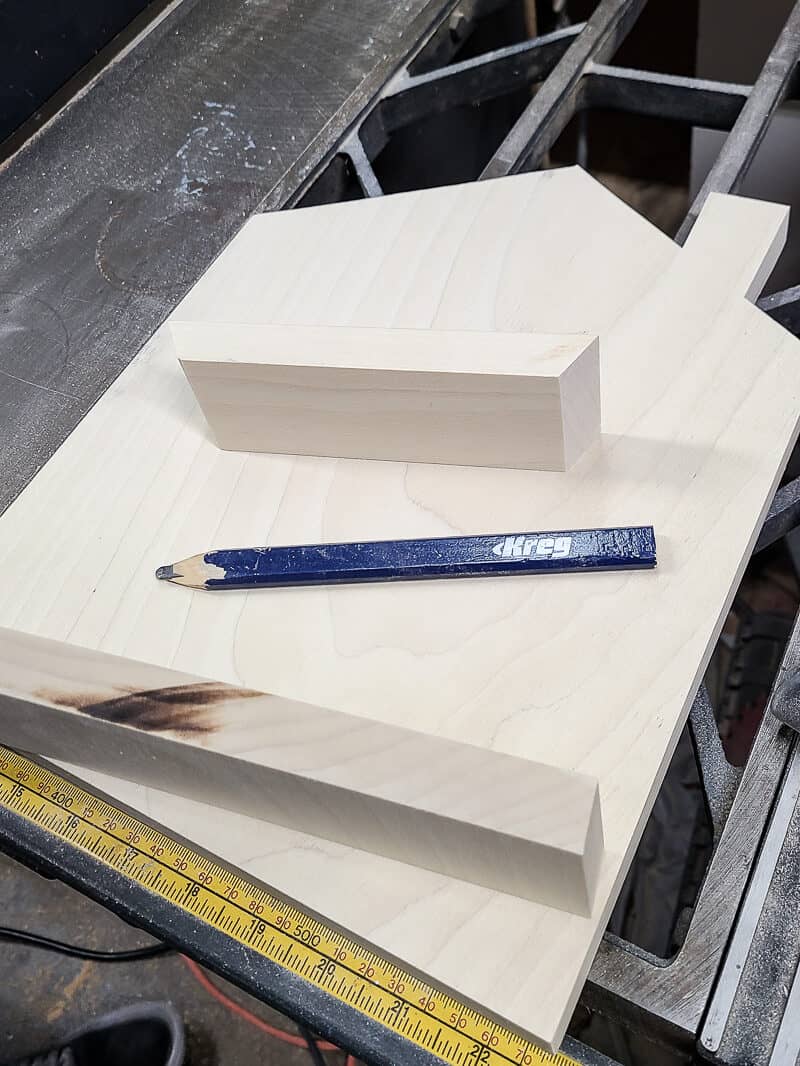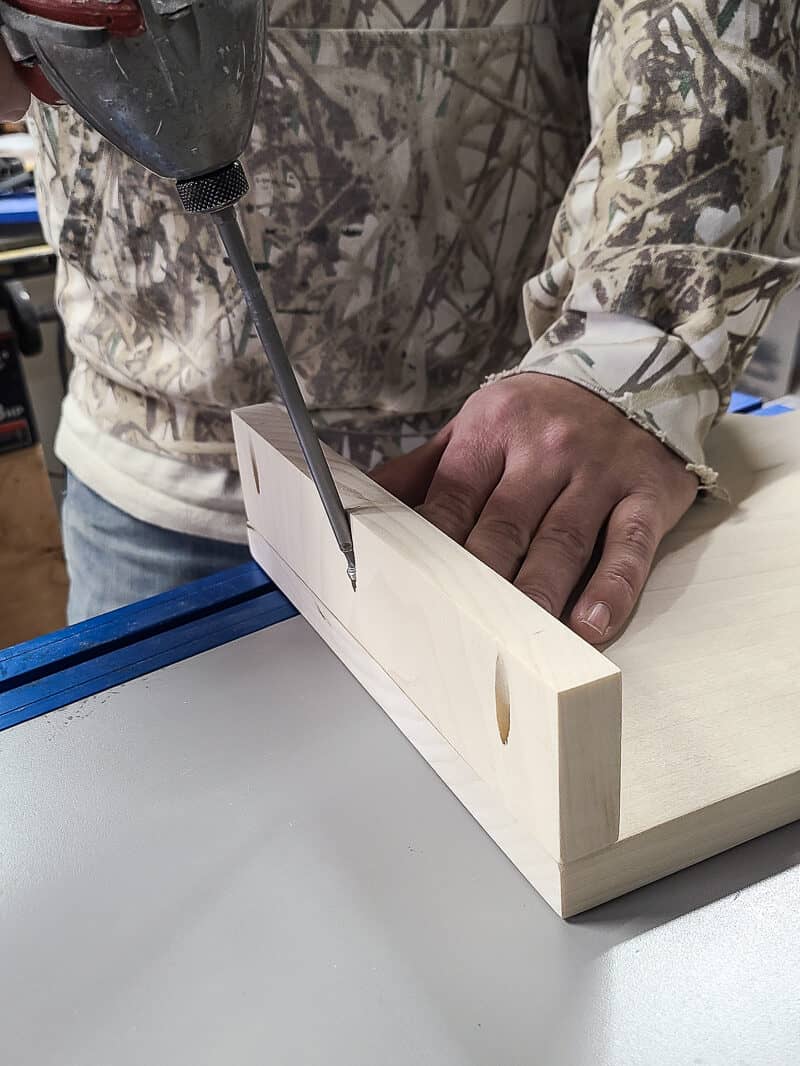 The process of building the DIY cookbook stand was fairly straightforward using pocket hole joinery.
Because the front lip on the bottom of the cookbook holder was so narrow, we needed to use Kreg's Micro Pocket Hole kit – which we have never needed to use before!
Kreg Micro-Pocket Drill Guide Kit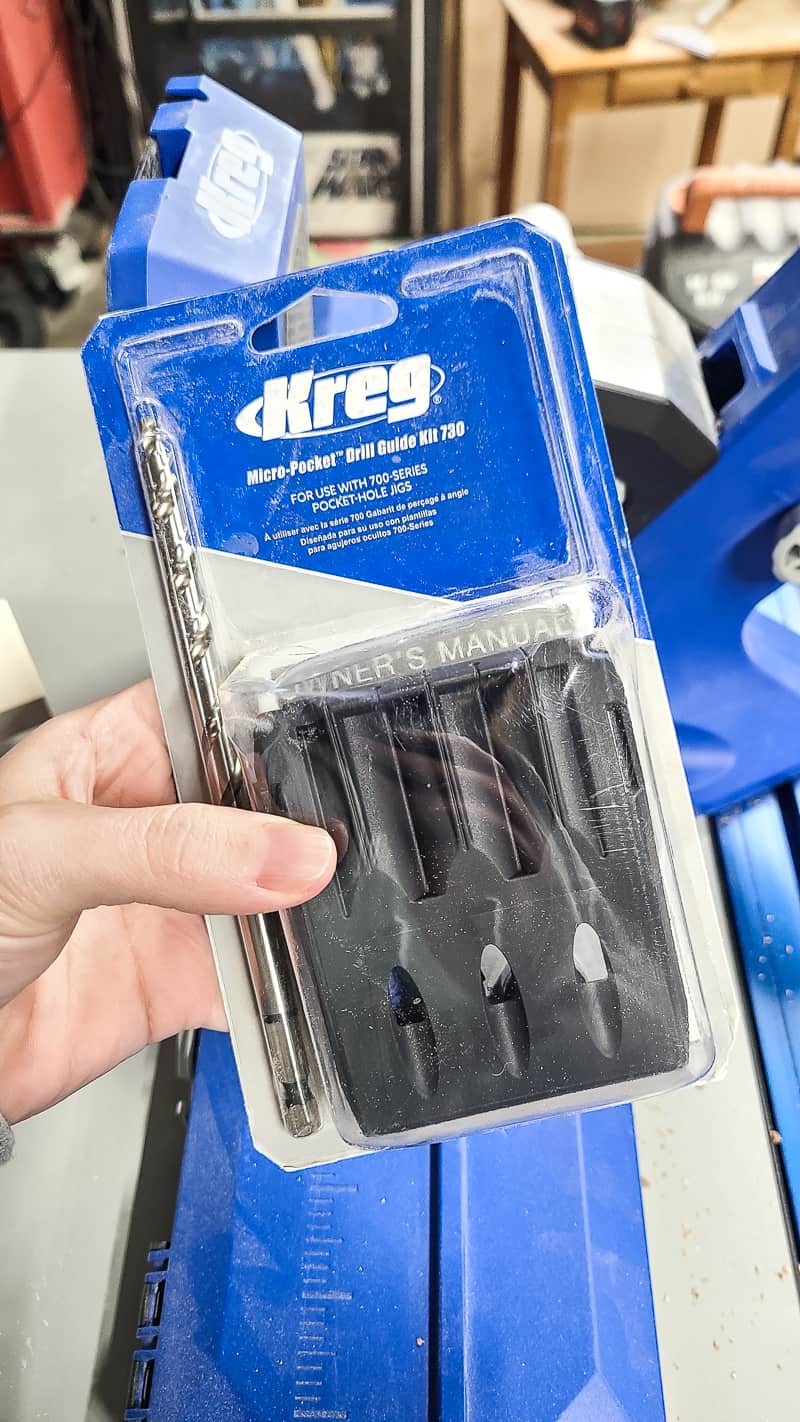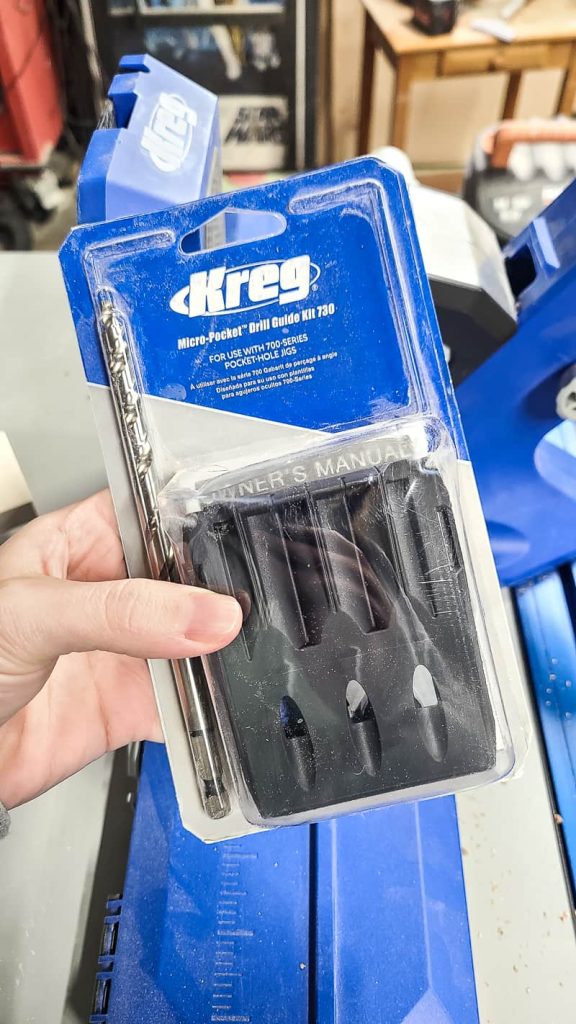 The Micro Drill Guide Kit makes pocket holes that are 25% smaller in diameter and are not as far out from the edge of the wood. It works great for smaller projects and thinner stock. In fact, you can use it with 1/2″ thick wood and pieces of wood that are as small as 1″ wide.
To use the Micro Drill Guide, you simply swap out the drill block on the pocket hole jig. It quickly clicks into place and you're good to start drilling pocket holes.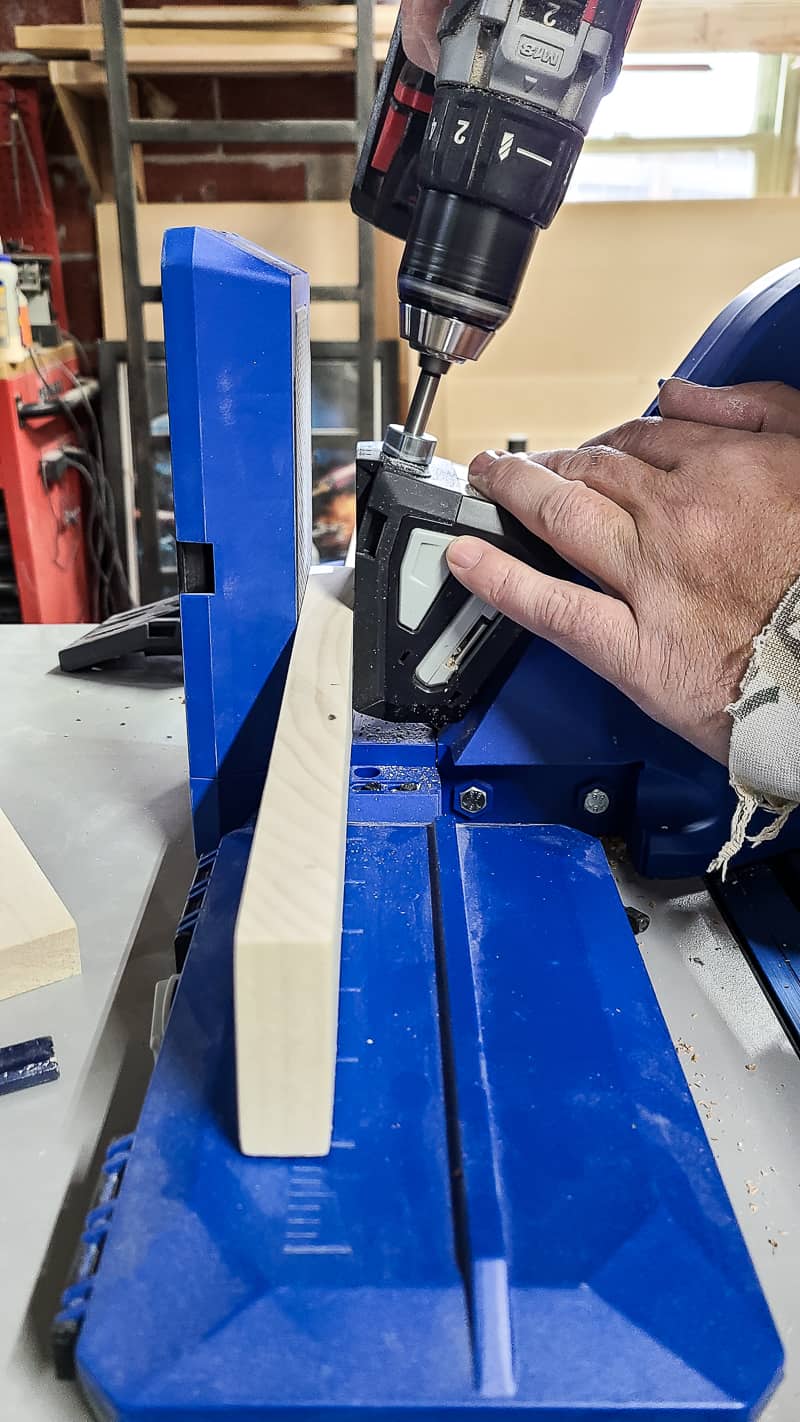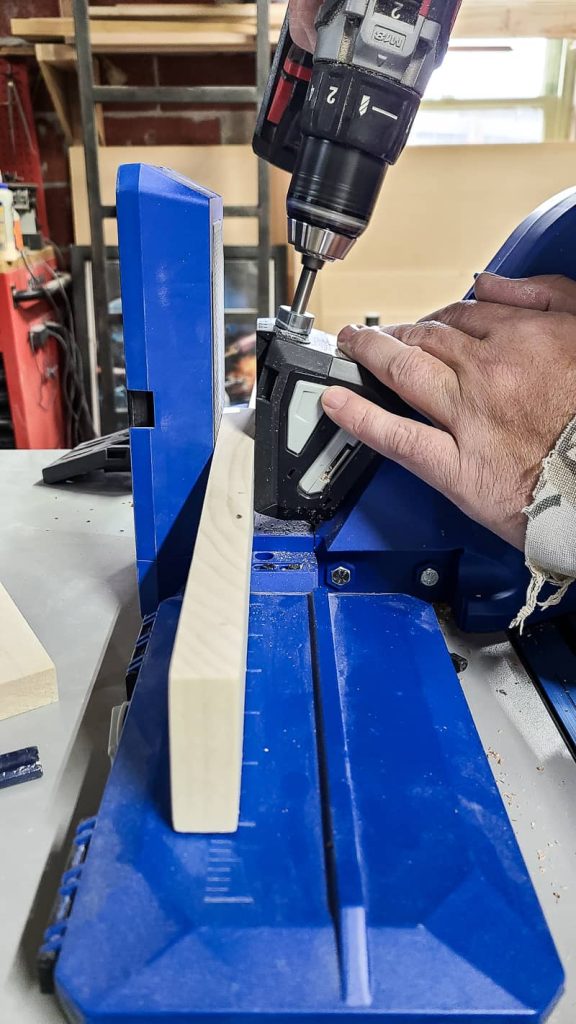 The version that was used worked with the 720 and 720Pro pocket hole jigs, but Kreg also makes a Micro Drill Guide Kit for the 520 pocket hole jig if you have that one instead.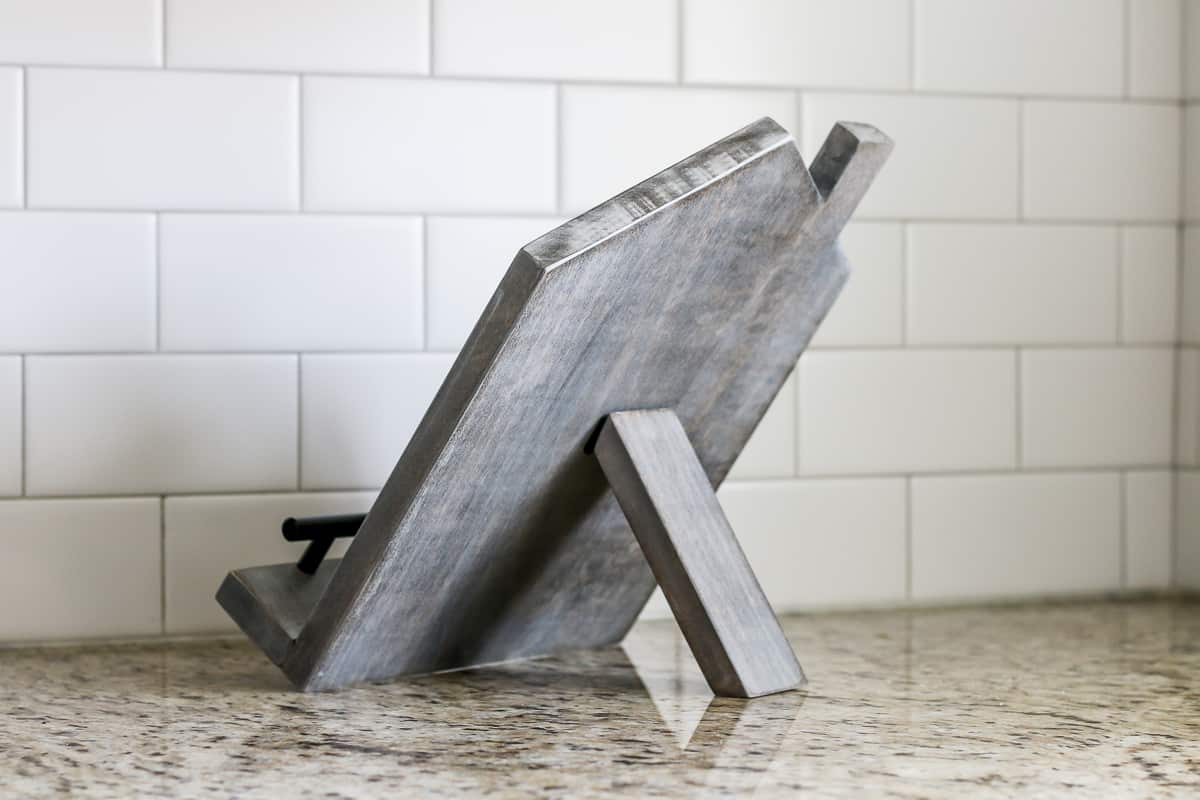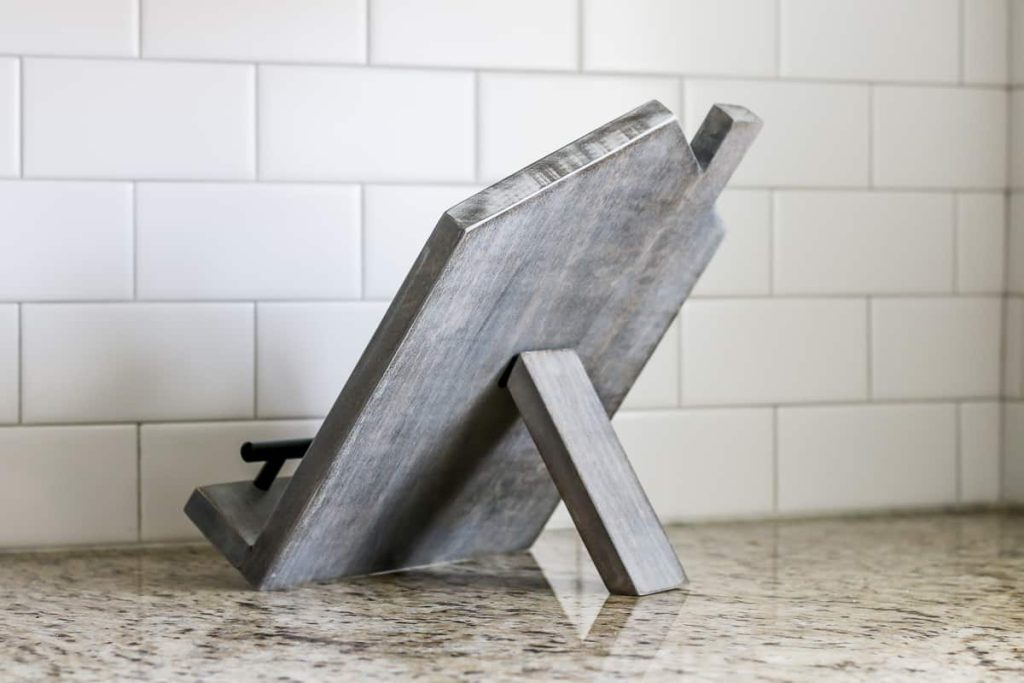 Didn't the DIY cookbook holder turn out great? I love the finish that we ended up with – which is a gray wash. Learn how to get the gray wash wood look in this tutorial.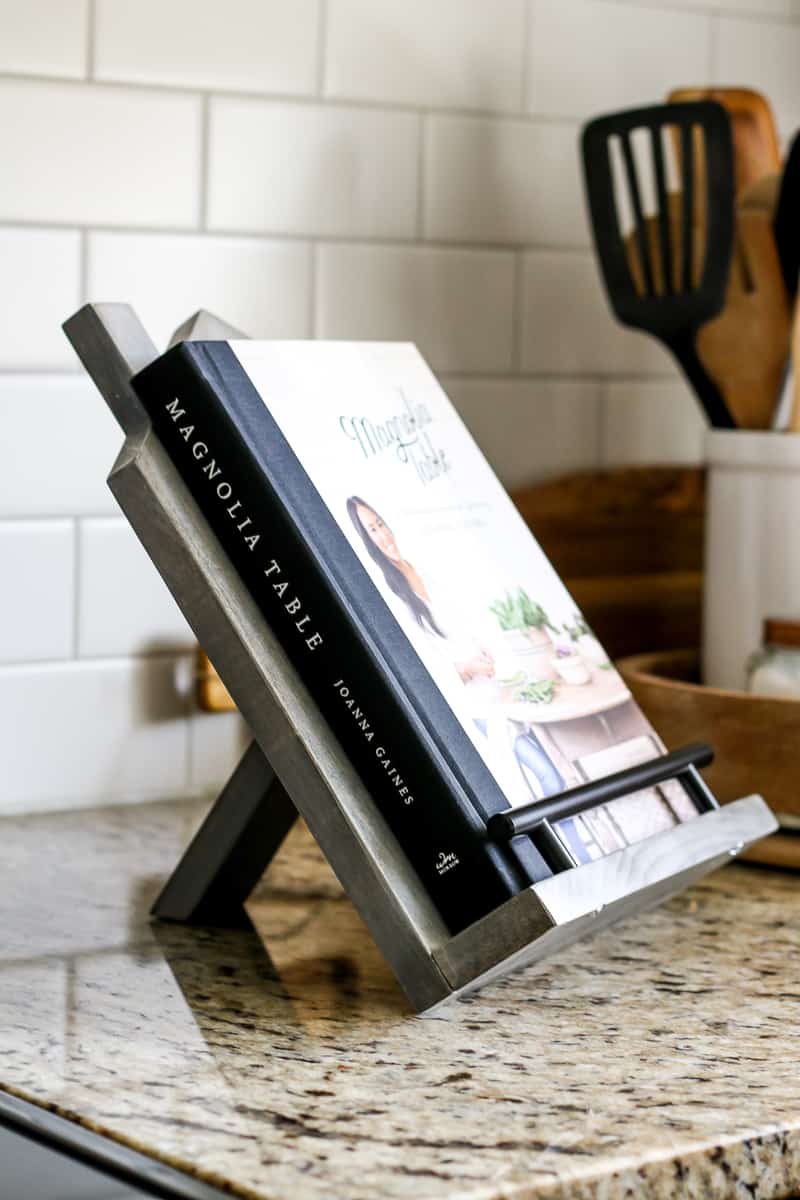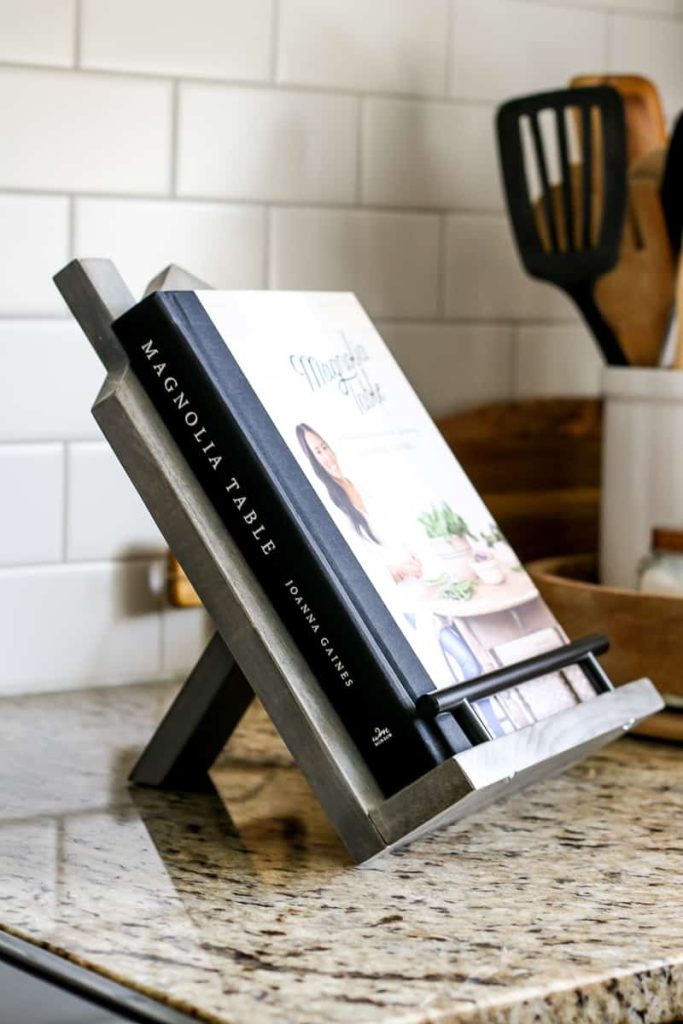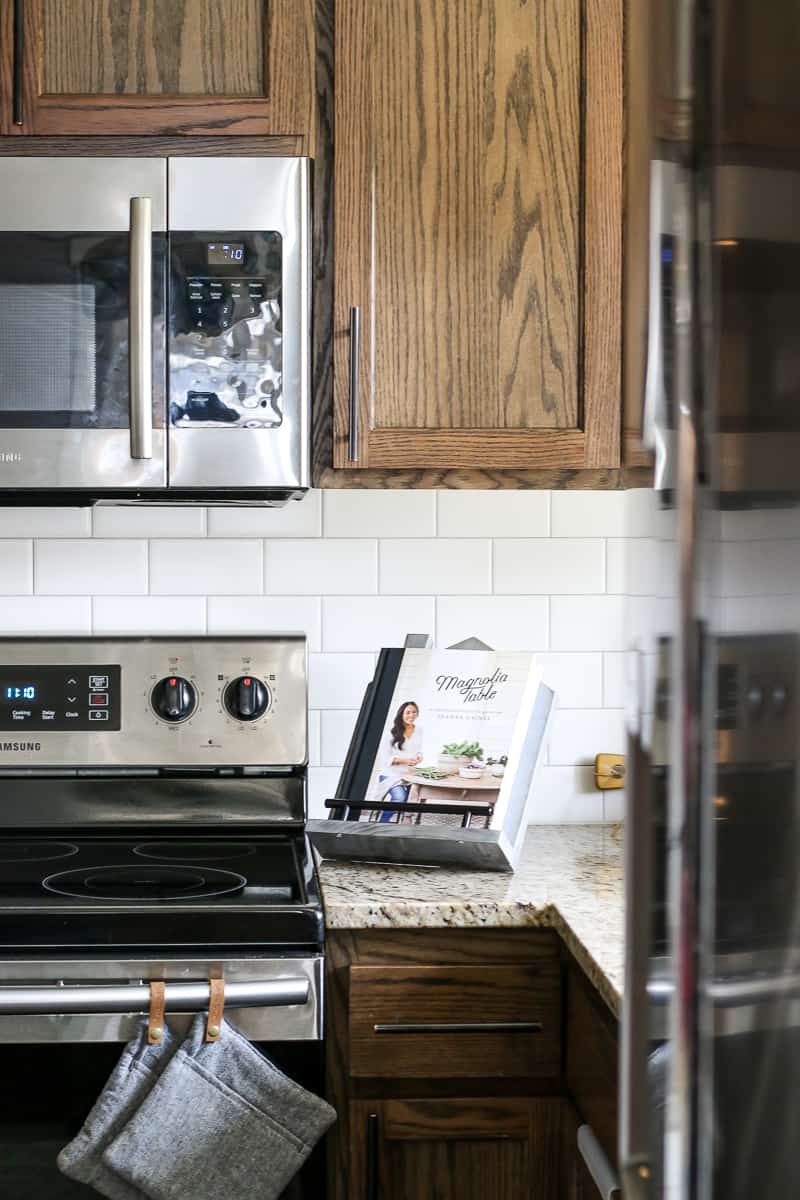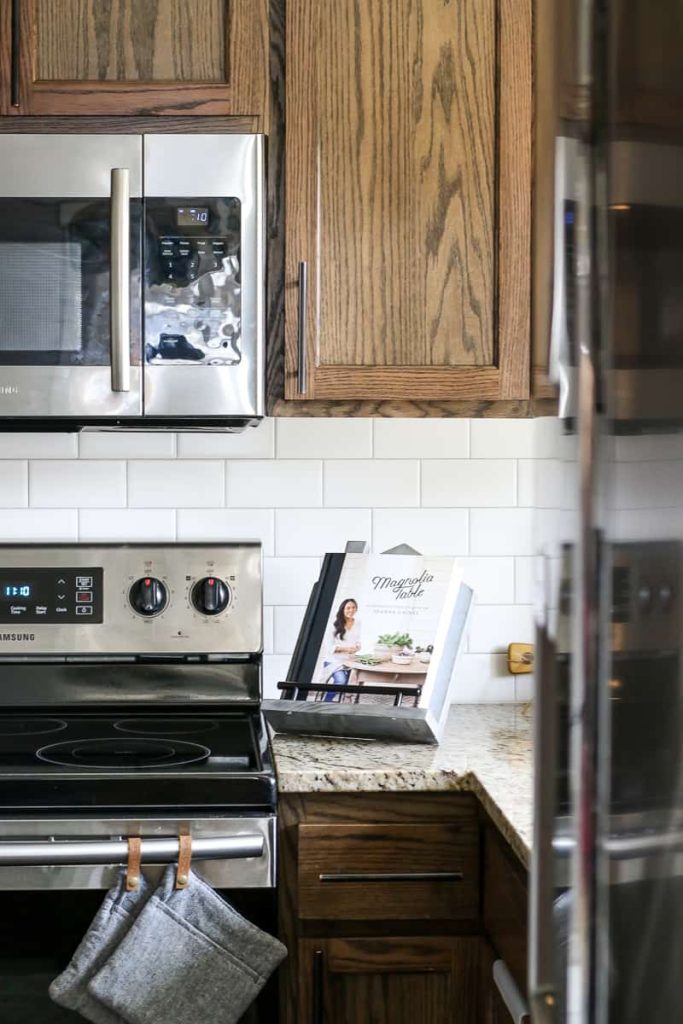 The cookbook stand holds cookbooks large and small! I was sure to make it large enough to hold my Magnolia Table cookbook, which is the largest size cookbook I've seen.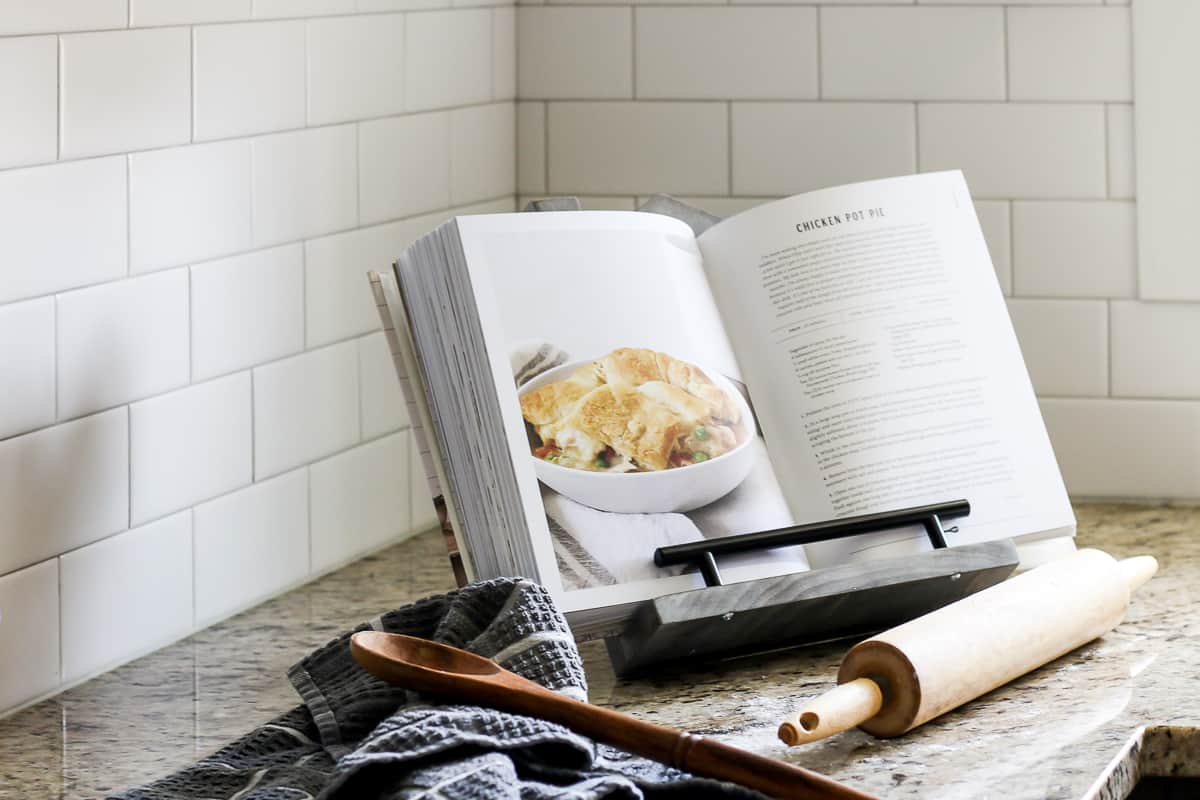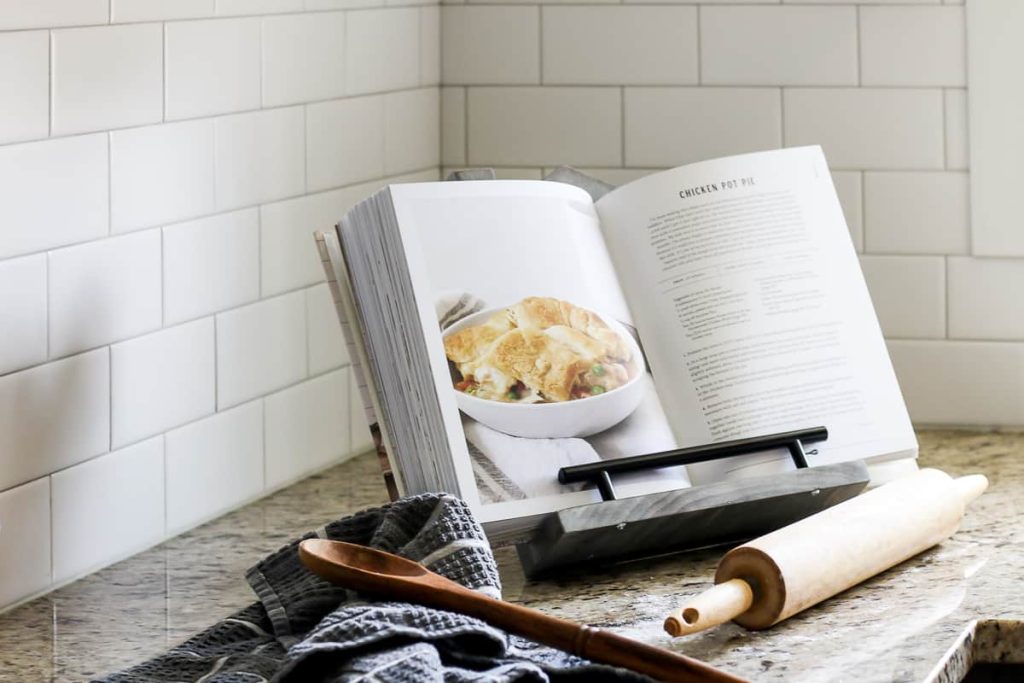 I just LOVE how the wooden cookbook stand turned out. The house shape is definitely my favorite part – it is so unique and unlike anything I've seen before.
Because I had to buy both a whole box of screws and plugs, the price of the cookbook holder ended up being more than I originally thought it was going to be.
However, if I were to make this again, I would only need to purchase the wood, hinge, and drawer pull…so the price to build the cookbook stand in the future would be closer to $36.50.
If you want to build this DIY cookbook stand, we've done all the hard work for you! All you need to do is hop over to Kreg's website and check out the full detailed tutorial.
At the bottom of the tutorial, you'll also see a link to download the woodworking plans (for free) to get all of the detailed measurements.
Who do you know that would love a DIY cookbook holder like this?
Let us know in the comments below!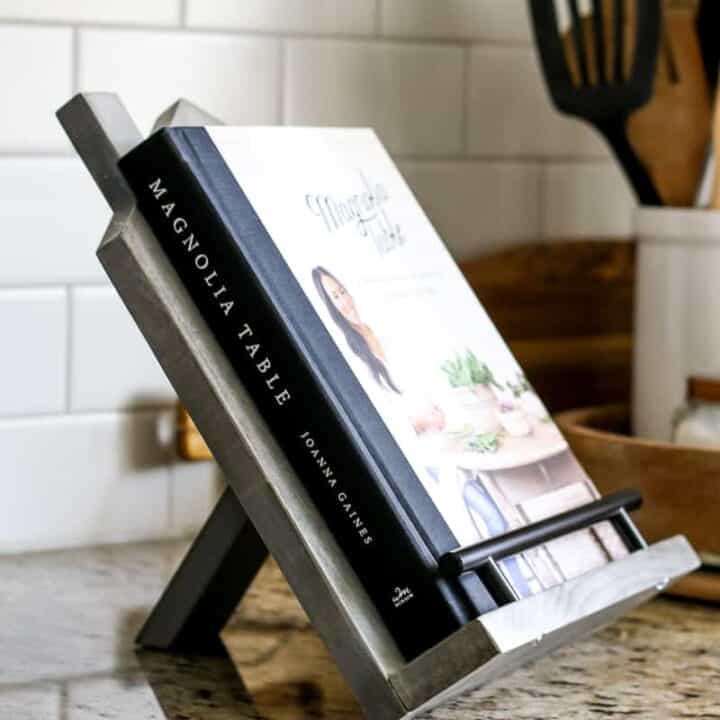 DIY Cookbook Stand
Make your own DIY cookbook stand. The modern design incorporates a cute house shape that is unique. The build is very easy and perfect for beginners.
Materials
Poplar Project Board , ¾" X 11 ¼" X 24"
80 Grit Sandpaper
150 Grit Sandpaper
White Paint
Foam Paint Brush
Paint Rag
Tools
90° Corner Clamp
Miter Saw
Table Saw
Tape Measure
Scroll Saw
Drill
Orbital Sander
Instructions
Cut pieces from the poplar project board according to the visual cut list in the woodworking plans with a miter saw.
Mark and cut the house shape using a scroll saw, then sand smooth.
Drill micro pocket holes on the front lip as shown in the woodworking plans.
Using 1" pan head screws, attach the front lip to the house shape.
Using the micro side pocket hole plugs, attach the plug to the pocket holes with wood glue. Sand smooth.
Take your chosen stain and apply it to your cookbook holder.
Once dry, seal with a clear lacquer spray in the sheen you want.
To finish the cookbook stand, add the hinge on the back.
On the front of the lip, add the drawer pull.