Looking for a very easy woodworking project that is perfect for beginners? Build this picture ledge DIY by using our free woodworking plans! These shelves are a great way to decorate your walls!
Thank you to Kreg for sponsoring this picture ledge DIY project! All opinions are entirely my own. This post also contains affiliate links, but nothing that I wouldn't recommend wholeheartedly. Read my full disclosure here.
Today we're sharing a super fun and VERY EASY woodworking project with you that is absolutely perfect for beginners.
Let's start with the area that we're going to completely transform while we're at it – this back section of our hallway.
The Hallway BEFORE the DIY Picture Ledge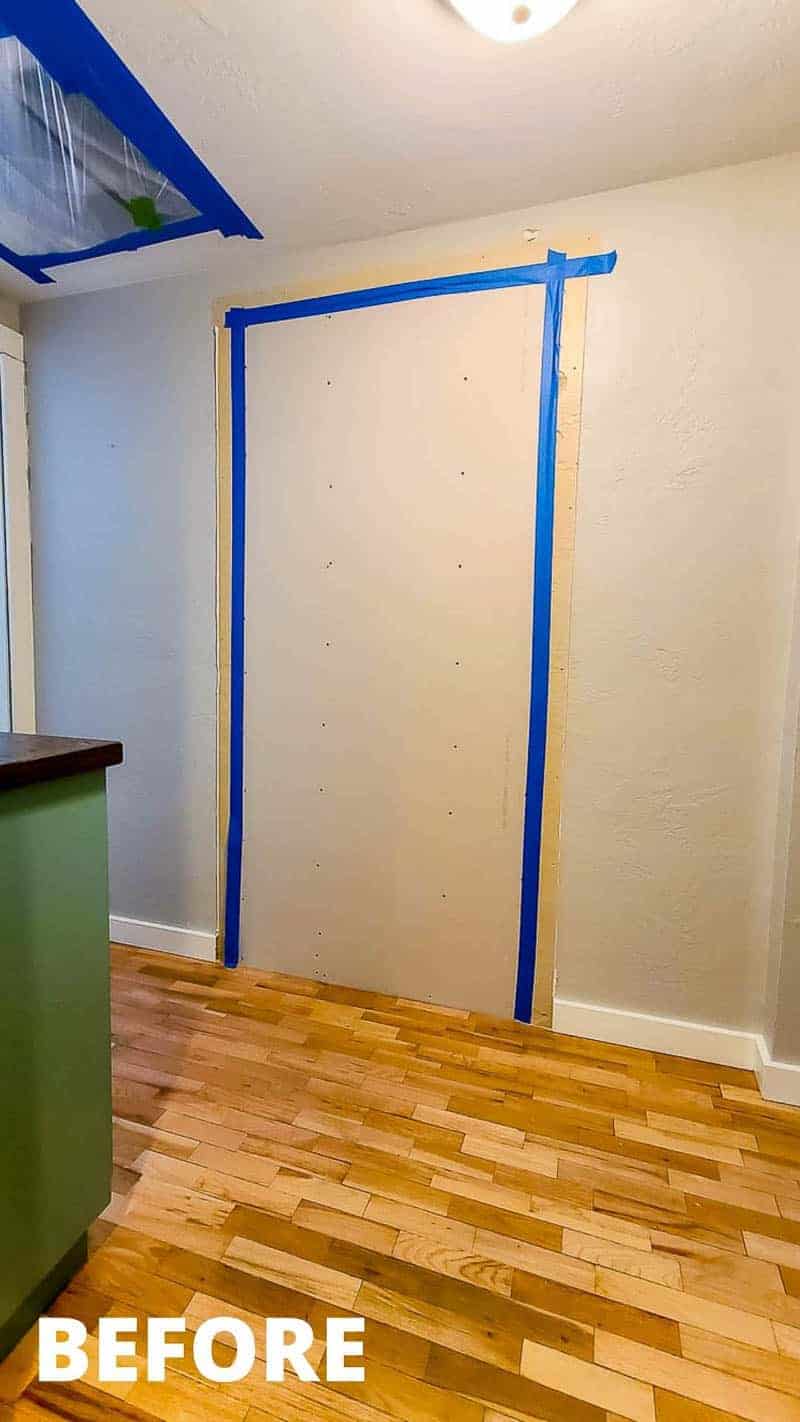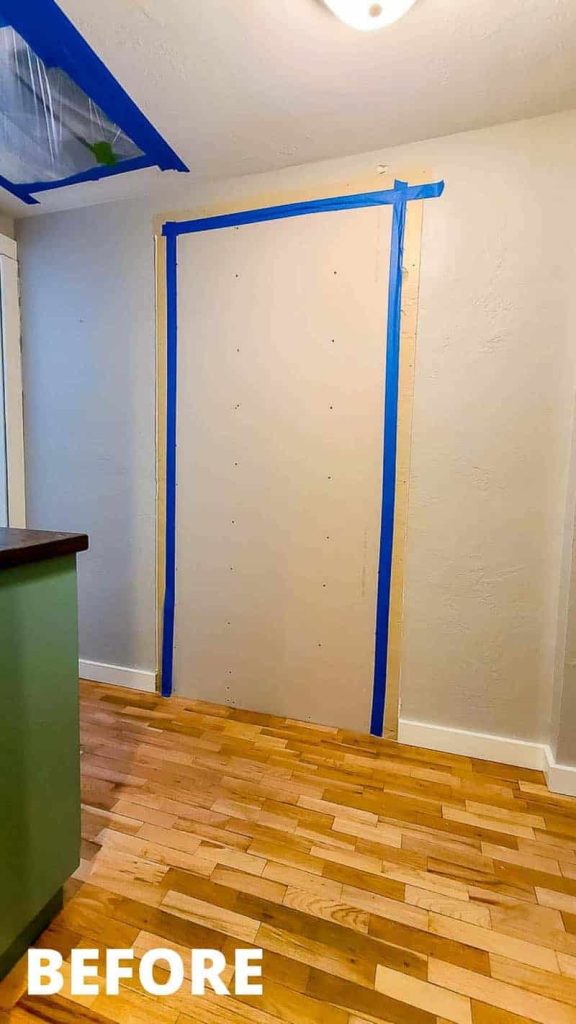 This hallway obviously needed a makeover! We still had a bare piece of drywall hung where a doorway used to be for this bathroom that we renovated last year and converted into a master bathroom.
And so it's just sat like this for about a year while we've been focused on SO MANY other projects, like Cal's mountain mural and cabin bed, our guest bathroom, these mudroom lockers and more.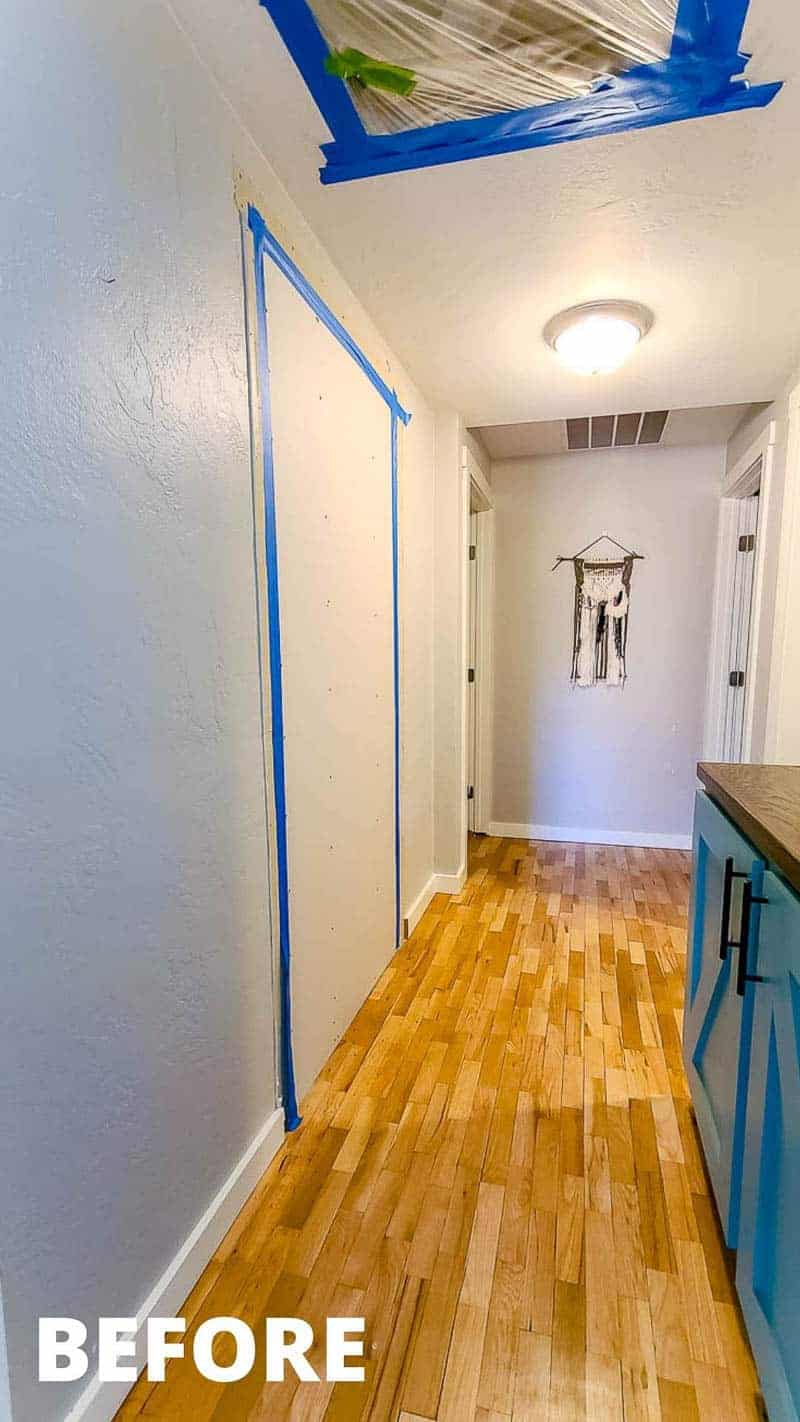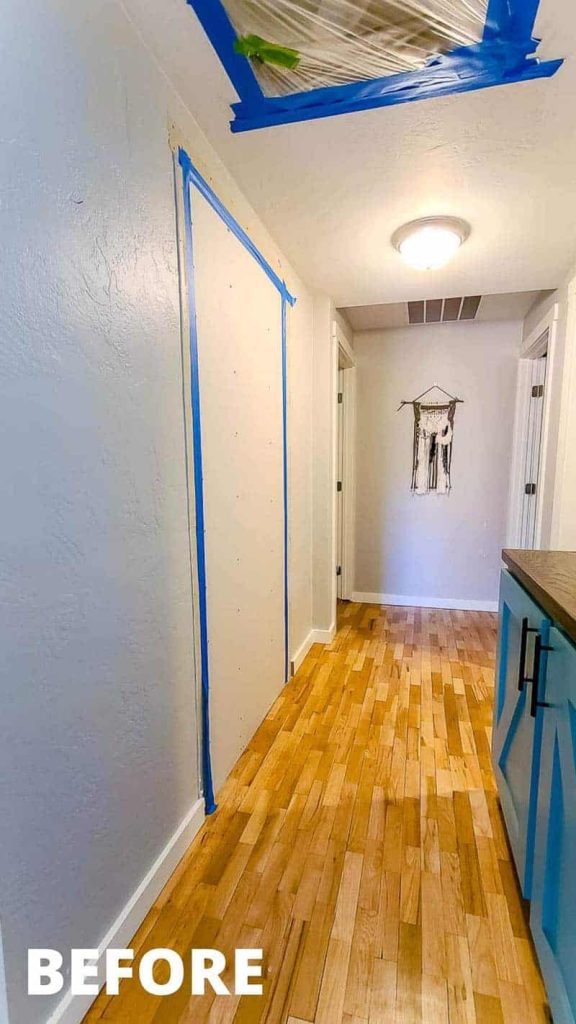 Earlier this year we gave the other half of the hallway in this space a mini makeover with fresh paint, a modern grid gallery wall full of family photos, a clipboard wall to hang the kid's artwork, and a boho style basket wall.
After all of that love on the hallway, this area with the large drywall hole really stood out like a sore thumb!
So we started by patching the hole up and retexturing it to match our skip trowel texture.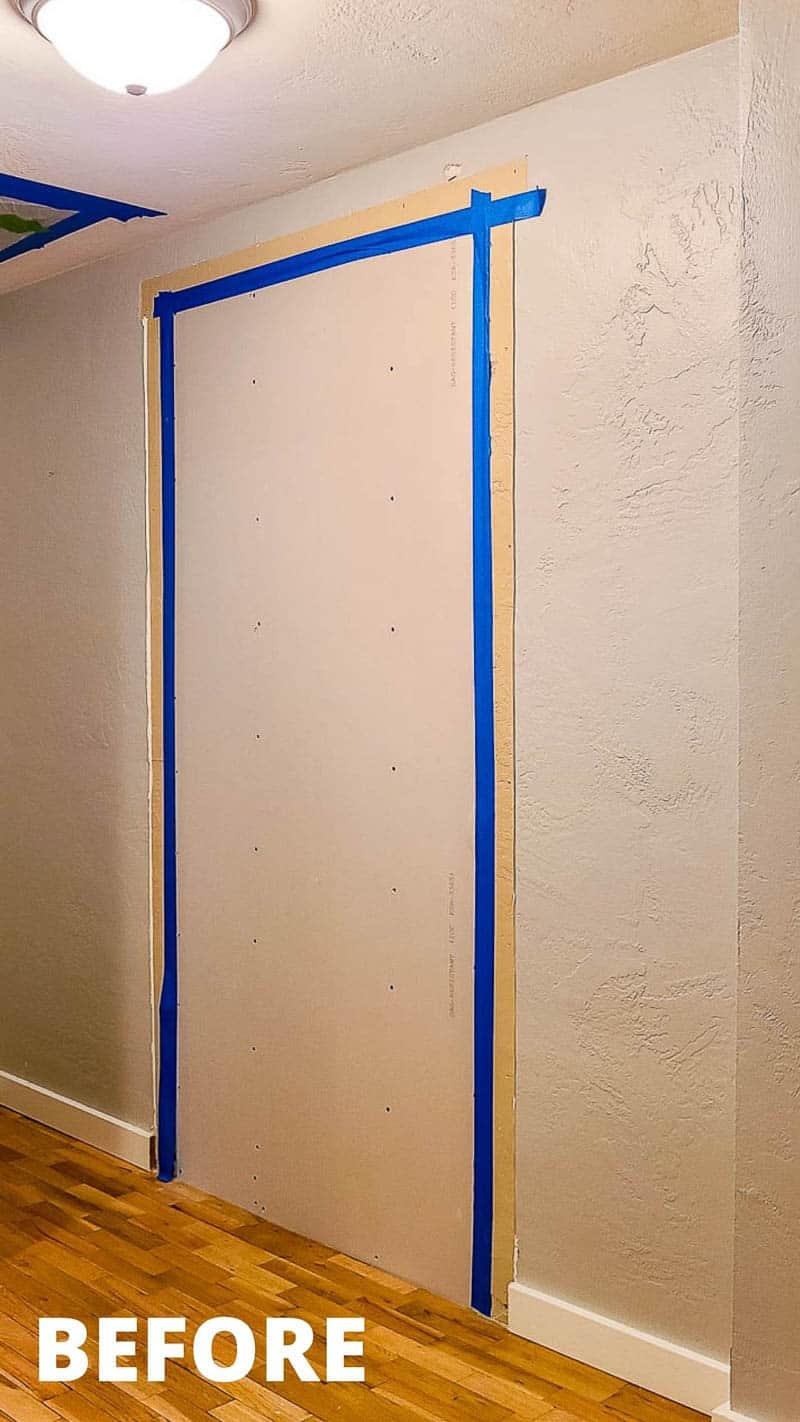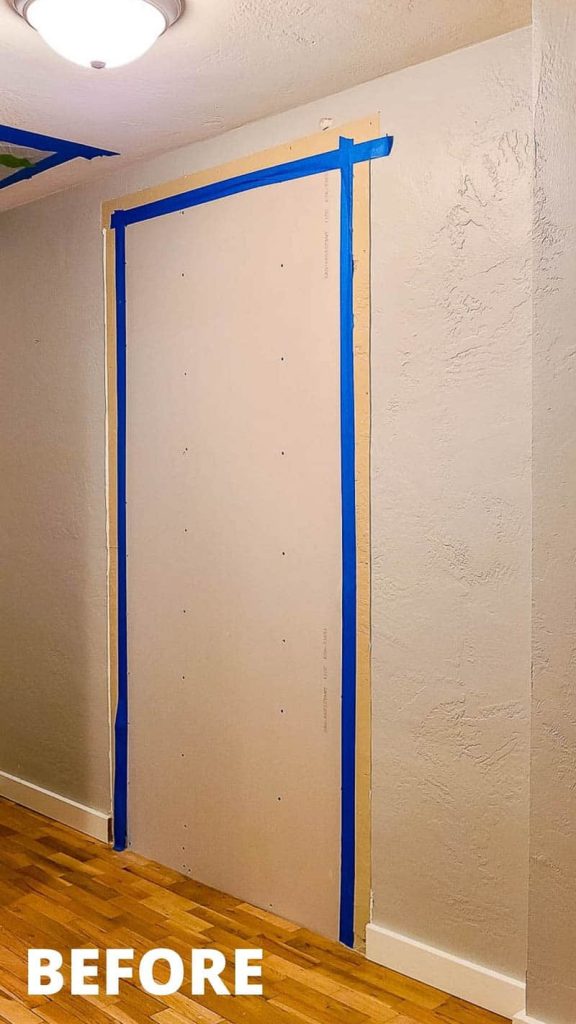 I absolutely love the look of picture ledge shelves and I knew it would be an easy DIY for us to tackle and show you how!
The best part is that we're giving you the free woodworking plans for this picture ledge DIY, so it won't take you long at all to build these for your home!
Using the Kreg K5 Pocket Hole System to Make DIY Picture Ledges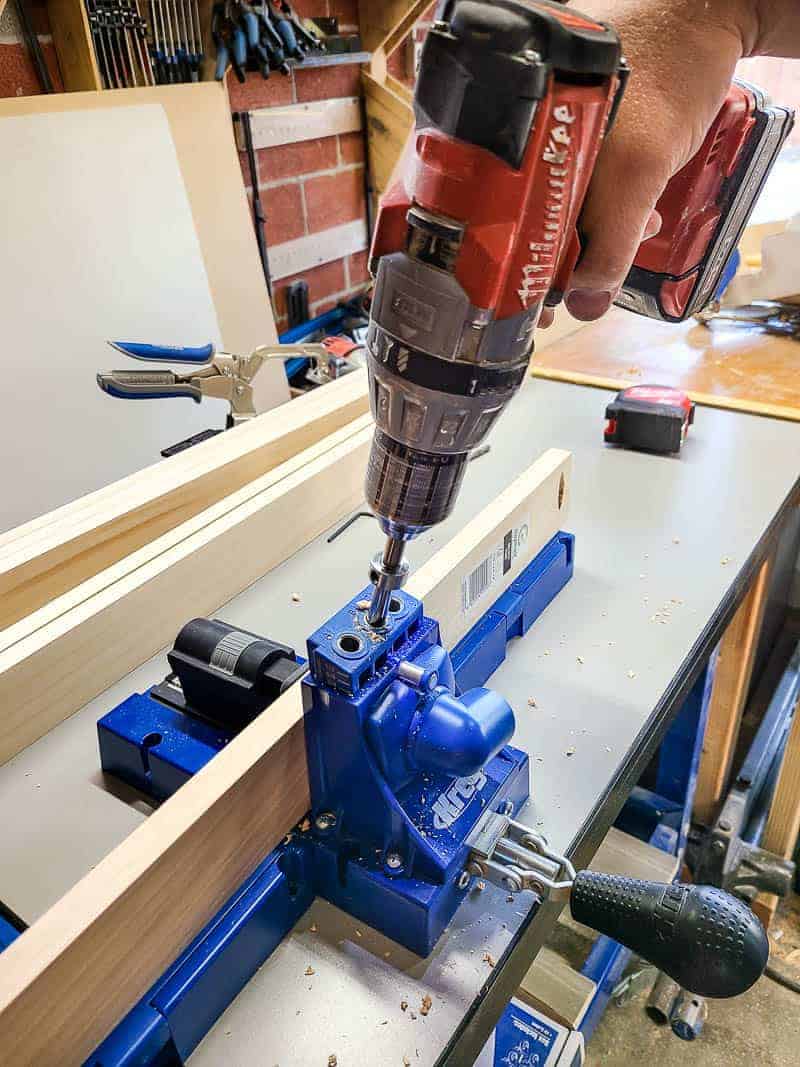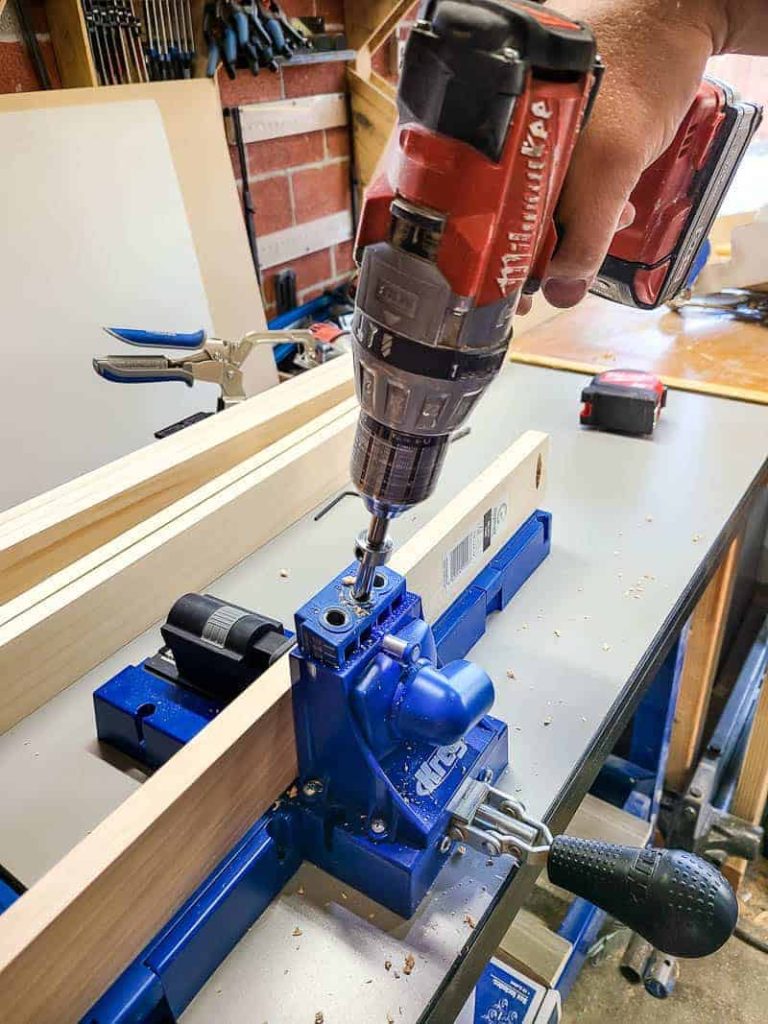 We, of course, incorporated pocket hole joinery into this picture ledge DIY, which is one of the easiest ways to join wood in woodworking projects. We have Kreg's K5 Master System and LOVE it. It's our favorite hidden weapon for beginning woodworkers!
Want to learn more? I wrote a super detailed guide & created a video all about how to set up your Kreg K5 Pocket Hole and use it, so be sure to check that out too!
UPDATE: In 2021 Kreg replaced the K5 Pocket Hole system with the Kreg 720 Pro. Check out our guide all about the new Kreg 720Pro to learn more.
For this very simple picture ledge DIY, we teamed up with our friends Kreg again to create the plans and share them online for free, which are now available on Learn.KregTool.com!
If you're wondering, Kreg Tools is chocked full of so many easy-to-follow FREE woodworking plans! I promise that you are going to find so much inspiration while you're there!
Related – Projects that use a pocket hole jig
Picture ledge DIY video tutorial
If you love DIY videos, don't forget to subscribe to our YouTube channel!
Are you ready to see how the gorgeous picture ledge DIY turned out?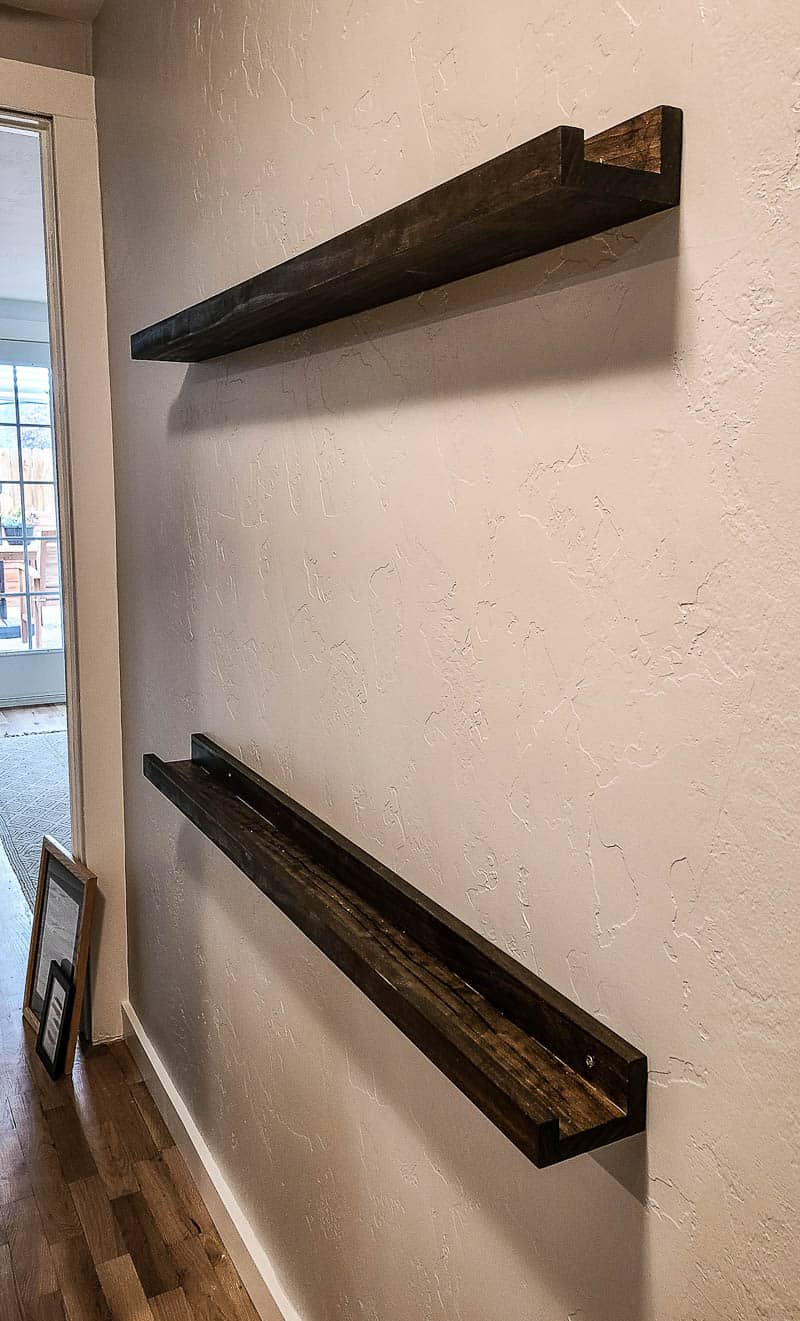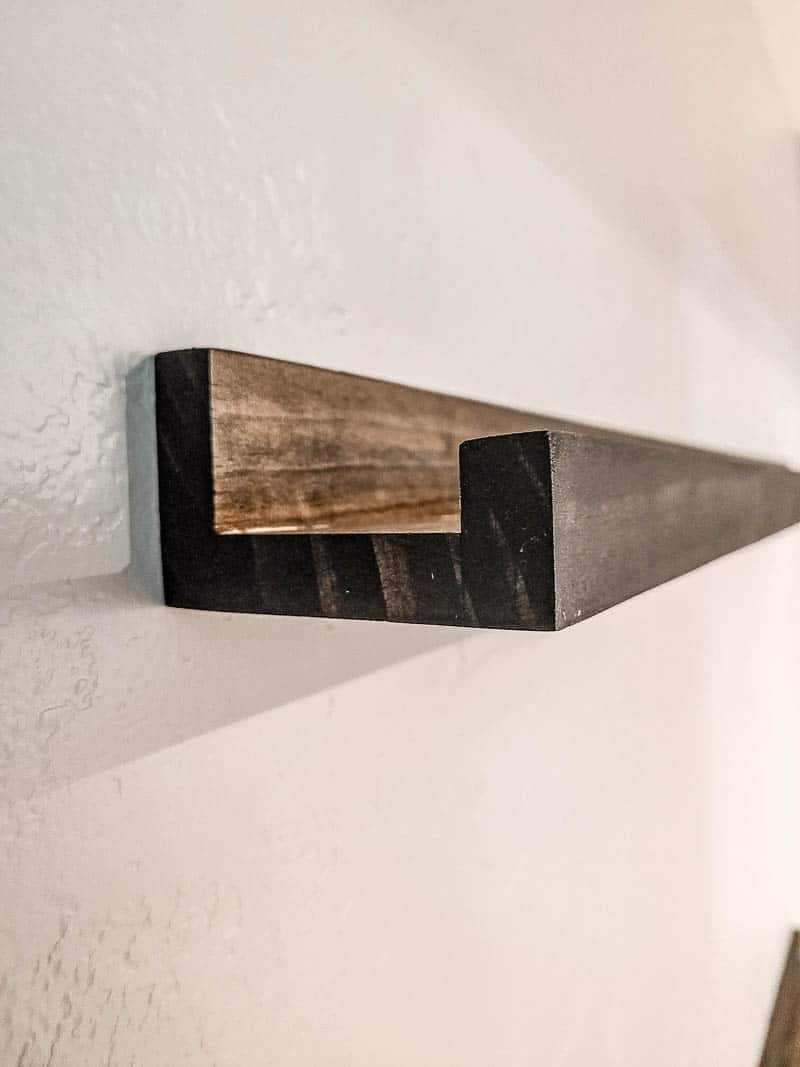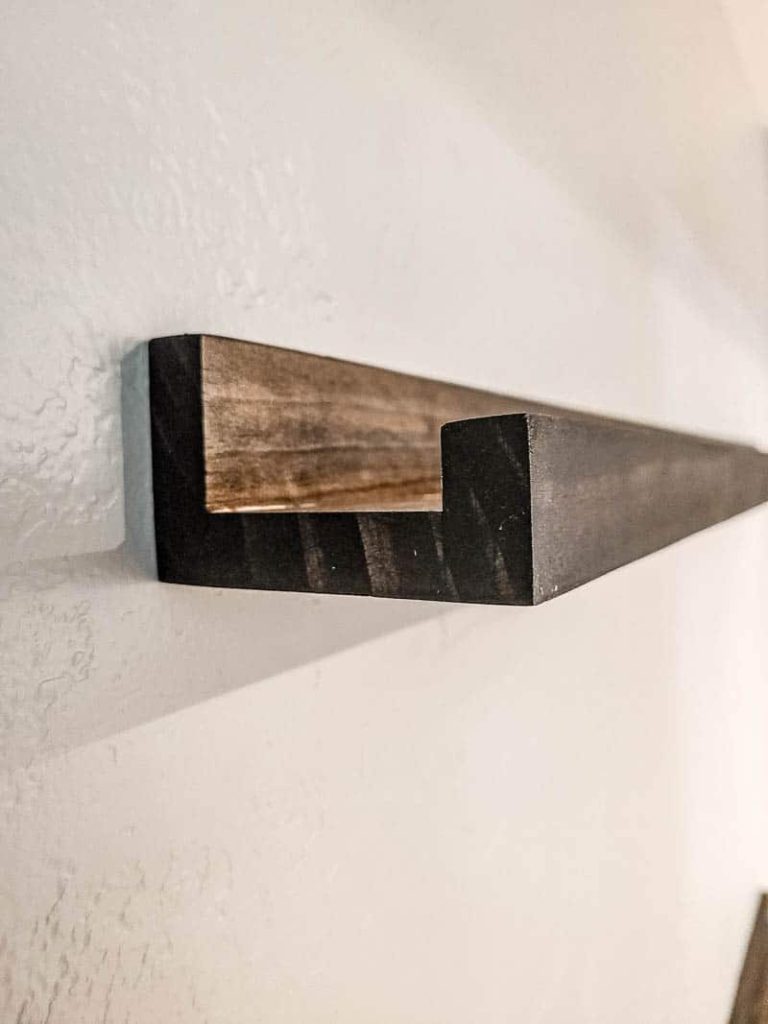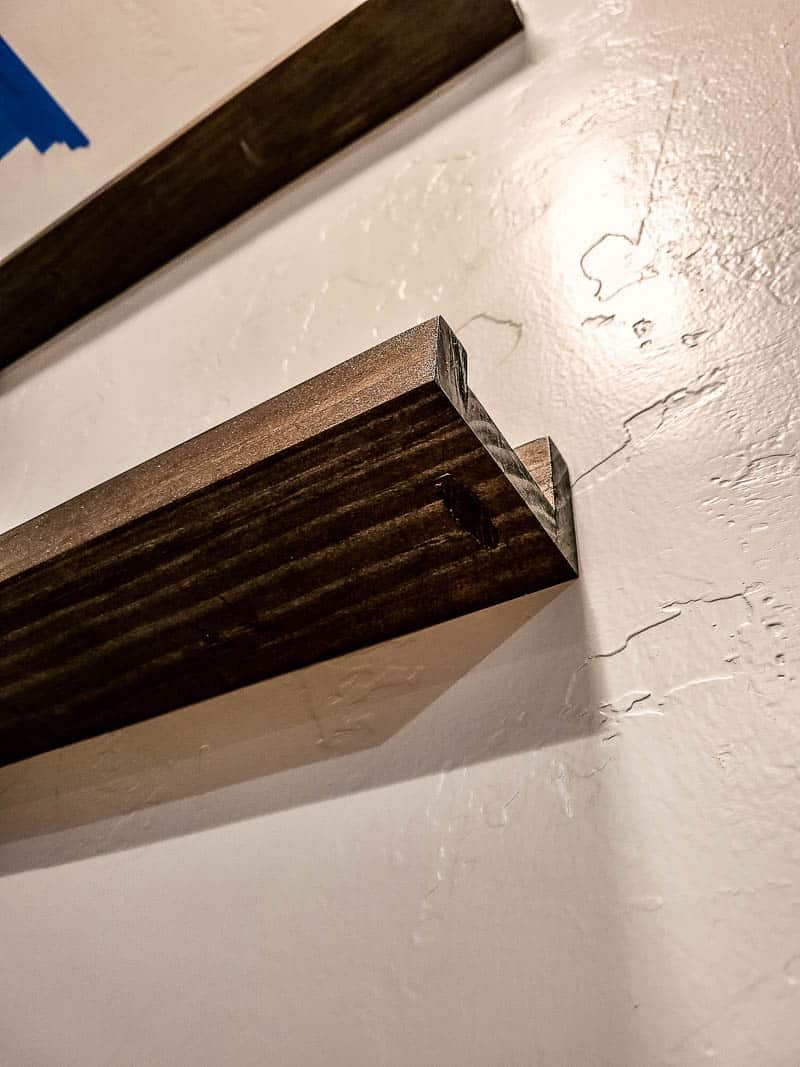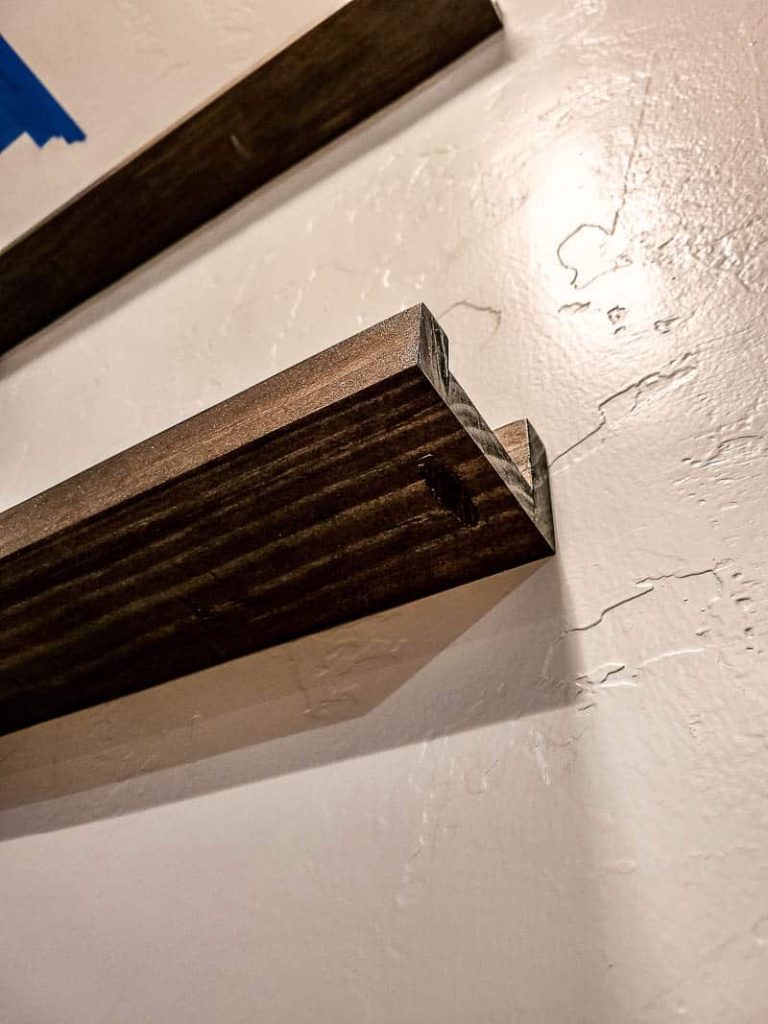 Cost to build picture ledge shelves
One of my favorite things about the picture ledge shelves is how dang cheap you're able to build them for.
Here's a summary of the supplies needed and the cost.
Note: these costs are, of course, subject to change and may be different in your region.
(1) – 1×3 select pine board – 8ft – $9.48
(1) – 1×2 select pine board – 8ft – $6.15
Already had these supplies & tools on hand:
Picture ledge shelf decor
Now obviously styling the picture ledge shelves was my favorite part!
I was able to upcycle several thrift store frames to make art that really fits our style and home better on a major budget! They were SO fun!
How do you like the shelves all styled up and pretty?
So pretty, right?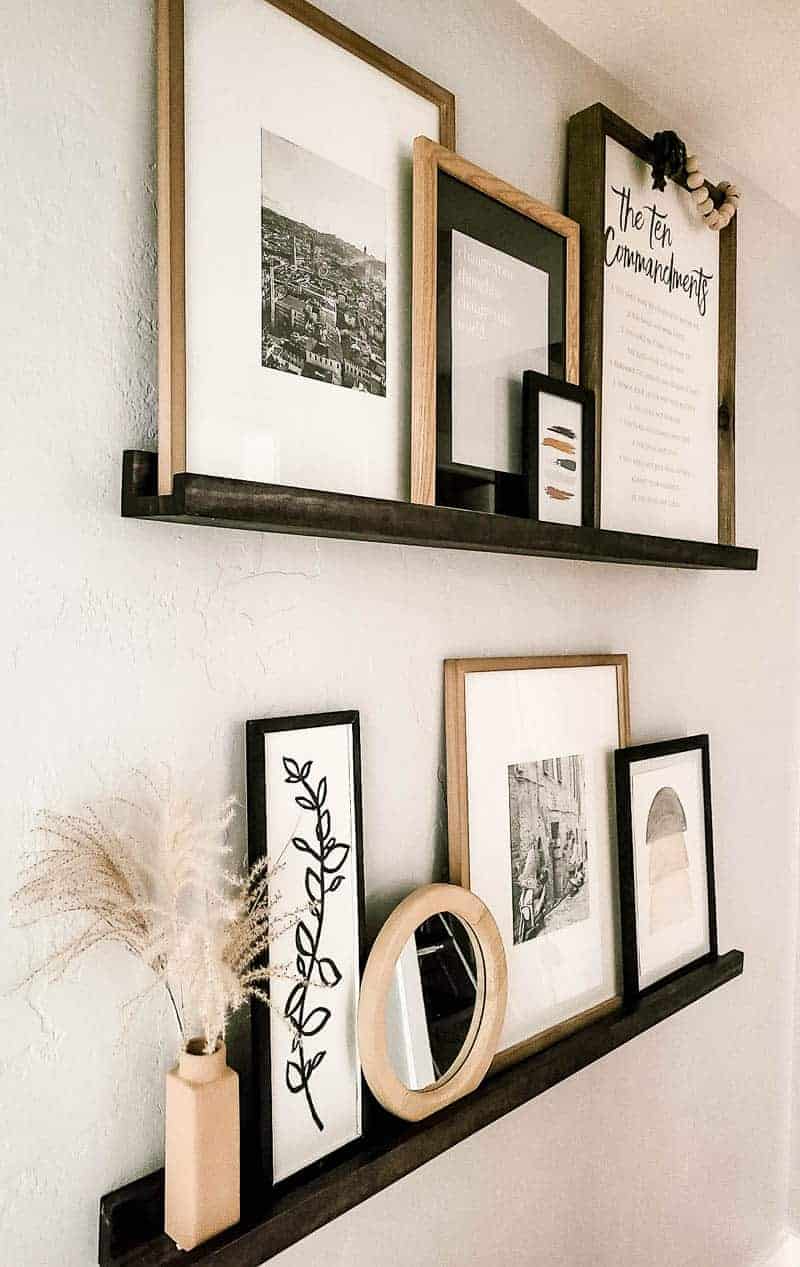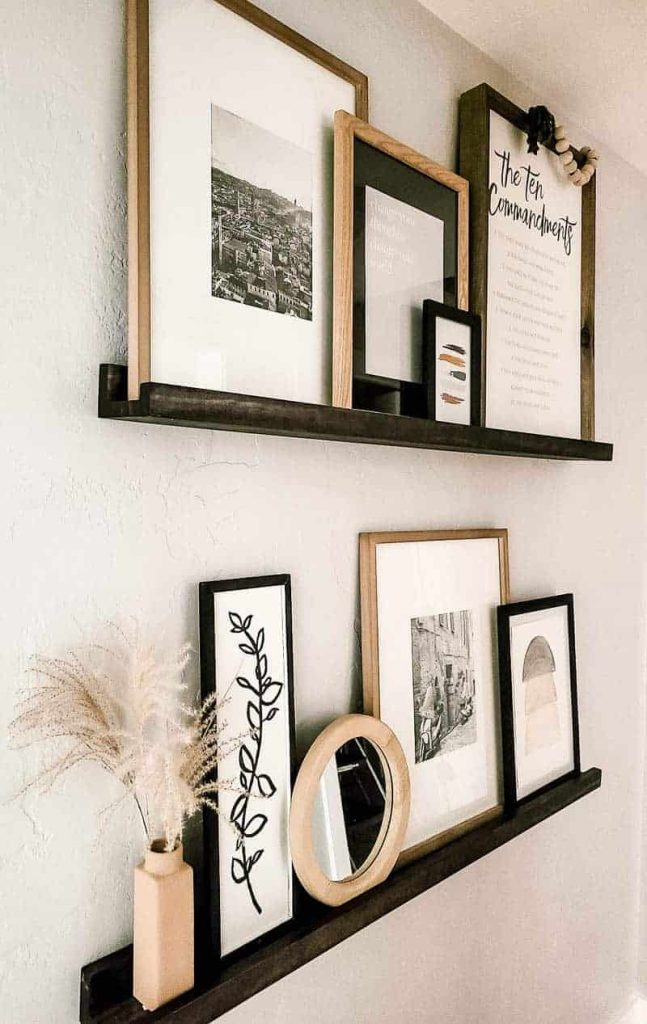 We had so much for working with our friends over at Kreg to bring you the tutorial and free woodworking plans. I hope you feel inspired and motivated to tackle the easy DIY project now!
Don't forget to go grab the free woodworking plans and check out the full tutorial at KregTool.com.