Looking for full cord firewood rack plans? You're in luck! Today we are revealing our latest woodworking project that is perfect for beginners – a DIY firewood rack with roof for your backyard to store all of your firewood.
Thank you to Kreg for sponsoring this DIY firewood rack with roof project! All opinions are entirely my own. This post also contains affiliate links, but nothing that I wouldn't recommend wholeheartedly. Read my full disclosure here.
Last year we completely transformed our backyard and part of that renovation was adding a paver patio and fire pit. Since then, we've had the wood for the fire pit just sitting on the ground in a big pile by our outdoor shed – not ideal! If possible, you want to keep your firewood up off the ground and covered with a roof.
So now that the weather is warming up a bit, it was time to take care of that firewood storage problem with a DIY firewood rack with roof.
Before picture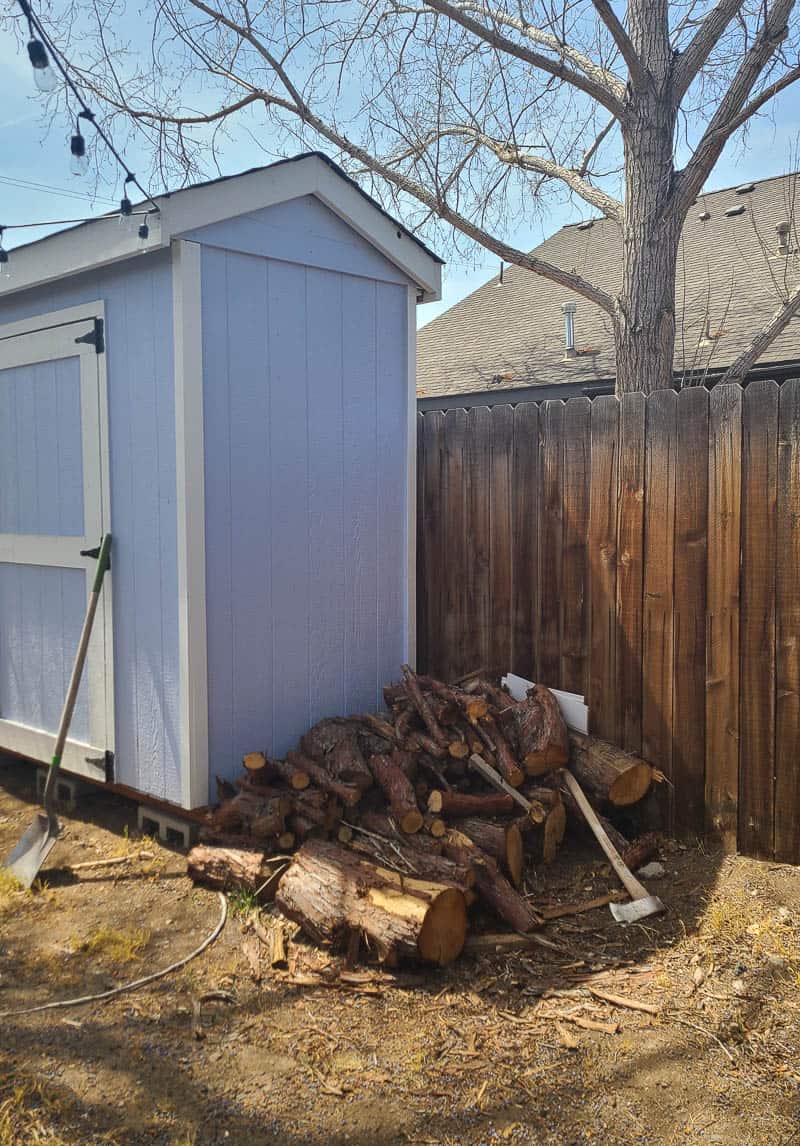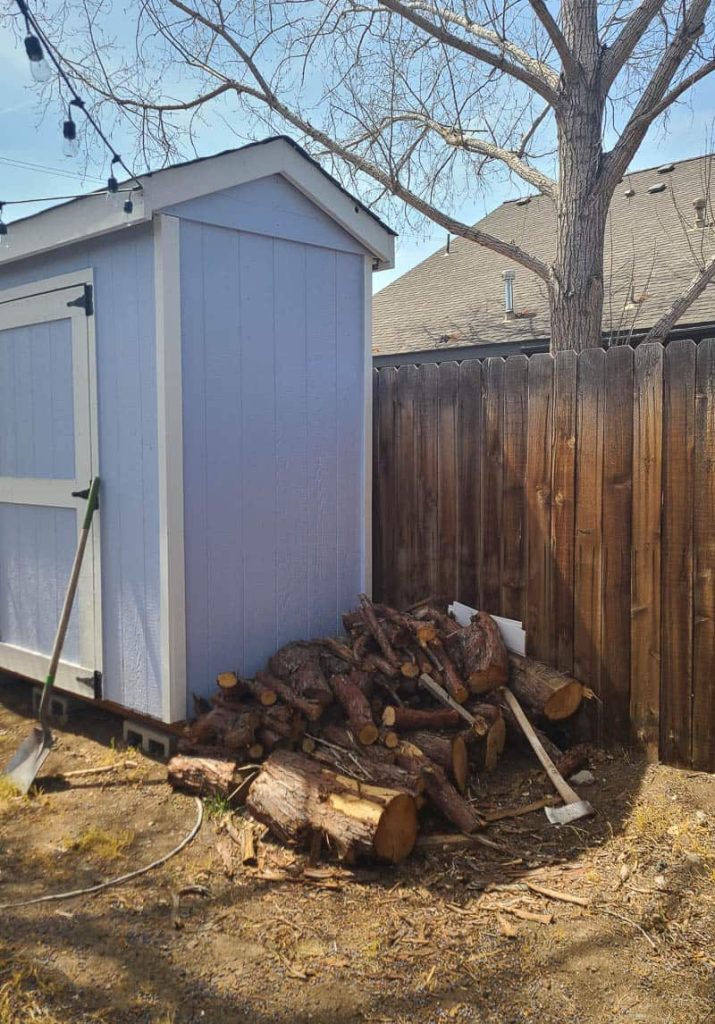 Kreg 720PRO Pocket Hole Jig
If you've been around awhile, you know that we are big fans of the Kreg pocket hole system. We've built so many projects using our K5 Pocket Hole Jig, we even have a super detailed guide and video about how to use it that you can check out here.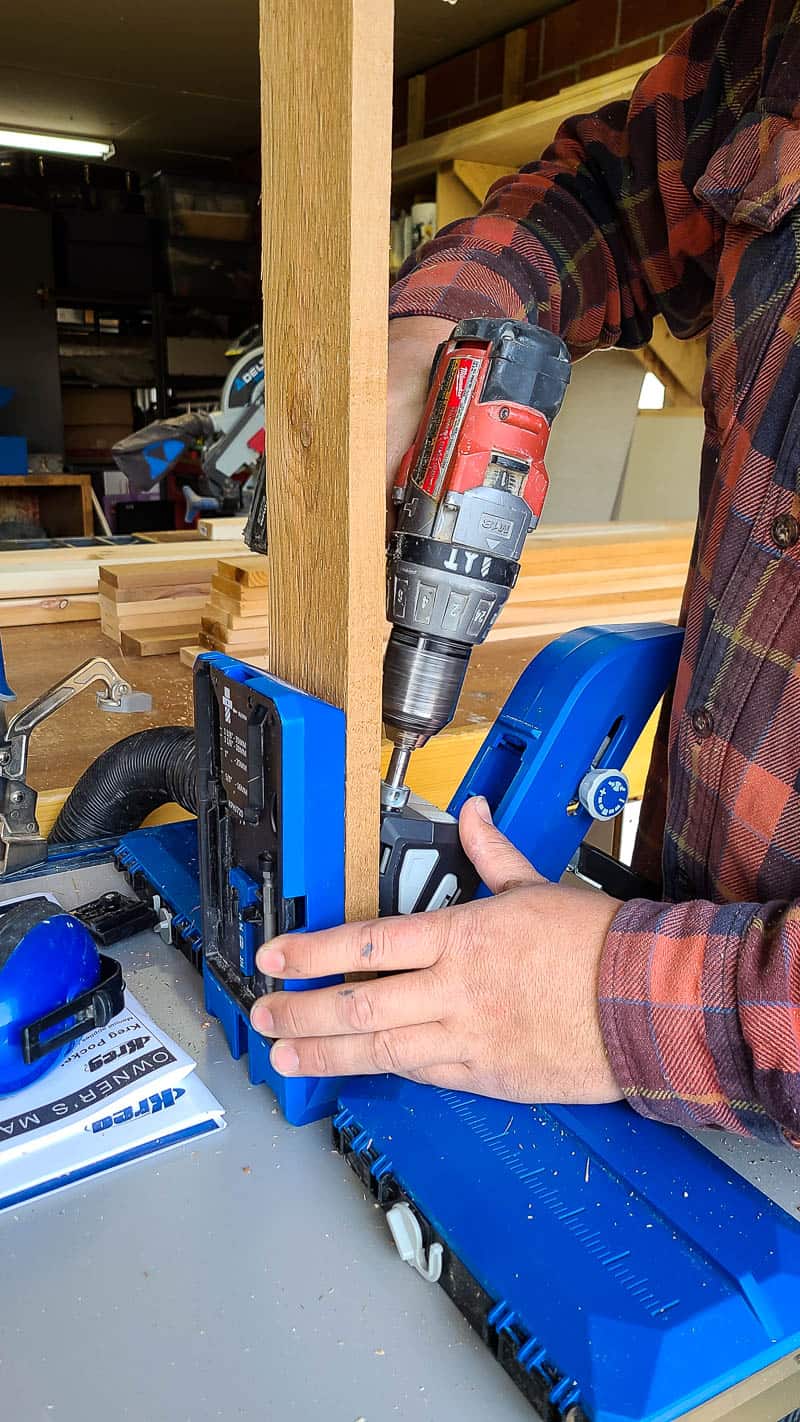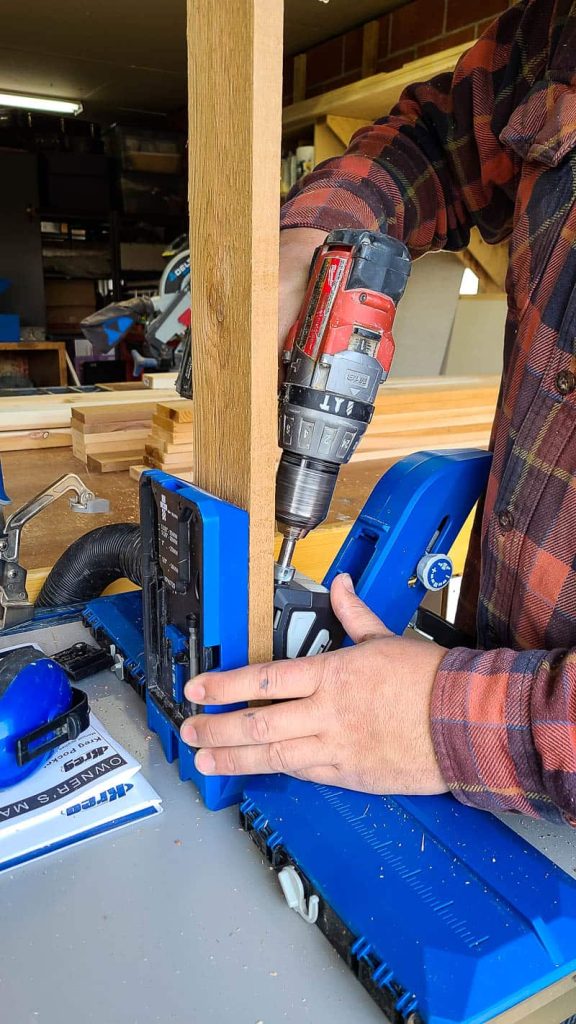 But a couple of months ago Kreg released brand new pocket hole systems that are replacing the K4 and K5, so we've been trying it out for a bit now, so I can definitely say the improvements they made are pretty cool.
The new 720PRO (which we were using for this DIY firewood rack with roof) and the 520PRO (which replaced the smaller K4 system) were improved a ton, the most noticeable change being that they are easier to set up and use – score.
Want to learn more about the 720PRO pocket hole jig (included exactly how to use it), check out the super detailed video guide.
Pocket hole joinery is definitely one of the easiest ways to join wood in woodworking projects. It's our favorite hidden weapon for beginning woodworkers!
For this DIY firewood rack with roof, we teamed up with our friends Kreg again to create the woodworking plans and share them online for free, which are now available on KregTool.com!
Kreg Tool that is chocked full of so many easy to follow FREE woodworking plans! I promise that you are going to be find so much inspiration while you're there!
Related – Projects that use a pocket hole jig
Ready to see how the modern DIY firewood rack turned out?
Firewood rack: video tutorial
If you love DIY videos, don't forget to subscribe to our YouTube channel!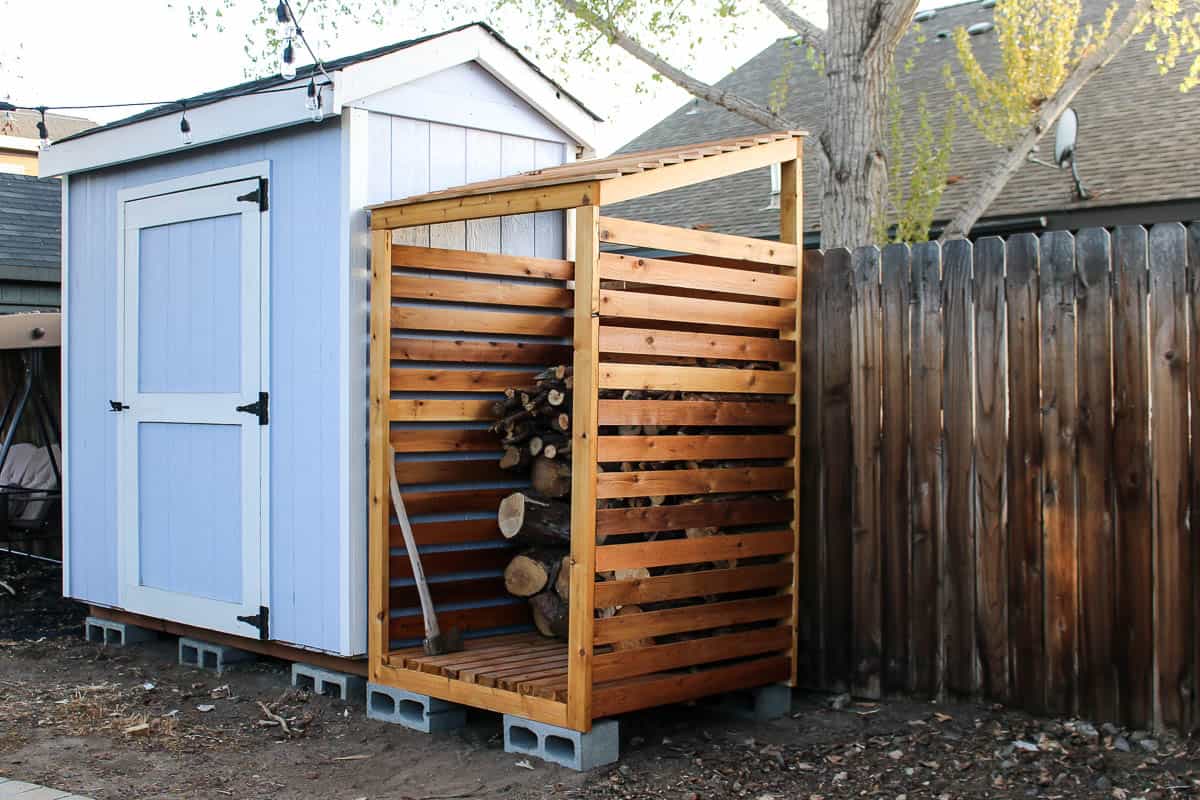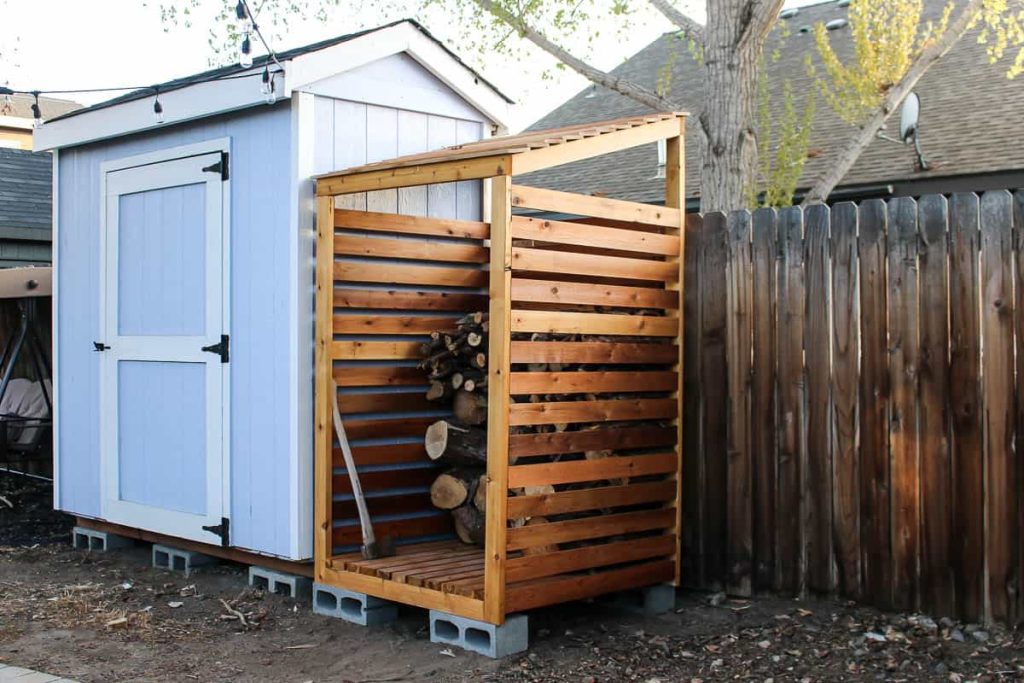 So awesome, right?! I love the modern looking slats, roof to keep wood protected and that natural cedar tone stain!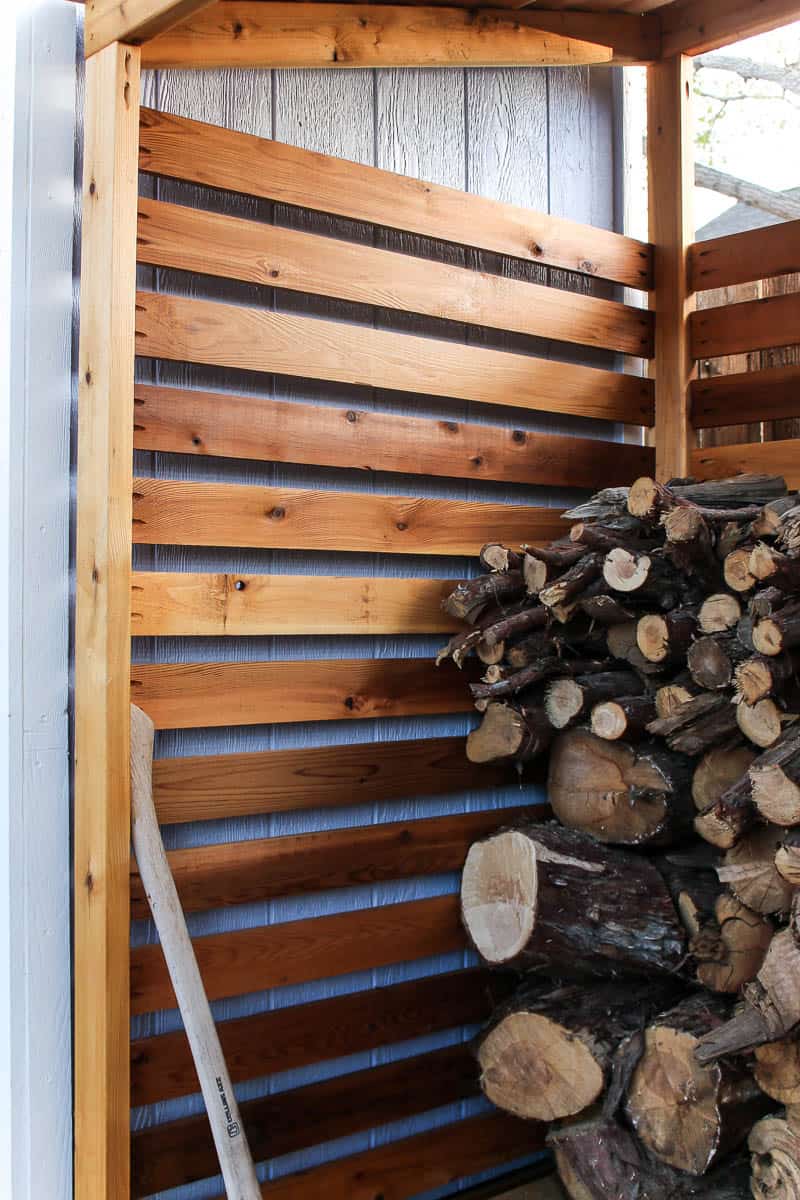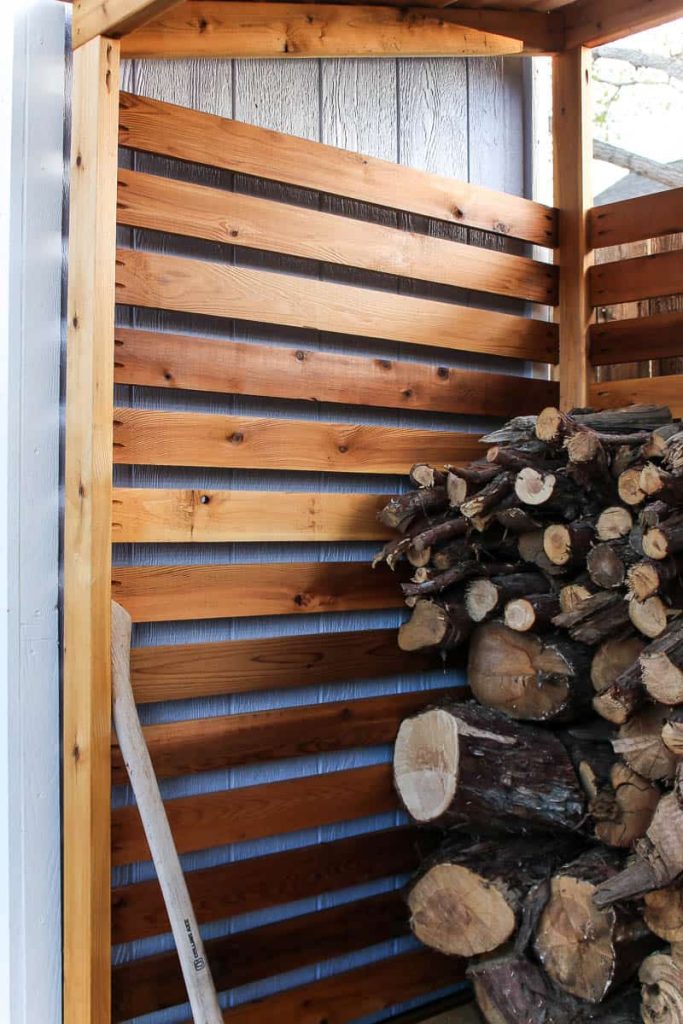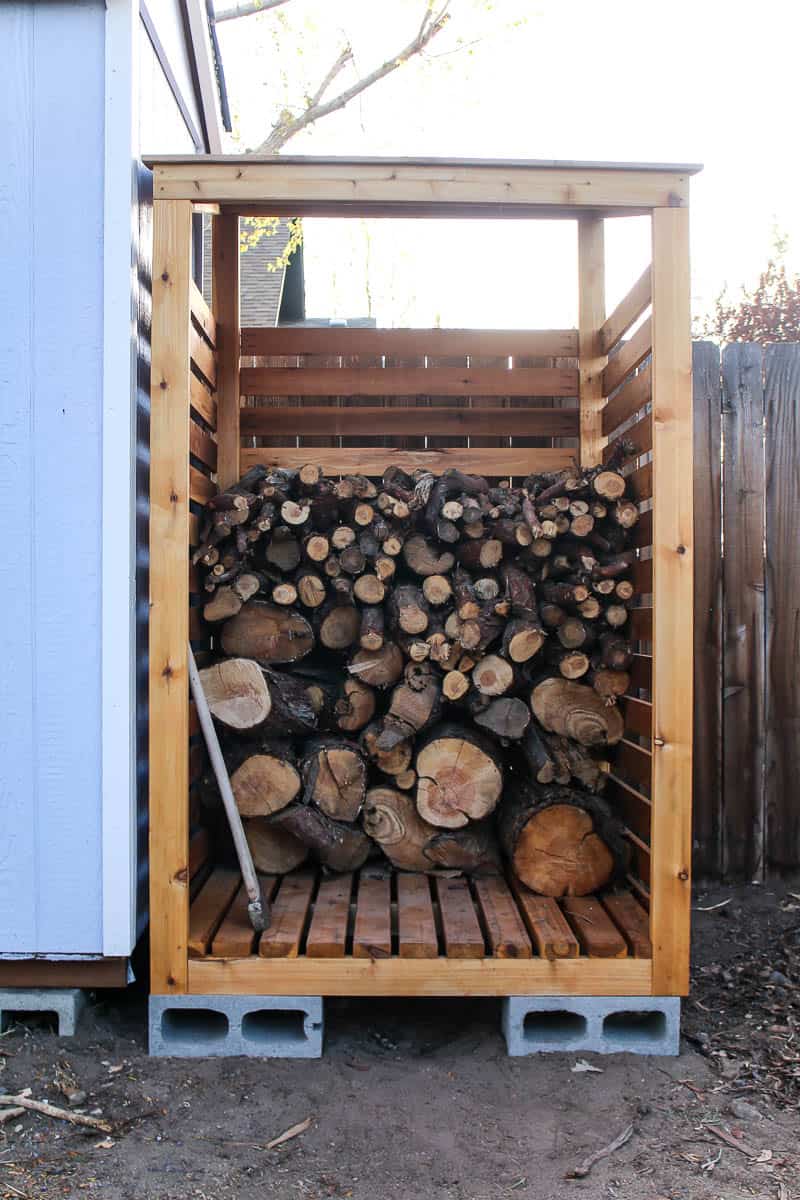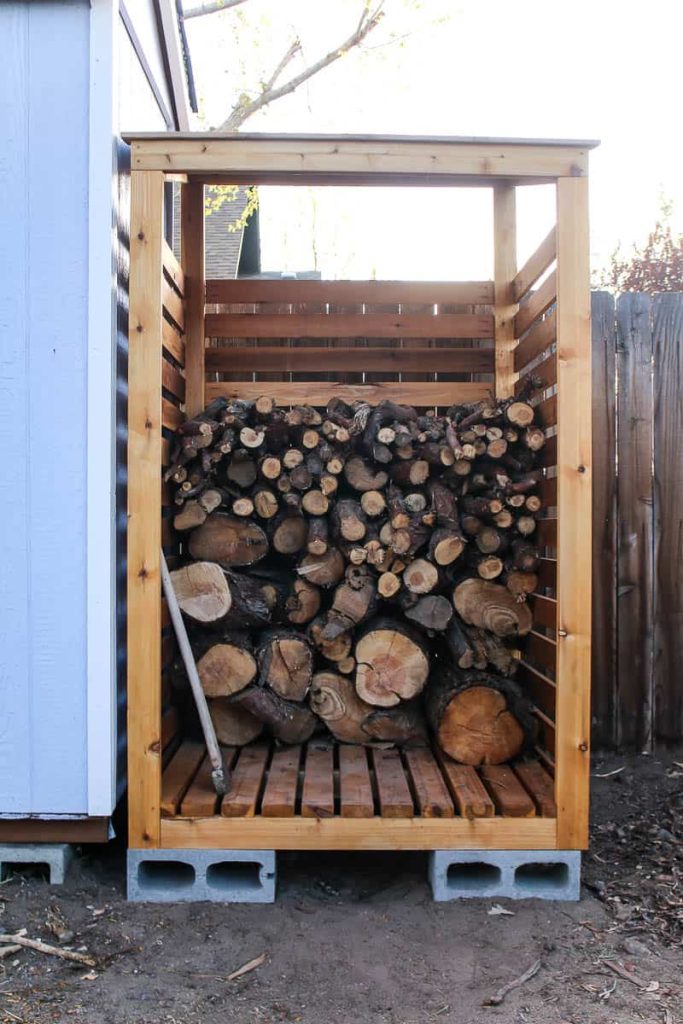 It was a fairly easy project to build and the pocket hole joinery made it even easier!
Does the firewood rack hole a full cord?
For the size of the DIY firewood storage rack, we went pretty big.. it's about 4 feet by 4 feet and 6 feet tall in the front raising to a little over 7 feet in the back. You could certainly reduce the dimensions if you wanted to make it smaller, but we went a larger version because this makes it full cord firewood rack plans… well, almost! 🙂
Fire wood is typically purchased in what is a called a "cord" of wood, which is the unit of measurement of the wood stack.
A full cord of firewood measures 4′ x 4′ x 8′ – our rack isn't quite 8′ tall (but almost) so you would have just a few pieces of extra wood to set aside if you did happen to buy a full cord.
Supplies to build DIY firewood rack
Here's a summary of the supplies needed:
Tools used
Materials needed

2 ½" construction screws
2″ galvanized brad nails

Wood products needed
We had so much for working with our friends over at Kreg to bring you the tutorial and free woodworking plans for this fun project for our backyard, which we're just about done transforming. We have a few more ideas up our sleeves for this summer, so stay tuned!
This firewood storage rack is a simply build to follow – even a beginning woodworker could tackle it in a few days if you followed along on our woodworking plans.
Don't forget to go grab the free woodworking plans and check out the full tutorial at KregTool.com.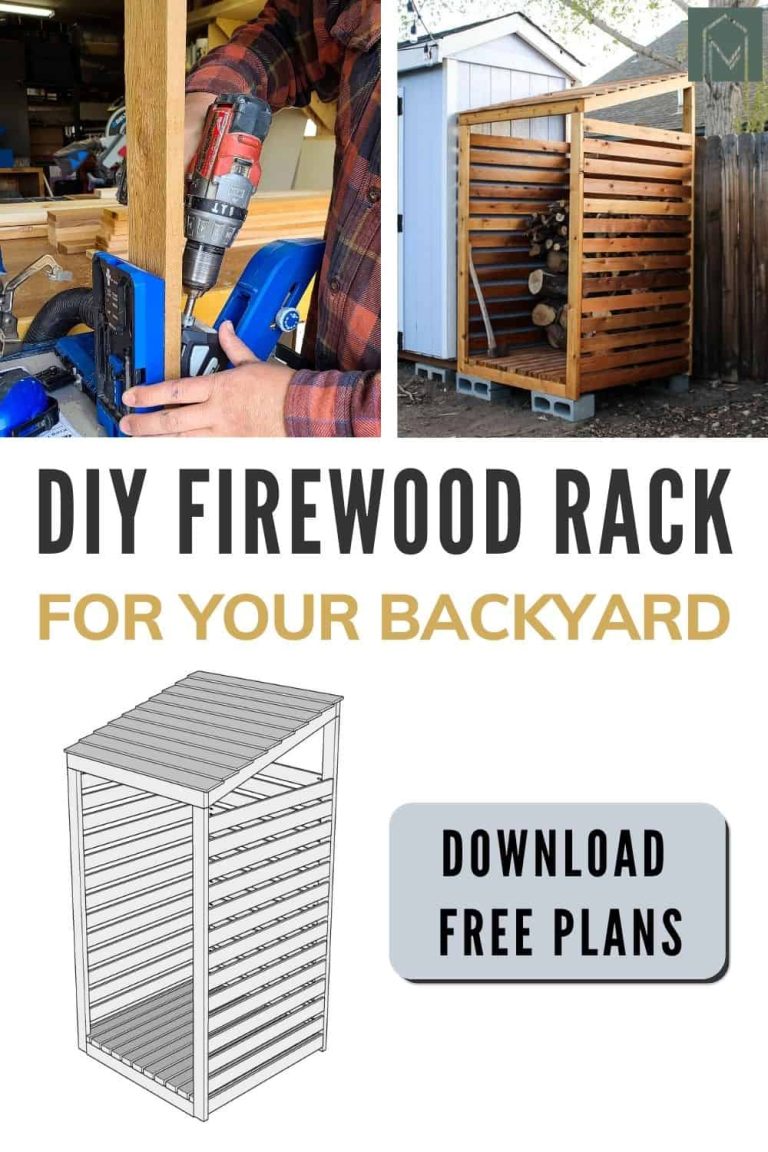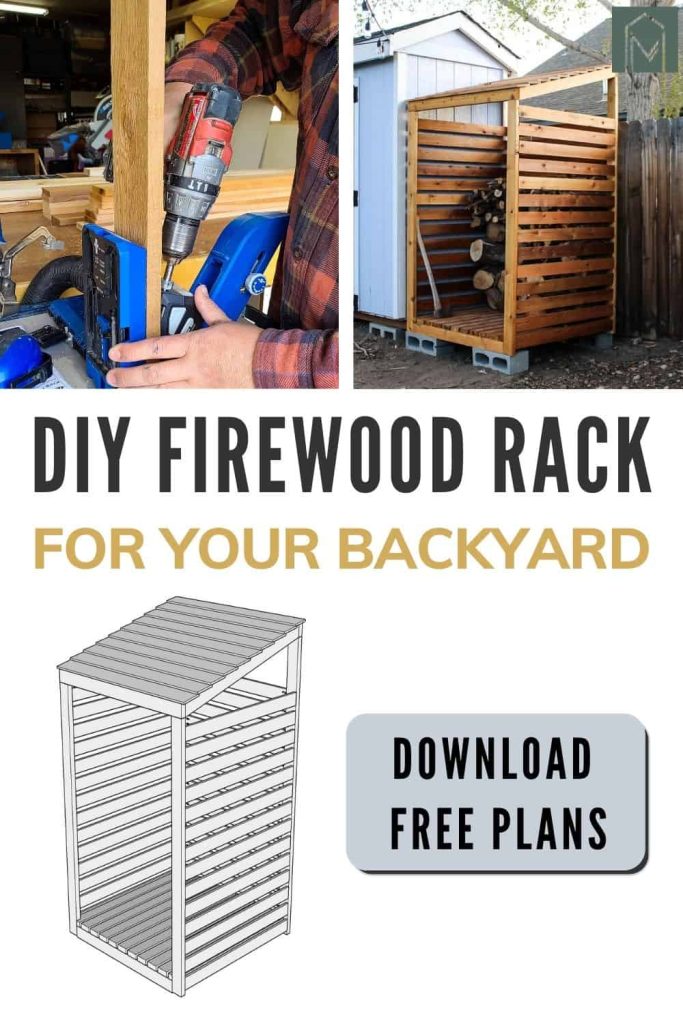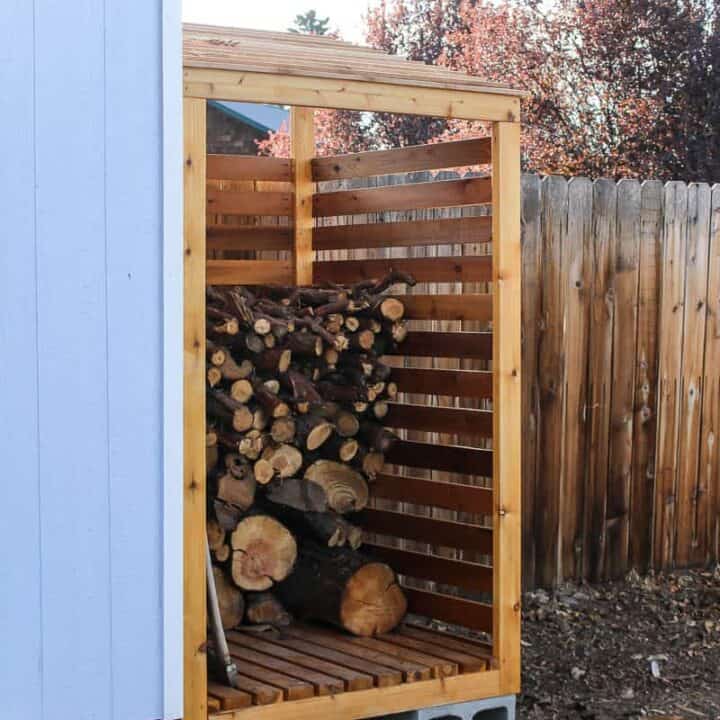 How To Build A DIY Firewood Rack with Roof
Materials
Instructions
Cut wood according to woodworking plans.
Drill pocket holes as shown in plans.
Assemble base and sides.
Level ground and add cinder blocks (one in each corner).
Attach base, side panels and back slats.
Stain or paint (optional).
Add roof, which we made out of cedar fence pickets stacked up on the roof line attached with 2" galvanized brad nails.