This year was the year of backyard renovations for us! We tackled a several major backyard projects and today we're sharing all of the backyard makeover before and after pictures! Enjoy!
A full source list is provided at the end of the post for your convenience!
2020 has been everything but expected. We expected to start our big backyard makeover as soon as the weather warmed up in the spring, but we ended up not being able to get started until July.
We had several months of no childcare and then were never able to start our littlest in daycare as planned, so we were working with a limited schedule and our renovation projects fell a bit behind schedule.
Add to that all with the crazy emotional journey that we've ALL been on this year…. here we are finishing up the backyard just in time for December!
Definitely seems crazy to be sharing landscaping and outdoor projects at the same time as holiday crafts, but 2020 is just that…crazy.
Needless to say, this backyard makeover before and after update has been a LONG time coming.
Want to see our other renovation projects? Check out our full home tour here!
This backyard makeover before and after article contains affiliate links, but nothing that I wouldn't recommend wholeheartedly. Read my full disclosure here.
Do you want to see more of our big backyard makeover??
Backyard makeover: watch video transformation
If you love DIY videos, don't forget to subscribe to our YouTube channel!
Backyard before pictures
Let's start at way back at the beginning… all of the super embarrassing before pictures that will make you cringy.
Here's what the backyard looked like right when we moved in.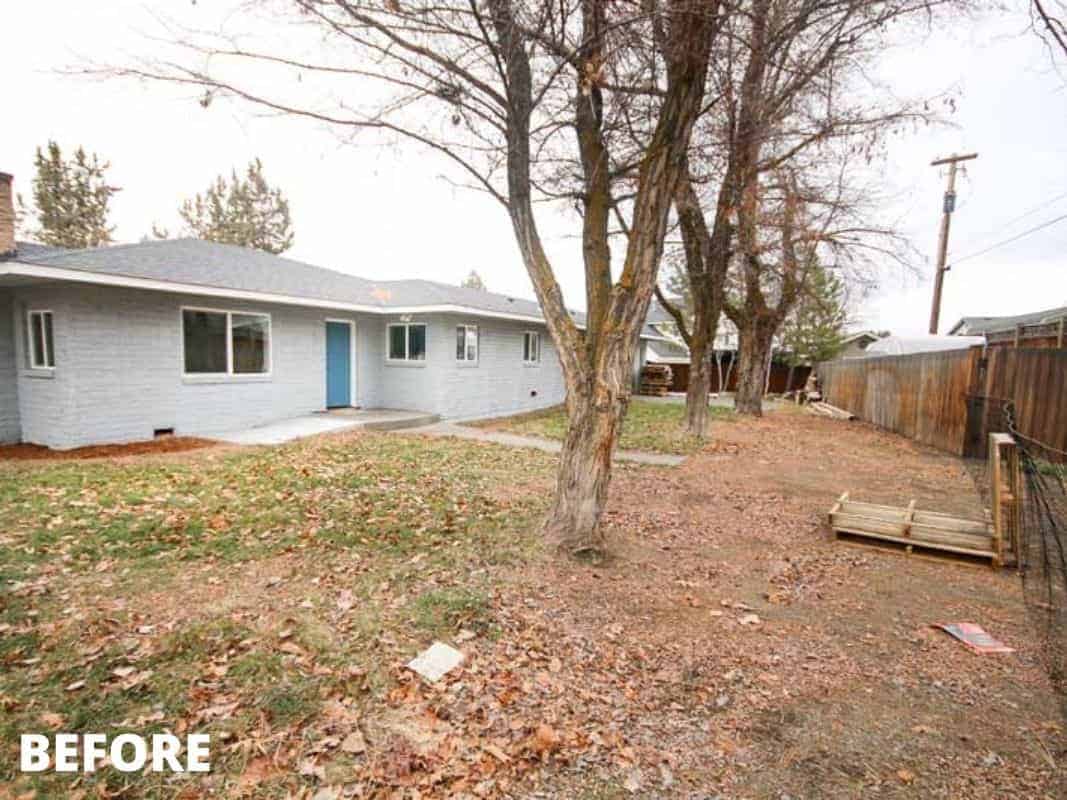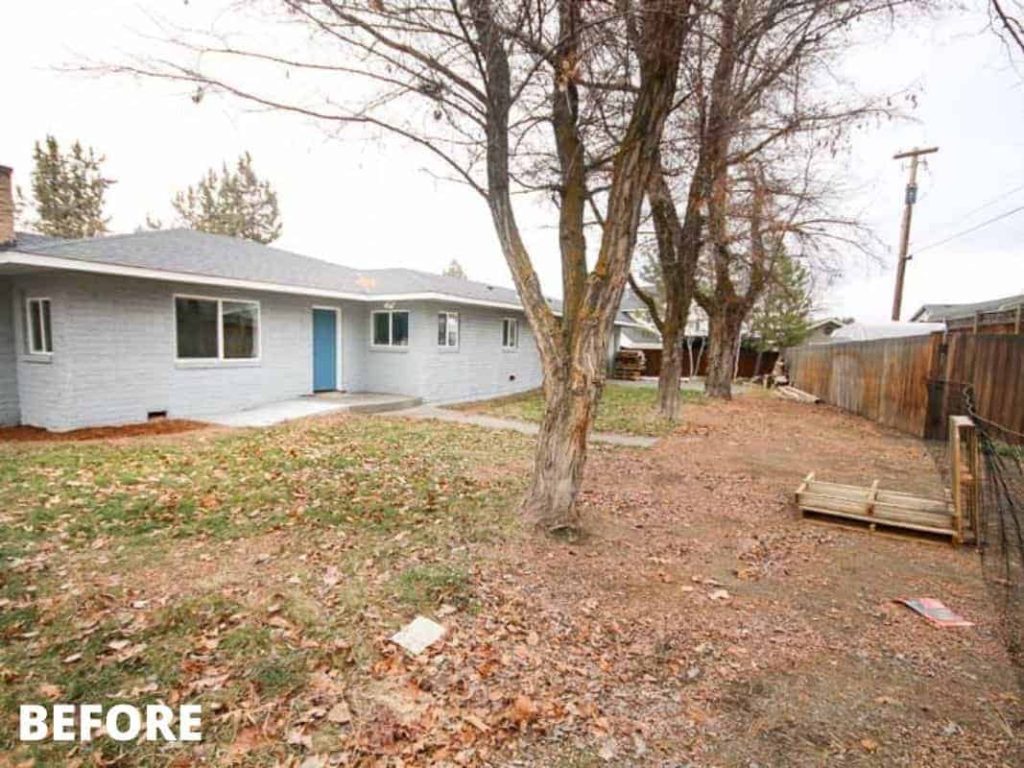 There was no fence, which was an issue with our dog. We put some temporary wire fencing attached to an old wood pallet there in the middle. But it looked horrible and there was, of course, no privacy to the alleyway behind our house.
There was some low quality grass that had not been taken care of and didn't come back very well at all in the spring, so we didn't waste the water taking care of it. We knew we wanted to do a big makeover back here, which would include planting new grass.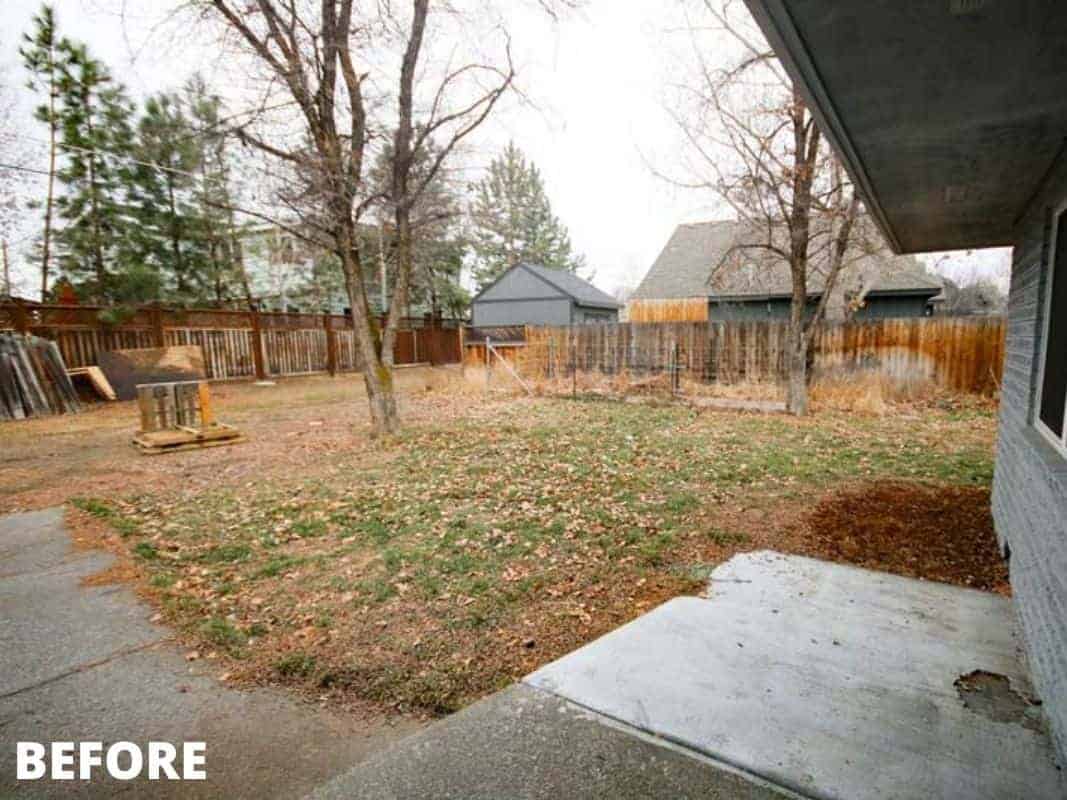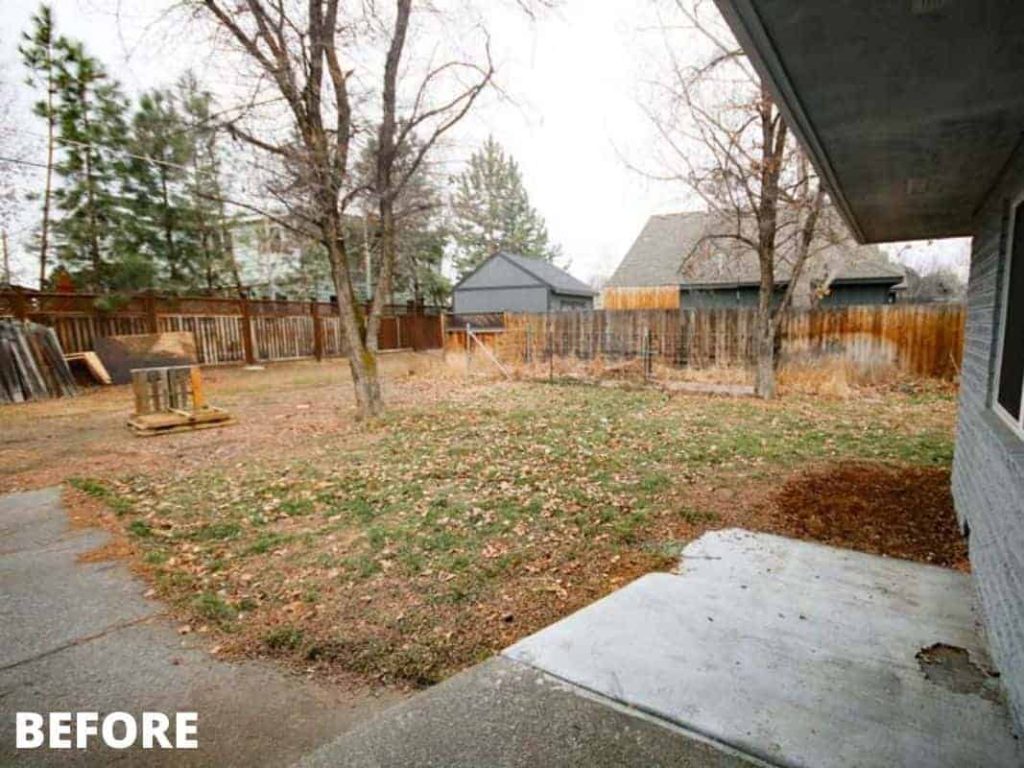 Backyard upgrades (2018 – 2020)
Over the last two and half years we've completed a number of upgrades back here that helped make the backyard more useable and functionable for us (even if we didn't tackle the whole big backyard makeover yet).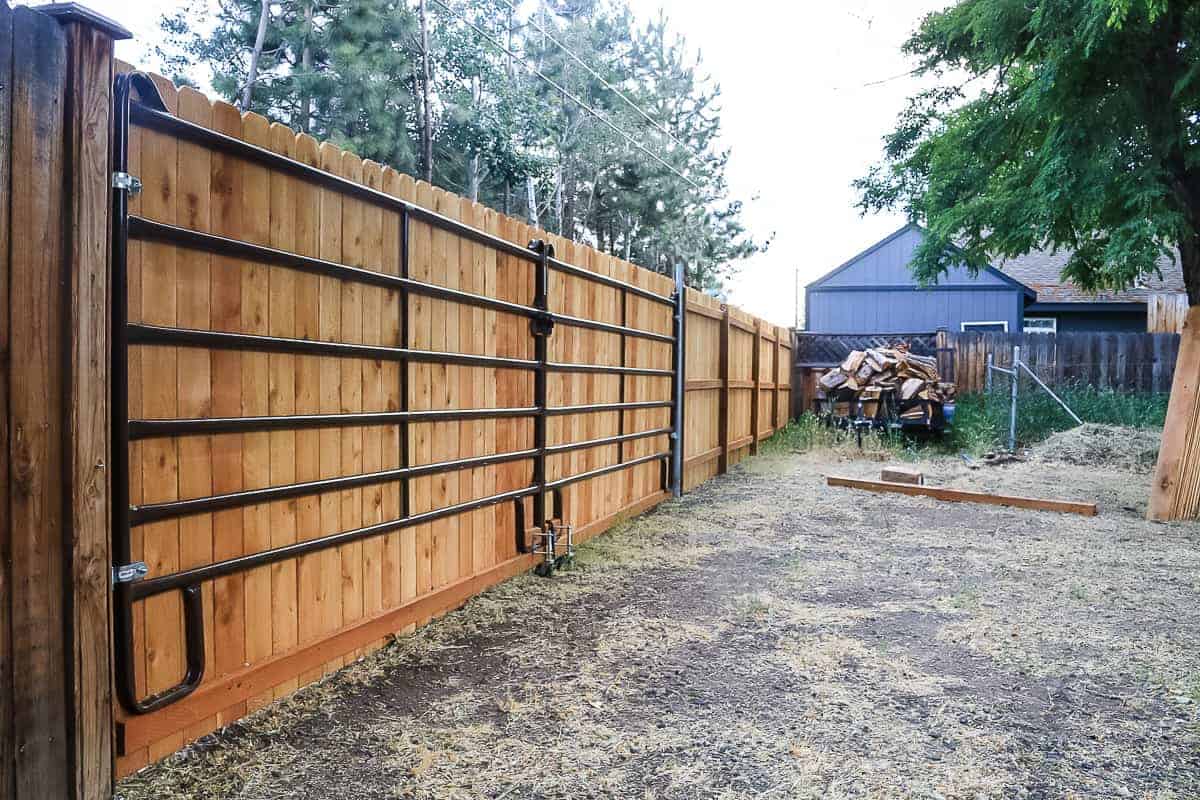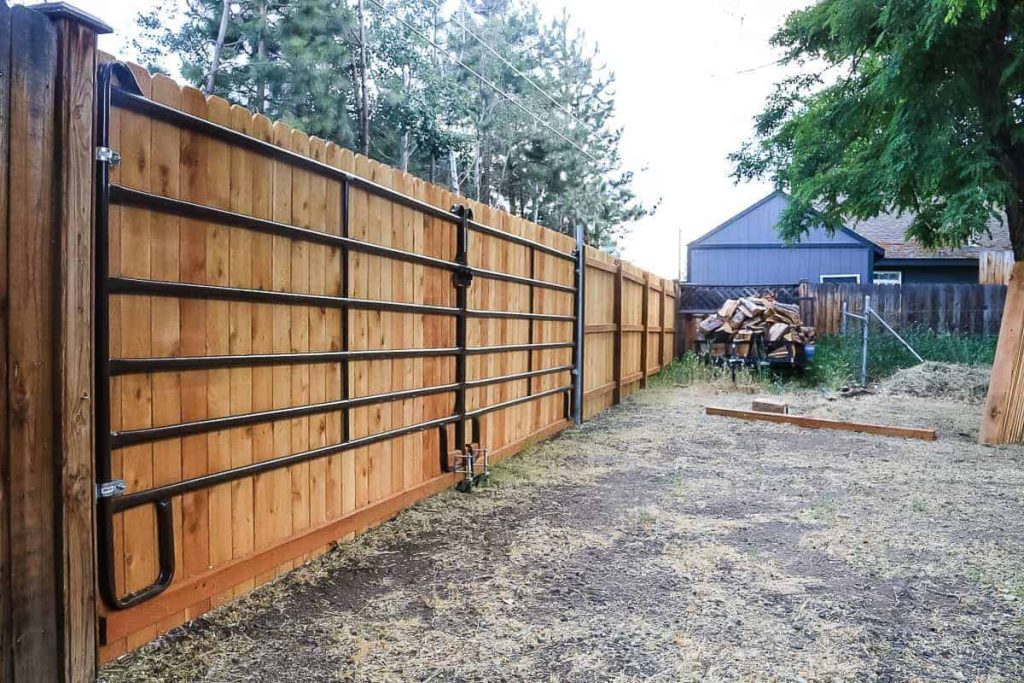 Last year the yard got a big upgrade with a new wooden fence along the edge of the backyard enclosing it from the alley way with a big functioning gate as well. Finally some privacy and getting rid of the temporary wire fencing that was falling apart! Learn how to build a wood fence in this tutorial.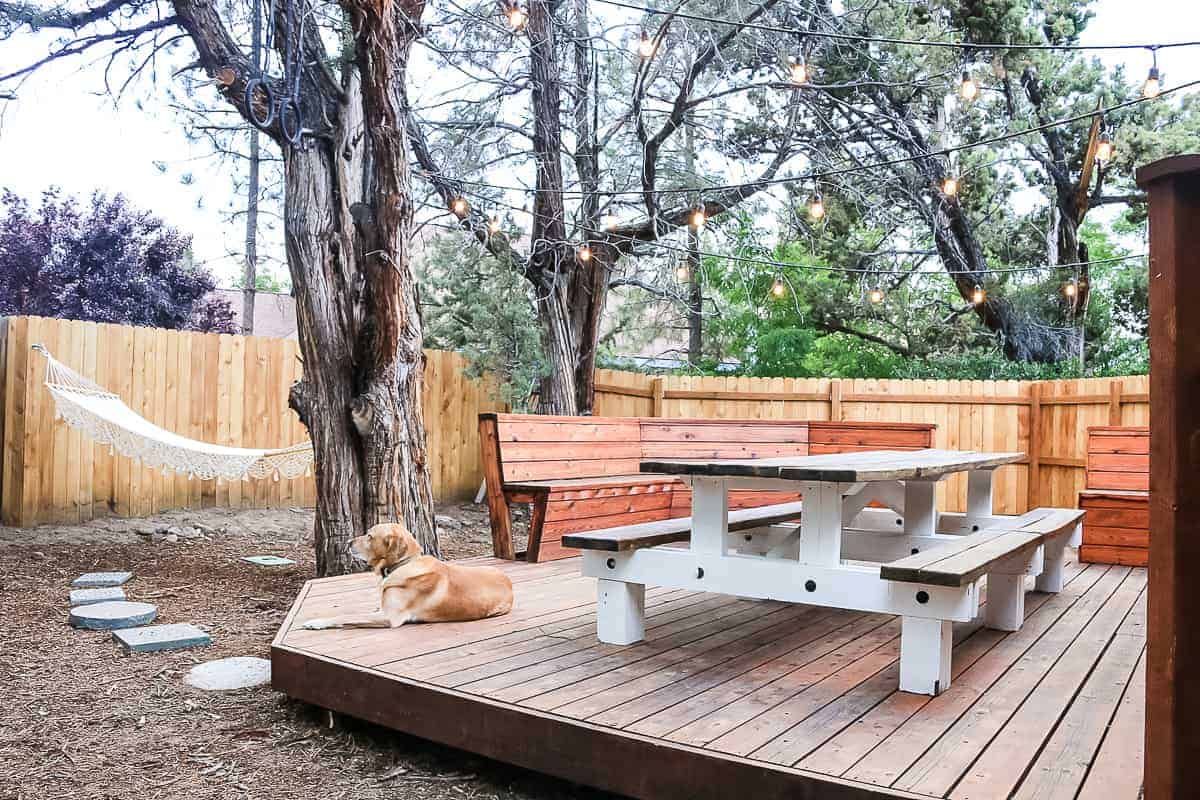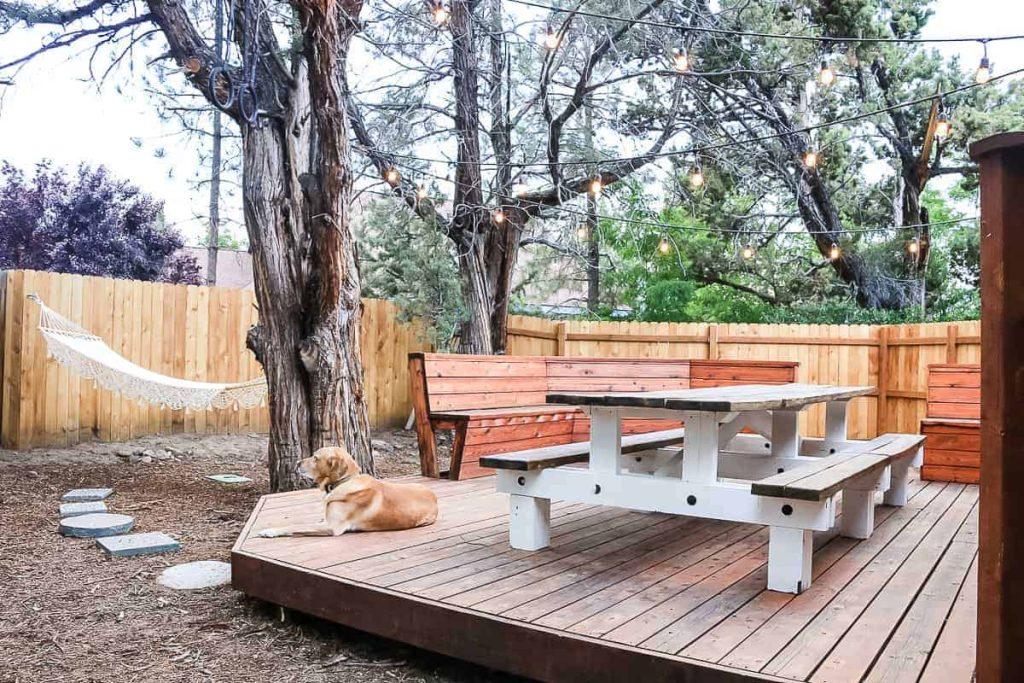 We also built a fence along the side yard wrapping around the wood deck and enclosing that area from the front yard. Again WAY more privacy and room for the kids and dog to run around!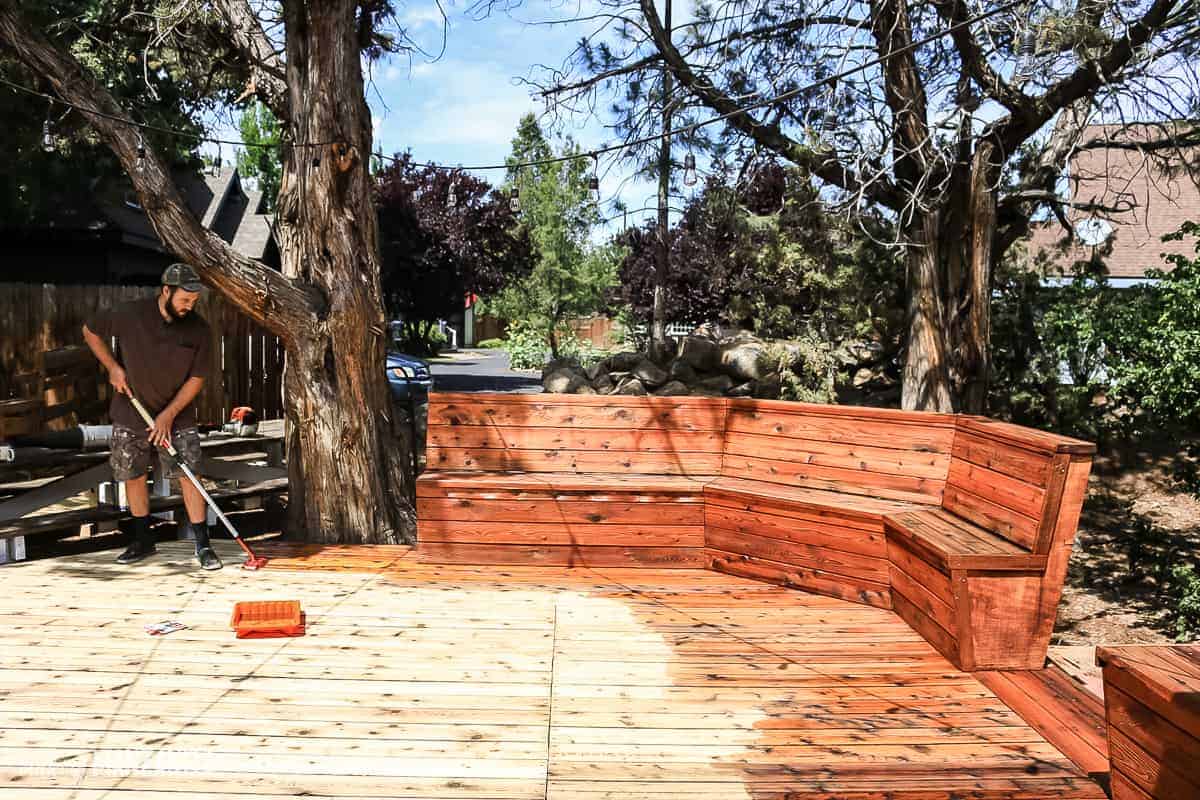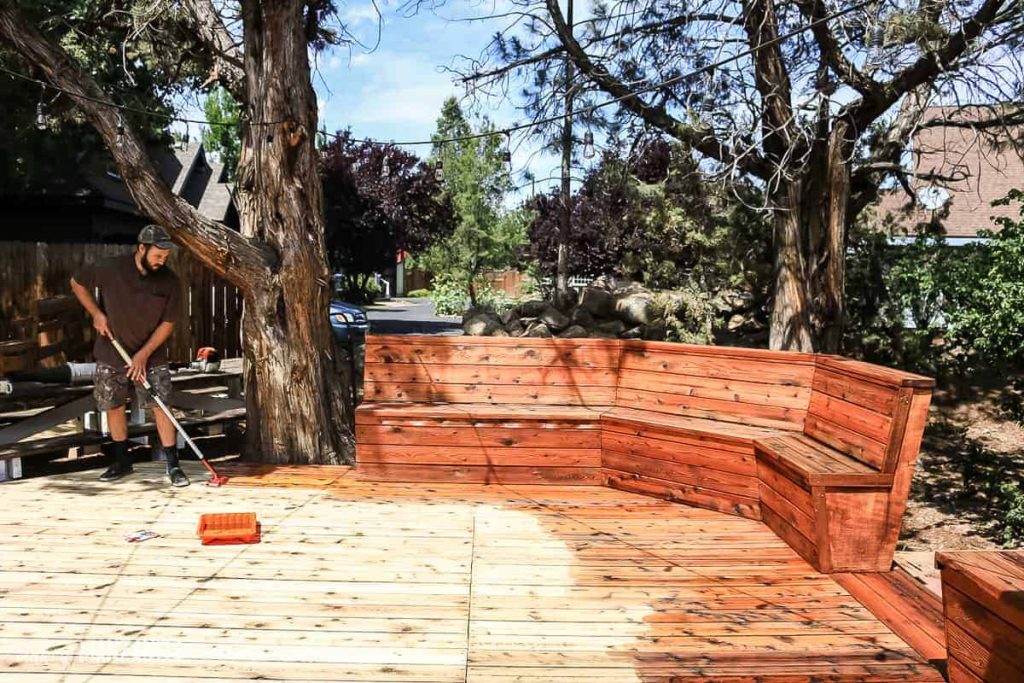 We completely sanded down and refinished the neglected wood deck. Learn how to restore a deck here and then see how the refinished deck held up with an update one year later here.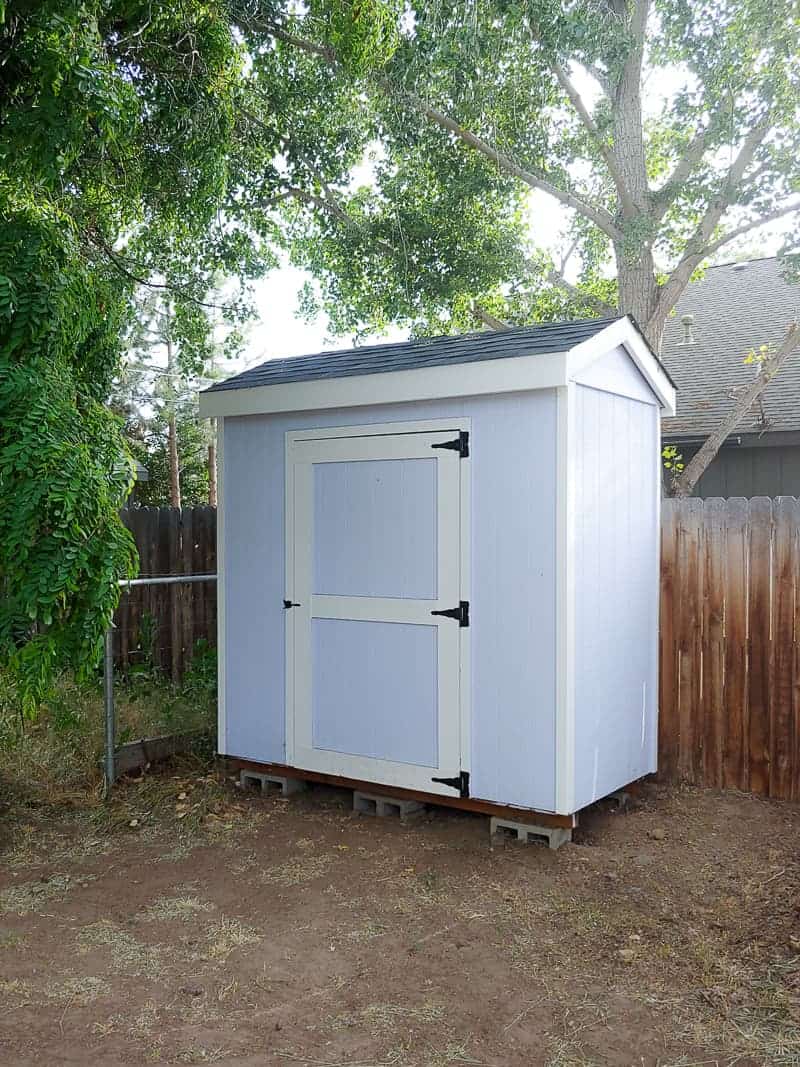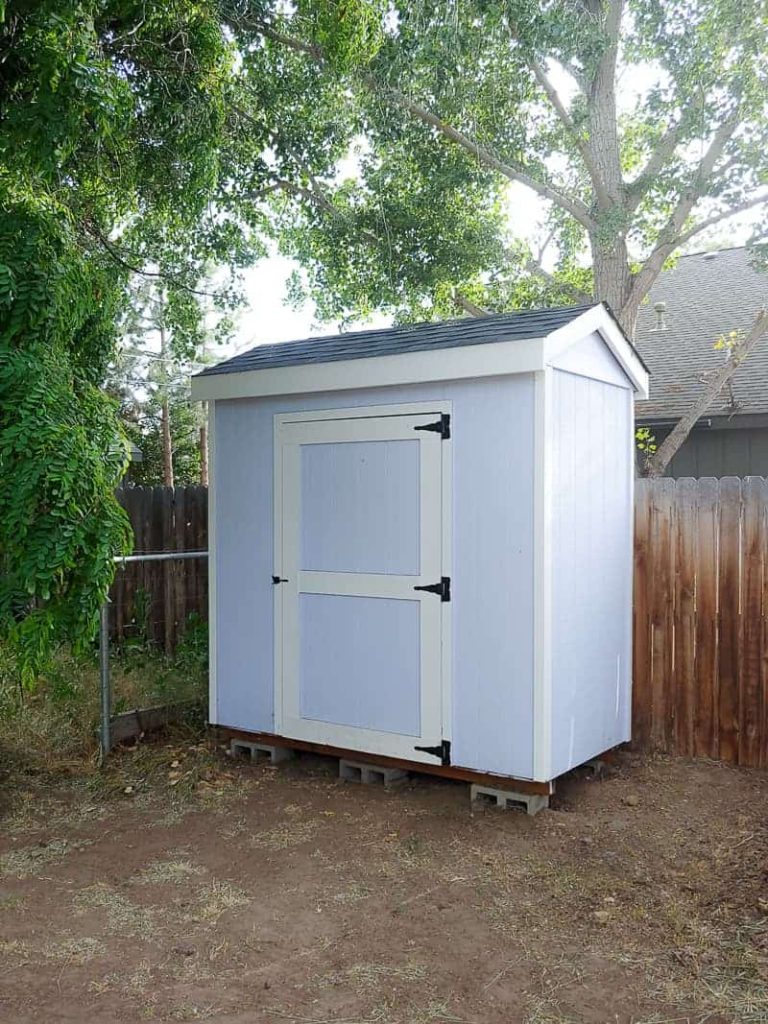 Logan built this simple garden shed to hold the garden tools (like shovels, rakes and lawnmowers). See how we have the garden tools organized here!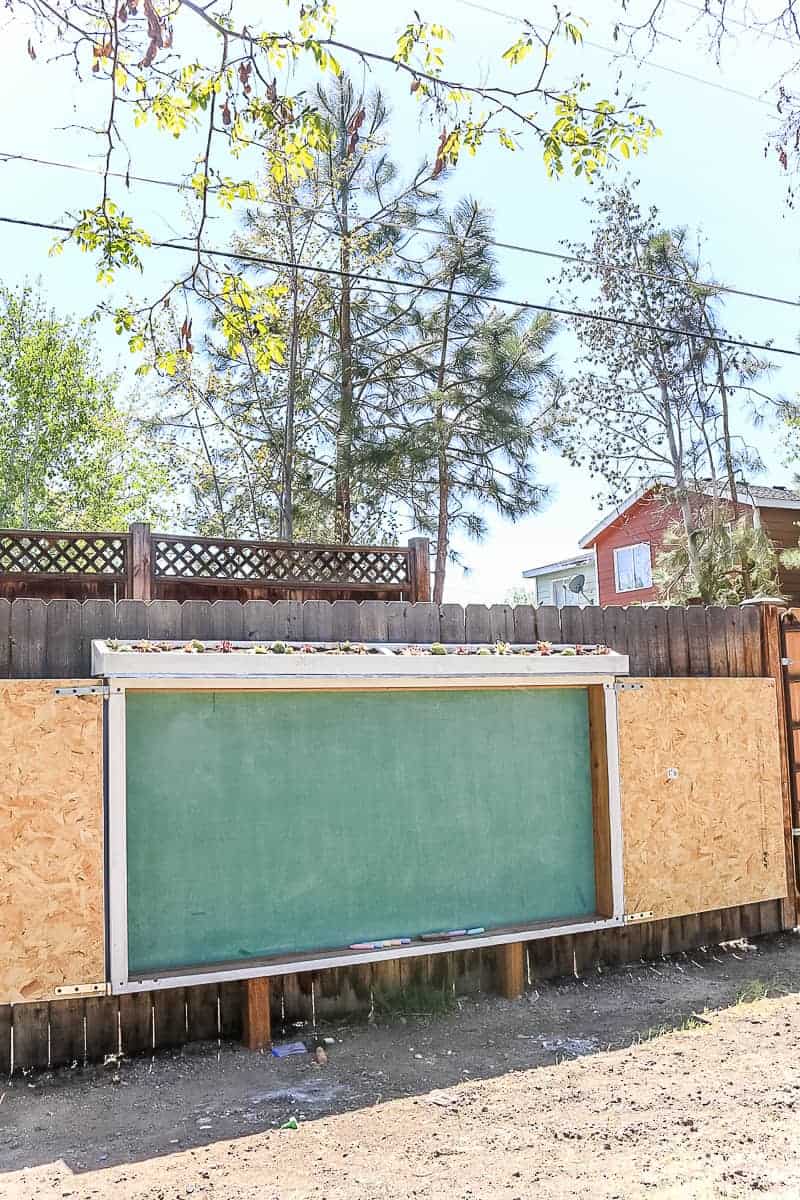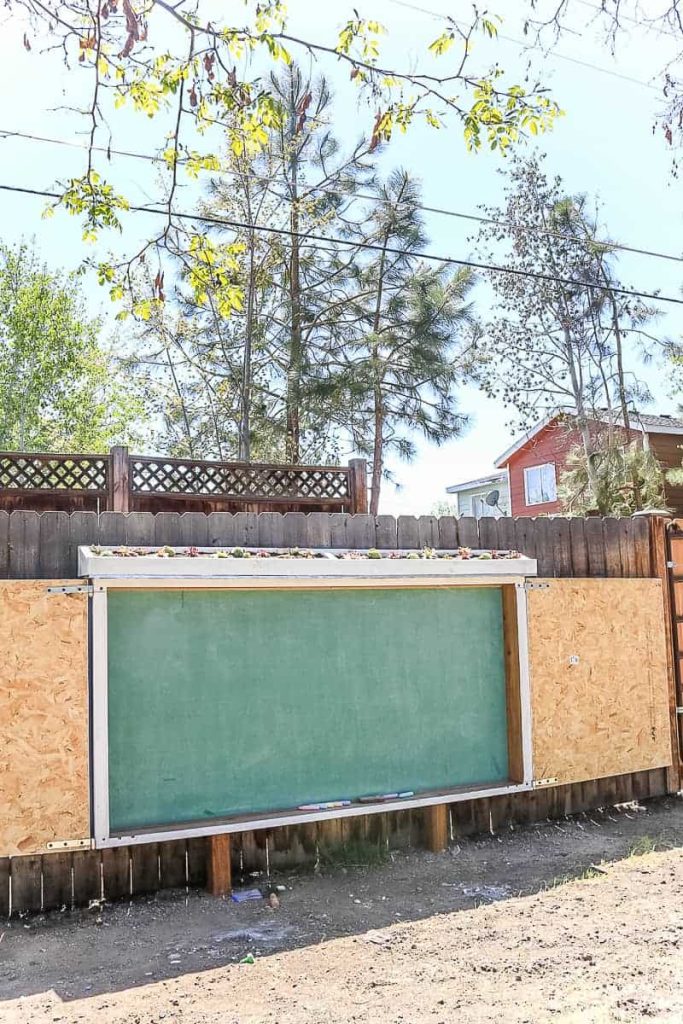 We also added this fun outdoor chalkboard with doors, complete with a live roof above with succulents! This has held up very well 2 years later and our kids use it all the time! Learn how to make this weatherproof outdoor chalkboard here.
But it still needed a backyard makeover…
Even with those small (and still meaningful updates), what the backyard REALLY needed was some attention with a big backyard makeover.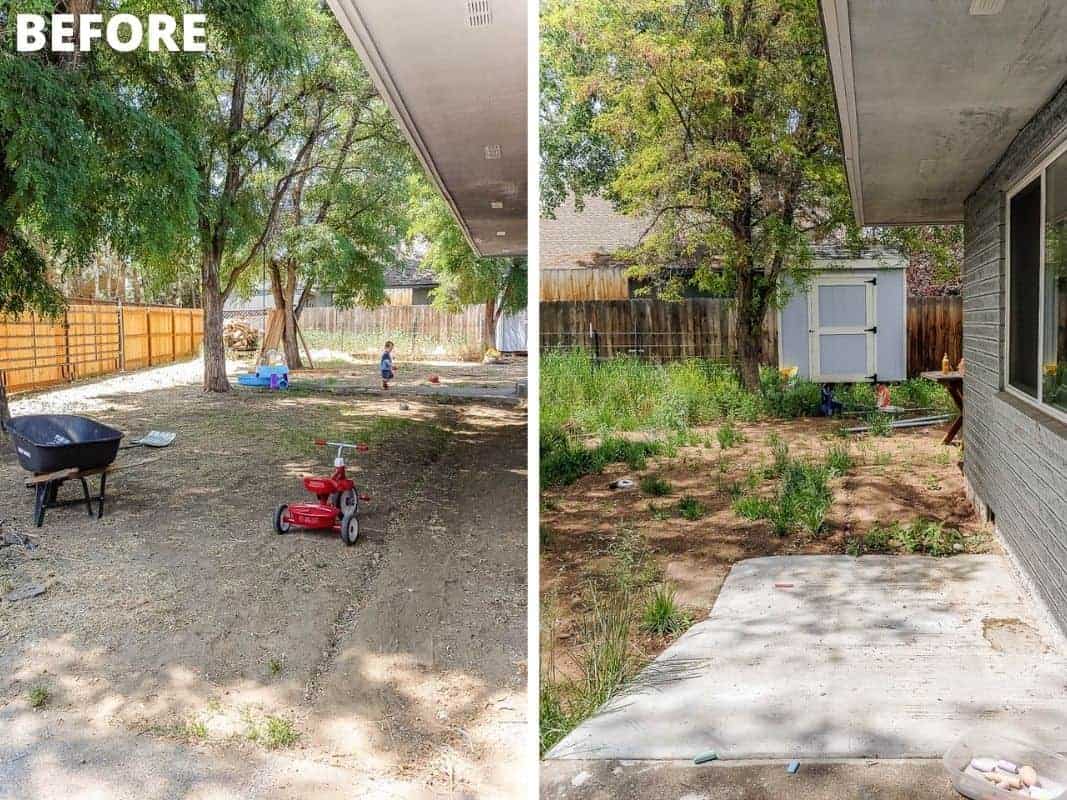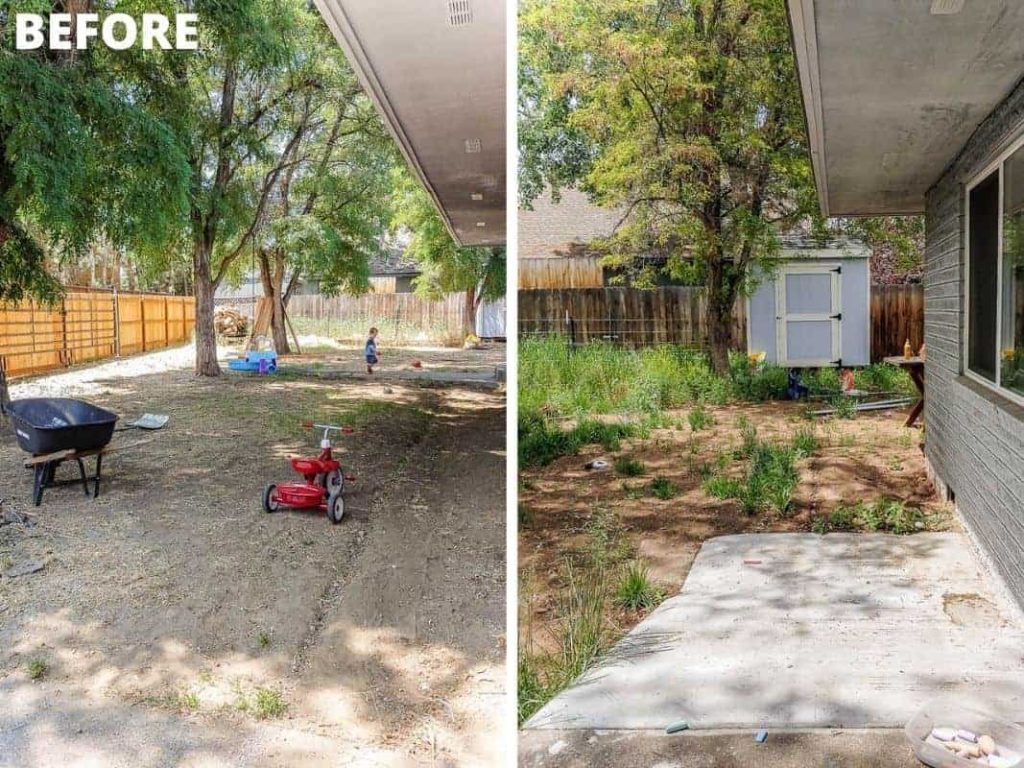 After the grass died back here (it wasn't anything special to begin with!), it was just a schedule of maintaining the weeds when they got too tall and the rest was just a dirty mess. We were always having to clean our shoes and change our clothes after playing out there because it was SO dusty!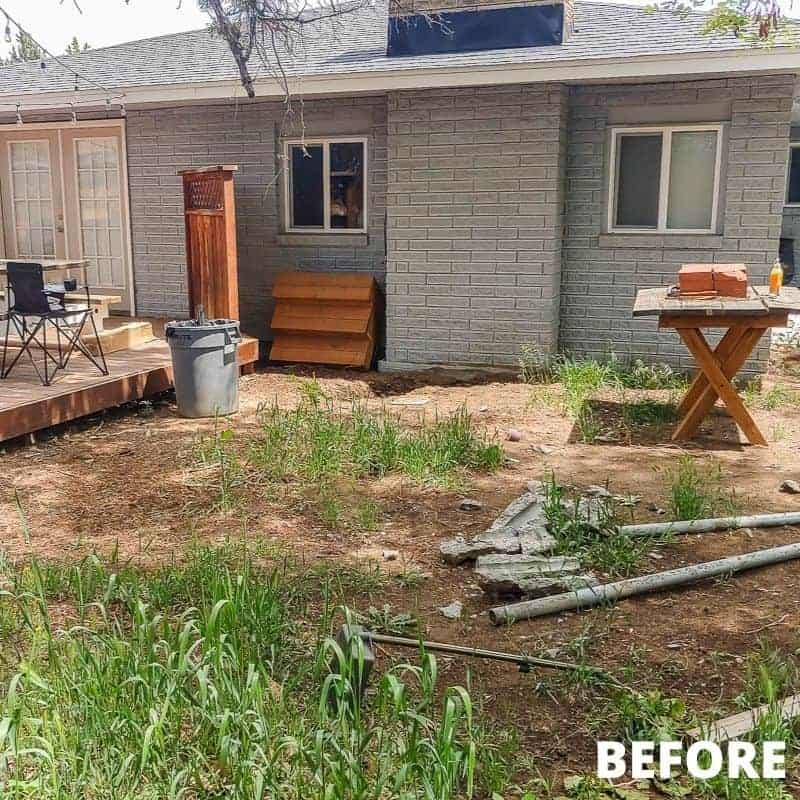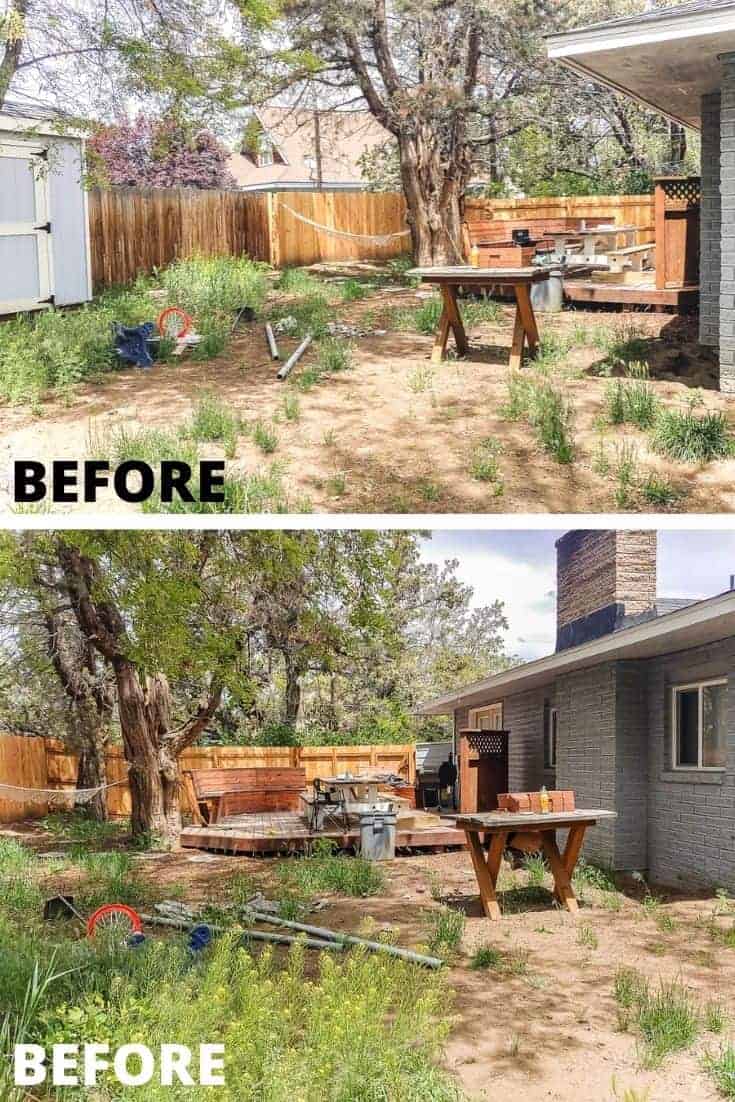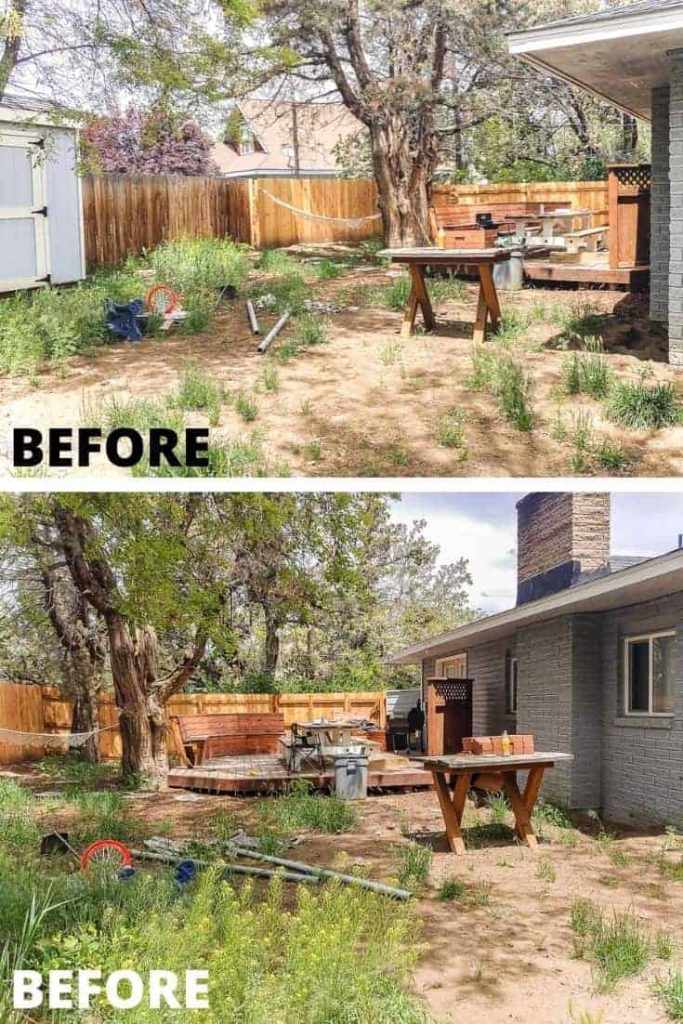 It was simply a mess! We knew that we were going to tackle the backyard renovations in 2020, so we kinda just "let things go" back here while we continued to work on the interiors.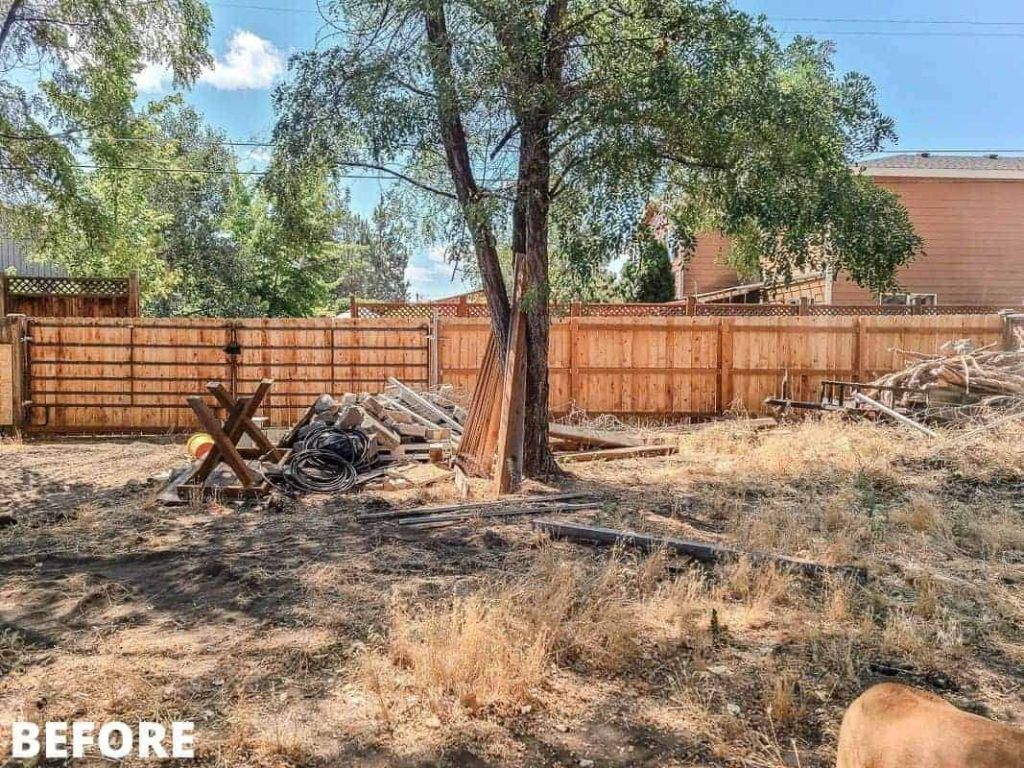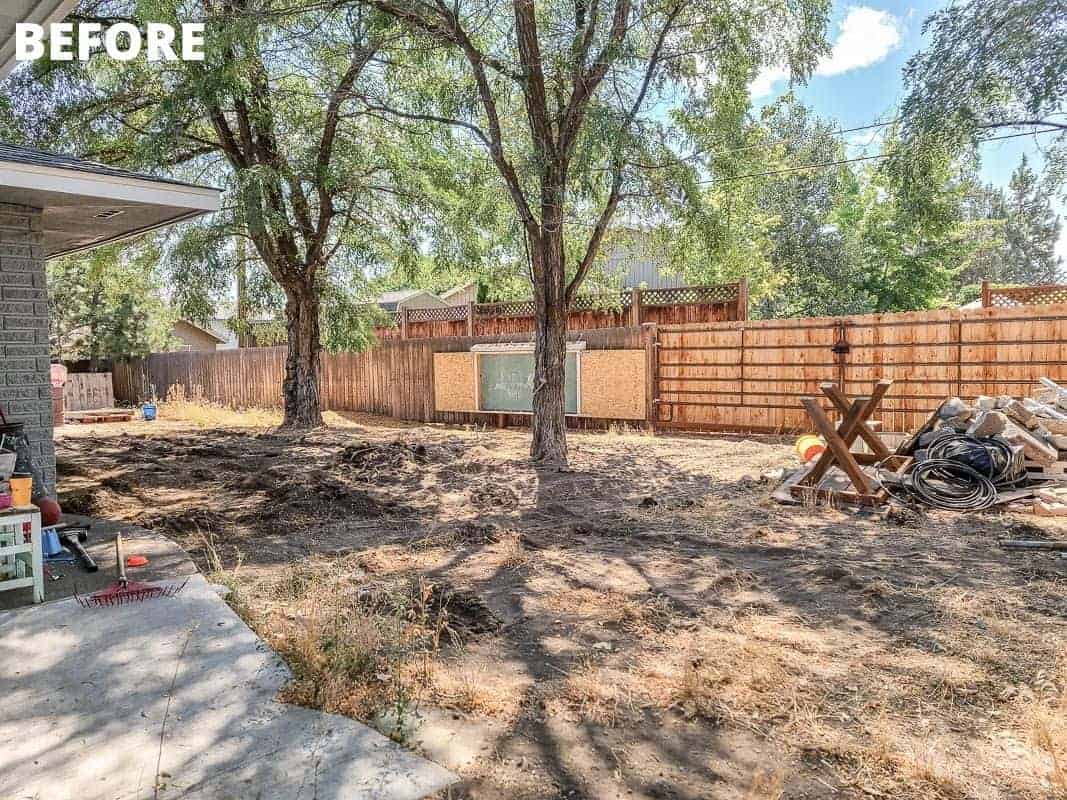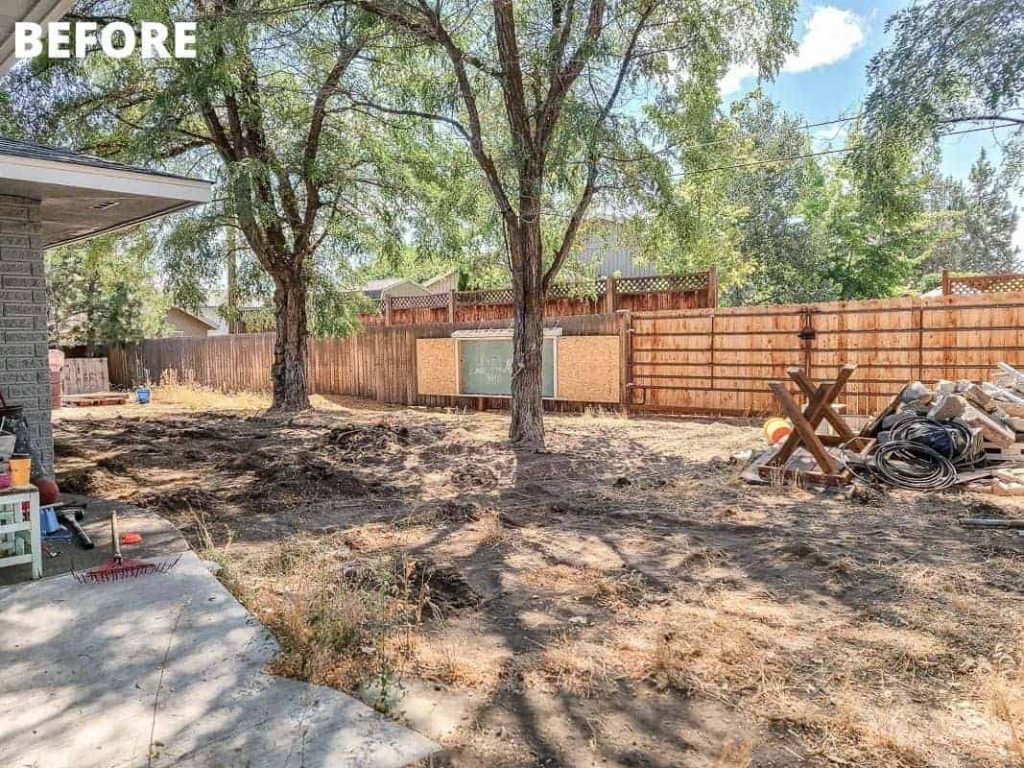 It all started coming together when we made a plan. You can learn more about our family friendly backyard plan here.
Our Backyard Renovation Plan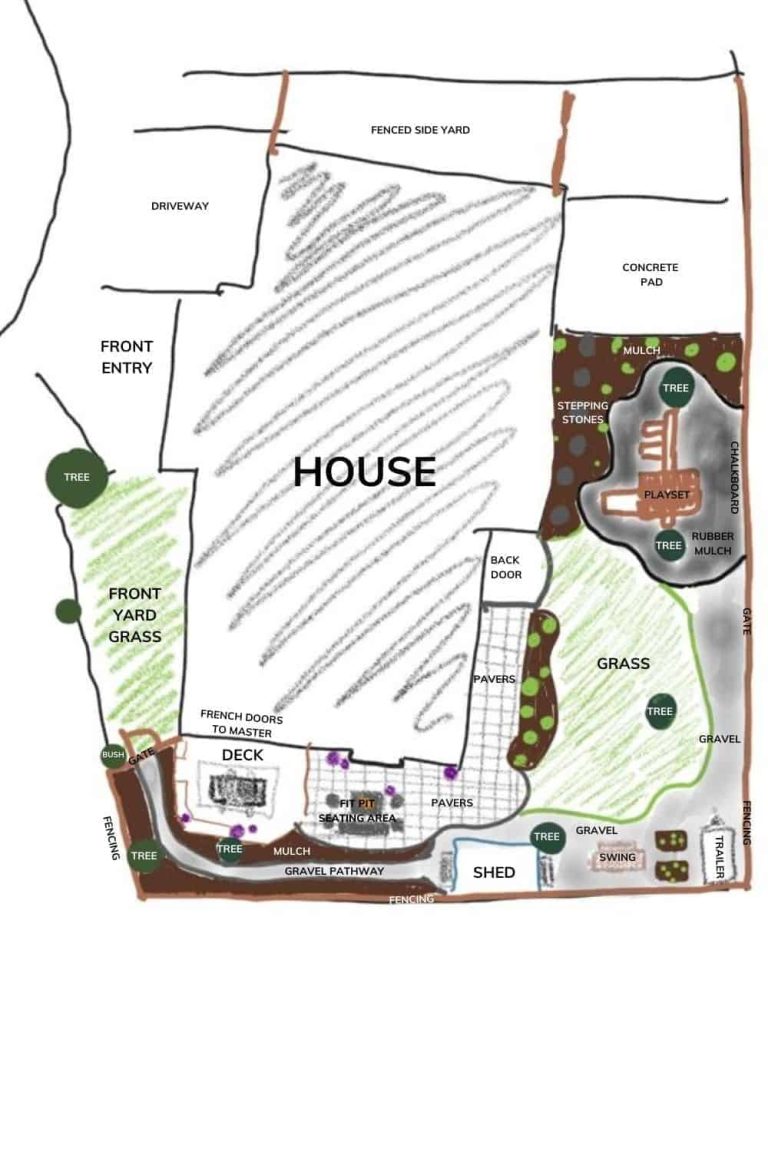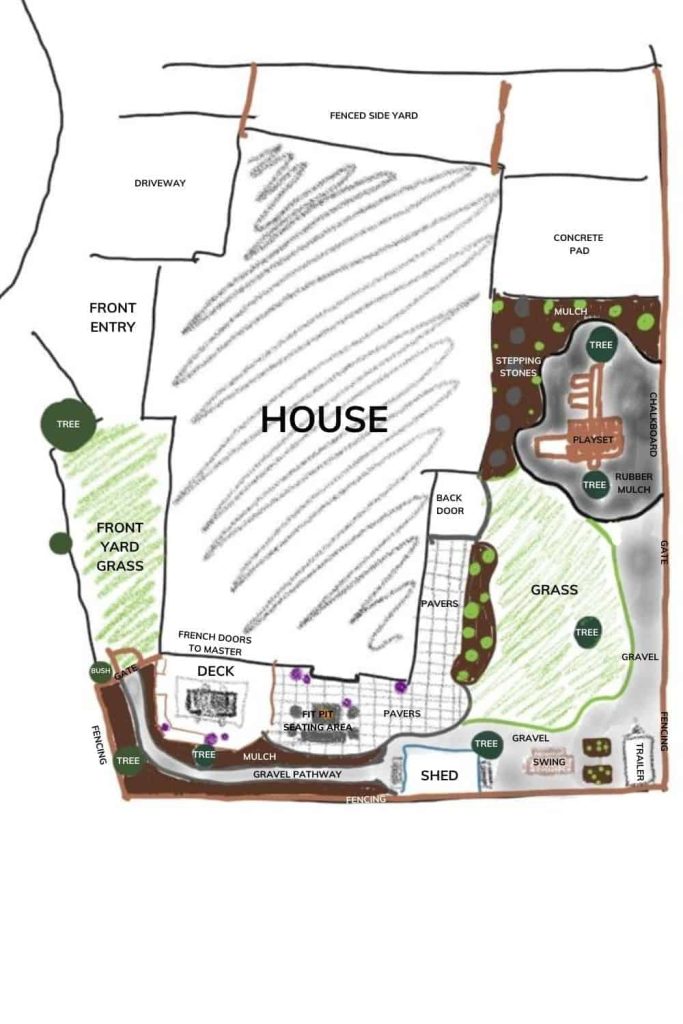 But (as with most things in 2020) things changed. As soon as we ordered the playset and did some more measuring (for what seemed like the 1000th time), we made the mutual decision to move the playset over and extend the grass area.
This was for a few reasons:
We could have a better safety perimeter around the playground
We could see the playset from the deck and seating area on the paver patio…And there's just something appealing about being able to sit there while the kids played without having to get up and peek our heads around the corner to check on them.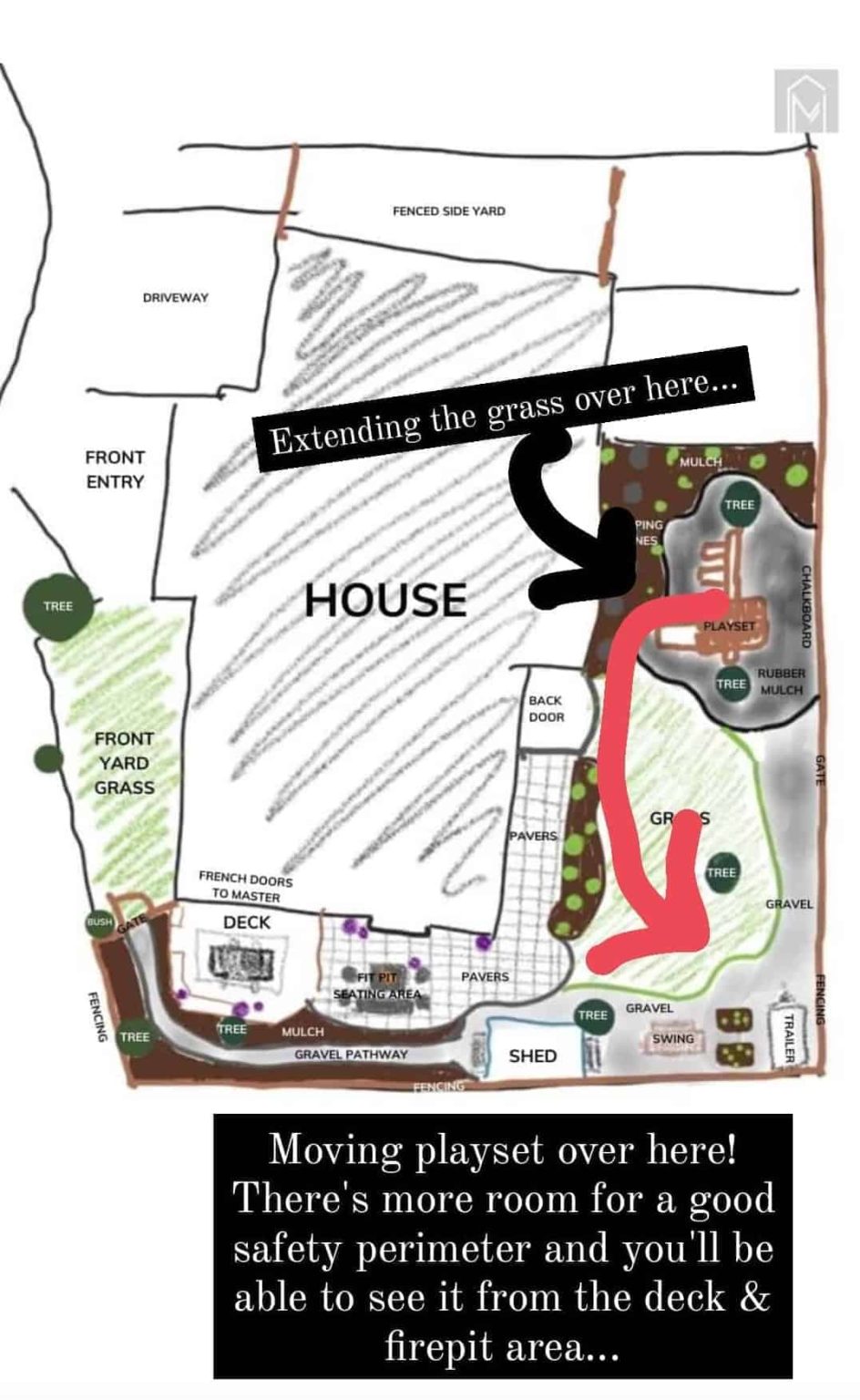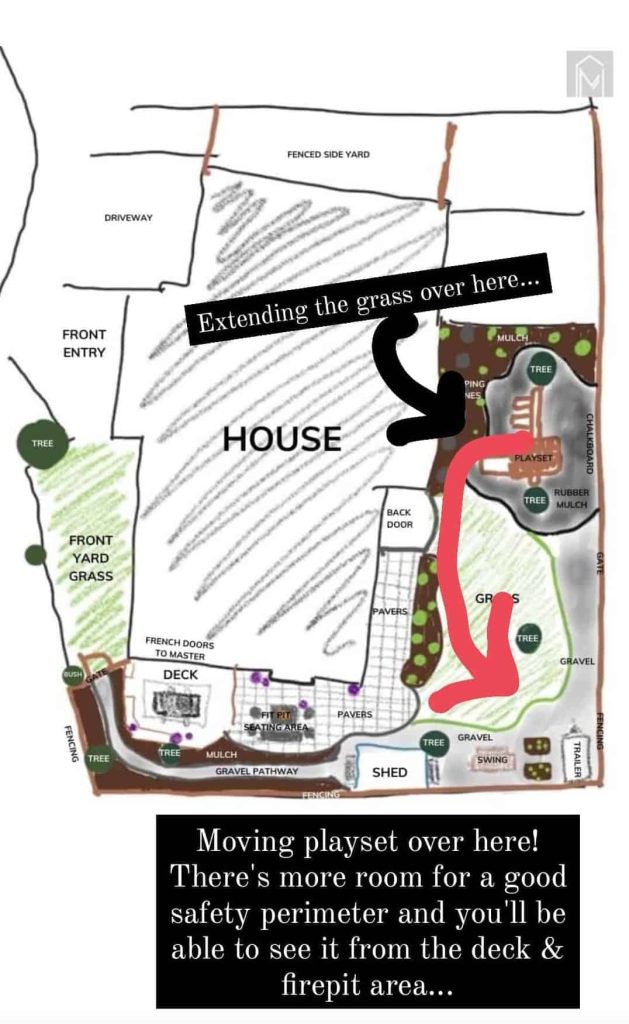 And so the backyard renovations begin…
Phase 1. Level out the entire yard and clear the weeds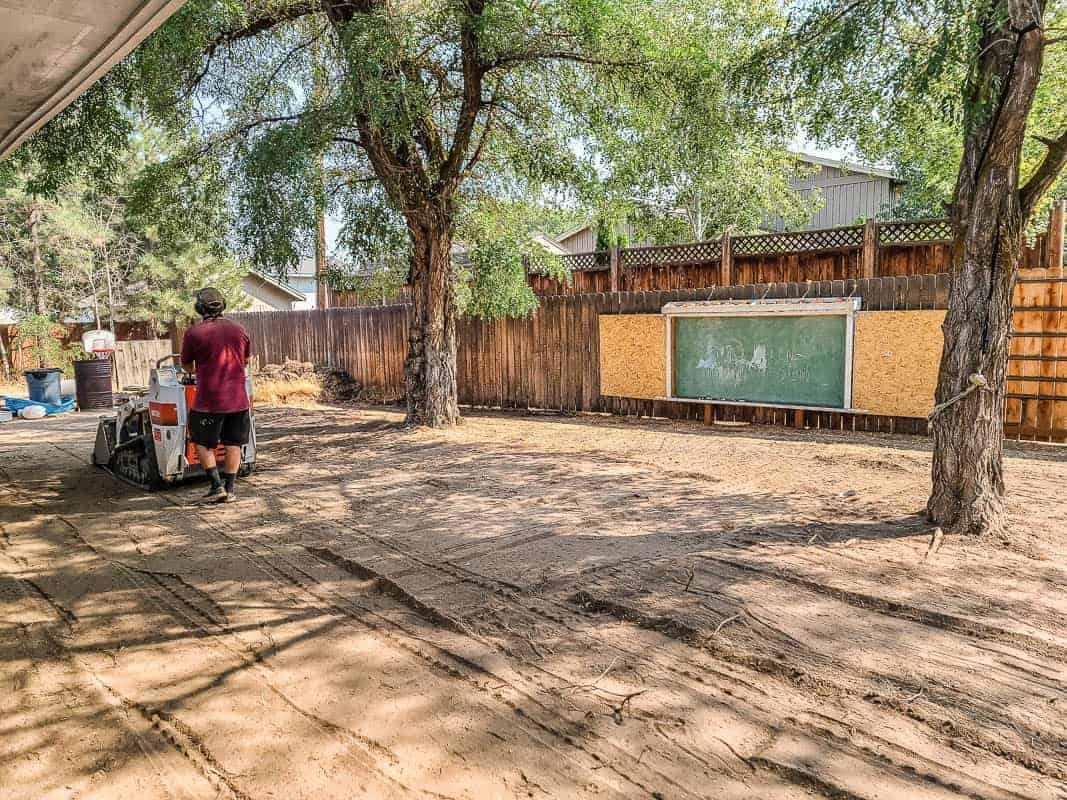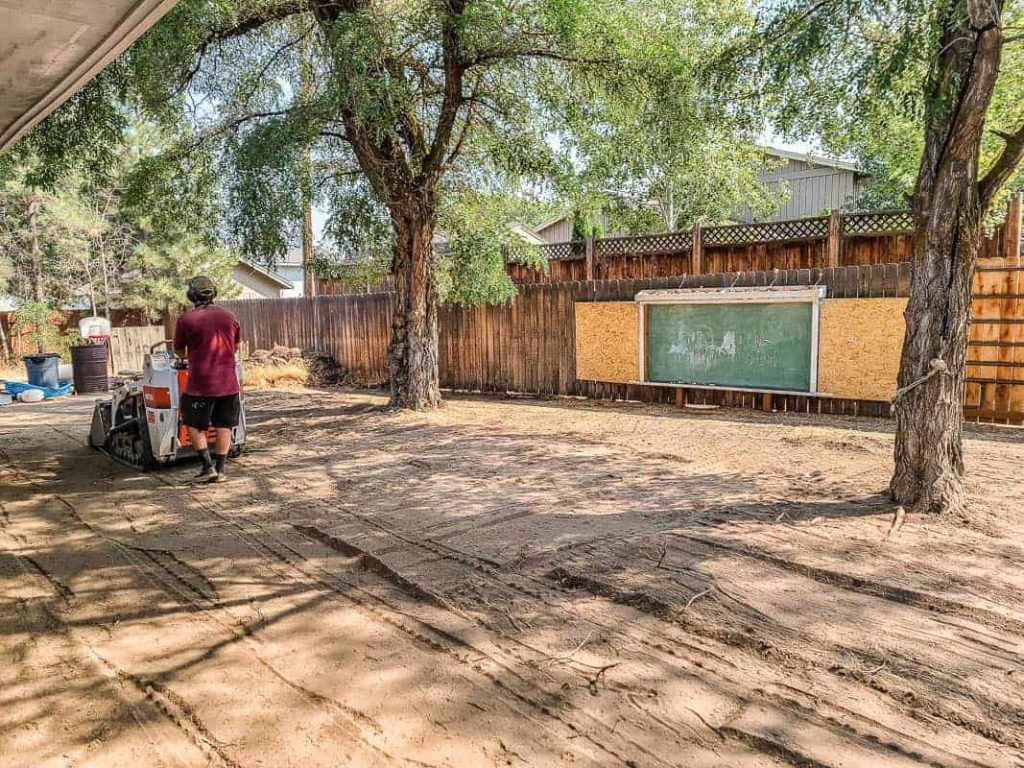 We started off by clearing all the clutter and junk up. Several trips to the dump later, we brought in a rented mini track loader to move dirt where needed and level everything nice and flat.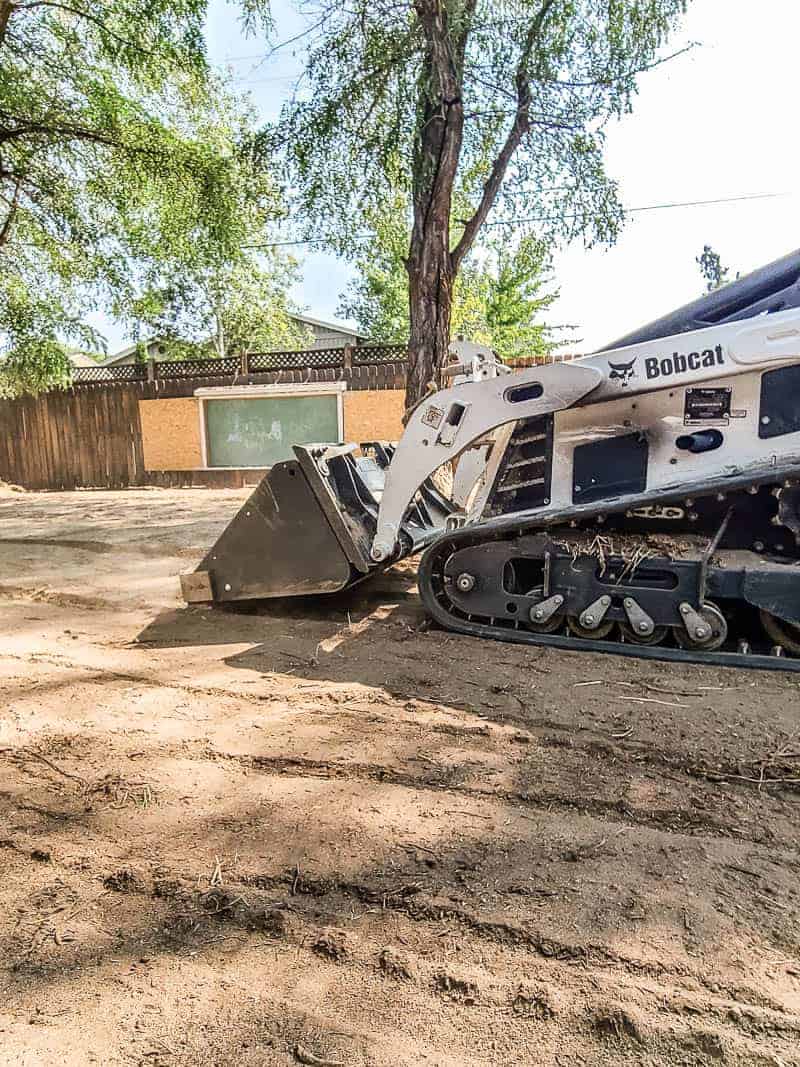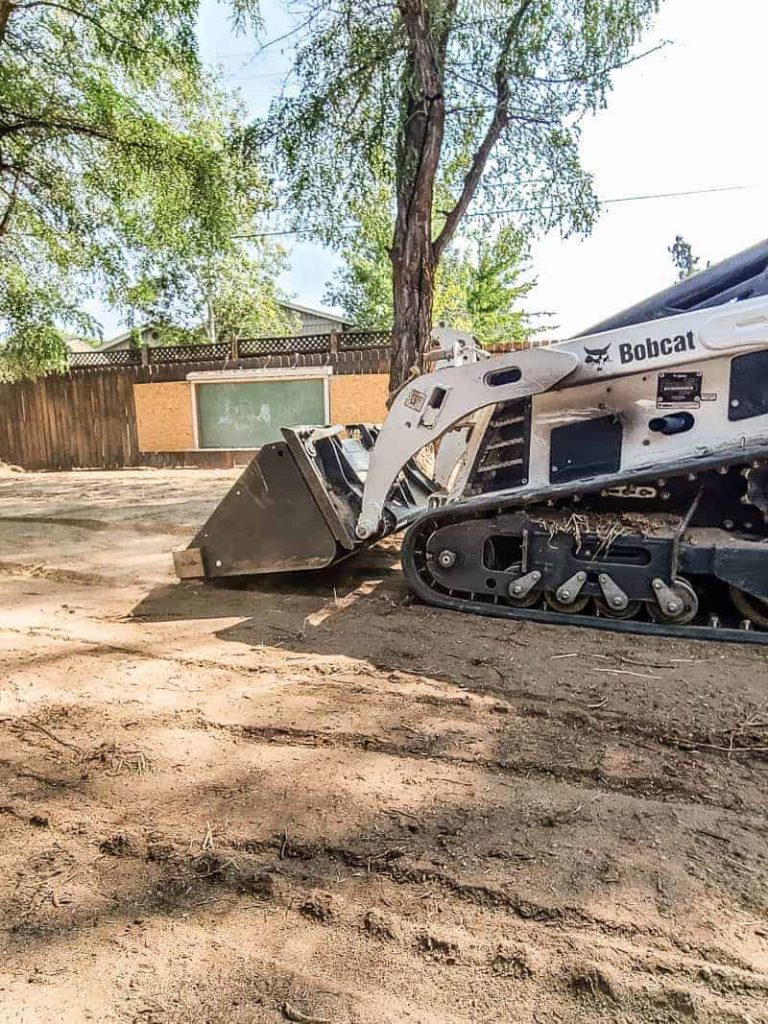 We used this mini track loader (may also be called mini skid steer) all weekend to level out the backyard.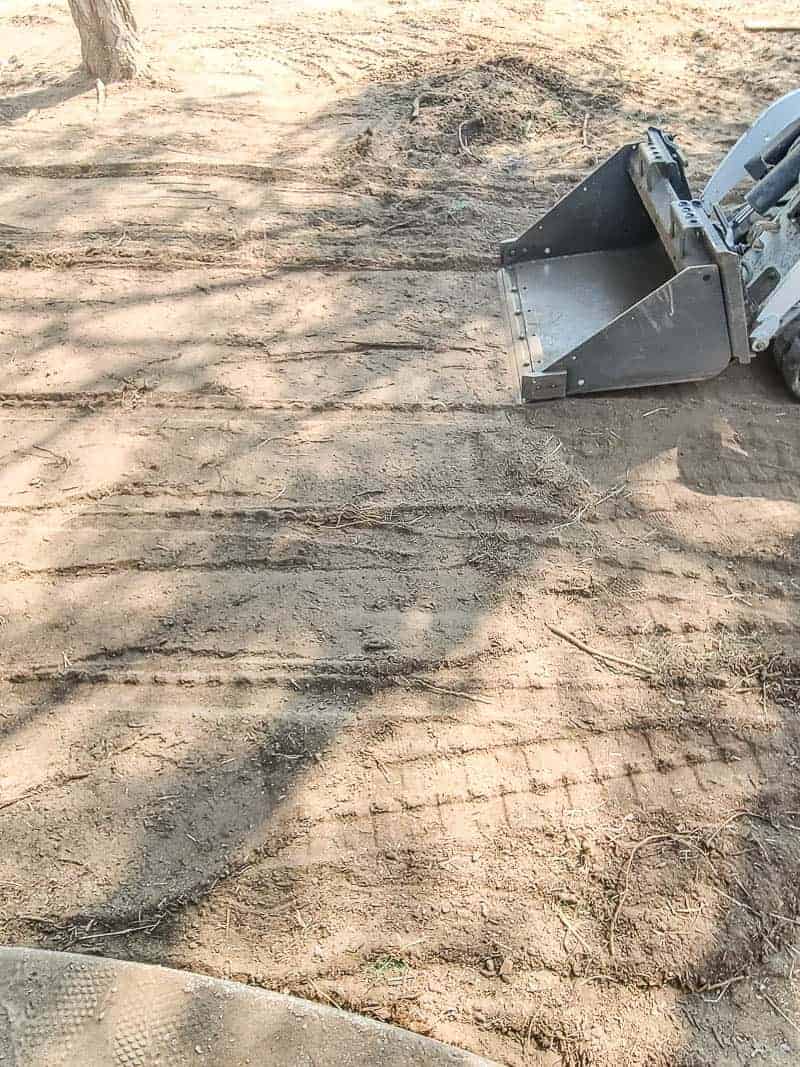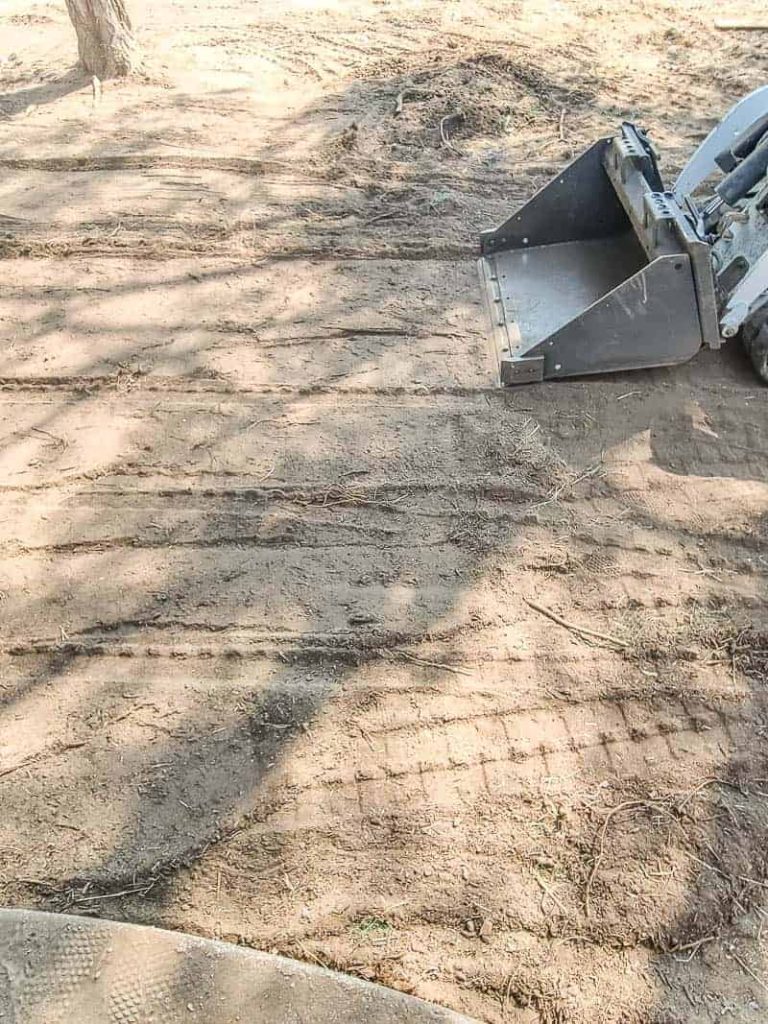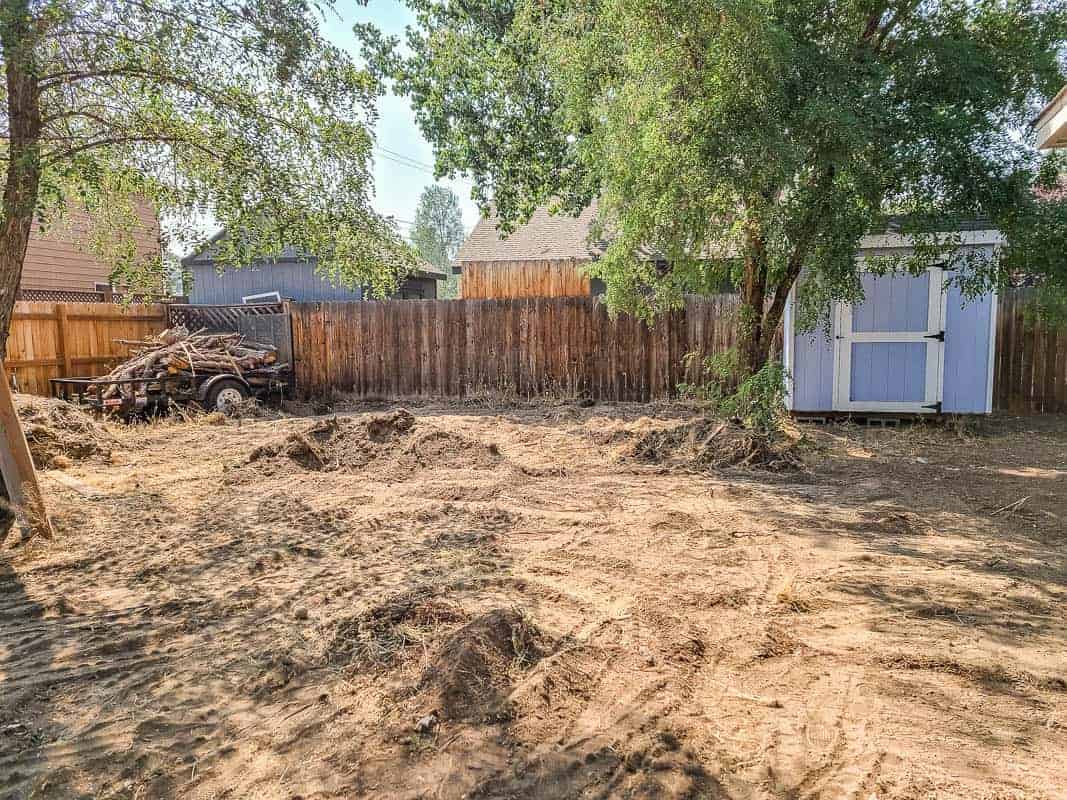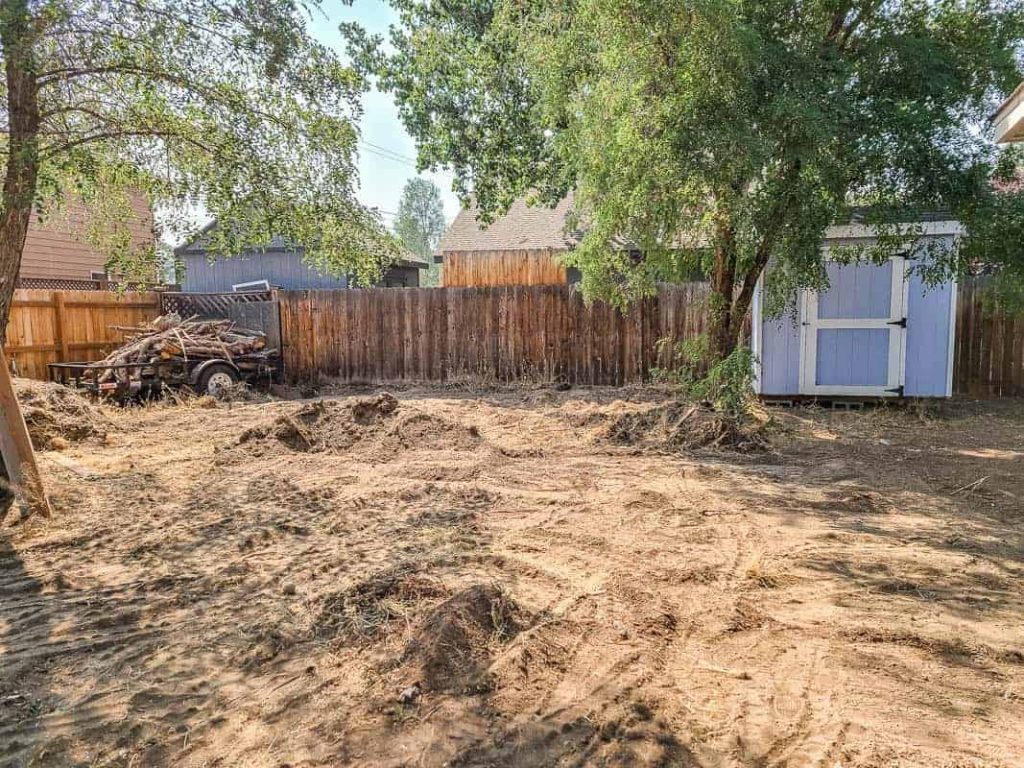 It also worked great for picking up large pieces of broken concrete and some chainlink fence pieces. We were able to load them in the front bucket and have the machine lift them up into Logan's truck, which definitely saved our backs.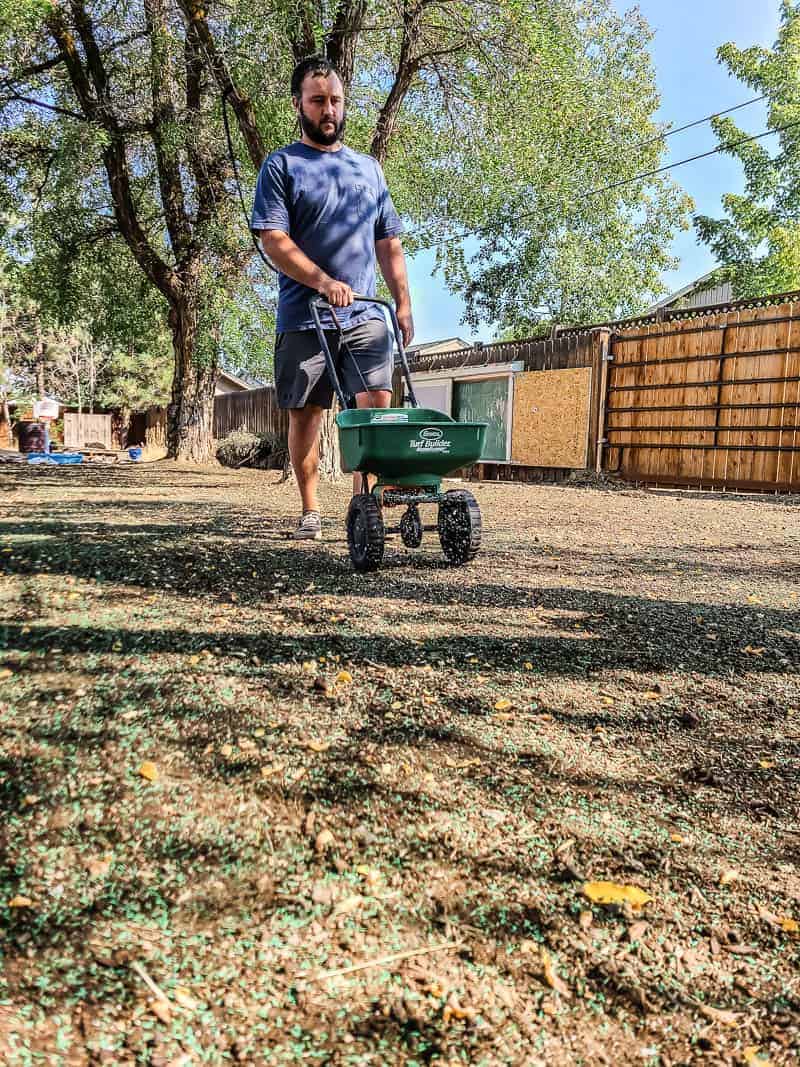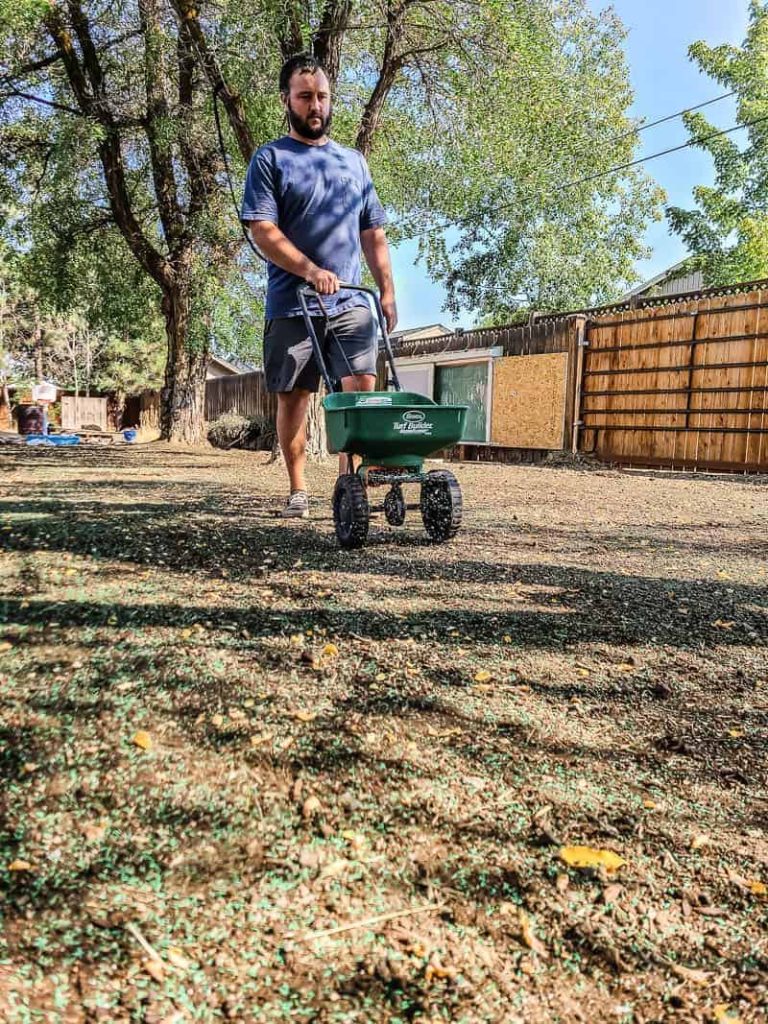 Phase 2. Plant new grass
Next order of business was planting grass seed. We marked off the yard with stakes and used this grass seed. It was ready to mow and able to walk on after about 4-5 weeks. Learn how to plant grass seed in your backyard.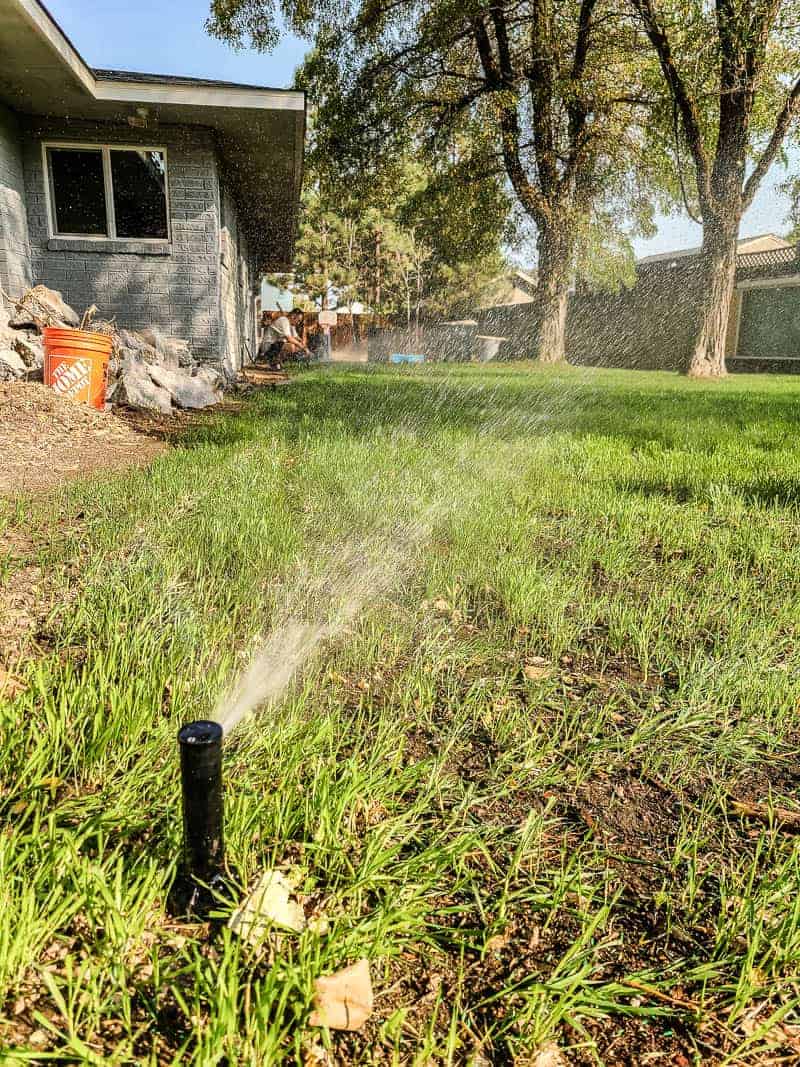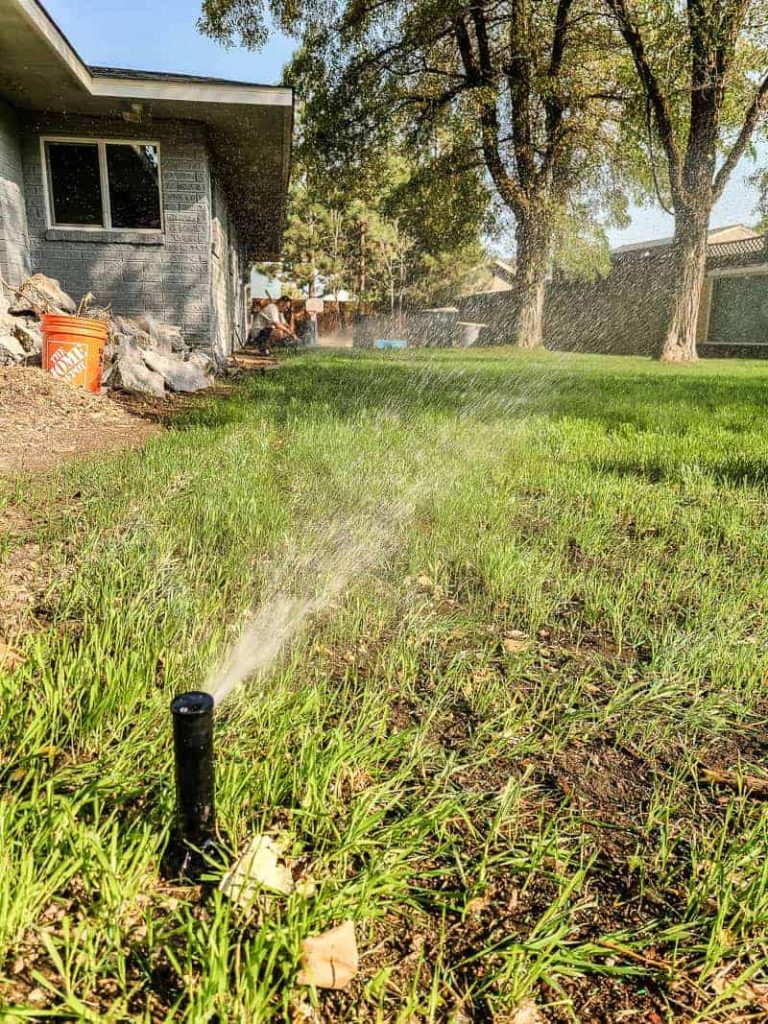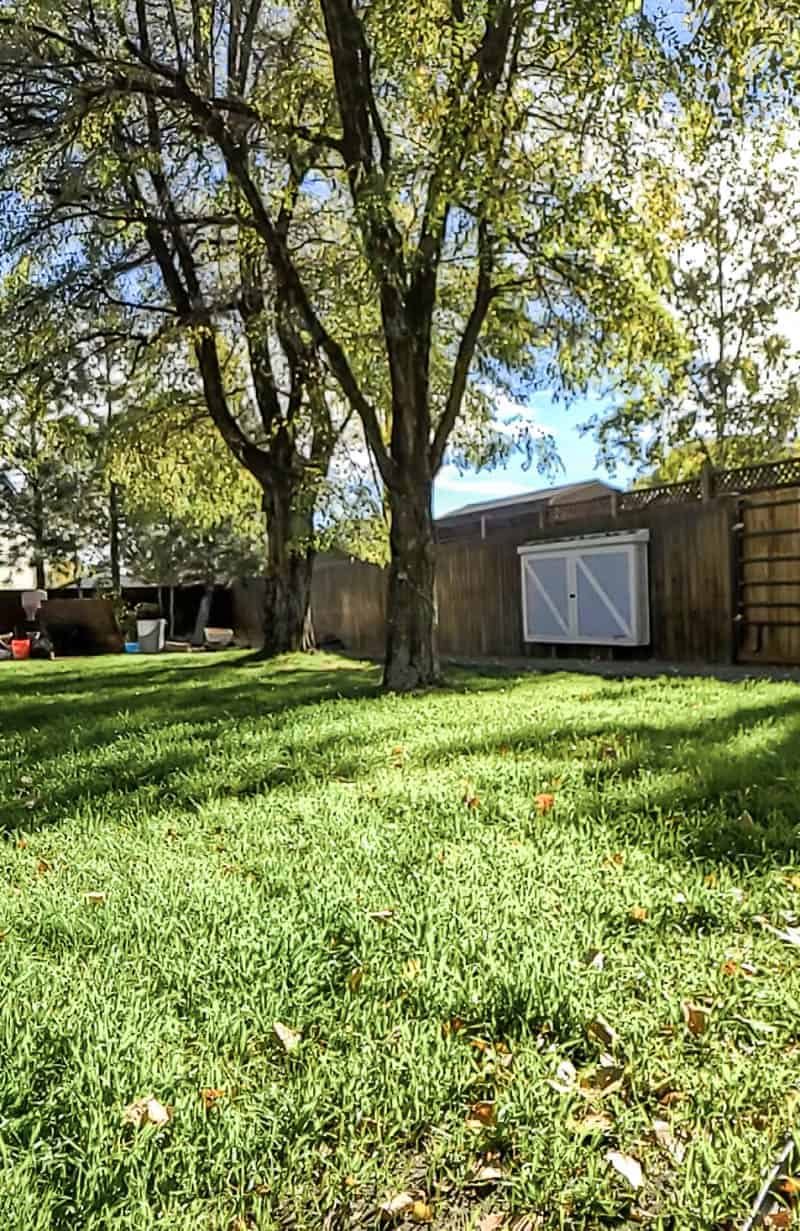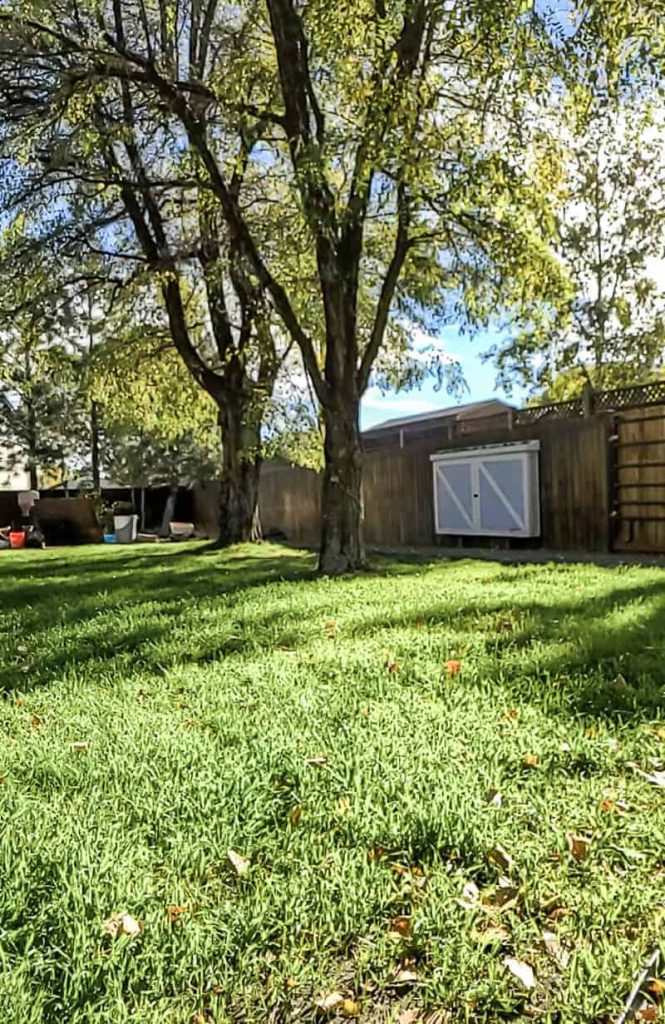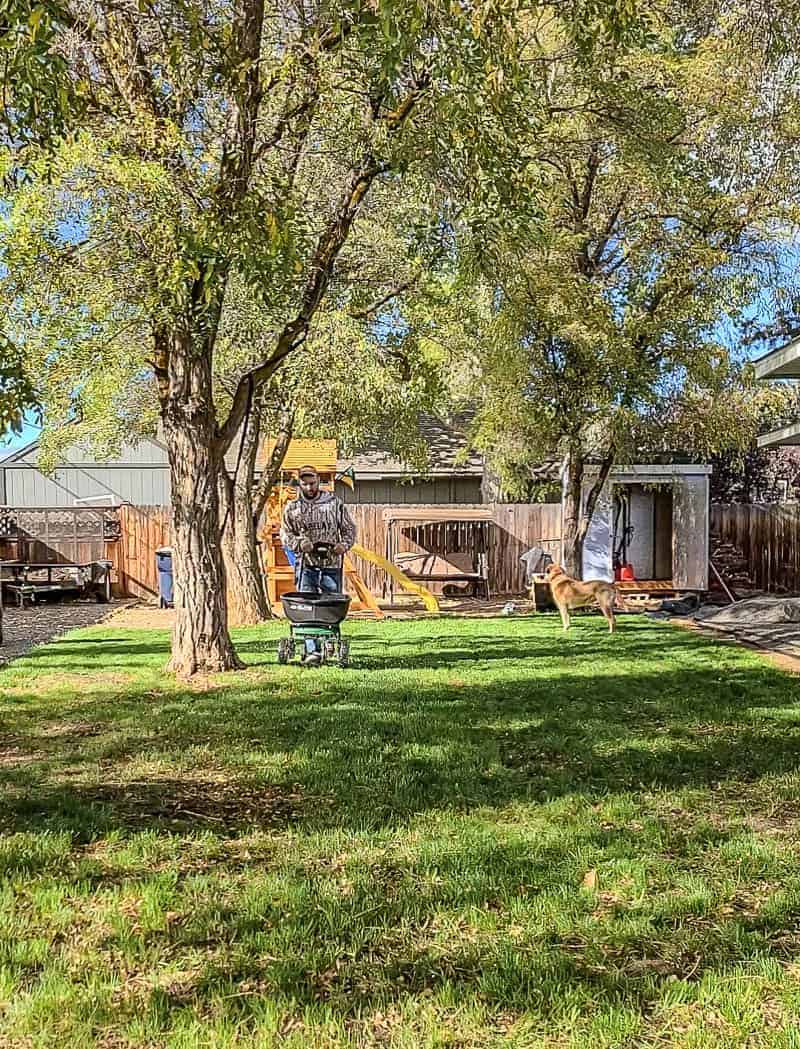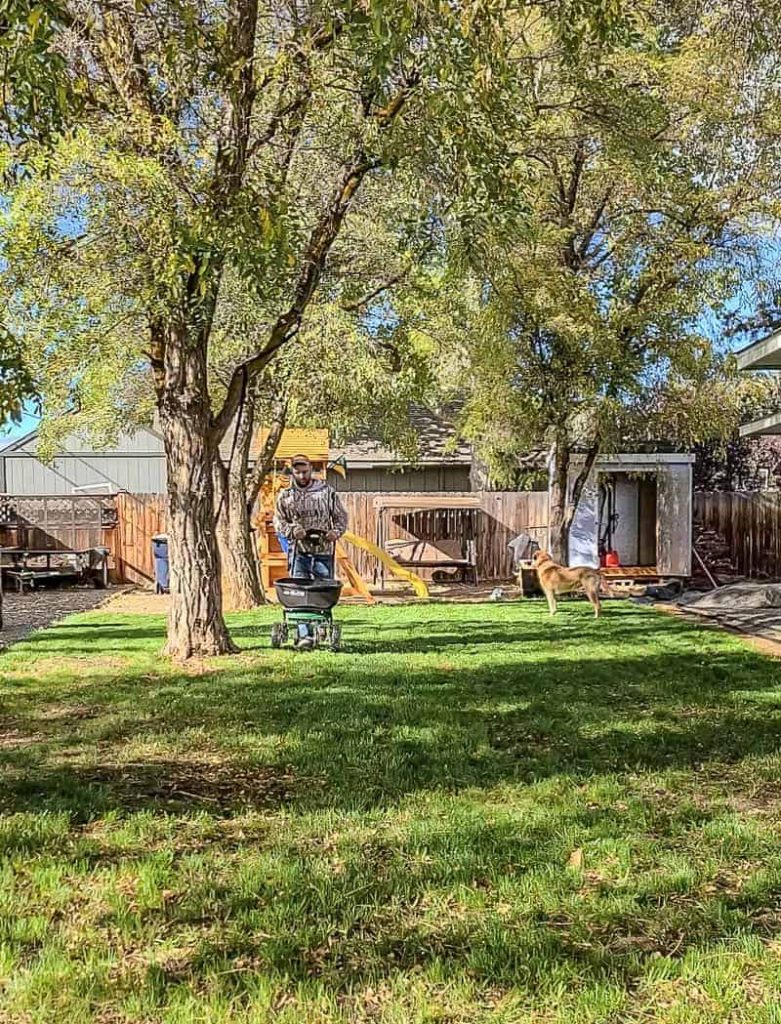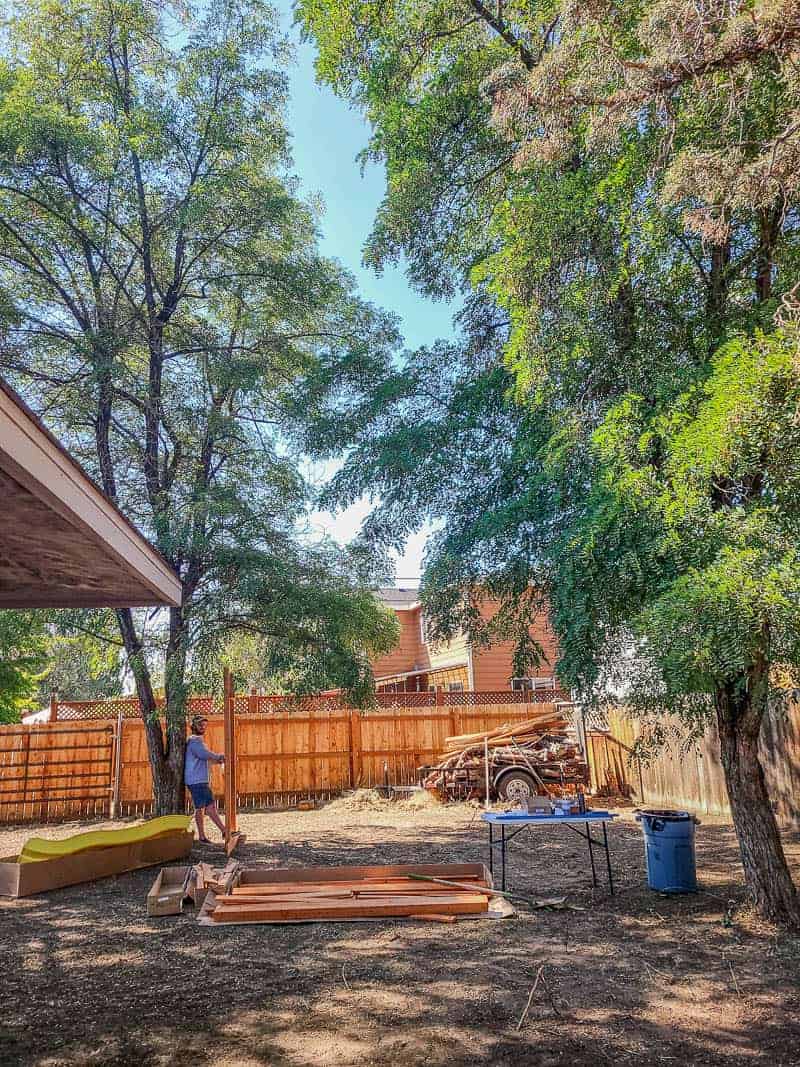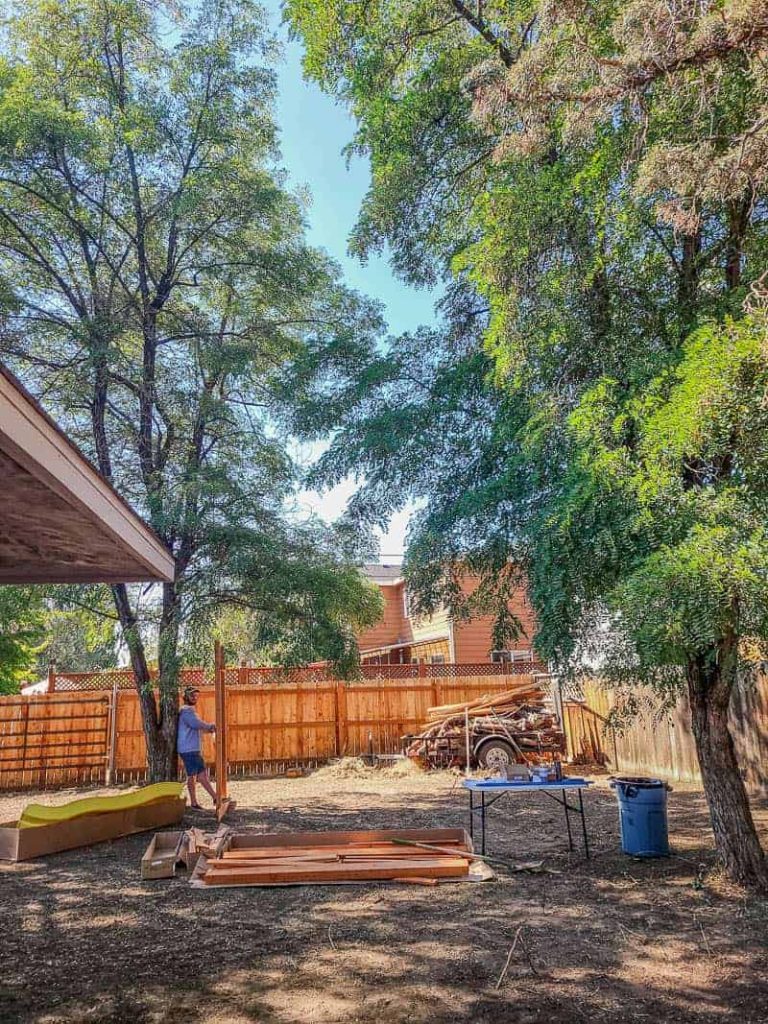 Phase 3. Set up playground.
While the grass was growing, we switched gears to the playground. It took Logan a day or two to assemble it and the kids were SO excited to play on it.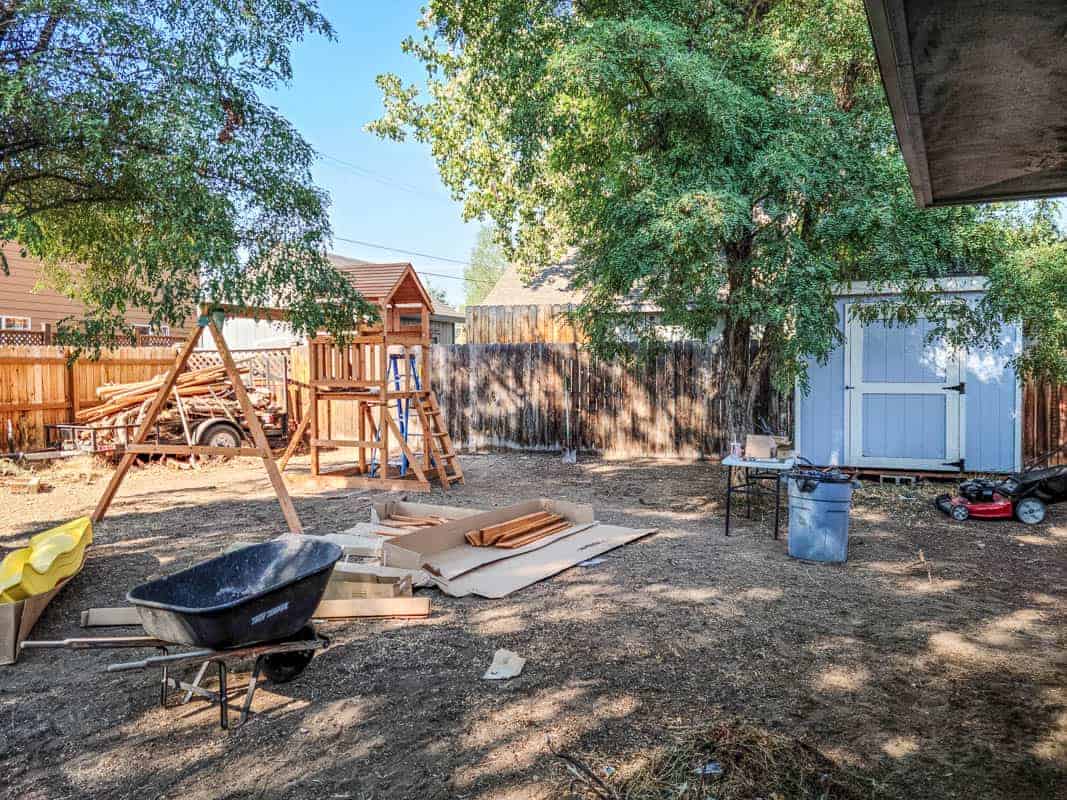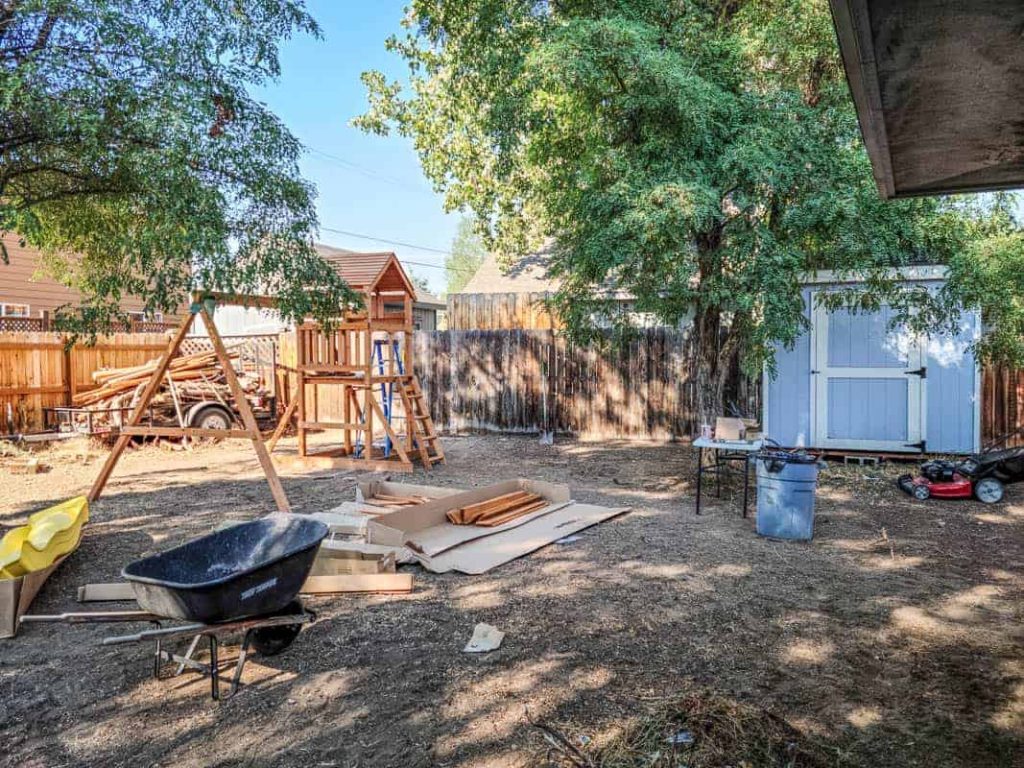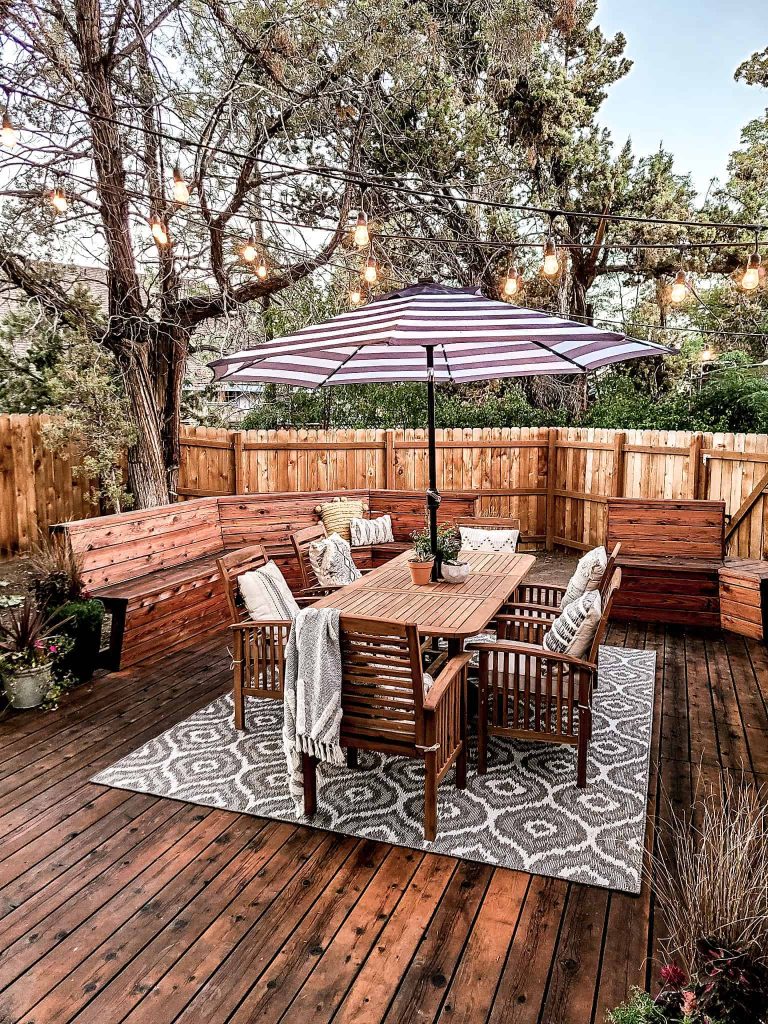 Phase 4. Refresh wood deck furniture & decor.
With the whole backyard getting a makeover, the wood deck furniture needed some love. The table we had made years ago was damaged (we left uncovered for a couple years, it was bound to happen).
We replaced everything and it was looking so pretty and cozy! Learn more about how to create a cozy patio here (which includes links to all the sources).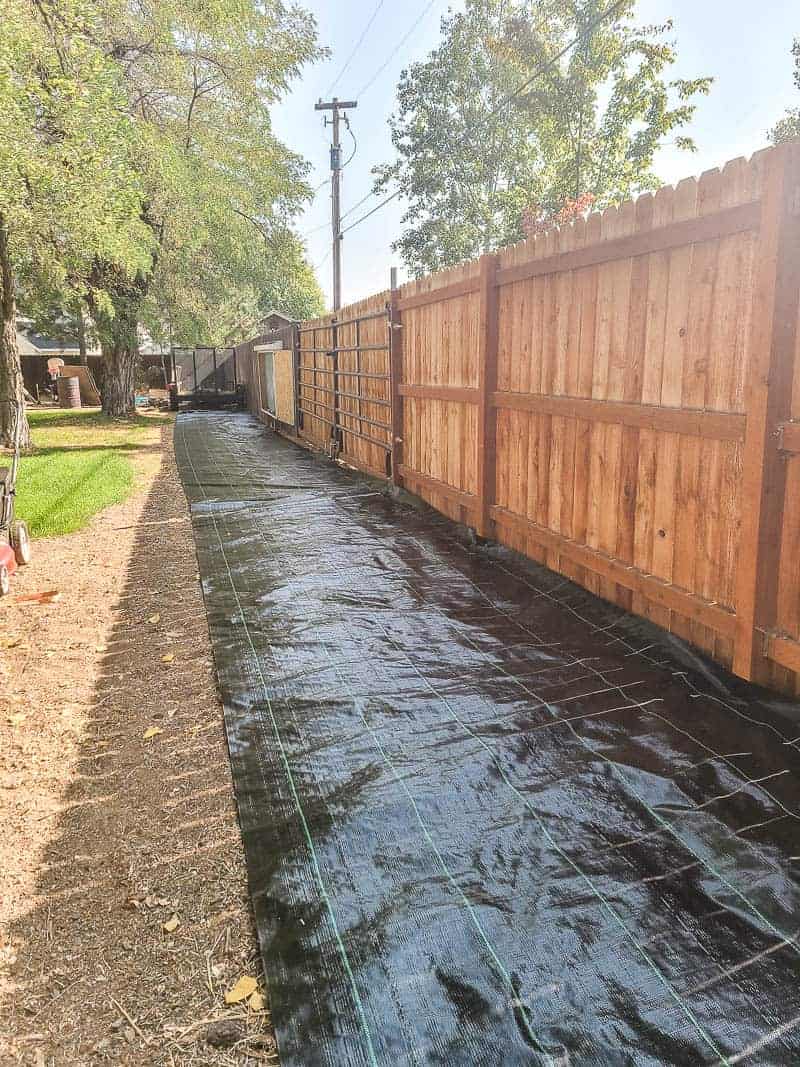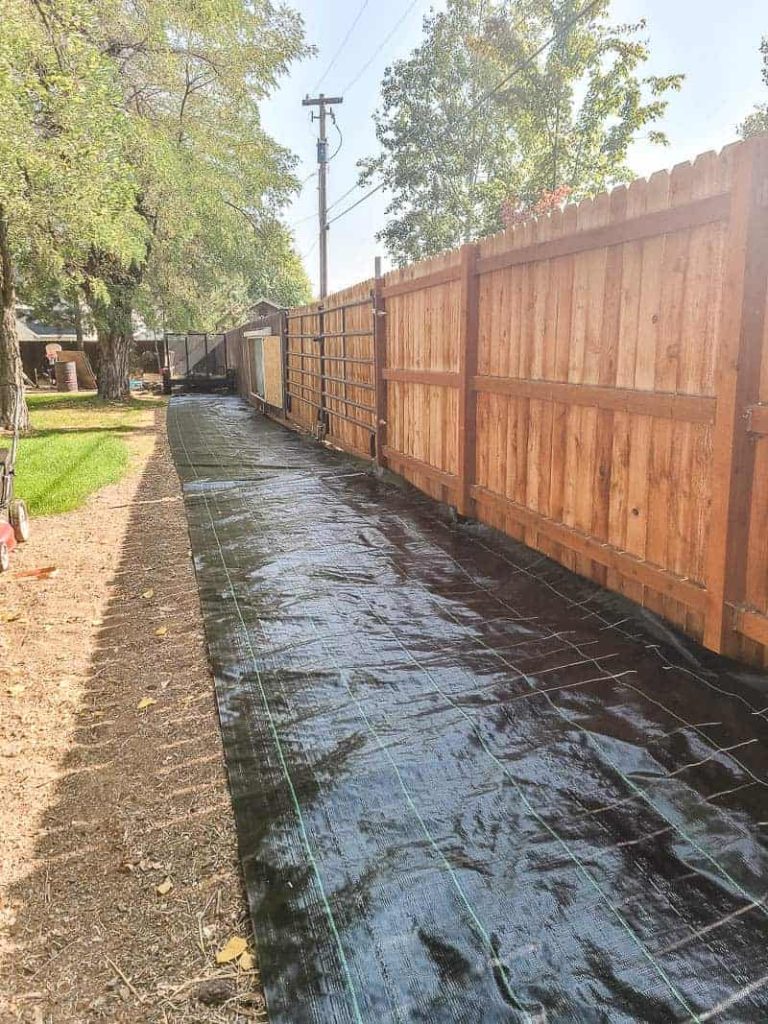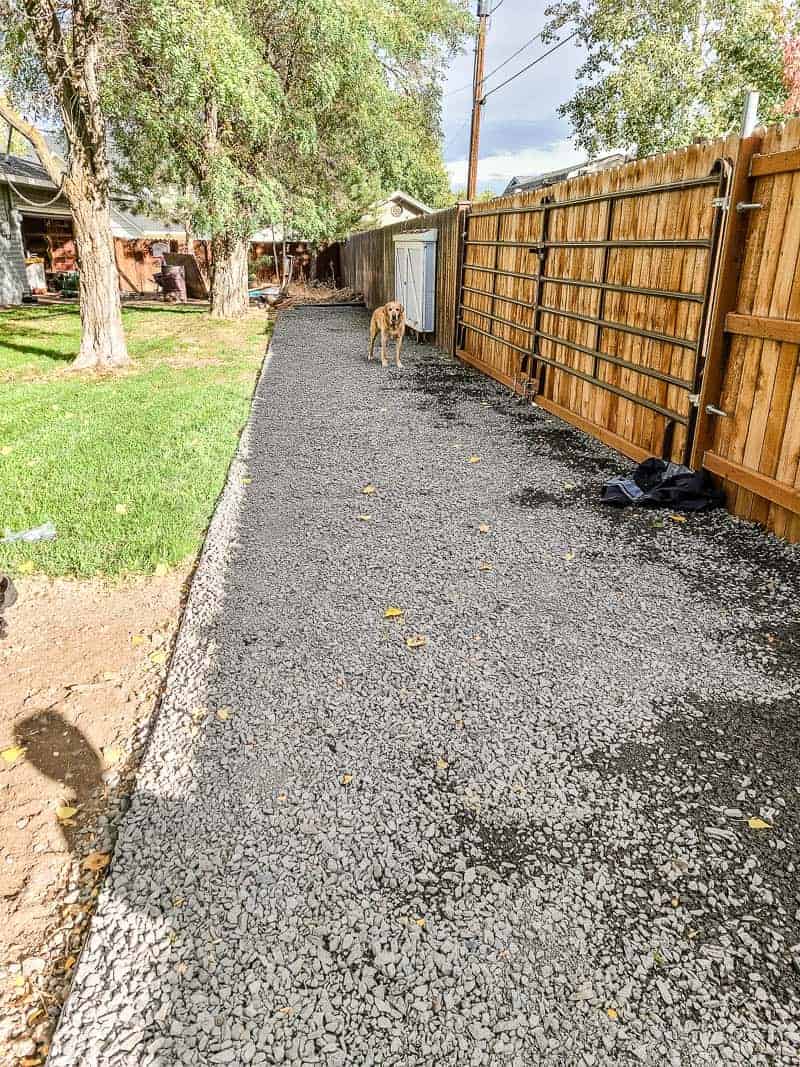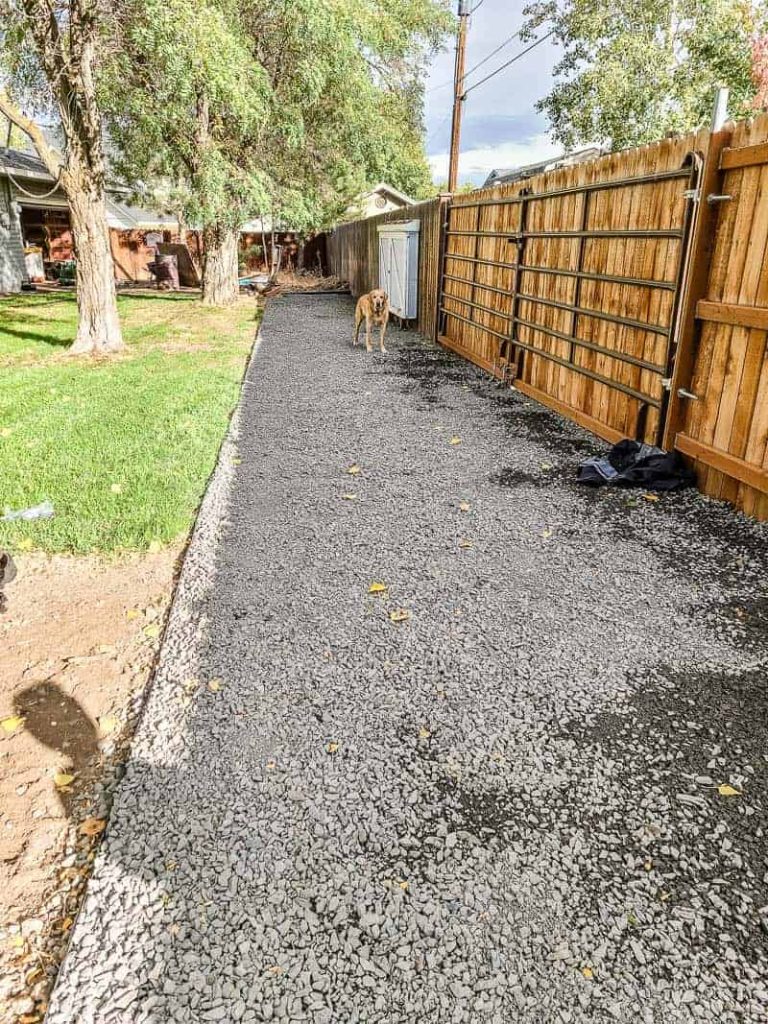 Phase 5. Add edging & gravel.
Next we added landscape fabric and 3/4 minus (sometimes called "state spec") gravel to the back area along the fence. This will prevent weeds from popping up and still provide a nice walkway and even driveway for our storage trailer, which is parked back here.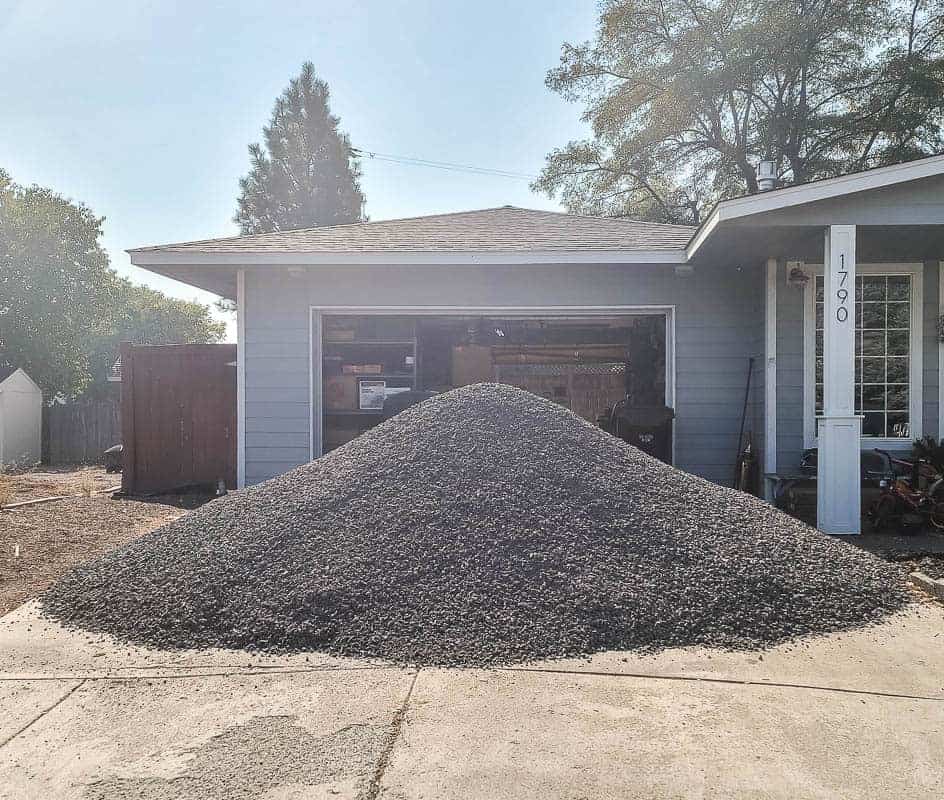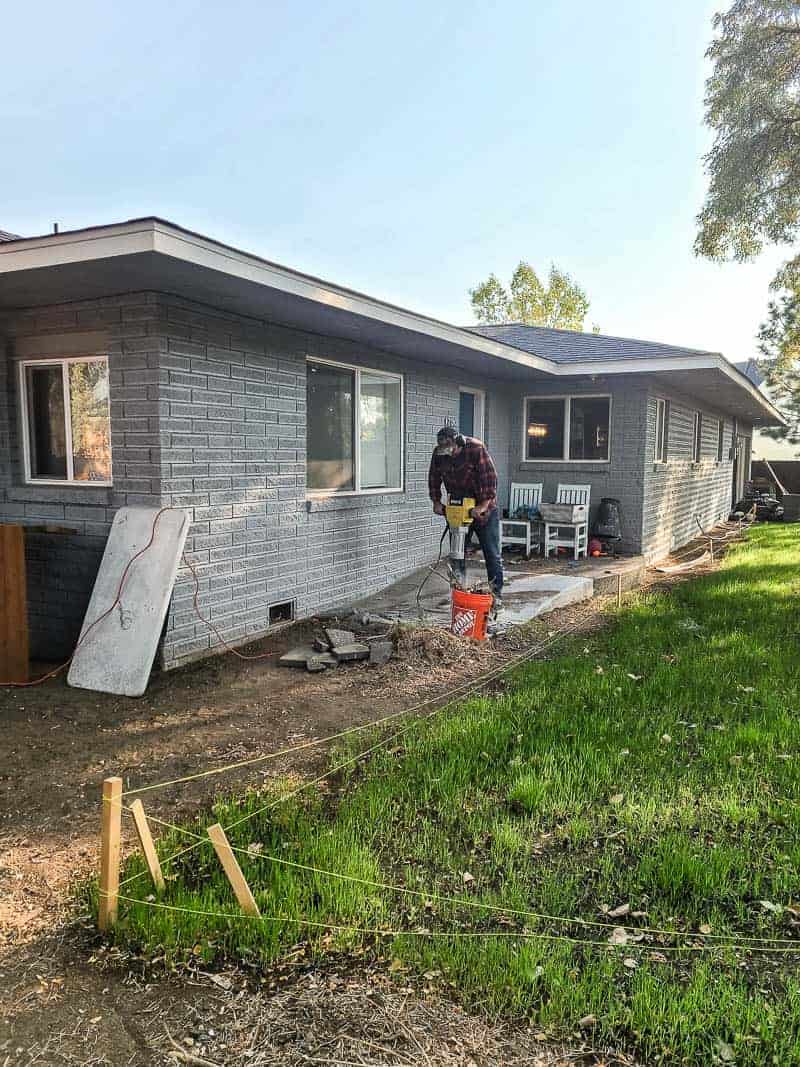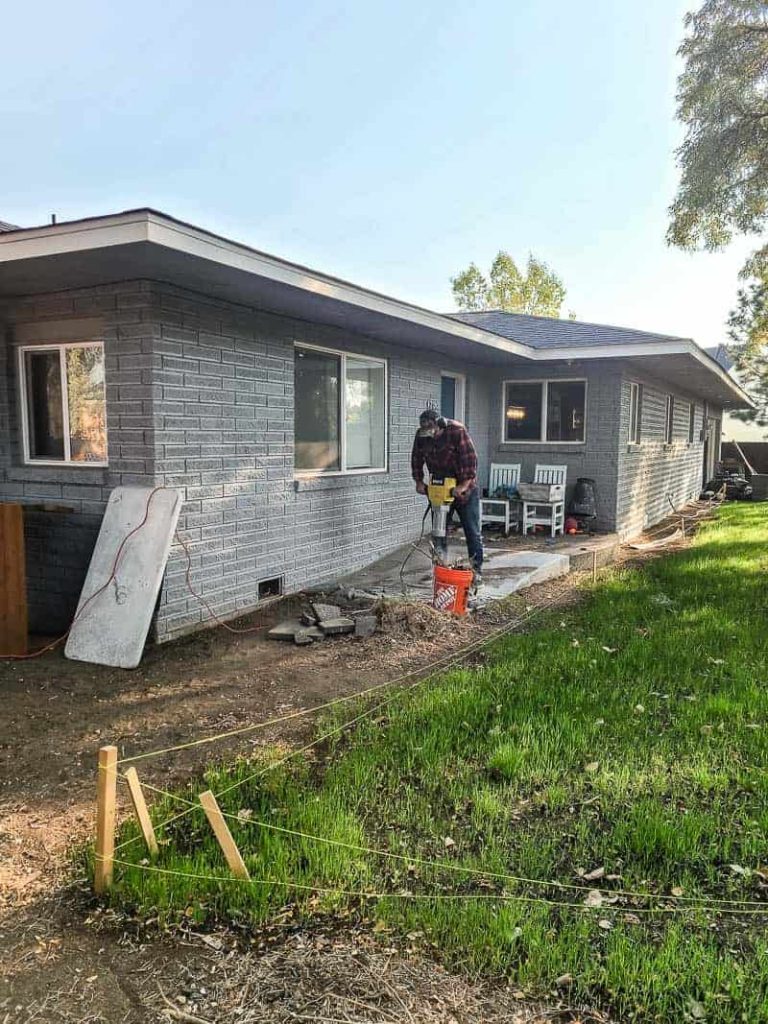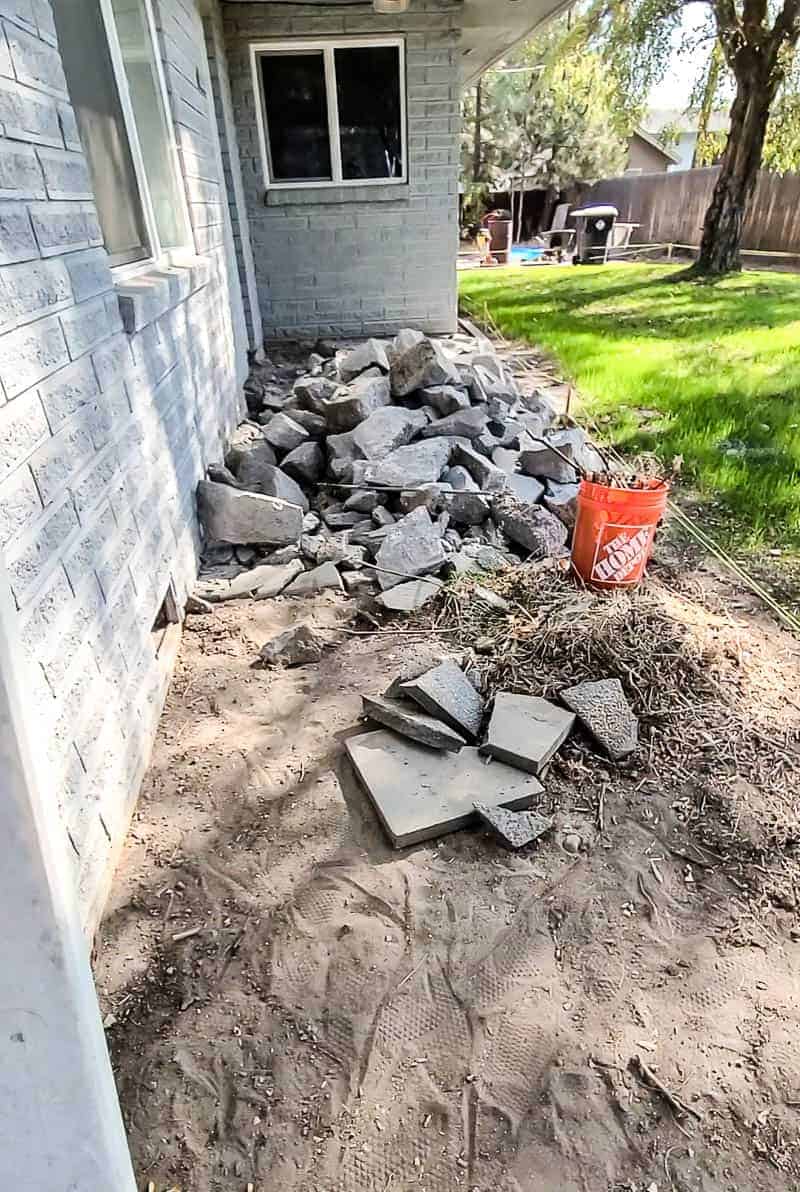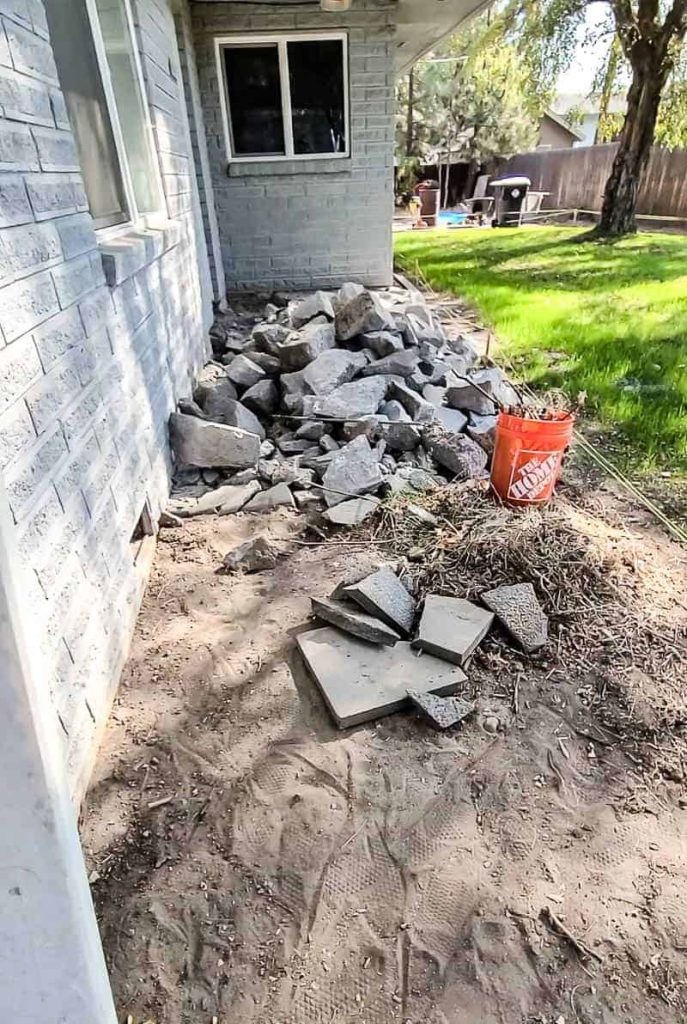 We also removed the concrete pad and ramp at the back door, which was damaged. We rented a jack hammer to tackle this job.
Once it was out, we put down landscape fabric and gravel. Next year we plan to add a wood deck there, so stay tuned!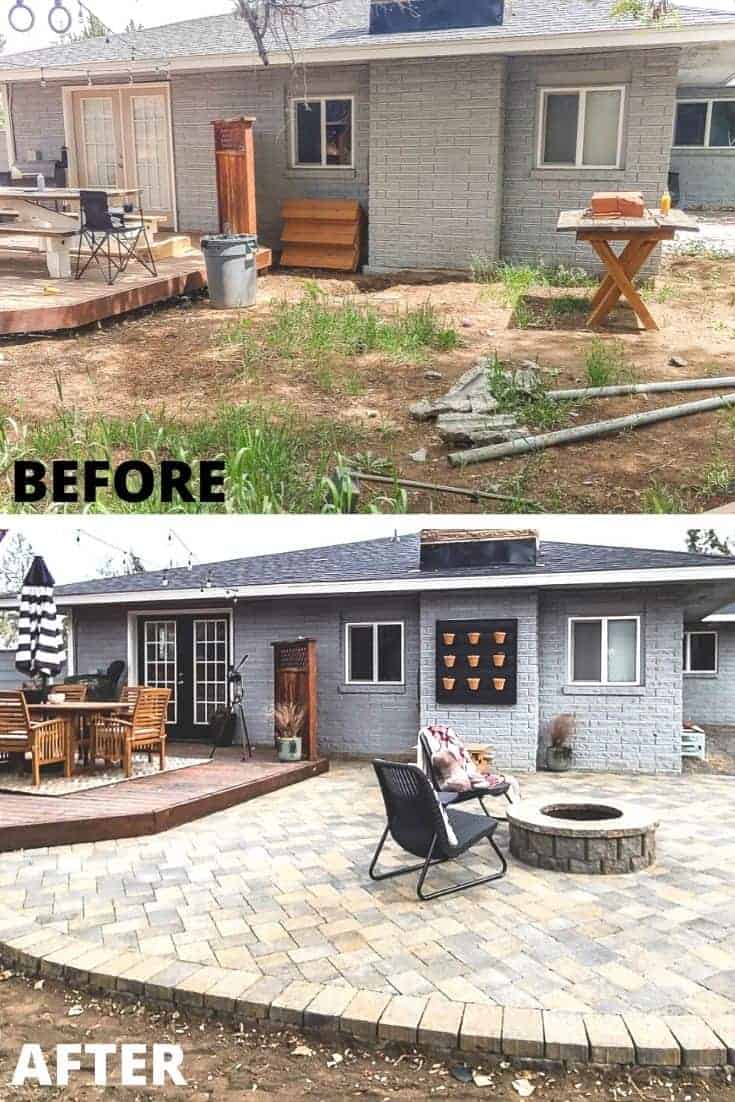 Phase 6. Install paver patio and fire pit
Next we added a gorgeous paver patio and fire pit in the area next to the wood deck. It was a lot of hard work, but it turned out so good.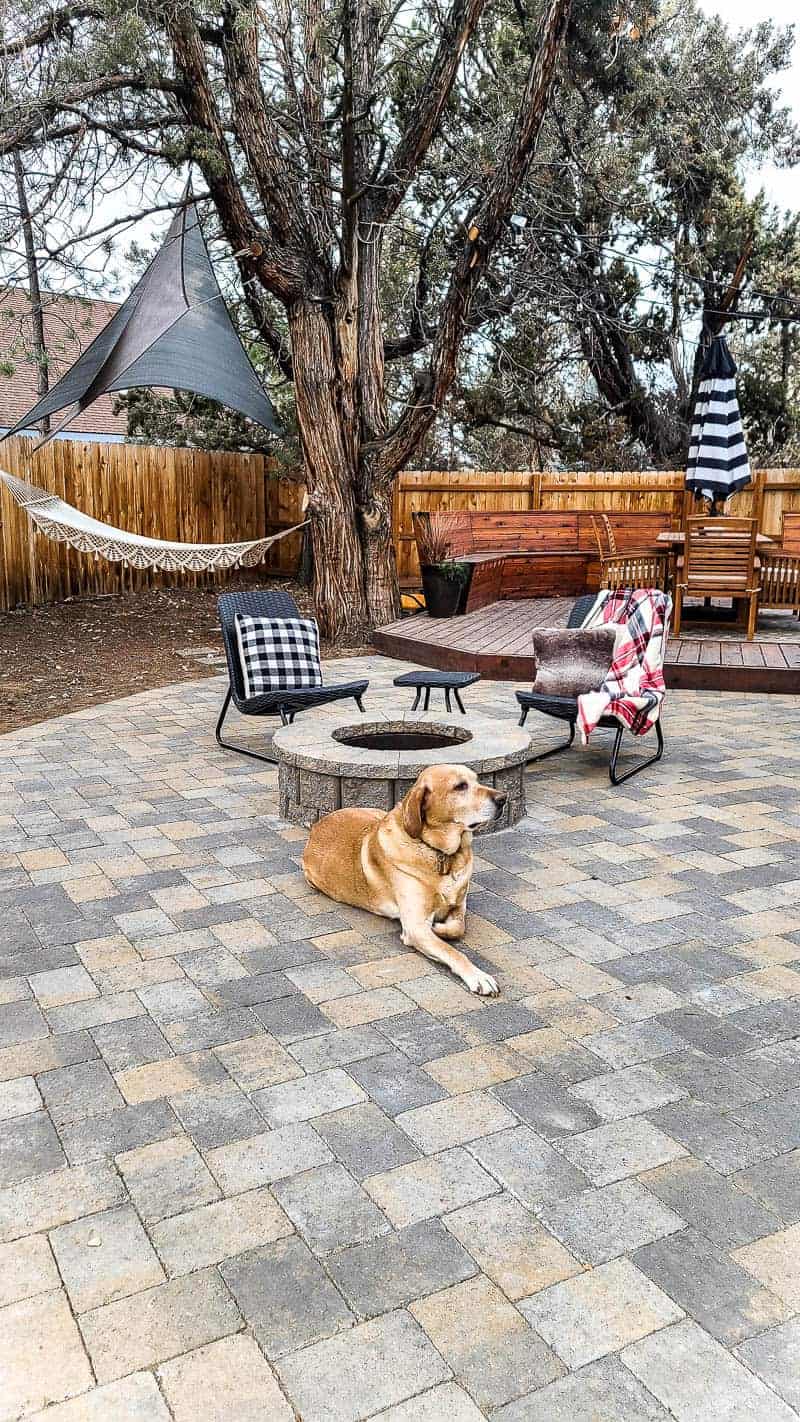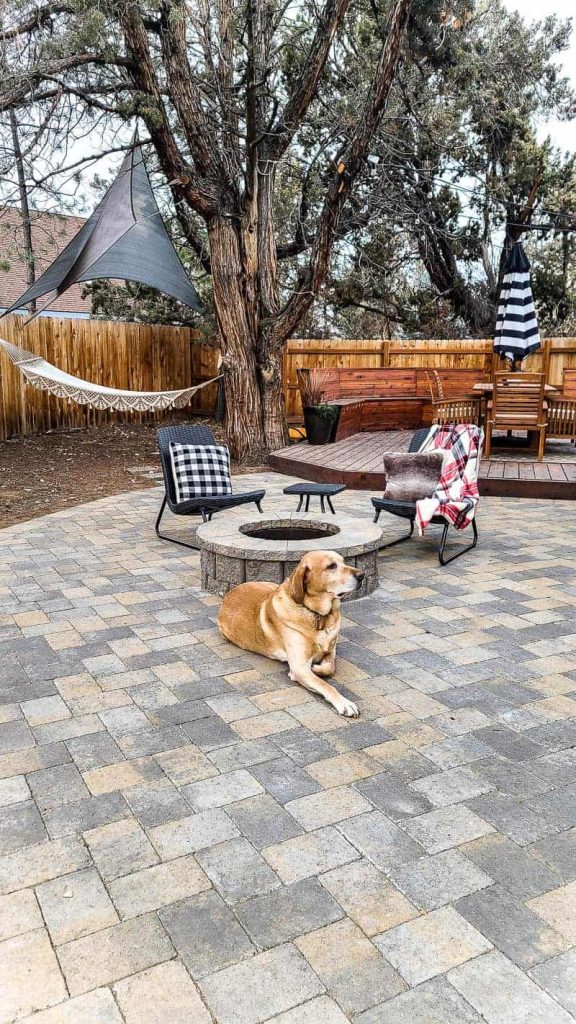 Learn how to install the paver patio here and here's a separate breakdown that shows how to add the fire pit.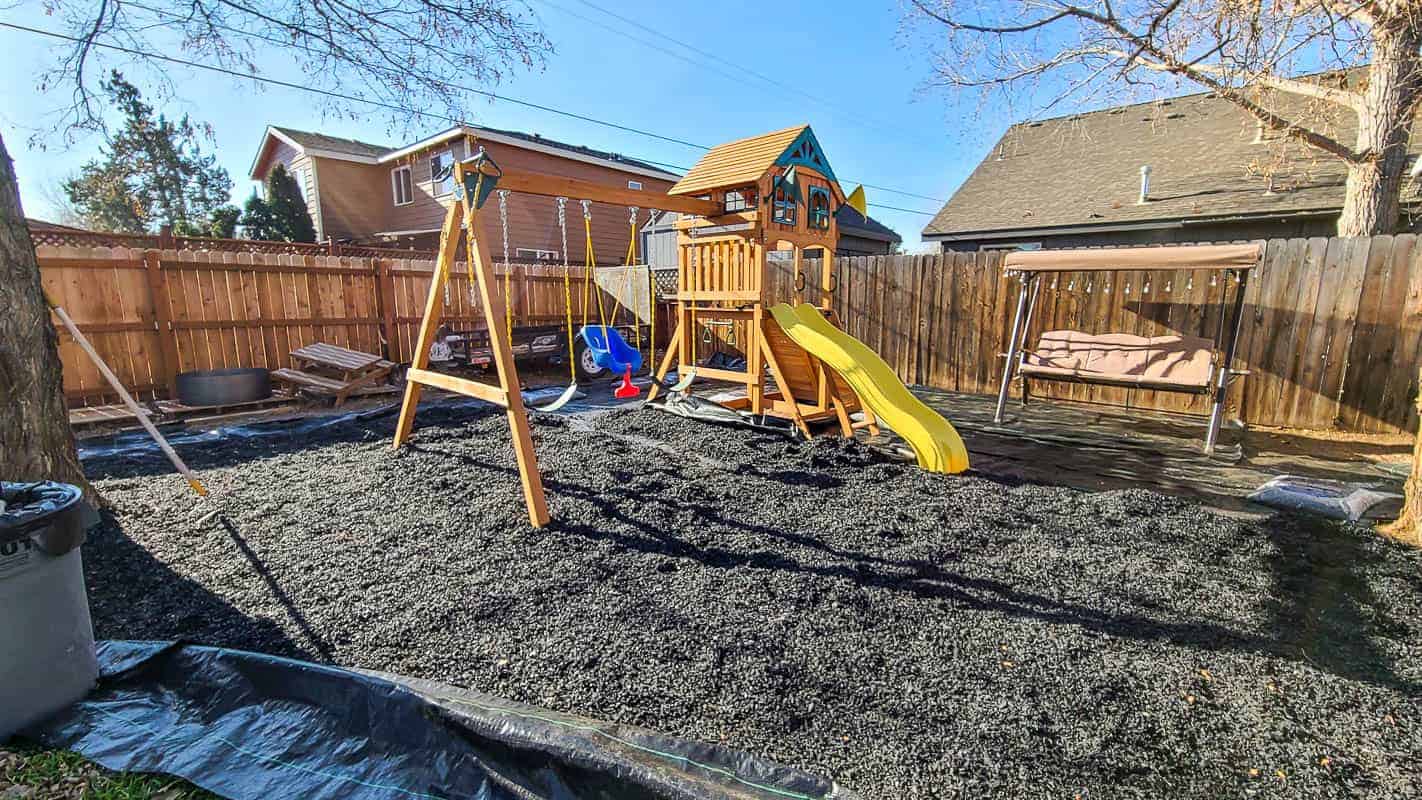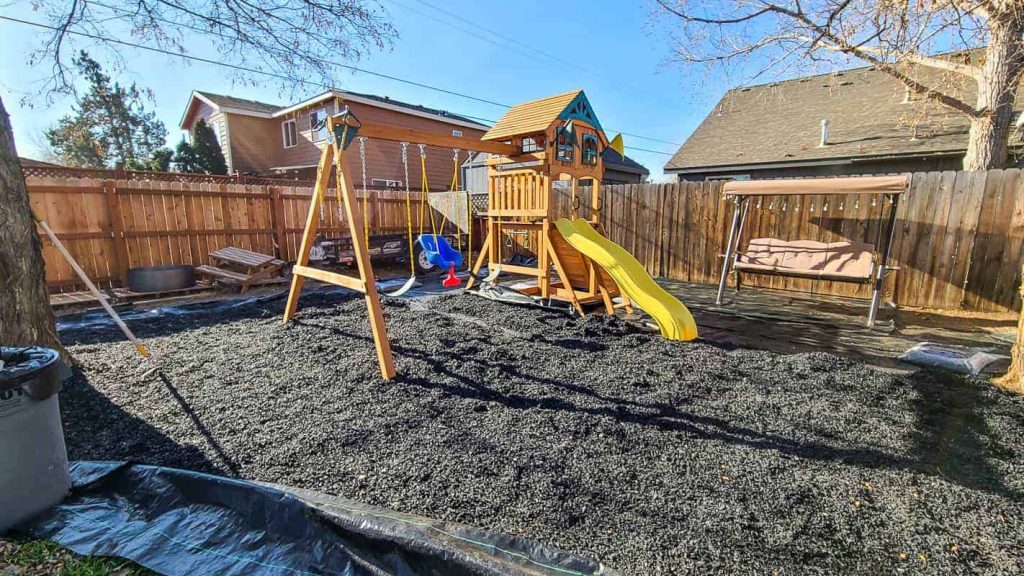 Phase 7. Add rubber mulch to playground area.
Last but not least (for now that is) we added more landscape fabric and black rubber mulch to the areas where the swing set is. We've got a whole post about why we decided to go with rubber mulch for the playground cover, so definitely check that out too!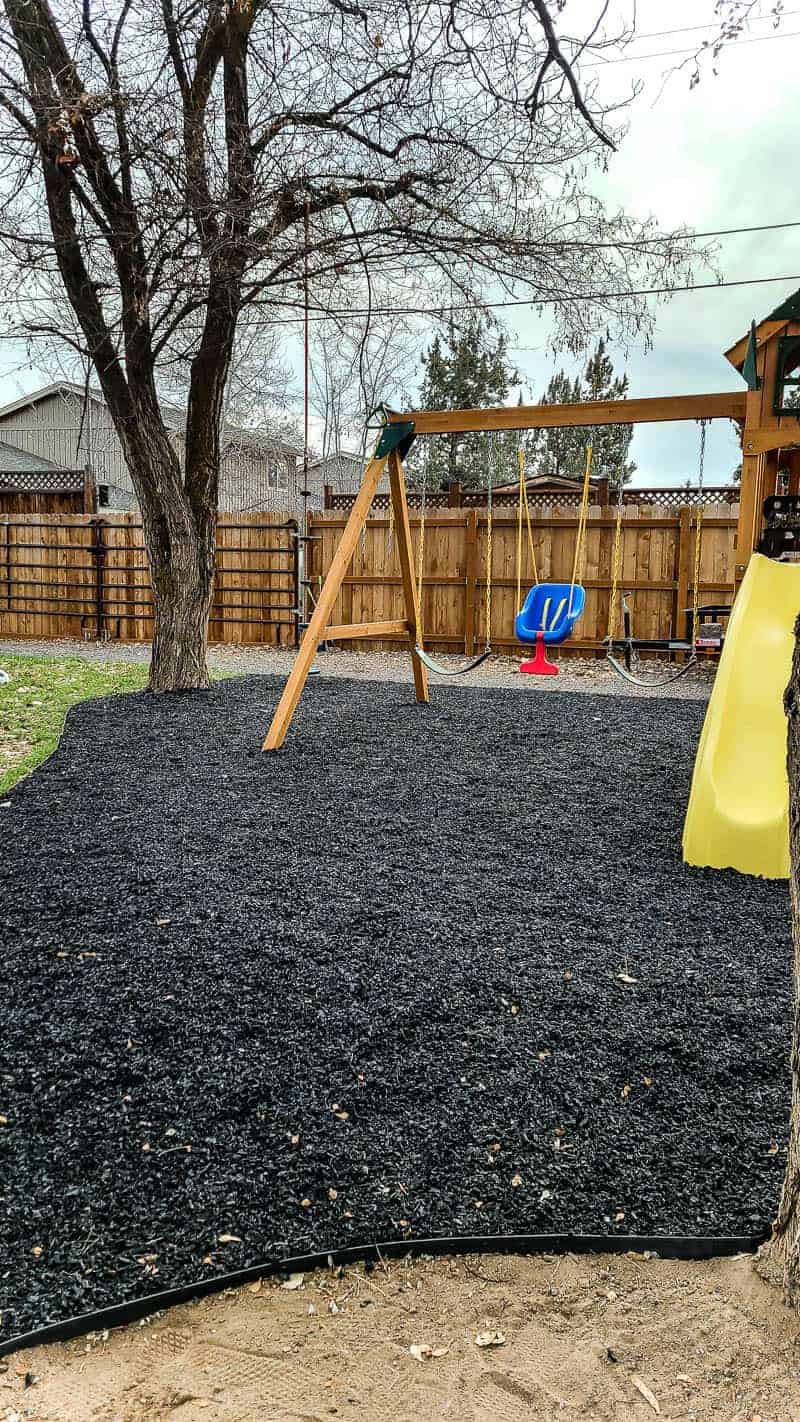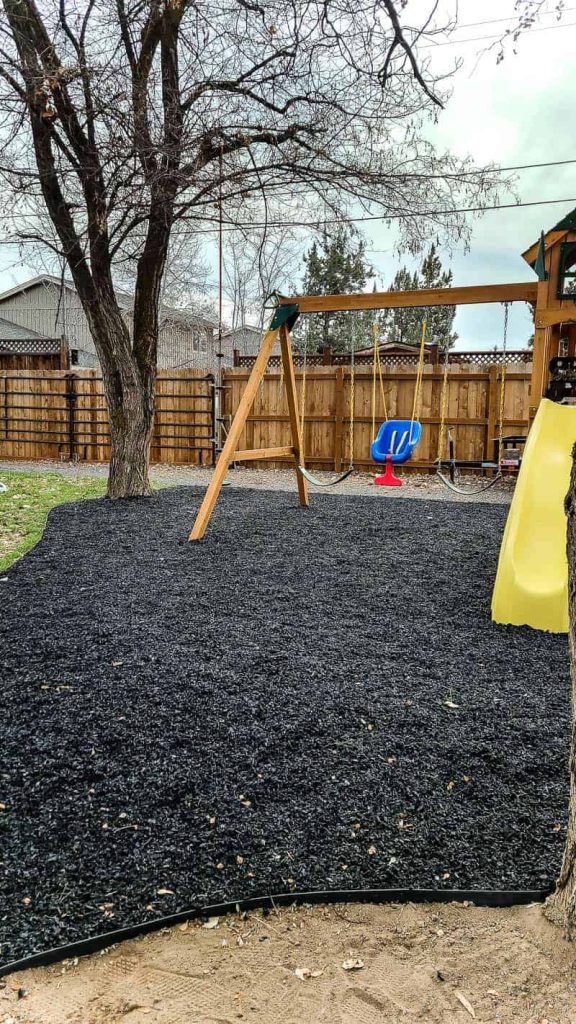 Are you ready to see the finished backyard makeover pictures?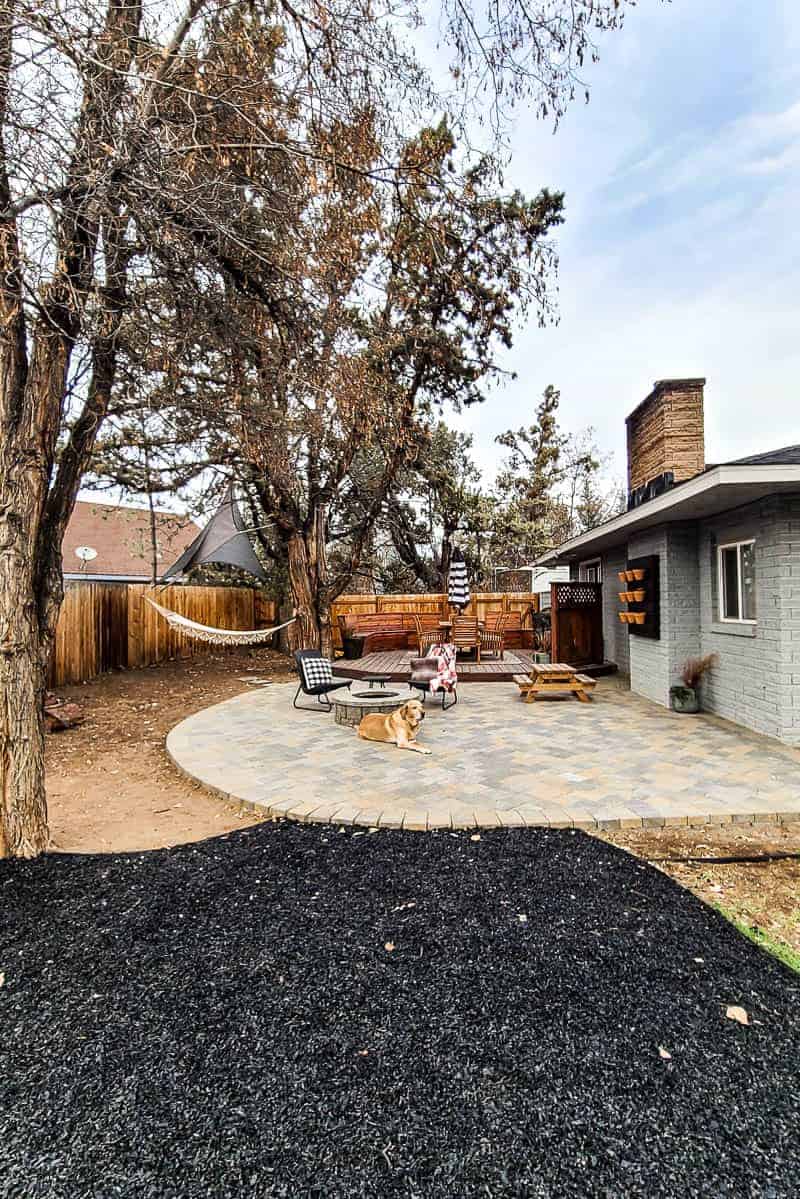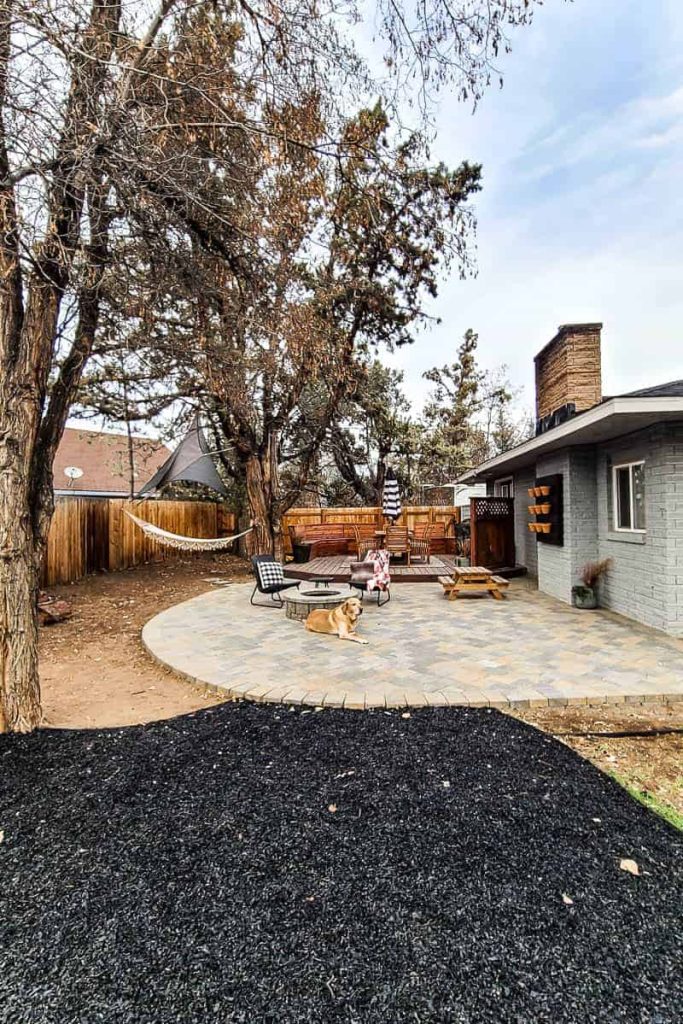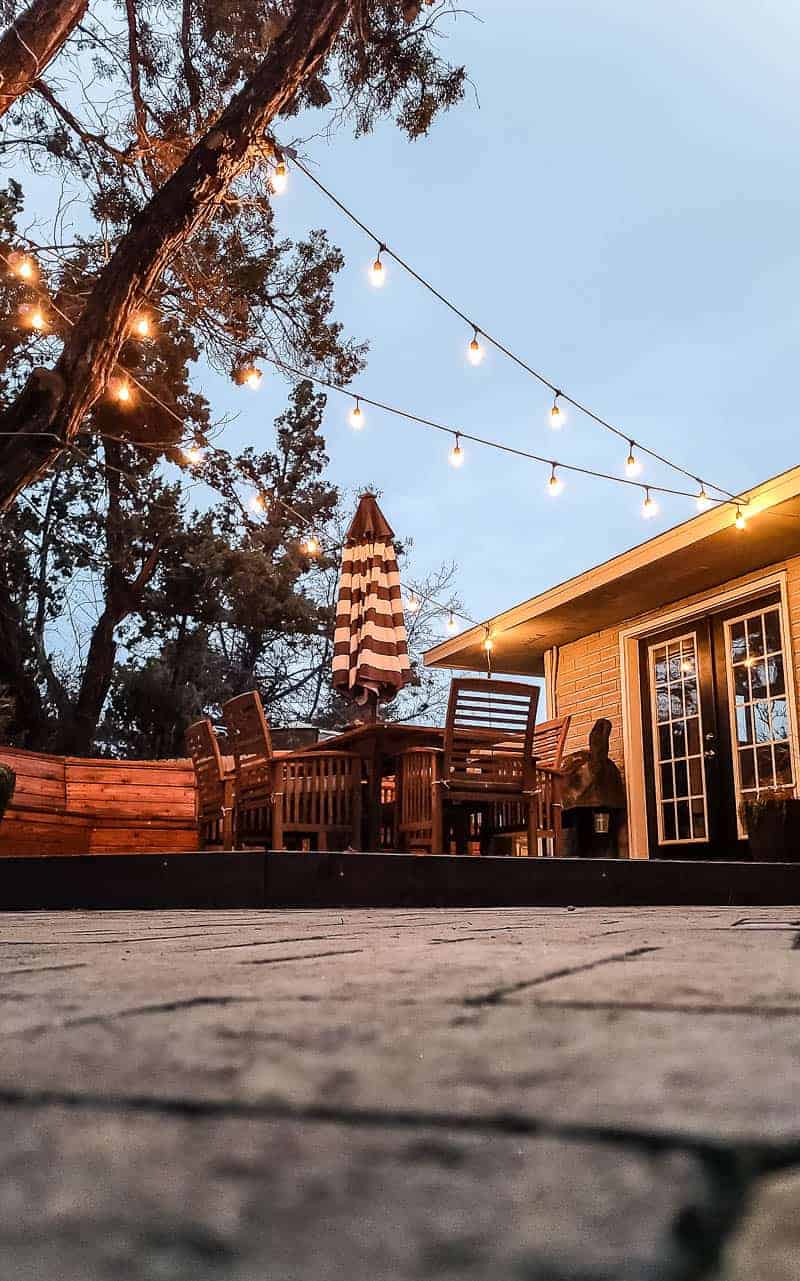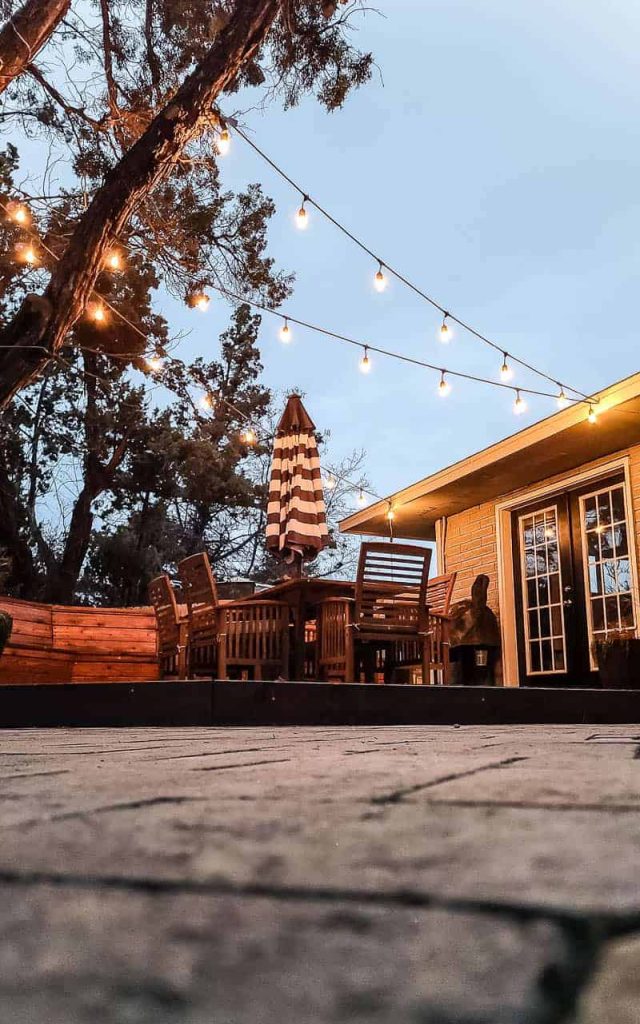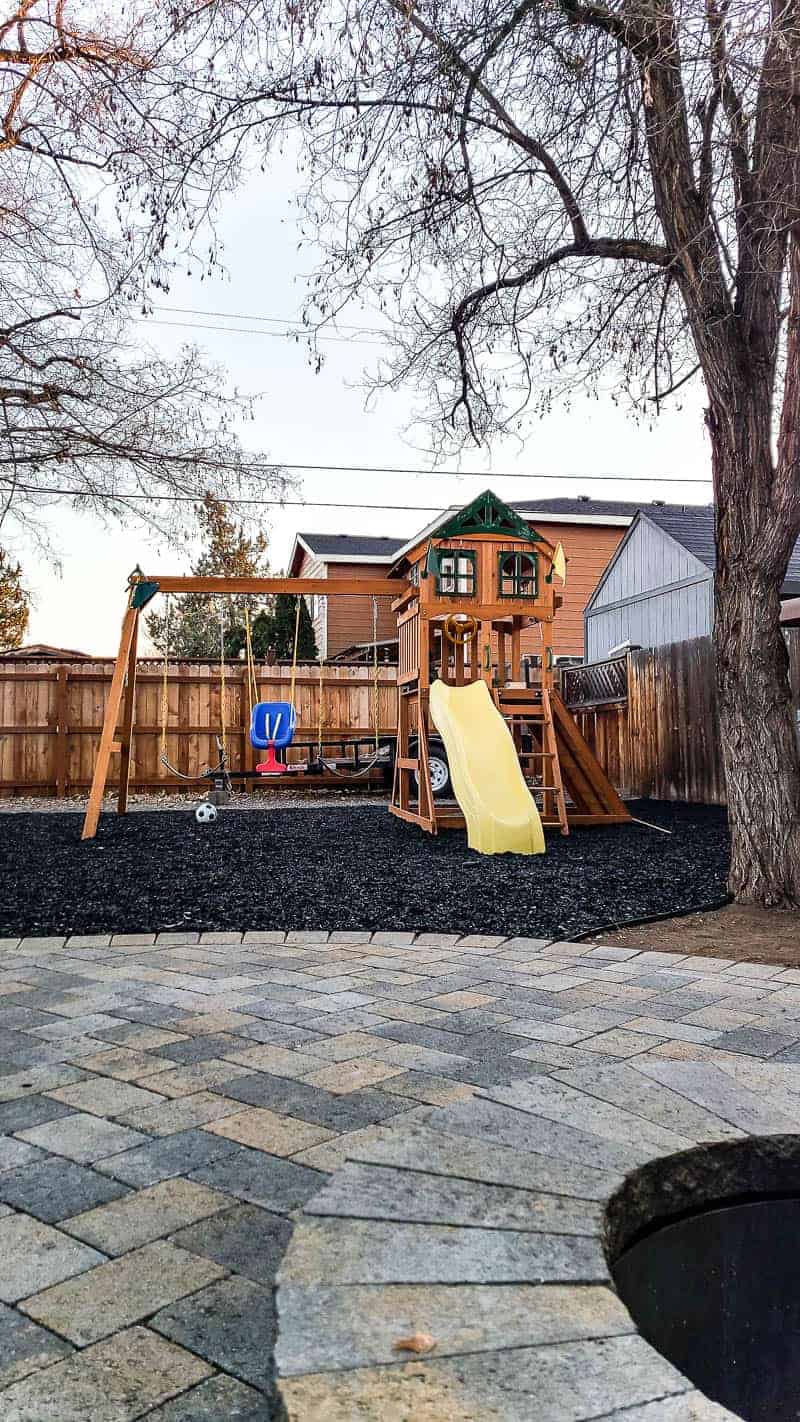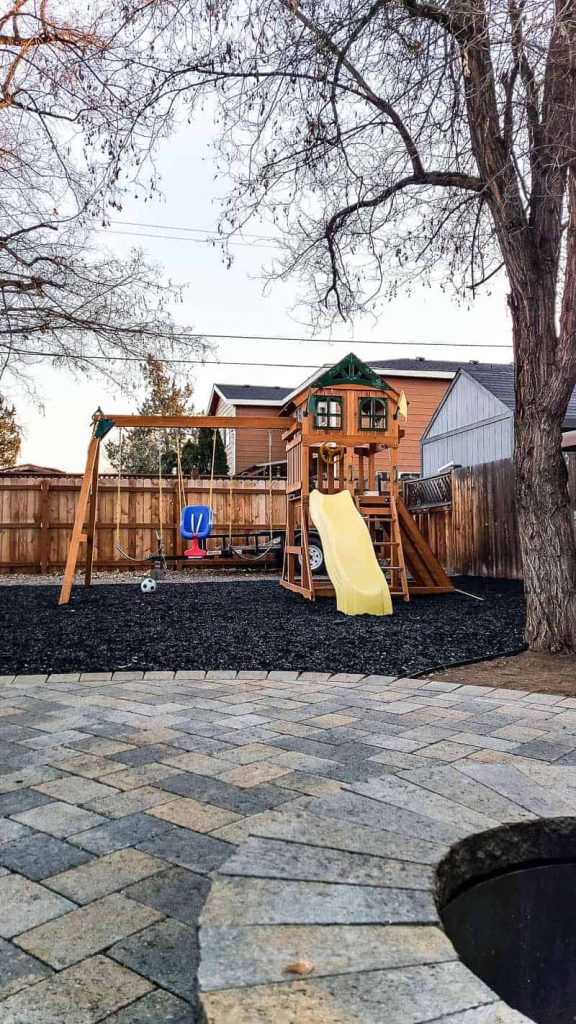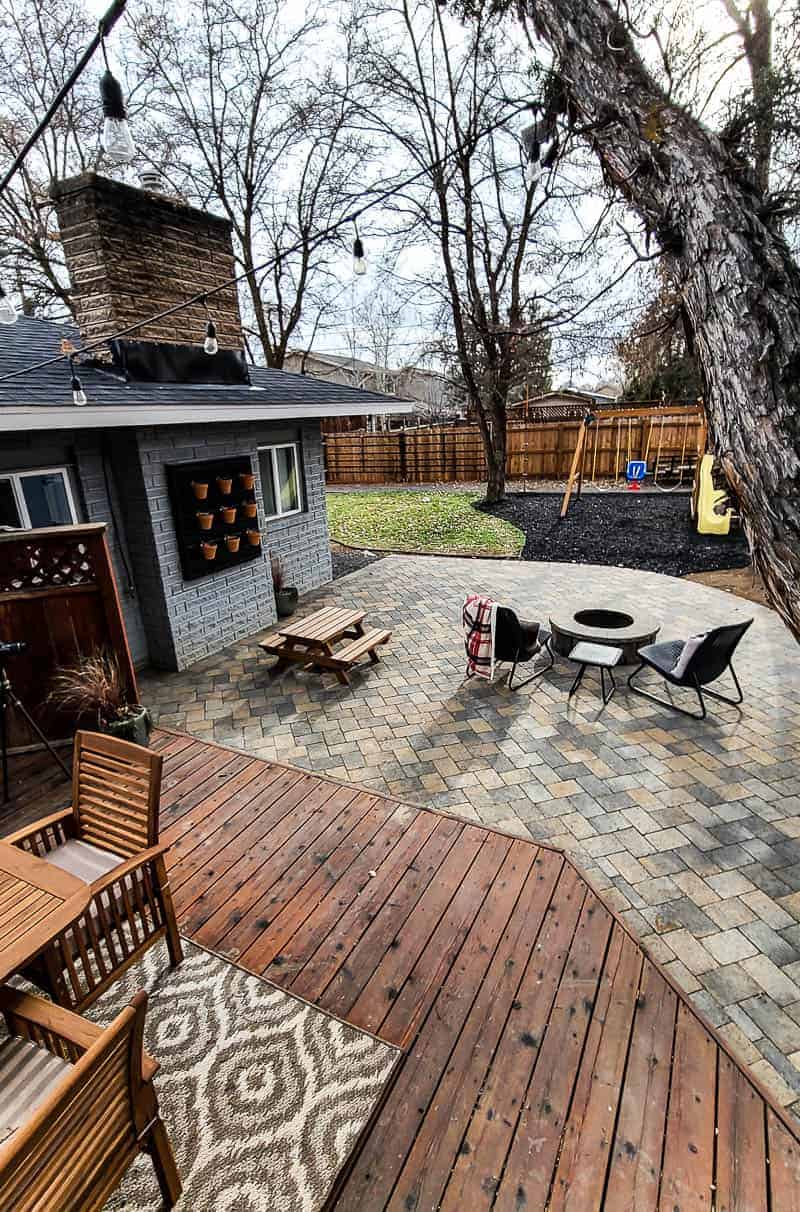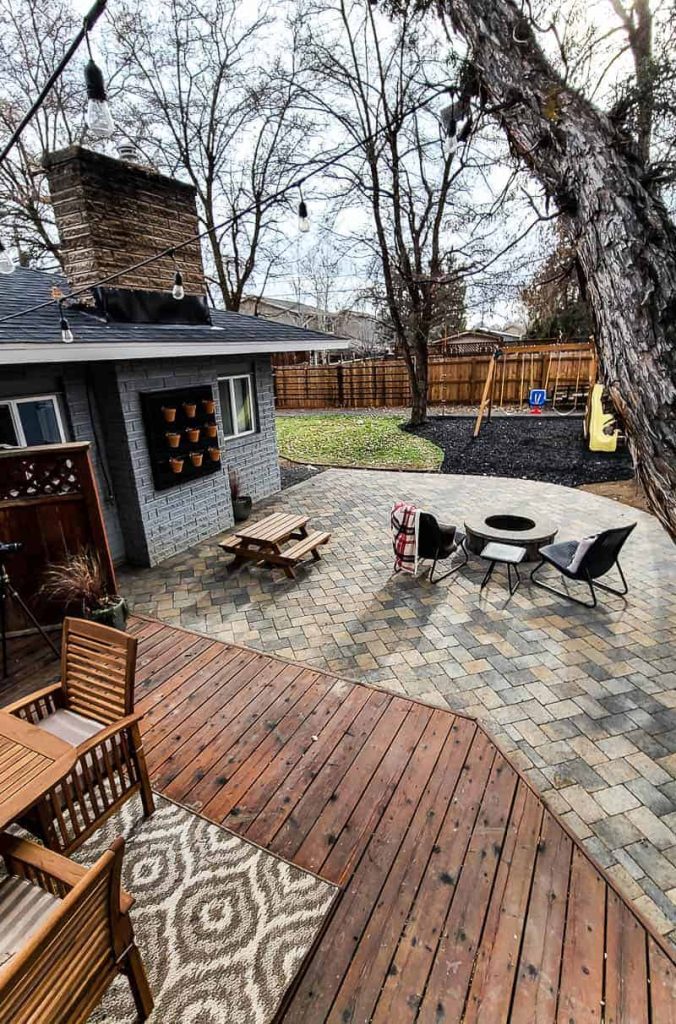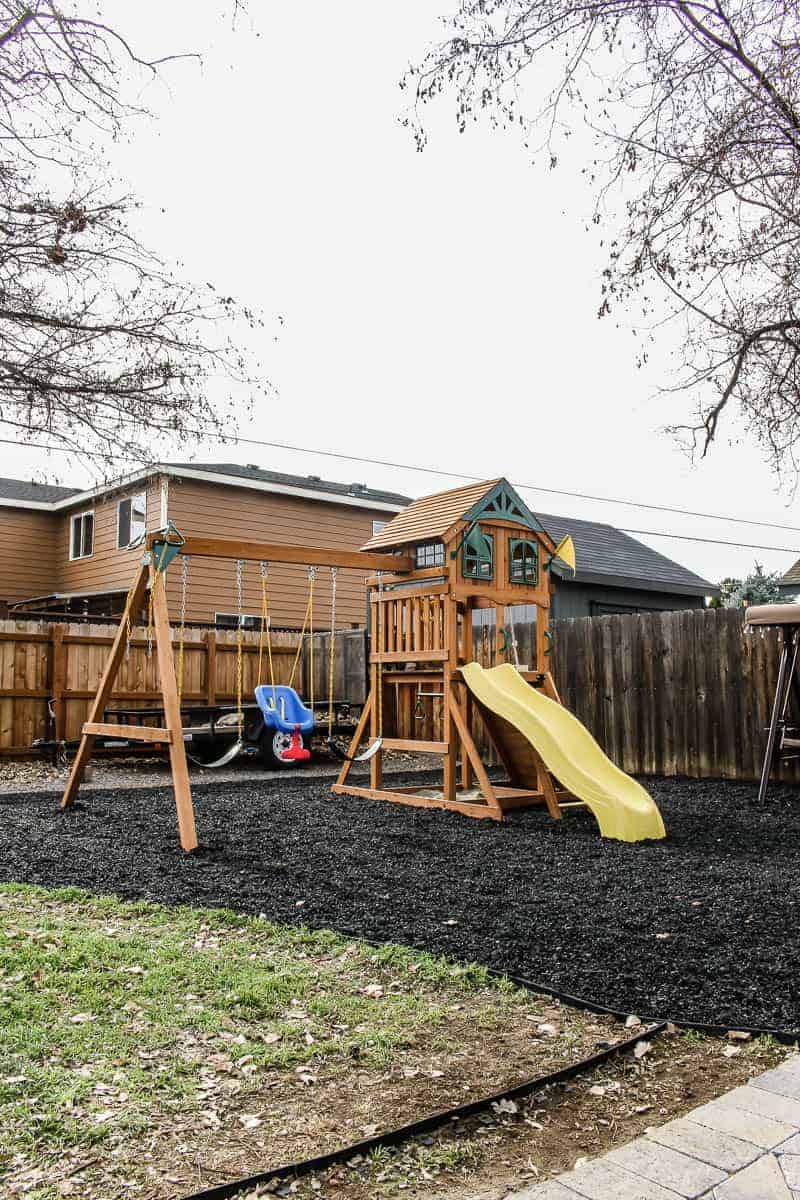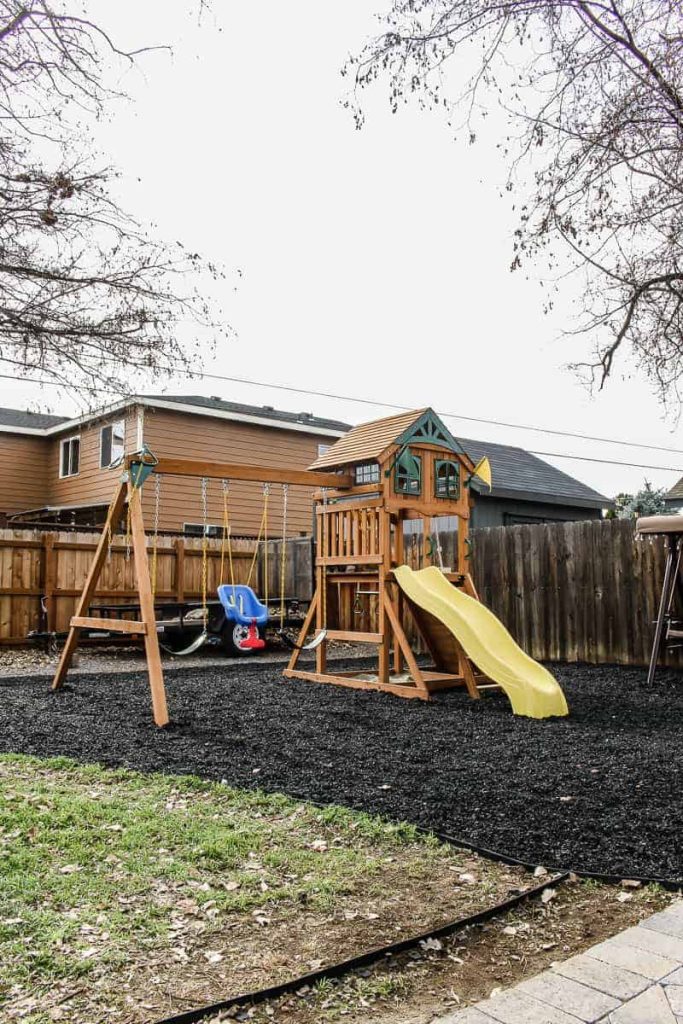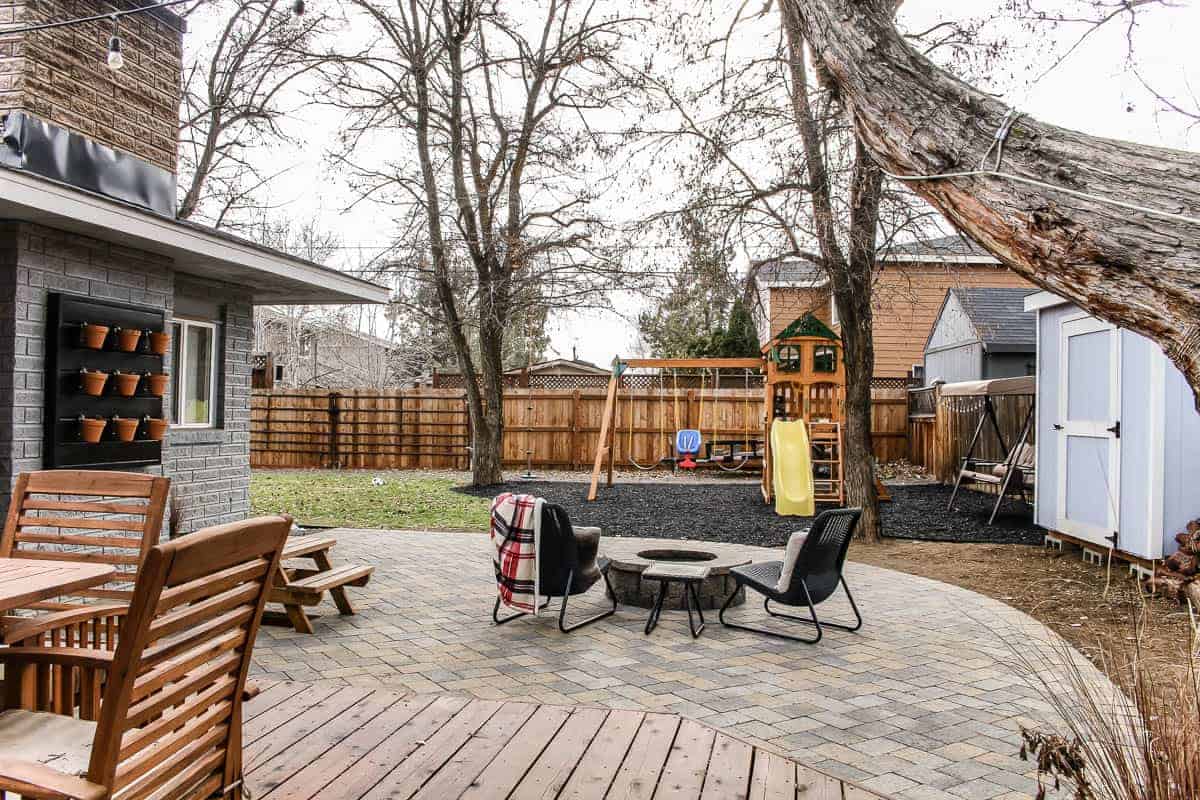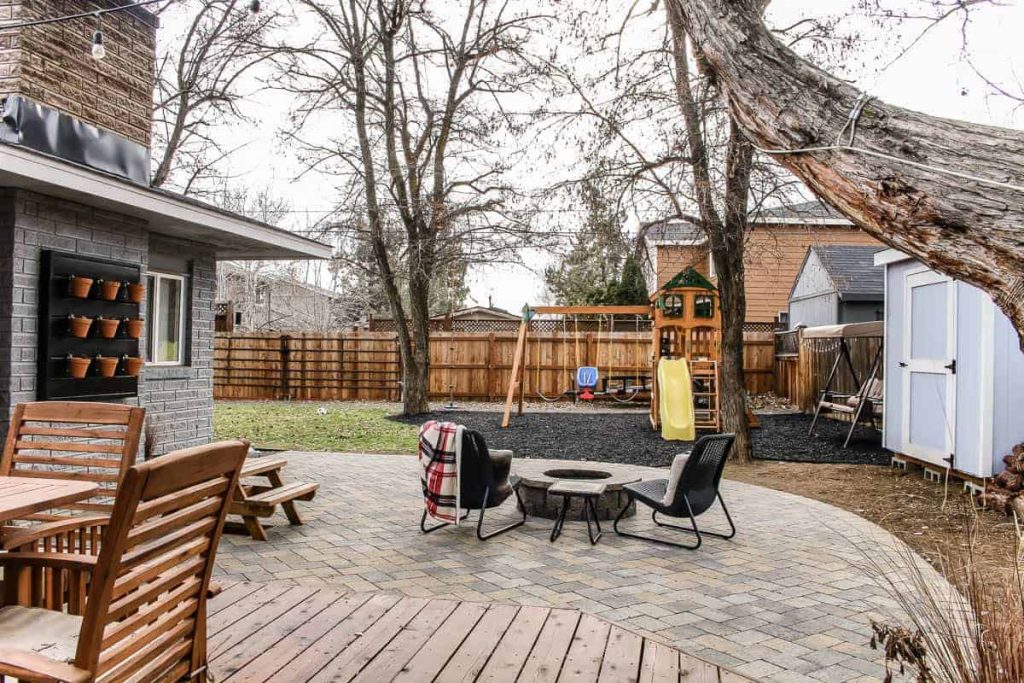 Doesn't it look SO GOOD?!
What's planned next for the backyard…
I can't wait to finish the finishing touches when the weather warms back up in the Spring. Here's what we're planning to do then.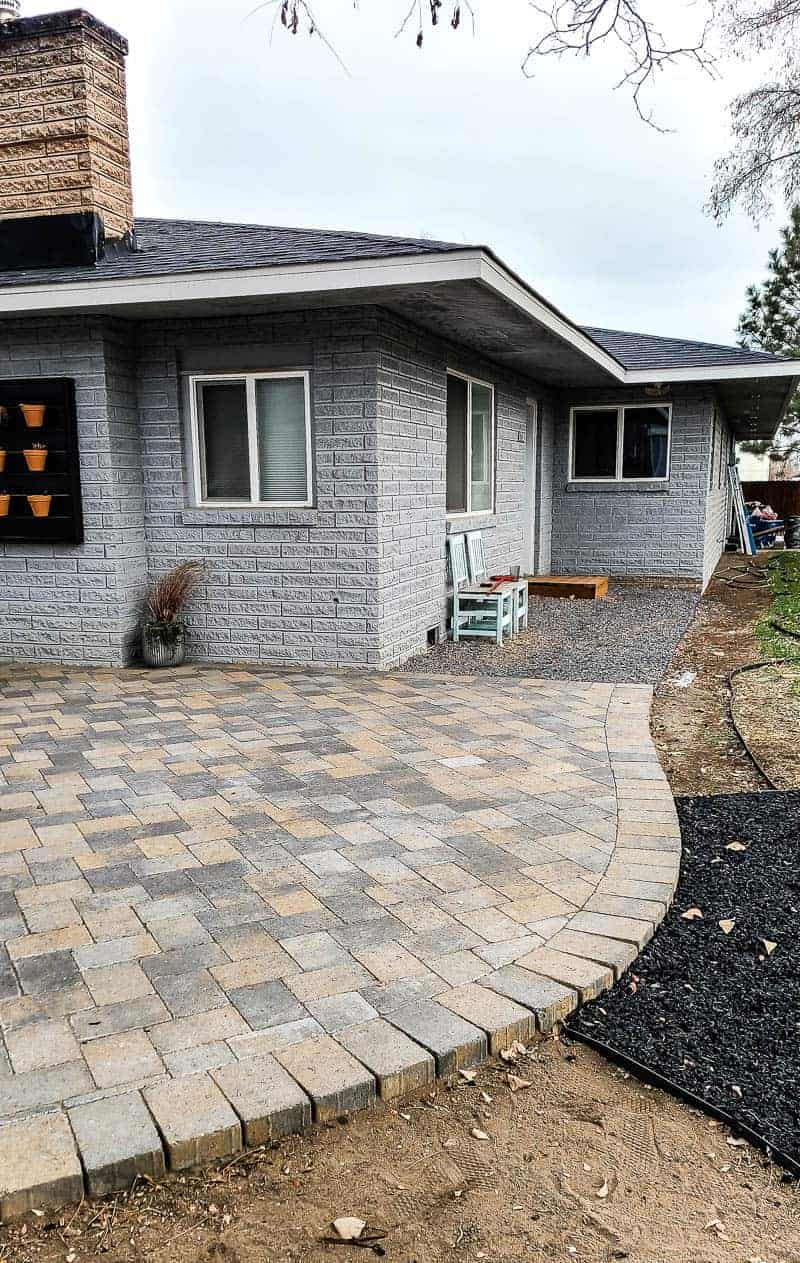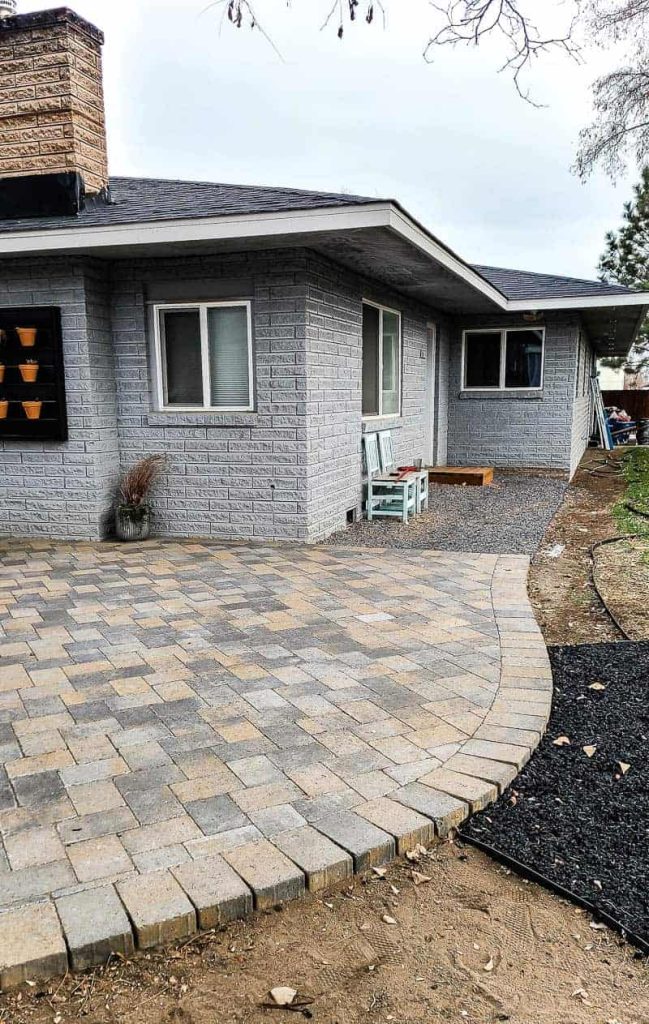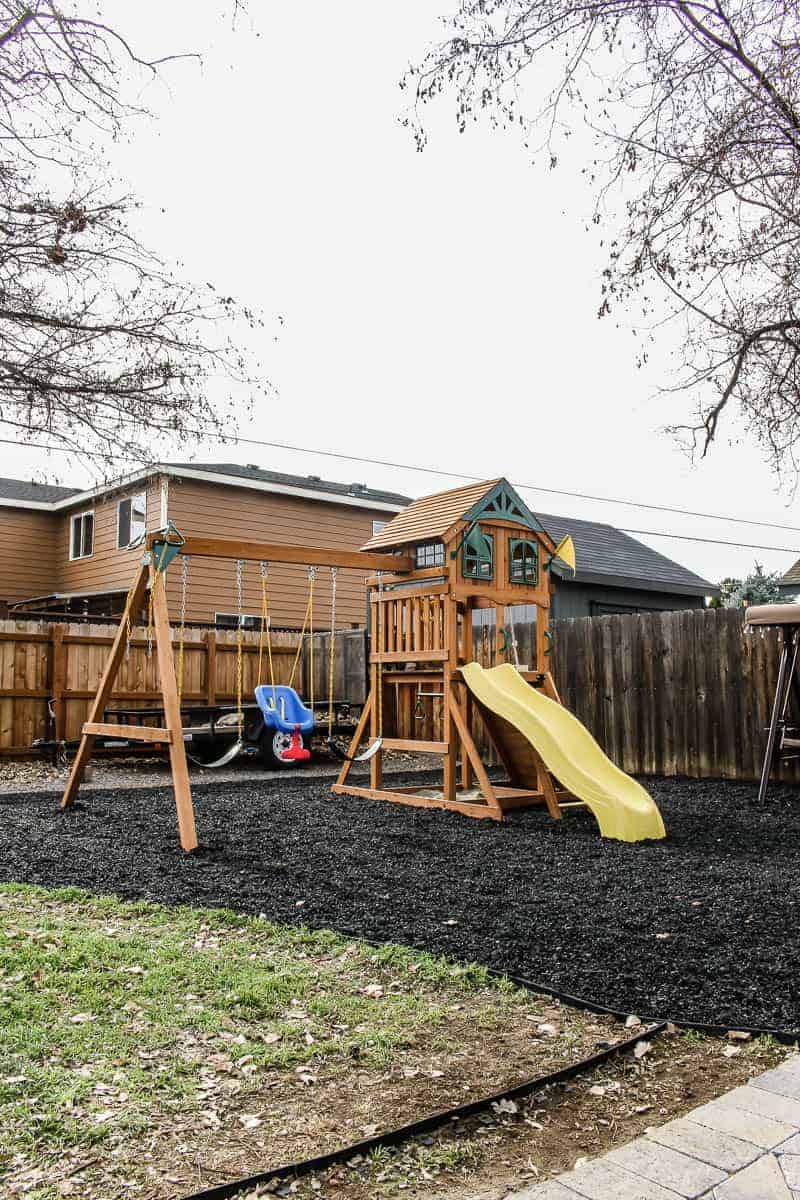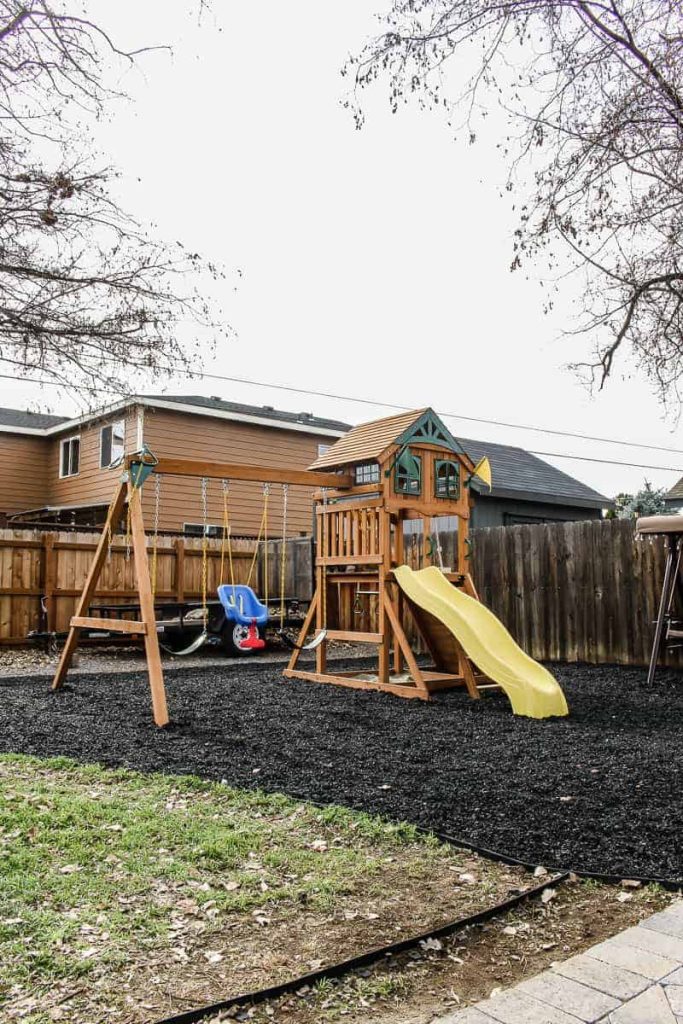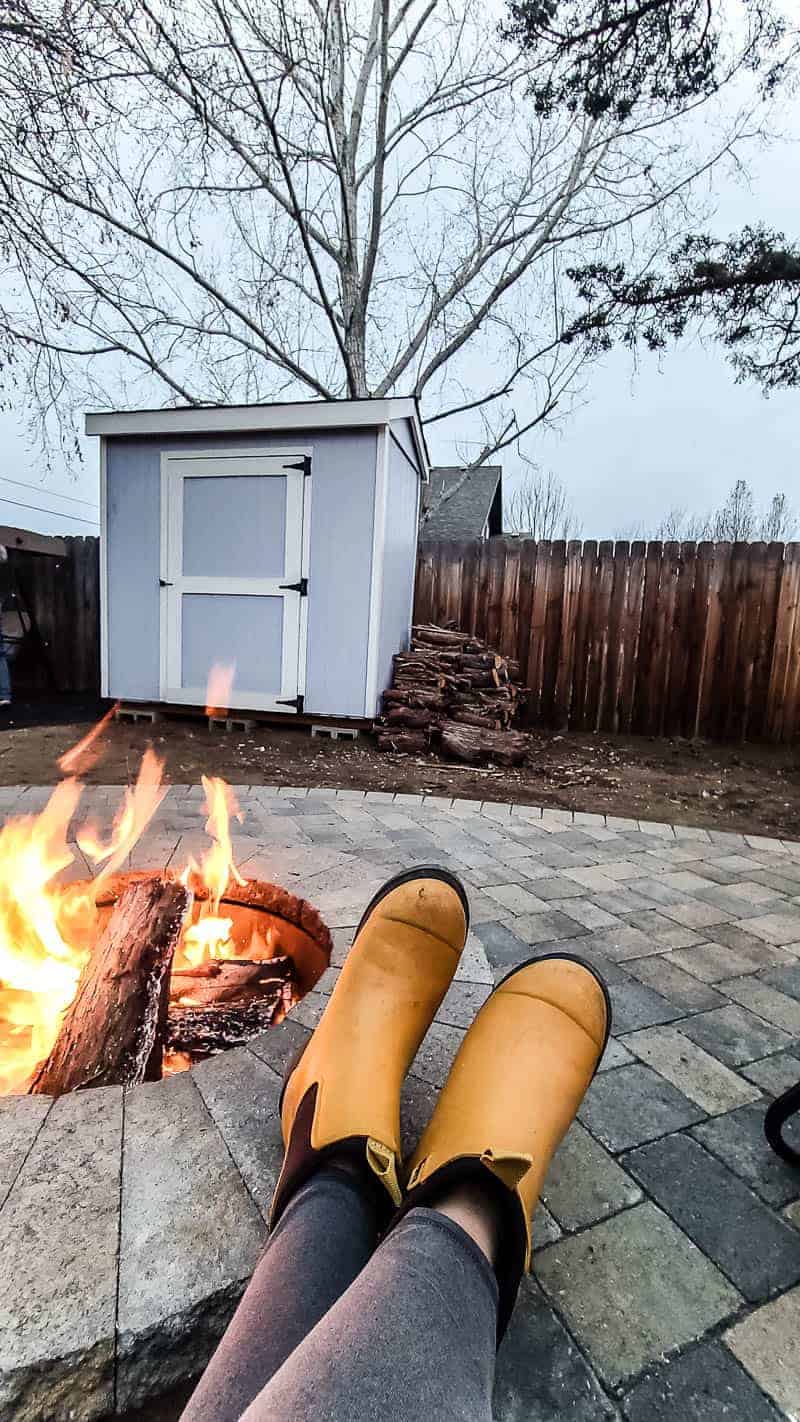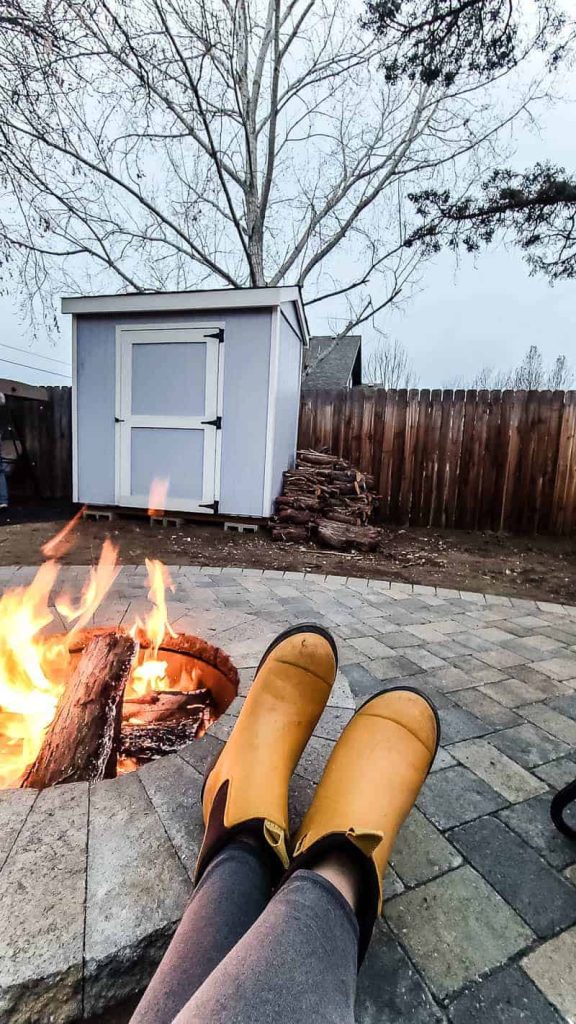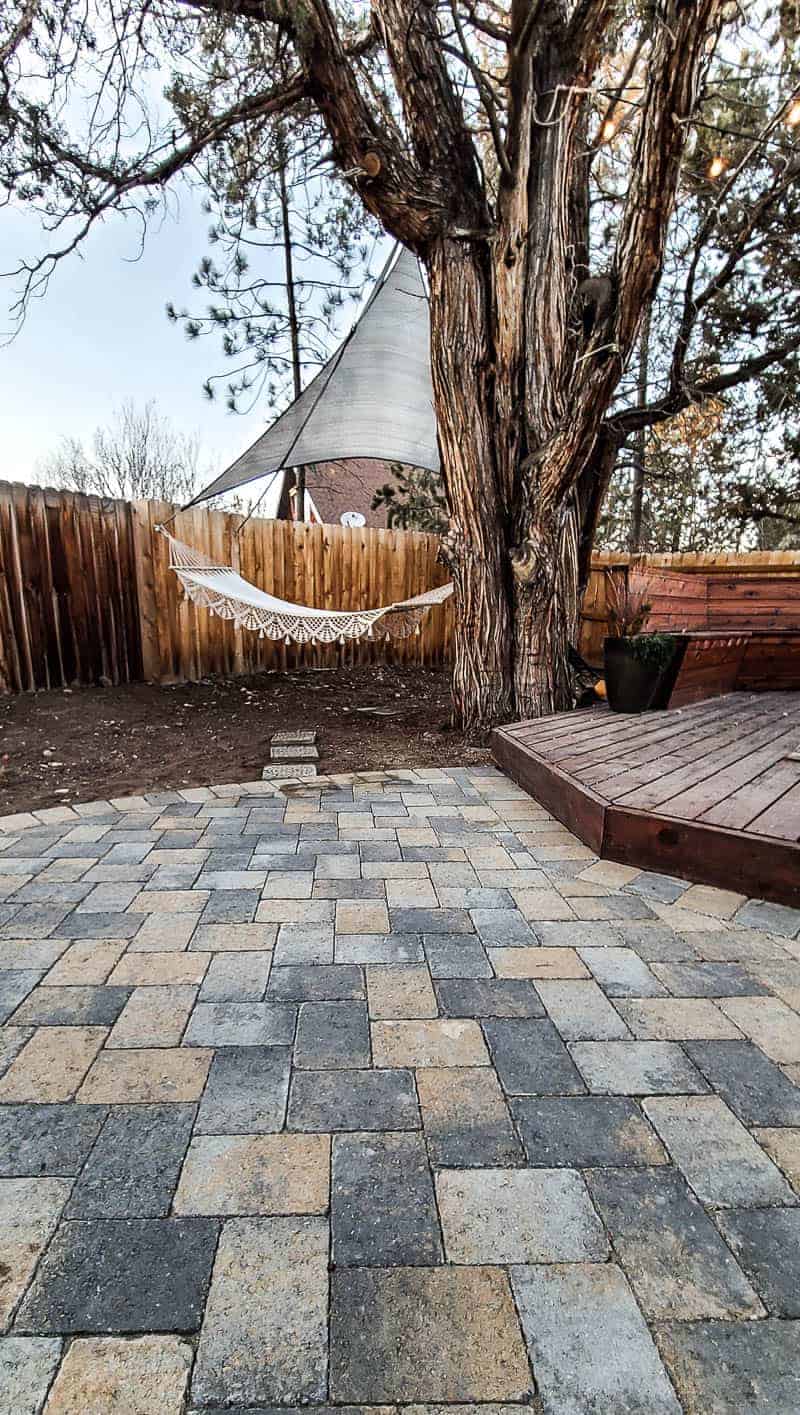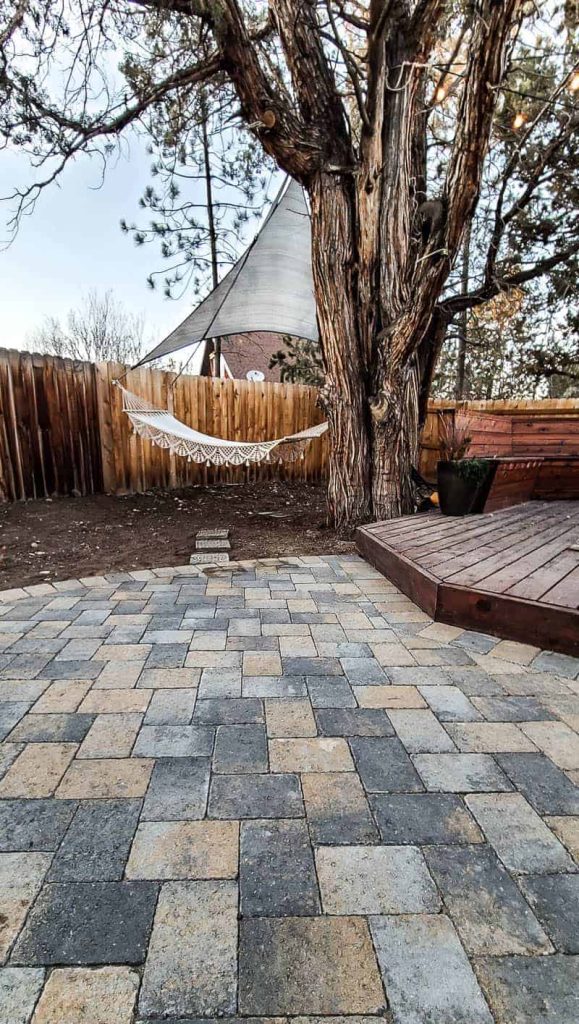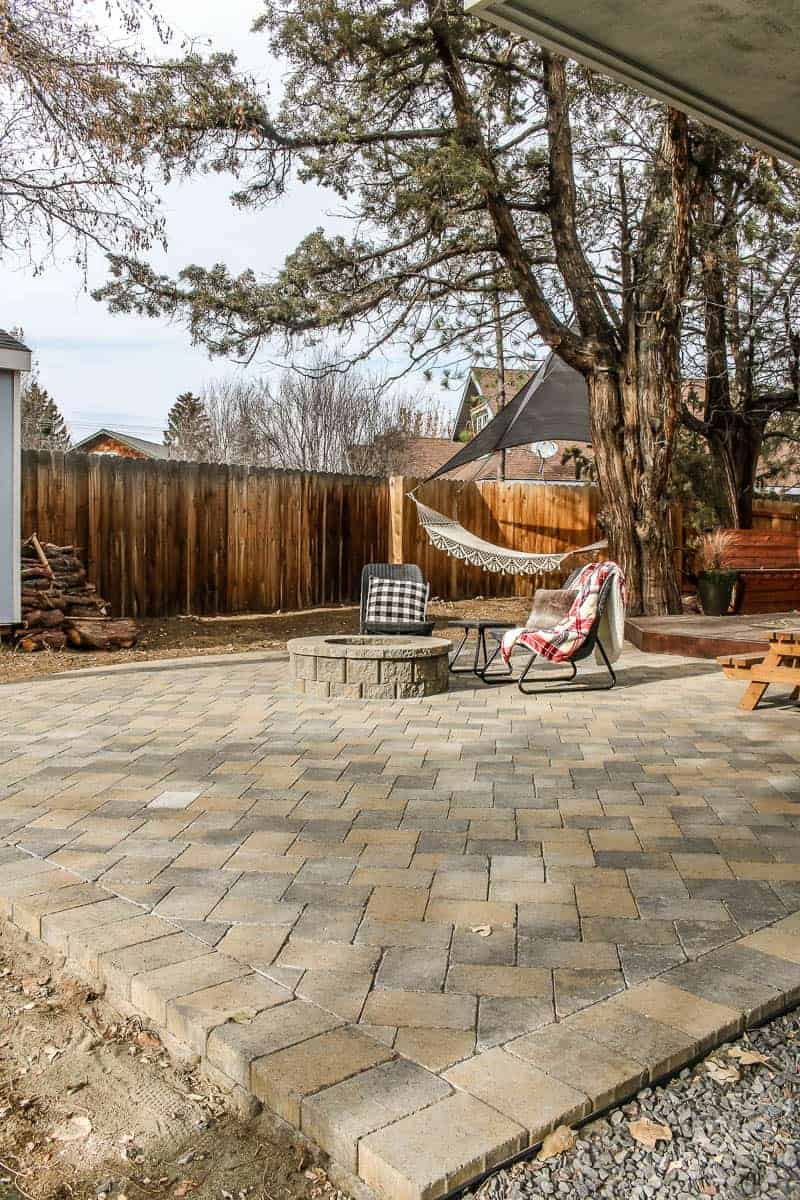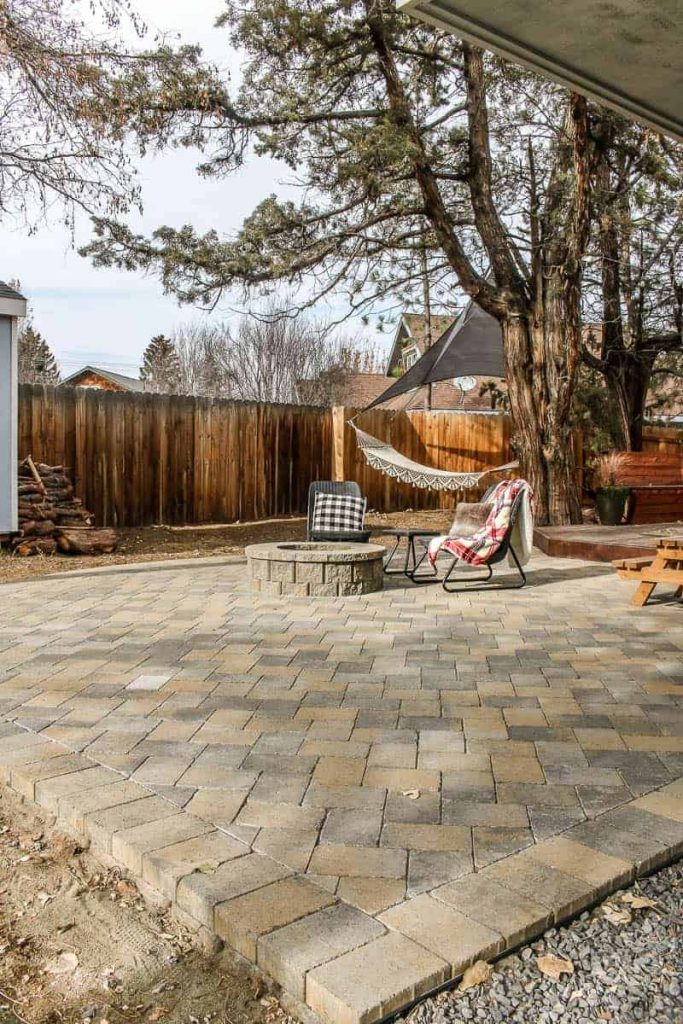 Seeing that last of projects makes me so excited to get back out here once the weather warms up and continue working on our backyard makeover before and after transformation!
Are you ready to see another look at those backyard makeover before and after pictures?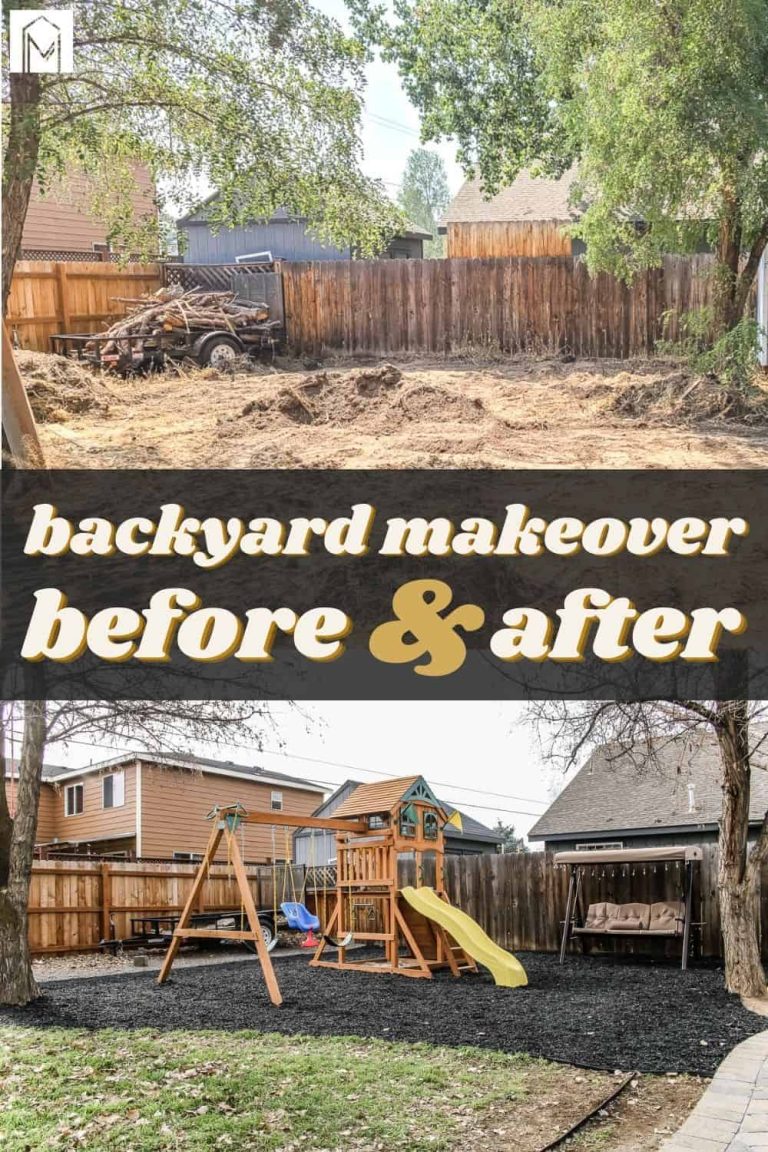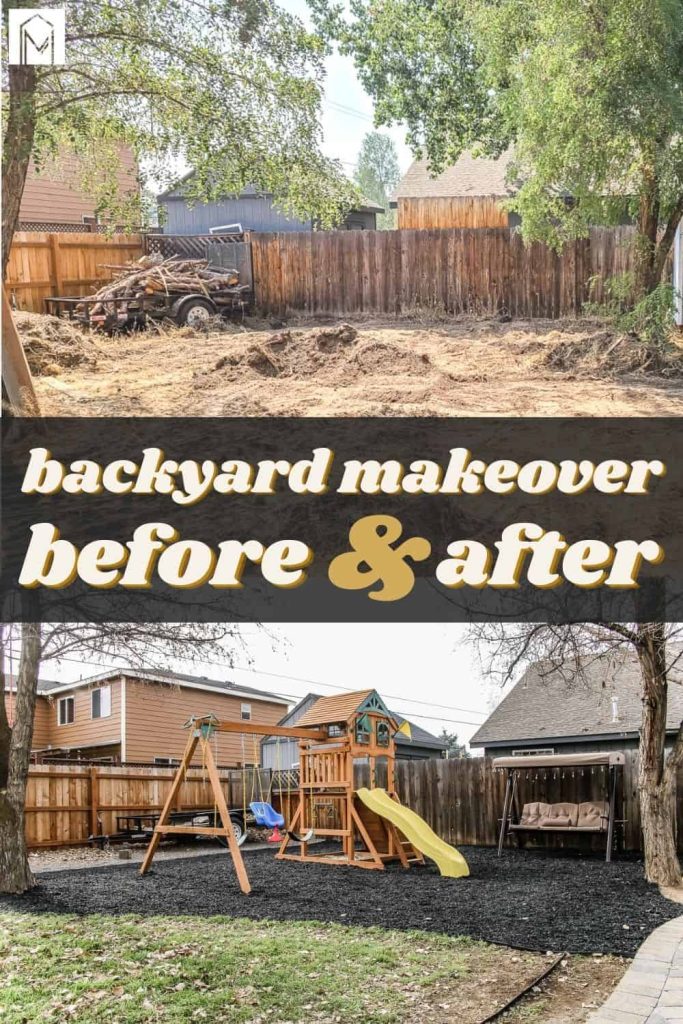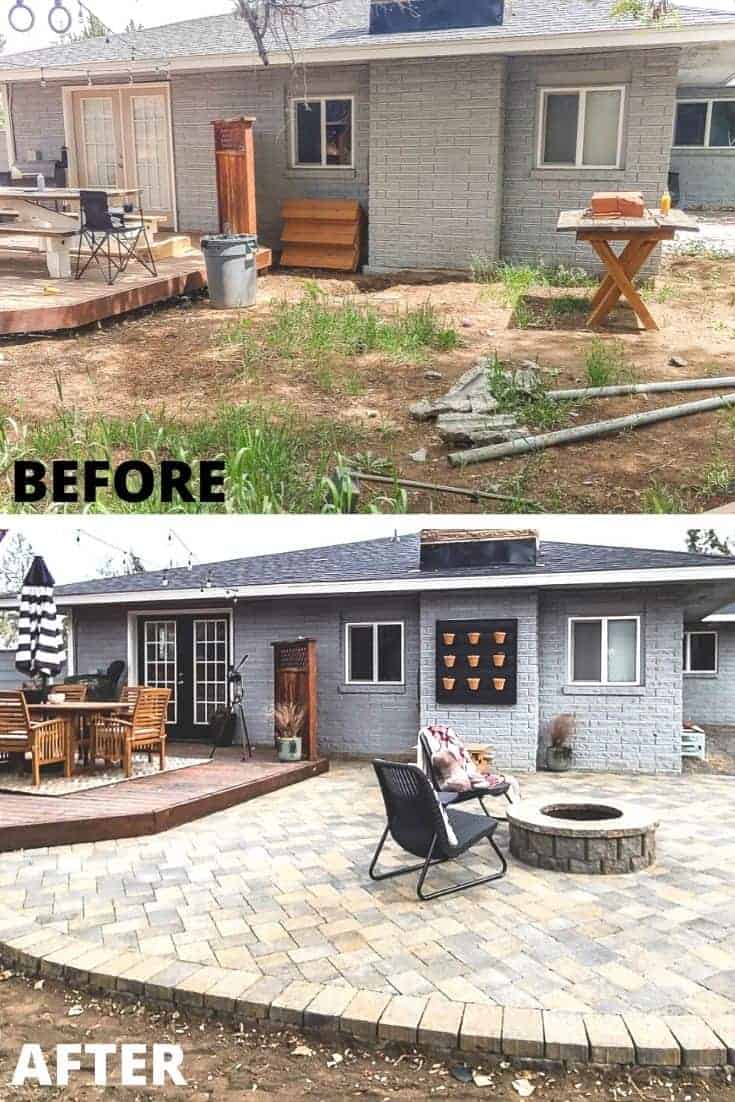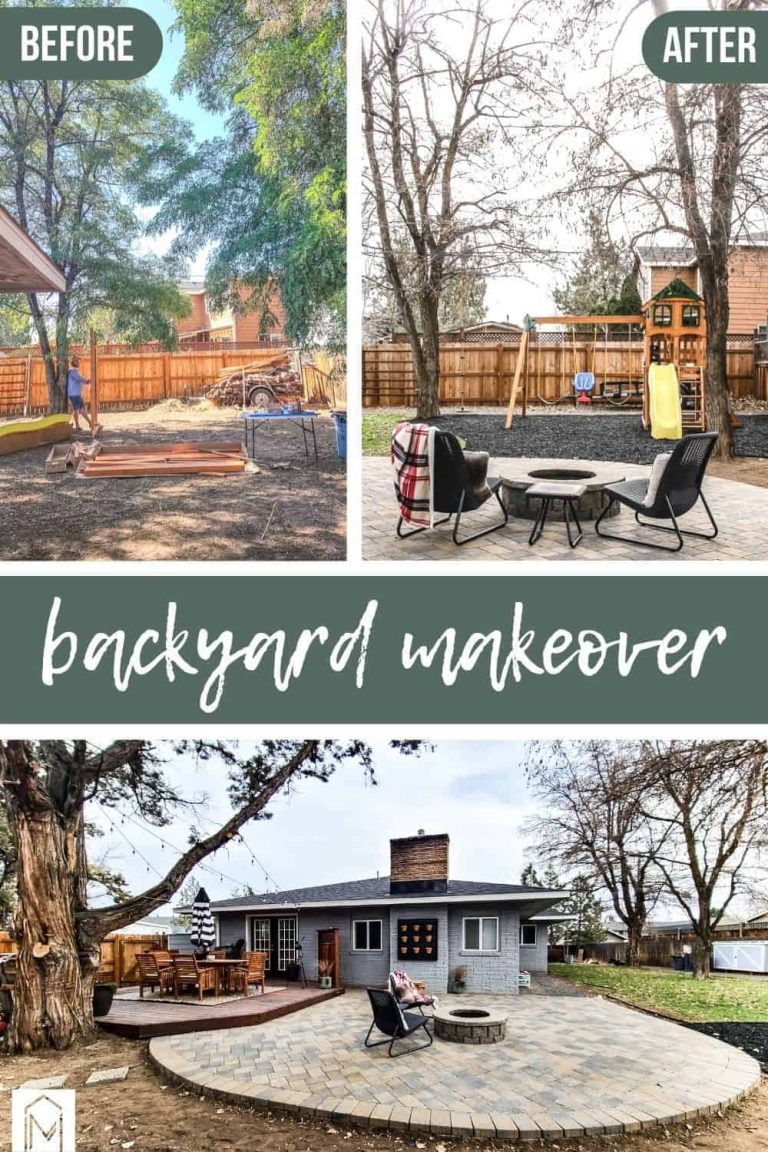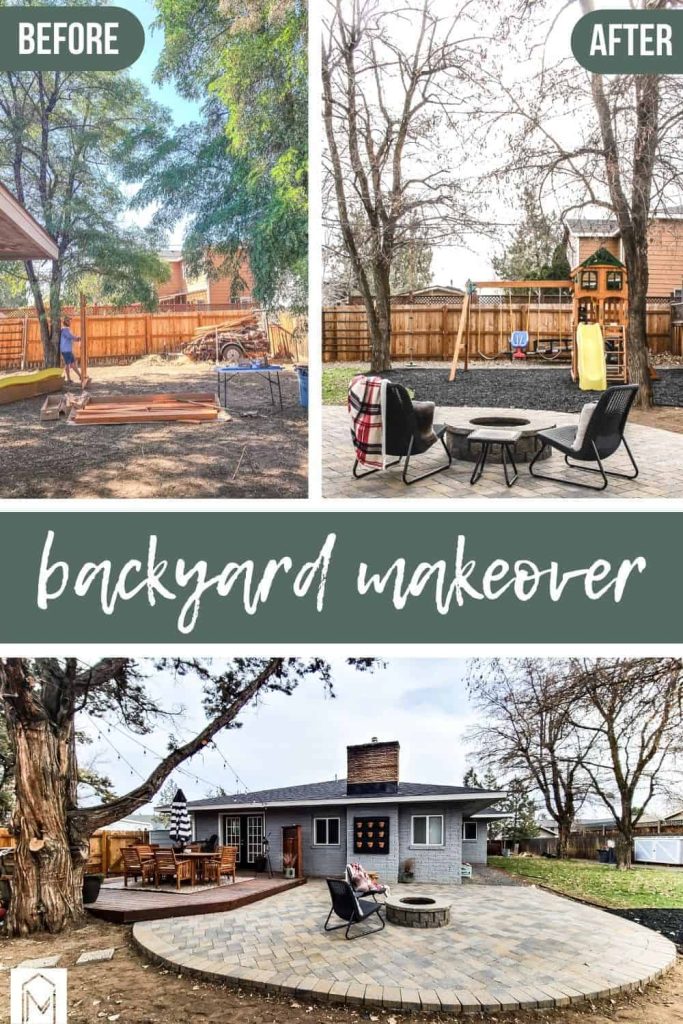 Sources for backyard makeover: