Are you looking for inspiration for your spring living room decor?? See how we styled our shelves with moss vases and vintage books for a boho look. Be sure to check out at the spring decor ideas at the end too!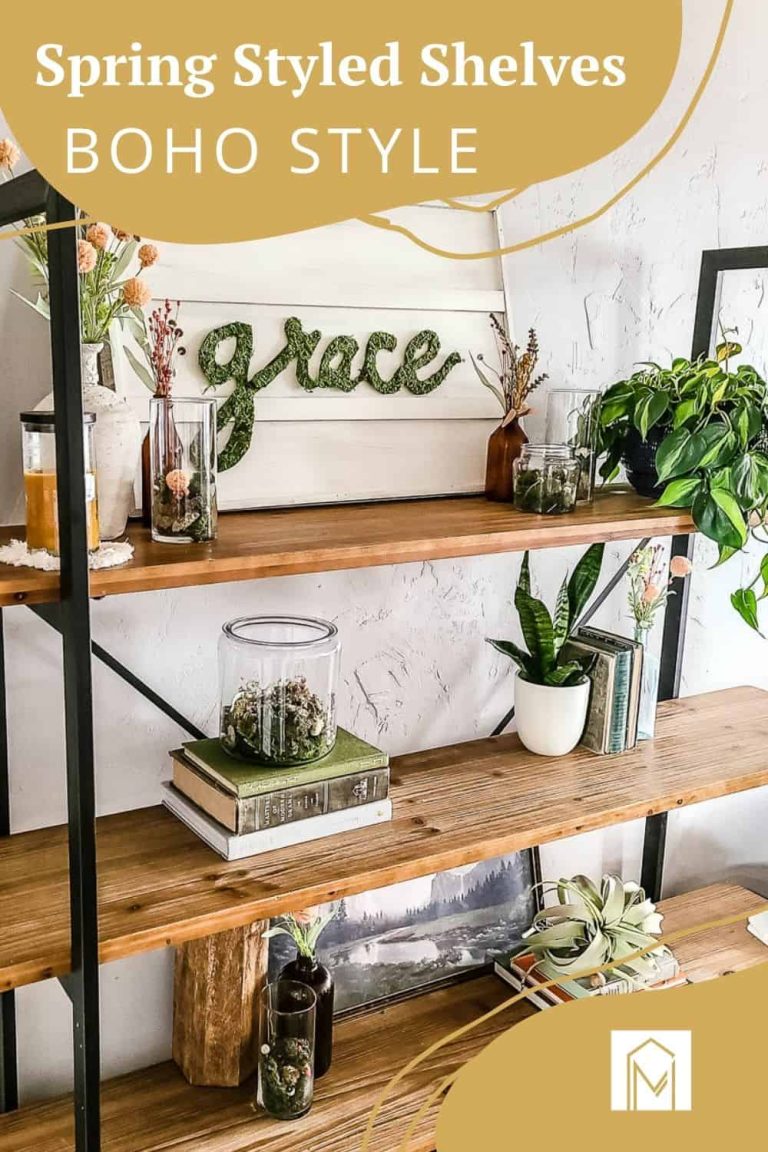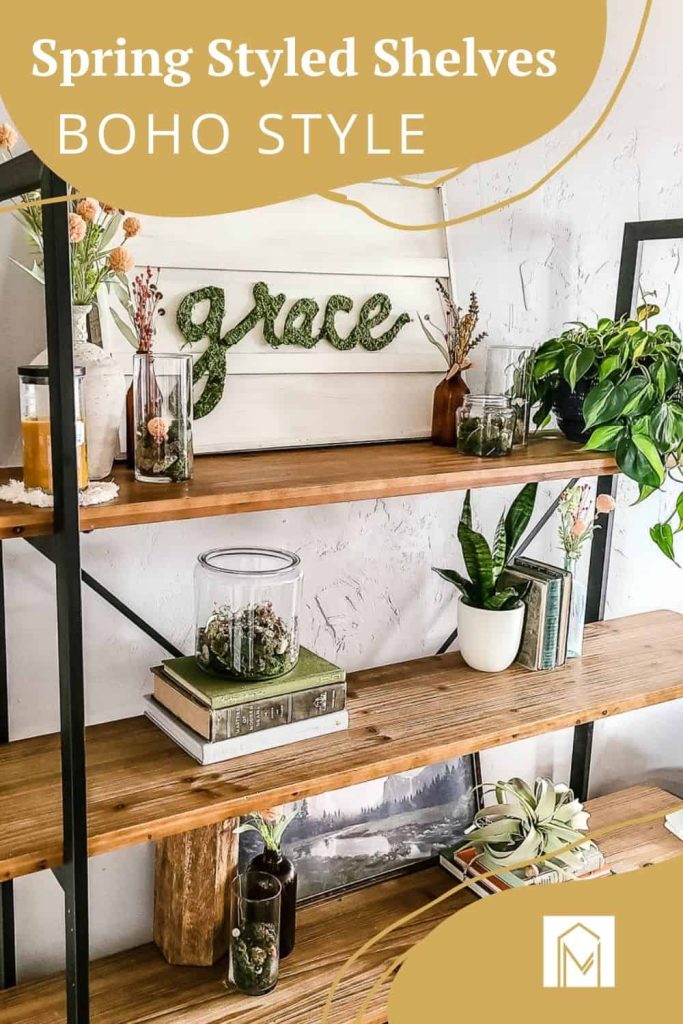 This spring living room decor post contains affiliate links, but nothing that I wouldn't wholeheartedly recommend anyway! Read my full disclosure here.
One of my favorite thing to do is decorating and redecorating our living room shelves. Whether I'm just itching for a new look or I'm redecorating them for a season like fall or Christmas – I always have so much fun dreaming up a new look.
Although I love the challenge of redecorating the shelves, you may find it overwhelming, so I summed up all of my favorite tips and tricks for how to decorate shelves here. Hopefully, after you take a look at those tips, you'll be armed and ready to take those concepts and decorate your shelves.
Today I'm sharing how I redid our shelves for our spring living room decor. I decided to go with a really modern boho look with lots of preserved moss in clear glass vases and vintage books. I added in lots of vintage books because I always have a bunch on hand around our house because I sell them on Etsy – did you know that? If you're looking for vintage books for your home, let me know.
Related – If you're looking for spring inspiration, you'll love these posts too:
Living Room Shelves with Spring Decor + Easy DIY Spring Decor Projects!
All of the sources for the items shown in the photos are linked at the very bottom of the post for your convenience!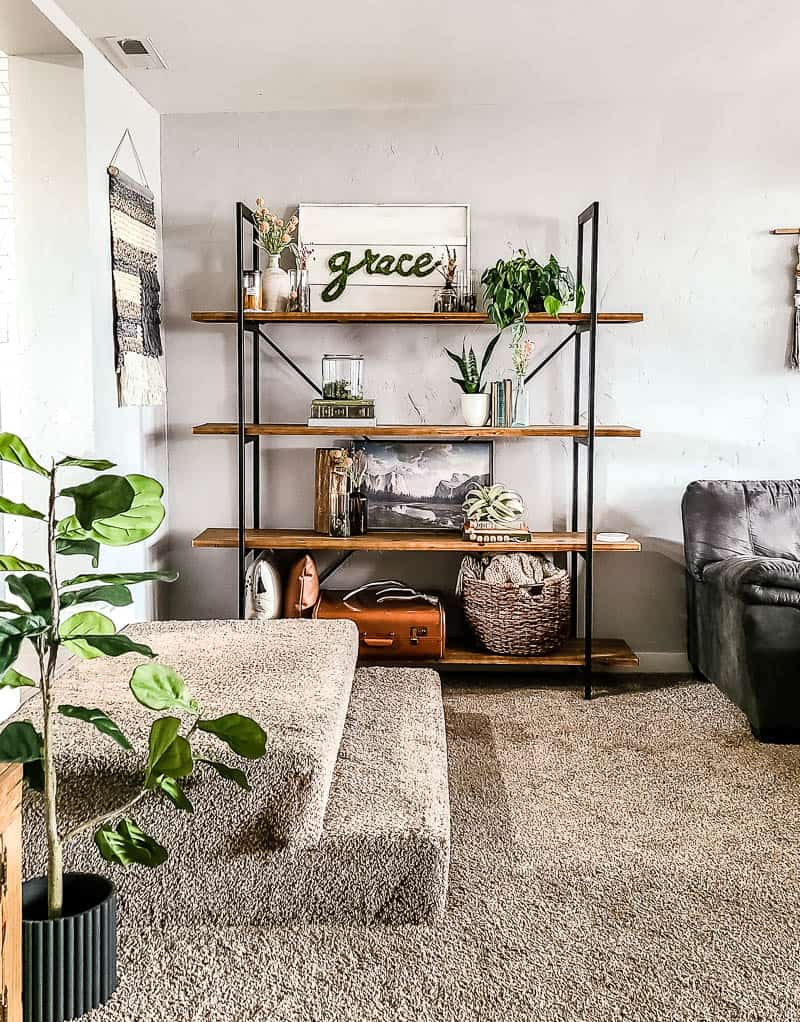 Didn't they turn out so fun? Do you see the little sneak peak of our DIY plant pot cover too there by the stairs? I had so much fun with that DIY.
Easy DIY Moss Vase
The moss vases couldn't be easier. All I did was get clear glass vases (mostly from the Dollar Tree) and filled them partway with preserved moss, some dried florals like these natural ones and and even a few pieces from these peach faux flowers.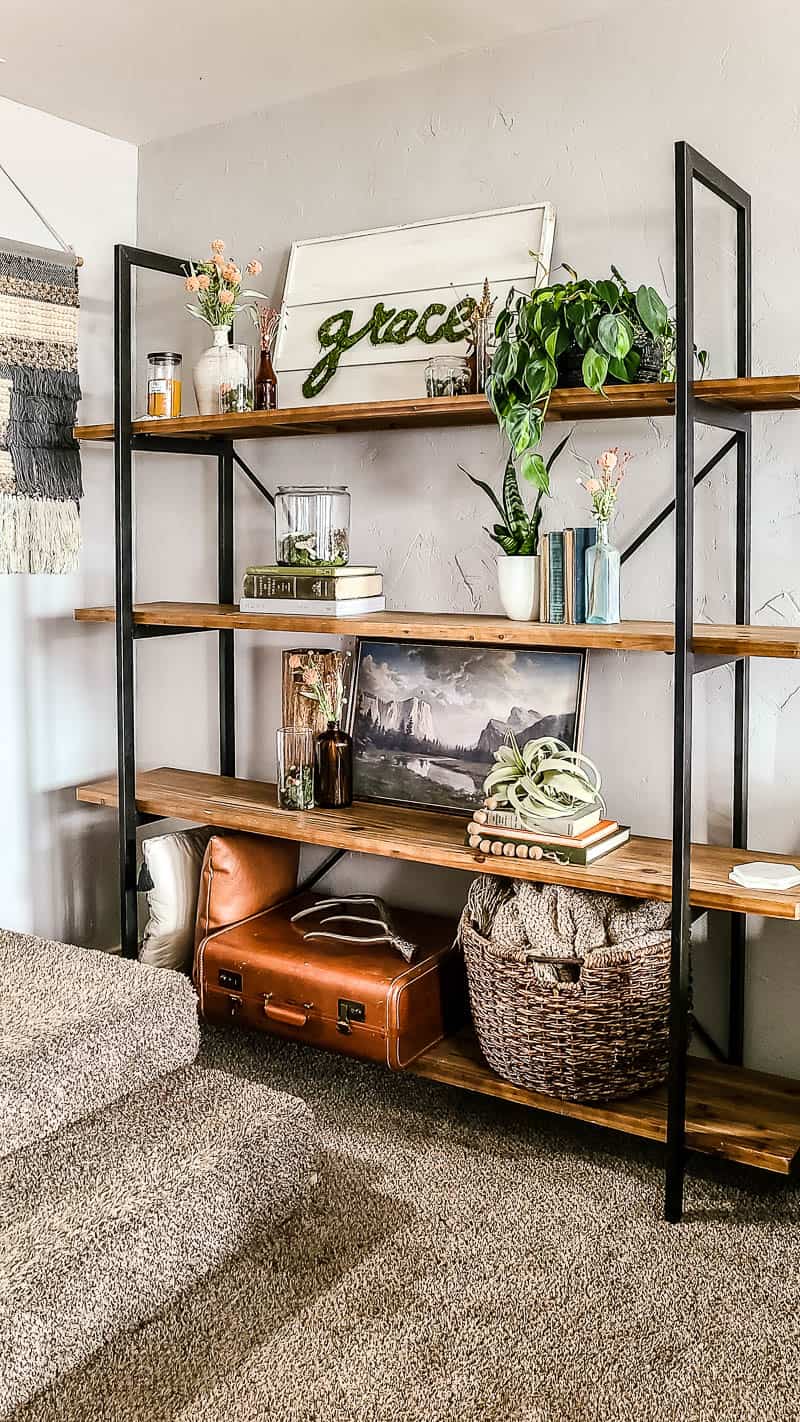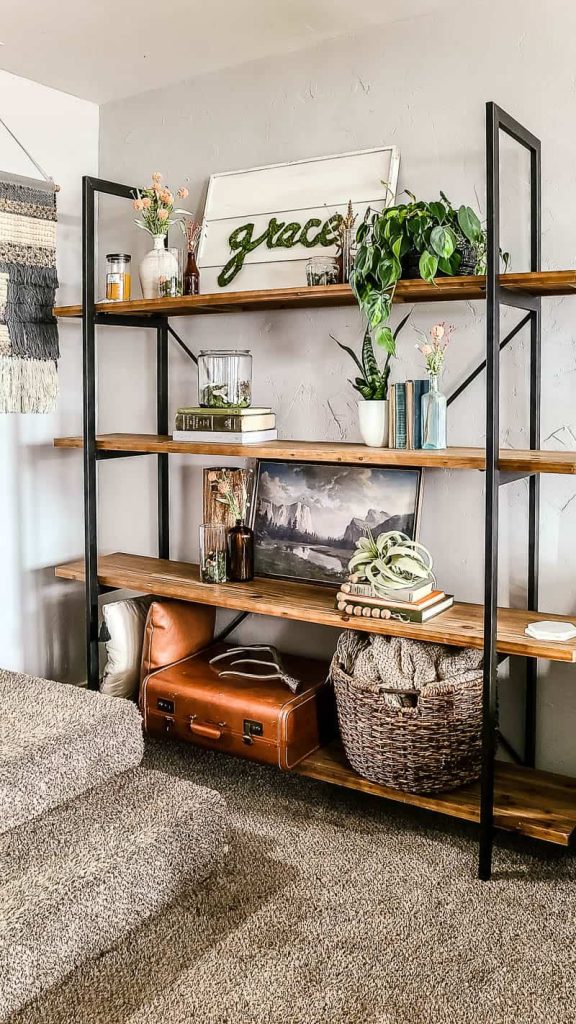 Moss Letters from Sheet Moss
One of my favorite things I added to the spring decorated shelves in our living room was the sign for the moss letters. And they were so simple! Here's how I made them:
Write words on the back tissue paper lining that comes with the sheet moss with a Sharpie marker.
Outline the letters so it's about 1 inch wide.
Flip the tissue paper over and tape it to sheet moss — this step is crucial so the letters will be going in the right direction when you cut them out.
Cut around the letters.
Tape to plain sign — I used the backside of a Christmas sign that I've painted white. It's perfect because I can use it year-round since I use both sides of the sign…genius, right?
Lean on shelves.
Voila…. perfect spring living room decor with moss letters.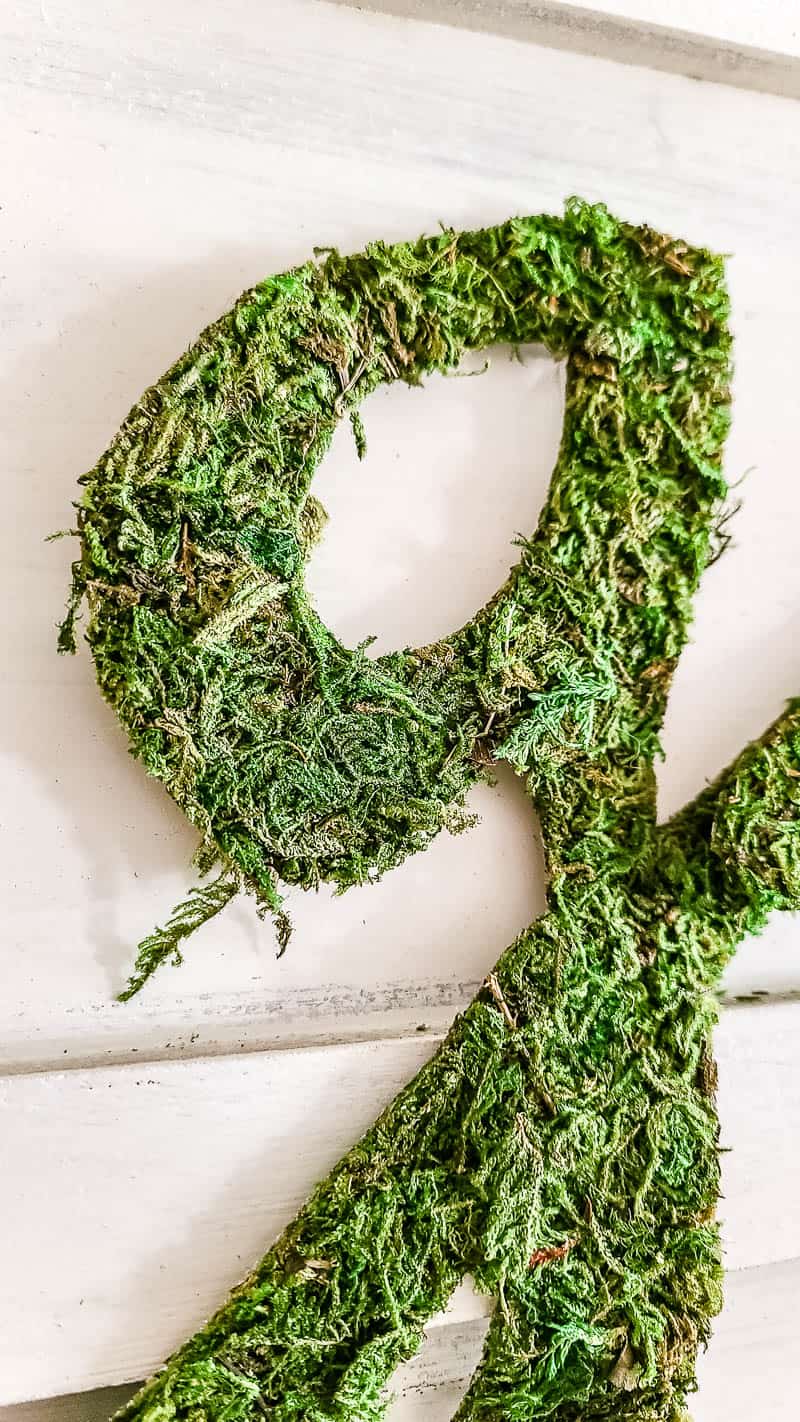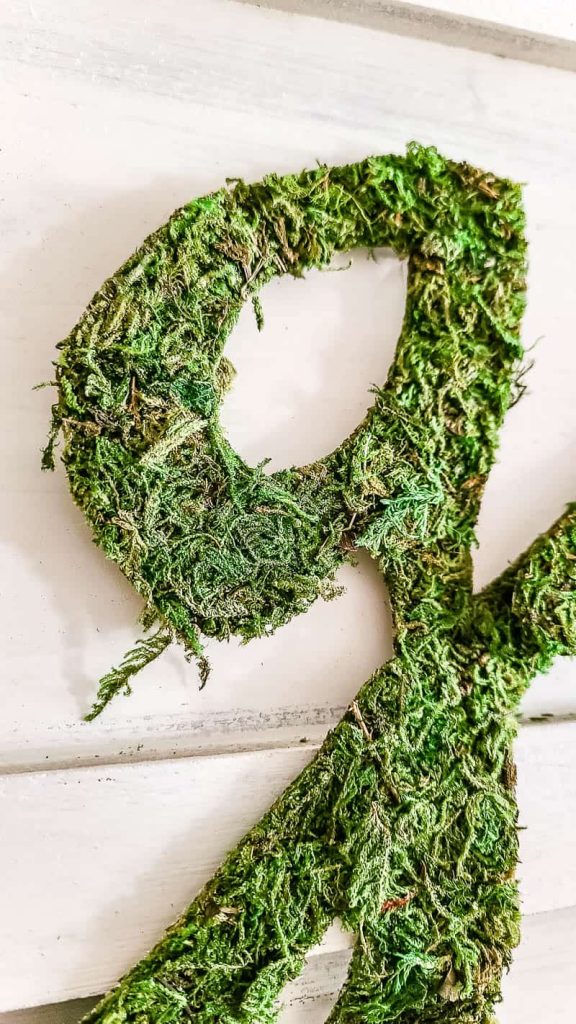 I chose to write out the word "grace" but you could really do anything… spring, grow, home, love…you name it.
I thought grace was the perfect reminder about what the spring season, and specifically Easter, is all about.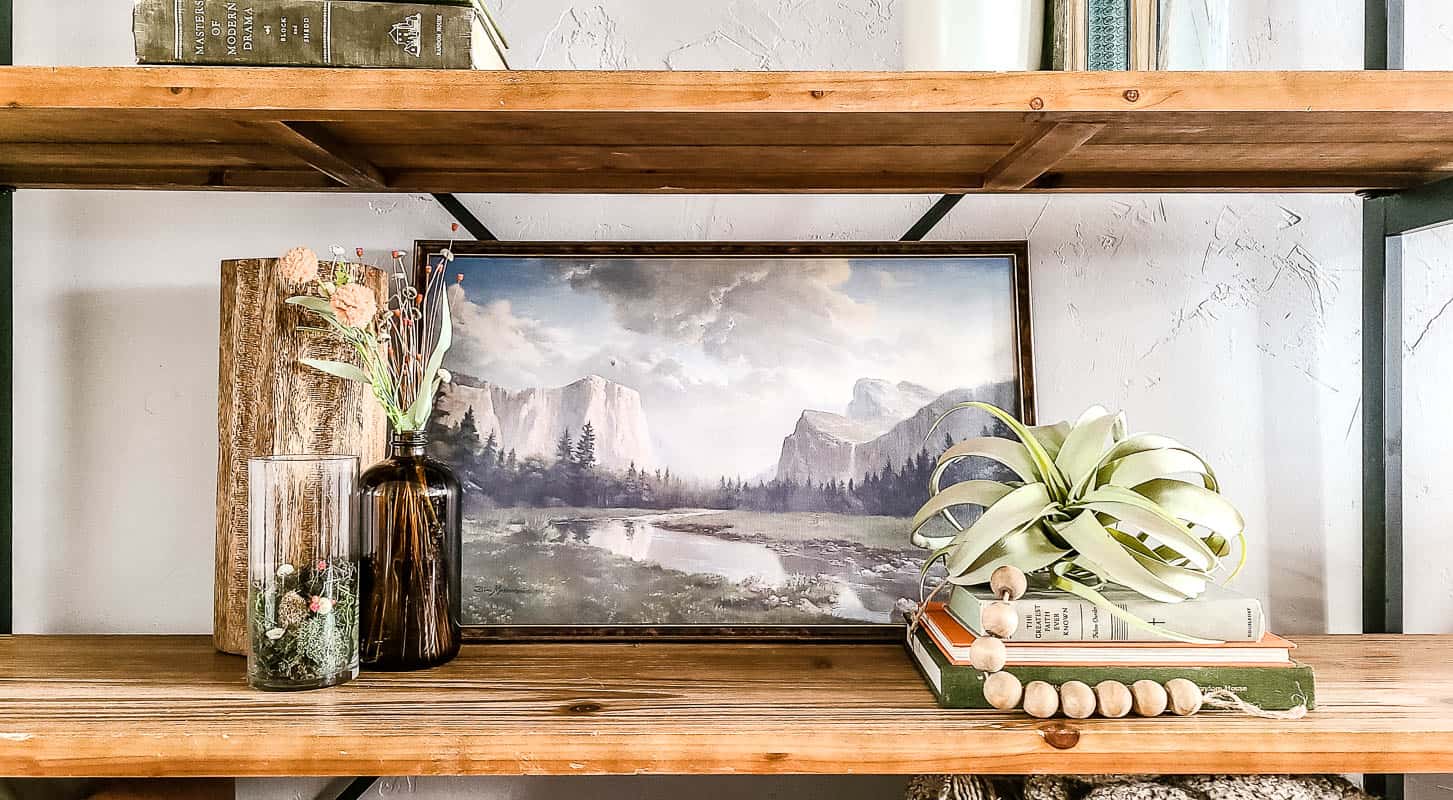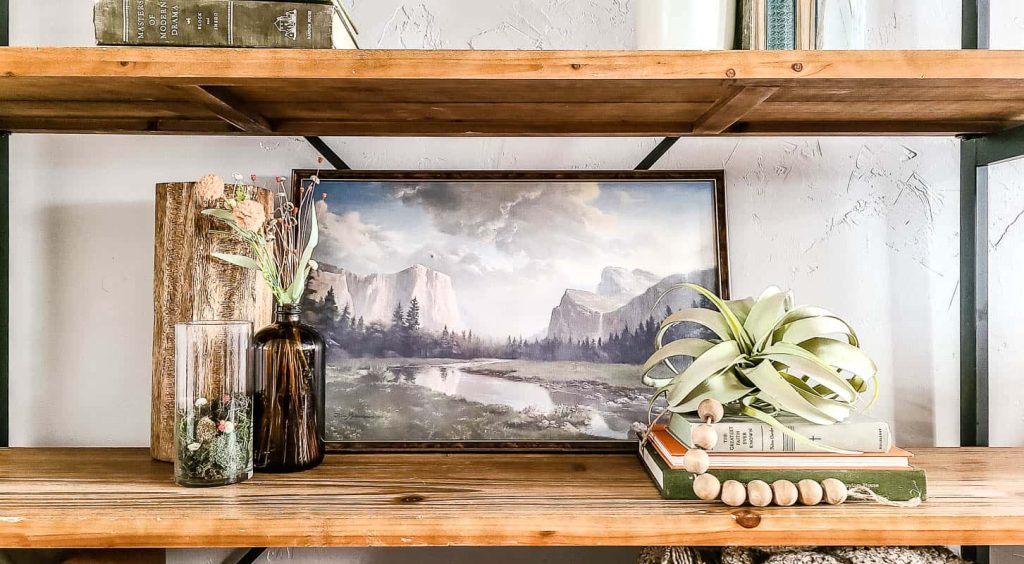 I'm obsessed with this vintage art I snagged at a yard sale this summer. The colors are perfect these spring shelves.
I had so much fun sharing our spring living room decor on our shelves with you and I love how they turned out.
Living Room Spring Decor Sources:
How can I decorate my living room for spring?
Are you still asking yourself, "How can I decorate my living room for spring?" Well, you're in luck. I've rounded up some of my favorite spring decor ideas below!
Which of these spring living room decor ideas are you going to use for your home?
Let me know in the comments below!