The before and afters of this modern boho living room renovation will shock you! Check out all the fun DIY projects, mid-century boho living room styling and decor ideas, and room sources.
Today is the BIG day! The living room we have been working on for months is finally done, and we're ready to share it with you!
We took our time on this living room reveal – both in the sense that we waited 3 1/2 years to do it since we moved in & that we spread out the projects over several months.
The living room is not only the first thing that someone sees when they walk in our front door, but it's also where we spend the most time as a family.
It is a hardworking room that needs to serve as a comfortable and cozy lounge area, a main TV-watching room, an entryway, a playroom, and an entertaining space when we have friends and family over.
It wasn't checking all those boxes before the renovation, but now that the modern boho living room renovation is done – it's all that and more!
Want to see our other renovation projects? Check out our full home tour here!
Before Pictures
Here's how the Boho modern living room started. The only thing we've done in here since we moved in 3 1/2 years ago is painted the walls with a light gray color, they were tan when we moved in.
If you want to see exactly how it looked when we moved in, here's our pre-renovation tour.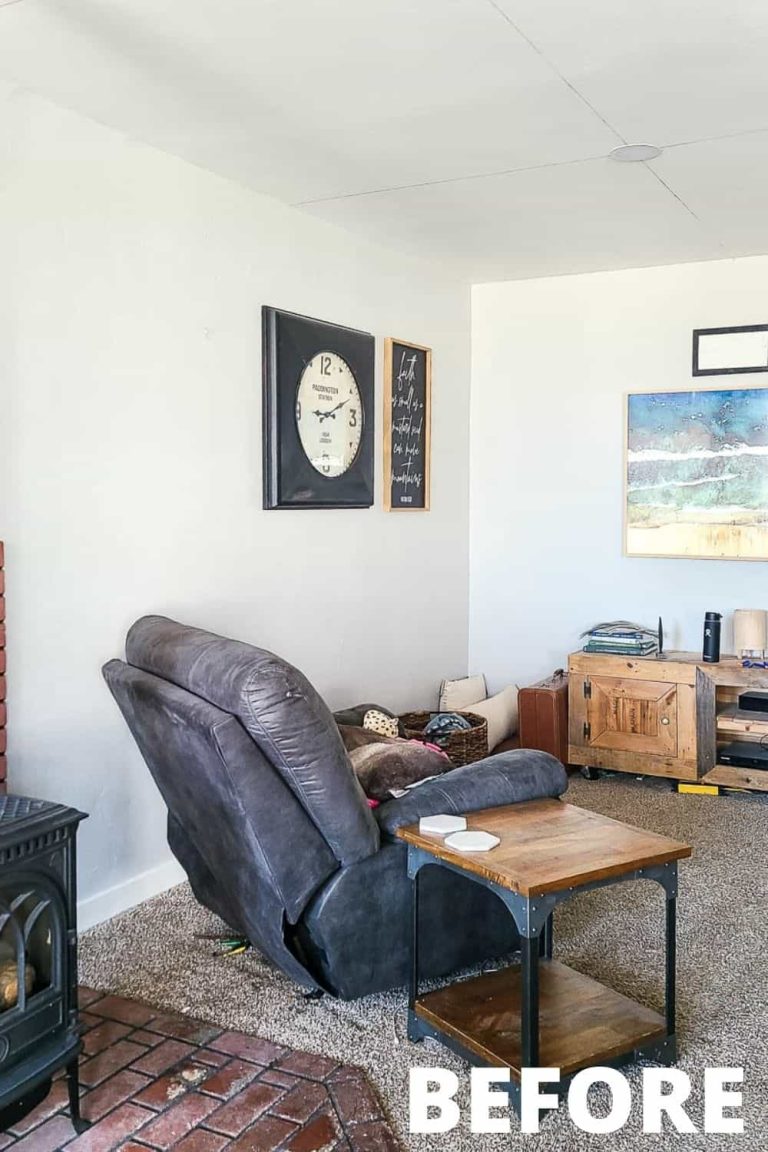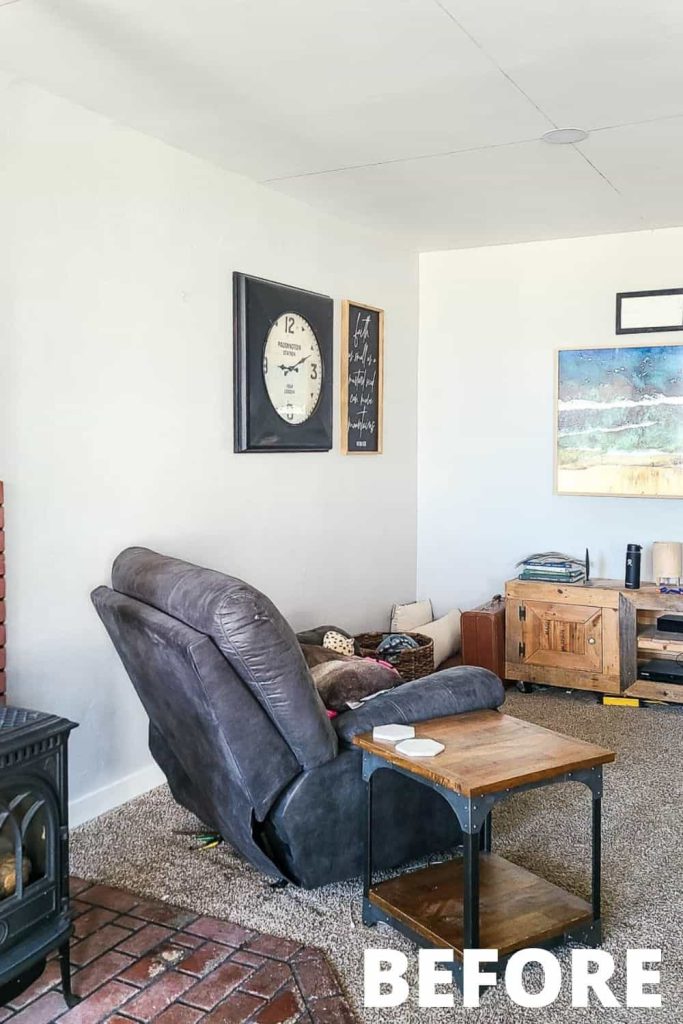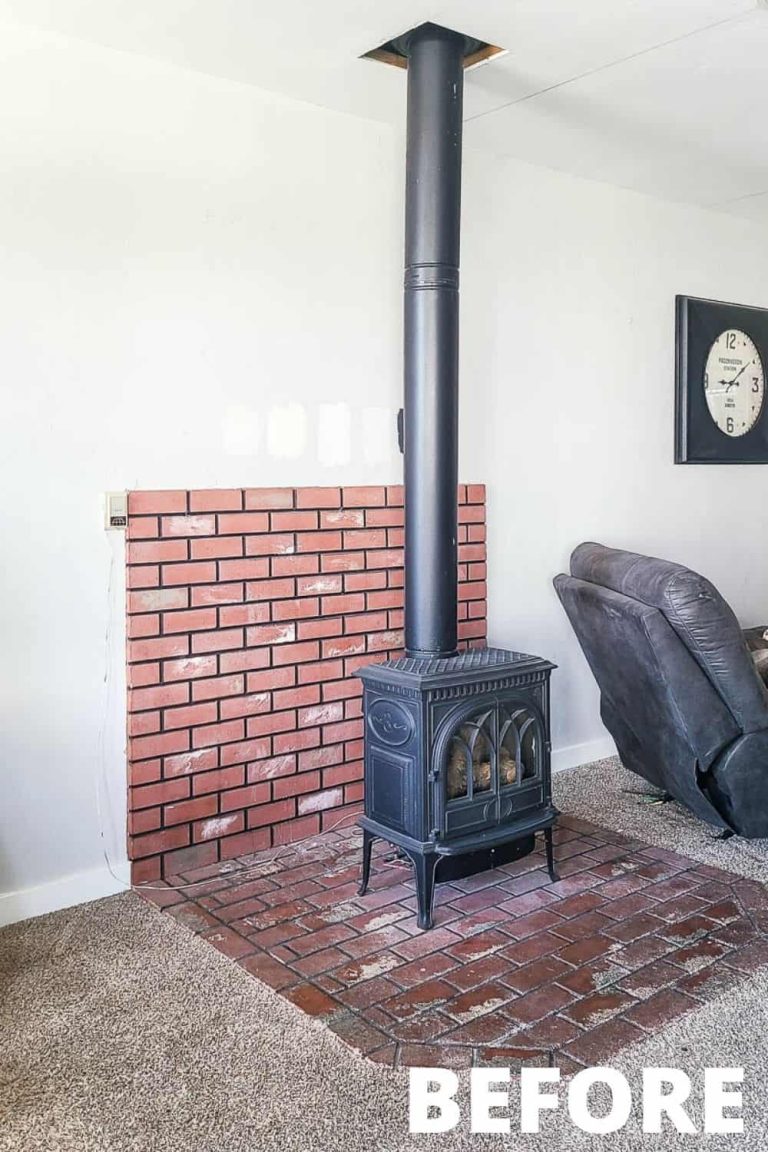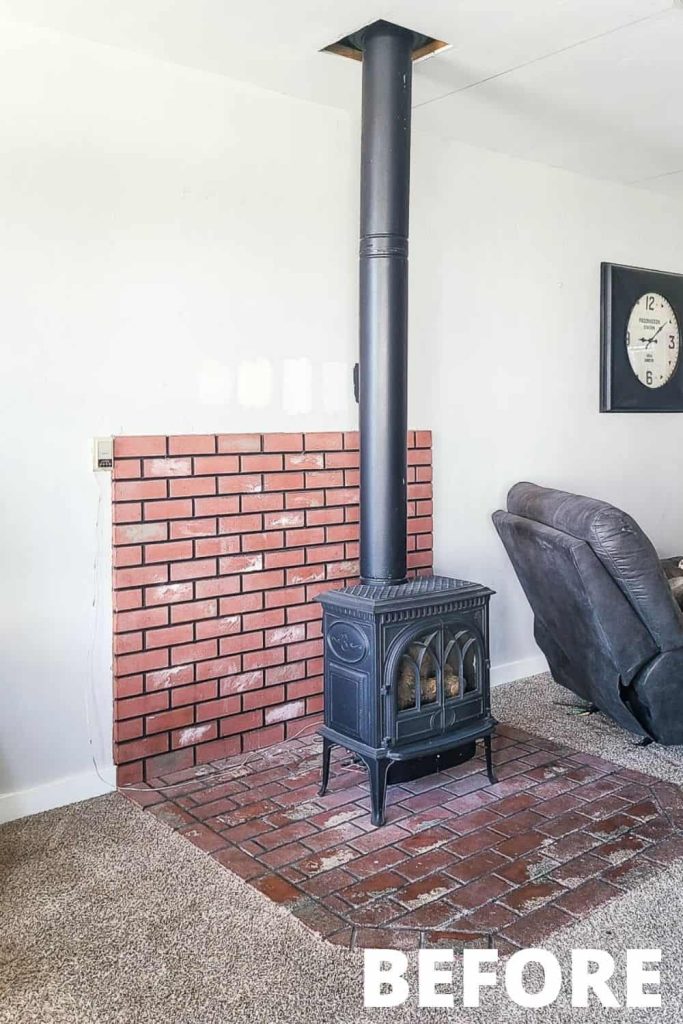 This modern boho living room reveal contains affiliate links, but nothing that I wouldn't recommend wholeheartedly. Read my full disclosure here.
A Modern Boho Living Room Renovation – DIY Projects
In true Making Manzanita fashion, we DIYed every aspect of this room renovation. It's been a labor of love, and we've had so much fun slowly sharing the tutorials with you in big anticipation of the modern boho living room reveal.
Let's quickly recap everything we've done so far…
Fireplace wall makeover
We started the living room makeover with the fireplace. We removed the brick veneer half wall and replaced it with these awesome heat-resistant wall panels that brightened up the room and created a modern faux concrete look! They were SO easy to install and required NO power tools.
Learn how to install faux concrete wall panels like this!
Paint walls
Next, we moved on to painting! This was when the living room really started looking different!
We started by painting the ceiling, then cut in with the wall paint color, painted the walls with this dark and moody gray color, and lastly, painted the trim and baseboards (after the flooring was done).
Remove carpet
I always jumped at the chance to remove the old carpet in our house, so the living room of modern boho was no exception. We summed up some best practices for removing carpets and specifically how to remove those pesky carpet tack strips in this article.
Install laminate flooring
After the carpet was out, it was time to add the new floors! We went with laminate flooring that we already have in our kitchen and laundry room (that connects to the living room).
Learn how to install laminate flooring on concrete in this step-by-step tutorial!
Slat accent wall
I couldn't let a room reveal go by without adding an accent wall – it's my favorite thing! We went with a modern-looking wooden slat wood installed in the corner with offset vertical wood slats. It's the perfect backdrop for our new sectional.
Learn how to install your own DIY slat wall.
Tile in entryway
Since we replaced everything else in the living room, adding a new tile in the entryway seemed fitting. I love the fun pattern we chose. It adds so much character to the modern boho living room and makes the perfect first impression when you enter the door.
Learn how to lay large format tiles yourself (even if you're a beginner)!
DIY tapestry wall decor
It wouldn't be a room reveal if we didn't get some art up on the walls, of course! Since large-scale art is SO dang expensive, we decided to DIY it! We created a tapestry frame, which looks great above the couch.
Learn how to make your own DIY tapestry frame!
Behind the couch table
This was a DIY we did after we finished the living room makeover. I struggled with the corner sectional and having an excellent place to set my drinks while sitting on the couch. I also needed better access to an outlet for charging my laptop. So we build this skinny table to go behind the couch with a built-in outlet for easy charging.
Learn how to build this behind the couch table and download the free woodworking plans.
Modern Boho Living Room Transformation – Video
If you love DIY videos, be sure to subscribe to our YouTube Channel!
Modern Boho Living Room Reveal – After Pictures
Are you finally ready to see the finished modern boho living room ???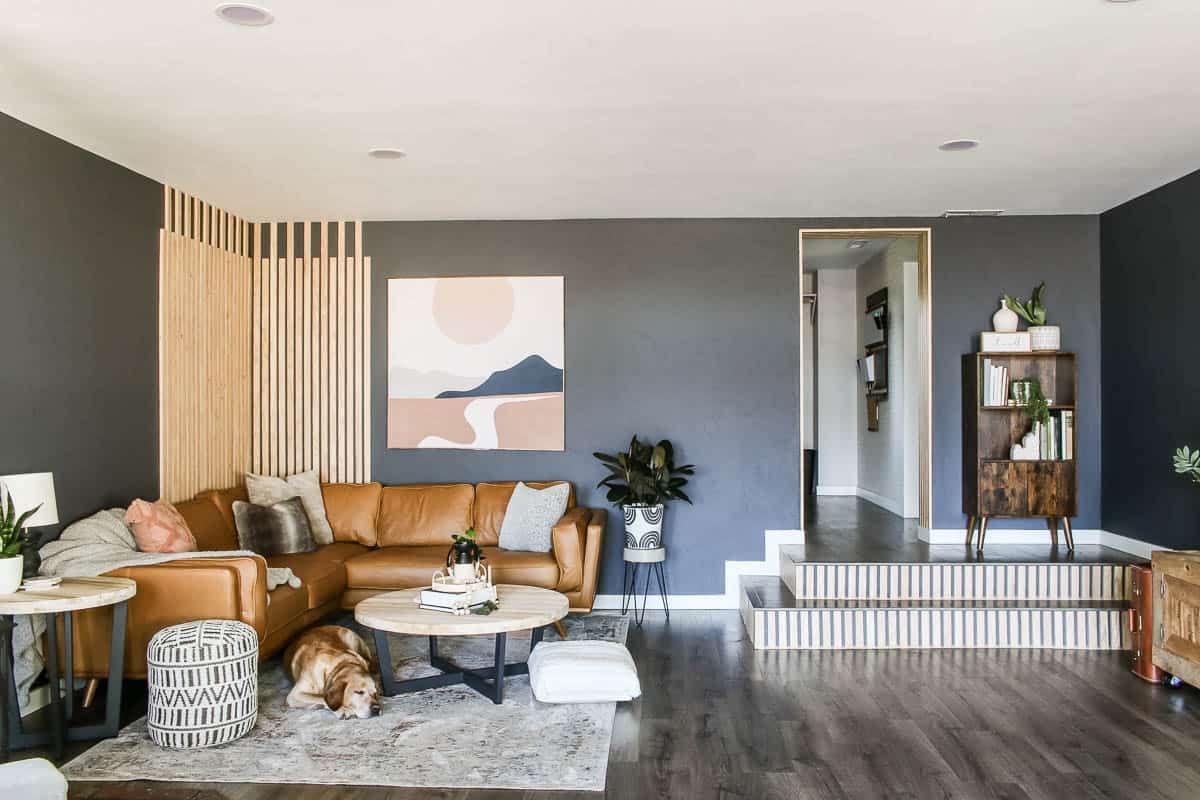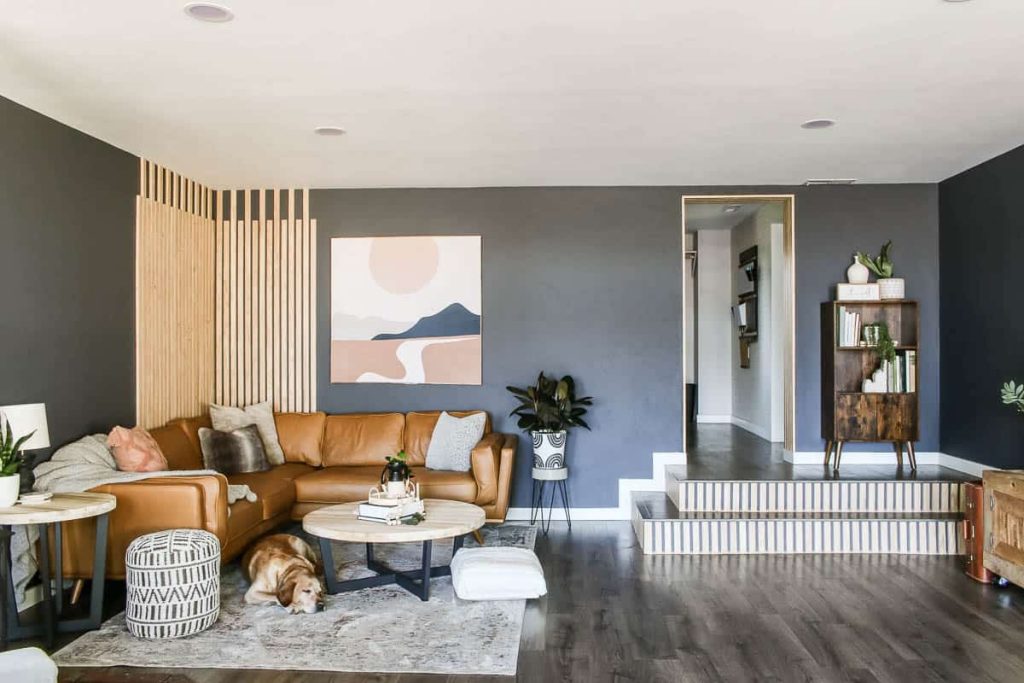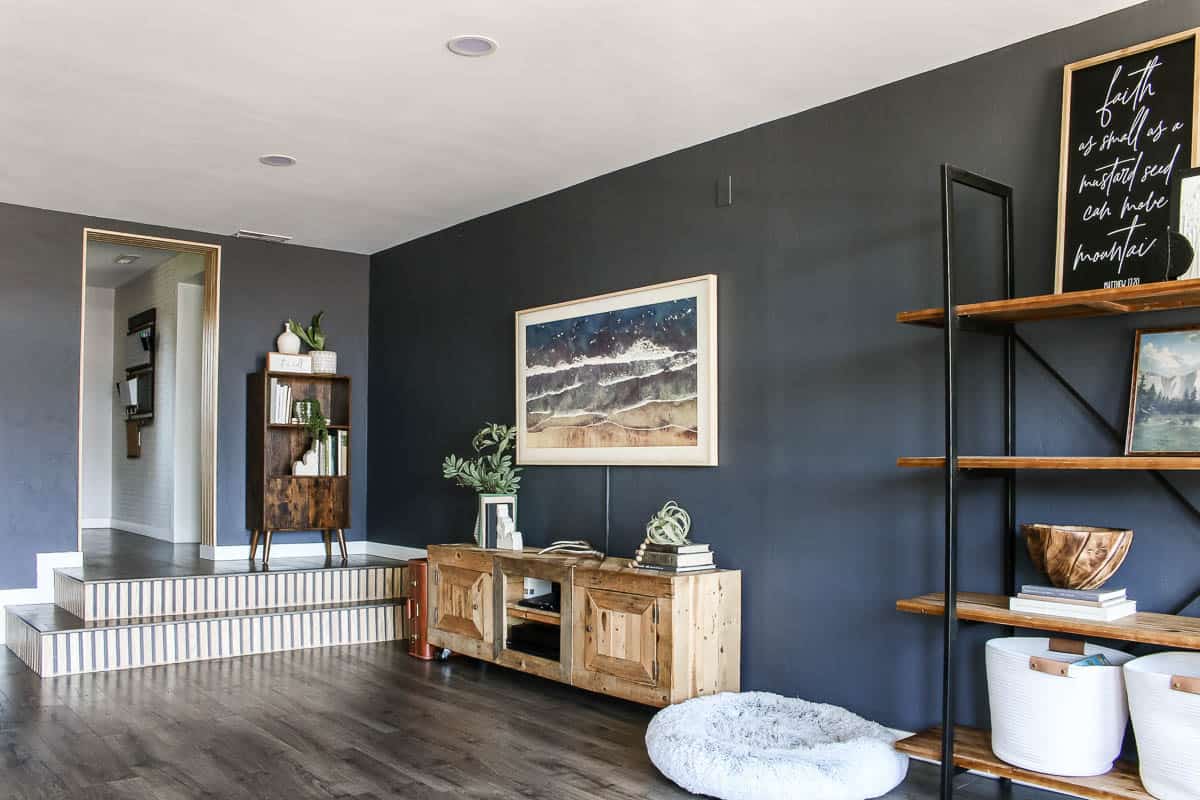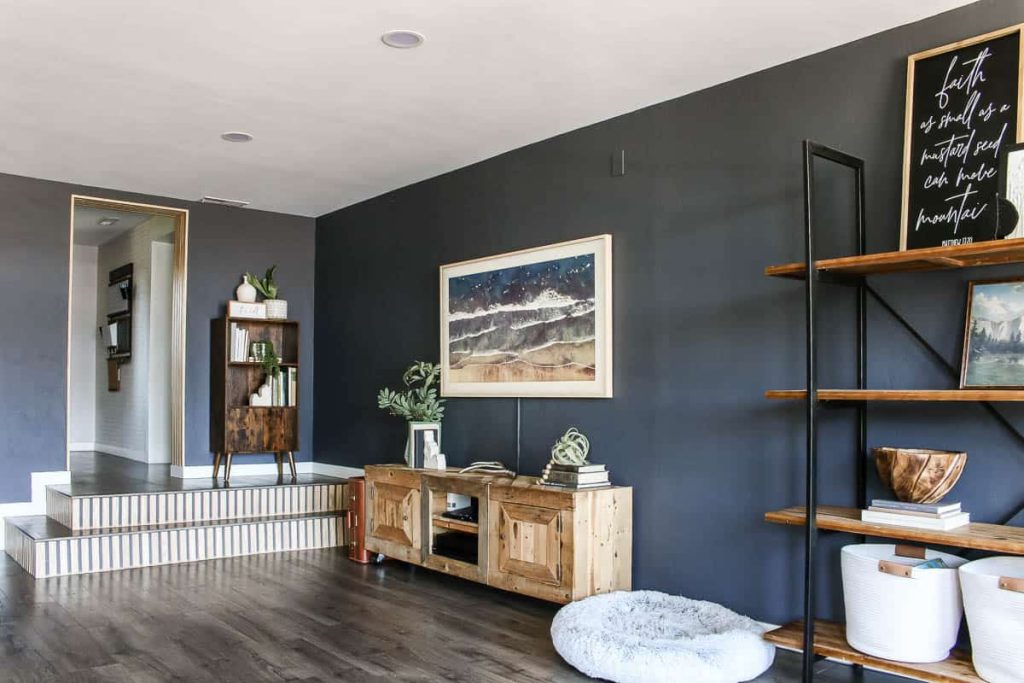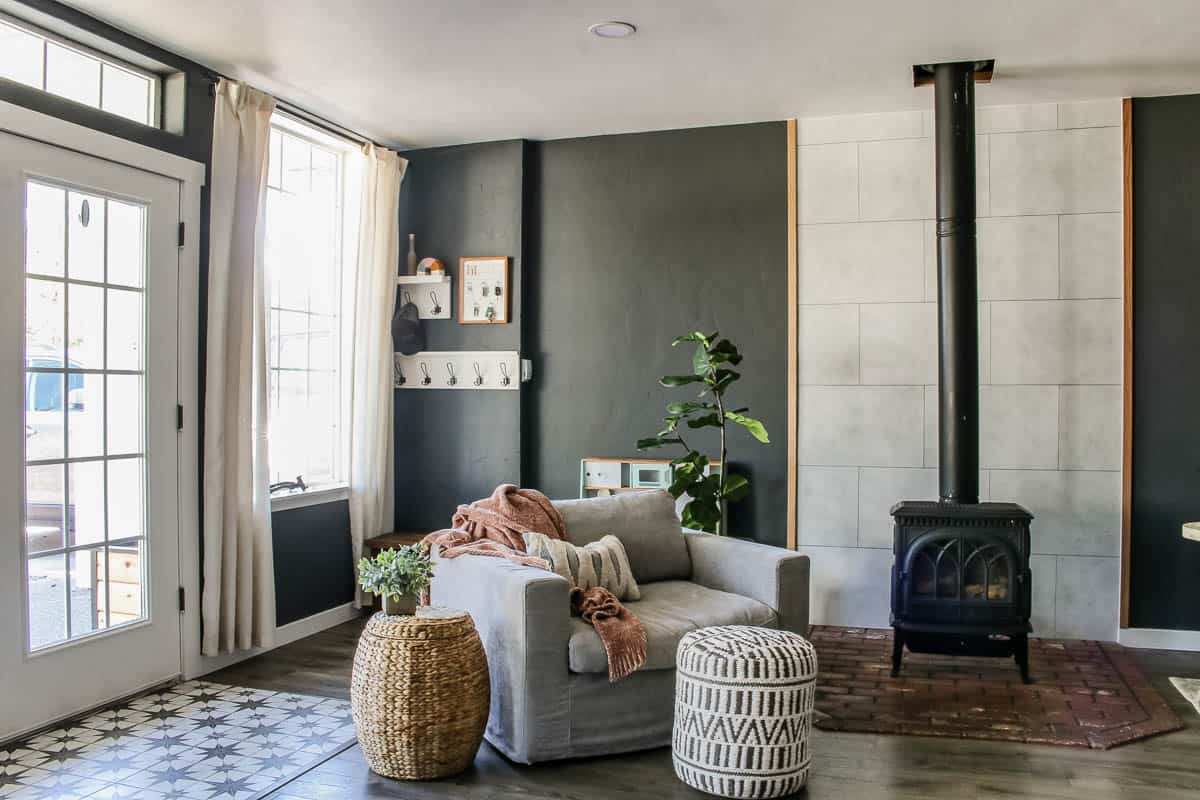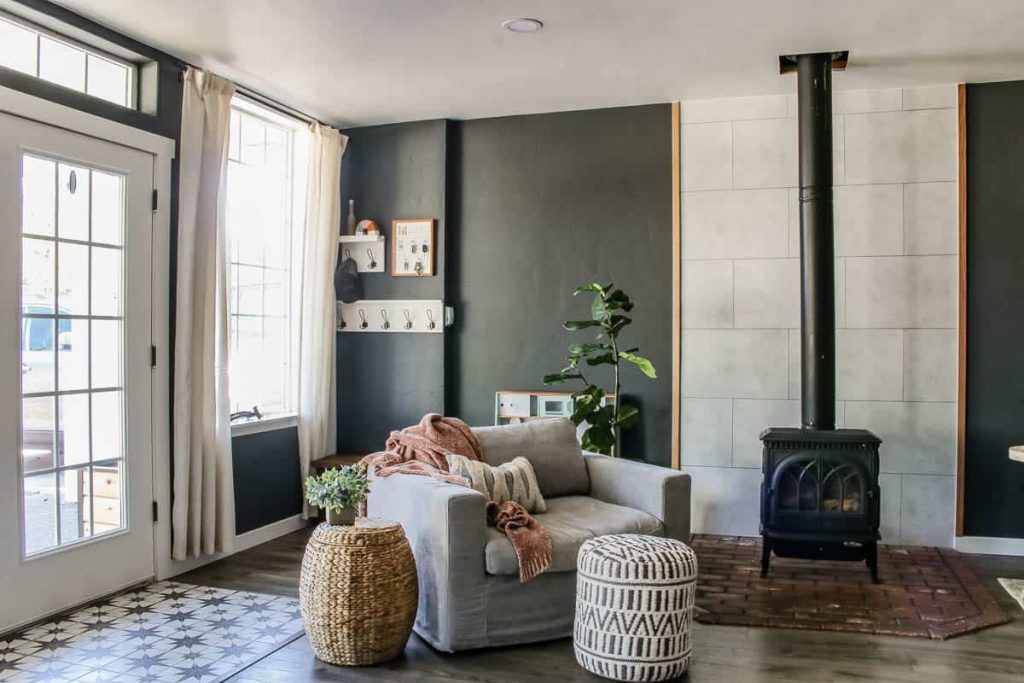 Oh my goodness, right?! I semi-can't believe that this is the same room. Even though I've been here every step of the process and I've seen it slowly transform.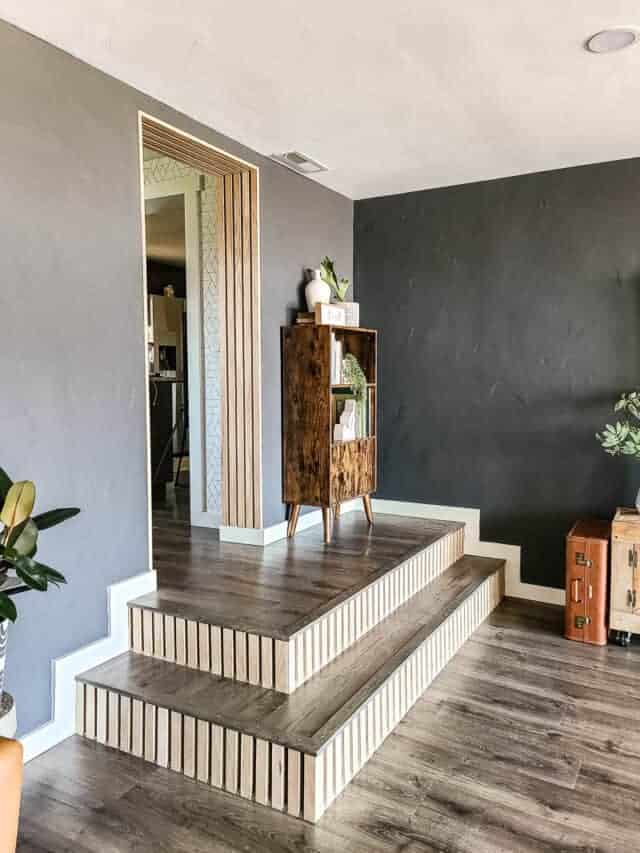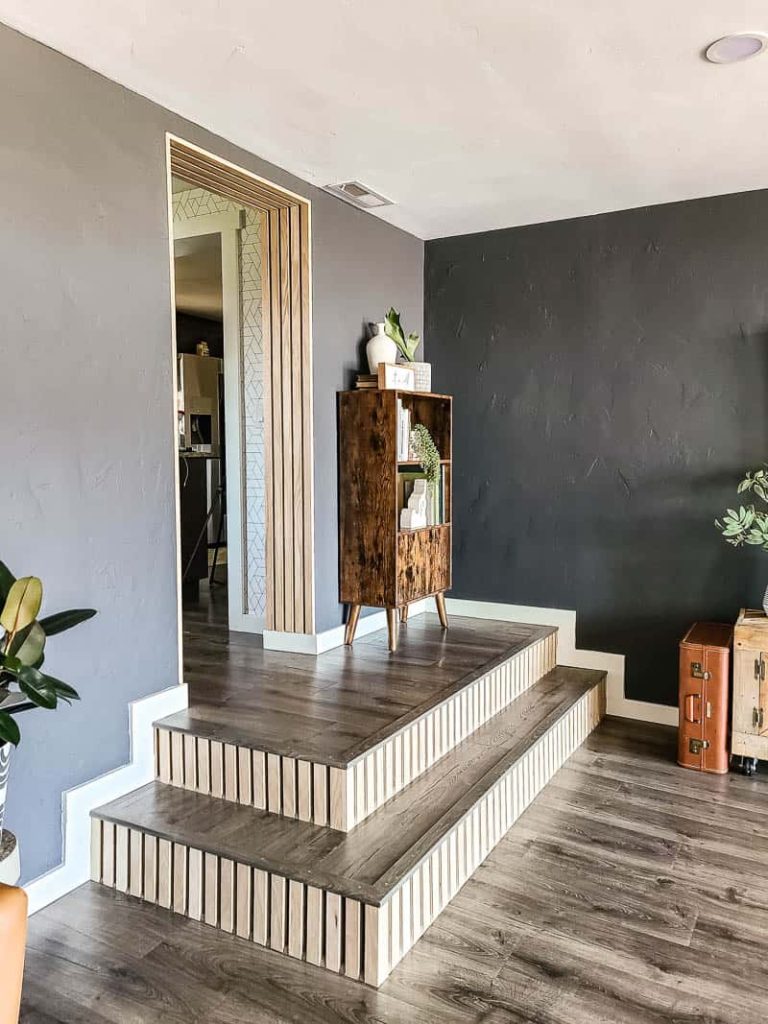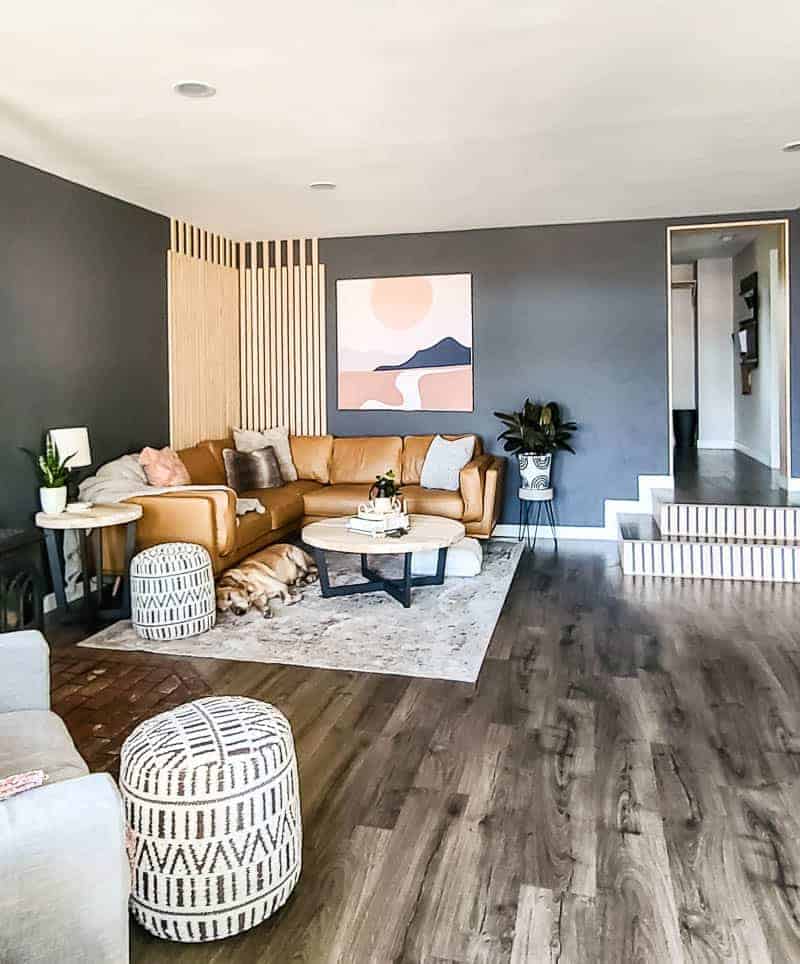 One of my favorite things about the room is how we tied the wood slat accent wall to this doorway case opening and onto the risers on the stairs. It's a little something unexpected but in a good way.
Mid-Century Boho Living Room Furniture
When I say I've been dreaming & lusting over this mid-century boho leather sectional couch for years, I'm not exaggerating.
Years ago, when we were in the market for a new couch, I wanted this one, but I held off because it was pricey, and I knew that our sofa would see some tough life with newborns and toddlers.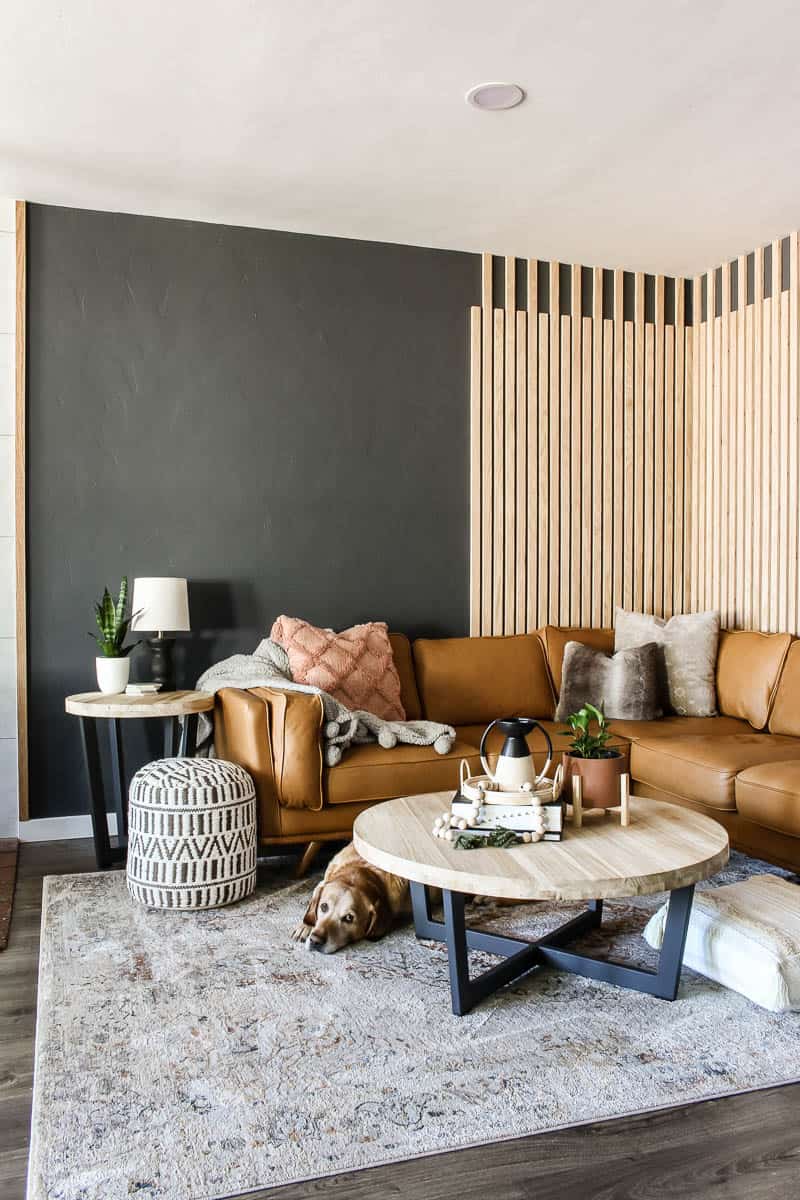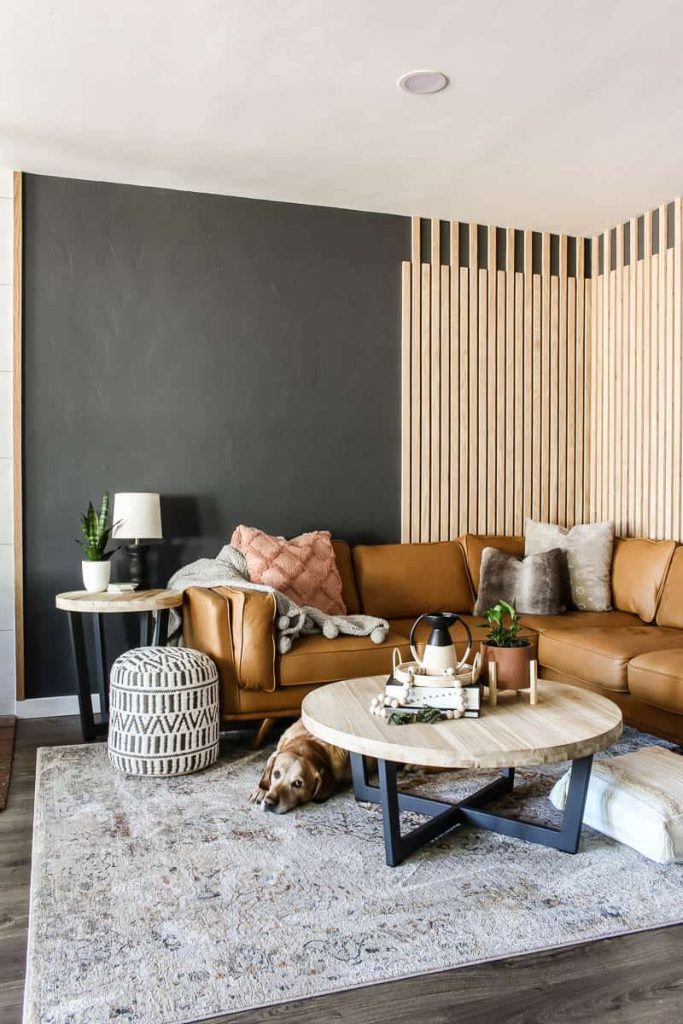 Getting a nicer sectional is a little safer now that our kids are a little older. Let's say that having Sharpie markers drawn all over the back of the couch is less of a risk now (true story: that happened to our last couch).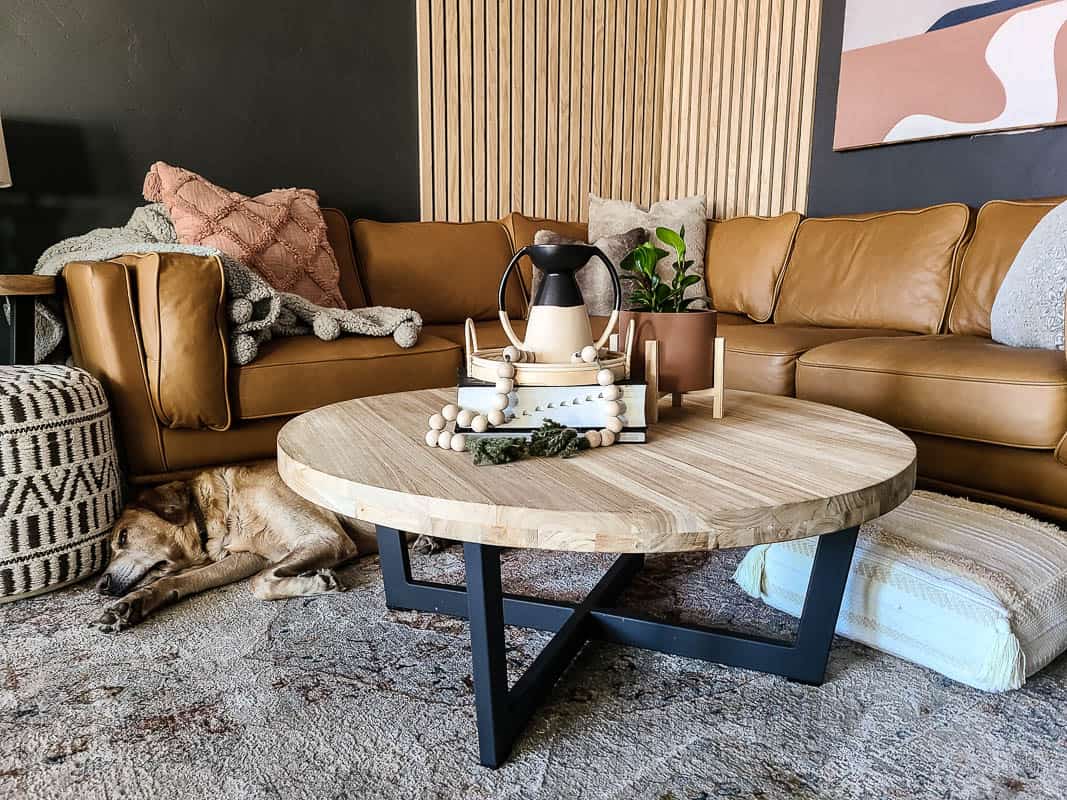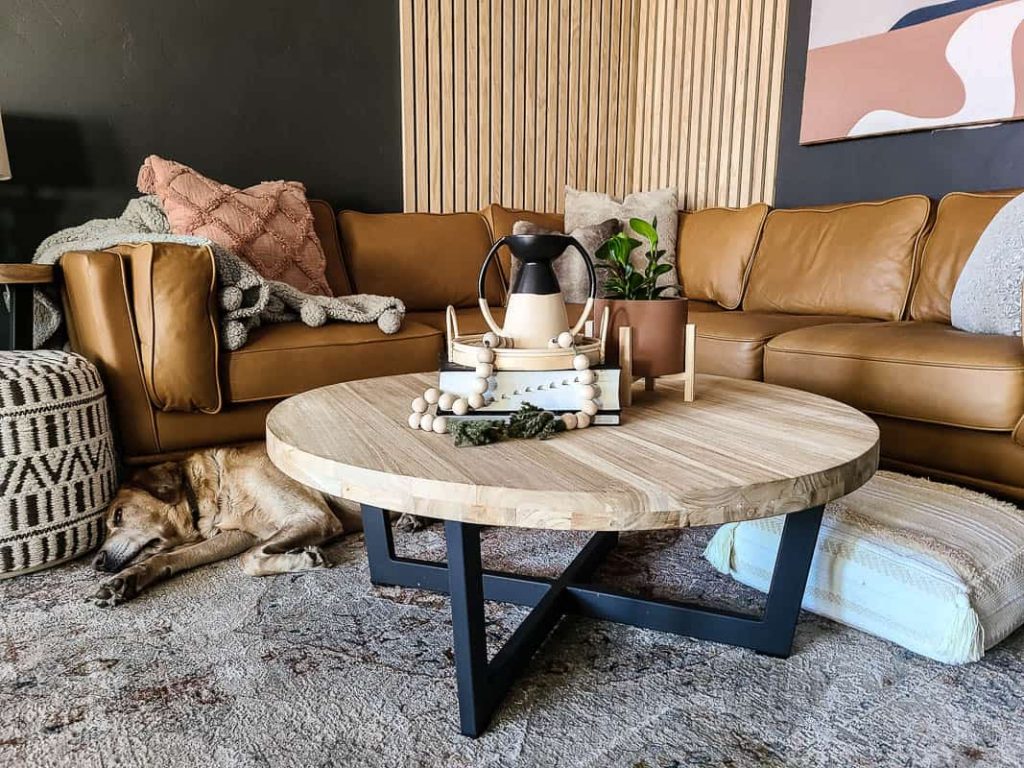 We also upgraded our cushioned ottoman to a real coffee table, and now I feel like a real adult. The ottoman has served us well as a launching pad for the kids to jump on the couch.
Having a coffee table also means I have another fun place to decorate – although I think we'll keep it minimal, so there's plenty of room for the kiddos to play and color. I even made this fun DIY footed tray perfect for coffee table decor.
We have honestly NEVER owned a coffee table, so this has been a fun adjustment. I love this one with the light wood top and dark metal base. I feel like it is a great contrast to the leather tones in the couch and still has that mid-century boho feel.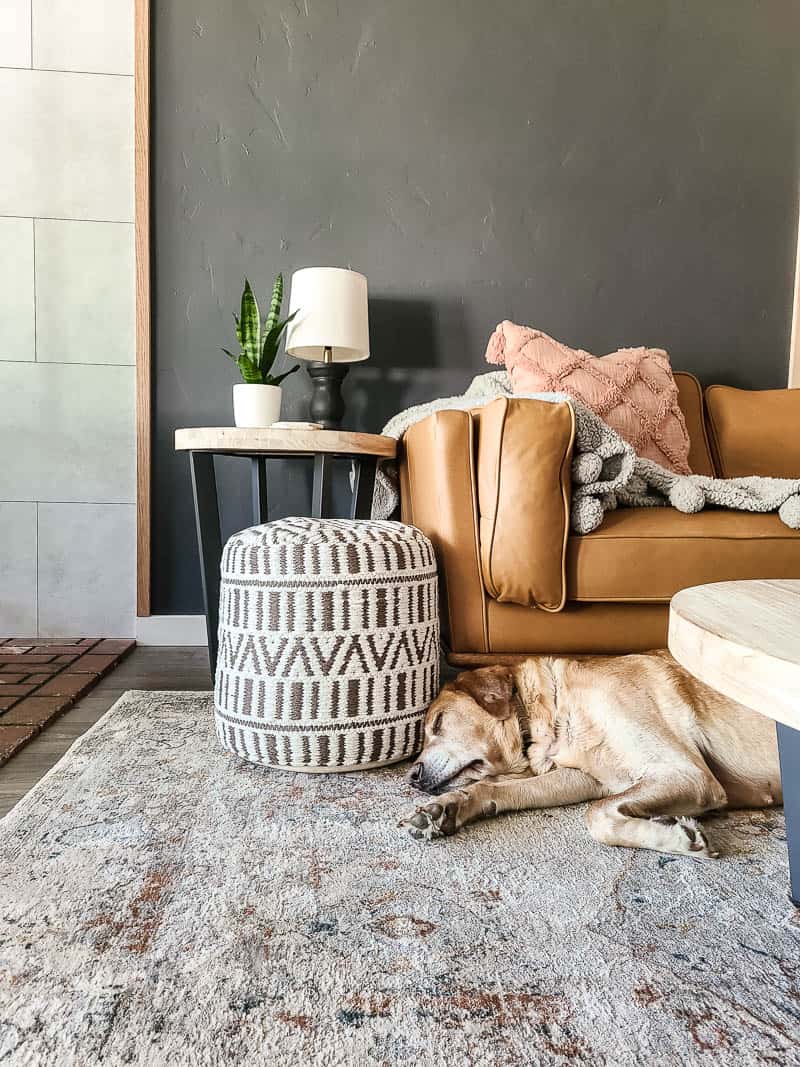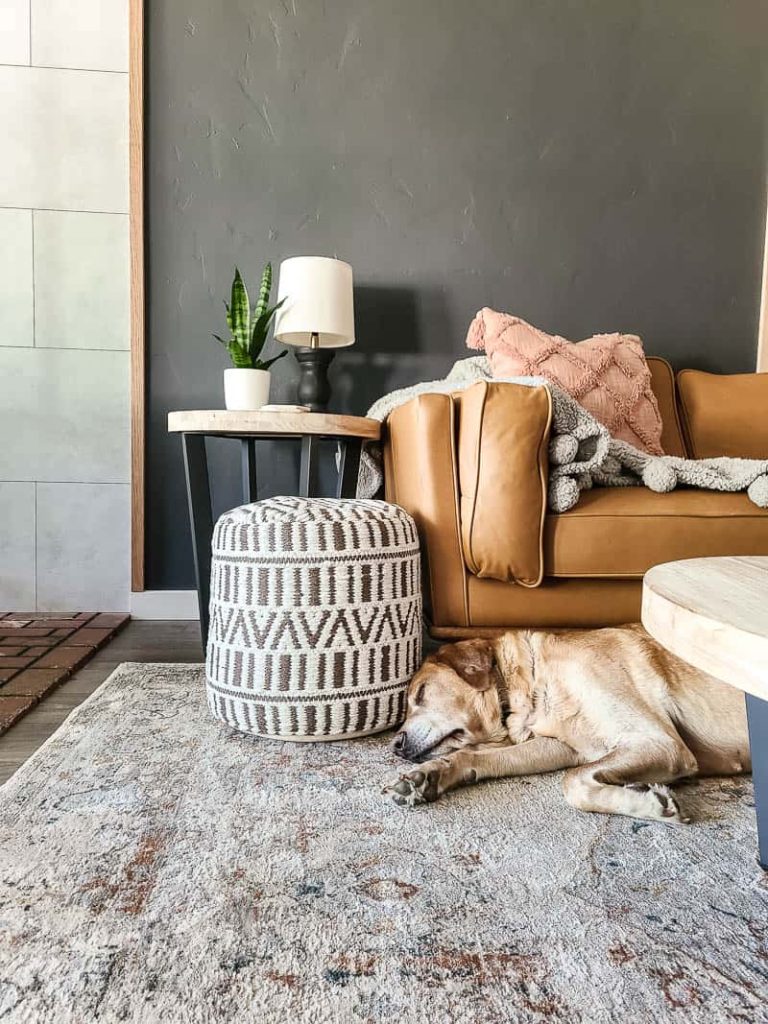 Since we were so used to putting our feet on a cushioned surface with the ottoman, we snagged a few of these boho-patterned floor poofs. The kiddos love sitting on them; they are the perfect size as a footrest.
We also incorporated a matching side table next to the couch as another surface for a drink and a small lamp.
The plants we added to the room helped bring that "boho" vibe to the modern living room.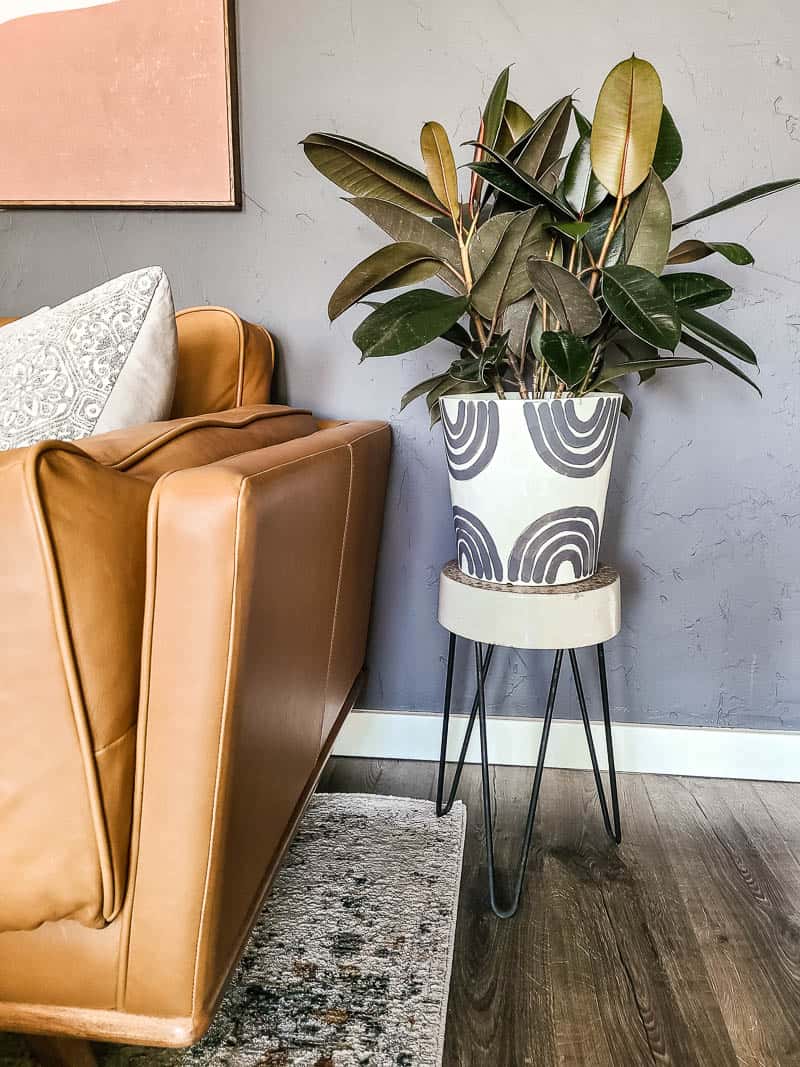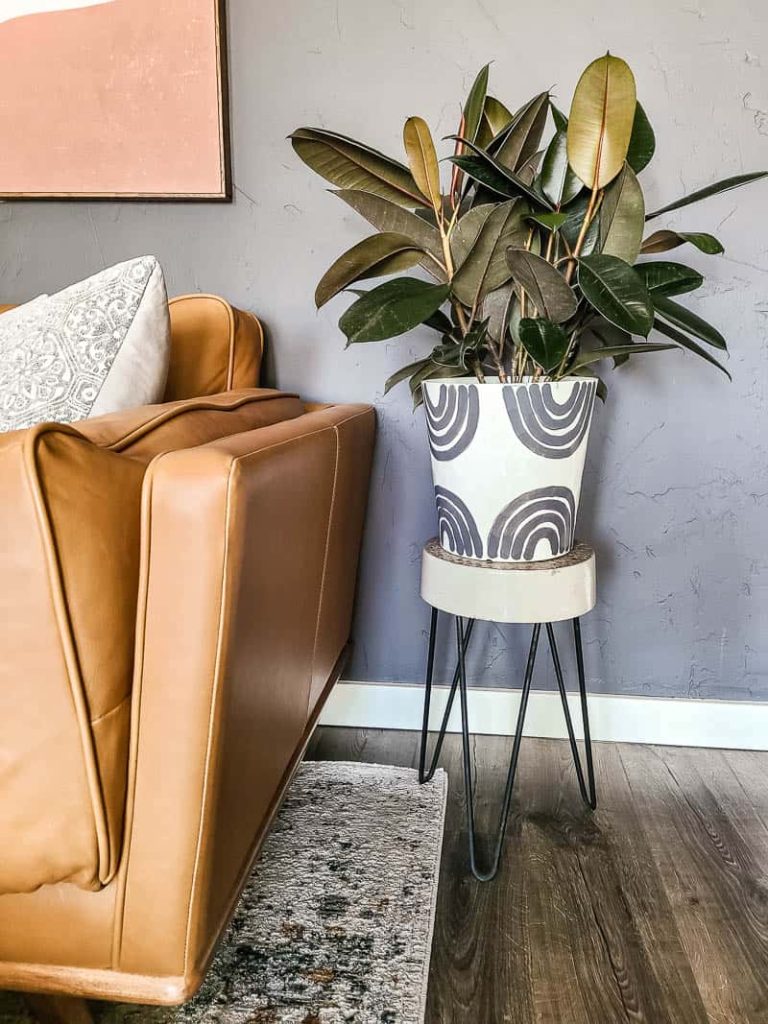 We brought inside this concrete side table that we had on our front porch. Turns out it also makes an awesome plant stand!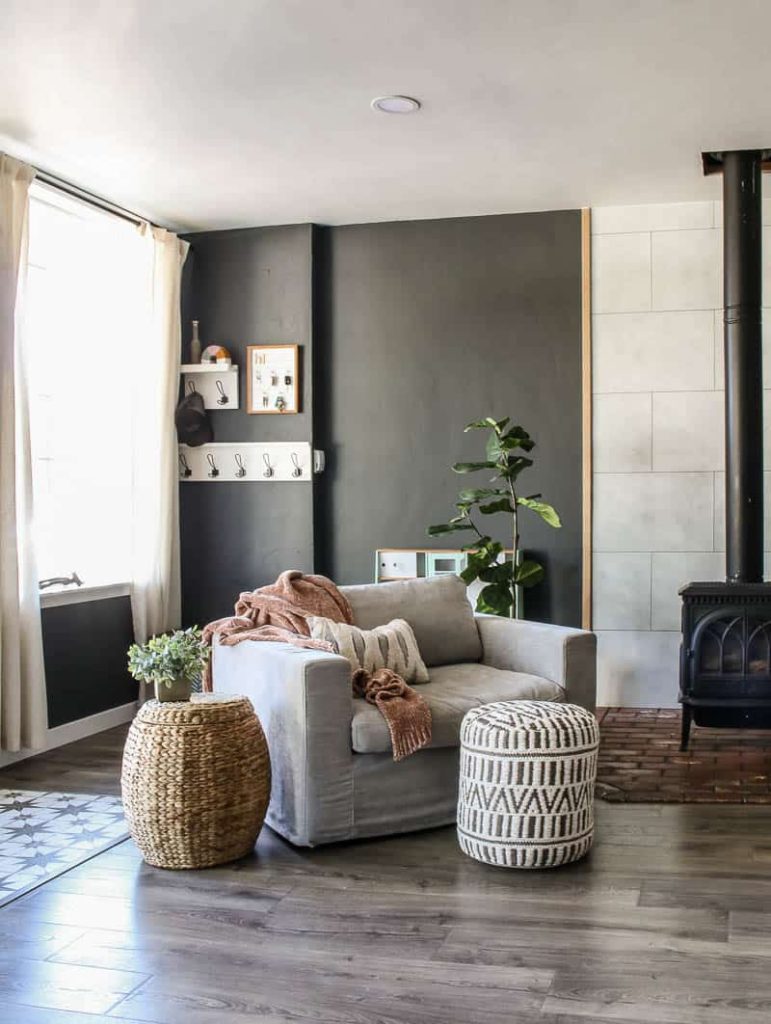 We traded in the recliner for this unique armchair with SO much wiggle room. It seriously can fit me and both kiddos, so it makes a great cuddle spot. Gotta take advantage of all the cuddles I can get while they still let me!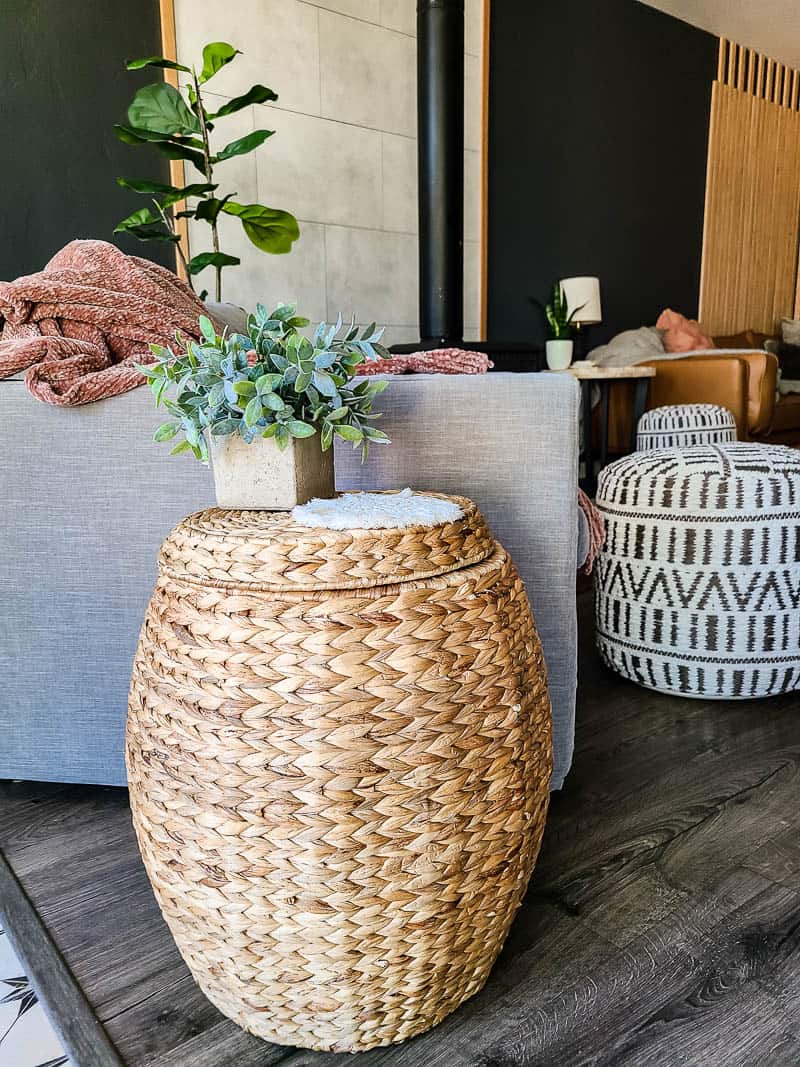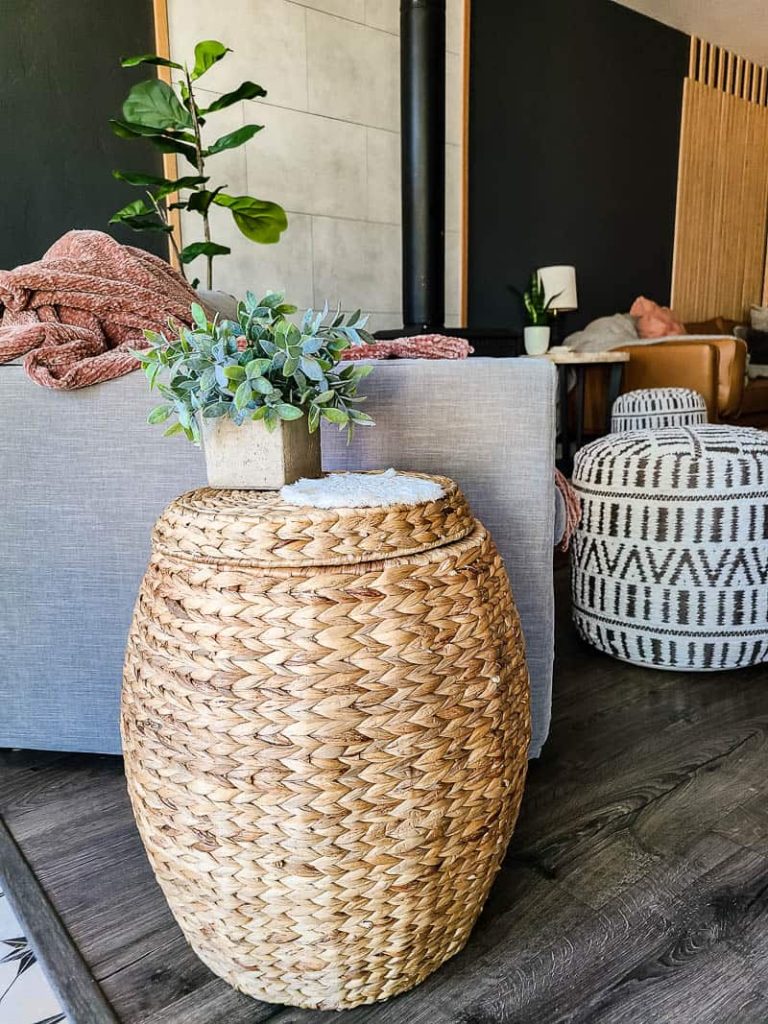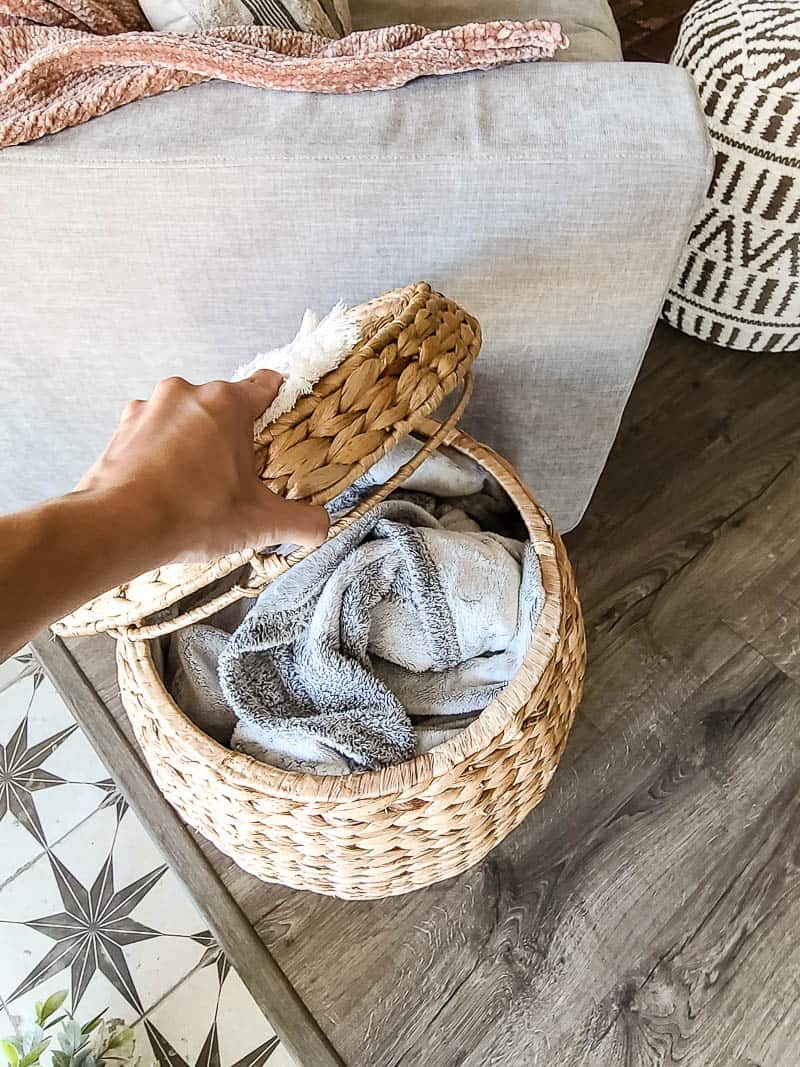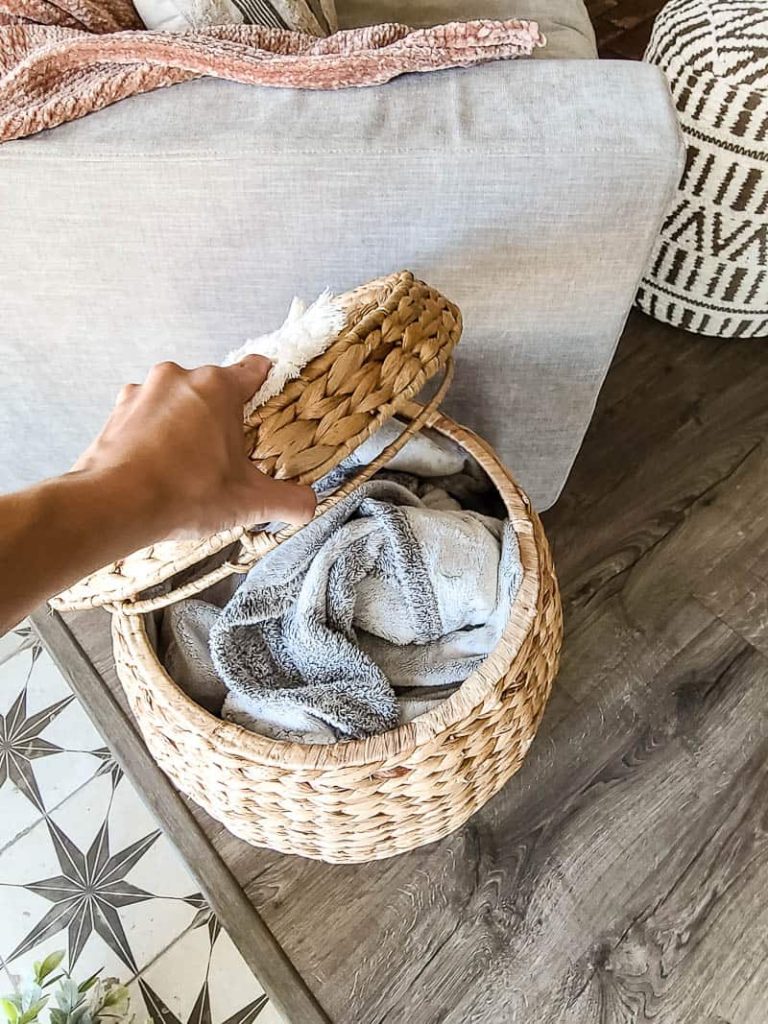 As another surface to place steaming cups of coffee next to the armchair, we added this wicker basket side table with storage inside. (If you love rattan furniture, check out these ideas!)
I love that we have another spot to put extra blankets, but it is also functional with the lid to be used as a side table.
Vintage Inspired Area Rug
Now what really ties this corner together is this gorgeous (and super cozy soft) rug with a vintage-inspired pattern.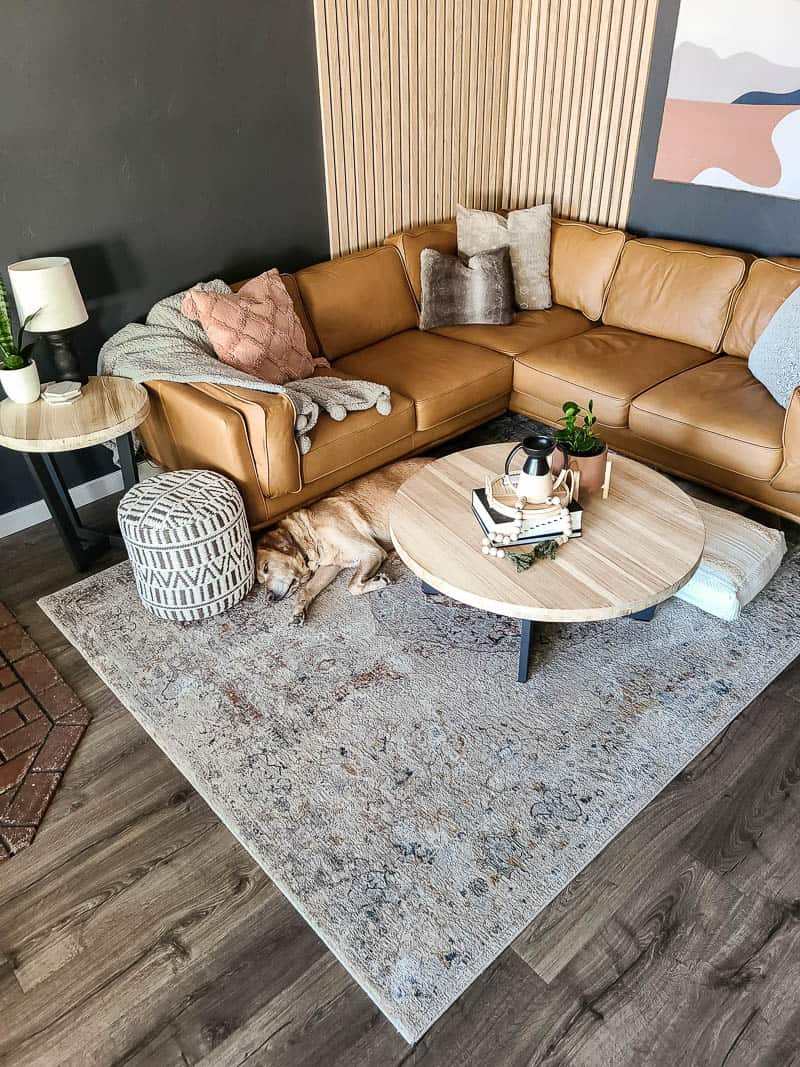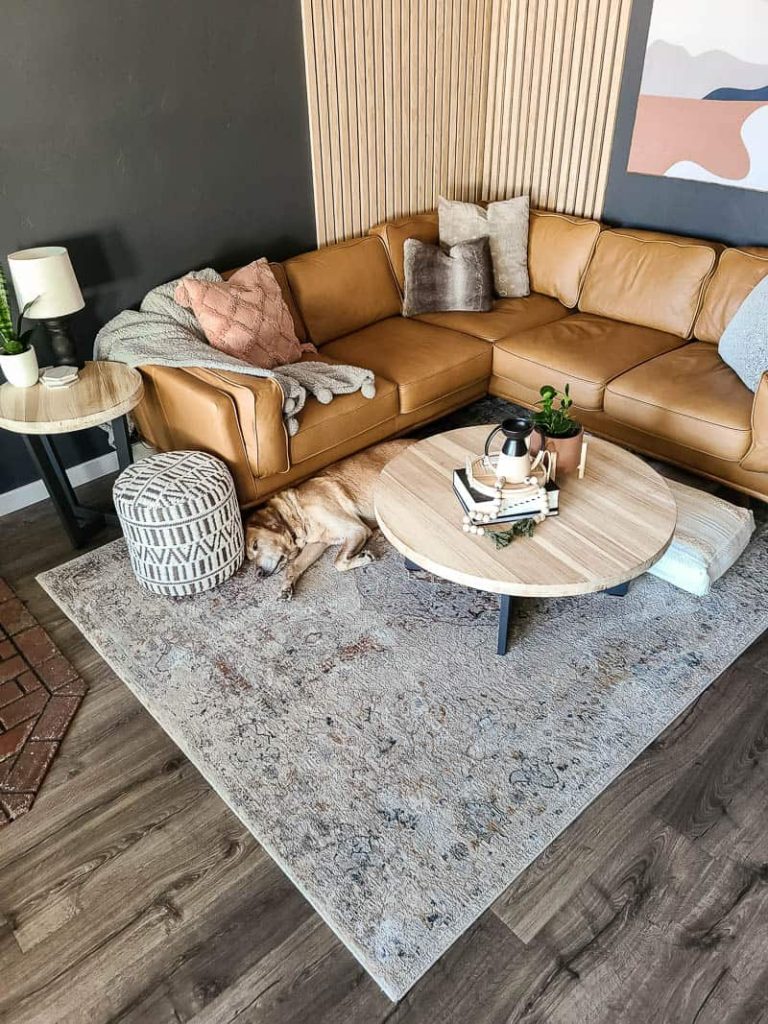 But don't take my word for it – look at how much Gannon loves it.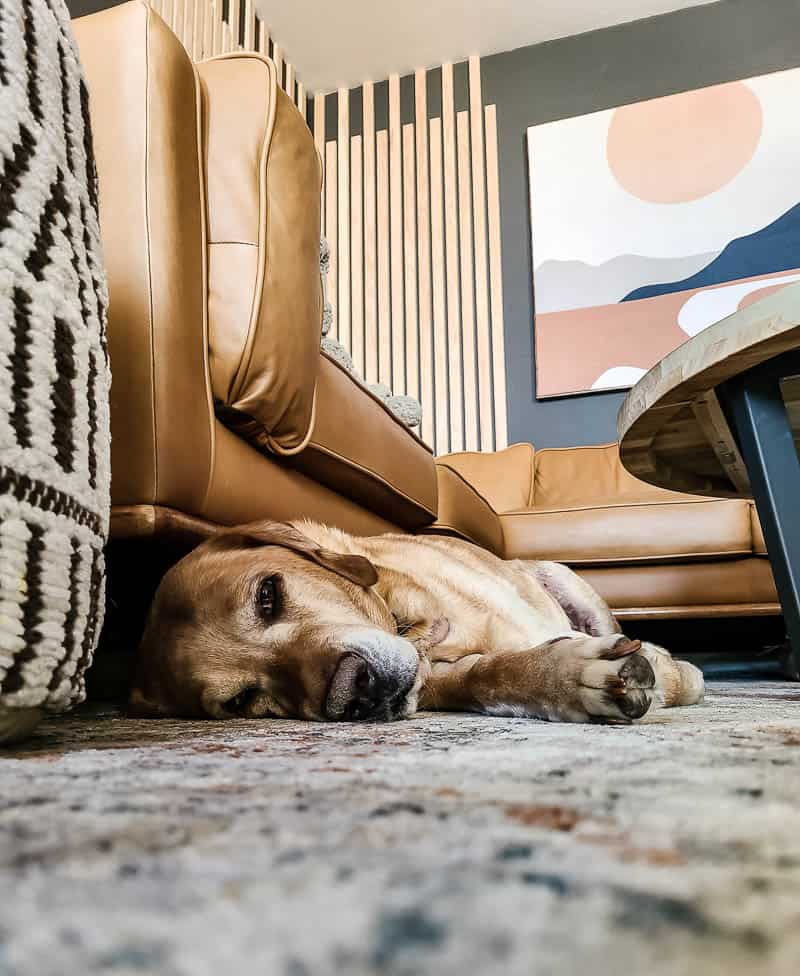 Rustic TV Stand with Frame TV
We've had this rustic TV stand for YEARS. In fact, Logan built it using pallet wood long before we were even blogging about DIY tutorials.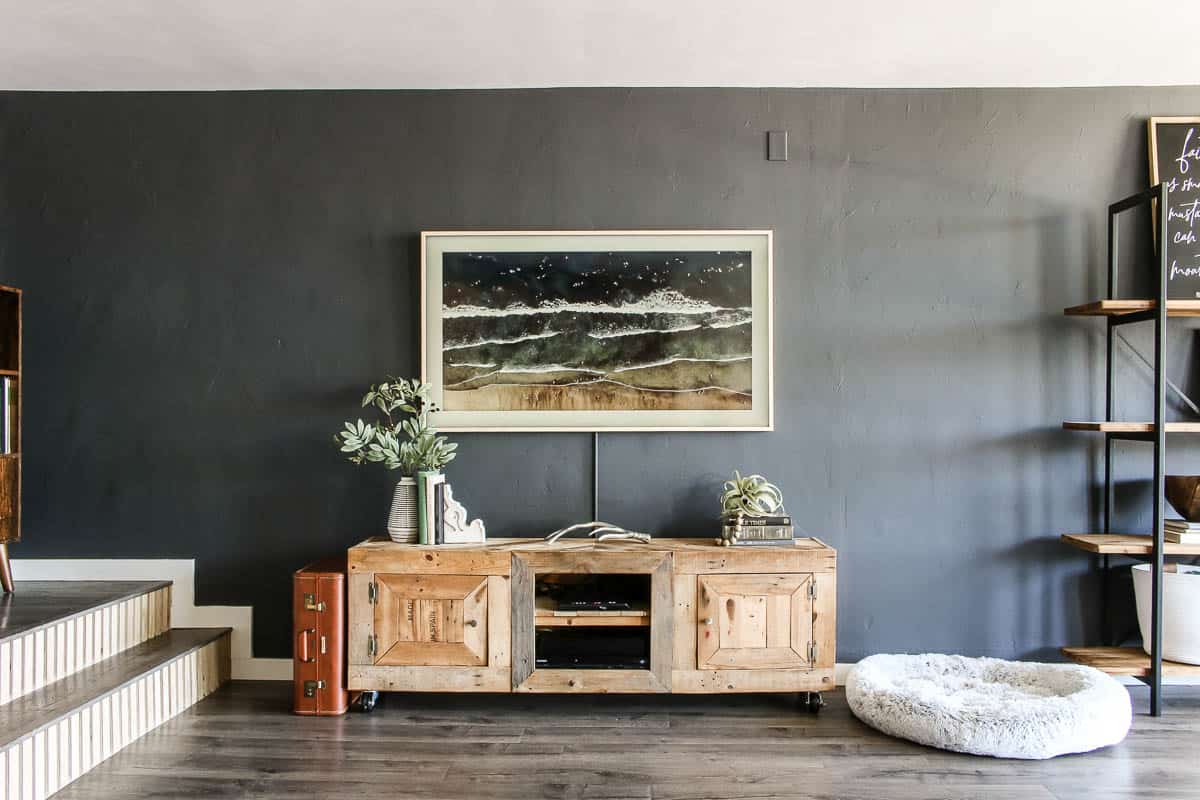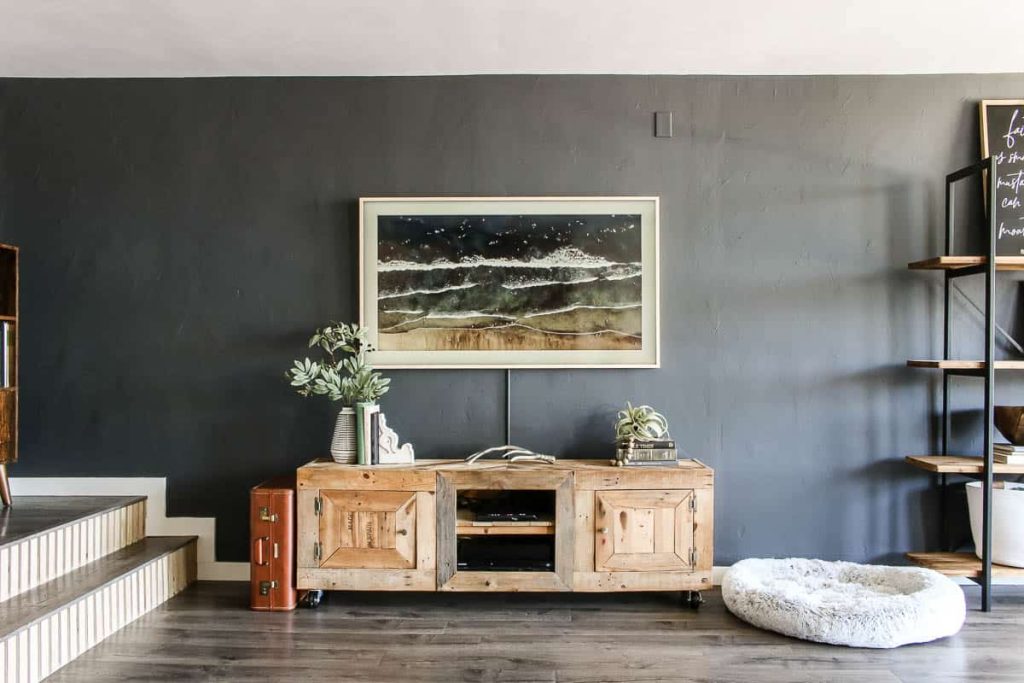 It is so versatile because it has transitioned with us to several houses and fit in perfectly even as our style has changed over the years.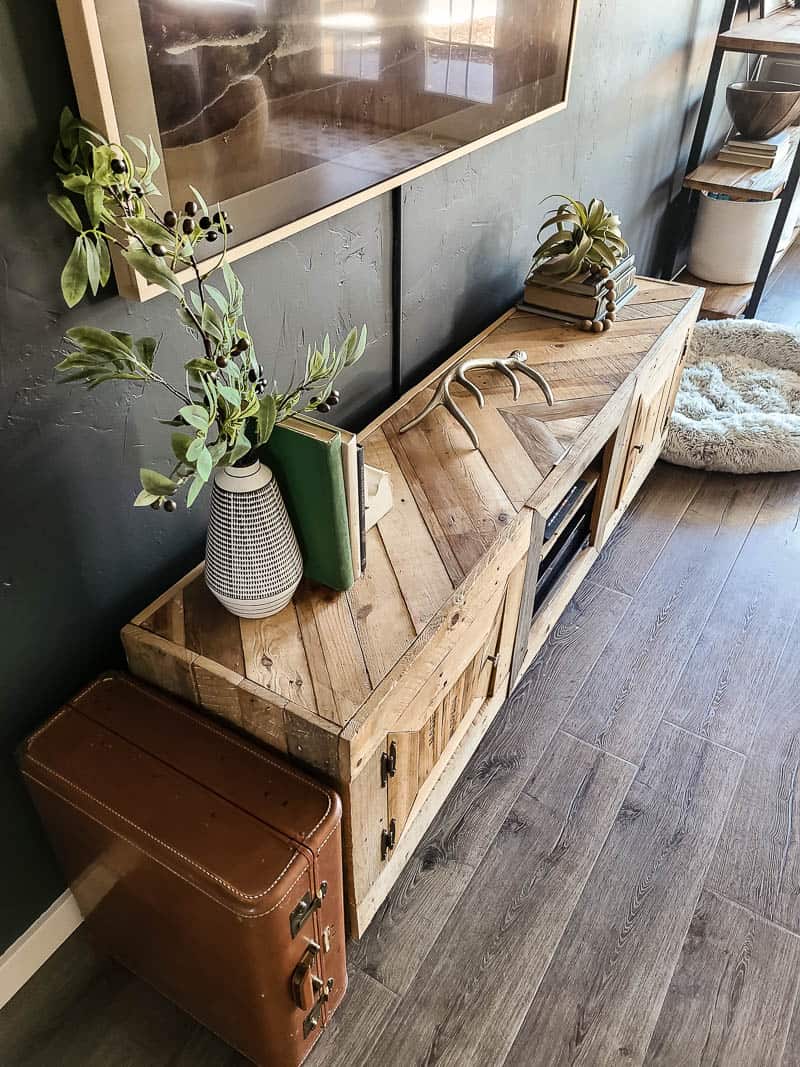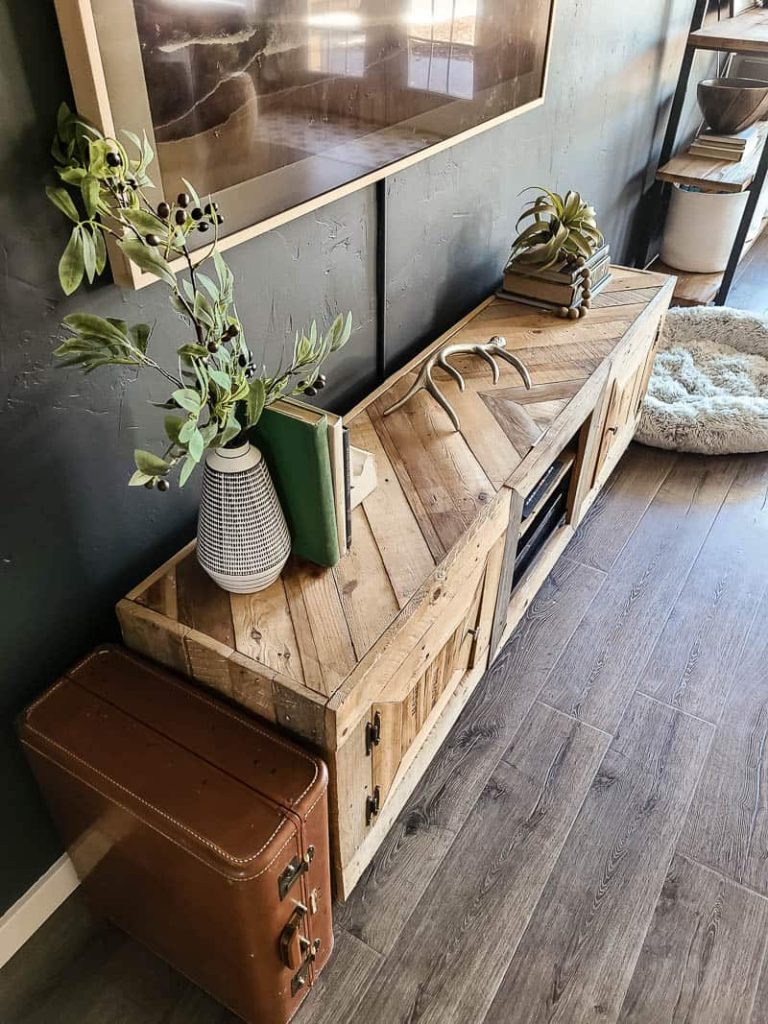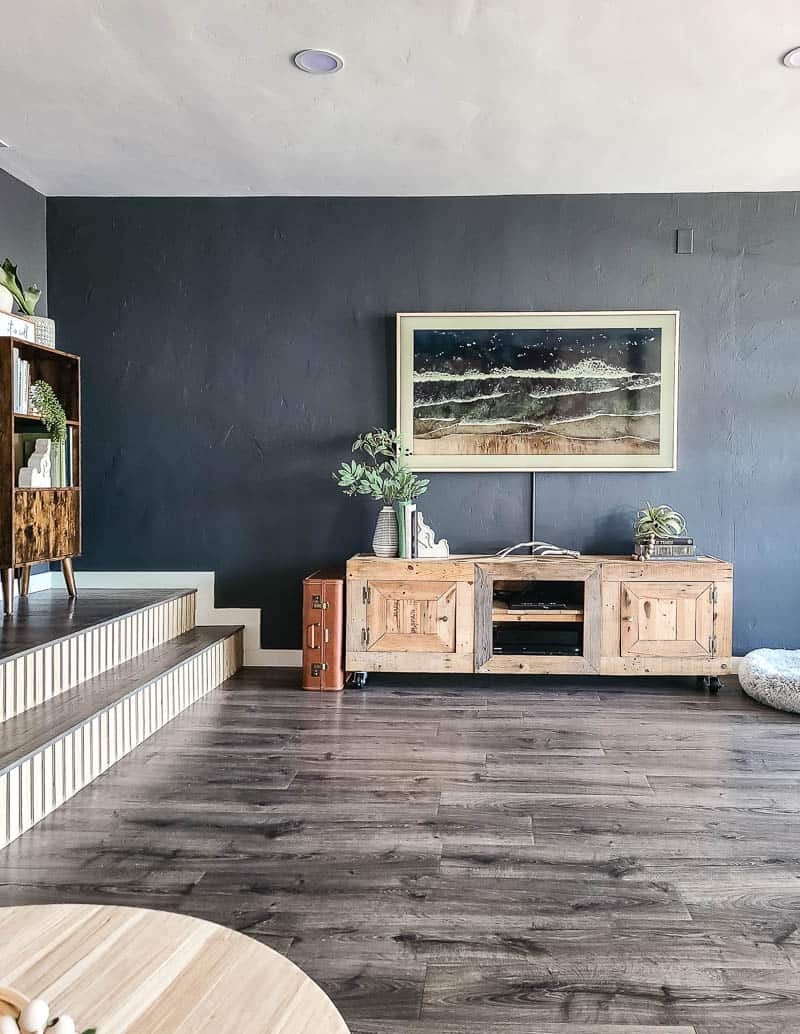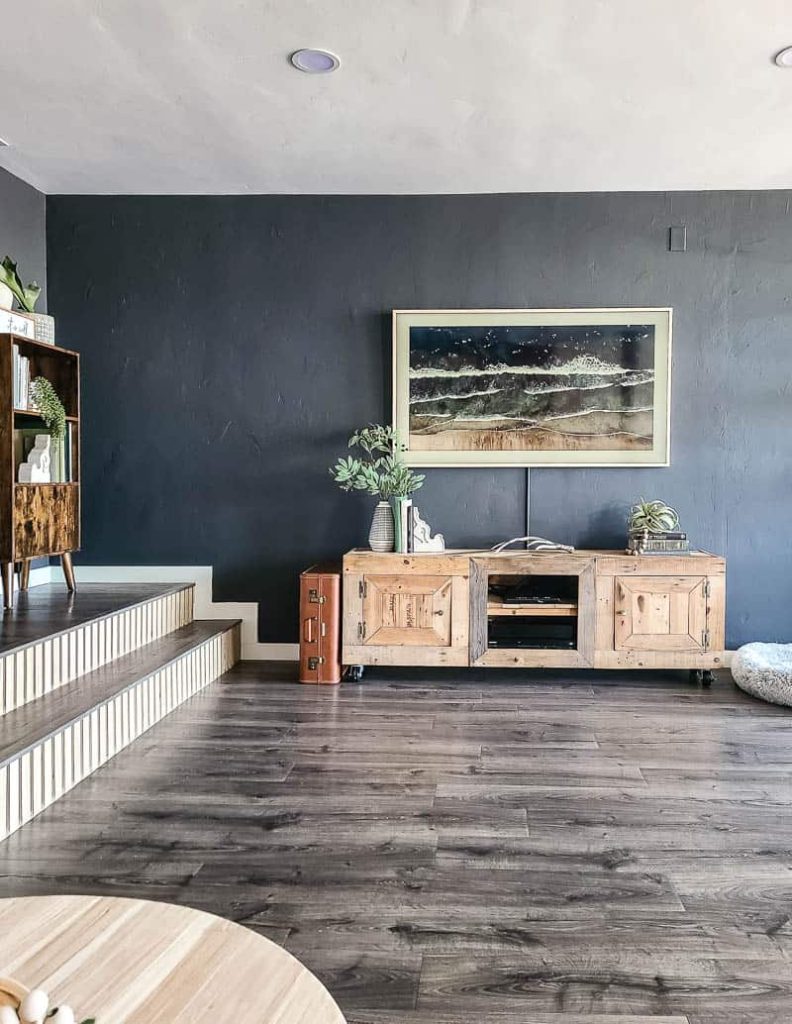 It now is a great home for holding our TV equipment that goes along with our Samsung Frame TV that we got a couple of years ago. And, spoiler alert, I'm obsessed with it!
It's an amazing TV with a sleek removable frame along the edge, but when it is not in use, it displays art so it doesn't look like this big black box on your wall. Genius, right?
Do you have more questions about the Frame TV? Just let me know, and I can round all of them in a blog post for you.
Mid-Century Modern Bookcase with Boho Decor
It may not look different, but this little living room corner got a WHOLE new look.
It was a huge undertaking, but we removed the old stairs that were here, which were CONCRETE. And built them so they extended to the corner.
Before, a couple of feet of dead space in the corner was always tricky. We put our shelves there, but the stairs always blocked some (see what I mean here).
Now that the stairs have an extended platform, we added this mid-century modern bookcase, and it's just perfect.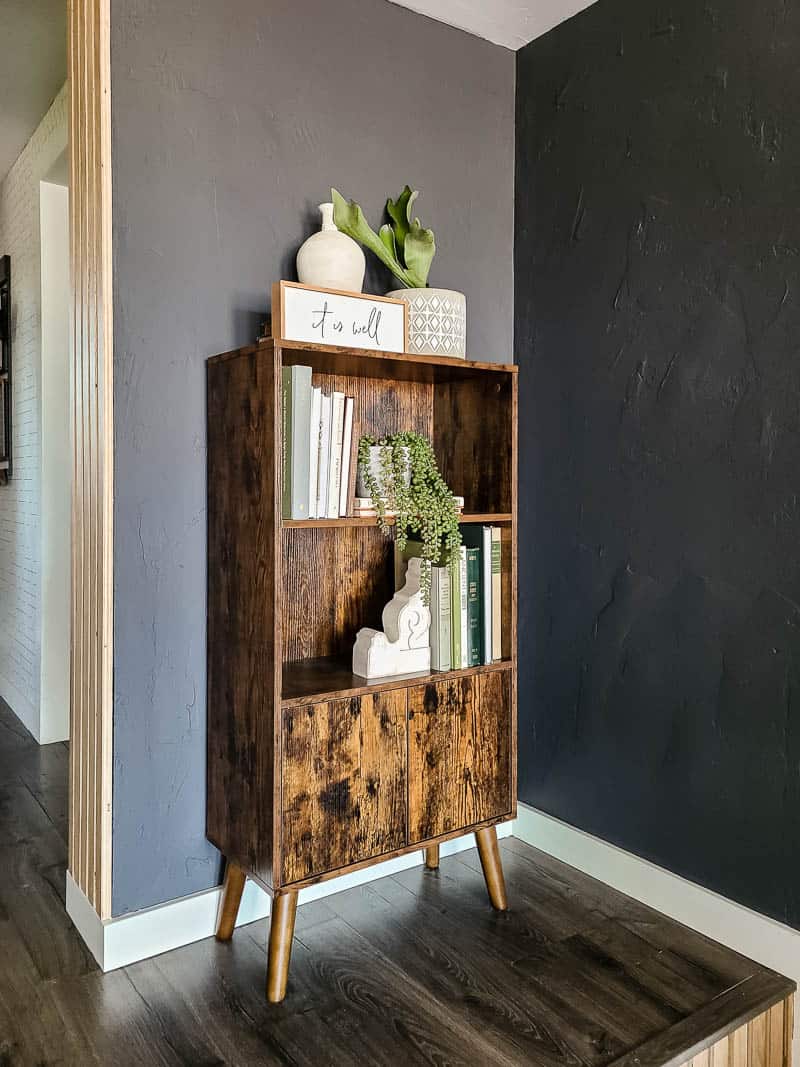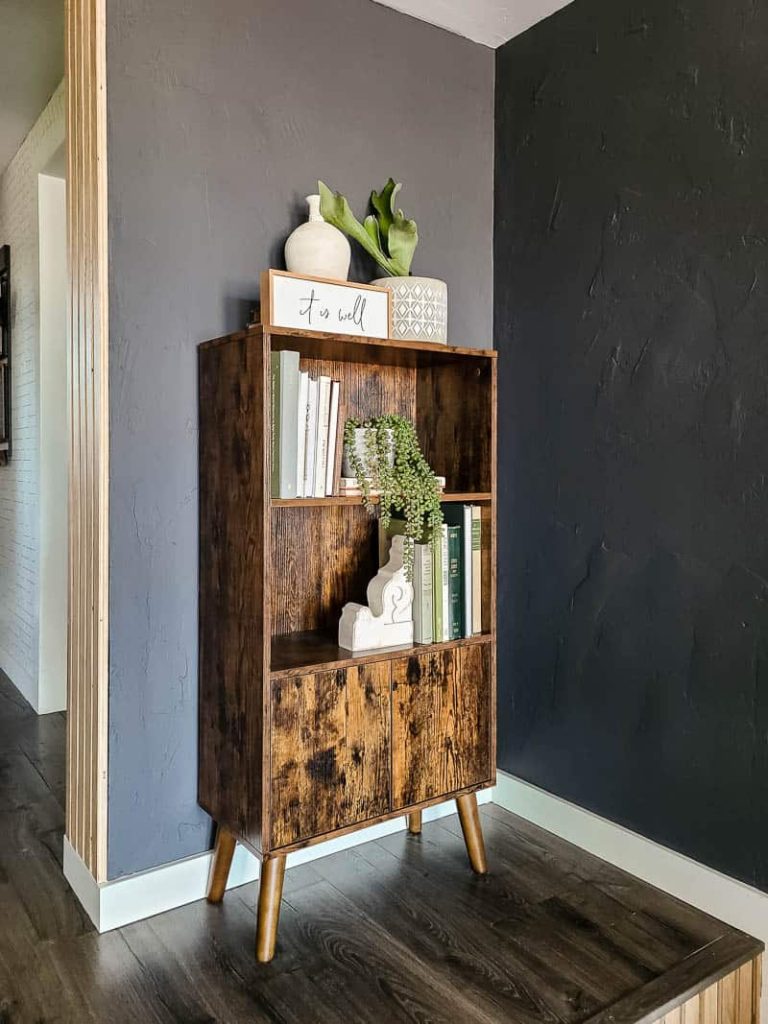 I had fun styling it with some DIY vintage pottery pieces, this realistic-looking faux plant, a planter with a new plant, signs & vintage books as decor.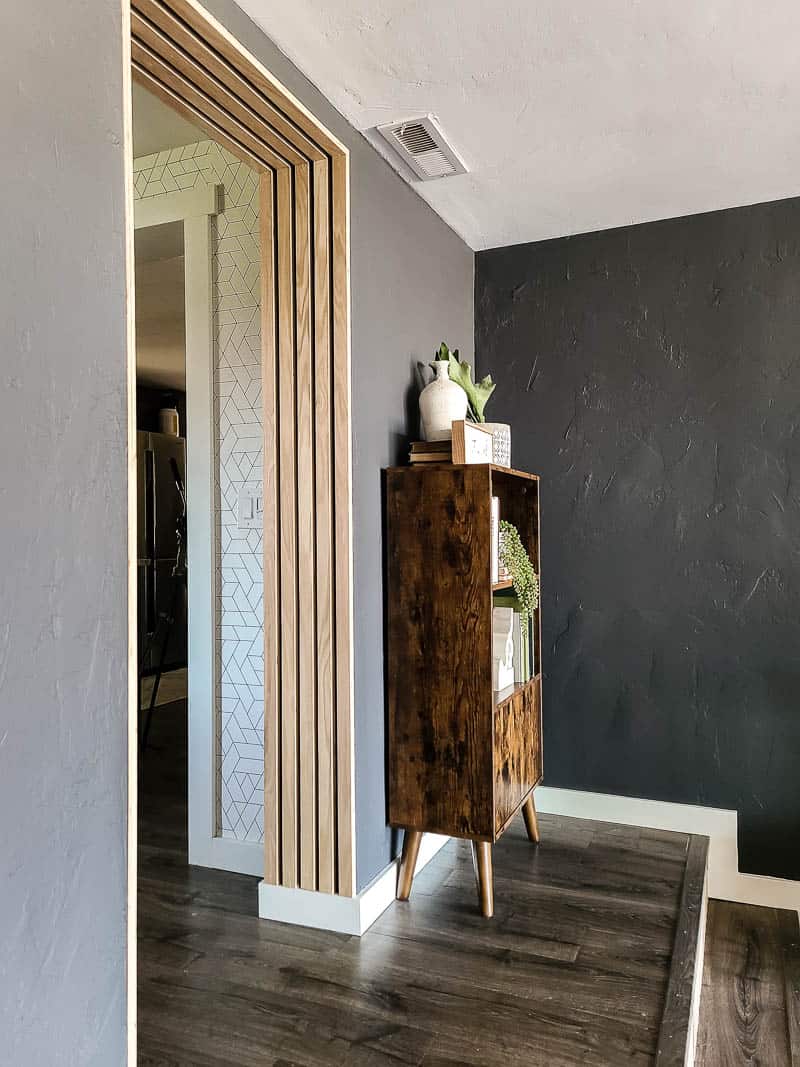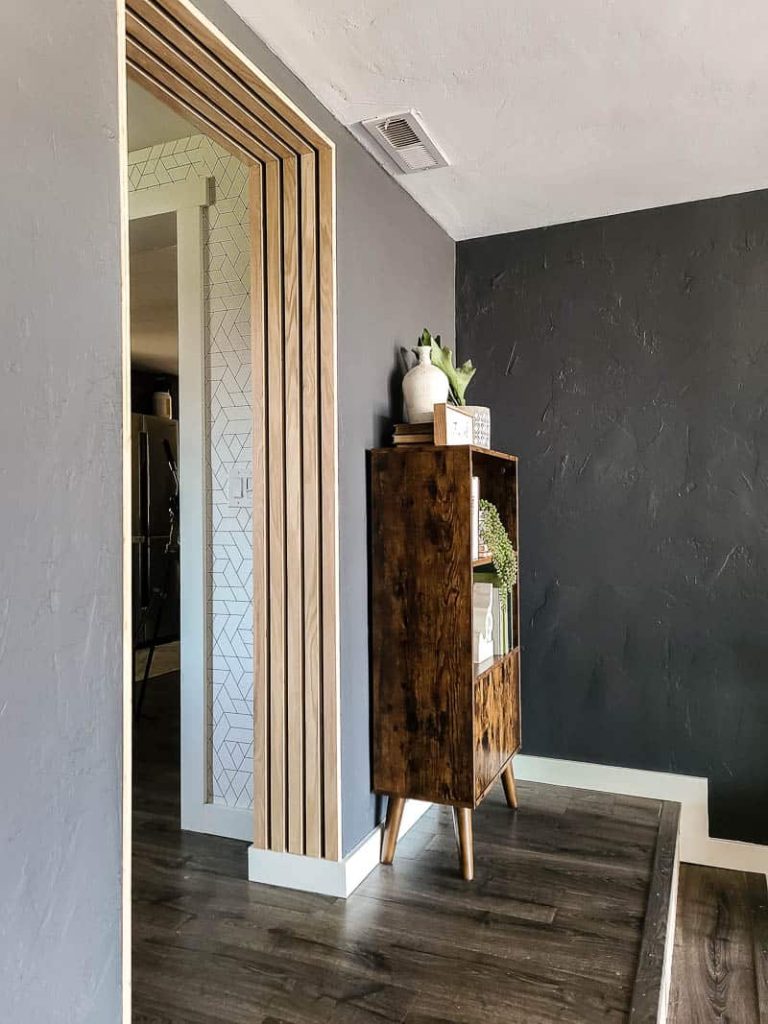 Living Room Shelves with Modern Boho Styling
I've said it before, and I'm sure I'll say it again. These living room shelves were among the best purchases we ever made for our home. It brings me an insane amount of joy to style them and restyle them over and over again.
With the new modern boho living room makeover, I gave them a fresh and minimalist look.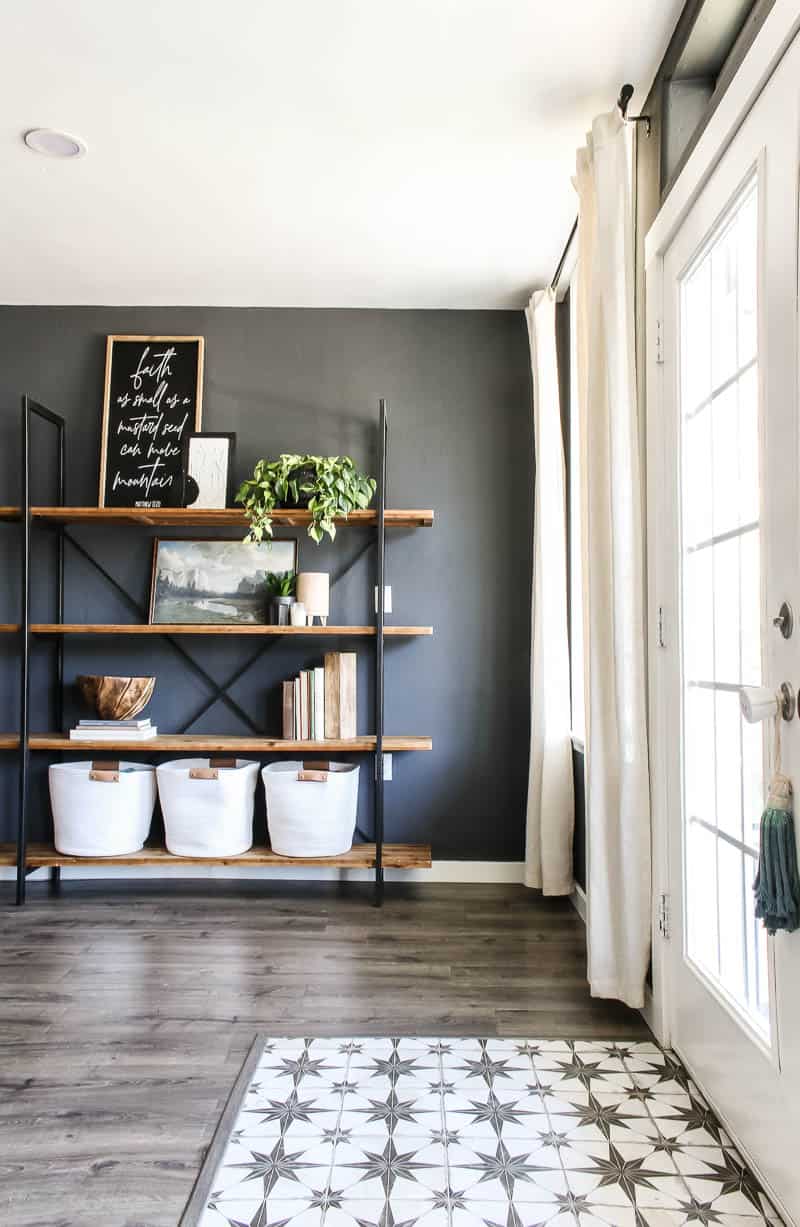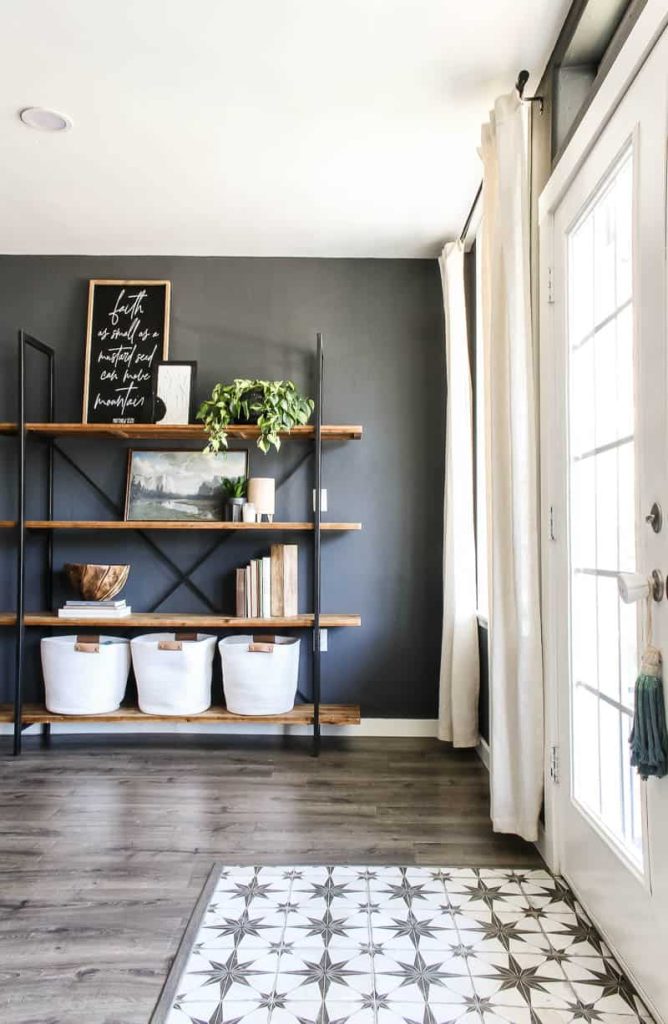 I also added some extra baskets to the bottom to corral some of the toys always floating around the living room. This room also functions as our "playroom," so toy storage is a must.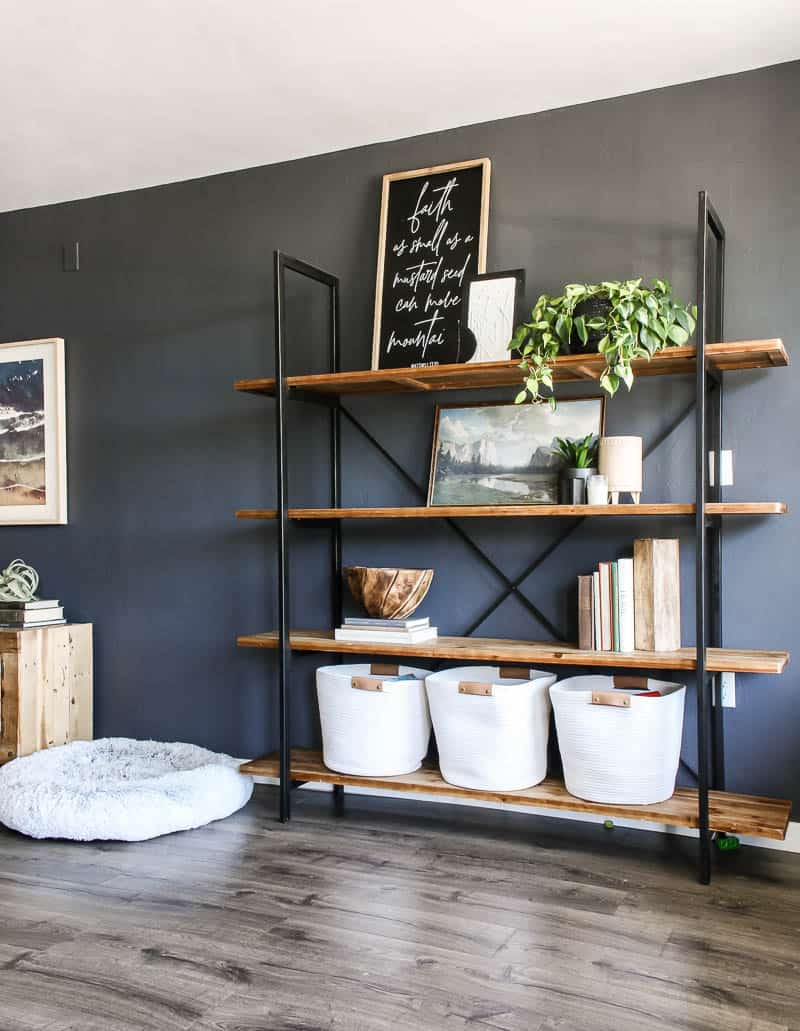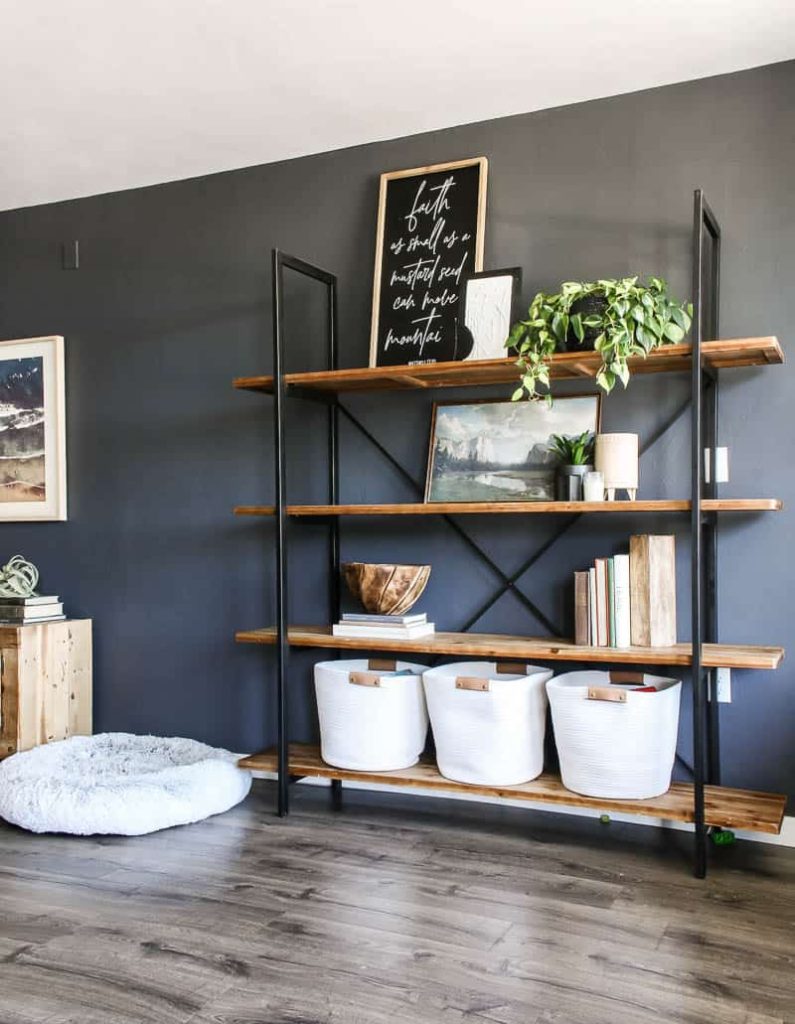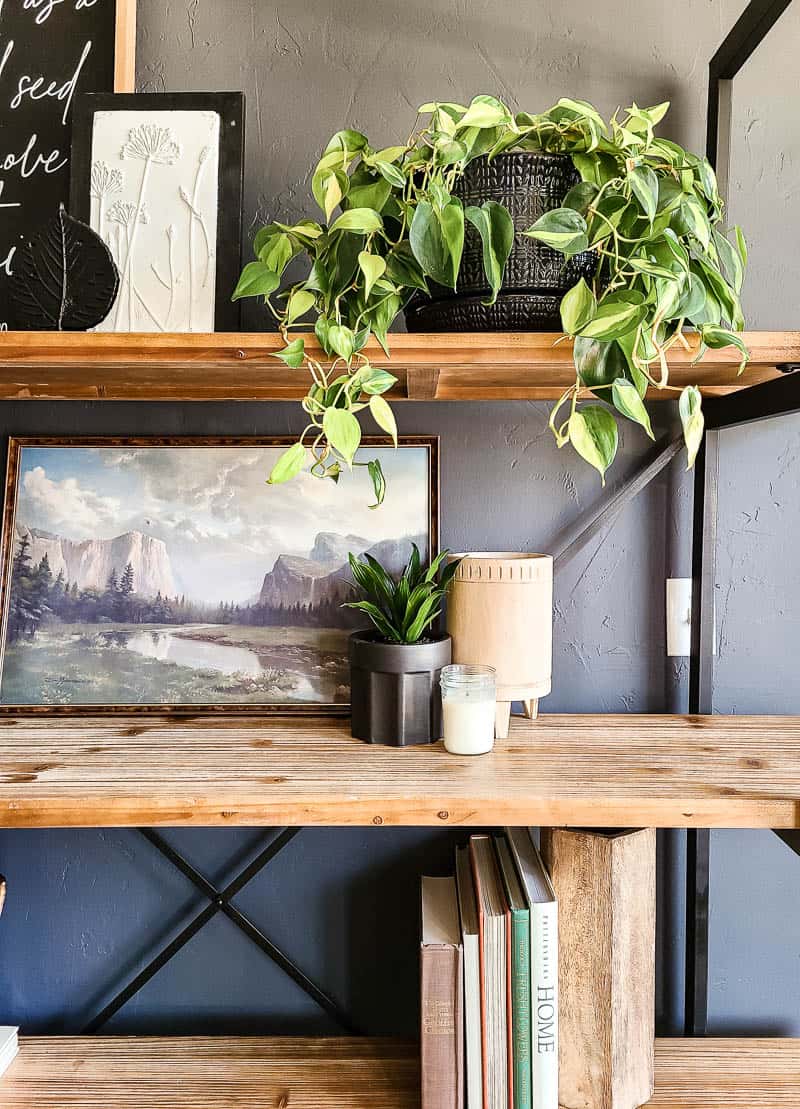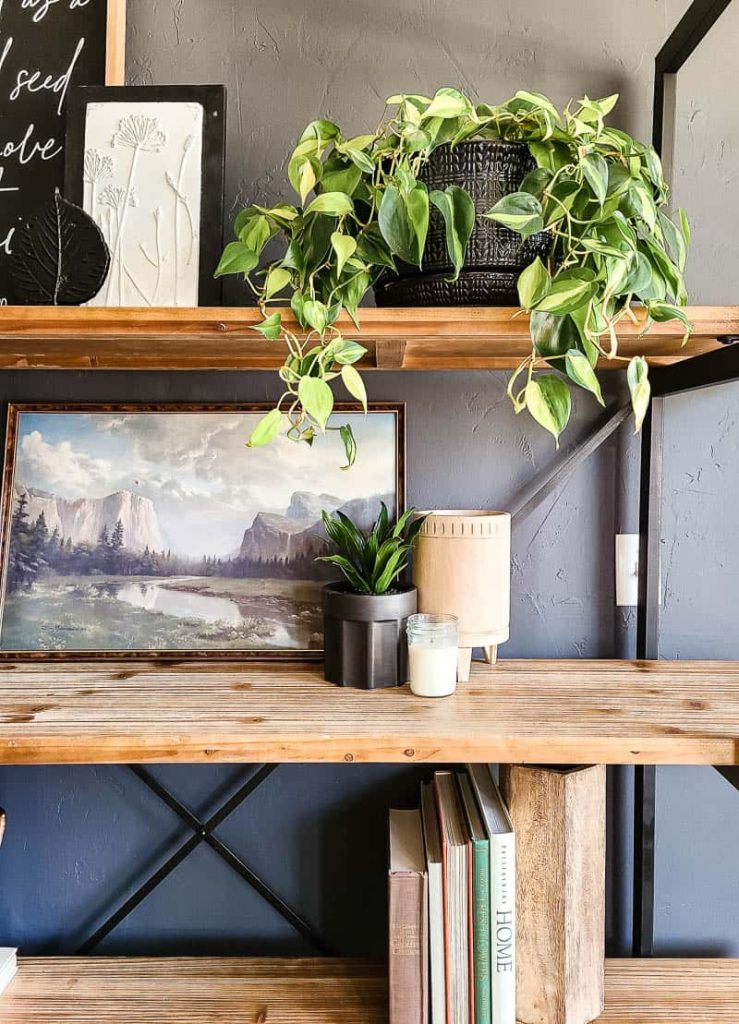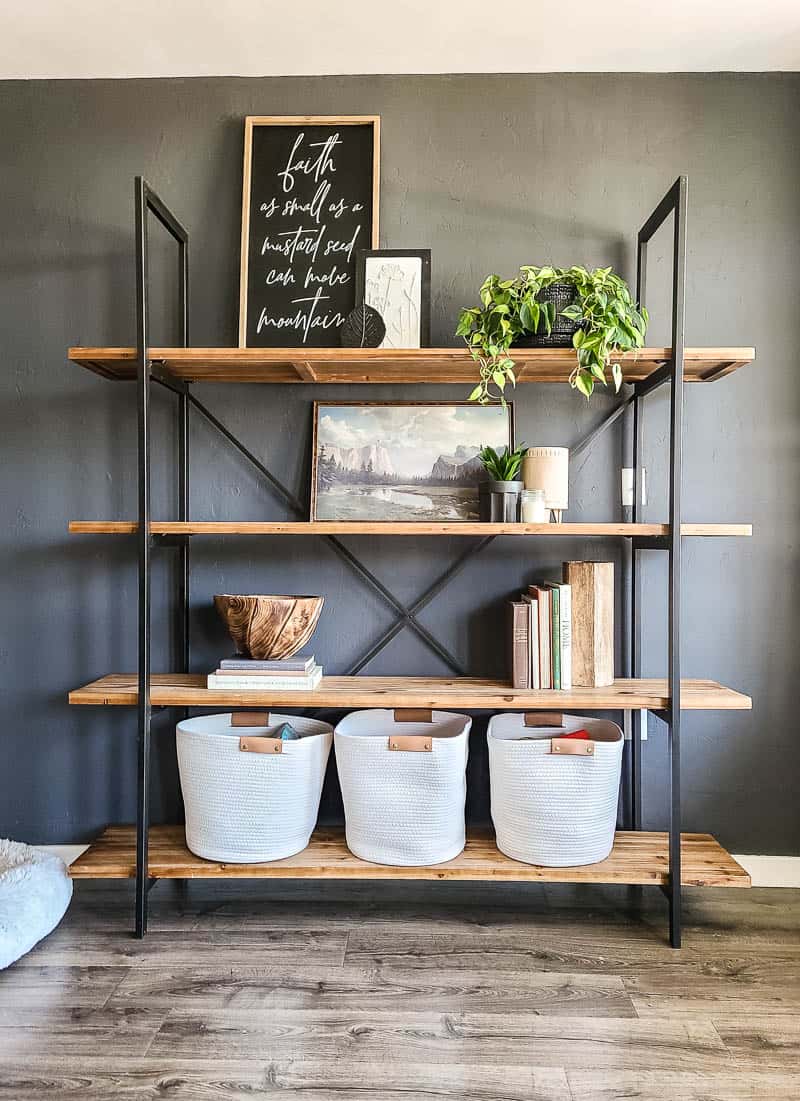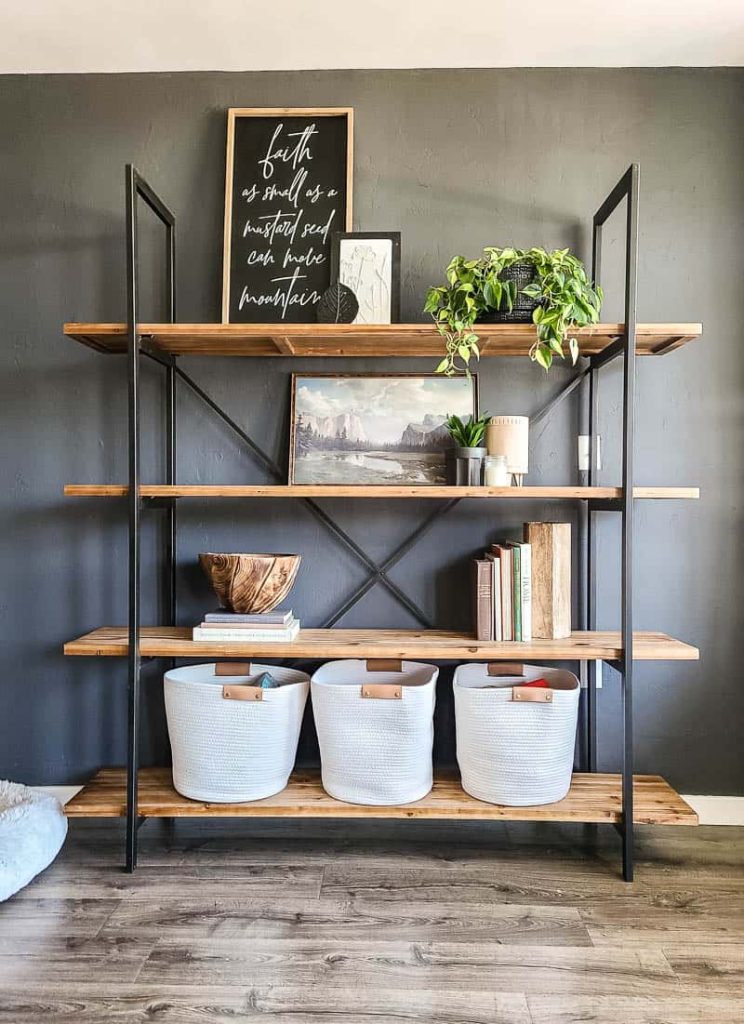 Mid-Century Boho Living Room: Before & After Comparison
Now we can't end this mid-century boho living room makeover without taking a look at the before and afters. After all, this is my favorite part.
Looking at these reminds me JUST how far we've come. It's a helpful nudge that all the hard work and investment is worth it.
I can't get over how cozy and full of life this new modern boho living room feels when you're in it. The dark walls bring in that cozy vibe.
The new furniture brings new life, and all of the DIYs add in that unique stamp that we've added to this home by making it ours.
After all, isn't that what this whole renovating thing is all about? Slowly and carefully make this house a home we love – one DIY at a time.
From the big room makeovers to the tiny craft projects, every step has been one that we've taken towards this finished goal line…a home we love.
And to be honest, most of the time we spend at home is spent right here in this room. Whether we're cuddling up with the kids on the couch for a new movie or playing board games on the coffee table late at night after the kids have gone off to bed. This living room is, in some ways, the center of our home.
And I'm blessed beyond belief that this room now looks how I want our home to feel. Cozy, comfortable, welcoming, and …. us.
Want to see more of our living room renovation?