Our front porch needed a small outdoor table, so we turned to concrete! This DIY concrete side table was so fun to make & looks so cute!!
Later this month, Logan and I are headed to Atlanta, Georgia for the Haven Conference! We're so excited about attending this DIY/Design conference for bloggers and influencers.
One of the brands that are going to be there (that we can't wait to meet) is Quikrete. They are doing a really fun contest leading up to the conference that is called the Quikrete Casting Call. They challenged all of the conference attendees to come up with a DIY concrete project using ONE bag of concrete. How fun is that?! I can't WAIT to see what everyone came up with! I'm sure there will be some great ideas. 
We were really excited about this challenge because honestly, we've only used concrete a handful of times and never for a small DIY concrete project. But, we've seen some friends make amazing things with concrete – like this cute candle holder and this fun DIY soap dish! Challenge accepted!
I think everyone can agree that concrete is a little intimidating. You've got to work quickly or it hardens up. But I really think it just has a bad rep, because it turns out that it's pretty easy to use. We're going to walk you through all the steps in this tutorial for a concrete side table!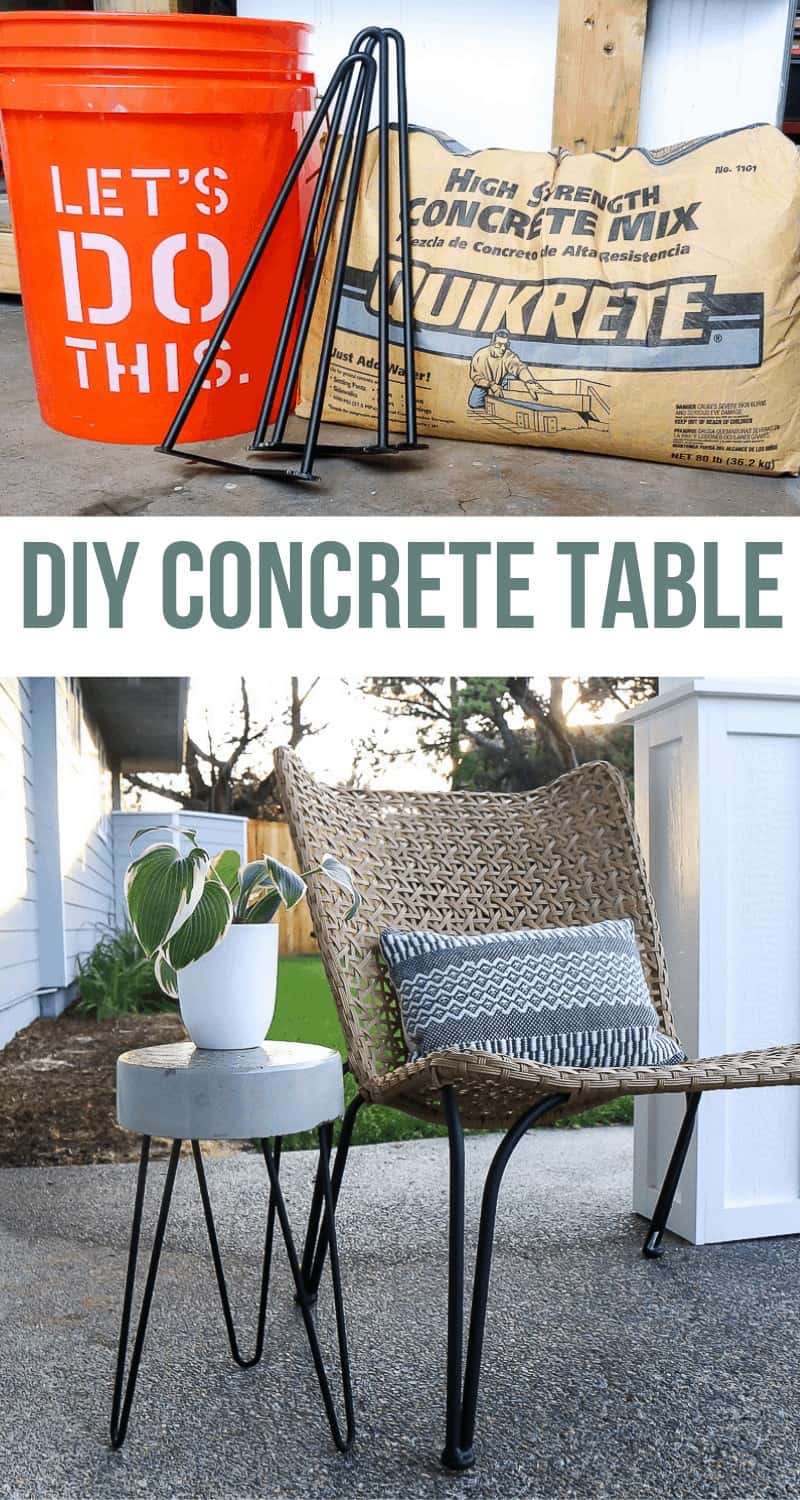 How to Make an Easy DIY Concrete Side Table – Video Tutorial
We created a fun step-by-step video tutorial for you to watch and learn too! (Pssstt… Don't forget to subscribe to our YouTube channel to see more videos like this!)
div class="mv-video-target mv-video-id-nmpxw0jn9xk9c7edzq41″ data-video-id="nmpxw0jn9xk9c7edzq41″ data-volume="70″ data-ratio="16:9″ >

This concrete side table tutorial contains affiliate links, but nothing that I wouldn't wholeheartedly recommend anyway! Read my full disclosure here
Supplies to make a DIY concrete side table:
Concrete
Clamps
Belt Sander with 50 Grit Sandpaper
Orbital Sander with 50 Grit Sandpaper
Foam Paint Brush
Step 1: Mix concrete.
First, you've gotta mix that concrete up! It's really pretty simple. Just pour it into a bucket and add water according to the ratios listed on the bag. 
Step 2: Mark inside of bucket.
We wanted the tabletop to be three inches tall, so we made a small mark on the inside of the bucket so we would know where to pour it to. 
Step 3: Pour concrete.
Pour your concrete into the bucket to the marked line. Then you want to shake it up a little bit. This helps get rid of any air bubbles in the concrete, which can lead to cracks and chips in the concrete once it hardens. You can also tap it gently on the sides of the bucket with a rubber mallet to get rid of the air bubbles.

Step 4: Set in & secure legs.
Since we moved some things around in our house lately, we don't need this cute router box anymore to hide the internet cords – so we took the hairpin legs off of it and were able to reuse them on this project – but we only needed three.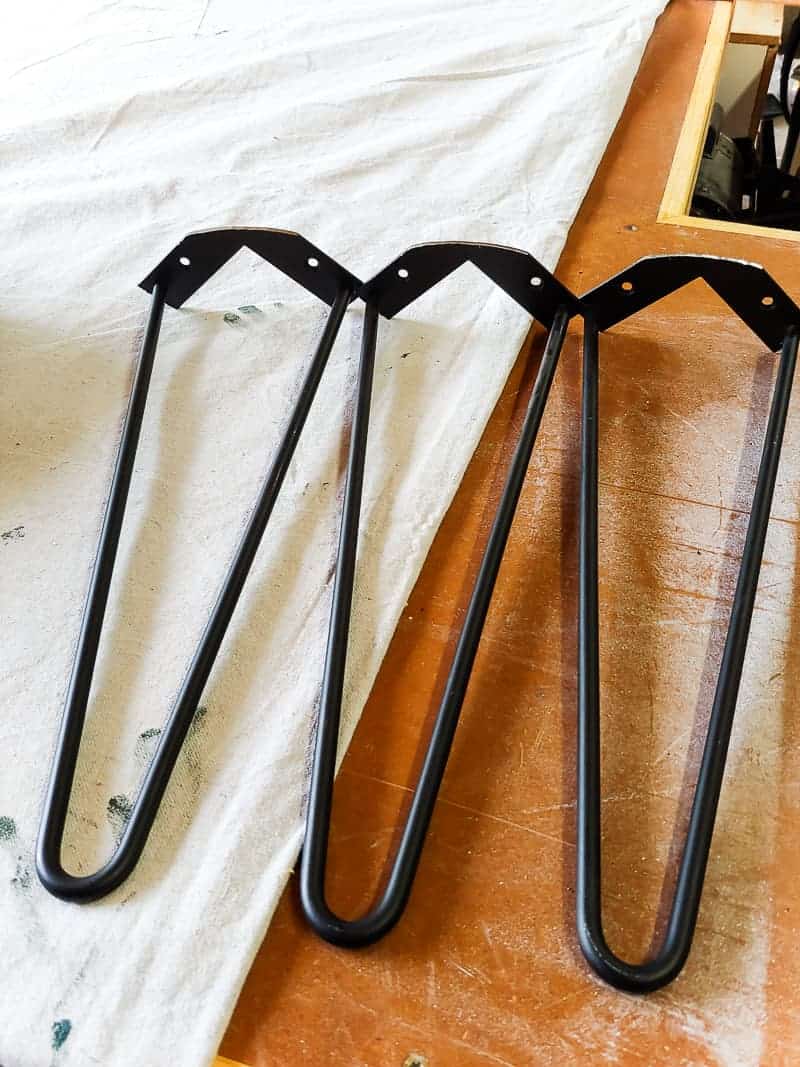 Before we got started on the concrete side table, we did cut off the tops corners of the hairpin legs on the base to make them rounded. This allowed us to put the legs a little closer to the edge of the bucket and make it a little more sturdy.
We set the hairpin legs in so they were equal distance from one another. To make sure they were nice and level, we simply measured from the top of the bucket to the bottom of the leg that was sticking out and made sure they were exactly the same before securing them in place. 
We used clamps to keep the legs in place while the concrete hardened.
So glad we took the time to get this part right because this table doesn't wobble at ALL! 🙂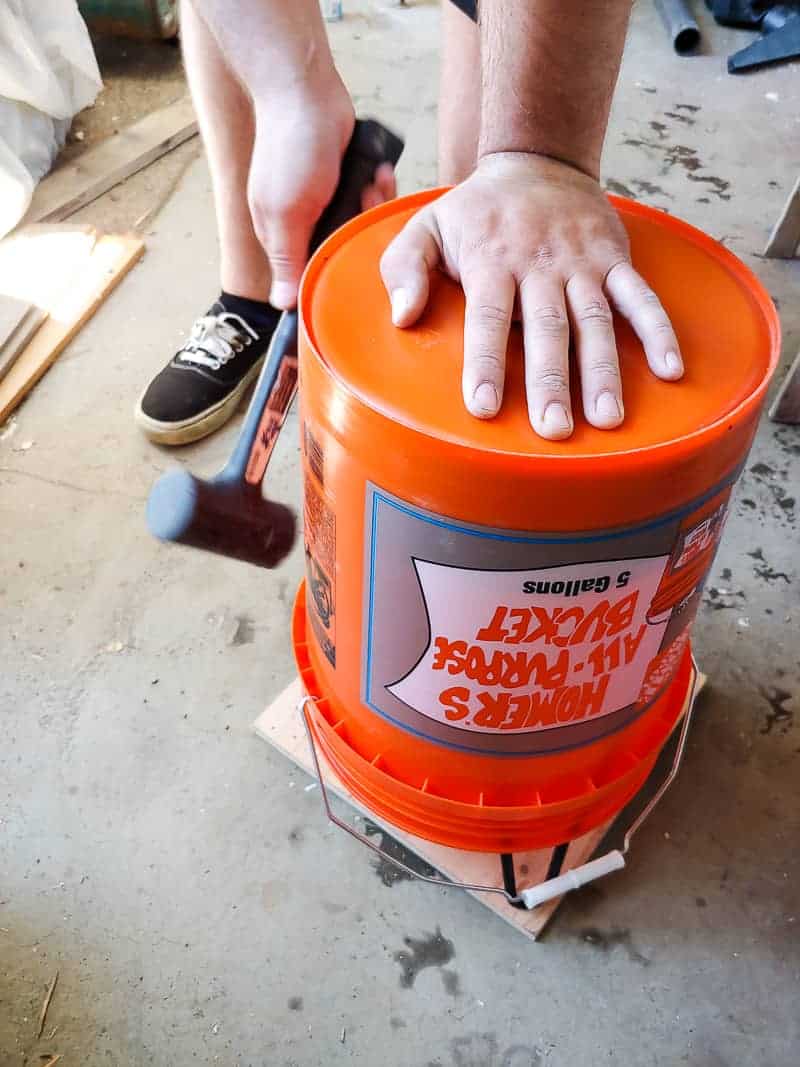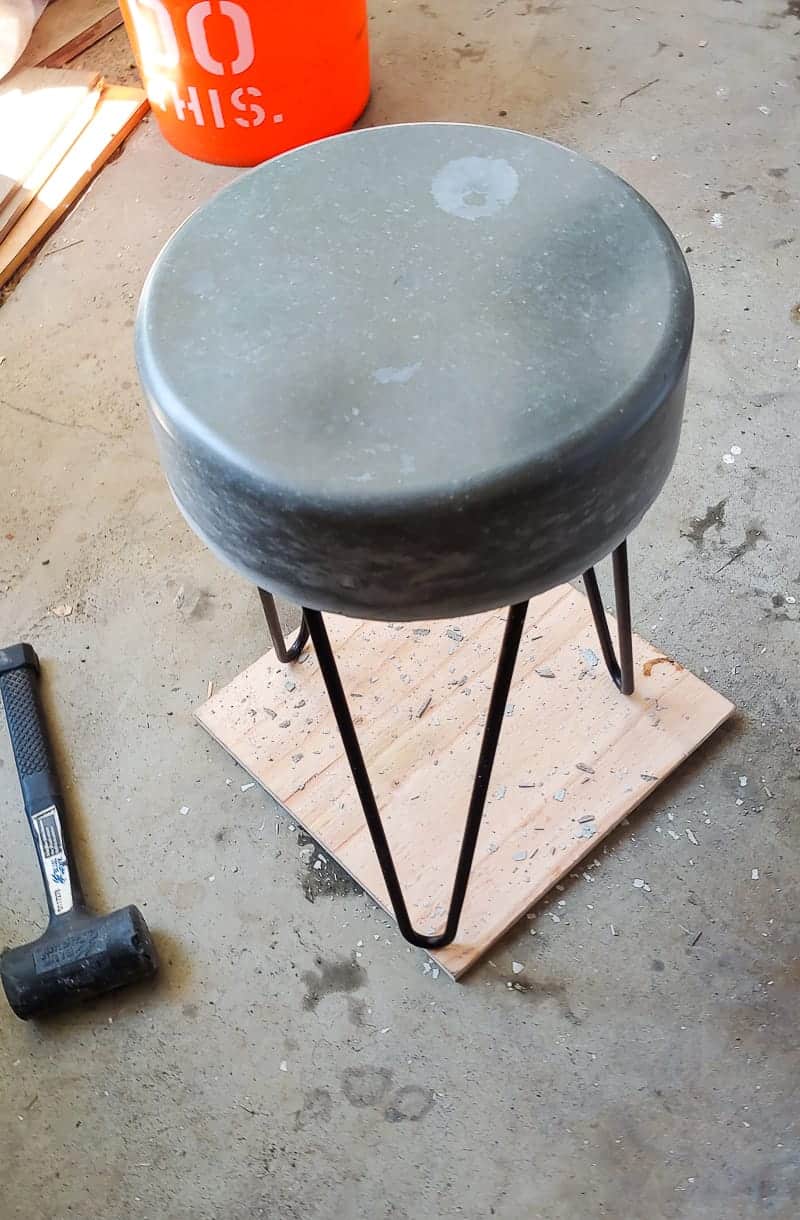 Step 5: Remove bucket.
We waited about 2 days for the concrete to fully harden. This may vary based on your climate and humidity.
To remove the bucket, flip the concrete side table right side and tap on the outside of the bucket with the rubber mallet. You'll be able to see the concrete "unsticking" from the bucket. Then, just gently pull the bucket off.
This part was definitely a lot easier than we imagined it was going to be.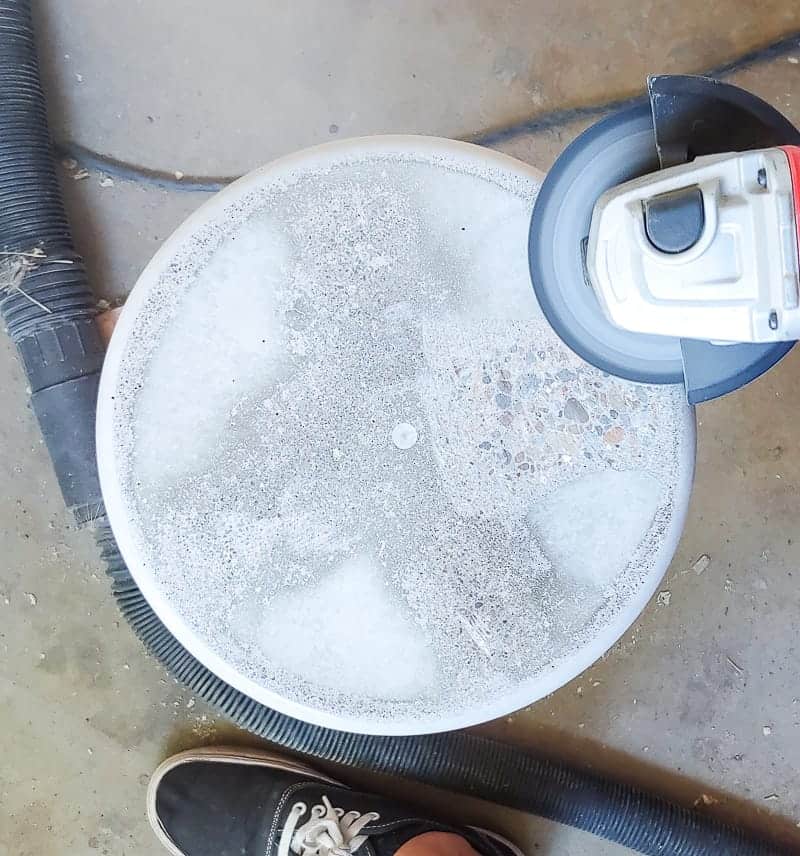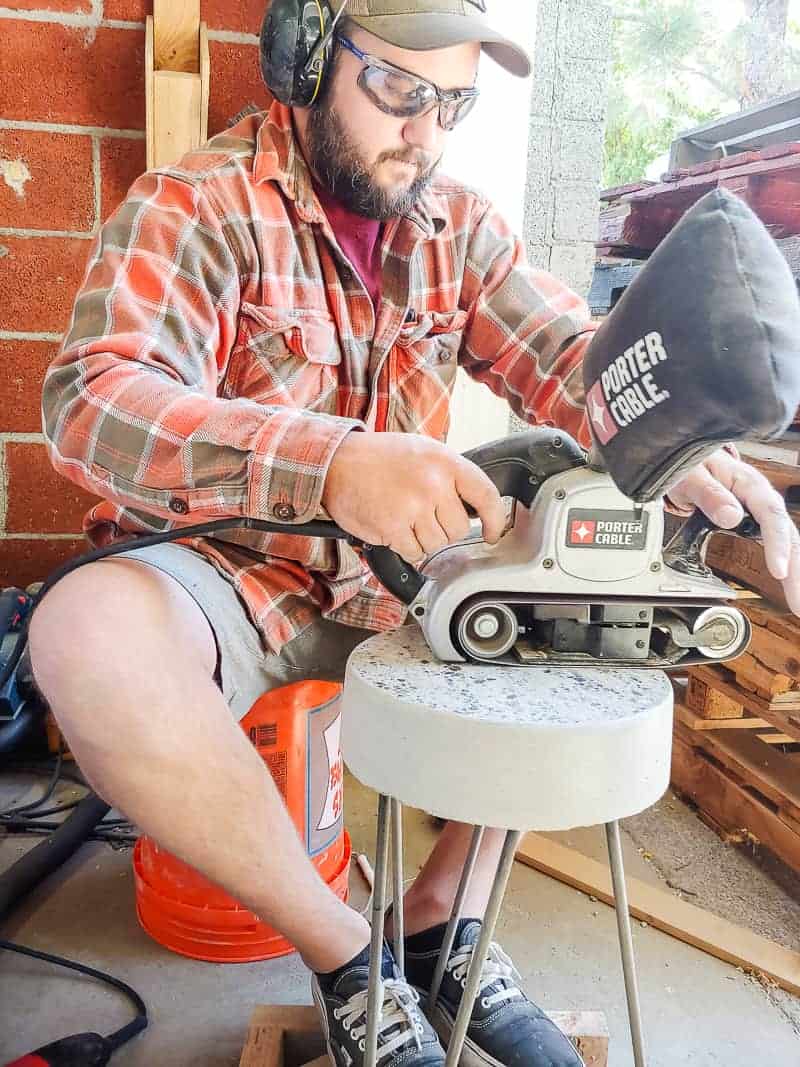 Step 6: Grind & level top.
So……here's the thing. I looked at basically every single bucket in stock at Home Depot and Lowe's trying to find one that did not have plastic warped on the bottom and they just didn't exist. Maybe it's the time of year or something.
So before we even started this DIY concrete project – I knew we were going to have to fix this issue. You gotta have a level surface for a table, right? 
We didn't really know how easy or hard it was going to be, but we just went for it!
I started with using an orbital sander and coarse sandpaper….for about an hour. And didn't make much progress. Then Logan tried with the belt sander and that was going to take forever too. 
So, we pulled out the big guns. The grinder with a masonry grinding wheel!
And let me tell ya, it worked like a charm! We were able to fairly quickly chip away the high spots and then we finished by using the belt sander to smooth everything out.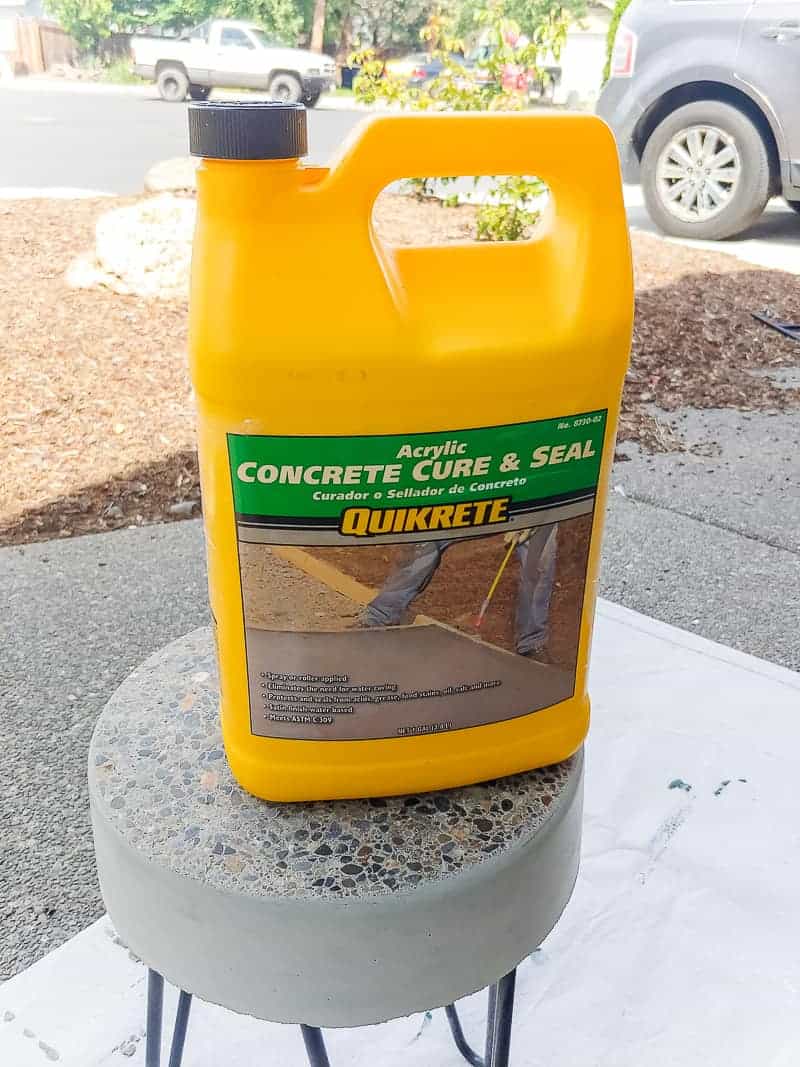 Step 7: Seal concrete.
Since this is a side table, I wanted to be sure it was sealed properly so we wouldn't have to worry much about coasters for drinks (or sticky toddler hands, which are pretty much a norm around here).
We brushed this sealer on with a foam paintbrush as evenly as possible on the sides and top of the concrete. I ended up doing two coats of the sealer. 
Also, be sure you tape off the legs before sealing!
Enjoy your concrete side table!
That's it! Really!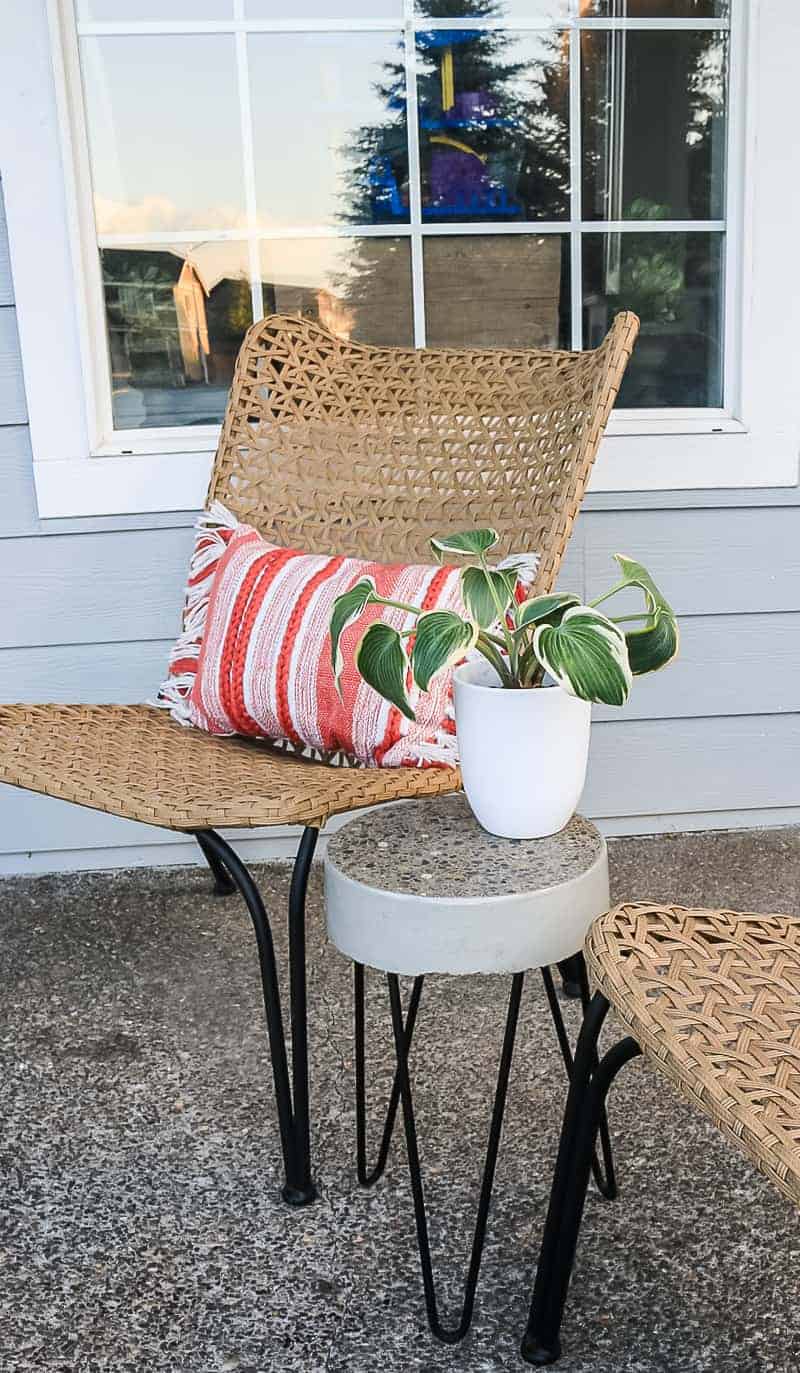 Truth be told, I thought this was going to be a super quick and easy DIY project. But it did end up taking us longer than expected because of all the time we spent figuring out the sanding and leveling of the top!
But, we haven't done that many DIY concrete projects – so we were learning as we went! Which is always a roller coaster, right?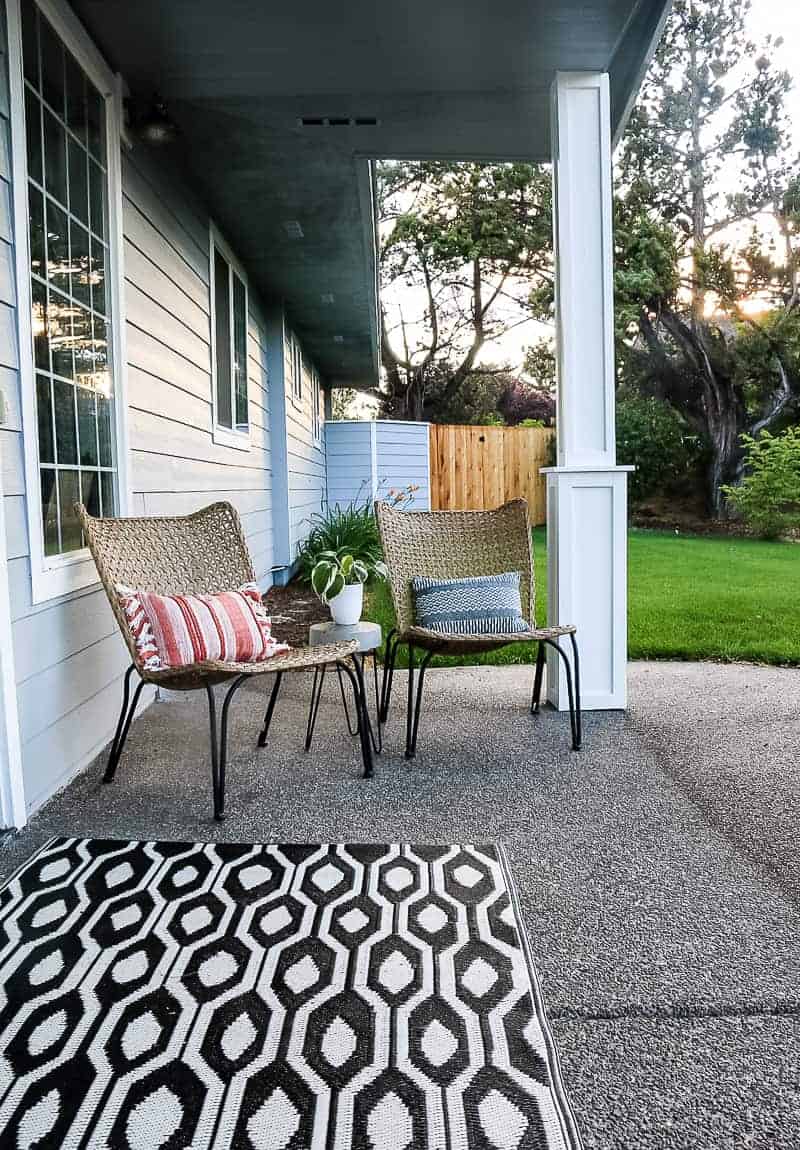 I was so excited when we finished up the concrete side table, so I rushed off to the store to get some pretty new outdoor chairs and pillows to go with it! These ones were super affordable from Walmart and seriously SO CUTE, right?! I spent less than $115 on both of the chairs and the pillows – can you believe that?!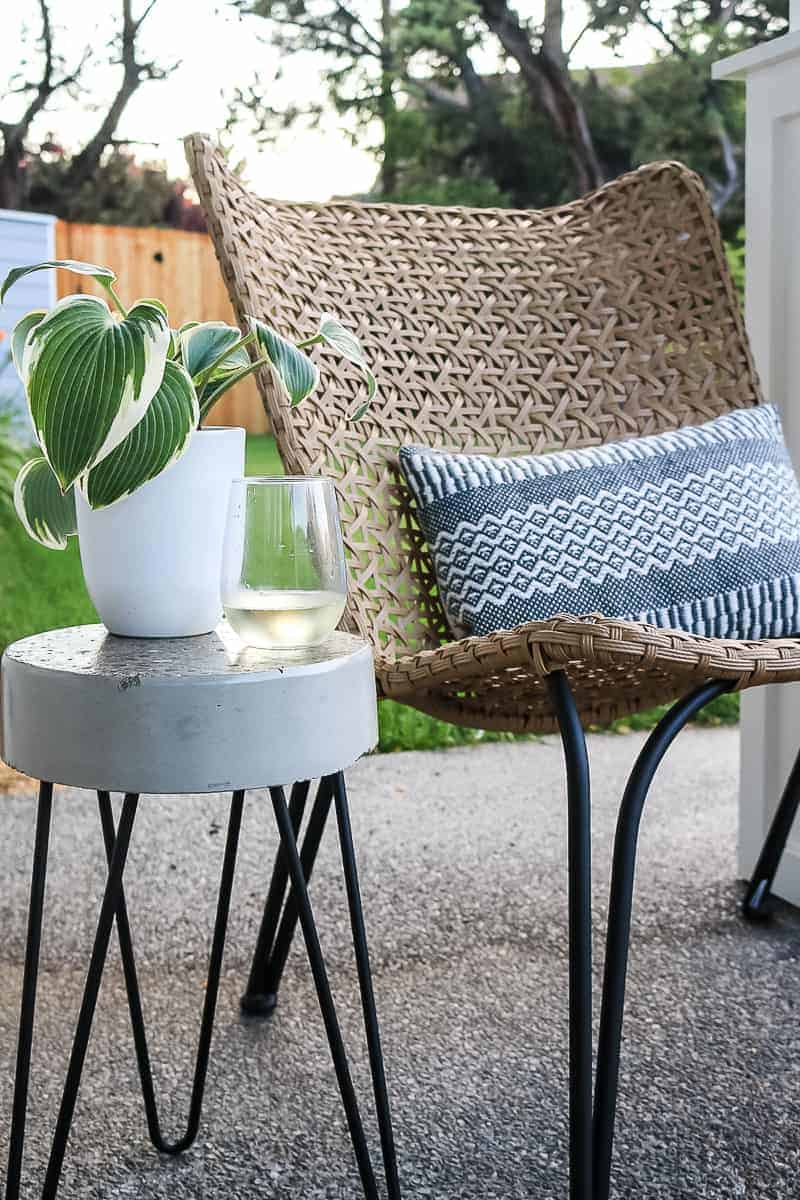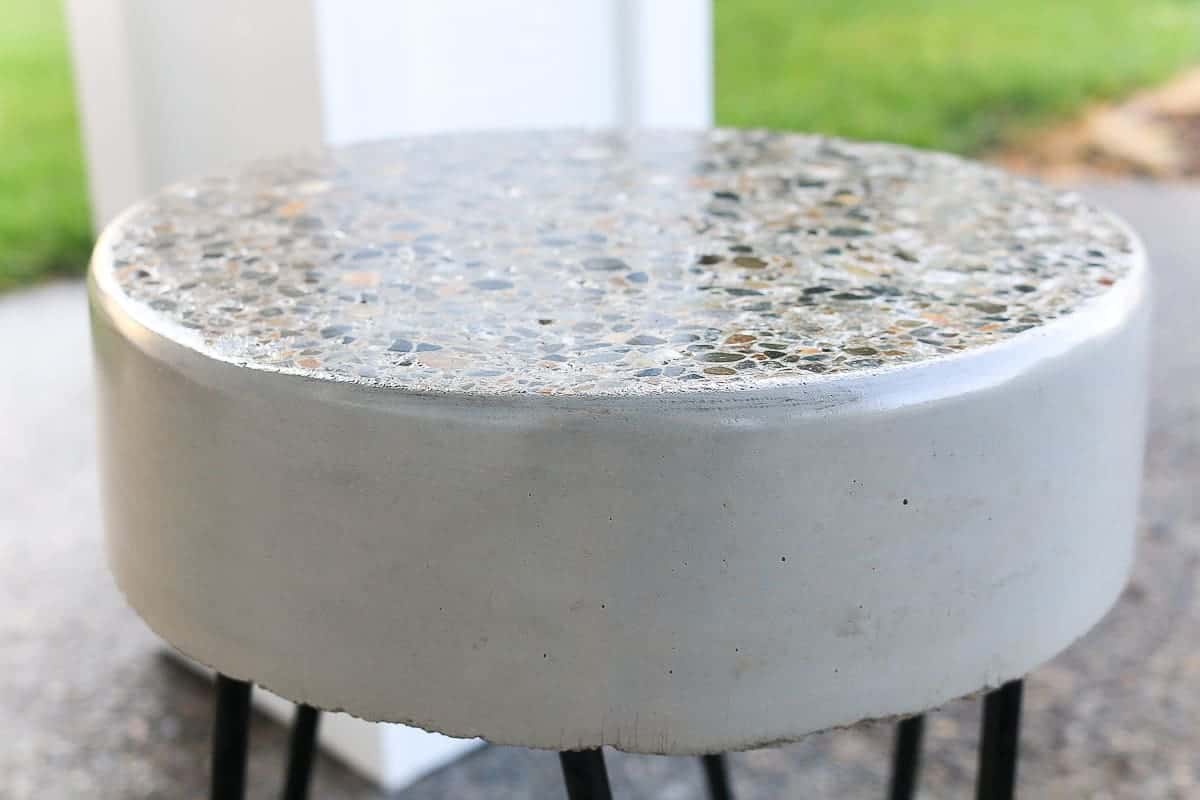 This little DIY concrete side table was just the perfect thing that we needed out here on the front porch. Now we can sit out here together and watch the kiddos play.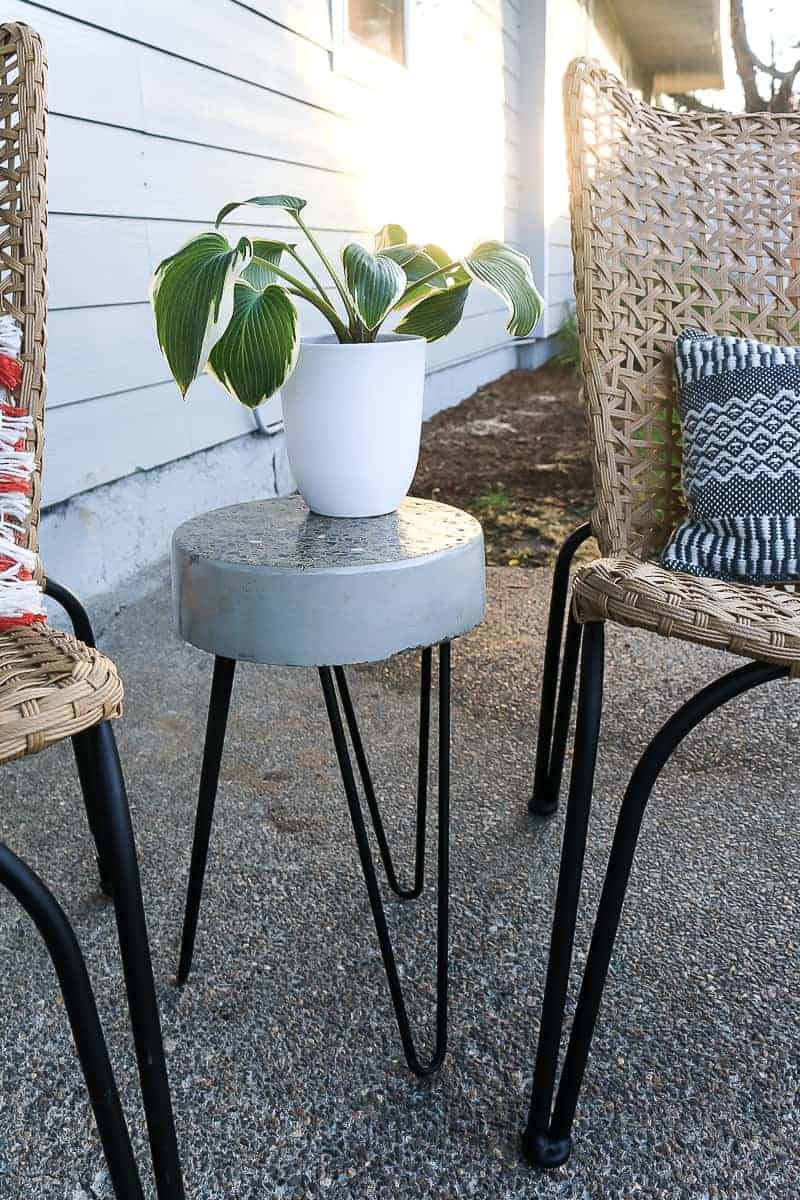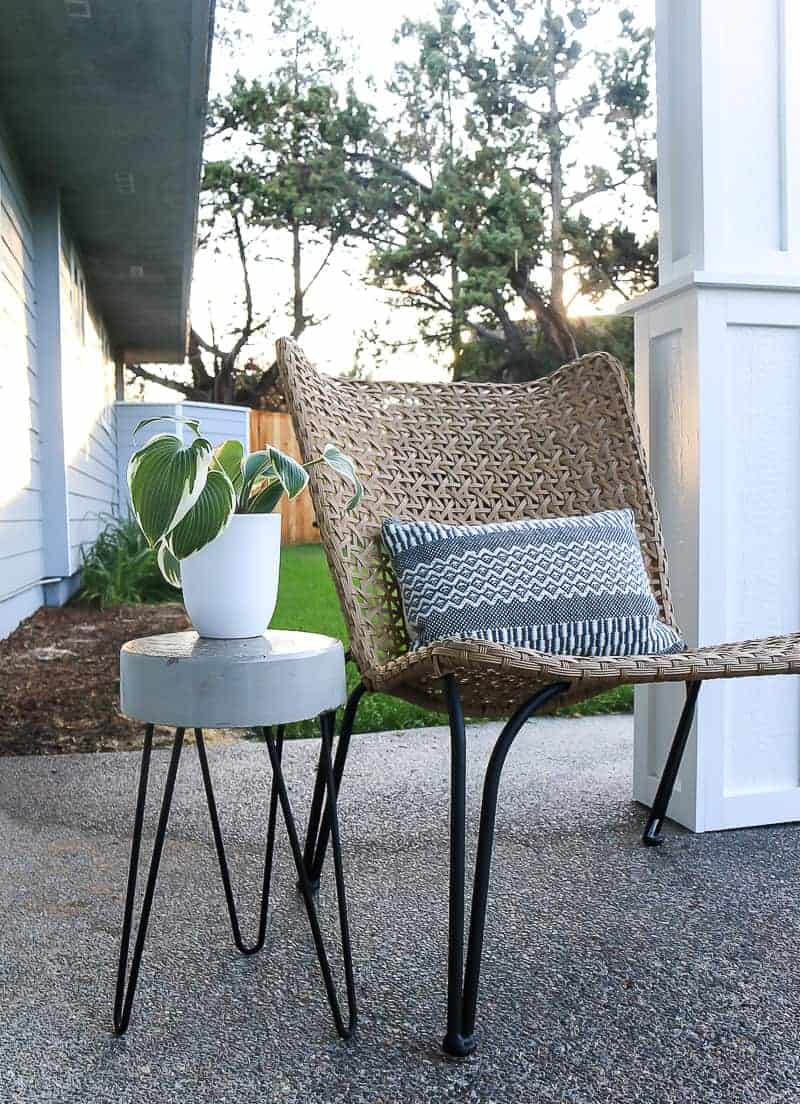 Since finishing this project, we eventually moved it inside to use as a plant stand in our modern boho living room and it's perfect there too! Gotta love a versatile project like this.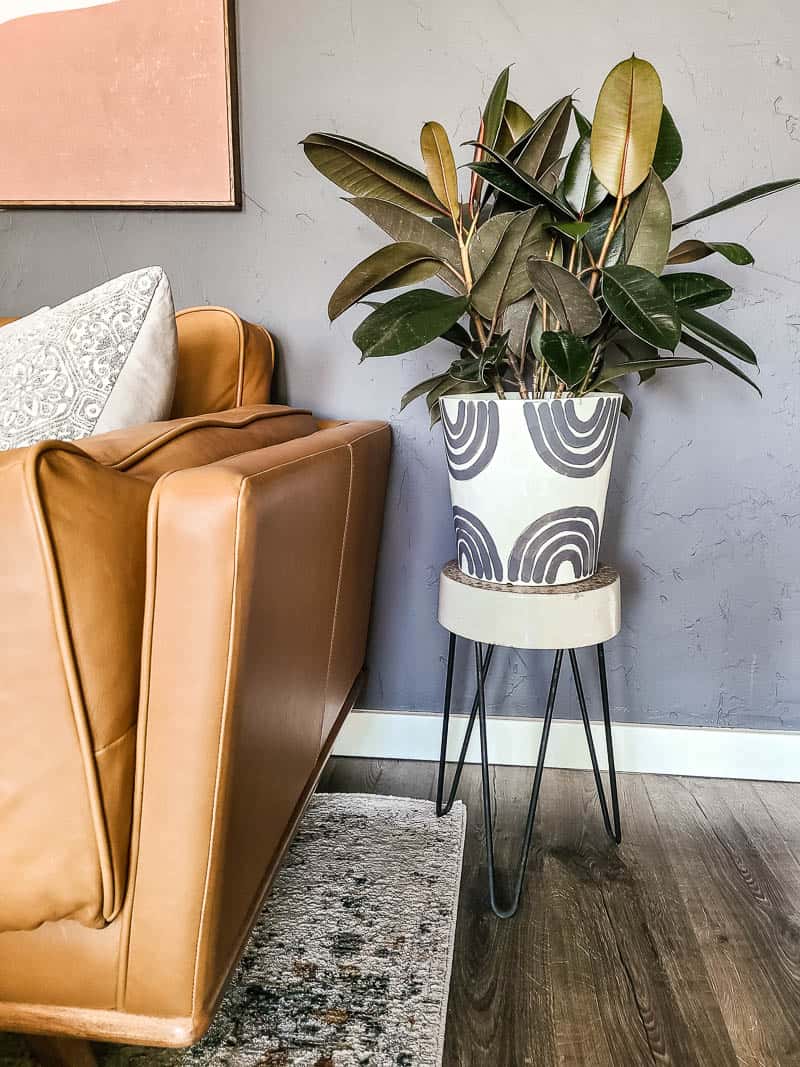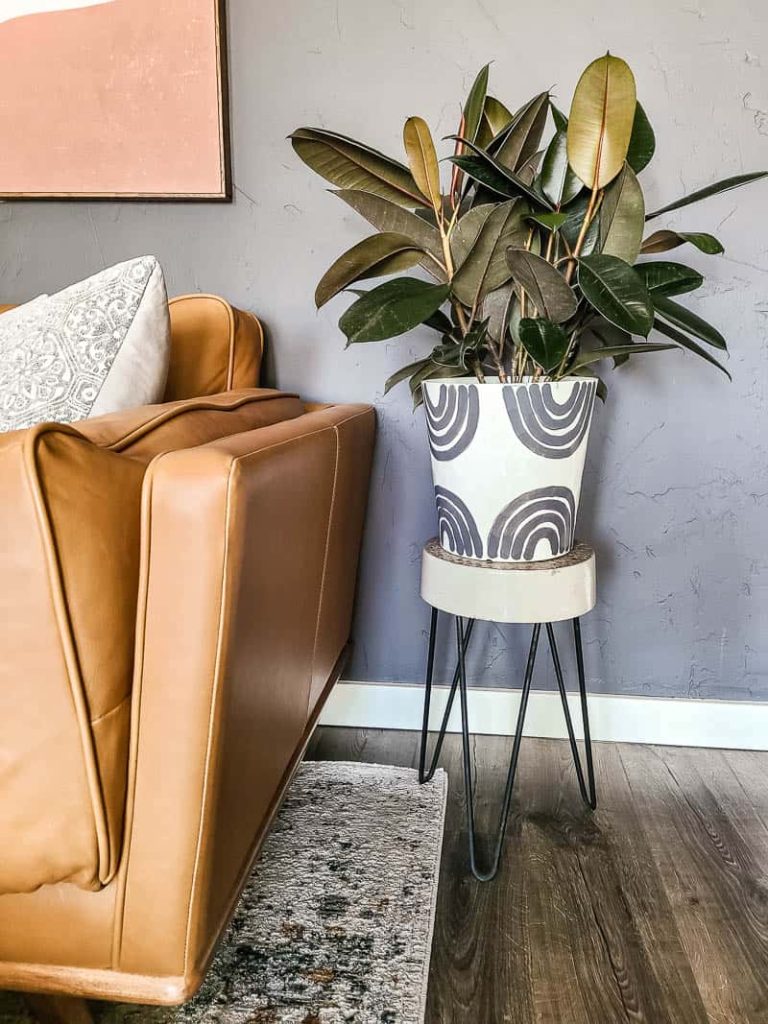 Have you ever done a DIY concrete project before??
Let me know in the comments below!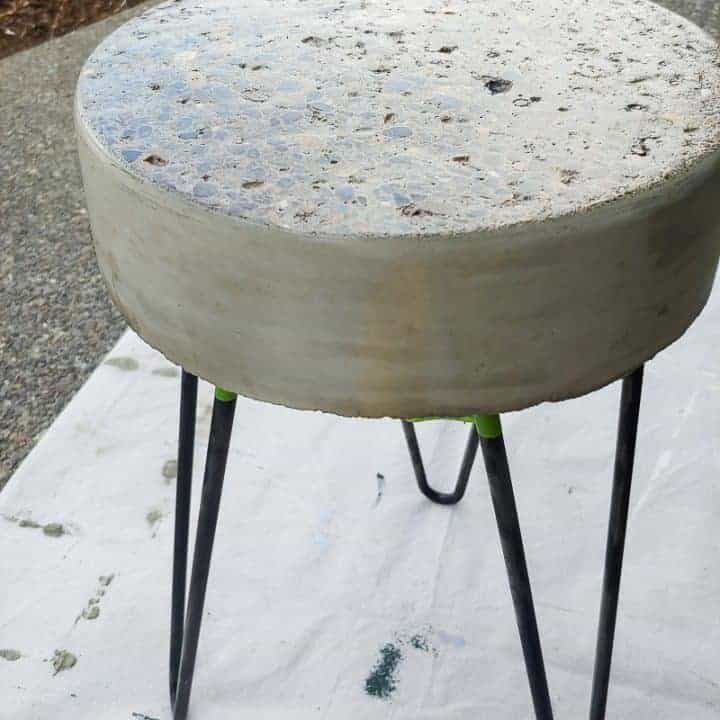 How to Make A DIY Concrete Side Table For Your Porch
Our front porch needed a small outdoor table, so we turned to concrete! This DIY concrete side table was so fun to make & looks so cute!!
Tools
Instructions
Mix concrete.
Mark inside of bucket.
Pour concrete.
Set in & secure legs. Let dry.
Remove bucket.
Grind & level top.
Seal concrete.
Enjoy your concrete side table!