Do you need some garden stepping stones, but you want something cute with lots of character?! Make your own! I love the unique pattern that we stamped into these garden stepping stones. They were so fun and easy to make!
I partnered with Hometalk on this post and it contains affiliate links, but nothing that I wouldn't wholeheartedly recommend anyway! Read my full disclosure here.
Ever since we built the fence (tutorial coming soon) and hung the hammock up in the backyard, I've been thinking about making some stepping stones to go in front of the hammock that had some fun character to them. We had originally put down some mismatched (boring) ones that we had laying around the backyard….but it was missing something.
The hammock was just calling for something with a boho pattern!
So when we had some leftover concrete after we made this concrete side table, it was obvious that we should make some stepping stones, right?
These easy DIY garden stepping stones made with concrete were stamped with a RUBBER DOOR MAT! Yep, you read that right. Just a simple door mat and it created the cutest pattern!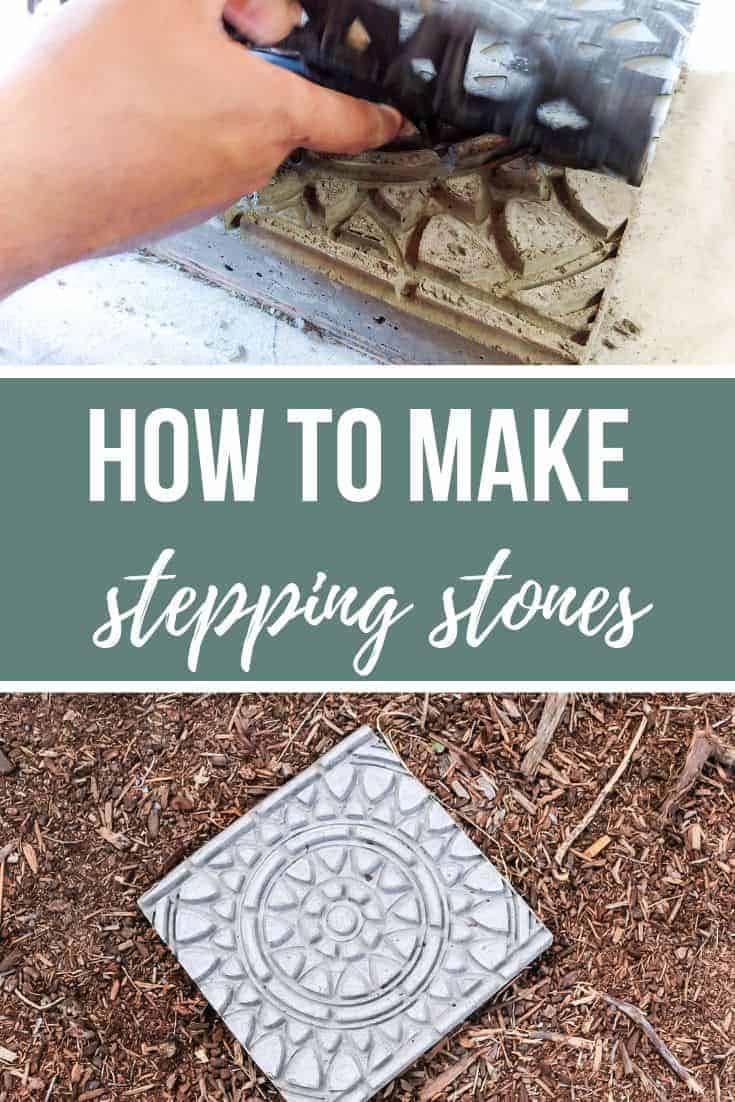 Even if you've never done a DIY project with concrete before, these stepping stones are seriously SO easy!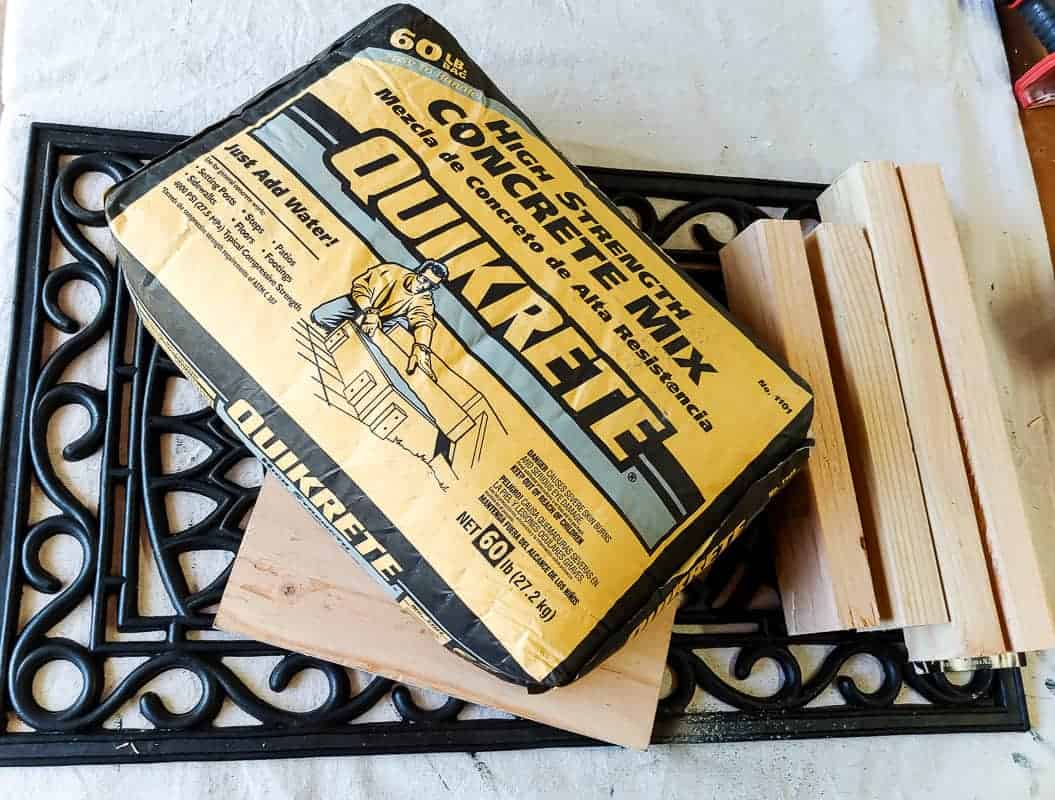 Supplies for garden stepping stones:
2×3
Plywood
Wood Screws
Drill
Bucket
Sponge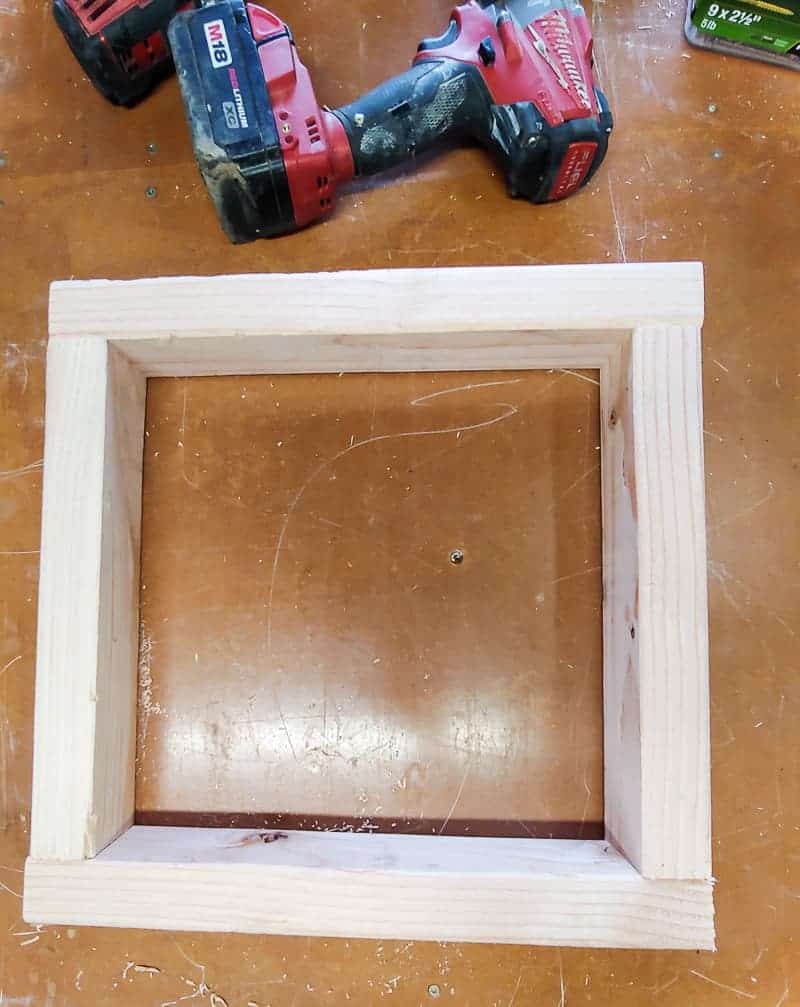 Build stepping stone mold.
We decided to build 1 foot square stepping stones, so we cut our 2×3 pieces down to size so that the inside perimeter would be 12 inches.
The corners of the mold (which is really just a box) are joined together with just drilling pilot holes and then screwing in wood screws.
In the bottom of the wooden mold fits a piece of plywood (not shown in above picture, but can be seen in video) cut down to size so that it slides in but is nice and snug so that the concrete doesn't go through the cracks.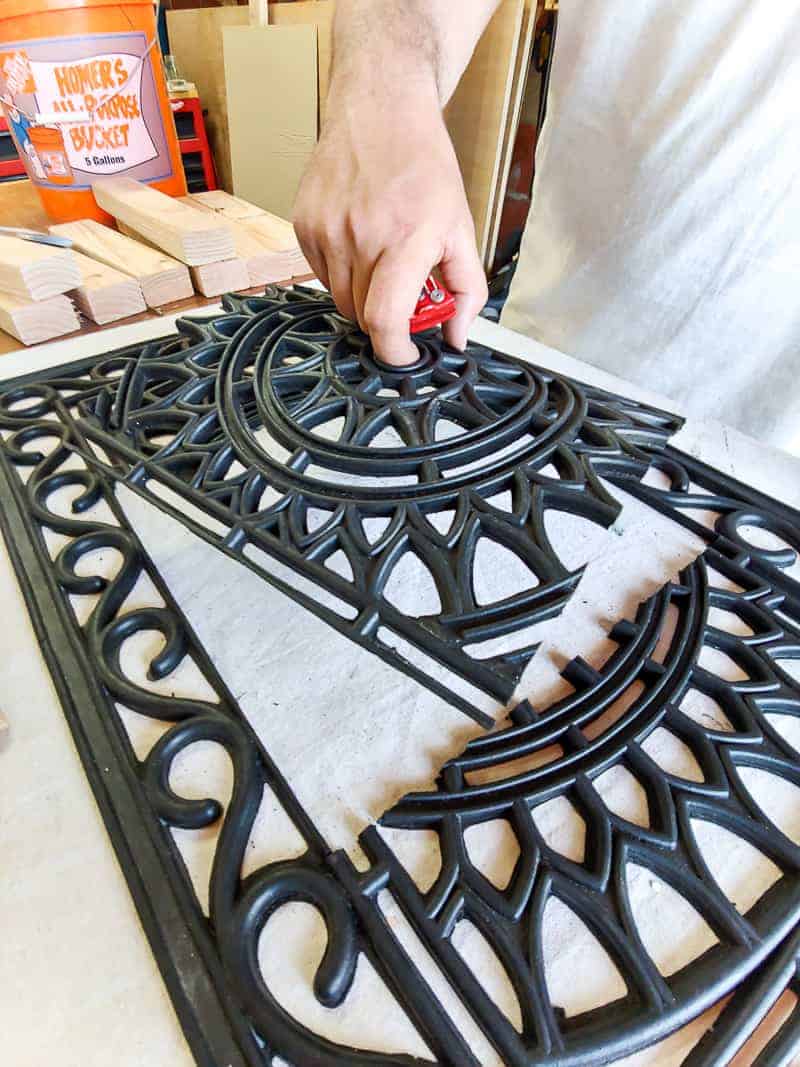 Cut rubber door mat down to size.
Next figure out what part of your rubber door mat you want to use as your concrete stamp. Since ours had a kind of circle design, we chose to cut out a square from the middle of the mat.
If you find a door mat with a less symmetrical design, like this, you could probably make two stamps out of it.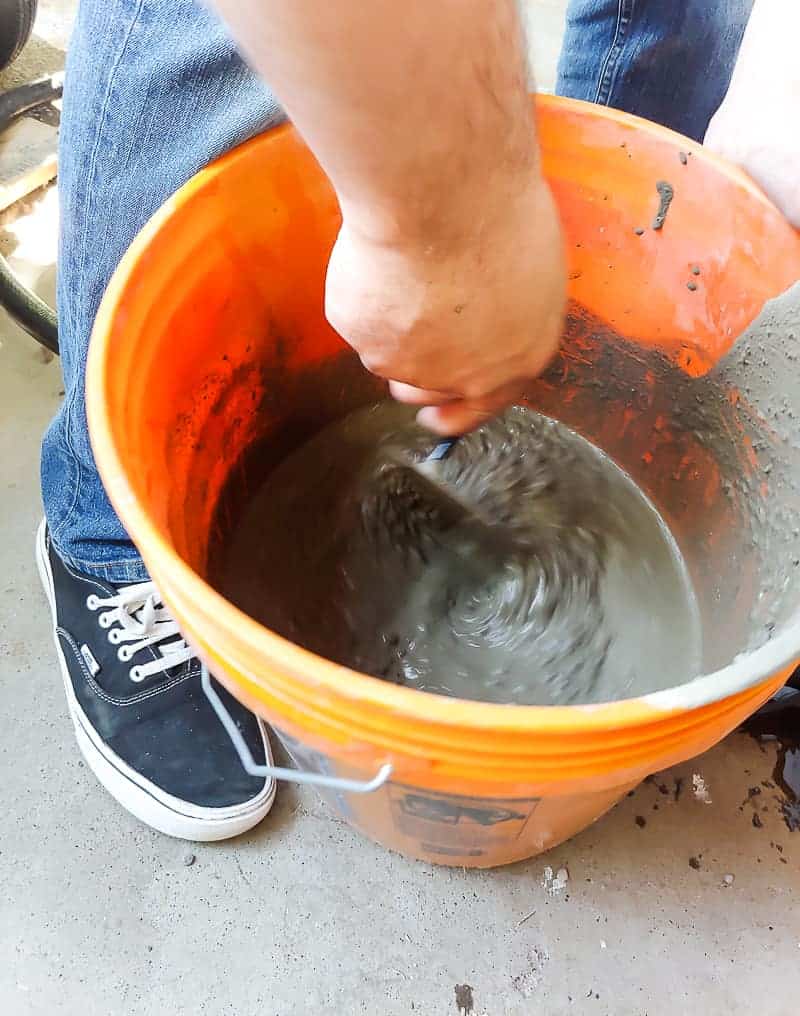 Mix concrete.
Grab a bucket, your bag of cement and a trowel for mixing. Add water while stirring until you get the right consistency. Be sure you only mix enough for one stepping stone at a time (unless you have more than one stamp made from the rubber mat).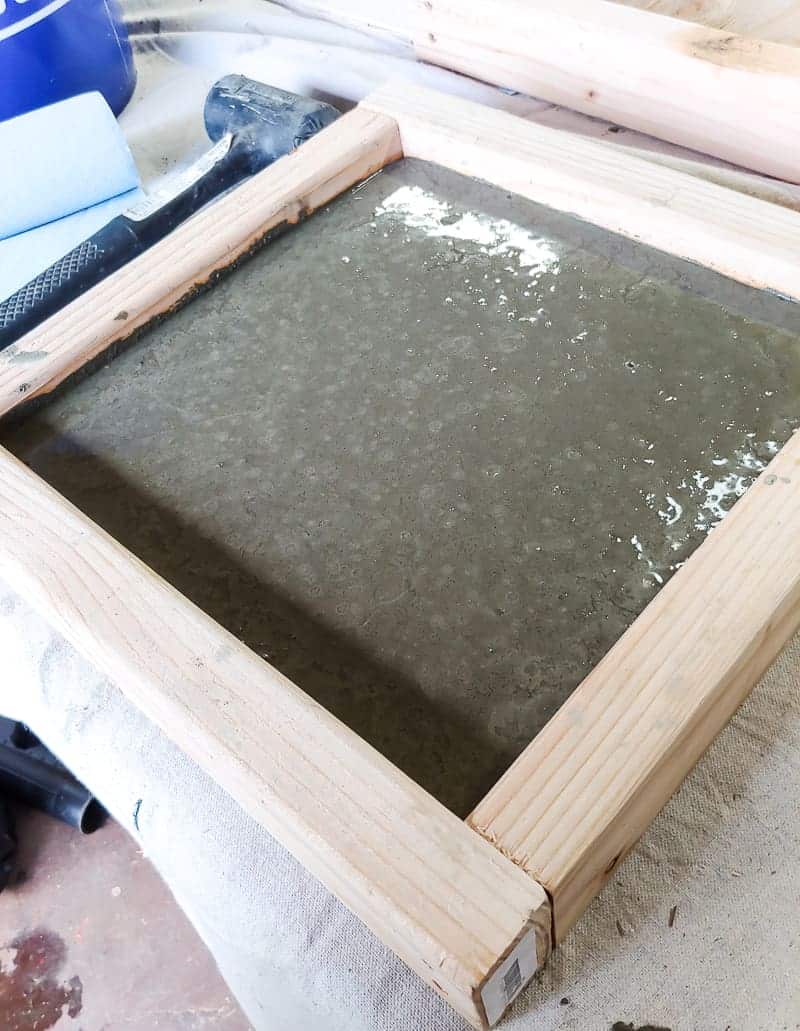 Pour concrete into garden stepping stone mold.
Next just simply pour the concrete into your wooden mold. Be sure to leave about 1/2″ or so to allow room for the rubber door stamp.
After you fill the mold, tap the edges of the wooden mold with a rubber mallet several times. This helps get the air bubbles out of the concrete.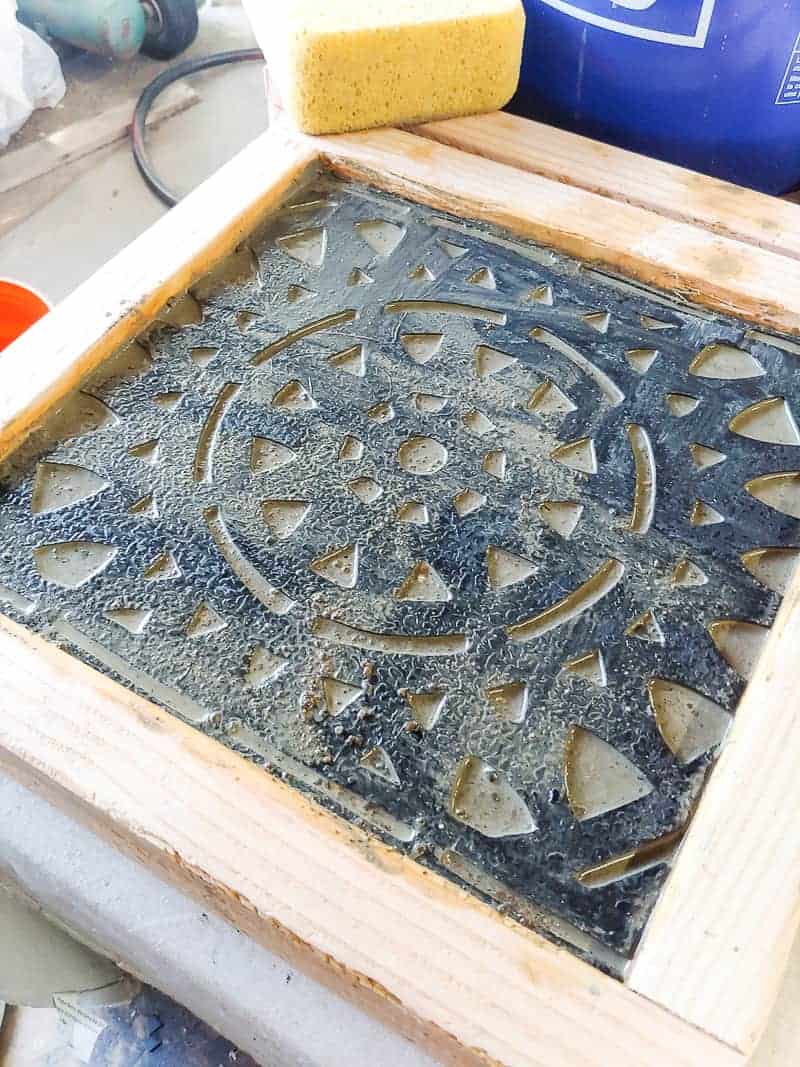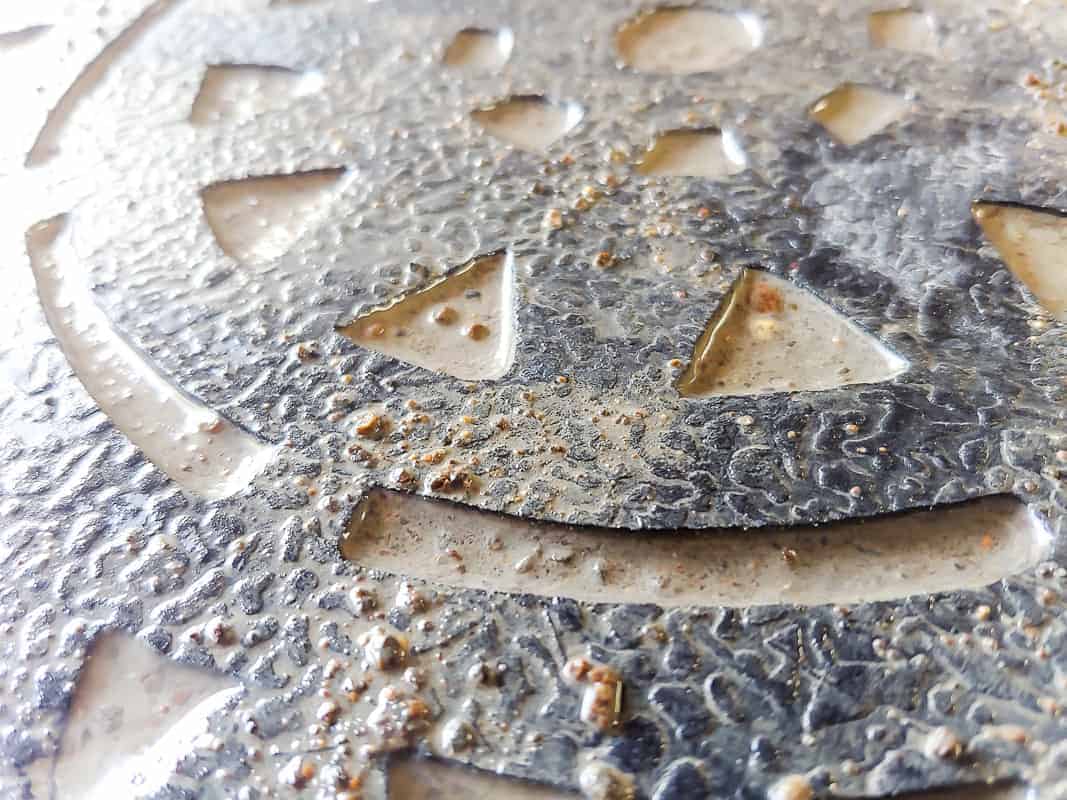 Stamp with rubber door mat.
Wait until the concrete sets up a little bit. You want to be able to put your finger in the top of it and have the fingerprint stay. Then lightly lay the rubber door mat stamp on top of the garden stepping stone.
Lay another plywood square on top of the rubber door mat and press down evenly.
Remove the plywood gently and wipe any extra concrete off the top of the stamp with a wet sponge.
Tap the edges of the mold with a rubber mallet again after you get the stamp in.
Let dry.
The concrete stepping stone takes about 1-2 days to set up and dry, but this may be different based on your temperature and humidity.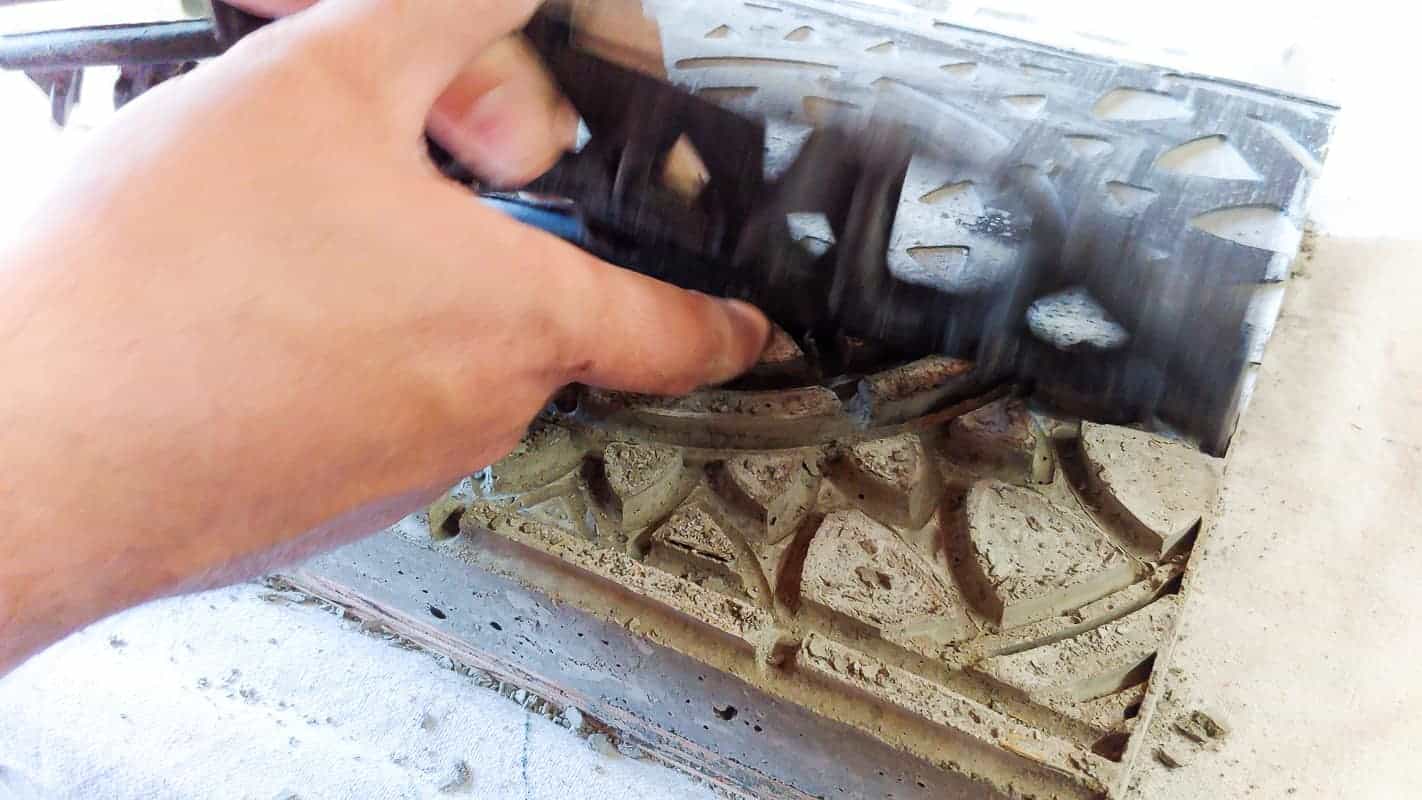 Remove doormat and mold.
After everything is dried, unscrew the wooden mold and gently remove the rubber door mat.
Enjoy!
Now you can put your cute garden stepping stone in place and enjoy!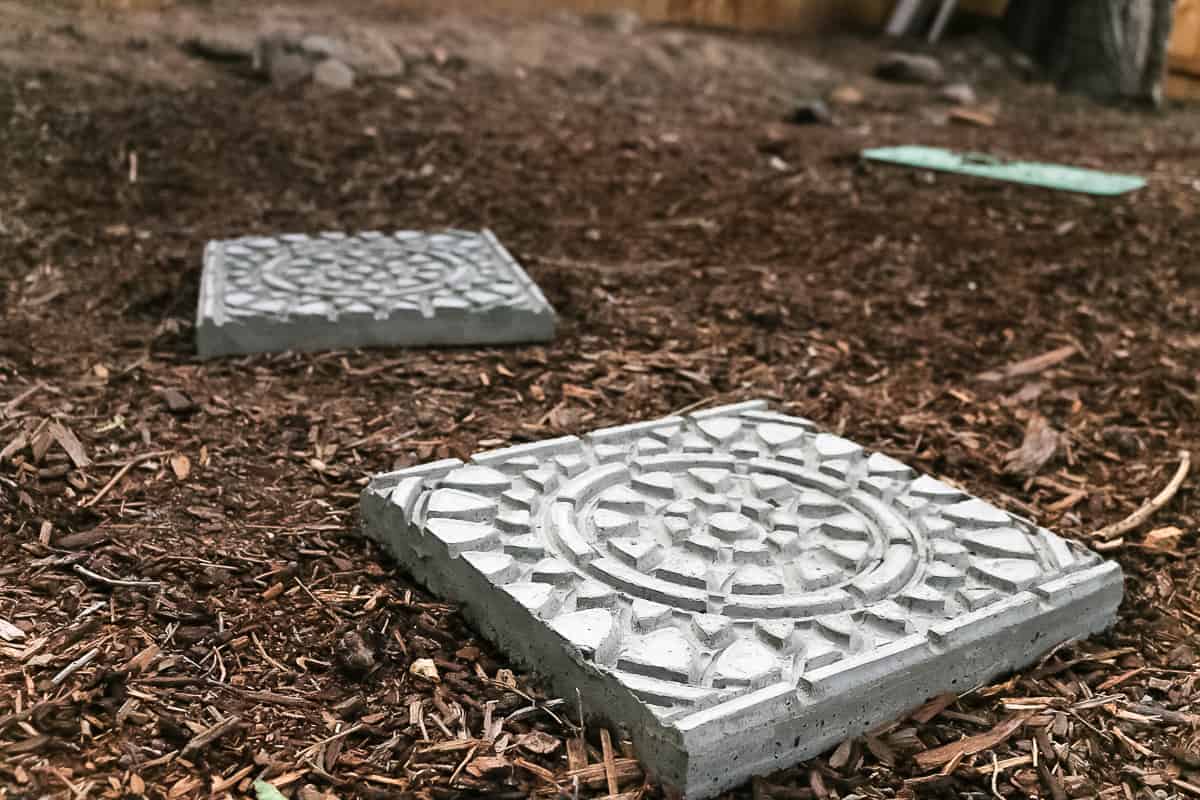 If you want to make more than one, you can start the process over again if you only have one rubber doormat stamp.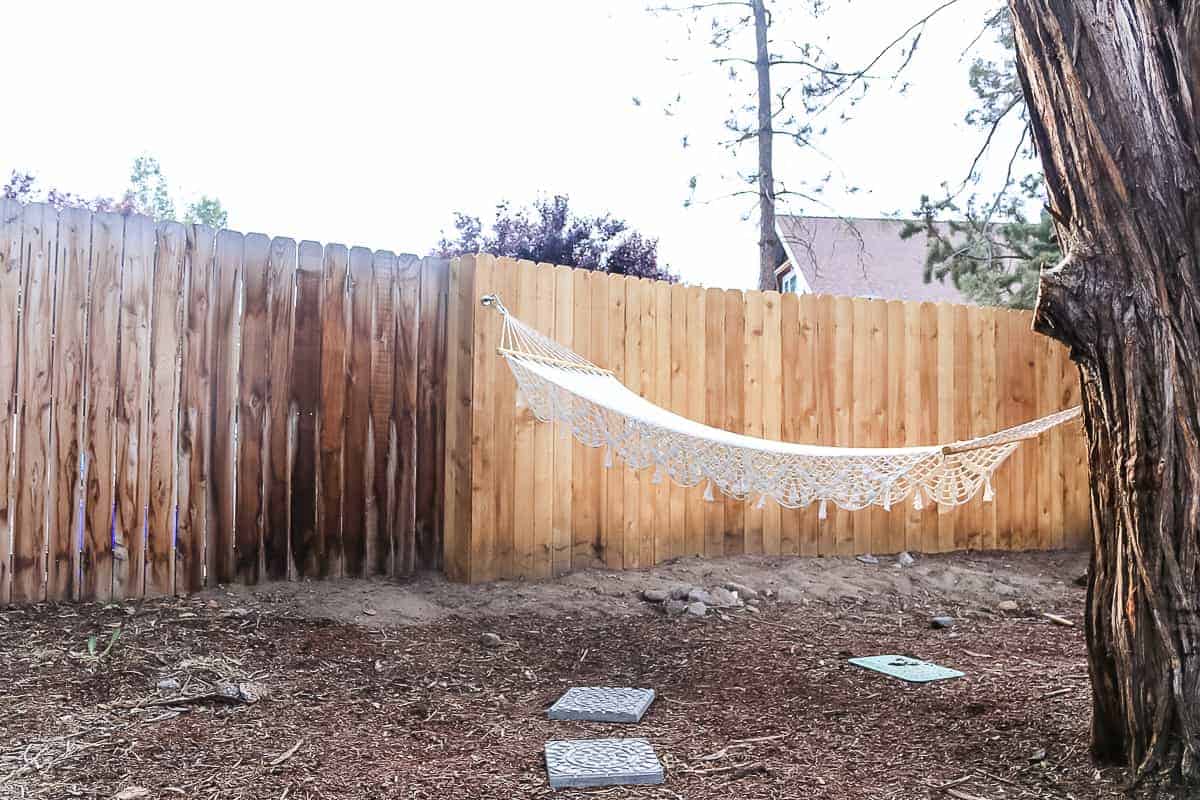 Would you look at just how much character they added to our little hammock area back by the deck?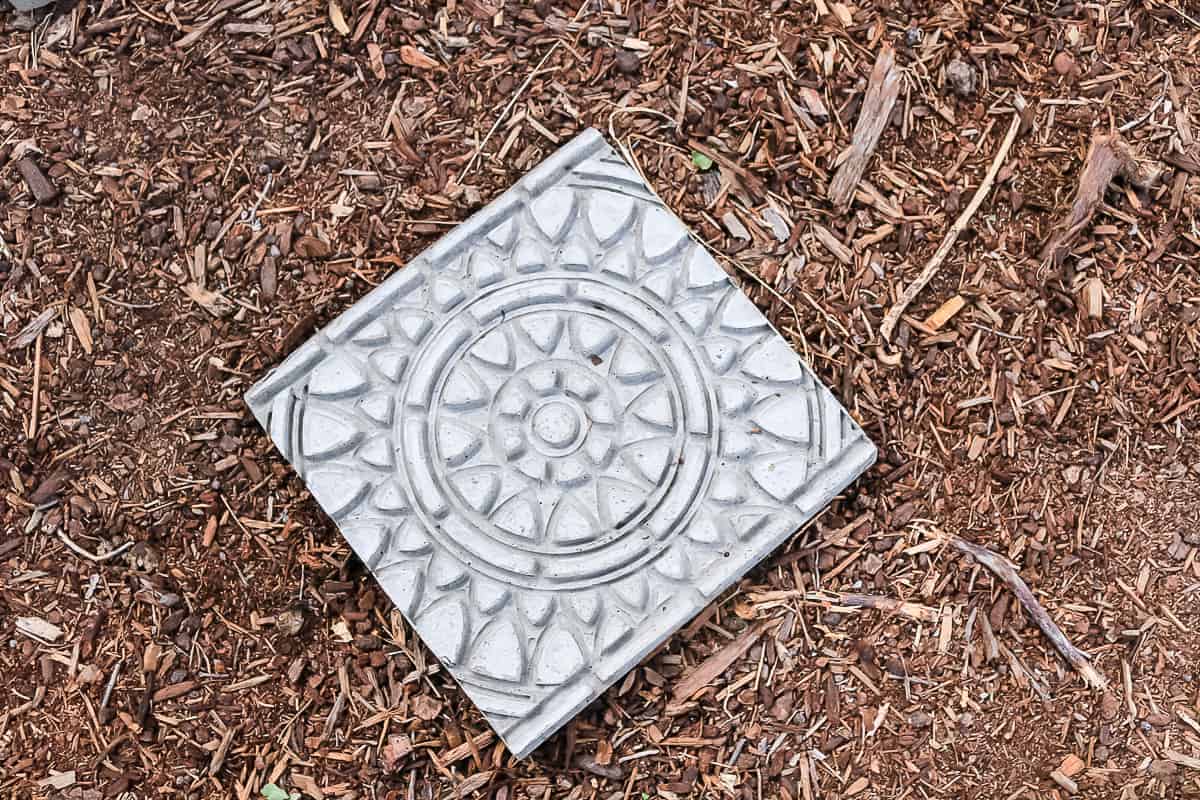 After we removed the wooden mold and stamp, the design really started to look "boho" to me – which, of course, I love.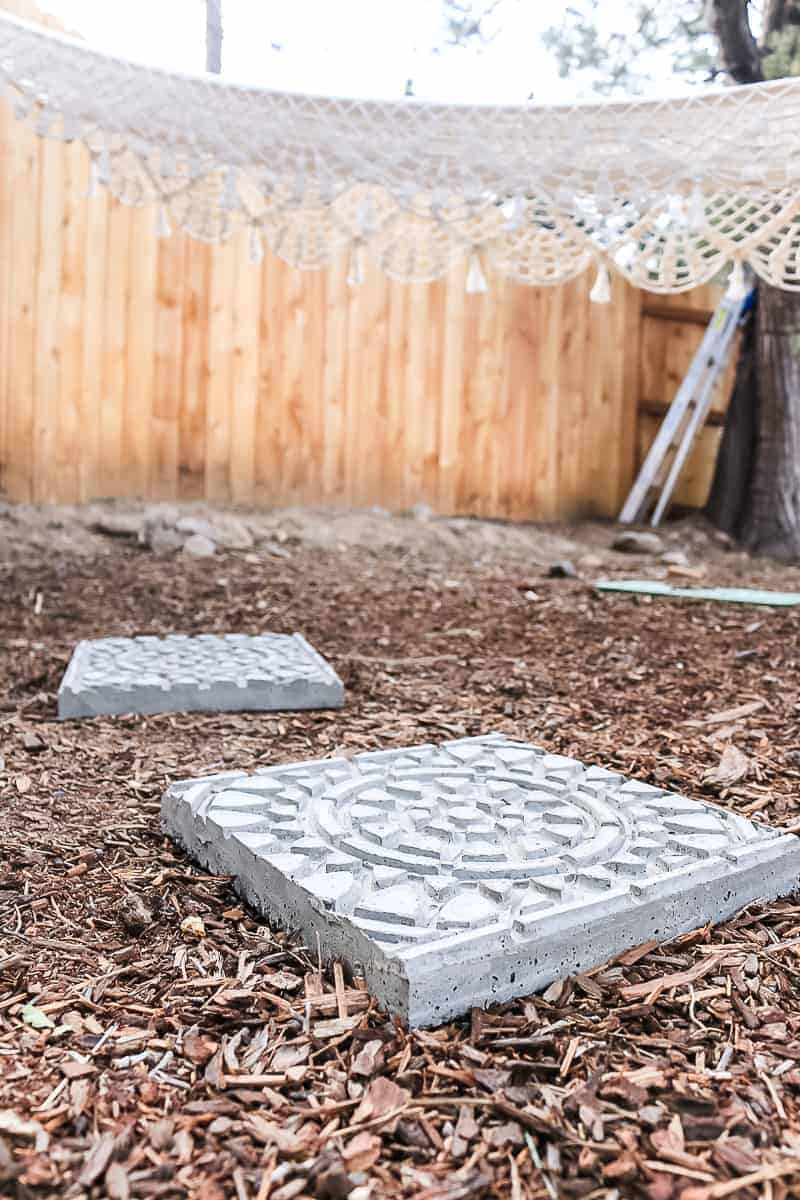 I really love the design on these garden stepping stones. Don't you?
Where would you put your garden stepping stones!?
Let me know in the comments below!