Wondering what to put under your swing set? There are so many options for great mulch for playgrounds! Here's a summary of the top 5 playground base options and why we chose rubber play bark for our backyard.
As the parents of two rambunctious little children, we are constantly issuing warnings to them while they attempt faint-worthy stunts on the playground. My heart leaps every time Cal jumps from the stairs on the playhouse, which he loves to do.
If it weren't for the rubber play bark we had installed under the swing set, we would have many more trips to urgent care.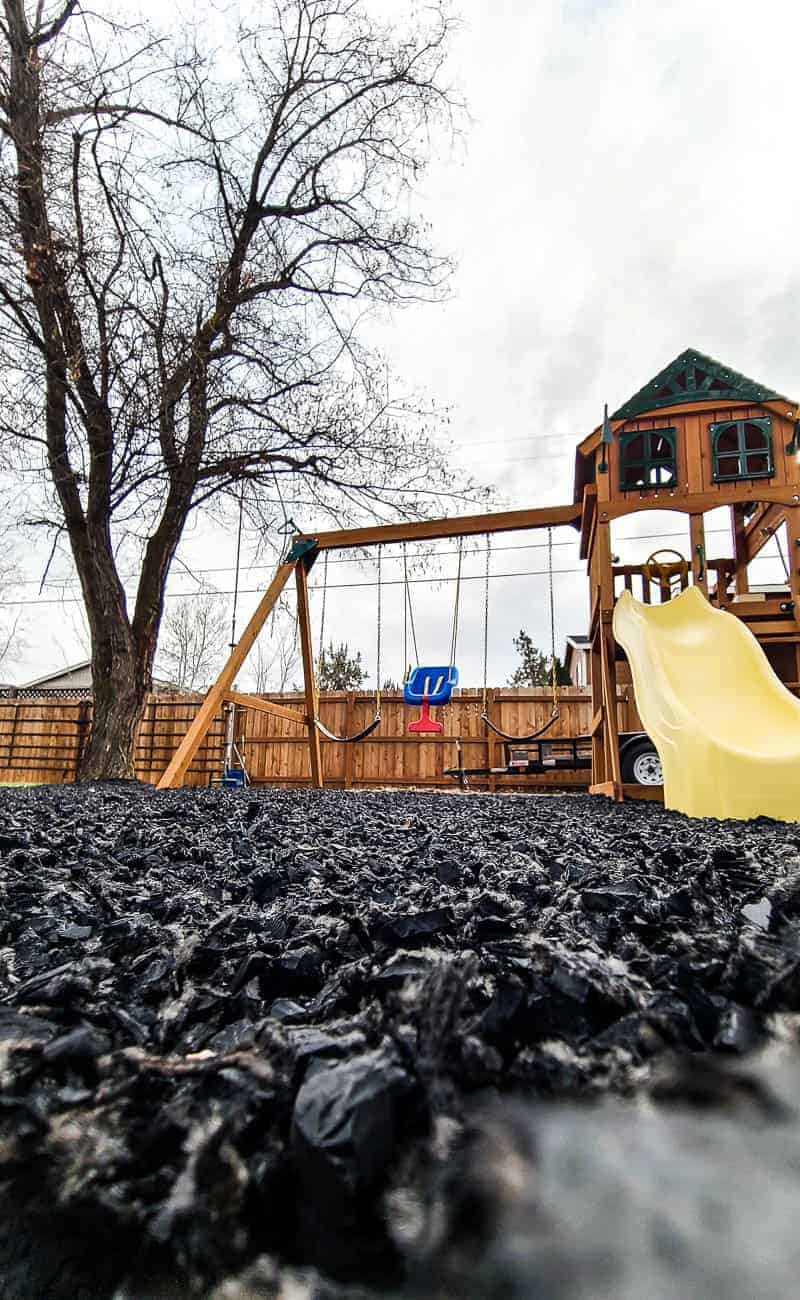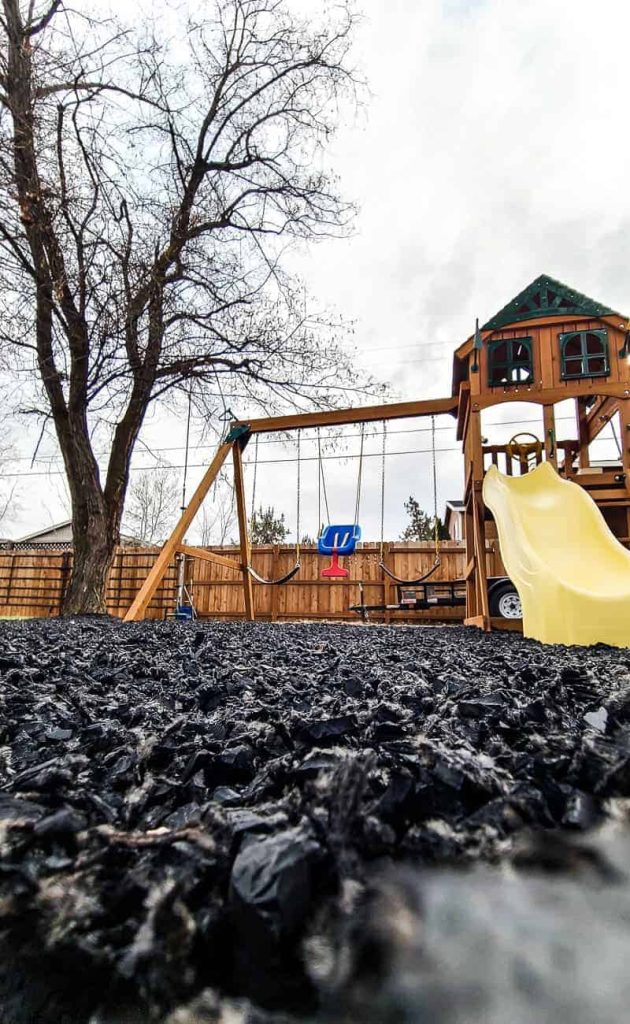 When we were kids, we did all kinds of crazy stunts from swinging way too high to daring balancing acts on top of our playhouse. Where were the grown-ups seriously? Now, it seems the favor has been returned tenfold!
During our backyard renovation, I knew we needed to do our research for the base of the play area. Turns out, there are so many different ground-covering options – everything from sand, dirt, grass, rock, mulch..the list goes on!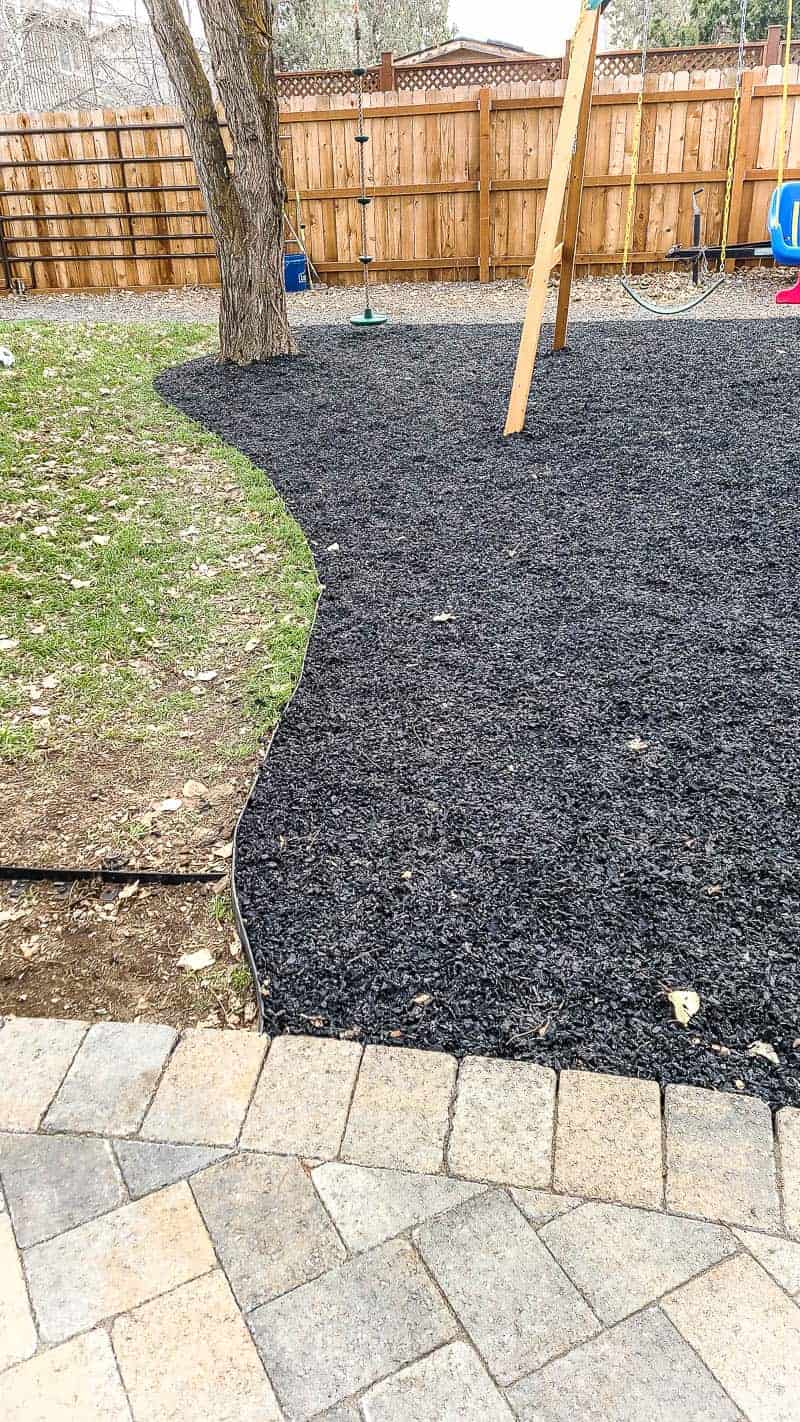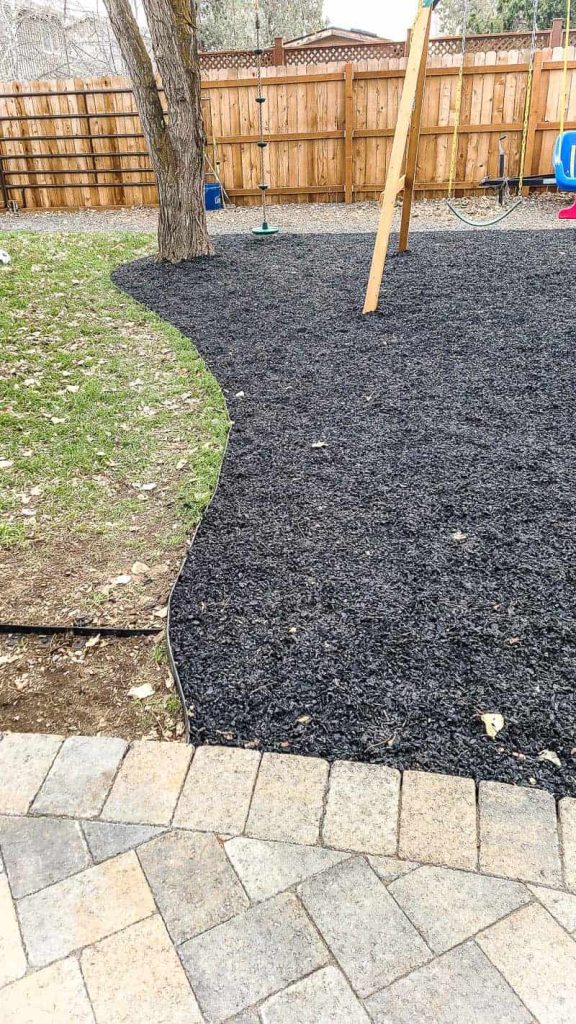 Needless to say, we put some serious research hours into finding what we liked best. For us, the final decision was rubber mulch! We liked the way it looked, the safety aspects, and the low maintenance.
What is the best ground material for a playground?
In most cases, you will find that sand, wood, or rubber mulch comes highly recommended for playgrounds.
Most importantly, consider the play equipment that will be on top of the ground cover. You don't want to end up with an off-balanced swing set or a rickety slide tower.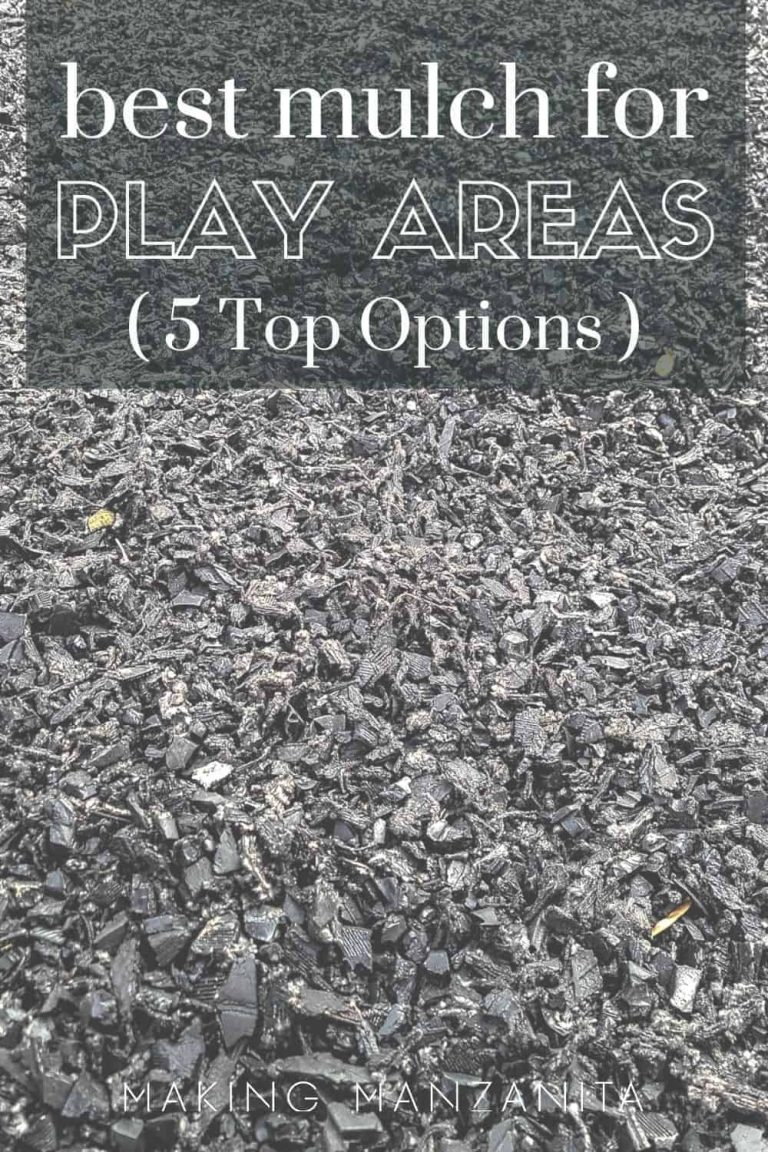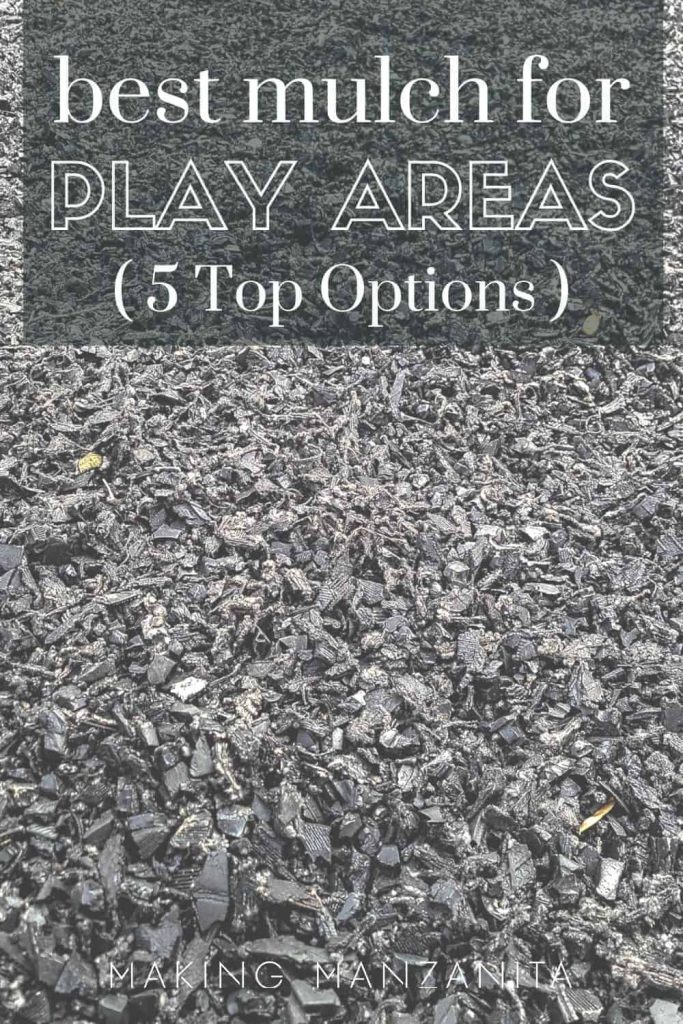 Top 5 Options for Playground Bases
With so many options, it's easy to become overwhelmed. Really, there is no wrong answer. The best mulch for playgrounds is a matter of personal taste, the climate, and your family's needs.
No matter what you choose, keep in mind that this is what the kids will land on while playing! And if they are anything like my kids, there likely be some big jumps.
1. Rubber Mulch
We ended up choosing rubber mulch for our swing set installation. We really liked that it was long lasting and provided a softer landing for the kids.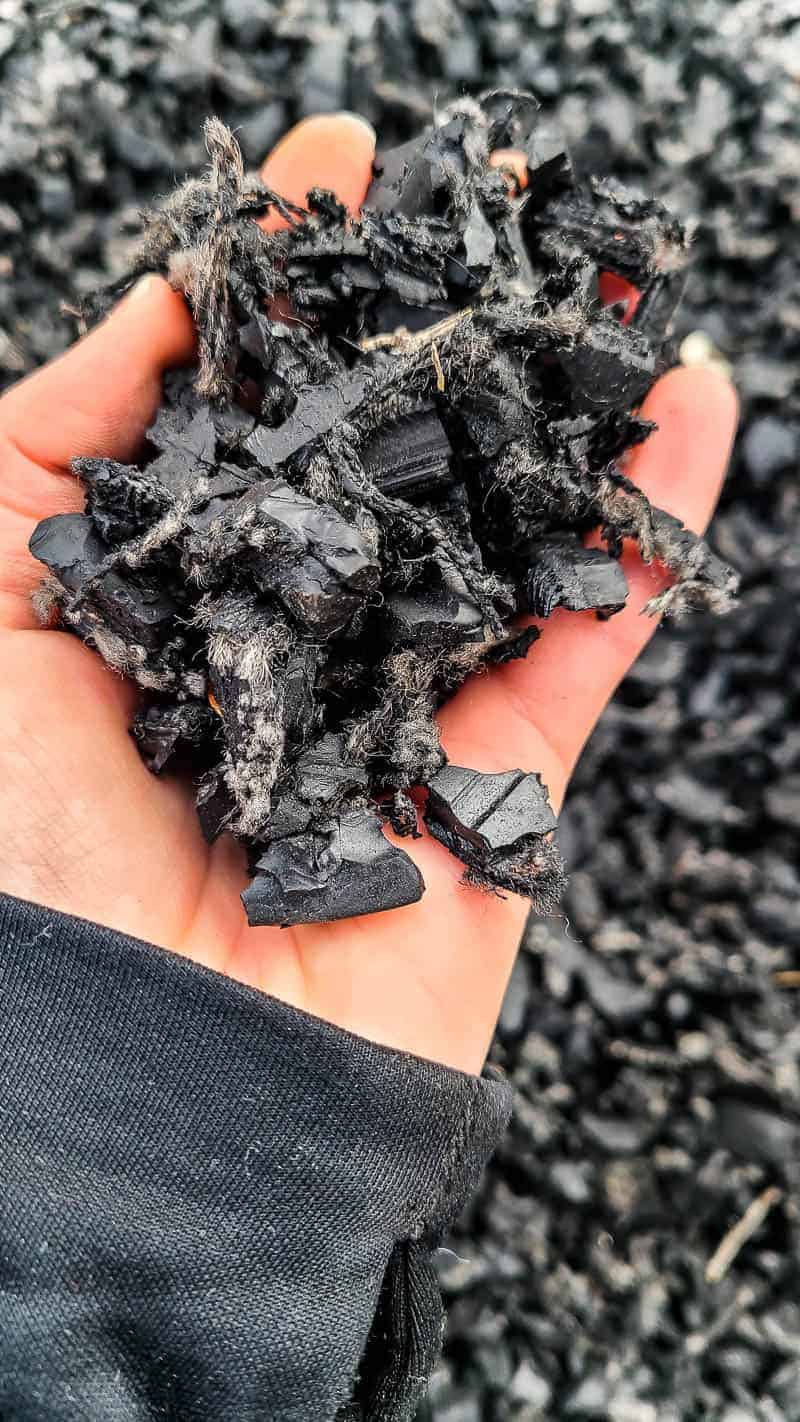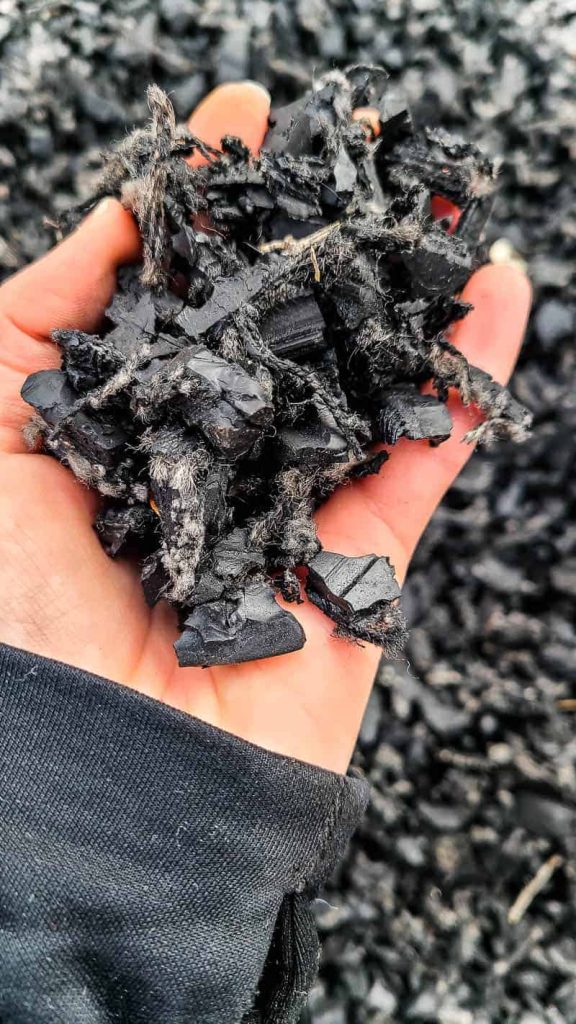 Because our two kids are very young, there are a lot of topples, trips, and falls on a regular basis. The rubber bark helps break the fall and create a softer landing for tender knees and hands. This was a huge selling point for me!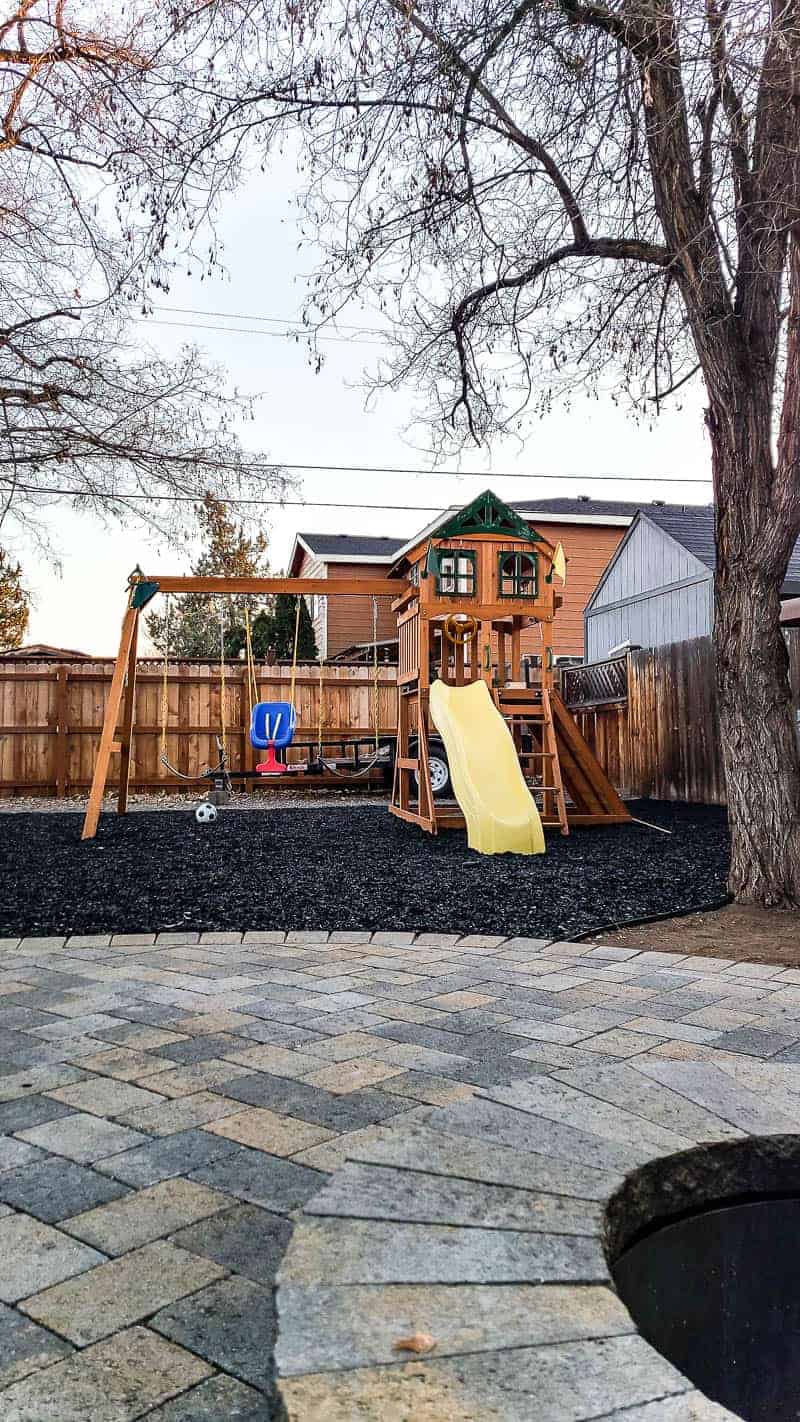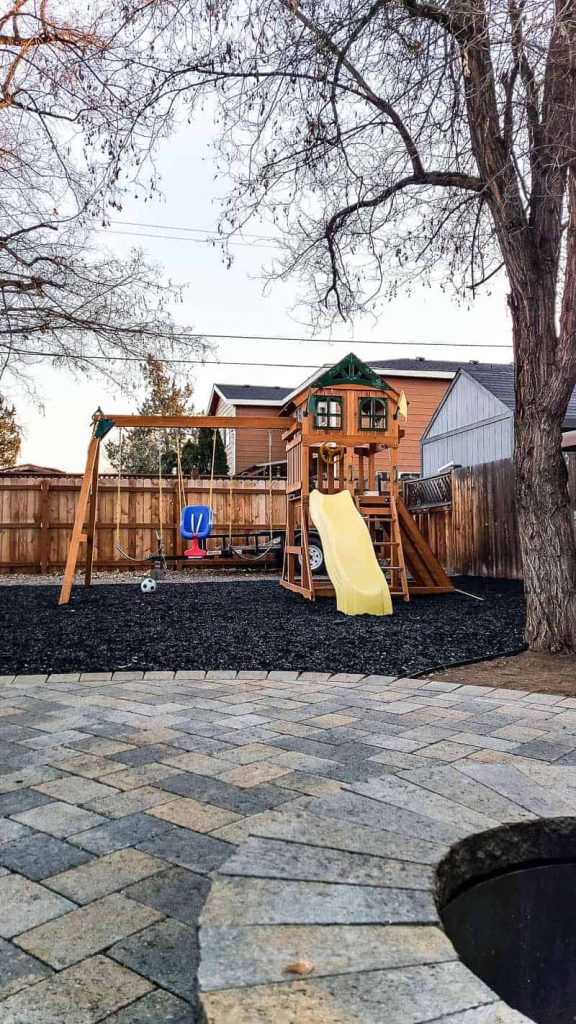 Other pros for rubber mulch for playground:
Easy to maintain as well as install.
Less abrasive for sliding and skidding across the play area.
Available in multiple colors, including earth-tones and bright colors.
Doesn't attract bugs, pests, or other creatures that build nests (good-bye fire ants!)
It's sturdy enough to withstand inclement weather like flooding or winds.
Will last SO long…ours has a 12 year guarantee
Made from recycled tires, it's good for the environment !
You might spend a little more upfront, but the reduced maintenance will offset the initial cost over time.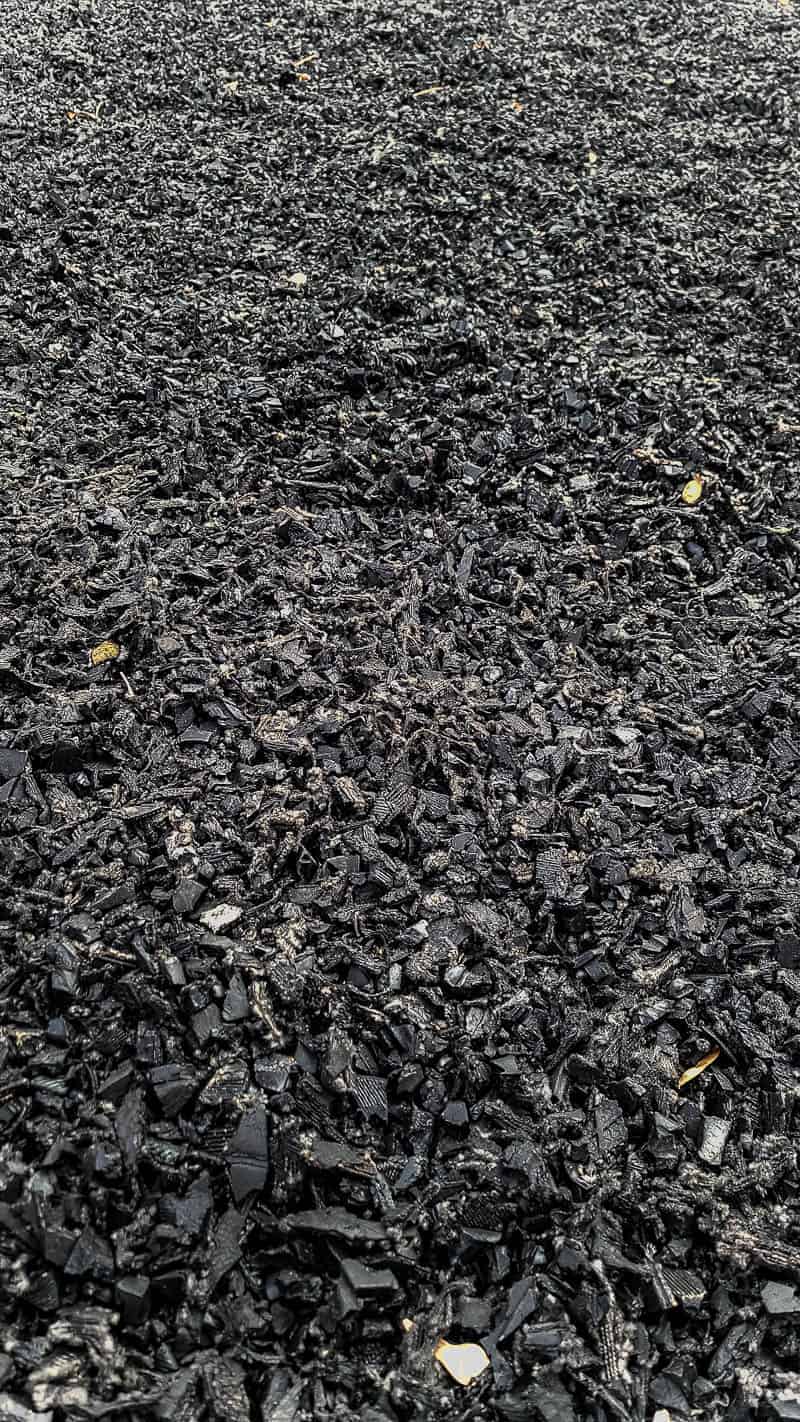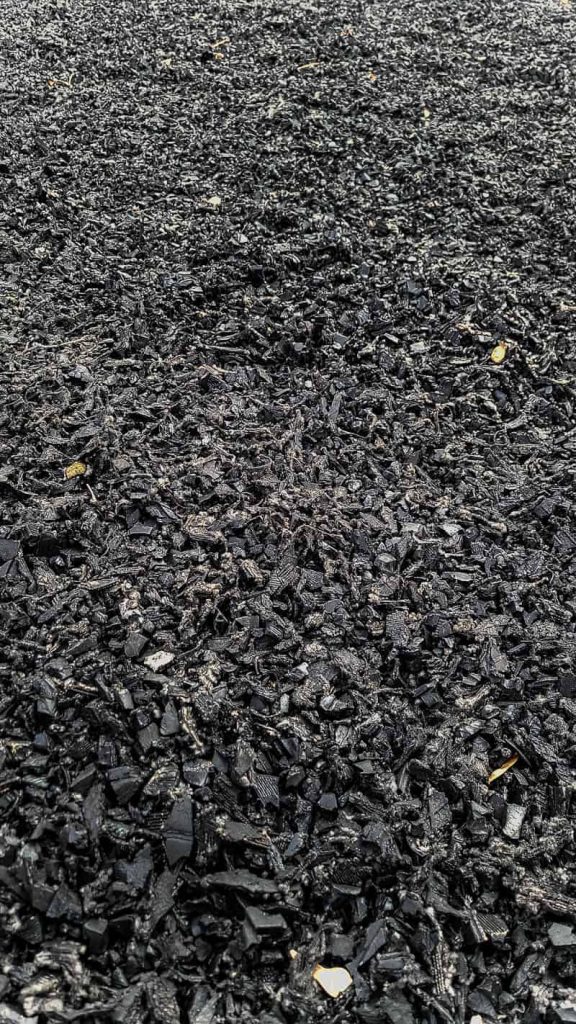 Cons for rubber mulch:
The initial cost is higher, but as noted above, the low maintenance and longevity will offset the costs in the long run.
Unfortunately, rubber mulch is not biodegradable, but it does stand relatively sturdy during inclement weather events.
Once you install rubber mulch, it will be there for a while. It is hard to remove and change the ground cover, so make sure you are committed.
Because it's exposed to weather elements, color fades over time, but at a much slower rate than other types of mulch.
2. Wood Mulch
Wood mulch was our runner up before we purchased the rubber bark. I liked this option because it was also environmentally friendly. It's also really easy to find at basically any garden section of a store, where as rubber mulch needed to be specially ordered only.
This is still a great choice, but it's not quite what we needed.
Pros for wood mulch for playground:
Easy installation and similar to the rubber mulch.
It's affordable and readily available for ordering or picking up locally.
Comes in a variety of colors and looks great!
Cons for wood mulch:
Wood tends to attract unwanted pests and bugs.
It's prone to molding if there is too much moisture settling on top of the mulch.
Splinters are possible with wood products.
Dyes and harsh chemicals are used to color the wood or maintain the appearance.
Requires regular upkeep and maintenance and replenishing the mulch as it shifts and fades.
Colors will fade over time as it is exposed to weather elements.
3. Pea Gravel
Pea gravel is a common option when laying ground cover for playgrounds. Immediately, we knew this was not an option that would work for us, but it's an easy option for many.
Pros for pea gravel:
Extremely affordable and even easier to install.
Gravel provides a natural appearance without the harshness of added dyes.
Like sand, it's fun for kids to play in.
Animals and pests are less likely to join in on the fun.
Cons for pea gravel:
Tricky to navigate for anyone with mobility issues.
Gravel shifts as it's walked on, so minimal fall height requirements are a constant concern.
Breaks down, crumbles, and compacts over time.
Little ones are tempted to throw it, which is very dangerous
Regular maintenance is required and must be raked often to maintain depth requirements for play sets.
Pebbles can easily sneak in socks, shoes, and sandals and I could just imagine the little pieces of pea gravel in my house all the time!
4. Sand
Sand is one of the most common options for playground bases – mainly because it's an affordable option and readily available at most hardware or home project stores.
Pros for sand:
Affordable and available in most areas.
Installation is easy and fast.
Fresh sand is soft on little knees and hands.
It can double as a sandbox for kids!
Cons for sand:
Attracts unwanted visitors, like cats who mistake it for a litter box.
Over time the sand requires maintenance and also impacts your adherence to depth requirements.
Becomes compacted over time which can harden the fall.
Very difficult to navigate with mobility issues (think crutches, wheelchairs, and walkers)
Sneaks into socks and shoes and can travel indoors.
Sand is like a magnet for ants to build their colonies. Because you don't want to use ant poison on the kids' play area (for obvious reasons), it's difficult to get rid of the pests once they set up house.
5. Grass
Definitely one of the more natural solutions! Unless you live on a concrete block, you've likely got at least a little grass already. Plus, it's relatively easy to order and have it installed by a landscaping crew or yourself!
Pros for grass:
Easy installation and most landscaping companies will lay sod pallets for you. You can also plant your own grass seed.
Aesthetically pleasing if well maintained.
Cons for grass:
Grass can become compacted, creating a hard landing and falling surface.
Requires a lot of maintenance with mowing, fertilizing, weeding, and watering.
Can become a tripping hazard as it becomes slippery after rain.
After regular use, it can become patchy and muddy in spots, especially water collects in puddles.
Because it's natural, unwanted bugs and pests can also make their home around the area.
How to Install Rubber Mulch for Playground
The installation for the rubber play bark was pretty straightforward and can easily be knocked out within a weekend.
Here's the general process for installing rubber mulch for playground:
First, you will need to lay landscaping fabric over the entire playground area you are covering as a barrier between the ground and the mulch. This barrier prevents mud and moisture from seeping into the mulch and diminishing the shock absorbency. It will also help combat weeds.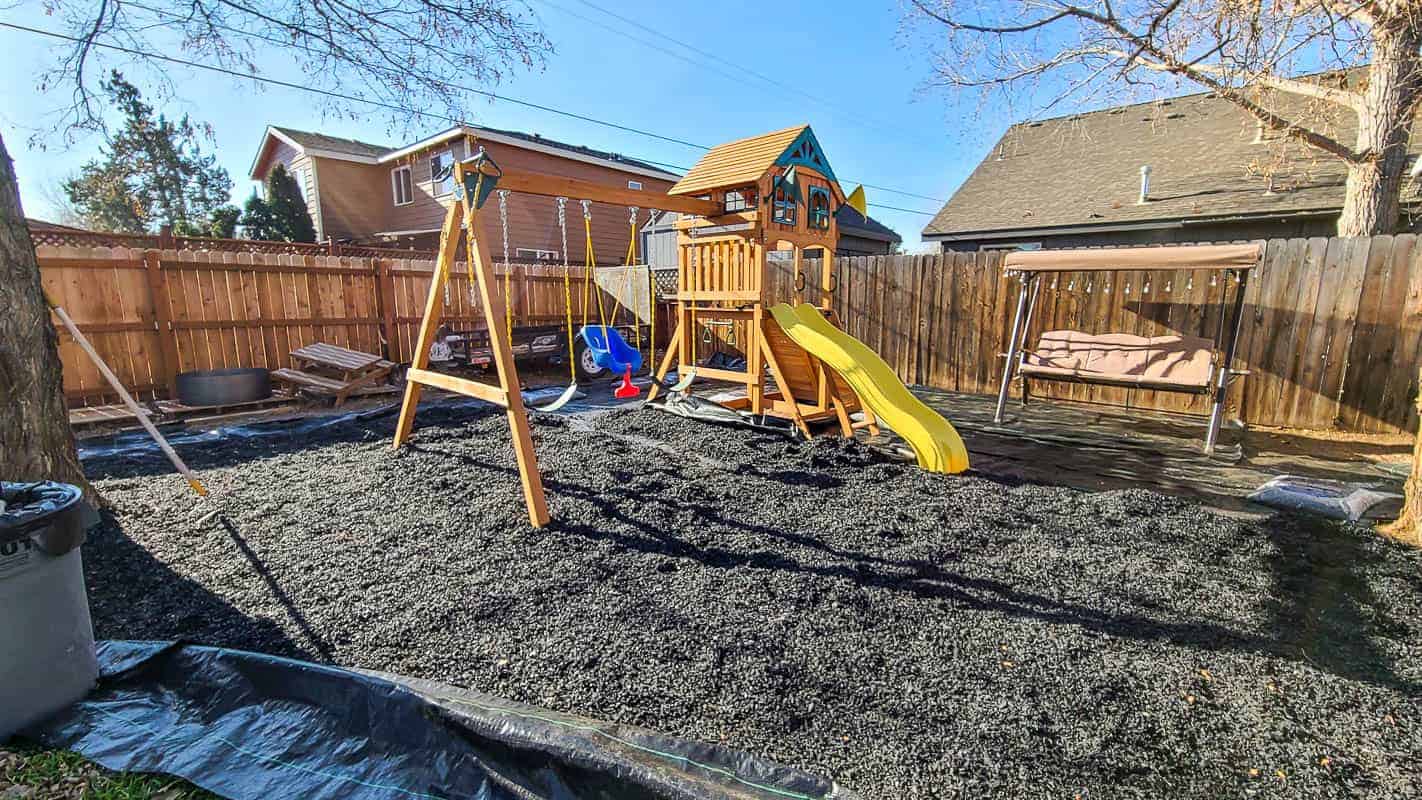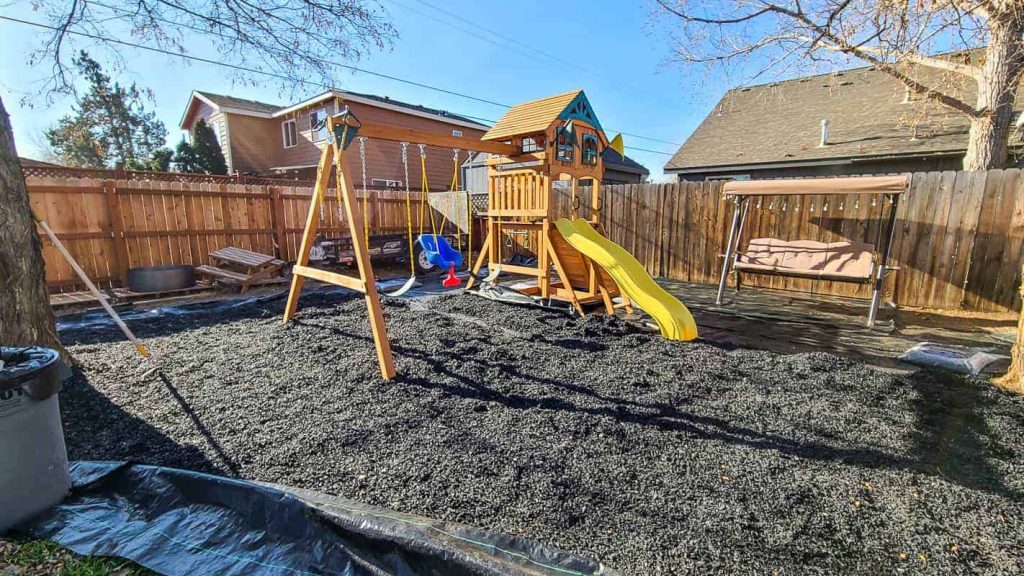 Next, dump the mulch from the bags onto the play area in large piles.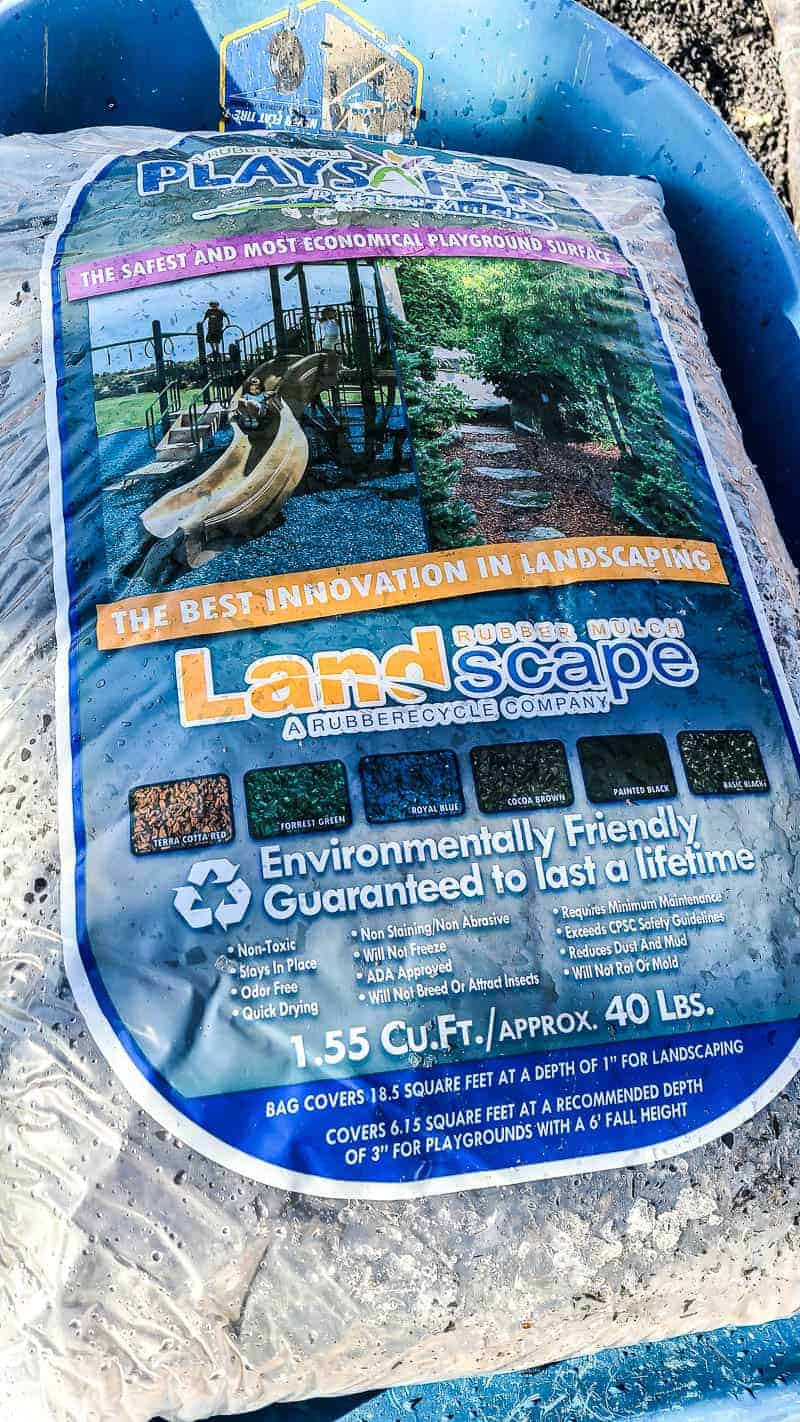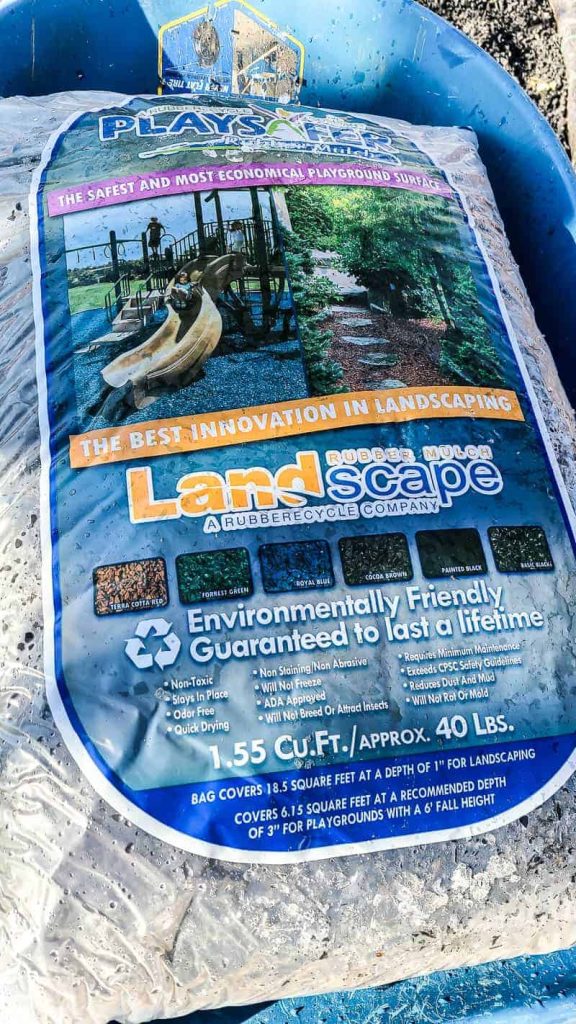 Then, spread the piles evenly until level.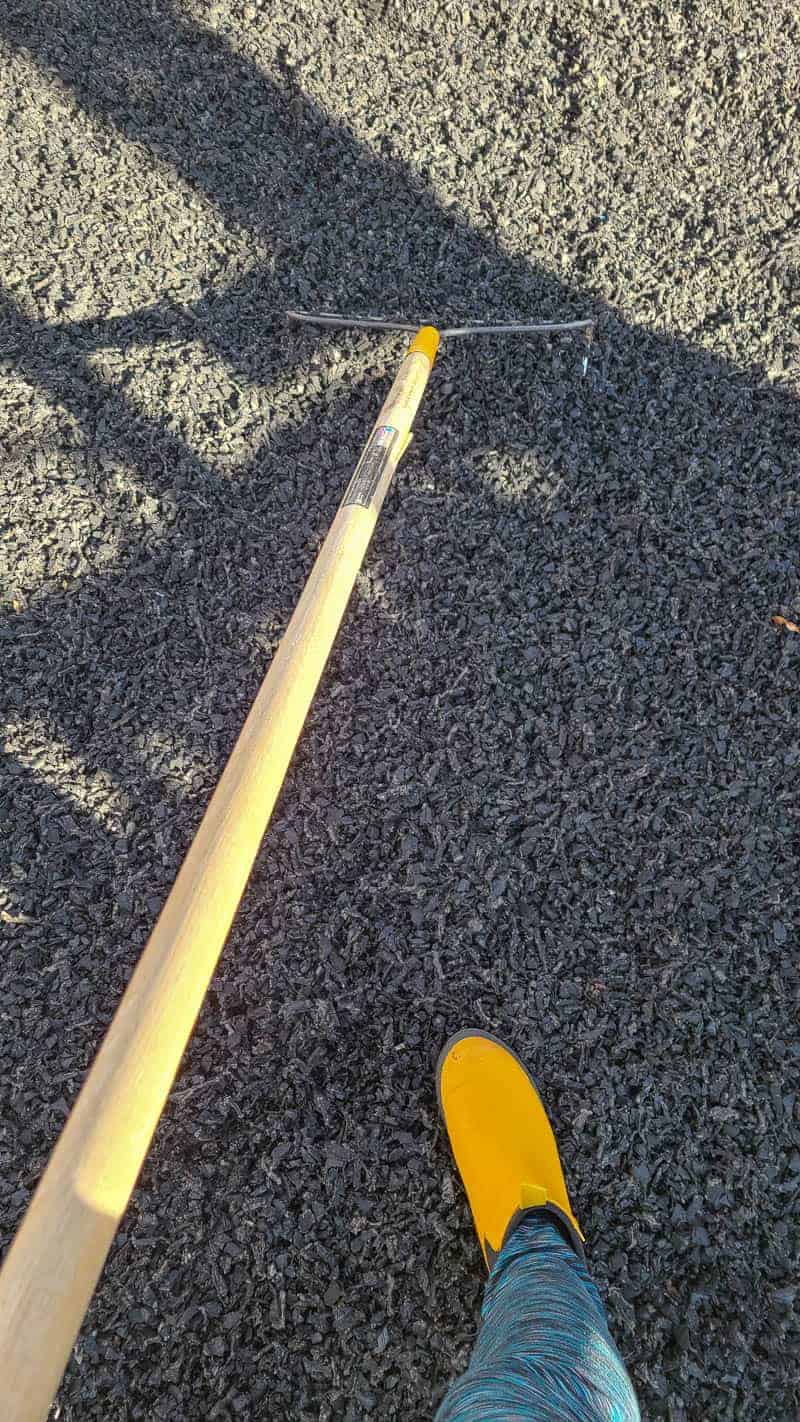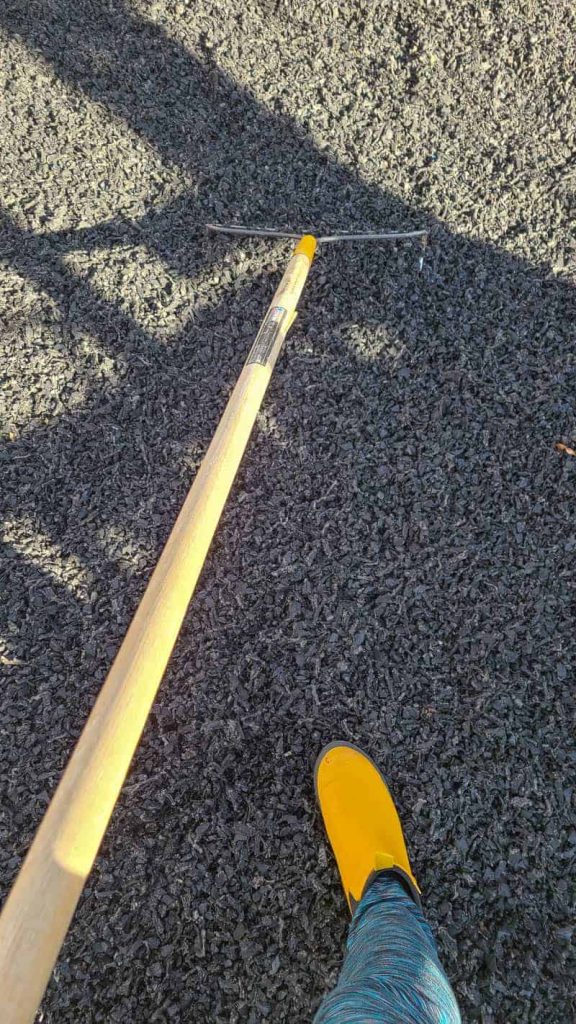 Rubber mulch is very easy to install around existing play structures.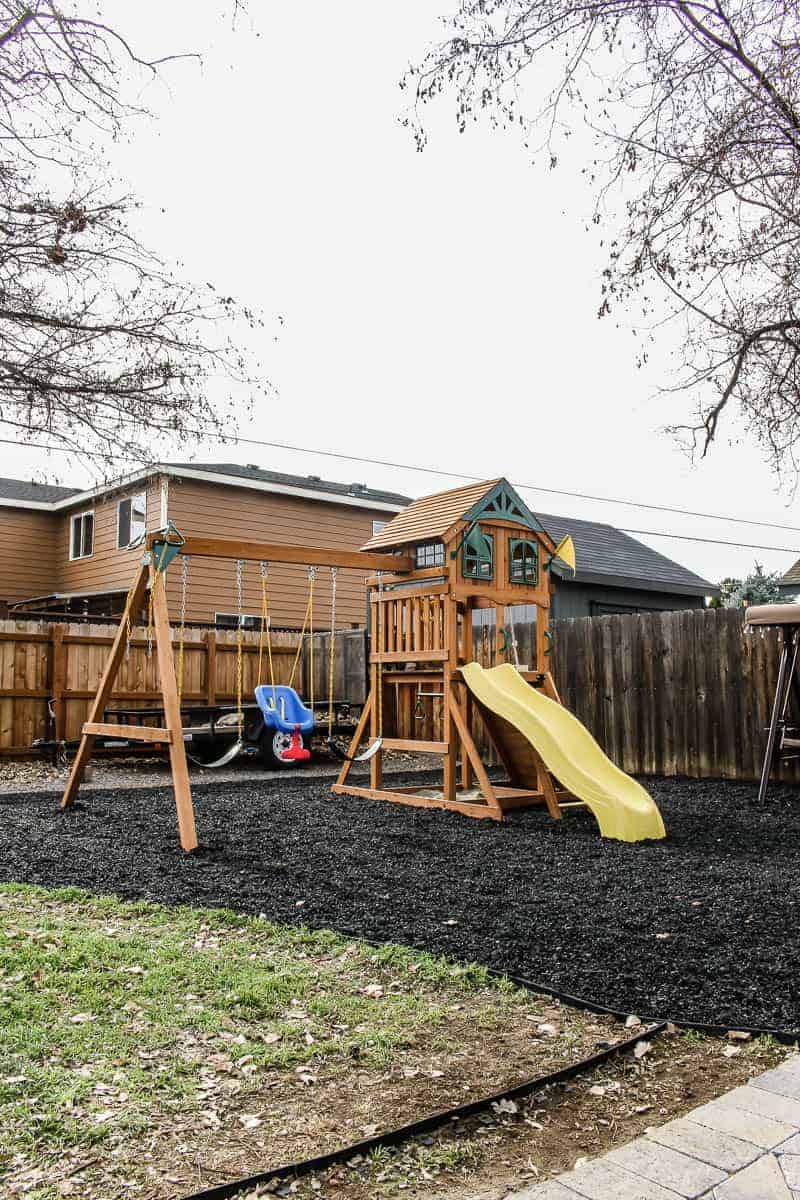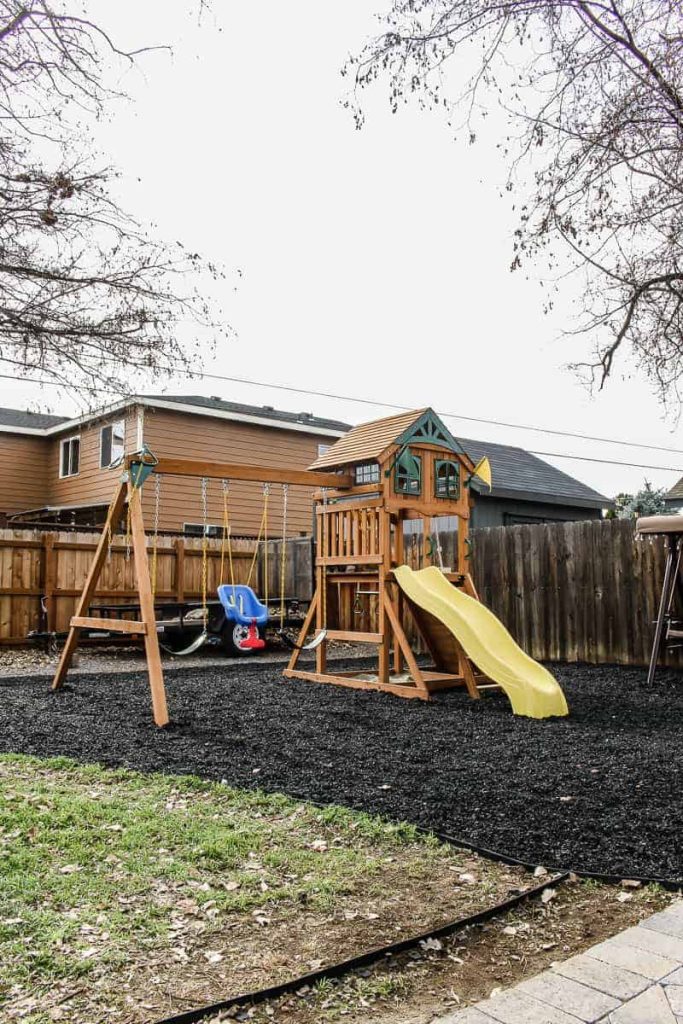 It's easy to become overwhelmed with the number of options available for playground bases. Keep in mind that while there are no wrong answers it's important to consider your unique style, the climate you live in, and your family's needs.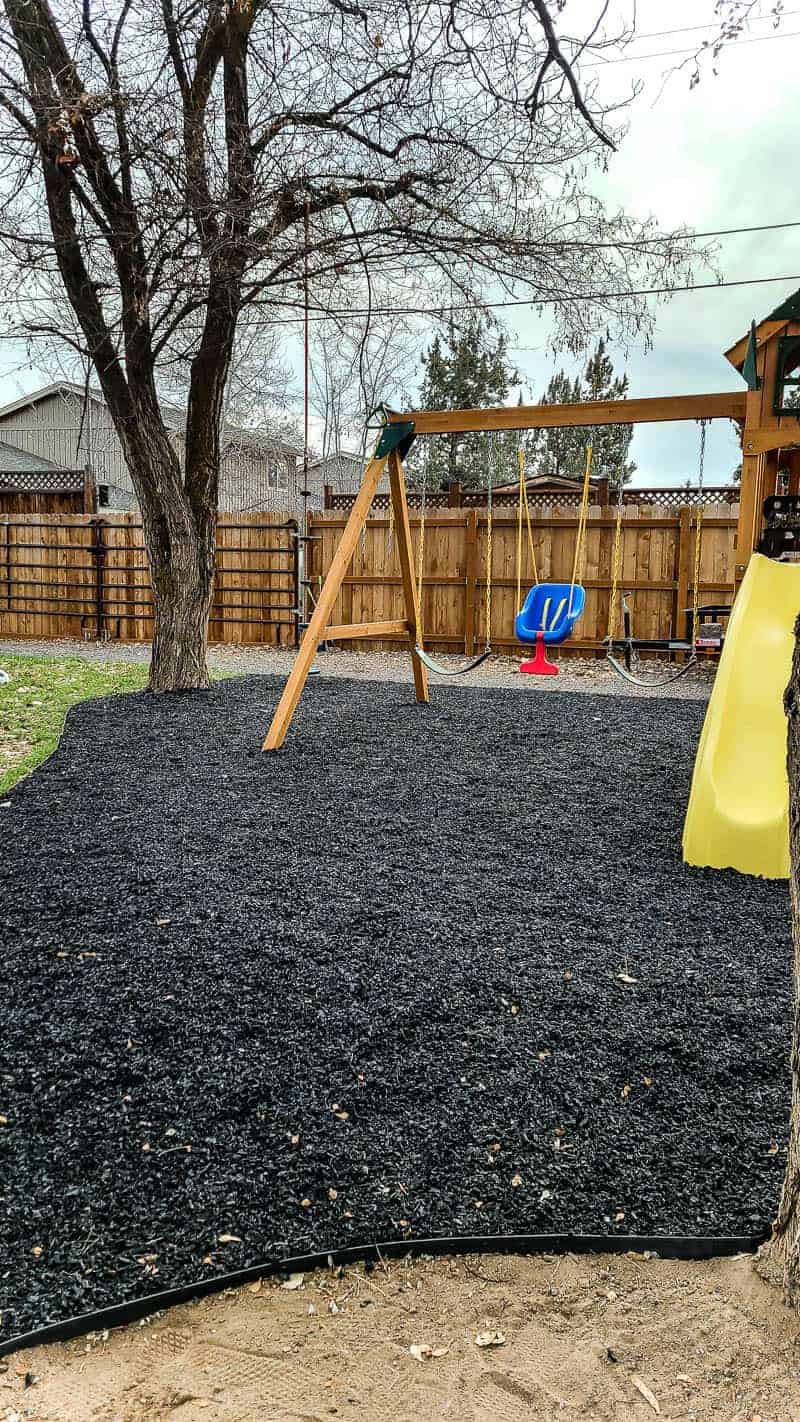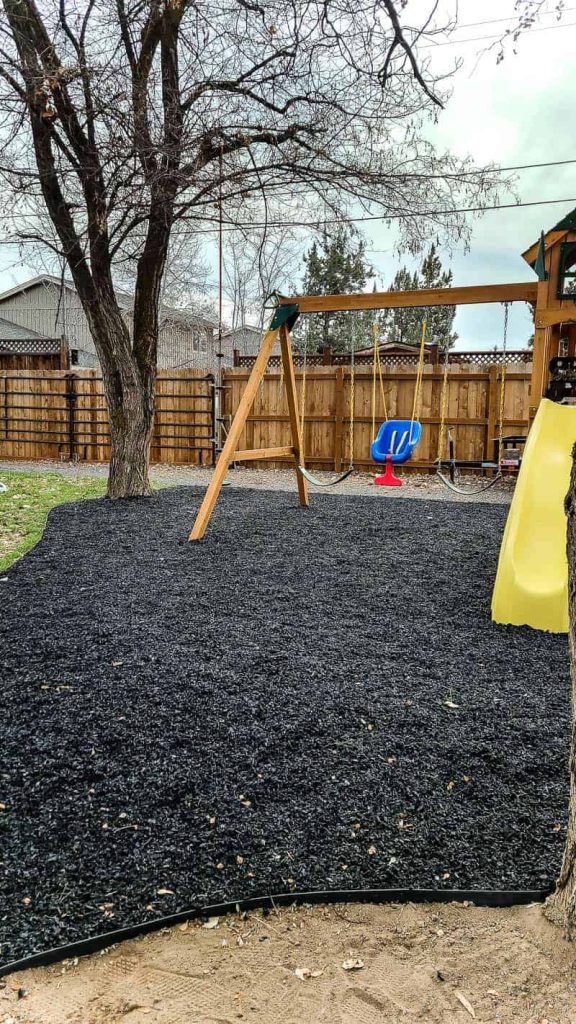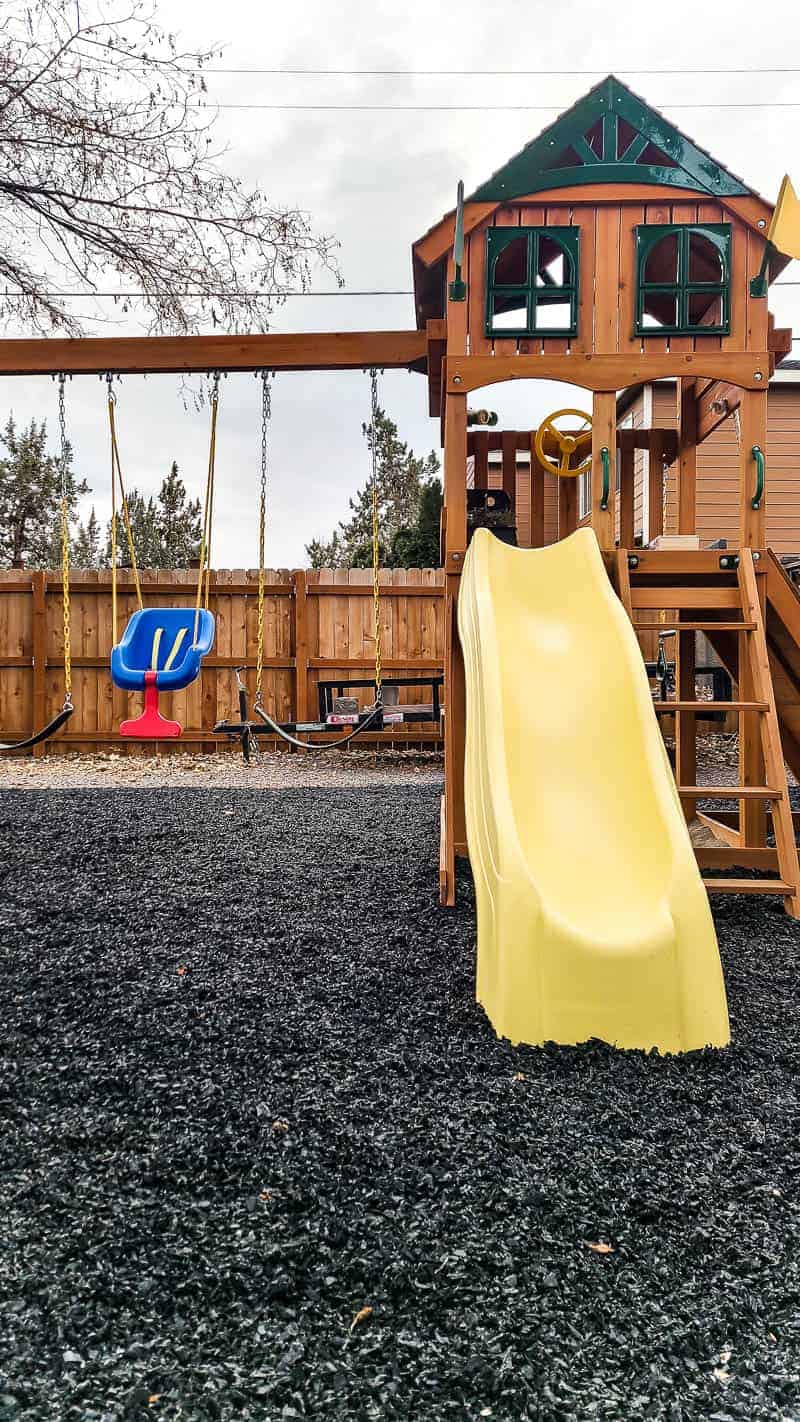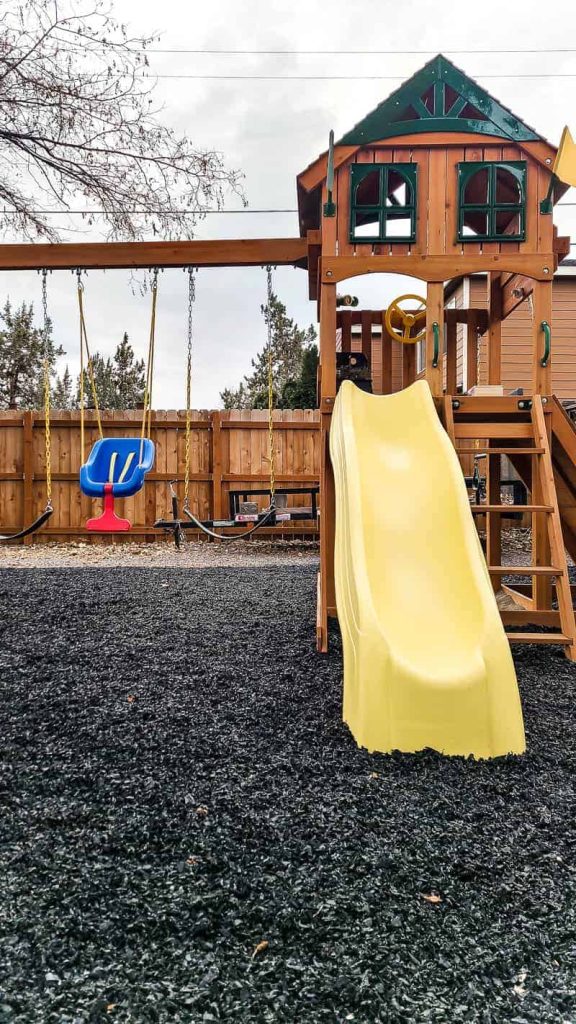 What mulch for playground would you choose?
Let us know in comments below!