If you're looking for no-fuss decor, look no further than these unique mud cloth designs. These hand-sketched sharpie pumpkins are the perfect solution for boho fall decor on a budget! Made with pumpkins and a sharpie, design your own Halloween decor in minutes with a pattern of your choice to be used year after year.
We love hand-carved jack-o'lanterns as much as anyone, but there's something to be said for simplicity and staying mess-free. Plus, I really really hate cleaning the guts out of pumpkins before carving.
But, when it's time to decorate for fall, it's all pumpkin crafts here! Pumpkins are super versatile and can be used for many different decorating purposes. They can be painted, drawn on, glued…they are a great blank canvas for fall and Halloween decor.
If you can't find a real white pumpkin, foam carving pumpkins will work just fine, too. Simply spray paint and allow it to dry just like in this white pumpkin decor tutorial.
It's easy to get overwhelmed as you begin decorating. But, I highly recommend incorporating real or faux pumpkins into your autumn tablescapes, shelving arrangements, Halloween porch decorations, and whatever else might hold a pumpkin this season.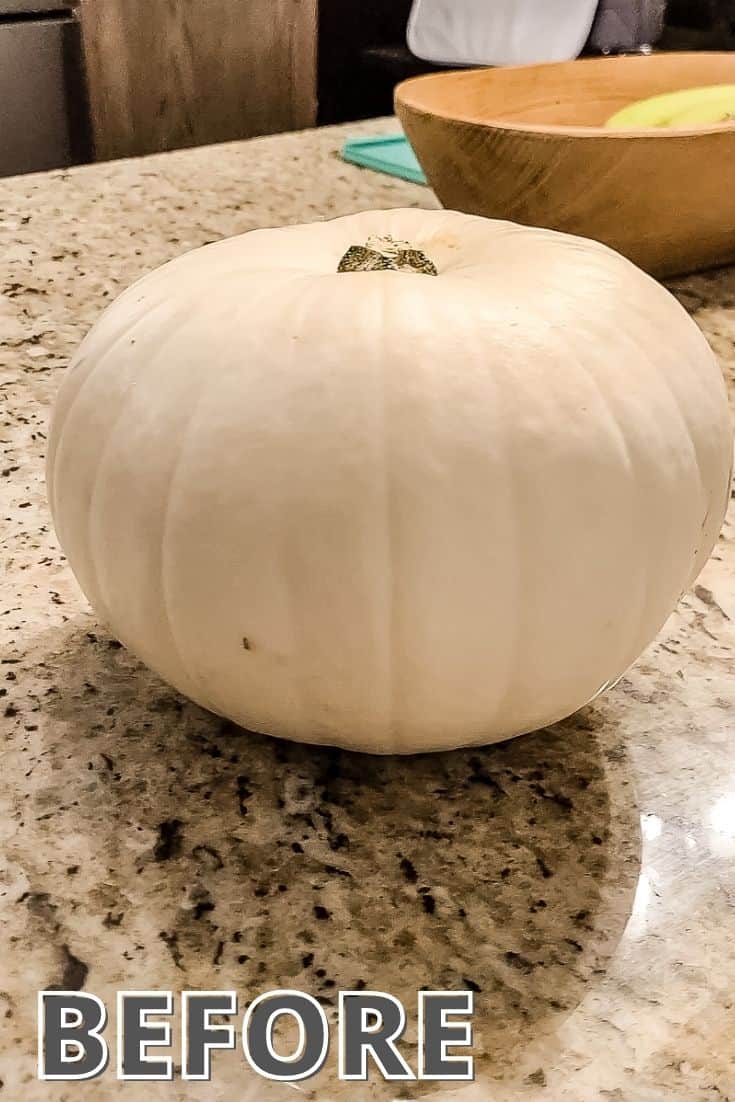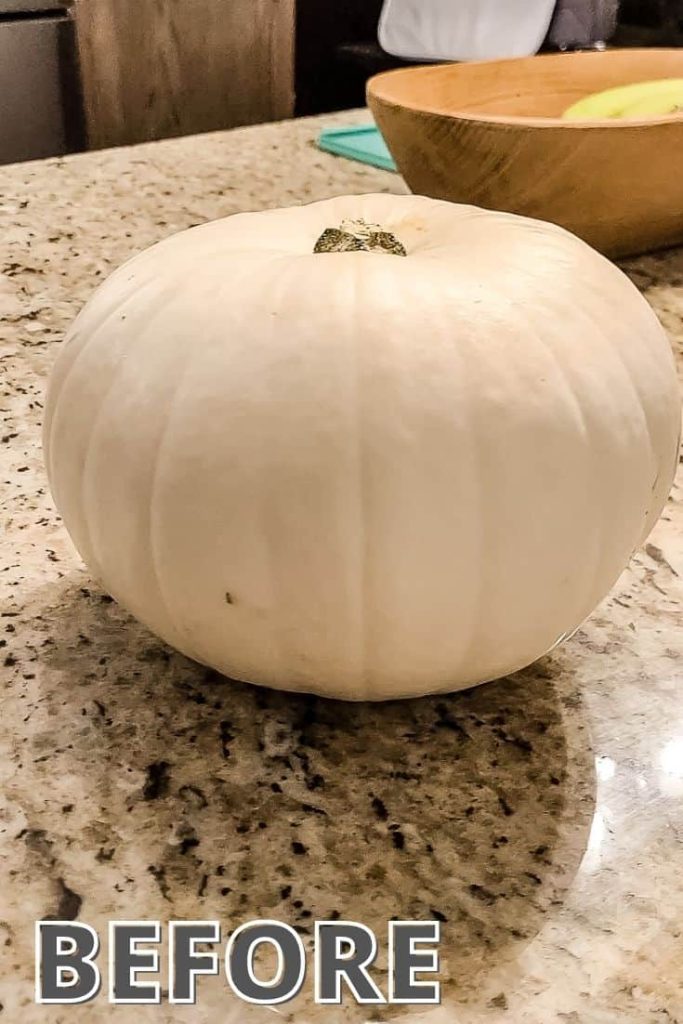 How to Make Hand-Sketched Sharpie Pumpkins for your Boho Fall Decor
I love the crisp contrast of black and white, and they go so well with our other boho fall decor.
This DIY uses a mud cloth pattern in black and white, but you can easily customize this to your own style by using other colors, sizes, and designs.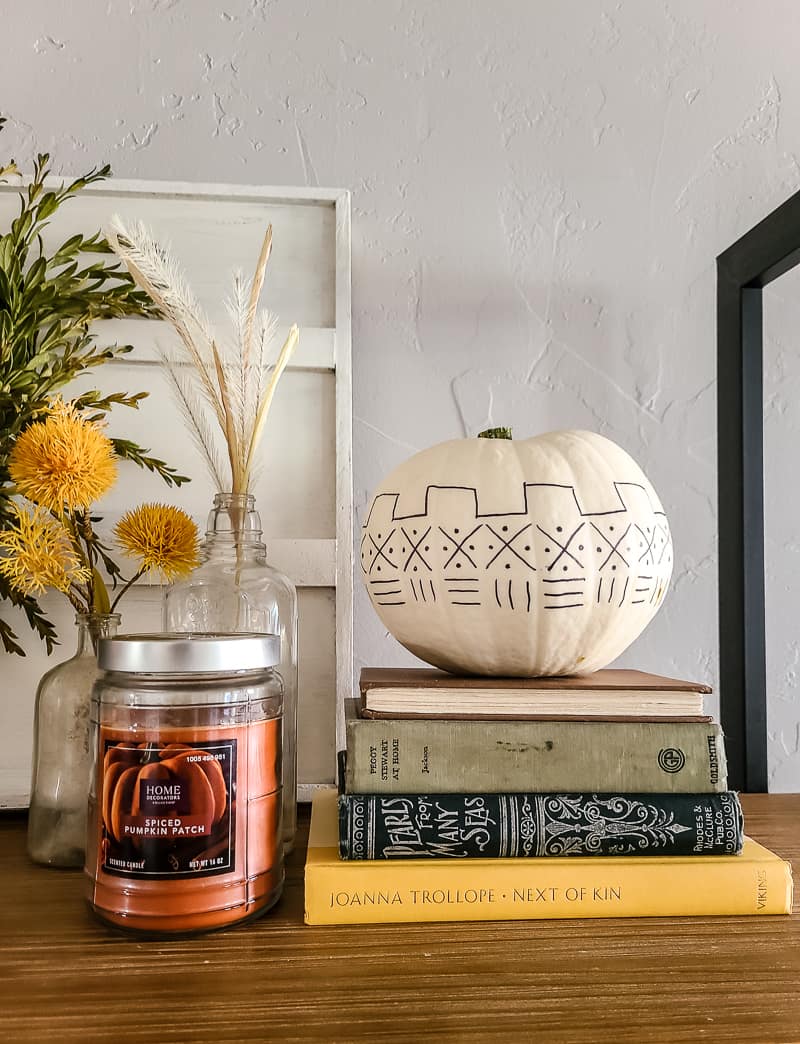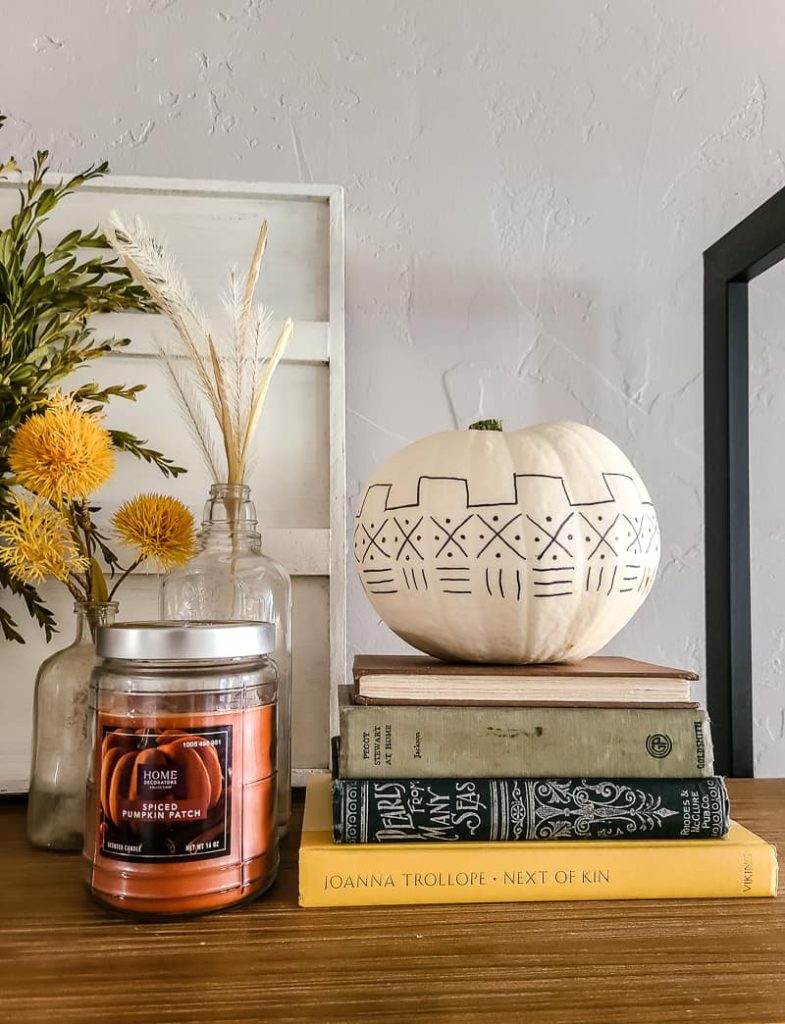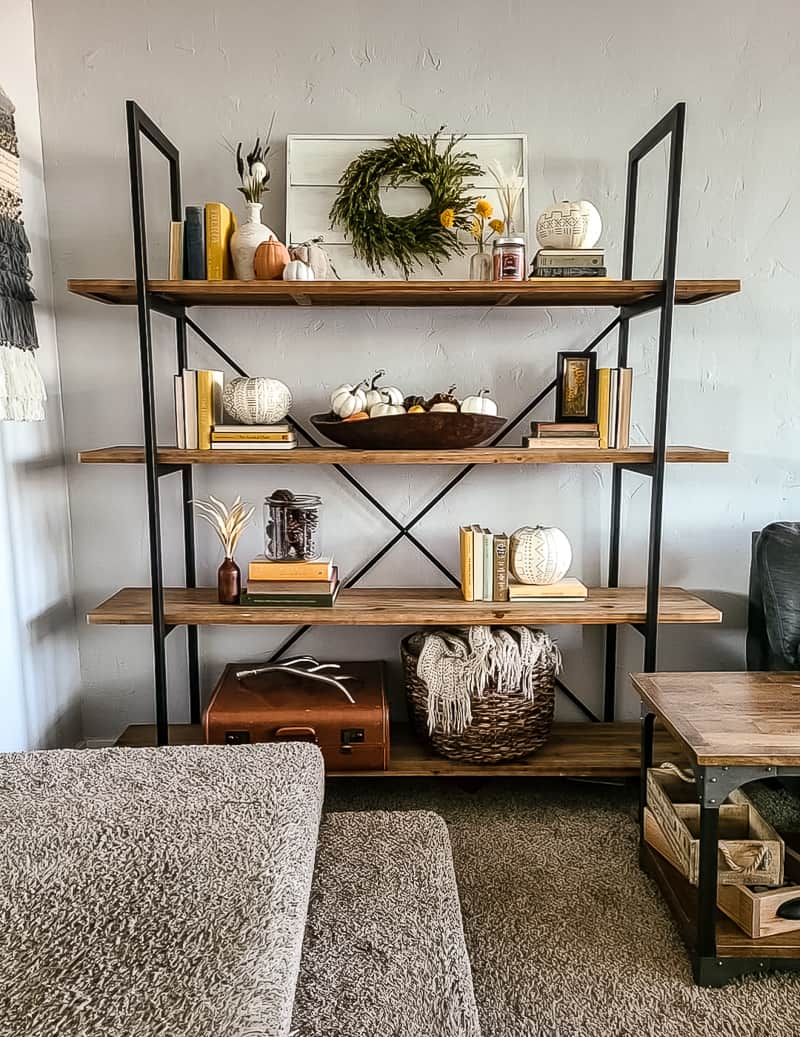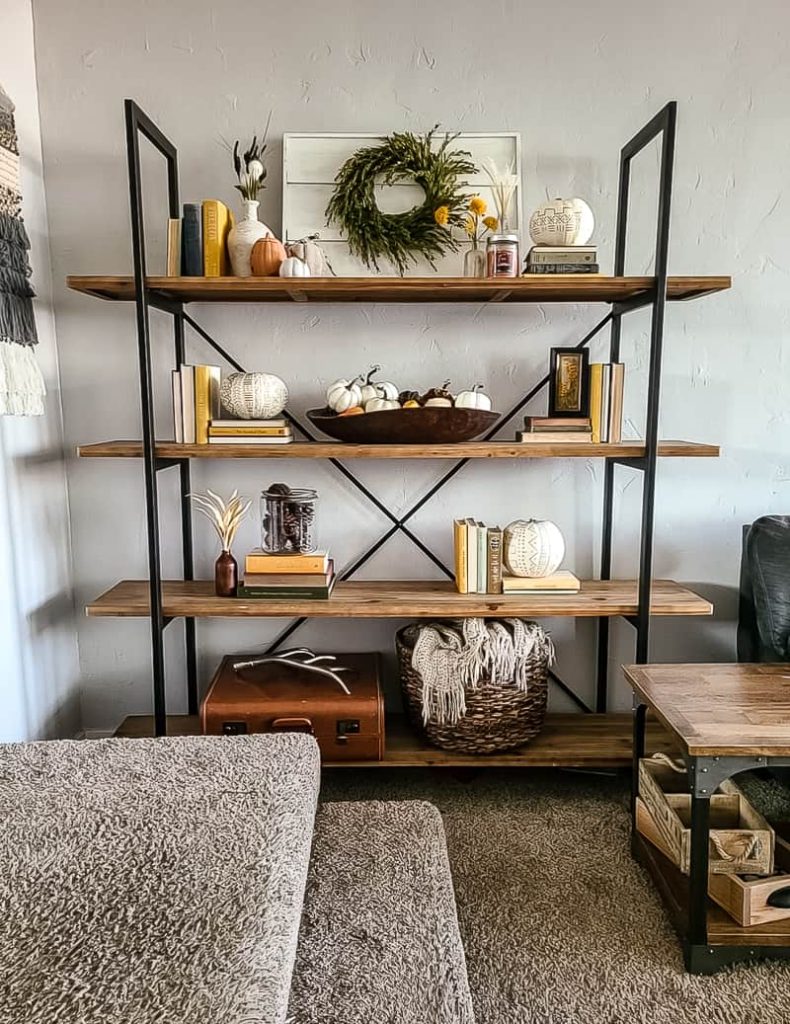 What is mud cloth?
The pattern on the pumpkins is inspired by "mud cloth" designs. Mud Cloth comes from the word "Bògòlanfini" and is a handmade, mud-dyed cotton fabric originating in Mali, West Africa. Traditionally, Malian culture used mud cloth as a status symbol and ritual protection.
Like many traditions from all over the world, it has evolved with time and is now used in fashion, art, and home decor.
I love these designs especially because they are easy to recreate and adapt to your own style, too. Over time, it's become a sort of "boho style" and I'm loving it!
This boho fall decor article contains affiliate links, but nothing that I wouldn't recommend wholeheartedly. Read my full disclosure here.
Supplies needed for making sharpie pumpkin designs:
Step 1: Clean the pumpkin
First, clean your pumpkin by wiping any scuffs or dirt with a wet paper towel or baby whip. I used a real pumpkin for this project, but you could also use artificial pumpkins, too.
If you can't find a white pumpkin, you can paint an orange pumpkin with spray paint or acrylic paint. Use caution if you spray paint a real pumpkin.
Spray paint prevents the pumpkin from breathing and will eventually explode due to compressed gases from inside the pumpkin. If a real, white pumpkin isn't an option, an artificial one might be a safer bet.
If you are spray painting, make sure to follow these tips to save you time and an extra trip to the hardware store.
Step 2: Find a design
Then, I took to Pinterest for mud cloth design inspiration. I really wanted a design that picked up on the modern boho style we already have in our home.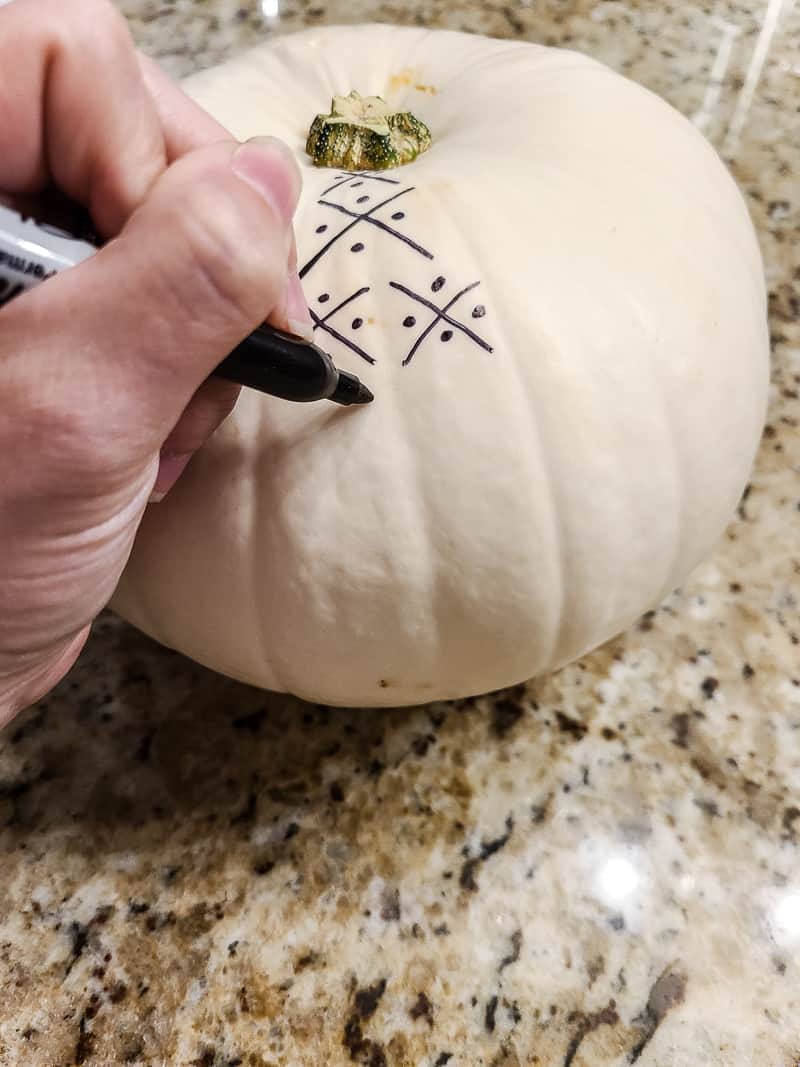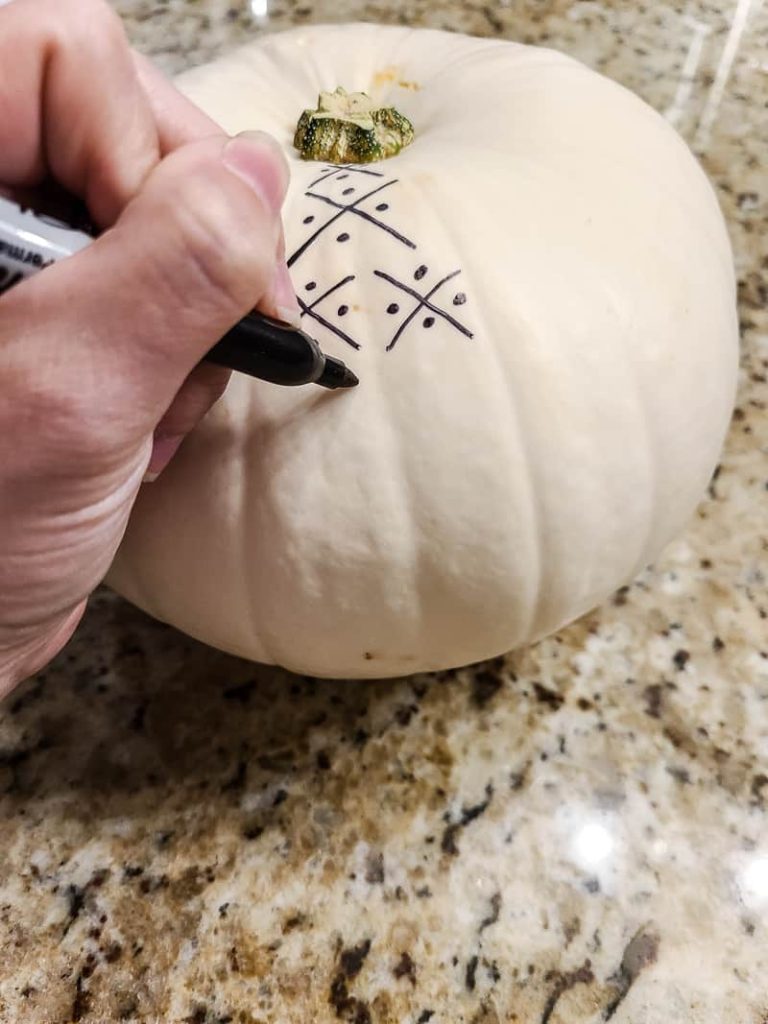 If you aren't finding anything that catches your eye, consider other Halloween and Fall designs like these:
Ghosts
Spiders and spider web designs
Spooky trees
Chevron designs
Step 3: Draw the mud cloth pattern or design
After I found a pattern, I began drawing the design on the pumpkin with a Sharpie. You could also sketch these lightly with a pencil first, then trace them over with a sharpie.
Before you begin drawing, bring your pumpkin down to room temperature. Make sure there's no "sweating" or moisture on the outside of the pumpkin. A dry surface is the only way the Sharpie (or anything else) will adhere to the pumpkin well.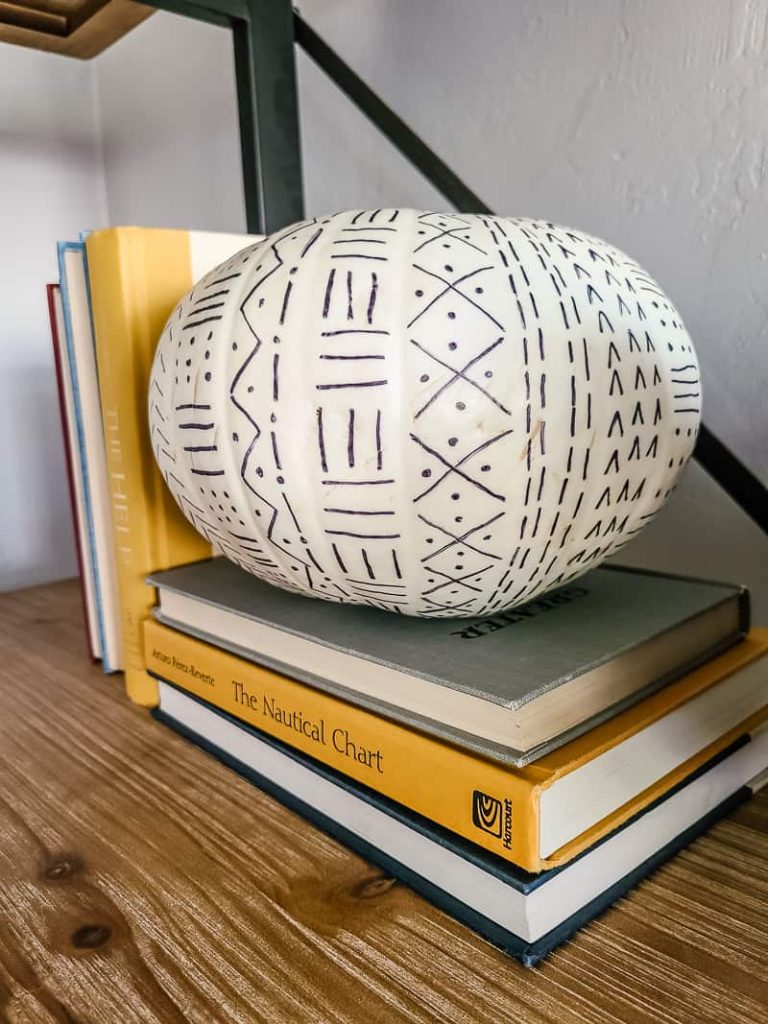 Then, I displayed my pumpkin on our living room shelves as a part of our fall decor. An uncut real pumpkin should last 8-12 weeks indoors.
Tips for Sharpie Pumpkins
Do sharpies work on pumpkins?
Sharpie ink adheres very well to real pumpkins. Before drawing on the pumpkin, make sure it is at room temperature and not "sweating" so the ink is drawn onto a dry surface. Otherwise, the ink can smear and ruin the design.
Can you decorate a pumpkin with markers?
Yes! Marker-decorated pumpkins can be placed inside or outside.
Will spray-painted pumpkins explode?
Many spray paints will "smother" the pumpkin and prevent it from breathing. As the pumpkin decomposes, it will emit gases from the inside, potentially causing an explosion.
How do you paint an orange pumpkin white?
Use white, acrylic paint (or spray paint with caution!) and paint on two coats, allowing them to dry completely between coats.
How long will an uncut pumpkin last?
An uncut pumpkin will last 8-12 weeks.
Where will you display your sharpie pumpkins?
---
Boho Fall Decor on Living Room Shelves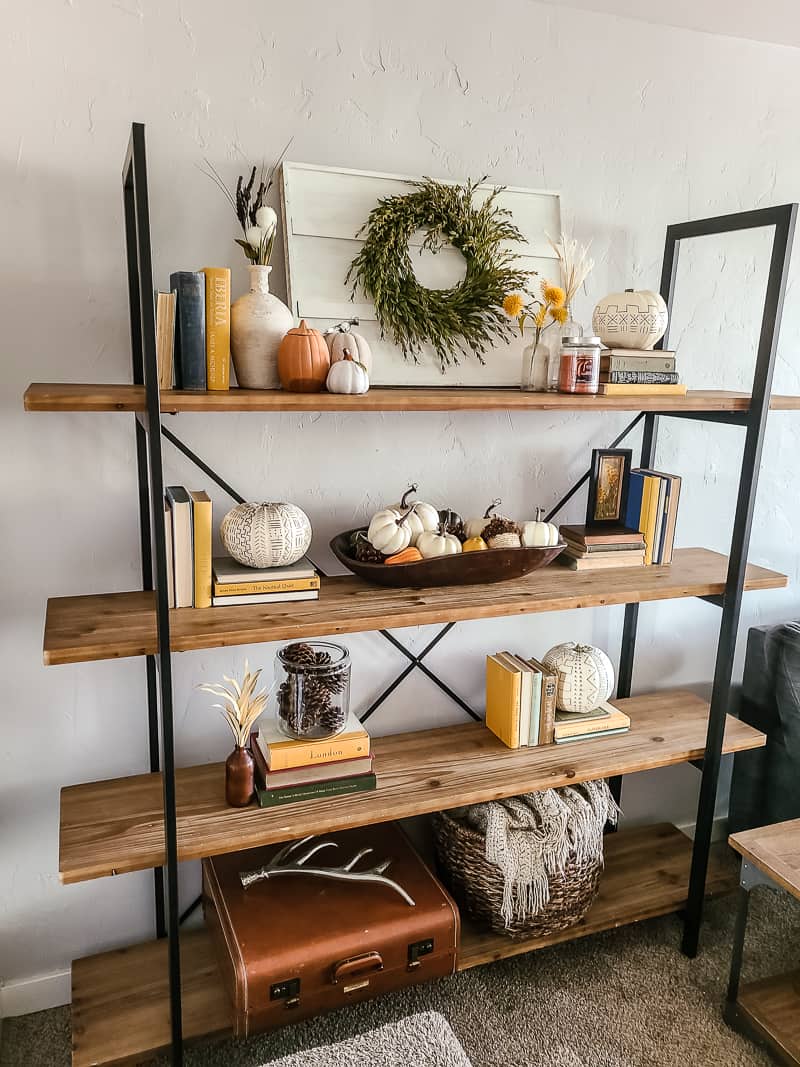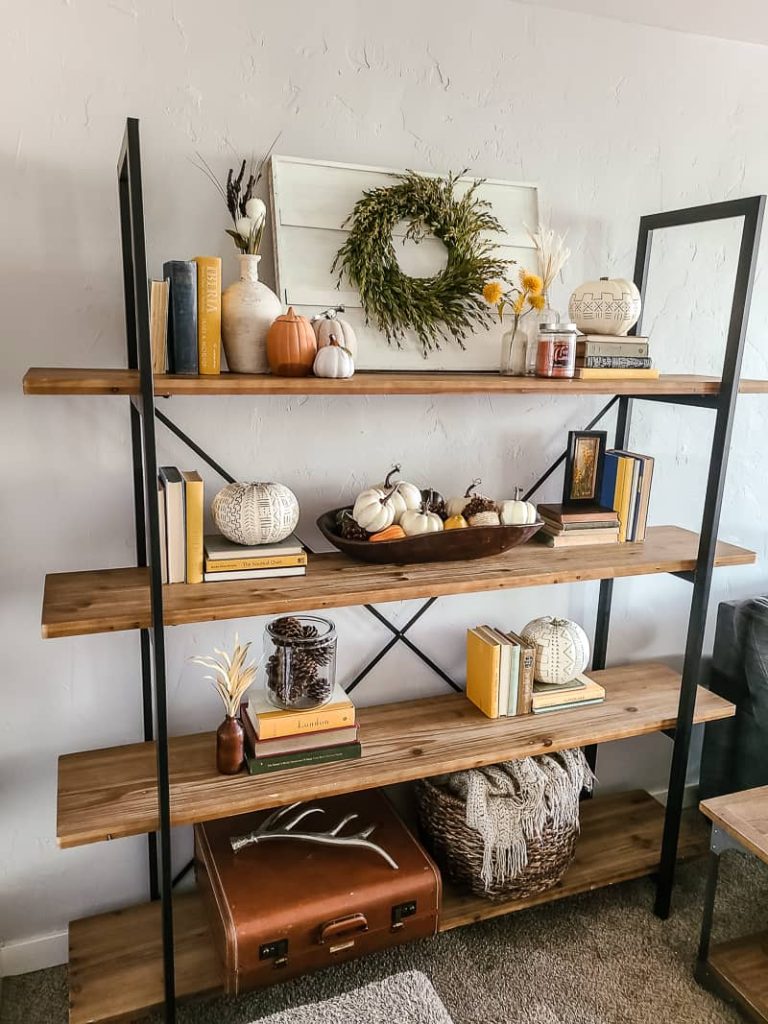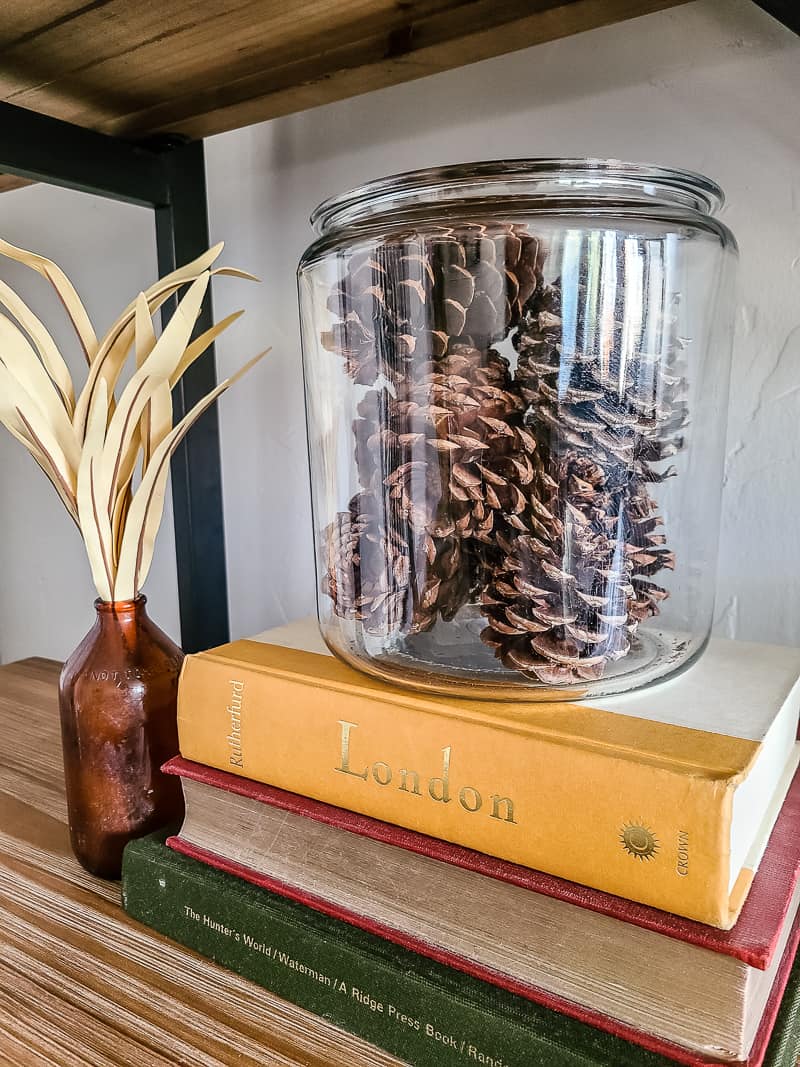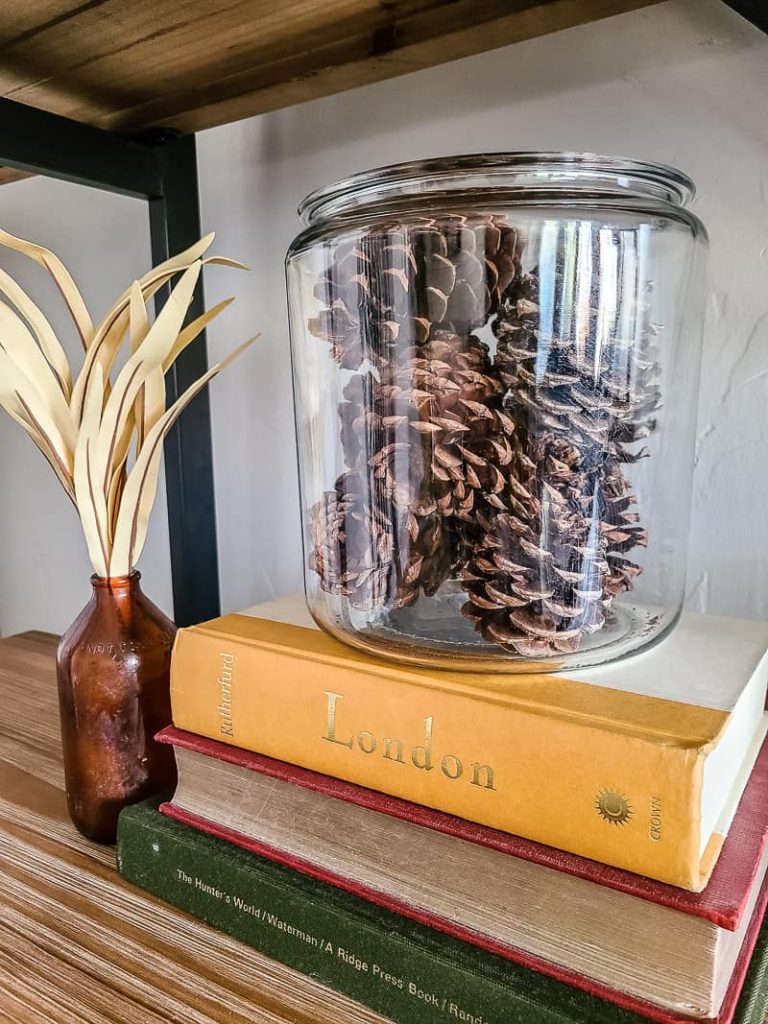 I added in the sharpie pumpkins with our boho fall decor on our living room shelves and they are the perfect fit.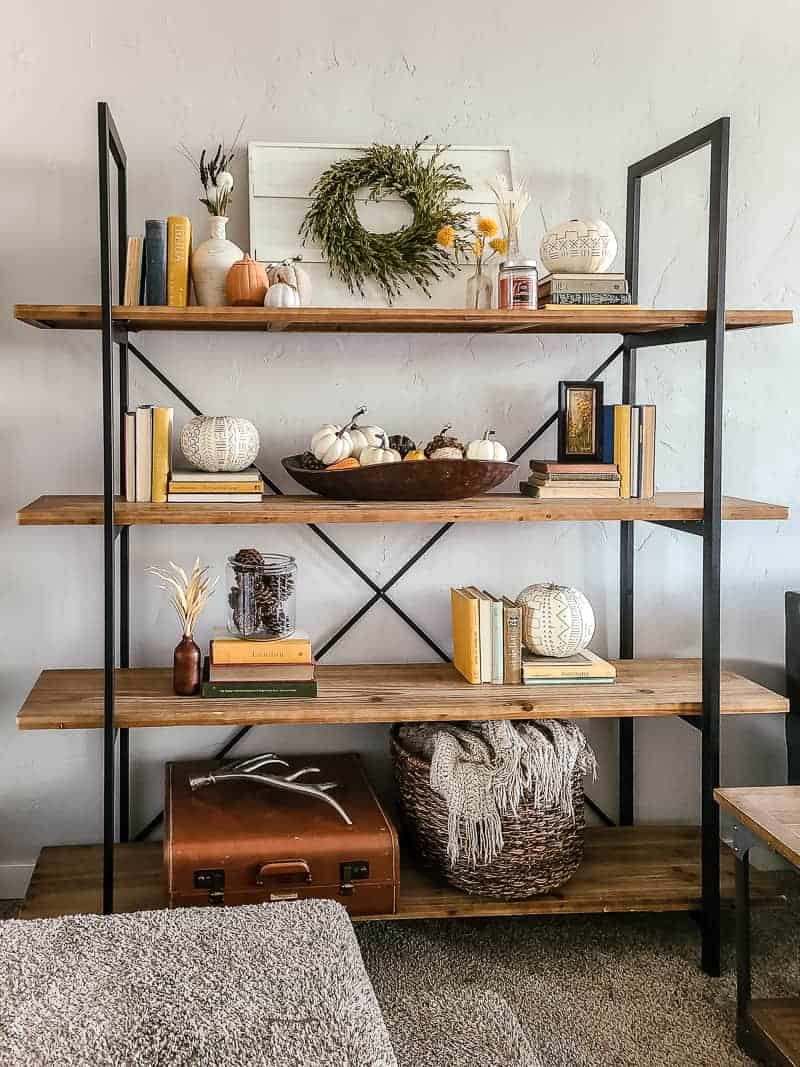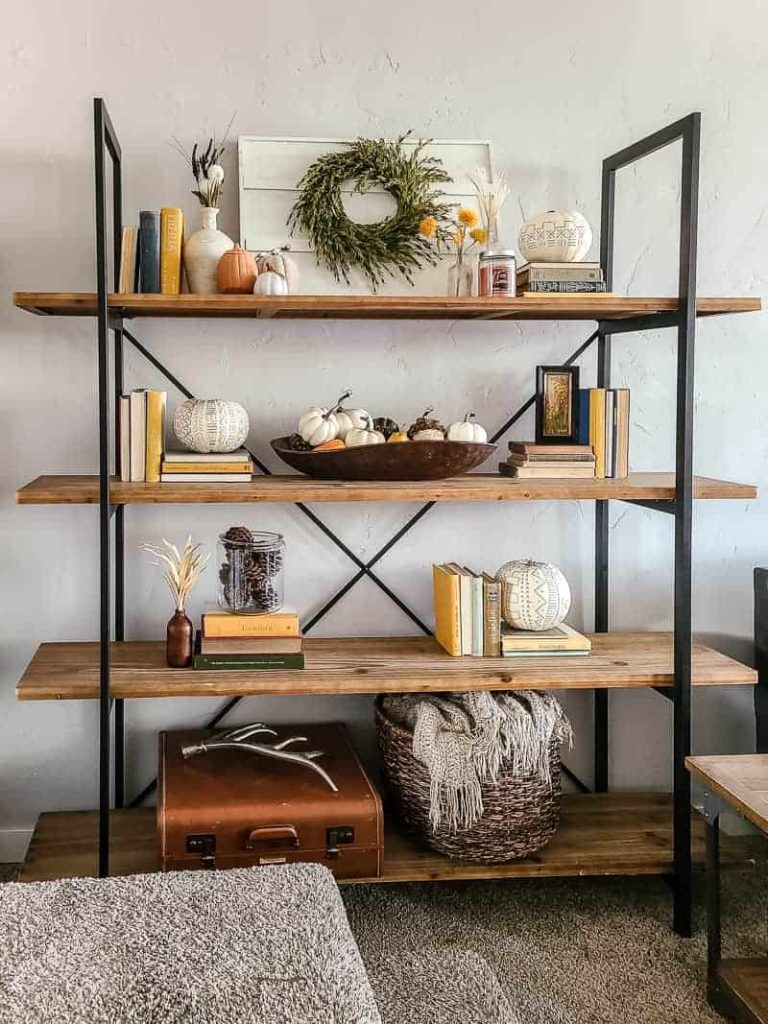 Combined with vintage books and mustard tone books (available for sale in my Etsy shop), other faux mini pumpkins, and some vintage glass vases with florals…it's the perfect way to bring in those cozy fall vibes.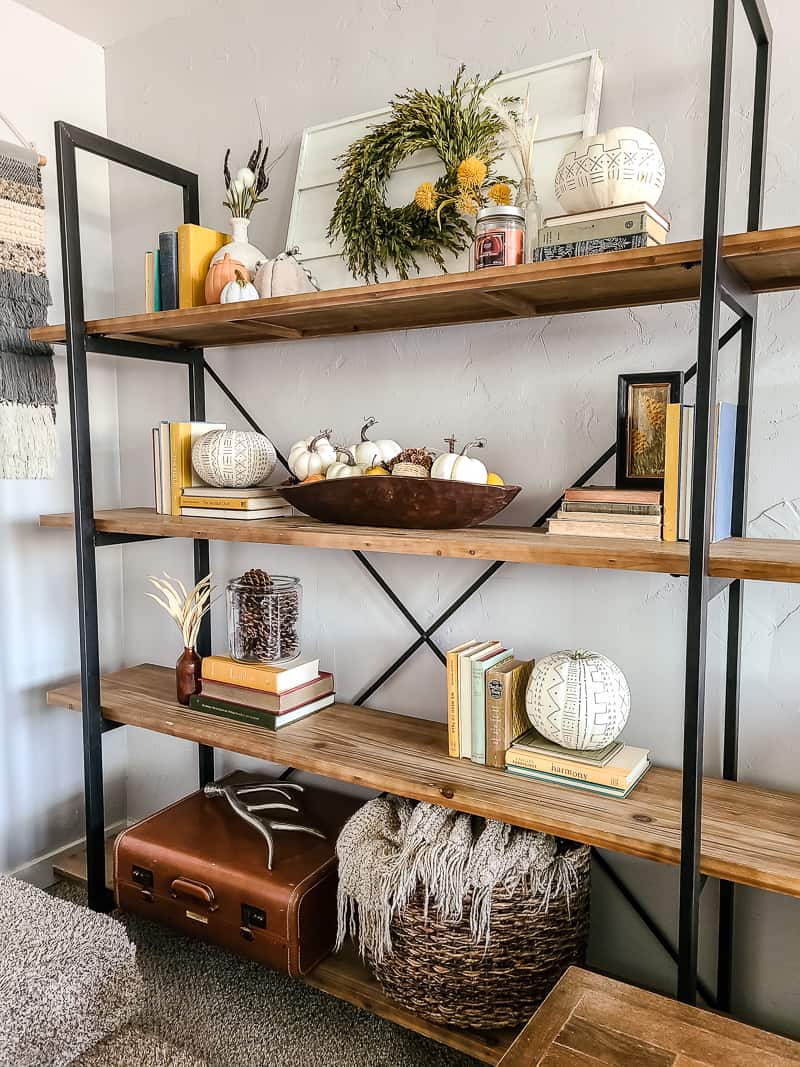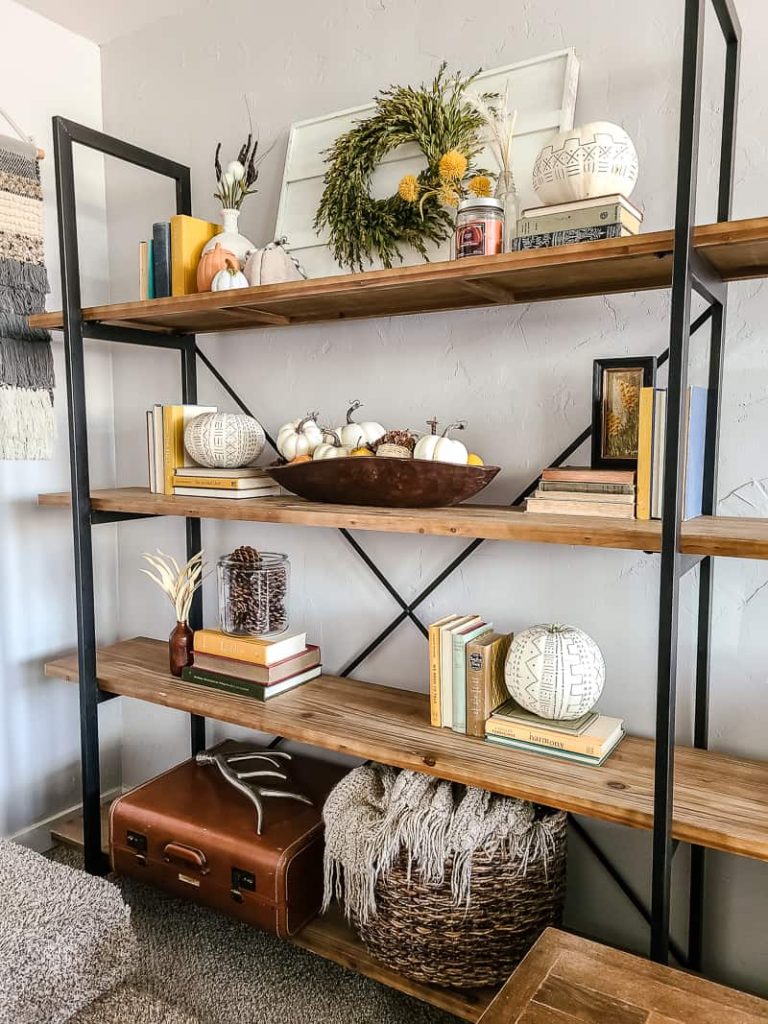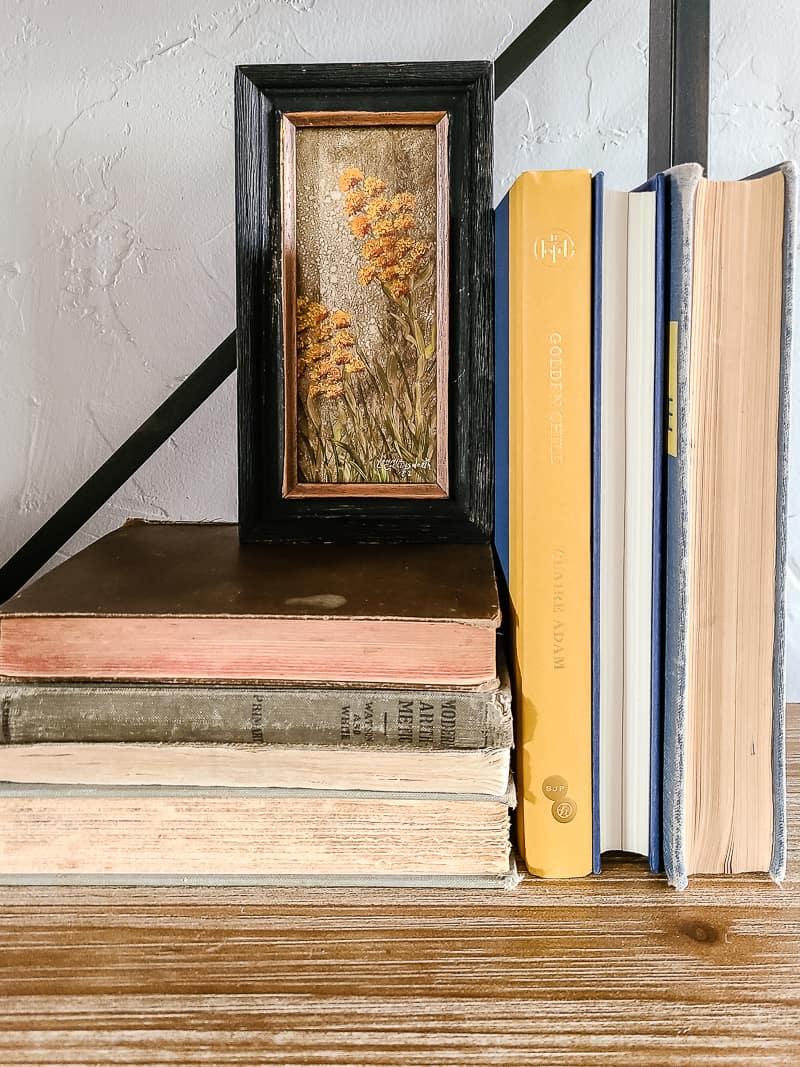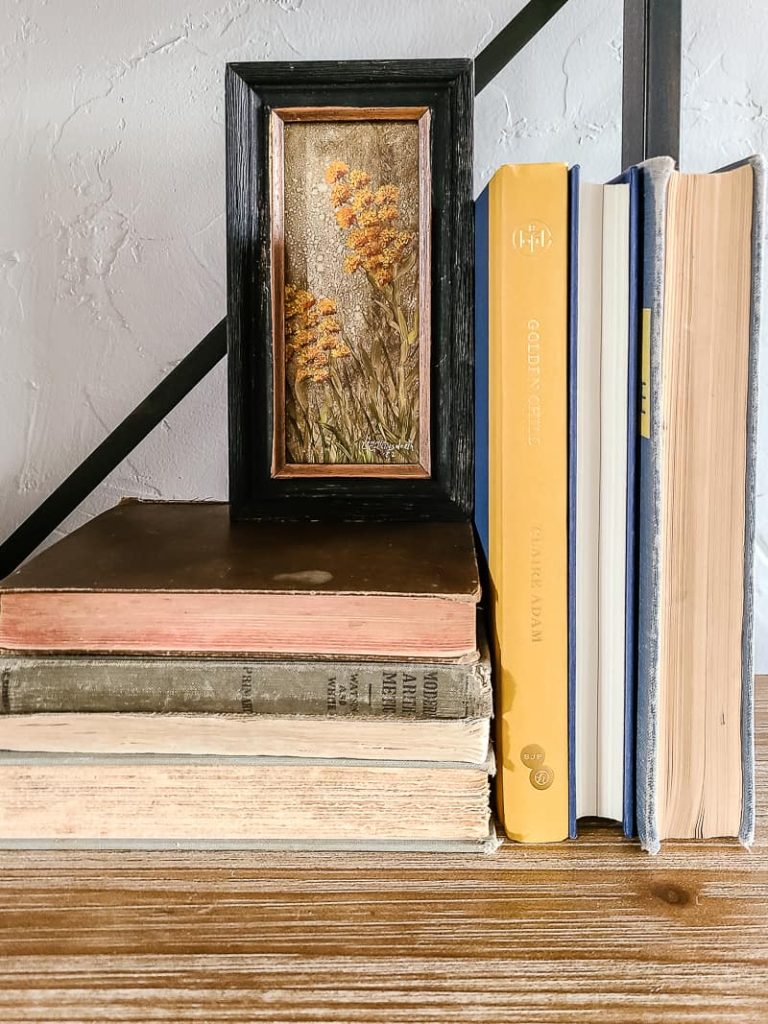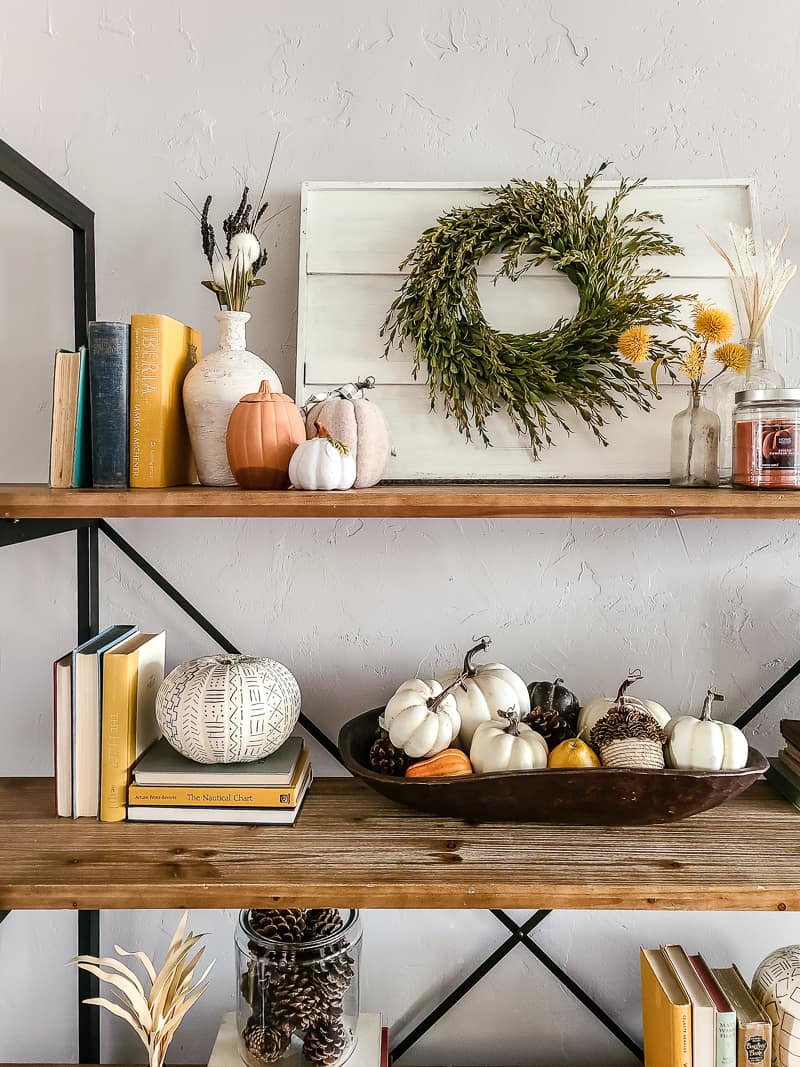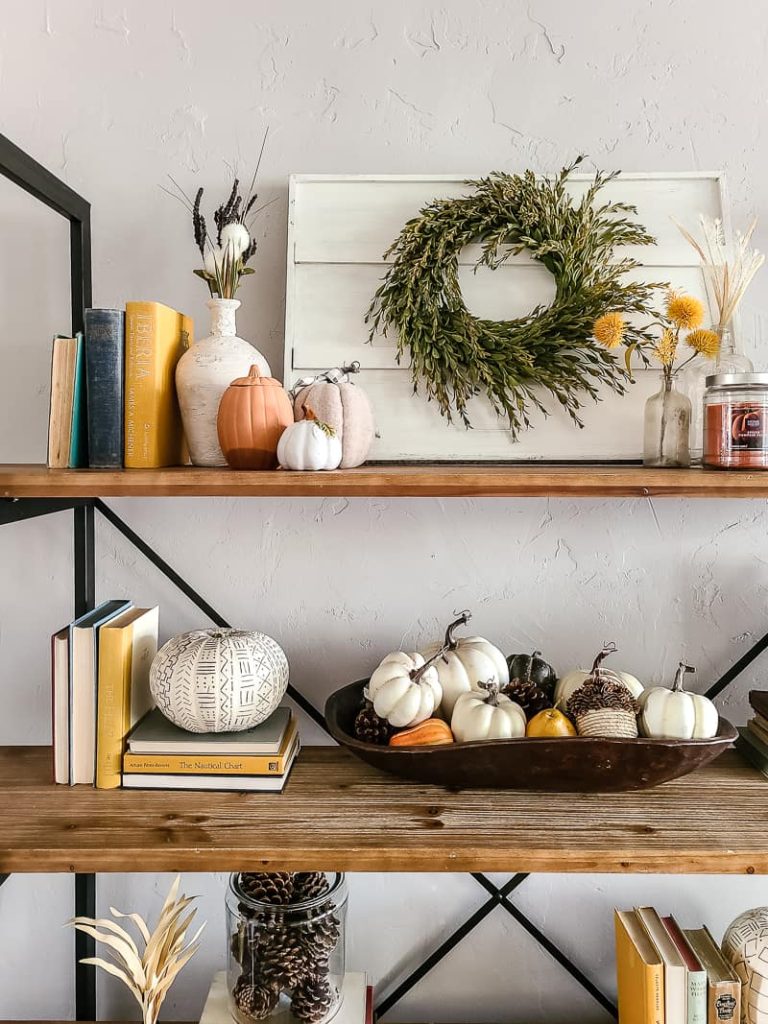 How will you add boho fall decor to your home?
Let us know in the comments below!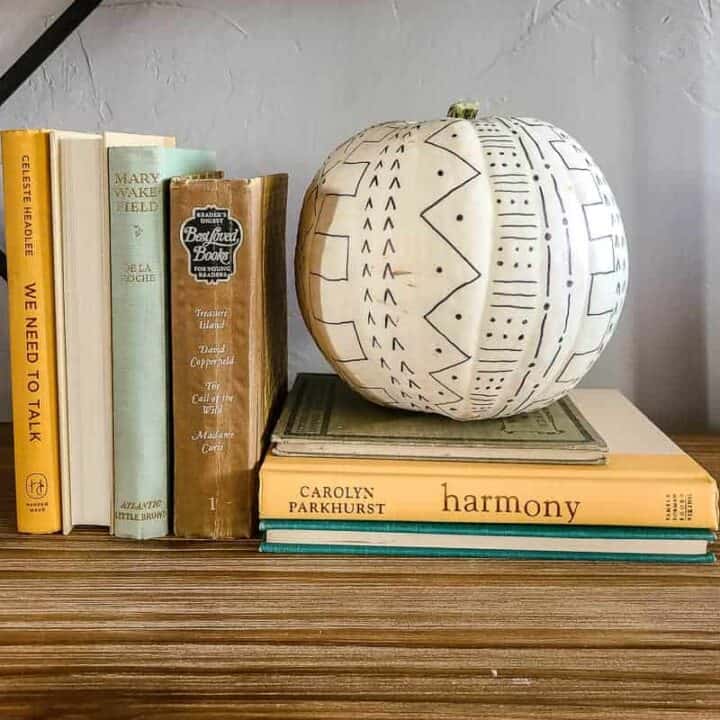 Mud Cloth Pumpkin Design
Made with pumpkins and a sharpie, design your own Halloween decor in minutes with a pattern of your choice to be used year after year.
Materials
White Pumpkin
Black Sharpie Marker
Instructions
Clean your pumpkin by wiping any scuffs or dirt with a wet paper towel or baby wipe. I used a real pumpkin for this project, but you could also use artificial pumpkins, too.
Find a design. I went to Pinterest to find a mud cloth design I liked because I wanted a boho design for my pumpkin.
Draw the mud cloth pattern or other design on your pumpkin. You can sketch it lightly with a pencil first then draw over it with the sharpie.
Your decorated pumpkin is ready!
Notes
If you aren't finding a design that catches your eye, consider other Halloween and Fall designs like these:
Ghosts
Spiders and spider web designs
Spooky trees
Chevron designs