Spray painting can give new life to an old piece of furniture, fit that off-color picture frame into your new décor or make that planter on your deck really pop with a new color. While spray painting is probably the easiest of all painting there are some spray painting tips and tricks (and gadgets!) that will go a long way towards saving you time, hassle, and trips to the hardware store.
Let's face it, home improvement projects are never as simple as they seem, but spray painting may take the cake on this one. It's super easy to transform a piece of furniture or project into something you really love – and quickly – with a simple can of spray paint.
Remember the days of one brand of spray paint and only about 7 colors? That is officially no more! Spray painting has become quite the trend for refurbishing old pieces of furniture, ceramic decor or light fixtures into something brand new.
Spray paint comes in so many different colors and textures. You can find chalky styles, textured, hammered, metallic, glitter, regular, indoor, outdoor….just about any variation you can think of!
I love using spray paint because it's so cheap and easy to do and it's fast! Any beginner can do these DIY projects without any special tools or knowledge required. But there are some spray painting tips and tricks that will make the process easier!
This spray painting tips and tricks article contains affiliate links, but nothing that I wouldn't recommend wholeheartedly. Read my full disclosure here.
Spray Painting Tips and Tricks
Tip 1. Pick the right paint
First, you need to pick the right spray paint for your project. While shopping for spray paint, read the labels and make sure that the paint you select will bond to the material you are painting, because not all paints are suitable for all surfaces, like plastic or metal.
Also, decide if you want to use a primer coat, or – better yet – get the paint and primer in one, which will definitely save you some time.
Tip 2. Take advantage of accessories and gadgets
This is also a great time to look for those gadgets that will make your job easier. After all, it's always better to work smarter – not harder.
For more tips on tools to make spray painting easier, keep scrolling for my favorites!
For example, most projects will require 2-3 coats of paint and likely more than 1 can, so this handy handle (pun intended!) will be a finger saver.
Tip 3. Safety first
Make sure you pick a well-ventilated area or finish your project outside.
You should always wear protective goggles and a respirator or a mask to avoid the paint particles or propellant getting into your eyes or lungs.
Gloves are also a good idea for spray painting projects to avoid stained hands, but your hands will stay clean if you use that handle that I mentioned earlier.
Also keep safety in mind for where you store your cans of spray paint too! We keep ours in these locking storage cabinets in our garage, safe from the kiddos.
Tip 4. Make sure the painting surface is clean
Before painting, the surface area must be clean, dry, and free of any dust and debris. Fine grit sandpaper is a good way to smooth out wooden surfaces, followed by a damp rag or tack cloth to remove any dust.
For hard surfaces, such as metal, ceramic or plastic, you can use cotton rounds and rubbing alcohol to remove any dirt or grime. Again, any surface must be completely dry before spray painting.
Tip 5. Avoid paint drips
To avoid paint drips while spray painting, keep the can moving in even, linear motions (not arcs) and start spraying slightly before the object and ending slightly past the object.
Multiple light coats of paint applied at different angles will always look better than one heavy coat. Wait about 5 minutes before applying the next coat. Normally, you should plan for 2-4 light coats of spray paint.
It is best to spray paint a surface horizontally rather than vertically. This will help you avoid runs and drips on your projects. This is where these bench cookies with plastic cones will help you keep your project slightly elevated so that it doesn't stick to whatever surface you're painting on.
3 Tools to Make Spray Painting Easier
We are always about cutting down project time, and these gadgets really deliver! Spray painting is so easy but can get messy very quickly.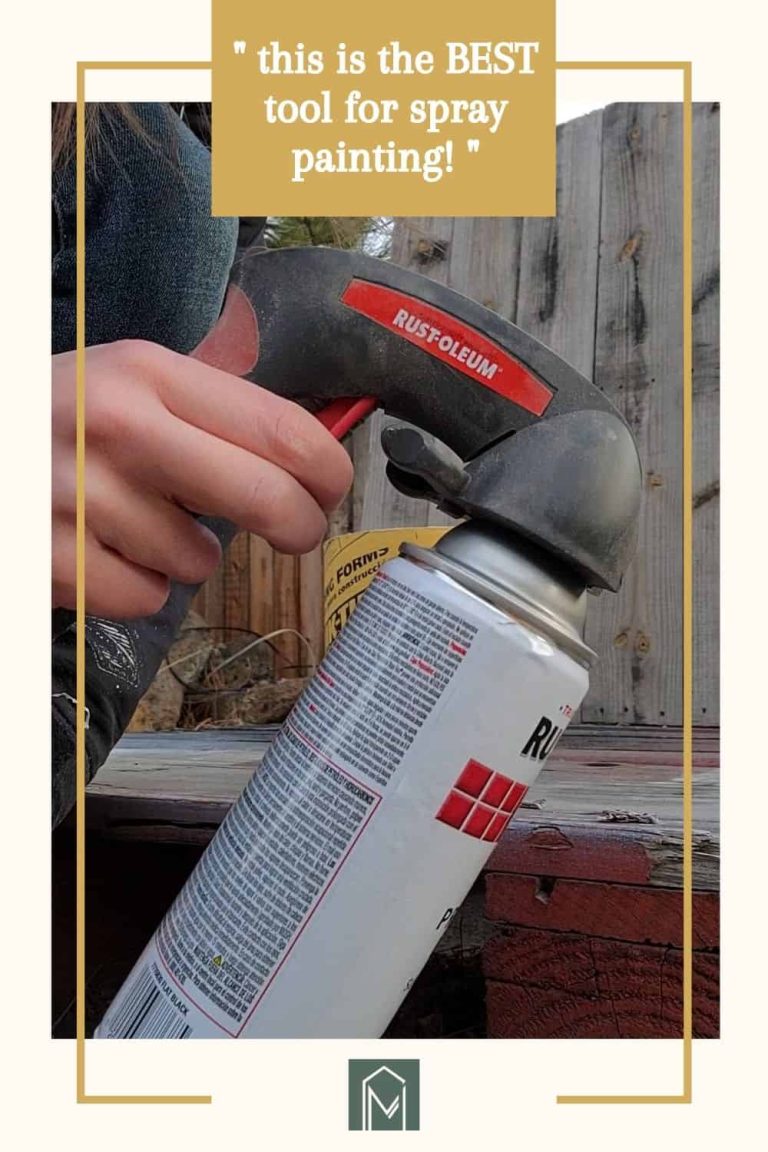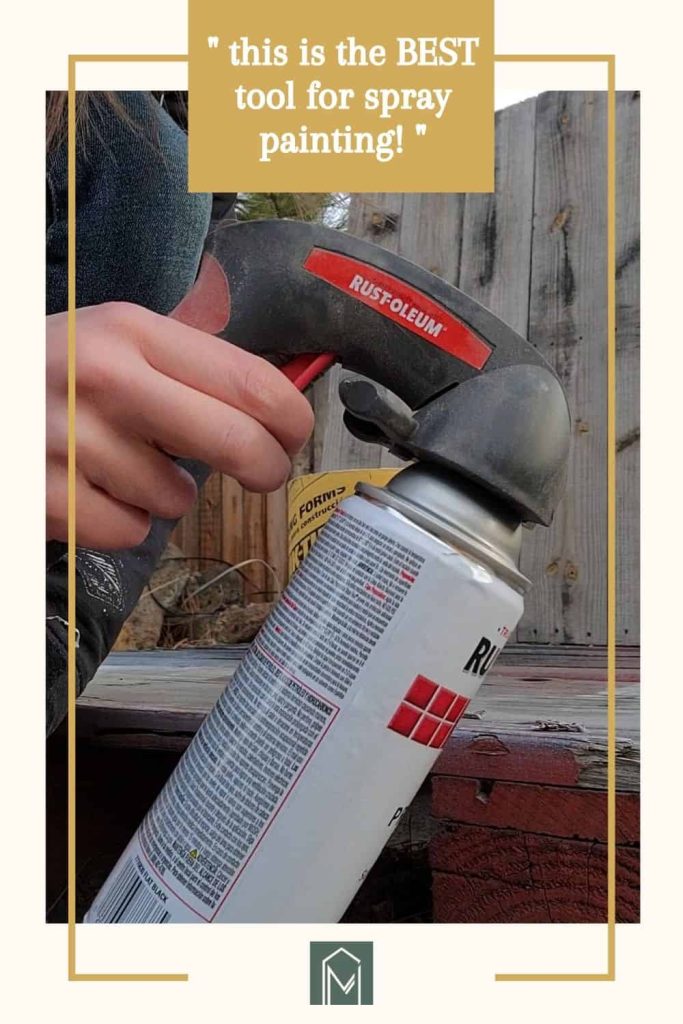 1. Spray Paint Can Handle
I already mentioned in earlier, but it is definitely worth repeating! For any projects that require spray paint, I am in love with this handle. Finger fatigue is a real thing when it comes to spray painting!
It goes on the top of your spray painting can and it makes it so it has a trigger so you don't have to keep pressing over and over
The can handle makes it a lot cleaner because your hand is not right on the paint
No more figure fatigue
More control and smoother finish
2. Bench cookies
Bench cookies (and the helpful plastic cones) are also extremely helpful for elevating whatever you are working on. I like to use them when I'm painting or staining a project. If you keep it elevated your project and painting tarps don't stick together and ruin your masterpiece. These are really simple things that make a BIG difference when it comes to getting the job done right.
3. Rubbing alcohol & cotton rounds
Also, when preparing your project to paint, make sure you have rubbing alcohol and cotton rounds (or an old rag) on hand to wipe away any dirt, oils, dust, or debris.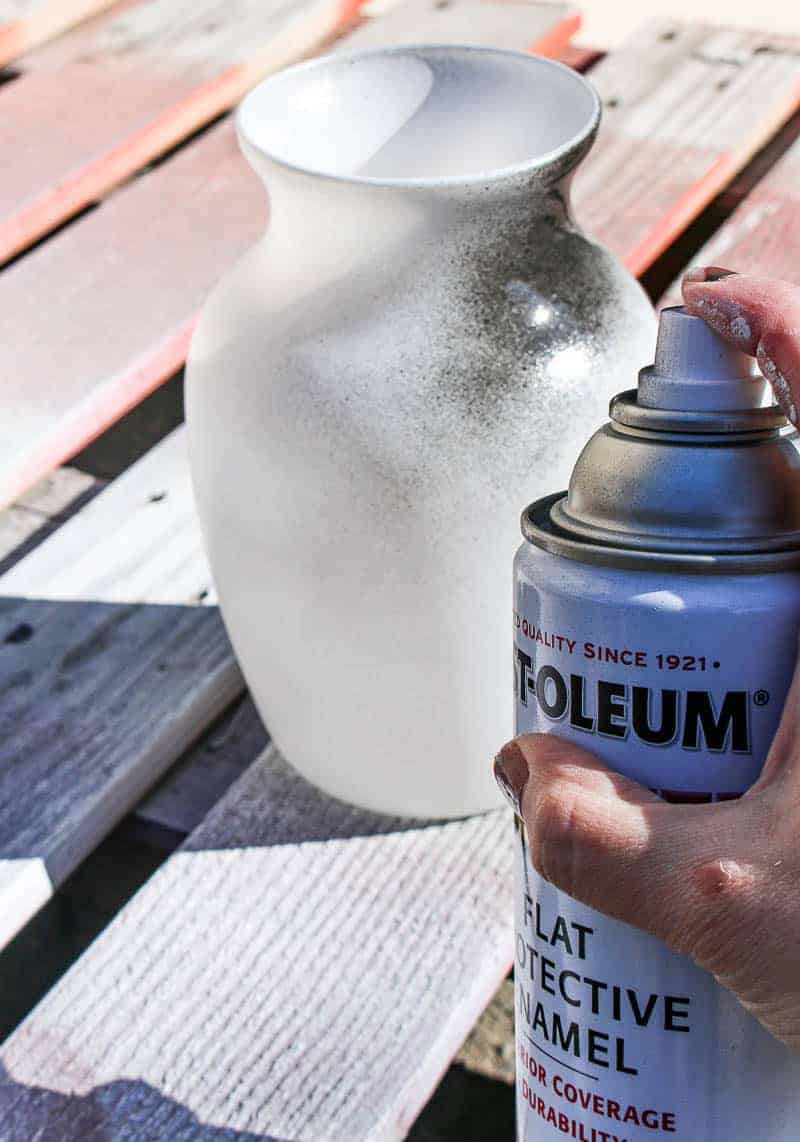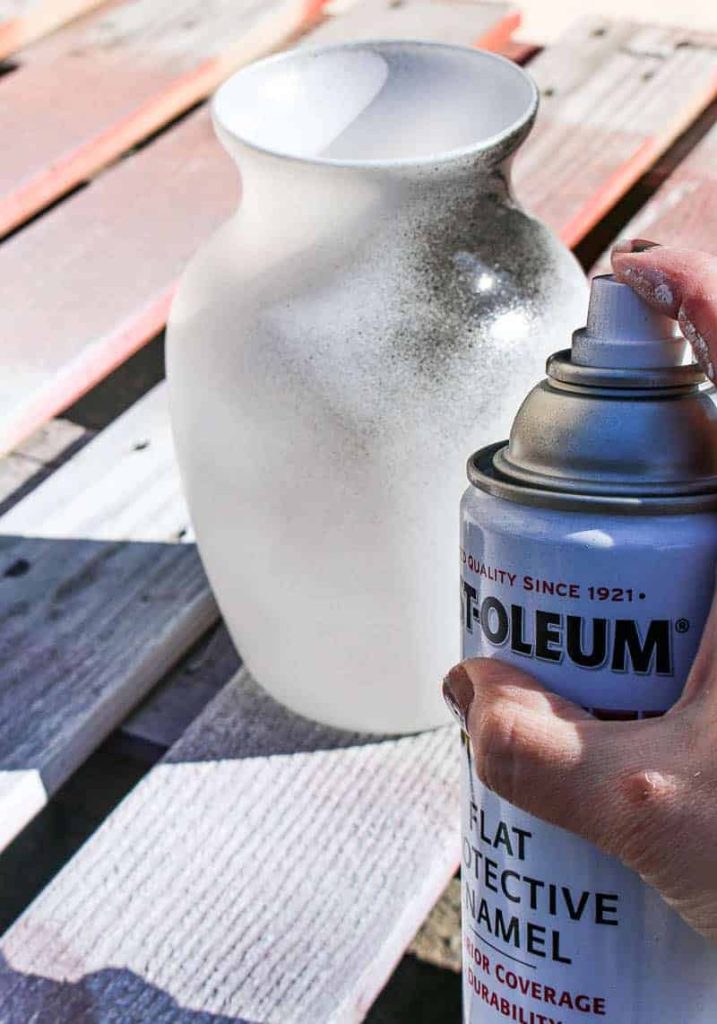 Spray Painting FAQs
Do you need to prime before spray painting?
Using primer before spray painting ensures a nice, even finish. While it is possible to avoid using primer, it may take several coats of paint to achieve the same result as with primer. Normally, you will only need one coat of primer. Some spray paints are paint and primer in one, so you can save yourself a little hassle by using those.
How long does spray paint last?
Different spray paints have a different shelf life but normally a can of spray paint should be usable for 2-3 years from the manufacture date. Proper storage goes a long way towards extending shelf life.
Where should you store spray paint cans? 
Spray paint can be stored in the garage but only when the temperature is between 60 and 80 degrees Fahrenheit. Otherwise, the paint may degrade and become unusable. The cans should absolutely be stored away from extreme heat or sparks at the risk of exploding.
Is spray paint water or oil based?
Aside from a few exceptions, spray paints are oil-based. This is why the cleanup instructions call for paint thinner or mineral spirits.
Is spray paint waterproof?
All outdoor spray paints are waterproof. You should read the label to make sure that you are getting the right paint.
Can you spray paint plastic? 
Manufacturers offer spray paints that will adhere to plastic so it is important to read the label on the paint. However, you can also paint plastic with a conventional spray paint if you lightly sand it ahead of time with steel wool or fine-grit sandpaper and clean it thoroughly.
How do I clean before spray painting? 
Painting surfaces should be dry and clear of all debris before painting. You can use ordinary household cleaners, like rubbing alcohol, or mineral spirits. Be sure to remove old paint or rust with a wire brush or sandpaper.
How do I prevent spray paint from dripping? 
Spray about 8-12 inches away, in steady, linear motions, giving the surface a light coat. Spraying too close will cause the paint to go on too thick and this is what causes drips and runs.
How many coats do you need when spray painting? 
Multiple light coats of paint applied at different angles will always look better than one heavy coat. Normally, you should plan for 2-4 light coats of paint.
How long do you wait between coats when spray painting?
Different paints and surfaces will have different re-application times (so be sure to check the can of your paint) but generally, you can add another coat in about 20 minutes, once the surface feels dry to the touch. 
How long does spray paint take to dry? 
The surface should be safe to handle in about one to two hours and usually completely cured in 24 hours. However, be sure to check your can of spray paint to see if your drying times differ.
How do you get an even finish with spray paint? 
Spray in even, linear (not arc) motions, beginning before the paint surface and releasing past the surface – in other words, overspray. Overlap your paint lines by about a third and apply 2-3 light coats from at different angles, if possible.
How do I prevent my spray paint can tip from clogging?
After you're done with spray painting, turn the can completely upside-down and spray away from your work area, until only gas comes out of the nozzle. This will prevent paint from drying in the nozzle and clogging it. If you do have a clogged nozzle already, you can try removing it and soaking it in mineral spirits. Alternatively, you can try using a nozzle from a different can.
Today spray paints are available in all kinds of finishes, colors, and textures. From chalky, glow-in-the-dark, hammered metal, mirror finish, and many more, odds are that whatever you can dream up for your project, it's possible with a simple can of paint!
We hope you enjoyed these spray painting tips and tricks and learned something new that you can use in your next project.
What else do you want to know about spray painting?
Let us know in the comments below.