You don't need a new vanity light! Here's how to give your builder grade vanity light farmhouse style for less than $20! All you need is some spray paint and new light bulbs.
One of the easiest things we did during our farmhouse bathroom renovation was fix the dreadful vanity light. I really didn't want to spend money a new bathroom light, but we HAD to do something about the builder grade vanity light. It was boring and didn't fit with the farmhouse feel that I wanted for our master bathroom.
I was shocked when we figured out how to give a builder grade vanity light farmhouse style – it was SO easy !! We were able to use what we had instead of buying something brand new, which saved a ton of money. In fact, we only spent $22 on the supplies needed for this farmhouse bathroom light transformation.
This builder grade vanity light makeover contains affiliate links, but nothing that I wouldn't wholeheartedly recommend anyway! Read my full disclosure here.

If you're really confused why this photo is a different bathroom and a different light (3 versus 2)…long story short, I lost some photos due to a hard drive that went kaputz, so I don't have a good "before" photo of the same light in our Farmhouse bathroom….but I promise it looked JUST like this, but just with 2 lights. 🙂
Here's what you need to give your builder grade vanity light farmhouse style:
Step 1. Take light off of wall.
Before you touch the light, be sure you turn the light on and then turn off the breakers on your electrical panel one by one until the light turns off. If you're still scared the the electricity is "live", you can use one of these handy voltage detector to check.
Once the electricity is off for the light, remove the glass shades and bulbs.
Next, you can unscrew and pull off the light fixture. Once you can see the wires behind, start with the black wires first and unscrew the wire nut (which is the plastic cone looking thing) and pull the wires apart and then reattach the wire nut over the wire coming out of the wall.
Next, do the same thing with white wires. Never leave the wires coming out of the wall exposed.
Here's a quick video for you how about to take a light off of the wall: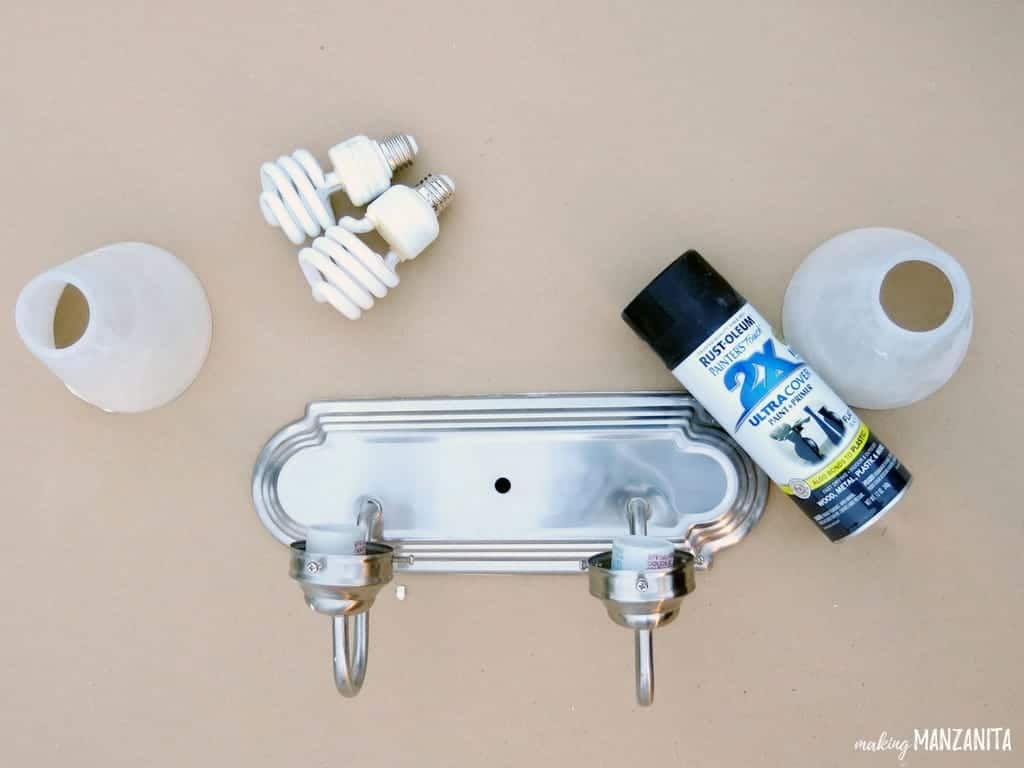 Step 2. Remove light bulbs and cover sockets.
You don't want to get spray paint on the light sockets. So after you remove the light bulbs, add painter's tape over the sockets.
Step 3. Spray light.
Next, you just start spraying your light in even, light coats with the spray paint. We did about 3 coats of this flat black spray paint.
Step 4. Reinstall light.
Last, you just put the light right back where you found it on the wall. Reattach the wires and bolt onto the wall.
If you notice, we installed our vanity light upside down. I liked the way it looked having the light bulbs paint upwards instead.
We also did NOT add those glass light covers either. That's the fun part of this light! I love that you can see the vintage looking light bulbs.
Step 5. Add new light bulbs.
I think the boring builder grade bathroom light really starts taking on a whole new farmhouse feel when you attach the old fashioned light bulbs.
We use these ones throughout our house and love how long lasting they are….(in fact I've never had to replace one yet after living here nearly 3 years!!…but you watch, just because I said that one is going to go out, like tomorrow!). Whatever type of old fashioned light bulbs you purchase, be sure you buy the LED ones!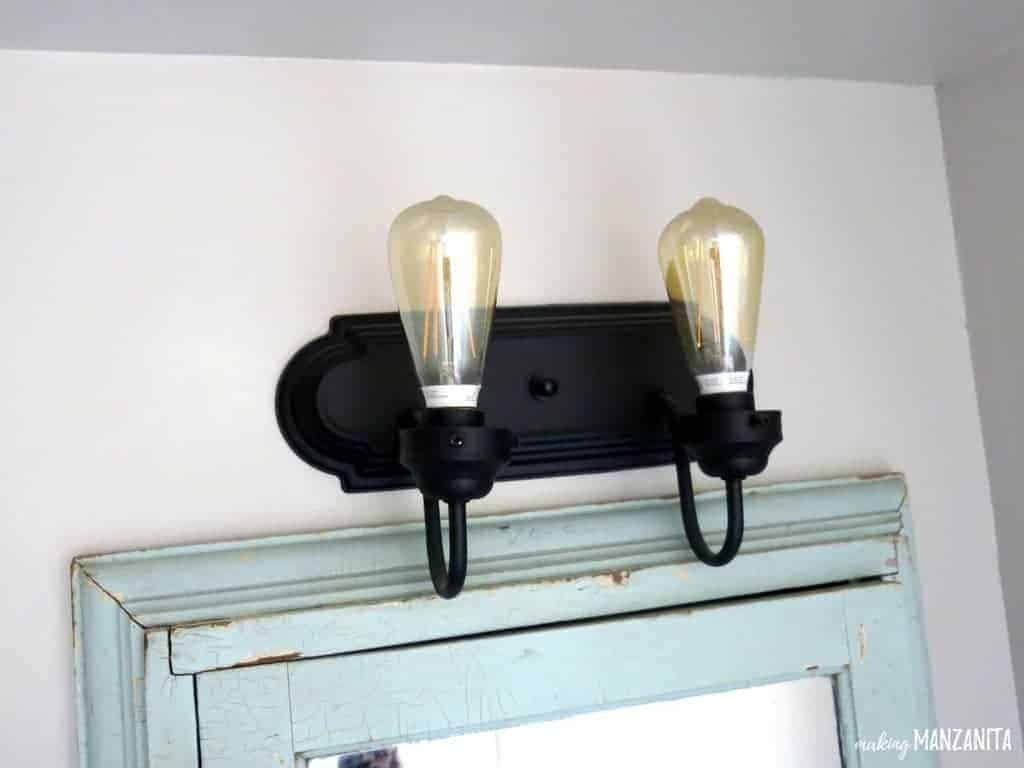 Ta da! Yes, it's really that simple to give your builder grade vanity light farmhouse style. All you need to do is give it a few coats of spray paint and add the old fashioned looking light bulbs.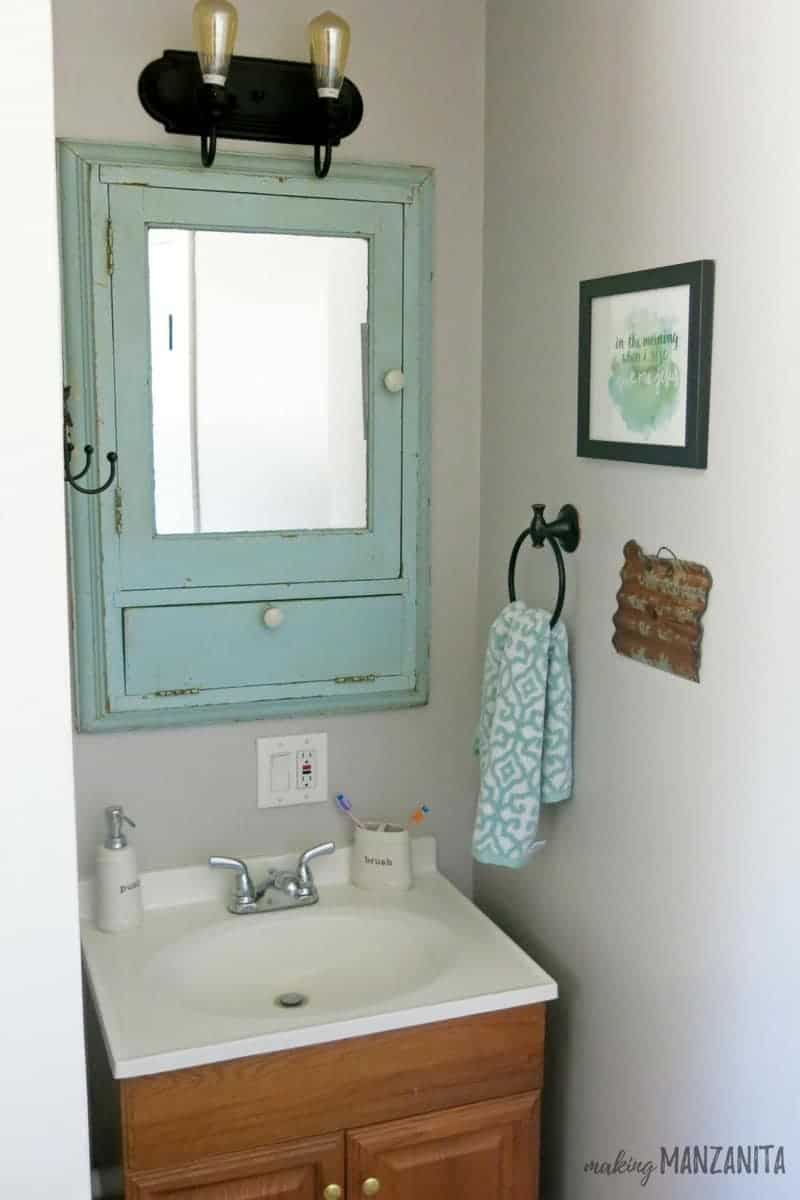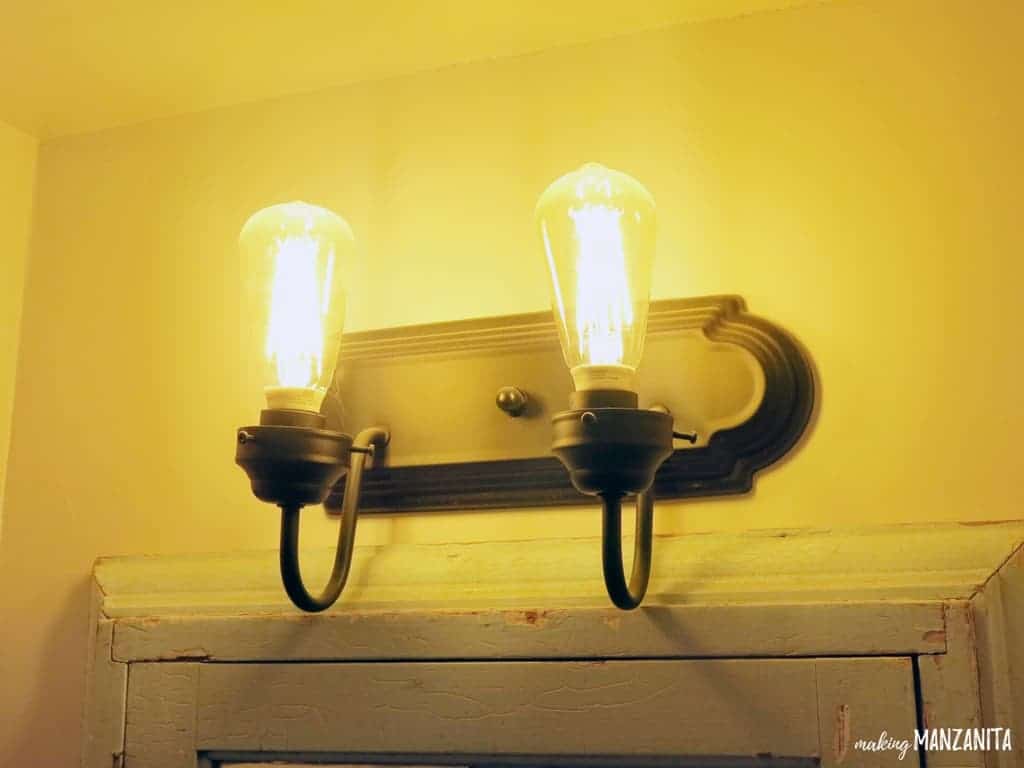 I love that we were able to transform our boring vanity light into something that fits right in to our farmhouse master bathroom for just $22!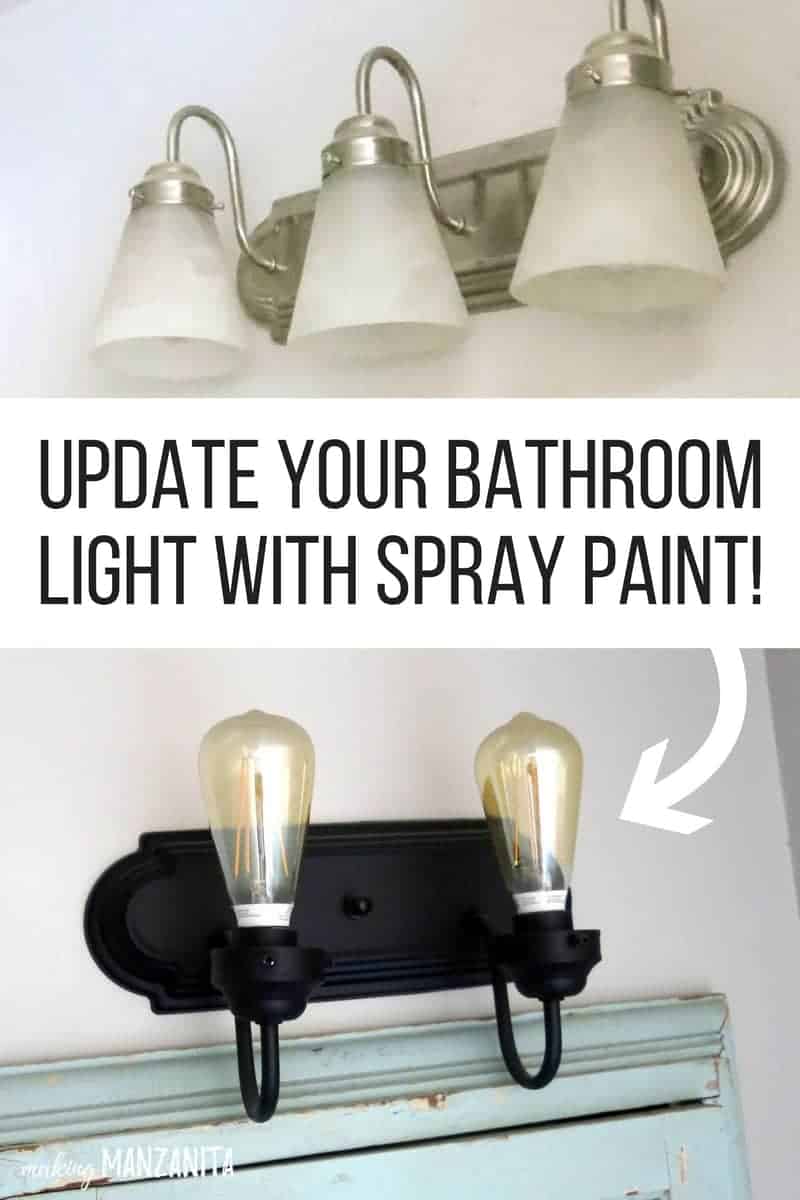 Have you ever transformed something with spray paint??
Let's hear about it in the comments!
---
The video of our shiplap wall and floating shelves in our farmhouse master bathroom literally went VIRAL. It was even shared by BHG, Jordin Sparks and Scott Dudick. It's been so cool to see something that we did get noticed by SO many people. If you are not one of the 20,000,000 people that saw this on Hometalk's Facebook page, here's a little time lapse version of our farmhouse bathroom transformation!
---
Looking for more of our farmhouse master bathroom renovation?
How To Give A Builder Grade Vanity Light Farmhouse Style (you are here!)
---