Looking for Jack and Jill bathroom ideas and plans? If you are looking to install a shared bathroom in between two bedrooms in your home, get inspired with these 10 amazing ideas!
Jack and Jill bathrooms first became popular in the 1960's, when there was an influx in families with children under 18.
In today's article, we sharing inspiration for plans and layouts, as well as design and decor, for shared bathrooms in between bedrooms.
But before we jump into the ideas and inspiration, let's start with the basics!
What is a Jack and Jill bathroom?
A Jack and Jill bathroom connects two different bedrooms, typically located in between two bedrooms with a door directly into a bedroom.
However, the Jack and Jill bathroom definition can be expanded to include any bathroom with two or more entrances. One entrance could be directly from a bedroom and another entrance could be from a hallway.
Jack and Jill bathrooms are traditionally used for children's rooms and usually have two sinks, but don't necessarily need to have two sinks. You'll see a few of the Jack and Jill bathroom plans mentioned below only have one sink.
The most distinguishing factor of the Jack and Jill bathroom is that it has two separate entrances. A bathroom that is connected to one bedroom is called an Ensuite. Even if a bathroom features a dual-sink vanity, it isn't technically a Jack and Jill unless it has two entrances.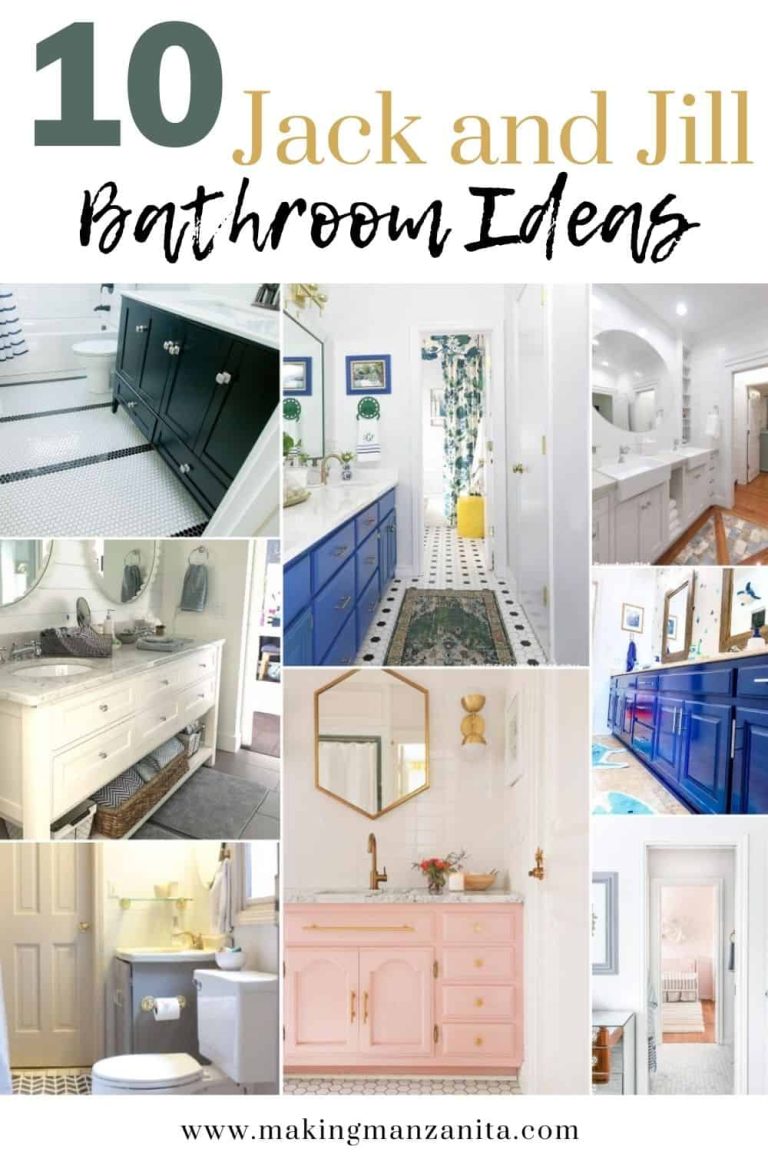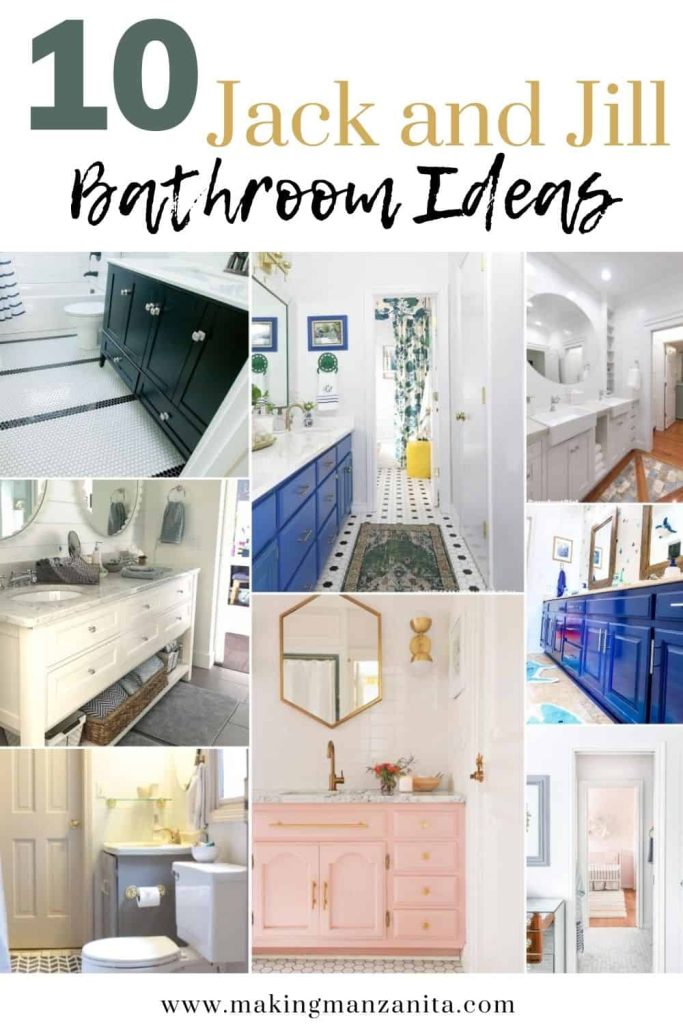 Jack and Jill Bathroom Ideas
What to consider when planning a Jack and Jill bathroom
There are several things to consider when you are planning a Jack and Jill bathroom in your home.
Toilet room: To promote privacy in the bathroom, it's a good idea to have the toilet is in a separate toilet room (also called water closet or toilet stall) with a bathroom. This way the rest of the bathroom can still be used while someone is using the toilet.
Toilet and shower room: To go further, you can put both the toilet and shower in a separate room. This is how we set up the layout in our kid's shared bathroom. This way someone can still use this sinks if someone is taking a shower or bath or using the toilet.
Locking doors: To make sure everyone using the bathroom feels secure, the locks on the doors should be able to lock on boths sides of the door. So you can lock the door from inside the bathroom when it is in use and you can lock the door from inside the bedroom, so your bedroom can stay private. But it is very important to teach your children that all doors need to be unlocked when they are not being used.
Light switches: Keep in mind that you should install a lightswitch at each entrance of the bathroom. The switches used in shared bathrooms, like this, should be three-way light switches, meaning that lights can be switched on and off by either switch.
Jack and Jill bathrooms are a great idea if you're looking for efficiency in your floor plan to save space, but still have the luxurious feel of having a bathroom connected to the bedroom. They are great solutions for families with multiple children!
What is your favorite Jack and Jill bathroom idea shared in this article?
Let us know in the comments below!!