Behr Meteorological is a deep and rich color and the perfect shade of green to add depth to any room. Learn more about this color and see pictures of it in action!
This paint color may be the new trend! If you are looking for something a little different, but still a neutral that will go with a lot of other colors, give Behr Meteorological a chance.
This Behr Meteorological review contains affiliate links, but nothing that I wouldn't recommend wholeheartedly. Read my full disclosure here.
Behr Meteorological is a dark shade of teal will green undertones. It's soothing, rich, moody…everything I love about a good paint color! My favorite element of this color is that it's a little unexpected. It's an element of surprise but not a color you would get tired of looking at.
I'm so glad I found this color! We've used this beautiful shade of teal in a few different areas of our home.
If you're selecting a new paint color, you're likely overwhelmed at all the different options, trends, and maybe a little worried about how it will all turn out. The good news is that it's just paint. It can be changed almost as soon as it has dried. However, I doubt you will have any regrets after you see how great this looks on the walls!
Related: Do you love moody paint colors too? You may also love Behr Fashion Gray, Behr Chic Gray, Behr Graphic Charcoal, and Behr Black Bamboo.
Today, I'm sharing this amazing, bold paint option with you that I love – Behr Meteorological.
We've used this color in four different rooms of the house. I'm really loving the soothing, calming vibes it sends. We used this color: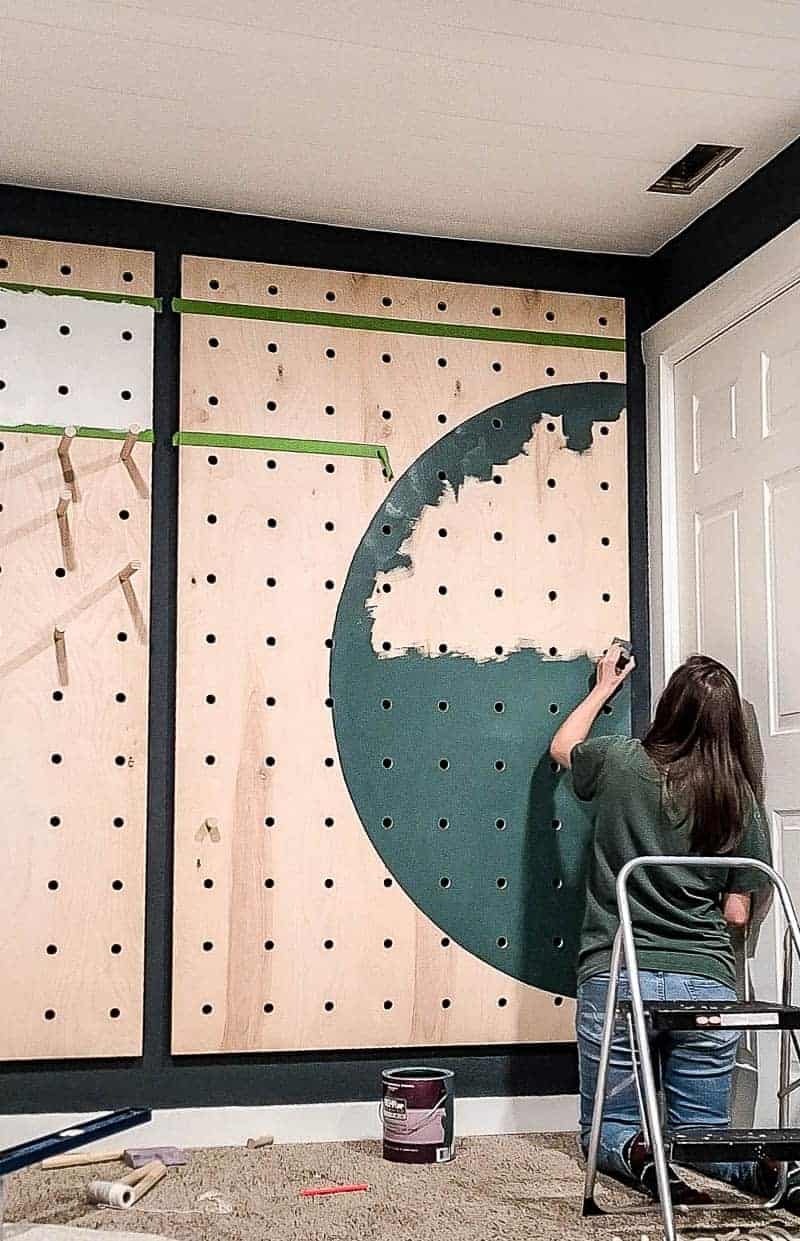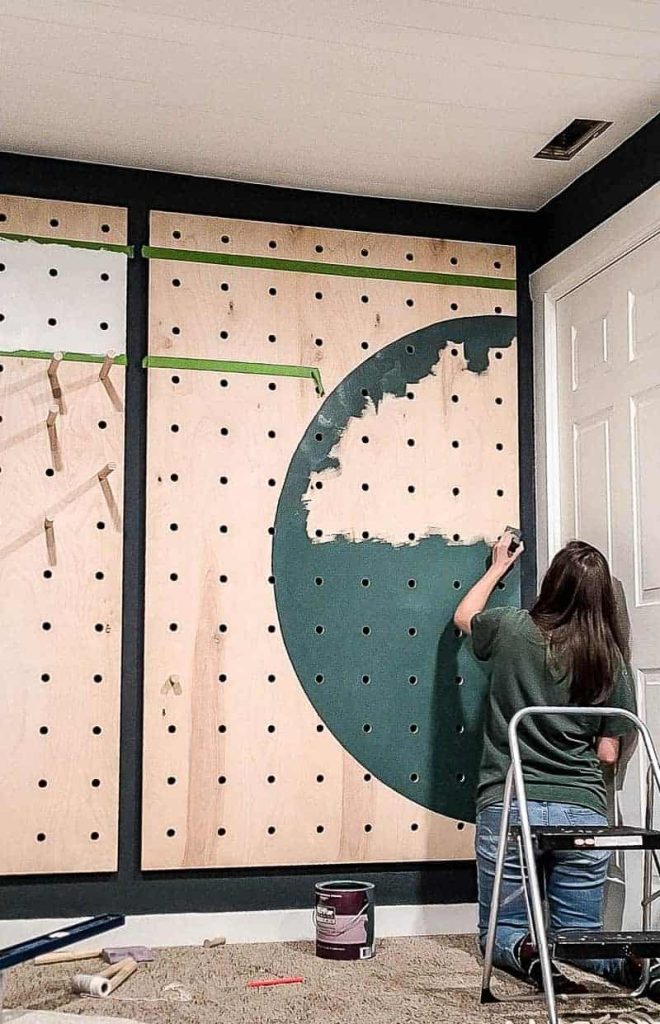 Behr Meteorological paint color overview
Behr Meteorological is definitely a moody shade of teal. It can appear green or a bluish color in different lighting. It adds an element of sophistication to the room. Mixed with the right textures and complementary colors, it can create a soothing, calming atmosphere – and a sleeping oasis with cocoon-like vibes.
Stats:
Behr Paint Code: N430-6
RGB: 89 109 105
LRV: 14
Hex Code: #526864
While a green(ish) paint color can be difficult to work with at times, I found it flowed really well with our modern boho decor. I think this shade would translate well across different decor styles like modern, traditional, mid-century, farmhouse, and minimalistic.
It would also work well in bedrooms, bathrooms, and green accent walls. If you're not daring enough to paint an entire room this shade, it's also great for an extra pop of color to a room.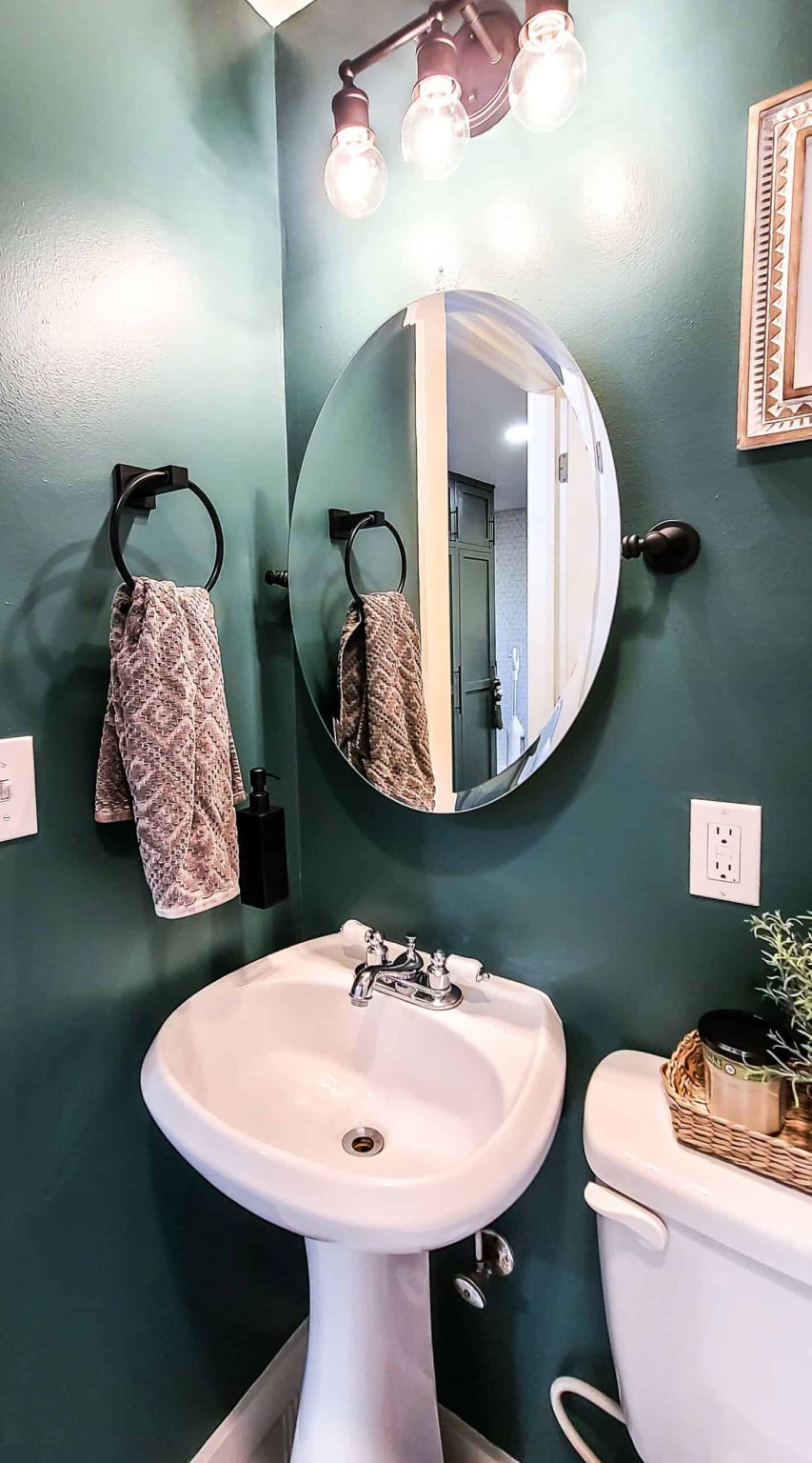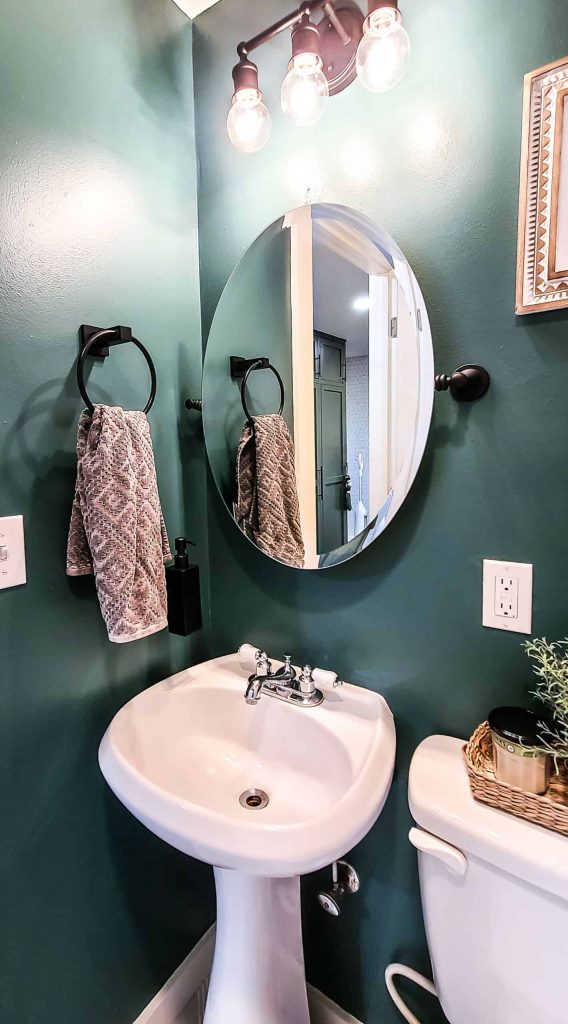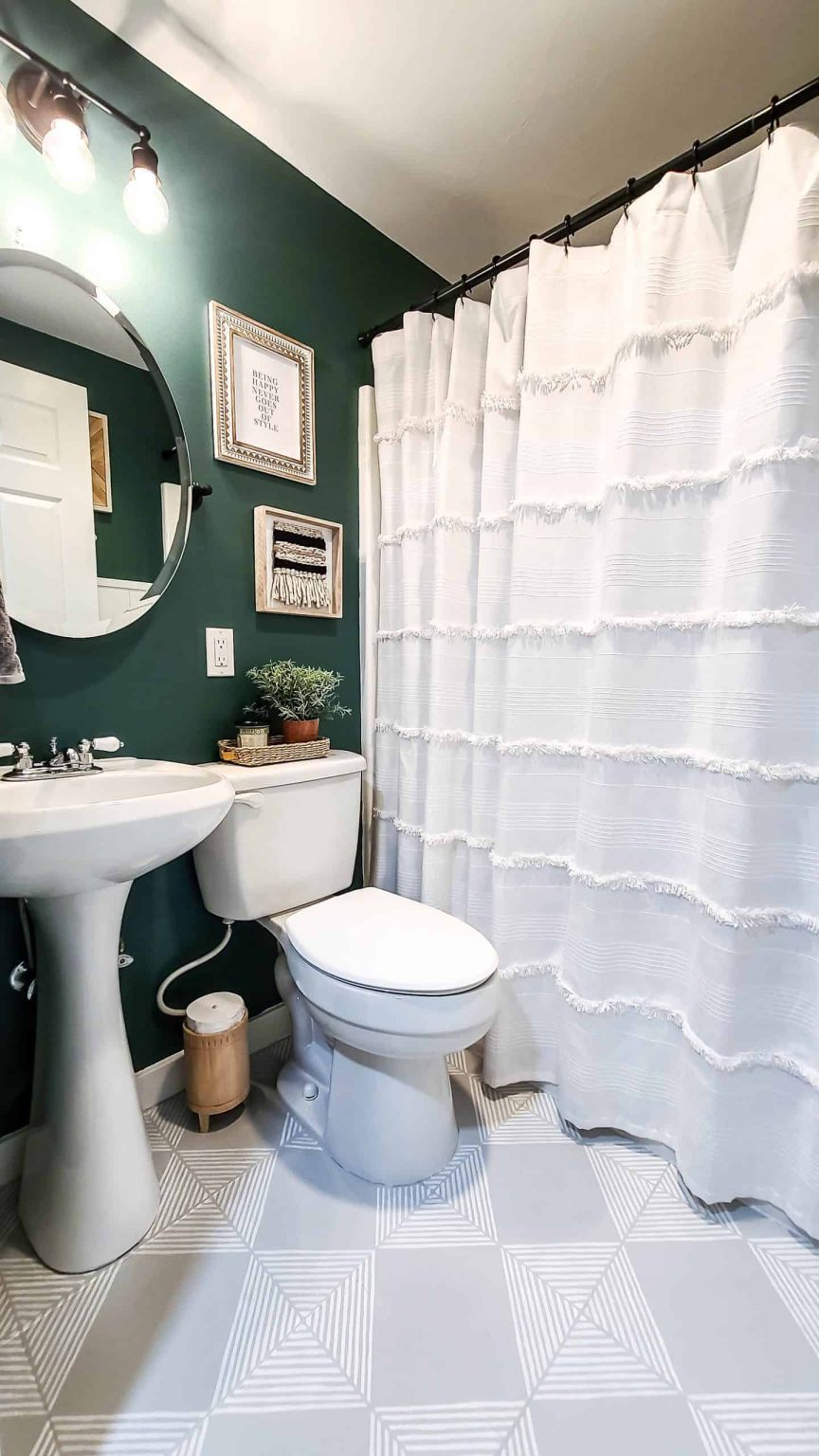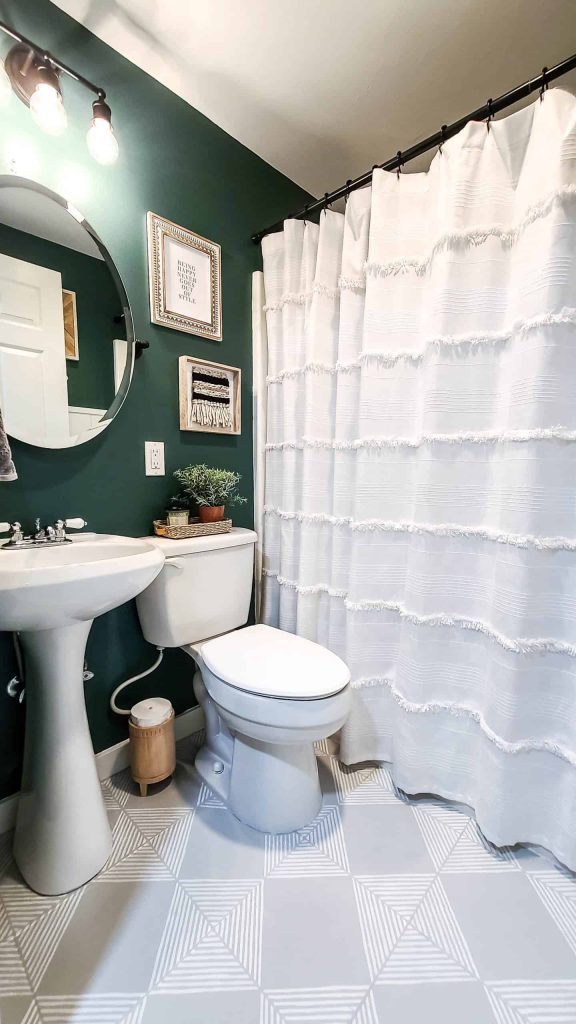 Is Behr Meteorological a warm or cool color?
Behr Meteorological is a cool green shade that will completely alter the personality of a room. With the different colors from the decor, the lighting, and other elements in the room, the color might shift from green to blue.
As you are considering this color, be sure to make a note of how the sun enters the room as well as the other colors in the room. Use paint samples of the color and then take a peek inside the room at different times of the day to get a sense of how it would look after you paint the room.
Considering that two of the rooms we have this color in at our house have NO windows (on the pegboard wall in our home office and small guest bathroom), it's also important to consider the light that you are adding and specifically the temperature of the light bulbs, which will have an effect on how the paint color appears.
To get a true look at the color before painting, be sure to test the color on all walls after you have the final lighting (and light bulbs) in the room to see how it will look.
Behr Meteorological Undertones
Behr Meteorological has green undertones, which is a more difficult undertone to work with.
Depending on the decor and other factors, sometimes the undertones aren't always obvious until they are next to other elements. For example, warm woods may pull out even more green.
Keep this in mind as you are choosing decor and paint colors.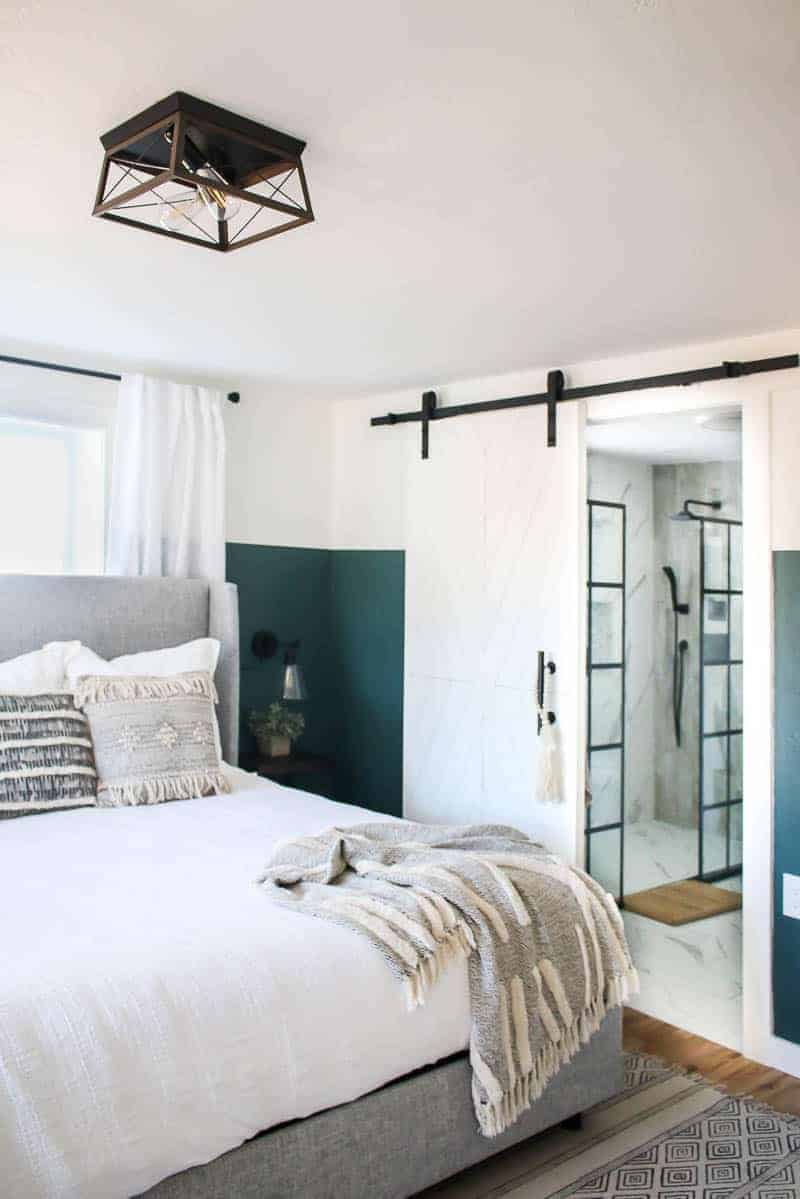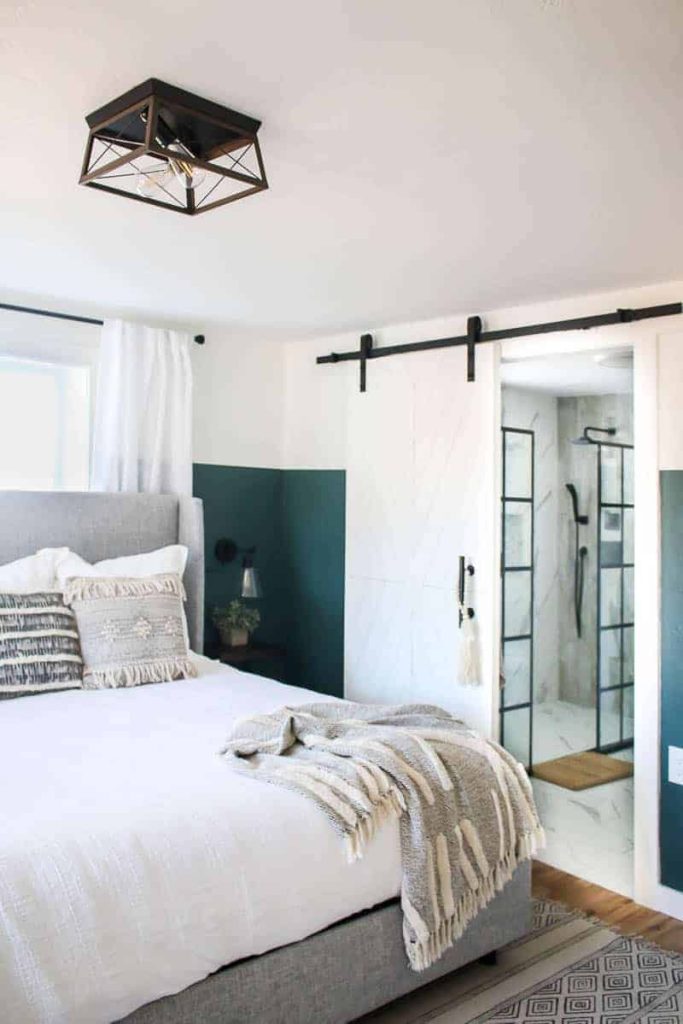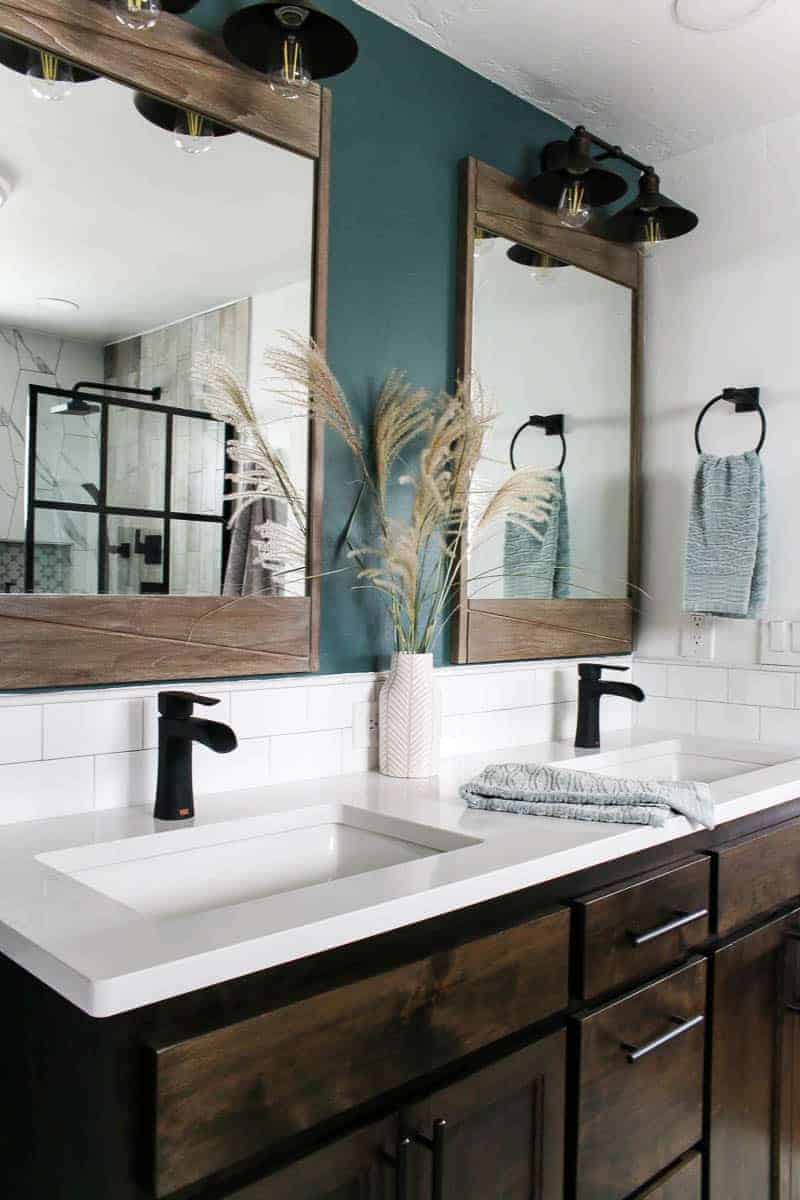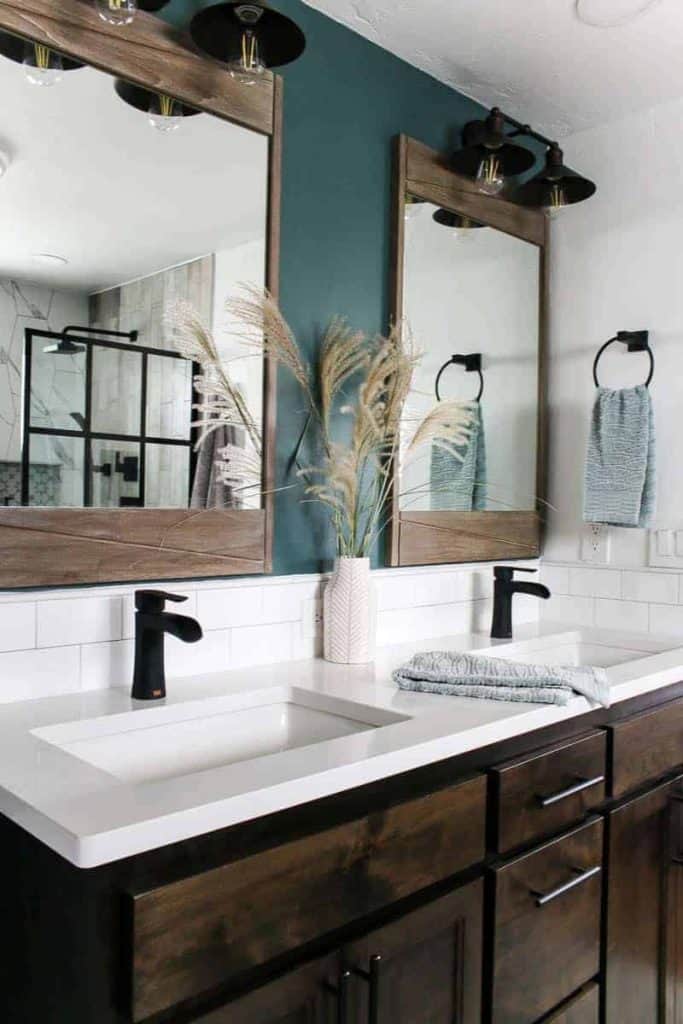 What is the light reflectance value (LRV) of Behr Meteorological?
The LRV for Behr Meteorological is 14, which is relatively low.
Light reflectance value is the amount of light that is reflected off of the paint color surface. The lighter (or more white) and color the higher the LRV – meaning that pure white has an LRV of 100 and pure black as an LRV of 0.
This means that once the color is added to the room, it will not "brighten" it up, which is fine if you're going for a darker and moody look!
What trim color goes with Behr Meteorological?
This paint color is stunning with rich wood-grained trim as we used in our master bathroom. It would also look great with a contrasting white trim or tile for extra pop.
Throughout our home, we've used Behr Snowy Pine as the trim color, as a point for reference.
Coordinating colors for Behr Meteorological
Behr Meteorological would be a beautiful way to add depth to a bedroom with two-toned walls or use it as an accent wall in a bathroom.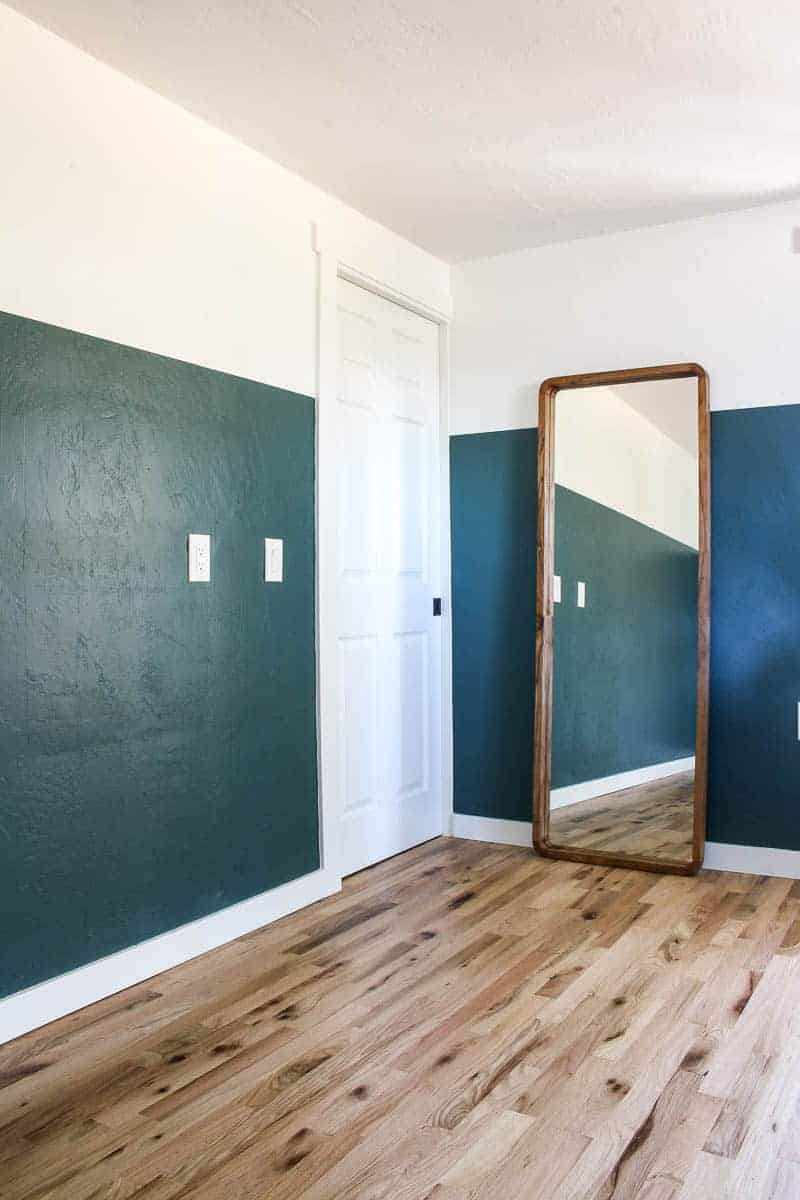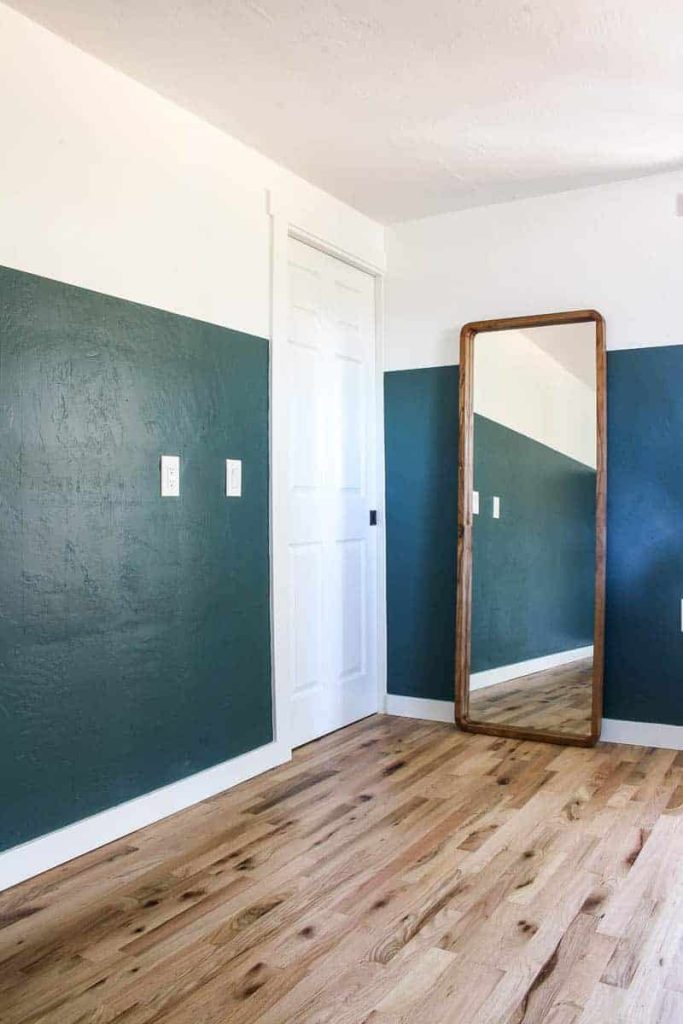 This shade is so universal that it goes with a lot of coordinating colors and styles. Structured, modern light fixtures and furniture pieces would look absolutely incredible with this color. Alternatively, cozy cognac-leather chairs with a knitted throw would give off a relaxed but sophisticated vibe.
Colors similar to Behr Meteorological
According to Behr Paint, here are other similar colors to Behr Meteorological that you might want to try out: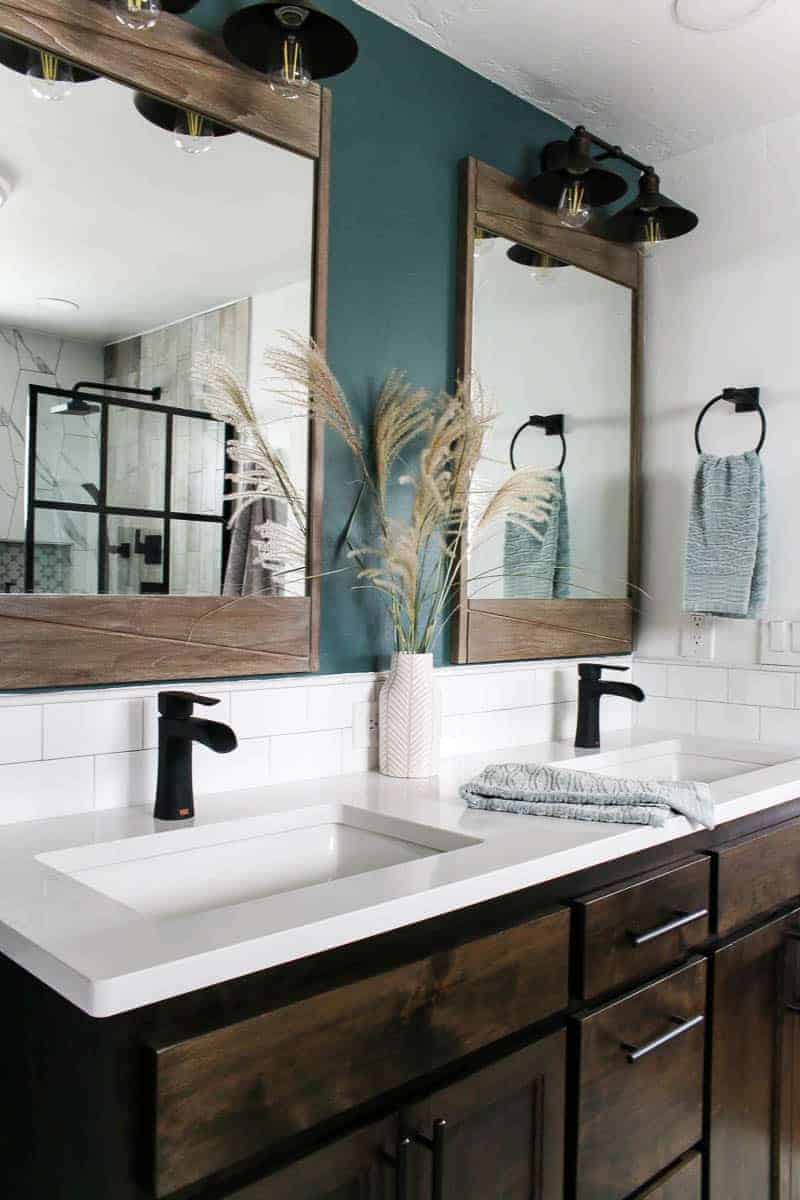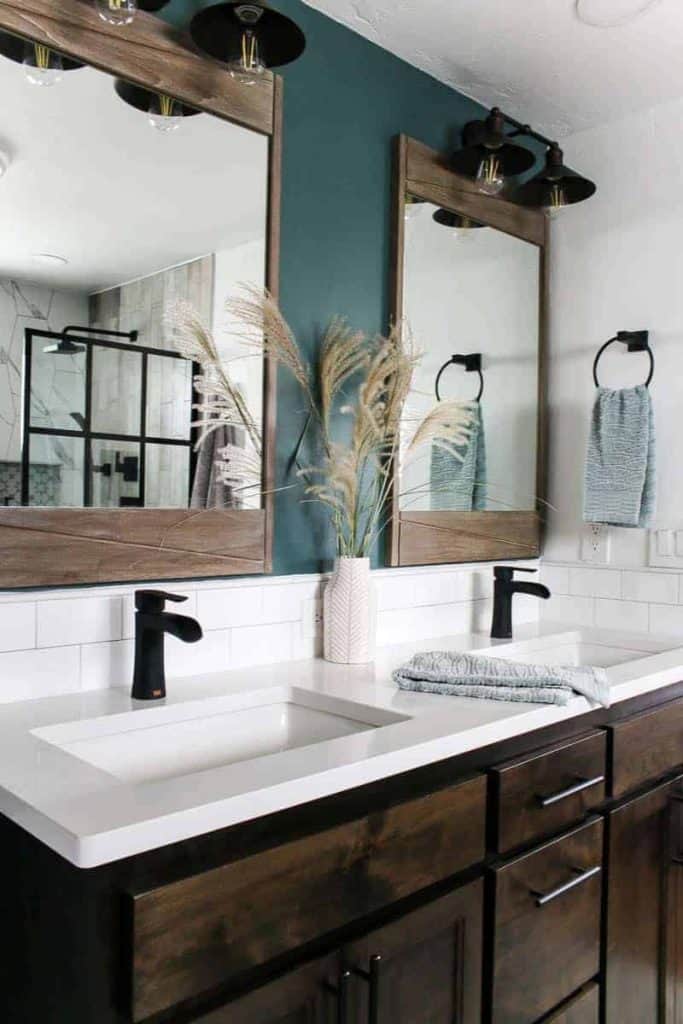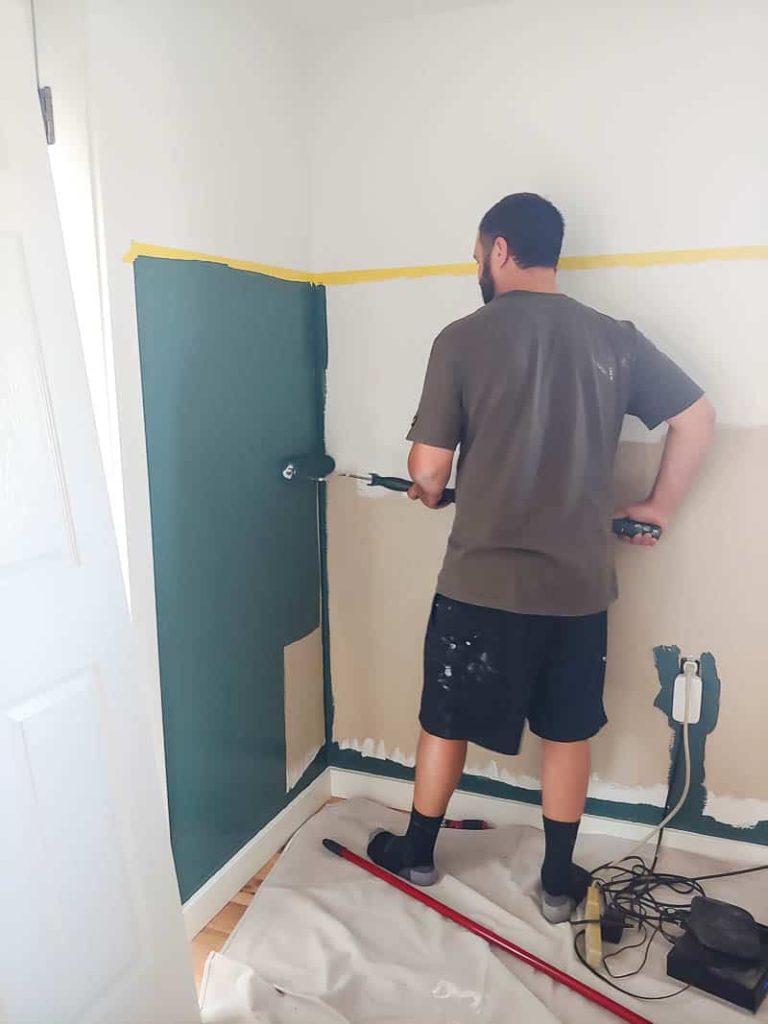 Paint color review
Behr Meteorological can take on any direction you choose! From sophisticated and cozy to modern and structured, this is an excellent choice to add a little personality to a room.
Even though the undertones can be challenging, we were able to work this color into a few different rooms and as part of our whole house color scheme.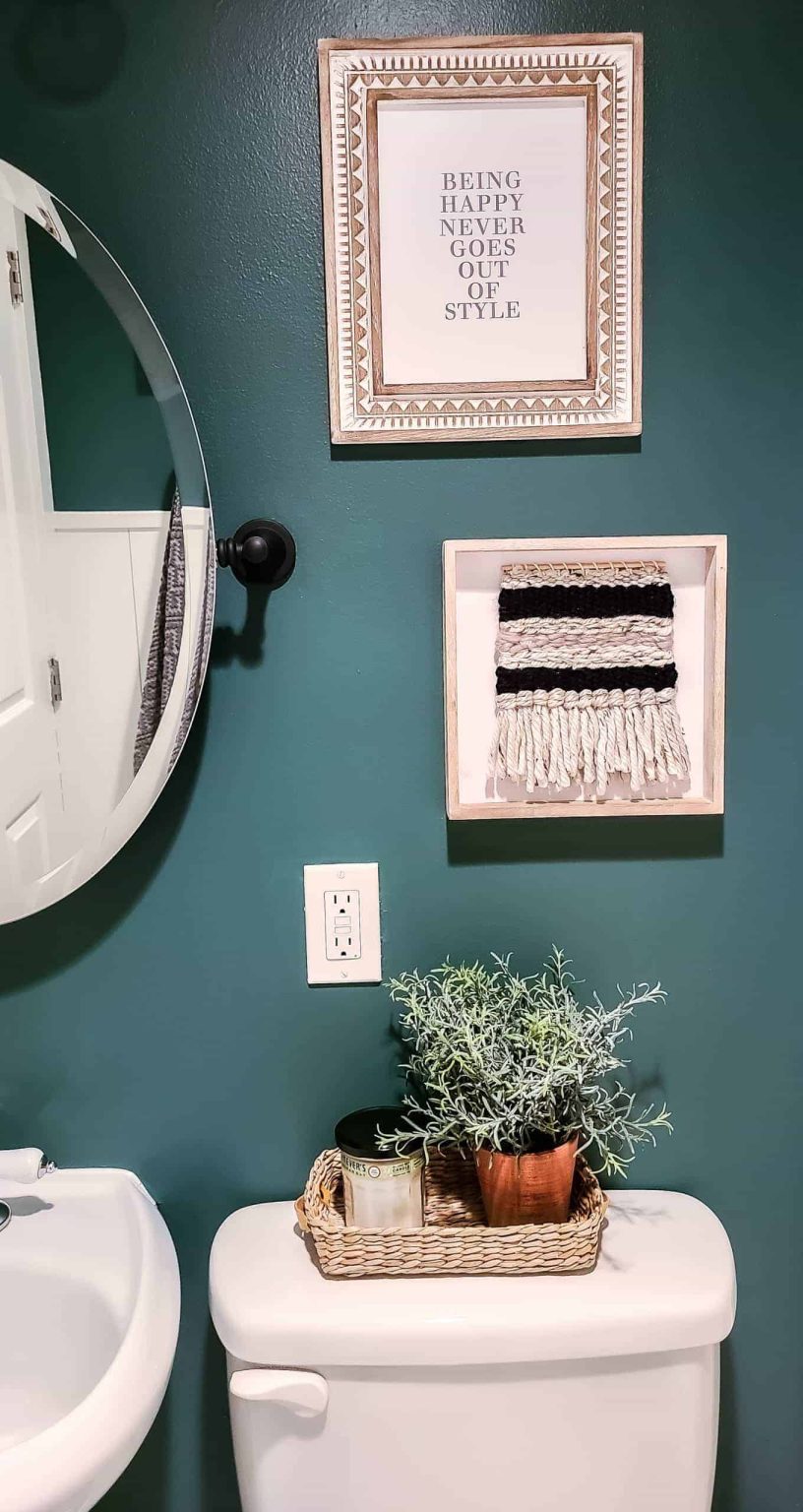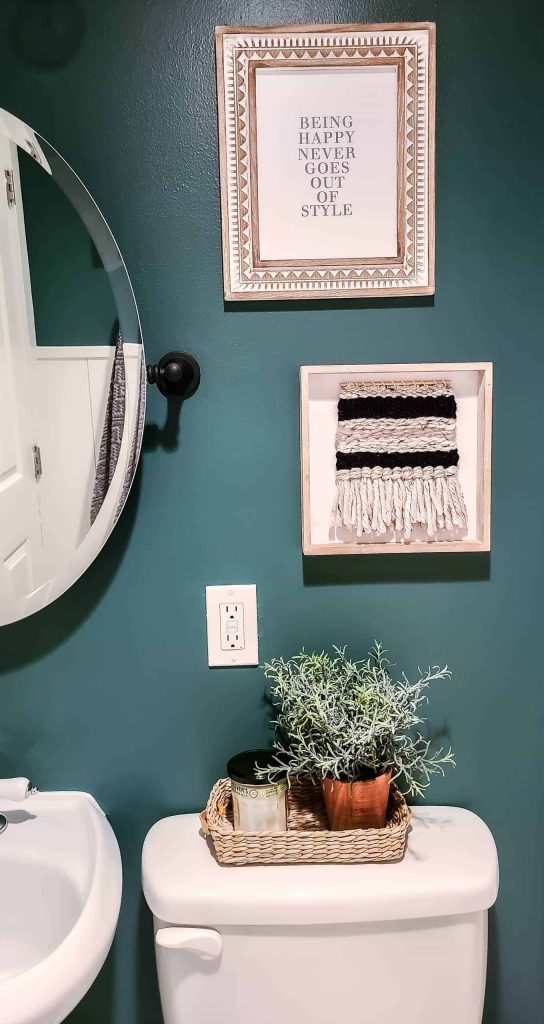 Do you have any other questions about this paint color?
Let me know in the comments below!