Want a trendy cane boho nightstand, but don't want to pay the big prices? Build it yourself with these free easy DIY bedside table plans.
Thank you to Kreg for this DIY bedside table plans project! All opinions are entirely my own. This post also contains affiliate links, but nothing that I wouldn't recommend wholeheartedly. Read my full disclosure here.
A few weeks ago we shared this DIY cane headboard that we built for Quinn's room as we get our house ready for the short-term rental conversion that we have planned. We added a Queen sized bed along with the new headboard and it looks so great.
Related – Do you love cane furniture too? Check out this rattan furniture round up!
Table of Contents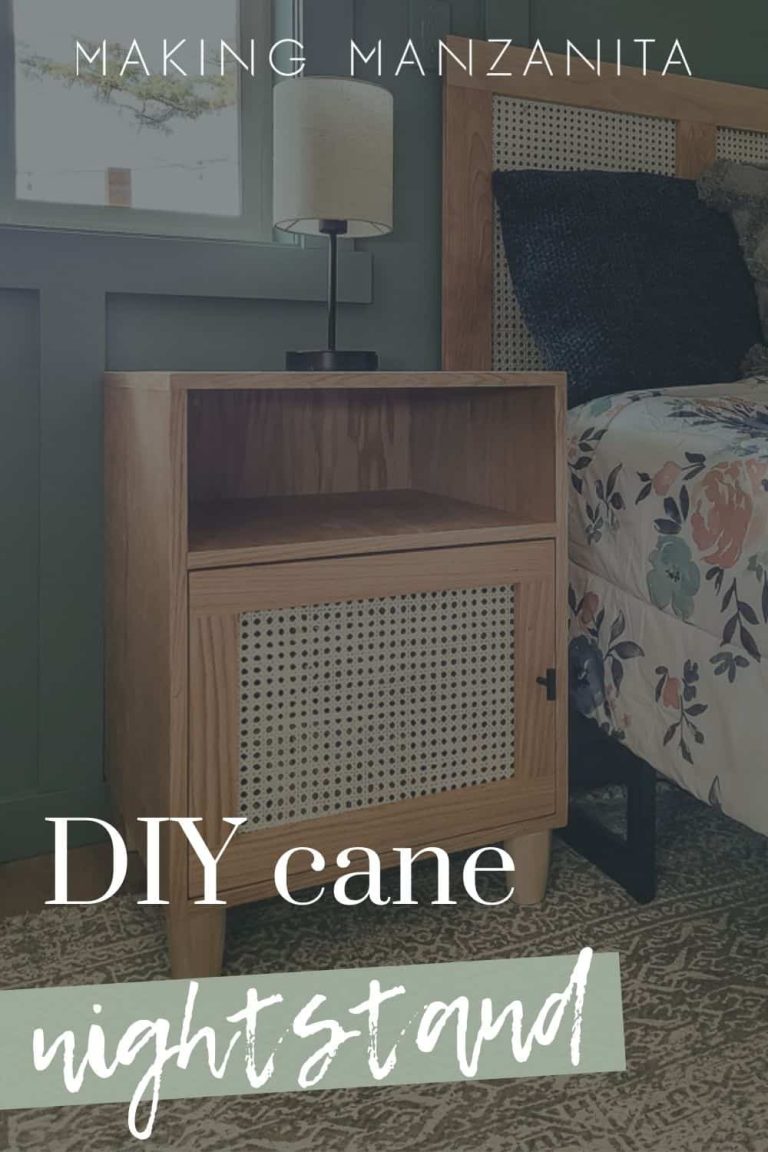 Before Beside Table Pictures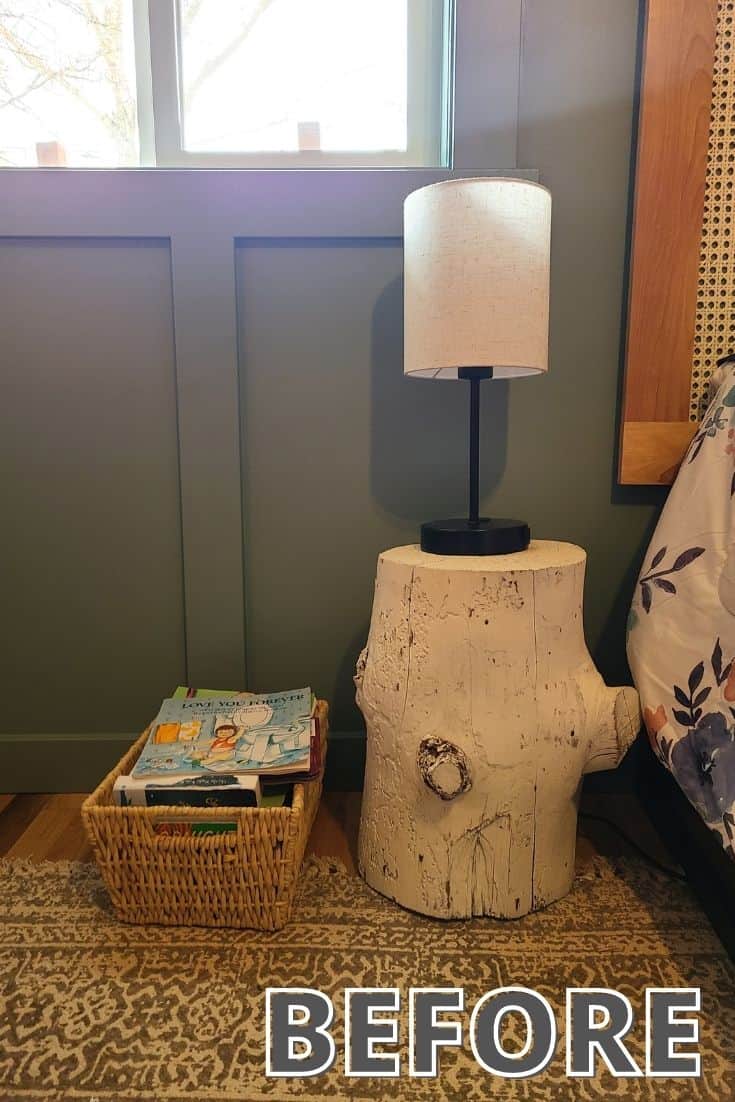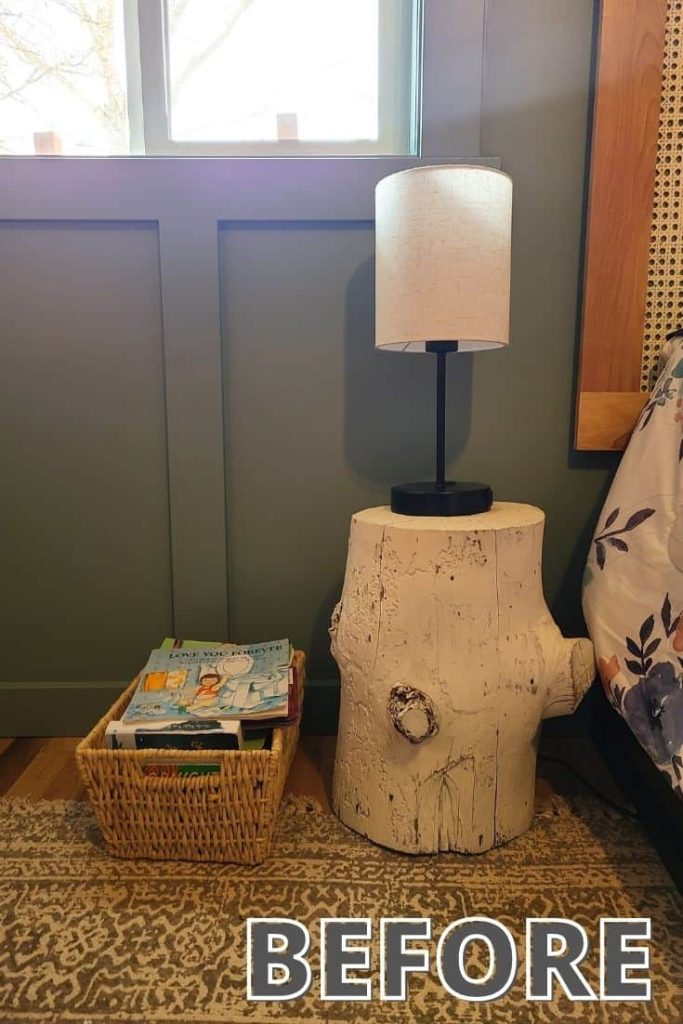 But the small stump table that I moved into the room from our modern boho office, just wasn't working. What we really needed in the space was a bedside table with storage for her books that we keep beside her bed for storytime at night.
So what better excuse to build a matching cane boho nightstand! (As if we need an excuse to build more furniture).
Kreg's 720PRO Pocket Hole Jig
If you've been reading our blog for a while, you know that we are big fans of the Kreg pocket hole system. We've built so many projects using our K5 Pocket Hole Jig, we even have a super detailed guide and video about how to use it that you can check out here.
But in 2021 Kreg released brand new pocket hole systems that are replacing the K4 and K5, and the upgrades are pretty freakin' awesome.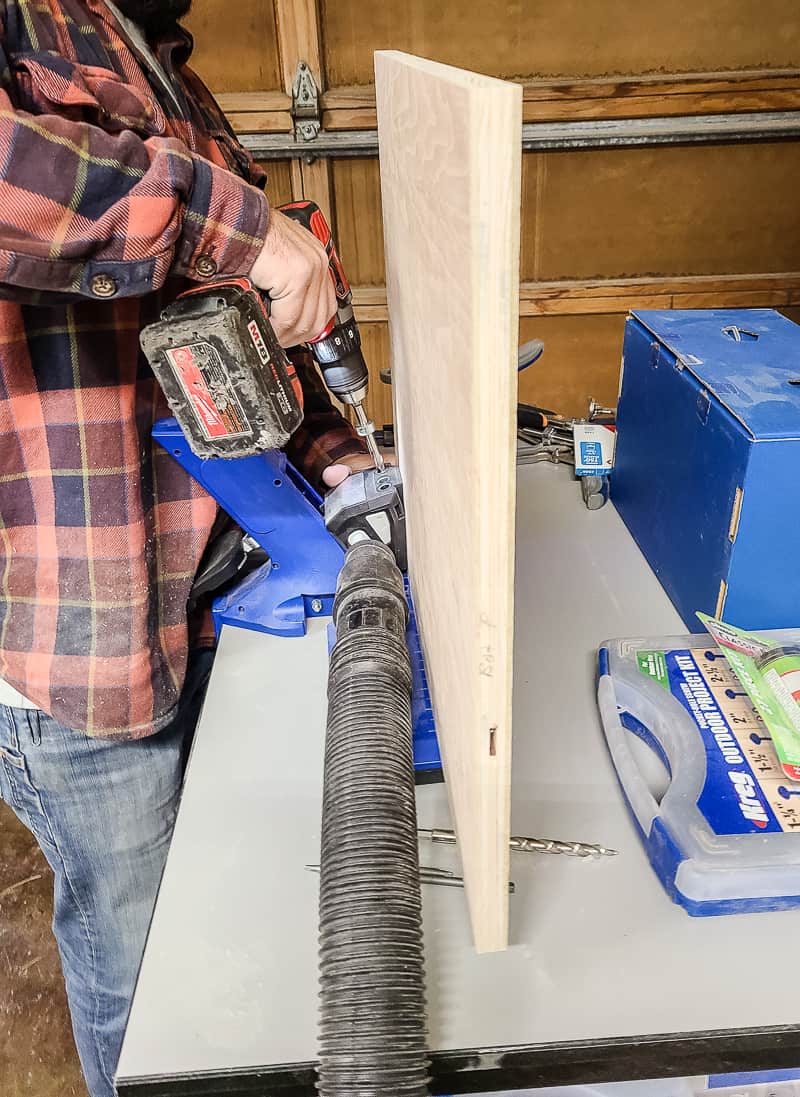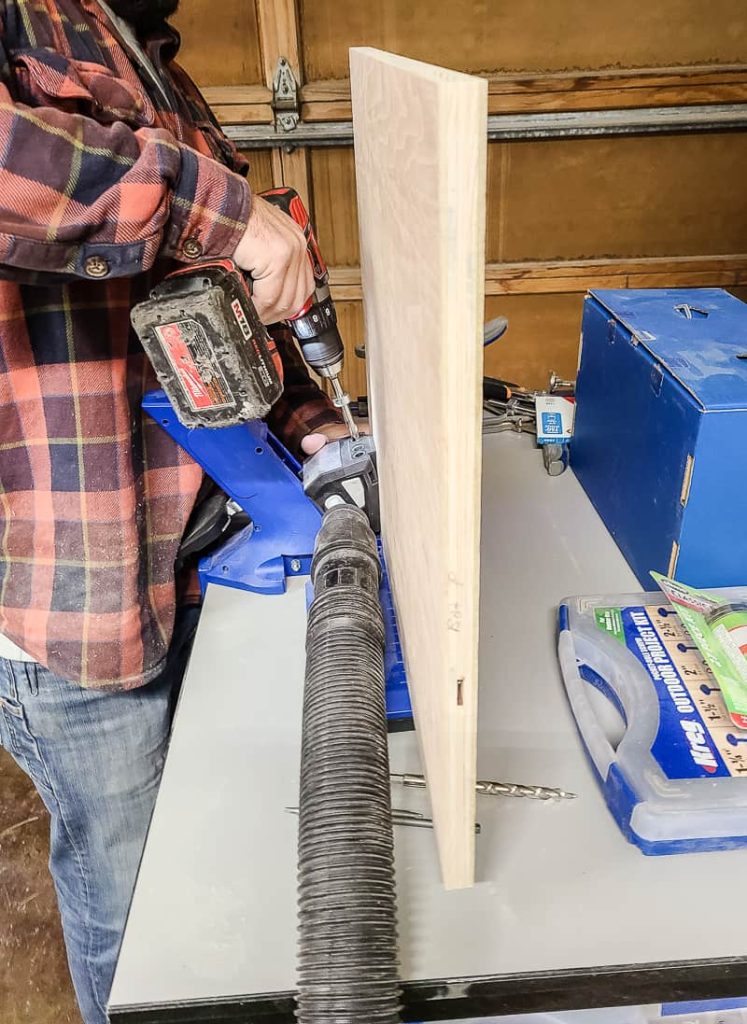 The new 720PRO (which we were using for this DIY cane headboard) and the 520PRO (which replaced the smaller K4 system) were improved a ton, the most noticeable change being that they are easier to set up and use – score.
My favorite new feature of 720PRO and 520PRO is the clamp that you don't have to adjust anymore. You should clamp it down and it automatically adjusts to match the thickness of your wood, so cool, right?
Pocket hole joinery is definitely one of the easiest ways to join wood in woodworking projects. It's our favorite hidden weapon for beginning woodworkers!
Want to learn more? I wrote a super detailed guide & created a video all about how to set up your Kreg 720PRO Pocket Hole and use it, so be sure to check that out too!
We teamed up with our friends Kreg again for these DIY bedside table plans and share them online for free, which are now available on KregTool.com!
Kreg Tool is chocked full of so many easy-to-follow FREE woodworking plans! I promise that you are going to find so much inspiration while you're there!
Related – Projects that use a pocket hole jig
DIY Boho Nightstand – Video Tutorial
If you love DIY videos, be sure to subscribe to our YouTube channel!
Ready to see how the beautiful bedside table plans turned out?
It's the perfect complement to the headboard! It fits in this room perfectly, don't you think?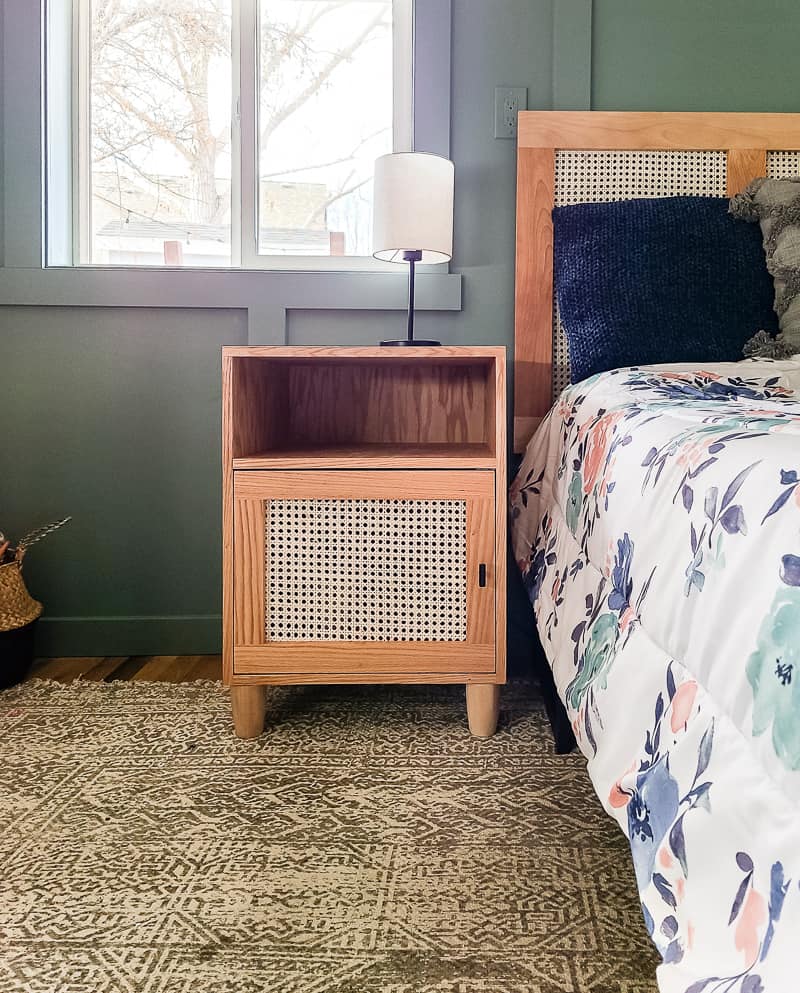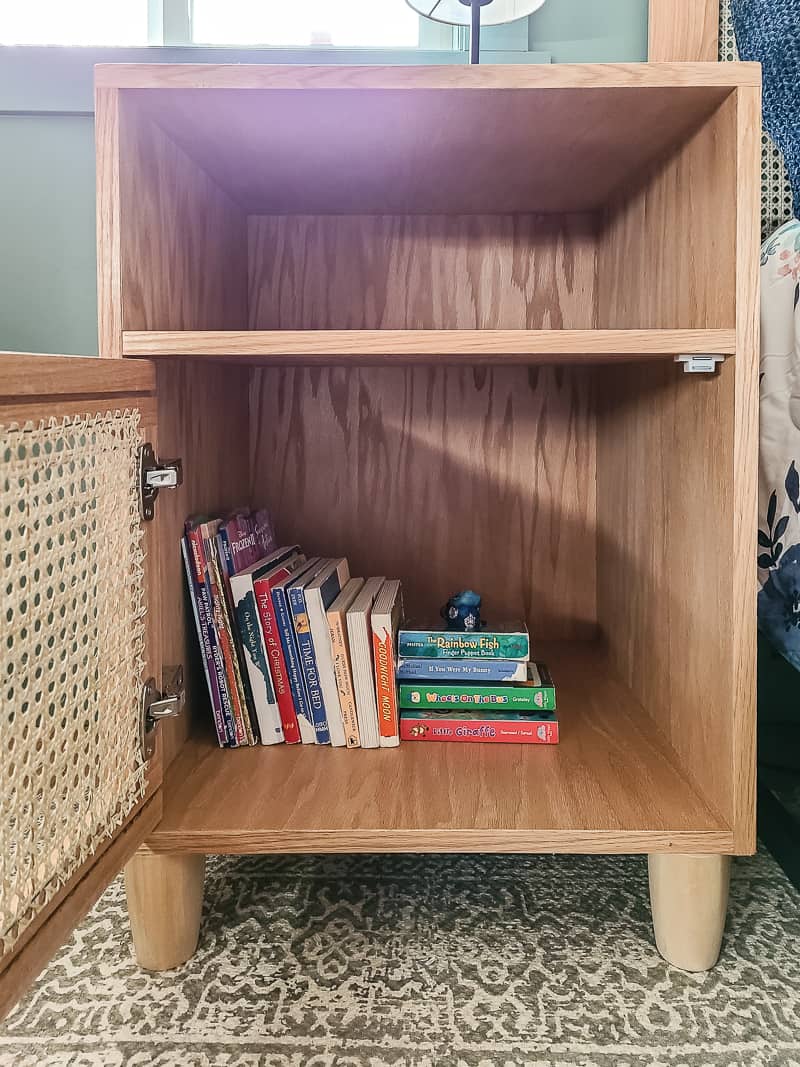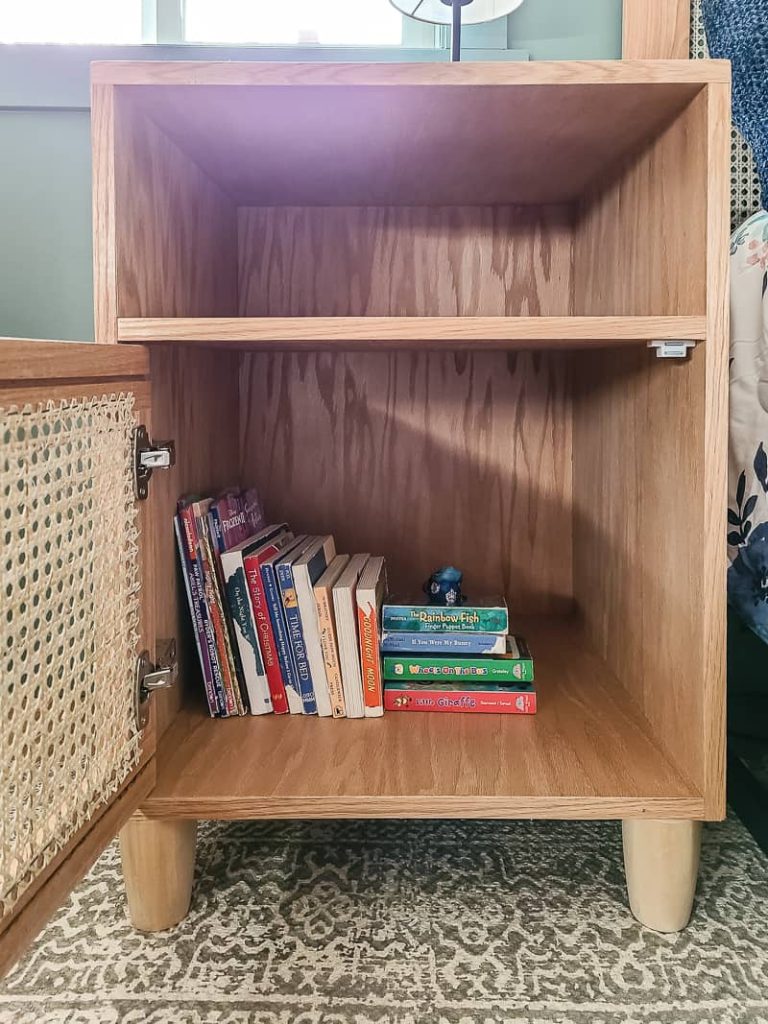 If you've done any research on cane furniture, you'll know that they are SOOOO expensive to buy from trendy retailers (like this one that is nearly $600 or this one that is almost $400). We were able to build this DIY bedside table on a budget.
DIY Bedside Table Plans Cost Breakdown
Note: these costs are, of course, subject to change and may be different in your region.
Wood Products Needed
¾" x 4' x 8' Sanded Oak Plywood (Qty 1) = $64.88
¾" x 2 ½" Red Oak – Approximately 4 linear feet @ $3.36 per foot = $13.44
Materials Needed
**Already on hand: 80 & 150 grit sandpaper, 3/4″ staples, finish nails, wood glue, wood filler, 1 1/4″ pocket hole screws, and all tools required, like the Kreg Pocket-Hole Jig 720Pro and Kreg Custom Pocket-Hole Plug Cutter**
Total Cost of DIY Cane Nightstand – $137.81
This easy-to-build DIY cane nightstand was SO fun to make! And the best part is that we're giving away the free woodworking plans so you can make it too! Woohoo!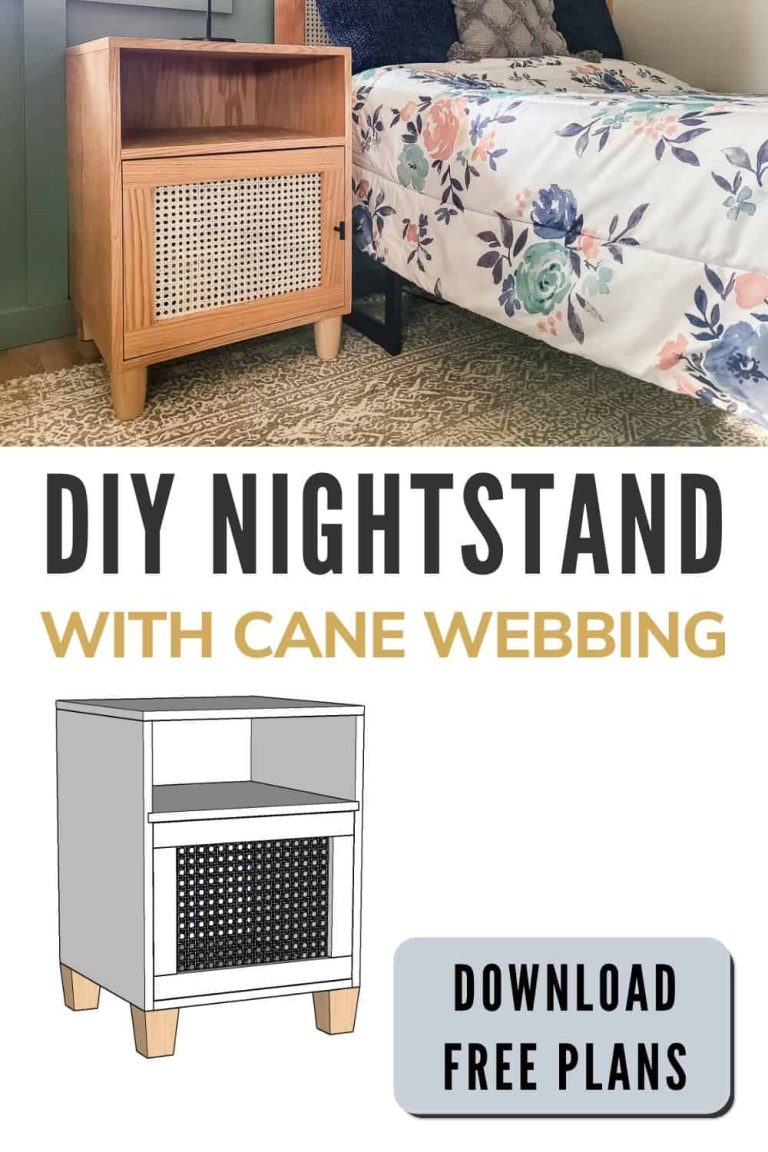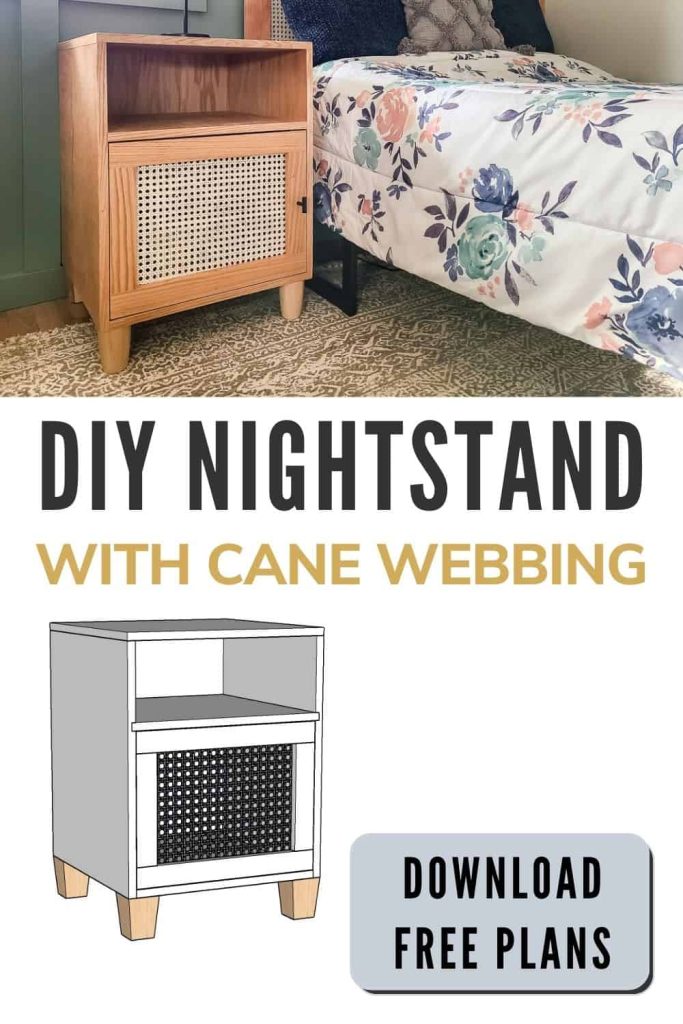 Are you going to snag the free bedside table plans?
Let us know in the comments below!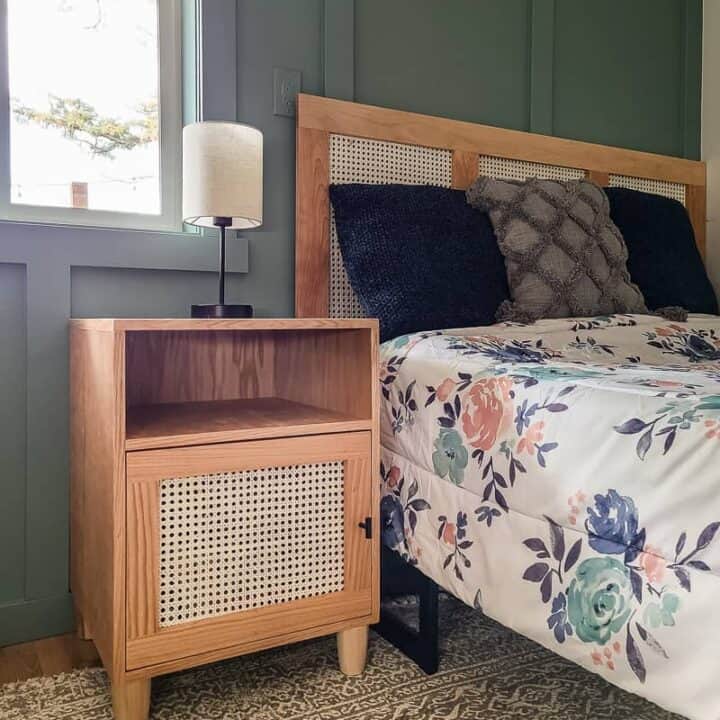 Easy DIY Bedside Table
Want a trendy cane boho nightstand, but don't want to pay the big price? Build it yourself with these easy to follow plans and video tutorial.
Materials
¾" x 4' x 8' Sanded Oak Plywood (Qty 1)
¾" x 2 ½" Red Oak – Approximately 4 linear feet
80 & 150 grit sandpaper
3/4″ staples
finish nails
wood glue
wood filler
1 1/4″ pocket hole screws
Tools
Kreg Pocket-Hole Jig 720Pro
Kreg Custom Pocket-Hole Plug Cutter
Miter Saw
Table Saw
Tape Measure
Drill
Orbital Sander
Rubber Mallet
Utility Knife
Sanding Block
Finish Nailer
Hammer
Iron
Pneumatic Staple Gun
Instructions
Cut your wood according to the plans.
Drill your pocket holes using a pocket hole jig.
Assemble the outside perimeter of the cabinet.
Using wood glue add the shelf to the inside of the cabinet.
Use the custom pocket hole plug cutter to droll out plugs and add to the pocket holes with wood glue.
Apply wood glue and screw legs into place.
Apply edge banding to exposed plywood edges.
Assemble the door then sand everything smooth and seal or paint.
Soak cane webbing in water for up to 4 hours, then cut to size for your door frame. Attach using a staple gun.
Attach hinges and hang the cabinet door. Add door hardware and you're done!