Looking to add some meaningful items to your Christmas decor this year? Make this DIY wood nativity scene to celebrate the reason for the season!
Thank you to DAP for sponsoring this guide on how to make a DIY wood nativity scene! All opinions are entirely my own. This post also contains affiliate links, but nothing that I wouldn't recommend wholeheartedly. Read my full disclosure here.
I've been wanting to add a nativity scene to our Christmas decorations for years, but I never quite loved the ones I found for sale. So this year I decided to DIY it and make it exactly the way I wanted!
We're using small wood blocks and project boards, which are very easy to find at the home improvement store. But if you have a big scrap wood pile, you may be able to find just what you need in scraps of wood.
Along with some raiding in my craft supplies for paint, ribbon, and fabric – this DIY wood nativity scene came together and turned out great!
Whether you're a seasoned woodworker or just getting started, this DIY project is perfect for adding a touch of handmade warmth to your festive decor. Follow along with our step-by-step tutorial to build your own DIY wood nativity scene!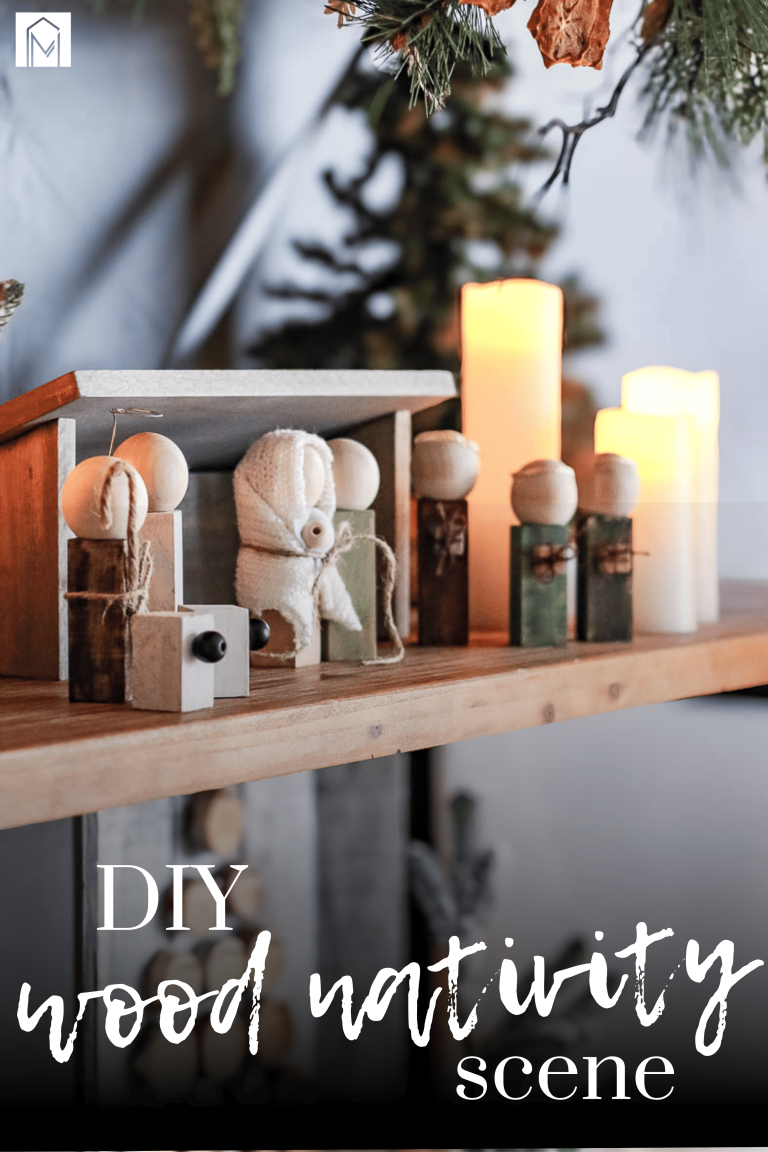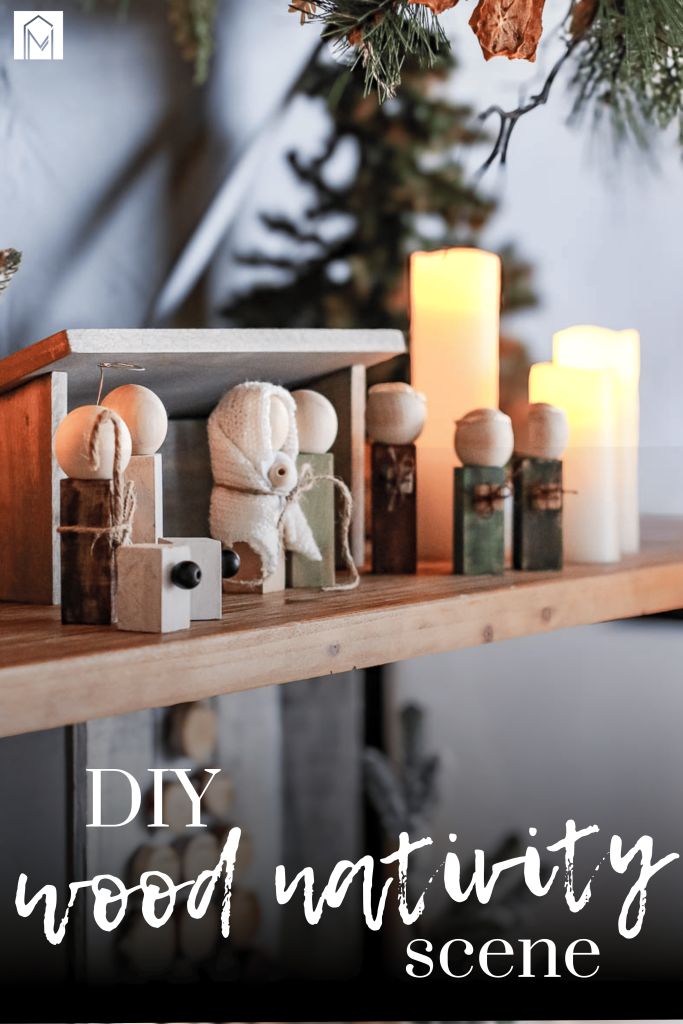 DIY Wooden Nativity Set – Video Tutorial
If you love DIY videos, be sure to subscribe to our YouTube channel!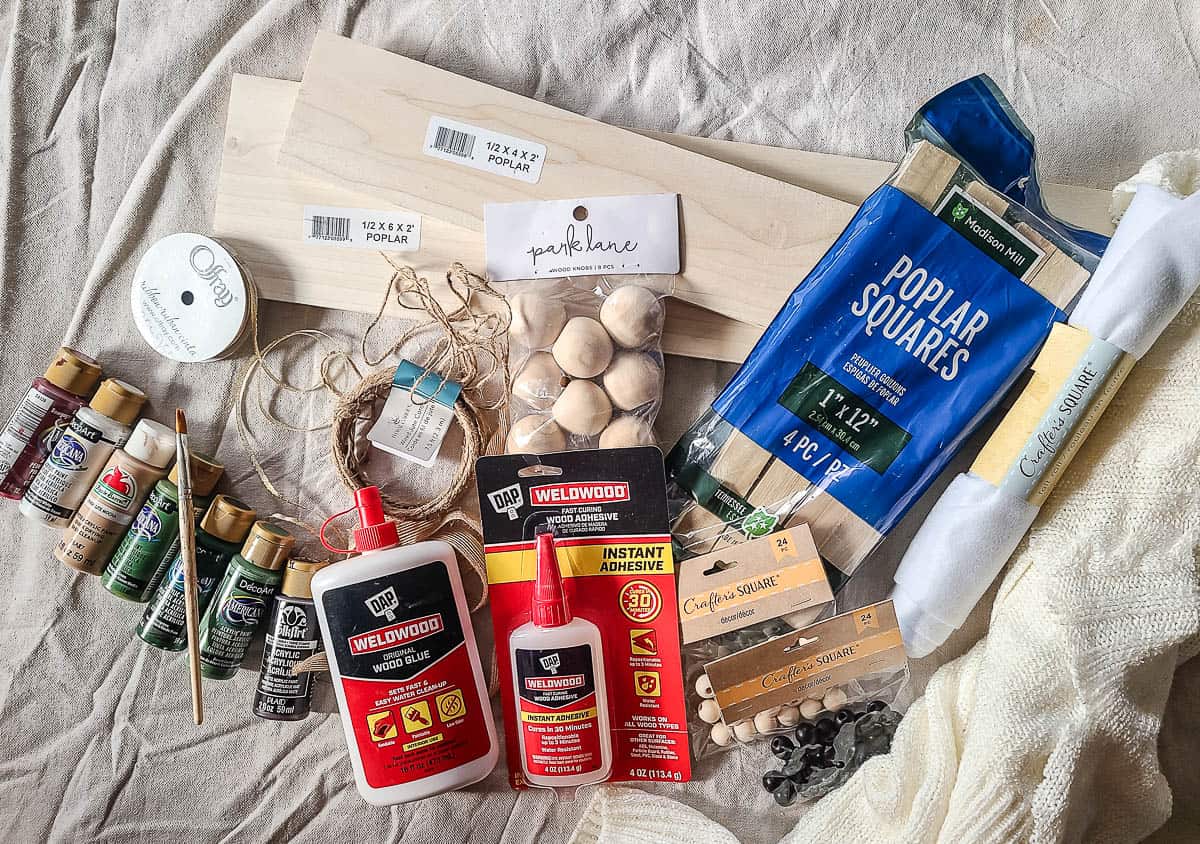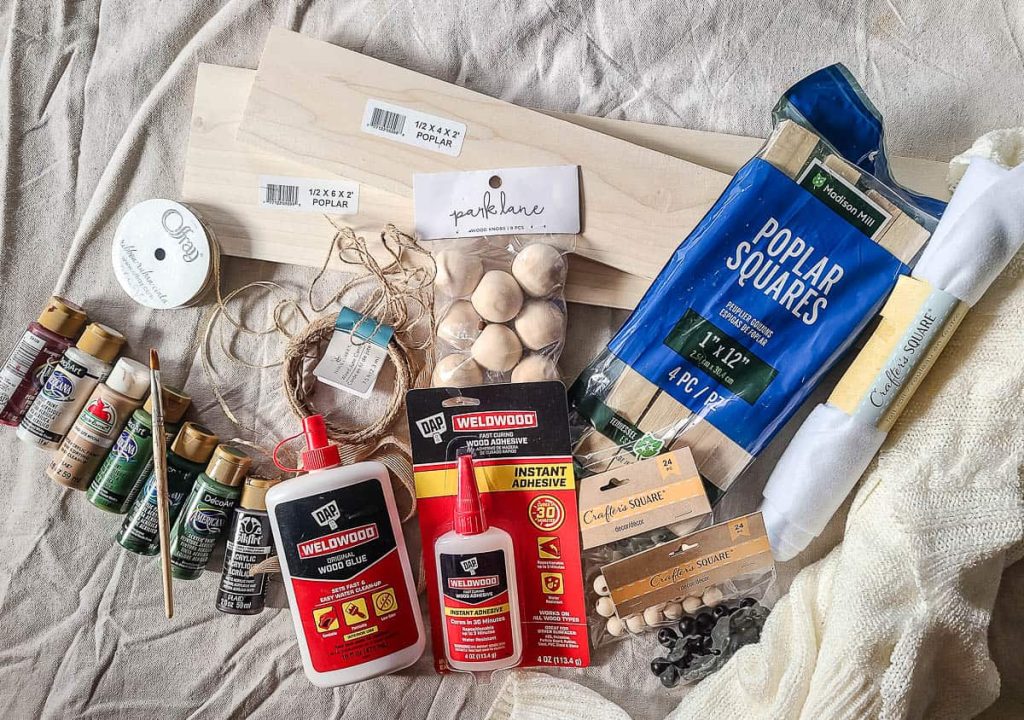 Supplies for DIY wood nativity scene:
1″ x 1″ poplar wood pieces – about 3 linear feet
1/2″ trim / square dowel
1 1/2″ brad nails
Craft paint in various shades
Fabric scraps
Thin brown twine
Wood stain – I used this
Bar clamps
Miter saw
Tape measure
Paintbrush
Scissors
Brad nail gun
Step 1. Cut wood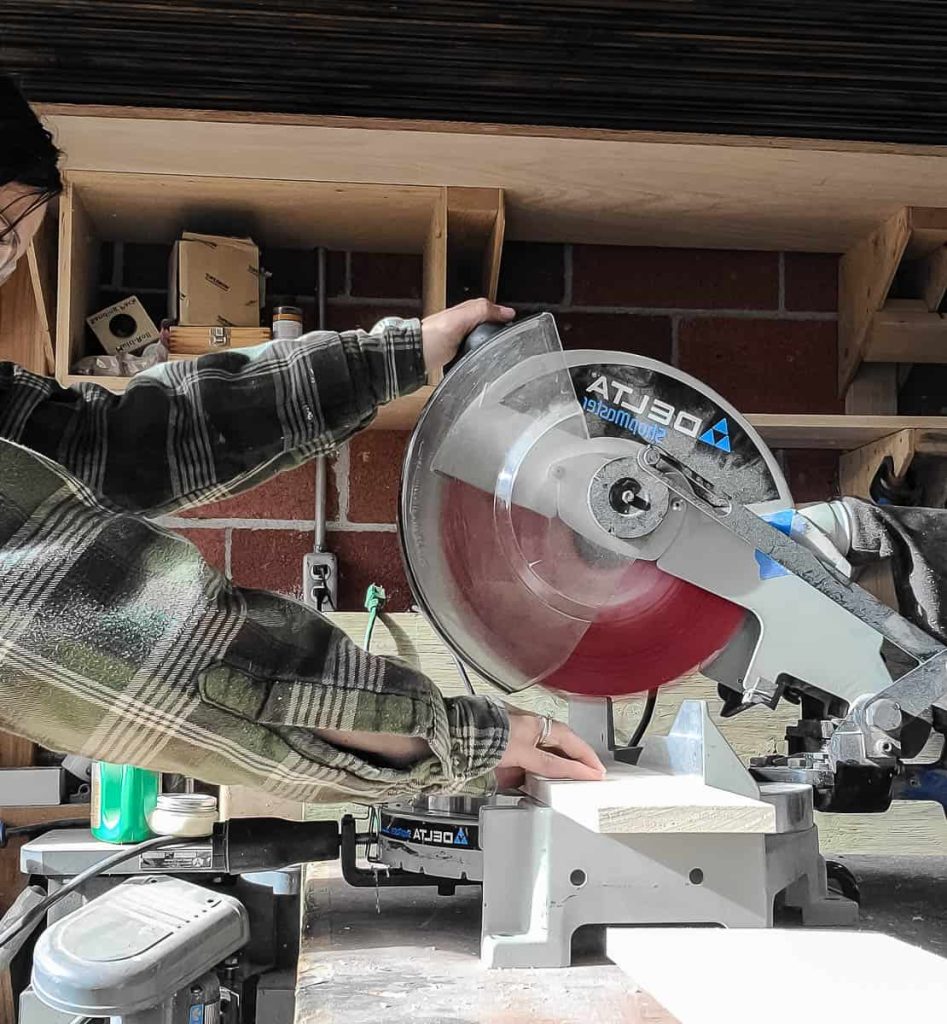 Start by cutting the wood down to size with a miter saw with the dimensions as shown.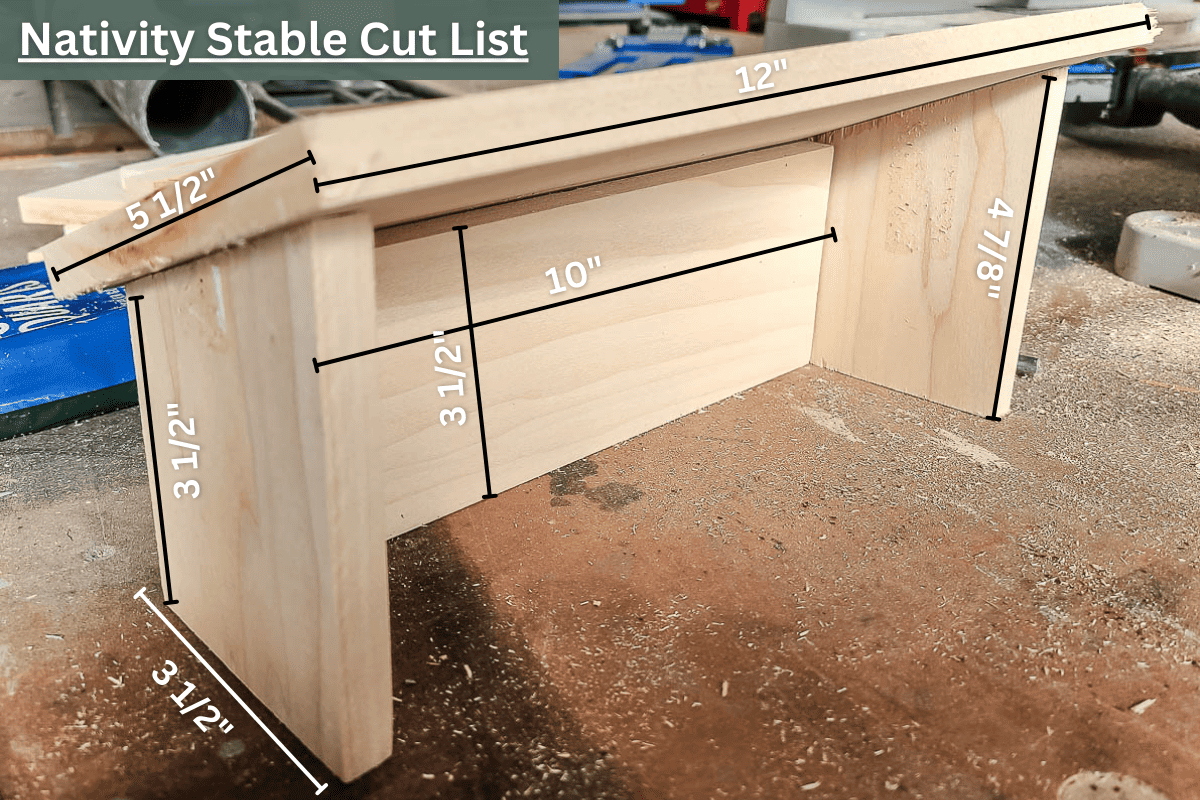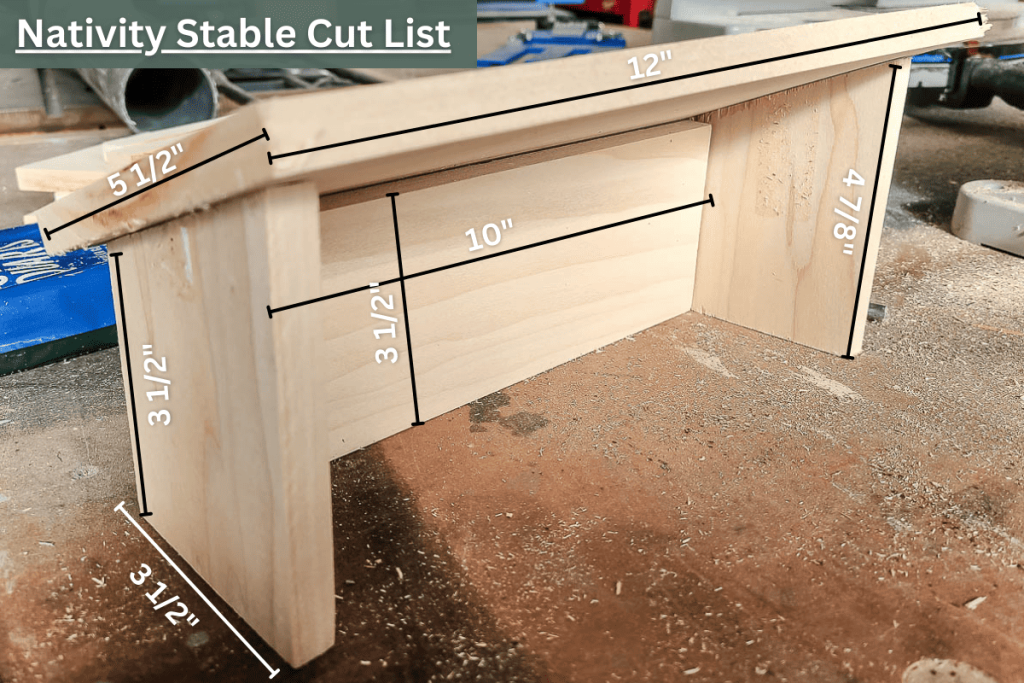 Wood stable cut list
Back (from the 4″ poplar piece) – 1/2″ x 3.5″ x 10″ – Qty 1
Sides (from the 4″ poplar piece) – 1/2″ x 3.5″ with 20-degree angle on one side (3 1/2″ on the short side, 4 7/8″ on the long side) – Qty 2
Top (from the 6″ poplar piece) – 1/2″ x 5.5″ x 12″ – Qty 1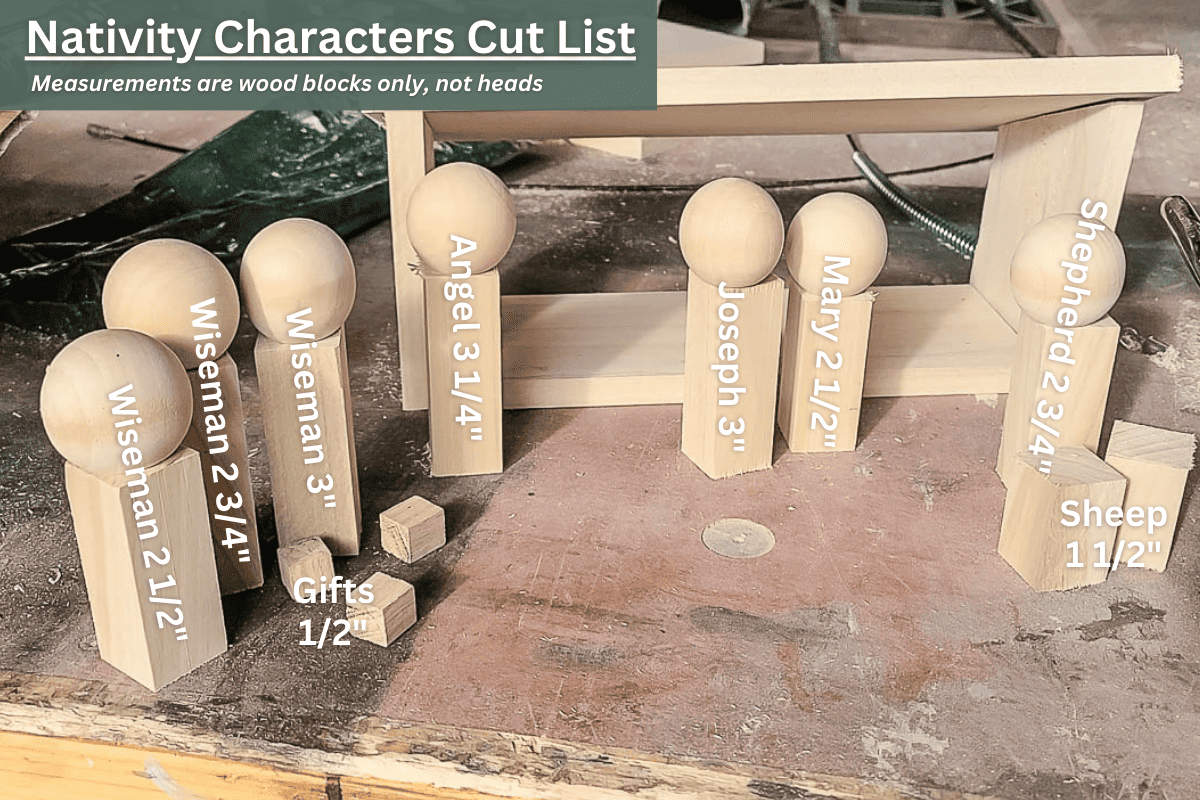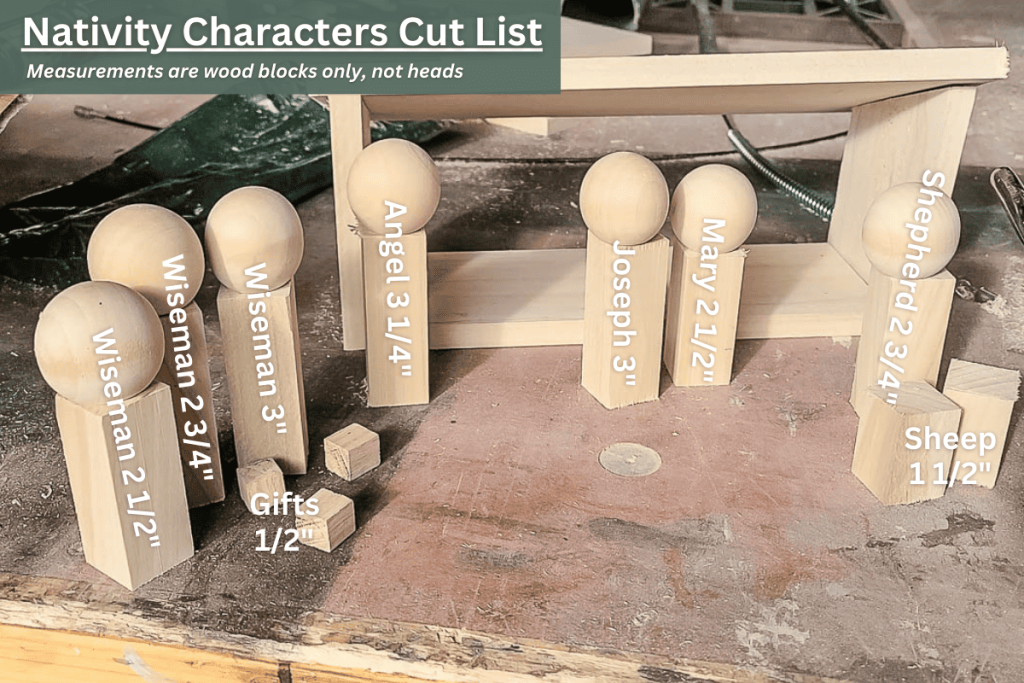 Nativity characters cut list
All are cut from 1×1 poplar square pieces. These don't necessarily need to be exact measurements. They are all between 2.5″ and 3″.
Mary – 2 1/2″
Joseph -3″
Wise men – 2 1/2″, 2 3/4″ and 3″
Angel – 3 1/4″
Shepherd – 2 1/2″
Sheep – 1 1/2″
The three small gifts for the wise men were cut from a 1/2″ square dowel in 1/2″ increments.
Step 2. Sand wood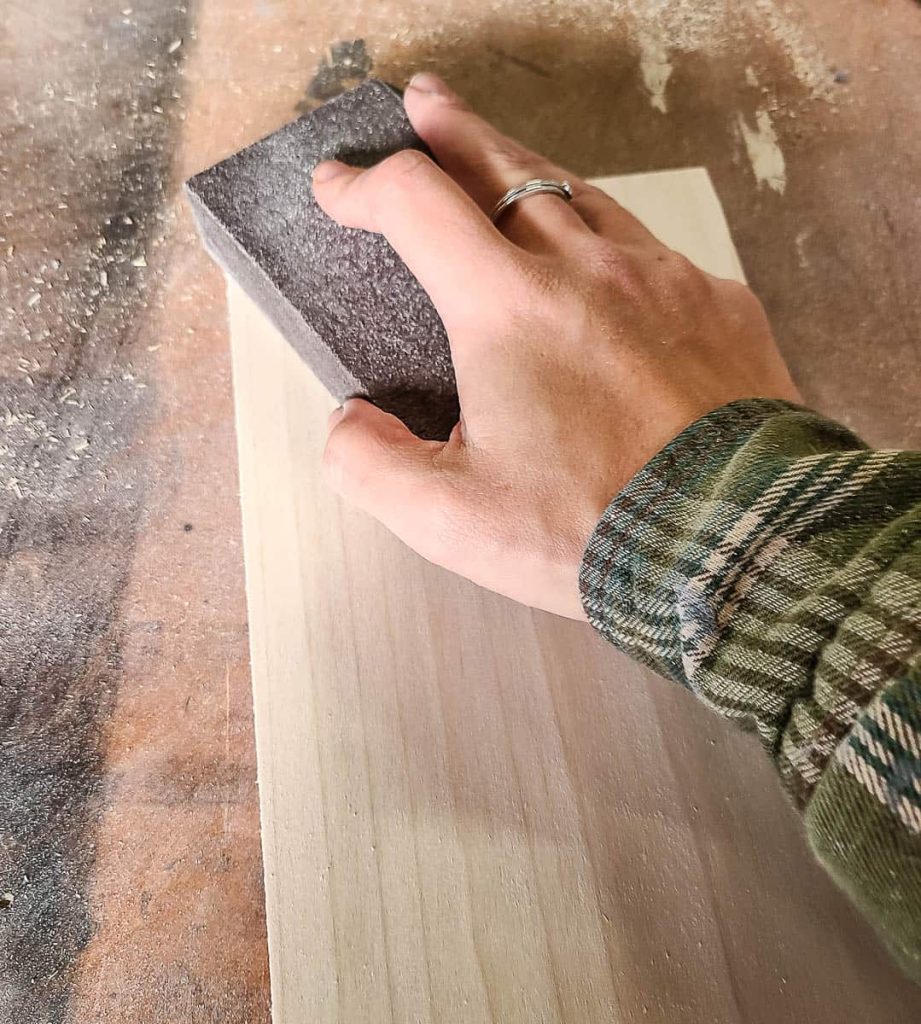 Since the pieces are so small, I would not recommend using an orbital sander, like we normally do for woodworking projects. Instead, they can be lightly sanded with a sanding block. There's no need to get perfect, just sand off any rough corners or chips from cutting.
Wipe away all sanding dust when finished.
Step 3. Stain wood for stable
Next, apply the wood stain of your choice. We went with a gray stain color that works well with the neutral look of our wooden nativity scene. Let the stain dry before moving on.
Step 4. Paint small pieces of wood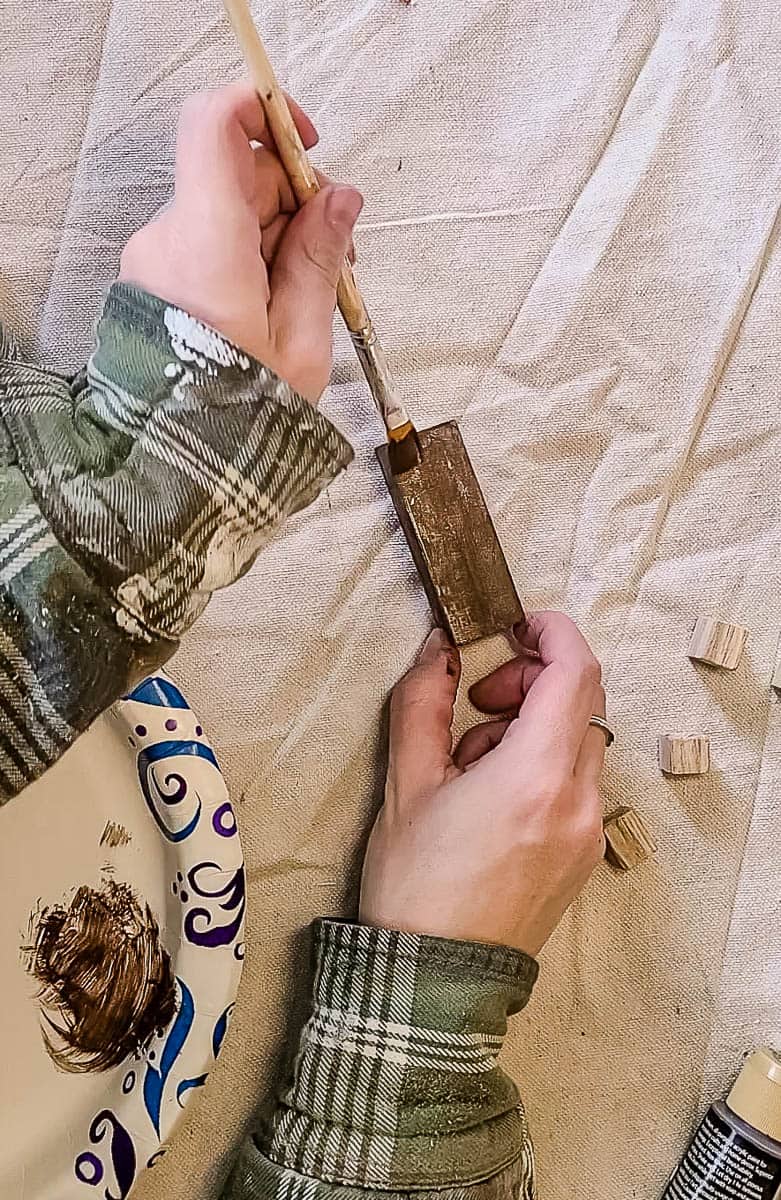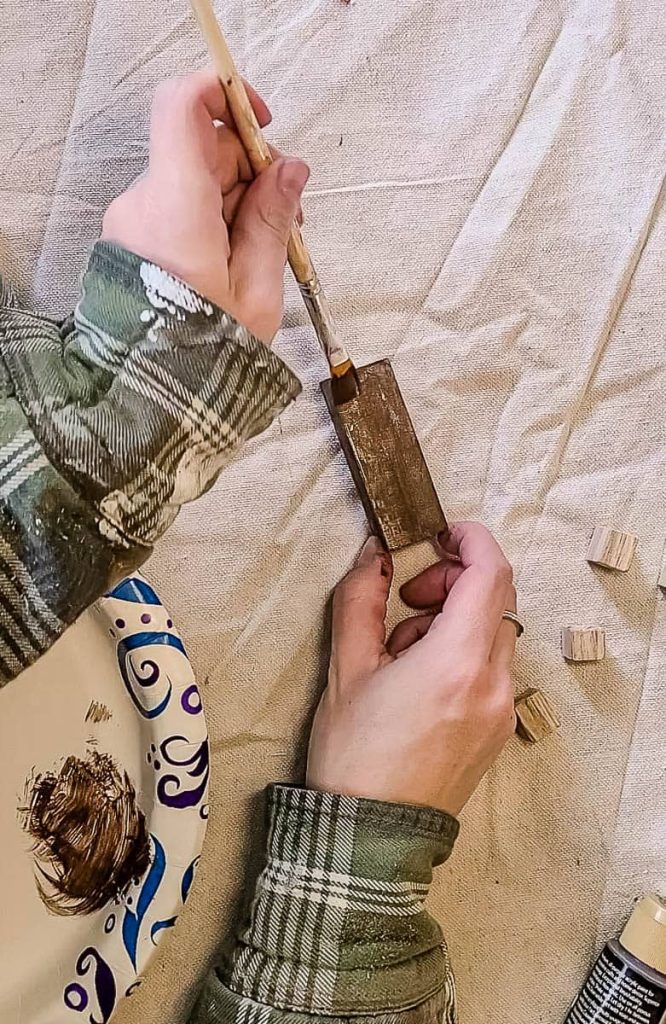 While the stain is drying, you can move on to painting the small wood blocks for the nativity scene.
I used acrylic craft paint that I had on hand in my craft supplies, but feel free to customize the colors for your own wood nativity scene.
A dry brush technique works well to give the wooden nativity set a rustic look. Simply wipe off excess paint from the brush onto a paper towel before roughly brushing it onto the wood pieces. Don't worry about completely covering each piece of wood with paint, but, instead, leave some of the wood exposed.
Step 5. Attach knobs for heads of nativity characters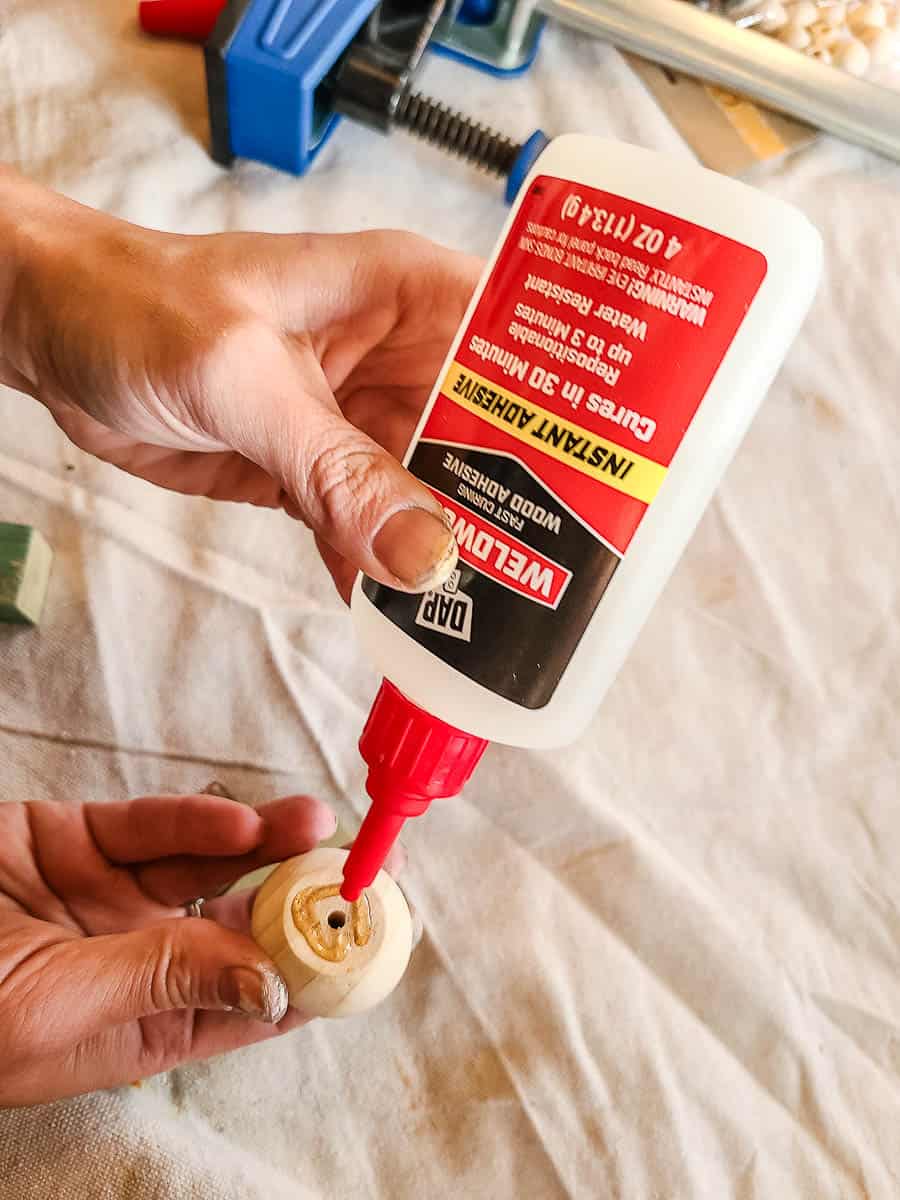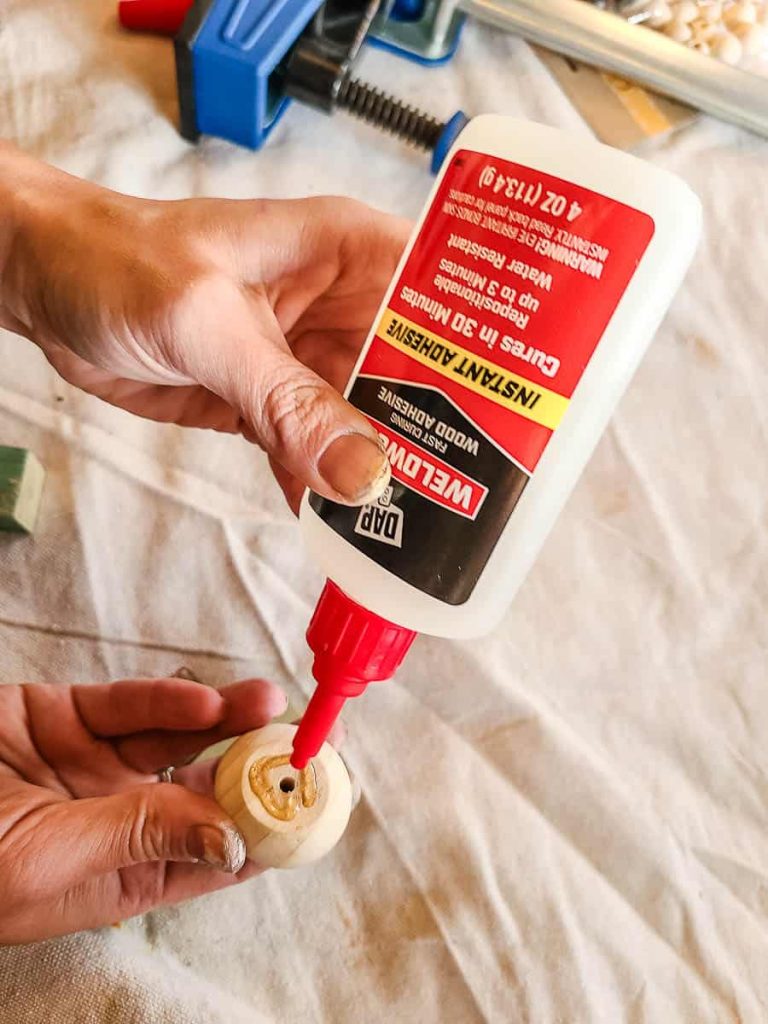 Apply a small amount of DAP Weldwood Instant Wood Adhesive to the bottom of the wood knobs and press into place, making sure it is centered. The glue will be repositionable for up to 3 minutes, so feel free to shift it around until you're happy.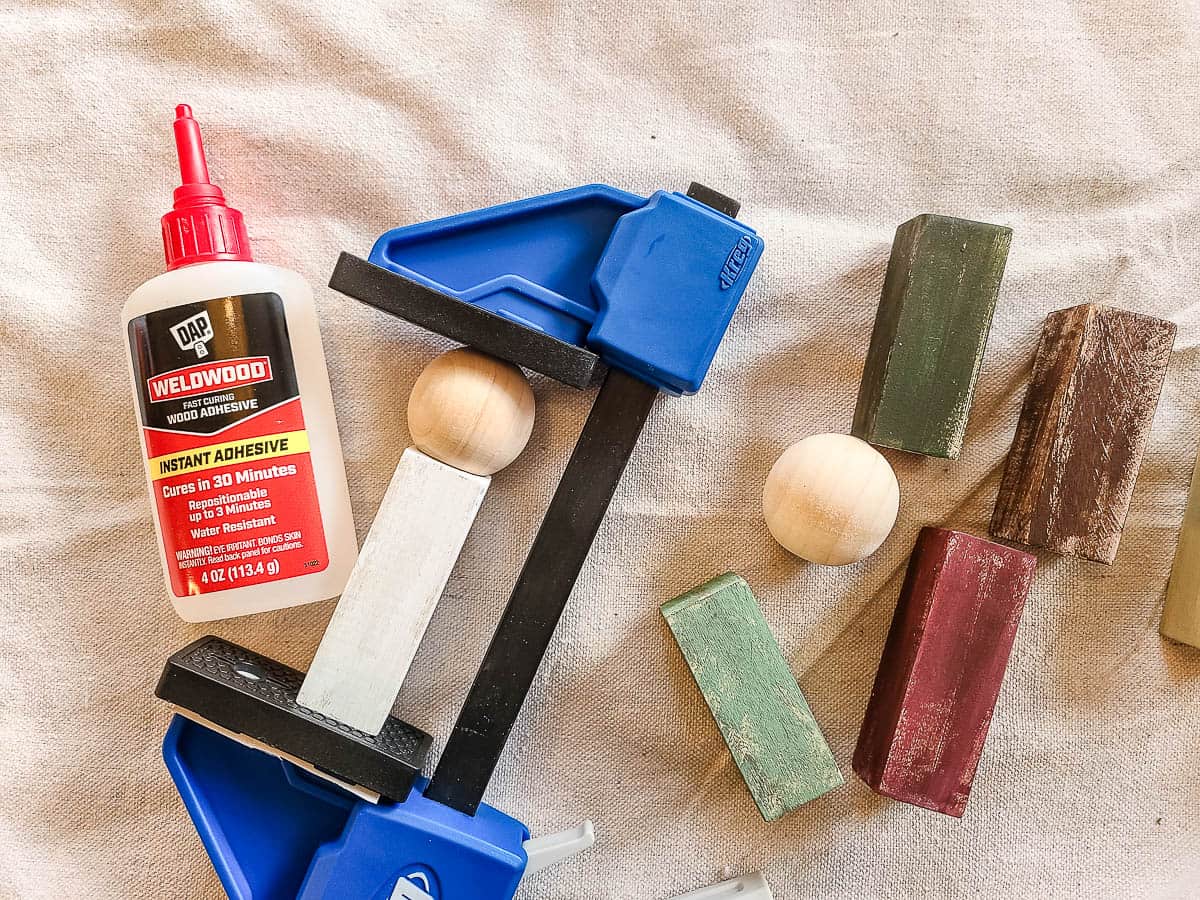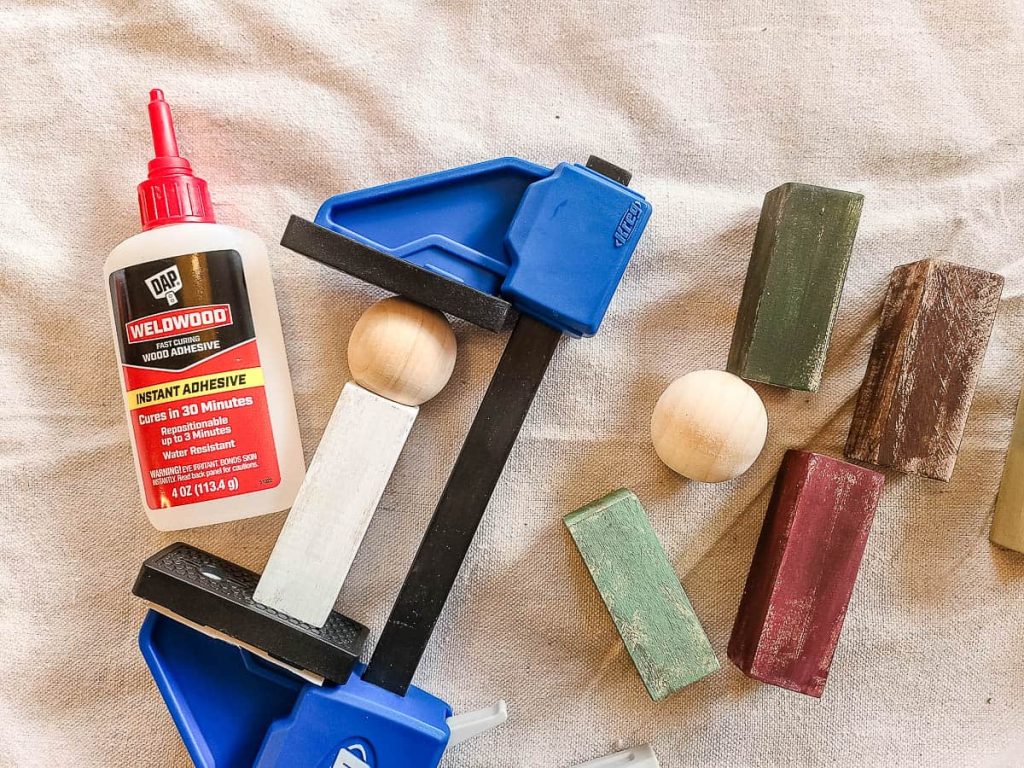 Then place it into a bar clamp and tighten. Set aside and let it dry for 30 minutes.
Step 6. Decorate Mary and add baby Jesus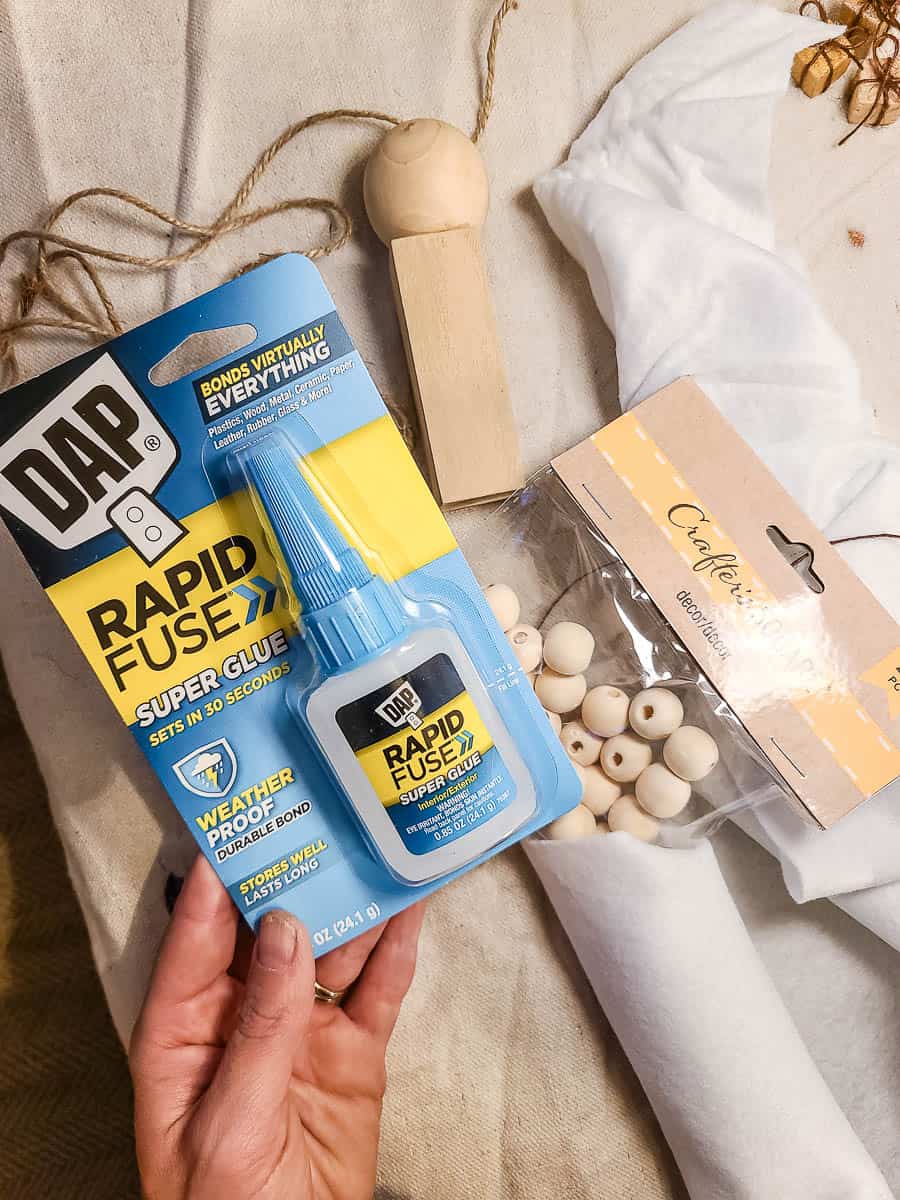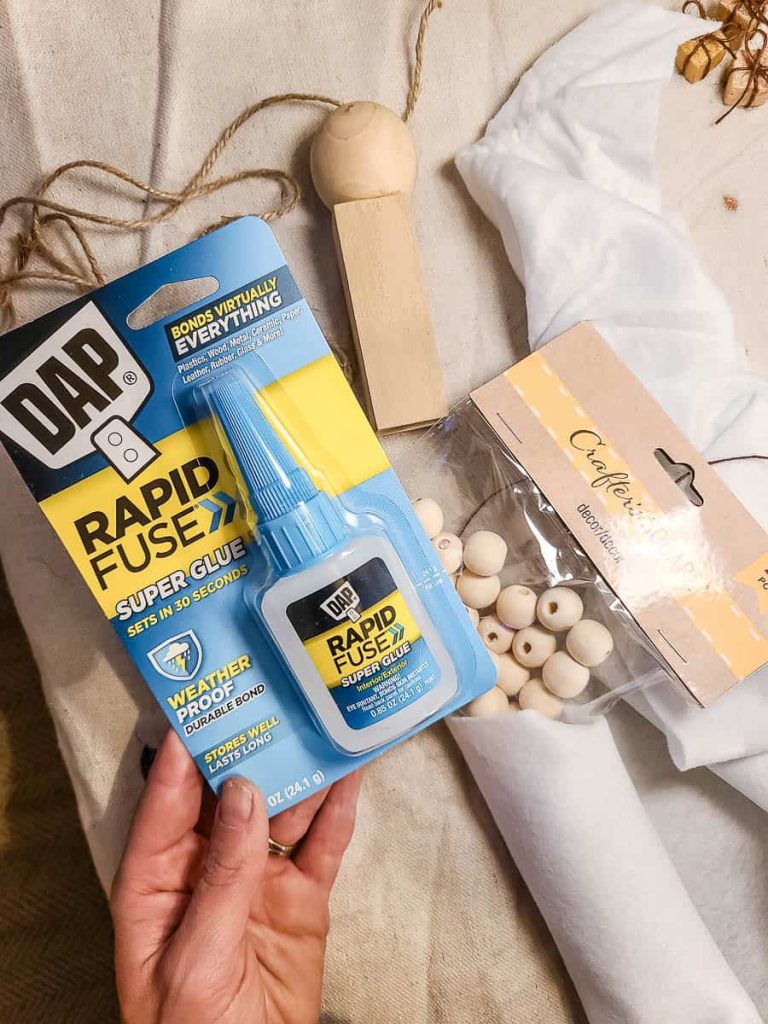 For Mary, I used scrap sweater material that I had on hand. Cut it into a small square and secure it around her face and shoulders with DAP RapidFuse Super Glue.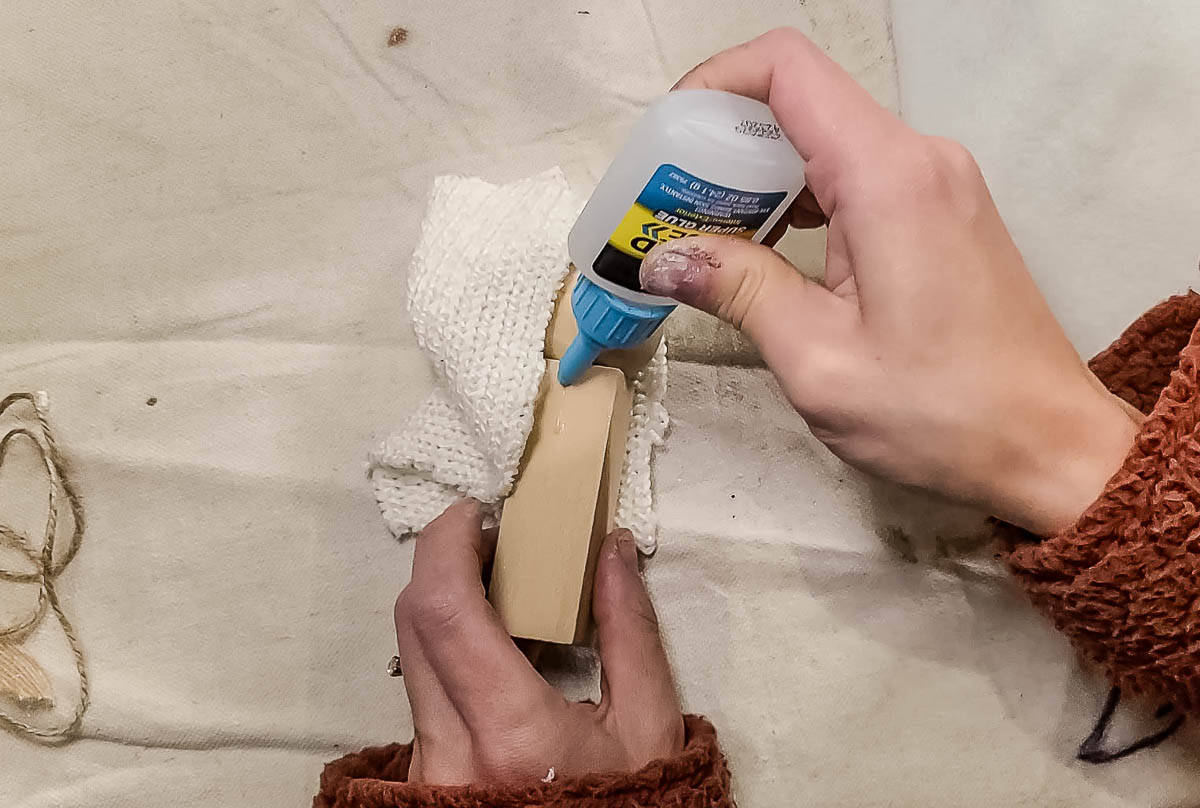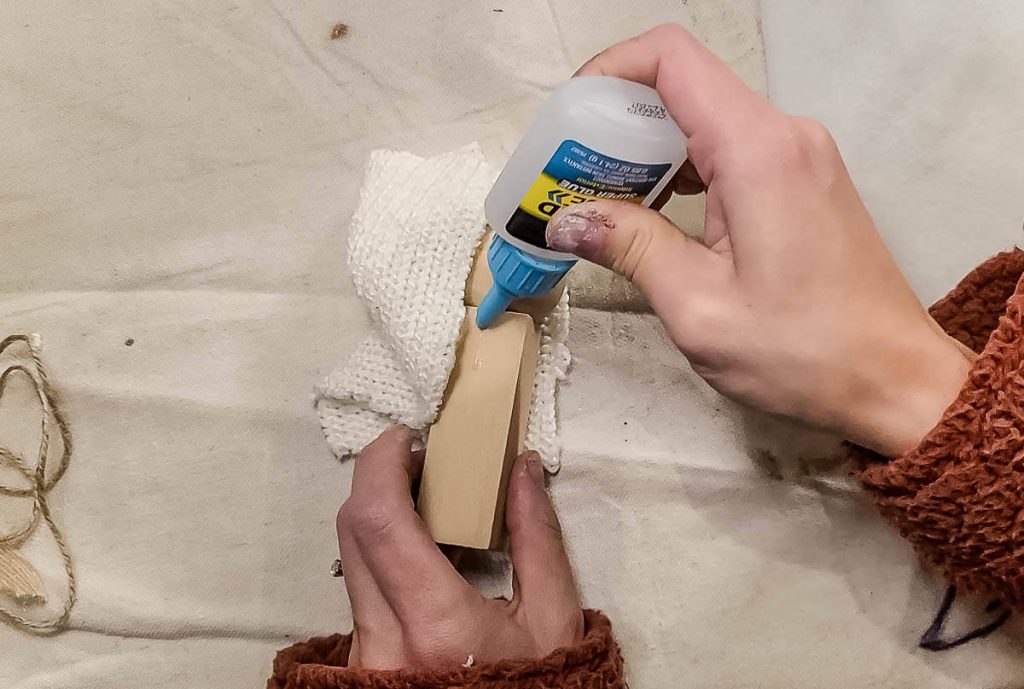 This glue is a great alternative to a hot glue gun and sets in just 30 seconds on virtually any surface.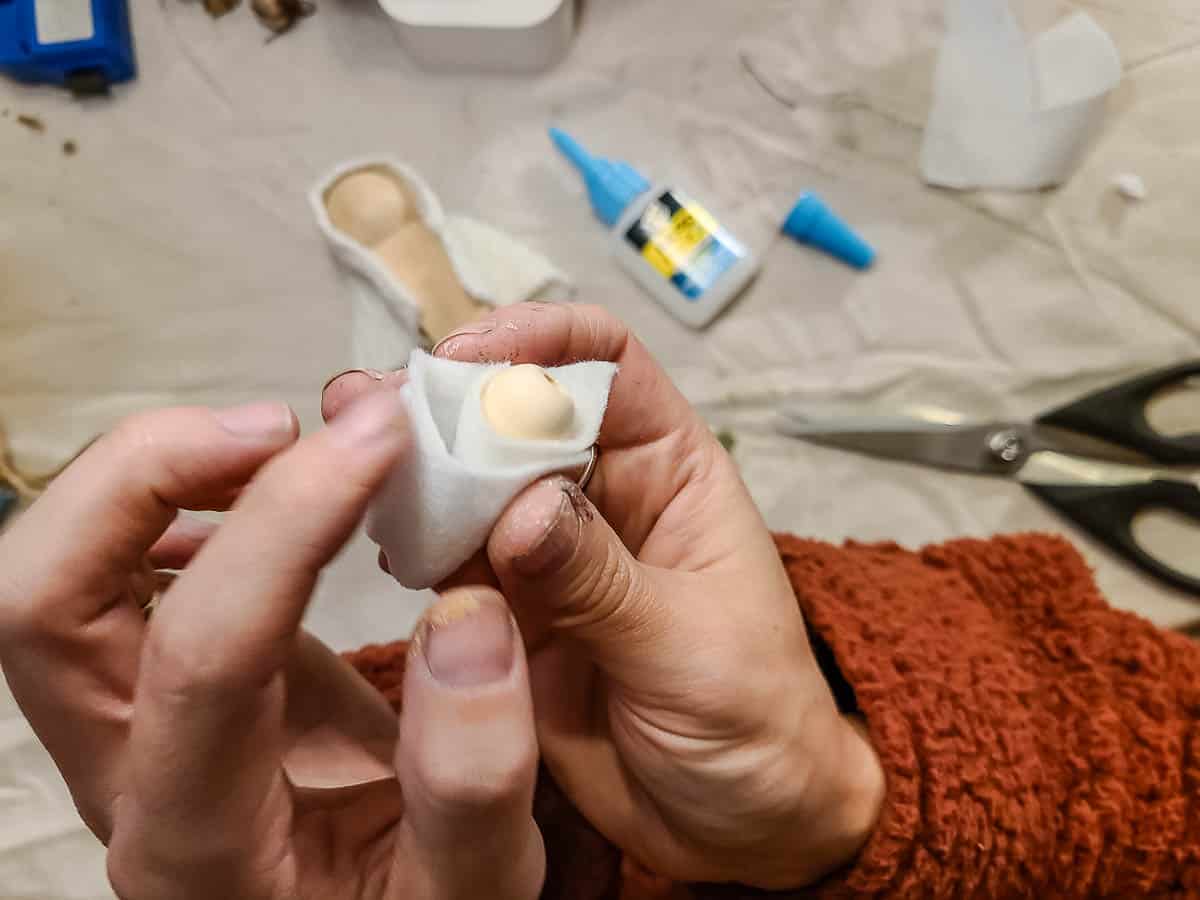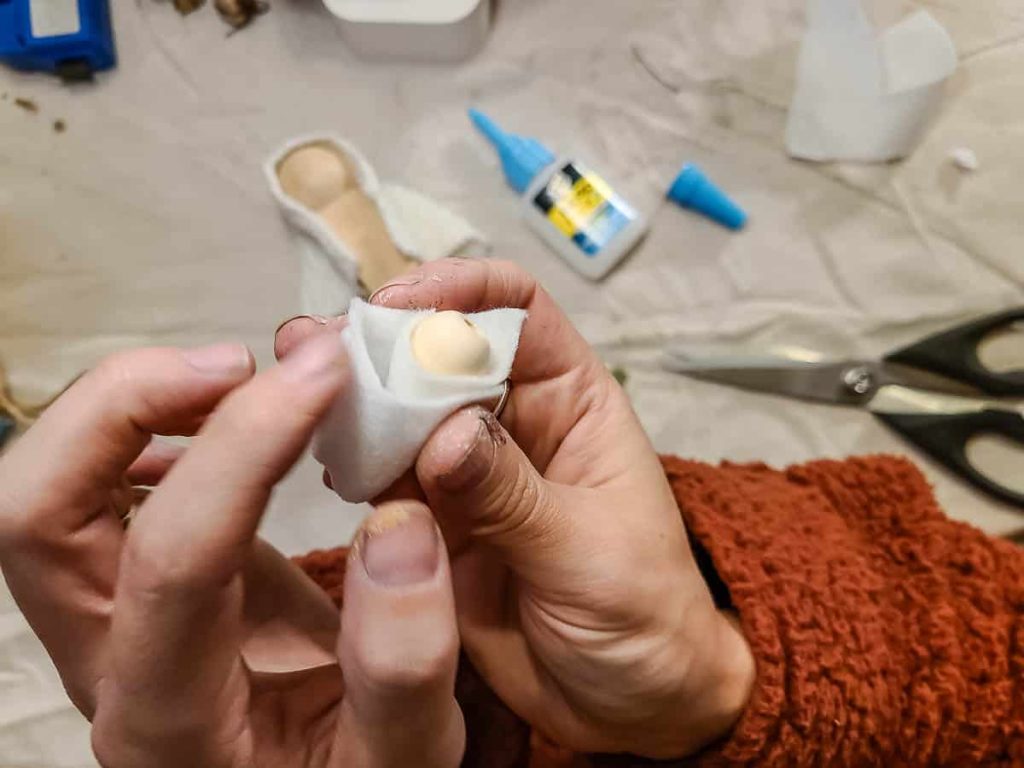 For Baby Jesus, cut a small white felt square and secured a small wood bead inside. Wrap the felt like a baby blanket and attach it together with RapidFuse.
Position the little baby Jesus into a spot that looks like Mary is holding hold and wrap jute twine around the whole thing and tie a bow. This gives the illusion that Mary is holding baby Jesus in her arms, which I love.
Step 7. Decorate wise men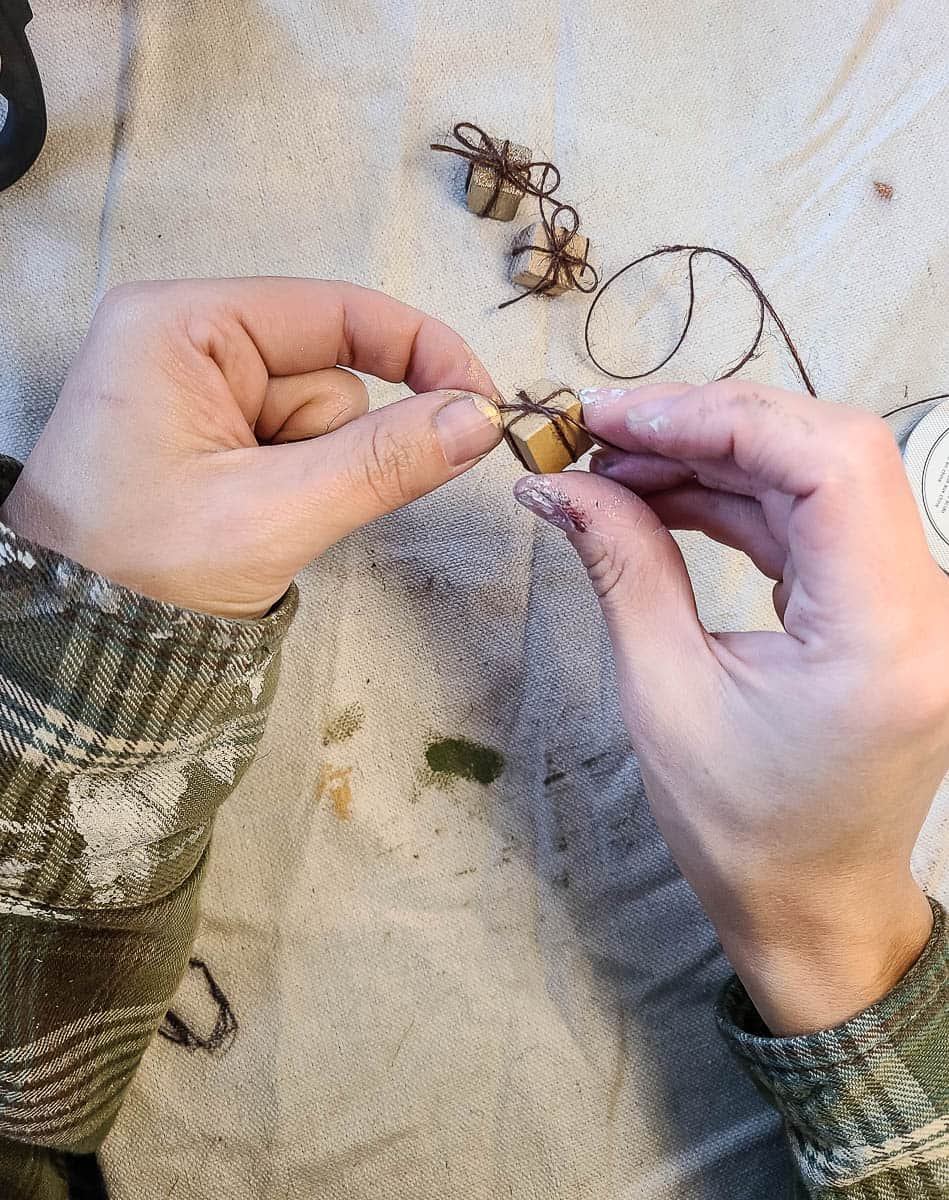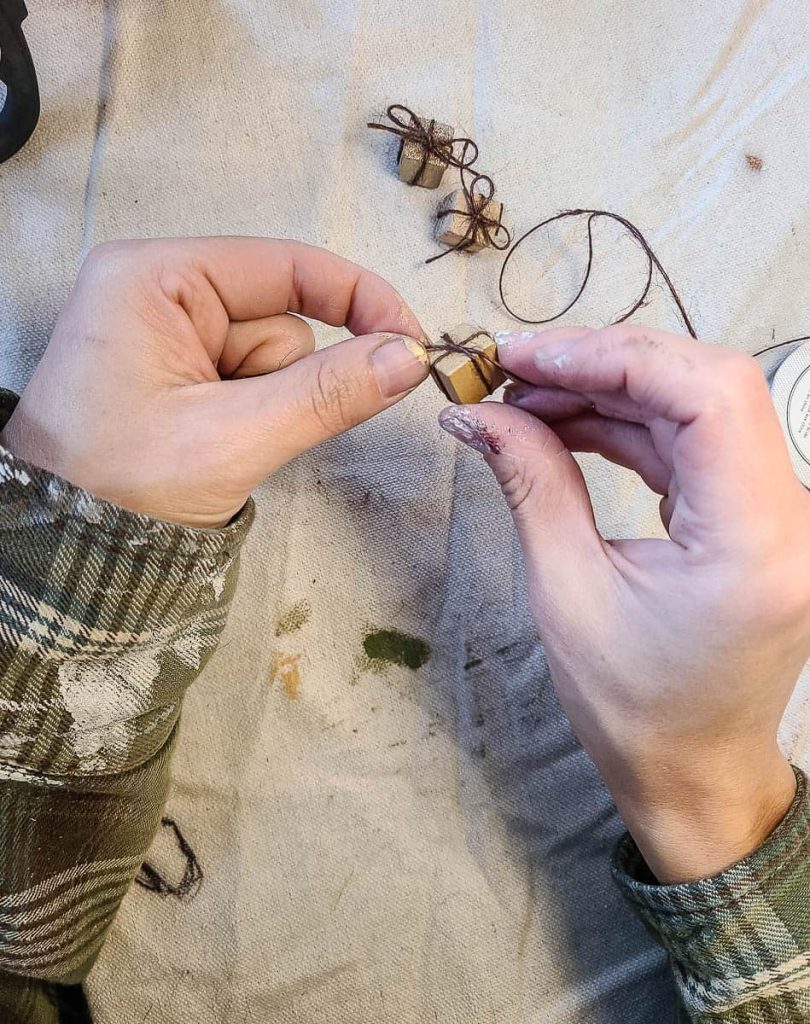 For the wise men, you'll want to start by getting their small gifts prepared. We painted these small wooden squares with various shades of shimmering gold and tan to represent gold, frankincense, and myrrh.
Wrap each of the individual pieces with small twine and add a bow to the top, just like you would a present.
Add DAP Weldwood Instant Wood Adhesive to the bottom of each gift and press into place on the front of the wise men.
Put each little guy into the bar clamp sidewise and clamp into place. Let it dry for 30 minutes.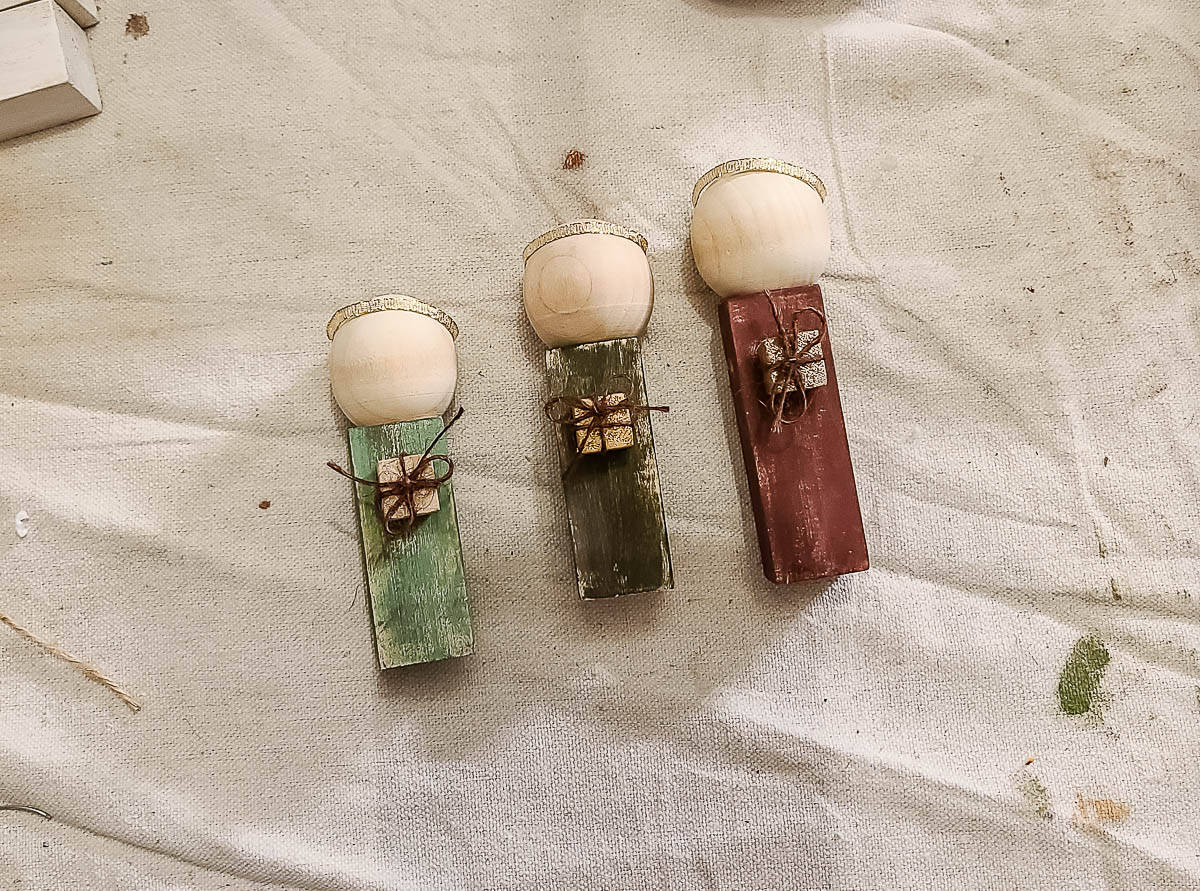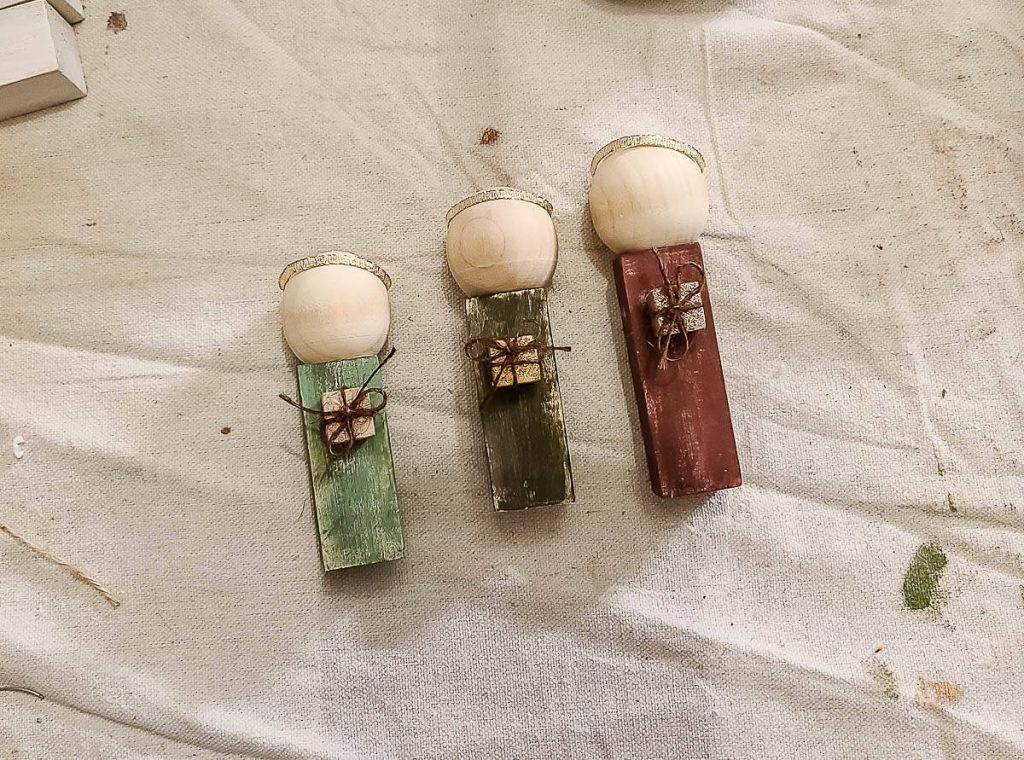 Once dry, add a small piece of gold ribbon to the top of the head to represent a crown. Secure in the back with a small dot of RapidFuse.
Step 8. Decorate shepherd
For the shepherd, you've gotta have a shepherd's hook, right? The wired jute twine from the Dollar Store is perfect for this. Simply cut off a small amount and bend the top like a hook.
Secure it in place as if the shepherd is holding it and tie it with a small piece of twine with a bow on the front.
Step 9. Decorate angel
The wired jute twine also comes in handy on the angel for the wings. Use the wired twine arranged in a figure-8 shape and secure it with RapidFuse. I clamped it into place and set it aside for 30 minutes, just to be safe.
For the halo on the angel, I used the inner wire from the same Dollar Store wired twine and just pulled the twine off.
After bending the wire into a halo shape with a piece going down to secure it, I had a hard time figuring out how to attach it to the back of the angel.
That's when my 5-year-old came over and the first thing she said was "Just tape it there, Mom"… Genius. Sometimes it can be so simple!
Just use a small piece of tape to secure the wire into place on the back of the angel.
Step 10. Assemble stable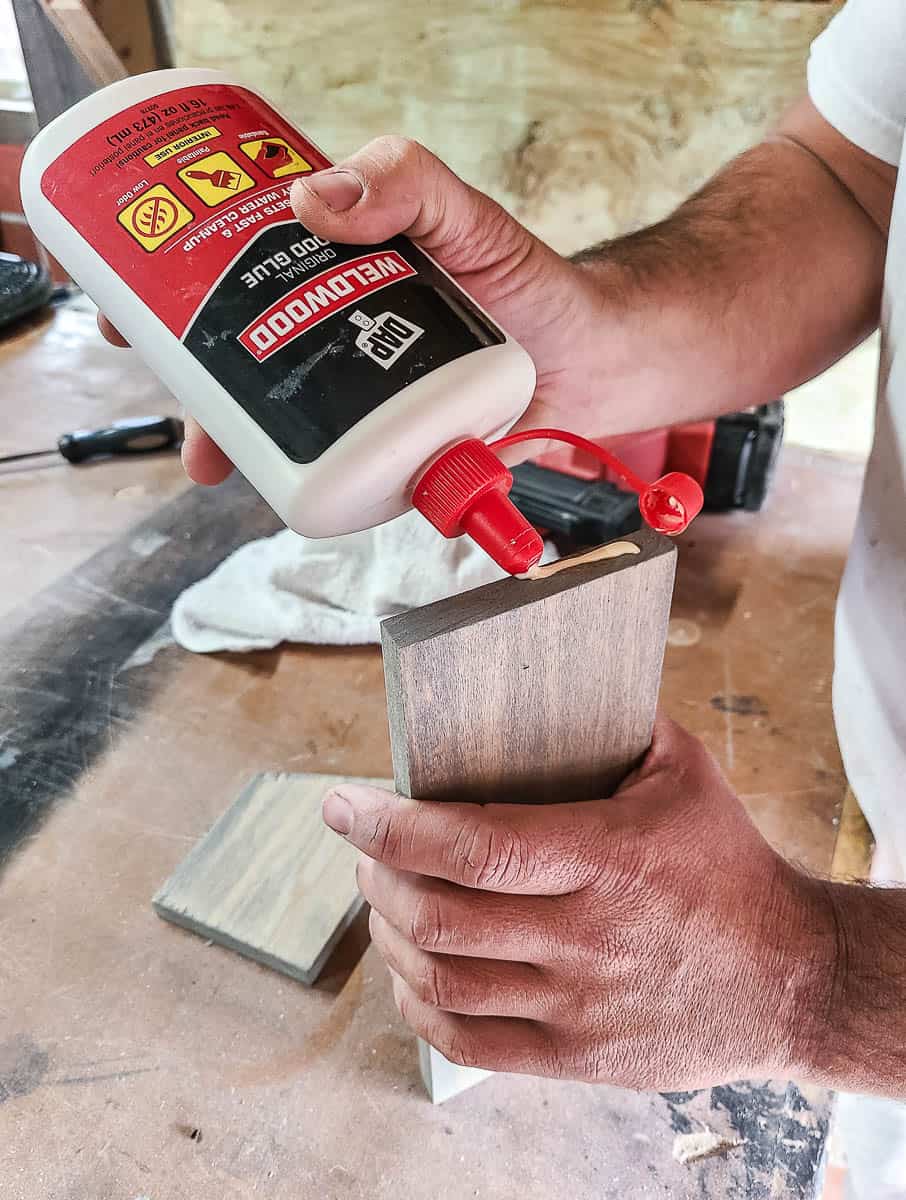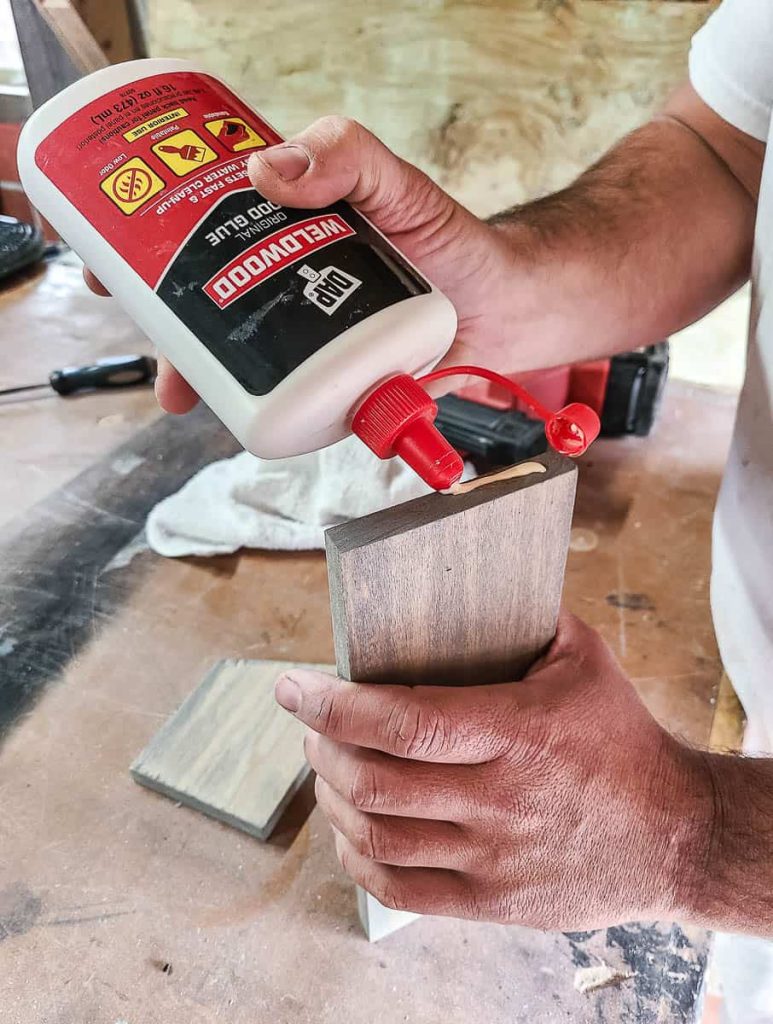 Add a small amount of DAP Weldwood Wood Glue to the joints and secure with a brad nailer and 1 1/2″ nails. Be sure not to use a lot of glue because it will squeeze out of the edges when you attach it.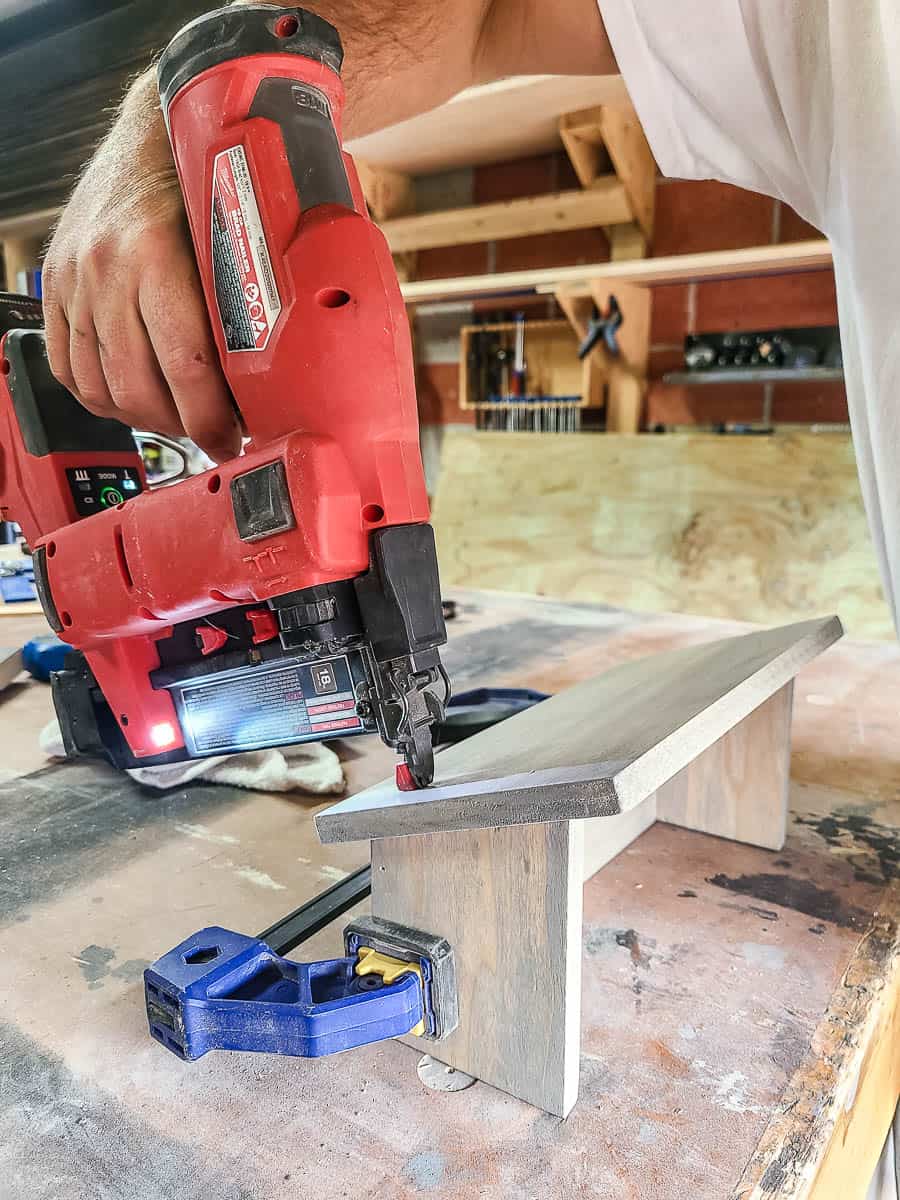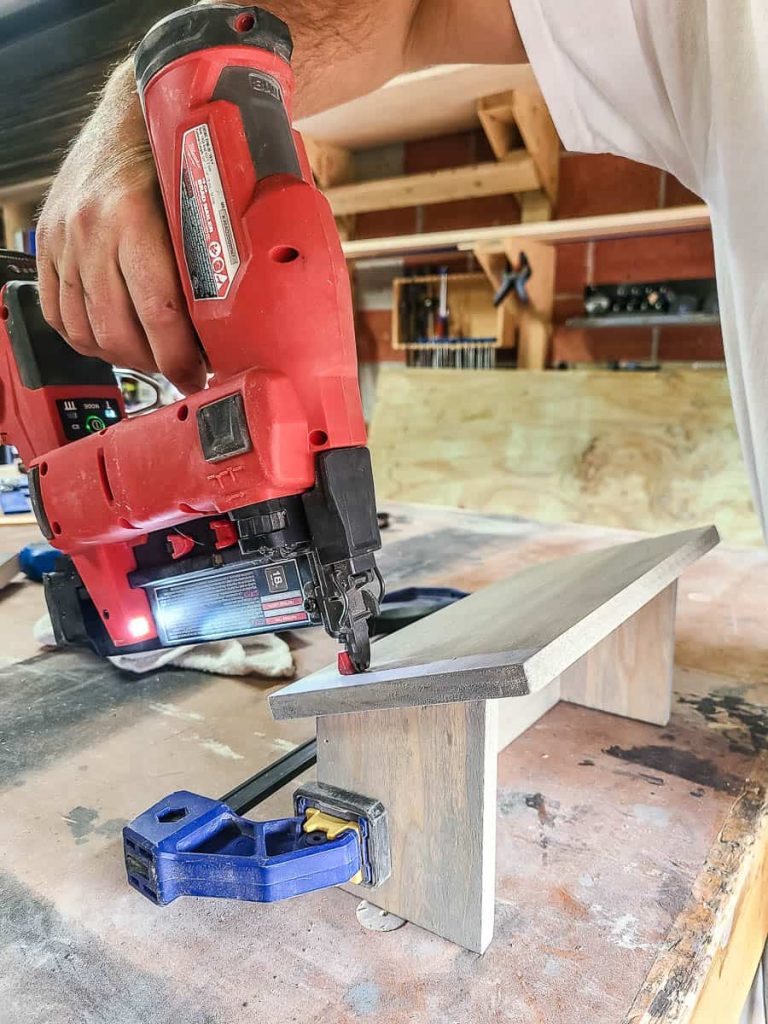 Start by attaching the sides to the back with the angled edge pointing up. Clamp into place with a bar clamp. Next, set the top into place and secure it with nails.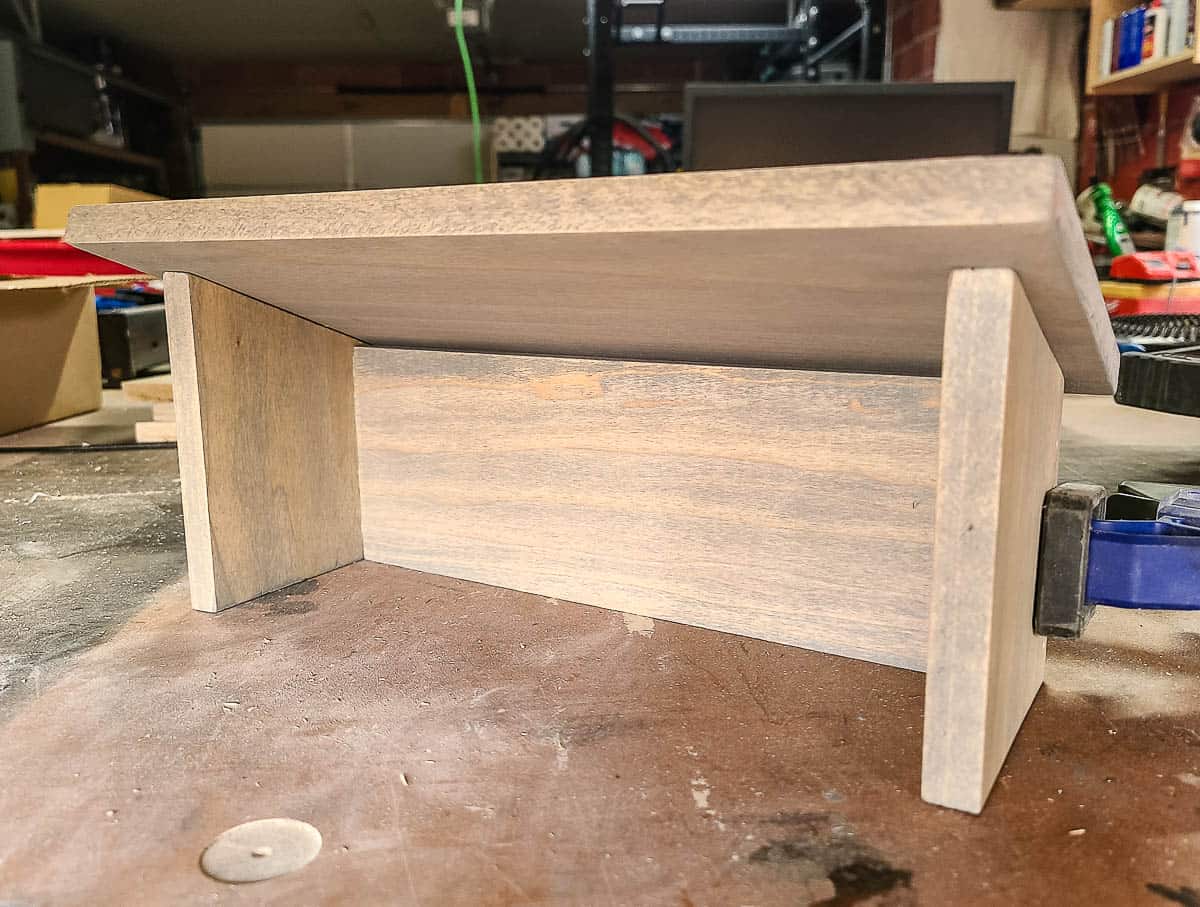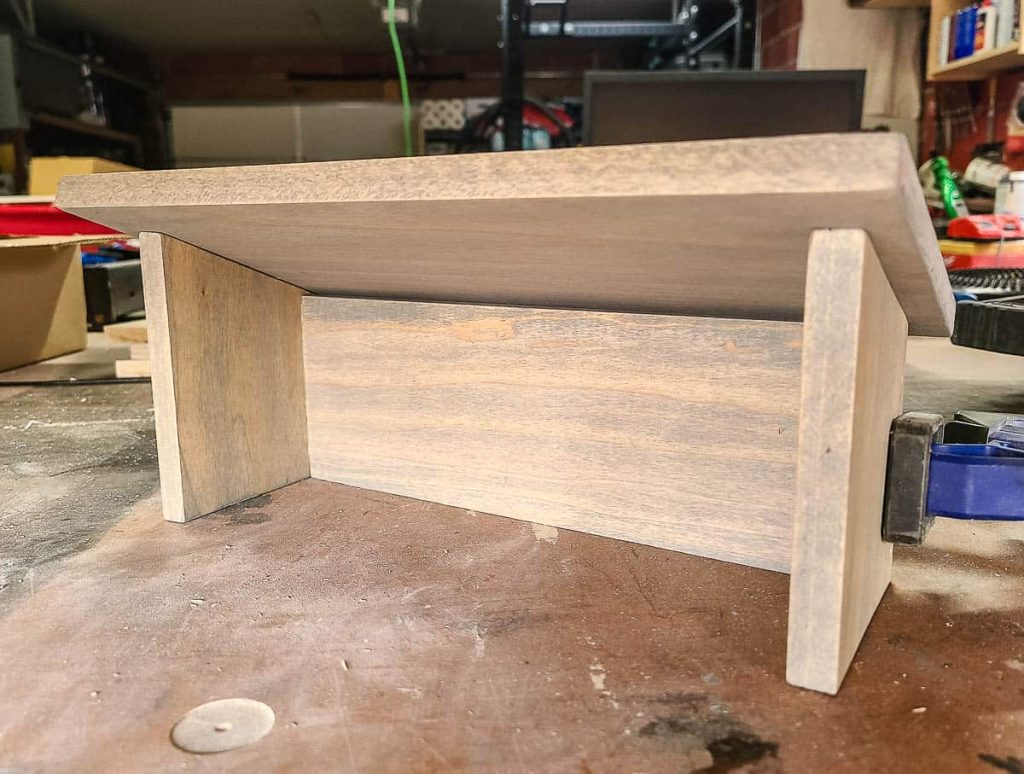 Step 11. Arrange your DIY nativity scene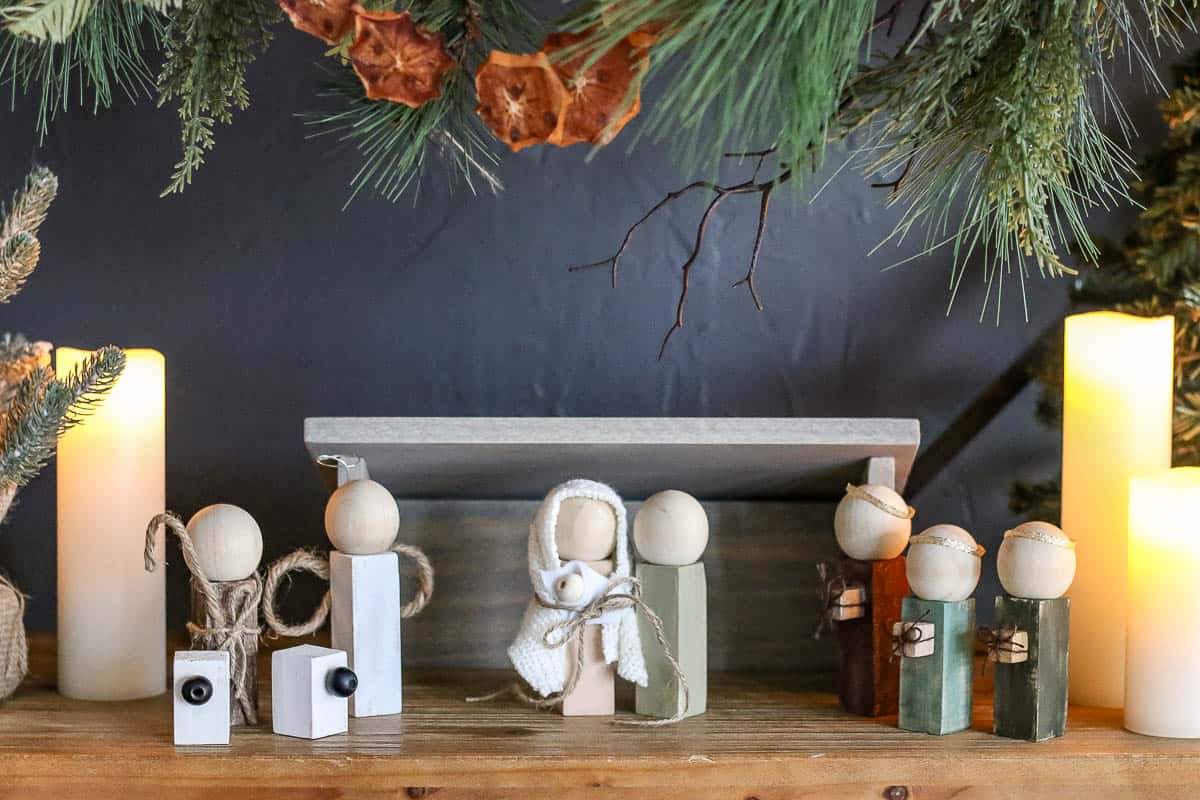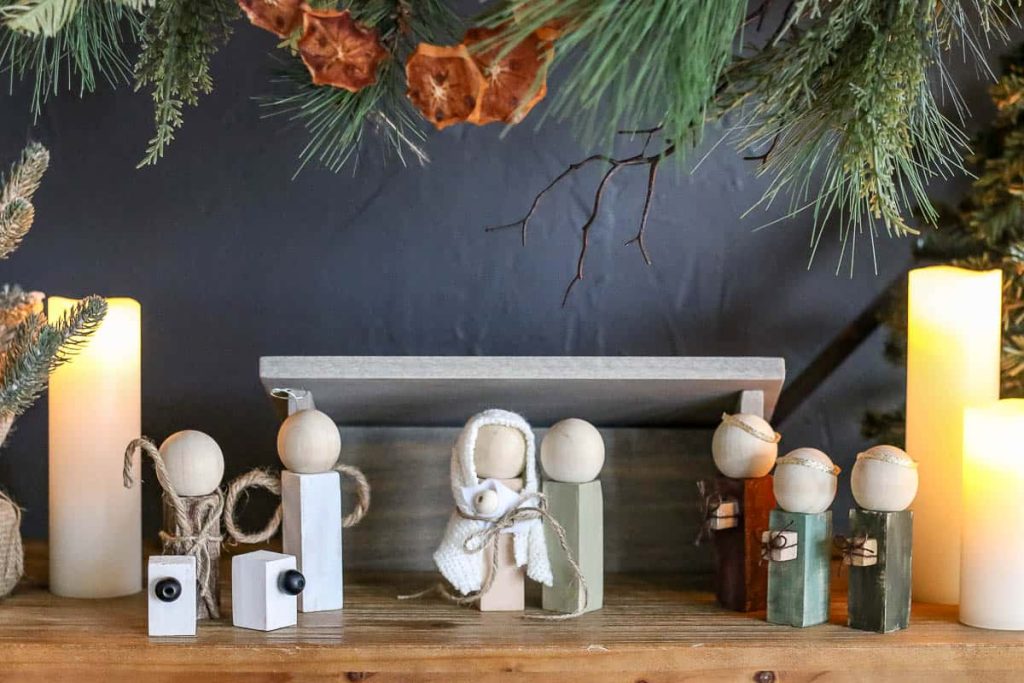 Once everything is dry, arrange your cute wood nativity set wherever you'd like it for the holiday season. I put Mary and Joseph and Baby Jesus in the center, the angel and shepherd on the left and the wise men on the right.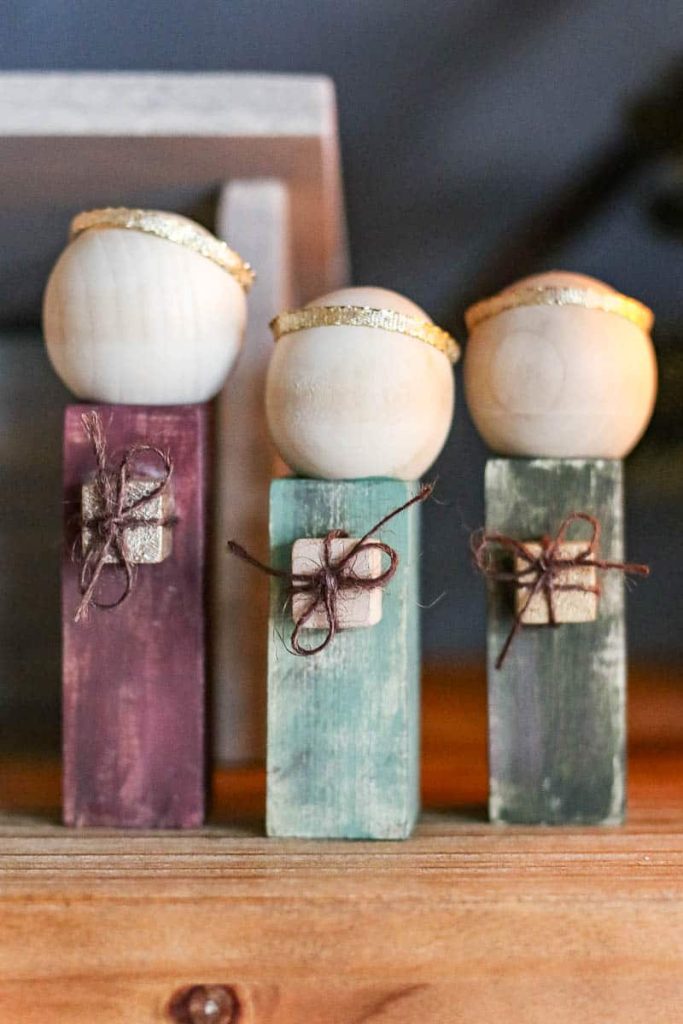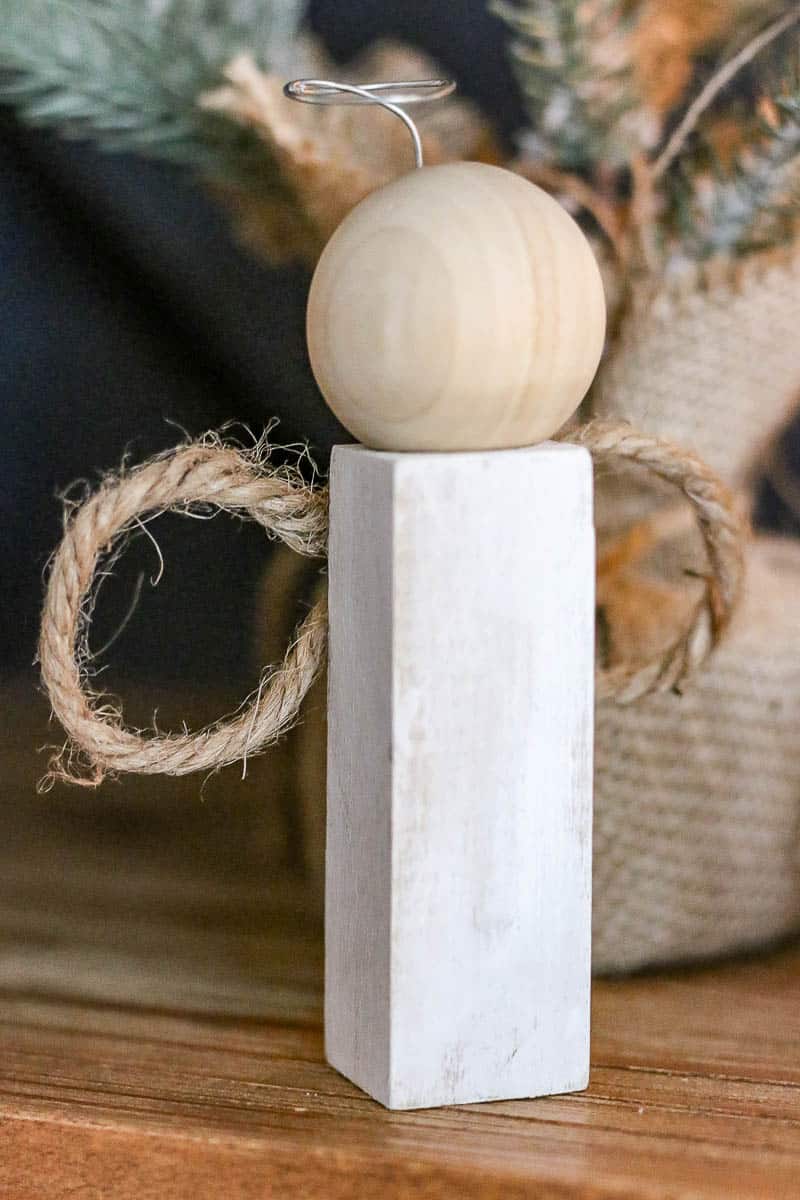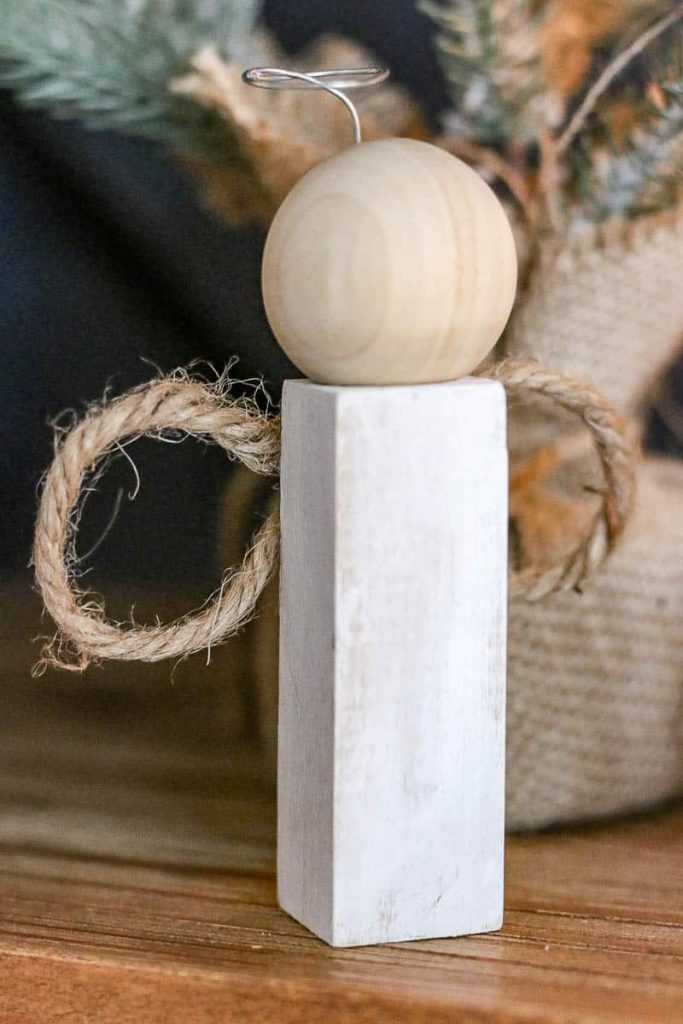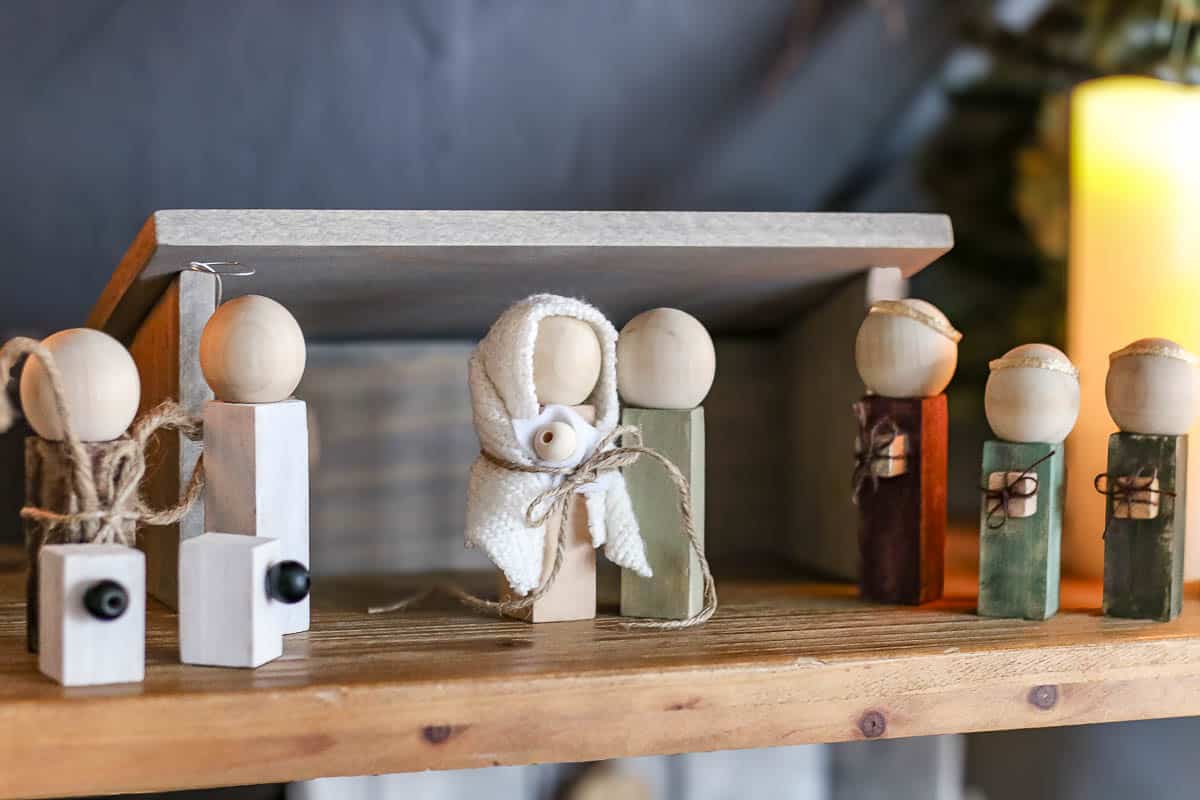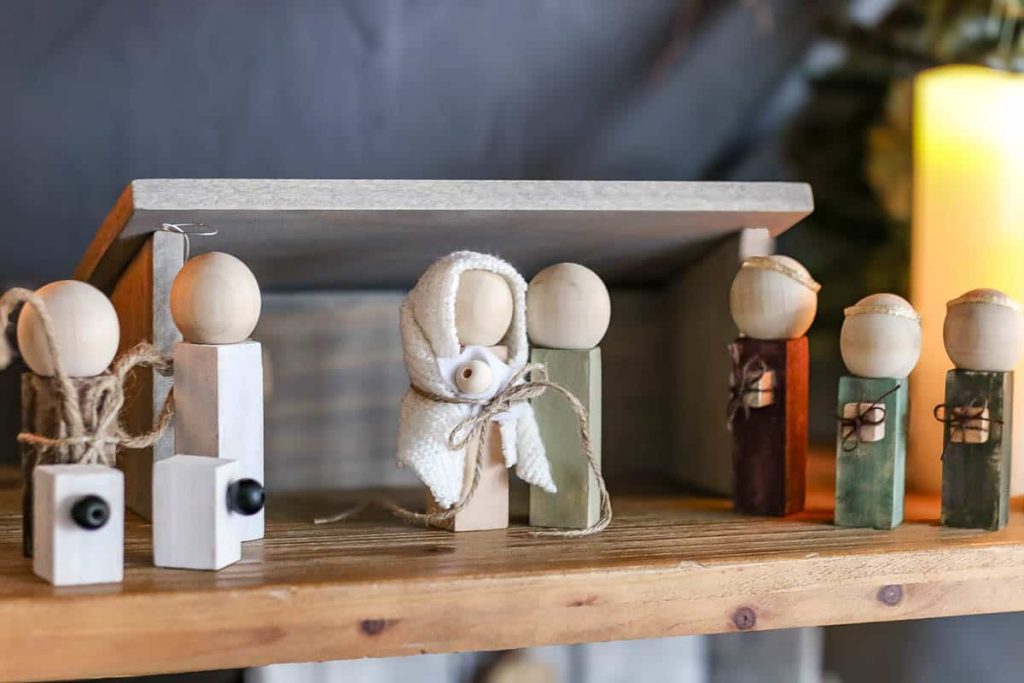 I absolutely love how this adorable little DIY wood nativity scene turned out. I've been wanting to make one for years, so I'm so glad that we finally made it happen.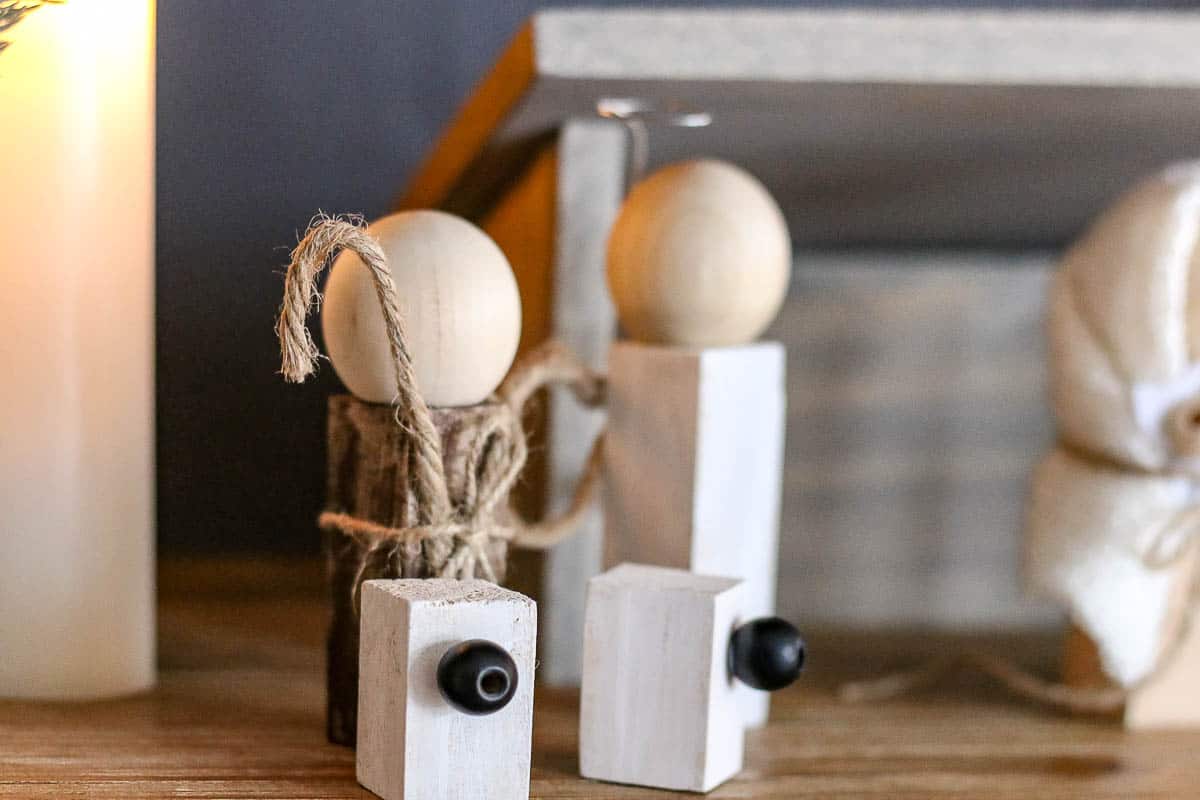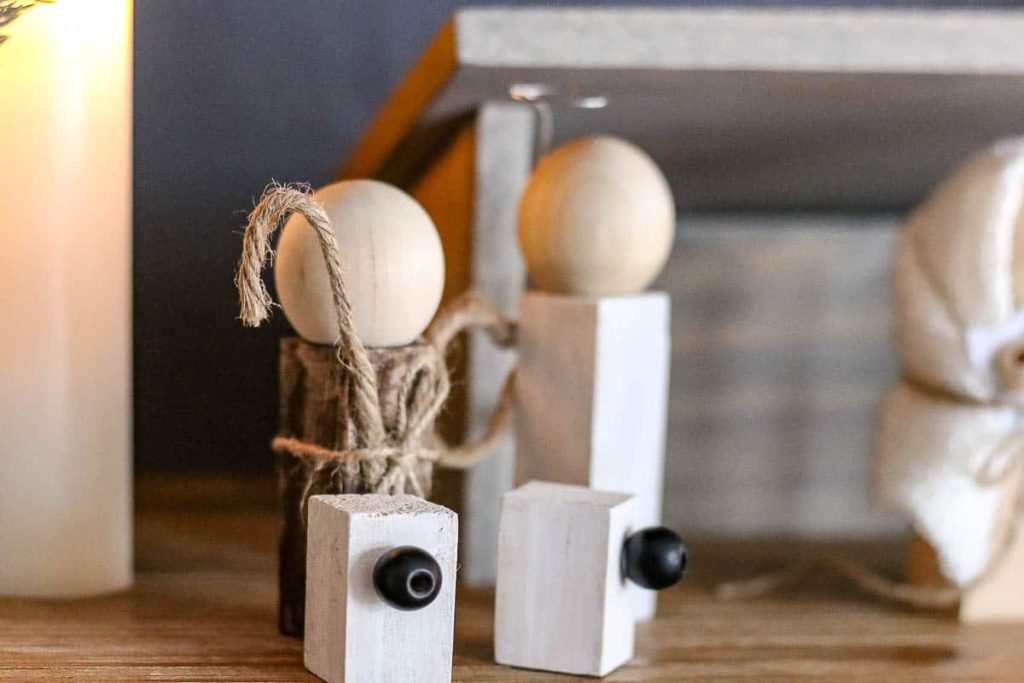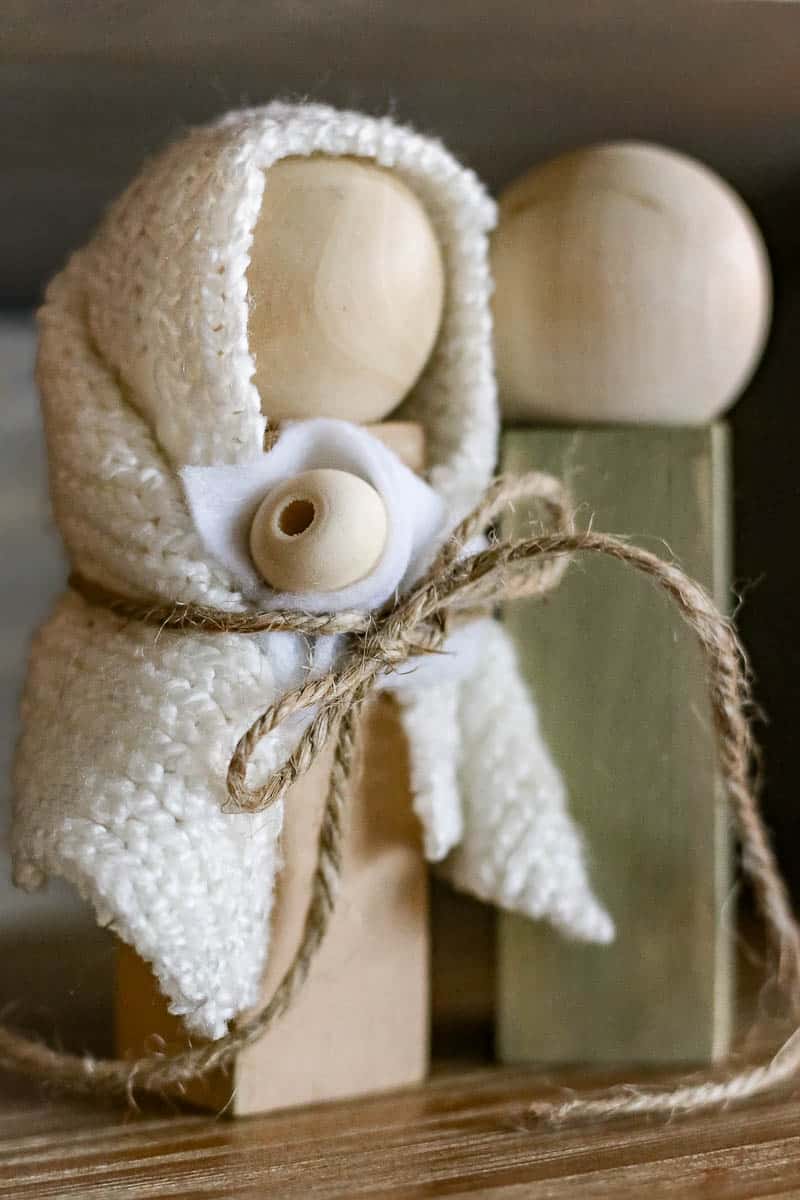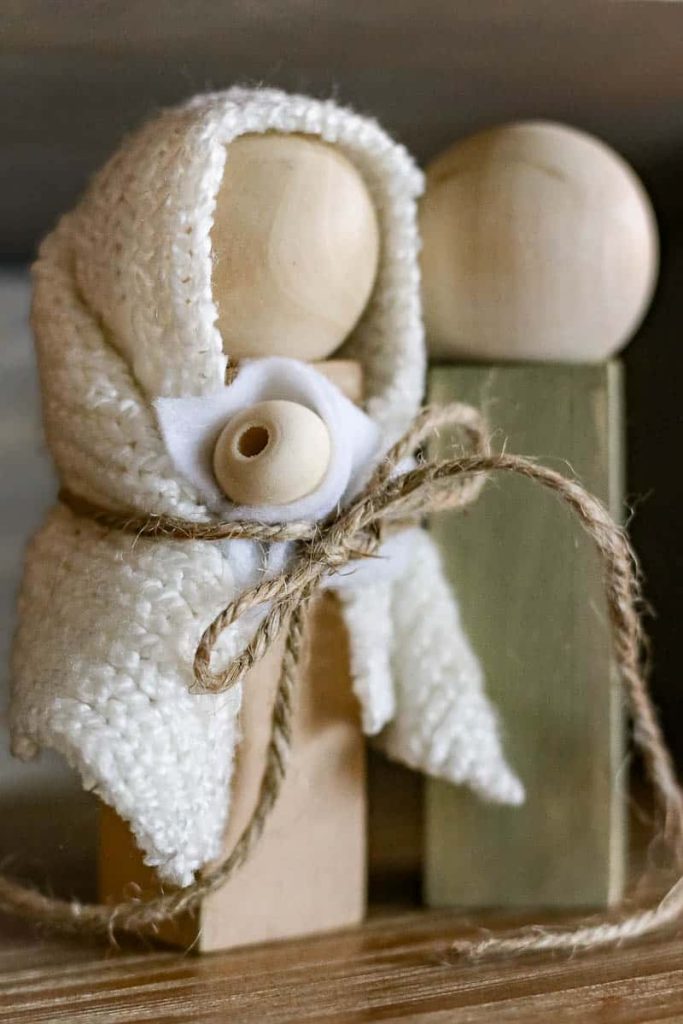 I know that it will be one of my favorite things that we take out each Christmas season for years to come. It is a great way to remind our whole family what this season is all about – celebrating the birth of baby Jesus.