If you love neutral farmhouse Christmas decor, you're going to love this DIY Christmas Village that gets an easy makeover! You'll be headed straight to the thrift store to find your own village to makeover!
Have you ever had one of those amazing thrift store finds? You know what I'm talking about, right?
One that literally stops you in your tracks and you have to pick your jaw up off of the floor because the price and everything are just too good to be true. You can instantly picture the item upcycled and styled in your home.
Well, that's what happened last year just after Christmas when I walked past this miniature Christmas village set for NINETY PERCENT OFF. Yes, that's right. I was only going to need to pay 10% of the original price to have this little village come home with me.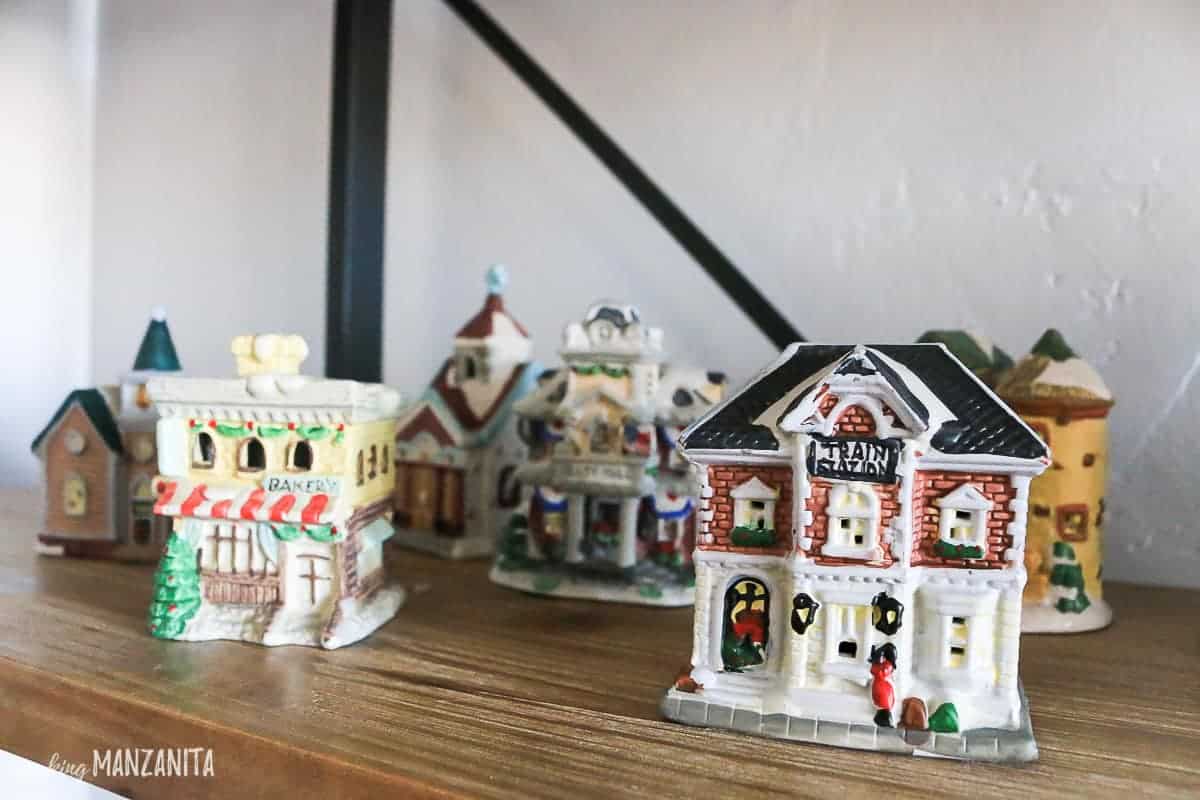 There was actually a lot more to this little village, but I knew I didn't want to store something too big, so I walked away with about a half dozen pieces that were just perfect.
And I think I spent….maybe two or three dollars tops. Crazy, right?
There is something really charming about the way they were original with all of the colors, but I knew I would love them even more with the white coat of spray paint.
Doing an easy spray paint makeover to this DIY Christmas village made them fit in perfectly with my existing Christmas decor, which has more of a farmhouse style.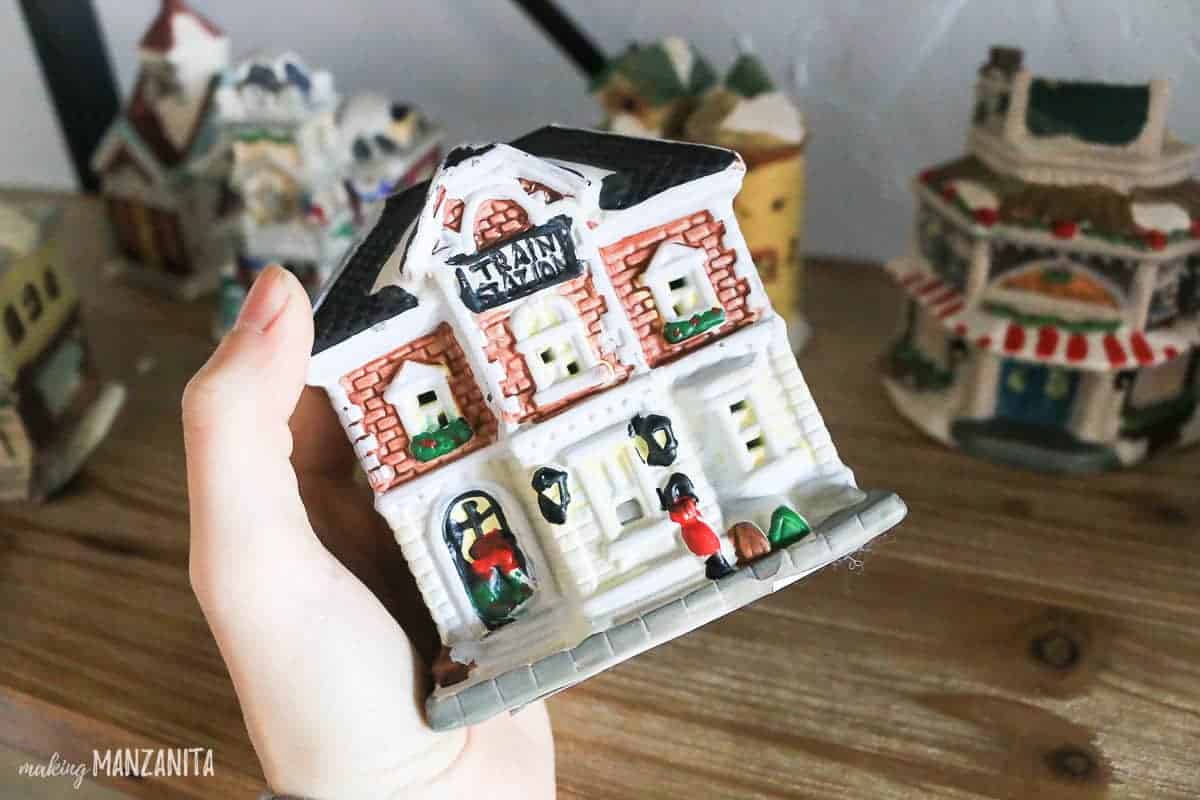 This DIY Christmas Village post contains affiliate links, but nothing that I wouldn't wholeheartedly recommend anyway! Read my full disclosure here.
Supplies for DIY Mini Christmas Village:
Miniature Christmas Village Figurines – buy similar here or check your local thrift store around and after Christmastime!
All Purpose Cleaner (optional)
Step 1. Clean village figurines.
If the village is dirty or dusty, you want to be sure to clear well before painting. You can do this one of two ways – either in the sink with soap and water or with a spray all-purpose cleaner and a rag. Either method should work fine. Just be sure that they dry thoroughly before painting.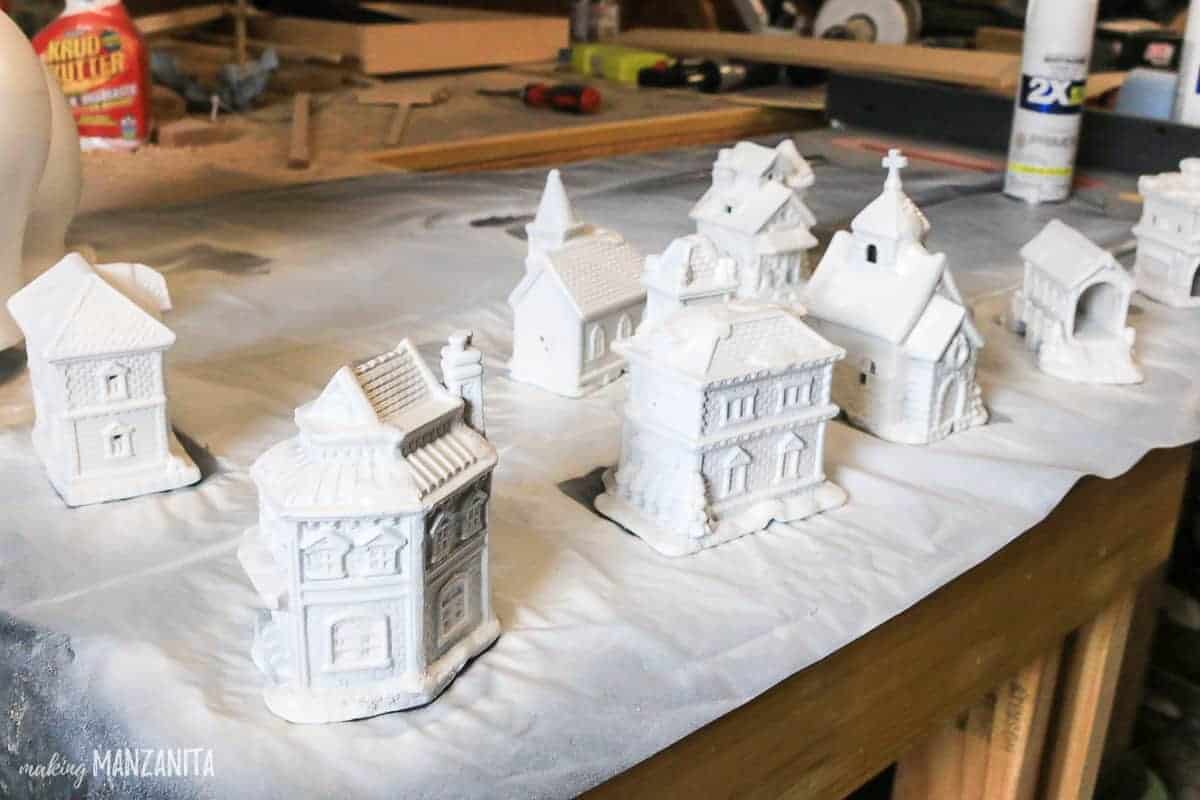 Step 2. Spray paint Christmas village.
Yes, that's it really. I feel kind of silly for even doing a DIY tutorial for this one because it's SO darn simple!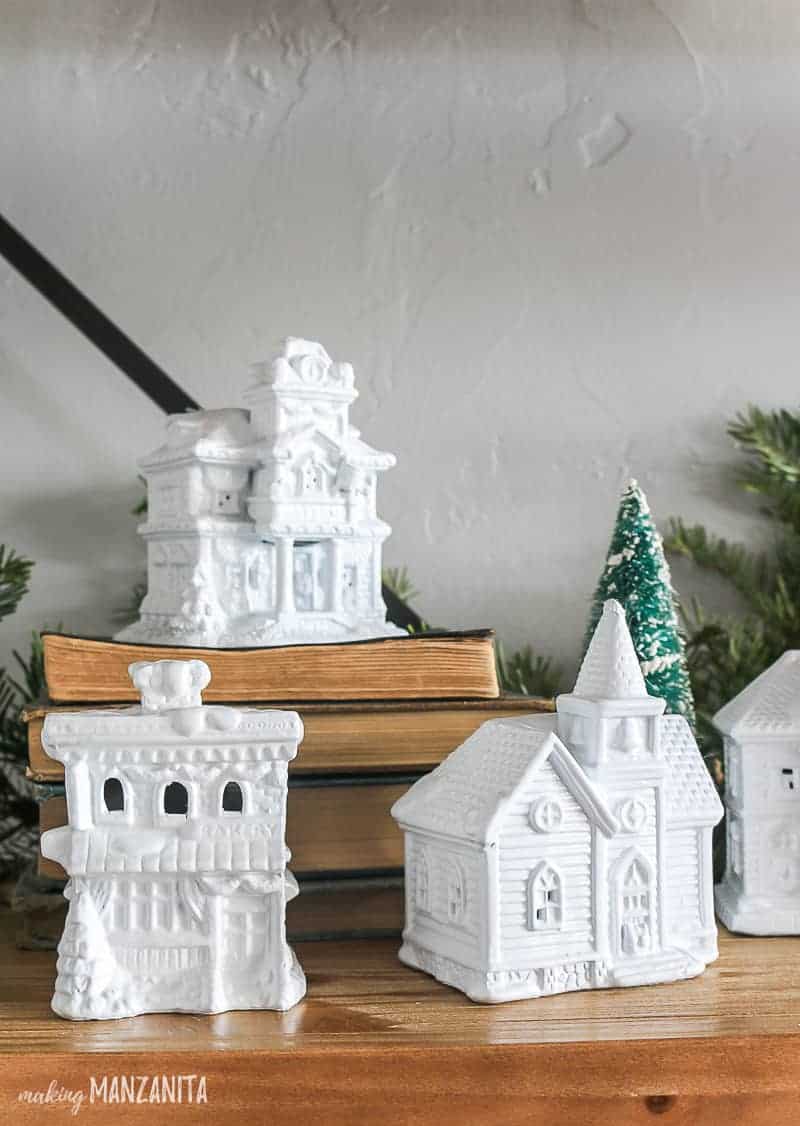 I did several light coats of this white primer followed by this spray paint on the village and it worked great!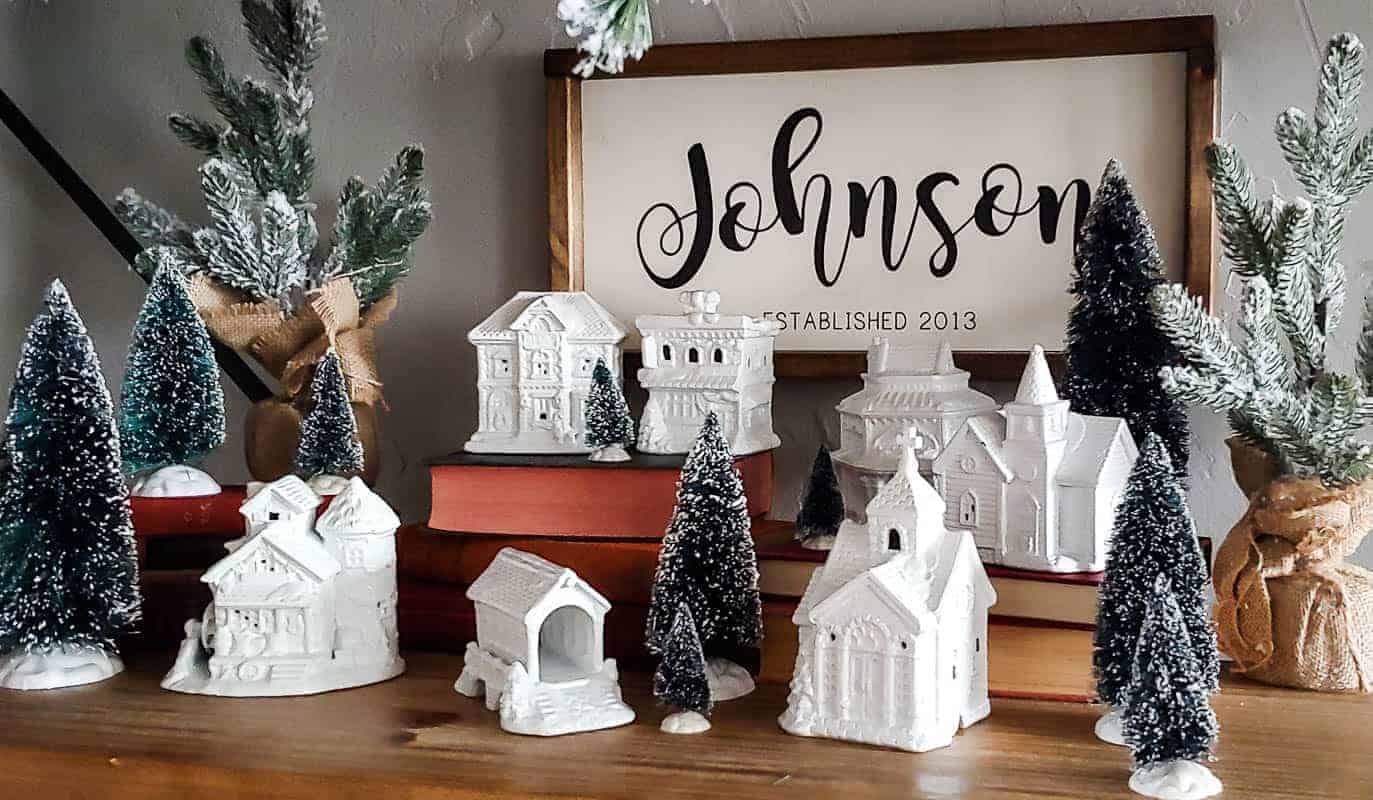 The spray paint really makes this DIY Christmas Village come to life again and instantly updates it so that it fits right in with farmhouse Christmas decorations.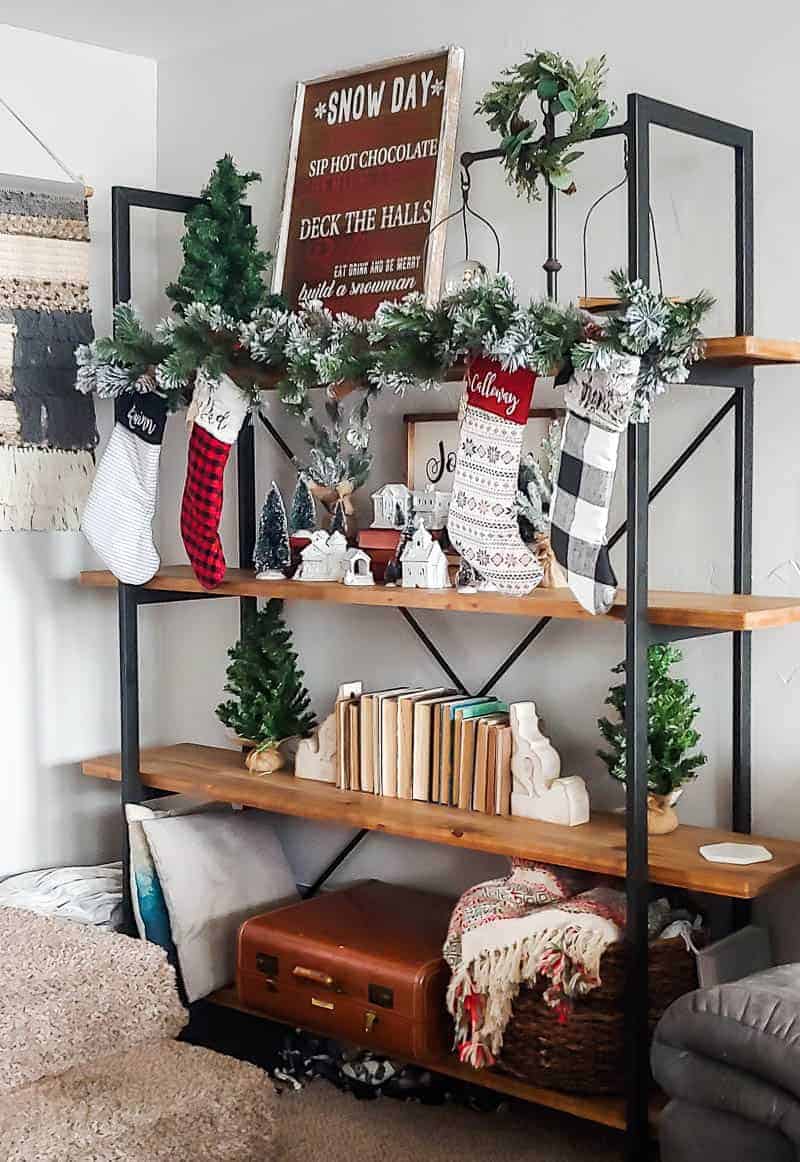 Just look how cute it looks on my living room shelves!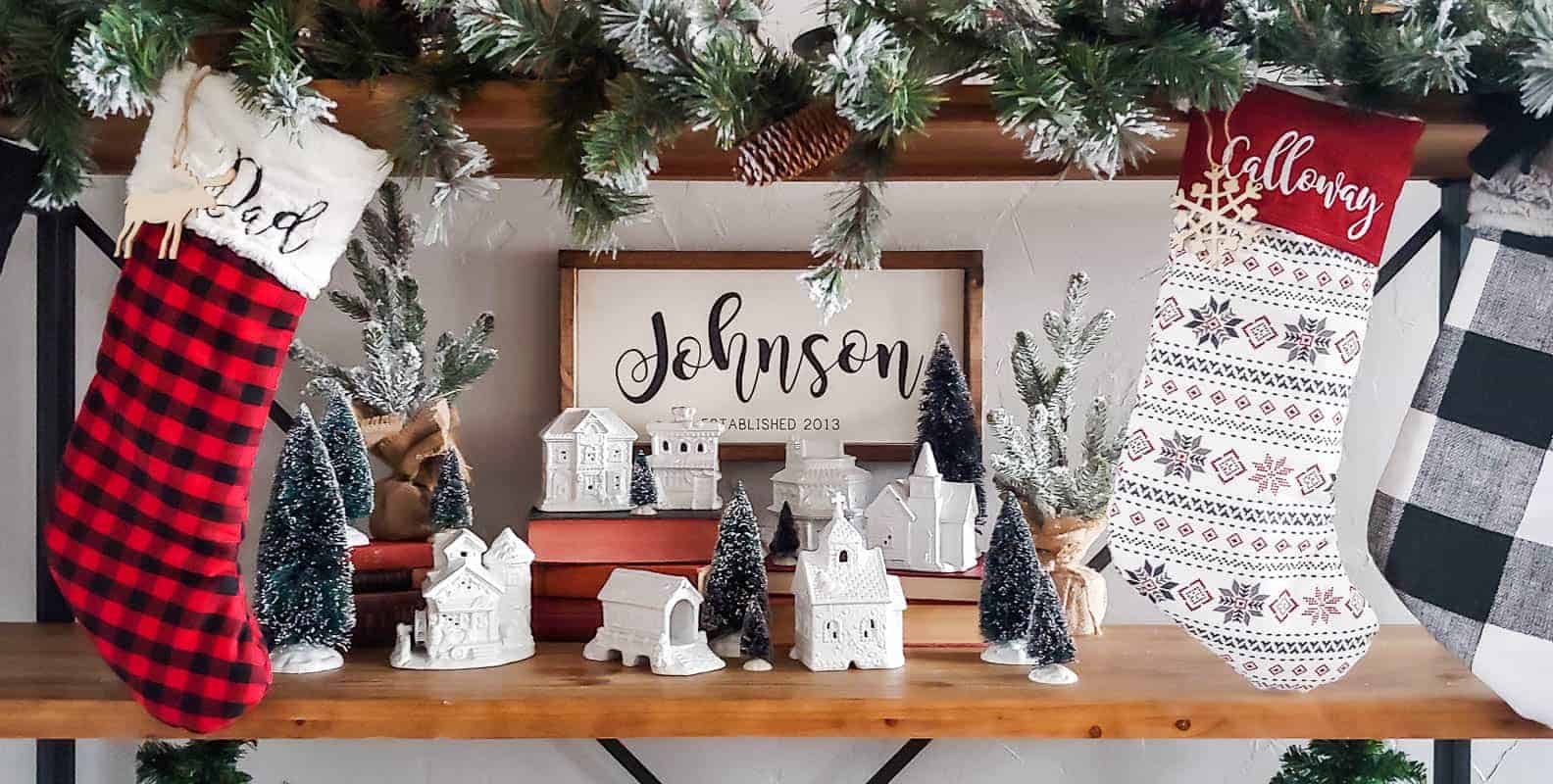 The vintage books stacked up in the back provide the perfect height variation to put some books up there for a 2nd level. Mixed in with some vintage bottle brush trees that I picked up at a garage sale a few years ago, it's just so cute!
Related – Need some help styling shelves? You've got to read this post about How To Decorate Shelves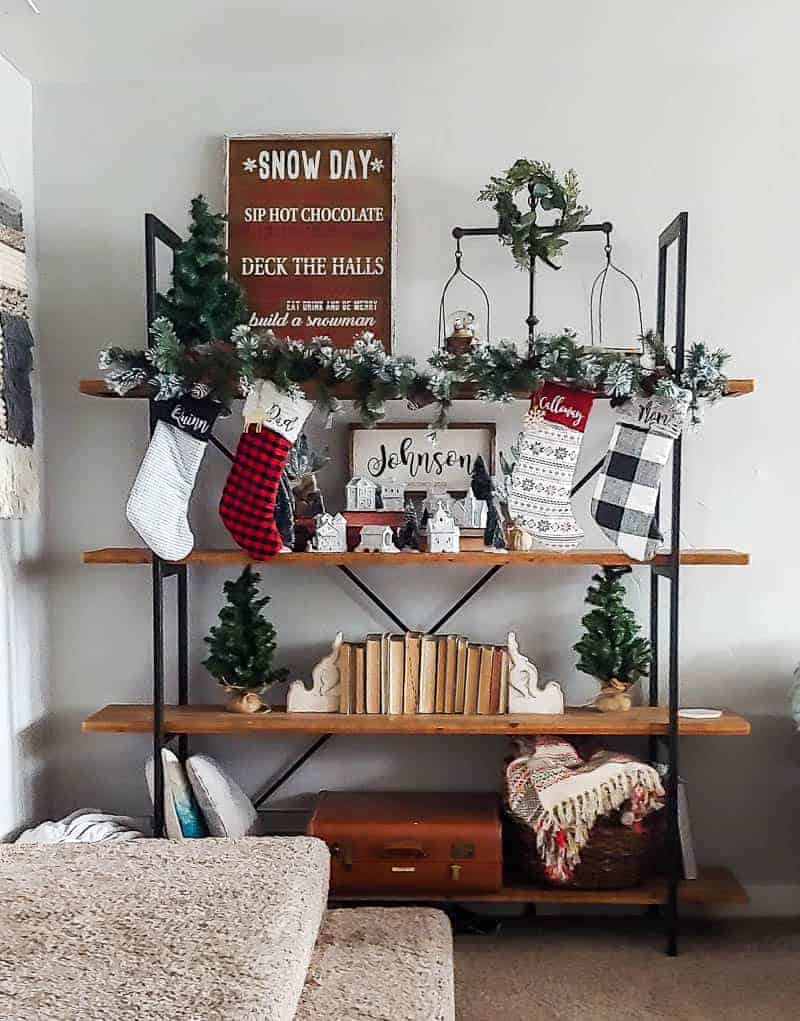 I love the way our cute new personalized Christmas stockings from this Etsy shop frame the mini village.
What's the best deal you've ever found at the thrift store?
Let me know in the comments below!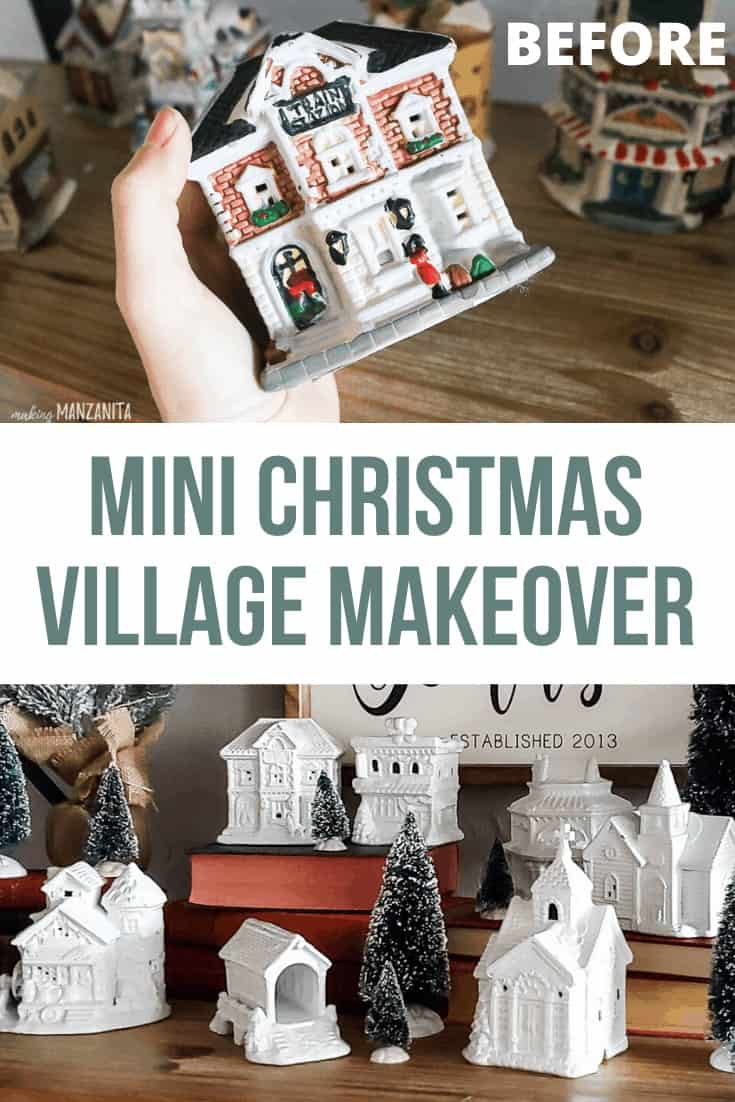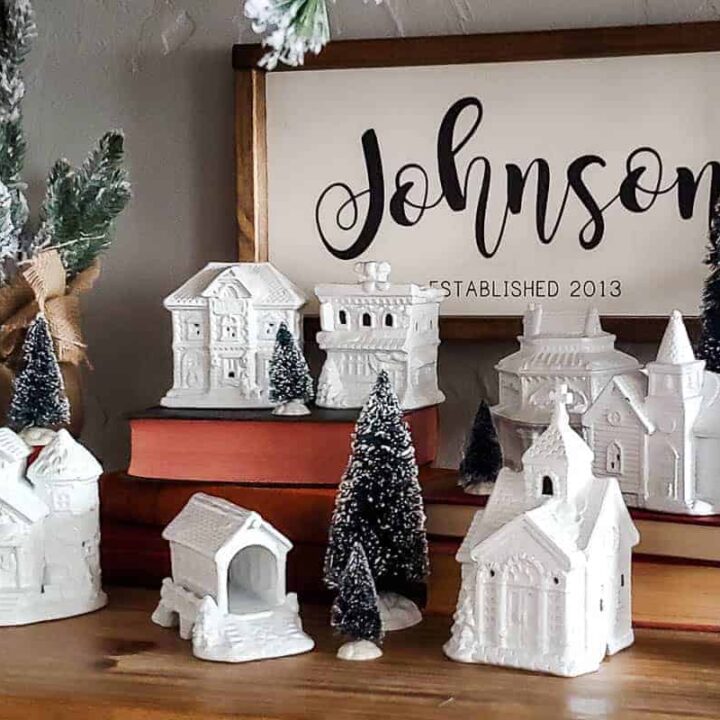 How To Make A DIY Christmas Village Makeover
If you love neutral farmhouse decor, you'll love this simple DIY mini Christmas village craft! Turn a classic Christmas village into a snow-covered Christmas scene in just 2 simple steps.
Materials
All Purpose Cleaner (optional)
Instructions
Clean village figurines
Spray paint Christmas village